Aqua Marina Atlas 12' Inflatable Stand-up Paddleboard
Pros
The Atlas has a lot of stability due to it's higher volume
This SUP is surprisingly maneuverable due to the raised kickpad
At 24lbs, the Atlas is relatively light for a larger all-around
We really liked the Atlas's grippy diamond grooved deck pad
Cons
The Atlas has a very minimal amount of nose rocker, which contributes to a 'pushing water' effect
For its current price, we expected a bit more quality in the accessories and construction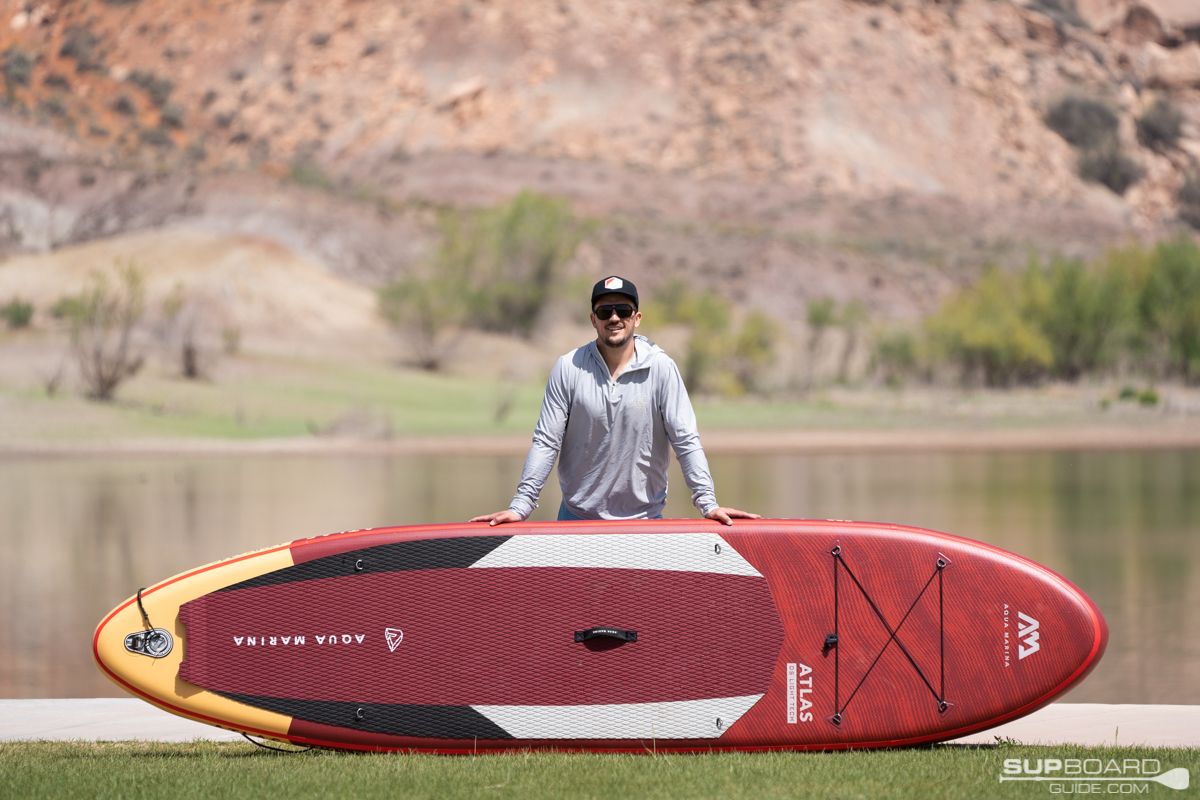 I'll start off by saying that this review of the Aqua Marina Atlas 12' iSUP is the first of many Aqua Marina product reviews. They were gracious enough to send us a huge line-up and we're super excited to start working with them and providing them with useful feedback to better serve the SUP community.
That being said, we weren't too sure what to expect from this brand and their products. We know Aqua marina is fairly popular in Europe, and being based in the U.S, we're always interested to see differences in consumer markets.
One of the more unique things about Aqua Marina is that they have 2 different line-ups of All-Around SUP options, one being labeled as 'Advanced' and the other as just standard line (though it doesn't have an explicit label). In testing these products, one of the SUPBoardGuide team's goals was to find differentiation between the two lines and better understand how to use those differences to meet paddler needs.
Being part of Aqua Marina's 'Advanced All-Around' series, the 12' by 34" Atlas is one of their better options for taller/heavier paddlers or newcomers of varying size ranges who want to nearly eliminate their learning curve. This SUP is extremely stable and has a very comfortable and uncluttered deck pad. With just a few adjustments to the Aqua Marina Atlas' shape, construction, and kit, we think this brand could be on their way to offering a pretty solid high volume, entry level all-around.
We think the Aqua Marina Atlas would be great for paddlers who:
Want a high-volume SUP with a lot of stability
Need a board that is relatively lightweight, despite it's size/li>
Prefer a minimalistic approach when it comes to features/ add-ons
Want an a larger all-around that doesn't lose out on manueverability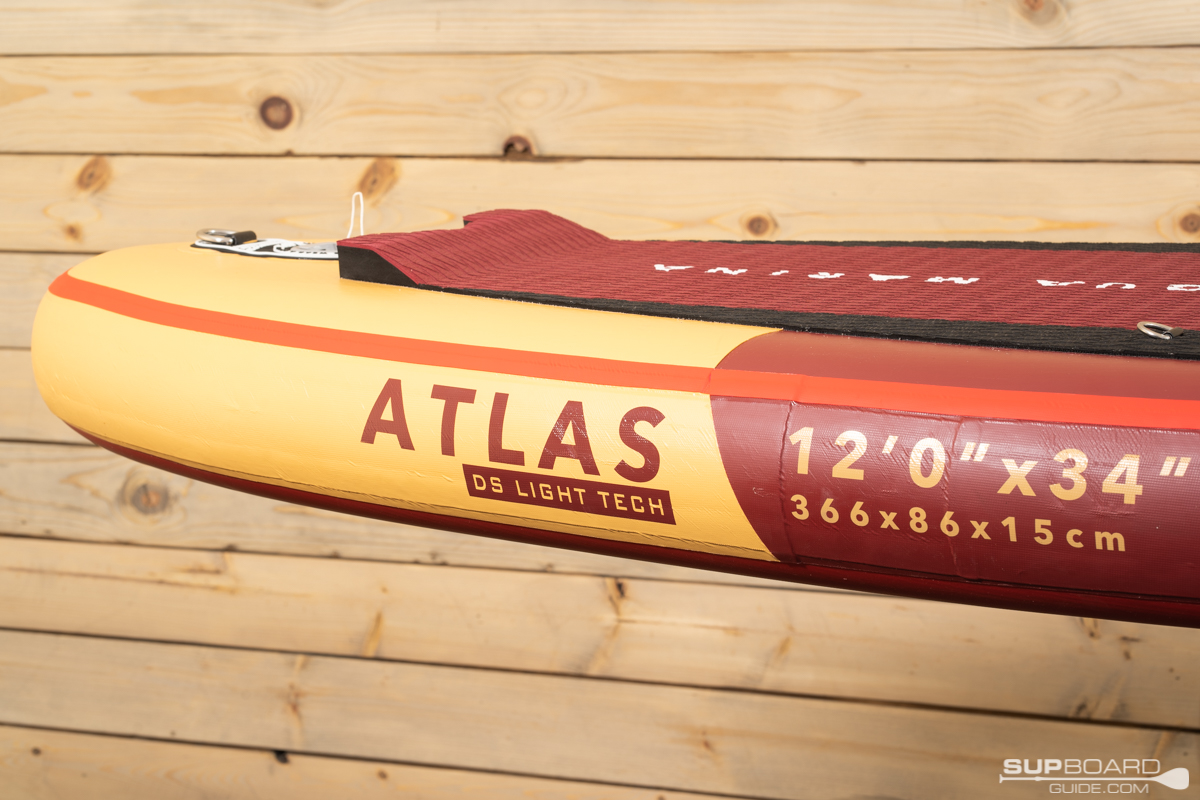 Aqua Marina Atlas: Spec Sheet
Main Category: All-Around, Inflatable
Board Dimensions: 12' x 34" x 6"
Listed Board Weight: 24 lbs
Listed Max Capacity: 396 lbs
Recommended PSI: 15 PSI
Fins: Single Slide-lock Dolphina style center fin
Paddle: 3-piece aluminum
Materials: Dual Layer PVC w/ linear drop stitch
Price Range: Mid
Performance Review of the Aqua Marina Atlas Stand Up Paddle Board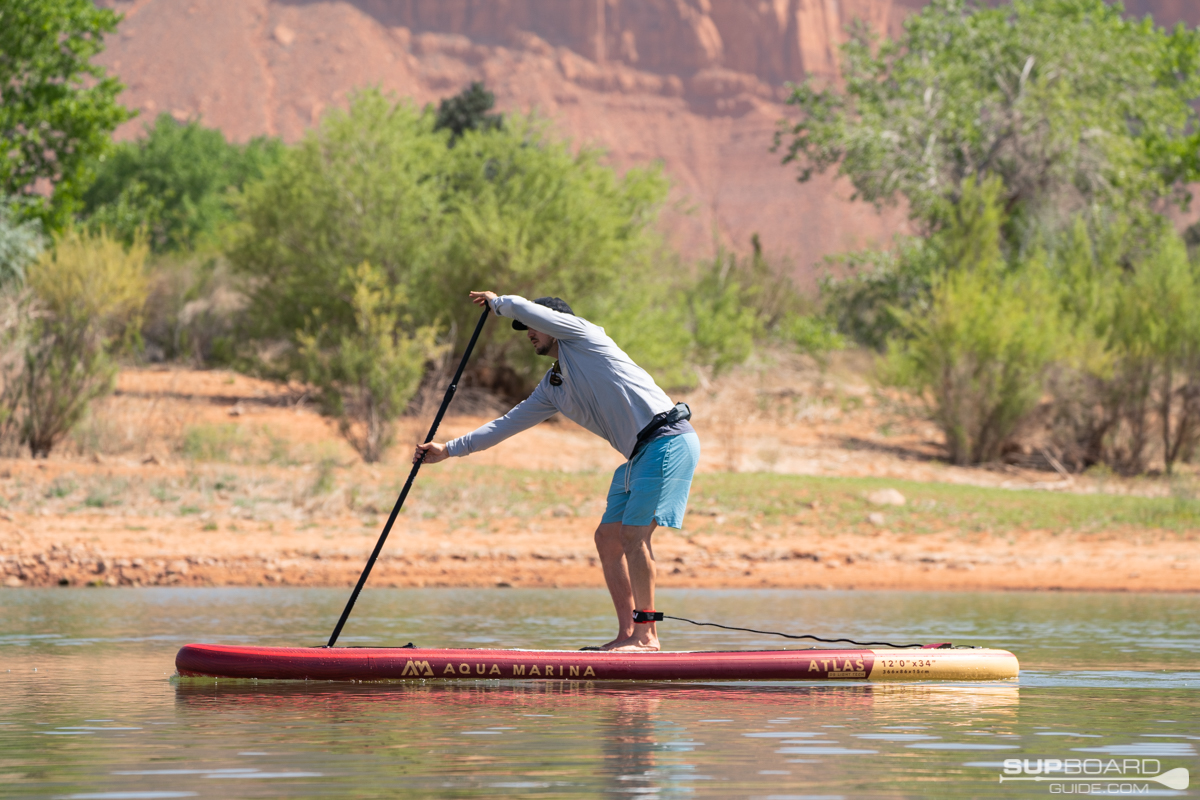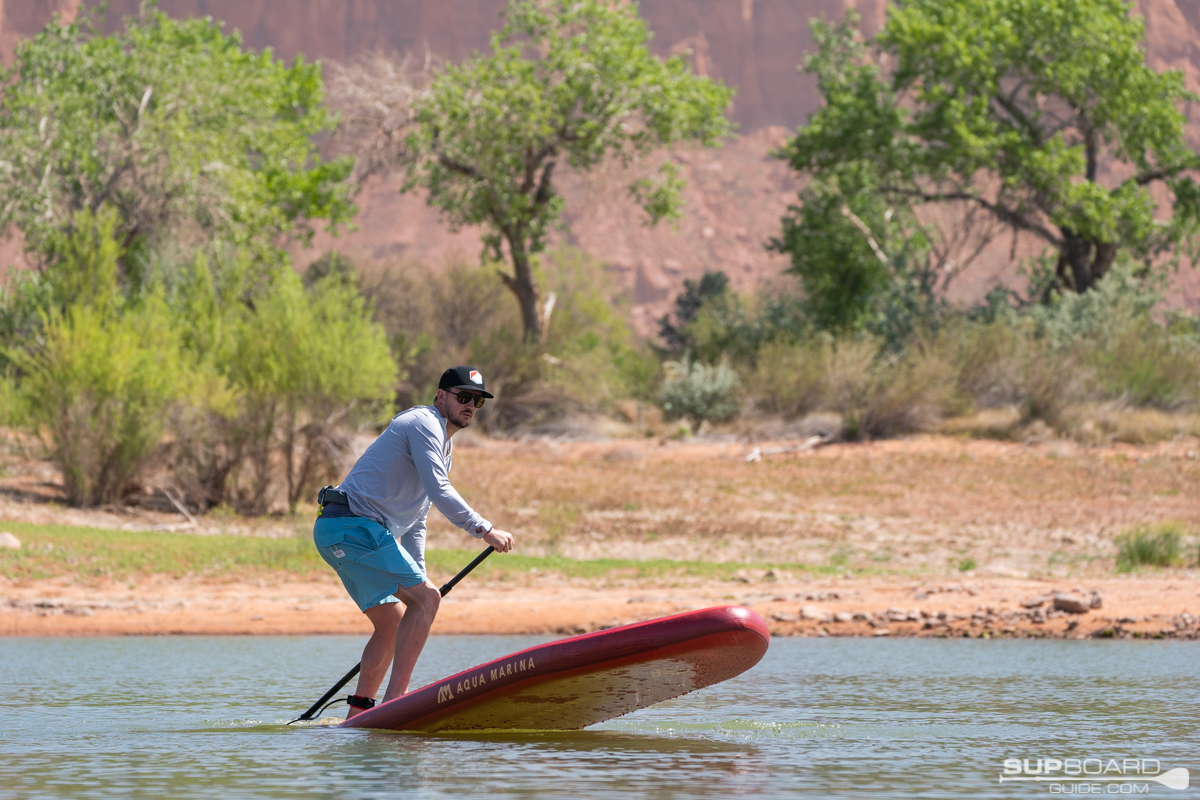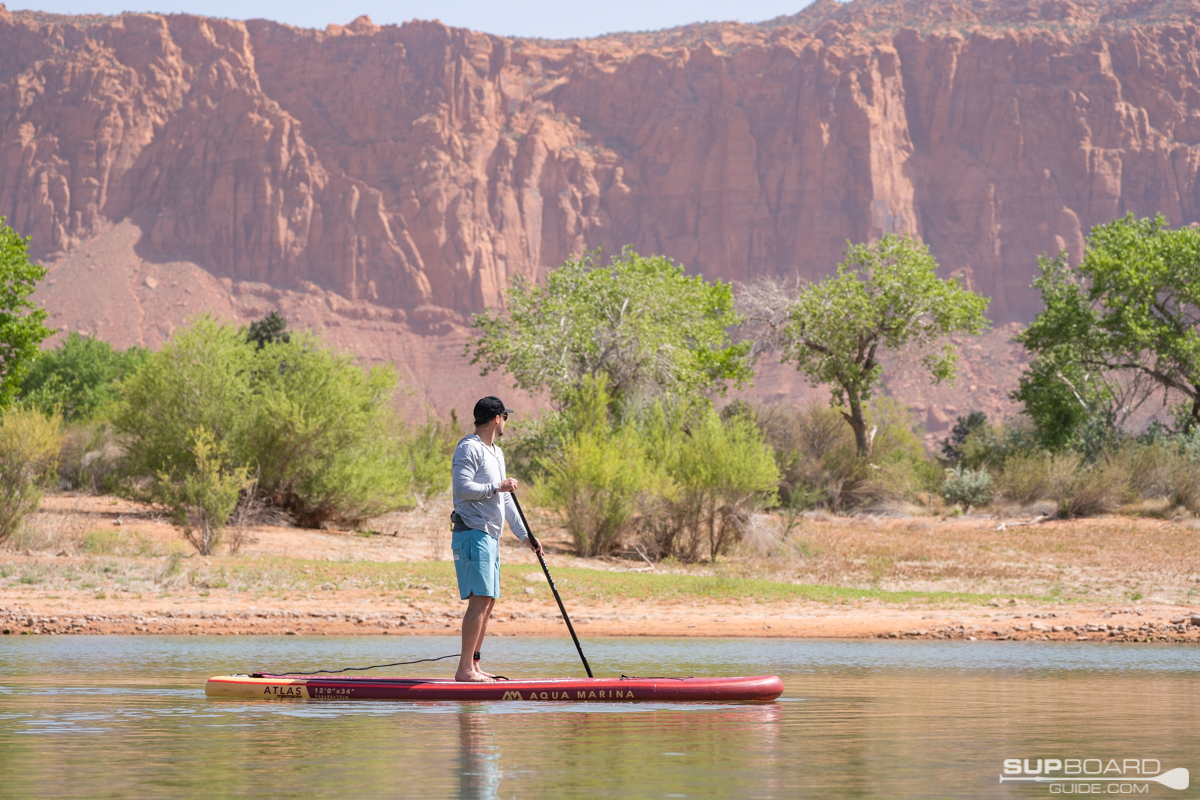 Overall Score: 7.8/10
Stability: 9.1/10
Speed: 7.9/10
Tracking: 8.7/10
Maneuverability: 8.8/10
Construction Quality: 7.9/10
Features/Accessories: 7.5/10
Stability Rating: 9.1/10
The main area where the Atlas excels in our testing is stability. Being a 12' by 34" iSUP, the Atlas is clearly a high volume board, and this level of stability is obviously to be expected. It's one of the main reasons we think the Atlas would make a better fit for heavier paddlers or paddlers who want to bring along a dog or a passenger.
I also want to note that while normally I'd advocate for a 2+1 fin set-up on most stability-focused all-arounds, the Atlas keeps a wider shape through most of its 12' of length, and doesn't seem to be hindered on this front by the single fin set-up.
Speed Test: 7.9/10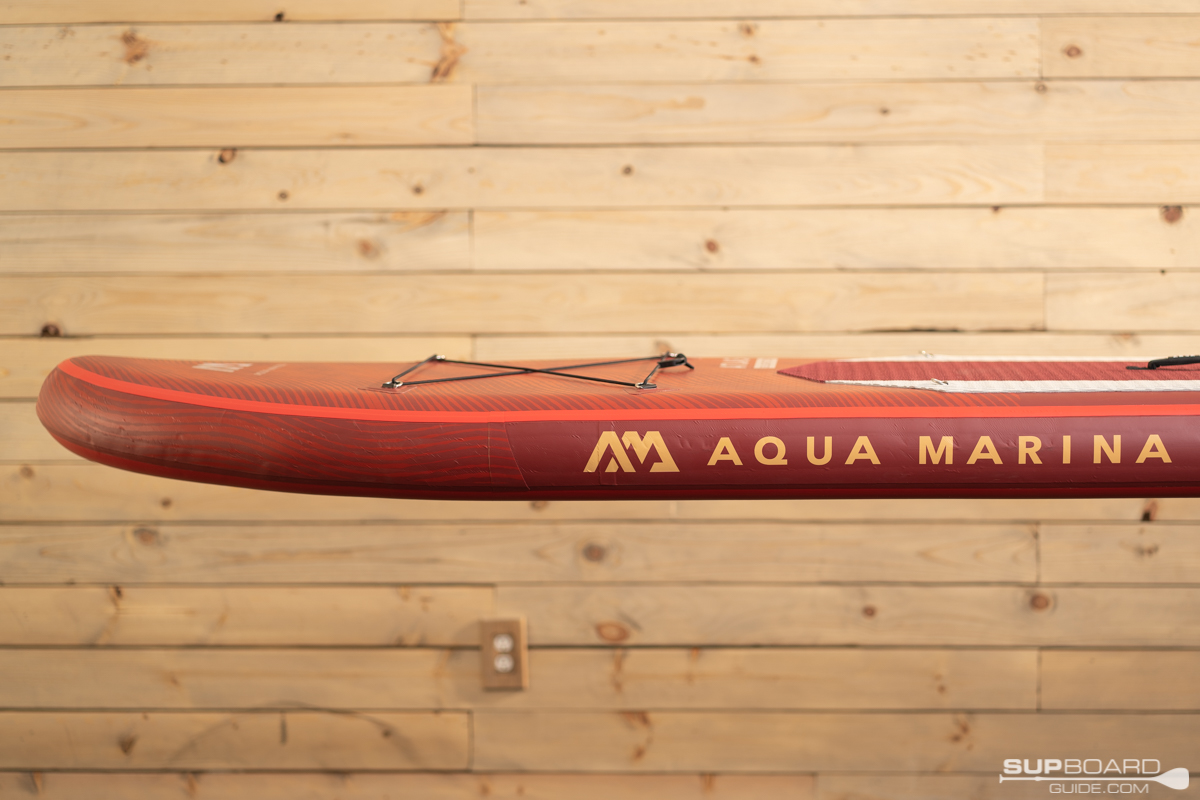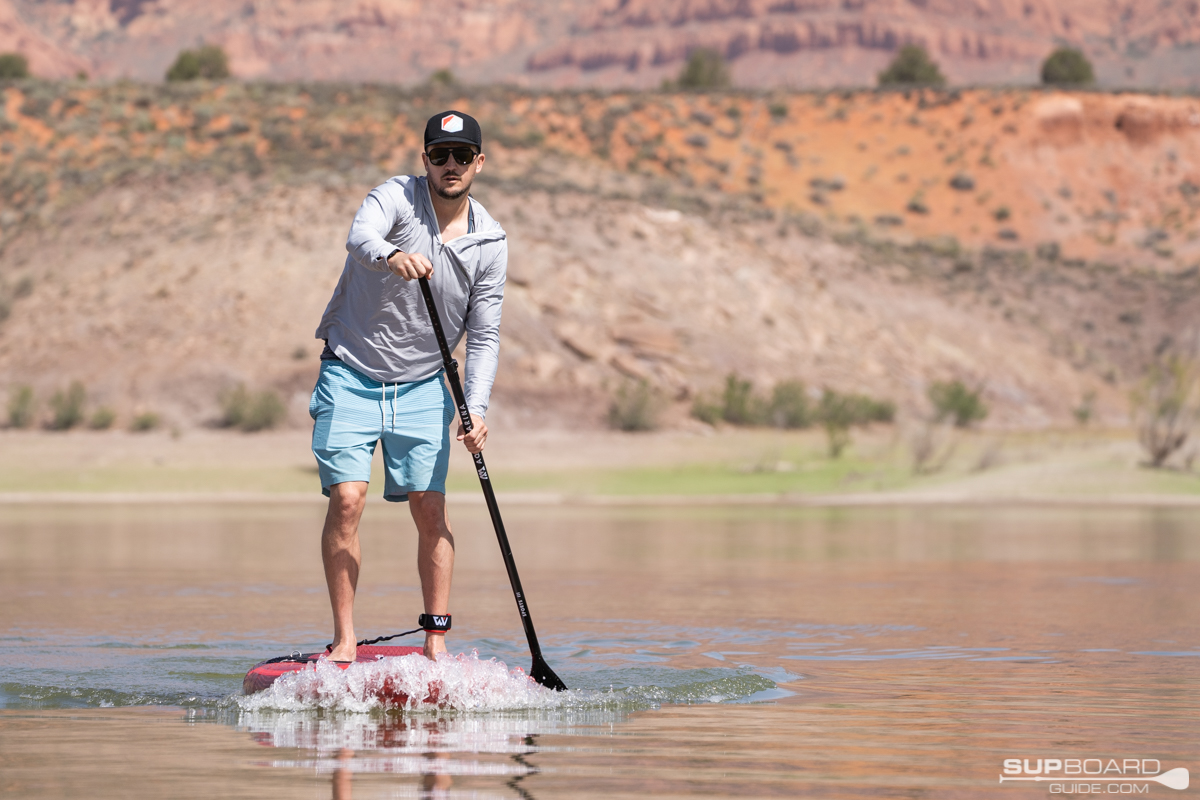 The speed test is where areas for improvement started to surface for the Aqua Marina Atlas. As you can see in the left photo directly above, the Atlas' rocker is almost non-existent. On the water, this translates to a 'pushing water' feeling (as seen in the right photo above) because you literally are just having to plow through the water like a snowplow instead of sliding over top (think the difference in work between pushing through a foot of snow versus gliding over ice).
Of course, this is exaggerated even more when you pick up speed as we did (or tried to) in our sprint test. If you're paddling at a lighter, slower pace it's less noticeable, but it does still get frustrating if you're trying to keep pace with a group of friends.
We think if Aqua Marina added some more nose rocker onto the Atlas, it'd be a drastically improved board, but for now, we can't give it a seal of approval as we have with SUPs on our list of Best Inflatable SUPs of 2022.
Tracking: 8.7/10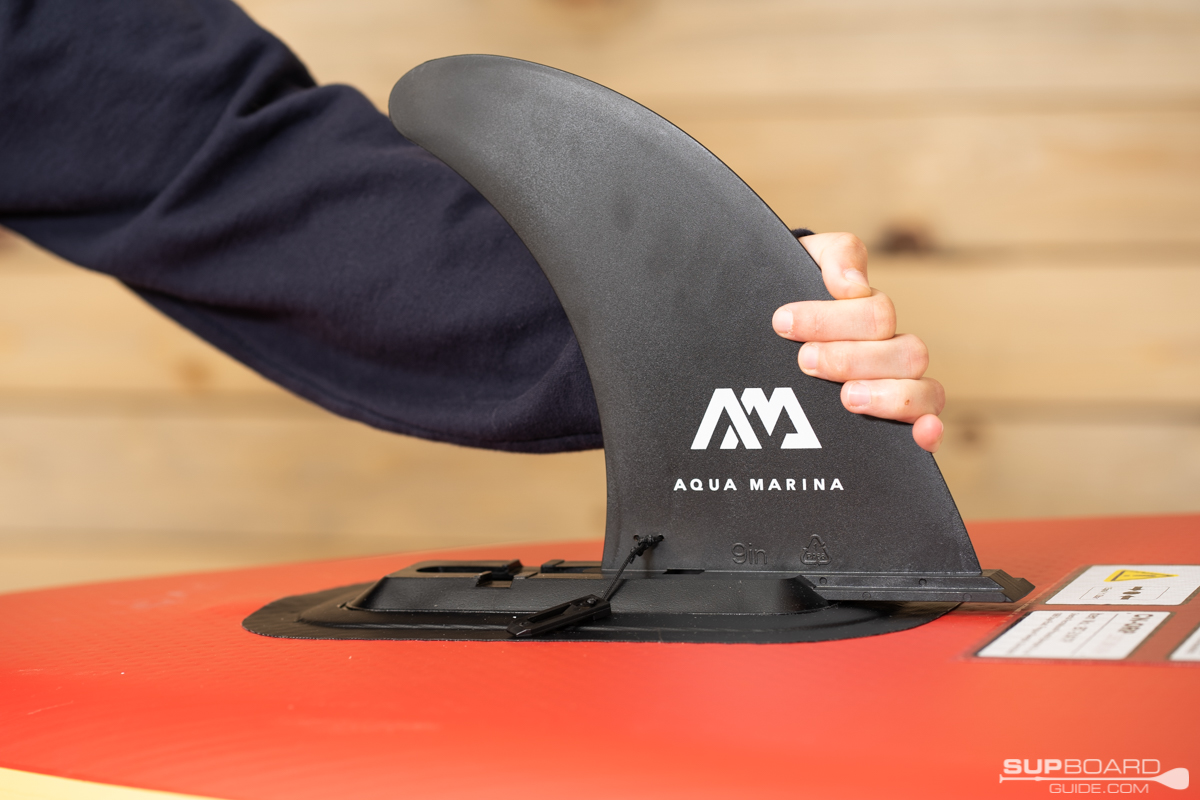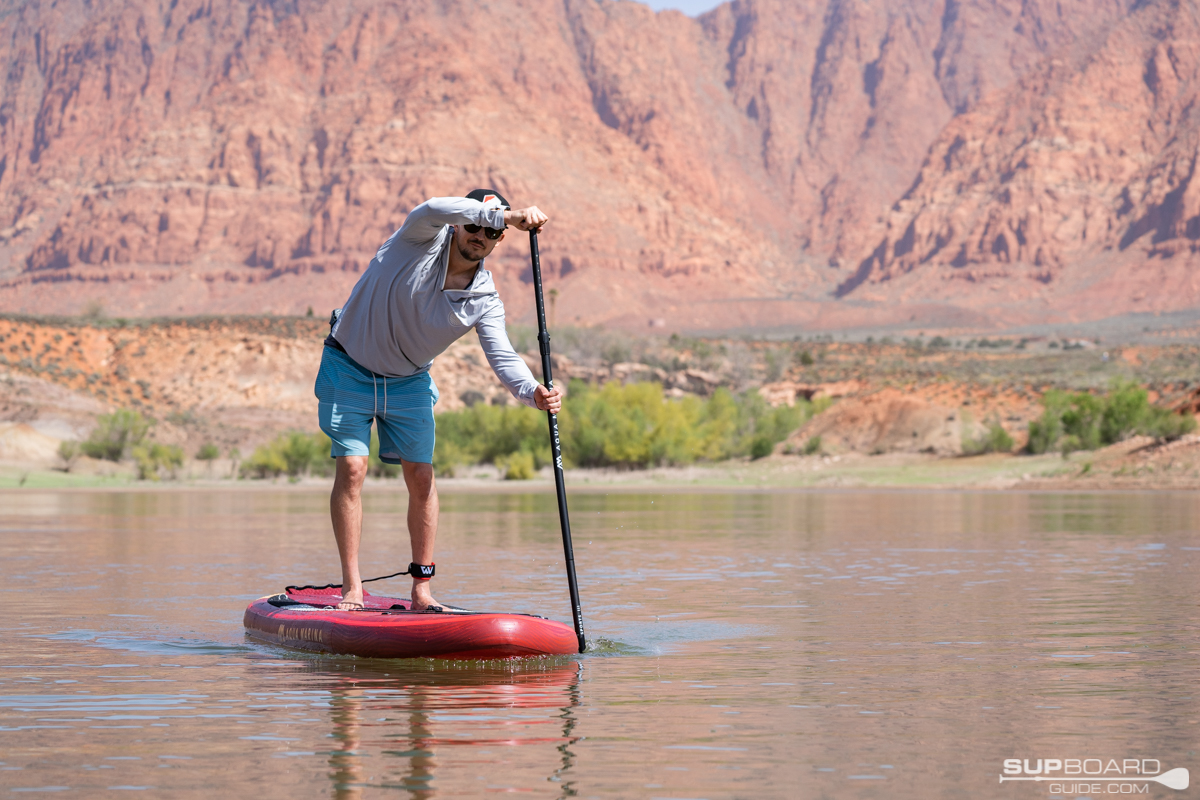 Aqua Marina's Atlas handles about as expected in our tracking tests, meaning it performs on par with other all-around SUPs on the market.
To be completely honest, tracking isn't a defining characteristic of all-around SUPs. They're made to be stable and maneuverable in a variety of environments and the Atlas does decently well there.
I think the tracking on the Atlas could be marginally improved by incorporating more rocker, as we discussed above, but I'm not disappointed with it in the meantime.
Maneuverability: 8.8/10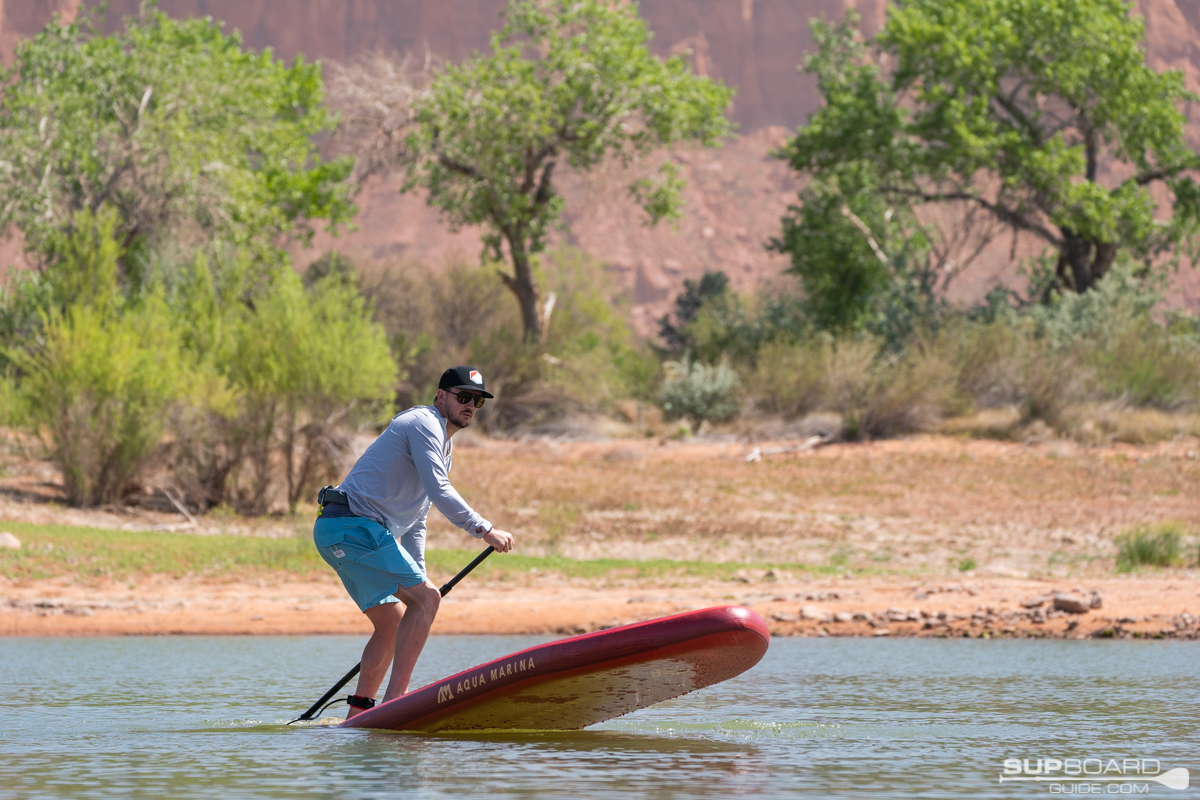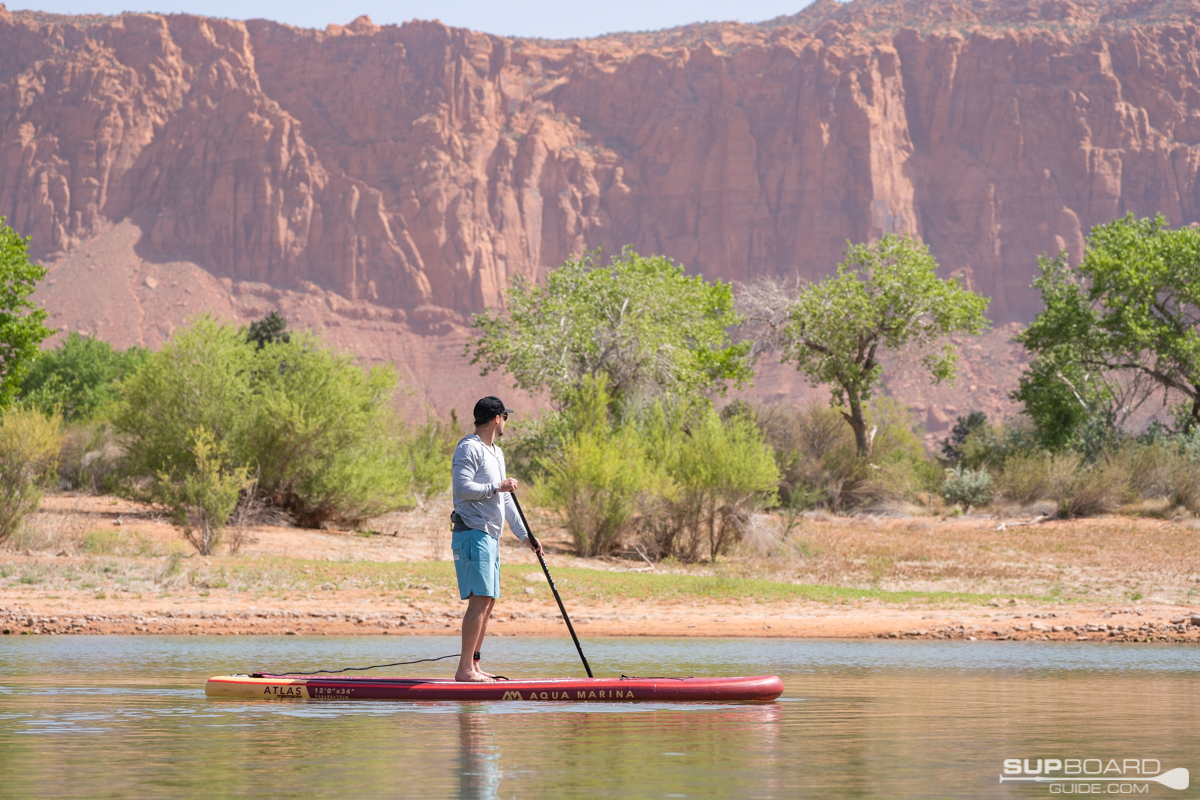 Bringing back some positivity, the Atlas slightly exceeds our expectations regarding maneuverability.
Being 12' long, we expected the Atlas to be slower on more casual backstroke turns, which it is, but not a shocking amount.
Where the Atlas impresses us is in the step back turns. The raised kick pad makes it really easy to sink the tail and pivot in any direction. Combine that with the fact that the Atlas is relatively light weight at 24lbs and sports a single dolphin set-up, this 12' board isn't too difficult to change directions.
Construction Quality: 7.9/10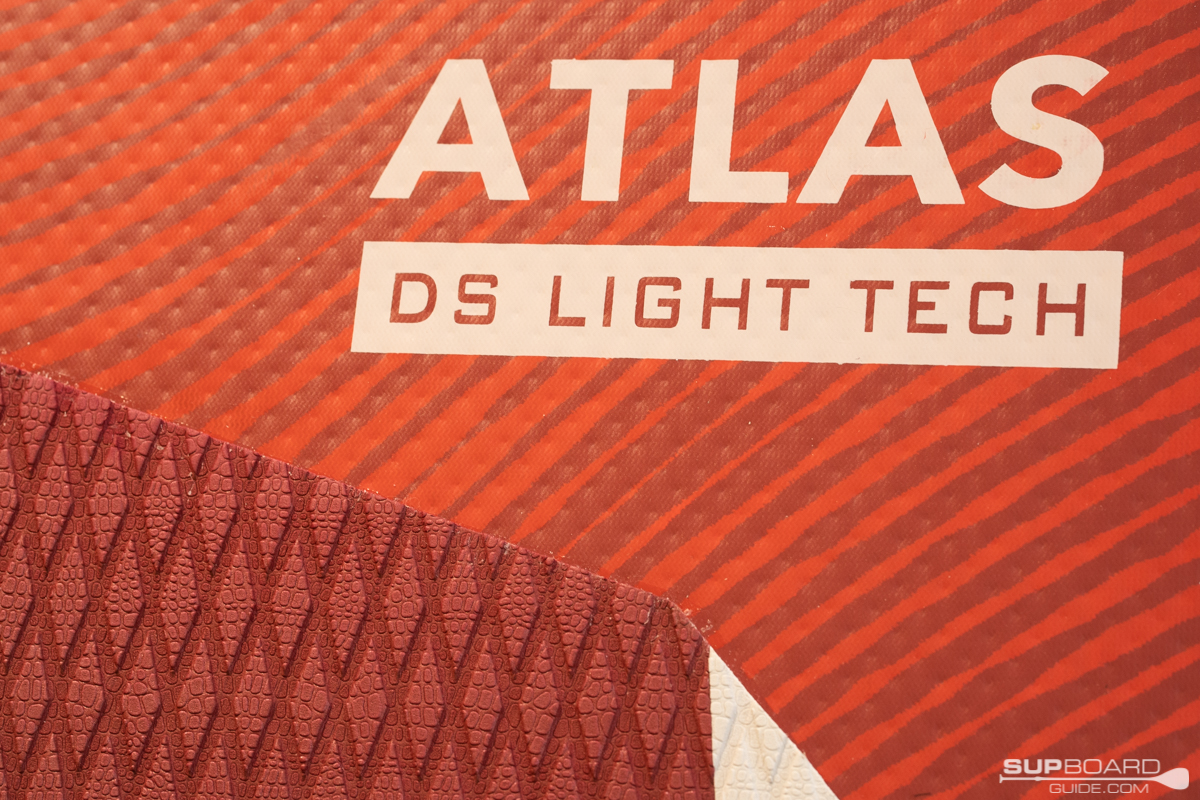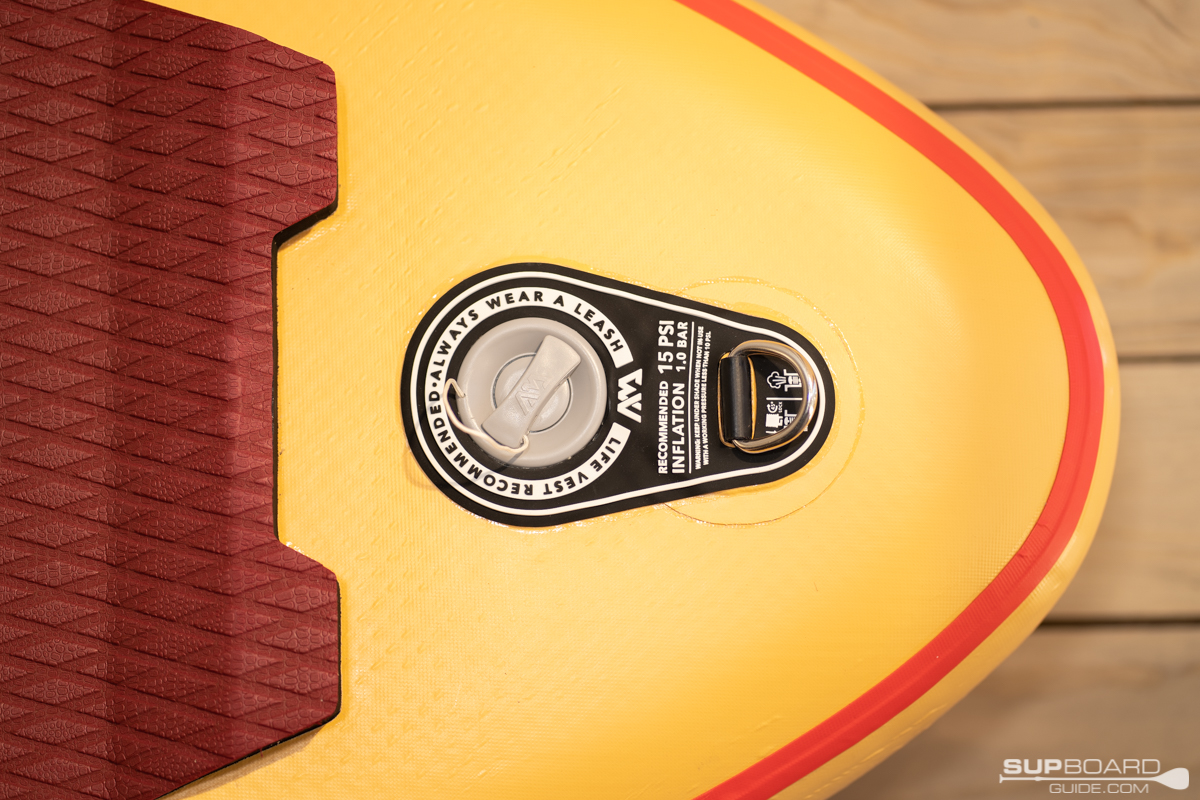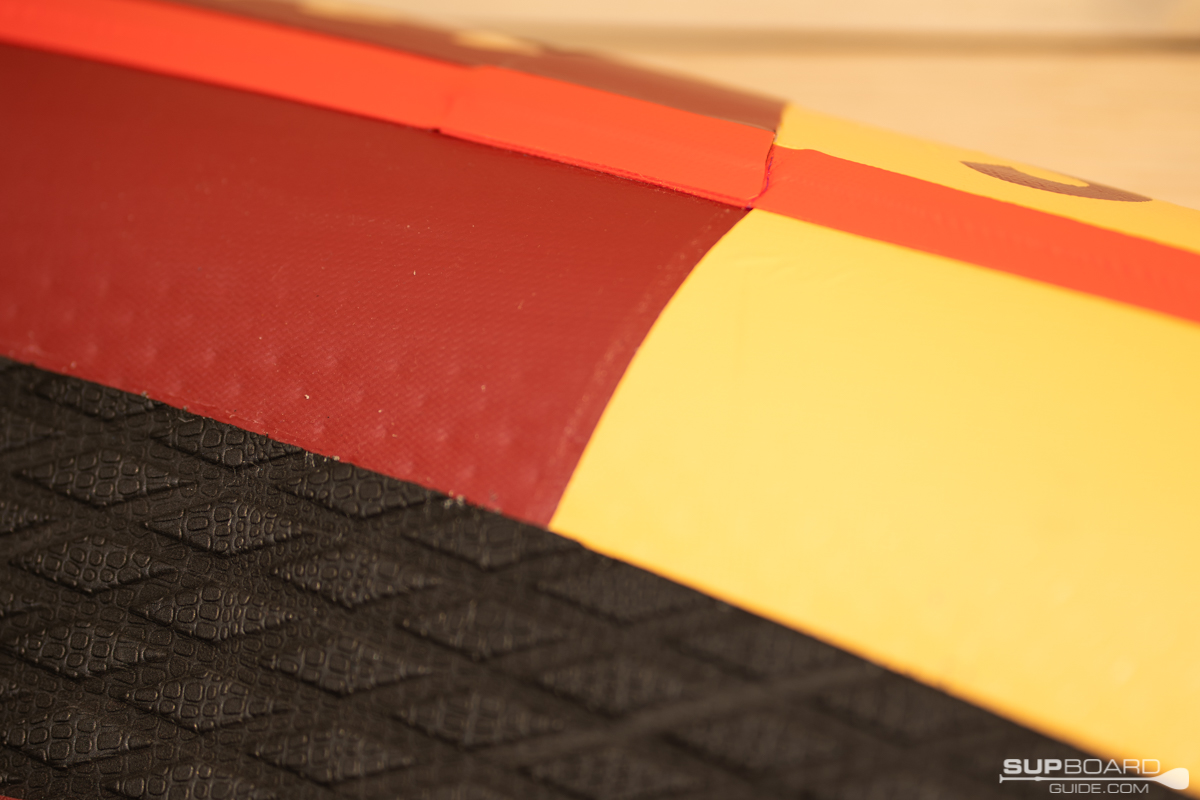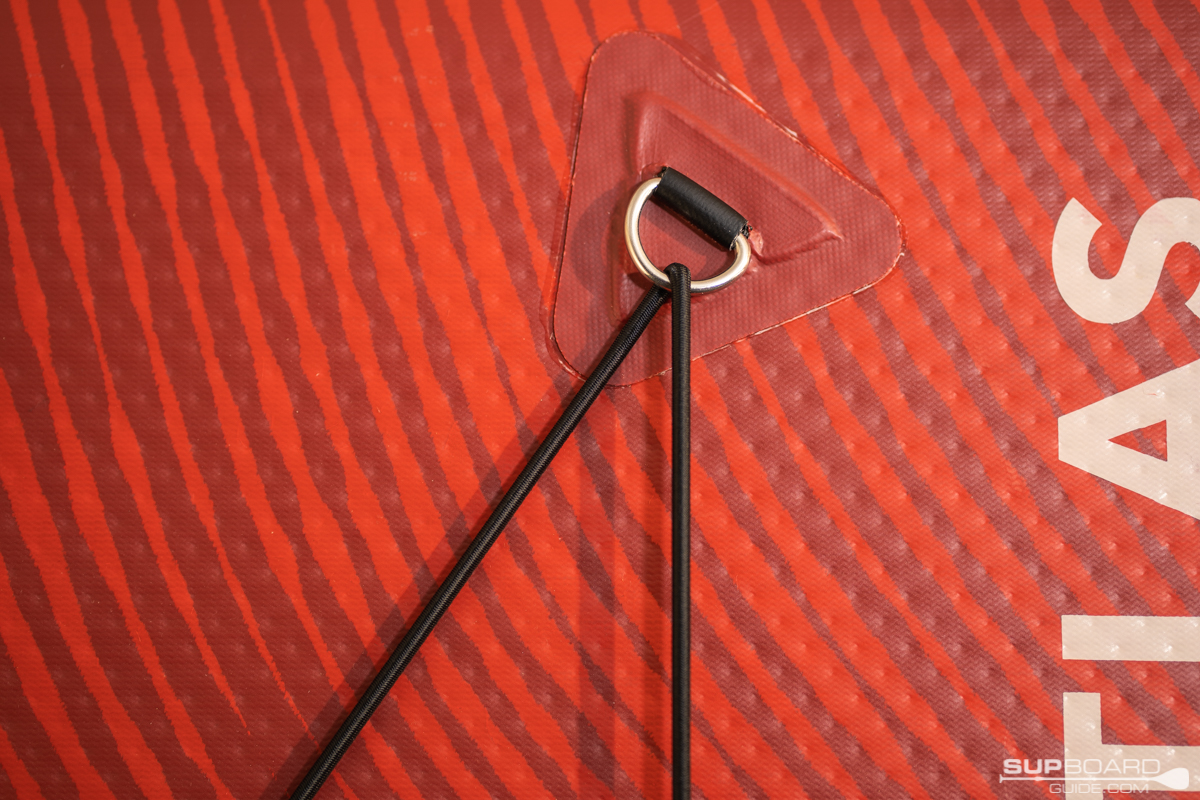 Because the Atlas is categorized into the 'Advanced Series' by Aqua Marina, I was expecting a bit more out of its construction.
Constructed with a linear drop stitch core, encased in one layer of fused PVC, the Atlas is averagely rigid and relatively light (being a 12' board), but there's not much difference between this 'advanced' construction and the construction on their standard all-around series, besides one piece of seam tape and an extra piece of PVC on the tail (despite the $100ish price difference between the two lines).
To be fairly blunt, it's not that the Atlas's construction is 'bad', it's just that we've seen better construction on our Best Cheap SUPs page, which includes some boards that are nearly half the price of the Atlas. There is some clear misalignment between their quality level and their current pricing.
In the future, I'd like to see the Atlas (and other SUPs in Aqua Marina's 'Advanced' series) be constructed with a second layer of PVC to increase stiffness and durability and help improve the overall value behind the price. Likewise, I'd also be happy to see them, alternatively, lower their prices in the meantime to meet the current value of their products.
Board Stiffness: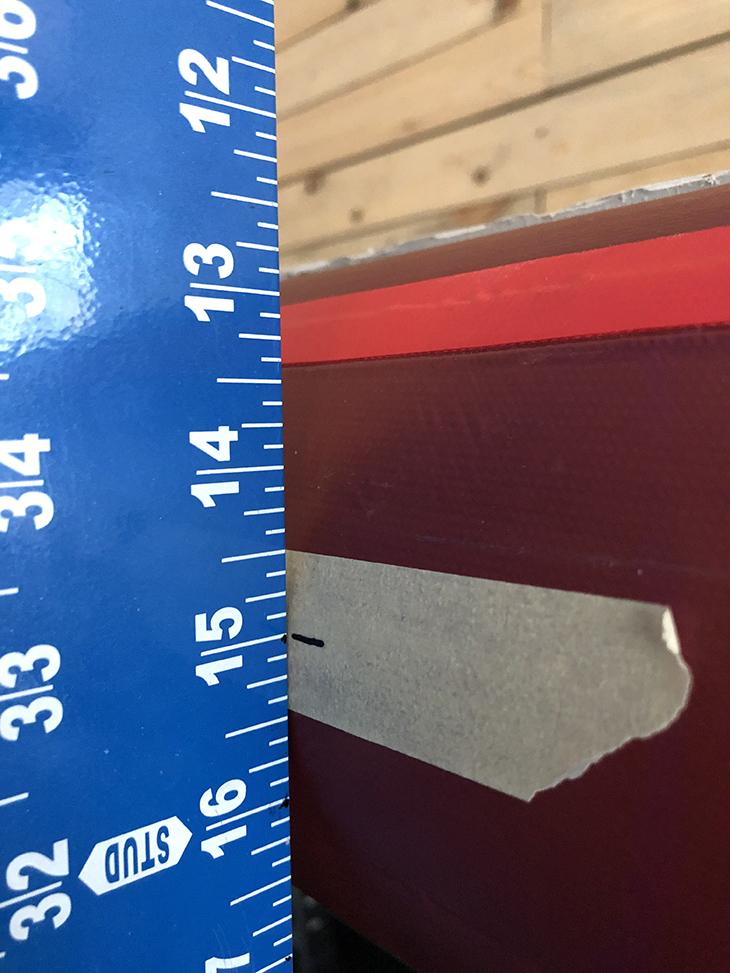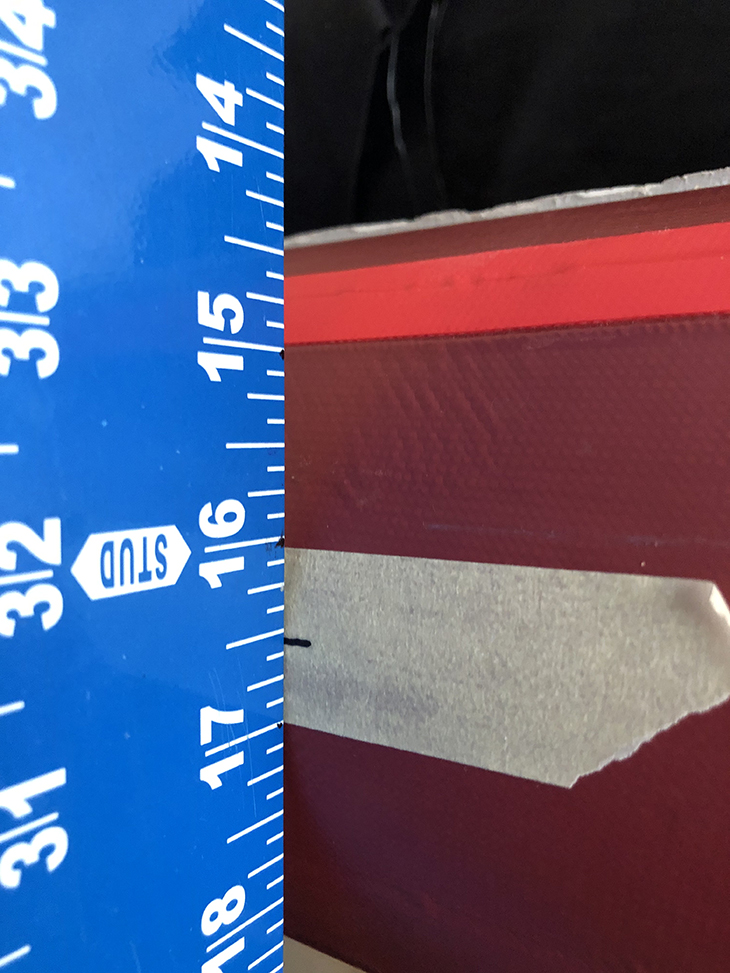 Stiffness Test: 1.5" Bend
Our bend test involves placing the SUP on two sawhorses that are spaced 7 feet apart. The board is then loaded with 150 lbs at the midpoint and we take a measurement to determine how much the SUP bends under the weight.
The Atlas bent just slightly more than average compared to other boards of varying constructions, but was fairly on par with other single layer SUPs.
On the water, the Atlas feels decently rigid, but again, it's just not enough to warrant its pricing. We think the Atlas's construction could better reflect its current price (and perform better in the bend test) with a second layer of PVC, or more advanced construction techniques.
Features/Accessory Review: 7.5/10
The Aqua Marina Atlas 12'0 SUP clearly sits at the minimalistic end of the spectrum when it comes to additional features. Aside from a set of 4 extra D-rings for an attachable kayak seat (for separate purchase), the Atlas only has one front cargo area and a well-placed kick-pad.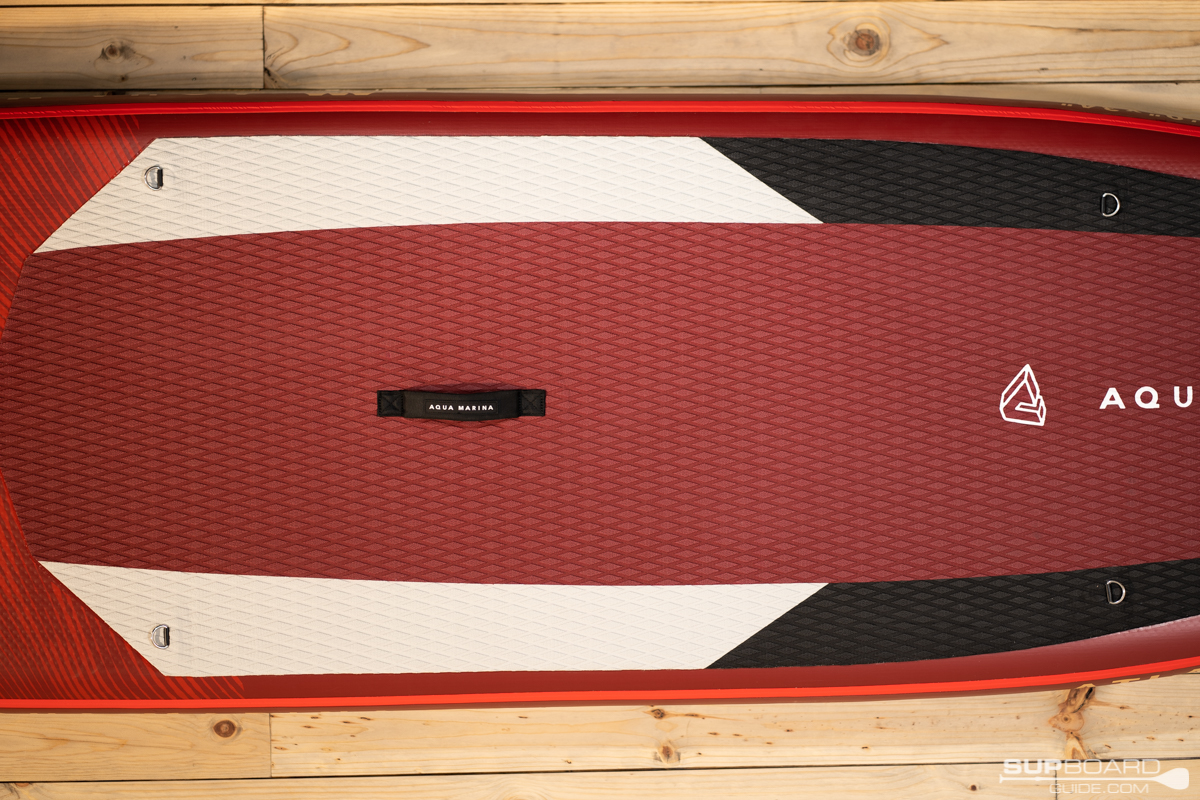 It was actually the Atlas' deck pad that stole the show for us. The diamond grooved pattern adds a ton of grip when you're walking your feet back to the kick pad for a step back turn. It's also fairly comfortable on your feet, and because it's not made up of a bunch of different spliced sections, the Atlas' deck pad has the potential to hold up really well over time.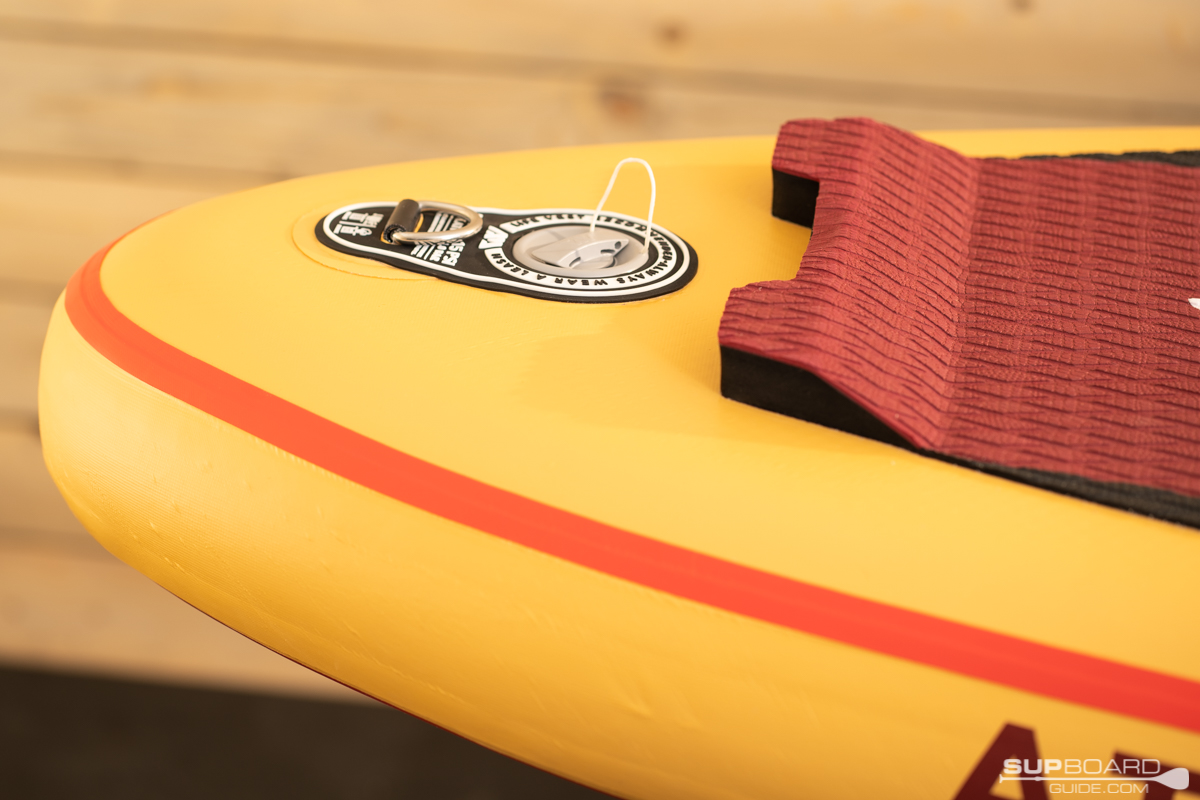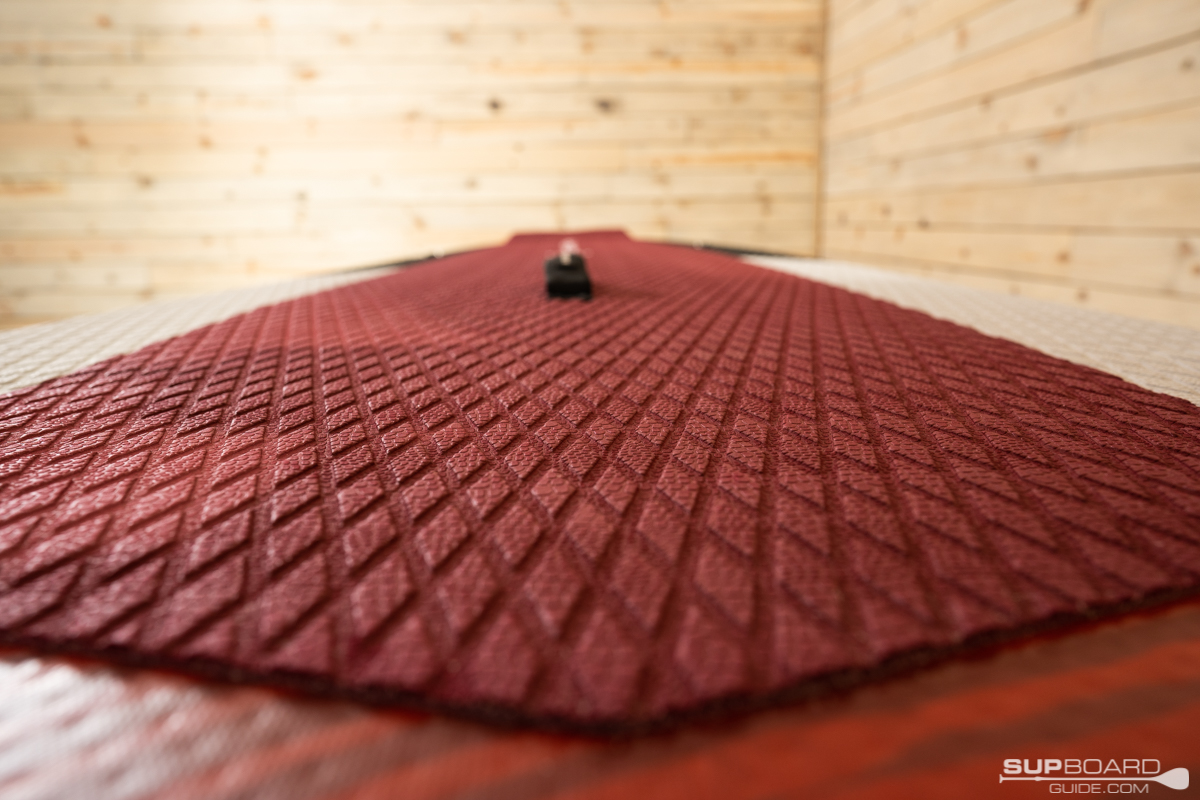 As we've mentioned a few times throughout this review, we appreciate Aqua Marina's inclusion of a kick pad on the Atlas, as it helps make maneuvering a 12' SUP in the water much more manageable.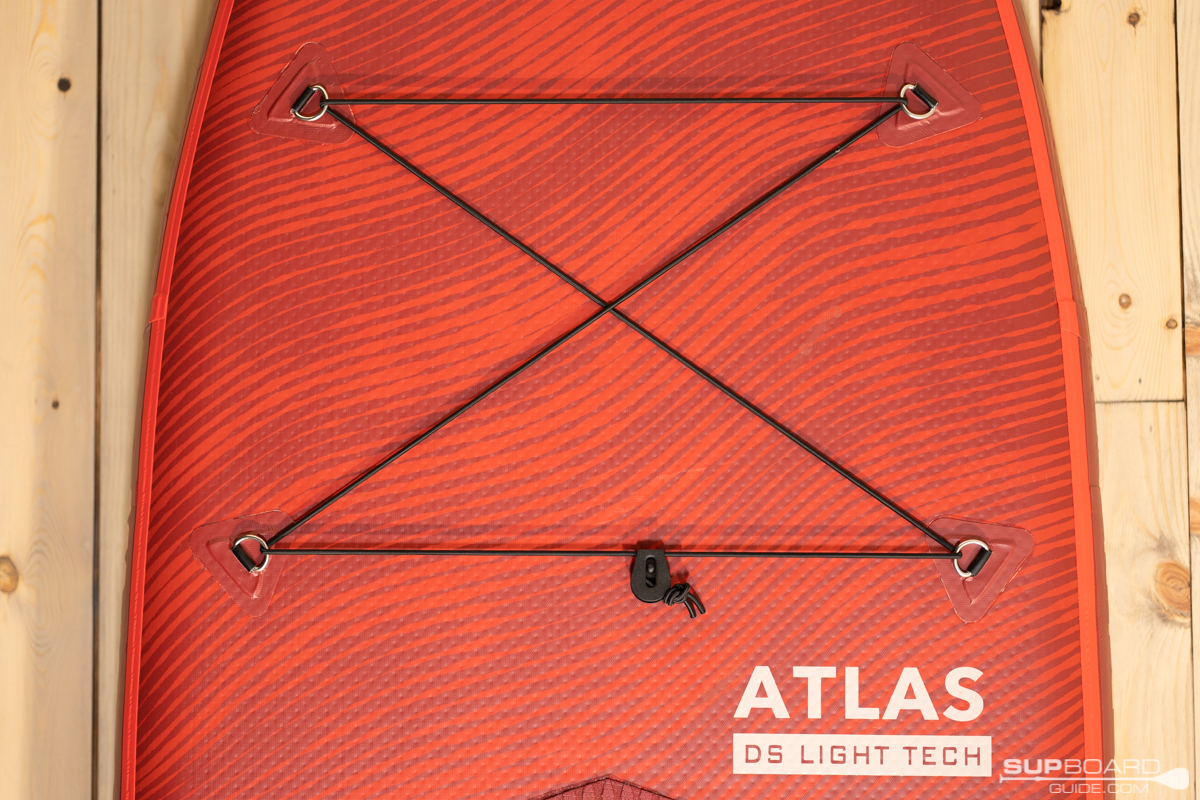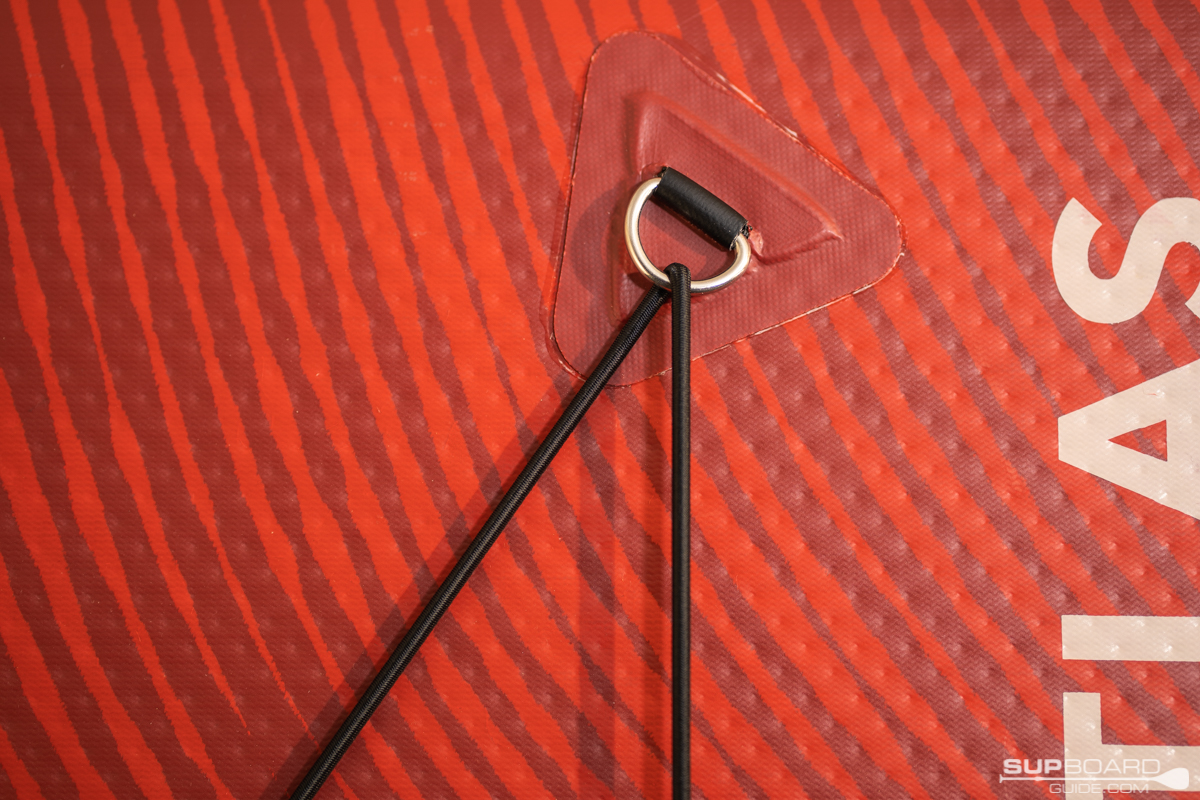 Finally, the front cargo area is pretty standard. Tied into 4 D-rings, the bungee area is wide enough for a couple of drybags, but doesn't have much more capability outside of that.
Included Accessories: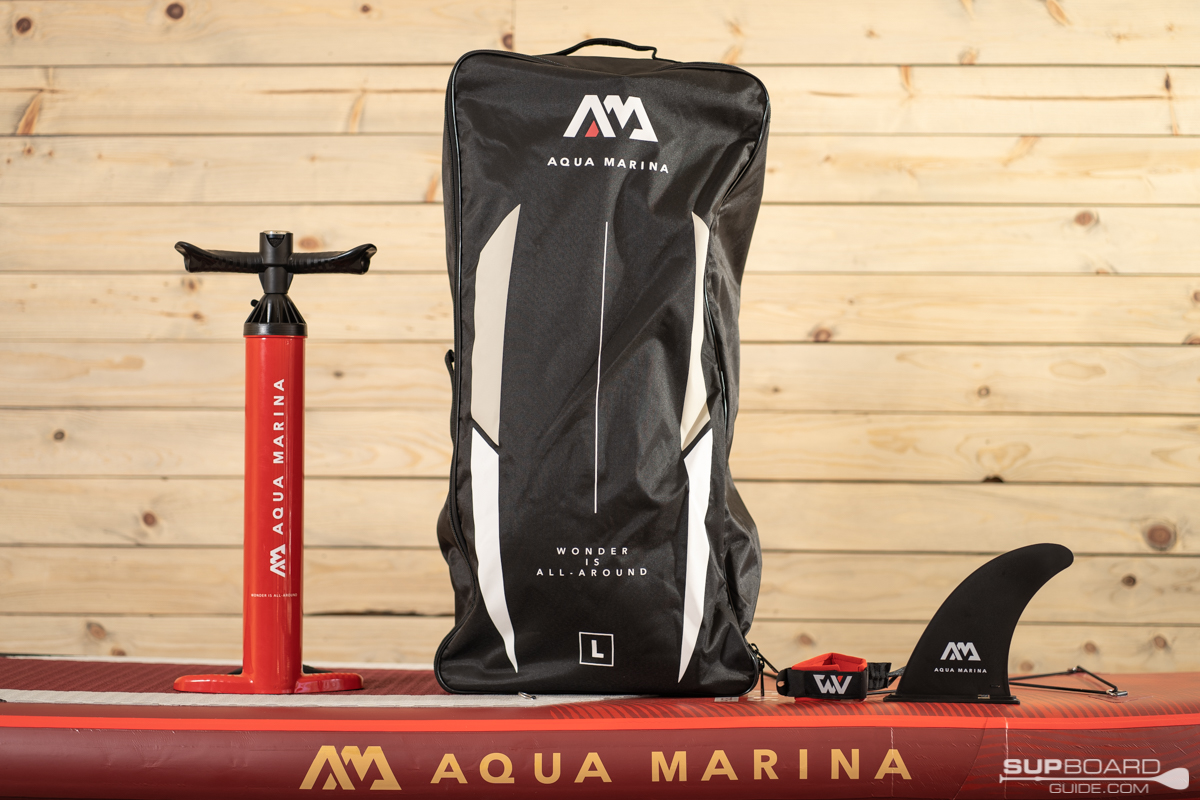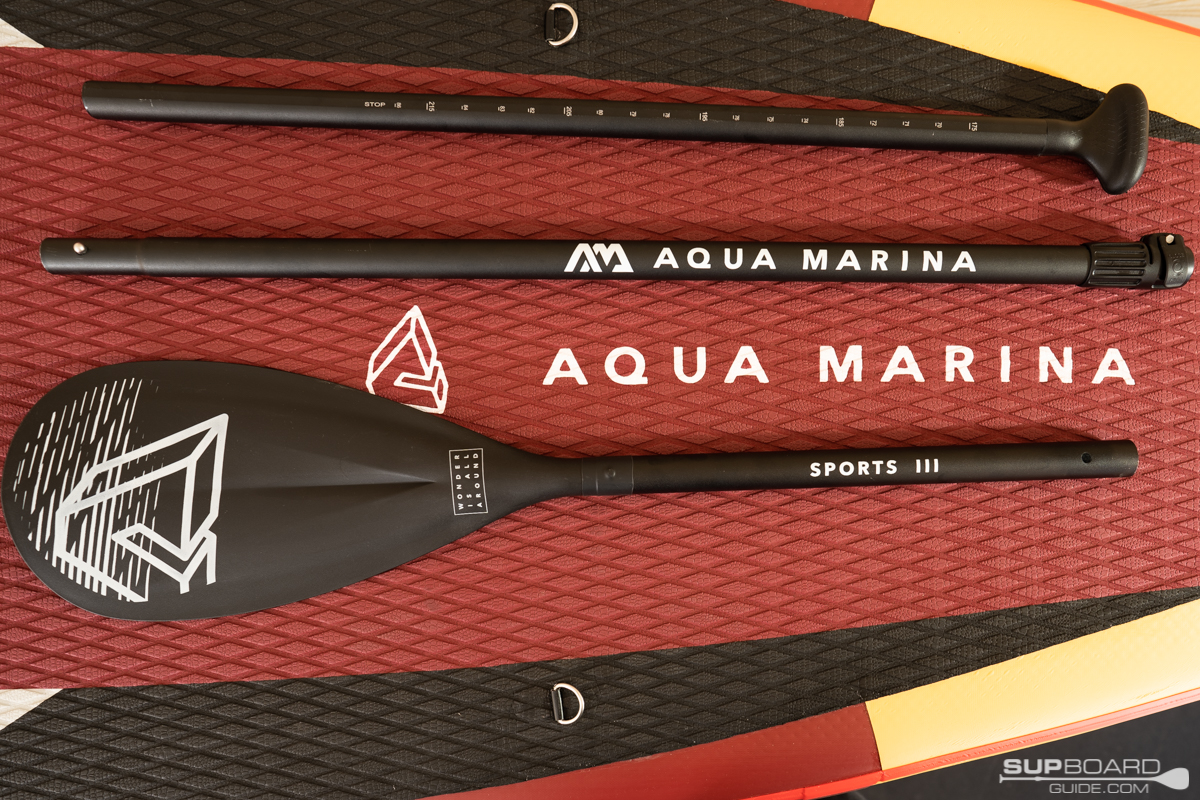 Putting transparency at the forefront of these reviews, we were pretty disappointed with Aqua Marina's SUP kit. We'll dive more into that below, but for now, here's a list of all of the Atlas' accompanying accessories:
3-piece aluminum paddle
Single chamber hand pump
Slide lock center fin
Leash
SUP Backpack (no wheels)
The main areas of disappointment here were in the paddle, the leash, and the backpack.
For a SUP in this price range, we'd expect to see at least a fiberglass paddle included with the kit, and potentially even a carbon/fiberglass blend; the included aluminum paddle is something we'd accept if the Atlas was half of its current price, which is obviously not the case.
Regarding the leash, we honestly aren't 100% sure how to describe it. The velcro ankle attachment is fixed to a thin cord, which is encased in a stretchy, tight, mesh of sorts. We've never seen anything like it, but as with the paddle, it feels very low quality for the overall price. In the future, we'd be happy to see Aqua Marina switch to a coiled, full-swivel leash option.
Closing with the backpack, we also felt the quality was far too low in comparison to other similarly priced SUPs on the market. There's not padding on the back or the straps, no wheels, and no organizational pockets. The actual bag material feels fairly flimsy as well, and the zipper is rather minimalistic. In short, it's not a bag that I'd expect to last for a full season.
Summary Review of the Aqua Marina Atlas 12' iSUP
To recap and close out this review of the Aqua Marina Atlas: we think the Atlas has a lot of potential to be a great high volume SUP option for paddlers of varying sizes and skill sets. However, with its current shape, construction, and included accessories, it's just not quite on par with other SUP options on the market (especially considering the price).
We also think there needs to be a little more differentiation between Aqua Marina's 'Advanced' All-Around series and the standard series considering there is an increase in price for the 'Advanced' series.
We hope you've found this review for the Aqua Marina Atlas to be helpful as you make your purchasing decisions, and please reach out if you have any questions/concerns.
Don't forget your PFD and have fun on the water!
The following two tabs change content below.
SupBoardGuide
Heyo! At SupBoardGuide.com we are a team who love the water, the outdoors, and are more than grateful that our full-time job allows us to review stand up paddle boards. We paddle year round (it helps that we are just about 2 hours outside of Las Vegas), and we bring in a wide range of paddlers with the goal of providing our readers with the best, most in-depth, and accurate stand up paddle board reviews.
Latest posts by SupBoardGuide (see all)