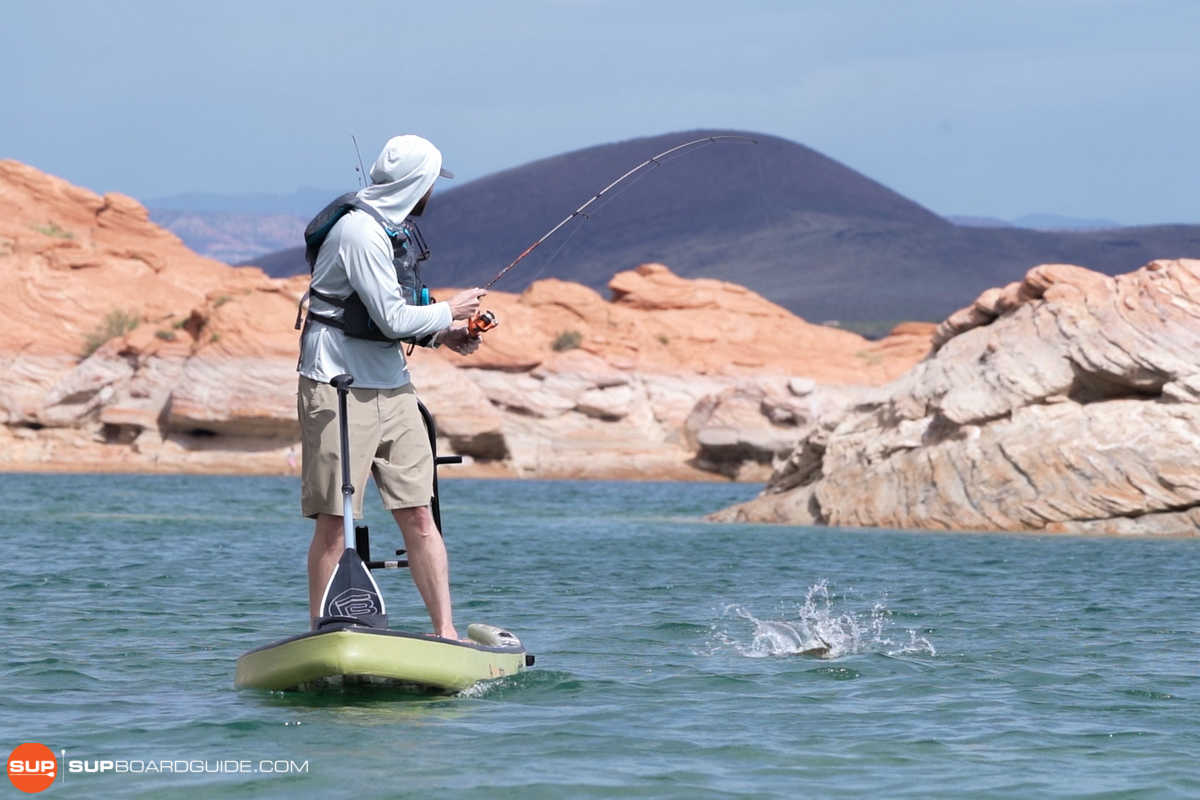 One of our favorite things about SUP'ing is that our boards allow us to get into some pretty remote spots that would be unimaginable for a larger boat or anything with a motor. We also love that they're quiet and cause very little disturbance in the water so as to not scare off any local wildlife. Given these traits, it's no surprise that SUP fishing continues to grow in popularity.
A paddleboard allows you to non-disruptively settle into those hard-to-reach sweet spots to start reeling 'em in. Throughout this post, we'll outline the list of our favorite Fishing SUPs of 2023 to help you make the best decision when it comes to choosing a fishing SUP for yourself. Before that though, let's talk about some characteristics that make a truly great fishing SUP stand out among others in the market.
Best Fishing SUPs
1. BOTE Rackham Aero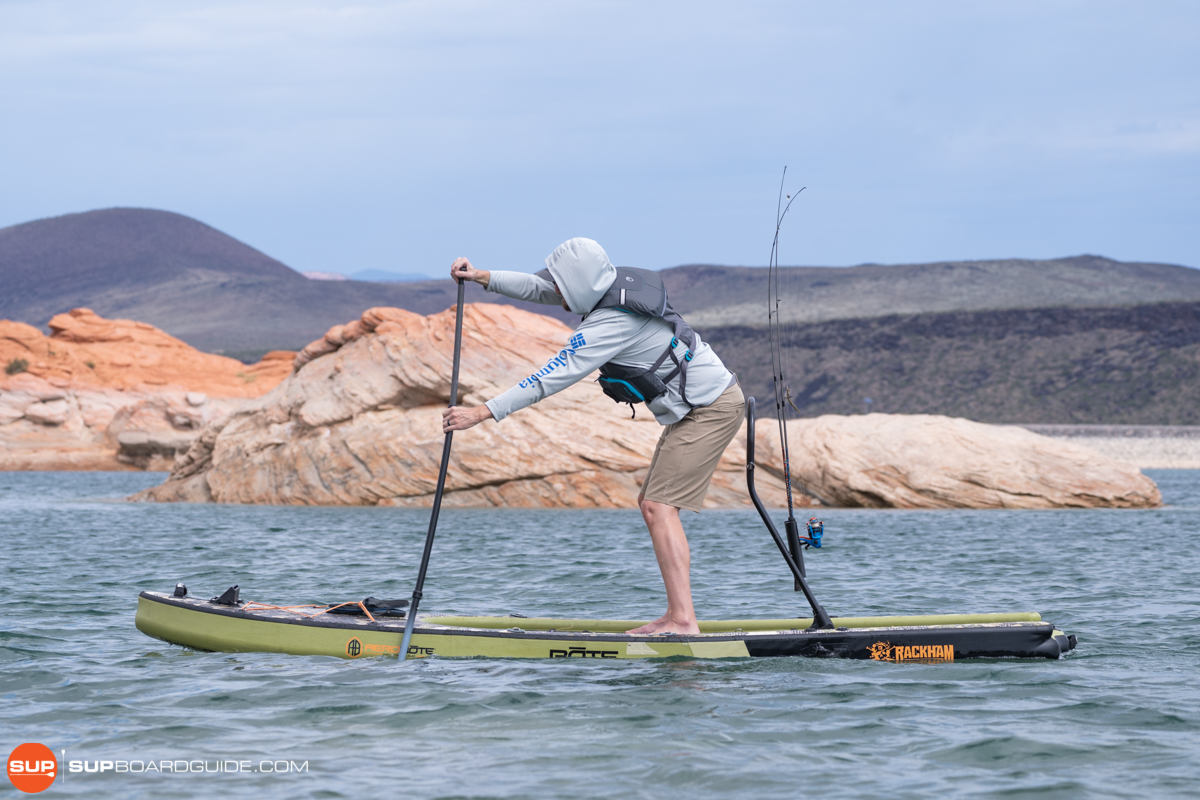 Pros
Recessed deck pad to keep you dry and improve stability
One of BOTE most feature rich/accessory compatible board
Extremely customizable to your own preferences
Included roller backpack to easily transport a 70lb kit
Ability to bring along gear/ another person with its 400 lb weight capacity
Cons
Not much, we just have not put it through as rigorous of testing as we'd like to yet
The BOTE Rackham Aero excels in stability with a twin-chamber recessed deck at 12'4 long, 38" wide. It's a fishing geared SUP that doesn't make massive sacrifices when it comes to overall paddling performance, though it's not as easy to casually paddle as BOTE's more all-around option, the HD Aero. The Rackham Aero is more than capable of carrying along your gear or another adult with it's 400lb weight capacity, while being a relatively lighter weight of 45lbs.
As far as features go, the Rackham Aero is one of the BOTE's most loaded options aside from the Rover Aero, which we'll discuss below. This SUP has 3 grab handles, 14 D-rings, 6 action mounts, and 4 scotty mounts for tons of space and versatility to store and mount your gear and accessories. It's also compatible with a kayak seat conversion kit, a sand spear, travel strap, rac systems, a paddle sheath, cooler tie downs, and a wheel rac. We also like the stamped EVA deck pad that keeps your feet stable, comfortable, and dry on the Rackham's recessed standing area. As with the Rover Aero, there's not much you can't do on this SUP.
BOTE does a great job of including all of the accessories you need to get started SUP fishing right out of the box. With the Rackham Aero, you receive a 3-piece fiberglass adjustable paddle, 10" removable center-fin, a pair of slide-in rac receivers, a removable paddle sheath, a removable sand spear sheath, a repair kit, a single chamber dual action hand pump, and a roller travel bag that eliminates the challenge of transporting a 70 lb packed kit. Overall, this is an extremely inclusive kit for a great value.
BOTE's Rackham Aero is a great option for anglers looking for a customizable fishing focused SUP that includes a wide range of included accessories.
---
2. BLACKFIN Model XL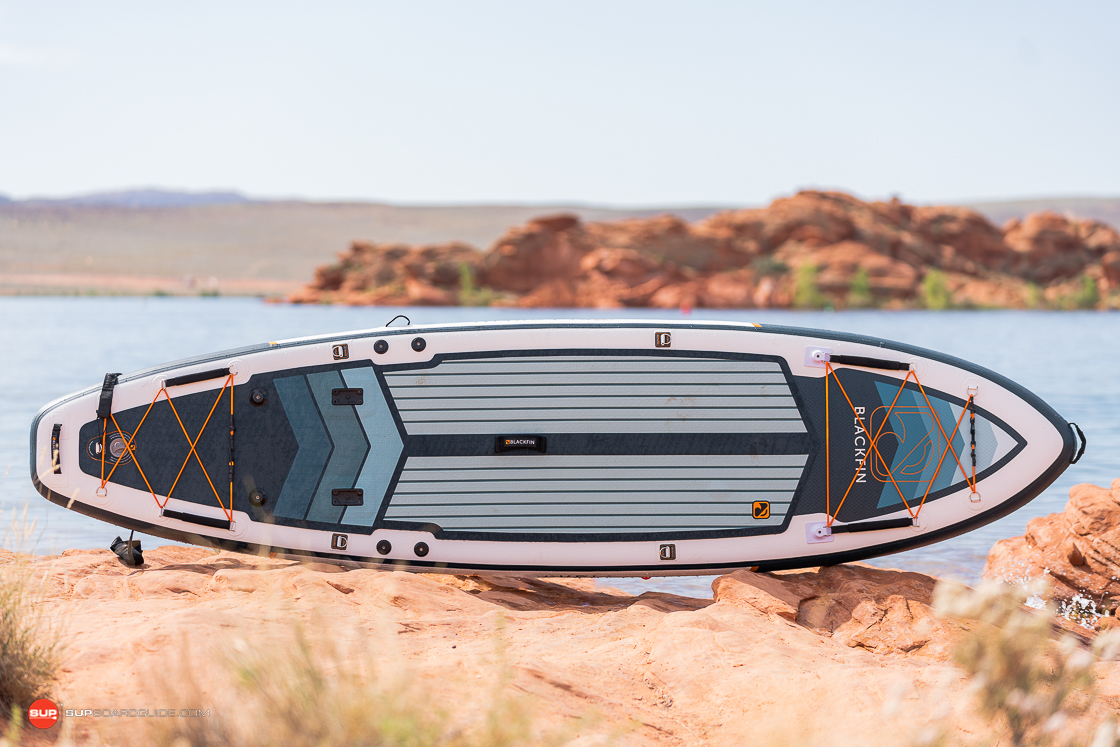 Pros
Great balance between a true performance SUP and one that gives you the ability to fish
Several action/scotty mounts let you customize your gear
High weight capacity for stability while fishing
Lightweight for fishing SUPs at 30 lbs
Included roller backpack with plenty of storage compartments
Fast on the water to help you get to that fishing hole faster
Cons
Not much – the Blackfin XL can be set up as a killer fishing SUP
The BLACKFIN Model XL is a great choice for those who want the option to fish from their SUP, but don't want to lose performance when it comes to standard SUP'ing. At 11' long and 34" wide, and has plenty of stability to accommodate light fishing with its 485 lb weight capacity. However, at the same time, It's easier to maneuver and paddle through the water than other larger, heavier fishing SUPs.
As with any BLACKFIN board the Model XL is loaded up with features. This board sports 20 D-rings (including front and rear cargo areas), 8 action mounts and 2 scotty mounts for tons of versatility when it comes to gear attachments and storage. It's also compatible with a sand spear that doubles as an anchor or a push-pole in shallow areas, as well as a kayak conversion kit and a fishing rack attachment to store rods, coolers, buckets, etc. Another notable feature of the Model XL is that it is constructed with a carbon rail to add stability and rigidity, improving performance on this lightweight, fishing capable SUP. We also enjoy the BLACKFIN's stamped deck pad that perfectly balances traction and comfort whether you're just paddling around or chasing fish. Lastly, the BLACKFIN Model XL is easy to move around due to its comparatively lightweight on this list as well as its 3-handle configuration.
Fishing features and high all-around performance make the Blackfin Model XL our top choice for someone who wants a fishing SUP that they can also paddle as a regular all-around SUP (and it's also one of our top rated all around paddle boards in general)
---
3. Gili Meno XL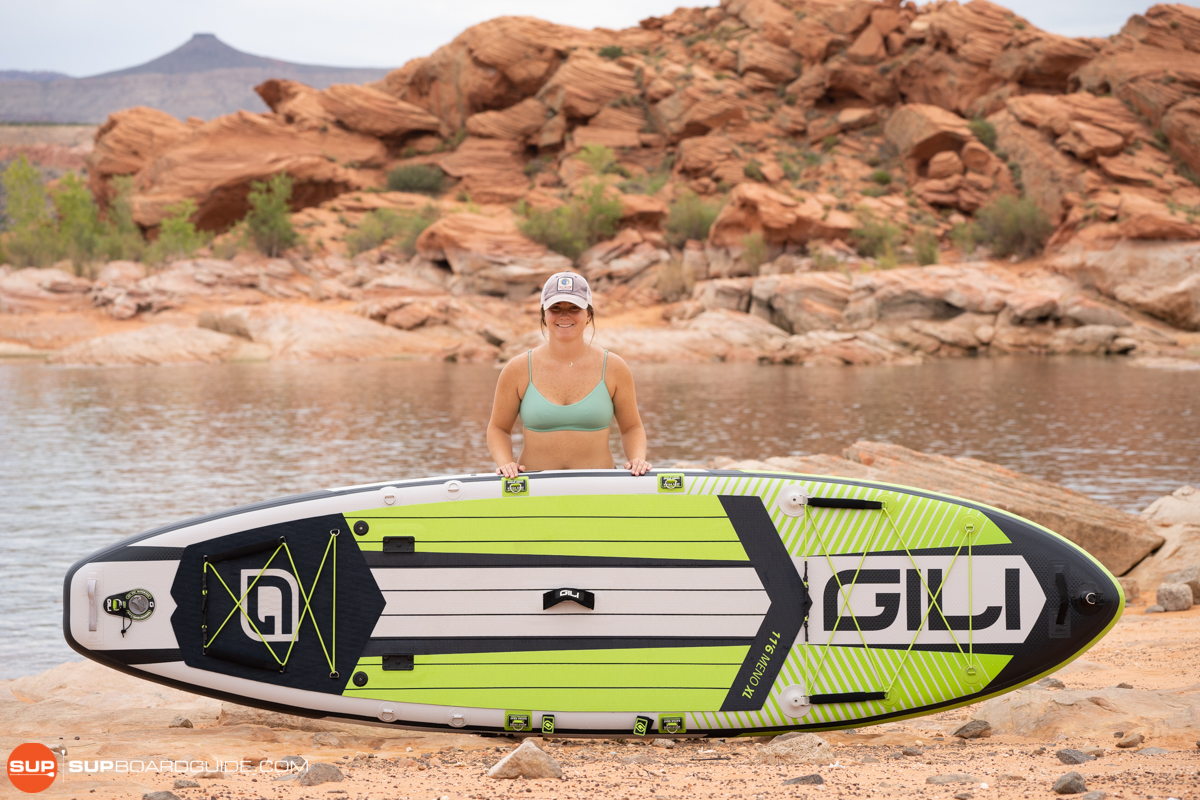 Pros
Comes with 5 different fin options for easy access to different bodies of water! From fishing shallow rivers to the deep ocean.
Very stable SUP
Can hold up to 400 lbs of weight (so you can catch a lot of fish)
5 action mounts and 3 scotty mounts
Gili has 'fishing packages' so you can purchase this SUP with gear that's compatible with the mounts
Cons
We'd love to see a full length deck pad or diamond grooves added
The Gili Meno XL is another board that is not a dedicated fishing SUP, but is an awesome all-around board with the potential to be rigged up for a full day of casting a line. This SUP comes with five different fin options, which we see as a bonus to all the people out there who like to change up where they go fish so as to not vacate one body of water! With five different fin options, you can easily paddle in a river one day, and the ocean the next.
It is also a super stable board, and when we talk about it in the all-around sense, we note that it's great for beginners. But we think that its stability is also a huge factor in the fishing realm, especially if you're out there catching massive fish. You don't want a SUP that is easy to tip! Imagine flailing off your SUP due to losing a battle with a fish! Ha! Also, it's on the bigger side and has a 400 lb weight capacity, so when you reel in those massive fish without tipping over, you won't have to worry about sinking due to too much weight. I mean, unless you reel in a shark.
At 24 lbs, this is one of the lightest SUPs in the 'big board' category. It's 11'6x35x6, which is definitely a bigger sized board and offers plenty of deck space so you won't feel cramped around all of your fishing supplies. Those long and wide dimensions are also what keep the board stable and flat even when weather starts rolling through. Additionally, its weight capacity maxes out at 485 lbs, which is quite high and good for bringing out a lot of gear.
On the deck, there are five action mounts in total and 3 scotty mounts. Even though this board isn't marketed as a fishing board, Gili clearly decided to make that a part of its purpose. With these mounts, it's quick and easy to attach fishing rods, fish finders, bait trays, etc. One of the action mounts is on the very tip of the nose, which we think is a great place to hook up your Gopro or phone camera so you can record your adventures from the best angle.
---
4. BOTE Rover Aero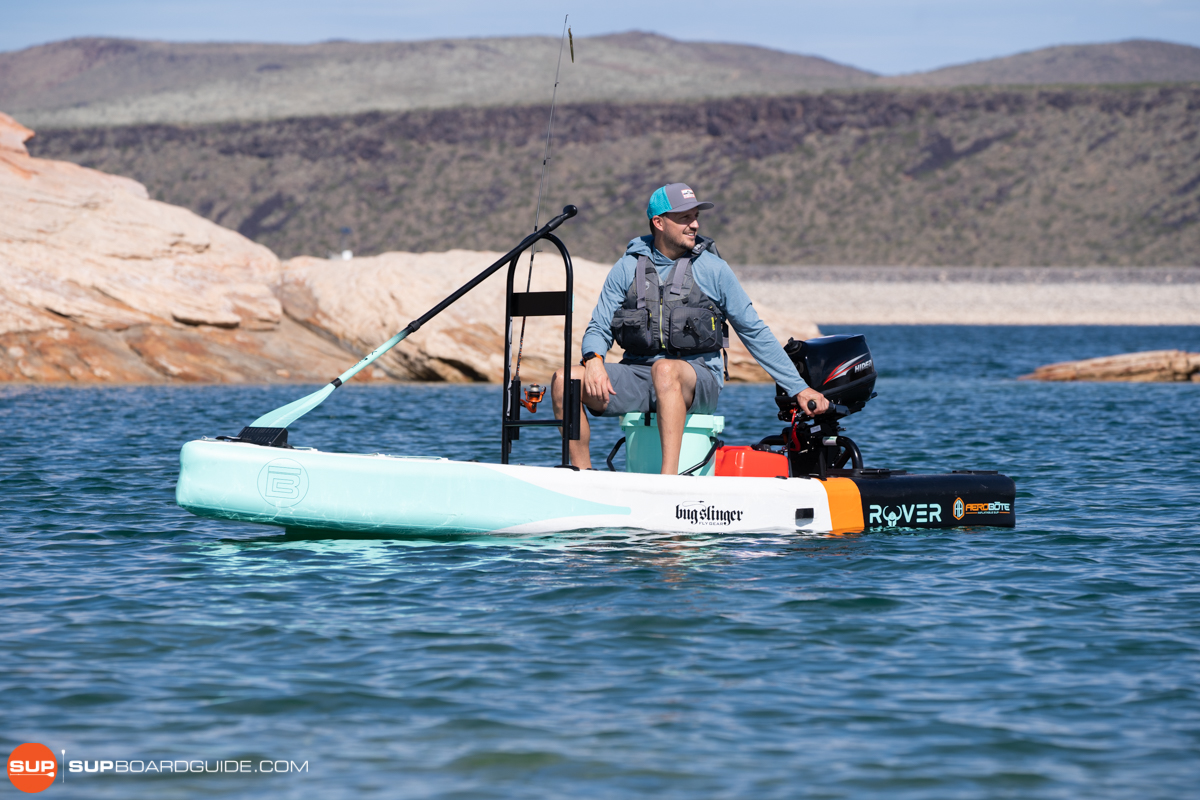 Pros
Compatible with a 6HP outboard motor
Includes Moto-rac
Recessed dual chamber deck keeps you dry and stable
Roller bag makes it easier to transport this heavier kit
Feature heavy with d-rings, scotty mounts, and magnetic cup-holders
It's about as fun of a fishing SUP as you can get
Very comfortable to fish from given all the available accessories and features
Cons
It's a heavy board, and will take a little bit of practice when you set it up for the first time.
This iSUP/Micro-Skiff hybrid gives you the best of both worlds when it comes to SUP fishing with the convenience of a motorized skiff. At 12'6 long, 40.5′ ' wide, this iSUP/skiff is solid as a rock. BOTE even went the extra mile for stability and rigidity by combining a recessed deck pad with dual chamber construction to avoid any balance issues. Of course, this is a heavier SUP at 63lbs inflated, and 85lbs for the whole kit, but still remarkably lightweight when compared to solid traditional micro skiffs. You also should have no problems loading on gear or two adults, as the ROVER has a weight capacity of 500lbs.
BOTE definitely wasn't shy on the features for this fishing SUP/micro-skiff either. The Rover Aero has 16 action mounts, 4 scotty mounts, 12-d-rings, paddle holders, 'Moto-RAC' receivers/compatibility, and boat's 'Magnepod' cup-holders. With that amount of features, I can't think of much that you wouldn't be able to accomplish with the Rover Aero. There's plenty of space for gear storage, phone and camera mounts, a paddle sheath, grab-rack, or fishing rod holders. I also love the recessed deck pad that is cushy and deeply grooved to keep your feet dry and comfortable during a long day on the water.
Another thing we love about this SUP/skiff is that BOTE included a load of accessories to get you paddling straight out of the box. Included with the BOTE Rover Aero, you'll receive a 3-piece adjustable fiberglass paddle, paddle sheath, sand spear sheath, Motorac, motorac receivers, grab strap, detachable slide-lock center fin, single chamber dual action hand pump, repair kit, and a large Aero Bag to comfortably store everything. To fully utilize the Aero's micro-skiff capabilities, you'll need to purchase an outboard motor separately, which is also available on BOTE's site. While it would be convenient to include the motor with the board for an increased overall kit price, I appreciate the ability to shop around for a motor or use one you may already have on hand. I also wish BOTE would have opted for a carbon fiber paddle to include in this kit, as this is a heavy SUP to pull through the water, though the fiberglass paddle is sufficient to paddle short distances, which is more realistic if you add on the motor.
Bottom line – this is essentially a micro-skiff that can be transported in your trunk or your backseat. This board is a great option for SUP anglers that want the convenience of a boat in not having to paddle for hours to your fishing hole, but also want the advantages of a SUP in being able to get into tight, shallow areas. It's also an affordable price for tons of customization ability in features and accessories.
---
5. Sea Eagle FishSUP 12'6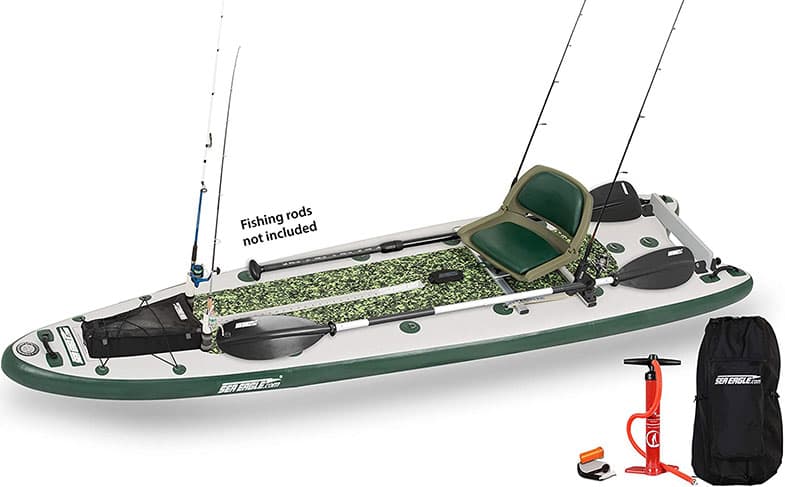 Pros
Trolling motor compatible
Built-in fish ruler
Options to include one or two swivel chairs, or a more affordable inflatable chair
Includes multi-purpose storage bag that fits comfortably in front bungees
Front paddle holder/pocket built-on to the board
Cons
No action or Scotty mounts limit your accessory capabilities
The Sea Eagle 12'6 is an extremely close second to BOTE's Rover Aero. The Sea Eagle FishSUP 12'6 is super stable at 12'6 long, 40" wide, and 6" thick. Though it does not have the same dual chamber technology as the Rover Aero, so you could expect slightly less rigidity and stability when moving around on the deck, though nothing exceptionally challenging. Like the Rover Aero, the Sea Eagle has a 500lb weight capacity, enabling it to comfortably haul all your gear or two adults, while being just 45 lbs (48 lbs with the motor mount). This SUP is also compatible with an outboard trolling motor, making it a great microskiff hybrid board for a great starting price.
The Sea Eagle 12'6 has loads of features that make it a great option for a SUP fisherman. This SUP has a built in 36" fish ruler to take out the guesswork of keepers, as well as a 14 d-ring attachments, a paddle pocket, removable rear motor mounts, 360 degree swivel seat compatibility, a front cargo area, and 3-carry handles for easy transport to and from the water. My main suggestion would be for Sea Eagle to incorporate scotty mounts for rod holders, though they do include a multi-purpose storage box that has 2 in-built rod holders. The multiple D-ring attachments provide a lot of customization options when it comes to attaching gear, but there's not a ton of options right out of the box to store/secure a selection of rods. Though if you only need to bring along 1 or 2 rods to have a successful day, you'll still have plenty of space on the Sea Eagle.
Sea Eagle offers several kit options increasing in price as you add more accessories, though each package is still a great value. Included with the start-up package and all package upgrades, you'll receive your 12'6 FishSUP, as well as a large backpack, a 3-piece SUP paddle, multi-purpose storage box, single chamber dual action hand pump, and a repair kit. With the next package upgrade you'll receive a kayak paddle and an inflatable kayak seat, which you can upgrade to a swivel seat by leveling up to the next package. The following package is the pro-motor fishing package and includes a trolling motor power center, while the following package includes a wheel rac to comfortably pull the board/accessories around. The second to last upgrade is the ultimate 2 person package, which includes a second swivel seat and a 7" pedestal for one of the swivel seats. Lastly, you could upgrade to the green machine package, which includes a solar panel to hook up to your marine battery. Again, each package comes with an increase in price, but all are a great value considering the range of accessory customization and if you were to compare it to a traditional microskiff.
Overall, the Sea Eagle 12'6 FishSUP is a great option for the less gear heavy SUP fishermen/women that want some added customization ability to their SUP/Micro-skiff kit without the added weight and price tag of traditional microskiff options.
---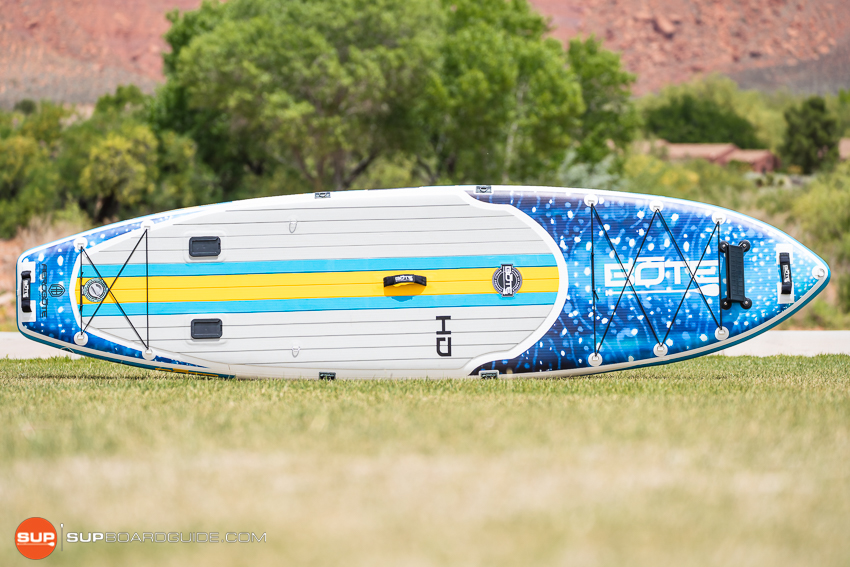 Pros
Well made and purposeful attachment mounts, including Scotty mounts
Awesome graphics that make this SUP not only feel impressive, but look it
Option to purchase useful accessories that are compatible with this board such as a cooler, a fishing rack, a tackle rack, and more.
Rigid and well made so it's easy and fun to paddle
Cons
We'd love to see a leash included with the kit
While it may not be the most important feature on the Bote HD Aero, I can't help but talk about it: the way it looks! Who says looks aren't important when searching for the top fishing SUP? There are multiple different colors and looks you can choose from, and we are big fans of all of them. There is even an option that is called 'Native Abalone,' which fits right into its fishing vibe that we are depicting here.
To get started, this board is 11'6x34x6, so it's in the larger category. Which means it has a lot of room to move around on, strap down gear, or pile up fish! It also has a high weight capacity of 315 lbs, which we think is necessary for a fishing SUP.
On Bote's website, there are a lot of pictures of suggested accessories and how they attach to the board, with the majority of them being fishing accessories. We love that BOTE makes it easy to envision how the board will look when it's loaded up with fishing gear. Spoiler alert, it's awesome. There are even options to buy the board as a package, which is specifically tailored to people who want to fish! The packers include an inflatable belt PFD, a white tackle rac, a cooler, and a leash. Purchasing this package deal makes it super simple to start fishing right away because all of the fishing accessories are compatible with the Scotty mounts that are already on the board. On the nose of the board there are attachment points for what is called a 'paddle sheath,' which is a fancy paddle holder that allows the paddle to be secure but also super convenient for when you are ready to use it. We love this option and design, especially for fishing because you need to use your hands a lot but you also need to paddle around to where all the fish are. The paddle sheath makes that possible in the simplest way we've seen so far.
And to top it off, the board itself gets the job done and is fun to paddle. The shape of the board is pretty consistent to most all-arounds, and the construction of the board makes it a rigid and stable setup.
---
7. BOTE Rackham (Hard SUP)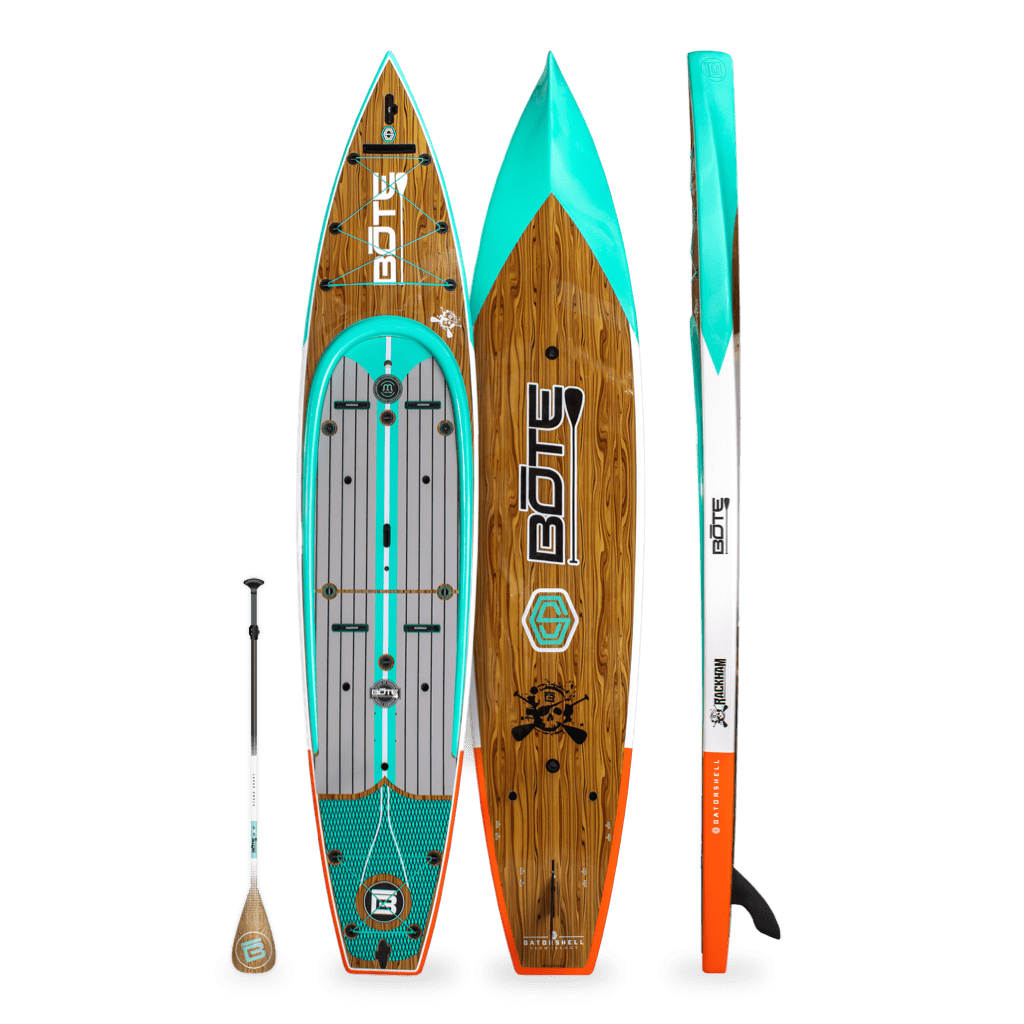 Pros
Displacement hull + single-fin set-up makes for a faster fishing SUP
Tons of features and accessory compatibility
Customizable to adapt to your environment
Easy set-up since it's a hard SUP
Recessed deck pad
Several fin set-up option
Cons
No scotty mounts
No included side-fins
BOTE's Rackham is the only hard SUP on this list, but we like that it comes in both a 14' and 12' option to better accommodate different paddler needs and preferences. Both are stable boards with recessed deck at 14' long, 34" wide and 12' long, 32"wide, with the 14' option providing slightly more stability between the 2 when it comes to loading on gear with its 400 lb weight capacity compared to the 12' option's 350 lb capacity. I'd also expect both of these boards to be a bit faster and track well in flatwater conditions, despite being a heavier 48 and 52 lbs, due to their displacement hull and their single fin set-up (though both are side-fin compatible).
Like its inflatable counterpart, the Rackham Aero, the Rackham is loaded down with features and accessory compatibility. Both 12' and 14 options have front and rear cargo areas as well as 8 action mounts, a built-in paddle sheath, and several rack receivers to give you tons of customization ability when it comes to rod holders, grab racks, or bucket holders. While I would love to see scotty mounts on this board, BOTE did an excellent job of allowing you to deck out this board as much or as little as you'd like. The customization ability of this board continues into the fins, as a 10' removable center fin is included in the kit, but it's also compatible with a 2+1 or a 4+1 so you can adapt to different water conditions.
Because this is a hard SUP, it does not come with the same amount of necessary accessories as the inflatable boards on this list. However, the Rackham does include a 2-piece adjustable paddle and a 10' removable center fin. I would have liked this board to come with BOTE's travel-link strap given the 12' option is 48 lbs and the 14' option is 52 lbs, making either one a challenge to carry long distances using just the center handle. I also would have liked to see at least 2 side fins included since the Rackham is compatible with them. I'm not in any way disappointed with this kit, as it's pretty typical for hard SUPs to not include a range of accessories; I just would have loved to see a few included given the price of either option.
This is a great choice for someone who values board performance and customization ability and has the ability to store or transport a 12' 14' hard SUP.
---
What Makes a Great Fishing Stand Up Paddle Board (SUP)?
Ultimately, what truly makes a fishing SUP great is how well it fits into your personal needs, lifestyle, and preferences. With that in mind, we'll go over a few key characteristics that we considered while building this list, to provide a short buyer's guide that will help you make the most educated purchasing decision possible when picking out a fishing SUP of your own.
Stability
As always, stability is top of the list when it comes to traits to consider when SUP shopping in any discipline. When it comes to SUP fishing, you're doing more than just standing and paddling on your board. You'll need the added stability to move around between rods, bait, cast, and hopefully reel in a few big ones without focusing on staying balanced.

Stability primarily is dependent on board size, with an emphasis on its width. Wider boards tend to be more stable, but of course you do lose some maneuverability (though sharp sudden turns are likely not on the agenda for a day of SUP fishing anyway). Fin set-up also contributes to stability with a 2+1 configuration being the most stable option. Lastly, a well constructed board usually will have some added rigidity which helps with both stability and overall performance/durability of your SUP. We'll delve more into construction as we get into our list of the best fishing SUPs of 2022.

Weight Capacity
Weight capacity tends to go hand in hand with stability, but there is some nuance that we'll discuss. Most SUPs will have a listed weight capacity that simply tells you at what weight the board will continue to stay afloat. However, as you get closer to this weight capacity, you'll see drastic decreases in stability and overall performance.

We think it's more valuable to determine what volume of board you'll need in regards to your body weight, plus an estimate of your gear's combined weight. A good reference is that the volume of your board (usually listed in the specs) should be 1.5x or more of the weight of yourself and your gear. If you want even more stability, increase your volume and vice versa

Fishing Mounts/Equipment Compatibility
When it comes to equipment storage, you'll want to ensure that your SUP is capable of hauling and utilizing any equipment that you already have. As you'll read on this list, many SUPs have a variety of action mounts, d-rings, scotty mounts, kayak seat compatibility, fishing rac compatibility, and rod holders. The combination that you need on your SUP really comes down to what type/how much equipment you'll be wanting to bring along, as well as any accessories that you intend to use.
Deck pad
SUP fishing usually entails a decent bit of standing. As such, you'll want to look for a deckpad that has the right balance between grip and comfort. If you need a bit of extra traction, you'll do well with a diamond patterned and deeply stamped deck pad, where as if you're looking for a more comfort focused option, consider grooved deck pads. Also as a side note, if you're someone that values aesthetics, you may want to look for a darker color that muck/fish blood won't stain as easily.
Paddle
Most SUPs will come with a kit-included paddle. However, the quality of these varies and can really affect your ride if it's not up to par with what you need, especially considering the fact the fishing SUPs tend to be on the larger/heavier side and need something a little more sturdy to pull them through the water.

Entry-level, lower price range SUPs will usually come with a plastic or aluminum paddle. While plastic is typically the lighter option of the two, you'll experience more flex in the shaft as you pull your board through the water, which overall will give you less leverage and will force you to work harder to get your SUP going. While this is not an issue for short distances, it can become really noticeable as distance increases. Aluminum is much sturdier, but is on the heavier side and will also cause you to tire out faster when it comes to paddling longer distances.

Mid-range SUPs will typically include a fiberglass paddle, which is lighter than aluminum and stiffer than plastic. It won't cause you to tire out as fast when paddling long distances, but we have found that it tends to irritate our hands a little bit, though that is just us being nit-picky.

The best performing paddles will be those made out of carbon fiber or a carbon fiber blend. These paddles are lightweight yet rigid to keep you going for miles without feeling like your shoulders will fall off (at least not quite as early) or like you can't quite get a grip on the water to pull yourself forward.

Another important thing to note is that several options for paddles are sold separately, so if you find a board that is your perfect match, and the paddle isn't quite what you're wanting, there's always the option to upgrade.

Warranties/Guarantee periods
All of the boards on this list are from reputable companies that make durable products built to last through nearly anything you could put it through. They also all offer warranty periods and some return windows that will provide a bit of a safety net, should you experience any issues with your SUP.
Keeping all of these factors in mind, you should feel confident choosing the best fishing SUP to match your lifestyle, skills, and preferences.
Why Use a Fishing SUP
If you've read through our list and are still debating if a fishing SUP is the right option for you, we'll go through a few advantages below.
Cost
One of the downsides of traditional open-water fishing is that the price of boats can make it largely inaccessible for a large group of people. A great fishing SUP can usually be purchased for about $1,500, which is still an investment, but only a fraction of the cost that a boat would require. Many companies also offer 12-month financing plans as well, if the price is too high up-front.
Access
A great thing about SUPs is that they can get into tighter, shallower spots than boats can. This allows you to tap into some lesser fished areas, and likely have more success.
Storage/transport
When it comes to storing and transporting, inflatable SUPs are exponentially easier and more convenient than a boat could ever be. iSUPs can roll up into their bag and be stored in the trunk of your car and by stored in a closet. A boat, on the other hand, requires a trailer and a place to store it when it's not being used, which adds to the overall cost aspect of fishing.
Less disruptive
SUPs allow you to quietly ease into your fishing spot with very little disruption to the fish already there.
Added workout
Paddling is great, low impact full body exercise that will slowly build up your core strength and join stability without really even having to think about it.
Optional Fishing SUP Accessories to Consider
While each of the boards on this list includes a variety of accessories to get you started on the water, we'll list a few accessories below that we'd recommend to help you have a better day on the water and make the most out of your fishing SUP.
Fishing rod mount/holder
One challenge to overcome when it comes to SUP fishing compared to fishing on a boat is determining how to best utilize and be efficient in a smaller space. Rods can add up and take up space quickly, but adding a rod holder and a few rod mounts to your SUP can help you free up vital standing space to better enjoy your day.
Paddle sheath/ holder
When you reach your fishing spot and no longer need your paddle, it's nice to be able to stow it within reach but out of your way. A paddle sheath or holder will give you somewhere to stash it that won't trip you up and will free up your hands to cast or reel.
Stripping basket
This is mostly applicable if you're fly fishing on your SUP, as this will eliminate the risk of getting your line wrapped up and tangled while you're preparing to shoot.
Kayak conversion kit
We've said a few times throughout this post that SUP fishing can sometimes involve a decent bit of standing. However, the purchase of a kayak conversion seat can give you the option to sit back and relax. This is also great if you'll be fishing in choppier or bumpier water that could make it difficult to balance while you're fishing
Anchor/Sand Spear
If you're fishing in a river, a tidal body of water, or simply a windy lake, it's easy for your SUP to get pushed out of position if you're not constantly paddling it. The addition of a Sand Spear or anchor to your SUP kit can help you keep glued to your spot without much effort.
Electric Pump
We say it so much on this site, but an electric pump is truly one of the best investments you can make when it comes to building out your SUP kit. When it comes to a larger fishing SUP, this point is even more important because they can be quite a job to inflate using a hand pump. An electric pump will take away the work of inflating your SUP and allow you more time to prep the rest of your gear.
Tips for Making the Most of your Fishing SUP
Once you have your fishing SUP, it's easy to get out in the water and settle into your rhythm. Below we'll list some tips that we've learned along the way to help you get the most enjoyment out of your fishing SUP right away.
Hone in your Balance Before Starting to Fish
If you've never used a SUP before purchasing your fishing board, it's best to practice and hone in your balance on the water before piling on gear and trying to fish. One of the most important ways you can avoid going for an accidental swim is to keep your head and shoulders up and in line with your body. When you look down at the board or water, you push your center of gravity forward and are more likely to fall. You'll also want to keep your knees loose to help absorb any wake or water movement. Lastly, remember to keep your paddle submerged and use it as a third leg to help you stay upright.
Minimize Movement/Disruption
Finding fish is easiest when you're not actively scaring them away. While we already have an advantage with SUPs being significantly less disruptive than boat motors, it's still best to minimize any splashing/disruption from your paddle and sudden movements on the board.
Try trolling Methods to Imitate Bait Fish
Anchors are great if you're in a river or tidal body of water and are fishing out of a hole or nook in the stream. However, if you're fishing a wider area of fish, trolling can be great to imitate normal bait behavior. Because SUPs are so light, they're easy to troll with the current without even needing to paddle. Simply float in the direction of the water. Depending on your bait, it also helps to jig or bounce your line to catch light and make your rig more noticeable to fish.
Minimize Your Gear
As we've said before, one challenge with SUP fishing is determining how to best utilize a smaller space. One way to do this is to minimize the amount of gear you need to have a successful day or fishing. This will free up standing space for you to move around your board and be able to fish in several directions. It also can help with stability, as added gear weight can decrease your board's performance.
Secure Your Gear
Once you do narrow down your gear to give yourself the most space possible, it's important to secure it in a way that it won't be falling off, rolling into your feet, or otherwise tripping you up. This is where rod-holders and mounts really come in handy.
Have a License and Follow Local and Federal Laws
Most bodies of water require a license to fish, especially if you're catching to keep. Make sure to always obtain and carry a license before SUP fishing and familiar yourself with any local or federal laws. Most of these laws are put in place to help protect the wildlife and waterways that we love to keep them healthy for everyone's enjoyment, so it's important to play your part.
Conclusion
SUP fishing gets people outside and enjoying the water in a more accessible, less disruptive way than traditional boat dependent fishing. It allows you to get into those hard to reach, tight, shallow spots, without the risk of grounding yourself or getting stuck, while maintaining the quiet of the environment.
We hope our list of the Best Stand Up Paddle Board for Fishing of 2023 has been helpful in your search for the perfect board, and we hope you'll make the most of your experience using the tips we've discussed above.
As always, wear a life jacket, stay safe, and have fun paddling!
The following two tabs change content below.
SupBoardGuide
Heyo! At SupBoardGuide.com we are a team who love the water, the outdoors, and are more than grateful that our full-time job allows us to review stand up paddle boards. We paddle year round (it helps that we are just about 2 hours outside of Las Vegas), and we bring in a wide range of paddlers with the goal of providing our readers with the best, most in-depth, and accurate stand up paddle board reviews.
Latest posts by SupBoardGuide (see all)