Of the many water activities, SUPs are suited for, fishing is chief among them. While fishing might be generally thought of as a boating or shore sport, SUPs are well optimized for it as well. Stand up paddleboards are a significantly cheaper investment than your typical boat, and can go to more places on the water and fishing spots than a boat can. Paddleboards are fun to use, easy to handle, and highly stable platforms that are perfect for lake and ocean fishing alike. With the right SUP, you'll be enjoying a whole new dimension of fishing previously impossible with boats!
However, the degree to which you'll enjoy SUP fishing will be determined in part by the quality of your board. You'll be wanting a large, wide board that will keep you stable in the water while providing plenty of cargo space and weight capacity for your gear. Pre-installed Scotty mounts and rod holders are a boon, as are cargo holders to lock your gear in place in case in choppier, windy settings. Maneuverability, glide, durability; there are a whole range of factors that will impact the performance of your SUP. As such, we offer our top seven fishing SUPs to help you figure out the board best for you:
The Best Stand Up Paddle Board for Fishing – 2022
| Board | Sea Eagle FishSUP 126 Inflatable Fishing Stand-Up Paddleboard | BLACKFIN Model X/XL | Bote Rackham Aero | Bote Rackam | Bote Rover Aero | iStalker by Fish Stalker | NRS Heron 11'x39" |
| --- | --- | --- | --- | --- | --- | --- | --- |
| | | | | | | | |
| Length | 12'6'' | 11'6'' | 12'8'' | 12'/14' | 12' 6'' | 12' | 11' |
| Width | 40'' | 34'' | 38' | 32'-34' | 40.5'' | 34'' | 39'' |
| Thickness | 6'' | 6'' | 7'' | 8'' | 11' | 6'' | 7'' |
| Weight | 45 lbs | 30 lbs | 45 lbs | 48 lbs - 52 lbs | 63 lbs | 55 lbs | 30 lbs |
| Capacity | 500 lbs | 485 lbs | 400 lbs | 350 - 400 lbs | 500 lbs | 400 lbs | 300 lbs |
| Scotty Mounts | 0 | 2 | 4 | 0 | 4 | 0 | 3 |
| Action Mounts | 0 | 6 | 0 | 8 | 16 | 0 | 0 |
Note: 
It's important to reiterate that SupBoardGuide judges boards based on their category and price level (i.e. how much the average consumer wants to spend).

---
Fishing Paddle Board Reviews:
Best Inflatable Fishing SUP + Best Overall:Sea Eagle 12' 6'' Fish Inflatable SUP(check latest price)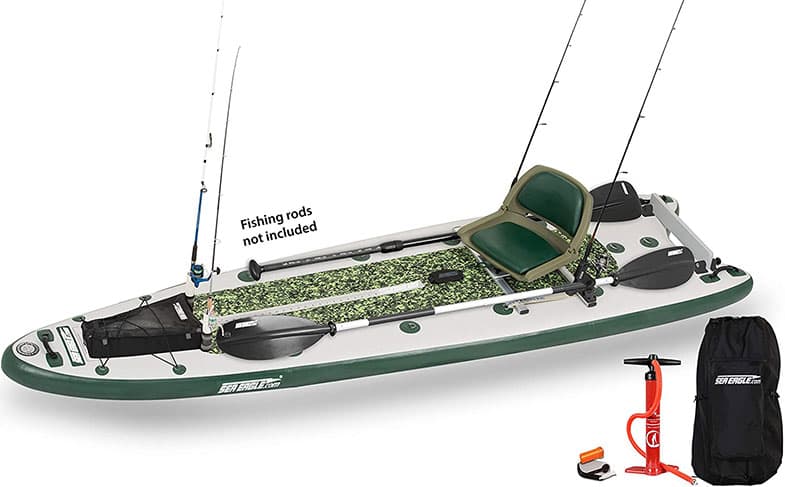 When it comes to a board built entirely with fishing in mind, the Sea Eagle Fish SUP 12' 6'' is truly the dream. This is one of the few SUPs in the industry that is compatible with a SUP motor right out of the box, and can be installed or removed in minutes. Fishers will appreciate the built-in 36'' fish ruler that will let you measure your catches without having to deal with measuring sticks you might lose in the water. 14 D-ring attachment points and the forward cargo area will lock down your gear and fishing equipment. A comfortable swivel seat attaches just below the center handle, with two built-in rod holders and paddle holders located on the seat mount. The board even includes a built-in forward paddle pocket that will make sure you don't lose or trip over your paddle while you fish. If you want a fishing SUP that offers the same level of fishing accessory support as a typical boat, the Sea Eagle FISH SUP provides.
As you might guess from the length alone, the Sea Eagle Fish SUP 12' 6'' is a long paddleboard, which helps it stay straight in the water no matter if you're paddling or using a motor. With a 44'' width and 6'' thickness, the 45 lbs Sea Eagle Fish SUP can support over 500 lbs. The Sea Eagle is an amazing board for two fishers working together or a single rider wanting to bring a true boatload of gear. The small rocker but large board size helps the Sea Eagle Fish to deal with most small to moderate chop. From a performance standpoint, this board is great for those who stick to easy lakes to adventurous fishers who want to try to wade a bit more out into the ocean.
With its huge feature list, awesome motor system, and the superb size and weight support of this superb SUP, the Sea Eagle Fish SUP 12'6'' is among the best fishing SUPs on the market.
Pros
Fantastic stability, 500 lb weight capacity
Great for lake and ocean fishing alike
Removable motor and swivel chair
Front pocket paddle holder, swivel chair paddle holder
Single and dual bladed paddles included
Built in fishing ruler
3-year warranty, 1 year warranty for the motor
The ultimate Fishing SUP
Cons
No action/Scotty mounts built into the SUP. You have to install either the seat or the motor if you want mounts to attach your fishing gear to. Having some mounts on the SUP itself would make easy fishing trips better.
Single chamber pump. This is a large SUP, and it will take at least 15-20 minutes with the included single chamber pump. A dual-chamber pump or electric pump would be a great inclusion to inflate this large SUP faster.
14 D-Rings
Paddle Pocket
Built-in 36' fish ruler
Removable motor mount
Multipurpose storage box
2 handles
3 non-removable fins
Single chamber pump
3 piece adjustable nylon fiberglass paddle
4 piece adjustable nylon fiberglass aluminum double-bladed paddle
Backpack
Length: 12'6''
Width: 40''
Thickness: 6''
Construction: 1000 Denier Reinforced Drop Stitch Core
Inflated Board Weight: 45 lbs
Recommended Weight Capacity: 500 lbs
1 Color Variant
180 Day Guarantee
3 Year Warranty
Company Review:
Sea Eagle is a water sports company that has produced water inflatables since 1968. 96% of their boards have received a 4 to 5-star rating, and Sea Eagle is willing to stand by their products with an impressive 3-year warranty and outstanding 180-day guarantee.
Offering free shipping to the continental US, Sea Eagle boards are specialized products designed for the ultimate water enthusiasts, with the 12' 6'' fishing SUP among the very best.
---
Best Fishing + All-Around iSUP: BLACKFIN Model XL 11' 6''Inflatable SUP:(Read Full Review)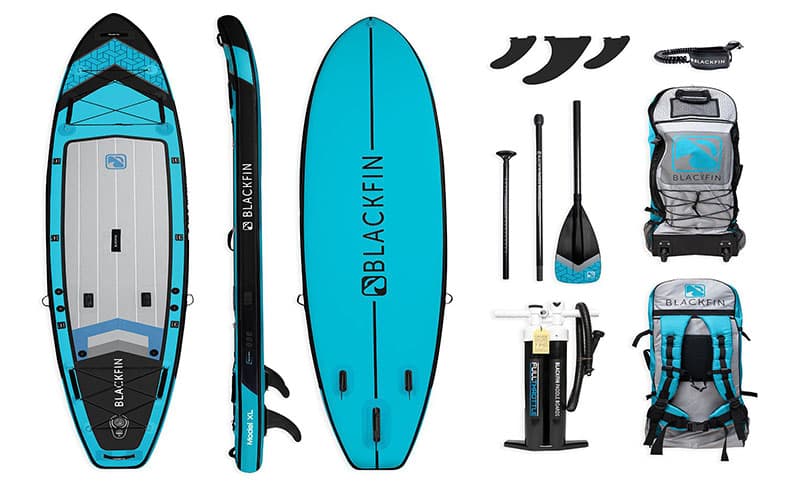 11'6 Blackfin Model XLSee Best Price & Customer Reviews
The BLACKFIN Model XL is the larger variant of the Model X, our number one all-around inflatable SUP for 2022. While the Model X is a little bit better performance-wise as an all-around SUP, the Model XL is better suited for fishing. Featuring 2 Scotty mounts and 6 action mounts, you'll have plenty of points along your board to attach your gear and additional weight support for yourself and your catches.
The BLACKFIN Model XL is a friendly board for beginner riders, while still offering high performance for advanced riders as well. The long 11'6'' length helps it glide and track easily through the water, especially with a raised rocker that goes over most waves the XL encounters. The 34'' width and 6'' thickness give the board plenty of deck space for fishers to spread out on while providing plenty of stability and weight support. Despite weighing only 30 lbs, the XL has a recommended weight capacity of 485 lbs, which is more than enough to support a fisher and their gear. The BLACKFIN Model XL is also a pretty fast board and will make fishing and all other water activities a fun, comfortable, and stable experience.
If you are interested in a board that provides both great all-around stand up paddle boarding performance in addition to offering plenty of options for attaching fishing gear, this is the SUP for you.
11'6 Blackfin Model XLSee Best Price & Customer Reviews
Pros
Fantastic all-around performance
Multiple action/Scotty mounts. 19 D-rings!
Great 485 lbs weight capacity
Large front and rear cargo areas, 3 carry handles and 2 passenger handles.
Sturdy triple-layer PVC build, carbon rails for extra protection.
Lightweight carbon paddle
Fantastic wheeled backpack
Cons
Self-locking fin box. BLACKFIN changed their fin box from the US standard in previous models to a new self locking system. The fins perform great, but it means you can't use your old BLACKFIN fins with the new one.
8 Action Mounts
20 D-rings
2 Scotty Mounts
3 handles
Sand spear attachment point
3 flip-lock fins
10' coil ankle leash
Dual chamber pump
3 piece adjustable carbon blend paddle
Removable wheeled backpack
Length: 11'6''
Width: 34''
Thickness: 6'
Construction: Triple-Layer Military-Grade PVC Drop Stitch Core
Inflated Board Weight: 30 lbs
Recommended Weight Capacity: 485 lbs
3 Color Variants
60 Day Guarantee
2 Year Warranty
Company Review:
SThe BLACKFIN Model XL is produced by iROCKER, one of the friendliest and most reputable companies in the inflatable SUP world. All of their BLACKFIN boards are backed by a 60-day guarantee, 2-year warranty, and free shipping in the continental US. iROCKER has some of the lowest return rates in the industry, and it's because of the quality of their boards and their great customer service.
When you buy the BLACKFIN Model XL, you're not just buying a great board, but the backing of a great company as well.
---
Runner-UP Best Inflatable Fishing SUP: BOTE Rackham Aero:(Read Full Review)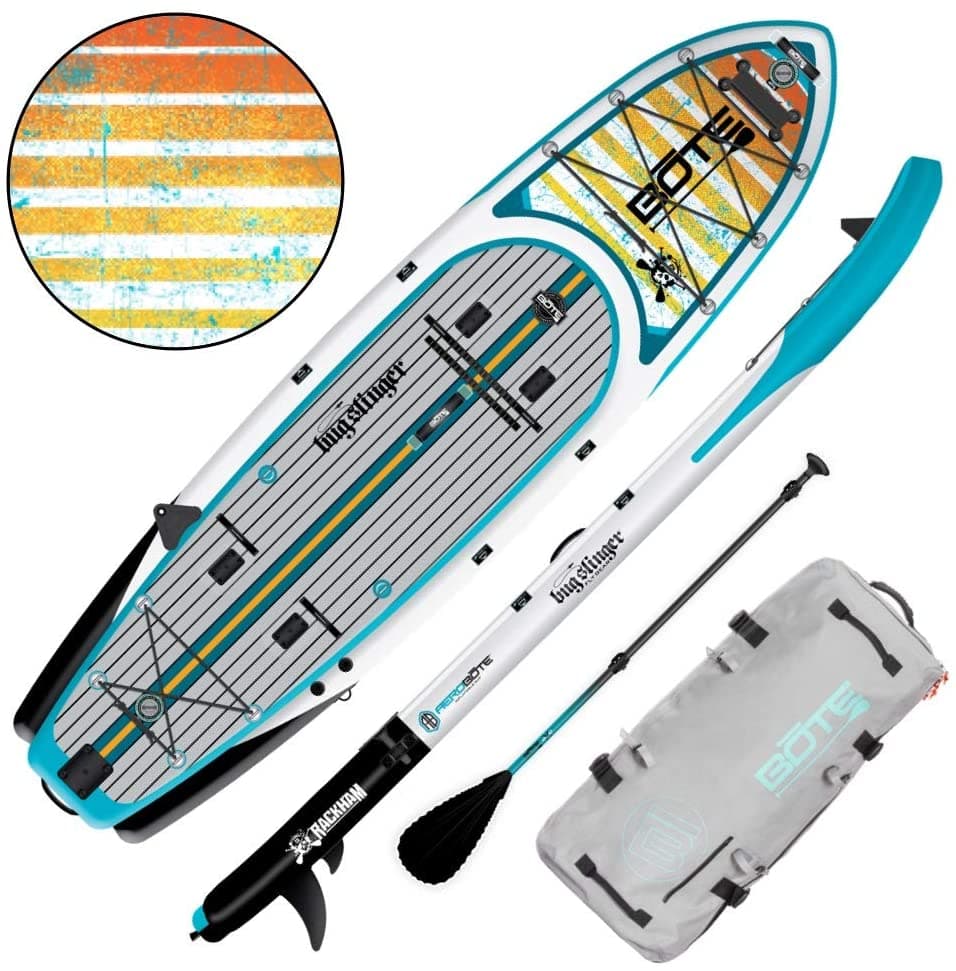 The BOTE Rackham Aero is an ultra stable, feature-heavy fishing SUP that offers high-level performance in flat and choppy waters alike. 14 D-rings, combined with an additional 4 Scotty mounts, offer compatibility with traditional fishing accessories. The Rackham Aero comes with paddle and sand spear sheath out of the box, with additional mounts for racks, chairs, and coolers made by BOTE. It takes a little work to set everything up, but the BOTE Rackham Aero offers some of the most deck customizability for a fishing SUP.
Measuring 12'4'' long, the Rackam Aero has excellent tracking, glide, and speed once it gets going in the water. The 38'' width and 7'' thickness provides plenty of stability even in moderate chop while also providing space to spread your gear out on, along with a 400 lbs of weight capacity despite weighing only 45 lbs. While the fully packed kit does weigh 70 lbs, the kit bag does come with wheels for easy transportation on flat surfaces and friendly beaches.
All in all, the BOTE Rackham Aero is a fantastic choice for fishers looking for a high-performance SUP that they can cover with fishing equipment from nose to tail.
Pros
Great for fishing and non-fishing activities alike
5 unique color options
Massive accessory compatibility
Good 400 lbs recommended weight capacity
Extended deckpad, multiple carry handles
Extremely tough build, 2 year warranty
Wheeled backpack with straps for pump and paddle
Cons
Heavy kit. Heavy kit. While the SUP itself is only 45 lbs, the SUP kit when packed is 70 lbs. You will want to rely on the wheels or avoid long hikes to the water with the Bote Rackham Aero.
14 D-Rings
5 Scotty mounts
RAC receivers
3 handles
Paddle sheath
Sand spear sheath
Replaceable center fin
Two permanent side fins
Single camber hand pump
3 piece Chainmail Pro adjustable paddle
Wheeled backpack
Length: 12'4''
Width: 38''
Thickness: 7'
Construction: Single-Layer Aerobote Military-Grade PVC Drop Stitch Core
Inflated Board Weight: 45 lbs
Recommended Weight Capacity: 400 lbs
4 Color Variants
60 Day Guarantee
2 Year Warranty
Company Review:
BOTE is a Florida based water sports company founded in 2008, producing high-performance products ever since. BOTE boards are consistently among the top-performing boards within the industry, noted for their impressive stability, extensive feature list, and beautiful designs. The Rackham Aero 12' 6'' comes with a two-year warranty, a 60-day guarantee, and free shipping for the continental US, along with 3, 6, and 12-month financing options.
It's large and hefty, but for the serious fisher who also wants an all-around use board, the Rackham Aero 12' 6'' is a fine option.
---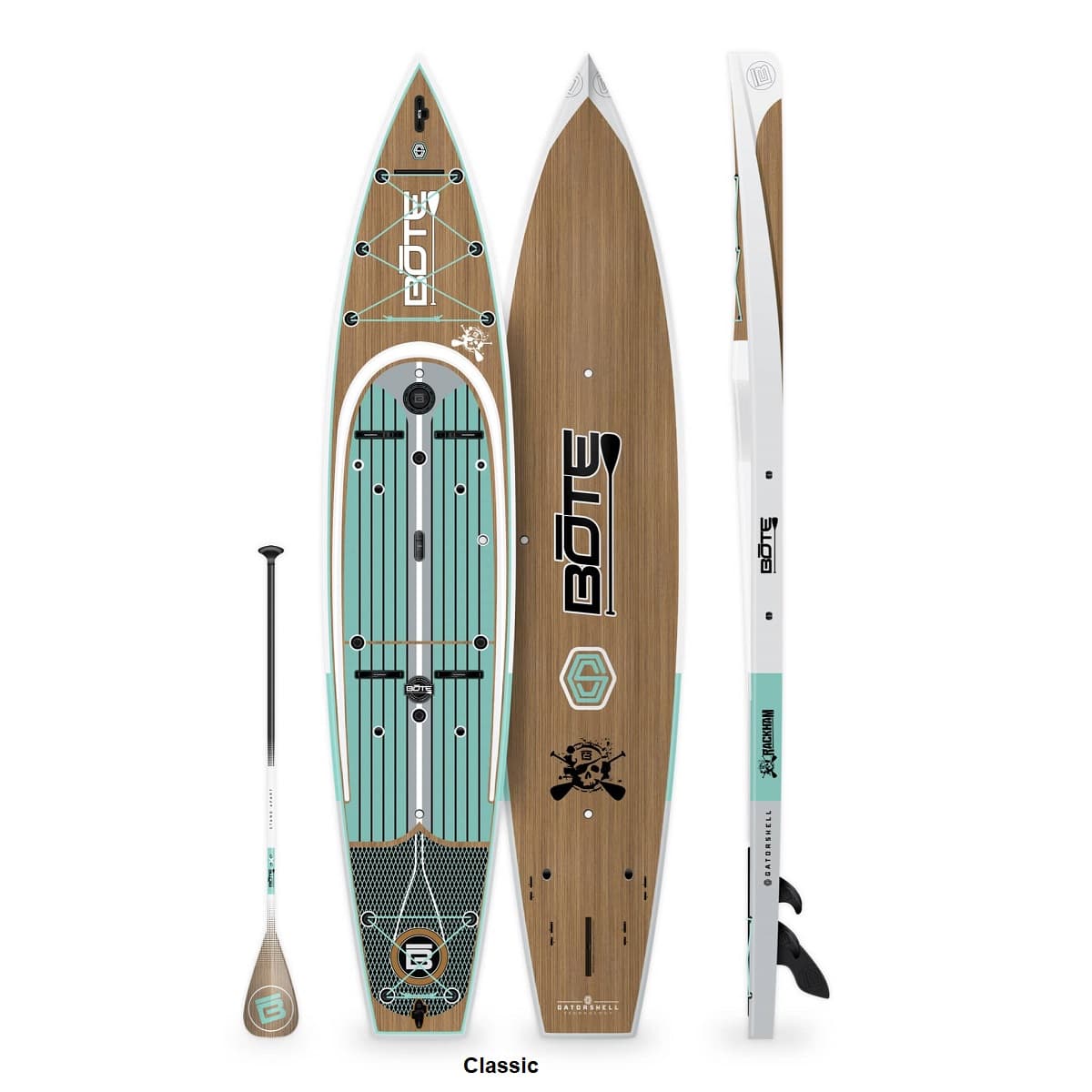 Those who prefer sticking with a hardboard for fishing SUP will be delighted by the BOTE Rackham. While lacking Scotty mounts, it more than makes up for it with 8 action mounts and 10 D-rings. Further, BOTE's racks, rails, and other attachments are fully compatible with the BOTE Rackham, besides the nifty paddle sheath and a stash pod for small valuable objects. With two size options and multiple color variants, you're more likely than not to find a BOTE Rackham model that is perfect for you.
Both the 12' and 14' long models offer smooth, easy, and straight paddling in the water, though the 12' is a little quicker to turn while the 14' tends to track a bit better. The shorter SUP has a 32'' width, while the longer SUP has a 34'' wide deck. As both boards have 8'' of thickness, expect about 350 lbs of weight support for the 12' and 400 lbs of support for the 14'. Lastly, the 12' board will weigh in about 48 lbs, while the 14' board weighs in about 52' lbs. Overall, these two hardboards offer great performance, so whether to go with the 12' or the 14' will largely be a question of home storage rather than one being significantly different from the other.
Hardboard enthusiasts wanting to get into fishing will be well off with the Bote Rackham.
Pros
Fantastic stability, glide, and tracking
True displacement hull that cuts through
10 D-rings, 8 action mounts, and multiple rac mounts
Durable hull that is tough to scratch with a comfortable, grippy deckpad.
Extremely lightweight full carbon paddle
Cons
No Scotty mounts. The Bote Rackham does have mounts for racks that will provide a similar function to most Scotty mounts. However, for fishers with gear that works exclusively with Scotty mounts, they might not be able to use them with the Rackham.
Separately purchased fins.Separately purchased fins. Featuring a standard US fin box system, the Rackham allows for great customization when it comes to installing fins. Unfortunately, the kit itself only comes with the center fin. Given the premium price of the SUP kit, it would be nice if at least a couple of inexpensive side fins were thrown in.
10 D-Rings
8 action mounts
RAC receivers
3 handles
Paddle sheath
Stashpod
1 ABS plastic center fin
1 piece full carbon adjustable paddle
Length: 12'/14'
Width: 32'-34''
Thickness: 8'
Construction: Gatorshell Technology
Board Weight: 48 lbs – 52 lbs
Recommended Weight Capacity: 350 lbs – 400 lbs
4 Color Variants
30 Day Guarantee
1 Year Warranty
Company Review:
We love BOTE products, but be aware that unlike the Rackham Aero, the Rackham has only a 1 Year Warranty and a 30 Day Guarantee. While the Rackham is built to last and is extremely durable, we would love to see BOTE extend this warranty out to 2-3 years.
---
Best Hybrid Fishing iSUP/Skiff : Bote Rover Aero:(Read Full Review)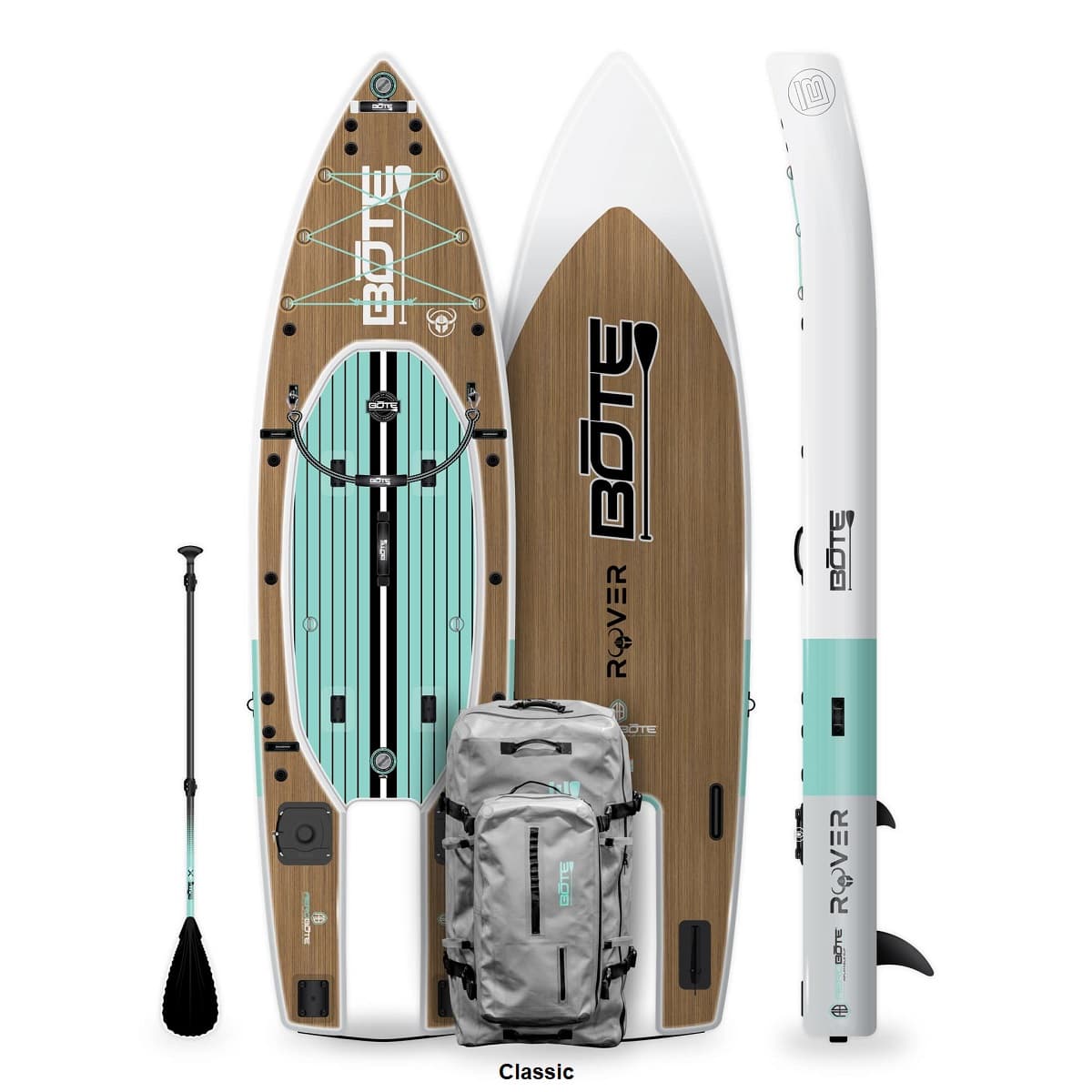 For fishing environments where your typical inflatable SUP won't do but you don't want a large boat either, you'll be wanting a skiff or at least a hybrid between the two. Look no further than the Bote Rover Aero, their motorized inflatable paddleboard. The Rover Aero supports the typical BOTE bars and receivers but also features an astounding 4 Scotty mounts, 16 action mounts, and 12 D-rings. The two chamber inflation and thick rails provide outstanding stability, with the sunken deck pad ensuring nothing will topple out of the Rover Aero. If you're taking on heavier chop or need to go a long distance to fish, the Rover Aero will help you overcome these obstacles.
You'll have no problem keeping your track in the water with this 12'6'' long SUP, nor should you ever fall in with the impressively wide 40.5'' deck or 11'' thickness. With such large dimensions, it's no wonder that the Rover Aero can support 500 lbs. With the motor, it does weigh 63 lbs; when fully packed in its kit, you'll have to deal with 85 lbs. Thankfully, the kit includes two separate bags for both your SUP and your motor. By strapping one on top of the other, you'll be able to transport your equipment with ease
All in all, the Bote Rover Aero is an excellent board that displays some of the best features of inflatable paddle boards and motorboats alike.
Pros
Outstanding skiff stability, able to withstand moderate waves
Powerful motor, can install in less than a minute.
Sunken cockpit, keeping things dry and in your SUP
D-rings, Scotty mounts, and action mounts galore
Wheeled travel bag for SUP, extra remora bag for motor
Cons
110 lbs kit.If you have to hike over a long distance of uneven terrain to get to the water, either select another SUP or bring a friend. Fully loaded, this SUP kit is 110 lbs, making it extremely difficult to carry without additional aid.
Limited 1-year warranty. Unlike BOTE's other inflatables, this one only has a 1-year warranty. While it is unlikely that you'll need additional coverage due to the SUP's great build and durability, don't make the mistake that you're getting the same coverage as other SUPs.
Single chamber pump. It will take the average paddler about 35 minutes at least to blow up with the included single chamber pump. If you buy this SUP, you will want to upgrade to either a dual-chamber pump or an electric pump if you want to inflate your SUP in less than 30 minutes.
12 D-ring setup
4 Scotty mounts
16 Action Mounts
3 handles
1 removable center fin
2 permanently attached side fins
Paddle sheath
Sand spear sheath
Motorac
Motorac Receivers
Grab strap
Rac Receivers
Single chamber pump
3 piece adjustable fiberglass paddle
Backpack
Length:12' 6''
Width: 40.5''
Thickness: 11''
Construction: Single-Layer Aerobote Military-Grade PVC Drop Stitch Core
Inflated Board Weight: 63 lbs
Recommended Weight Capacity: 500 lbs
1 Color Variants
60 Day Guarantee
1 Year Warranty
Company Review:
Despite being an inflatable, the BOTE Rover Aero does have the same 1 year warranty as the Rackham, although it does come with a 60 day guarantee. While the extended guarantee period does give you a little more wiggle room to consider your purchase, we would encourage you to make an informed decision before buying the Aero Rover.
---
Best Hybrid Fishing SUP/Catamaran: iStalker by Fish Stalker:(Read Full Review)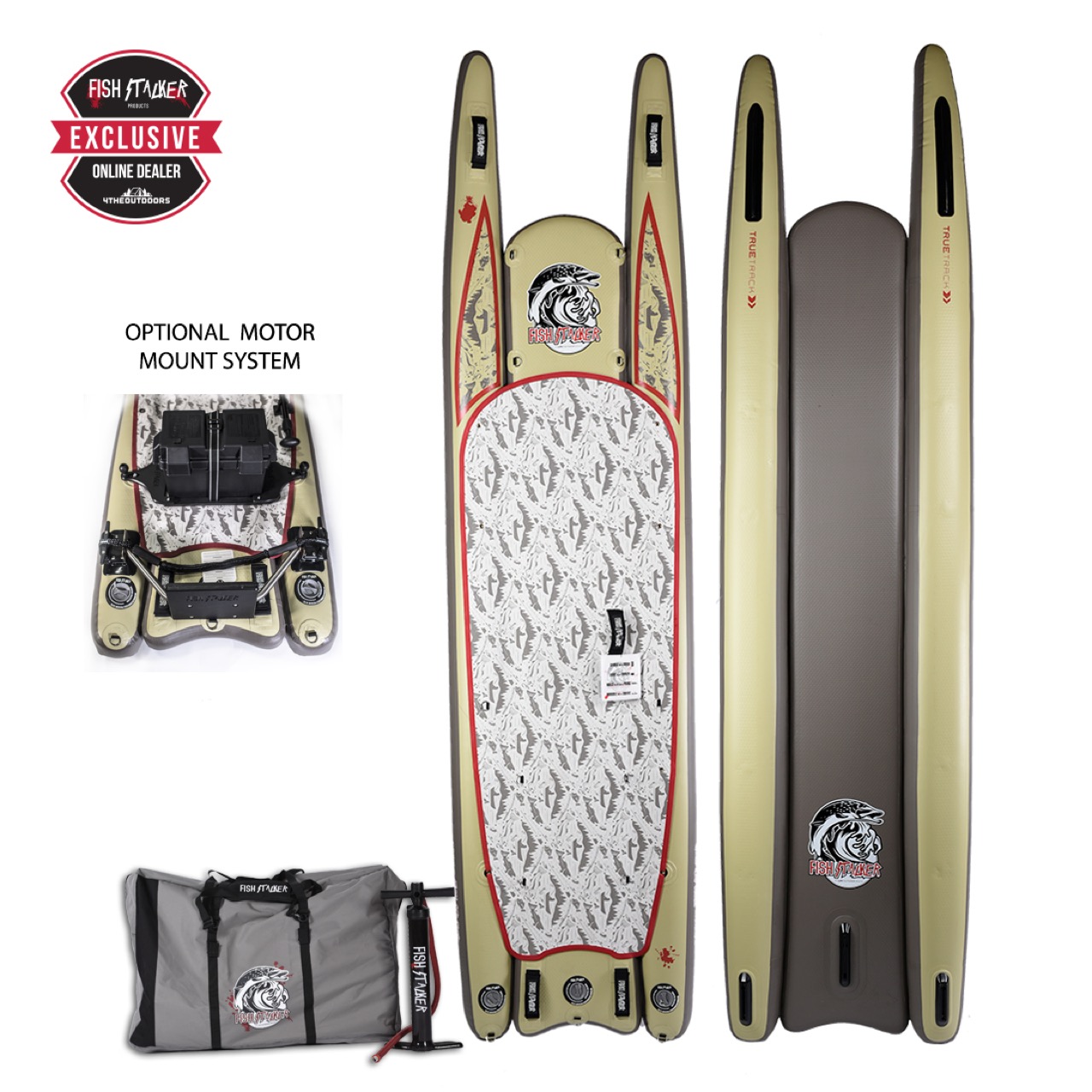 For the truly ultimate stable fishing SUP experience with a motor, look no further than the iStalker fishing SUP. A catamaran design, this three chamber inflatable SUP keeps you afloat while providing a smooth and quiet glide that is perfect for sneaking up on fish. With 8 D-rings, you'll still have the compatibility you need to load up your SUP with coolers, gearboxes, and other fishing equipment. Easy to inflate and with a simple deck, you'll be able to focus on the fish and blow through even moderate chop with the motorized iStalker fishing SUP.
Coming in at 12' long, the iStalker will keep a good track and be quick in the water even without the use of the motor system. The 34'' width, 6' thickness and catamaran design will support up to 400 lbs of rider weight capacity, if not more if your gear is properly spread out. Without the motor, the iStalker will weigh about 55 lbs, with the included kit bag unfortunately lacking wheels. However, this is one of the least expensive kits on this list and is especially impressive for offering a motor system while coming in under $600 dollars.
The iStalker is an affordable motorized inflatable SUP that will get you fishing in plenty of watering holes inaccessible to boats.
Pros
Stable catamaran design, handles calm and rough waters alike.
2 motor designs, with a front or back battery option.
Long deckpad, covers close to the full length of the SUP.
8 D-ring support, mounts on motor and battery provide additional gear support.
3 rear fin boxes and 2 forward fin boxes for additional fin customization.
Cons
Wheeless, strapless travel bag. Despite being a heavy kit, there are no wheels or straps to provide back support, making it a difficult kit to transport. You will want to buy a different kit bag if you intend to hike or travel long distances with this SUP.
Very limited 90 day warranty. While the Fish Stalker has great reviews, be aware that no coverage is provided after the first 90 days.
Single chamber pump. For the best SUP performance, both the main SUP chamber and two side chambers must be inflated. If you do not have an electric or dual chamber pump, anticipate spending at least 35 minutes to inflate this SUP.
8 D-ring setup
4 handles
Removable back tri-fin setup
Removable forward dual-fin setup
Single chamber pump
(Optional) 3 piece adjustable carbon fiber paddle
Travel bag
Length: 12'
Width: 34''
Thickness: 6''
Construction: Single layer Military-Grade PVC Drop Stitch Core
Inflated Board Weight: 55 lbs
Recommended Weight Capacity: 400 lbs
1 Color Variants
90 Day Guarantee
Company Review:
Fish Stalker produces fishing SUP products exclusively, from their one SUP model (iStalker) to rod holders, GoPro holders, phone cradles, engine boosters and other accessories to improve your SUP experience. Fish Stalker loves engaging the greater fishing community, and would be happy to put up videos or pictures of your latest fishing trip if you reach out to them with your experience on the iStalker.
The iStalker has a 90-day guarantee, offering plenty of time to test and try out their product before deciding to keep it or not. However, there is no warranty to speak of should something go wrong after the first 3-month trial period. Make sure to thoroughly test and try out your iStalker within the guarantee period, to make sure that it is in perfect condition before the guarantee expires.
---
Best Minimalist Fishing SUP: NRS Heron:(Read Full Review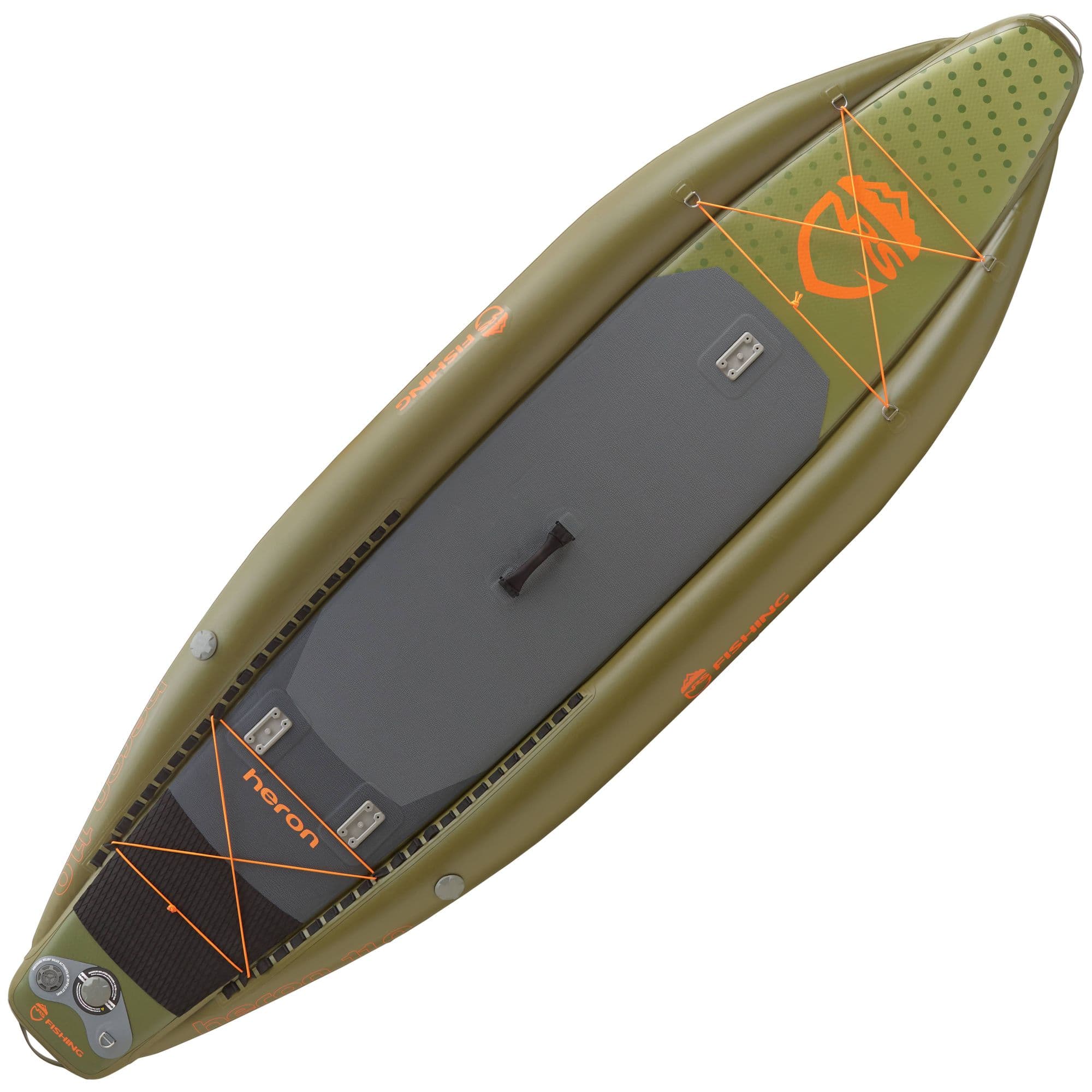 Lastly, there are fishers who just want a simple, easy to inflate, good to use board that offers compatibility for some light fishing gear and nothing else. If you don't want to deal with a lot of bells and whistles, then consider the NRS Heron fishing SUP. The Heron comes with just 6 D-rings and 3 Scotty mounts, which will more than suffice for many fishers with a light setup. The dual side chambers will keep the Heron extremely stable in the water, and without the many extras typical of fishing SUPs keeps the board weight light and easy to handle. For just getting on the water without any fuss, the NRS Heron is an excellent option.
The NRS Heron weighs only 30 lbs, but offers a commendable 300 lbs of weight capacity. The Heron provides a good measure of maneuverability, tracking, and glide with a 11' long deck, combined with a spacious 39'' deck. Due in part to the inflatable side chambers, the Heron is 7'' thick, with only a single fin removable fin option. While the fin setup might be limited, the overall dimensions and the performance of the board will satisfy the vast majority of fishers who use it.
If you just want to buy something simple, the NRS Heron Fishing Inflatable SUP will suffice.
Pros
Good performing fishing SUP with the bare essentials.
Dual side chambers for an extremely stable SUP.
20 PSI center chamber for super rigid performance.
Extended 3 year warranty.
Cons
Single fin setup. If you have to hike over a long distance of uneven terrain to get to the water, either select another SUP or bring a friend. Fully loaded, this SUP kit is 110 lbs, making it extremely difficult to carry without additional aid.
Simple travel bag. While the NRS Heron kit is lighter compared to most other fishing SUP kits, the travel bag does not come with wheels or backpack harness straps. For long distance hikes, invest into another SUP bag.
6 D-rings
3 Scotty mounts
3 handles
Replaceable touring center fin
Replaceable grass center fin
Single camber hand pump
(Optional) 3 piece adjustable fiberglass paddle
Backpack
Length: 11'
Width: 39''
Thickness: 7'
Construction: Single-Layer Military-Grade PVC Drop Stitch Core
Inflated Board Weight: 30 lbs
Recommended Weight Capacity: 300 lbs
1 Color Variants
3 Year Warranty
Company Review:
Founded in 1972 by Bill Parks, Northwest River Supplies expanded from rafts and kayaks to a wide assortment of water sports products, from dry bags to paddleboards. NRS is 100% employee owned, ensuring that the NRS brand continues to maintain a high standard of quality that benefits those who work for it.
The NRS Heron comes with a 30-day guarantee and a 3-year warranty that covers any defects discovered down the line. NRS also features what they call their 'Rock Solid Guarantee', which will repair or replace major defects discovered outside of the warranty range.
---
Bottom Line: The Best Fishing SUPBoard Depends on You!
Ultimately, the best fishing SUPboard for you depends on your needs. Do you need something for calm, smooth lakes, or are you wanting to adventure into choppier ocean water? Do you need a motor for a long fishing trip or something light that you can carry in a backpack? Will you only ever use this SUP for fishing, or are other activities like yoga or touring? How much are you willing to spend on your board, let alone accessories and add-ons for your fishing SUP?
There's a lot to consider, but we are confident that any of the above mentioned boards will do a great job at helping you catch more fish. For more specialized help, we would love to talk to you; feel free to fill out the form available at this link for help. We'll consider the factors and needs you have for a SUP, and provide you with the perfect fishing SUP for your situation!
For those who don't know anything about SUP fishing, other than that they want to give it a try, we would encourage you to continue reading as well. We discuss the benefits of SUP fishing over traditional fishing, the top factors to consider in a fishing SUP, and offer some general equipment and performance tips to have a better experience. You can also leave a comment at the end of the page with any specific comments or questions that you might have.
Overall, fishing SUPs are a fantastic option for those who want to discover the joy of fishing but have no desire to get invested in a large fishing boat. Fishing SUPs are easy and fun to learn will get you in tight nooks and crannies that aren't accessible by boat and don't require a fortune to purchase. For those living in the city or far away from water, there are even inflatable SUPS that you can easily store in the closet and load up in the trunk of a car. With fishing SUPs, you won't have to worry about boat lines, and paddling offers a full body workout that will keep you healthier than sitting in a cramped seat all day. So, why not give fishing SUPs a shot?
Getting Started with SUP Fishing: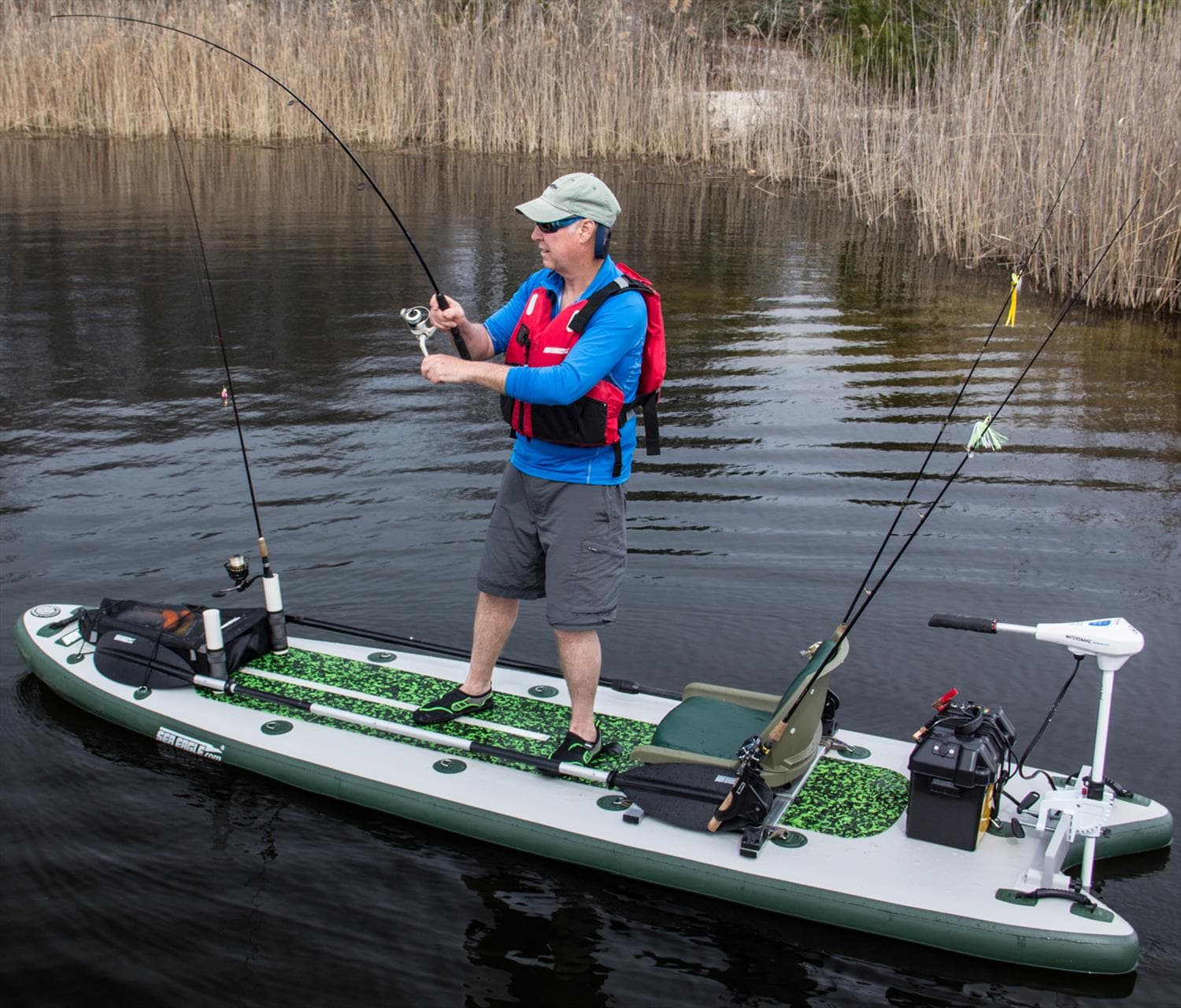 Why Use a Fishing SUP:
Much Cheaper Price of Entry: For many people, the single largest obstacle to get into fishing is the price of a boat. Costing thousands for even an entry-level boat, the average fisher just can't afford the initial investment price. Fortunately, most quality fishing SUPs can be purchased and decked out with accessories for less than $1,000-$1,5000 dollars. Many fishing SUP companies also offer 12 month financing options, meaning that even performance heavy boards can be purchased for less than $100 dollars a month.
SUPS can Access more Water Areas than Boats: Fishing SUPs are smaller, thinner, and more maneuverable, making them able to get to shallow waters, wooded areas, and other zones inaccessible to boats with ease. Every lake, river, and bay will be more open with a fishing SUP than it would be with a traditional motorboat.
SUPS are Easier to Store and Transport: Inflatable SUPs generally fit in a backpack and can be stored in a home, fit in a car, and transported to a lake by a single person. Alternatively, even hardboard fishing SUPs can fit on the roof rack of the typical car and can be tightly secured with just a few ropes or bungees. No having to worry about a boat trailer, or dealing with the fees of keeping it at a marina or storage shed. You'll even skip the boat lines and be on the water in minutes with either an inflatable or hard SUP.
You'll Likely Catch more Fish with a SUP: SUPs silently glide over the water and are better suited for fishing compared to noisy boats. You'll produce fewer waves and less noise, meaning you'll be far less likely to scare away fish you're sneaking upon. Further, your SUP occupies less water space and gives you a top-down view when you're standing. With less obstruction and more viewpoints, finding fish will be even easier than from a boat.
You Won't Feel Cramped on a SUP: Many lower-end, entry-level fishing boats often feel cramped and rough, with most veteran fishers well acquainted with the back pain and leg cramps you get from sitting on a boat all day. That isn't the case with SUPs; you'll have plenty of room to spread out, stretch, and walk around while you fish. If you want to end the day feeling good and without an achy fisher body, SUPs are the way to go.
You'll Get a Better, Healthier, Meditative Workout on an Inflatable SUP: Stand up paddleboarding is a full-body workout. You're relying on almost every muscle group in order to propel yourself, maintain balance, and catch a fish throughout the day. While you can sit and rest when you're trying to reel a catch in, most SUP fishers don't even bother to do that. You'll build stamina, core strength, and joint stability better than with a boat, staying vigorous and limber as you work out on a SUP. Further, you won't have the loud noise of a motor to disturb your concentration, making SUP trips a more relaxing experience as well.
You'll just have more Fun on an SUP: Sure, this isn't true for everyone. However, we believe that most beginners who give SUP fishing a shot will have more fun with a SUP than they would with a boat. There's an added challenge of keeping stable while fishing, besides the vitamin D you'll be more efficiently soaking up from your paddleboard. From relaxing to racing, from fishing to yoga, a SUP can quickly adapt for all sorts of activities on the water.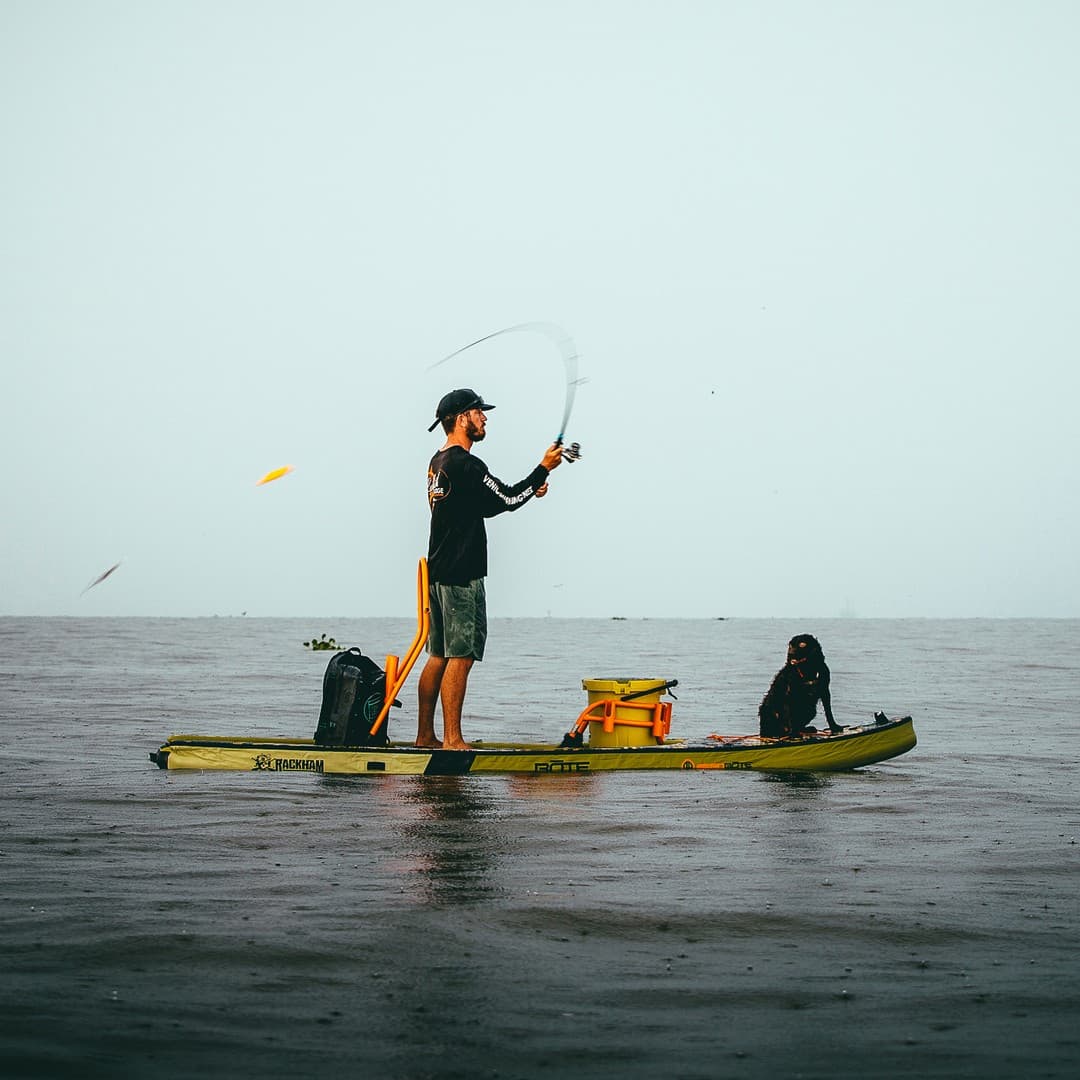 Top Factors to Consider in a Fishing SUP:
The top factors you want to consider in a SUP will vary based upon your preferences. However, as a general rule, we consider these factors among the most important when it comes to determining the quality and usability of a SUP:
Stability, Board Shape, and Size: This is the most important factor to consider when purchasing an SUP. When you're fishing, you'll be trying to focus on reeling in a fish, so being able to stand stably upright for long periods of time is very important. In general, just how you feel on the board will greatly determine how much you like your inflatable SUP.
Board stability varies depending on the size of the user, but a general rule is that the longer, wider, thicker, and heavier the board is, the more stable it should be. More stability usually means a small to moderate decrease in maneuverability, and may require more work to turn in the water. However, if your goal is fishing, trying to make sharp and sudden turns won't be your top priority. Fishing boards that double as all-around boards are well suited for the sport, as are long touring boards that offer stability, speed, and great tracking for aspiring SUP fishers.
Fishing Mounts: As you'll read in the equipment section, you'll want mounts that can support racks, rod holders, and other fishing accessories. While D-rings are well suited for many fishing add-ons, you'll be even better off with action mounts, fishing mounts and, specifically, Scotty mounts. Scotty mounts are the most popular boat and SUP fishing mount option, meaning most of your fishing gear will snap right into fishing SUPs out of the box. They aren't absolutely necessary, but if you own a lot of fishing gear already, try to look for boards with Scotty mounts.
Weight and Storage Capacity: SUPs offer high weight capacity despite the lighter nature of SUP boards. Most moderate to upper-end boards will be capable of supporting up to two fully grown riders, or a rider with their kids or pets. For fishers going alone, many SUP boards offer plenty of deck space and weight capacity for most of their fishing gear. However, a SUP isn't a large boat, so some traditional boat fishers either have to cut down on their total gear kit or opt for a larger board when they're making the transition.
Foam Pad/Grip: If you're going SUP fishing, you will be standing on your board for most of the day. Having a good, comfortable, and sturdy deck pad that can handle the water is of major importance. While materials vary, most SUPs that offer EVA foam deck pads are well suited to stand on for long periods of time. EVA deck pads typically offer great grip as well, especially if they feature stamps or diamond grooves. Try to determine whether you want a clear, long deck pad or a deck pad with a ton of accessory features before you purchase your board.
Paddle: There are multiple types of paddles that typically come with a brand new paddleboard. Most come in a 3 to 4 piece set that allows for easy storage and adjustability, but some do come in a single piece set that, while bulkier, do offer better performance instead.

Most entry-level, starter paddle boards come with an aluminum or plastic paddle. While these are serviceable, they tend to be heavier and sometimes uncomfortable to hold. Most mid-level boards will come with a fiberglass paddle, which is significantly lighter and more comfortable than aluminum boards. Looking for board kits that have a fiberglass paddle over an aluminum or plastic paddle is an important factor to keep your eye on.

The lightest, best performing yet simultaneously most expensive paddles are carbon fiber paddles. Carbon fiber paddles are almost always separate purchases from your board, but are well worth the investment. If you want an extremely lightweight paddle, especially if you intend to be on the water from dawn to dusk, looking at a carbon fiber paddle upgrade should be a factor in your kit consideration.

Warranty/Money Back Guarantee Policies: All of the boards and companies listed above have great reviews and a reputation of being generous to work with. It's also extremely unlikely that you'll ever damage or break your SUP to a serious enough degree that it will no longer function. On the rare chance something does go wrong, almost every board comes with a warranty and money-back guarantee. The level of help provided by companies will vary, even across their own products, so be sure to check out the full policy terms before purchasing.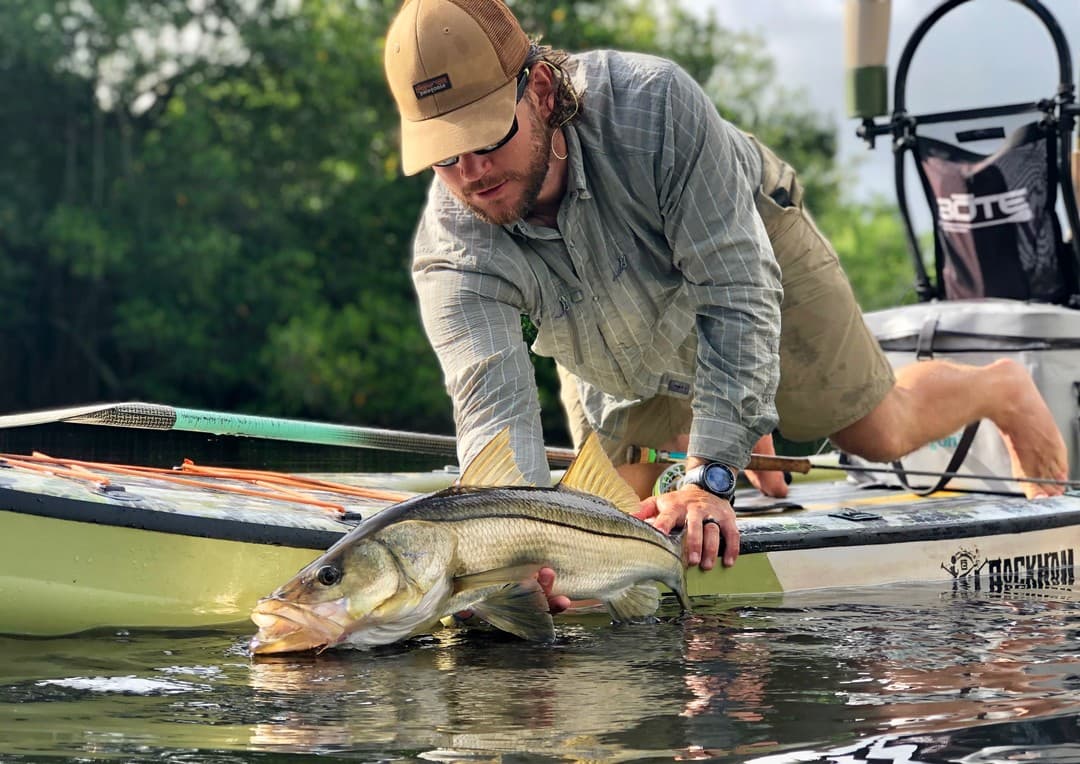 Additional Fishing SUP Equipment Recommendations:
Some of the advanced boards on our list will be compatible and ready for fishing right out of the box. Most boards would also benefit from additional purchases to maximize the fishing experience. For our part, we would recommend taking a look at the following accessories, especially for serious or long term SUP fishers.
Fishing Rod Mount or Holder: Because you'll be standing up most of the time on your paddleboard, you'll be wanting a rod mount or holder that will hold your rod up vertically. That way, you can set your paddle aside, take your rod out, and fish without causing too much movement that might disturb your potential catch. Once you're done, a vertical rod holder will allow you to set your rod down quickly as you move to the next site. A secure holder will also help lock your rod down when you're paddling, so you don't have to worry about losing your fishing rod on the occasion that you take an accidental dip.
Cooler/Gearbox that can hold your stuff: Most SUPs offer at least a forward bungee cargo area space, perfect for locking down coolers, gear boxes, and other containers. For larger trunks and boxes, if they fit with the weight capacity of your SUP, you'll be able to secure them with the D-rings included with almost every SUP board. Not all containers are suited for the water though, so make sure your container is one you can secure in place. A container that is also waterproof is critical to consider, should things go awry while you're paddling.
Paddle Leash/Holder: Like your fishing rod, you'll be picking up and dropping down your paddle plenty of times while you're fishing. Some fishers opt for a paddle belt that lets them hang their paddles off their waist. Other fishers prefer paddle pockets or holders that will keep their paddle out of their way while they fish. On more advanced boards, the back handle often doubles as a paddle holder you can slide the shaft through. Whatever your preference, have a plan for what you want to do with your paddle when it's time to try your luck with your line.
Stripping Mat/Basket: For more advanced fishers, stripping mats help you keep your line from getting tangled up or soaking in the water as you fish. Place them near your feet, wrap your line around the metal pins, and you'll never have to worry about getting tangled while you fish. For those who worry about stepping on a mat or want maximum deck space, a stripping basket you can wear or keep on your SUP is an alternative and easy option.
Kayak Conversion Kit: Almost every mid to upper level SUP comes with four central D-rings that are compatible with most kayak conversion kits. For those who are trying to fish in rougher waters, a kayak conversion kit will help you paddle through even tougher waves. If you're fishing in calm waters and want something more comfortable to sit down on throughout the day, a kayak conversion kit is useful as well. Just be sure to have a dual blade paddle, which provides better performance than a single blade paddle when you're sitting down.
Anchor/Sand Spear: Once you've found a spot that you want to lock yourself down at, an anchor or sand spear will help secure you in place. Anchors are lightweight and easy to carry options that will keep you from floating too far, while a sand spear will securely fasten you in one position. Sand spears have the added benefit of helping you navigate shallow waters, letting you sneak up on fish better than a paddle can. However, sand spears are bulkier, and won't work in deeper waters nearly as well as an anchor. Pick the option better suited for your fishing conditions.
Electric Pump: An electric pump isn't critical to fish, but it is our number one recommended accessory for those who opt for an inflatable SUP. Younger and beginner riders who lack the strength and stamina to inflate their inflatable SUP will love an electric pump that inflates their board for them. Experienced boarders who want to get on the water quickly, especially with larger SUPs, will appreciate the power of an electric pump. Riders of all kinds who are ready to pack up for the day will be delighted that an electric pump even helps with deflating. Small and easy to transport, enjoy your SUP even more by investing in an electric pump that will do the hard work of inflation for you.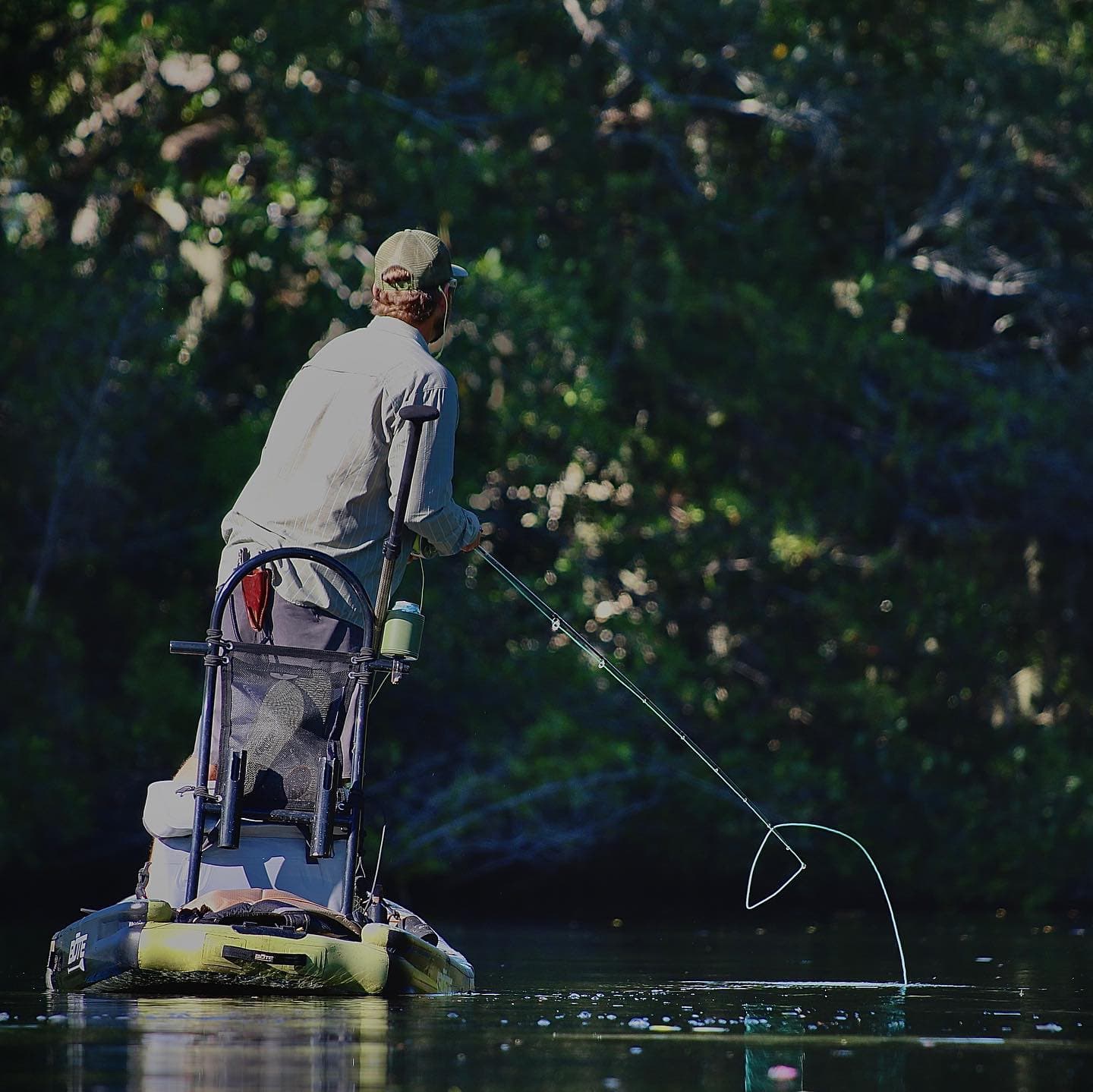 Top SUP Fishing Tips:
Once you have your gear and equipment, you'll probably be anxious to get out on the water and give SUP fishing a shot. While we're sure you'll have a great experience, here are some of our top recommendations to make a great trip to the water even better:
Master Stability Before you try to Fish from a Paddle Board: There isn't a huge skill set difference between fishing from a boat, kayak, or shore and fishing from a SUP. However, the part that trips many beginners up is trying to maintain balance. Paddleboarding for first-time riders is hard enough, even without fish jerking you around or trying to cast a line. While you don't need too much experience to give SUP fishing a shot, we would recommend having some familiarity with your board before trying to fish with it. A couple of hours should be more than enough for most beginner riders to get comfortable with their fishing inflatable SUP.
Practice Gestures/Maneuvers for Fishing to Minimize Movement and Disruption in the Water: Once you have the stability aspects down, you'll want to start to learn how to minimize your movements in order to have maximum success fishing. Fish can be easily spooked by the noise you make, let alone the wake feedback you'll send through the water by moving. Fishers who are on the water for long day trips will also want to conserve their energy, especially if they're standing up most of the time. Minimizing your movements will reduce noise, decrease water disruption, and save you energy over the course of the day to maximize your fishing ability.
Lowering your Center of Gravity will help Reeling with Fish: Once you've gotten used to fishing on the water, you might be trying to go after bigger fish. Standing up will give you additional leg strength compared to sitting down, but kneeling for the big catch will help even further. You'll want to try to lower your center of gravity, without sitting down entirely to rob yourself of your core muscle strength to pull bigger fish in. Practicing a squat is also important, because an improper technique will send you toppling into the water in a blink. This can be tricky for some to learn, so try squatting while you're paddling for a while in safe water before you try it with a rod.
If you've Mastered Paddling, try Trolling or Luring with your Line: For more advanced fishers, stripping mats help you keep your line from getting tangled up or soaking in the water as you fish. Place them near your feet, wrap your line around the metal pins, and you'll never have to worry about getting tangled while you fish. For those who worry about stepping on a mat or want maximum deck space, a stripping basket you can wear or keep on your SUP is an alternative and easy option.
Always Check that your Gear is Secure and Locked in Place: SUP boards often come packed with plenty of options for locking your gear down, so there shouldn't be any reason you lose your cargo at the lake. Bungee cargo areas will secure smaller containers, while larger ones can be hooked into D-rings scattered around your board. Dry-bags and other waterproof containers will protect your stuff from getting wet while you're on the water. Coolers and gear boxes can store everything you need for fishing, without making a mess or getting in your way. Before you go, just make sure you know how to set up your board so you don't lose something valuable on the water.
Learn to Minimize the Gear you Bring out with you: Your SUP supports an impressive amount of weight, with a total weight capacity often in excess of the recommended limit put out by manufacturers. However, this is a board we're discussing, not a boat; it can't carry everything you might normally take out with you. Even if your board does support the weight of your equipment, you will suffer from a performance perspective the more you load up. For the optimal SUP board performance, the less equipment you bring with you, the better off you'll be. However, you will want to bring some things with you, so finding the balance of performance to additional gear is important. Take a day to test and find out the weight capacity of your board so you can assemble the optimal long term fishing kit going forward.
Make sure you have a Fishing License and are Following the Law: Another distinct advantage that SUPs have over boats is that you don't need a license to operate them. However, you will still need to obey all of the other local laws that govern the water, even on an SUP. If you're intending to keep your fish, make sure you purchase and carry your tags on you before you go out. Most areas also require you to wear a PFD at all times, though you should still wear one for safety at water areas that don't. Finally, remember to follow the laws of etiquette as well; always show respect and exercise caution when operating your inflatable SUP.
Have Fun: SUPs are for recreation, leisure, enjoying nature, fishing, and all other sorts of water based activities. It does take some skill and practice to master, but that's part of what makes them enjoyable. Take it out, and experiment; find out what you enjoy doing on the water. SUPs are well suited for all sorts of activities, and we're sure you'll find something you love beyond just fishing with your SUP!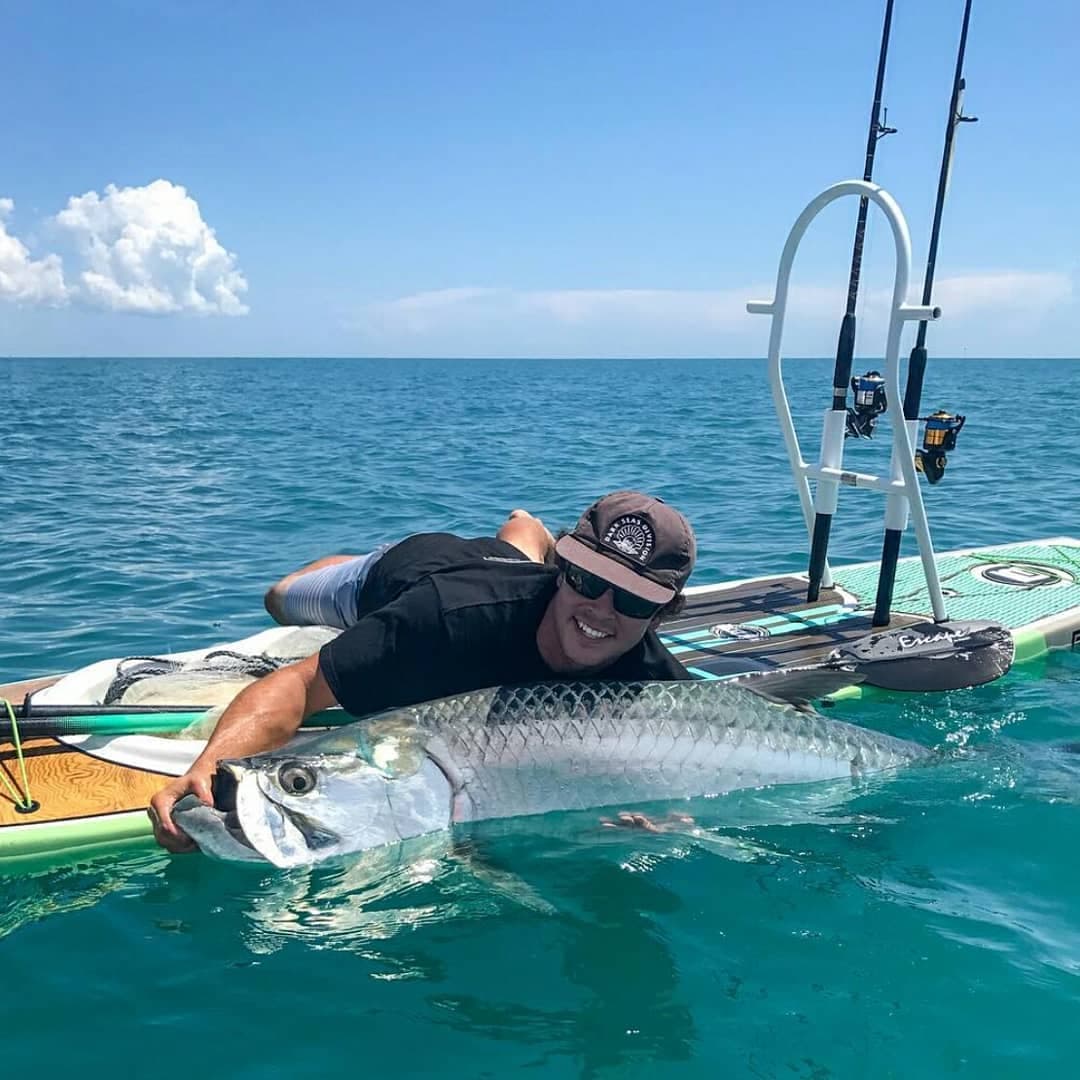 The following two tabs change content below.
SupBoardGuide
Heyo! At SupBoardGuide.com we are a team who love the water, the outdoors, and are more than grateful that our full-time job allows us to review stand up paddle boards. We paddle year round (it helps that we are just about 2 hours outside of Las Vegas), and we bring in a wide range of paddlers with the goal of providing our readers with the best, most in-depth, and accurate stand up paddle board reviews.
Latest posts by SupBoardGuide (see all)