Hydrus Joyride 11" iSUP Review
Pros
Impressively fast and maneuverable for a board offering so much stability.
Great for a wide range of water conditions such as flat lakes, flowing rivers, or choppy ocean waves.
Functional and versatile; a true all-around SUP with a sleek look and just enough features for a proper day's worth of paddling.
Paddles efficiently and smooths out bumps in choppy waters due to its nose rocker
Comes with three different fin options (one for shallow water, a click-in fin, and a long hatchet fin) plus a universal fin box.
Cons
We'd love to see Hydrus add diamond grooves or logo emboss the deck pad since it can become slippery when wet.
The bullet-like plan shape of the Hydrus Joyride delivers a great combination of stability and speed, and an impressive array of improvements over last year's model.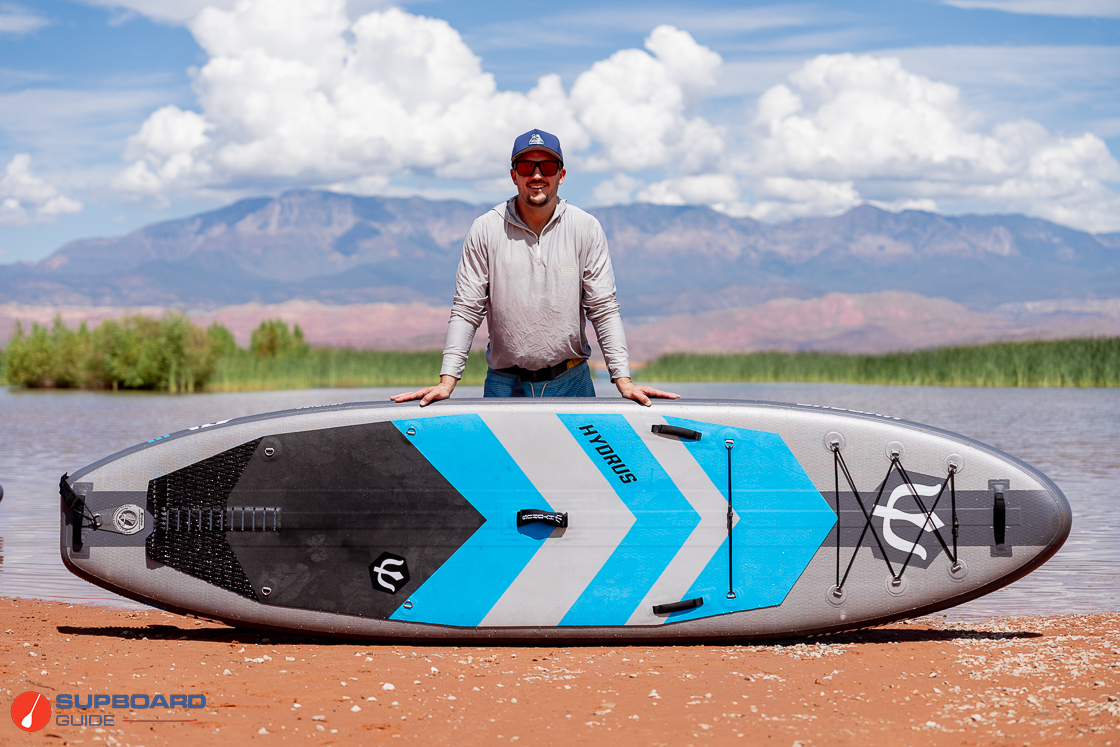 The Hydrus Joyride is a great iSUP for the paddler wanting an equal mix of excitement and stability. There's a lot that we like about this board, and about the Hydrus brand in general. They are high-quality, sturdy, iSUPs built by a team with a truly adventurous spirit.
Jason, the owner of the brand, has a background in white-water sports, which means he knows all about the sort of abuse a board will take as it rides down a rocky river. So the boards are built to be strong and durable, and they look great too, with a gray, blue, and black color scheme and that distinctive white trident logo.
The board comes with three different fin options, allowing you to set the board up for whatever style of paddling you're about to enjoy, whether that be long days out on the lake or fast and adventurous days on a shallow river. But rather than giving away all the exciting bits here in this introductory section, let's get properly into our Hydrus Joyride review.
We think the Hydrus Joyride would be a great SUP for paddlers who:
Want a stable board that still delivers good performance
Want a tough well-built board
Want an all-around SUP that will work in a variety of water conditions, from shallow rivers to deep oceans.
Hydrus Joyride: Spec Sheet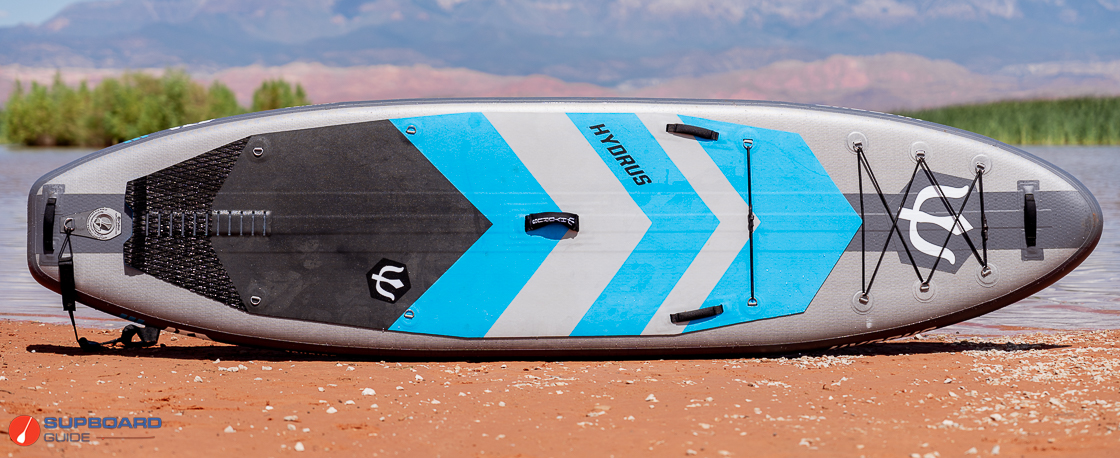 Main Category: All-Around
Board Dimensions: 11' x 32'' x 6''
Listed Board Weight: 24 lbs
Listed Max Capacity: 350 lbs
Recommended PSI: 20
Fins: 9'', 6.5'', and 4.5'' gummy included
Paddle: Not included
Construction (top and bottom): Dual layer fusion PVC, carbon fiber stringers
Drop Stitch: Woven
Rails: Welded dual layer PVC
Warranty: Lifetime
Performance Review of the Hydrus Joyride Stand-Up Paddle Board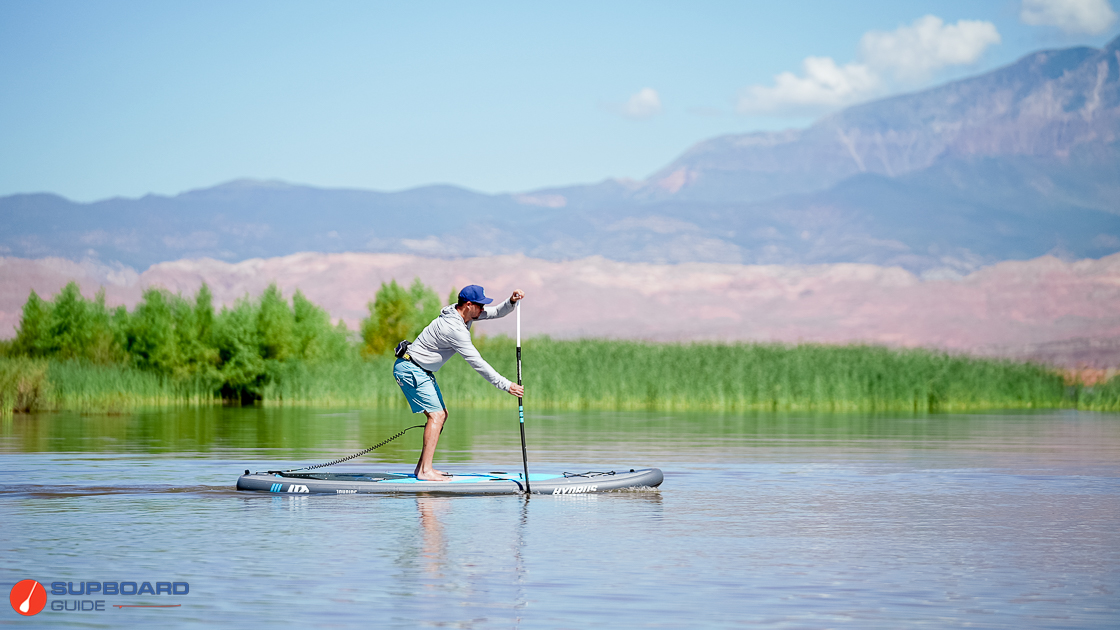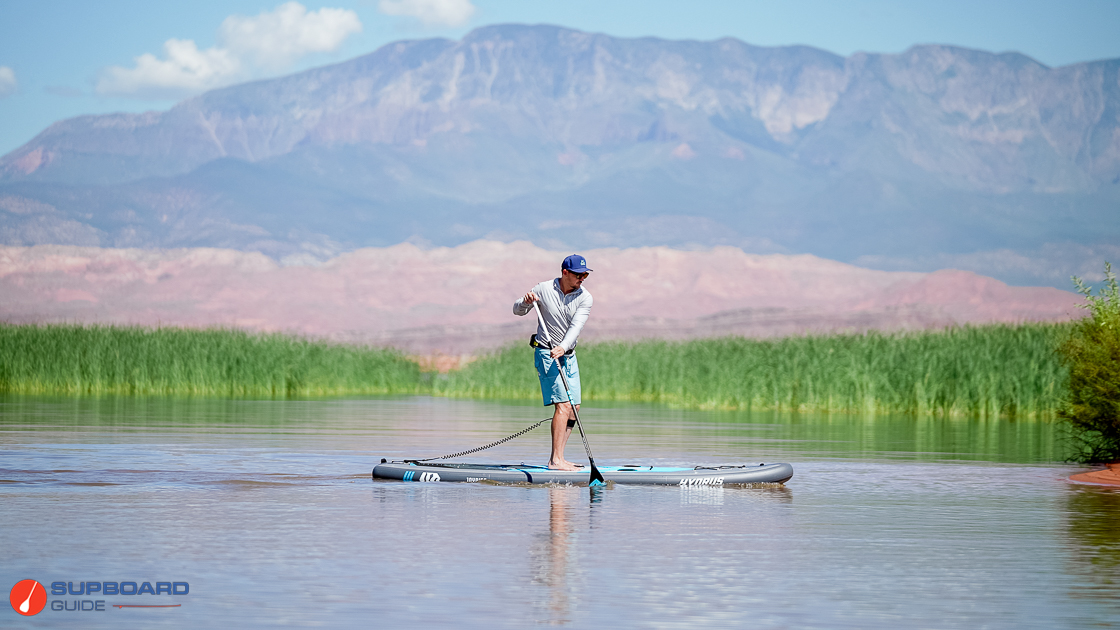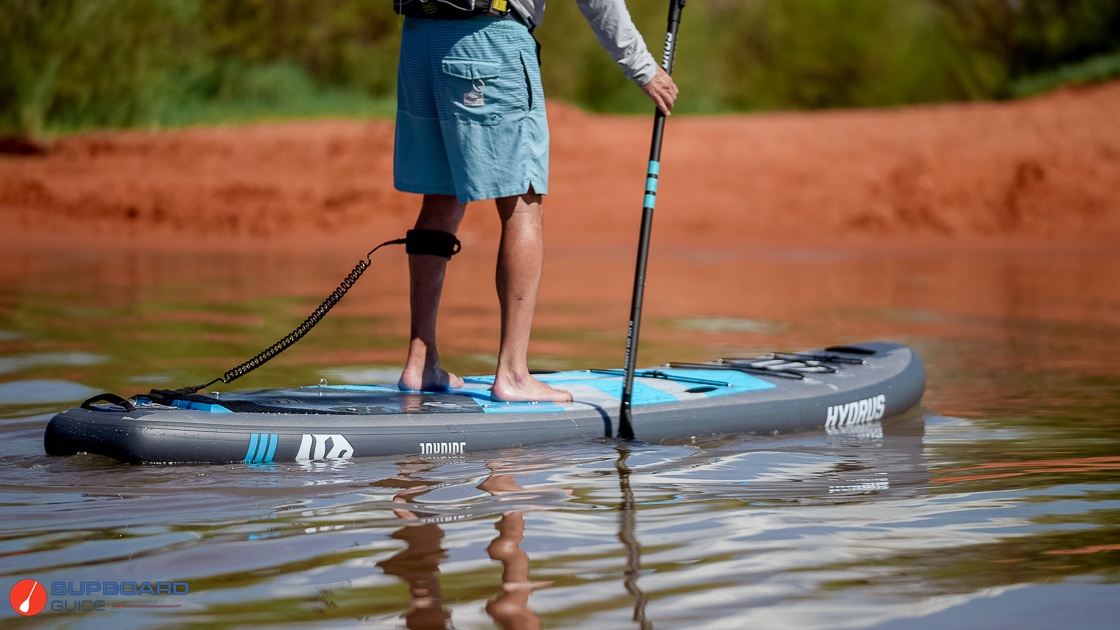 Overall Score: [9.5/10]
Stability: 9.2/10
Speed: 9/10
Tracking: 9/10
Maneuverability: 9.1/10
Construction Quality: 9.5/10
Features/Accessories: 9.5/10
Stability Rating: [9.2/10]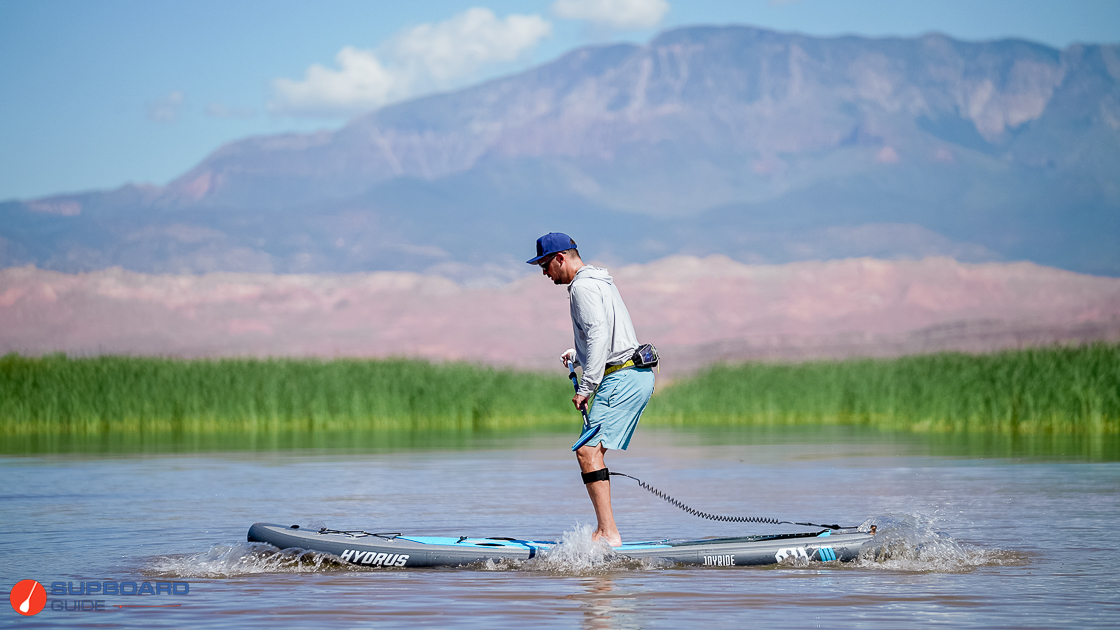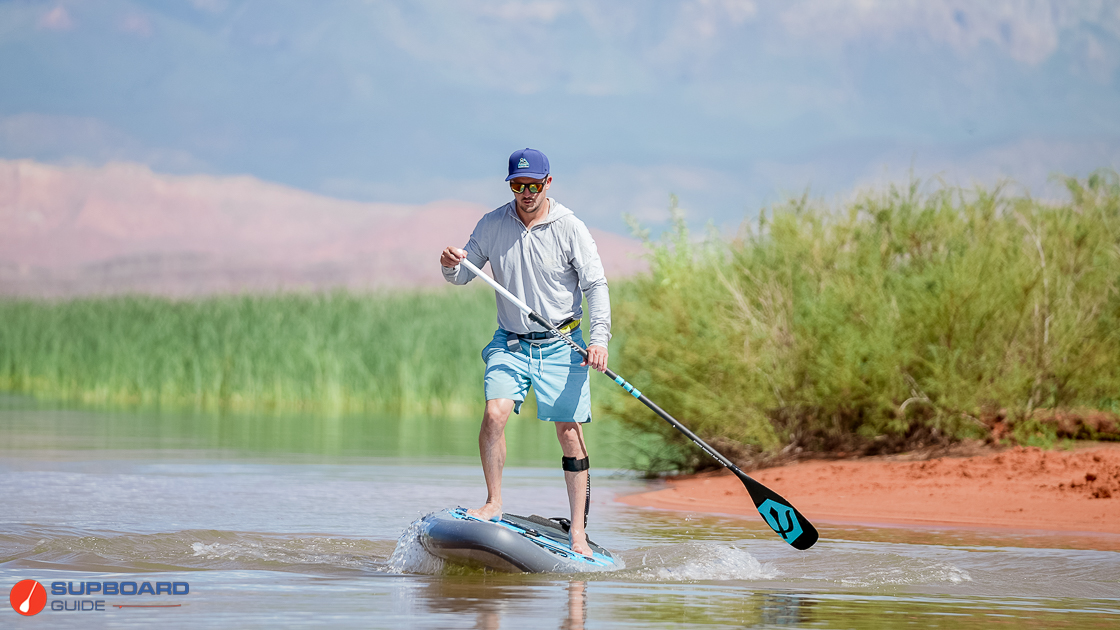 The Hydrus Joyride is extremely stable for its 32" overall width. Indeed, it's a bit of a masterclass in how to achieve maximum stability for a given width, while still maintaining a decent degree of maneuverability and speed.
Hydrus have achieved this by maintaining the width through a long section of the board, creating a central wide area that extends a long way back towards the tail and forward towards the nose. This extended wide area generates great primary stability (what you feel when you step on the board and stand there) and secondary stability (what you feel when you move around and rock from side to side). You'll soon learn to trust this stability; even if the board gets put on edge by bumpy water or that fish hauling on your line, just plant your feet firmly and relax – the board will be quick to rebalance itself.
Speed Test: 9.0/10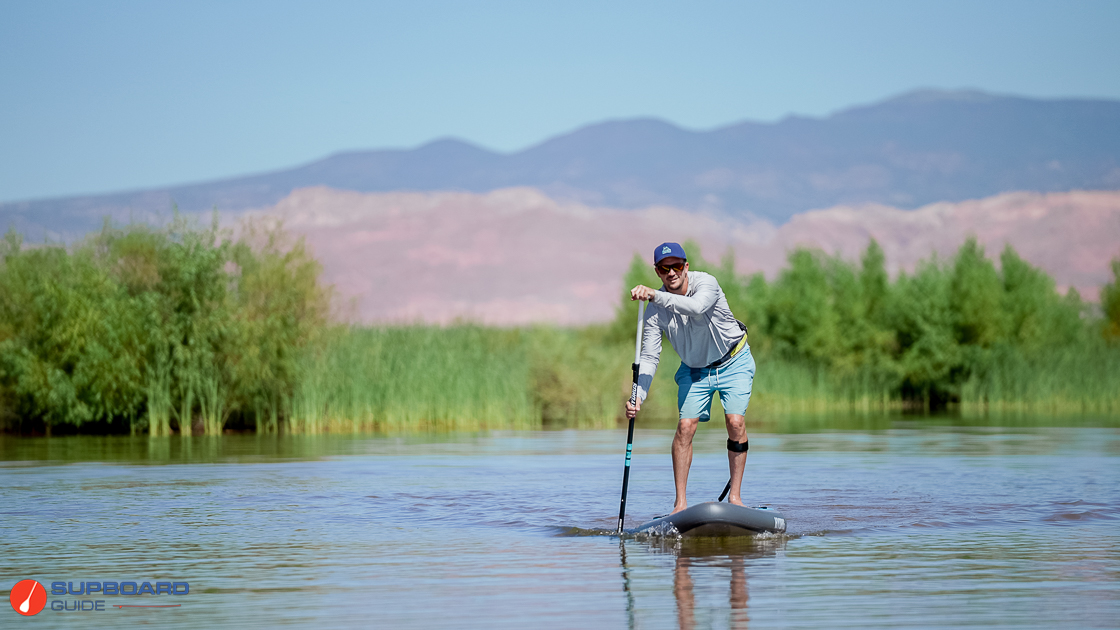 | | |
| --- | --- |
| Board | |
| Top Sprint Speed: | 5.5 MPH |
| Average Cruising Speed: | 4.35 MPH |
SUP Board Guide's Speed Testing:
To obtain our speed test results, we use a Speed Coach Sup 2. This gives us accurate readings on how fast we are paddling and our current stroke rates. For the top sprint speed, we paddle as hard as we can for approximately 10-15 seconds and then record our average speed. For the casual test, we paddle at 40-35 strokes per minute for approximately 30-60 seconds and record the average speed.
Stability usually compromises a board's ability to be speedy-quick. However, we found that the Hydrus Joyride is still able to achieve decent sufficient speeds, both in all-out sprinting and general cruising.
5.5 MPH is a great sprint score, no doubt. Yet the cruising speed actually impressed us more, since it's higher than some of the all-rounders we recently tested, despite them weighing in considerably lighter – and lighter boards tend to cruise faster as it's easier to get up to speed and keep it going. So to discover that the Hydrus Joyride has a higher cruising speed than some of these lighter-weight all-arounds is very impressive, and tells us that there is a lot of good stuff going on with this board. The performance comes from the clever plan shape (those long parallel sides mean it's shaped like a bullet), the excellent stiffness, which we'll talk more about in a moment, and the progressive rocker profile, which starts a little earlier than on most inflatables, but then progresses smoothly in a shallow curve, so that the nose is not hugely high out of the water, but there is enough lift to allow good clearance over chop and bumps, aiding that easy cruising speed.
Tracking: 9/10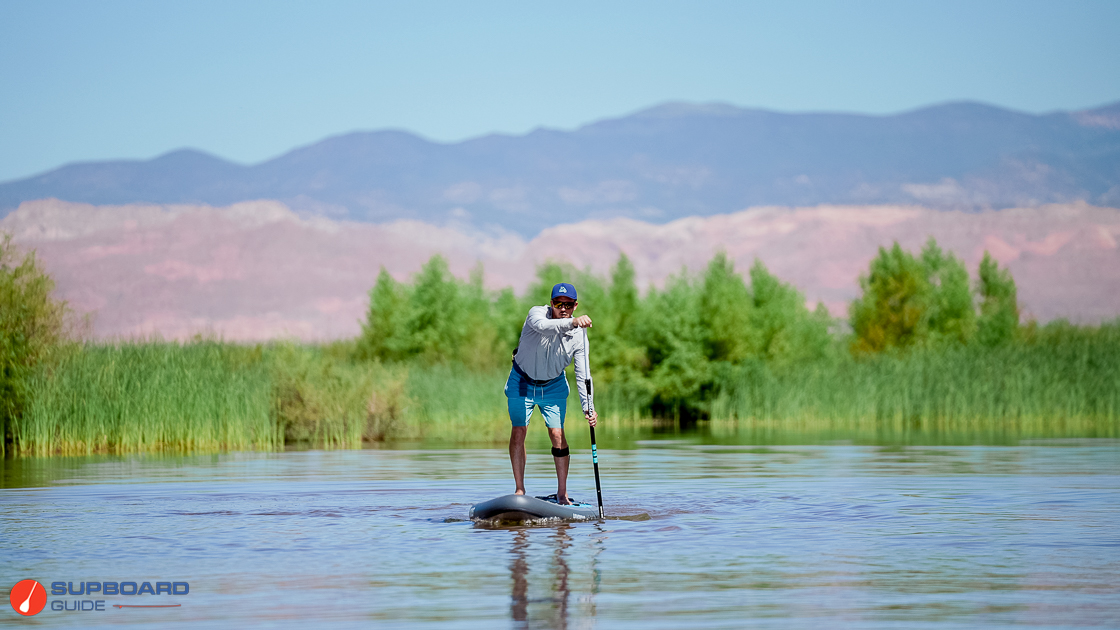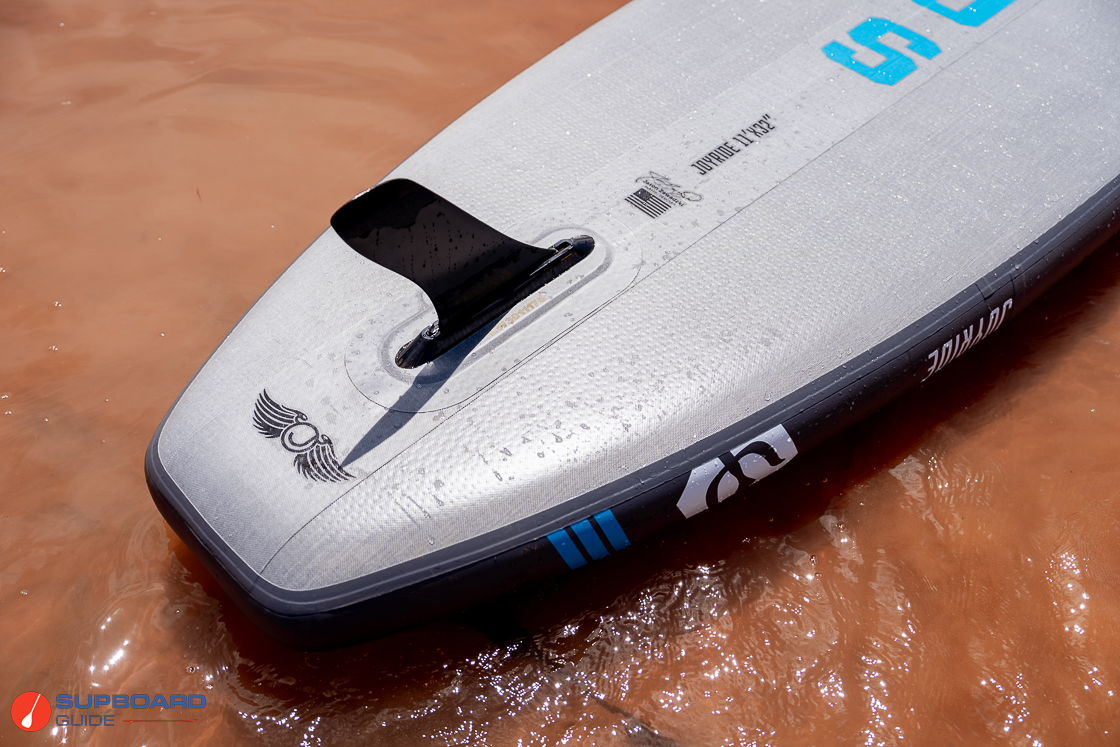 The Hydrus Joyride tracks very well! Once again, we are impressed (we warned you there would be a lot of pros in this review). It tracks almost as well as a purpose-designed touring board, again assisted by that bullet-like plan shape.
The kit comes with three different fins: a 9'' hatchet-style fin, a 6.5'' keel fin, and a 4.5'' gummy fin. We did our tracking test using the 9'' hatchet-style fin since that's the fin you'd be using if tracking is a consideration, as it would be for longer paddling or touring. We found we were able to get approximately 7 strokes on each side before needing to change sides. (This is the average, across the multiple members of our team who participate in the tests). For an all-around board, that's impressively good. Many other boards of this size can only get 5-6 strokes before needing a side-change.
The tracking performance will of course be reduced if you use the smaller fin options, as is to be expected. And because Hydrus boards use US finboxes you have plenty of options available for other fin styles and choices, so you could indeed improve the tracking still further, by using a bigger fin.
Maneuverability: 9.1/10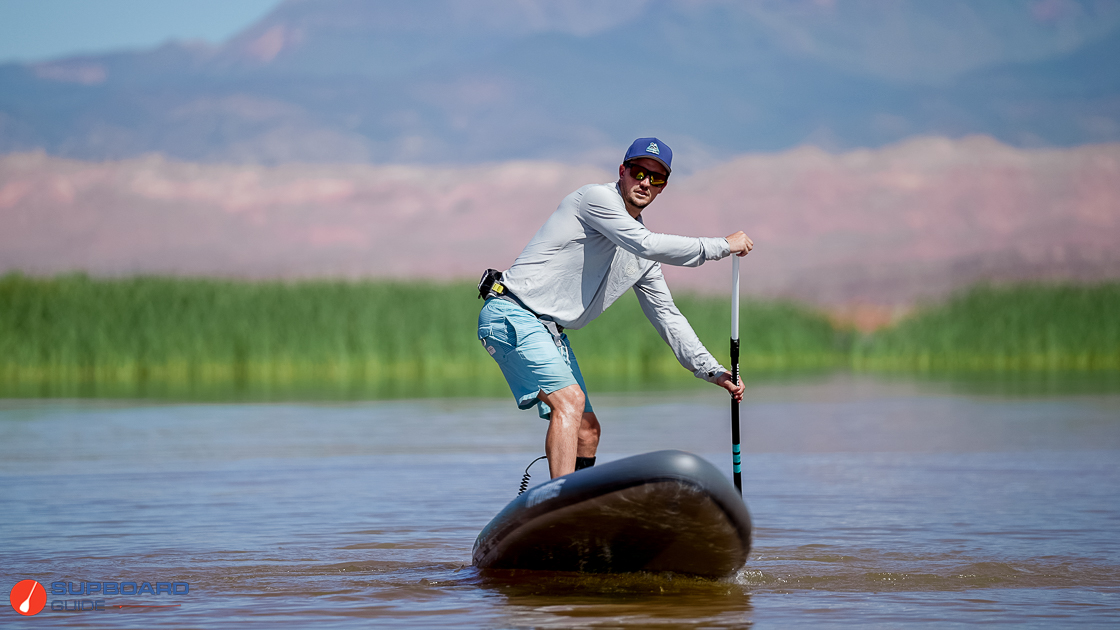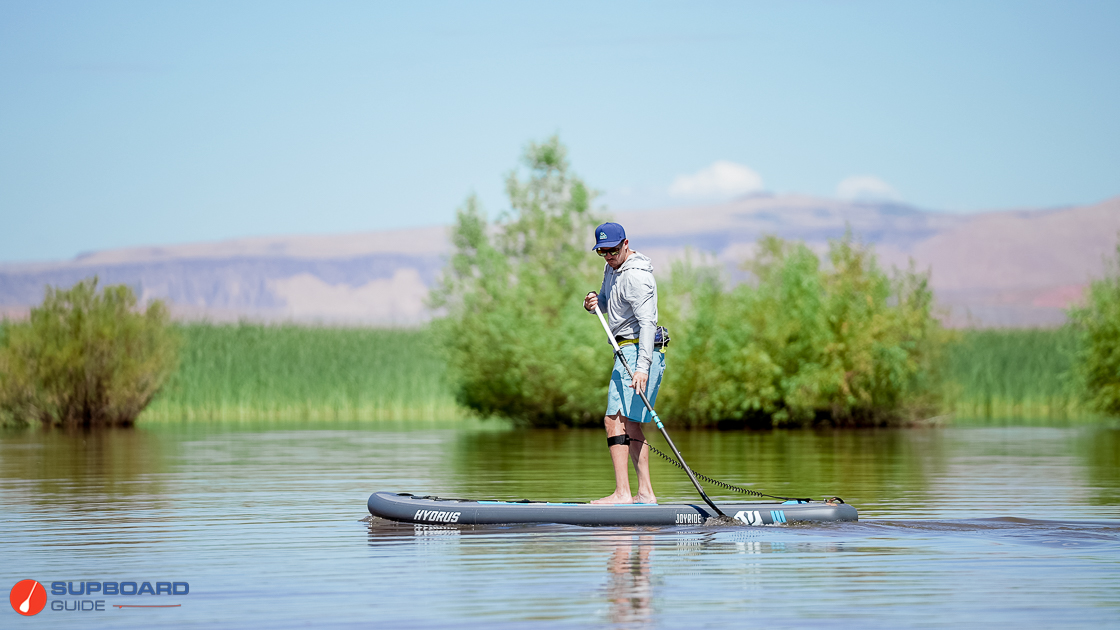 Yet again, a great score! 11'' is a bit longer than your average all-around board, so we were expecting the Joyride to score a bit lower in this category. However, once again we were pleasantly surprised. We use reverse sweep strokes to see how many it takes to turn the board a full 360 degrees, and the Joyride required just four strokes, which is a great result.
It also performed step-back turns better than we expected (sorry for sounding like a stuck record!). The board is a bit heavier than your average all-rounder, weighing in at 24lbs, which would normally mean more difficulty in getting the board's nose out of the water to spin it around using a step-back turn. However, this wasn't the case. While it didn't quite spin on a dime and make us dizzy, it was impressively easy to get it to turn and steer it where we wanted it to go.
If you want to improve the maneuverability even further, use the 6.5'' keel fin that comes in the kit. This is a great option for paddling in shallower waters as well, but it will of course slightly decrease the tracking.
Construction Quality: 9.5/10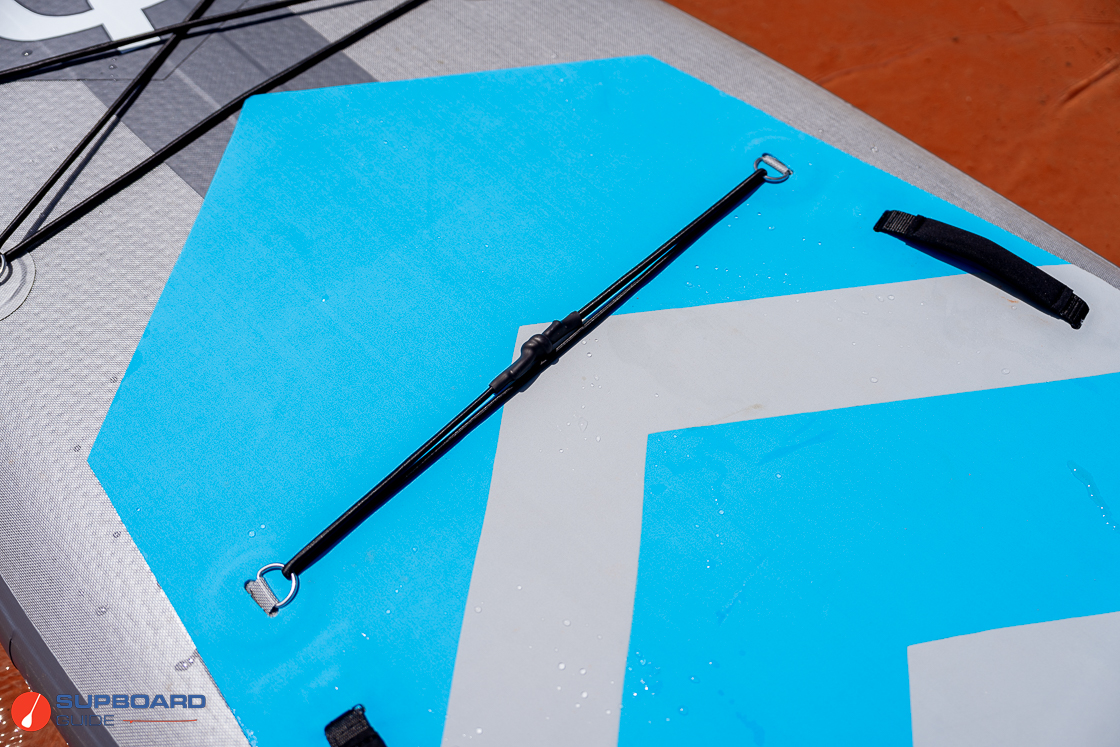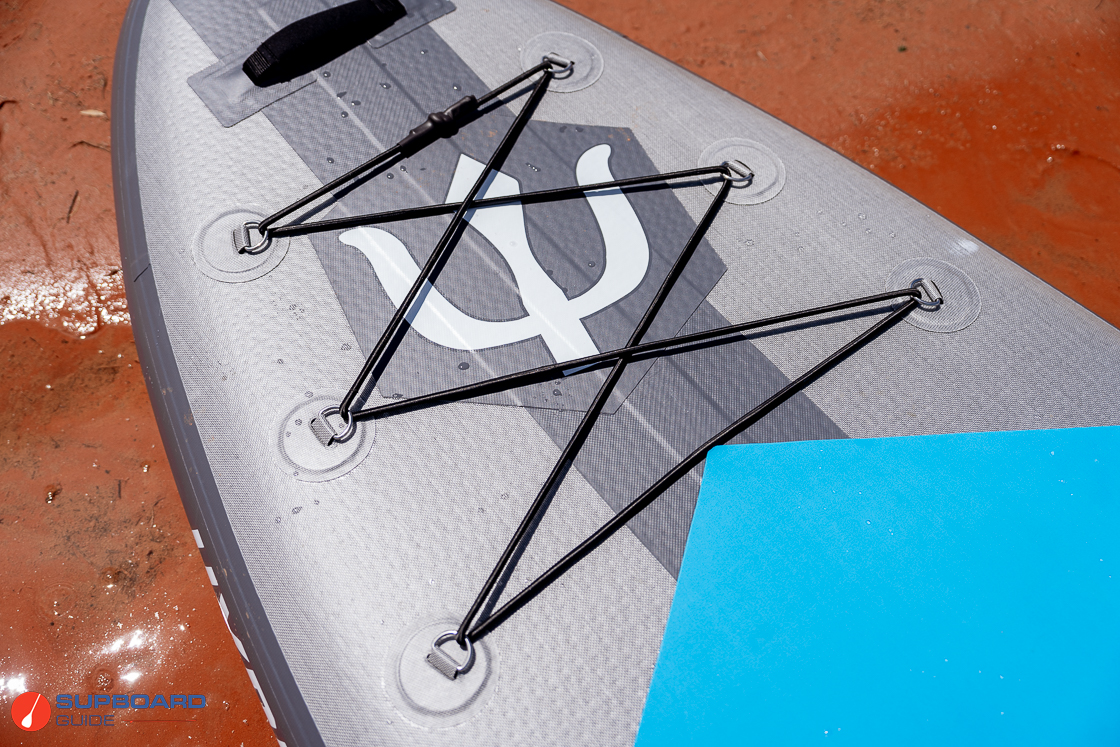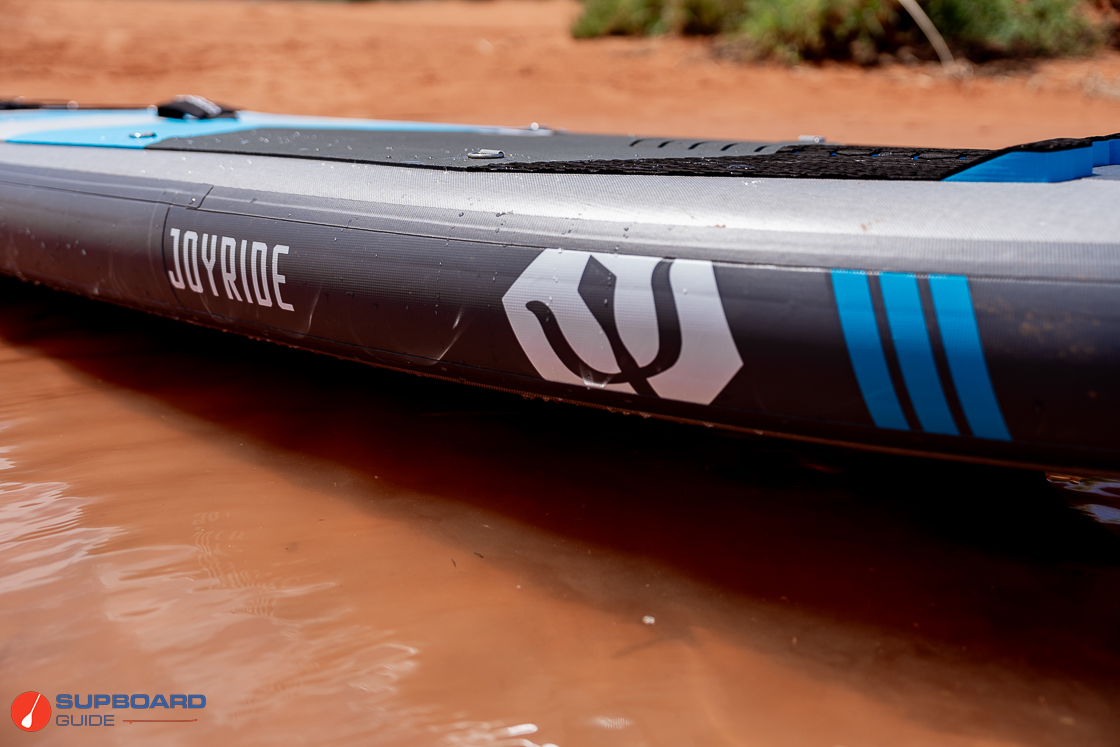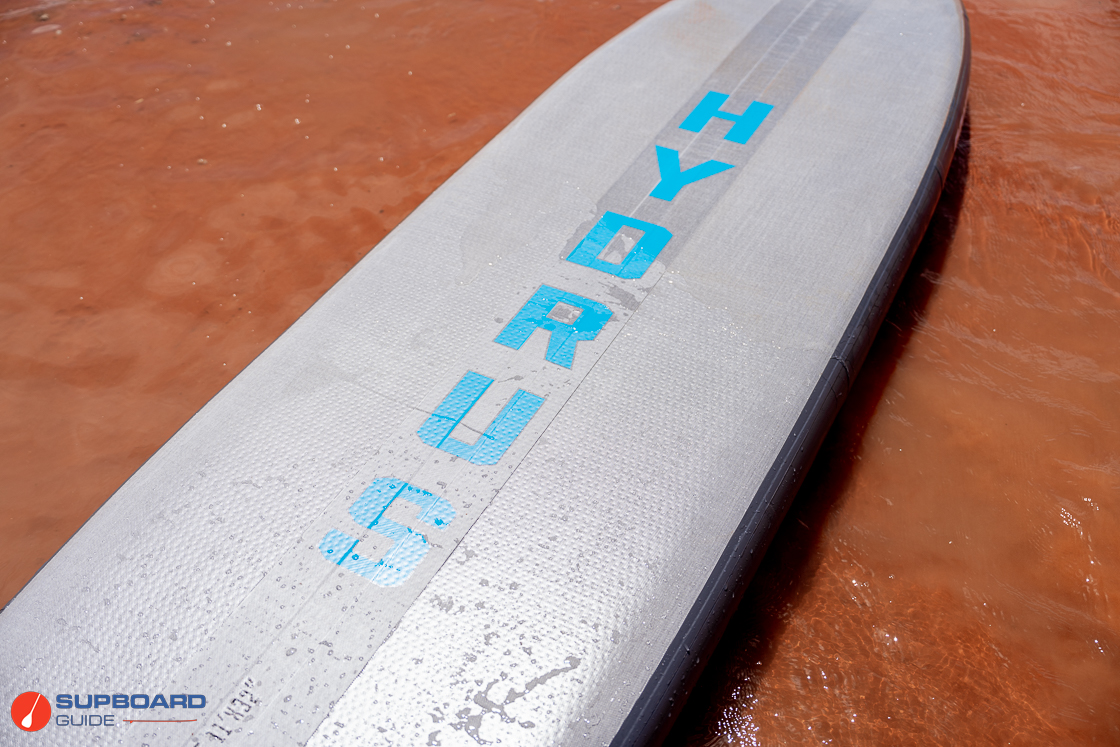 Hydrus have updated their construction process for 2023. They have also changed the color, using grey instead of black on the rails, which is a great improvement because we found the black rails on the 2022 model would become too hot to touch after any time out in the sun, which isn't great for the glue used on the seams. Whereas the new cool grey color seemed much less heat-absorbent.
Hydrus tell us that the board's core is made from woven fabric base layers and a cross-drop-stitch pattern. Woven fabric is less stretchy than knitted fabric, and a cross drop-stitch pattern means that fewer space yarns (the inner threads) can be used and still achieve high levels of rigidity. Coating this inner core is two layers of PVC that are adhered through the process of heat and pressure rather than glued together. This 'fusion' construction process eliminates weight and creates a stronger bond between the two PVC layers – essentially making them one stronger and thicker layer of PVC instead of two separate ones.
To join the top and bottom of the SUP together around the edges, Hydrus says they use a welded interior seam to create a strong mechanical bond. Then, a wide layer of PVC is glued around the entirety of the SUP to protect that inner seam. Lastly, to improve the rigidity even more, a carbon fiber stringer is placed along the top and bottom of the board in the middle, under a strip of PVC, as can clearly be seen in the pictures.
The end result is an extremely stiff and durable board, for just a slight increase in weight over a typical board of this size.
Board Stiffness: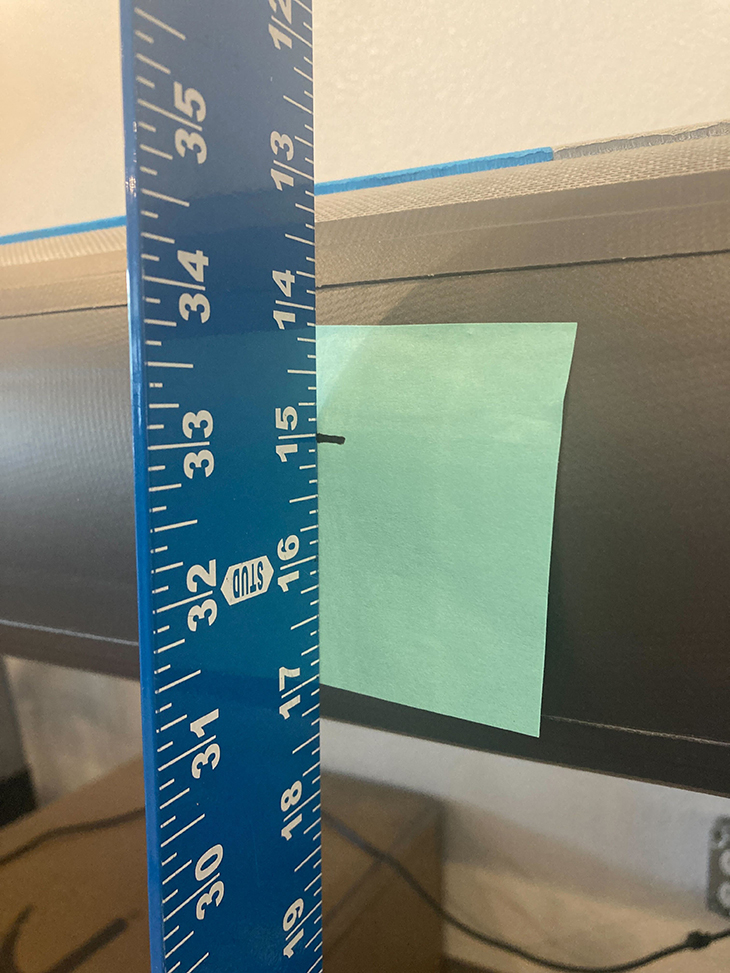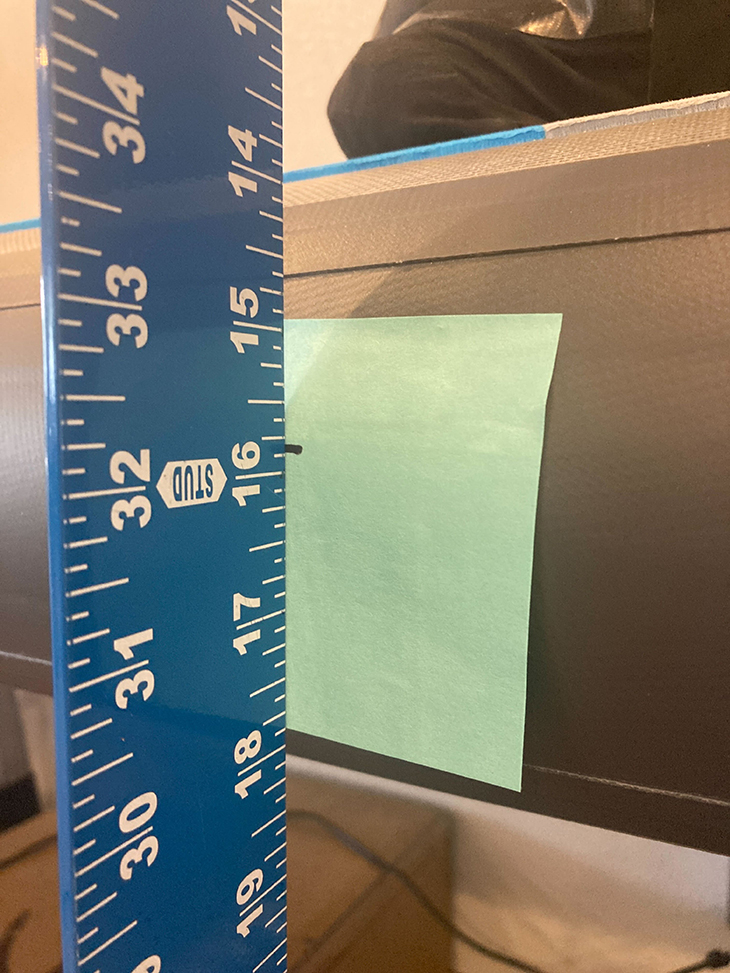 Stiffness Test: 0.8125" Bend
SUP Board Guide's Bend Testing:
In order to attest to the rigidity of each board, we use a bend test curated by Supboardguide. In order to obtain the results, we inflate the board to its maximum recommended PSI and then place it across two sawhorses that are 7 feet apart. We then take a measurement in the middle of the board. Then, we place 150 lbs worth of sandbags on the middle top of the SUP. Last, we record its displacement (the movement from its original position). We use this method for every board we test as a way to mathematically compare boards across a common denominator.
The construction also results in an excellent rigidity score for the board in our bend test. A deflection of less than an inch is very impressive, and matches what we felt on our on-water testing. On the water, our small-medium-sized testers felt no flex at all and found it hard to get the board to flex even when purposely applying downward pressure. When jumping on the board, there's a slight reverberation that doesn't even last for enough time to get a good grip on what's going on inside.
As for our heavier paddlers, they could feel a tiny bit more flex but only when purposely applying downward pressure and it didn't affect their paddling experience (since you don't normally try to flex a board when you're cruising around).
Features/Accessory Review: [9.5/10]
Features: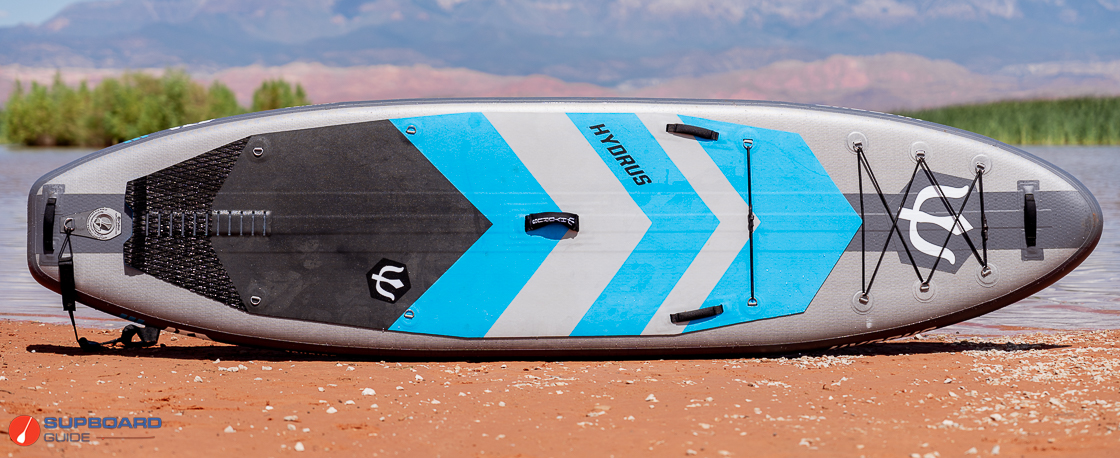 First of all, we think the Hydrus Joyride has a daredevil vibe with its black, blue, and gray color scheme and trident logo. It definitely stands out from the crowd of SUPs we have in our warehouse, as one of the more adventure-oriented-looking boards.
Working in from the nose, the front cargo bungees are attached to the deck via glued-on D-rings, rather than webbing loops. We like this because it effectively gives the board six extra D-rings for securely strapping down cargo, coolers or whatever.
There's also a small bungee line directly in front of the standing area which we think is a good spot for more personal items such as a water bottle or your shoes. Right below this bungee strap are two passenger handles that are great for kids to hold on to, to use when you're going over some mild whitewater in a river, etc. If you need to drop to your knees suddenly, you can grab onto those handles to further steady yourself.
Next up we have a grab handle on either side, a feature more commonly found on race boards, but actually very useful in a wide range of situations for controlling and moving the board around in the water.
Additionally, there are three carry handles, one on the nose, one in the middle, and one on the tail. They are all neoprene-wrapped and super comfortable.
There's a small raised kick-pad and a 12' long raised kick-pad that leads up to it. This is an ideal feature for knowing where you are stepping as you walk back toward the tail without actually having to look.
Our only suggestion to Hydrus on the fittings department would be to add either diamond grooves or logo embosses on their deck pad. The foam is smooth and comfortable but it can become somewhat slippery when it gets wet.
Included Accessories: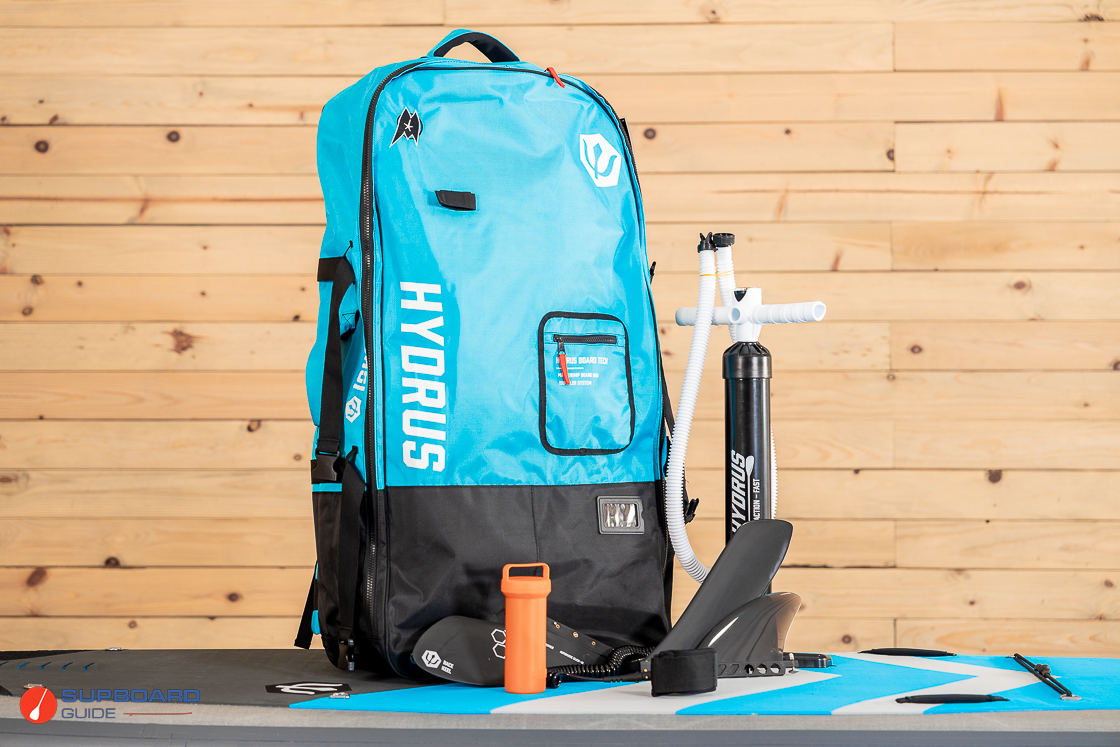 The Hydrus Joyride comes as standard with the large Mothership SUP bag, a double-action hand pump, a repair kit, stickers, a coil leash, three fins, and a stick-on GoPro mount. Everything fits neatly into the bag, with room to spare.
The stick-on GoPro mount is really awesome because it allows you to fully customize where you want it to go on the board. Perhaps you want it on the nose or the tail, or perhaps you want it in reach of where you are when you're standing and paddling. It sticks on very well and is compatible with other gadgets such as a cup holder, a GPS, etc.
A paddle does not come included as standard, but there are a variety of options available at check out so you can choose a specific paddle to fit your needs.
Hydrus offers a lifetime warranty on all of their board. For obvious reasons it doesn't include damage caused by misuse or neglect, nor damage caused by improper storage, but it's still a very impressive statement of confidence in their construction. Note that the warranty does not cover boards purchased second hand. The full terms are stated on their website.
Summary Review of the Hydrus Joyride- 2023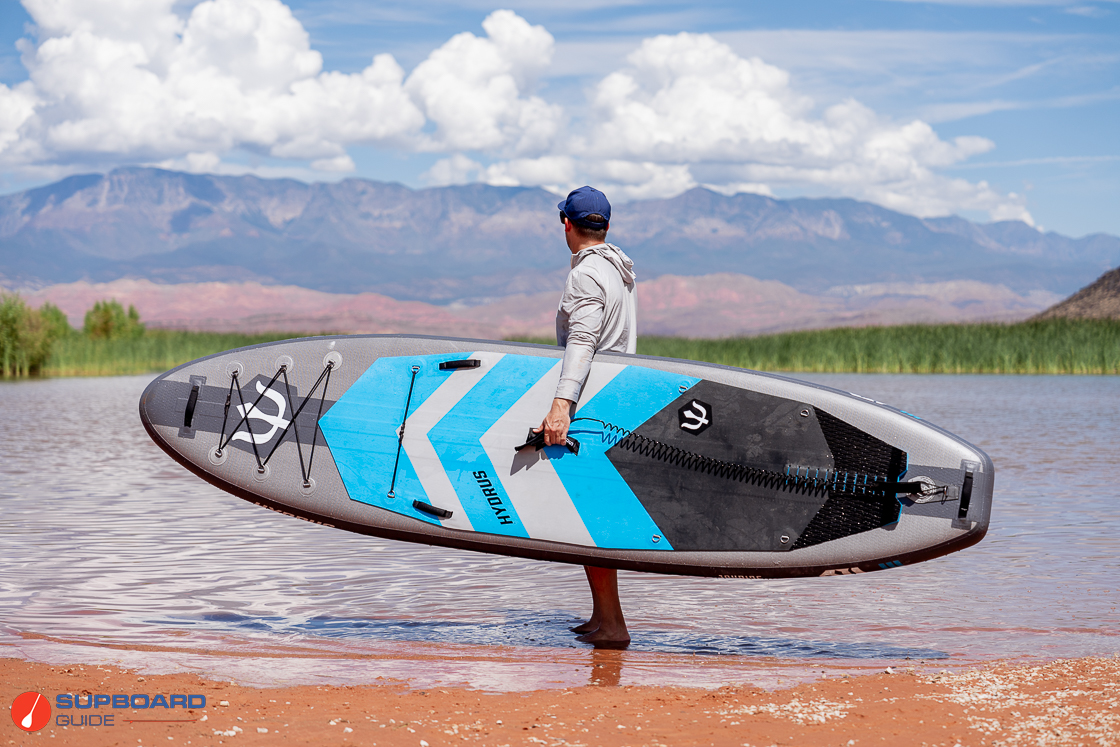 The Hydrus Joyride offers a great combination of stability and performance due to its excellent plan shape and impressive stiffness, delivering an all-around board that we are huge fans of. With its robust construction, streamlined look, excellent array of fittings and that lifetime guarantee, it's a really classy product overall.
The following two tabs change content below.
SupBoardGuide
Heyo! At SupBoardGuide.com we are a team who love the water, the outdoors, and are more than grateful that our full-time job allows us to review stand up paddle boards. We paddle year round (it helps that we are just about 2 hours outside of Las Vegas), and we bring in a wide range of paddlers with the goal of providing our readers with the best, most in-depth, and accurate stand up paddle board reviews.
Latest posts by SupBoardGuide (see all)