Red Paddle Co 11' Compact iSUP
Pros
One of my favorite all around SUPs. This is one of the boards I take on almost every SUP trip I go on.
Compact! Everything fits into a very small backpack, making it a great travel option
Extremely light weight, but still has a very nice, solid feel on the water.
Large dual fin setup tracks very well - much better than expected
Quad stringer system gives the board good rigidity on the water, even though the board didn't perform great in our bend test
All around design makes this board very versatile - good for everything from touring to surfing small waves and river paddling
Cons
A little hard to roll up. Once you get the process down, you can easily fit everything into the backpack - but it does take some trial and error
Front bungees don't tighten very well. I love the concept, but Red needs to improve the tightening system.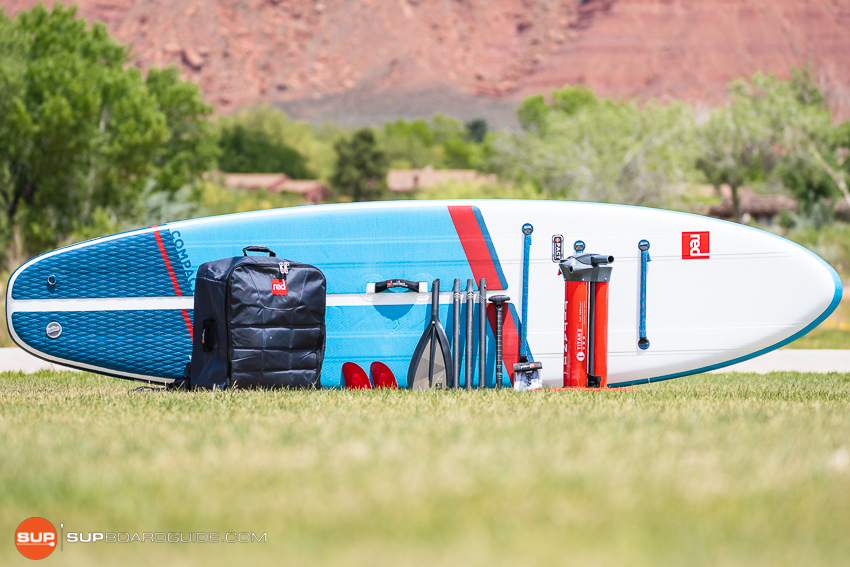 The Red Paddle Co (RPC) 11' Compact MSL PACT is the larger of the two Compact RPC boards we have reviewed. Like the smaller 9'6" compact, this board is methodically designed to fit in the smallest traveling space possible. This makes these boards especially useful for adventure traveling or anybody who is really concerned about overall storage space. Like the rest of the RPC fleet the 11' Compact is high on quality and overall rider feel. There are some nice features and for the most part this is stand up paddle boarding in its purest form.
However the performance is where we found this SUP to stand out. Past compact boards we have tested just haven't performed very well. Yes, they pack down into super small backpacks, but their tracking suffered as did the overall feel of the boards. Not with Red's new compact line. As we reviewed the Red Paddle Co 11' Compact, we found the board to not only track straight, but it also had that classic 'Red Paddle Co feel' on the water – all while being just 17 lbs!
The Red 11' Compact has quickly become one of my favorite inflatable SUPs, and we do think the higher price tag is warranted by all the innovation and tech that Red put into the construction of this SUP.
We think the Red Paddle Co 11' Compact MSL PACT would be great for paddlers who
Want an extremely light, compact full sized paddle board for traveling without sacrificing your paddling experience.
Is looking for a quality compact all-around SUP that feels much better than it should on the water.
Want a very rider focused iSUP with minimal distractions.
We think the Red Paddle Co 11' Compact MSL PACT is great for the following water conditions/situations:
Flat water paddling (lakes, bays, marinas, etc.)
Recreational paddling (beginners, just paddling around flat water w/ friends and kids)
Ocean paddling
Surfing in small surf (1-3 ft)
Red Paddle Co 11' Compact MSL PACT Review: Overview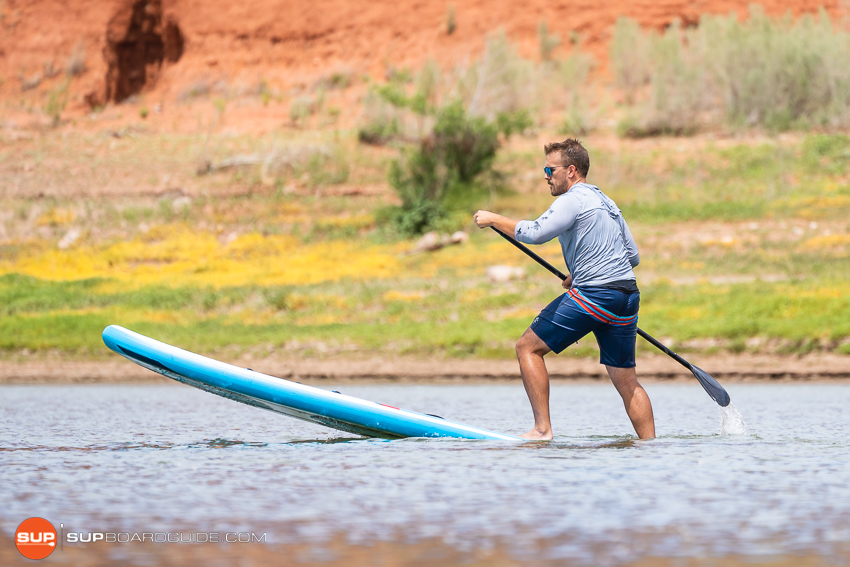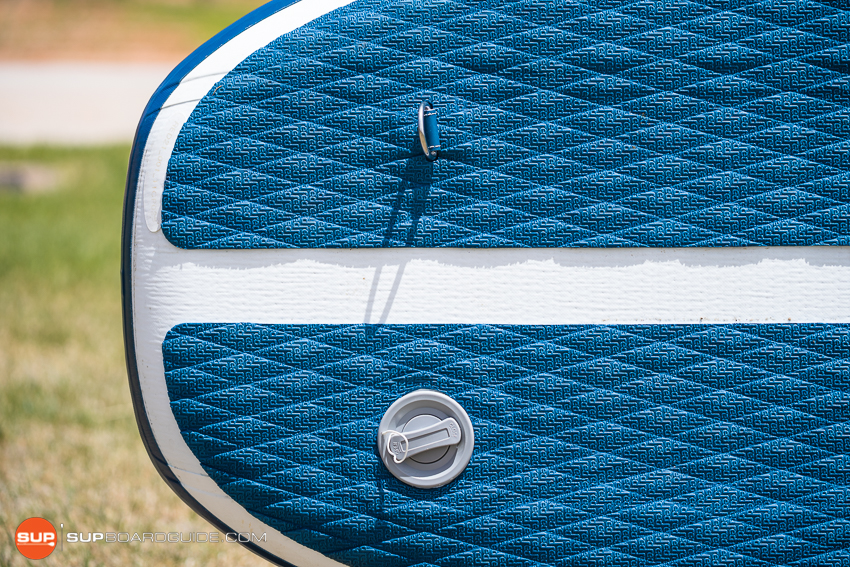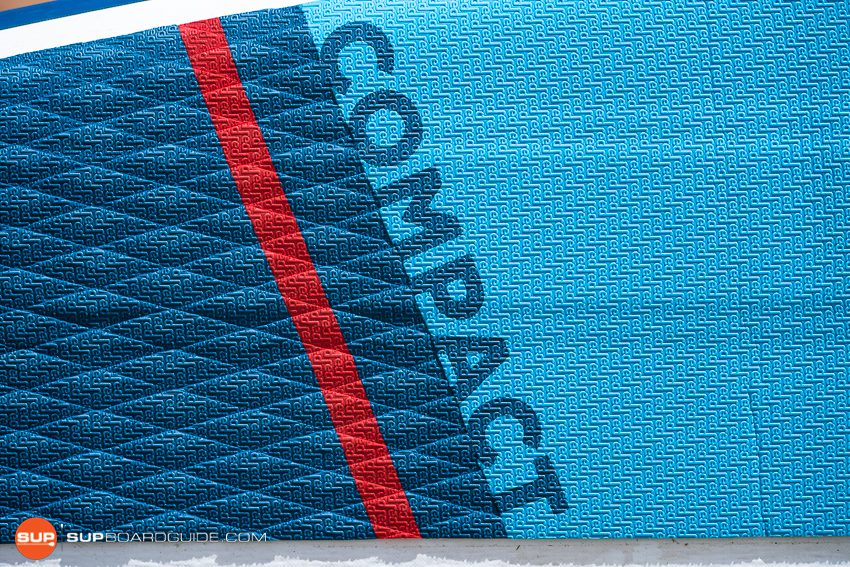 Note: We take this board with us whenever we go on vacation. We want you to know that we don't write spec reviews and instead try to get as much real world feedback as possible. This board has been in all sorts of places and situations with us so, if you have any questions about this board please just let us know in the comments below. We are happy to get you the answers you need to make an informed buying decision.
Red Paddle Co 11' Compact MSL PACT: Spec Sheet
Main Category: All Around, Inflatable
Board Dimensions: 11' x 32" x 4.75"
Listed Board Weight: 18.5 lbs
Listed Max Capacity: 240 lbs
Recommended PSI: Can Handle up to 25psi
Fins: Dual FCS style click in with pin
Paddle: 5 Piece Carbon / Nylon adjustable
Materials: Specially produced high density drop stitch (MSL PACT production process)
Price Range: High End
Warranty: 5 Year
Official SupBoardGuide.com Test Results: Red Paddle Co 11' Compact MSL PACT (2021 model)
Overall Score: 9.8/10
The board did really well in almost all areas of our testing. For the most part we feel that RED Paddle Co produces some of the most well built iSUPs in the industry. Their attention to detail is second to none, their kit pieces are all excellent, and the actual rider feel from these boards is fantastic. However, this board costs 2 or 3 times as much as others. This is an exclusive club and the price for entry is quite high, but the finished products are amazing and worth it. While we'd love to see Red be able to bring the price down on their compact lineup, we are also not sure it's possible given the engineering and materials that go into this SUP.
Stability: 9.5/10
Speed: 9.5/10
Tracking: 9.6/10
Maneuverability: 9.5/10
Construction Quality: 9.9/10
Features/Accessories: 9.5/10
Our overall rating of 9.9/10 for the Red Paddle Co 11' MSL PACT is our nod to RPC's commitment to engineering excellence. This board did fantastic on nearly every test we put it through, and despite being expensive, there is no other board we would recommend more for constant travelers looking to lighten their load.
In-Depth Review of the Red Paddle Co 11' Compact MSL PACT Stand Up Paddle Board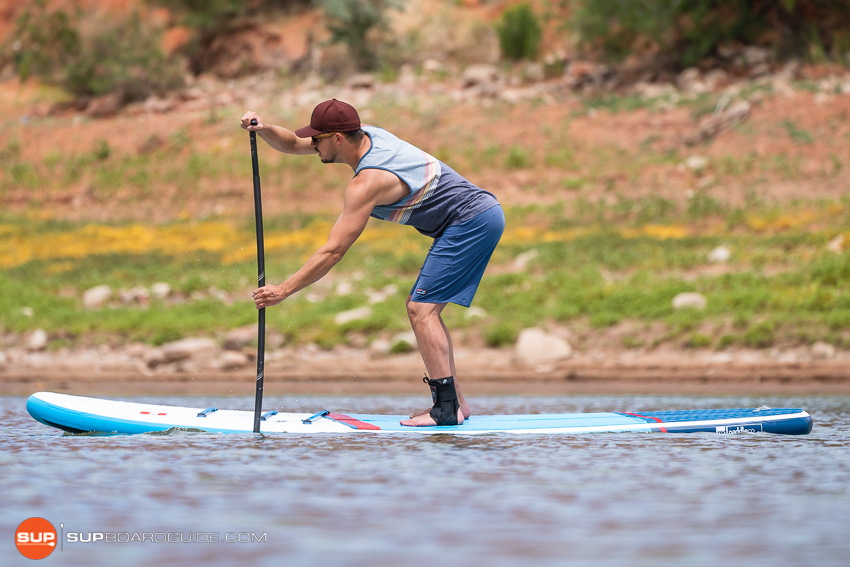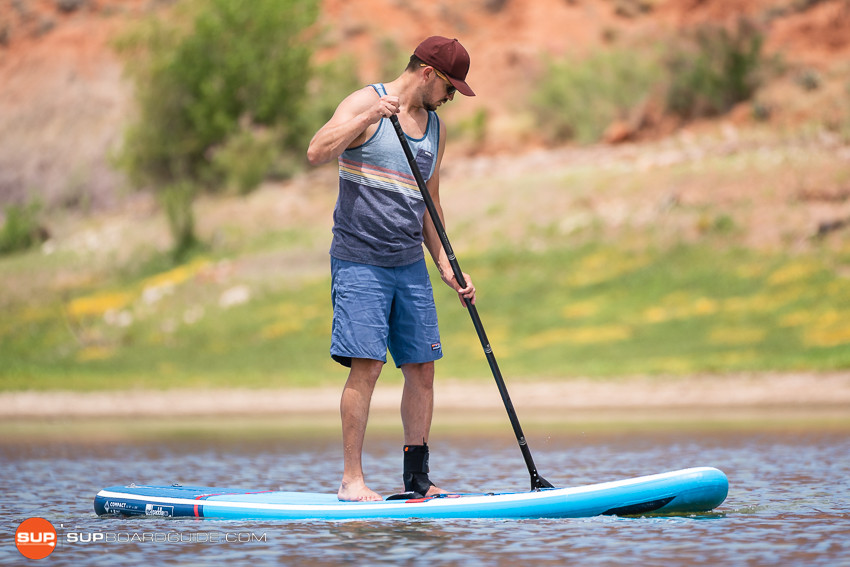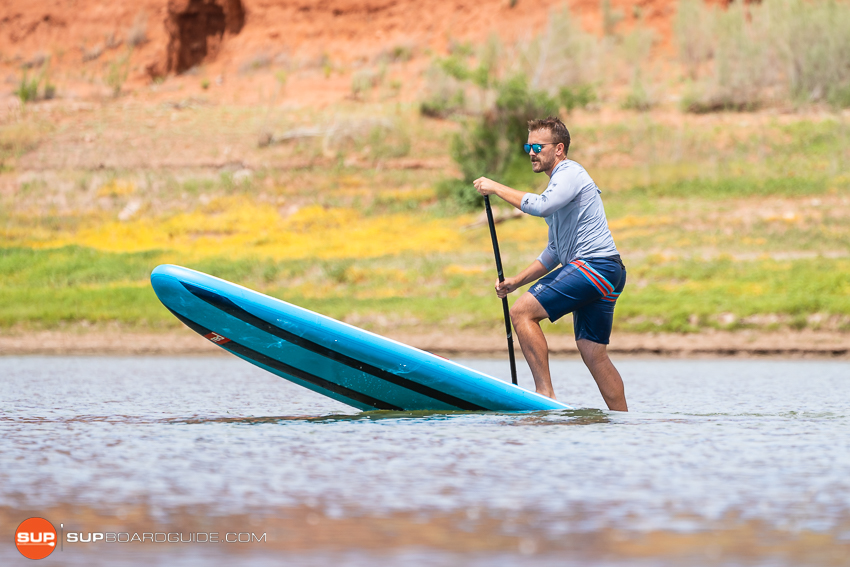 This board really surprised us in how well it performed despite its overall weight and storage size. We are used to 11' boards in bags nearly twice as big as the RPC Compact's. Once out of the bag you will want to try and remember how it all fits together for later. While it's not difficult by any means, it doesn't simply roll or fold like most other iSUPs. Like us you will probably learn from trial and error the first few times.
From there we were inflated pretty fast thanks to the new and improved Titan 2 SUP Pump. This manual pump is amazing. It was designed to smoothly and efficiently get your iSUP ready to go with minimal effort on your part. From there we assembled the 5 piece carbon / nylon adjustable paddle and were on our way.
It's lightweight and despite its low profile design it does not feel at all spongy or overly flexible like some boards do. It can easily hold larger paddlers up to the 240lb mark without much concern for stability and balance. It's impressive stats were only surpassed by it's nearly surfboard-like rider feedback. This is just a fun board to be on.
Stability Rating: 9.5/10
Stability is key for enjoying your time on the water. After all, if you wanted to go swimming you would have stayed by the beach right? While we do not purport this to be a "beginners" board, a beginner would have no problem getting onto this iSUP and having a great time.
It was truly remarkable being only 18.5 lbs and 4.75" thick how stable and surefooted you felt while riding this thing. Minor waves and boat wake don't bother you as much because of the low profile design. Some of our reviewers have even been known to take this into light California surf without a second's hesitation.
Weight Capacity:
Tested Capacity: 225 lbs
As we have pointed out so many times in the past, weight capacity and stability often go hand in hand. What we try to do here is find out at what point does excess weight start messing with a boards overall stability and performance. The RPC 11' Compact did great for single riders with gear up to their recommended 240 lb suggested limit. This board isn't really designed to be loaded out with crazy amounts of gear (that would be Red's Voyager boards), and we don't think that should be counted against it.
Speed Test: 9.5/10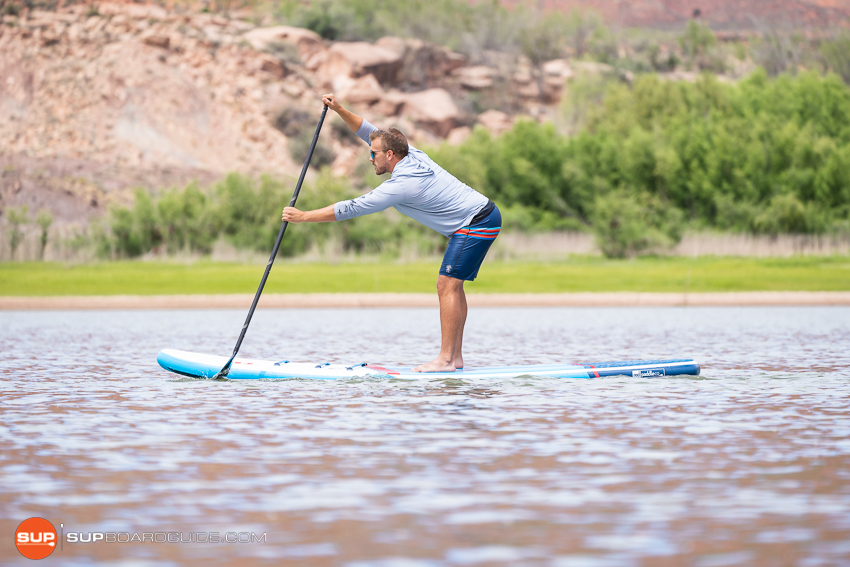 Our speed test is designed to get a rough estimate of how efficiently and how fast a board moves through the water. Typically faster boards are those with long water lines and thin overall widths.
In the case of the RPC 11' Compact, this board was fast for another reason. We feel it was so light that getting this board up to speed takes no time at all. Once up to speed the low profile board and well designed shape really glides through the water with minimal effort. This board is fairly quick for any iSUP not to mention other Compact style boards.
Tracking: 9.6/10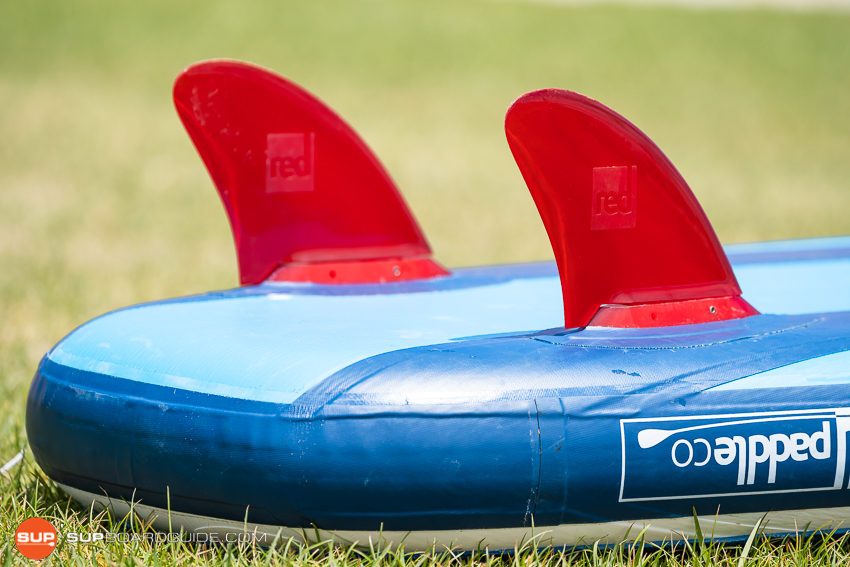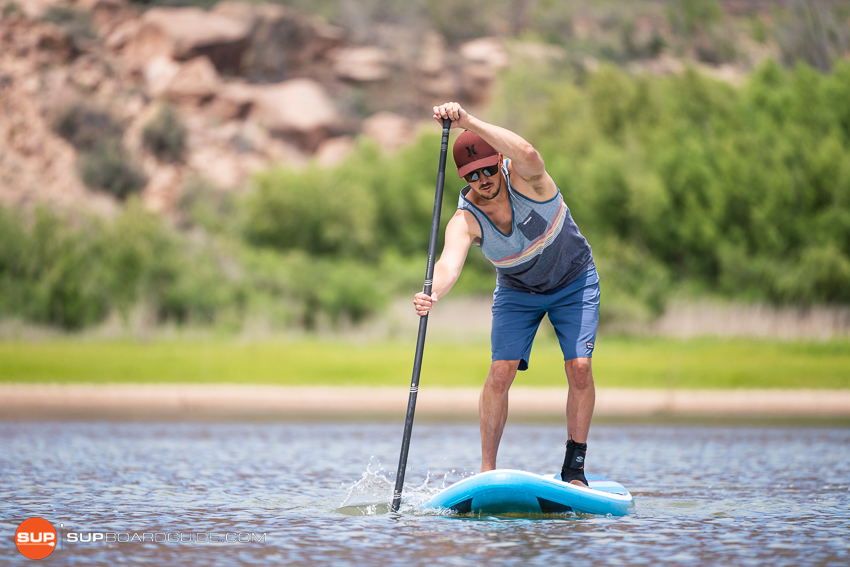 This board goes where you want it to every time. We really like the dual fin design and feel that is what gives it such great tracking capabilities. Also being lower to the water means less bend in the paddle when entering the water which could translate to a more forward facing stroke.
We think that Red Paddle Co nailed the fin design on this SUP, and it was just phenomenal at maintaining it's heading. As we've mentioned in other Red Paddle co reviews this year, Red increased the fin size for the twin fins. By increasing the overall fin area, the tracking improved by leaps and bounds. So much so that I made it across a short stretch of lake without having to change sides even once (note – there was a very slight cross current that helped with that, but the board still did fantastic).
The improved tracking also aided in its overall speed performance, and combined just gives this SUP an incredibly fun, high quality feel on the water.
Maneuverability: 9.5/10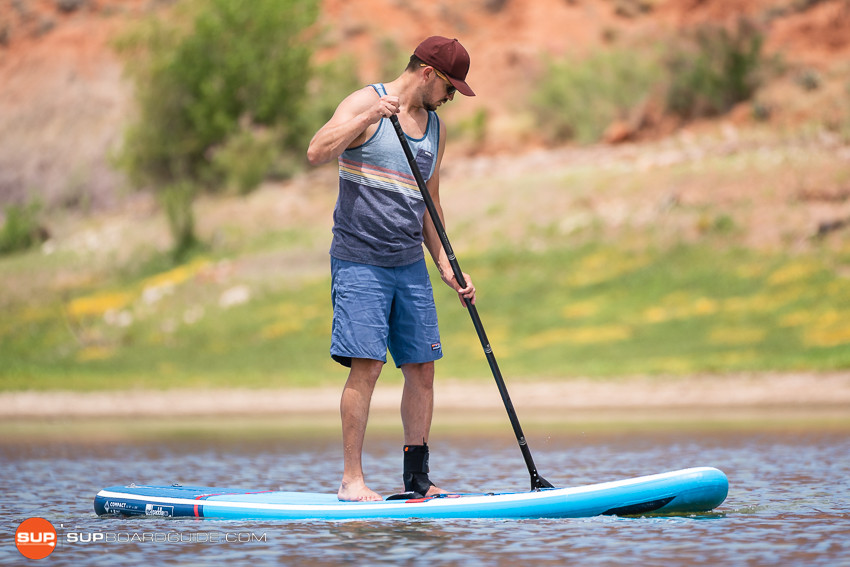 As we have already said, the Red Paddle Co 11' Compact is super light. This makes the board nimble like few other iSUPs we have ever tested. It's easy to turn and easy to balance when you need more fine maneuvering. This board can tackle a slalom course without any problem despite your experience level. More advanced maneuvers come easily on this board as it inspires confidence in a sort of playful way just begging you to see what else you can get it to do.
Construction Quality: 9.9/10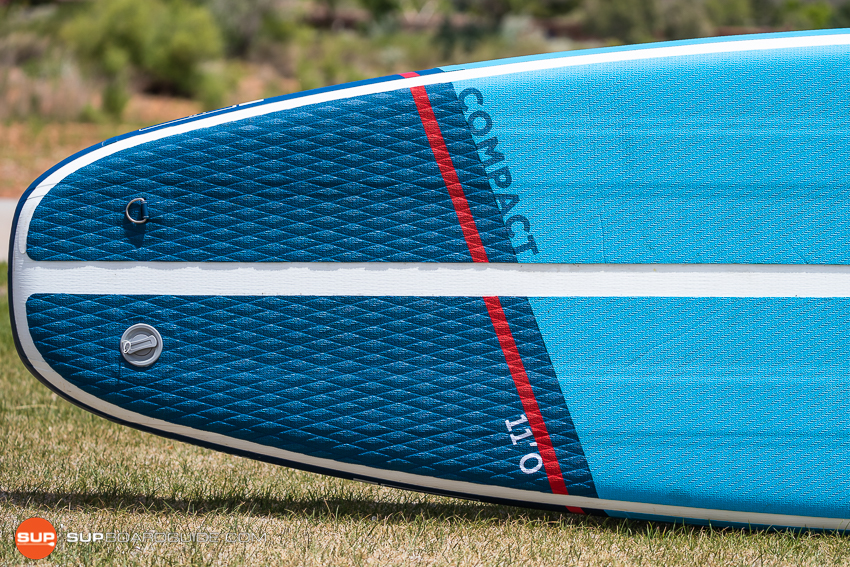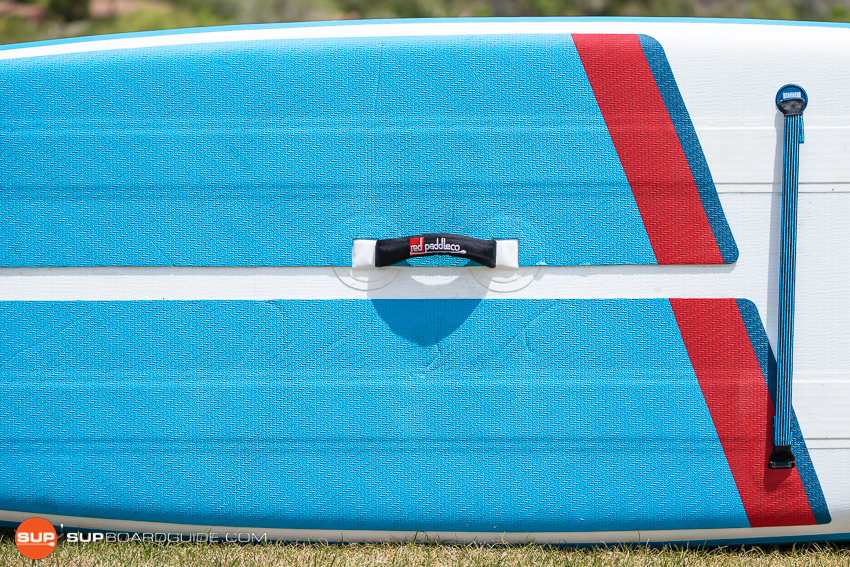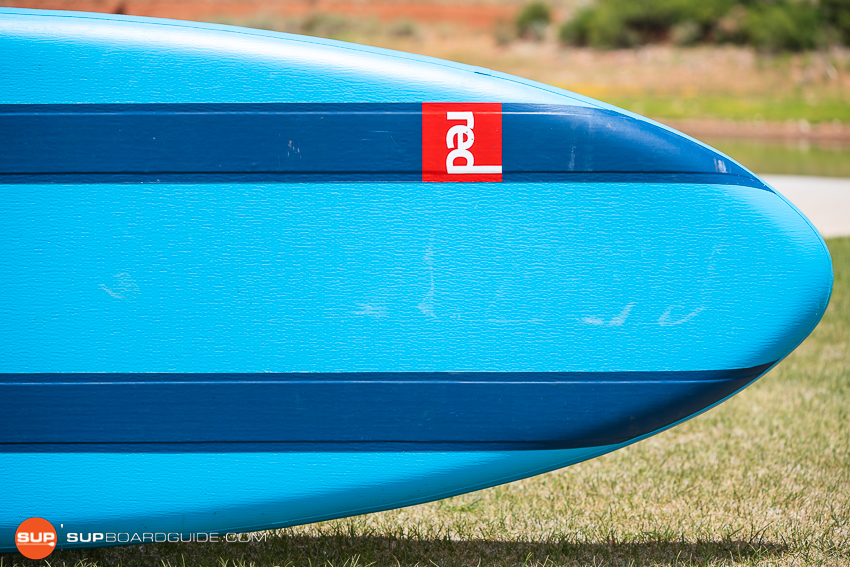 Red Paddle Co is known for their phenomenal attention to detail during the construction process. This commitment to engineering and design really shows up in the 11' Compact. For starters this board was built around the idea that it had to fit in the smallest space possible. Every part of this iSUP was designed to not only be light weight, but to also handle like a worldclass stand up paddle board. The fit and finish are second to none. You know you're holding something special when you pick this board up.
Board Stiffness:
Stiffness Test: 1.625" Bend @ 22 PSI (board on top of saw horses placed 7' apart, with 150 lbs of weight added right by handle in middle of the board)
This is the one test where the 11' Compact didn't perform very well. In fact, it had just over ½" more bend than other boards we tested – which is unusual for a board from Red Paddle Co, AND for a board in this price range.
As such, we reached out to Red Paddle Co to get their take on why they didn't include their proprietary rod stiffening system in their compact range, and this was their answer:
"The board construction is much stiffer than the MSL construction and can also accommodate a higher PSI, so Red Paddle Co didn't think the RSS battens were necessary."
While the Compact's construction may be stiffer than the MSL construction seen in their non-compact lines, our bend test doesn't show that. HOWEVER, the board feels fantastic on the water, so we don't have any complaints about stiffness or Red Paddle Co.'s decision not to include RSS battens.
Features/Accessory Review: 9.5/10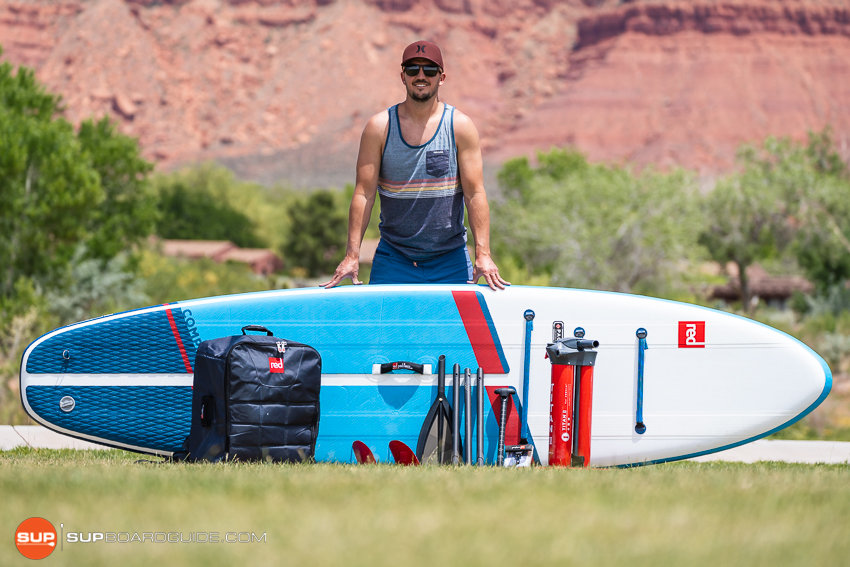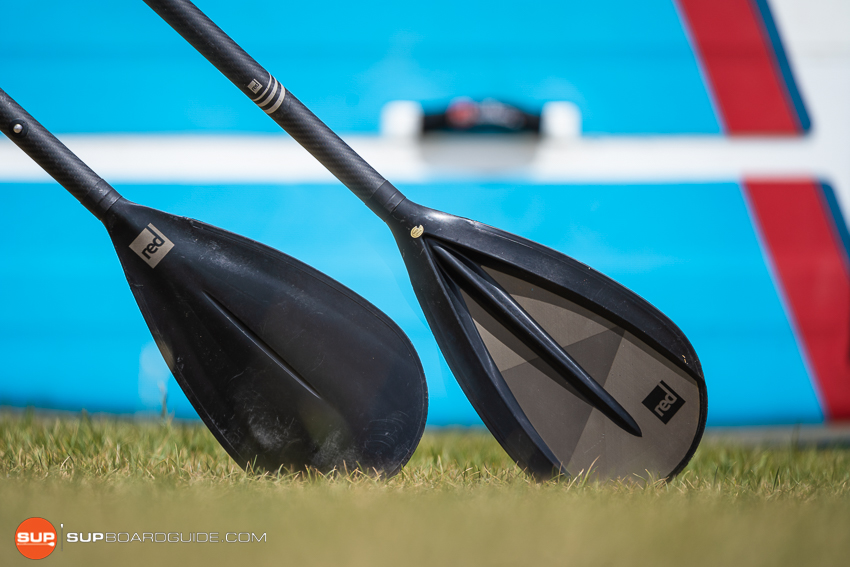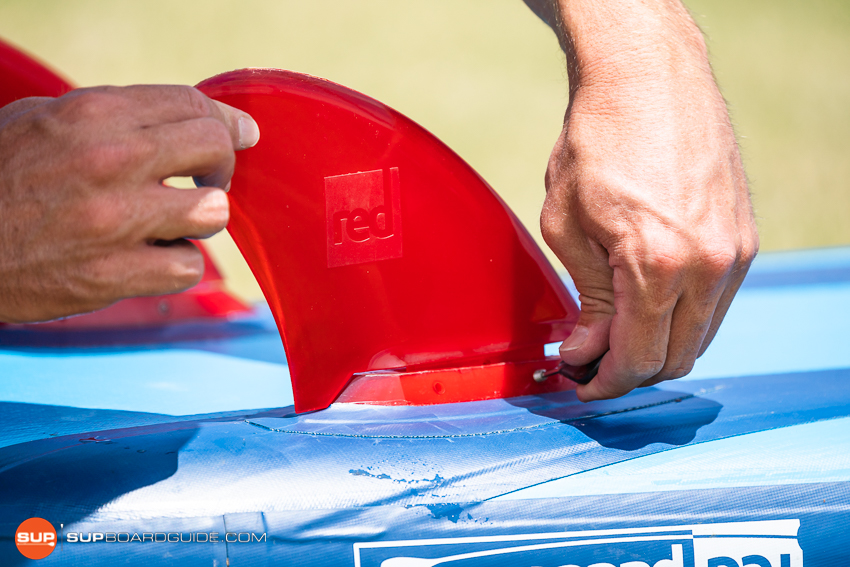 Features:
The Red Paddle Co 11' Compact MSL PACT has one very unique feature unlike most any other board we've tested thus far. It is designed for the sole purpose of folding down into the smallest space physically possible. All aspects of the board are really centered around this from it's off centered valve to the split deck pad are designed to be both weight and space saving while providing the rider with a comparable feel to their standard iSUP package.
Included Accessories:
This kit comes with several great pieces:
Custom sized backpack for the MSL PACT technology iSUPs
Titan 2 SUP Pump
5 Piece Carbon / Nylon adjustable paddle
8 ft coiled SUP leash
We will focus on most of these below but know that all of these are of the highest quality available. They were selected or designed to provide this kit with it's overall lightweight feel and small footprint. The engineering that went into this board's overall production is just apparent in everything this kit has to offer.
Paddle: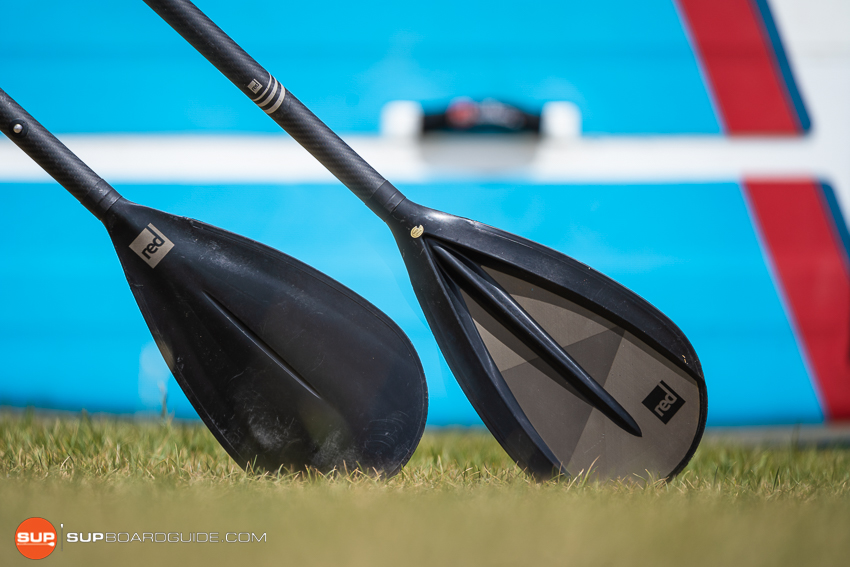 The RPC 11' Compact includes a 5 piece Carbon and Nylon mixed SUP paddle. 5 Pieces is a bit extreme in our minds but this paddle pulls it off nicely. Without that many pieces the kit would need additional space for the paddle and that just wasn't going to happen.
Once assembled this paddle provides a wide range of adjustment and little or no give in the paddles various attachment points. The Nylon blade is good for its overall longevity while the carbon fiber shaft ensures it weighs as little as possible.
Pump: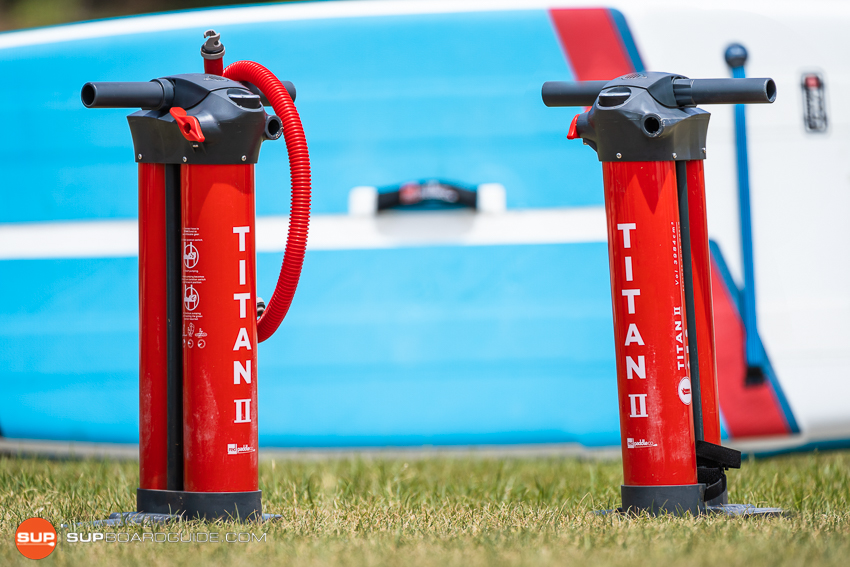 The Titan 2 SUP Pump is simply the best manual inflation pump we have used to date. It makes getting this board up to its final pressure a breeze. With it's dual chamber 3 stage design there really is no point at which you are struggling to get the board up to the desired PSI.
Additionally it also has a few space saving design elements allowing it to comfortably fit in the backpack with the rest of the kit equipment. Foldable feet and removable handles provide the slimmest profile possible while still retaining its effectiveness as a manual pump.
Bag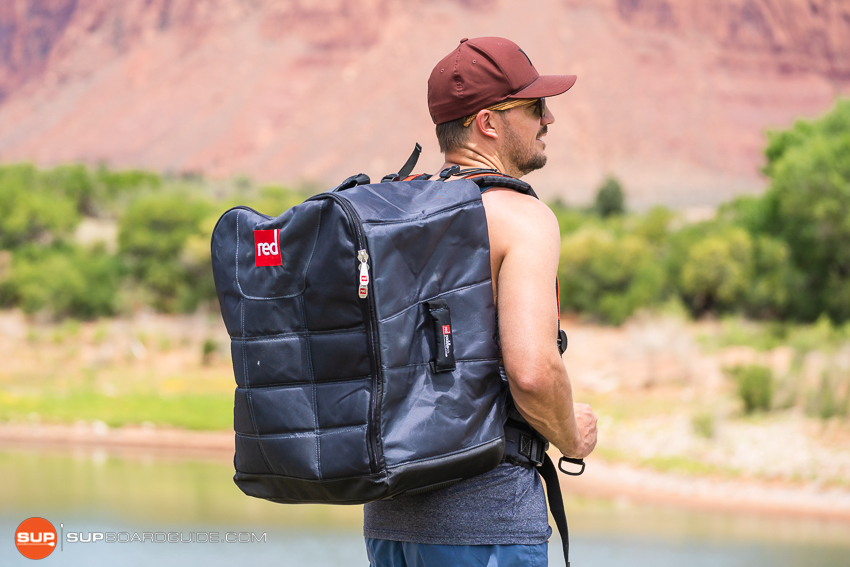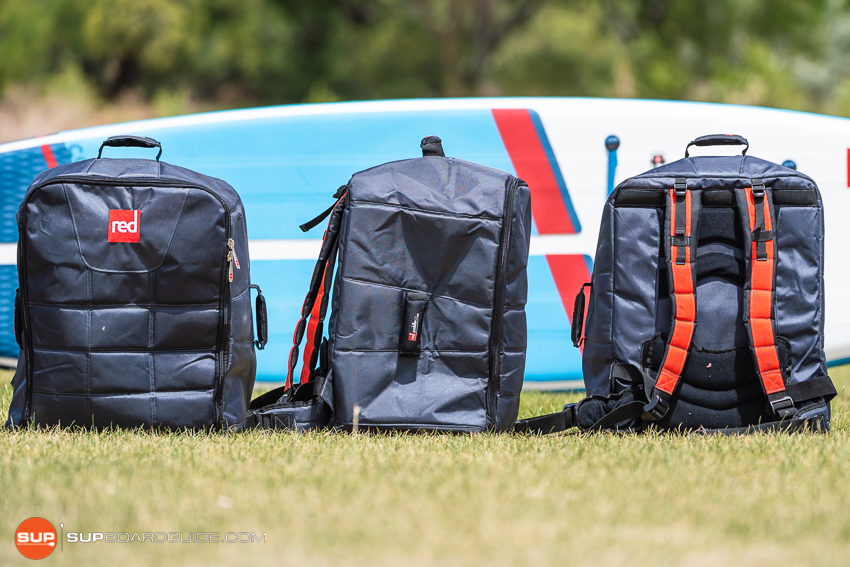 The engineers at RPC have designed this backpack to not only minimize the size of the entire kit, but to be truly comfortable for the wearer as well. The bag measures 22" by 16.5" and is only 12.5" deep. The materials are all high quality and they go so far as to make you feel like the board is well encased when folded inside. There are numerous adjustment points for the wearer so as to ensure a great fit whether being carried for a few minutes or a few miles. Externally the backpack has several heavy duty handles for easy moving or shifting around.
Inside the backpack you will find clearly labeled sections for all of the kit pieces including the paddle and fins. And while we do recommend trying to remember how you first took the board out, once you get used to the process it goes rather smoothly.
Optional Accessories:
If you think Red Paddle Co's attention to detail stops at it's boards you would be mistaken. They put the same refined engineering prowess into all of their accessories. Almost all of which were specifically designed to add to the paddling experience. Some of our absolute favorites are the:
Combination Paddle Board Lock
Various Waterproof Dry Bags
Men's and Women's Pro Change Robes
Several Adapters for more effective inflation and deflation
UV Board Jacket
Summary Review of the Red Paddle Co 11' Compact MSL PACT (2021 model)
This board is just a pleasure to ride. There is no debating the fact that this board is just plain fun. It's small stature only adds to it's playful nature. It's compact size, begs you to find an excuse to take it with you wherever you may go.
It's not something most beginners would appreciate in our opinion because of its price and subtle rider focused design. It is something that you would wish for after traveling often with a larger kit, or if you're disappointed in the overall rider response you get from a lesser iSUP.
In closing this board is certainly in a league of its own. No other board we have reviewed can really say they do what this board does. Yes it is expensive, but that's the price you pay for such a well engineered craft and if you have the means, we highly recommend you go for it.
We hope you enjoyed this review of the Red Paddle Co 11' Compact MSL PACT. As always, if you think we missed something or have your own opinion on certain aspects of the board we would love to hear from you in the comments below. Also feel free to check out our social media channels and our newly introduced SUP Forums. We hope to see you on the water soon, Happy Paddling!
The following two tabs change content below.
SupBoardGuide
Heyo! At SupBoardGuide.com we are a team who love the water, the outdoors, and are more than grateful that our full-time job allows us to review stand up paddle boards. We paddle year round (it helps that we are just about 2 hours outside of Las Vegas), and we bring in a wide range of paddlers with the goal of providing our readers with the best, most in-depth, and accurate stand up paddle board reviews.
Latest posts by SupBoardGuide (see all)