BaySports 11'6" "Original Series"
Pros
Very stable touring board. Great tracking and glide, suitable for beginners to intermediate paddlers.
Easy to transport, hike to the water with. Weighs 19.6 lbs, 395 lbs recommended weight capacity.
Smooth, comfortable, but grippy deck pad. Deep grooves help with foot placement.
Center US fin box is compatible with a wide selection of fins. Includes awesome FCS II fin.
Matching wood grain deck pad and board design. Beautiful in and out of the water.
Fiberglass paddle, triple-action dual-chamber pump, and premium backpack included. Full kit ready for the water without additional purchases.
Cons
No action mounts and only 5 D-rings. Limited accessory compatibility for a family SUP. Intro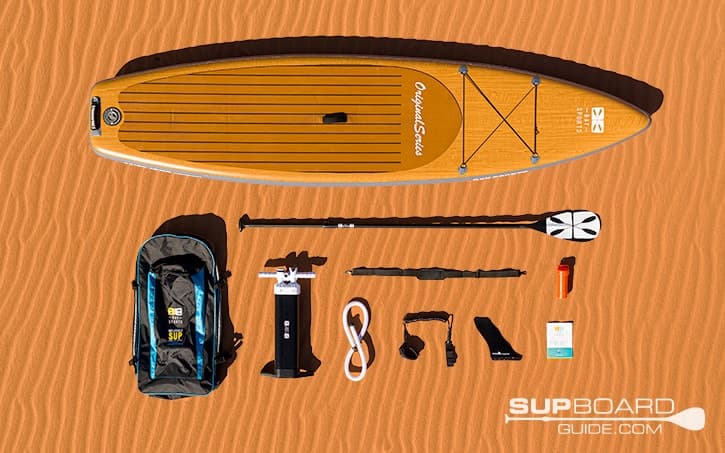 The 11'6'' Original Series is a very stable touring board for those wanting a SUP with an elegant, smooth glide in the water. Weighing just 19.6 lbs, when inflated to 15 PSI, this touring board is also great for going on adventures with friends due to its massive 395 lbs recommended weight capacity. The deck pad is soft and smooth, ensuring you can explore for hours without irritating your feet, and has deep grooves that help you configure your feet placement without looking down. The deck pad also matches up with the wood grain design, making this board just as great to look at as it is fun to use. We also appreciate the inclusion of a rapid dual-chamber pump, a lightweight full fiberglass paddle, and a very easy to install FCS II center fin. Overall, the Bay Sports 11'6'' Original Series is a fantastic package for those interested in an inflatable touring board experience.
SUP Board Specs
Length
11'6''
Width
32''
Thickness
6"
Weight
19.6 lbs
Rider Capacity (lbs)
395bs
Recommended Inflation
15 psi
Fins
9'' FCS Connect II center click in fin,
2.5'' molded plastic side fins
Paddle Type
Full Fiberglass shaft and blade, 26 Ounces
Construction
Fusion-Tec Drop-Stitch Construction
3-Layer Side Rail
Who Should Buy This Stand Up Paddle Board:
As a touring board, the 11'6'' is built so that paddlers can have a great, easy time exploring for long day paddling trips. However, we think the Original Series would also be great for:
A brand new paddler who wants something that is very stable in the water.
Adults interested in paddling with their kids, pet, or another adult on board.
Hikers who want a touring SUP but also have to travel long distances to get to the water.
Those who want a comfortable deck pad that isn't littered with unnecessary accessories.
Anyone who falls in love with the beautiful wood grain design.
If you're wondering how the board will perform in different water settings, you'll be interested to know:
Calm, still water environments will provide the best performance.
Lakes, bays, marinas, and other large open water settings are great for touring.
Water environments with some chop and wind, though expect less than optimal performance.
Capable of slow moving rivers.
Ocean water, even a little surfing! Try riding a few longboard waves once you've picked up some experience paddleboarding.
Performance
Stability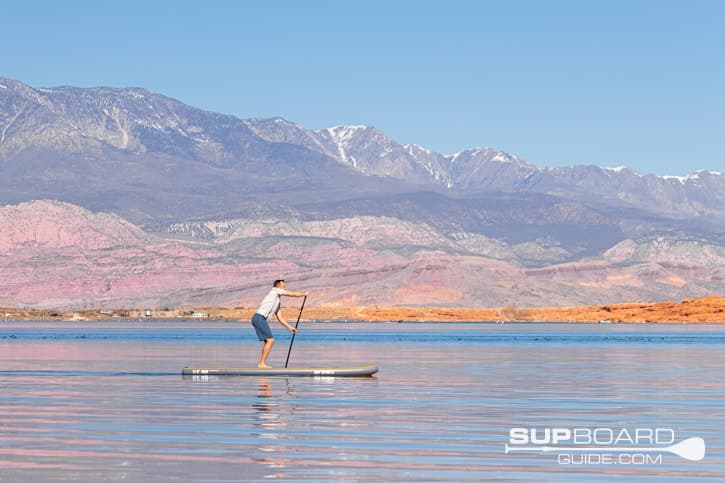 It's not the most stable SUP made by Bay Sports, but it is a very close second. Between the large volume, reinforced rails, and sturdy Fusion-Tec construction, the 11'6'' Original Series is a very stable paddleboard. Those who are trying out paddleboarding or are large in stature will both find the 11'6'' Original very accommodating. The 395 lbs weight capacity is more than enough support to bring your kids, pet, or adult friend with you at the same time. Just make sure you hit the recommended 15 PSI, and you'll find it easy to keep your balance with this SUP.
Maneuverability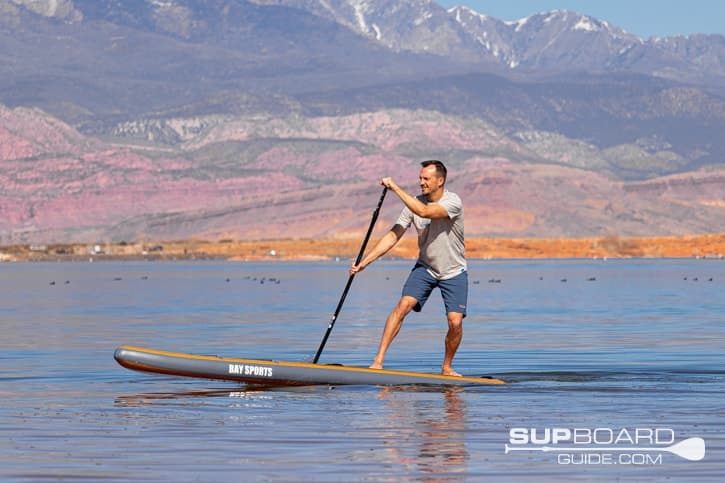 The longer the board, the more effort you have to put in to turn it, though that usually just amounts to a couple of extra side strokes to turn where you want to go. We still like how maneuverable the 11'6'' Original Series is, and had no trouble dodging rocks, trees, and other objects in the water as we paddled on a lake. The build and length of the board also made it simple and fun to perform a back-step turn. Move one foot to the tail, press down against the board, and you'll lift the nose out of the water in order to pivot in any direction on the spot as you can see in the picture above. With just a little extra effort, you'll be maneuvering around the water with ease on the 11'6'' Original Series.
Tracking/Glide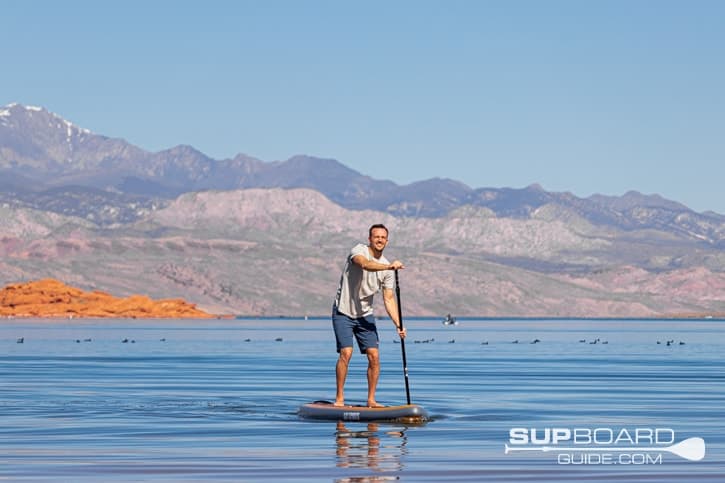 The area where the 11'6'' touring Original Series is built to excel is its tracking and glide. This SUP has a more pointed nose that will help you cut through the chop you encounter, while maintaining a smooth and steady experience. The long length and overall shape of the SUP makes it real easy to maintain a straight course as well, which is great for beginners still working to improve their paddling form. Due to its size, it will take a few strong strokes to get moving in the water, but once you've built up speed the 11'6'' Original Series maintains its momentum well. We have to agree with Bay Sports, that it's a dream to paddle the 11'6'' Original Series.
The 11'6'' Original Series has stellar tracking and glide by using the FCS II Connect center fin. Using the FCS II Connect center fin allows for a rider to get more maneuverability (forward) or tracking (rearward) on the mount. It takes seconds to install, and when inserted properly you'll find you'll maintain an even straighter line in the water. The inclusion of premolded 2.5'' side fins makes this board considerably stable as well. You can read more about both these types of fins below, but unless you're in shallow water always be sure to use them if you want the best paddling experience!
Materials

Bay Sports relies on their Fusion-Tec construction to build the 11'6'' Original Series, which consists of a tight drop-stitch core and military grade PVC composite layer protection. The drop-stitch core, to break it down further, is made up of sheets of fabric joined together by thousands of carefully positioned strings. Air is pumped into the drop-stitch core, inflating it but assuming the board shape seen in the picture above as the strings go taught and maintain the more rounded shape.
The drop-stitch core, wrapped in a military grade PVC composite coating, creates a rigid, durable, and stable board out on the water. If you were to crash your paddleboard, drop it as you're unloading from a car, or occasionally hit a tree in the water you will experience little to no damage at all due to it's rock solid construction and materials. Another potential danger is long term sun exposure, which is mitigated due to a special UV coating applied to the paddleboard. Lastly a triple-layered reinforced tape system has also been included, which will safeguard the seams of the drop-stitch core while also improving rigidity for overall SUP performance. The 11'6'' Original Series is built well and stunning to look at thanks to the wood grain printing applied.
Board Design/Shape


The Bay Sports 11'6'' Original Series is an inflatable touring board that strikes a nice balance of sporting a combination of a touring/all-around shape. This board is on the shorter end and is slightly more wide than a true touring board SUP. What this adds up to is a board that is a slight bit slower and a little more stable than a traditional touring board shape. The 11'6'' length and pointed nose help it maintain a very steady track through calm water, while being able to cut through small waves and chop as well. The 32'' wide deck and 6'' thickness provide impressive support, while also still being nimble and easy to maneuver in the water. Outside of touring, you can have a lot of fun engaging in some casual racing with friends, or just enjoy cruising on the water. Due to how soft and comfortable the deck pad is, this board is more than capable of being a board you could comfortably tour and paddle longer distances but also use the board for other purposes such as some yoga. This is definitely a SUP board worth considering for paddlers of all shapes, sizes, and skill levels.
Board Features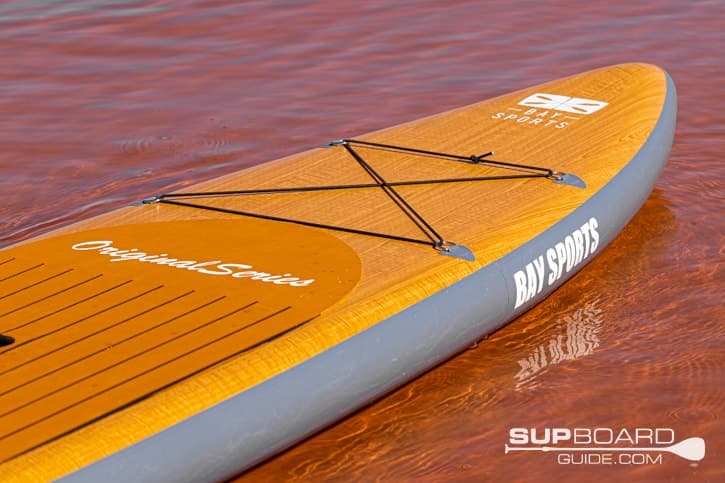 The 11'6'' Original Series has some great features that make it an awesome board beyond just its performance in the water. Some key features we would like to detail include:
Fusion-Tec drop stitch PVC layer construction: Fusion-Tec treads the fine line between being very durable, protecting the SUP against common accidents, while also staying lightweight. You'll be able to use the 11'6'' Original Series for years, and find it easy to transport as well. Fusion-Tec makes this the perfect board for short and long distance excursions alike!
5 D-rings + Removable Cargo Area: If you have a dry-bag, cell phone case, or some other clip on accessory, make sure to use one of the 5 D-rings. If you have a cooler or other sort of container, fit it beneath the removable bungee area.
Fiberglass shaft + Fiberglass paddle blade:The full fiberglass paddle weighs just 26 ounces when put together, ensuring you can paddle for hours without tiring your arms out. The ergonomic handle and sleek shaft are also satisfying to hold, helping your strokes feel powerful as you paddle in the water.
Dual carry handles: Lift the paddleboard with the center handle and easily adjust the board on the shore with the rear handle. The back handle is large, so you can use it as a paddle holder as well. Enjoy gripping the cushy handles that are covered with premium neoprene!
Grooved EVA deck pad: The deck pad is very soft and smooth, ensuring you can paddle from dawn to dusk without irritating your feet or developing blisters. There are also deep grooves, which not only improve grip but help you situate your feet without ever having to look down.
'Original' Wood Grain Desig: The 'Original Series' is named for the fantastic wood grain design, meant to invoke the look of original paddleboards. It might not affect performance, but it sure is great to look at!
Fins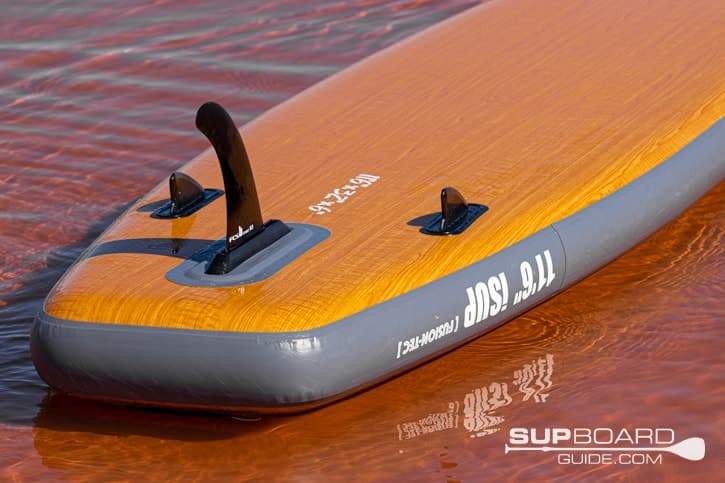 The 11'6'' Original Series has a standard US fin box, but it's a step above many competitors by using a FCS II Connect fin. No extra screws or plates to worry about, while still offering the stellar performance offered by traditional US fins. Insert the front of the fin into the middle of the fin box, slide the fin to your desired position, and then install the back of the fin so you can engage the barrel lock. It takes less than five seconds to install, and is built with very solid fiberglass so you can use the center fin for years without any performance issues. The included 9'' FCS II fin will satisfy the vast majority of paddlers, but with a US fin box you have the option to use many other fins as well for an even more fine tuned performance.
The 2.5'' plastic side fins are cool, and what they lack in customization they make up for in durability and lack of maintenance. The side fins improve the 11'6'' Original Series stability, and are short enough that you can take the board out anywhere and not have to worry about them. If you run ashore and do bend them out of shape, it's very simple to get them looking good as new. Douse the side fins in hot water, leave the board out to dry in direct sunlight, and wait about 15 to 20 minutes. As they dry, the side fins will restore themselves to their traditional shape, and be ready to go to get back on the water.
Grooved Eva Deck Pad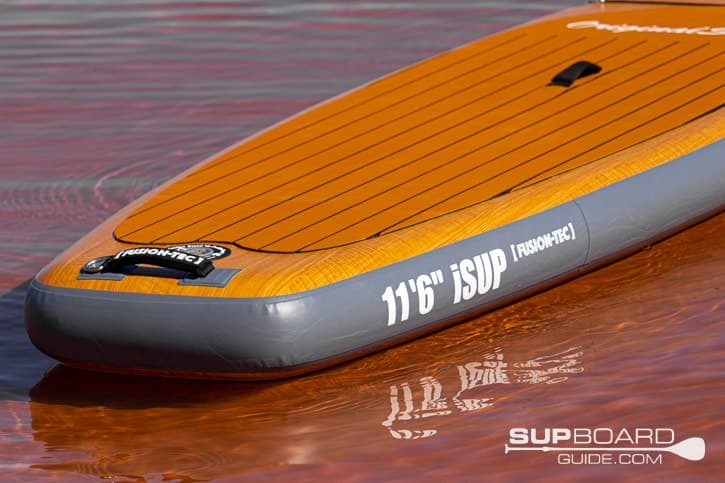 If you're going to paddle the whole length of a day, you want a smooth, soft, and cozy deck pad that is pleasant to stand on. The 11'6'' Original Series is such a deck pad, made with thick EVA foam for a satisfying experience that won't get damaged from being in the water either. The deck pad also has ten deep grooves, which improves your foot grip and also lets you mentally track where you're standing on the board. The grooves also help drain the water faster if you cut through a wave, preventing the board from getting slick and ensuring you maintain a steady hold to the SUP.
Handles
There are two carry handles built into the 11'6'' Original Series. One is located in the center, which is where you'll want to grab if you're paddling solo. If you're going out with someone else, they can help carry by grabbing the tail handle, which also doubles as a paddle holder. Both of these carry handles have neoprene covers, which will protect against chafing when held with cold or soaking wet hands. Overall, this is an excellent handle setup, and while some might like having three handles more we don't mind not having a nose handle due to how light the SUP is.
D-Rings/Bungees/Cargo Areas
5 D-rings are built into the 11'6'' Original Series, most of which form the front cargo bungee area with the remaining D-ring in the back carry handle. The bungee cargo area will secure coolers and other small to medium sized cargo containers. The D-rings are compatible with traditional clip-on items, like dry bags, cell phone cases, the included leash, and other popular SUP accessories.
For the most part, this is a fine accessory setup, and the majority of paddlers will appreciate or never even make use of these D-rings. However, as a touring board, we know there are paddlers out there who like to bring gear out with them given how long they're out on the water for. We would like a few more D-rings, or at least an action mount, to be added in order to support those with additional paddling gear without unnecessarily cluttering up the SUP.
Accessories
Fiberglass Shaft + Fiberglass Paddle Blade
The full fiberglass paddle is a great option for beginner to intermediate paddlers, weighing just 26 ounces when put together. This paddle is light enough that you can paddle for hours without wearing yourself out, and is built to be comfortable to hold and prevent skin irritation as well. Casual and touring trips alike are good with the fiberglass paddle, though those who want something even better should consider the carbon fiber paddle available from Bay Sports.
The paddle comes in three pieces, allowing for easy storage in the Bay Sports backpack and assembly once you're raring to get on the water. Once assembled, it's pretty easy to adjust the length of the paddle as well, allowing you to optimize it for different paddler heights. Pass the paddle to your friends, and follow along with the length recommendations printed on the shaft for the perfect paddle size.
Pump
The Helios triple-action, dual-chamber pump will inflate the 11'6'' Original Series in 10 to 15 minutes, getting you on the water with just a little work. The easy to follow instructions on how to use it are printed on the pump, ensuring that even first time paddlers will be able to pump their SUP without additional help. Given how large the 11'6'' Original Series is, we're glad the dual-chamber pump was included over a single-chamber one, due to the additional speed provided by the dual-chamber option.
It does take some effort to inflate the 11'6'' Original Series, which might cause you to build a sweat before you even get on the water. As such, we recommend checking out an electric pump, our favorite SUP accessory. Electric pumps will inflate a paddleboard for you, and do it in about the same amount of time as a manual pump. Furthermore, electric pumps will help you deflate your paddleboard as well, making sure it's ready to be rolled up once empty. A typical electric pump weighs about the same as a dual-chamber pump, but is more compact, giving you room to pack other things in your paddleboard kit. If you want to just enjoy the water, we definitely recommend looking at an electric pump along with the 11'6'' Original Series.
Backpack
Whether you're hiking in with it or just carrying it from your car right to the beach, you'll love the Bay Sports backpack that comes with the 11'6'' Original Series. The backpack is large and has a spacy main compartment that will allow you to store your SUP, paddle, and pump without a struggle. There is also a front facing compartment for storing your fins, leash, repair kit, and other small items you don't want scratching or getting lost in the main compartment. You can pick up the bag with one of the three carry handles, or wear it like a backpack that has adjustable straps. The back of the bag is padded for comfortable wearing, with the bag largely made of ballistic-weave nylon to protect your gear against the elements. Like everything else in this kit, Bay Sports has built this bag to last just as long as the 11'6'' Original Series itself.
Leash
Noticed that D-ring on the rear carry handle? It's there for you to attach a leash to, the 11' coiled leash fitting over your ankle or calf. The coiled leash will keep your SUP close if you fall or take a swim in the water, without affecting your paddling performance when you're on the board. It's great for keeping the board close in fast moving waters, but doesn't do much to help you float. Be sure to head out with a PFD for the safest paddling experience!
Repair Kit
While we doubt you'll ever need to use it, the last important accessory is the orange repair kit, which contains PVC patches and an inflation valve wrench. Use the patches to fix small holes and tears that don't occur on the seams of the board. As for the wrench, it can tighten up the Halkey-Roberts inflation valve if it ever comes loose. For more significant board damage or problems, be sure to contact Bay Sports. The 11'6'' Original Series has great warranty coverage, which you can read about below.
Optional Accessories
Paddleboards become more popular by the year, and as their popularity grows so do the accessories and add-ons for them. Most third party accessories will work great with the 11'6'' Original Series, though always be sure to check compatibility before purchasing. If you want something that is affordable and guaranteed to work with this board, we'd recommend looking at the following official Bay Sports accessories.
Bay Sports Hercules electric pump
Stand Up Paddle Board Trolley
Dry Bags/Waterproof Deck Bag
Waterproof deck phone case
Compact key vault
Company Review – Bay Sports
Based out of Sydney Australia, Bay Sports is a 100% family-owned and operated business. Founded as Bay Kayaks, what started as a passion for kayak products expanded to water sports products in general, including paddleboards. The experience and expertise of the company has led to some awesome SUPs over the years, which are consistently lightweight, affordable, and very fun to paddle with. You can find more than 1,000 five star reviews left on their website, commending Bay Sports for their excellent line of paddleboards.
Bay Sports offers free shipping to the US and most of Europe if you purchase the 11'6'' Original Series. The board is also covered with a 3-year warranty and 30-day guarantee for common SUP accidents, and also offers multiple exchange options for defective or damaged boards. Of course, given the great Fusion-Tec construction, we doubt you'll need to rely on the warranty except for extreme damage and circumstances. If you fall in love with the 11'6'' Original Series, be sure to check out their Explore, Cruise, and Yoga paddleboards as well.
Conclusion/Bottom line
Bay Sports 11'6'' Original Series is a great, lightweight touring board that will accommodate all sorts of paddlers. The stability is perfect for heavier paddlers who are brand new to the sport, with an excellent glide and tracking that will help you perfect your paddling form. Fusion-Tec and triple layered reinforced taped rails make the board easy to carry while staying rigid, making it an awesome pick for hikers or younger, smaller paddlers too. The 11'6'' kit comes with everything you need to paddle on the water, with the included accessories well suited for newcomers and advanced paddlers alike. If you want a versatile touring board that is great for exploration and other SUP water sports, you'll want to try the 11'6'' Original Series.
Have a question about our review, or want to know more about Bay Sports? Debating whether to go with an inflatable or hard paddle board, or want to know the difference in paddle types? Then be sure to leave a comment below, or send us an email with your thoughts and feedback. We love to hear from our readers, and also periodically update our reviews with our own paddling experience and from what we hear from other paddling enthusiasts. Be sure to check us out in the future for our up to date thoughts.
Thank you so much for reading, and we hope you have a great paddle boarding experience!
The following two tabs change content below.
SupBoardGuide Editorial Team
At SupBoardGuide.com we are a team who love the water, the outdoors, and are more than grateful that our full-time job allows us to review stand up paddle boards. We paddle year round (it helps that we are just about 2 hours outside of Las Vegas), and we bring in a wide range of paddlers with the goal of providing our readers with the best, most in-depth, and accurate stand up paddle board reviews.
Latest posts by SupBoardGuide Editorial Team (see all)