Sea Gods Carta Marina Touring Inflatable Paddle Board
Pros
Stable enough despite being a touring SUP
Easily gets up to a good cruising pace
Room to bring along gear
Versatile features that don't clutter your standing space
High-quality, inclusive kit to get you started
Lifetime warranty coverage is almost unmatched in the industry.
Cons
Not quite as fast as most true dedicated touring SUPs; we think it would be just a bit faster as a 12'6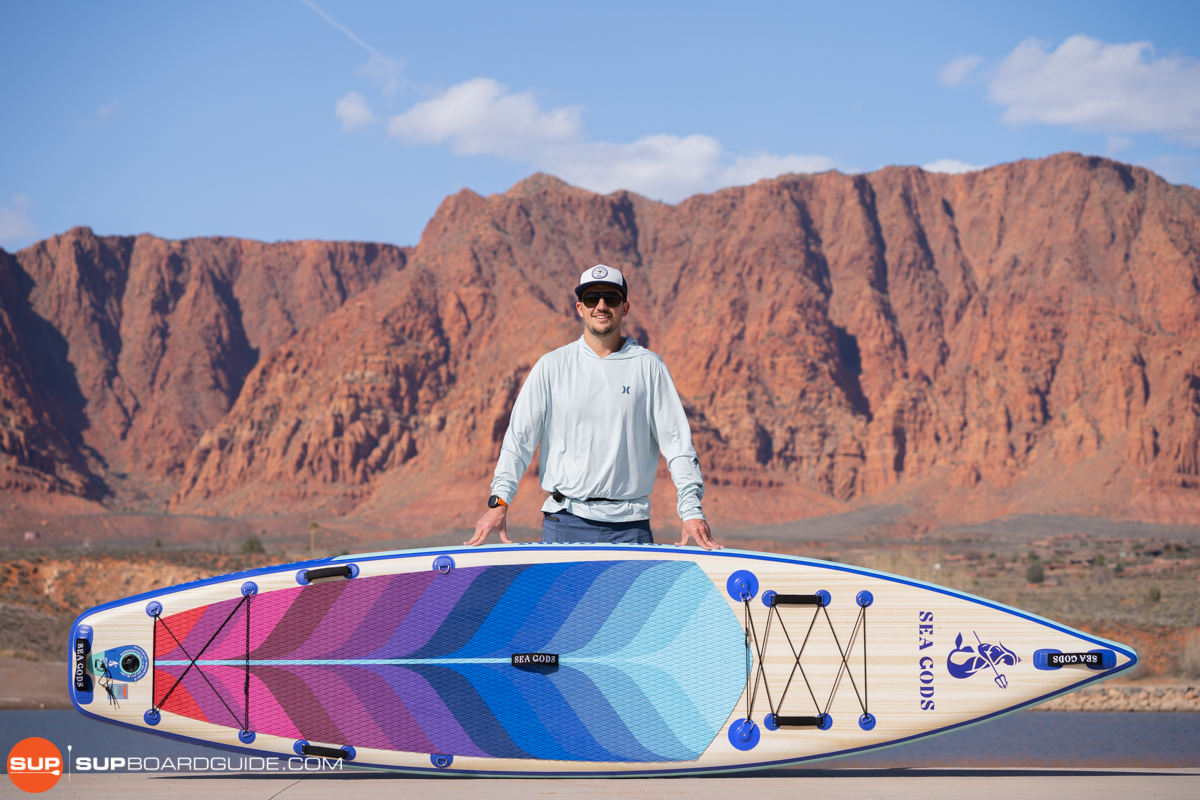 The first step to writing SUP reviews, the Sea Gods Carta Marina in this case, is establishing a level of communication with the company. Sea Gods has been extremely helpful in this step whether it be giving us backstory on their origin or explaining their SUP construction process. One thing that came up a lot in our talks with Sea Gods is the idea of balance. Balance is important in its own right in the sport of stand-up paddle boarding of course, but also extends into SUP design and shaping.
Usually, attempts at balance in SUP building result in trade offs such as speed vs. stability, maneuverability vs. tracking, board weight vs. rigidity, and tons of other minute details that get thrown into the mix. What's different about theSea Gods Carta Marina is that it minimizes those trade-offs, while still being a performance focused touring SUP. It allows its paddlers to get up to speed pretty easily with its tapered nose and square off tail, but does not make sacrifices when it comes to stability. It's lightweight, but still exceptionally rigid and reasonably maneuverable.
The Sea Gods Carta Marina 12'x32" iSUP would make a great choice for paddlers looking to get their start in touring SUPs and the exploration that they are capable of, but aren't willing to deal with a major decrease in stability. More advanced paddlers would enjoy the Carta Marina as an all-around touring hybrid that would enable them to pick up a bit more speed than a true all-around, but will also be capable of hauling carrying an extra human or furry passenger of gear for an overnight SUP adventure.
We think the Sea Gods Carta Marina would be great for paddlers who
Want some of the speed capabilities of a true touring SUP without the stability loss
Taller paddlers who benefit from the 12' length over a classic 10'6 all-around
Paddlers who want some versatility in their features, but don't like a lot of clutter on the deck pad
Paddle mostly on flat water (with mild chop) or enjoy some ocean paddling sessions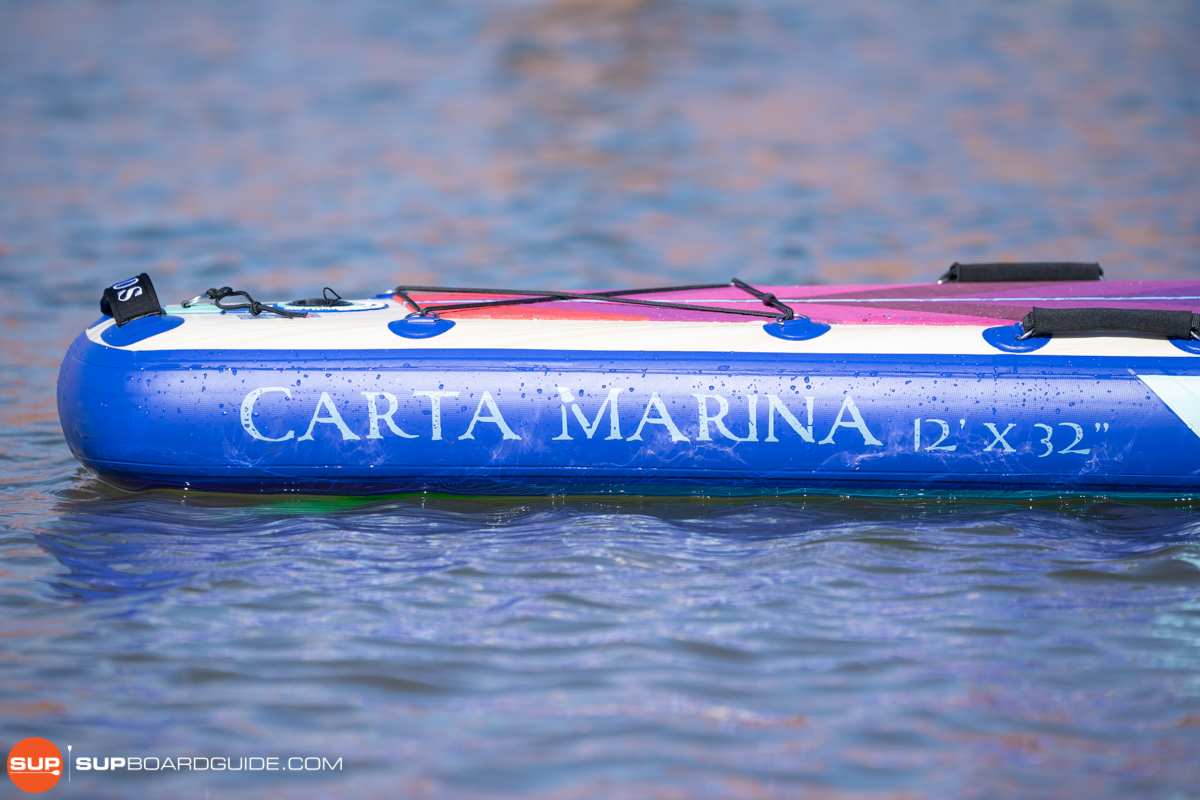 Sea Gods Carta Marina: Spec Sheet
Main Category: Touring (entry-level)
Board Dimensions: 12' x 32" x 6"
Listed Board Weight: 25.5lbs
Listed Max Capacity: 20 PSI
Recommended PSI: 14-18 PSI
Fins: Single Fin; Kumano Pressure Fit Fin w/ US Fin Box
Paddle: 3-piece carbon fiber (tear drop w/ minor scoop)
Materials: ULF Fusion over woven-linear drop-stitch
Price Range: High
Warranty: Lifetime
Performance Review of the Sea Gods Carta Marina Stand Up Paddle Board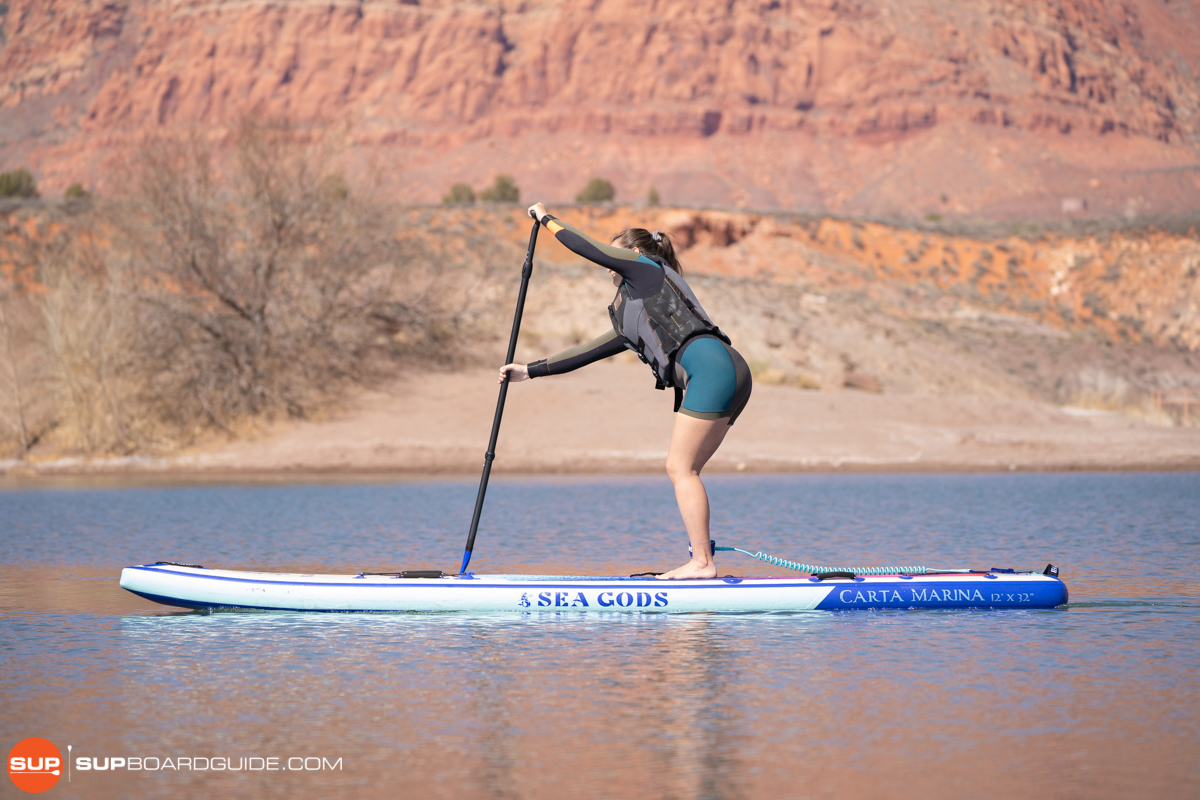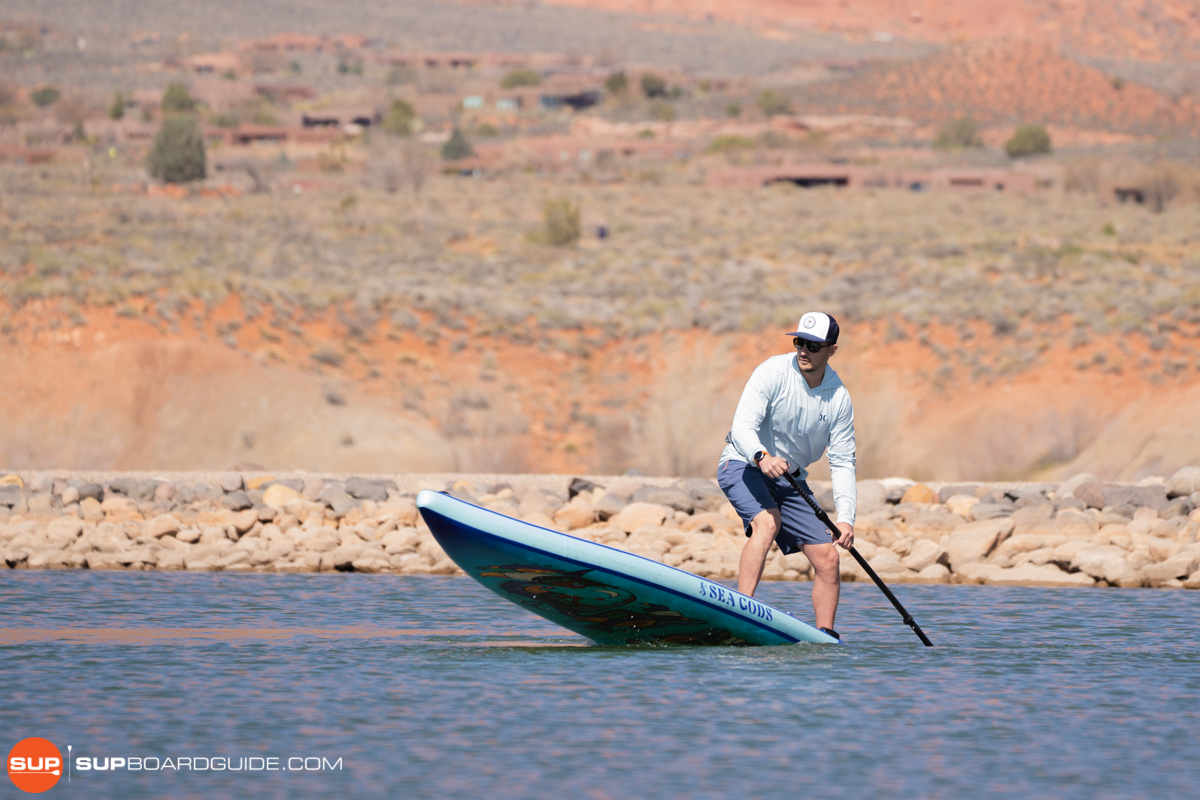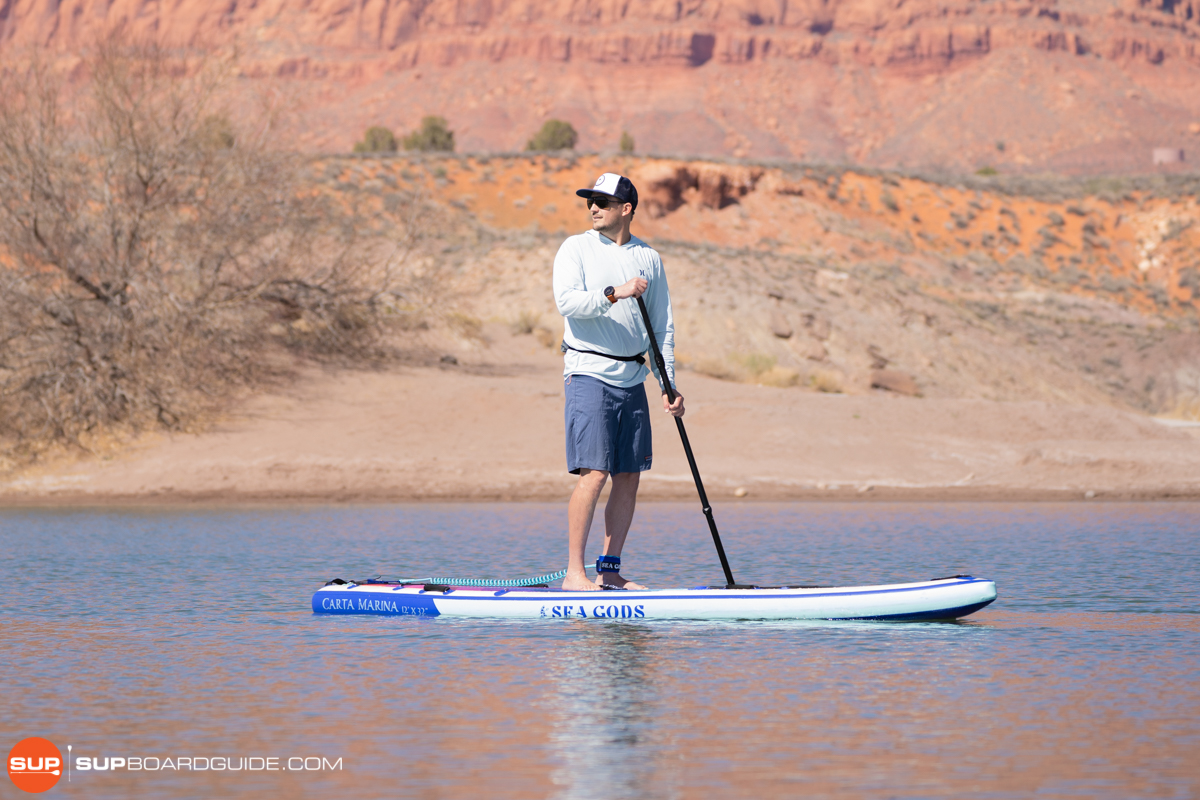 Overall Score: 9.7/10
Stability: 9.5/10
Speed: 9.0/10
Tracking: 9.2/10
Maneuverability: 8.9/10
Construction Quality: 9.7/10
Features/Accessories: 9.3/10
Stability Rating: 9.5/10
The Sea Gods Carta Marina is 32" wide and therefore on the more stable side of the spectrum when it comes to the touring SUP category. It will have a mild learning curve if you're transitioning from a 34" wide all-around like the Diatom from Sea Gods , but won't take more than a couple paddling sessions to adjust.
Because of this, I'd label the Carta Marina as an entry level touring board, meaning it's stable enough that paddlers won't face much of a balancing challenge when transitioning from a more classic all-around to this SUP. At the same time, more advanced paddlers could even use the Carta Marina as an all-around touring hybrid, as they'll find it stable enough to bring along some gear or a small dog or child.
Speed Test: 9.0/10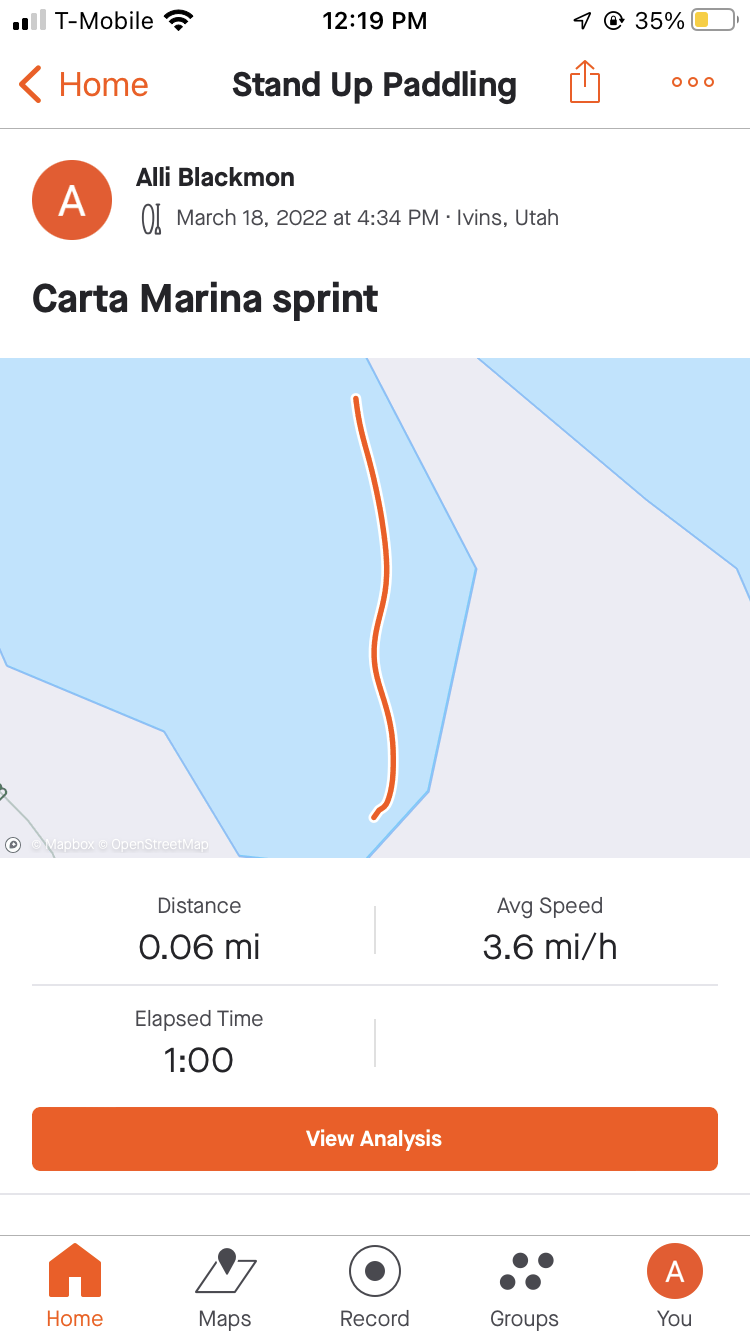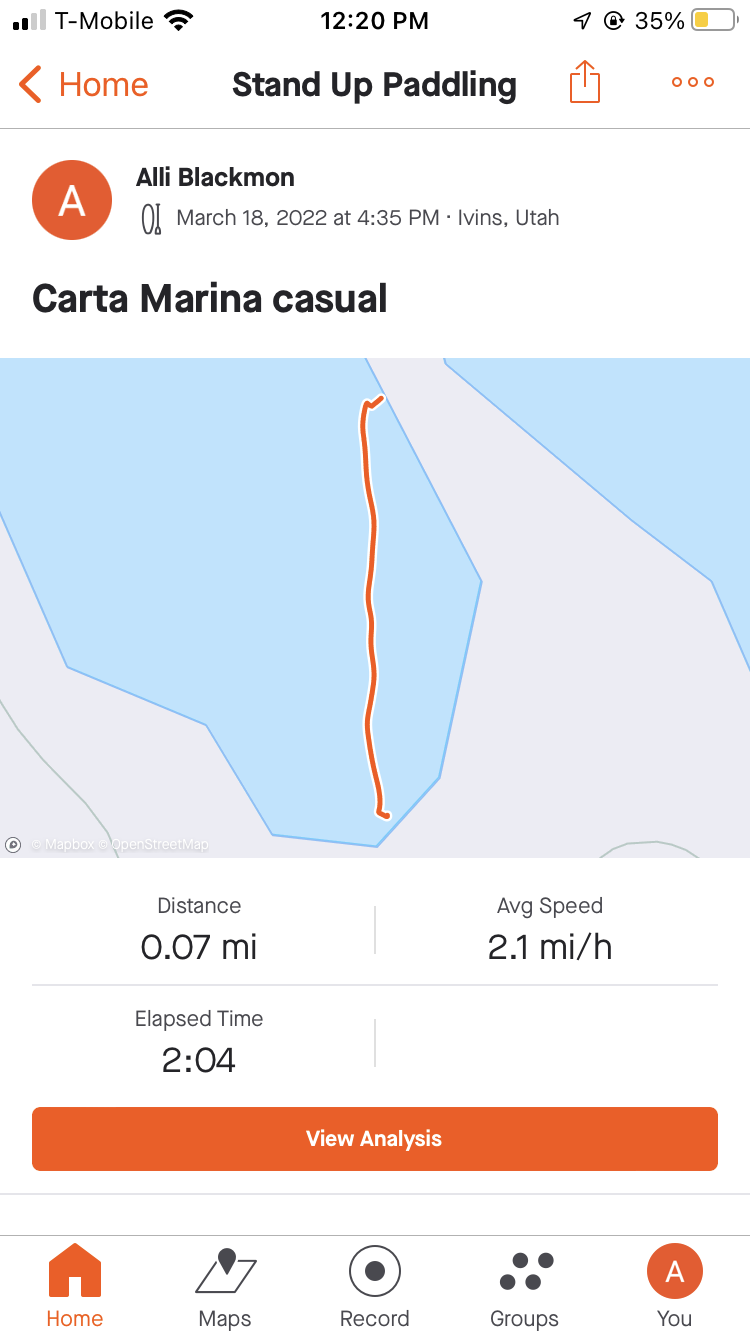 The Sea Gods Carta Marina is expectedly faster than most all-around SUPs, but not quite as fast as dedicated touring SUPs. At 32" wide, this SUP is just a bit less streamlined than other narrower touring boards. I personally find this to be okay because it's clear that the Carta Marina is focused on maintaining stability for paddlers rather than maxing out on speed.
I'd also argue that the added stability will enable entry-level paddlers to go faster because they'll be able to focus on developing their stroke and putting in more power without worrying about tipping off the SUP.
In my own experience though, I think the speed of the Carta Marina could be slightly improved if it was 12'6 long instead of 12' because it would elongate your water line without hindering stability, as long as the width is left the same. However, the difference isn't noticeable to most paddlers and the Carta Marina does well enough as a touring/all-around hybrid for most people to enjoy.
Tracking: 9.2/10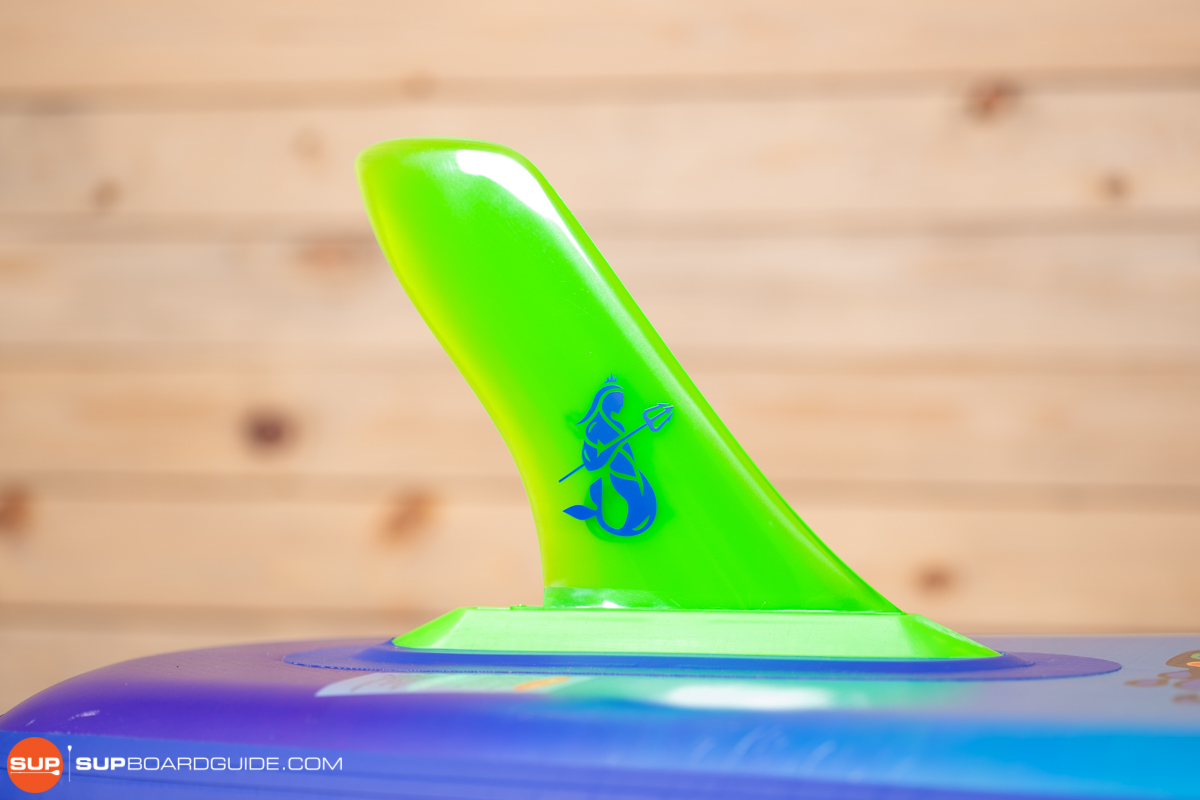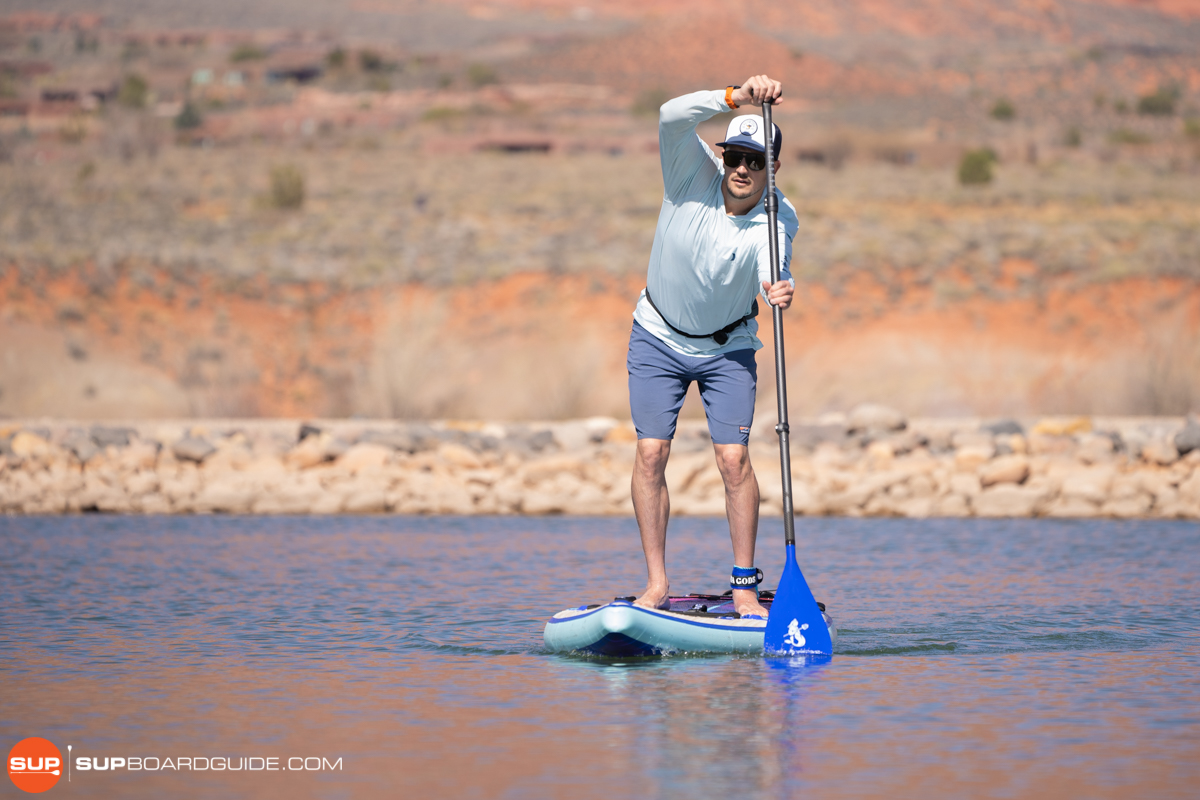 The Sea Gods tracks about as expected for a touring board. If your technique is honed in, it's not at all challenging to maintain a straight path in the water, and you won't find yourself having to switch sides all that frequently. I also think the tracking capabilities on the Carta Marina have an additional edge when it comes to tracking because of the included hatchet style fin.
Admittedly, I am slightly concerned that the new semi-flex fins have the potential to be bent out of shape with consistent use and detract from the Carta Marina's tracking. My fin was a little bit bent after our initial testing, though not enough that it seemed to affect the performance of the board. We need to do much more testing to determine if this is even a valid concern, but for now I will say that I'd much rather have an easily fixed, bent fin than a cracked plastic fin. There's also always the option to switch to a more rigid fin since Sea Gods does use a US fin-box in all of their SUPs.
Maneuverability: 8.9/10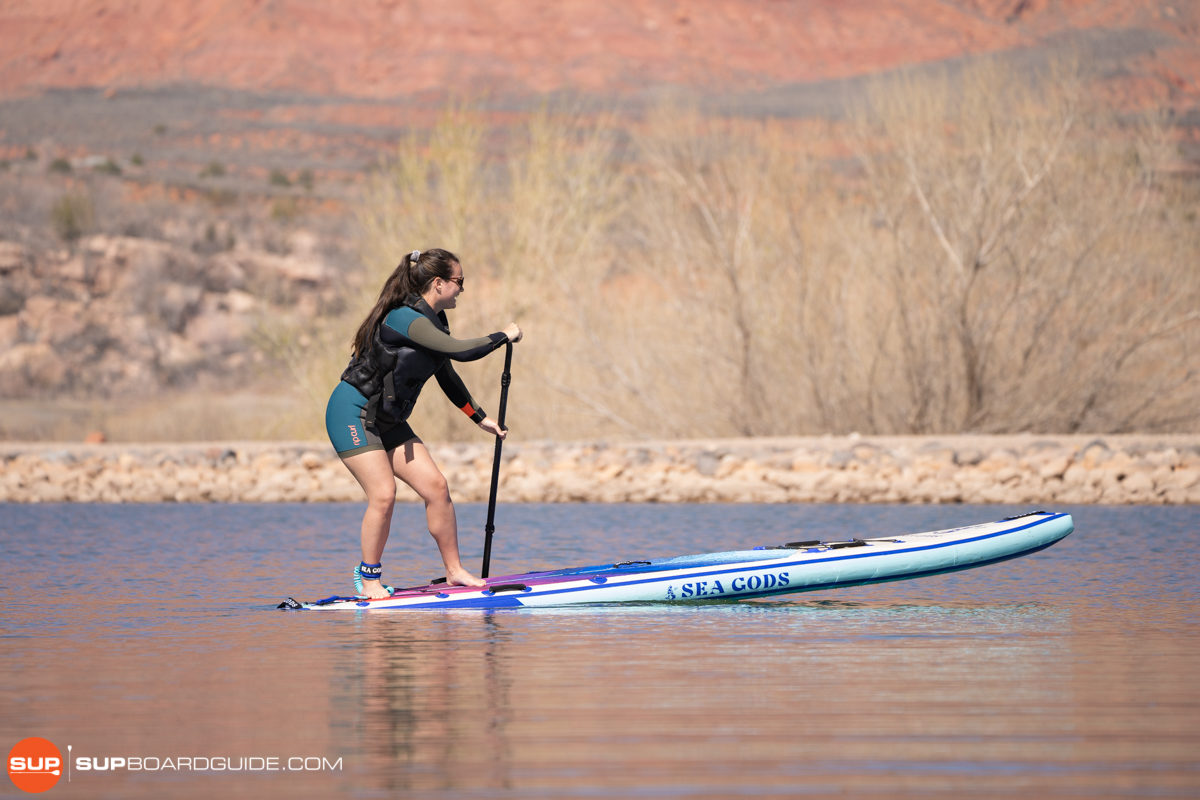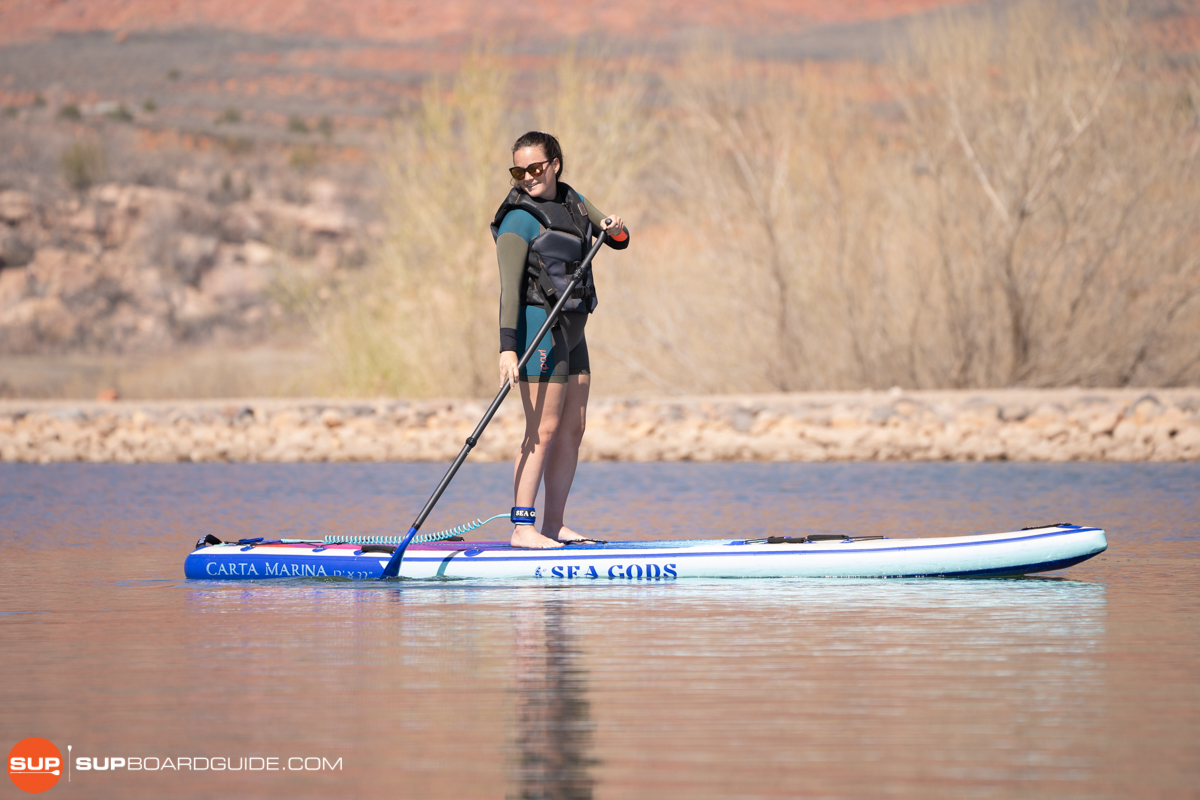 The Carta Marina is designed as a touring board, and is made to go straight and fast in the water. Maneuverability is always a trade off to this, meaning the Carta Marina is naturally not going to be as tight or as sharp in the turns as a 10'6 all-around. However, it is relatively lightweight, so making a change in direction is generally easy, even with this SUP being 12' long. I also found its stability to help a lot when walking back to the tail to perform a stepback turn.
Of course, I would prefer a kick-pad (frankly we think every touring SUP should have one), but the bottom line is that most people simply will not need it. At the end of the day, the Carta Marina does what it is built to do as a touring board, and with that considered, we're pretty satisfied with its maneuverability.
Construction Quality: 9.7/10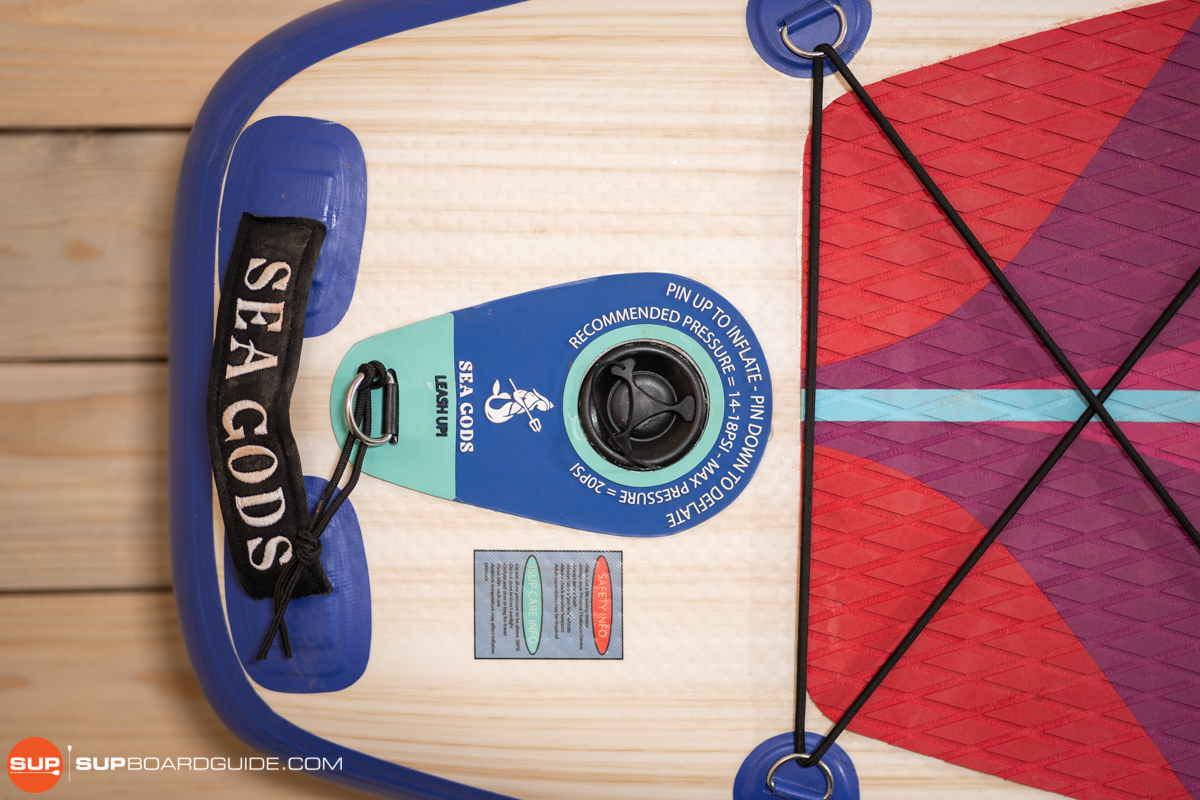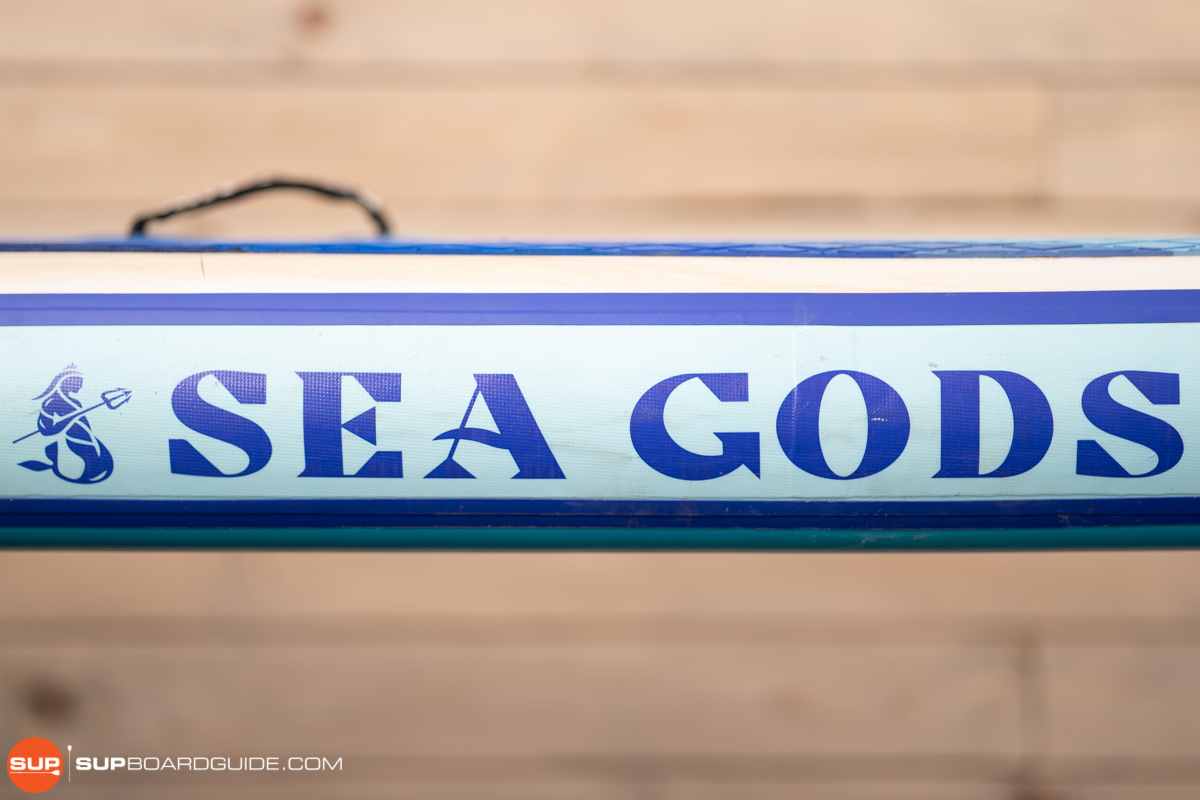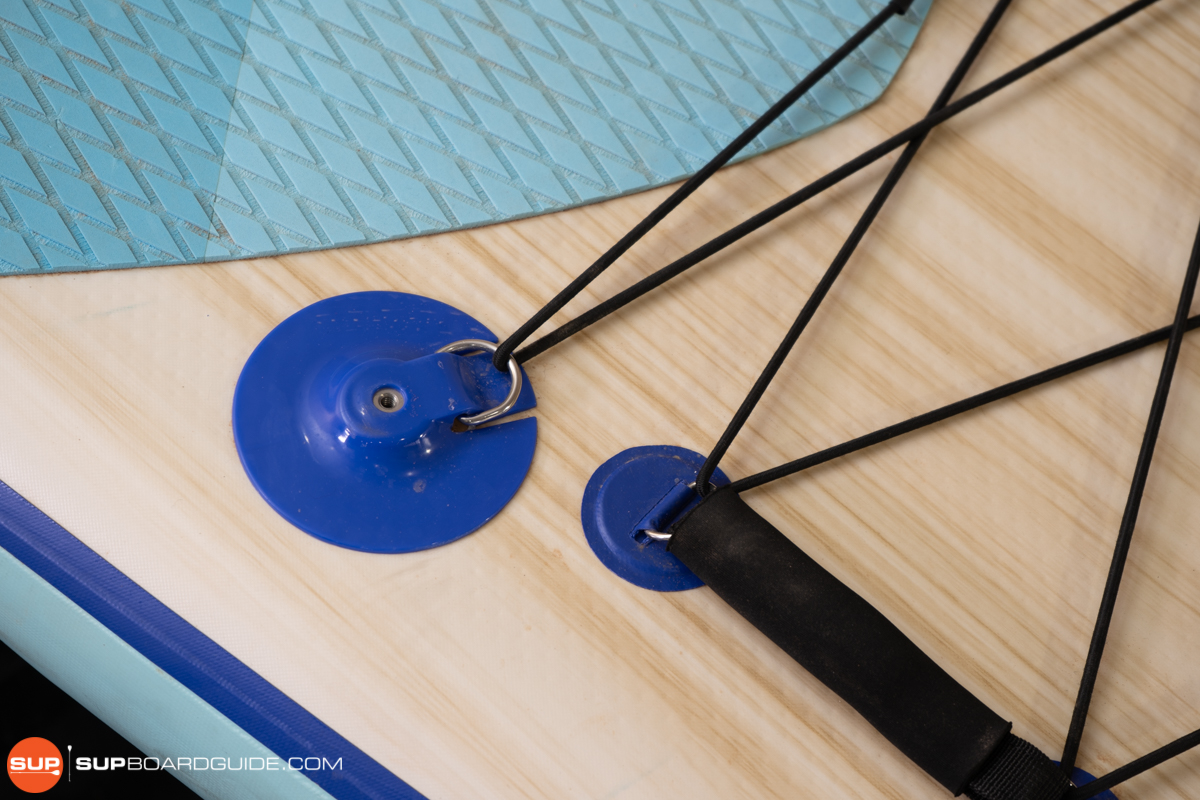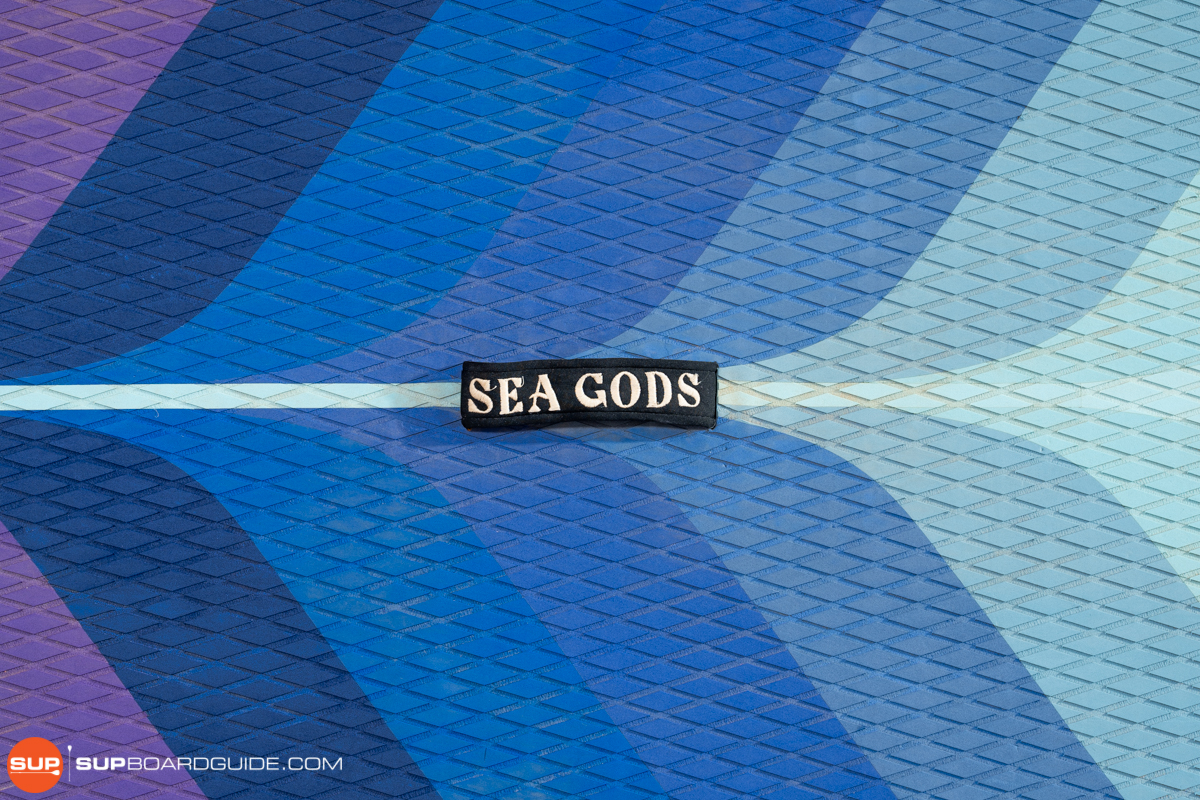 Sea Gods construstructs their SUPs (with the exception of the Skylla) using a woven, linear drop stitch core that is encased in two layers of fused PVC. Sea Gods coins this method as 'Ultra-light Fusion, or ULF on their site. What this means is that the shape of the SUP is maintained by thousands of linear threads, attached to a woven sheet of fabric. The PVC layers are then 'fused' to the fabric using heat, which avoids adding weight in adhesives and glue, hence the 'ultra-light'. Once this step is complete, the rails of the SUP can be added, and the seams heat molded (also avoiding adhesive) and reinforced with seam tape to increase durability.
This year Sea Gods says they've upgraded the raw PVC material used on their SUPs to one with a lower friction coefficient and more malleability in the construction process, resulting in stiffer, smoother feeling SUPs on the water that should be slightly more durable. While we have not been able to verify this ourselves, we have noticed an overall better on-the-water feel to the newest models of Sea Gods SUPs.
Board Stiffness: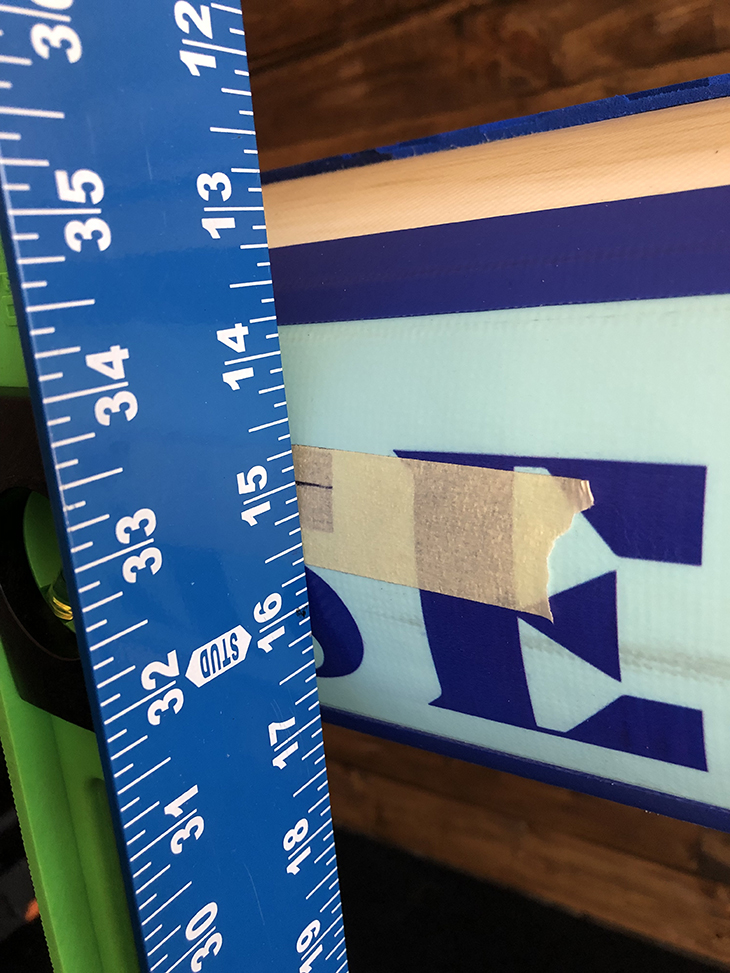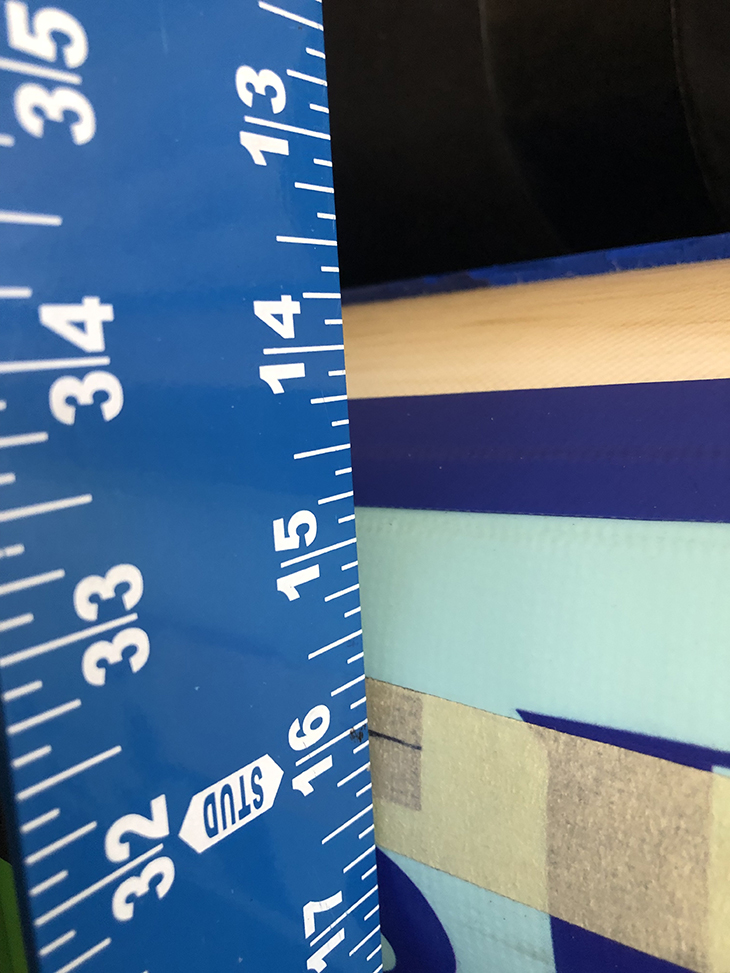 Stiffness Test: 1.0313" Bend @ 18 PSI
Our Bend Test consists of placing the iSUP on top of two sawhorses that are spaced 7 feet apart. We then load 150lbs onto the board's midpoint and measure how much it bends under the weight. We realize that this test is not a replication of how the SUP bends in the water, but instead use it as a means of verifying construction and consistency of certain construction processes across all of the brands that we test.
The Sea Gods Carta Marina only bent slightly over an inch in our bend test, which is pretty impressive in comparison to others we've tested. This is on par with the rest of Sea Gods SUP models, meaning that Sea Gods is staying consistent in their construction quality for each board. This amount of bend is also what we'd expect from a SUP in this price range, so we were pretty satisfied with the Carta Marina's results.
Features/Accessory Review: 9.3/10