Sea Gods Carta Marina 12' Inflatable Stand Up Paddle Board
Pros
A beautiful inflatable touring SUP that is great for beginner to intermediate paddlers. Especially great tracking and speed in a lightweight iSUP.
21 lbs weight with 350 lbs tested weight capacity. Fantastic for larger paddlers, or those who want a touring SUP they can hike with.
Very comfortable deck pad that also comes with a variety of accessory mounts. Compatible with kayak conversion kits.
Single fin, US fin box helps improve board speed and lets you finetune your paddling performance. We love the Kumano center fin that installs in seconds.
Awesome backpack and carbon fiber paddle included.
Lifetime warranty coverage is almost unmatched in the industry.
Cons
Single chamber pump is small, which is great for carrying in the backpack. We'd like to see a dual chamber pump option for those who don't need a compact pump.
The wood print design looks great, but we'd love it even more if they could produce a more natural and less CGI/slightly pixelated wooden look.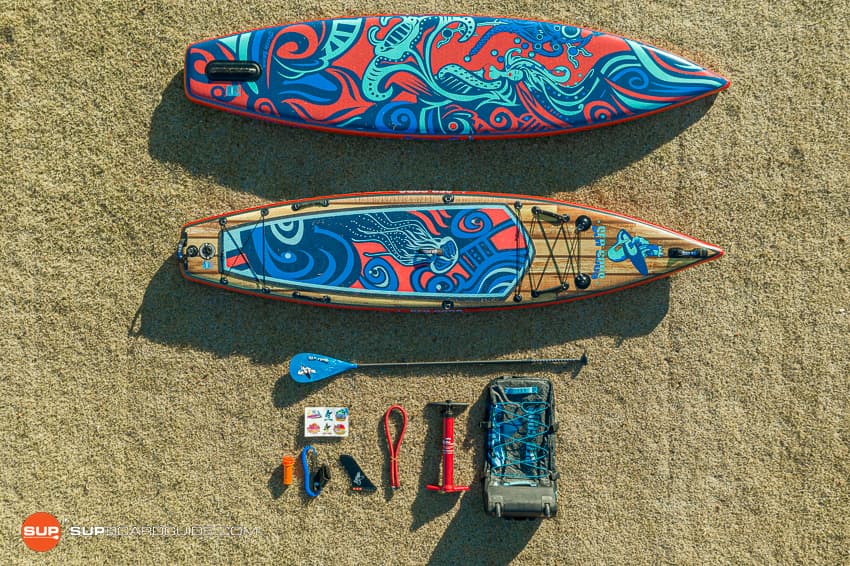 Touring boards have a list of requirements they need to meet to stand out, and it's not often you find a board that checks off every box on the list. The Sea Gods Carta Marina 12' does, offering great performance in almost every regard along with a fantastic wood grain design. This is a stable paddleboard with a high weight capacity (350 lbs) while being light-weight (21 lbs), and is fast thanks to the single fin set up and touring shape. 
The included accessories, the Kumano center fin, carbon fiber paddle, and roller backpack are all above average add-ons and some of the best SUP accessories in the industry. This is a paddleboard kit that offers a fantastic value, especially since it's backed by a lifetime warranty policy that few other SUP companies can match. 
If you are interested in a high quality touring SUP that works for both beginners and intermediate paddlers with a design that will make every paddler you meet jealous, read on for our full review of the 2021 Sea Gods Carta Marina 12' inflatable SUP!
SUP Board Specs
Length
12'
Width
32''
Thickness
6''
Weight
21 lbs
Rider Capacity (lbs)
350 lbs
Recommended Inflation
15 – 20 PSI
Fins
Single US/FCS Fin Box
Kumano Click Fin
Paddle Type
Carbon Fiber shaft and Nylon blade
Construction
ULF Fusion Construction
Double Reinforced Military PVC Rails
Who Should Buy This Stand Up Paddle Board:
The Sea Gods Carta Marina 12' is an all-around touring board and is designed for those who want excellent tracking so they can paddle long distances along the coast or at their favorite lake. Touring boards are made for paddlers who want a SUP that prioritizes maintaining speed and a straight line in the water over something that is very quick to turn. Consider the Carta Marina 12' if you are among the following:
Beginner to intermediate paddlers who want a quality touring SUP. Brand new paddlers will have everything they need for the water out of the box.
Hikers or younger paddlers who want great performance, but a lighter overall touring SUP to carry. 21 lbs weight, with a 350 recommended weight capacity.
Anyone who wants a great deck pad well suited for multi-day paddling. Cushy EVA foam deck pad is really comfortable to stand on, with diamond grooves for added grip support.
Customers who want a paddleboard that matches its performance with a great design.
Customers who want a paddleboard that matches its performance with a great design. Sea Gods offer some of the most unique and stellar looking SUPs out there.
Performance
Stability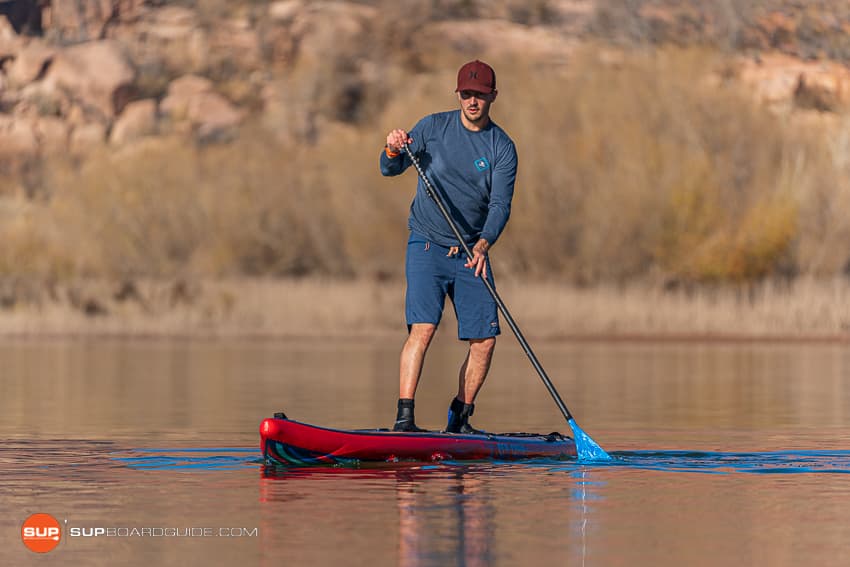 Touring boards vary in terms of their overall stability, and because of how lightweight the Carta Marina 12' is we were initially concerned and how stable it would feel in the water. Fortunately, the Carta Marina 12' was very stable from our testing, so that even our newer reviewers, including those 6' and taller, were able to feel at ease while paddling.
 The 12' length and solid deck pad means that this is a great option if you are a solo paddler who wants to go out with their kids or pet. With a 350 lbs recommended weight capacity, you can potentially go out with two adult paddlers if both of you are lighter. From our own testing, it was fun to go out with a couple of adults on, but you definitely see a performance loss and one of those adults will need to be sitting down vs paddling with you.
Maneuverability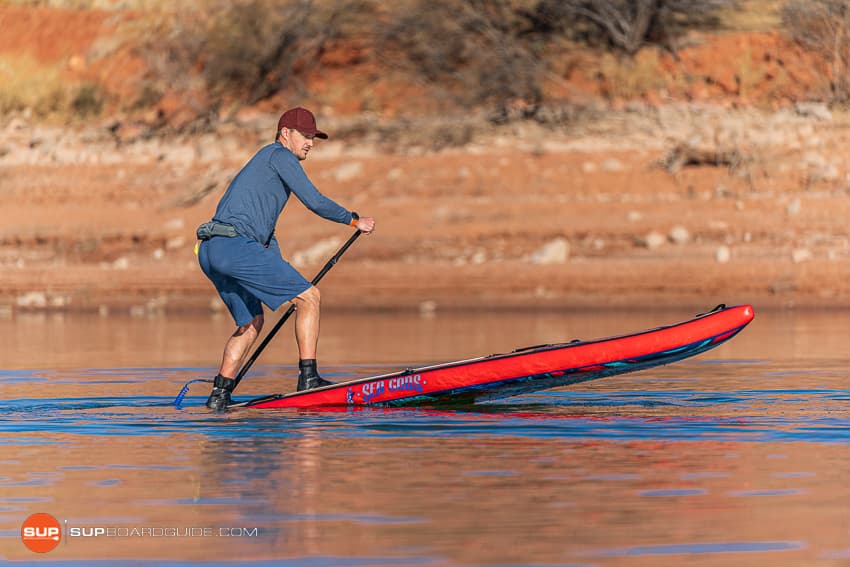 As a touring SUP, the Carta Marina is not going to be as maneuverable as SeaGods Diatom. However, given how lightweight the Carta Marina is, we found it very easy to do a step back turn and quickly change direction when needed. When stepping back, we found the board to be stable and easy to maneuver, which is exactly what we want from a touring board – not very maneuverable while you're paddling straight, but easy to turn on a dime if needed via a step-back turn.
Tracking/Glide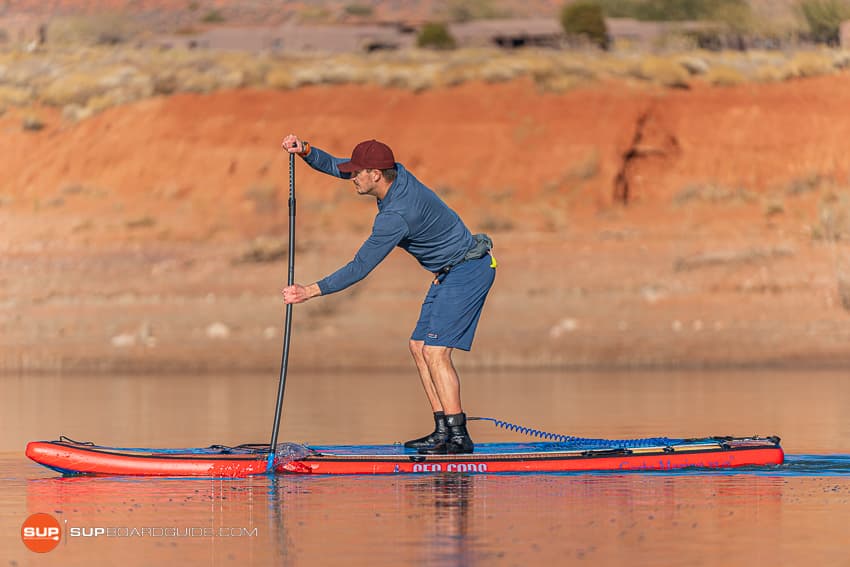 Touring boards are bought for their great tracking, and the Carta Marina 12' ranks up there as among the best touring isups for several reasons. The long 12' length alone makes it very easy to maintain a straight line in the water, and with a single fin box plus the Kumano fin ensures even brand new paddlers will maintain their path in the water.
As far as speed and glide go, for a 32" wide sup, the Carta Marina does an excellent job. We tested it vs the new Red Paddle Co Voyager SUP, and found the Carta Marina to be just slightly faster than the Voyager – which is pretty impressive. We'll be updating our review as we continue to test this board vs the other 2021 touring sups.
While the 32'' width isn't as suited for speed as a true racing iSUP, this is still a very fast touring board that even casual paddlers will go over 3 MPH on and we think it sits very nicely into the SeaGods lineup next to their 14' racing sup, the Ketos (review coming soon).
If you are a beginner to intermediate paddler who wants a fast touring board that also holds a lot of cargo for adventures, then you'll love the Carta Marina. If you are looking for a more dedicated touring/racing SUP, then you'll want to check out their 14' Ketos board.
Materials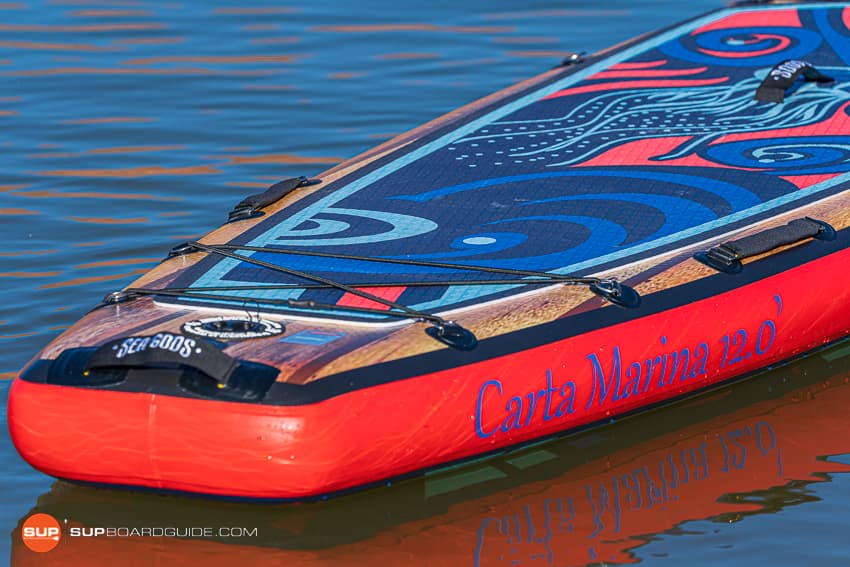 Want to know how the Carta Marina 12' can comfortably support over 350 lbs despite only weighing 21 lbs? Well, to understand the answer to the question we have to start with the tight drop-stitch core. Sheets of fabric are bound together with over 12,800 super reinforced strings, which are precisely placed so that the board maintains a SUP shape once it is inflated. This drop-stitch core provides the base performance for the paddleboard, which is able to float on the water and perform like a epoxy SUP despite being lighter and easy to pack away when you're done SUPing.
The drop-stitch core is then enhanced with the addition of an outer shell, with Sea Gods paddleboards utilizing what they call their ULF construction. Military grade PVC is joined with additional fabric sheets to form the outer shell, with the fused shell machine laminated directly to the drop-stitch core to maximize durability while minimizing weight. Inflatable SUPs like the Carta Marina 12' are actually more durable than your typical epoxy SUP, since the average drop, crash, or accident will do little to no structural paddleboard damage. With a little proper care, the Carta Marina 12' can last for many years to come, especially due to the final UV protection coating applied to the board that, besides giving it a great look, also reduces the deterioration caused by sun exposure.
 
Board Design/Shape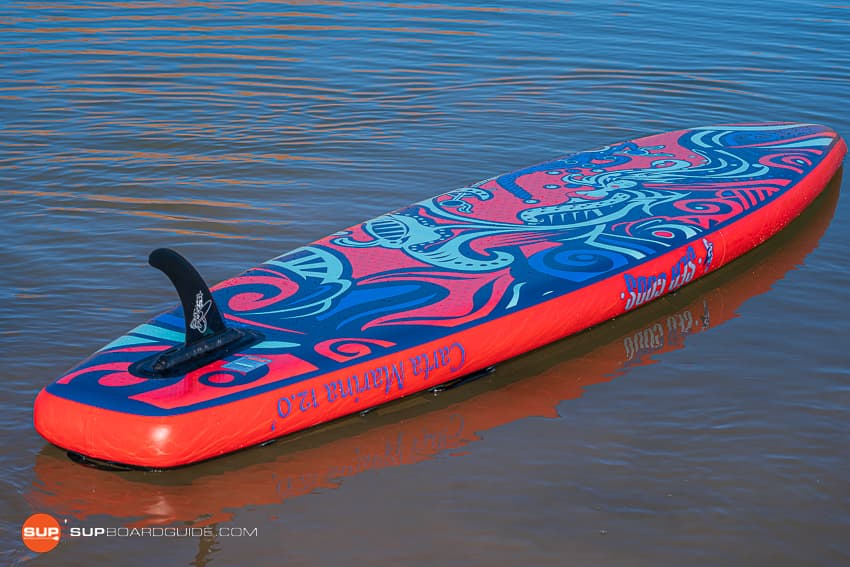 The Sea Gods Carta Marina is a touring SUP, so it is 12' long to emphasize tracking but does make the SUP harder to maneuver with compared to shorter paddleboards. 
At 32'' wide, the Carta Marina balances being wide enough for paddlers to comfortably spread out on, but thin enough that it is still pleasantly fast in the water. The last major design spec is the 6'' thickness, which gives you more volume and weight capacity vs thinner boards (which also does sacrifice a little bit of performance as a trade off).
This is a paddleboard designed for casual touring, so if you need something quick and steady to explore a coastline, bay, or long lake the Carta Marina 12' is a great option, even for multi-day and overnight adventures. The number of accessory mounts on it means it is a fun option for gear junkies as well, or for parents who want to go out on the water with their kids or pet. You'll want to have some experienced paddling first, but you could try to catch a longboard style wave if you are really daring with the Carta Marina 12' too!
Board Features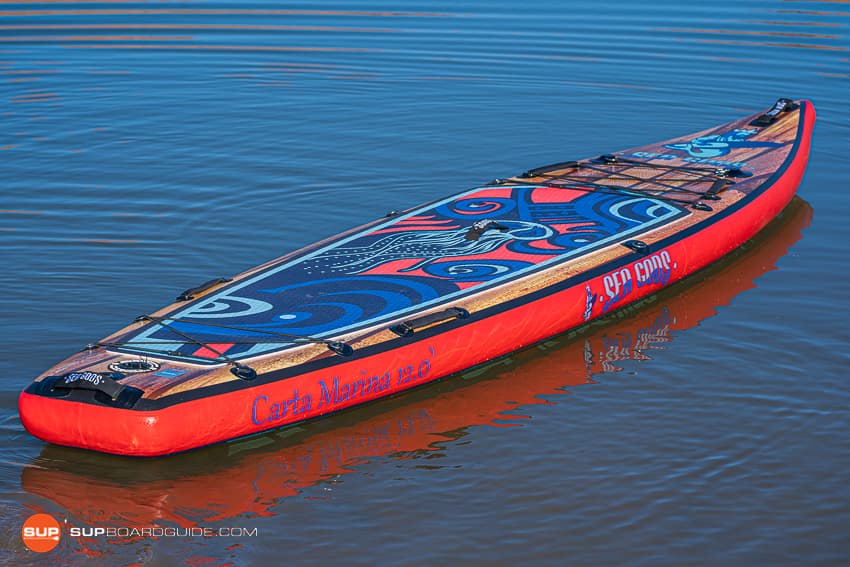 Performance is always the main draw for a paddleboard, but there are usually other features that further set the performance apart or provide additional value to paddlers. A few of our favorite features on the Carta Marina 12' iSUP include:
ULF fusion layer construction.
19 D-rings + 2 Action Mounts + 2 Grab Handles + Dual-Bungee Cargo System.
Triple carry handles.
Diamond grooved, ultra cushy deck pad.
Woodgrain/sea life artwork!
The d-rings and bungees, combined with the 32″ width actually make this a really solid adventure SUP (i.e. nice stable platform, good accessories to bring a lot of cargo, and good tracking/glide/speed). And at just 21 lbs, this is one of the lighter adventure SUPs on the market.
Fins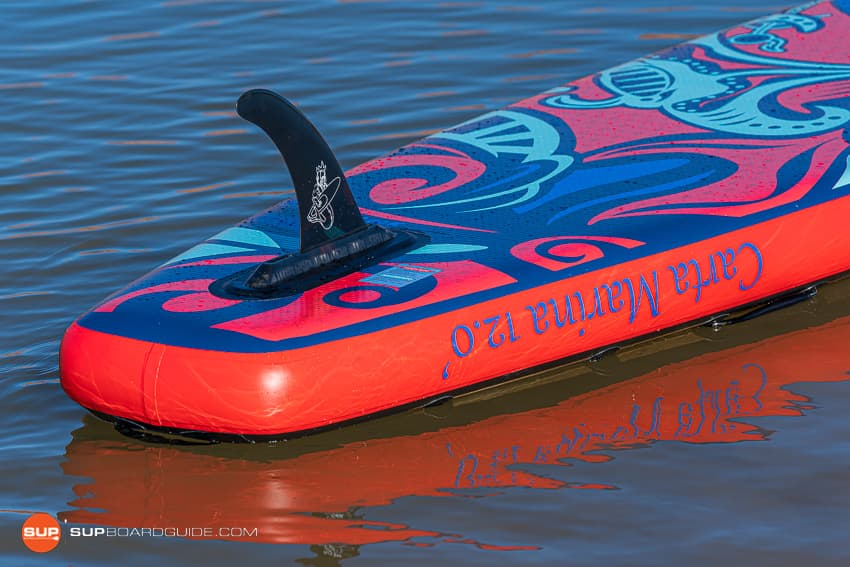 Like the other Sea Gods paddleboards, the Carta Marina 12' comes with a single 9'' center Kumano fin. We are quite impressed by the new Kumano fin, because along with using a traditional plate and screw installation common to US style fins it also has a simple three plug system. The Kumano fin has multiple plug holes that you can slot into, with the more plugs providing a tighter hold once installed into the fin box. Whether you use one plug or three, installing the fin just takes a few seconds by inserting the front of the fin into the fin box to position it and then pushing the upper tail in to lock the fin in place. US fin boxes are the most versatile fin boxes on the market, and with a Kumano click in fin you have a fin that lets you optimize your performance but is just as easy to install as a snap-lock fin. Shout out to Sea Gods for including one of our new favorite paddleboard fins!
Traction Deck Pad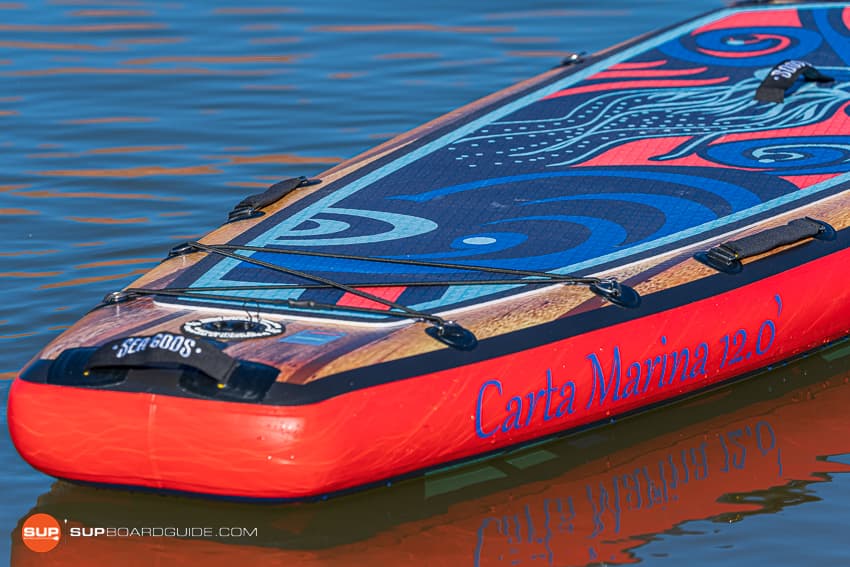 Touring boards need to have a very comfortable deck pad, since you'll likely be paddling for hours before you can find a beach shore to rest at. Fortunately, we quite enjoyed the Carta Marina 12', and found that our feet felt as good as ever even after over 3 hours of testing. The deck pad is made out of EVA foam, which is the same material used in many popular yoga mats since it is soft and cushy but designed to support stretching and light workouts. While it is very comfortable to stand on, you also have some minor traction support with the grip improvements provided by the small diamond grooves scattered around the deck. The actual deck pad itself covers about two thirds of the paddleboard, which is more than enough space for a solo paddler along with their kids or pet, especially due to the grab handles on the tip of the deck pad. You'll find it quite easy to stay on the Carta Marina 12' inflatable SUP.
Handles
The Sea Gods Carta Marina 12' has three carry handles, with a handle on the nose, center, and tail of the paddleboard. You can use the center handle to carry the paddleboard by yourself, or have a friend help you by carrying the board in tandem with the nose and tail handles. All three handles have a neoprene cover, which is the more comfortable and premium alternative to a bare nylon handle. The nose handle in particular is angled vertically rather than horizontally, making it a better option to tie a tug rope onto it as well.
D-Rings/Bungees/Cargo Areas
Even accessory junkies are going to feel overwhelmed by the Carta Marina 12' given how many attachment mounts the paddleboard has. In total, you have 19 D-rings to choose from, with the center D-rings specifically added to make the SUP compatible with kayak conversion kits. If you have a Bluetooth Speaker or GoPro camera mount, you can install them onto the two nose action mounts to listen to music or record your trip on the water. Grab handles to help kids hang onto the board when you hit turbulent water is found on the nose and rear section of the deck pad, a small addition we hardly see on any other paddleboard. Lastly, there are nose and tail bungee cargo cords, which are great for fitting coolers, lunch boxes, and other small containers. If you need a paddleboard able to support the gear you want to bring for a multi-day adventure, the Sea Gods Carta Marina 12' is the touring board to go out on!
Accessories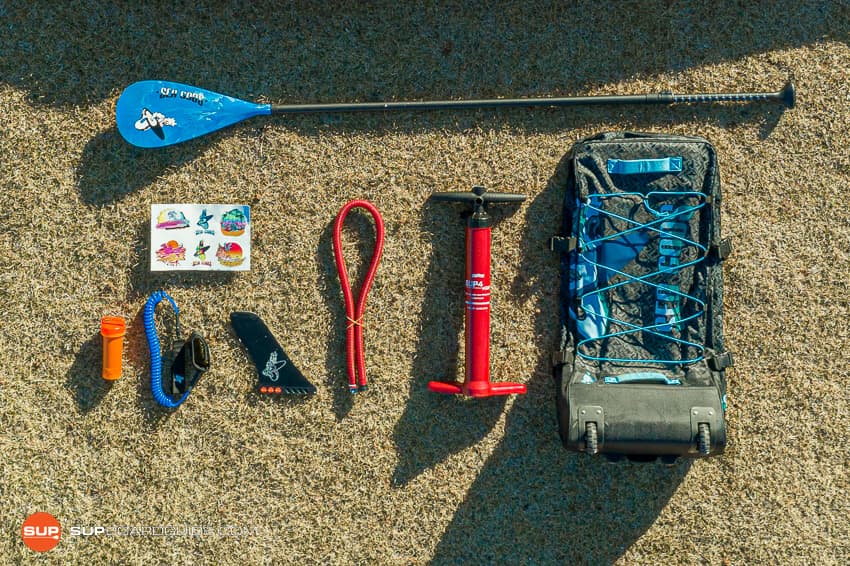 Carbon Fiber Shaft + Nylon Paddle Blade
Outside of your paddleboard, your paddle is among your most important pieces of equipment, so we're delighted to share that one of our favorite paddles is included out of the box with the SUP. The Carta Marina 12' comes with a very lightweight carbon fiber shaft and nylon paddle blade, designed to provide a powerful push through the water without tiring you out even after several hours of paddling. Carbon Fiber is among the best paddle shaft materials due to how light it is, but it also typically drives up the price for a paddle to over $200 dollars. Including  a carbon fiber paddle, especially one as light as the Sea Gods paddle, makes the paddleboard kit a truly stellar deal.
There is a minor problem we would like to see tweaked in a future paddle though. The paddle comes in three pieces, which makes it very easy to assemble. However, the paddle blade connects to the main shaft with a pop up button alone, instead of relying on the more secure clasp where the handle and shaft meet. As a result, we noticed that the paddle would shift and twist just slightly while we were paddling with it. While it has just a little impact on overall performance, adding an additional clasp to the paddle blade and shaft joint would make it a tiger fit and truly set the Sea Gods paddle apart as one of the best on the market.
Pump
While the pump that comes with the SeaGods SUPs is a quality pump, it is only a single-chamber, dual-action pump. The advantage of this is that it's light and compact. If you are someone who wants the SUP kit to be as light as possible, then you are going to want a single chamber pump.
However, with this pump we were spending on average more than 15 minutes inflating the paddleboard just to get it ready for the water. Outside of time, it even left our more athletic reviewers a bit winded after pumping hard for so long, which takes away from the overall enjoyment of the paddling process. 
That's not that bad if you are on a hike and weight is important. However, for those paddlers who are basically driving up to the lake and pumping up the SUP at their car, we would love to see SeaGods offer an option for a dual chamber pump. I know that's a tough one when it comes to inventory management, so if you are someone who wants to be able to pump up the Carta Marina quicker and with less of a workout, then we'd recommend looking at an electric pump to go alongside the single chamber pump that comes with the kit.
Backpack
While we aren't as impressed with the pump as we hoped to be, our expectations were exceeded when we got to try out the Sea Gods backpack that comes with the Carta Marina 12'. Before we even touch performance, we are delighted by the overall look of the backpack, which like the paddleboard it will protect stands out from the simplistic dark backpacks used by many competitors. Like everything else Sea Gods branded, it looks great, although it would benefit from having a luggage tag slot like almost every other paddleboard backpack we've had the privilege to review.
Onto its actual functionality, there are plenty of things to be aware of when it comes to protecting and packing your equipment. Some touring paddleboard backpacks run small to have a lighter carrying weight, but the backpack is large enough to easily pack the Carta Marina 12' and other components while still feeling comfortable to wear. That is because of the padded backside, in conjunction with the padded adjustable backpack straps and waist belt to help short and tall paddlers carry the Carta Marina 12'. 
If you just have a short distance to go though, you can also carry the bag with the top handle, side handle, or two front facing handles, or even just make use of the roller wheels if you're traveling through an airport. Because the roller wheels are placed on the front of the backpack, you can roll around with it without worrying about the straps dragging along the ground, and when you wear the backpack the wheels won't dig into your side either. 
Lastly, Sea Gods also made sure to place the zipper to open the backpack on the backside of the SUP bag, rather than the front like most SUP backpacks. By having the zipper on the back, opening and packing the backpack is much easier since the wheels are already on the ground. Once your backpack is zipped up, you just have to grab the top handle to start rolling along in order to get out there and on the water!
Leash
A coiled leash is included with the Sea Gods Carta Marina, and since this is a longer touring board a 11' coiled leash is included rather than your traditional 10' option. Wearing the leash is really simple, since you just need to slide the main cuff over your ankle or calf while attaching the velcro strap to any of the 12' Carta Marina's many D-rings. When worn, your leash will help your paddleboard stay close if you fall into the water, and is especially helpful in fast moving water since you can just tug on the leash to bring your board over. Leashes are important for paddleboarding safety, but some paddlers make the mistake of thinking it will help them float better as well. If you go out paddling, always make sure you are wearing a PFD in order to truly stay safe while exploring the water!
Repair Kit
A repair kit is also included with the Sea Gods Carta Marina 12' inflatable SUP. Inside the repair kit, you will find a Halkey-Roberts inflation valve wrench, which is specially designed to tighten up your inflation valve if it comes loose and starts leaking air. Additionally, you will also find adhesive patches that can be used to seal up small holes and tears, as long as the board damage isn't done to the seams of the paddleboard. If you find it hard to smooth out the adhesive patches once applied, the inflation valve wrench has been designed to help you do just that without tearing through the patch itself.
For significant or structural SUP damage, please make sure to contact Sea Gods customer support team for assistance.
For more significant SUP damage, be sure to contact Sea Gods for additional support.
Company Review – Sea Gods
So far we are very pleased with SeaGods as a company. They have been around a few years, and have a very strong focus on their customers. And they also spend a lot of time stand up paddle boarding themselves – which is something we do like to see.
Sea Gods offers a full 30 day guarantee along with one of the best warranty policies in the industry. You can return the Carta Marina 12' for any reason within 30 days of delivery, although you will be charged a 10% restocking fee and a damage fee if the board isn't returned in like new condition. 
The guarantee is typical for the SUP industry, but the stand out protection comes from the lifetime warranty if you buy the Sea Gods Carta Marina 12' directly from the company. The lifetime warranty will provide you with free repair or replacement services for all manufacturer defects, along with discounted repair or replacement services for accidental damage after 30 days. This is a fantastic policy, and we were glad to find that their actual customer service support team was just as fantastic as we reached out and discussed the Carta Marina 12' and other Sea Gods paddleboards with the company. Sea Gods is a newer company, so we wouldn't be surprised if this guarantee changed in the future, but after our recent conversations, you can be sure that you'll have lifetime coverage if you were to buy the Carta Marina 12' today!
For our full company review, along with additional warranty and shipping information about Sea Gods paddleboards, please be sure to visit this link.
Conclusion/Bottom line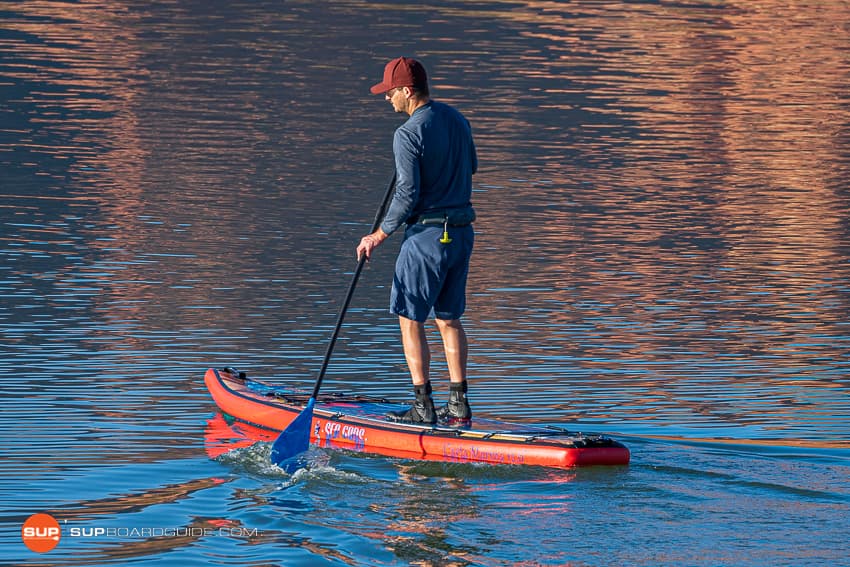 The Sea Gods Carta Marina 12' is an excellent touring board that newcomers to the sport or intermediate paddlers looking for a lightweight specialized SUP will adore. The Carta Marina 12' provides excellent stability that is more than enough for a solo paddler, with superb tracking and sufficient maneuverability for your typical touring adventure.The deck pad is not only comfy to stand on and looks as good as other Sea Gods SUPs, but is covered with D-rings, action mounts, and more to satisfy paddlers with an extensive accessory setup. 
Speaking of accessories, the backpack, Kumano fin, and the lightweight carbon fiber paddle in particular are all premium grade accessories that further set this paddleboard kit apart from the competition. The paddleboard is made with quality in mind, and Sea Gods will stand by the quality of their paddleboard given their lifetime warranty coverage. If you want a new touring board, especially one that looks nearly as good as it is fun to paddle, you will want to purchase the 2021 Sea Gods Carta Marina 12' inflatable SUP!
Thank you so much for reading our review of the 2021 Sea Gods Carta Marina 12' inflatable SUP! Although we hope we answered every question you may have about the SUP, we are happy to answer any lingering questions you may still have after reading our review. You are welcome to leave a comment below or to send us an email with your thoughts, whether it be about the Carta Marina 12' iSUP or about paddleboarding in general. SUPBoardGuide.com is striving to be the best paddleboarding resource on the internet, and also offers instructional tips and guides, ranking SUP lists, and even in-depth video breakdowns along with our written reviews. If you have feedback on how we can be an even better paddleboarding resource, leave a comment to let us know!
Thank you again for reading, and be sure to try out the Sea Gods Carta Marina 12' inflatable SUP!
The following two tabs change content below.
SupBoardGuide
Heyo! At SupBoardGuide.com we are a team who love the water, the outdoors, and are more than grateful that our full-time job allows us to review stand up paddle boards. We paddle year round (it helps that we are just about 2 hours outside of Las Vegas), and we bring in a wide range of paddlers with the goal of providing our readers with the best, most in-depth, and accurate stand up paddle board reviews.
Latest posts by SupBoardGuide (see all)