Nixy SUP Board Landing Mat Overview

Almost every time we've gone SUP boarding we've talked about how we wanted something to put our boards and gear on. We're so excited because that's exactly what Nixy did! The Nixie Landing Mat is perfect for those of us who want to protect our (i)SUP from getting scratched and dirty. It can be used on asphalt, dirt, sand, rocks, and pretty much any other surface. So if there is a place you've wanted to take your board to but didn't have a good surface to set up on, then you'll really like this mat. Or if you just want to protect your board during inflation, then you'll love this mat. It is compact, durable, light, and it'll fit easily into your backpack
Specs
| | |
| --- | --- |
| Length | 144" (12 ft., 366cm) |
| Width | 57" (4.75 ft., 145cm) |
| Material | Ripstop Nylon |
| Stitching | Triple |
| Weight | 8 oz. (227 grams) |
Usage

The Nixy Landing Mat can be used on virtually any surface. This is nice because we didn't have to worry about our boards getting dinged up on a rocky beach or in the parking lot. You can also use this as a place to sit on.
The Nixy Landing Mat is great to have with you at all times. Before the Landing Mat every time we went SUP boarding, we ended up bringing a stack of towels to put down as we inflated the boards. The Landing Mat has saved us a ton of effort and space because it packs up smaller than one towel.  It really will keep your SUP boards from getting dirty or beat up, and it'll also protect your gear when you're out on the water.
Highlights
Let's cover three main highlights of the Landing Mat. Firstly, it is water-resistant, which means that you can use it in wet conditions, including mud, and it'll still keep your equipment relatively clean and dry. Secondly, sand won't stick to the mat because it's sand-proof. That alone will save you a reasonable amount of time after going to the beach, and you won't bring half of the beach home with you. Thirdly this 12 ft. x 5 ft. mat will fold down to a small 10 in. x 7 in. packet. You can easily find a space for this while packing for your day trip as it takes up less space than a single towel.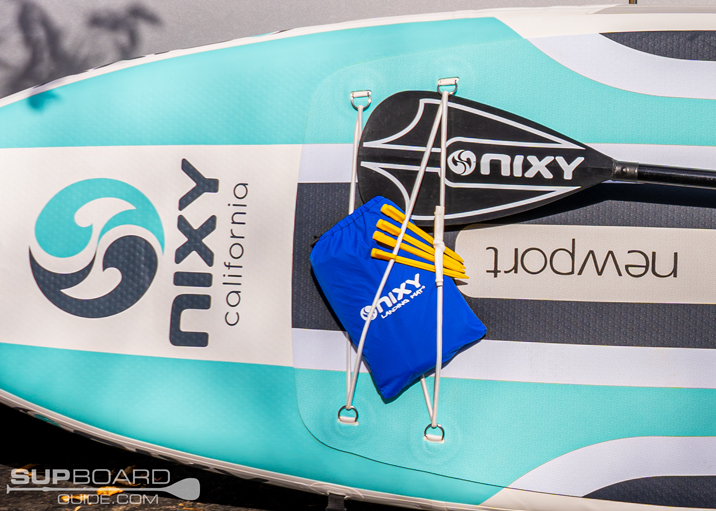 Mat Design
The Landing Mat shouldn't be confused with a tarp. It's made much better than that and from an entirely different material. It is made from Ripstop nylon, which is a very durable material meant to be wear and tear-resistant. If you were to place it on gravel, the rocks wouldn't rip it and scratch your board. Which is what makes this mat so useful. You can use it practically anywhere.
Nixy decided to make it a bit beefier by using a triple stitch to secure the outer hem with an additional layer of Ripstop fabric. This protects the edges from snags and any initial rips that might start from heavy use and abuse. And with a 12′ x 5′ surface, you have plenty of room to work with.
What's Included
The Nixy Landing Mat comes with a nylon Ripstop bag and 4 plastic stakes. After using the mat a few times, I haven't thought of anything else the mat would need.
Conclusion/Bottom line
We think the Nixy Landing Mat is a must-have addition to your SUP board arsenal. With its Ripstop fabric and triple stitching, it is tough, durable, and will last a long time. It is so compact that you can bring it literally anywhere. It'll keep your board from getting beat up and will help keep it in tip-top shape for years to come.
The following two tabs change content below.
SupBoardGuide Editorial Team
At SupBoardGuide.com we are a team who love the water, the outdoors, and are more than grateful that our full-time job allows us to review stand up paddle boards. We paddle year round (it helps that we are just about 2 hours outside of Las Vegas), and we bring in a wide range of paddlers with the goal of providing our readers with the best, most in-depth, and accurate stand up paddle board reviews.
Latest posts by SupBoardGuide Editorial Team (see all)