Thurso Surf Waterwalker 10'6 All-Around Inflatable SUP
Pros
Very beginner friendly all-around paddle board that provides great balanced performance. Stable, easy to turn, but also maintains a steady line well in the water.
Dual-layer construction now relies on a woven drop-stitching pattern. Not only is the paddleboard more durable, but the new 2021 model is noticeably lighter as well.
Carbon fiber reinforced rails further improve overall rigidity and durability. The paddleboard just feels great to stand on.
Versatile accessory compatibility, with 15 D-rings, and action mount, and bungee cargo cords. Paddle holder makes it easy to set your paddle down as well.
Revamped dual-action pump, nice wheeled backpack, and carbon fiber paddle included in the kitl.
Unique Thurso Surf wood pattern looks great. Deck pad, action mount, and other components have been redesigned or sport a new color to further enhance SUP look.
Cons
Last year's Waterwalker 126 was already great, but not much has changed with the 2021 model. Fantastic all-around for new paddlers, but not much reason to upgrade
Front action mount is a little hard to reach while paddling, so you have to set your GoPro before launching.
*Note – the video review above is the review of last year's Waterwalker series. We will have updated video reviews of the 2021 Thurso Walterwalker 132 soon!

The Thurso Surf Waterwalker 126 made our top all-around paddleboards of the year last year. So, while there might only be a few small changes to this year's model, the Waterwalker continues to be one of our favorite iSUPs.
This is a very beginner friendly SUP option that provides a great balance of stability, maneuverability, tracking, and glide to satisfy even more advanced users. Thurso also made some key changes to the board construction: it went from a triple layer PVC to a dual layer, and also now utilizes a woven drop-stitch pattern. These two changes have cut the weight of the paddleboard by several lbs, but still retained the durability that we love about Thurso.
The deck pad is once again cushy and comfortable, and the overall design of the boards didn't change. You get the same great wood grain look, but now you can choose three different colors for each board size (last you had to change board size to get a different color).
Lastly, the paddle and backpack have seen some minor changes, but the dual-chamber pump is the stand out upgrade since it's almost twice as fast as last year's pump.
The Thurso Surf Waterwalker 126 is designed to be an all-around SUP, so it's a paddleboard you can use to try out cruising, touring, and other fun activities on the water without swapping SUPs. While everyone can enjoy using the Thurso Surf Waterwalker 126, you will especially want to consider the paddleboard if you are one of the following:
Want a board that is slightly more maneuverable than the Waterwalker 132. The 126 is 6" shorter and 1" thinner than it's bigger sibling.
A brand new paddler, or at least relatively new or just now coming back to the sport.
An adult paddler who wants a balanced SUP, one that is equally easy to turn or maintain a straight line with while you're paddling.
A gear junkie who needs a paddleboard with versatile mounts and good spacing to properly load your gear on.
You are particularly picky about the design of your paddleboard, and want a SUP that is as great to look at as it is to paddle on.
The Thurso Surf Waterwalker 126 is great for the following water conditions/situations:
Flat water paddling (lakes, bays, marinas, slow rivers, etc.)
Recreational paddling (beginners, just paddling around flat water w/ friends and kids)
Ocean paddling
Surfing in small surf (1-3 ft)
Thurso Surf Waterwalker 126 Review: Overview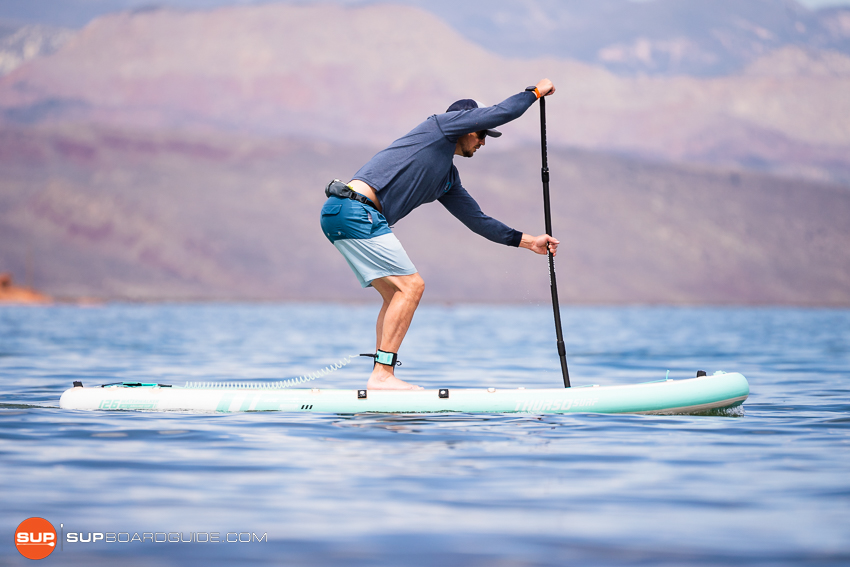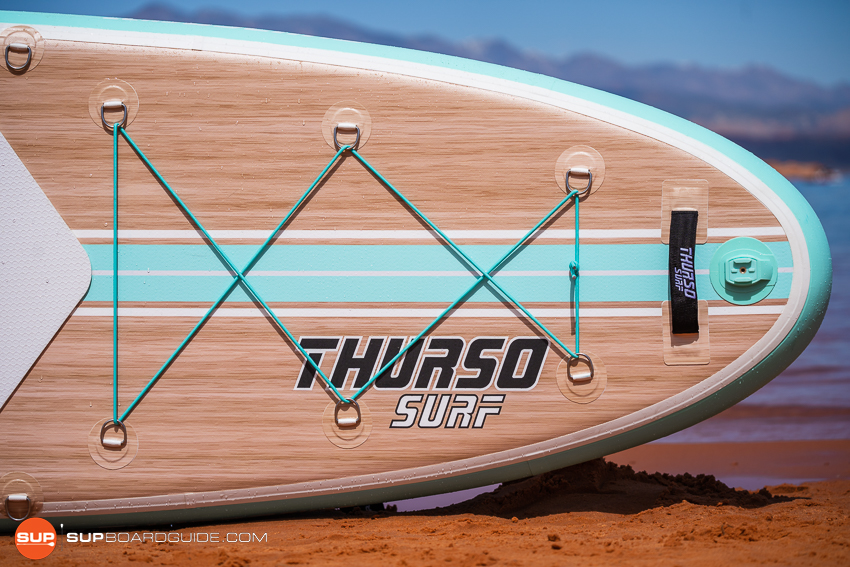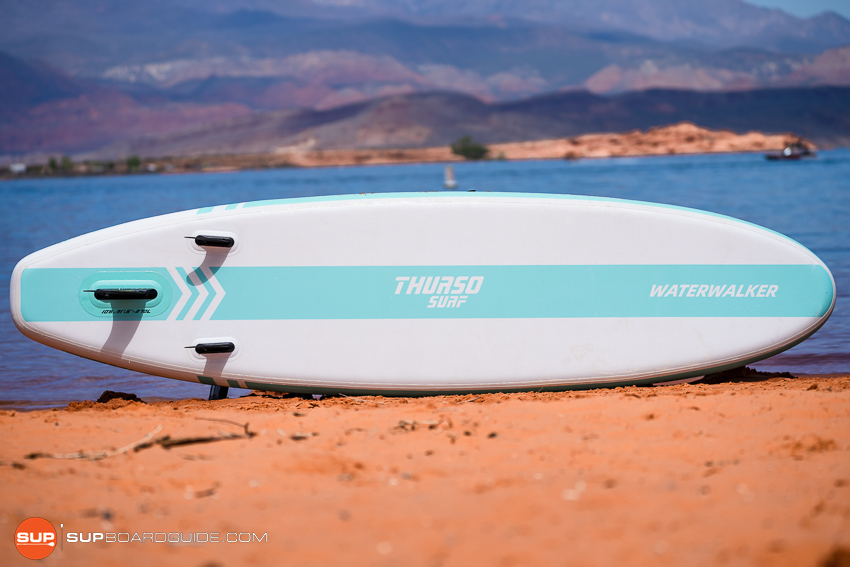 The Thurso Surf Waterwalker 126 "walks" into 2023 relatively unchanged. As we have said elsewhere we think this was a wise decision for most manufacturers, especially if they already had a winner on their hands. The improvements they did make focused on the included accessories which continued to impress. They took an already good board and made it even more of an attractive value as a kit.
Note: We are on the water alot! We do this to get the most testing possible for each board and to provide you with the best review of how the board performs in real world conditions. We want you to know these are not simple spec reviews as found on other sites. We will continue using and updating our reviews as time goes on to make sure you are As such, if you have questions about the board, drop us a line – we'd love to answer your questions and help you out!
Thurso Surf Waterwalker 126: Spec Sheet
Main Category: All-Around, Inflatable
Board Dimensions: 10'6" x 31" x 6"
Listed Board Weight: 26 lbs
Listed Max Capacity: 300 lbs
Recommended PSI: 12-15 psi
Fins: 3 removable quick lock fin setup
Paddle: 3 piece carbon fiber shaft, nylon Blade
Materials: Triple Layer PVC, drop stitch core + Carbon fiber composite reinforced side rails
Price Range: Mid range
Warranty: 2 years
Official SupBoardGuide.com Test Results: Thurso Surf Waterwalker 126 (2023)
Below are the results from our in-depth SUP testing. The goal being to verify the information manufacturers claim about their stand up paddle boards. This in turn, will help consumers get a great idea of exactly how the board will perform in the real world.
Overall Score: 9.4
Like it's bigger and smaller siblings, the Thurso Surf Waterwalker 126 performs exceptionally well as an all around iSUP. What makes this the goldilocks of the group is it's in between size. Not so big that a smaller paddler would have any problems paddling it. And not so small that you can't bring enough gear and equipment for the day's adventure.
Stability: 8.9/10
Speed: 8.7/10
Tracking: 8.6/10
Maneuverability: 9.0/10
Construction Quality: 9.2/10
Accessory Review: 9.5/10
Our overall rating of 9.4 for the Thurso Surf Waterwalker 126 is a great score and it puts this board right in the middle of the pack of a really good all around sup's for the 2023 season.
In-Depth Review of theThurso Surf Waterwalker 126 Stand Up Paddle Board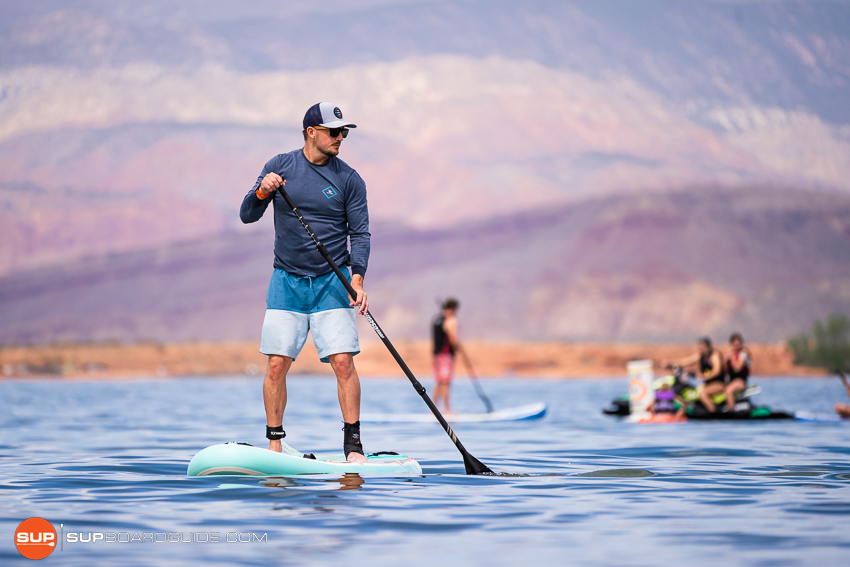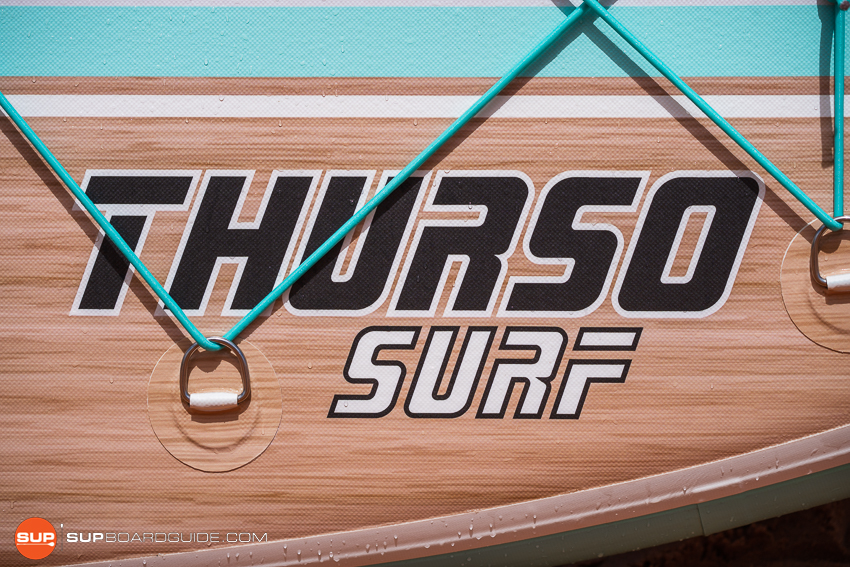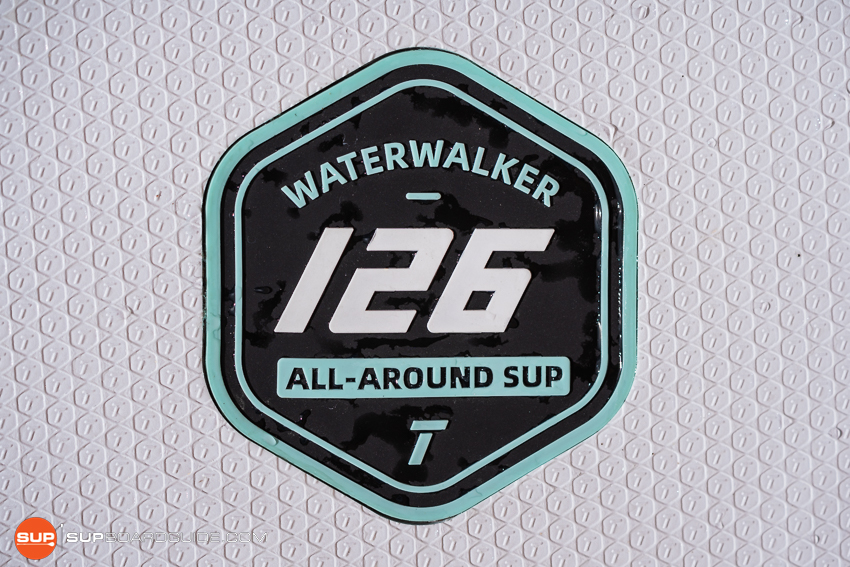 The Waterwalker 126 is 10'6'' long, the typical length for an all-around since it provides solid tracking with easy maneuverability. The 31'' wide deck helps larger paddlers spread out a bit more, but ensures the paddleboard stays quick in the water along with maintaining a smooth, steady glide. Regarding thickness, 6'' prioritizes weight capacity over the enhanced control provided by 5'' SUPs, so while you can expect some performance loss vs higher end SUPs, this is a paddleboard that can carry around 300 lbs at a beginner level. With a raised nose rocker and planing hull, you will have a blast paddling in flat water and light conditions alike, and you won't struggle too much if you do hit the occasional moderate water setting.
Board Stiffness:
Stiffness Test: 13/16" bend at 15psi (board placed on 2 saw horses 7 ft apart, with 150 lbs placed over center handle of board)
"Do Carbon Rails really add that much stability?" is a question we are getting more and more these days and board manufacturers are looking for ways to stiffen their iSUPs. In testing thus far this has proven to be true, and though we will update our findings as more results come in, it currently stands to reason that all other things being equal a board with carbon rails seems to hold its shape better than a board not equipped with similar rails.
In comparison to our top performing SUP, the Blackfin Model XL, the Thurso Waterwalker 126 was merely an ⅛" off from that board, which is impressive considering the Model XL is 3" wider than the Waterwalker 126.
Thurso has created a very rigid board without adding too much additional weight. We think the woven drop stitch, dual layer PVC, and carbon rails all played a role in that.
Stability Rating: 8.9/10
Stability is a really important part of a paddle board. It will typically make or break the experience for newer riders. The Thurso Surf Waterwalker 126 had a reasonable amount of overall stability. We especially like how Thurso Surf has offered boards in different lengths but with corresponding widths. We think this is done to keep the same overall shape profile. We are also inclined to agree with Thurso's assessment of the rider weight at 130lbs to 180lbs for this board. That is a fair judgment and still allows some extra space for gear and equipment on board as well without negatively affecting the performance.
Weight Capacity:
*Listed Weight Capacity: 300 lbs
The Thurso Surf Waterwalker 126 has a recommended weight capacity of 300 lbs, and from our testing we found this to be more than enough to support even our tallest paddlers on our review team. Stability is an important factor for everyone, as the more stable your paddleboard is, the quicker beginners can get used to the water, while experienced paddlers can tackle greater challenges. The 6'' thickness really helps with the overall SUP stability, as do the carbon fiber reinforced rails for added rigidity.
If you are used to paddling, this is a good option to take your pet or kids out on, though you'll still want to consider the Waterwalker 132 if you want to really load up the SUP, or if you are mostly concerned about stability, as the 132 is the most stable SUP in the Waterwalker lineup.
Speed Test: 8.7/10
The Thurso Surf Waterwalker series has been designed specifically to minimize drag in the water, resulting in a faster paddle board that is also easier to turn with as well. We found the 126 to be just a little slower than the longer, 11' version but a little easier to get up to speed as it's 2 lbs lighter.
In general, we (and anyone else we have ever taken out on a Waterwalker) really like the feel of the board. It feels fast, it glides well, and performs very well in the water.
Tracking: 8.6/10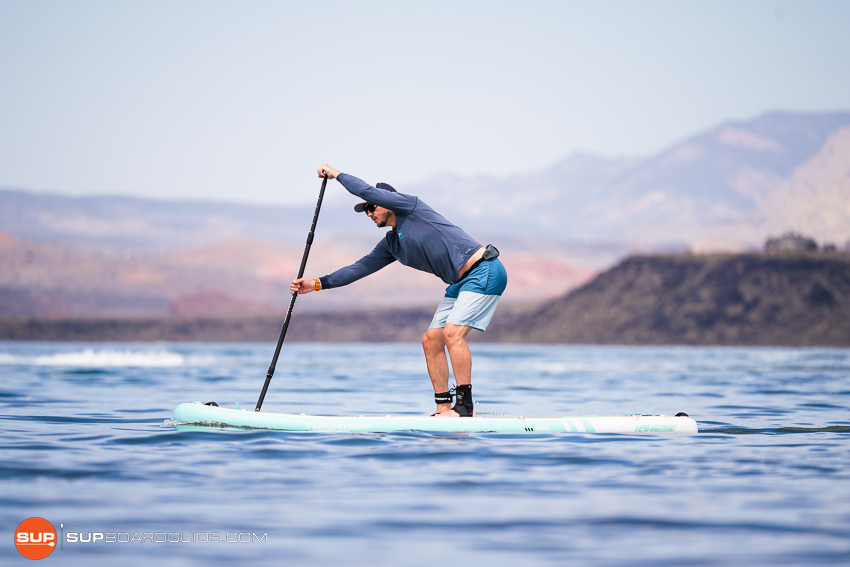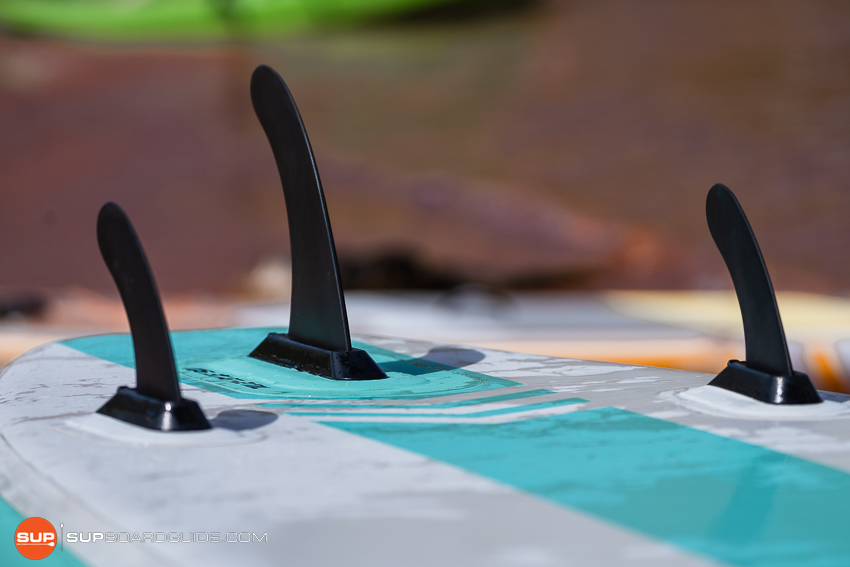 We really enjoy how well the Waterwalker 126 tracks in the water, especially for paddlers at a beginner level. The Waterwalker 126 does require you to work on your form a bit more than the 132, but it does provide a solid base level of tracking so that even new paddlers won't struggle much to get where they want to on the water. With a smooth and steady glide thanks to the planing hull, this is a paddleboard that's just a joy to go out on. The Waterwalker 126 is also surprisingly fast for an all-around too, so while it won't beat a racing SUP you'll probably beat your friends thanks to the brilliant design optimized for minimal drag in the water.
The Waterwalker 126 also features the same tri-fin setup from last year, with two snap-lock side fins and a longer snap-lock center fin box. The side fins will tighten up your turn radius when used, while the center fin box will improve your tracking when installed. By using all three fins at the same time, you will also reduce your rocking for improved stability, which is why the three fin setup is our preferred fin configuration for the water. We do leave out the center fin while paddling in shallow water, so make sure you don't put it on either if you don't have at least 9'' of clearance below you.
Maneuverability: 9.0/10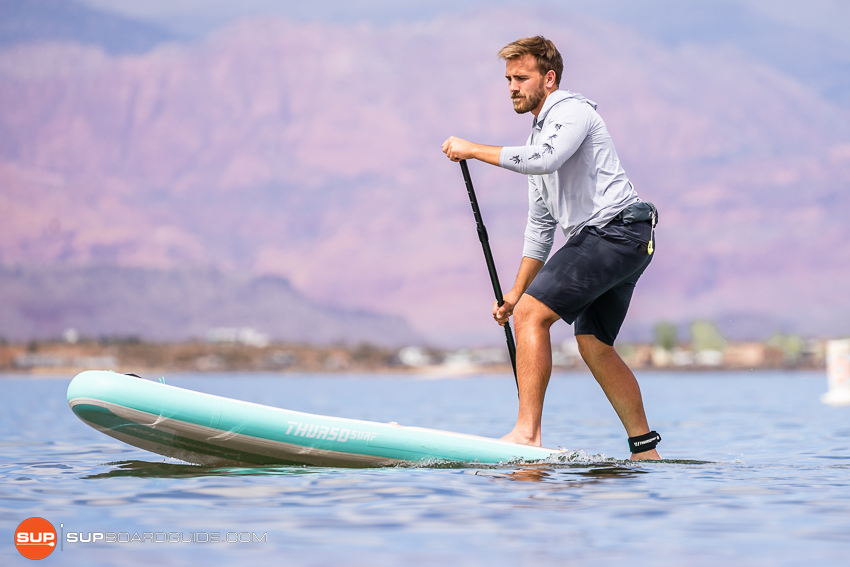 Another performance factor that makes the Waterwalker 126 such an easy recommendation from us is the maneuverability. At 10'6" in length, the 126 is a more maneuverable board than the 132.
With just a few paddle strokes to the side, you can easily turn where you want to with the Waterwalker 126, ensuring you won't crash into anyone or anything you don't want to hit while you're on the water. Something we were delighted to see with this year's model is that it's a bit easier to perform a step-back turn, the lighter tail allowing you to push it down without having to move your foot so far back. Once you get your nose up, you can pivot on the spot and have even more maneuverability with the Waterwalker 126, though paddlers who want even better maneuverability should consider the Waterwalker 120.
Construction Quality: 9.2/10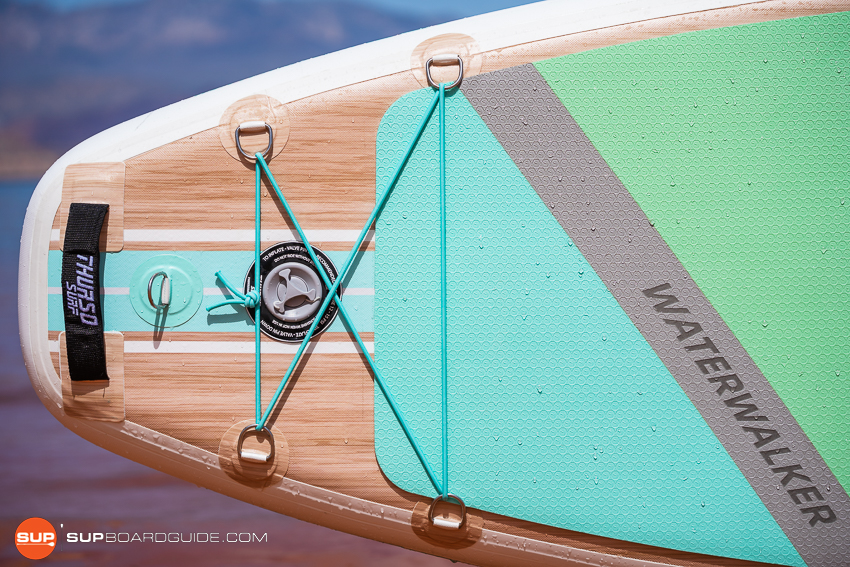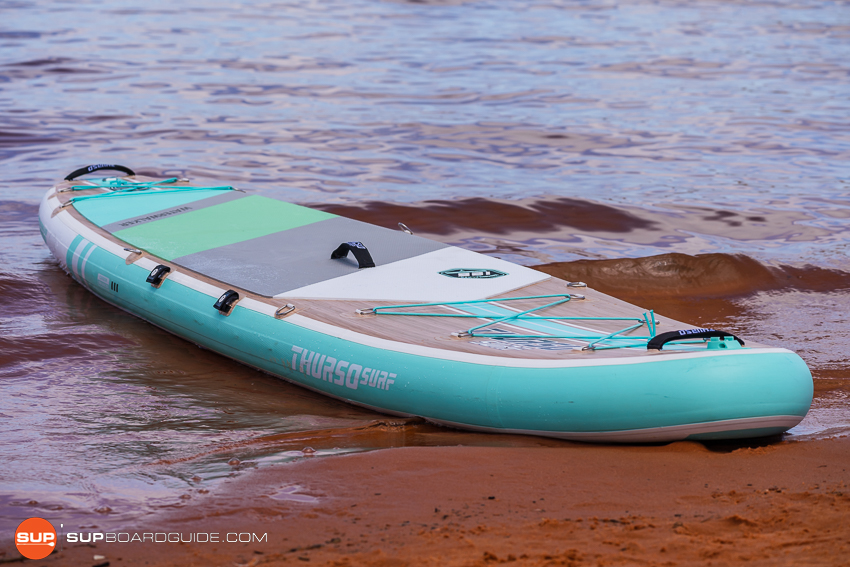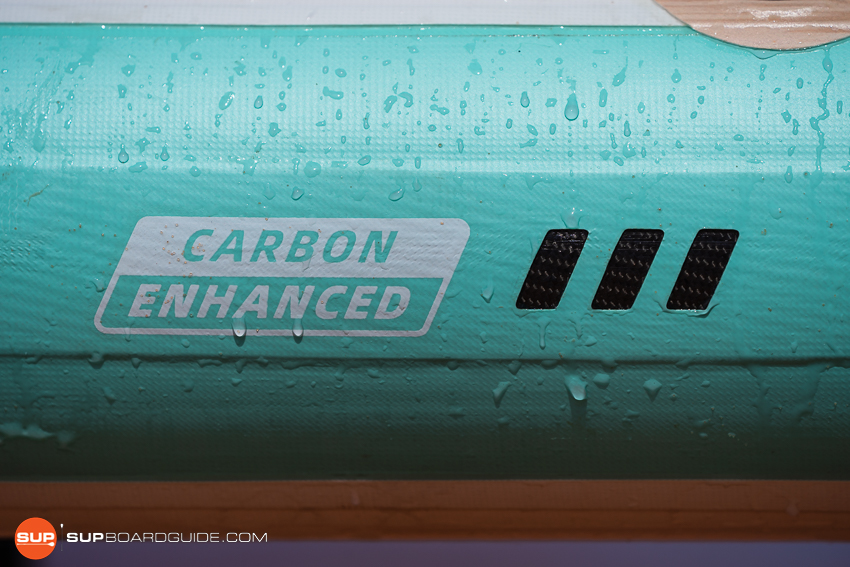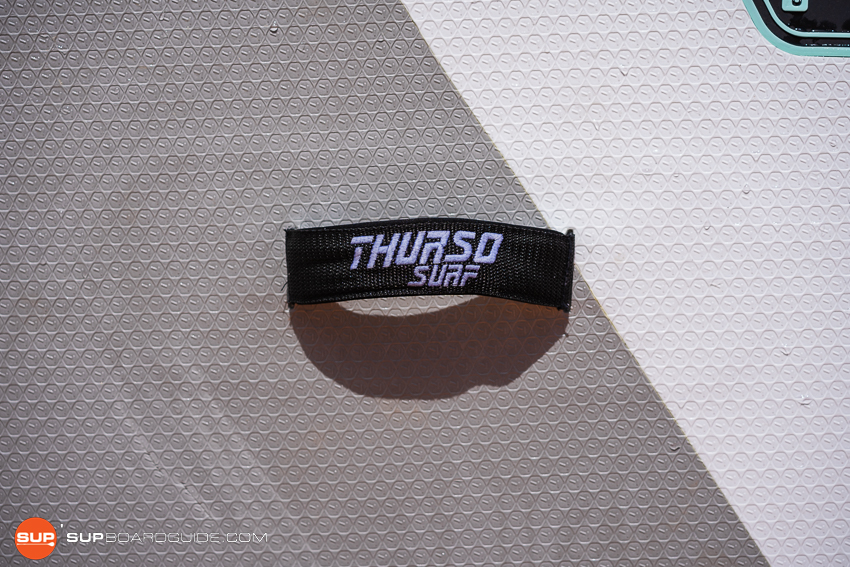 To understand why the Waterwalker 126 can be a great, durable SUP while also being lightweight and easy to carry, there are two major material components to understand. The first is the tight drop-stitch core, which is made up of sheets of polyester held together with thousands of threads. As air is pumped into this drop-stitch core, the core will inflate like a balloon but maintain a paddleboard shape due to the string placement. Traditionally, threading is done with a knitted pattern, but for 2023 the threading is now woven for a more rigid and durable core that is also lighter than last year's model.
The drop-stitch core acts as a major source of performance for the SUP, but to further enhance it, two layers of military grade PVC coatings, and carbon fiber mesh rails are are applied for additional stability, durability, and rigidity. Topped off with a UV coating to reduce the rate of degradation from sun exposure, and carbon fiber rails for even more seam protection and rigidity, and you have an impressively well built iSUP known as the Waterwalker 126.
Features/Accessories: 9.5/10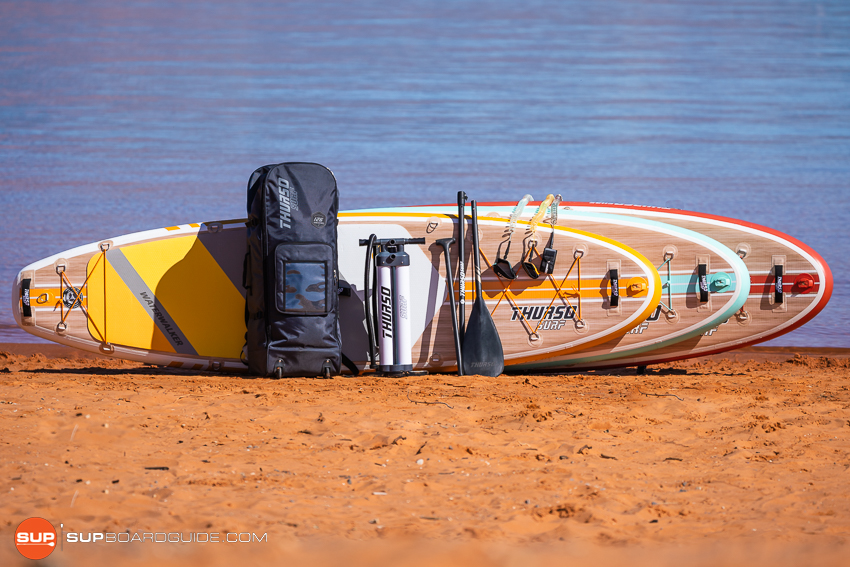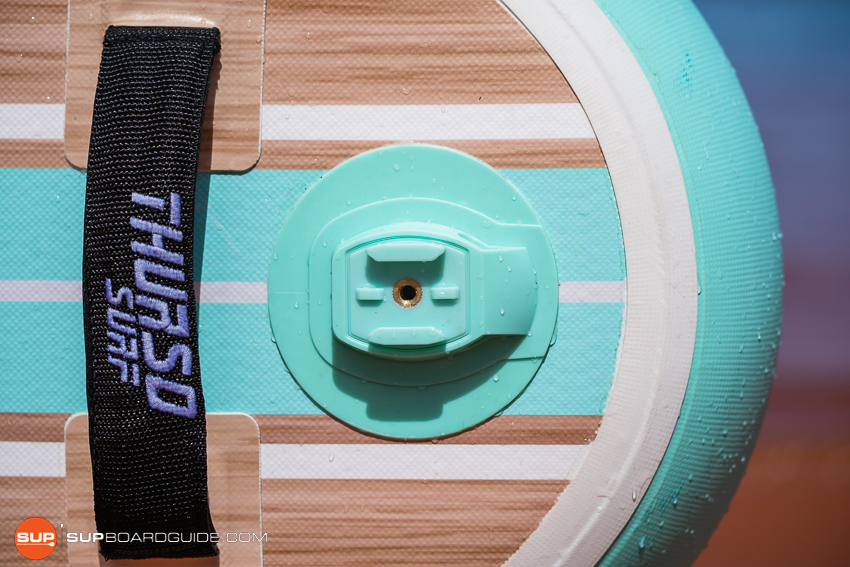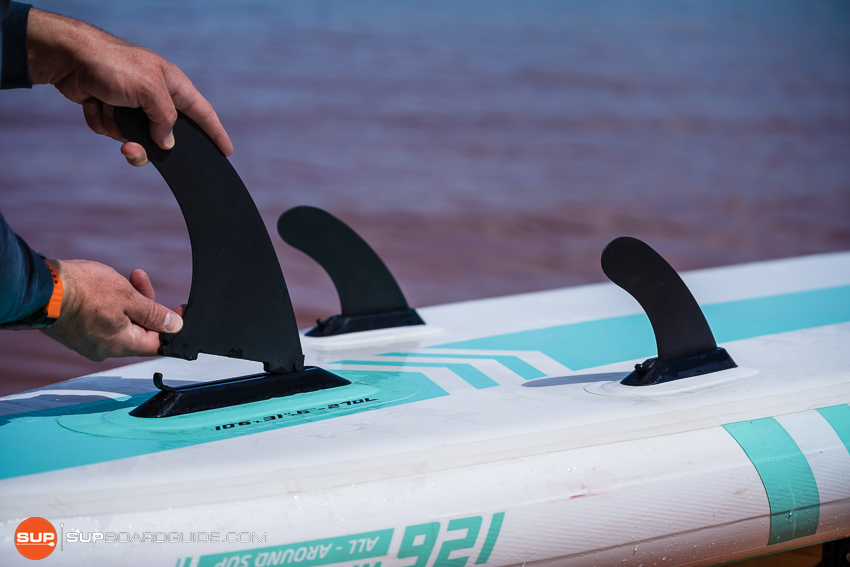 Thurso Surf paddle boards have a great look to them, and the Waterwalker 126 has a few other great features as well that we think are worth highlighting. They include:
Carbon fiber reinforced Rails.
Dual-layer military grade composite PVC Construction
15 D-rings + Nose Action Mount + Paddleholder
3 Carry handles
Textured Stamp Logo EVA deck pad
Front action camera mount
15 d-ring attachments
Side paddle holder (we love this feature)
We also really like the accessories included with the Waterwalker 126:
3 piece carbon hybrid paddle
Dual chamber, triple action pump
10' double swivel leash
Compact, padded roller backpack
Standard SUP repair kit
Thurso gives you everything you need to get out on the water, which is a big plus when making an iSUP purchase. We will go in depth with some of the pieces below but know this, they give you quite a lot for the price.
Paddle: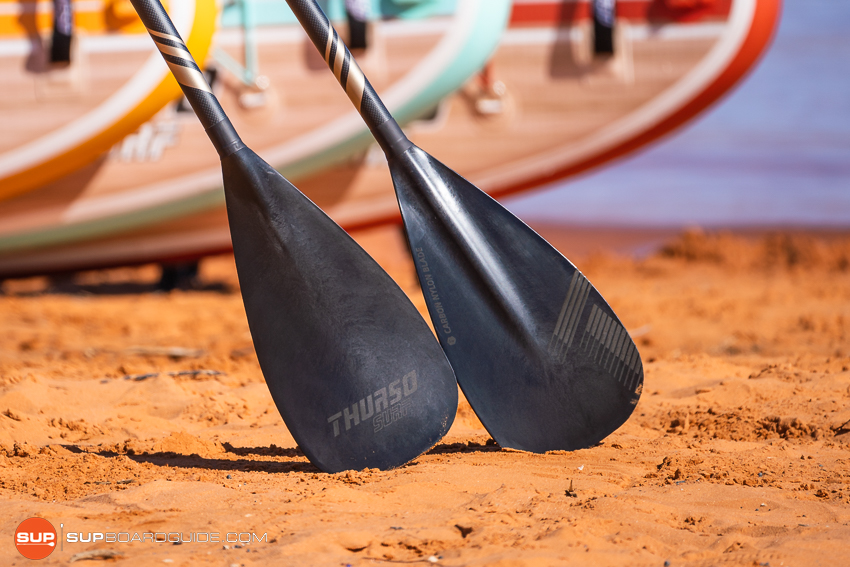 The Waterwalker 126 does come with a three piece, 32 ounce carbon fiber paddle shaft and nylon paddle blade. Carbon fiber shafts are one of our favorite paddle shaft options, as they are incredibly durable while staying lightweight. The paddle shaft is a great, premium inclusion, but we can't call it a premium paddle entirely due to the nylon based blade. The paddle is a great inclusion for those buying their first paddleboard or are still paddling at a beginner to intermediate level, but advanced paddlers might want to swap out the blade for the optional full carbon alternative.
As it consists of three pieces, the carbon fiber paddle can be adjusted for most adult paddler heights once assembled, while it is very easy to pack away when you take it apart. The paddle shaft is compatible with a second paddle blade, so make sure to buy or borrow a second blade if you want to try kayaking on the Waterwalker 126. If you drop the paddle into the water, it will float, though fast currents will carry it away if you don't remember to grab it quickly. Be sure to make use of the paddle holder on the side of your paddleboard!
Pump: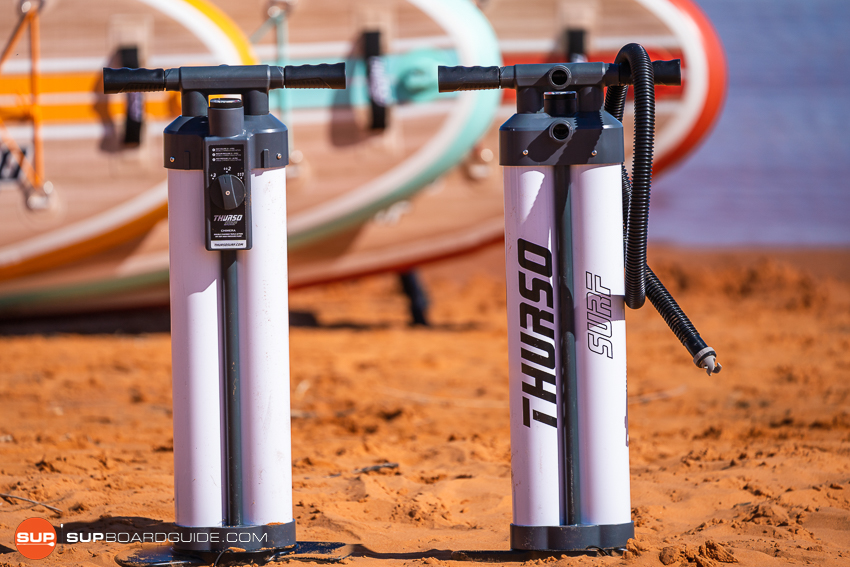 One of the components that has been revamped for 2023 is the dual-chamber, triple-action manual pump. The feet will now fold into the pump instead of being a separate base, and the turn radial dial now has two separate levers for quick action mode switching.
The true stand out factor with this year's pump is that it's a bit more efficient than the previous year's model. However, where the Waterwalker pump really stands out from the competition is by having a deflation nozzle. This really helps when packing things up, and we wish all the brands would include this feature on their pumps.
Backpack::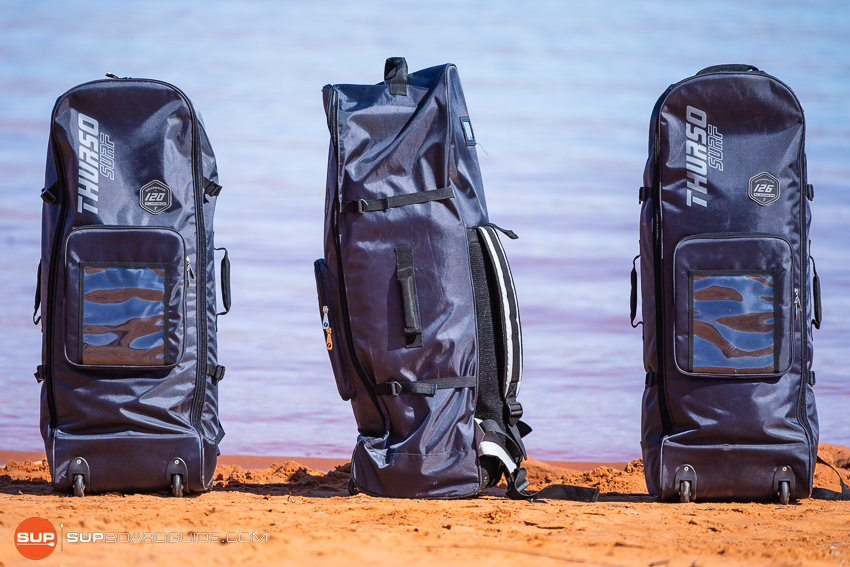 The Thurso Surf backpack is as great as ever, though there are a couple of new design elements in 2023 you might be interested in. The bag is now clearly marked for the Thurso Surf Waterwalker 126, reducing confusion you might otherwise experience if you own multiple Thurso Surf paddle boards. The thick nylon bag still features a padded back with adjustable straps, along with three carry handles and front roller wheels for multiple transportation options.
We think the main storage compartment is great, as it allows you to store your SUP, pump, paddle, and a few other components without having to struggle like you do when packing most tents. However, we wouldn't mind the bag being just slightly bigger. It's pretty easy to fit everything from the kit in the bag, but we love how easy it is to fit everything with the 120 model. The 120 is 6" shorter than the 132, and has the same size bag – so it's just easier.
We are also a little mixed on the reduced front pouch design, as while you can't carry as much extra gear now, it does make it easier to find key items like your fins and leash. Beyond the front pouch being smaller now, we are otherwise delighted by the return of the great Thurso Surf paddleboard backpack.
Optional Accessories:
Thurso offers a decent amount of additional accessories to use with your Thurso Waterwalker 132. Some of the most notable accessories include:
Electric Pump
SUP Kayak Seat
SUP Deck Bag 20 Can Soft Waterproof Cooler
SUP Deck Bag 10 Can Soft Cooler
Paddle Board Carrying Straps
Waterproof Phone Case
Replacement Parts
Summary Review of the Thurso Surf Waterwalker 126 (2023)
The 2023 Thurso Surf Waterwalker is a great option to consider if you are looking for a balanced, easy to use all-around SUP that is a little more nimble than the 132.
This is a paddleboard that provides enough stability, tracking, and maneuverability to help newcomers quickly master the sport, with enough performance for experienced paddlers to enjoy it as a secondary travel SUP. The paddleboard is both lighter and more durable than last year's model thanks to the new woven drop-stitch pattern, and with a new deck pad design the board looks better for 2023 as well.
If you are interested in getting into paddleboarding or are in need of an upgrade, we would definitely recommend the 2023 Thurso Surf Waterwalker 126 as a fantastic all-around paddle board with something to offer to all paddlers.
Thank you so much for reading our review of the Thurso Surf 10'6'' Waterwalker 126. We try to discuss the paddleboards we review in as much detail as we can, but we acknowledge that we can't hit every question our readers might have. So, if you would like to know more about the Waterwalker 126 or have a question about paddle boarding in general, feel free to leave a comment below or to send us an email with your thoughts. We also update our reviews as we contact other reviewers, so if you've tried out the Waterwalker 126 leave a comment to let us know what you think of the paddleboard.
The following two tabs change content below.
SupBoardGuide
Heyo! At SupBoardGuide.com we are a team who love the water, the outdoors, and are more than grateful that our full-time job allows us to review stand up paddle boards. We paddle year round (it helps that we are just about 2 hours outside of Las Vegas), and we bring in a wide range of paddlers with the goal of providing our readers with the best, most in-depth, and accurate stand up paddle board reviews.
Latest posts by SupBoardGuide (see all)