Thurso Surf Waterwalker 10'6 All-Around Inflatable SUP
Pros
Super maneuverable so it's easy to steer! The 10'6 length allows this SUP to swivel on a dime.
Stable but not sluggish - it has a plan shape for stability that is boosted just slightly for extra speed.
Tracks well- the squared-off tail puts more parallel in the rear section of the plan shape.
Buoyant and light feeling on the water. Fusion construction helps keep the weight down - it's only 23.7 lbs.
Family friendly! It comes in an array of colors and has an action mount on the nose so you can capture your adventures head-on.
Awesome package deal. The SUP kit comes with an electric pump included, which we don't see very often!
Cons
We would love to see a few more action mounts on the deck.
The middle carrying handle needs to be moved back so that when you carry the board its weight is evenly balanced.
A speedy and stable all-around SUP with good tracking.
A thought occurred to me while reviewing the Thurso Waterwalker 126; this board is like the car you would want for a new driver: it's safe and secure, is easy to steer/maneuver, and handles smoothly.
At 10'6'' x 31'', it's a classic all-around shape but slightly more narrow than most all-around boards of this length. These dimensions combined with the overall plan shape make it a suitable all-around board for small to average sized paddlers looking for a nimble SUP that gets up to speed quickly and holds its line, and an extra maneuverable choice for anybody over 6' and 190 lbs.
We think the Thurso Waterwalker 126 would be a great SUP for paddlers who:
Are under 6' and 190 lbs and are looking for an all-around SUP that is stable and delivers great tracking and speed
Are a larger/taller paddler and want to have extra leverage for more maneuverability than the larger version of this SUP (the Thurso Waterwalker 132) would offer them
Enjoy a board with a great look and an array of fun colors to choose from
Prefer the action mount to be in the front center of the SUP so you can get a video/picture head-on
Thurso Waterwalker 126: Spec Sheet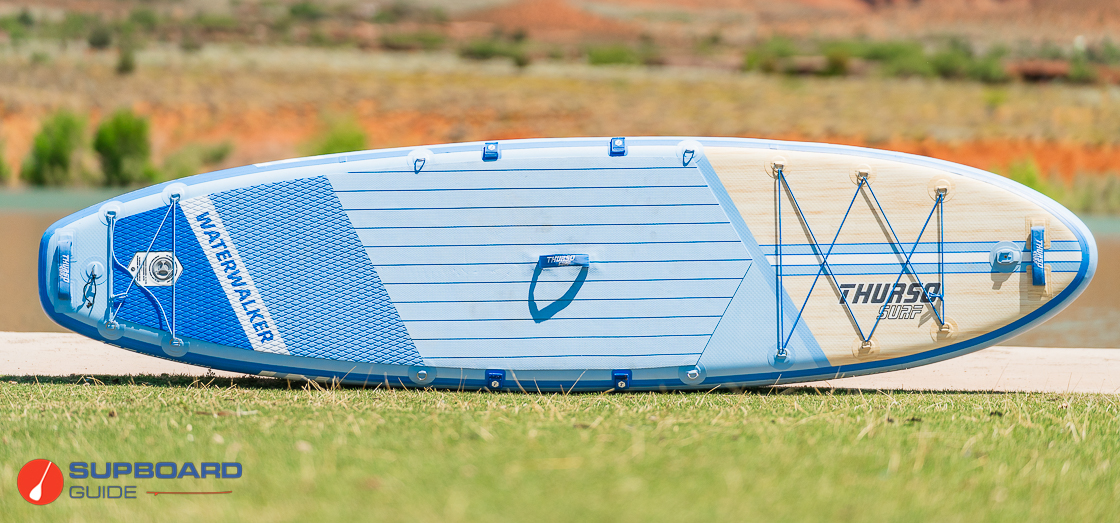 Main Category: All-around
Board Dimensions: 10'6 x 31 x 6
Listed Board Weight: 23.7 lbs
Listed Max Capacity: 180 lbs
Recommended PSI: 12 -15
Fins: 2+1 Kumano fit with US fin box
Paddle: Carbon hybrid paddle blade
Materials: V-shaped knitted PVC
Warranty: 2 years
Performance Review of the Thurso Waterwalker 126 Stand Up Paddle Board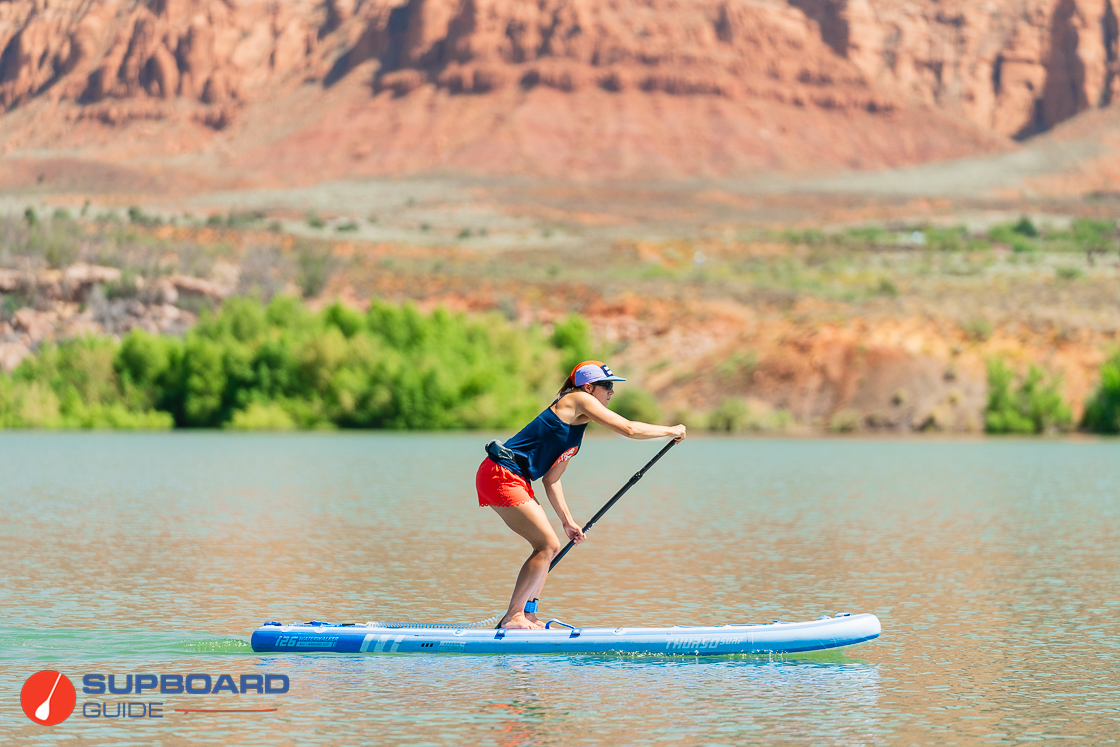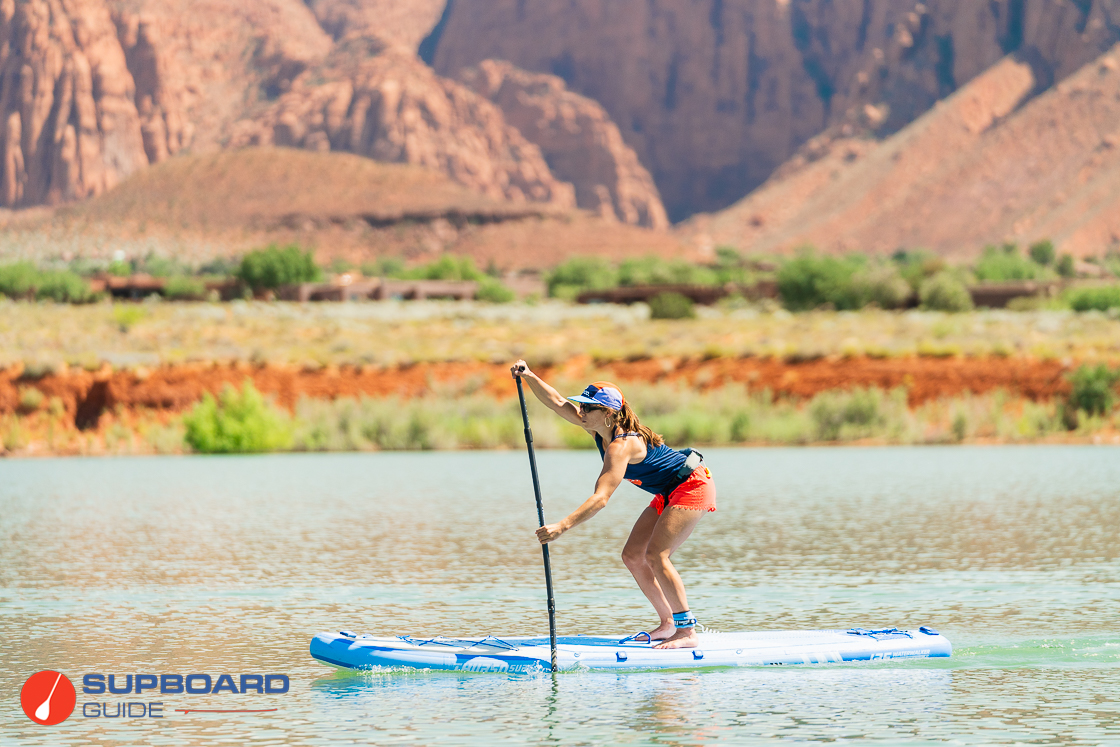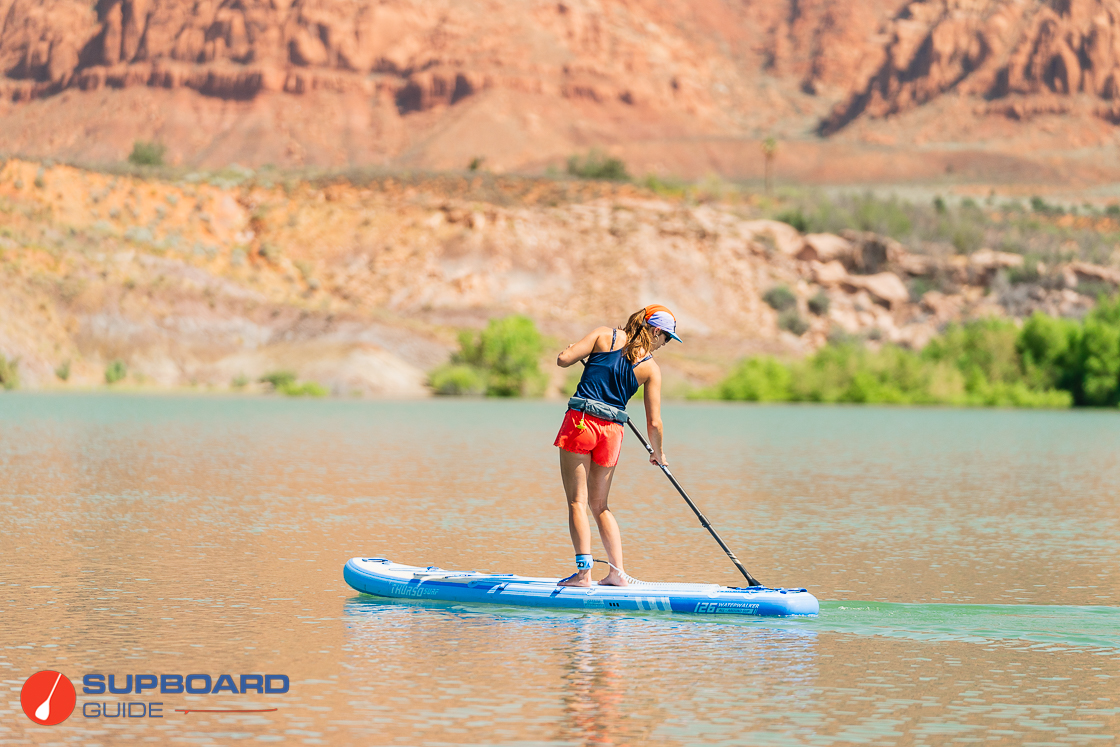 Overall Score: [9.2/10]
Stability: 8.8/10
Speed: 9.2/10
Tracking: 8.5/10
Maneuverability: 8.8/10
Construction Quality: 9.1/10
Features/Accessories: 9.5/10
Stability Rating: [8.8/10]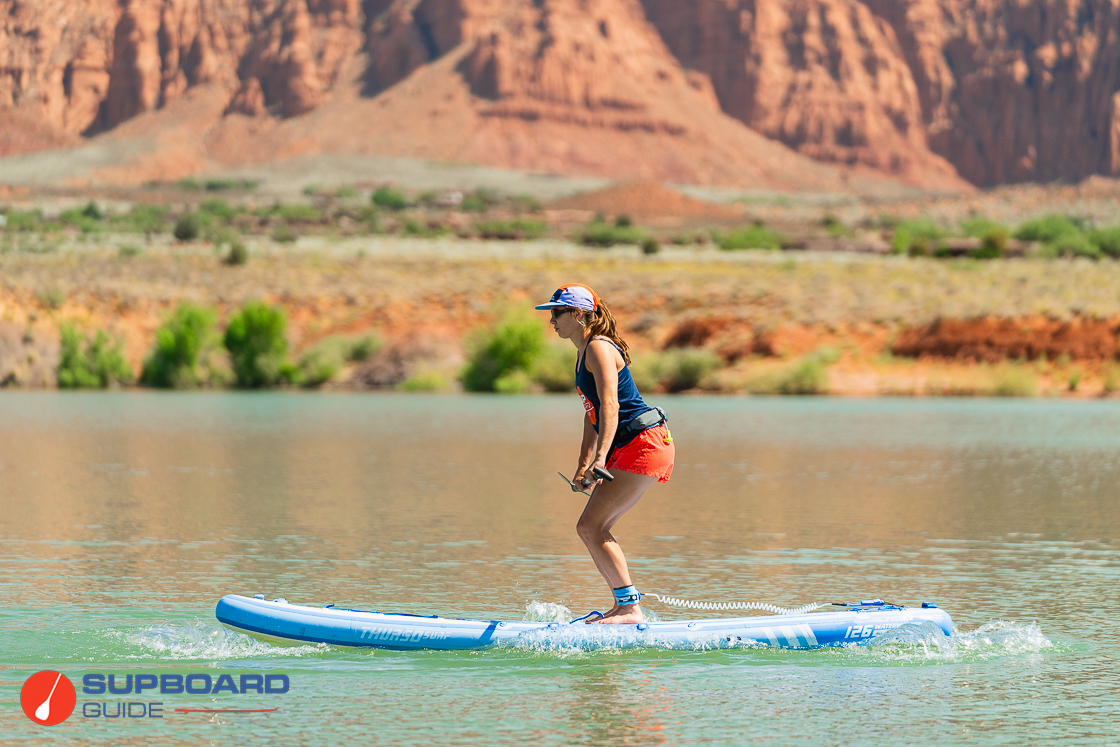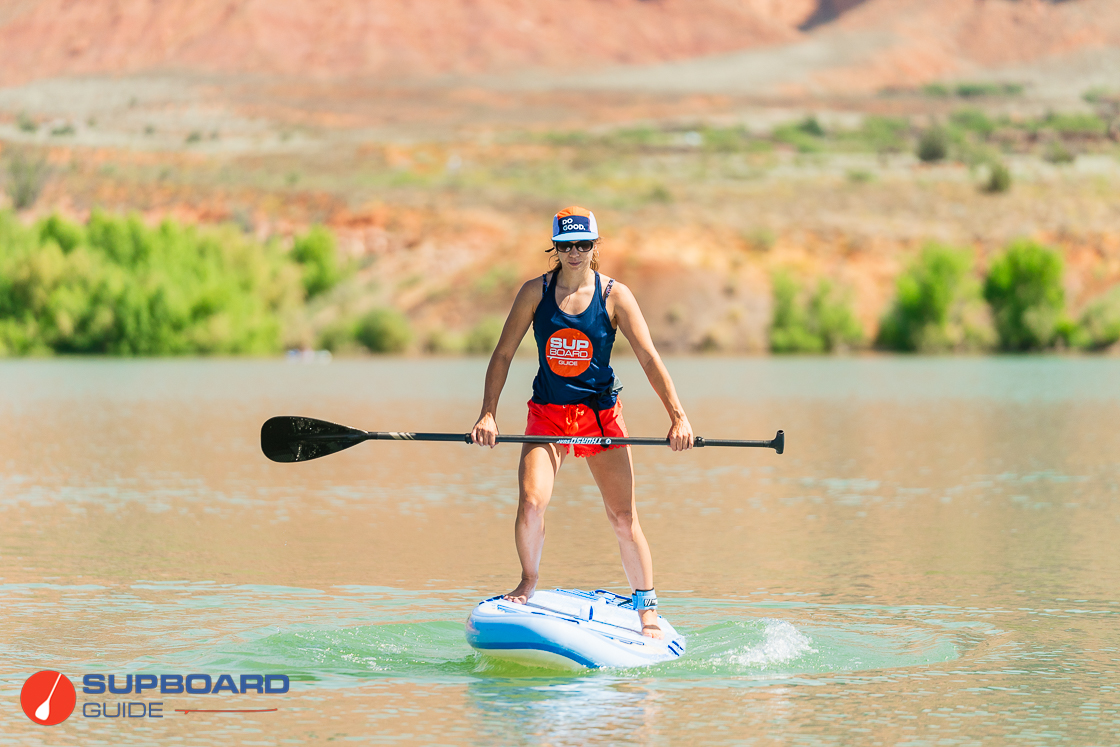 The 31'' width is slightly less than average when it comes to all-around SUPs for this size. Yet, it has a squared-off tail and broad 'shoulders' (the part of the board just in front of where you stand), which enhances stability and balances out the more narrow plan shape. This balance comes through nicely; Thurso went slightly narrower to pump up the speed and tracking, but they've kept the stability by choosing a plan shape that upholds it.
Speed Test: 9.2/10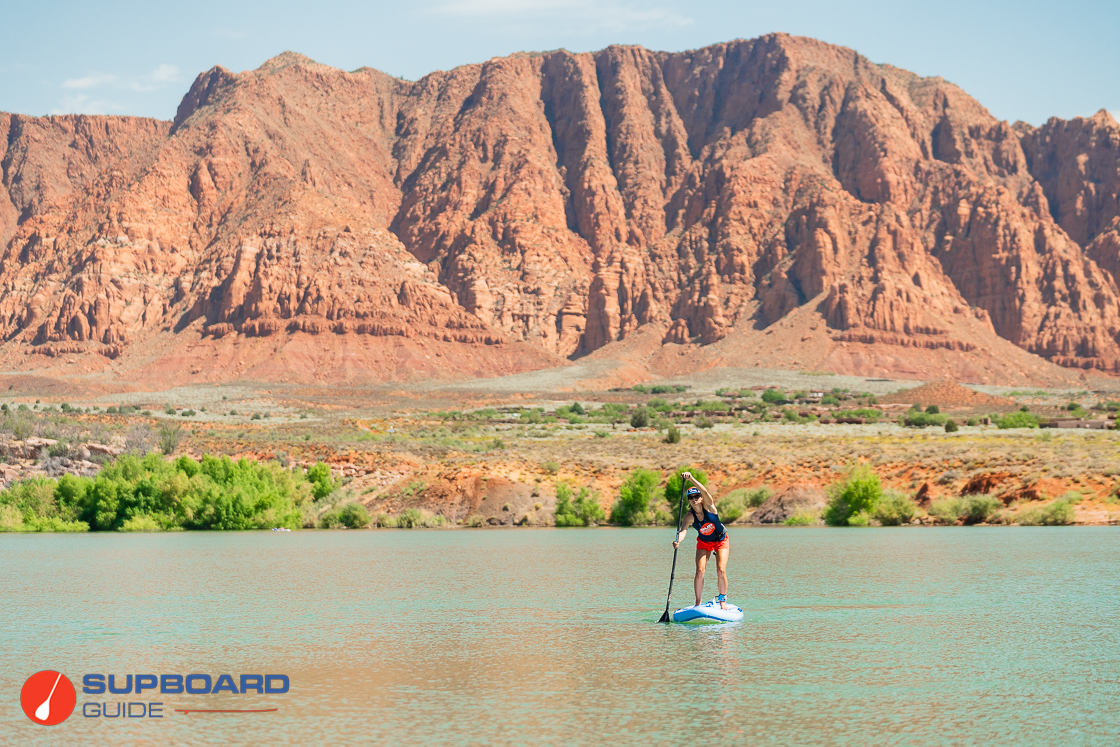 | | |
| --- | --- |
| Top Sprint Speed: | 5.45 MPH |
| Average Cruising Speed: | 4.3 MPH |
SUP Board Guide's Speed Testing:
To obtain our speed test results, we use a Speed Coach Sup 2. This gives us accurate readings on how fast we are paddling and our current stroke rates. For the top sprint speed, we paddle as hard as we can for approximately 10-15 seconds and then record our average speed. For the casual test, we paddle at 40-35 strokes per minute for approximately 30-60 seconds and record the average speed.
Our team agreed that the Thurso Waterwalker 126 is a fast board for being an all-arounder. There are a few reasons behind its speed. Firstly, it's a lightweight (23.7 lbs) board so it doesn't take a ton of effort to get up to speed off the line. Second, it has a well-balanced plan shape; the narrow width and pointed nose are equalized by the squared tail. This influences the board's ease of use and enhances stability and tracking. Because it's stable, easy to get going, and can hold a straight line, you can go faster.
Tracking: 8.5/10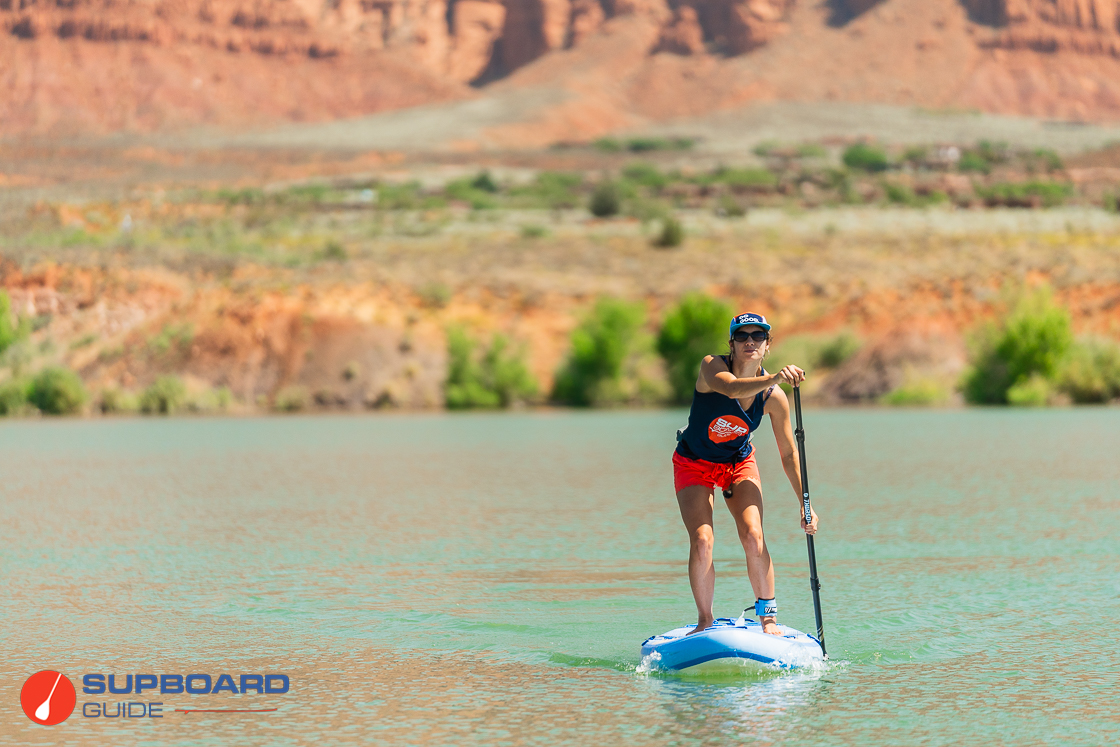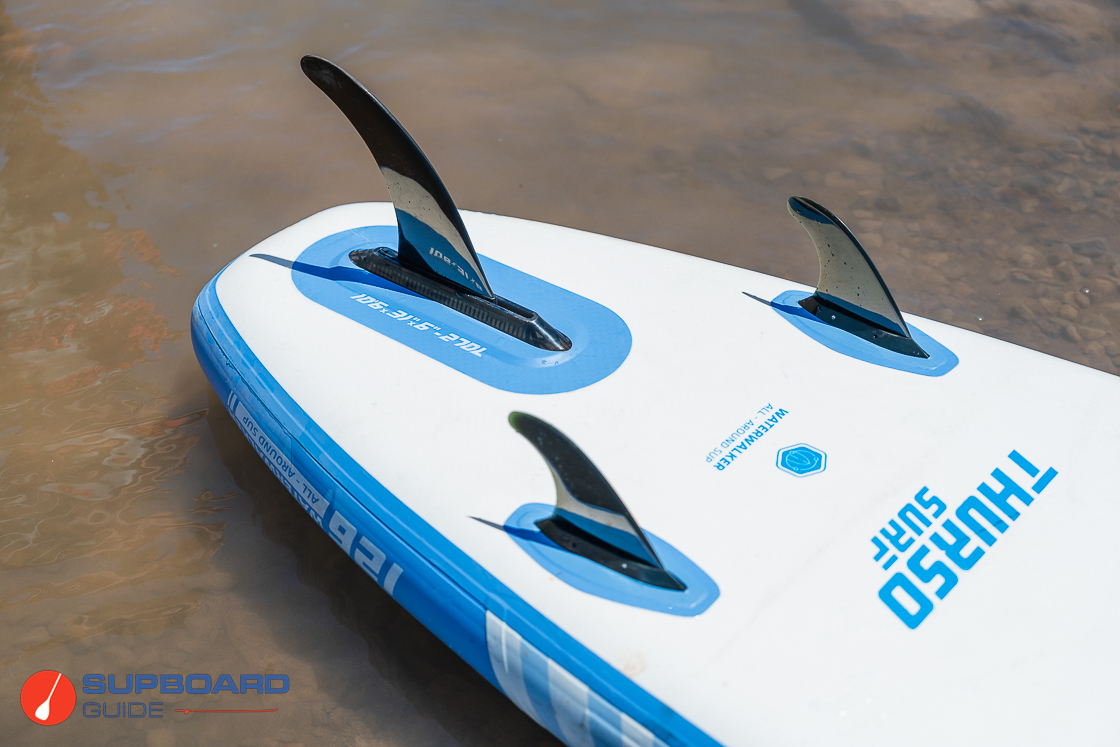 The Thurso Waterwalker 132 tracks well. THe square tail is more locked in, allowing the board to hold a straight line. We did notice that the board tracks slightly better with all three fins clicked into place. However, that means the maneuverability is slightly lower. But, in terms of tracking, the difference between having all three fins clicked in versus just the center fin is very minimal. We suggest trying the different variations and deciding which way you prefer for yourself.
For flatwater paddling, you will only ever need a single center fin. This is why we are not huge fans of side fins in general other than in boards specifically needing extra stability or those designed with surfing in mind. And we are especially uninterested in the side fins in this case since Thurso decided to angle them slightly inwards. Because this is not a surfing board, there is no reason to have this feature.
Maneuverability: 8.8/10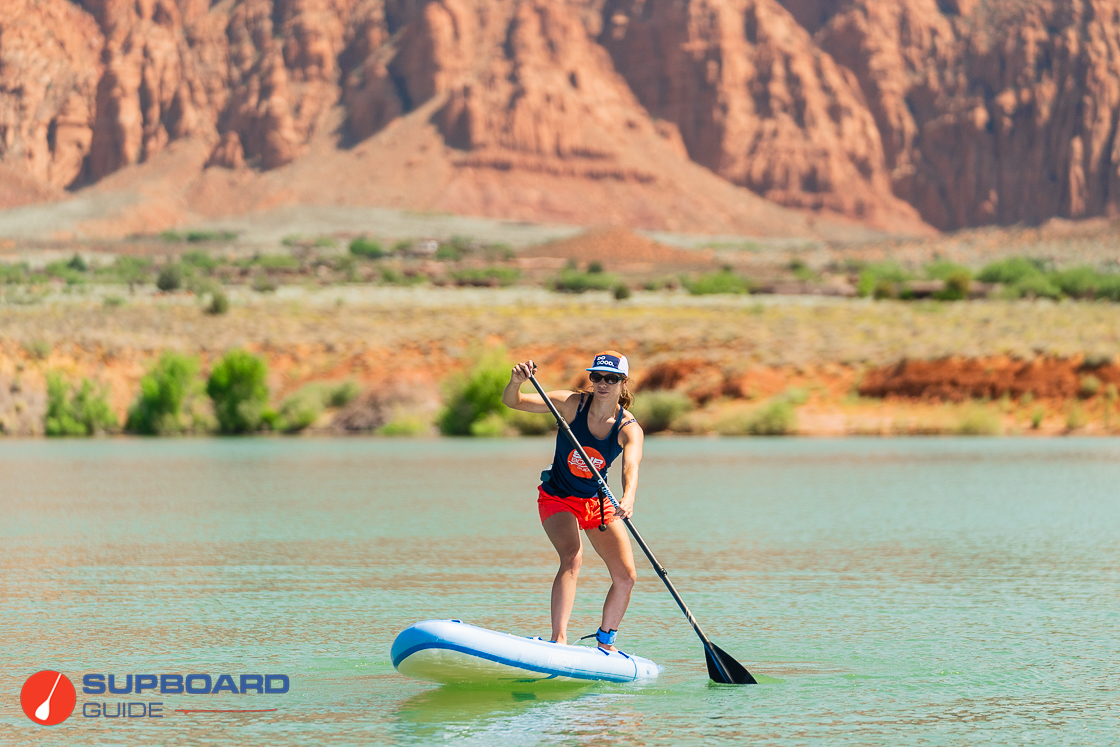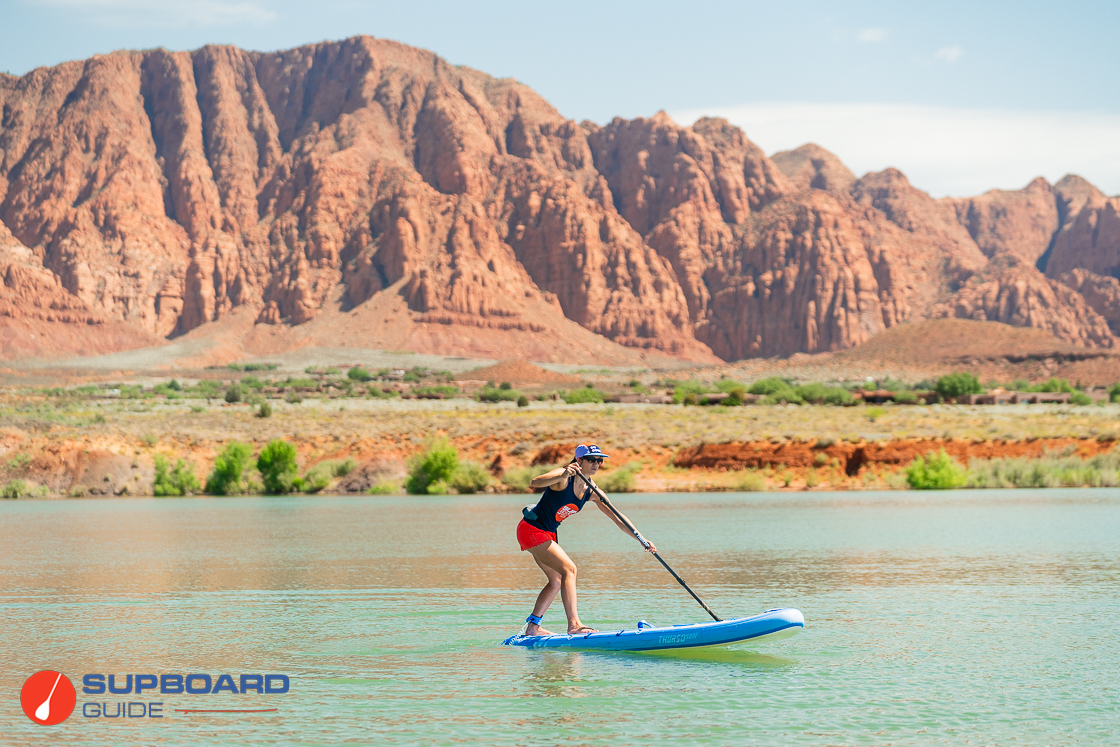 The Thurso Waterwalker 126 is 10'6'', a standard length for an all-around iSUP, and is easy to turn and maneuver. Whether you want to use back sweeps to change, choose from the plethora of other stroke types, or test out your step-back turns, you will turn with ease. We averaged 4.5 back sweeps to complete a full circle, which we consider to be a sign of good mobility.
Like tracking, we also found the fin setup to matter in terms of maneuverability. When we had all three fins clicked in, we found the tracking to improve but the maneuverability to slightly decrease.
We found step-back turns to be super fun on this board. It's stable so walking to the tail doesn't cause the rest of the board to waver hardly at all, and it's light so the nose naturally lifts off of the water's surface. Thurso uses a diamond-grooved deck pad on the tail so you don't have to worry about sliding around as you find your perfect footing.
Construction Quality: 9.1/10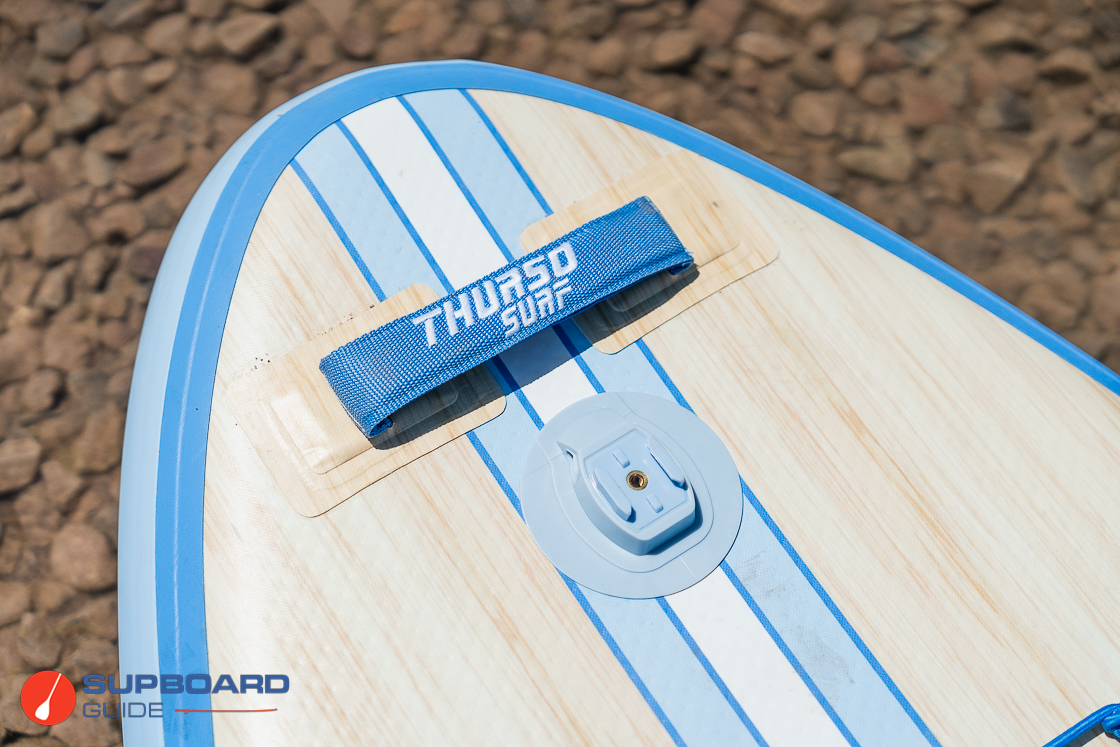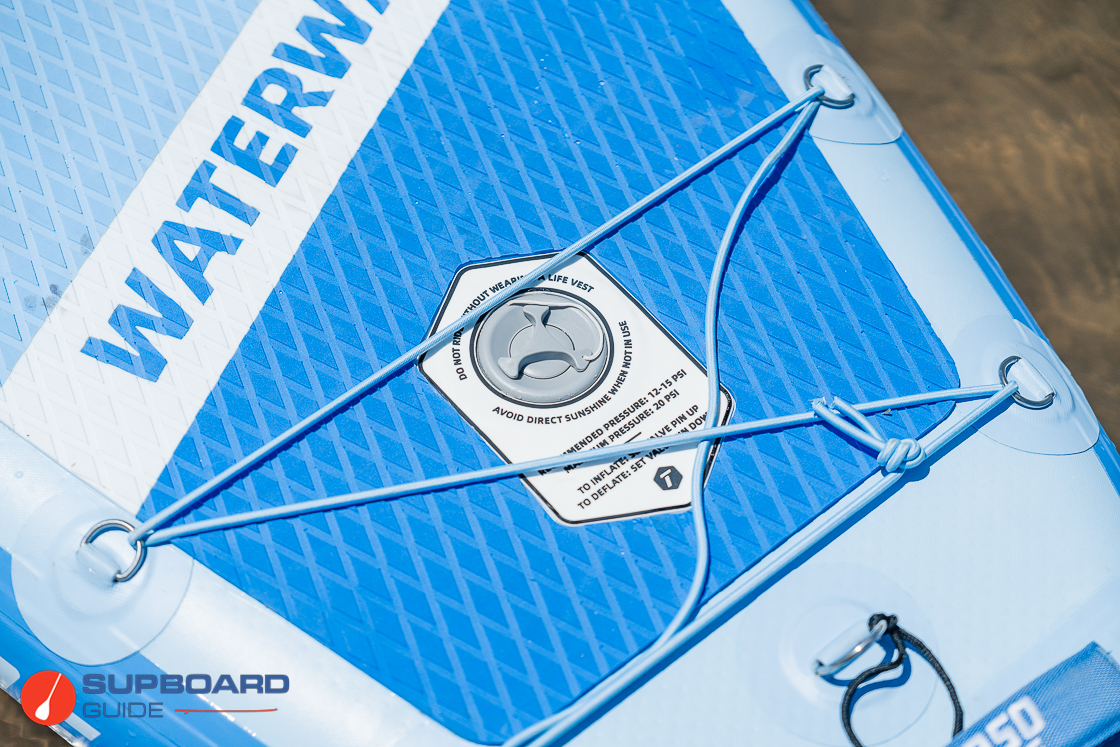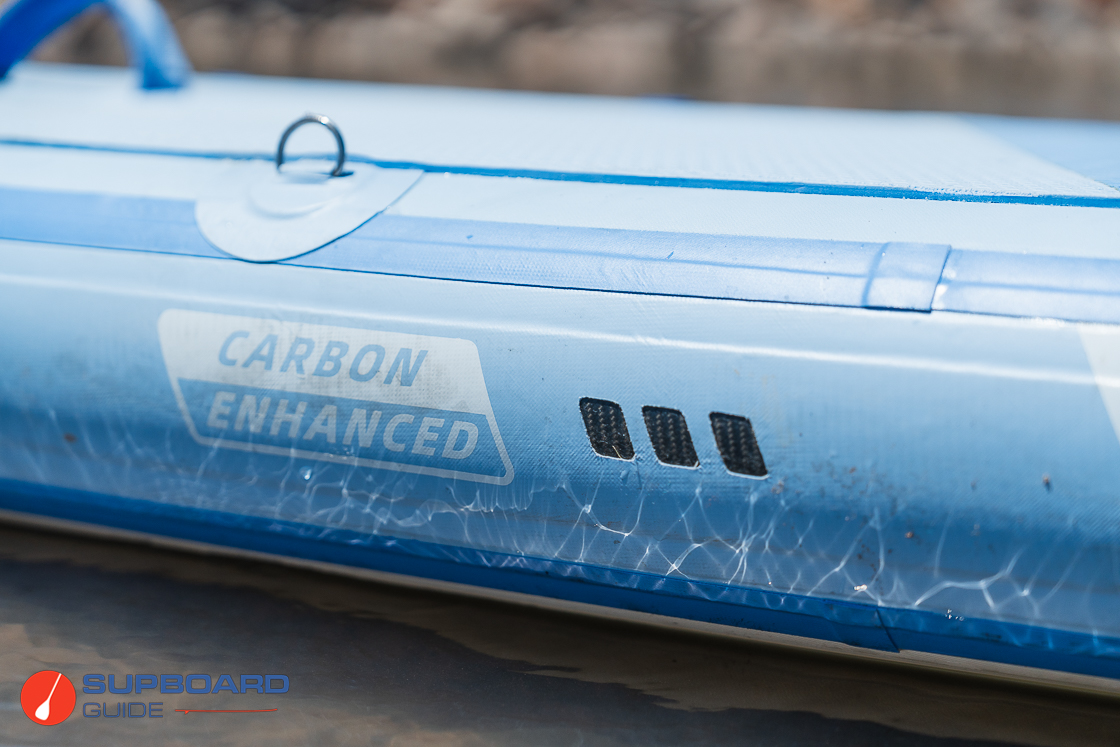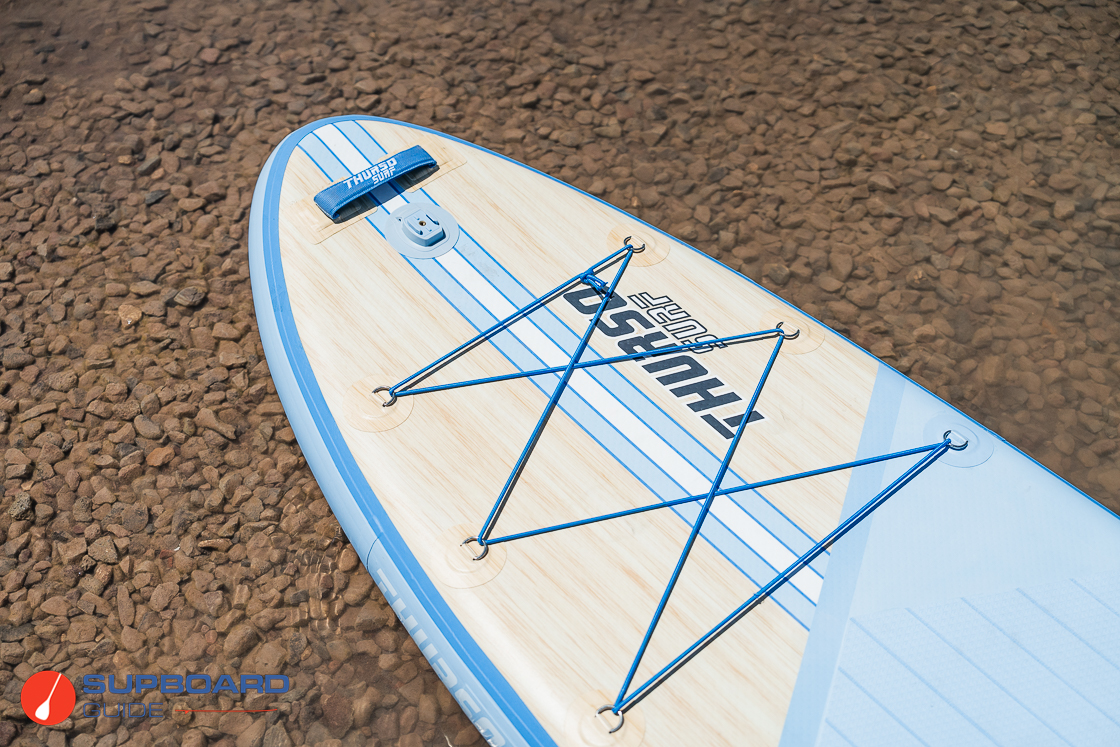 Thurso states that a V-knitted drop-stitch core, a dual-layer PVC, and carbon rails were used in the Waterwalker 126's construction.
A V-knitted drop stitch core is made up of fabric sheets held together with thousands of threads called space yarns. The threads make a V shape when they connect to the top and bottom fabric layers. Air is pumped into this drop stitch core and inflates it like a balloon, but maintains a paddle board shape due to these threads.
Thurso uses a fusion technique, the use of heat and pressure, to adhere the PVC layers together. This helps cut down the weight of the board as well as strengthen the bonds since heat and pressure is a mechanical bond, which prevents molecules from separating.
The question of whether carbon rails actually increase the stiffness of a board comes up a lot. We have found that boards with carbon fiber rails tend to do slightly better in our bend tests, however, there are a lot of variables when it comes to the rigidity of a board so we can't say for certain whether it's the rail itself that causes the increased stiffness.
Board Stiffness: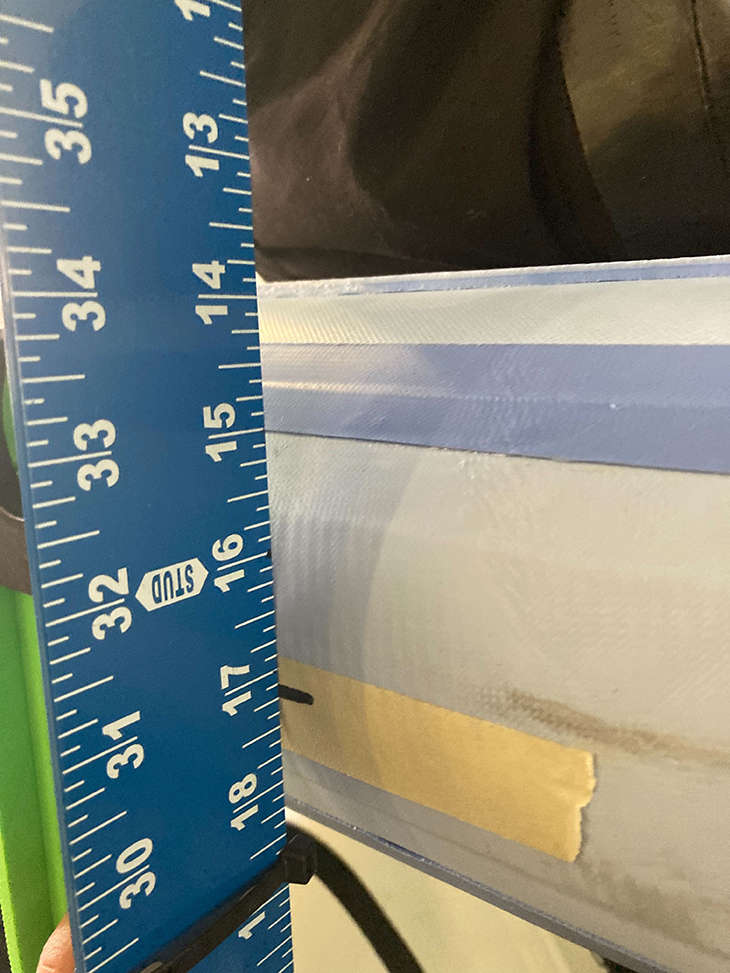 Stiffness Test: 1.125 " Bend
SUP Board Guide's Bend Testing:
In order to attest to the rigidity of each board, we use a bend test curated by Supboardguide. In order to obtain the results, we inflate the board to its maximum recommended PSI and then place it across two sawhorses that are 7 feet apart. We then take a measurement in the middle of the board. Then, we place 150 lbs worth of sandbags on the middle top of the SUP. Last, we record its displacement (the movement from its original position). We use this method for every board we test as a way to mathematically compare boards across a common denominator.
The Thurso Waterwalker 126 bent 1.125 inches in our bend test. Given how light it is, and how it performed on the water, we are pleased with the bend test results. We consider anything under 1.5 inches to be a great bend-test result and attests to the SUP's rigidity.
Features/Accessory Review: [9.5/10]
Features: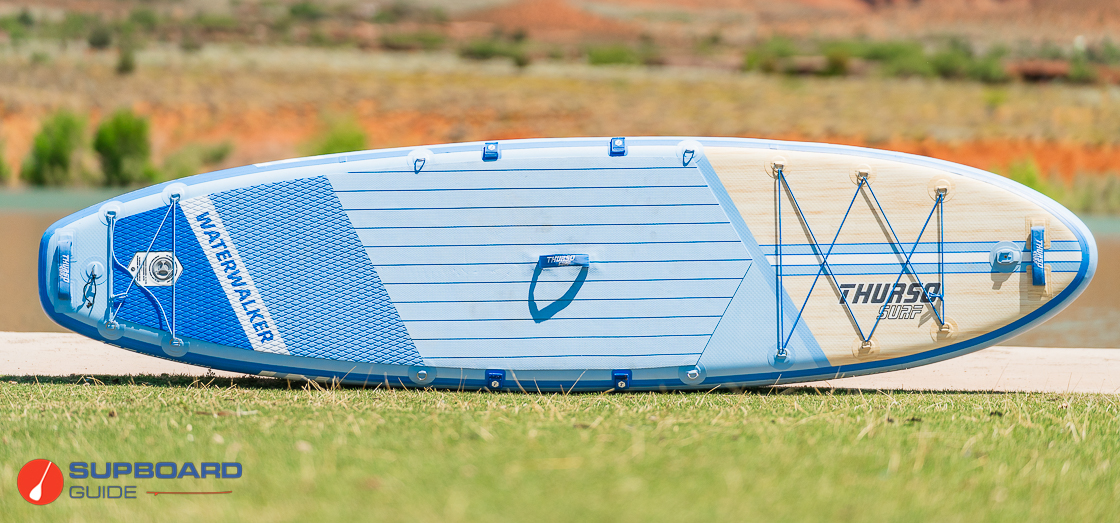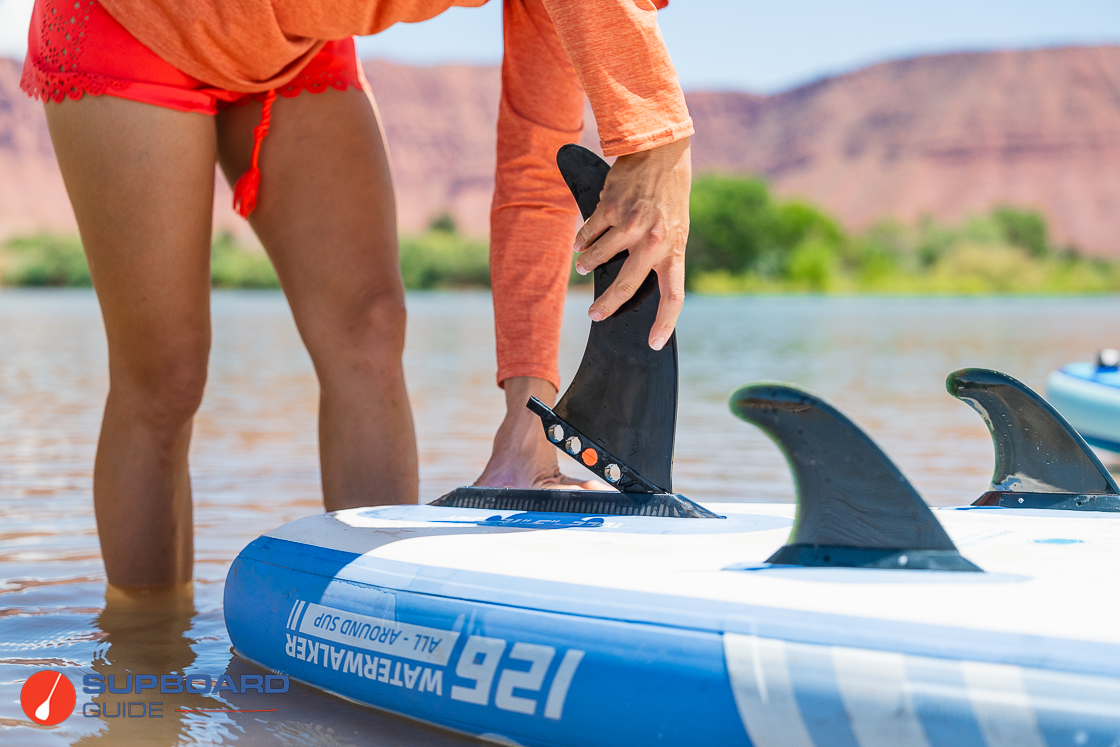 This is the part of the Thurso Waterwalker 126 review where we get to point out how great we think this board looks! As a team, we consider it to be one of the better-looking iSUPs. The laminate on the nose of the board is made to look as if it's wood, which we think gives the board a unique vibe that stands out against other SUPs on the market. The rest of the board comes in a few options of soft colors, which pair nicely with the wood. The three color options are turquoise, tangerine, and dusk. Each color has a nice 'pop' to it without being overly flashy.
This board offers a deck pad with lots of cargo bungee space and an action mount smack in the center of the nose – which is great for families or anybody looking for a SUP that is geared toward action and adventure. Starting from the tail, there's a tail handle, a leash point, and a tail bungee that is attached by 4 d-rings. Moving up the board there is a diamond-grooved pad on the lower half of the deck that's awesome for traction when performing step-back turns, a center carrying handle, and two small velcro rings that function as paddle holders.
There are 4 side d-rings on the deck, and then another cargo bungee holder on the nose that is a generous size. It is attached to the board by 6 d-rings which brings the total d-rings on the board to 15! Just before the very tip of the board is a GoPro adapter that is centered and great for getting face-on or face-out clips! And to finish it up, there's a nose handle.
We would like to see Thurso add an extra action mount or two onto the deck, and reset the center carrying handle because it's slightly too far forward for proper balance.
Included Accessories: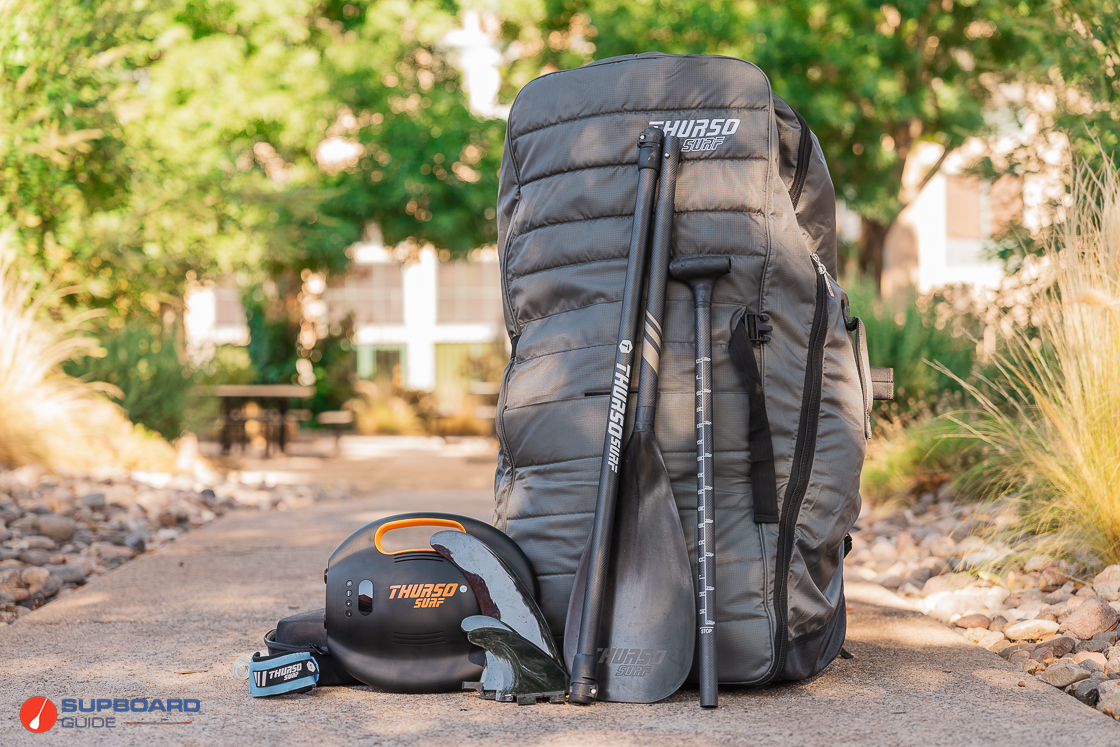 This board comes with a kit that has what you need to start paddling without having to purchase any extra items. It comes with all three fins for the 2+1 quick lock setup, a double swivel leash that is color matched to the board you choose, a 3-piece carbon hybrid paddle, a rechargeable electric air pump, and a storage and carry roller backpack.
I have to give props to Thurso for having such thorough organization and looking out for their customers. It can be hard to keep track of all the SUP accessories. Thurso puts the fins, the leash, and the repair supplies into a 3 fold bag that neatly holds everything in its designated place. I love this because you can check the bag to make sure you have everything, and then fold it up and place it in the wheeled backpack.
Summary Review of the Thurso Waterwalker 126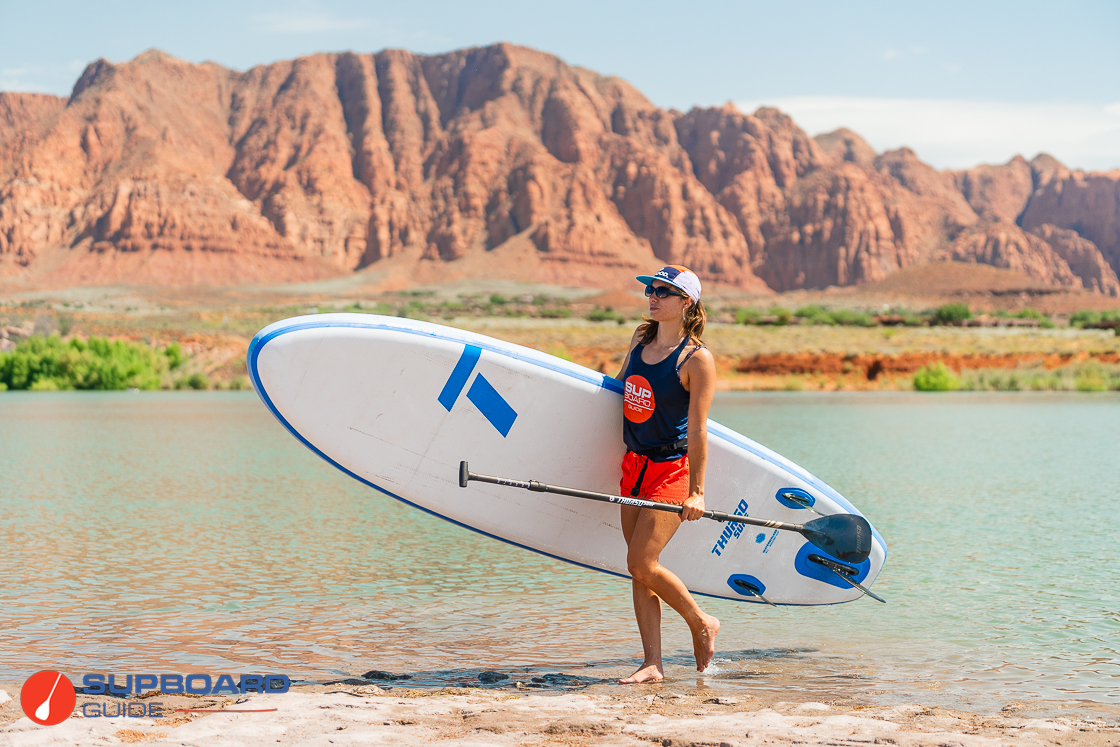 The Waterwalker 126 is an easy-going iSUP meant for the small to average-sized person looking for an all-around board that tracks well and can quickly get up to speed, or the taller/larger paddler looking for a hyper-maneuverable and lively setup.
If you are a taller/larger person looking for a less sporty board, go ahead and check out the Waterwalker 132 which is a slightly larger version of this same board.
Happy paddling! We hope you enjoyed this review of the Thurso Waterwalker 126. If you have any questions or comments please leave us a comment below!
The following two tabs change content below.
Latest posts by Laura Coor (see all)