Red Paddle Co 10'8'' Ride iSUP
Pros
Terrific sensation on the water that is hard to describe, but you can definitely feel it. There is an awesome balance between the core capabilities of this SUP (stability, tracking, maneuverability, and speed).
A lightweight (23.1 lb) yet solid SUP that supports new and/or large paddlers who need extra stability - the 10'8'' x 34'' and oval shape come together to create a large and wide platform on the water.
Excellent glide and high-performance feel thanks to having a lower center of gravity than a standard 6" SUP (hello 4.7"!)
Enhanced tracking comes from the transition to a twin-fin system from a tri-fin system. Red increased the surface area of each fin.
Finishing touch: The seams are flawlessly straight and the deck is not only spotless but embossed with the Red logo! Red pays attention to its aesthetics.
High-quality bag and pump (the Titan pump is among the best manual pumps available) included with the kit
5-year warrant from a long-established company
Cons
While removable fins would offer more options, the fixed fin system eliminates any worry and is of the best-performing fixed fins we have seen
The kit does not include a paddle or leash
A high-performing all-around iSUP for the large/tall paddler that has a great on-the-water feel.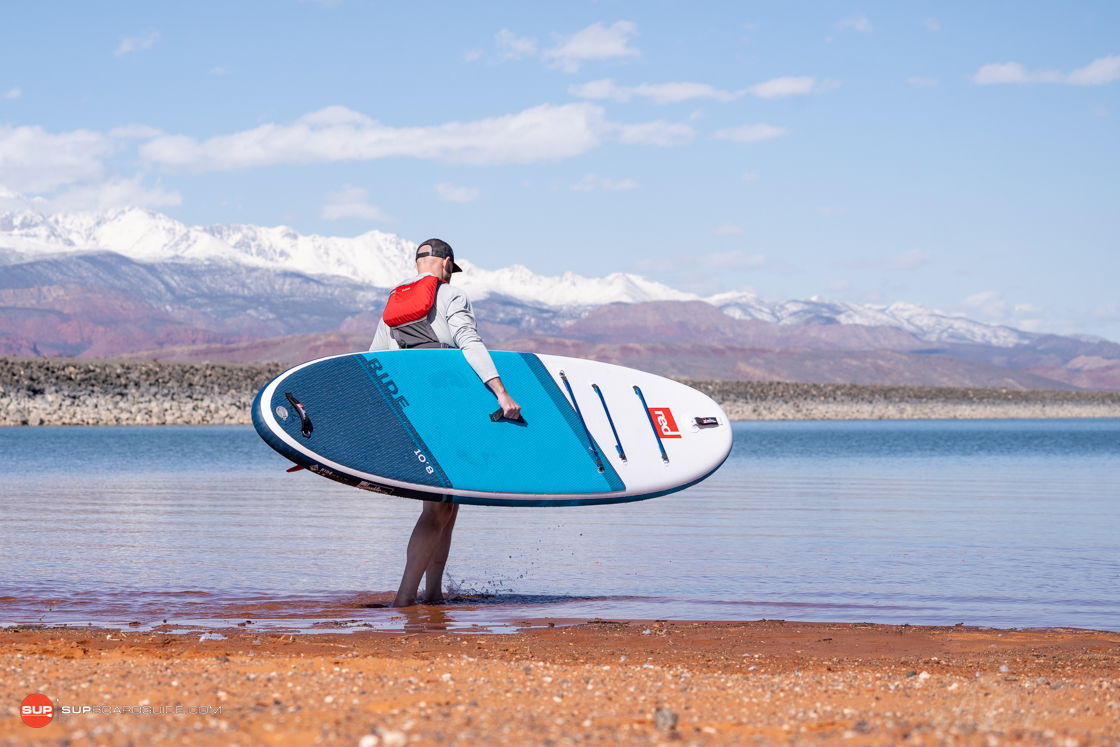 If you are an average to large size paddler on the hunt for a stable all-around iSUP that prioritizes high-performance and high-quality construction, then look no further than the Red Paddle Co 10'8'' Ride. 2" longer and 2" wider than its smaller sibling, the 10'6 Ride, the 10'8 Ride provides exceptional stability with a great balance between tracking, maneuvering, and speed.
However, unlike most standard large all-around boards, it is thinner (4.7'') and constructed with Red Paddle Co's patented MSL (monocoque structural laminate) formula. This gives the board an amazing on-the-water sensation that you will notice immediately after stepping on it.
In our Red Paddle Co 10'8'' Ride Review, we will dive into how Red's dedication to the sport allowed them to construct an exceptionally stable yet lightweight board, what upgrades were applied that elevate it, and how it truly impressed us in each of our testing categories.
We want to be transparent and tell you from the start that this board is on the pricey side. But it's a one-and-done deal (I.E. – buy once, and not have to buy a board 1-2 years down the road when you want something better), and we can assure you that you're paying for the high-quality performance.
We think the Red Paddle Co 10'8'' Ride would be a great SUP for paddlers who:
Are heavier/taller paddlers who want an extraordinary all-around iSUP
Want high stability without losing performance
Want a board that has a great on-the-water sensation that comes from being lighter weight and thinner than your average all-around SUP
Red Paddle Co 10'8'' Ride: Spec Sheet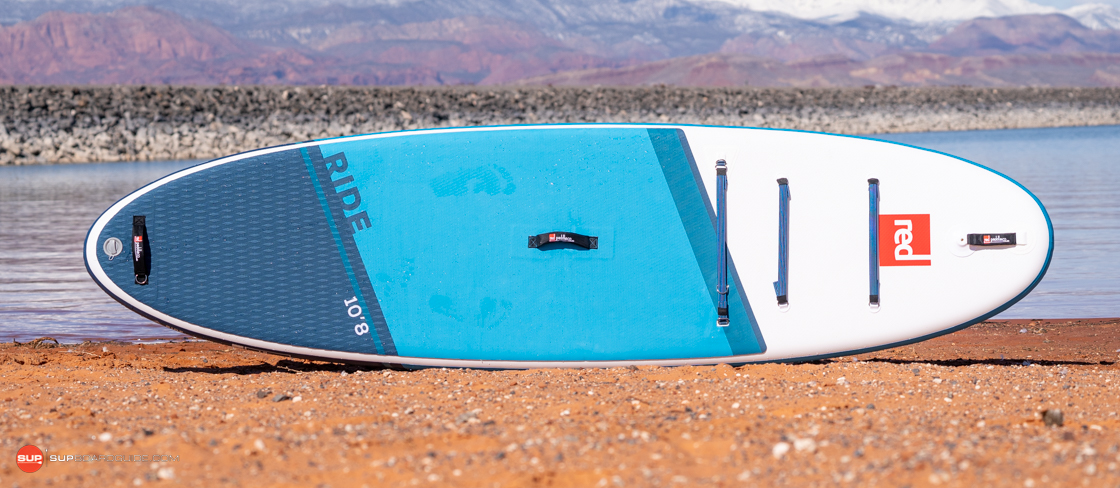 Main Category: All-around
Board Dimensions: 10'8''x4.7''x34''
Listed Board Weight: 23.1 lb
Listed Max Capacity: 265 lb
Recommended PSI: 16-20
Fins: molded twin iFIN system
Paddle: Not included
Materials: fusion MSL, PVC
Price Range:
Warranty: 5 years
Performance Review of the Red Paddle Co 10'8'' Ride Stand Up Paddle Board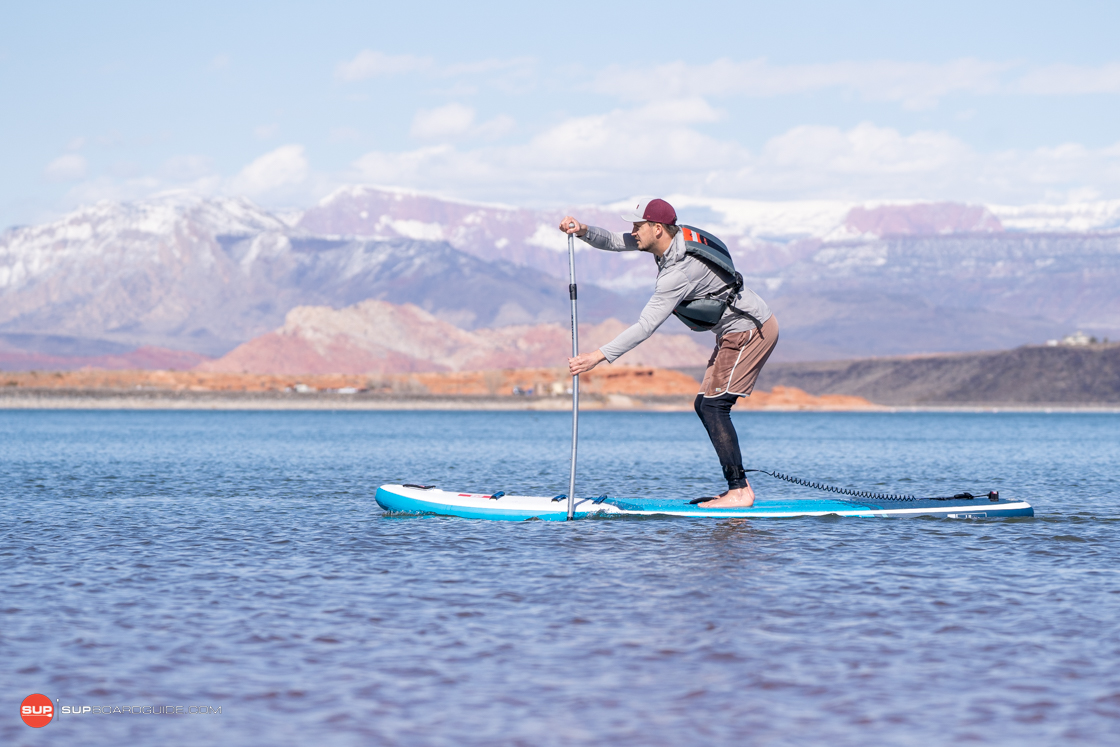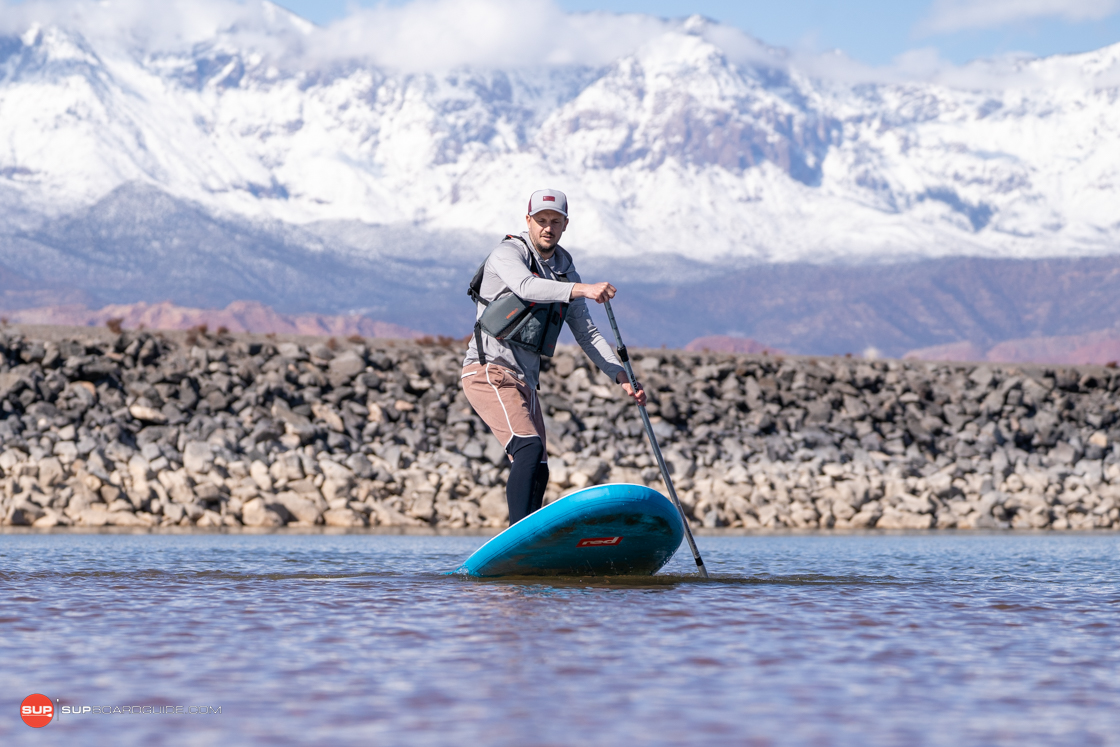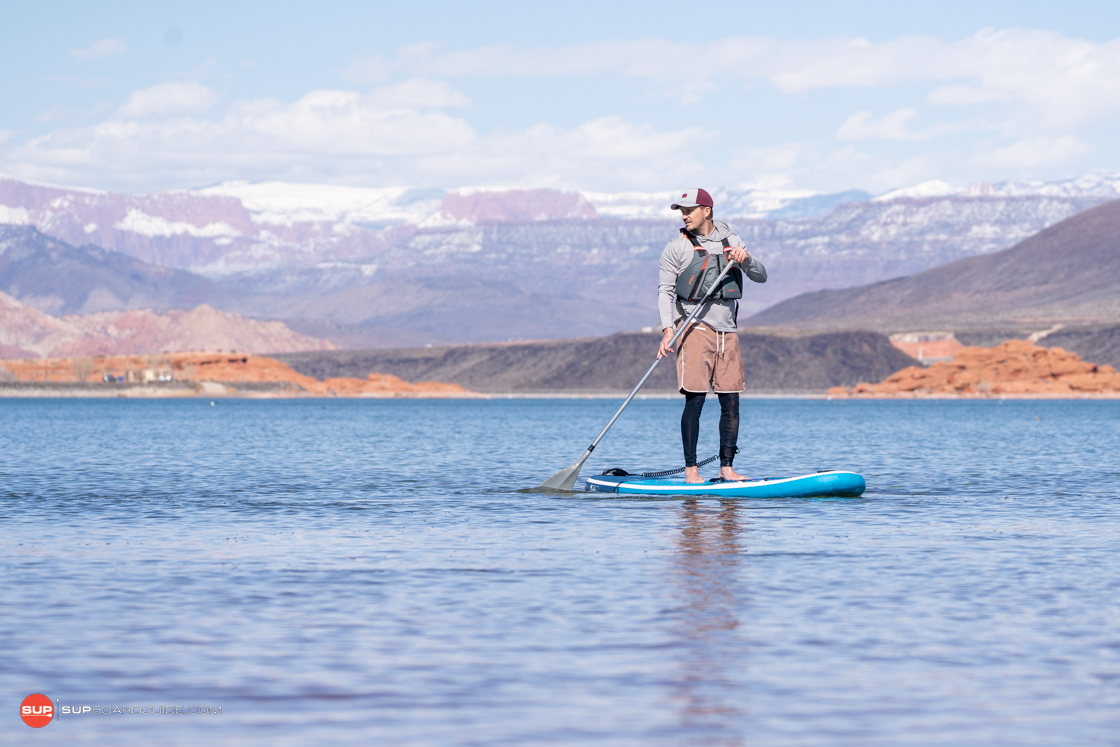 Overall Score: [9.3/10]
Stability: 9.2/10
Speed: 8.8/10
Tracking: 8.5/10
Maneuverability: 9/10
Construction Quality: 9.3/10
Features/Accessories: 9.1/10
Stability Rating: [9.2/10]
If you want a super stable board but do not want to compromise quality and performance, then the 10'8'' Ride is a great choice – especially for larger/taller people who need a bigger board for stability. The 10'8'' Ride is egg-shaped SUP, so it barely tapers at the nose or the tail. Generally speaking, the less taper a board has, the more stable it will be. We are happy that Red went with this shape for its all-around style boards.
Furthermore, the 10'8'' Ride has 2 additional inches in length and width than its sibling board, the 10'6'' Ride. It also has a 45 lb higher maximum weight capacity, at 265 lbs total. By increasing the dimensions, the board's volume increases, which permits stability at higher weights.
We suggest going with this board if you are 6'+ tall and over 200 lbs. Justin is a great example of somebody who could choose either the 10'6'' Ride or the 10'8'' Ride and have a blast – since he falls into the category of average-sized – while somebody like Mathew (who is 6'5'') would definitely want to choose the 10'8'' Ride for a fun and balanced experience.
Speed Rating: 8.8/10
| | |
| --- | --- |
| Top Sprint Speed: | 5.2 MPH |
| Average Cruising Speed: | 3.5 – 3.6MPH |
*Notes on our speed test: We obtain our speed test results from a SpeedCoach SUP 2. The sprint speed is measured by paddling at full speed for 10-15 seconds. We gather the cruising speed from paddling for 30-60 seconds at a rate of approximately 45 strokes per minute. We aim to do these tests in calm conditions to maintain consistency.
Since the Red Paddle Co 10'8'' Ride is not a super long board, we did not expect it to be on the extremely fast side of the spectrum. Justin actually expected it to be a few tenths of a second slower in both the sprint and the cruising categories than it was.
5.2 MPH is a competitive sprint score for an all-around SUP and 3.5-3.6 MPH is a great cruiser speed for a SUP that can support larger paddlers.
Justin's cruising speed was a few tenths of a second faster on the 10'6'' Ride, but Justin is of the size that fits both the 10'6'' and the 10'8'' Ride nicely. For a taller/larger person, the 10'8'' Ride will be faster because they will be able to find the balance that they need.
Tracking: 8.5/10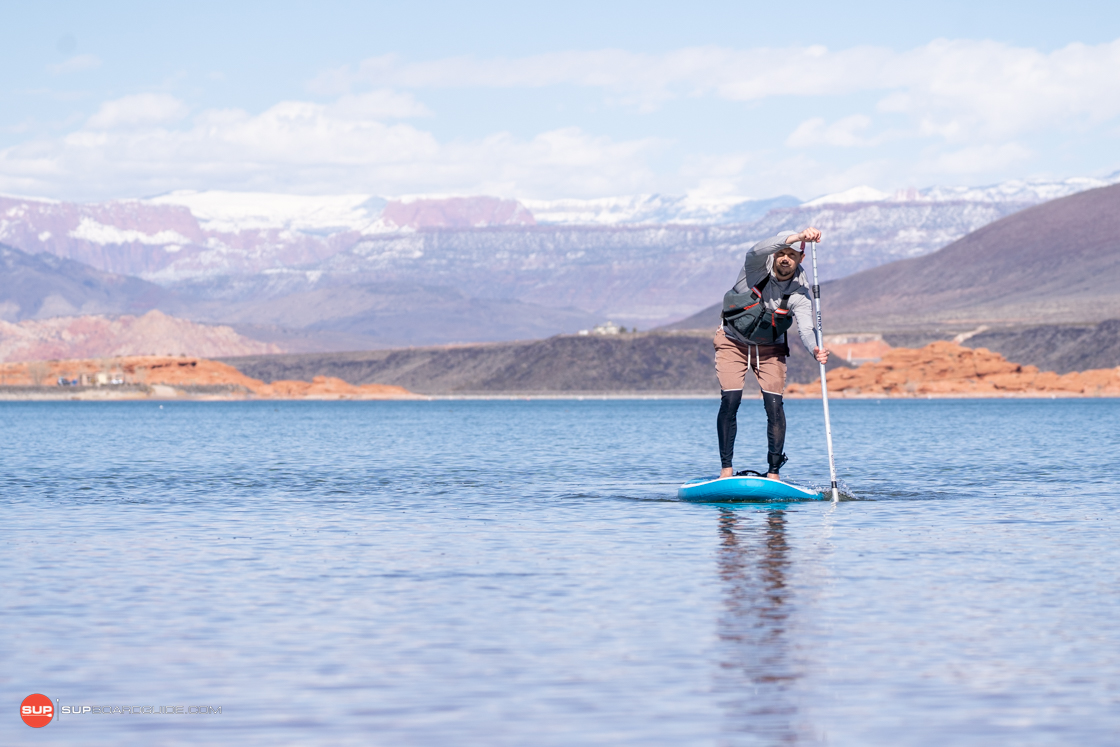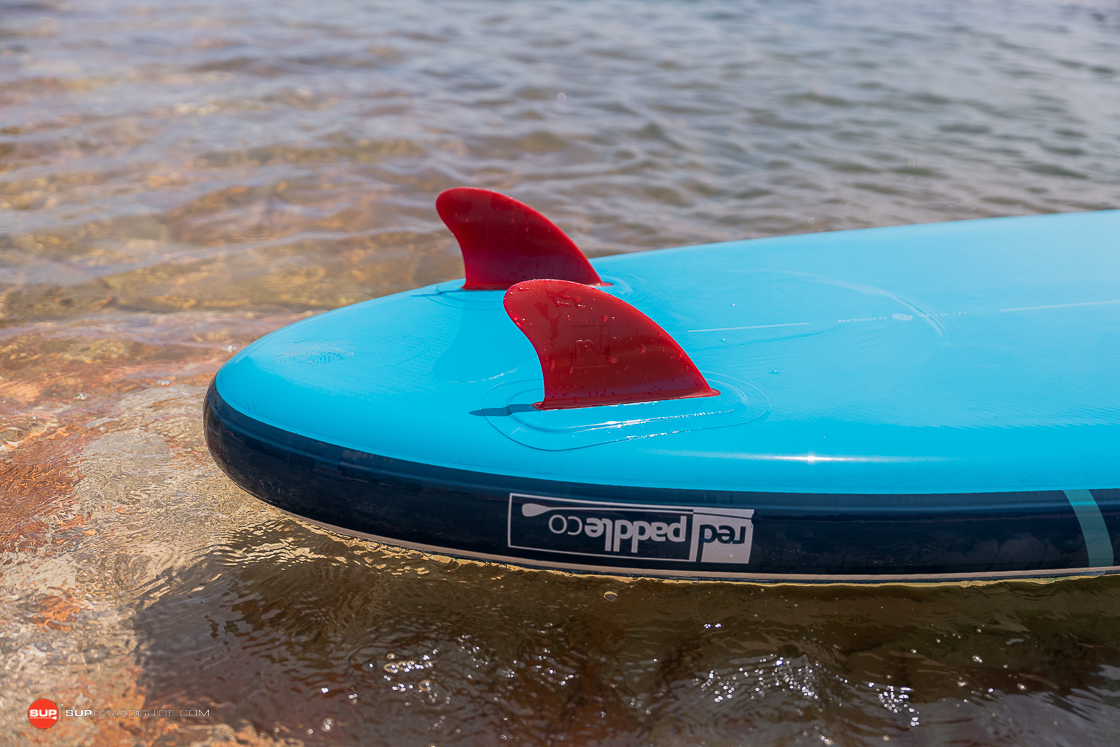 The Red Paddle Co 10 '8'' Ride tracks fairly well, surpassing our expectations for a larger, oval-shaped all-around board.
Red made changes to their fin system in this iteration of their 10'8". The boards no longer have a tri-fin system and instead use a twin-fin system where each fin is 4.5'' (increased surface area). We are pleased with this upgrade because we noticed that the twin-fin system, where the fins are larger, tracks better than three smaller fins.
Even though we are bigger fans of removable fins, we are happy to see that Red Paddle Co found and incorporated a system for better tracking using fixed gummy twin fins. Because we see and test a lot of boards, as a team we thought the fixed gummy fins were slightly silly looking (at first glance) but soon realized that we really like this setup, and completely understand Red's choice to go with it. It makes it easy to get out on the water hassle-free, and the increased surface area makes these boards trackable while staying lightweight.
We think that the majority of consumers are going to appreciate the ease these fins offer without sacrificing performance.
Maneuverability: 9/10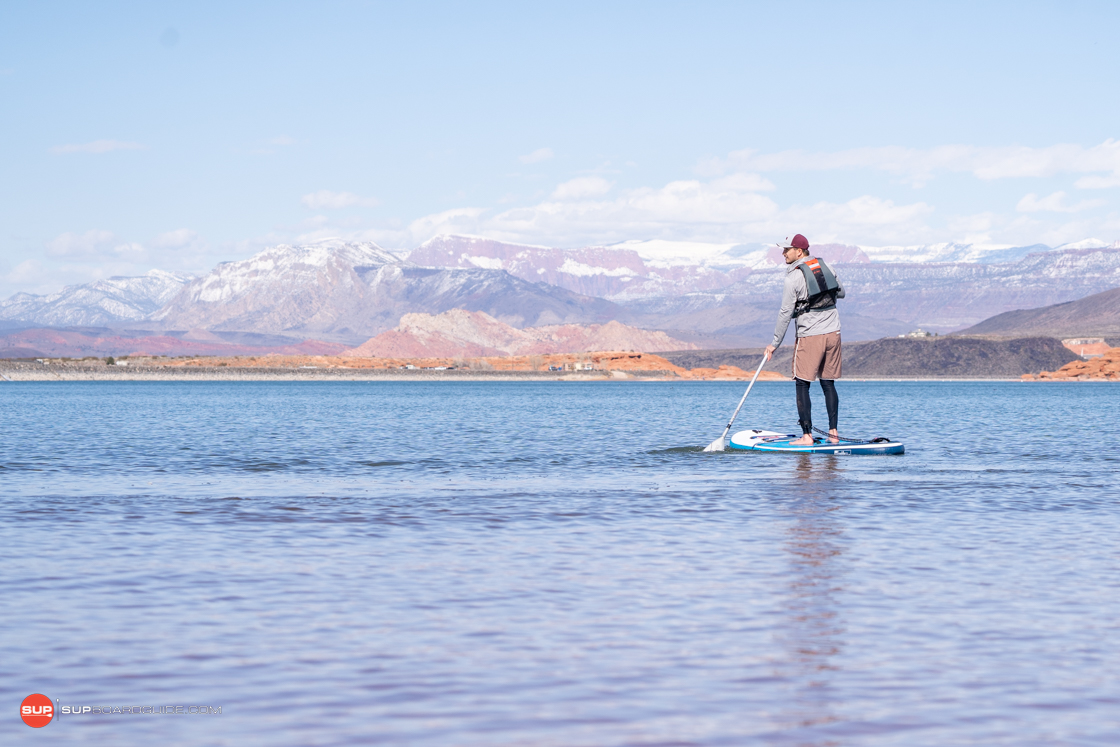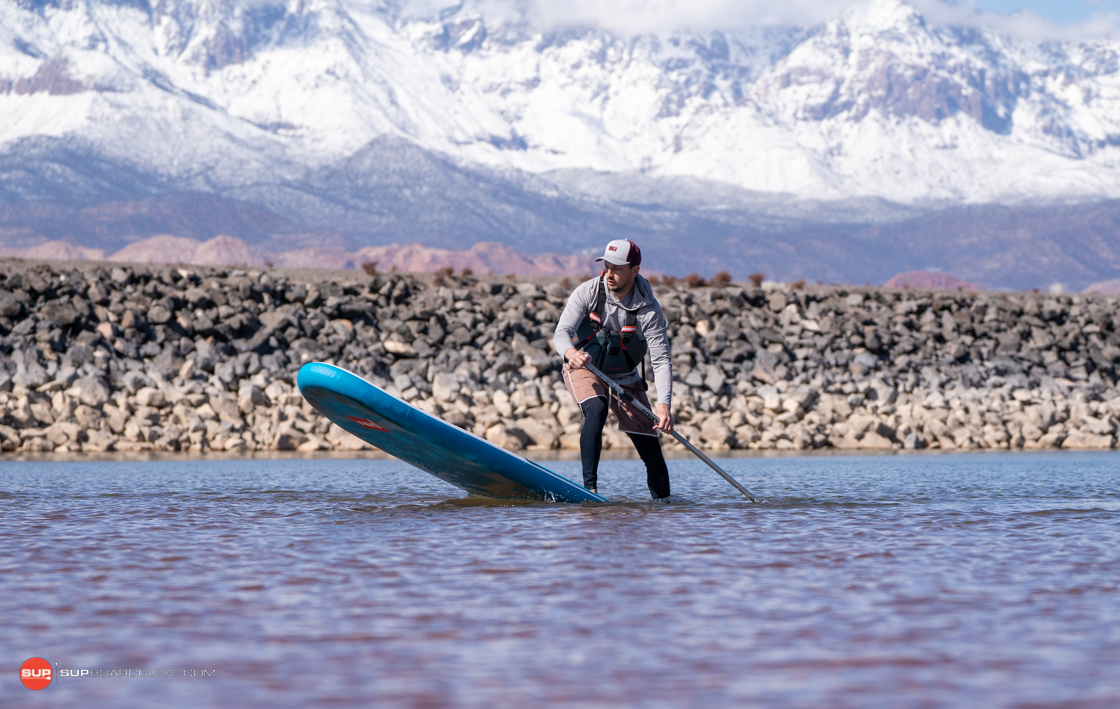 As a team, we all felt like we could maneuver this board very well and had a great time doing so. Since we test a lot of boards, we like to play around and see how far we can get the nose of the boards out of the water without falling off. On the 10'8'' Ride, we can really get it up there! Check the picture above – Justin is using the paddle blade to keep himself steady as he raises the nose higher and higher. Since the 10'8'' is lightweight (23.1 lbs) and thin (4.7''), it's easy to control and get it to move where you want it to.
Also, it only took us about 4 back sweep strokes to turn 360 degrees, which is not a lot for a board that is 34'' wide. We think it's awesome that we can maneuver this board so well considering that it's wide enough to keep taller/heavier paddlers so steady.
We do think that a raised kick pad on Red's next iteration would be a good call. Raised pads help with kick-back turns, especially when for newer paddlers still in the process of learning how to do them.
Overall, we think the Red Paddle Co 10'8'' Ride is a catch for somebody looking for great stability but also wants to be able to track straight and swiftly maneuver.
Construction Quality: 9.3/10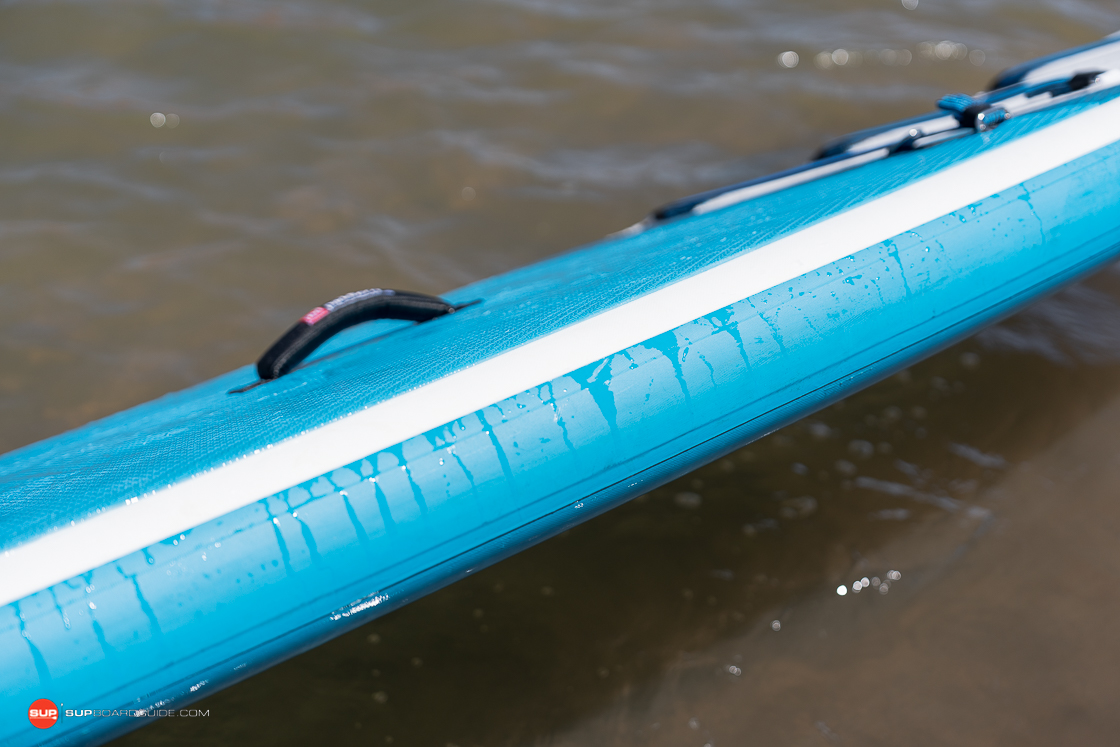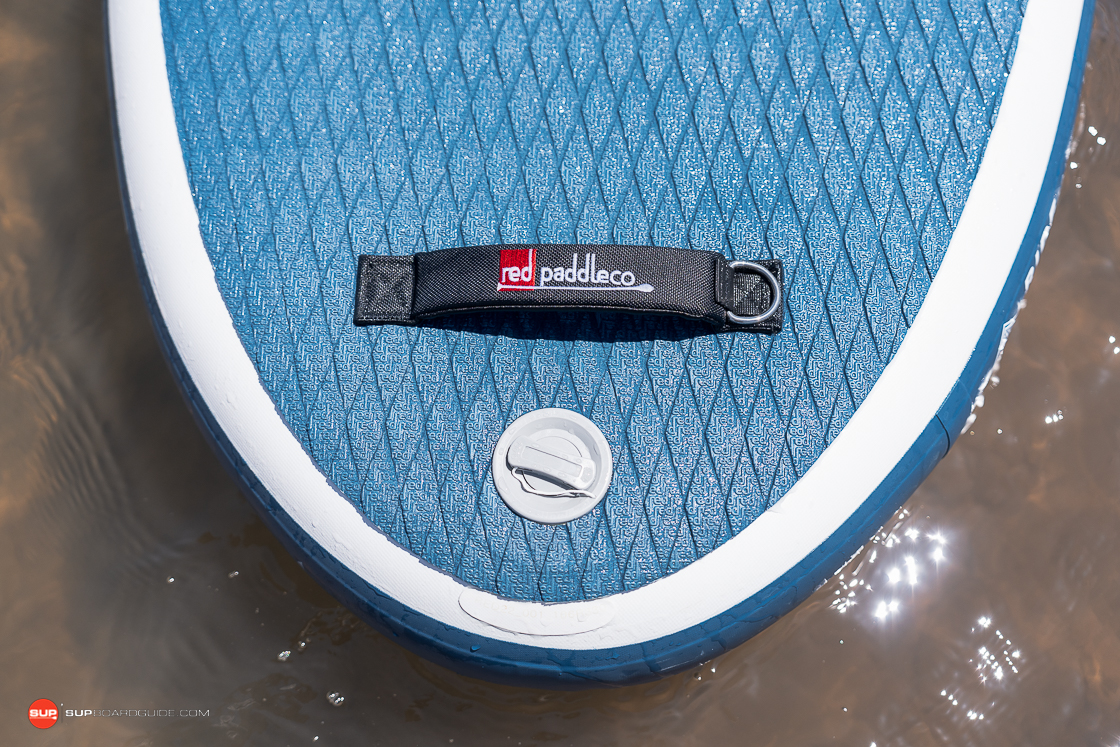 Considering we have been talking it up throughout this entire Red Paddle Co 10'8'' Ride review, I'm here to reiterate that this SUP is excellently constructed.
Red Paddle Co is very dedicated to what they do which is why they are willing and able to spend 72 hours on each individual board. They fine-tune the details to ensure that each SUP they make not only excels in performance but has flawless aesthetics. You will not find any jagged lines or glue mishaps on a Red board. Even their deck pad is pressed on at 170 PSI and embossed with Red's logo.
The construction technology is called MSL (monocoque structural laminate), patented by Red Paddle Co. The MSL process involves adhering a hard-wearing polymer layer directly to the drop stitch core.
Because of the monocoque bonding layer, Red Paddle Co is able to accomplish a tight board that can handle more pressure at lower volumes, directly stiffening the board.
Then, a high-density structural PVC layer is machine laminated onto that first adhesive layer in a controlled condition, which solidifies the superb rigidity of the board.
To reinforce the rails, Red Paddle Co added extra wide outer tape in order to deliver extreme durability and eliminate any possible weakness.
Like I've said before, the big wow factor of this SUP is the feeling you get when you're on the board. The ride is tight, clean, and smooth. You will feel like you are gliding through the water rather than riding on top of it, which we attest to the 4.7'' thickness.
To sum it up, Red's fantastic attention to detail and desire to make high-quality SUPs is how they achieved lightweight boards that are rigid, durable, and have an on-the-water sensation that you must experience for yourself.
Board Stiffness: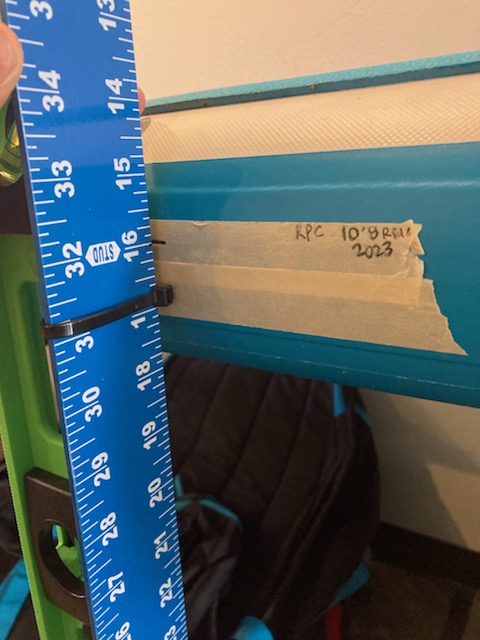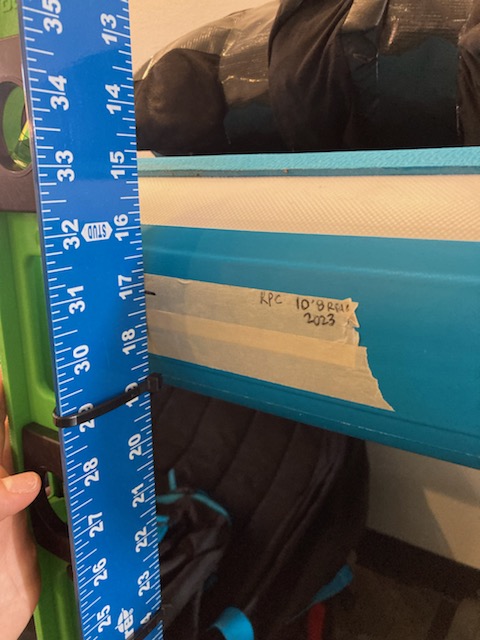 Stiffness Test: 1.125 inch Bend
We used our own curated bend test in order to measure the stiffness of a SUP across a common denominator. For this test, we blow up the SUP to its maximum PSI and then lay it across two sawhorses that are 7 feet apart. Next, we take a height measurement in the middle of the board. Lastly, we place 150 lbs of sandbags on the middle of the board and record the displacement (movement from the original position).
Once 150 pounds of sandbags were put on top of it, it bent 1.125 inches in total.
Keep in mind that the Red Paddle Co 10'8'' Ride is constructed thinner than the average large all-around iSUP (it is 4.7'' thick as opposed to the average 6'' thick SUP) so it makes complete sense that it bent slightly over an inch. In fact, its score pleasantly surprised us – we honestly thought it would bend more.
Features/Accessory Review: [9.1/10]
Features: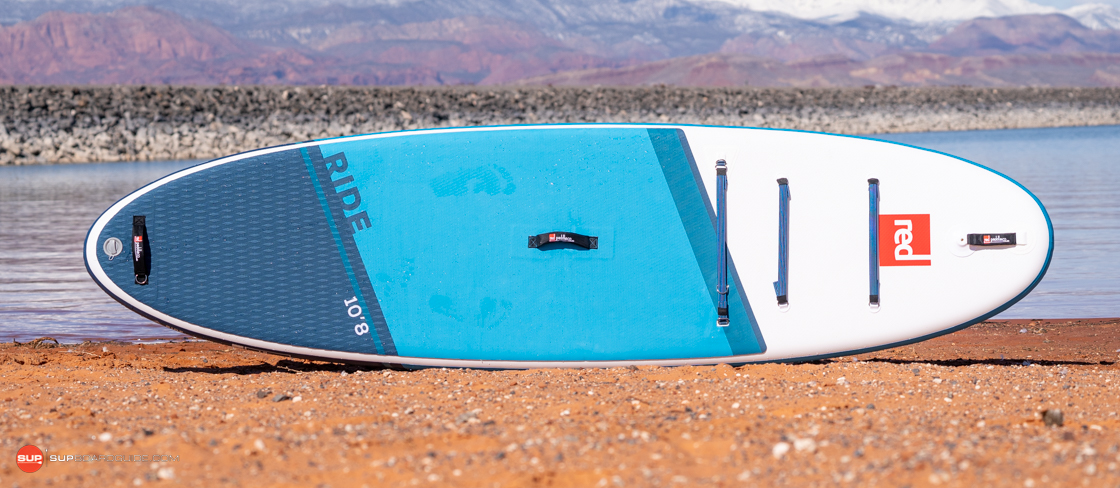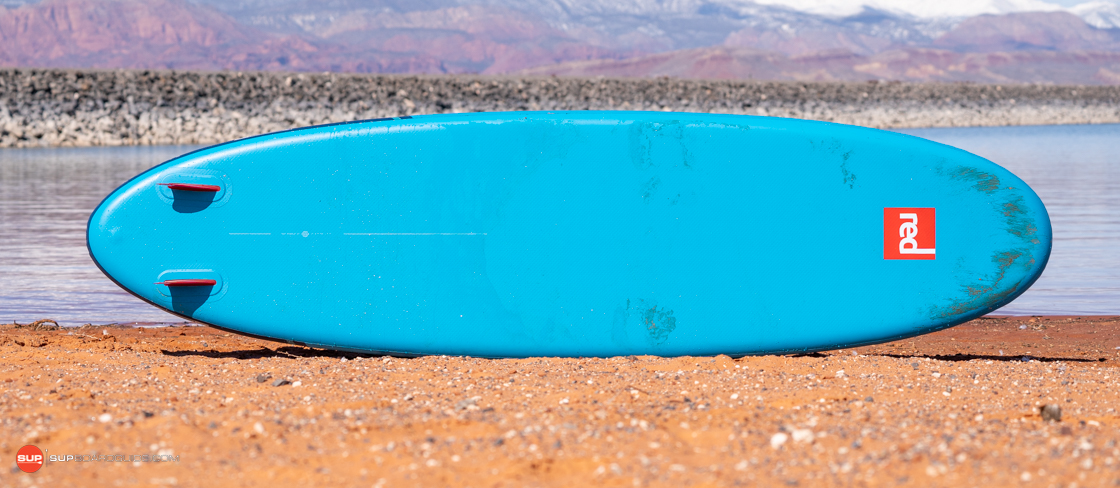 The 10'8'' Ride has upgraded (from the old version of this same model) self-closing flat bungee straps that are reliable for keeping your stuff strapped down and safe. And staying on brand, the straps are made out of higher quality material than bungee cords and can strap down tons of gear.
It's pretty small and you have to look closely at our pictures to see, but there is a D-ring on the strap closest to your feet (when you're paddling) that you can use to keep your personal items close to you (think water bottle or shoes).
For easy handling, it has a high-quality carrying handle in the middle of the board that is cushioned for comfort and embroidered with a Red Paddle Co label. Conveniently, it also features carrying handles at the nose and the tail of the board.
Although the 10'8'' Ride does not have a raised kick pad on the tail for easy kick-back turns, it does have what Red Paddle Co calls a "tail pad," which is a diamond-cut rear section that allows for more grip when turning. While we do appreciate this feature and there's no arguing that diamond cuts improve grip when the board gets wet, we would love to see them add on that rear kick pad in next year's model. As for the deck pad, it is "Red" embossed and EVA material for extra grippiness and less slippiness.
Included Accessories:
Included with the Red Paddle Co 10'8'' are the ATB bag and the extraordinary Titan 2 pump.
We have been mentioning Red's utter dedication to this sport that shines through its precise construction process. But we also think their accessories, especially the ATB bag, also show off their dedication. The ATB bag is clearly designed with paddlers in mind. It's large so it can easily fit the rolled-up SUP, it has pockets on the inside and outside for any extra accessories or personal items, and it can also be turned into a "bagless backpack" for people who want to plan to walk with their SUP to more secluded places. Essentially, you can attach your deflated and rolled-up SUP to the straps of the bag and shed the core of the bag so you aren't lugging a huge load. It's pretty awesome.
The pump is a dual-cylinder system with twin-chamber technology, which means you can put the maximum volume and pressure into the board at the same time. It is designed to cut the inflation time in half and allows you to pump up the board to its maximum PSI without tiring out or fighting against extreme pressures. Once you feel it getting too difficult to keep pumping, you simply push the lever on the front of the pump more forward, which then fully exhausts the front chamber, and enables you to pump the board up to 20 PSI by hand.
Summary Review of the Red Paddle Co 10'8'' Ride – 2023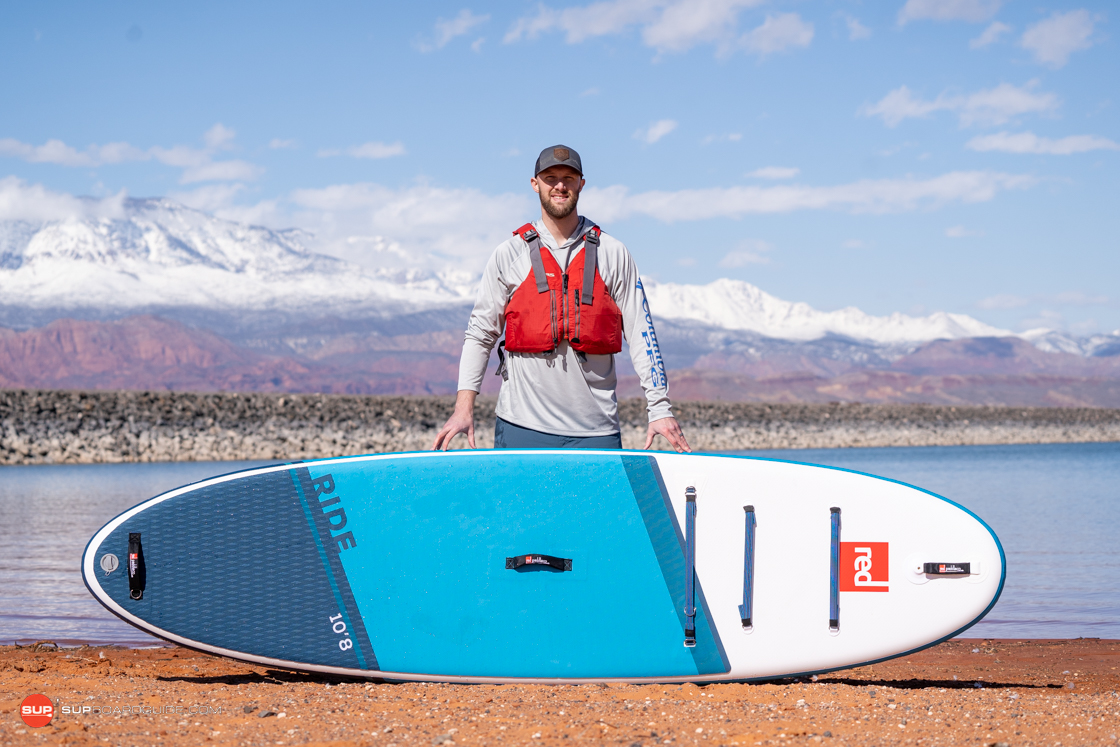 As a team, we really like the Red Paddle Co 10'8'' Ride as a large all-around board. It has all the qualities of a high-performing and precisely constructed board while having the capability to keep a taller/larger paddler comfortable and stable. We love to see a brand achieve this, especially because we have a few taller/larger paddlers here on our team with us! Mathew, pictured above, especially enjoyed this board due to its awesome on-the-water sensation and its ability to keep him balanced. We've seen him have to go to his knees on a few of the boards we tested because they simply aren't a good size for him. But the 10'8'' Ride suits him well and it was fun to see a board's claims hold up in real life.
If you are seeking out a high-quality, high-performing iSUP but are newer to paddling or are larger/heavier so your main focus is on stability, then the Red Paddle Co 10'8'' Ride is sure to impress you.
Thanks for reading and we are looking forward to reading over your questions and comments down below!
The following two tabs change content below.
SupBoardGuide Editorial Team
At SupBoardGuide.com we are a team who love the water, the outdoors, and are more than grateful that our full-time job allows us to review stand up paddle boards. We paddle year round (it helps that we are just about 2 hours outside of Las Vegas), and we bring in a wide range of paddlers with the goal of providing our readers with the best, most in-depth, and accurate stand up paddle board reviews.
Latest posts by SupBoardGuide Editorial Team (see all)