Nixy Manhattan+ Touring Inflatable Paddleboard
Pros
More stable than the original Manhattan with wider deck and more efficient shape; you're able to go faster because you're not fighting to keep your balance
Lightweight at just 23 lbs; this is an easy touring SUP to tote around and it's quick to get up to speed on the water
Rigid construction; Nixy builds some of the stiffest SUPs we test. This keeps the SUP's performance consistent in varying conditions
Comes with a high quality Nixy accessory kit; Nixy includes the best kit paddle we've ever tested.
US fin box lets you customize your fin easily, even outside of Nixy's included fin and optional products.
Cons
Can be less stable for larger paddlers over 230lbs; we think this could be improved with a hatchet style touring fin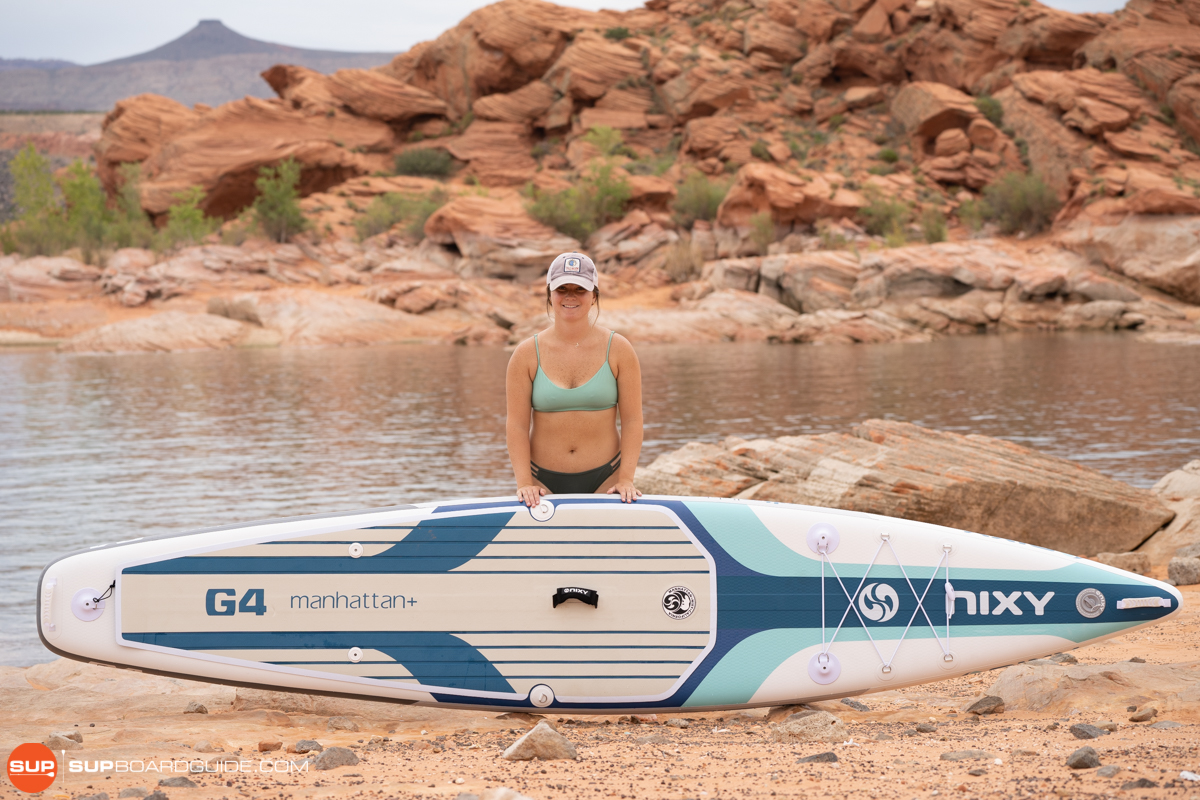 To say we were stoked when we found out Nixy was launching a new, wider Manhattan, dubbed the Manhattan Plus, would be a massive understatement – we were even more stoked when we learned we'd be getting in to review. The main reason for this excitement being that the regular 28" wide Manhattan was just too unstable, to put it in the simplest terms possible.
While testing the regular Manhattan, we actually spent a ton of time in the water – and not through our own volition. Of course, the board was fast, but we felt we could go a whole lot faster if we weren't fighting to stay on our feet with every stroke.
Hearing our concerns, Nixy met us with this new and improved Manhattan. The Manhattan Plus keeps it's 12'6 in length, but has a wider deck: 30", compared to the regular's 28".Through this simple tweak alone, Nixy has massively improved the stability of this board, but they've taken it a step further by slightly altering the shape to incorporate a wider tail, which helps to distribute its 30" width a bit more than the regular Manhattan's ultra-tapered tail was able to.
With these improvements to stability, the new Manhattan Plus is better in every facet of performance than it's original counterpart. You're able to go faster because you can throw more effort into your stroke without worrying about trying to stay balanced, it's more easily maneuverable because you can shift your weight for a buoy or pivot turn without guaranteeing a fall, and the squared off tail helps to make it more directional when it comes to tracking.
And while we love and appreciate all of these changes, we're glad to see Nixy did keep one thing the same: their exceptional construction. The new Manhattan Plus is just as rigid, and just as lightweight, as its predecessor.
The Manhattan Plus has taken all of the strengths of the original Manhattan such as speed, rigidity, and a lightweight build, and eliminated its Achilles heel: its instability. In doing so, they've created a high quality touring SUP that would suit nearly any fitness paddling enthusiast's needs.
We think the Nixy Manhattan Plus would be great for paddlers who
Want a touring SUP that showcases excellent construction at a reasonable price
Value high quality accessories included in their SUP package
Are under 230lbs and want a long distance touring SUP, rather than a 12'6 racing board dedicated to sprinting
Primarily paddle in flatwater, but want the ability to handle mild chop
Nixy Manhattan Plus : Spec Sheet
Main Category: Touring, Inflatable
Board Dimensions: 12'6 x 30" x 6"
Listed Board Weight: 23 lbs
Listed Max Capacity: 350 lbs
Recommended PSI: 12-15 PSI
Fins: Single fin, US fin box
Paddle: 3-piece carbon hybrid paddle
Materials: Cross-woven drop stitch w/ Dual PVC layers, bonded via fusion
Price Range: mid-high
Warranty: 2 years
Performance Review of the Nixy Manhattan Plus Stand Up Paddle Board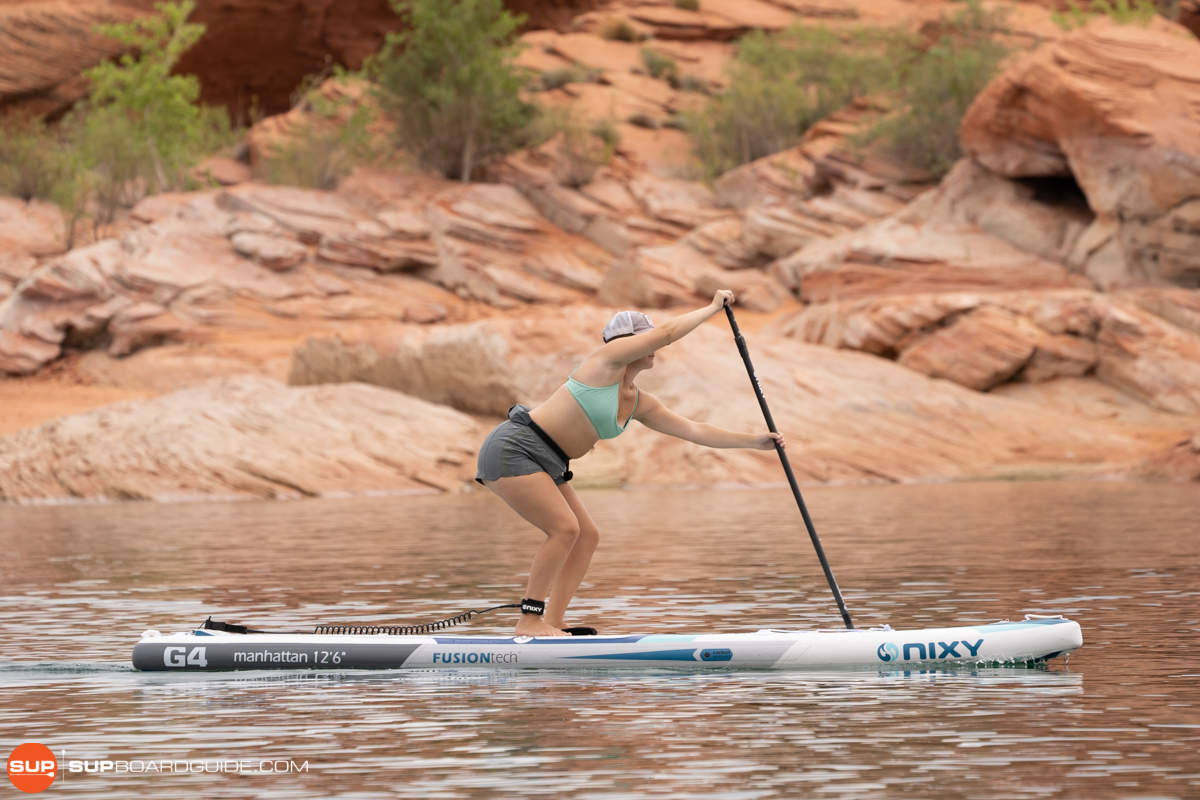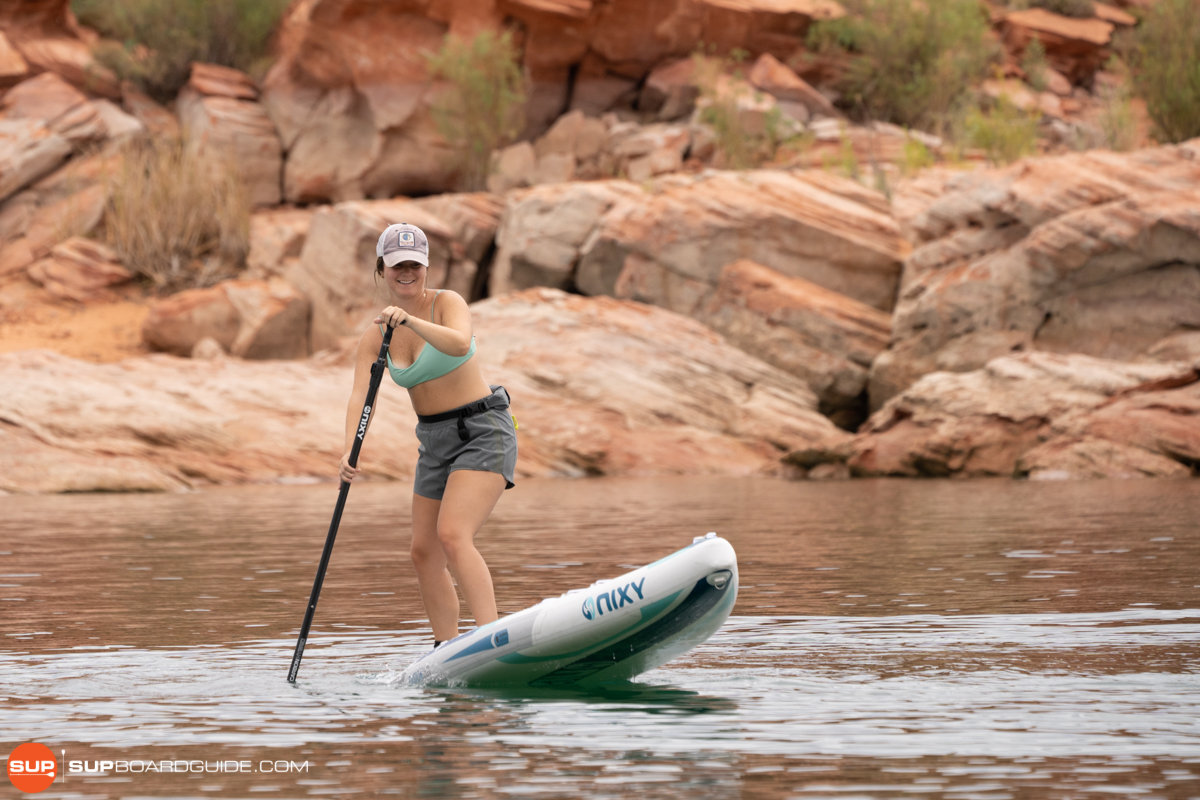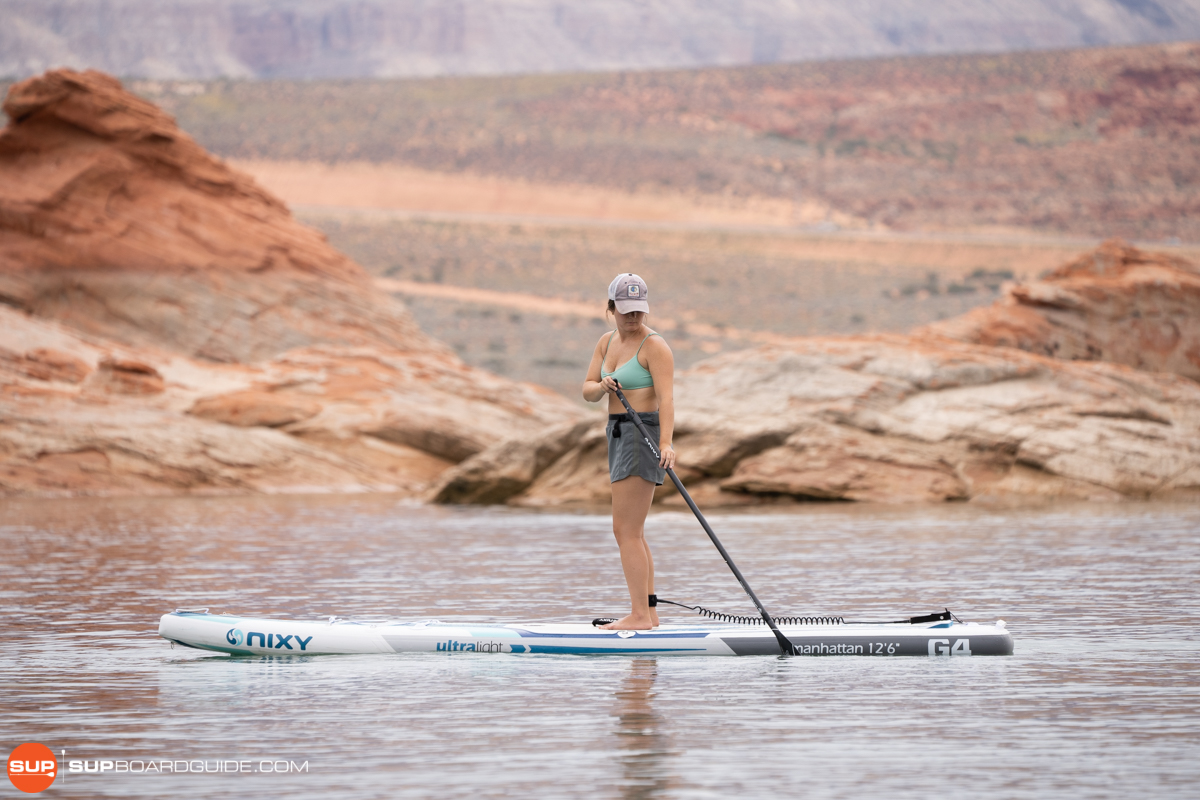 Overall Score: 9.2/10
Stability: 8.7/10
Speed: 9.5/10
Tracking: 9.2/10
Maneuverability: 8.6/10
Construction Quality: 9.4/10
Features/Accessories: 9.7/10
Stability Rating: 8.7/10
As we delve into the stability section of the Nixy Manhattan Plus, it's important to keep in mind that this is still a touring SUP, and as such, it is relatively narrow in comparison to all-arounds. At 30" wide, there will still be an inevitable learning curve as you're transitioning from wider boards, but it's not insurmountable, and is kind of just par for the course when it comes to speed focused boards.
That being said, the stability of the Manhattan Plus has been massively improved from Nixy's regular Manhattan. The new 30" width helps to lessen some of that 'tippy' or 'rolly' feeling that we experienced on the regular 28" Manhattan. Nixy has also distributed this 30" width more carefully down the length of the board by widening the tail slightly, creating more wet area and allowing the water to provide more support under the board.
One thing we do want to note here is that while I (5'2" x 135lbs) felt plenty stable on this New Manhattan Plus, one of our other product reviewers who is about 230lbs did not feel as stable on this board as he typically does on other 12'6x 30" touring SUPs. The stability did improve while paddling, but he explained that he did need to focus more than usual to keep his balance. He cited the shape of the Manhattan Plus as the main contributor for the 'rolly' feeling that he experienced, as the tail does still taper out fairly dramatically in comparison to the standing area, despite being wider than the regular Manhattan. The stability for him is better overall on 12'6 x 30" touring SUPs that carry their width further into the tail than the Nixy Manhattan plus does.
Speed Test: 9.5/10
| | | |
| --- | --- | --- |
| Board Name | Top Sprint Speed (mph) | Top Cruising Speed (mph) |
| Nixy Manhattan Plus | 4.53 | 4.16 |
The Nixy Manhattan plus speed test yielded some interesting results. This SUP performed significantly better than others in our cruising test, in which we test the board over a longer distance at a sustainable top speed (usually for about 10 minutes). However, it performed only moderately well in our sprinting test.
I think this speaks to the fact that the Manhattan Plus isn't fully perfected in terms of shape. While this new width and slightly adjusted shape have tremendously improved the stability of the Manhattan Plus, it also seems that Nixy has decreased the nose rocker to sit closer to the water. While in theory this will elongate the waterline and enable the SUP to go faster, we think that what it's actually doing here is allowing the SUP to push water out in front of you while you're sprinting rather than smoothly gliding over top, which can significantly limit the top speed of the board, especially if you're a heavier paddler. Though it is worth noting that while the top speed is slightly limited, the Manhattan Plus can reach its top speed fairly quickly, usually only taking between 4-5 strokes. In the future, the Manhattan Plus could still be improved with just a quick tweak to raise the nose rocker.
All of that said, the Manhattan Plus performed really well in our cruising test. Part of this is likely because the stability was comfortable for me, as a smaller paddler, and I felt like I could put all of my energy into sustaining a moderate paddling cadence to keep the board moving at a relatively faster pace without having to really think about maintaining my balance. Another part of this is that the nose rocker does not push water when you're only putting moderate effort into your stroke, rather than bearing down for a full on sprint. In this case, the rocker does what it's meant to in terms of elongating the waterline and allowing the SUP to move faster.
In essence, this SUP is designed for long distance touring, rather than racing, and it's speed test results reflect this.
Tracking: 9.2/10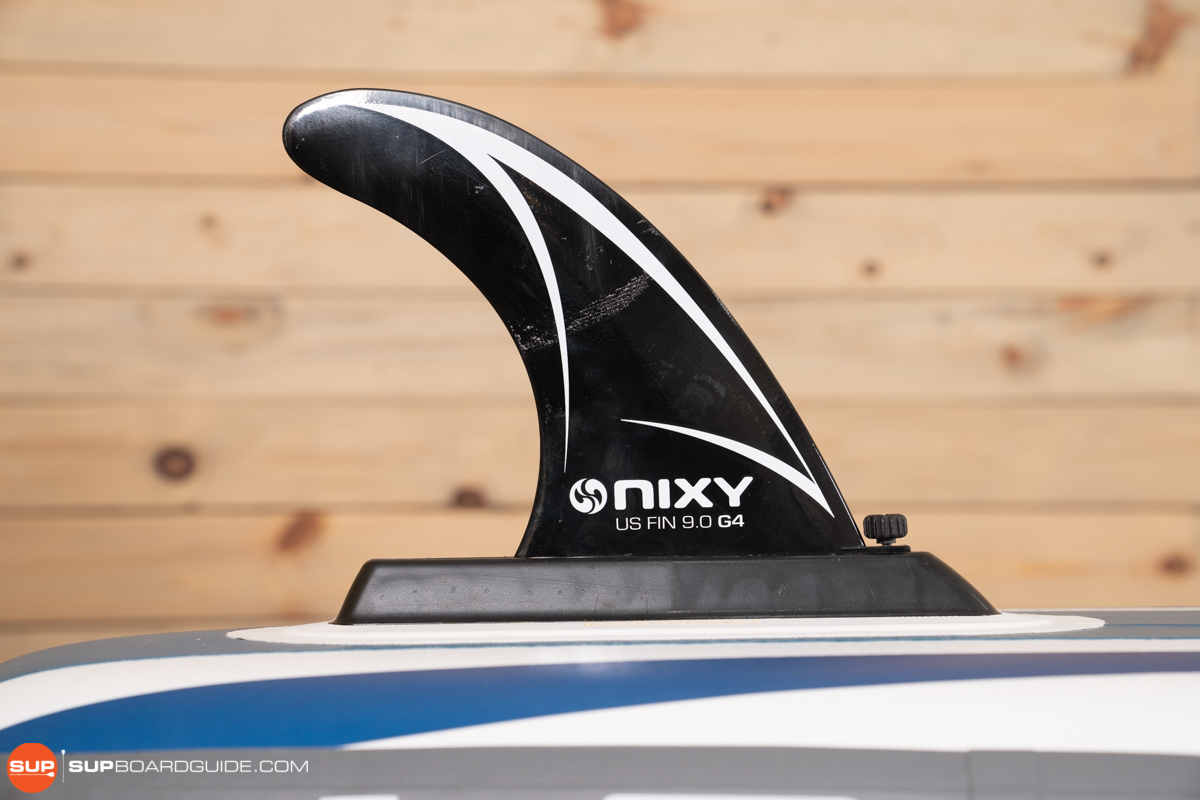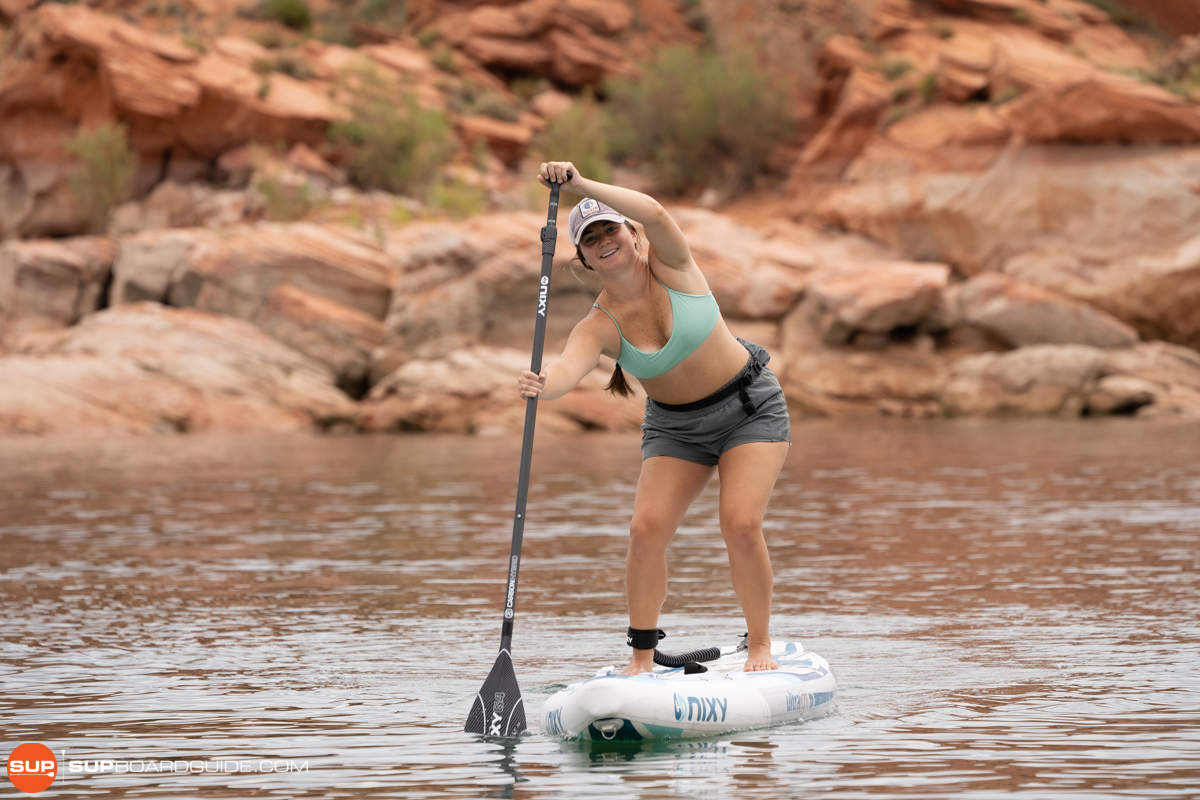 The Nixy Manhattan Plus performed about averagely in our tracking tests, usually requiring us to switch sides after about 5-6 strokes. However, this SUP's tracking could be quickly improved by swapping out the included dolphin style fin for a hatchet style touring or race fin.
Although functional, the dolphin style fin that currently comes included with the Nixy Manhattan Plus is more fitting for an all-around SUP; it's designed for maneuverability. We think it would be more appropriate for Nixy to include a hatchet style touring fin with the Manhattan Plus, as these fins have a larger surface area and will be more effective at limiting side to side, or lateral, movement in the tail that allows the board to change direction more easily with each paddle stroke. As it stands now though, this is something that is extremely easy to swap out on your own. Nixy SUPs are equipped with a US fin box, meaning you can swap out your included fin for virtually anything other option as long as it;s US/FCS compatible.
Maneuverability: 8.6/10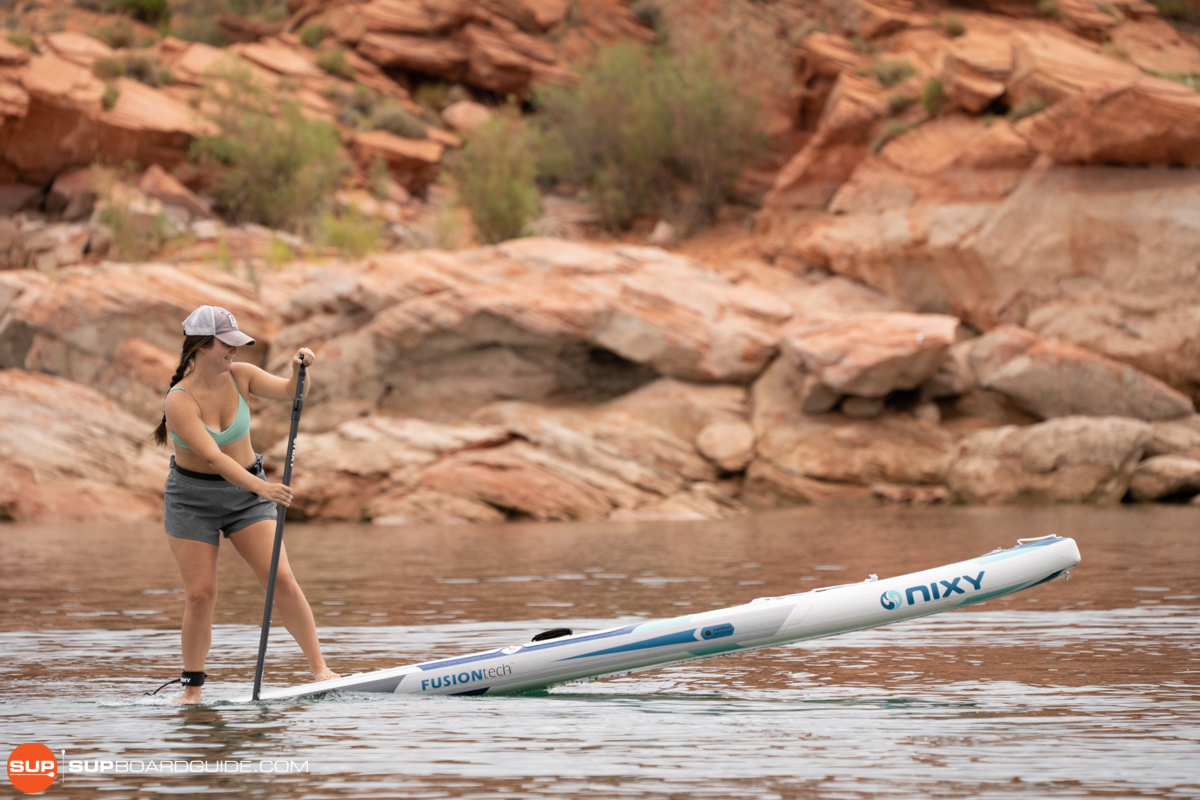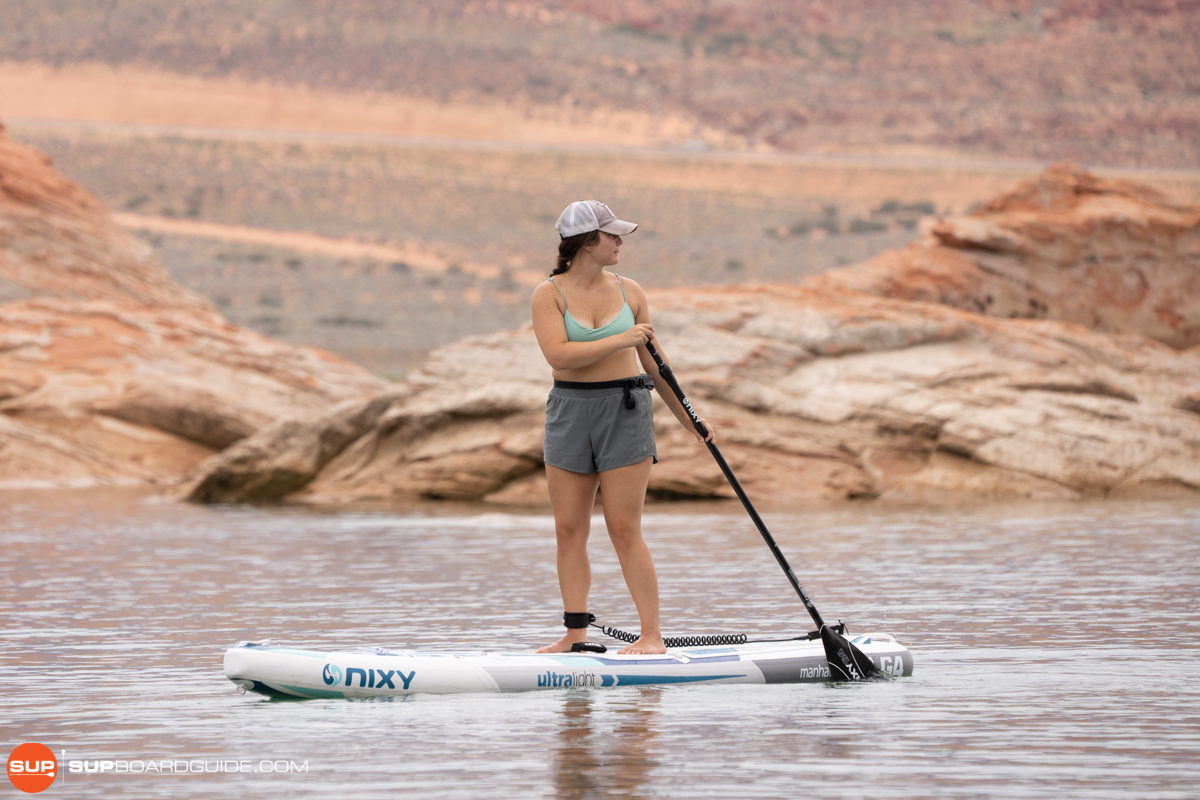 As with any 12'6 touring board, the Nixy Manhattan Plus is not inherently designed for maneuverability, but rather to go fast and go straight.
Casual reverse sweeping turns from the tail will definitely turn this SUP, though it will take between 5-6 strokes to turn 360 degrees. To turn quickly, you'll need to employ more advanced turning techniques. This SUP is lightweight, and responds well to cross-bow turning maneuvers while the raised kick pad is well placed to provide support through more aggressive buoy turns.
Construction Quality: 9.4/10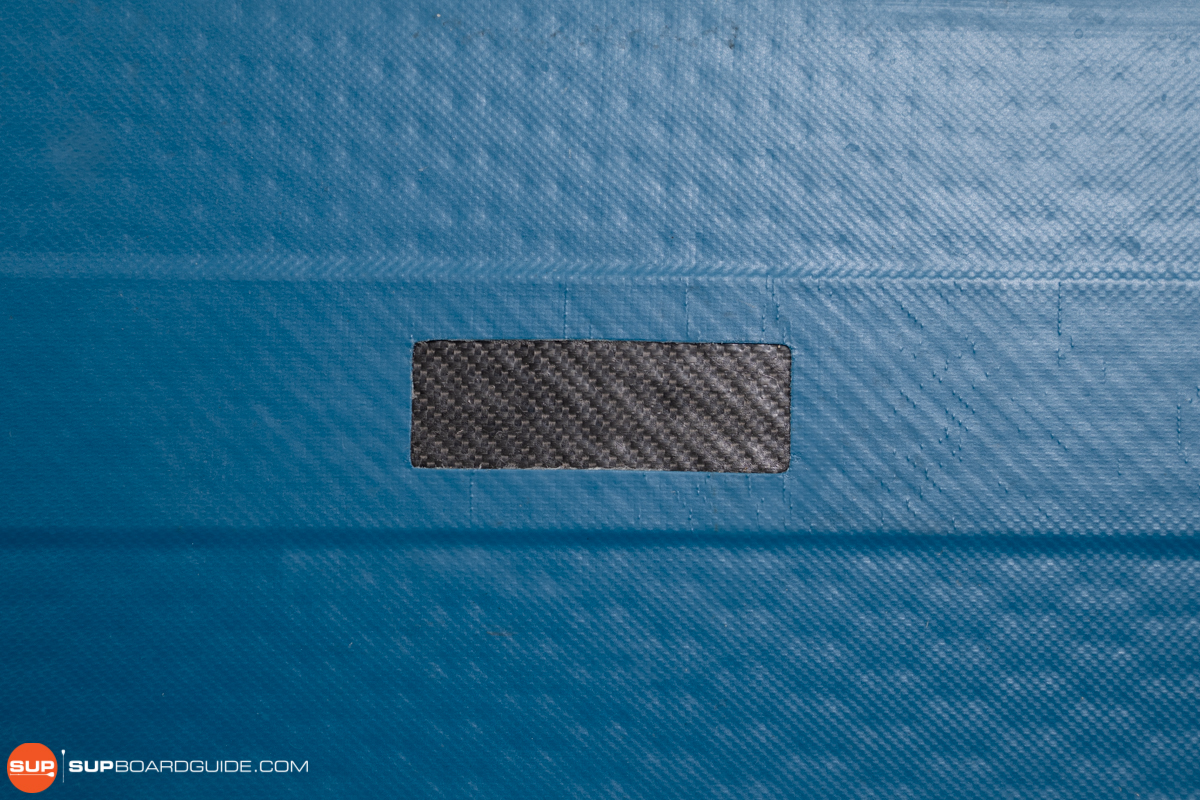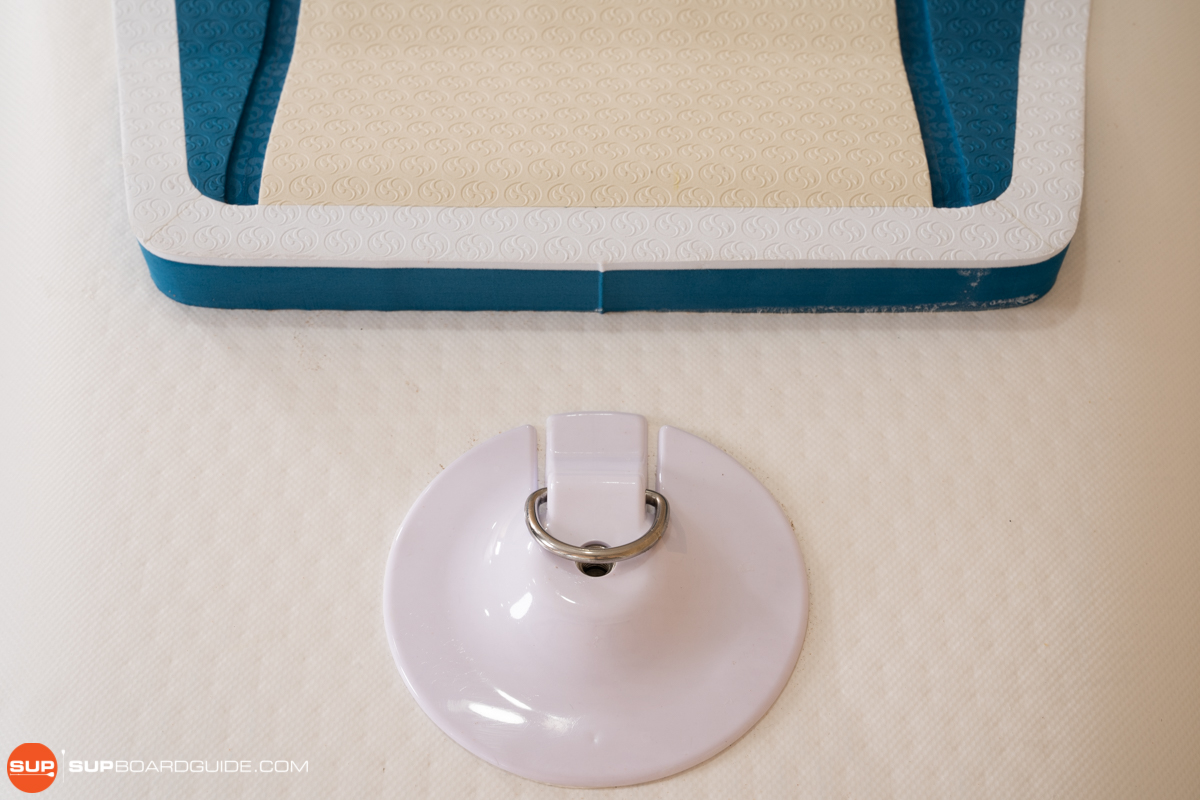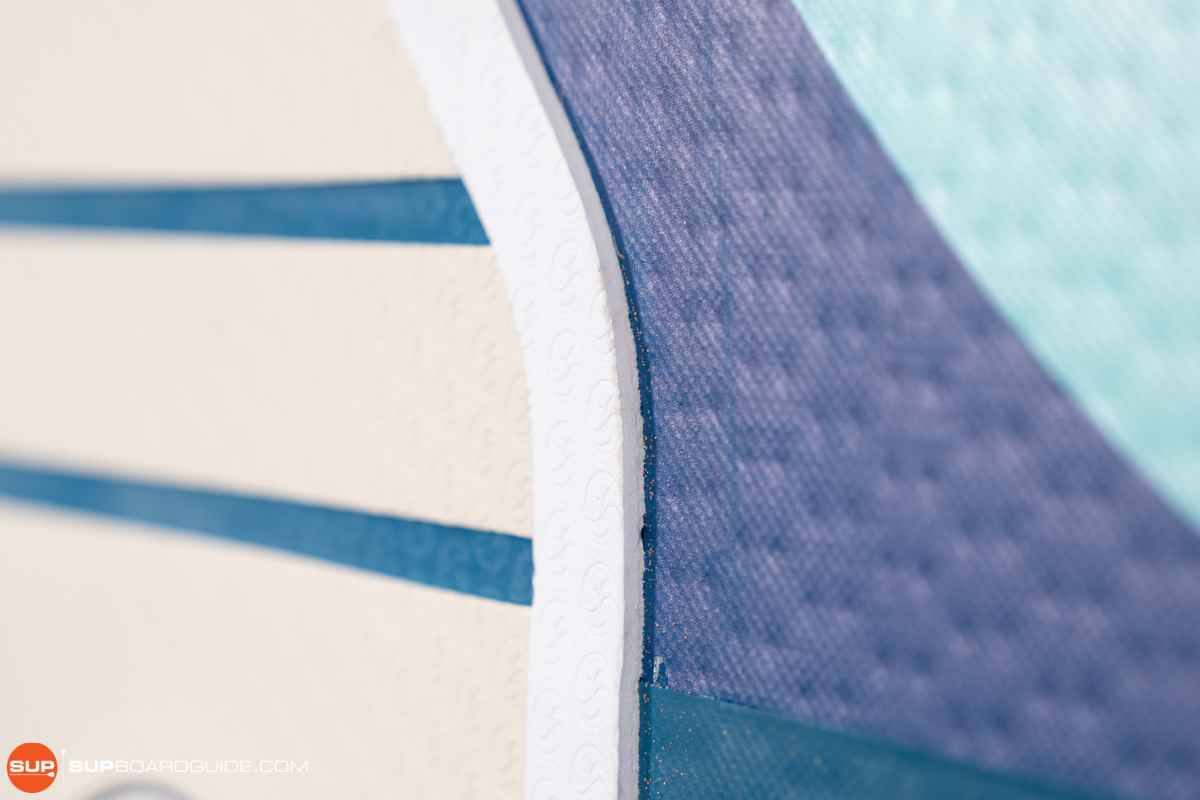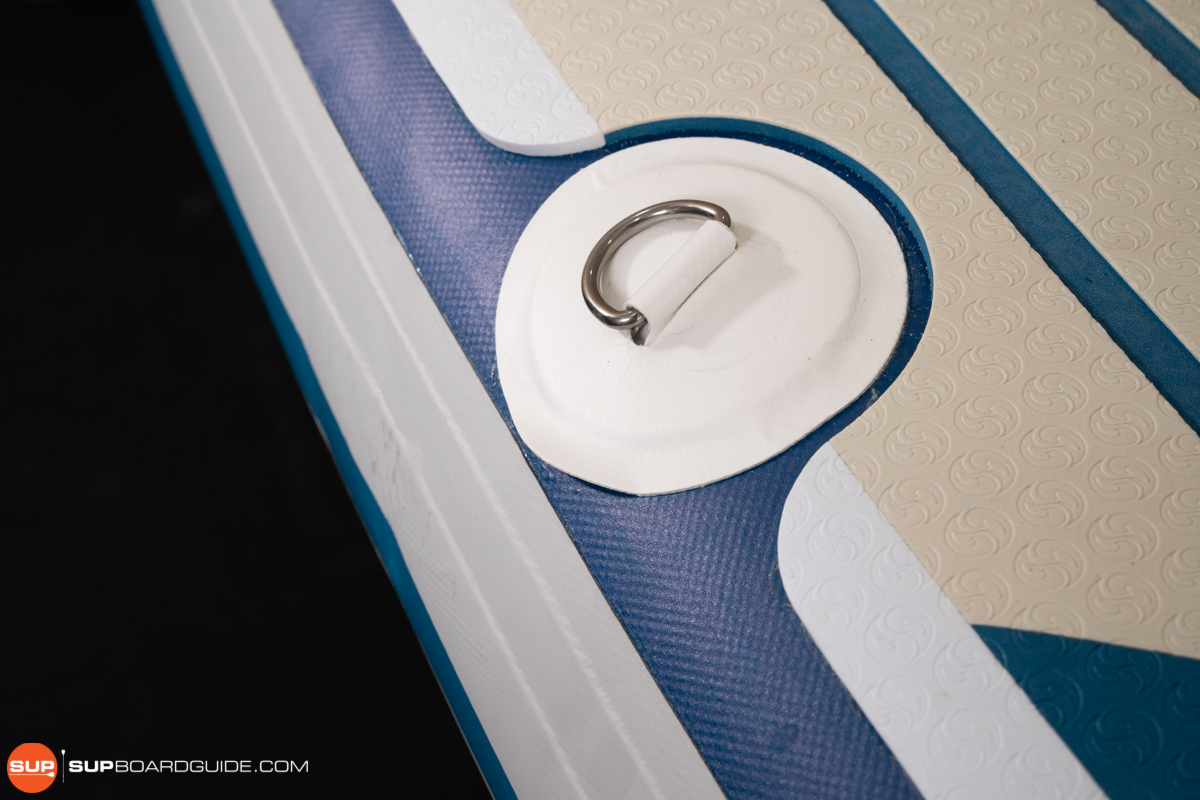 Something that we can always expect from Nixy is excellent construction. These boards are always among the stiffest that we test (more details on that below), while also being some of the lightest.
The Manhattan Plus is built with the same construction as the original Manhattan. It's centered around a cross-woven drop stitch core, which means that the interior threads are oriented in 'X' patterns with each other and anchored into a tightly woven fabric. This allows Nixy to use less threads, and overall less material, to create a lighter and stiffer SUP. Nixy also cuts a bit more weight without compromising rigidity by sealing the Manhattan Plus with two layers of PVC that are bonded together with heat (AKA fusion technology) instead of glue.
For some final touches, the Manhattan series has a carbon fiber stringer running nose to tail on the deck and bottom of the SUP, as well as a strip of carbon fiber incorporated into the rail layers. While it's difficult to quantify, this also plays a minor role in improving stiffness as well.
Board Stiffness: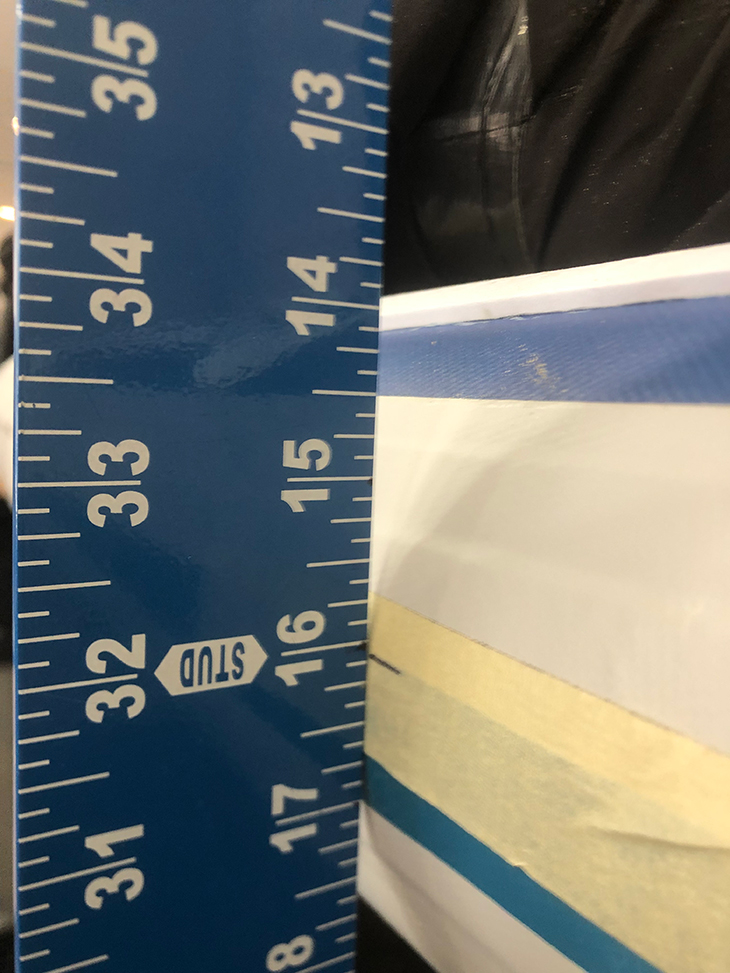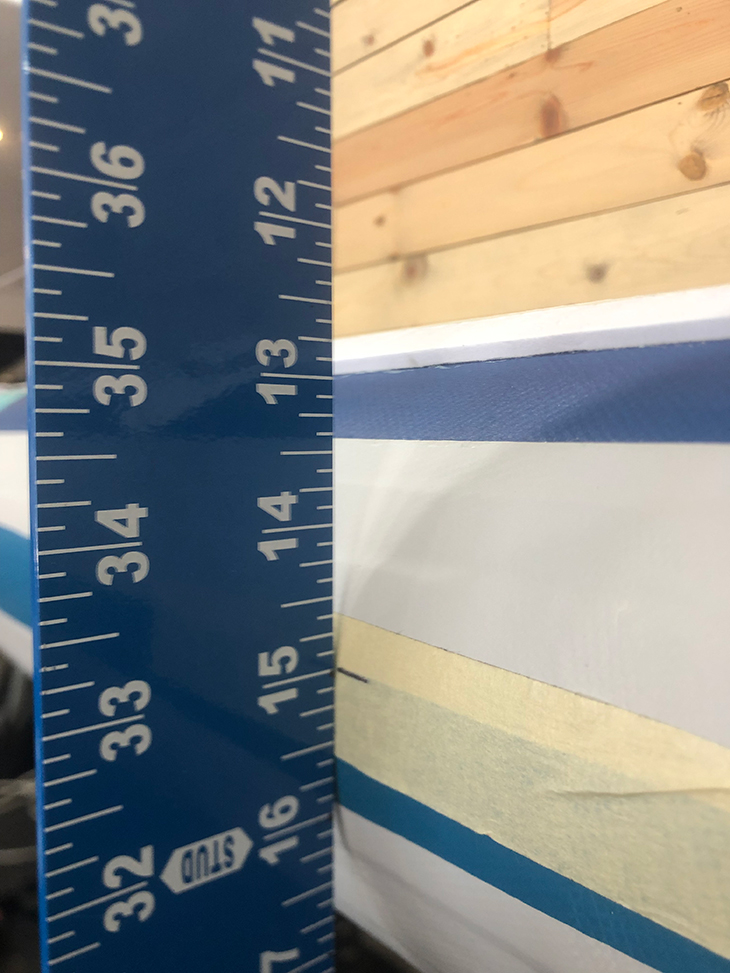 Stiffness Test: 1" Bend
Our stiffness test is carried out by placing the SUP on top of two sawhorses that are spaced 7' apart. We then place sandbags totaling 150 lbs onto the board's midpoint and measure how much it bends under the weight. This is not replicative of the SUP's performance in the water, but it does help us quantify certain construction differences and better understand how they contribute to stiffness.
The Nixy Manhattan Plus only bent 1" during our dend test which is extremely impressive, considering this SUP has a max recommendation of 15 PSI; we've seen wider boards at 18 PSI give way to more bend. This speaks to the aforementioned construction quality from Nixy, in that they're able to create a lightweight board that still excels in stiffness.
Features/Accessory Review: 9.7/10
That Manhattan Plus has all of the same features as the regular Manhattan, which makes it a fairly versatile touring SUP.

Located on the tail is the rear carry handle as well as one of five of the Manhattan Plus' multi-use action mounts, which is integrated into the tail D-ring. There's two more located just back of the standing area, sandwiching the word 'manhattan+' on the deck pad. At the center of the board is the usual center carry handle in between two extra D-rings that can be used as kayak seat mounting points. On the nose, there is a 6 point front cargo area, as well as 2 more action mounts integrated into these D-rings, and a third carry handle.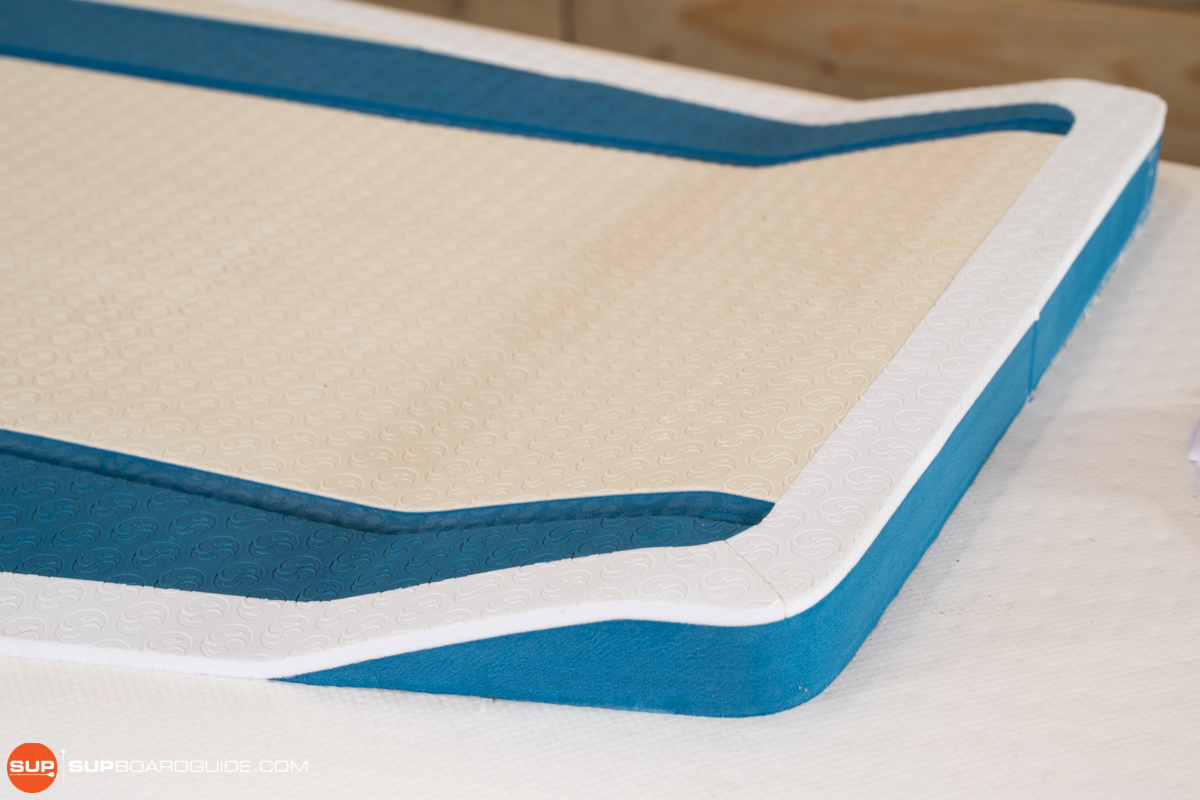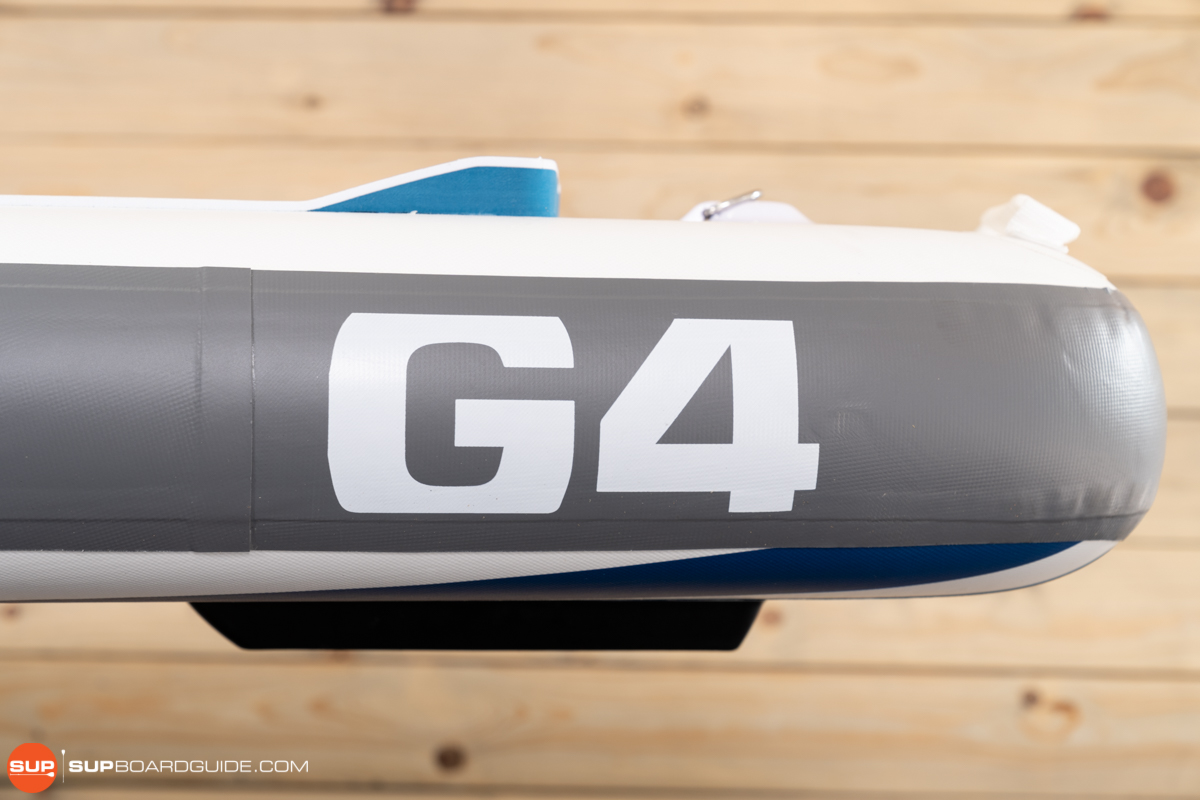 At the tail of the Manhattan Plus, Nixy has included a raised kick pad which helps ensure proper foot placement during aggressive buoy turns (also called pivot or stepback turns). One particular thing to point out here is that Nixy has placed the kick pad in exactly the right spot, directly over the fin. We've seen the kick pad be placed too far forward on some boards from other brands, which renders it less useful than it could be, but Nixy has really nailed it here.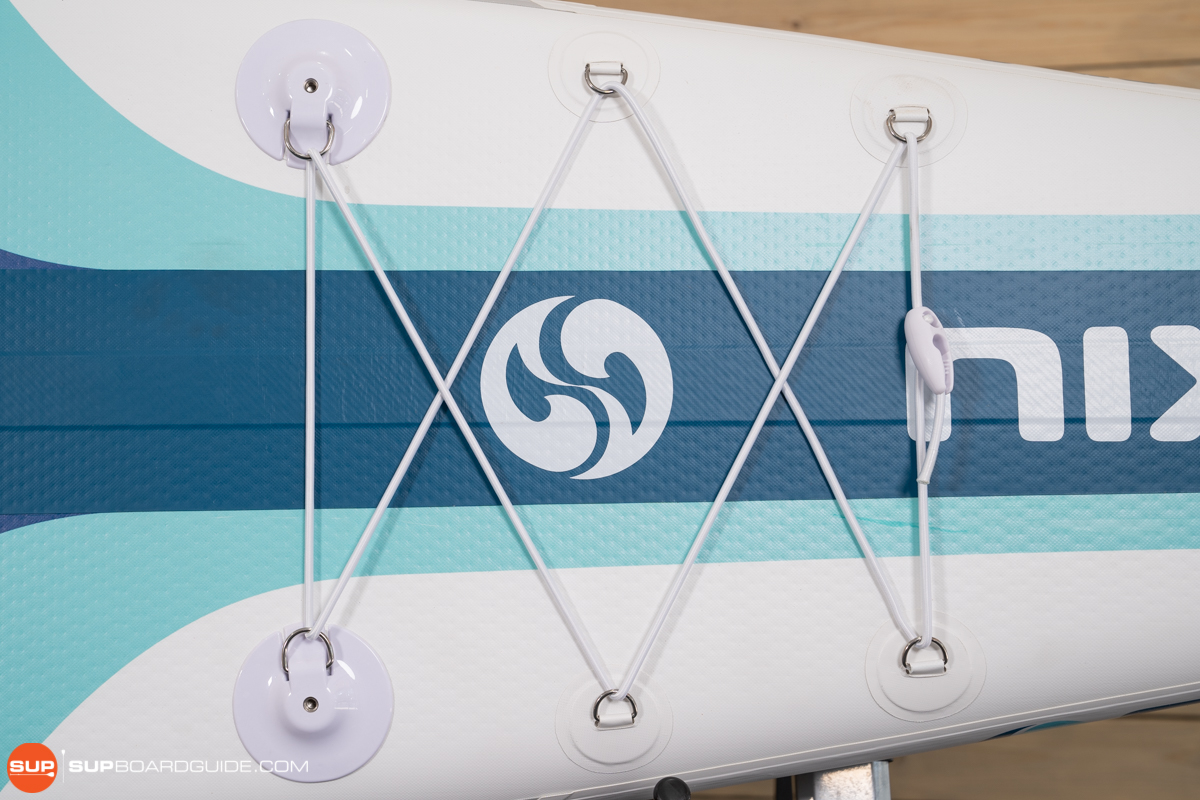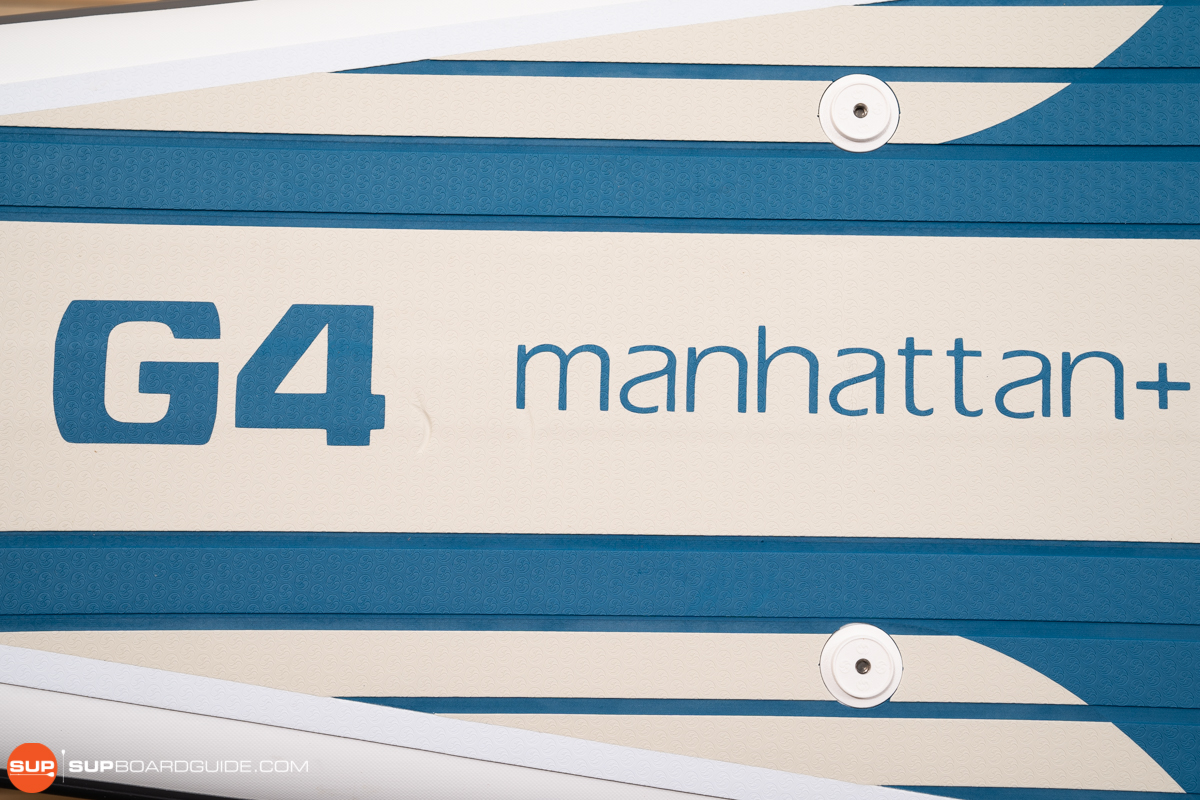 While not intended for a huge amount of gear, the Manhattan Plus does have some cargo space on the nose with its 6-point bungee cargo area, which also has 2 integrated action mounts. Admittedly, this space is pretty small, but you can still fit a couple of small drybags, or one larger drybag. Back towards the tail of the board are two more action mounts to use with any compatible accessories.

Along the bottom of the SUP, the Manhattan is set up with a single US fin box. This allows you to use either Nixy's tool less screw in fins or any fin of your choosing that is FCS/US fin box compatible, giving you endless opportunities to customize your fin. Of course, the single fin set-up itself is more than appropriate for a speed-oriented touring SUP, as side fins would create unnecessary drag.
Included Accessories: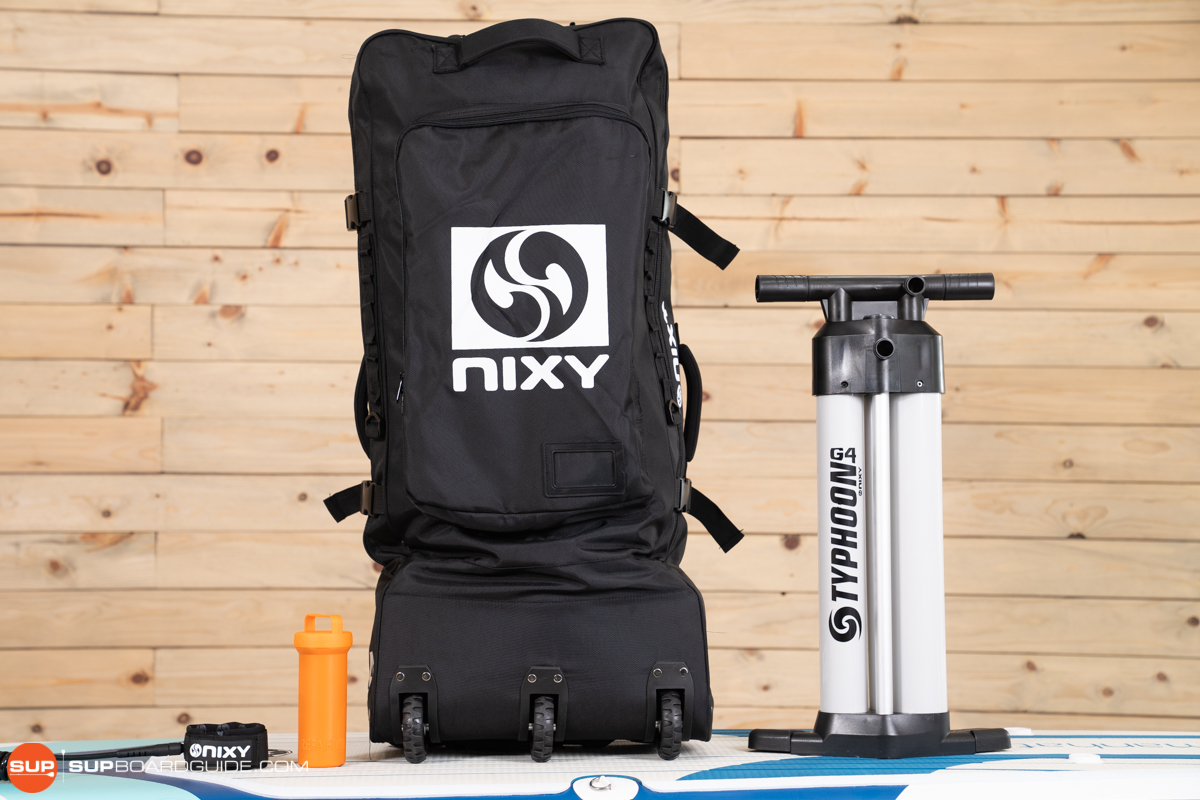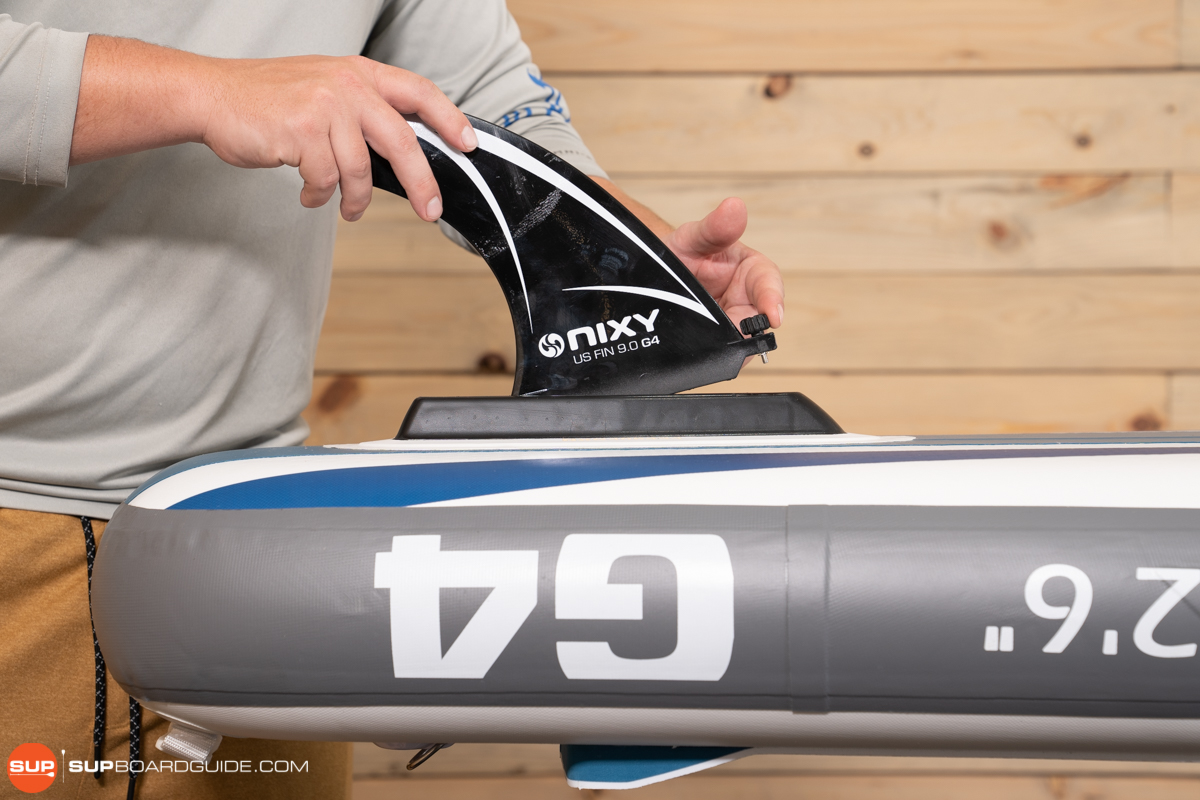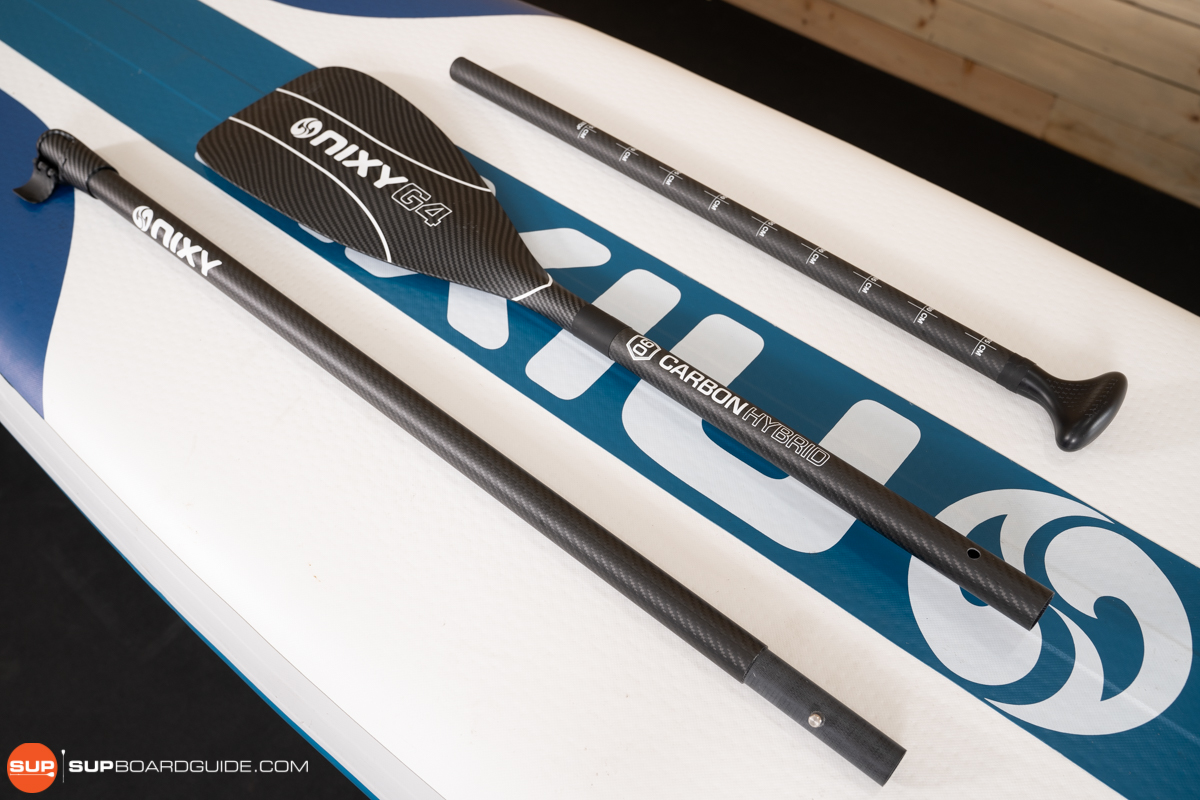 We can say without a shadow of a doubt that Nixy consistently puts out the best quality accessory package on the market. Included with each Nixy Manhattan Plus are the following:
3-piece carbon hybrid paddle
9" Dolphin style removable center fin
10' Coiled leash
Double chamber hand pump
Wheeled SUP Backpack
Focusing on the paddle specifically, the Nixy 3-piece carbon hybrid paddle is our team's all time favorite kit paddle. It's lightweight, rigid, and has a nice locking groove to keep your handle positioned perfectly in relation to the blade. I also personally really like this blade size; 90 sq inches is the perfect in-between size that lets you get up a decent bit of speed relatively quickly, but doesn't grab so much water that it will leave you trained after a couple of miles.
We also love that they include a double chamber, triple action hand pump rather than commonly included single chamber pumps, as it's much more efficient in inflating this SUP to 15 PSI. The wheeled SUP backpack is another crowd favorite, as it's spacious enough that fitting in your SUP and accessories doesn't feel like a wrestling match. It also has several organization pockets, which helps a lot in keeping track of smaller accessories like your leash, fin, and repair kit – and the 3 wheels located on the front of the bag, away from the straps, are super nice if you've got a long walk from the car to the beach (though the padded shoulder and back panels make this SUP bag pretty comfortable to carry as well).
Summary Review of the Nixy Manhattan Plus Touring iSUP
In short, the Manhattan Plus beats out the original Manhattan in every aspect of our testing.
The added width combined with its widened tail has done wonders to improve this SUPs stability without decreasing its speed; we actually found that we were able to go faster despite the added surface area because we could focus on our stroke rather than our balance. As a result, it's comfortable to paddle at a moderate touring pace over long distances and is able to easily sustain a quicker pace.
So, the question really comes down to how this Manhattan Plus can hold up against other 12'6 x 30" touring SUPs. For now, it's right in the middle of the pack. There are a few that are faster, and a few that feel more stable for larger paddlers, but the Nixy Manhattan Plus is a strong contender in terms of construction. If the construction is kept the same, and Nixy just makes a few more tweaks to this SUP's shape and nose rocker, it will be a fierce competitor within its category.
For now, this SUP is a good touring SUP option for paddlers who value careful construction and higher quality accessories without wanting to break the bank on an elite 12'6 touring or racing SUP.
We hope this review has been helpful as you research the Nixy Manhattan Plus! Please reach out to us in the comments below if you have any questions, but in the meantime, stay safe and happy paddling!
The following two tabs change content below.
SupBoardGuide
Heyo! At SupBoardGuide.com we are a team who love the water, the outdoors, and are more than grateful that our full-time job allows us to review stand up paddle boards. We paddle year round (it helps that we are just about 2 hours outside of Las Vegas), and we bring in a wide range of paddlers with the goal of providing our readers with the best, most in-depth, and accurate stand up paddle board reviews.
Latest posts by SupBoardGuide (see all)