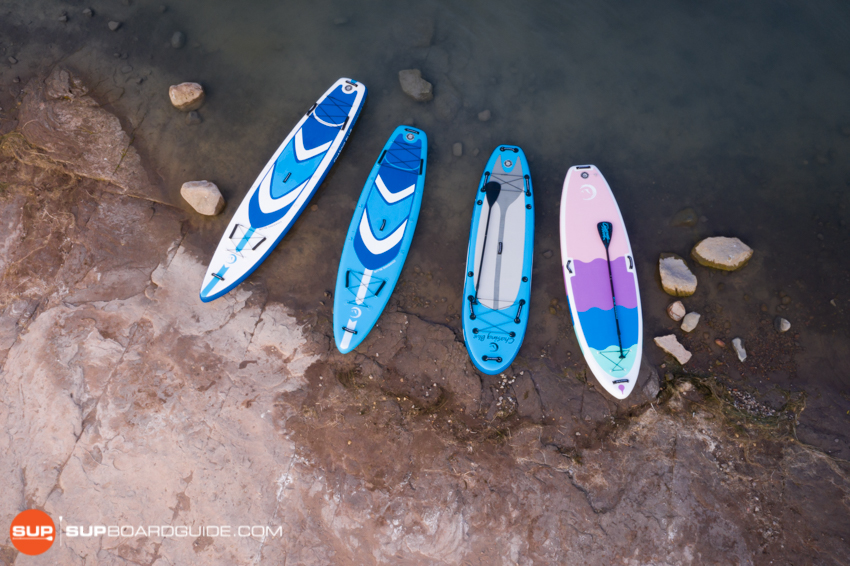 Who is Outdoor Master?
Outdoor Master was launched in 2015 by a group of outdoor enthusiasts with origins in New York, Paris, and Shenzhen. They are most known for their excellent reputation in the ski and snowboard world. As of November 2021, they were named the official supplier of goggles and helmets to the US Ski and Snowboard Association. They claim their goal is to "provide quality and affordable outdoor products for all levels of outdoor sports lovers" and we think they are off to a great start entering the iSUP market with budget friendly boards that will fit most paddlers needs.
Outdoor Master Chasing Blue SUP Reviews
Given Outdoor Master's reputation, and the fact that we've been a big fan of their Shark Electric Pump, it comes as no surprise that we were stoked to try out their boards. Below we will reviewing 4 Outdoor Master boards including:
Ace- Sport 11' iSUP
Orion- Voyager 12'6" iSUP
Synergy Yoga 10'6" iSUP
Ocean Spirit 10'6" iSUP
Overall Notes on Outdoor Master's Stand Up Paddle Boards
Each of these boards comes with the same 2+ fin set-up with a slide-lock removable center fin, so to avoid repitition, we will not be focusing on the fins for each board's individual review. In general, we've found the thruster set-up to be helpful when it comes to tracking and the slide-lock fin to be convenient and less complex than the US fin-box, while being sturdier than snap-lock fins. The one drawback to Outdoor Master's fin set-up is that the molded flexi sidefins can get bent out of shape when the board is rolled up and occasionally need to be reshaped with some heat.
Another thing we want to note is that the Spirit line, including the Ocean Spirit 10'6" that we'll review below, is constructed with a single layer of PVC, whereas the rest of the boards are constructed with a double PVC layer. As a result, boards within the Spirit line are about $50 less than Outdoor Master's other boards and slightly lighter, so you will see increased flex/bend and a minor decrease in overall performance with the 'Spirit' SUP line.
Also make sure to stick around for an overview of all of the included accessories with the purchase of any Outdoor Master board at the end of this post.
*Outdoor Master is using the Chasing Blue label across all of their boards, so to save confusion on this post, we will only be referring to them as Outdoor Master iSUPs. All of them can be found by clicking on the links under each boards' review.
Ace – Sport 11' iSUP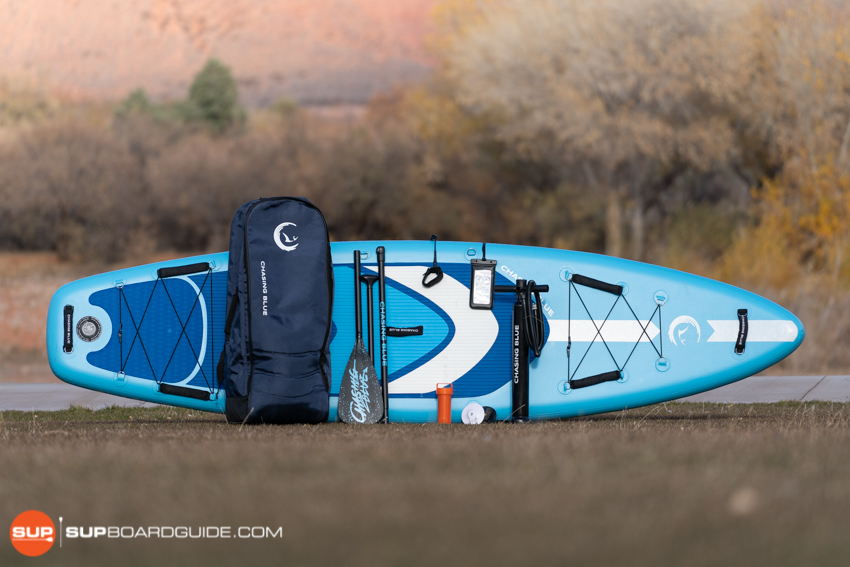 The Ace 11' is one of Outdoor Master's touring board options. This board is 11' long, 32" wide, 6" thick and rated for 300lbs while weighing a light 23lbs itself. Being 11' this board still moves quickly in the water, but is wide enough to be stable during your ride. We also found this board to be nimble around turns, without losing tracking capability.
Looking at the features, the Ace 11' has grab handles at the nose, tail, and center making it easy to carry and launch, as well as the same safety handle placement as the Ocean Spirit. It's 6-point bungee cargo area both at the front and back of the board give you plenty of options to stow gear, while the combined 10 D-rings along the sides, nose, and tail give you some versatility in attaching your leash or kayak seats. Like the Ocean Spirit, this board has a comfy strip pattern EVA deck pad, and a traction focused diamond cut pattern on the tail.
The Ace 11' is a good choice for a beginner level paddler that wants a decent all around board that will help them progress into longer touring or fitness paddling. It has enough stability and a high enough weight capacity to haul gear and carry a child on the front, as well as enough length to help paddle longer distances with less effort.
Orion- Voyager 12'6" iSUP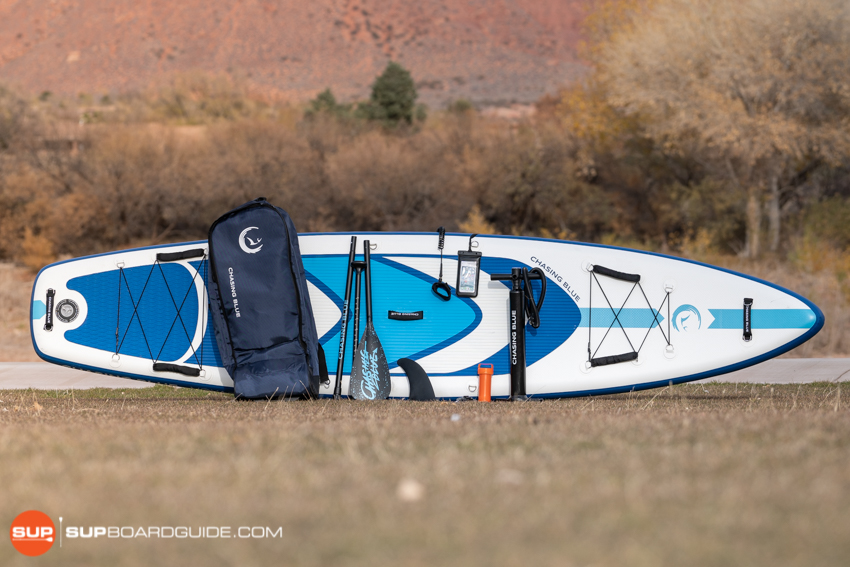 Outdoor Master lists the Voyager 12 '6" as a racing board, but we would say that it is more of a touring board. At 12'6" long and 32 " wide, it's a faster board to paddle than the other OutdoorMaster SUPs, but it's wider than we would recommend for anyone looking for a racing SUP. It did track fairly well and did not take much effort to get up to a decent speed, but it was slightly less maneuverable than the Ace 11' due to its added foot and a half in length.
The Voyager is loaded with the same features as the previous boards. The grab handles at the center, nose, and tail make transporting a 12'6" board a breeze, while the 6-point bungee areas at the front and back give you a lot of space when it comes to gear storage. It also has the same 10 D-rings along the sides, nose and tail as the Ace 11' giving you options for attachments. Again, we liked the traction focused diamond cut pattern on the tail portion, as well as the strip pattern for the rest of the deckpad.
The Voyager is another good option for a beginner paddler looking to get into touring or fitness paddling. Its longer length would be great for a taller rider or someone that wants the extra space to stow gear and bring along a child or dog.
Synergy Yoga 10'6" iSUP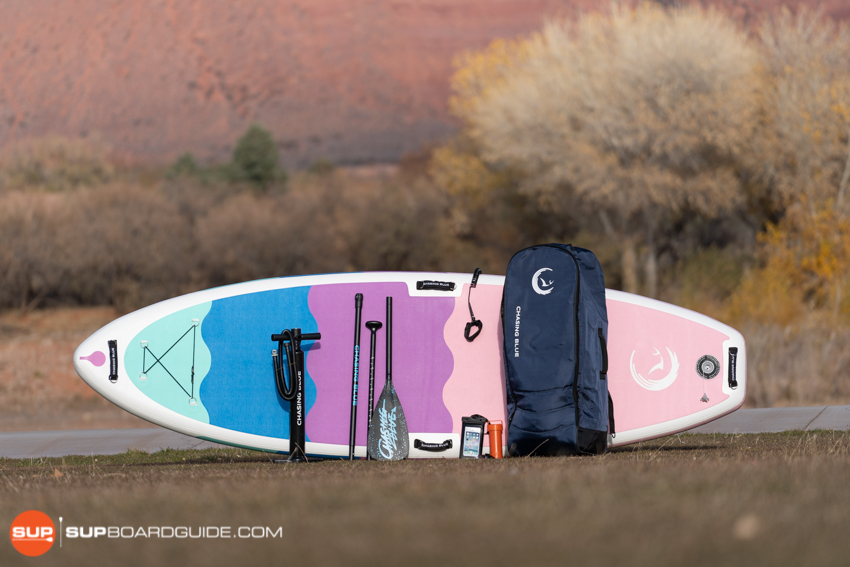 Outdoor Master's Synergy 10'6" is full fledged yoga iSUP. It is 35" wide, 6" thick and rated for 320lbs, making it ultra-stable while still being easy enough to carry at only 22 lbs. Although you lose some tracking and maneuverability due to the width, I think it's an appropriate trade-off given you can easily get into any pose you can think of on this board without having to worry about tipping over or losing your balance.
As a Yoga board, the Synergy 10'6" has almost everything you would want. It has a full length croco-diamond deck pad that feels just like a yoga mat. It has a 4-point bungee area at the front of the deckpad to hold a couple water bottles or a yoga block, as well as 8 D-rings along the nose, tail, and sides to accommodate some attachments.
One thing to note is that there are grab handles at the nose, tail, and sides of this board, but no center handle. This makes it much more comfortable when lying flat on the board and makes it easier to transition your feet as you flow through your poses, but carrying the board once inflated is a bit more of a challenge. It works well if you can carry it on your head, holding the two side handles, otherwise you could carry it higher up on your shoulder. Being a specialty board, I would expect these types of trade-offs, but if a center handle is really important to you, check out our list of the best yoga SUPs on the market.
If SUP yoga is your activity of choice, then this board is a great option. Given its stability, light weight, and comfy full-length deckpad, the only complaint we have is that it doesn't have a dedicated paddle holder/strap. It would not do well on longer paddles as its width makes it difficult to maneuver and get going, but that's to be expected out of most yoga boards. If I was really being nit-picky, I would like an anchor to be included with any yoga board, but those are widely available to purchase separately. At 35 inches wide, this board is stable enough to handle almost any type of condition or rider.
Ocean Spirit 10'6" iSUP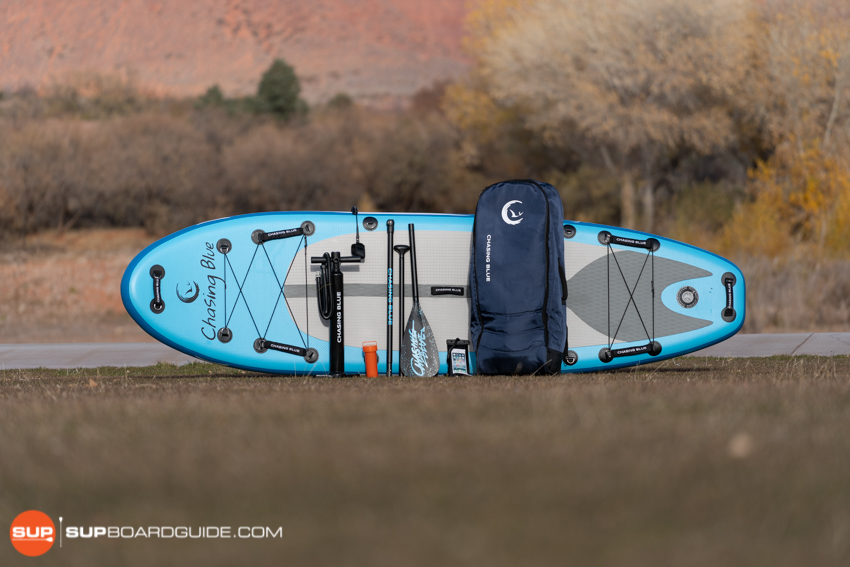 The Ocean Spirit is a typical all-around 10'6" stand up paddle board. It's 32" wide, 4.7" thick, and rated for 280lbs while only weighing about 20lbs itself. Now here's where we get into some nuance. Although the board specs say that this board can hold 280 lbs, we would argue that it's more in the 185 lb range. Reason being, that the Ocean Spirit bent over 2 inches when subjected to our bend test, which involves setting the board on two tressels, 7 feet apart, and placing 150 lbs at the board's midpoint to measure the amount of bend.
When we rode the board, it bent a decent amount under just a 170 lb paddler and caused some puddling at his feet. It did not bend so much under myself, a 145 lb person, and there was no puddling in this case, but nonetheless I could still feel some give under my feet that I did not feel on the other Outdoor Master SUPs. As we stated at earlier, the 'Spirit' line is constructed with a single layer of PVC and is only 4.7" thick, so our recommendation to OutdoorMaster would be to incorporate the same dual-layer, 6" thick construction into the Spirit series going forward to avoid these types of issues.
As far as features go for this board, we are pretty impressed given the price of this SUP. The nose, tail, and center grab handles make this board easy to move around. In addition to the 8 D-rings dispersed along the sides, nose and tail of the board, there is also a 6-point bungee cargo storage area at the front of the deckpad and a 4-point bungee cargo area at the back, giving you plenty of room for gear and attachments. We also like the safety handles on the nose tail that a child could hold onto when riding in front of or behind the paddler. The strip pattern EVA deck pad on the Ocean Spirit is a good balance between traction and comfort, while a diamond cut pattern on the tail helps during step-back turns.
To summarize, the Outdoor Master's Ocean Spirit 10'6" could be a good all-around board choice for a beginner paddler looking to have fun leisurely paddling on a lake or other flat water conditions. However, we still would recommend the other OutdoorMaster SUPs over the Spirit series, as we did find better performance, durability, and overall value in their dual-layer SUPs.
Outdoor Master SUP Accessories
With the purchase of any Outdoor Master board, you are given:
Rolling travel bag
Stainless steel 3-piece paddle
Extra stick-on D-rings and action mounts
10' slide-lock center fin
Single chamber double action pump
Coiled leash
Repair kit
Water-proof phone case
We felt that this was a fairly comprehensive kit, given Outdoor Master's affordable price point. We also liked the quality of the roller bag, specifically its wheels and inner insulation to keep the heat out, but we could have used an extra zipper pocket on the front or sides. Improvement could also be made on the quality of the leash (frankly, plan on buying your own leash with these SUPs), and we would have preferred either a fiberglass or fiberglass/carbon fiber blend paddle over the aluminum. We would have liked to see a double chamber pump as well, but that can be mitigated with the purchase of Outdoor Master's electric pump. Overall, it's a good kit for those just starting out in the SUP community that don't want to break the bank on a new hobby.
Warranty/ Return Policy
Outdoor Master offers a 2 year warranty and will send a replacement if the board or any of the included accessories are broken within that time-frame. They also maintain a 30 day return policy, during which they will offer a full refund so long as the product is returned unused and undamaged in its original packaging.
While we cannot personally attest to their customer service for their iSUP line, we have worked with their customer service department regarding their Shark electric pump and were satisfied with the outcome.
Where to Buy
Outdoor Master sells directly to the consumer, so you can follow our links directly to their site when making your board purchase, which helps keep their costs down and their products affordable. They also offer free shipping to the United States, Canada, United Kingdom, France, Germany, Austria, Switzerland, and other European countries.
Final Thoughts
As we mentioned at the start, we think Outdoor Master is off to a good start entering the iSUP market with the goal of creating affordable boards that meet most paddlers needs. Of course, there are some improvements to be made (especially with the Spirit Series SUPs), as we pointed out in the reviews, but none that are complete deal breakers.
We are excited to see how Outdoor Master progresses as they add new boards or newer models to their arsenal and can't wait to try those out as well.
If you're looking to see how other brands compare in price or quality, head over to our list of the best inflatable paddle boards (iSUPs) of 2023.
The following two tabs change content below.
SupBoardGuide
Heyo! At SupBoardGuide.com we are a team who love the water, the outdoors, and are more than grateful that our full-time job allows us to review stand up paddle boards. We paddle year round (it helps that we are just about 2 hours outside of Las Vegas), and we bring in a wide range of paddlers with the goal of providing our readers with the best, most in-depth, and accurate stand up paddle board reviews.
Latest posts by SupBoardGuide (see all)