Thurso Surf Waterwalker 11' iSUP
Pros
Paddles really well and has a great feel on the water. A great all-around SUP
Impressive 330 lbs weight capacity. Durable construction with extra layer reinforcement on the deck and sides (carbon fiber rails).
Fantastic looking design and color options
Comfortable, long, and wide deck pad. Great for stretching and yoga.
Plenty of D-rings + an action mount. Compatible with a variety of SUP accessories.
Side paddle holder, making it easy to store your paddle when needed (sitting on the board, doing yoga, etc.) Nice, solid paddle included in the kit
Cons
We'd like to see the action mount moved just a little bit more towards the deck pad to make it easier to reach while paddling (but still keep it off the deck pad)
*Note – the video review above is the review of last year's Waterwalker series. We will have updated video reviews of the Thurso Walterwalker 132 soon!

I love the name Thurso Surf gave to their all-around SUPs: The Waterwalker series.
The name just captures everything I love about this sport. It's a sport that is akin to both meditation and surfing, and as such helps you workout both physically and mentally in ways other sports just can't. It's fun and exciting, challenging, and yet is something that the whole family can do – and the Thurso Waterwalker 132 embodies all of that.
At 11'x32"x6", the 132 is the largest in the Waterwalker series, and is recommended for paddlers between 160 and 210 lbs, although we think that paddlers both smaller and larger than that range will be more than happy on this board.
The 2023 model is well built (as always with Thurso). Thurso uses a dual layer PVC outershell and carbon fiber rails, but decided to go with a woven drop-stitching for the inner core. We love this move, as it both enabled Thurso to drop 1.5 lbs off the board (we did think last year's model was just a tad on the heavy side), while still maintaining the rigidity we love about the Waterwalker 132.
Overall, we love the Thurso Surf Waterwalker 132. And now we love it even more given that Thurso expanded the color options for each of the models. Looks of a SUP are always subjective, but we find that the Thurso Waterwalker series is one of the most liked board series from an appearance standpoint among our team and those we take out paddling.
The Waterwalker series is a high performing all around SUP that is perfect for paddlers seeking a paddleboard that:
Has a sleek design and solid performance
Includes all of the accessories you will need at an exceptional value.
Can accommodate riders that are on the larger end (5'10"+ and 200+lbs)
Paddleboard with thoughtful features such as carbon rails, paddle holders, and the ability to attach a kayak seat.
We think the Waterwalker 132 is great for the following water conditions/situations:
Fun, recreational paddling with friends and family
Flat water paddling (lakes, bays, marinas, etc.)
Exploring oceans, even with some chop and small waves
Surfing in smaller surf conditions (Note: an inflatable SUP isn't our ideal choice for surfing, but the Waterwalker can catch some waves)
Thurso Waterwalker 132 Review Overview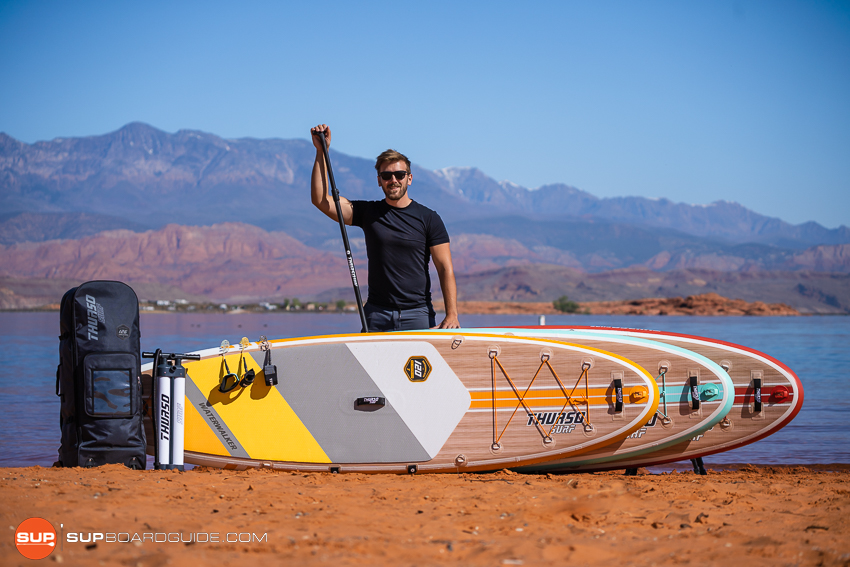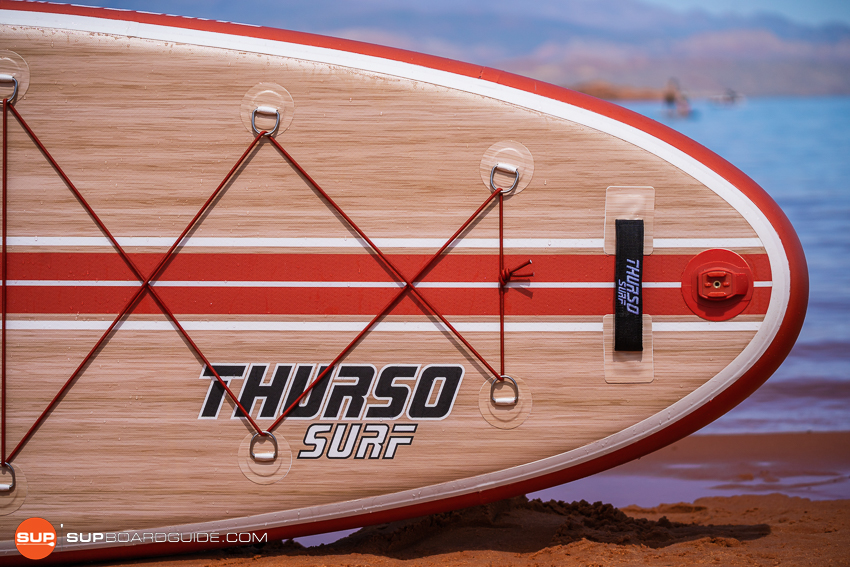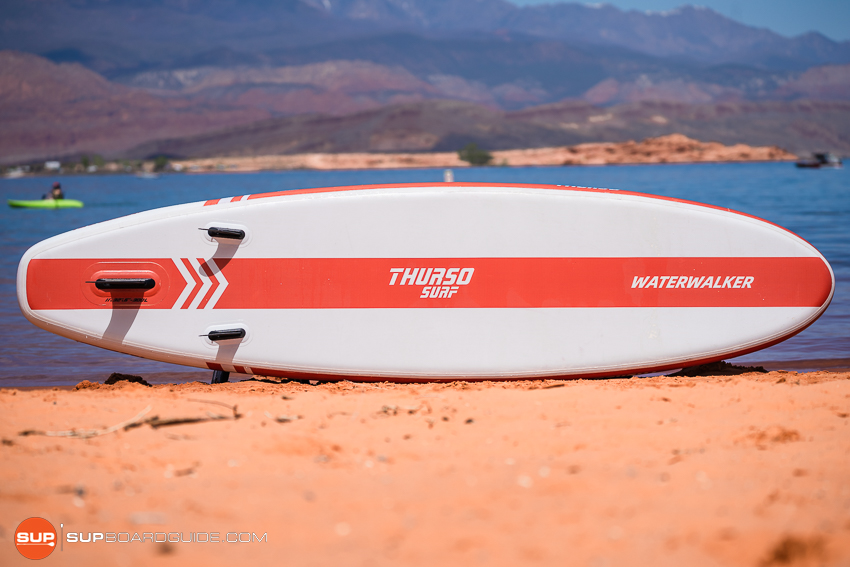 The Thurso Waterwalker 132 stayed relatively the same in 2023 but has been upgraded with nice subtle improvements throughout. Overall, what you get throughout the Waterwalker series is a solid performing board with 3 different beautiful woodgrain, almost retro, design patterns that we love here at SupBoardGuide. With improvements to the board (woven drop stitch) and improvements to the paddle (lighter), we once again have awarded the Thurso Waterwalker series as one of the best inflatable SUPs for 2023.
Note: We have put a ton of hours paddling the Thurso Waterwalker Series. This review of the Thurso Waterwalker 132 is NOT a spec review like you see on so many other websites. It's an actual review, and our recommendations are based on the results from our testing process. As such, if you have any questions about this SUP, please contact us or drop your question in the comments below. We are happy to help you determine if this is the right paddle board for you.
Thurso Waterwalker 132: Spec Sheet
| | |
| --- | --- |
| Main Category | All-Around, Inflatable |
| Board Shape | All Around / Inflatable |
| Board Dimensions | 11" x 32" x 6" |
| Listed Board Weight | 26 lbs |
| Listed Max Capacity | 330 lbs |
| Recommended PSI | 12-15 psi |
| Fins | 2+1 Removable Quick Lock Fin Set |
| Paddle Type | 3 Piece Carbon Paddle |
| Materials | Dual layer PVC, carbon-fiber reinforced rails, high density woven drop stitch inner core |
| Price Range | Medium |
| Warranty | 30 Day Guarantee and 2 Year Manufacturer Limited Warranty on the board |
Official SupBoardGuide.com Test Results: Thurso Waterwalker 132 (2023 model)
Below you will see the results of our in-house tests for the Waterwalker 132. Our goal with these tests is to verify what the manufacturer claims so a consumer can see how the board performs vs similar boards in real-world situations.
In-House Measurements:
| | |
| --- | --- |
| Board Shape | All Around / Inflatable |
| Tail Width | 19" |
| Nose Width | 11" |
| Nose Rocker | 13.6° |
| Weight | 26.6 lbs |
Overall Score: 9.7
We found the Thurso Waterwalker 132 to perform very well as an all-around SUP. It's cruiser-style nose combined with its 32" width and quality construction makes the board very stable yet also glide nicely. No, it's not the fastest Thurso board (that would be the Thurso Expedition Touring), but that's not what we expect. With an all-around iSUP, we expect the board to do well in all areas, and the Waterwalker 132 does that and more.
Stability: 9.5/10

Speed: 8.2/10 (above expectations for an all-around iSUP)

Glide: 8.3/10 (above expectations)

Tracking: 8.5/10 (above expectations)

Maneuverability: 9/10 (great)

Board Stiffness: 9.6/10 (great)

Stability & Weight Capacity: 9/10 (above average)

Construction Quality: 9.5/10 (excellent)

Accessories: 9.2/10 (above average)
*Also, please keep in mind that we don't award 10's like you see in the NBA dunk contest. If a board earns a 9, that is considered exceptional a far above expectations. A 7 is also considered above average/expectations and is a very good score.
Our overall rating of 9.7 on the Thurso Waterwalker is us saying this is an excellent option for those looking for an all-around inflatable SUP in 2023 and one of our top rated all-around SUPs for 2023.
In-Depth Review of the Thurso Waterwalker 132 Inflatable Stand Up Paddle Board
Performance Review: Speed, Glide, Tracking, and Maneuverability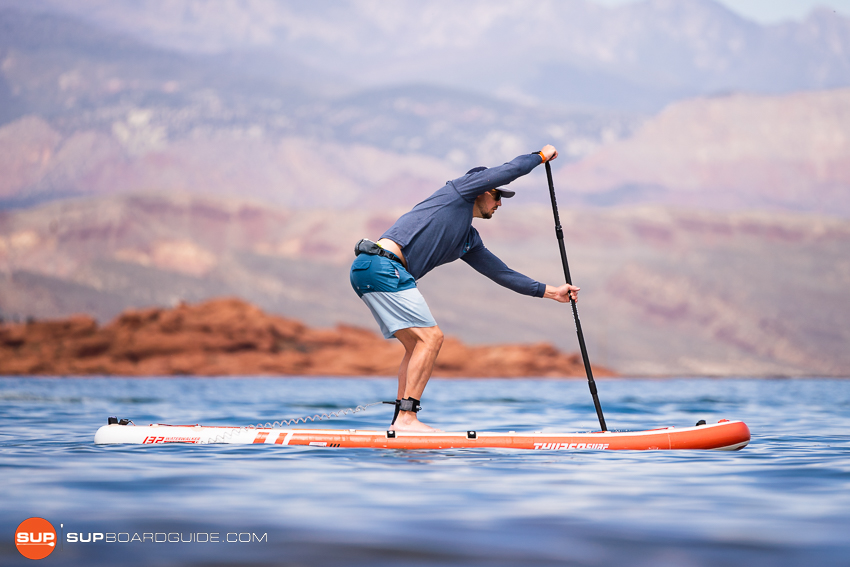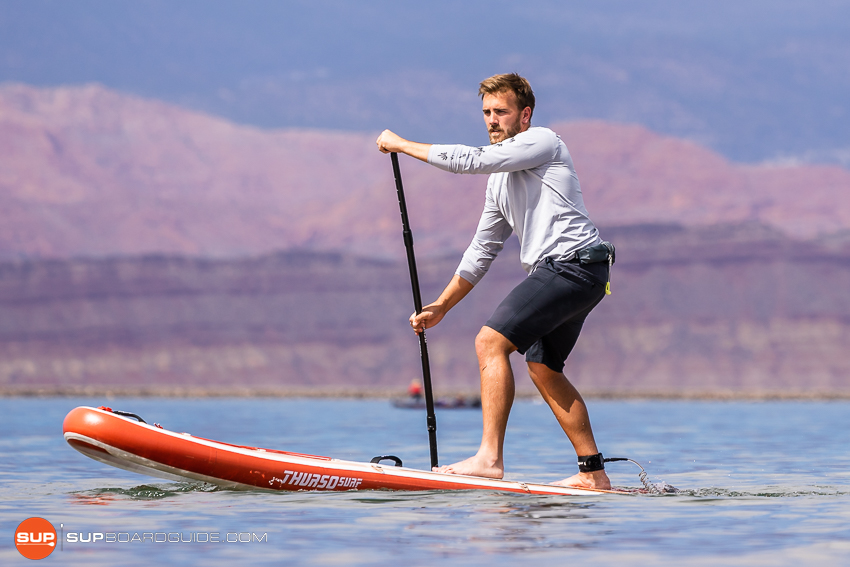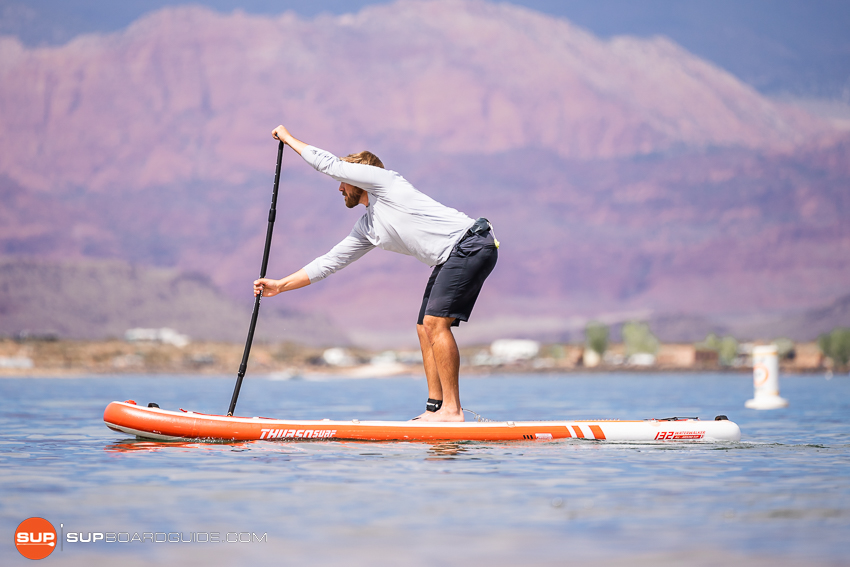 The Thurso Waterwalker 132 once again performed exceptionally well in our tests (note: we'll be doing some more in depth tests over the next few weeks, so check back for those results).
Remember, the purpose of these tests and this section of our review is to first help our readers determine if this is the right board for them. We also then pass along our test results to Thurso in hopes that they continue to improve on their products. Last year, really our only complaint about Thurso's products was that they were just a little on the heavy side. So when Thurso sent us their new Waterwalker series, and we found out that they had cut some of that weight we were stoked. We love seeing companies continually improve their products, and with Thurso we saw that improvement in our testing.
Speed Test: 8.2/10
Speed Time, casual pace (28 strokes/min): 3.2 Mph
Ave Heart Rate: 127 BPM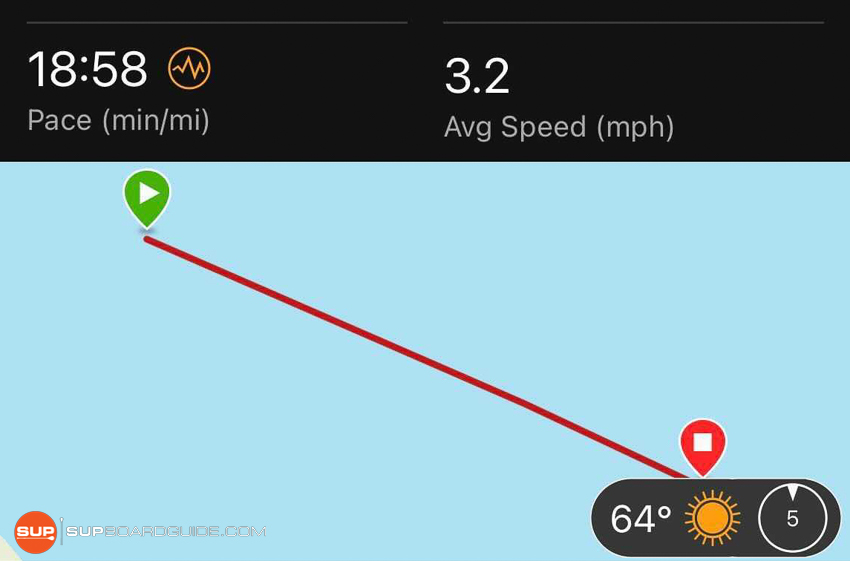 While it's a little hard to isolate all the variables and compare boards against each other, we do our best – and the Thurso 132 always seems to be one of the faster, more sporty all-around SUPs. This year's board is just a little lighter, which seems to help you get up to speed a little faster and gives the board a quicker feel vs last year's model.
If you want a fast all-around, the 132 should be on your list. With it's 11' length, it will also be slightly faster than the shorter Waterwalkers.
Glide: 8.3/10
I love how the Waterwalker feels as it glides through the water. We do think that Thurso did a fantastic job with the shape of this board. We like the slightly raised, rounded rocker and how the board tapers in the tail. Combined with the 32" width and dual layer construction, the board glides really well – especially when you are comparing vs other all-around SUPs.
Tracking: 8.5/10
While tracking often has more to do with the paddler than the board, we do think there are a couple of design elements that help improve the tracking of this all-around board, and make it the best tracking board in the Thurso Waterwalker series.
At 32" wide, we don't have any problem maintaining a vertical paddle. We also like the tri fin set up that comes with the board. We might like to see an option for a larger center fin for those that want more of an all-around that excels in touring across lakes and oceans, but the standard tri fin setup does a good job.
Maneuverability: 9/10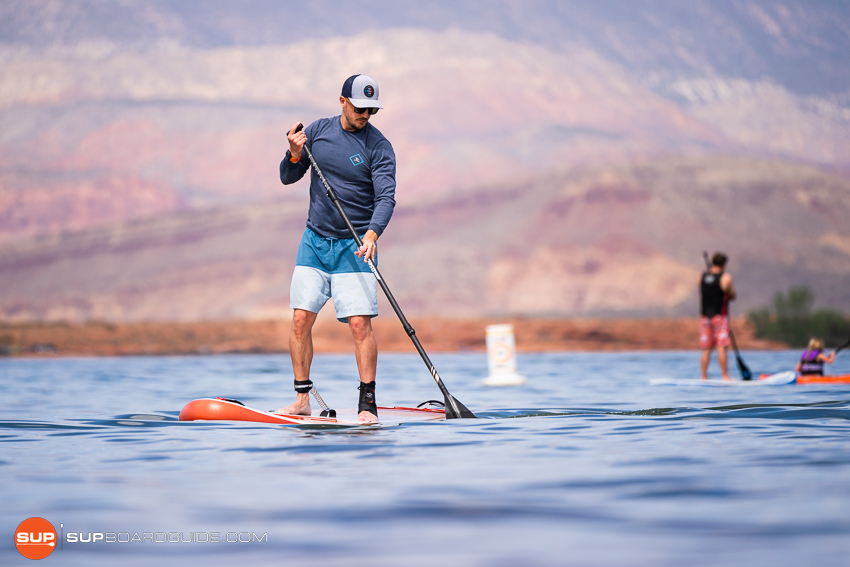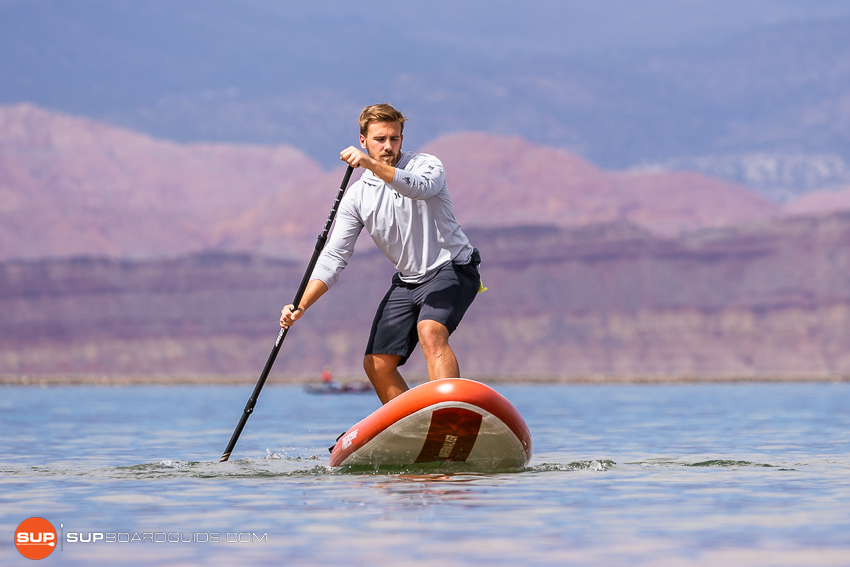 Even though the Thurso Waterwalker 132 is a very stable SUP, it still has a nice sporty feel to it and is easily maneuvered. We'd say that it feels a little more sporty than the iRocker All Around 11', although not quite as stable as that board.
Turning wise, we really love how the tail end tapers. This makes it very easy to push down the rear of the board and lift the nose to pivot on a dime. As far as step back turns go, the Waterwalker 132 is also one of the easier boards to learn on.
Board Stiffness: 9.6
Stiffness Test: ⅞" (board placed on 2 saw horses 7 ft apart, with 150 lbs placed over center handle of board)
We have been in the lab testing SUP Boards now and one of the most common questions we come across is, "Do Carbon Rails really add that much stability?". So far, we are leaning towards answering 'yes' to that question (we'll update this as we continue to test things out).
In comparison to similarly shaped boards with the same dimensions, the Thurso Waterwalker 132 performed an ⅛" better (i.e. bent ⅛" less) than their counterparts. And in comparison to our top performing SUP, the Blackfin Model X, the Thurso Waterwalker 132 was merely an ⅛" off from that board, which is impressive considering the Model X is 3" wider than the Waterwalker 132.
The bottom line is that the Thurso has created a very rigid board without adding too much additional weight. We think the woven drop stitch, triple layer PVC, and carbon rails all played a role in that.
Stability/Weight Capacity 9.0
Listed Weight Capacity: 330 lbs max (recommended 160-210 lbs for average paddlers)
Tested Capacity: 240 lbs
Thurso Surf recommends the 132 Waterwalker for paddlers between 160 – 210 lbs. We think the company is being more conservative here, and are reaching out to find out exactly how they came to that weight range. We have tested the board with a beginner paddler who is 6'4" and around 240 lbs, and he didn't have any problems paddling the 132. He felt very stable and actually liked the board a lot.
From our testing, we'd say the real-world weight capacity would be around 250 lbs, even for taller paddlers. I've also had myself and 2 of my kids on the board and had no problem paddling around, so I think that Thurso's max capacity of 330 lbs is a pretty accurate number. Yes, as you approach that weight you are going to slow down, but that is to be expected.
Construction Quality: 9.5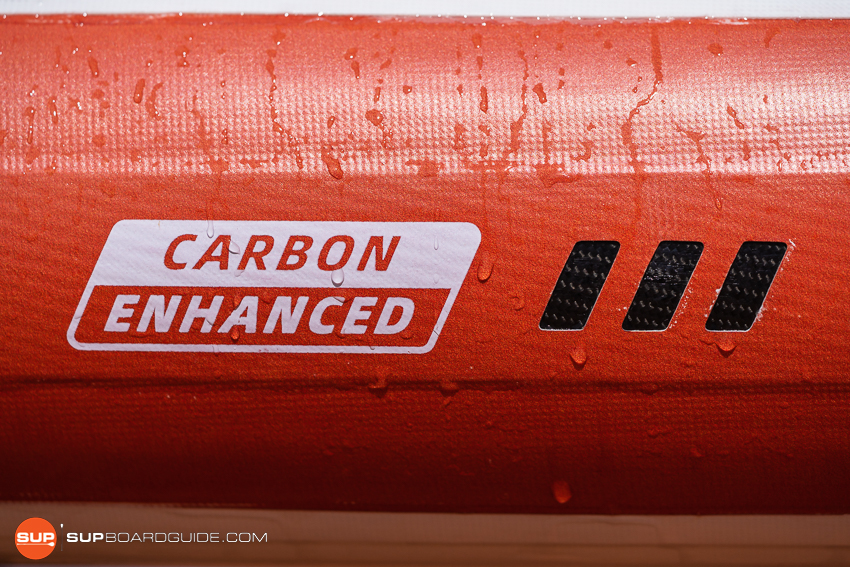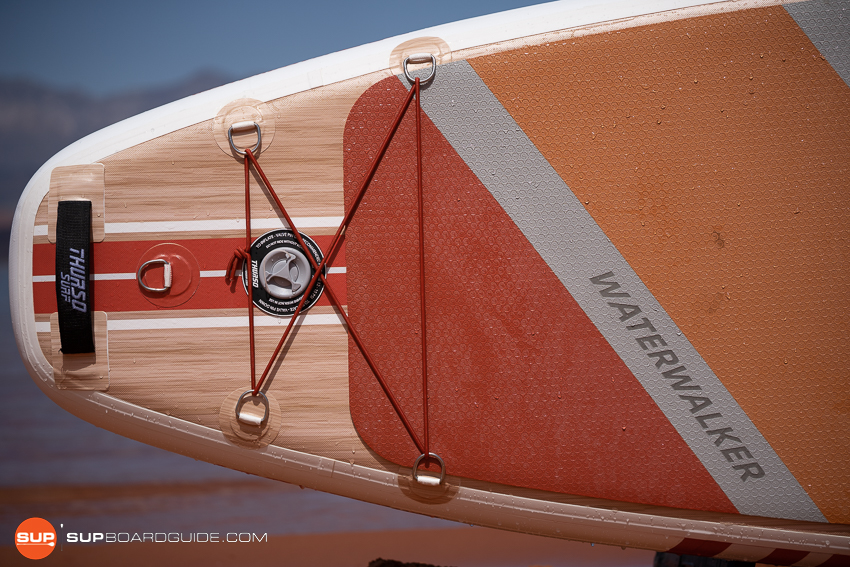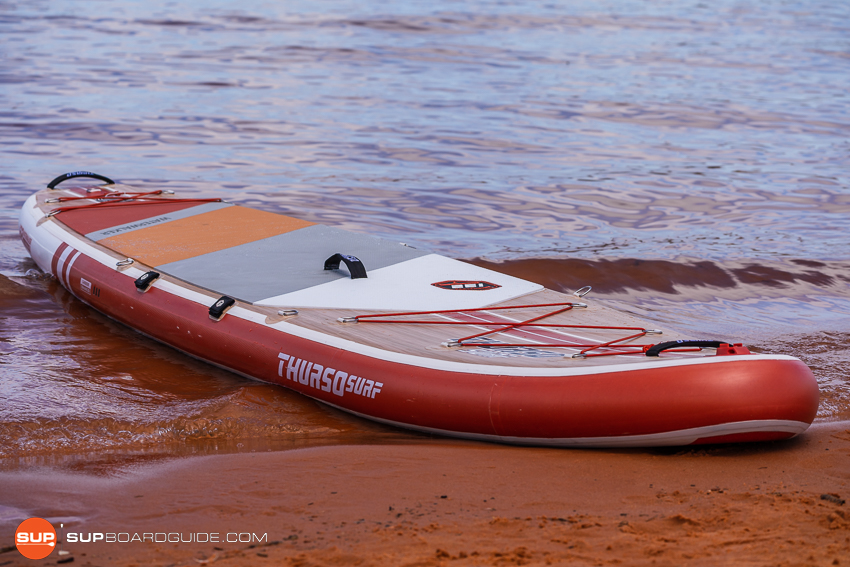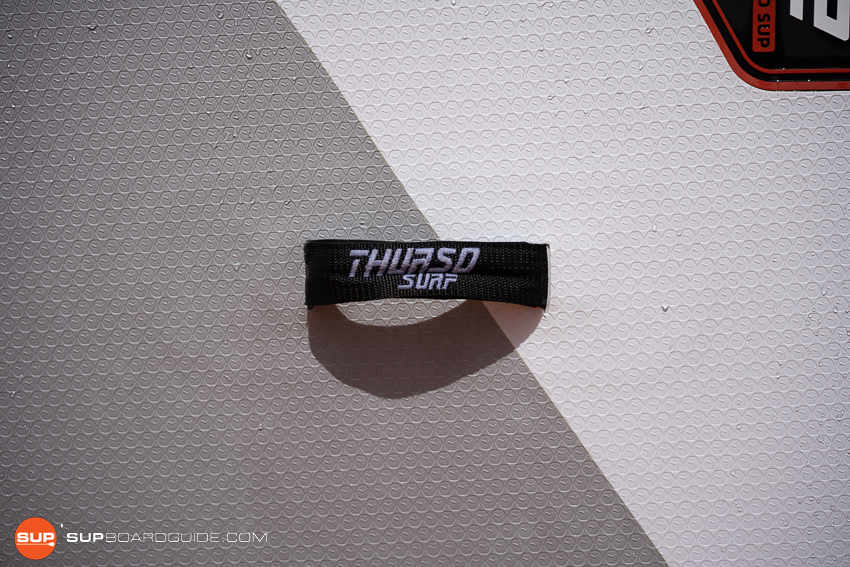 The Thurso Waterwalker 132 is constructed using a dual layer PVC that is wrapped around a woven drop stitch inner core. Woven vs knitted drop stitch is an interesting topic that probably doesn't need to be discussed here, as the bottom line is that Thurso has done what they can to make their SUPs lighter while still retaining their shape – and we think they have done a great job of that. As we reviewed the Waterwalker 132, we liked how the lighter weight board feels with the 2023 model.
We also really like the embossed EVA deckpad on the Waterwalker 132. It has a nice grippy, yet comfortable texture created by little Thurso logos. There aren't diamond or linear groves to help push water off the deck, but we haven't had any issues with water pooling or the deckpad being slippery.
We've been testing Thurso's boards for several years now, and we have yet to have any issues with the boards even though they are one of the most used SUPs every year. Thurso did a great job with the construction of this board, and we know how much the team there focuses on quality. They are very stringent with quality control – but still back up their boards with a 2 year warranty in case something slips through the cracks.
Accessories: 9.2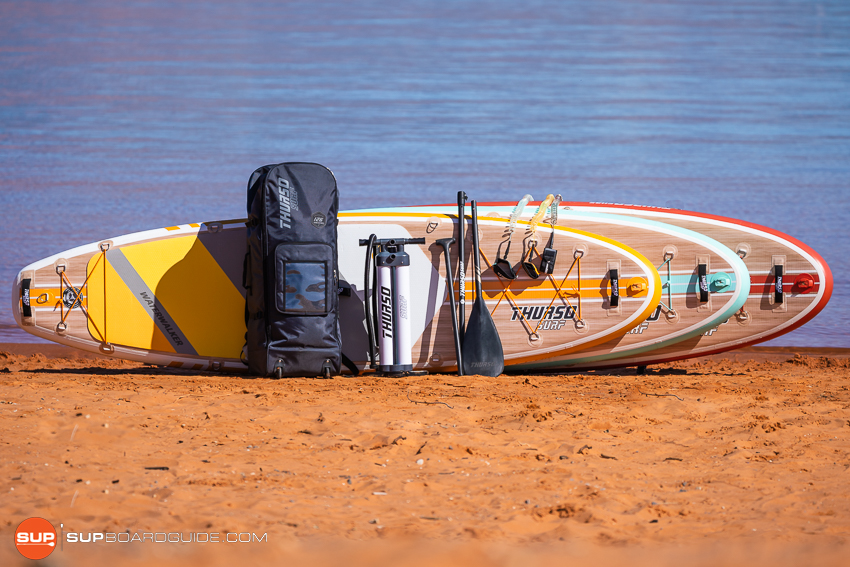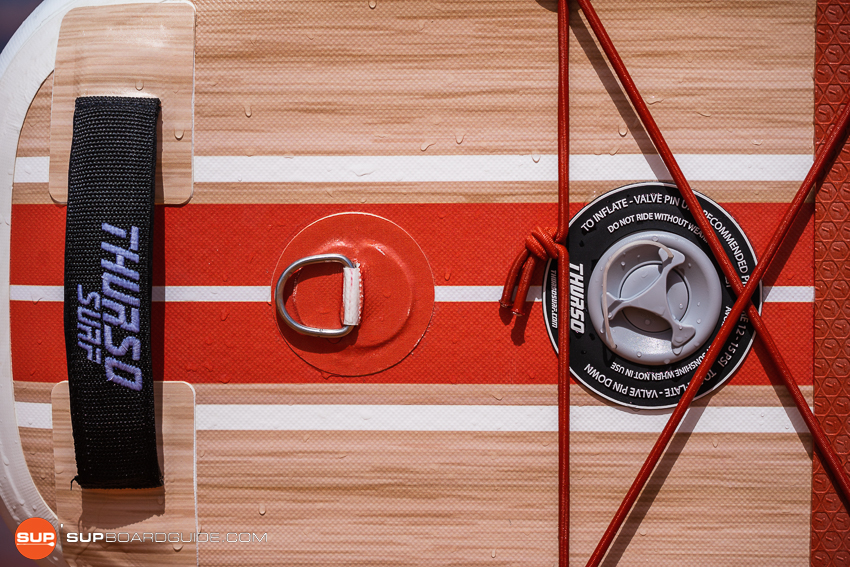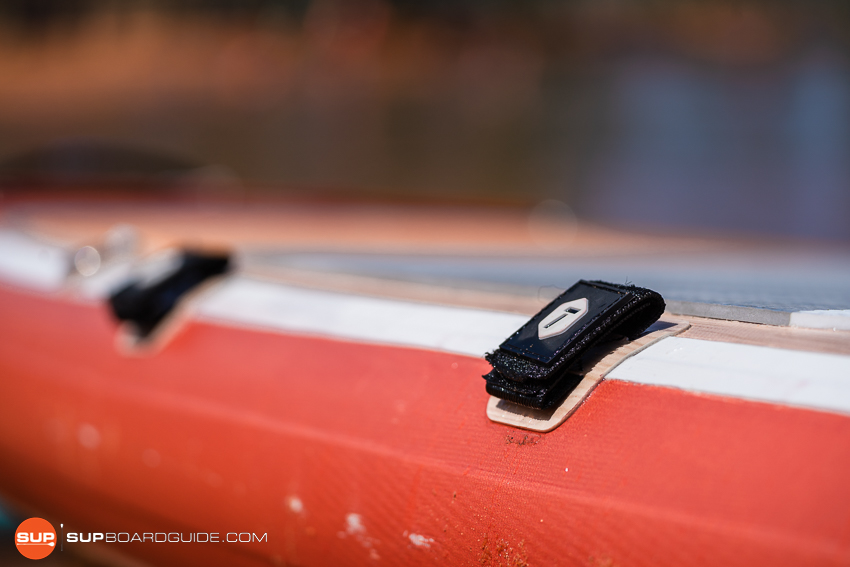 We really like the accessories and features you get when you purchase the Waterwalker 132m which include:
3 piece carbon hybrid paddle (which is lighter this year, coming in at 32 oz)
Dual chamber, triple action pump
10' double swivel leash
Compact, padded roller backpack
Standard SUP repair kit
Front action camera mount
15 d-ring attachments
Side paddle holder (we love this feature)
Thurso not only gives you everything you need to get out on the water, but you get a really well put together package that still leaves the deck of the board open and clean for paddling .
One feature we really wanted to highlight is the side paddle holder. I know this seems like a small feature, but when you are out paddling and want to just sit and relax on your board, that side holder really is nice. It also makes this a great board for yoga as you have somewhere out of the way to store your paddle.
One thing we would like to see in future boards would be dual action mounts added to the front side bungees. These action mounts would be a little easier to reach, and you could use them for drink holders or other accessories (and no, we aren't saying we would remove the front action mount, as we do like that location for mounting GoPro's).
Paddle: 9/10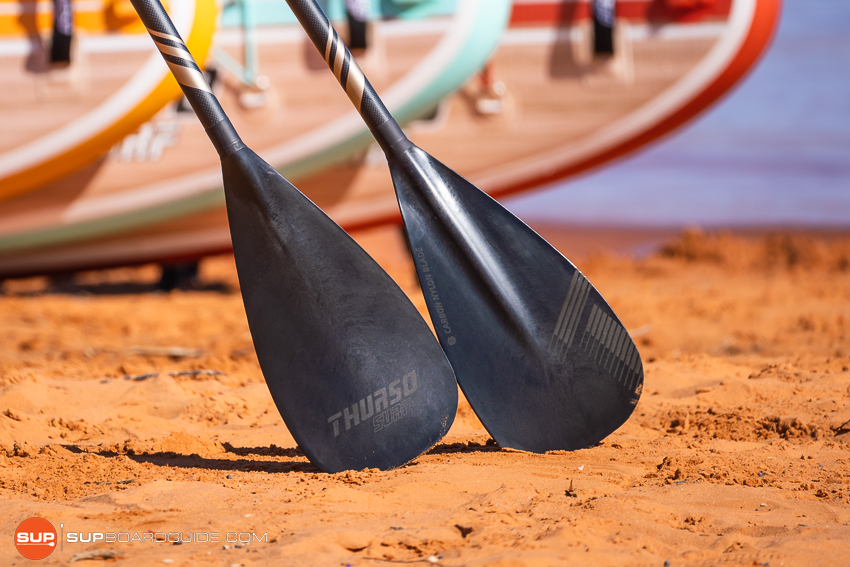 I personally like the feel and comfort of the Thurso Carbon Fiber Hybrid Paddle. The paddle has a unique grip at the top of the paddle that fits my hand more comfortably than many other brands' stock paddles. I'm not saying this will fit everyone the same, but we do like the feel of the paddle a lot.
The shaft also has a nice feel to it while paddling and doesn't chafe your hands, allowing for you to comfortably paddle all day. For a kit paddle, we can really appreciate that the paddle isn't made of nylon or aluminum and instead made with a carbon fiber blend that not only feels better in the hands but also is lighter weight as well.
What is also neat about the Thurso paddle is the fact that they have made the middle pole symmetrical on both sides so that you can purchase another blade and convert it into a kayak paddle.
The only suggestion that I could reasonably provide for Thurso to improve their paddle would be to provide an alignment groove on the inside of the top paddle attachment.
Pump: 9/10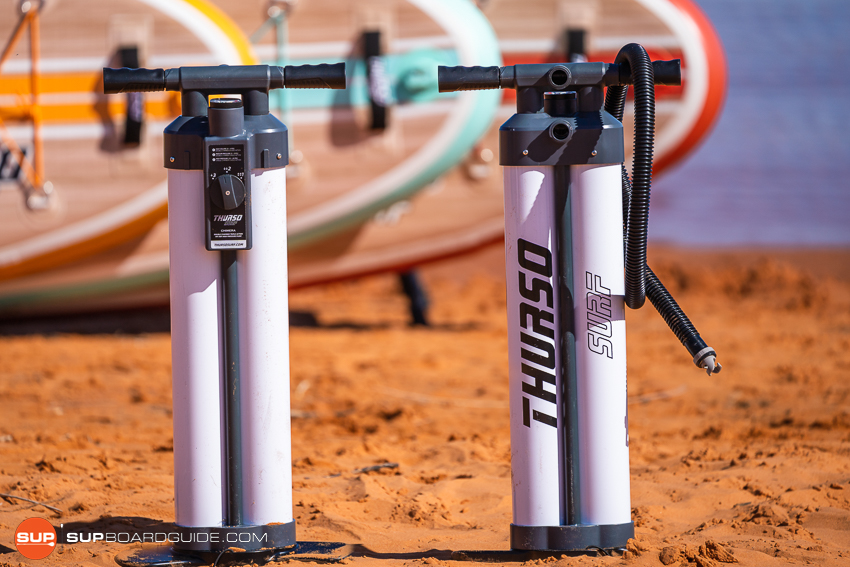 We can't knock the dual chamber, triple action pump that is provided in the Waterwalker SUP kit. While we personally prefer electric pumps, we have to acknowledge that this pump is effective at pumping up boards quickly in comparison to single chamber pumps and provides different settings to make pumping at higher and lower PSIs easier. Another neat feature that the Thurso Pump has is the capability to detach the handles and floor stand for ultimate portability.
Backpack: 9/10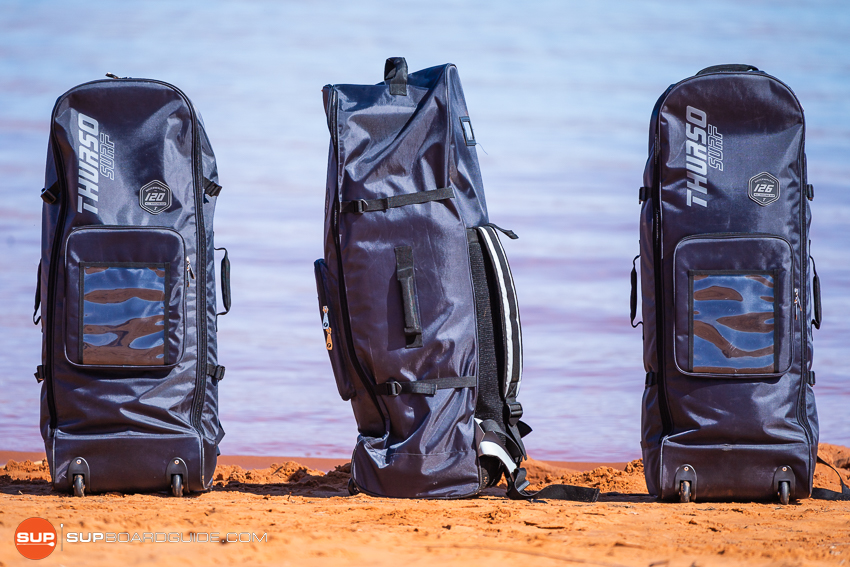 The Thurso backpack is a very solid pack, with nice, thick materials and quality zippers. It's a backpack that is going to last.
With the Thurso Waterwalker SUP pack, you are getting:
Rolling wheels placed on the front side of the bag to avoid the straps from getting caught or the back of your legs hitting the wheels while wearing it
A smaller front side pocket for storing accessories.
A clear pouch on the front pocket for either more accessories, labels, passes, etc.
4 tightening straps to secure the board in place
Comfortable padded straps and hip straps
Side and top carry handles
One note: we do find that Thurso's pack is a little skinnier than others. This is both a positive and negative for us. On one hand, we like how it's a little easier to carry around and is more sleek. On the other hand, you do need to roll up the 132 somewhat tight. If you don't get all the air out you might struggle to get it back in the bag.
Optional Accessories
Thurso offers a decent amount of additional accessories to use with your Thurso Waterwalker 132.
Some of the notable accessories include:
Electric Pump
SUP Kayak Seat
SUP Deck Bag 20 Can Soft Waterproof Cooler
SUP Deck Bag 10 Can Soft Cooler
Paddle Board Carrying Straps
Waterproof Phone Case
Replacement Parts
Summary Review of the Thurso Waterwalker 132 (2023 model)
Personally, I'm a big fan of the Thurso Surf Waterwalker 132 stand up paddle board. Not only has Thurso nailed down the aesthetics with their retro colorways and flawless wood print design, but the additional touches they provide throughout the board are well appreciated. The Thurso Waterwalker 132 is a perfect board for someone in the 150-220+ lb range who is looking for a board that can do a bit of everything and do it well.
As always, if there was something that we did not cover in this review that you would like to find out more about, please feel free to leave a question in the comments below or send us an email. It's been a pleasure reviewing the Thurso Waterwalker 132 and hope we were able to provide you with the information needed to know if this is the right SUP for you!
Happy paddling!
The following two tabs change content below.
SupBoardGuide
Heyo! At SupBoardGuide.com we are a team who love the water, the outdoors, and are more than grateful that our full-time job allows us to review stand up paddle boards. We paddle year round (it helps that we are just about 2 hours outside of Las Vegas), and we bring in a wide range of paddlers with the goal of providing our readers with the best, most in-depth, and accurate stand up paddle board reviews.
Latest posts by SupBoardGuide (see all)