Thurso Surf Waterwalker 132 (11') iSUP
Pros
Great tracking for an all-around board. The board maintains a narrow plan shape from tip to tail, which helps it stay in line on the water.
Quicker than expected. The slight rocker on the nose helps keep the board moving on top of the water instead of pushing through it.
Smooth and easy to paddle thanks to not only the rocker but also the fusion construction process that helps keep the board weight down.
Simple 2+1 Kumano fin system with a US fin box make - clicking in the fins and getting out on the water is fast and easy.
Family-friendly, with cheerful colors and an action mount directly in the middle of the nose so you can record your activities from any angle.
Great package deal. It comes with an organized accessory pouch and an electric pump.
Cons
More action mounts built onto the D-rings that attach to the bungee cargo spaces would be awesome.
The middle carrying handle is slightly out of position and causes the board to be unbalanced when carrying it when inflated - we suggest Thurso move it an inch back.
*Note – the video review above is the review of last year's Waterwalker series. We will have updated video reviews of the Thurso Walterwalker 132 soon!

Sporty all-around SUP that comes with an electric pump as part of the package!
The Waterwalker 132 has a smooth glide on the water and is more narrow than your average all-around iSUP. While you may find it slightly less stable than a wider all-around, you will quickly realize that it has an ease about it that makes it a great choice for not only family lake days, but also fitness paddling. But, that's not all we found out while reviewing the Thurso Waterwalker 132.
Due to the width and the overall shape of the board, it is very directional and tracks well. Additionally, the nose of the board is slightly upturned (has rocker) so it naturally moves across the top of the water instead of pushing through it. This allows the board to cruise without having to put too much effort into your stroke.
With a cool and collected aesthetic, the Thurso Waterwalker 132 looks like it feels: sporty and ready to take on the water!
We think the Thurso Waterwalker 132 would be a great SUP for paddlers who:
Are looking for a nimble 11' SUP.
Prefer a more narrow all-around for improved tracking and zippiness over stability and maneuverability
Like a stylish board that comes in a variety of exciting colors to choose from.
Thurso Waterwalker 126: Spec Sheet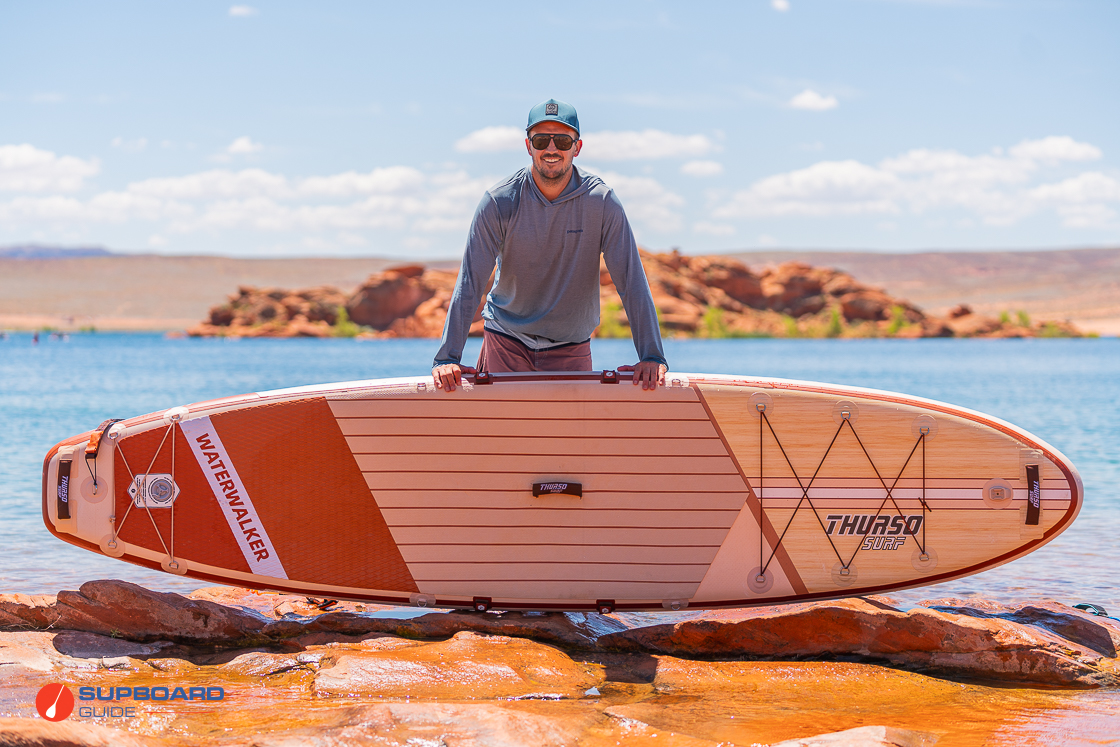 Main Category: All around
Board Dimensions: 11 x 32 x 6
Listed Board Weight: 25.2 lbs
Listed Max Capacity: 210 lbs
Recommended PSI: 12 – 15
Fins: 2+1 Kumano fit with US finbox
Paddle: Carbon hybrid paddle blade
Materials: V-shaped knitted PVC
Warranty: 2 years
Performance Review of the Thurso Waterwalker 126 Stand Up Paddle Board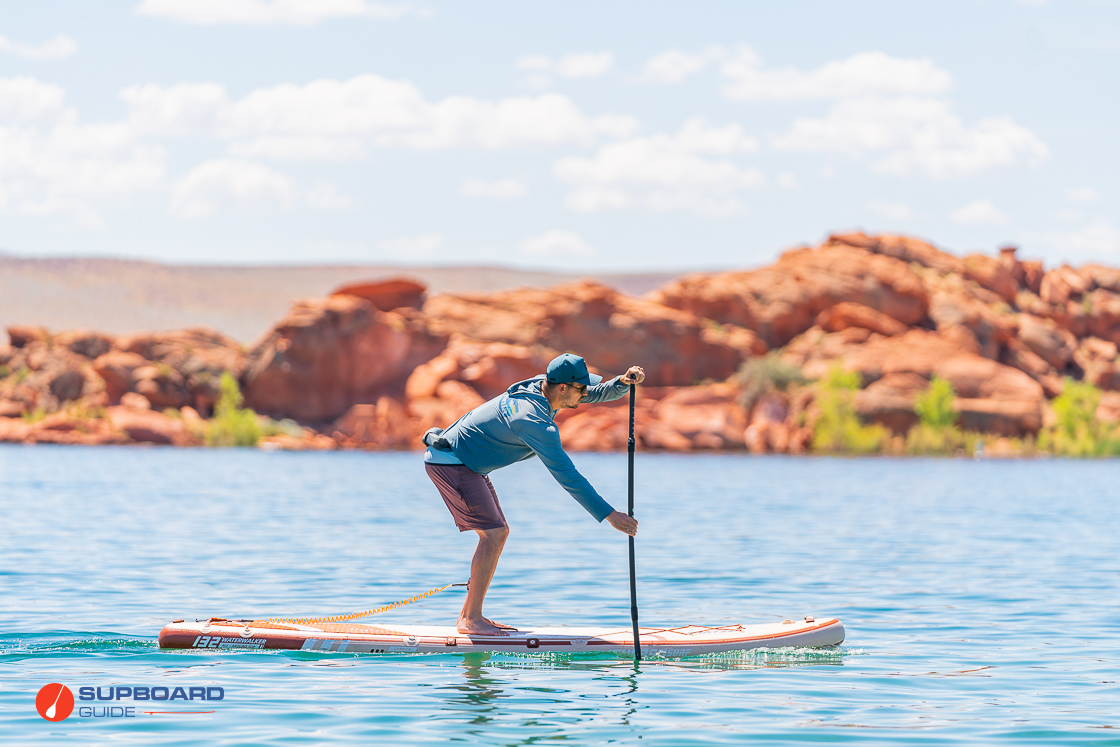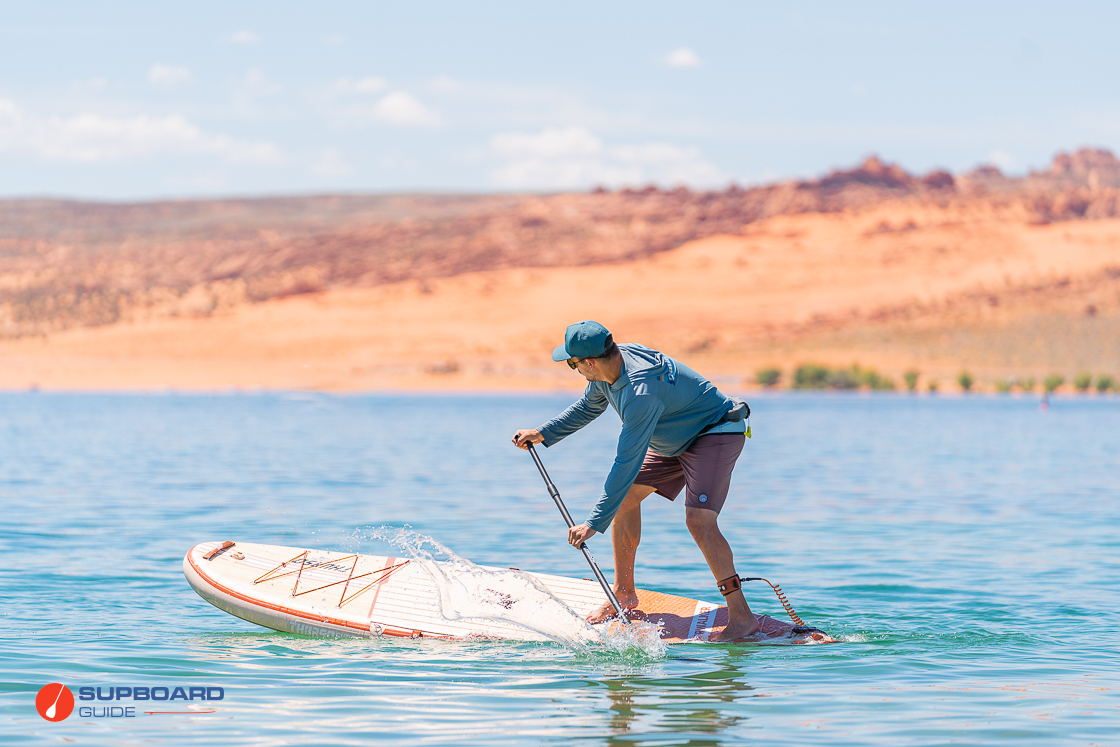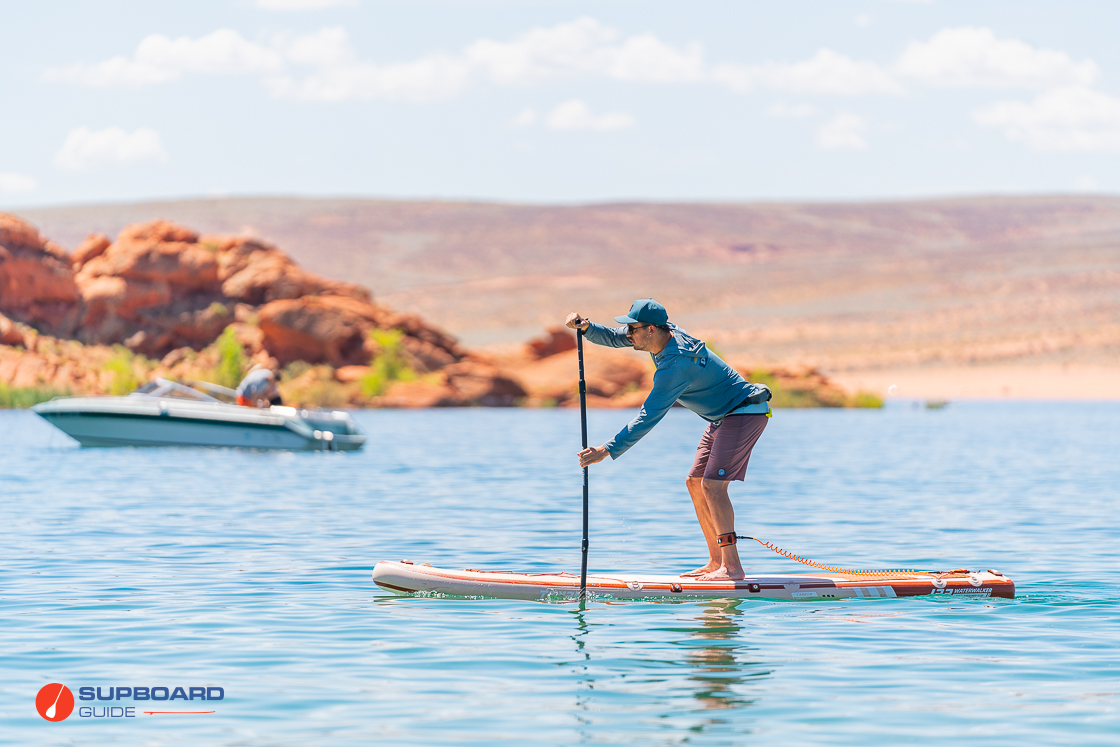 Overall Score: [9.3/10]
Stability: 9/10
Speed: 9.4/10
Tracking: 9.1/10
Maneuverability: 8.7/10
Construction Quality: 9.1/10
Features/Accessories: 9.5/10
Stability Rating: [9/10]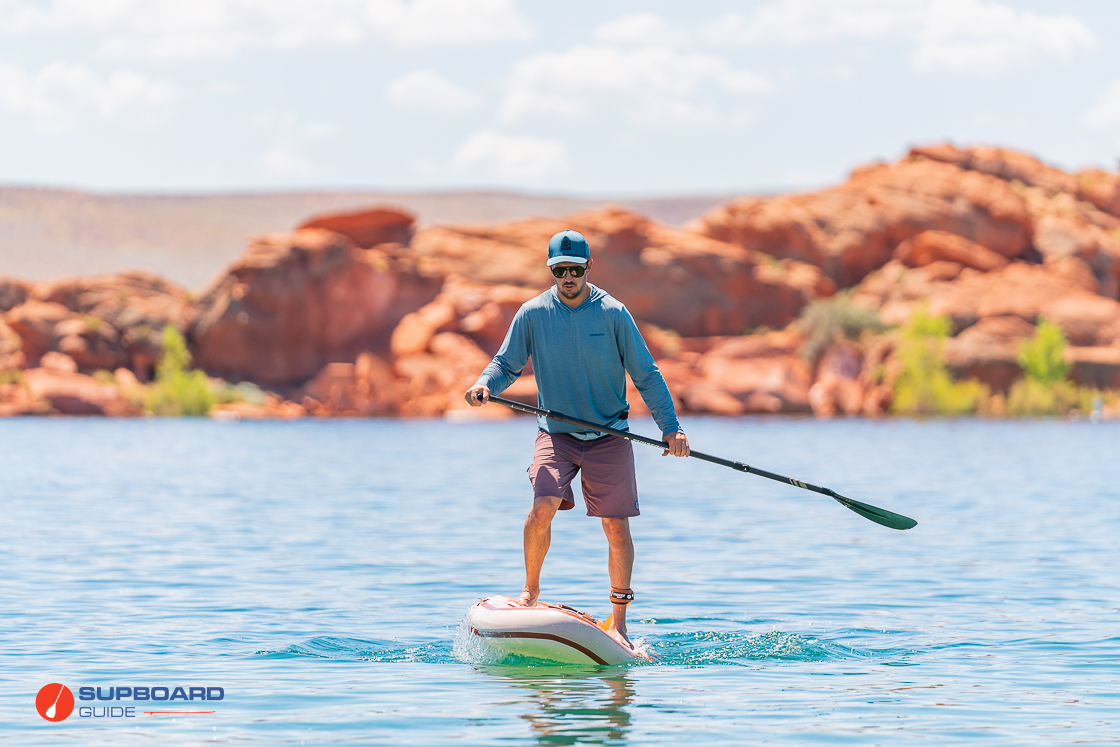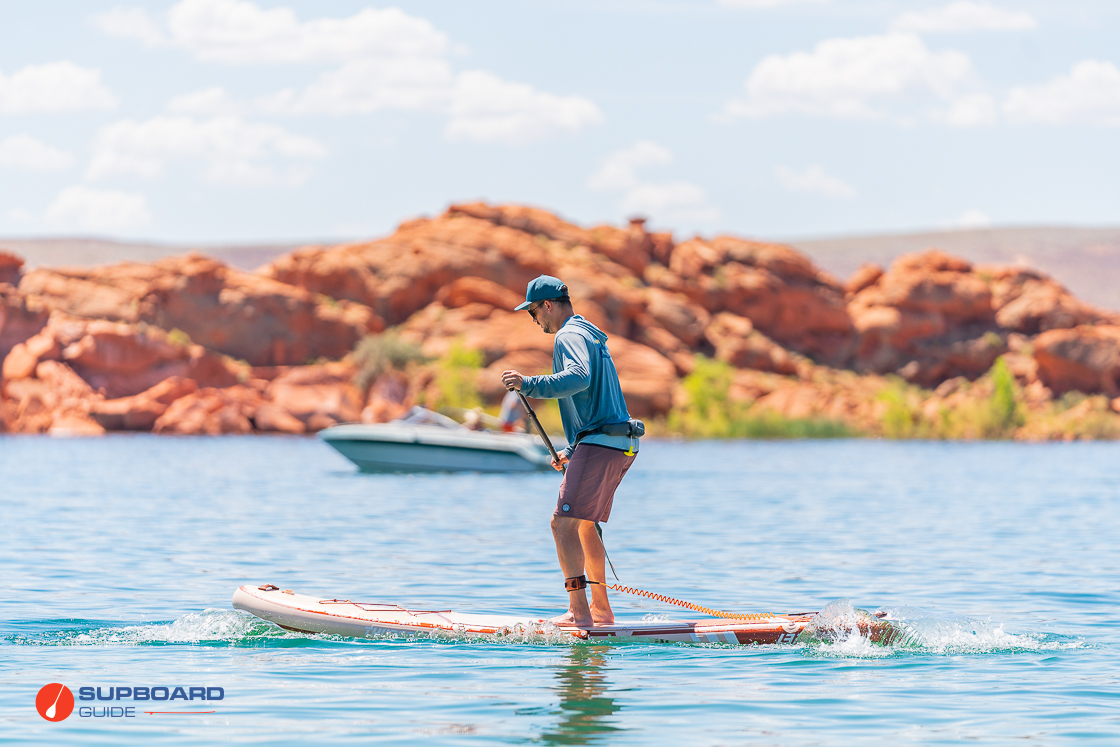 In order to increase the stability of the board and suitability for larger paddlers, this board is spec'd at 11' x 32'' x 6'', which is an extra inch of width and 6 inches of length over the Thurso Waterwalker 126. However, the actual increase in width as measured by us is only half an inch, so the overall increase in stability is relatively small. Therefore, we don't view this board specifically for larger/taller paddlers. In actual fact, it's a fantastic all-around SUP for the average-sized person that will be slightly quicker through the water than the smaller Waterwalker 126 because of the increased length.
As a team, we really enjoy the zippiness of this board and do not mind that its narrower build makes it slightly less stable than other all-arounds. To be clear, we like this board so much it is on our Best Inflatable Sups list, but it is one of the more narrow all-arounds on that list.
Speed Test: 9.4/10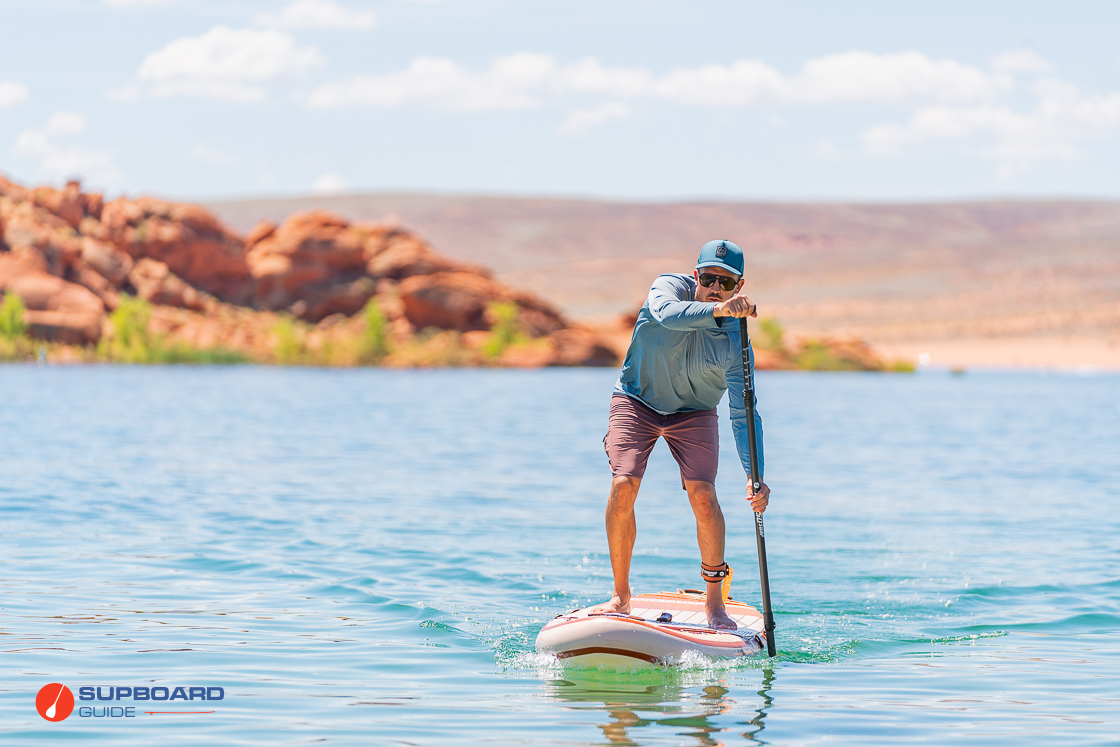 | | |
| --- | --- |
| Top Sprint Speed: | 5.7 MPH |
| Average Cruising Speed: | 5 MPH |
SUP Board Guide's Speed Testing:
To obtain our speed test results, we use a Speed Coach Sup 2. This gives us accurate readings on how fast we are paddling and our current stroke rates. For the top sprint speed, we paddle as hard as we can for approximately 10-15 seconds and then record our average speed. For the casual test, we paddle at 40-35 strokes per minute for approximately 30-60 seconds and record the average speed.
The Thurso Waterwalker 132 is a zippy all-arounder, and we found it to go faster than its smaller sibling (Waterwalker 126) despite being a few pounds heavier. This is because this board is 6 inches longer, so it has an easier time picking up speed. As a general rule of thumb, increased length equals increased speed.
The board has a tri-fin click-in system, but for the fastest option, use only the single center fin and leave the two small side fins in the SUP bag. As a side note, if you are paddling in shallow water you can take out the center fin and just use the two small side fins.
Tracking: 9.1/10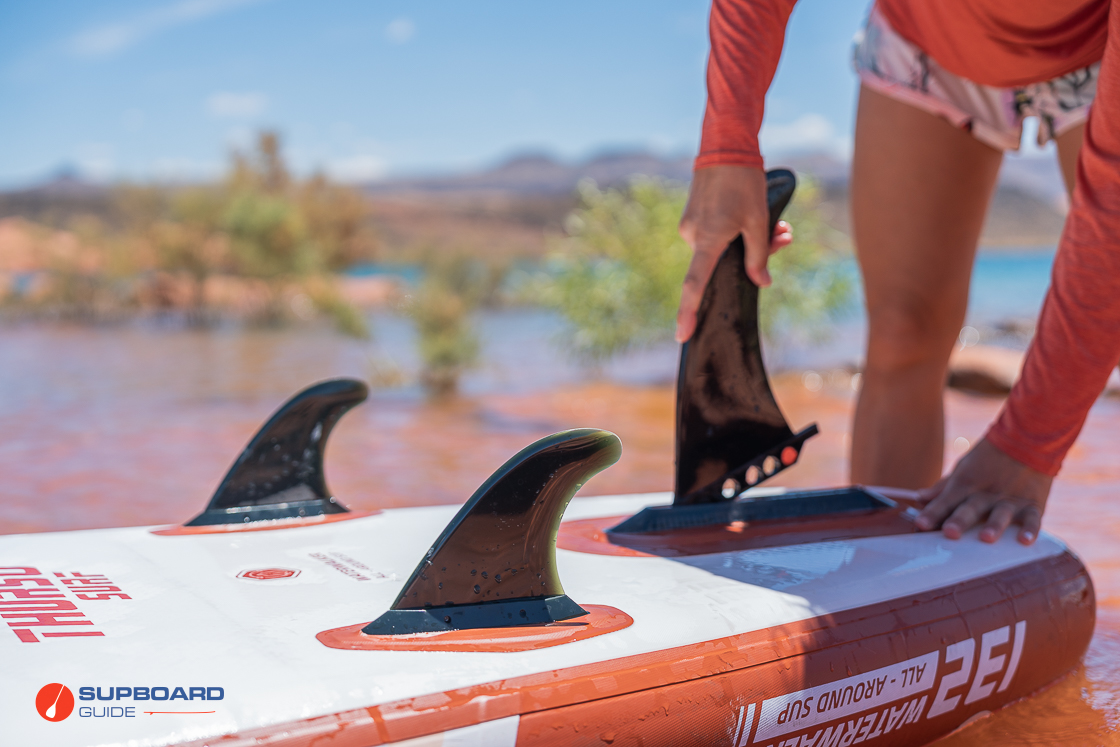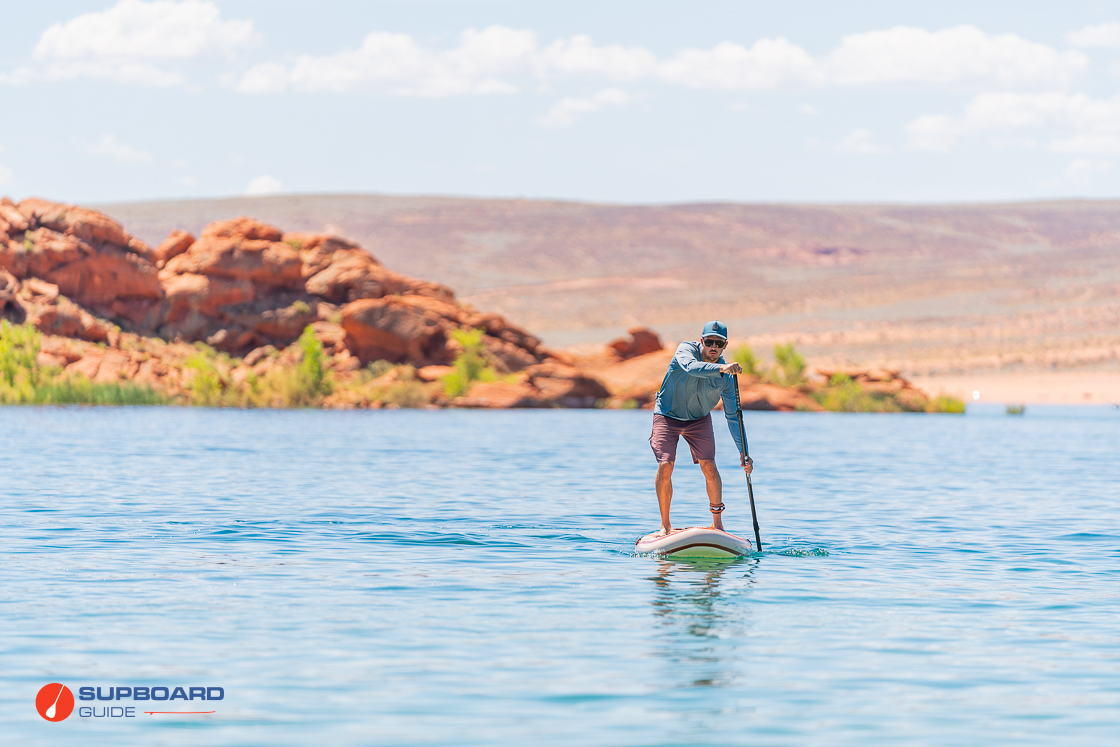 We are very impressed with the tracking capabilities of this SUP. We found that we could paddle casually without having to focus on switching sides. Which, for a team that talks a lot, we appreciate.
We did find that the tracking capabilities differ depending on which fin setup you use. If you are after its maximum tracking capabilities, then click on all three fins. However, this will slow down the board and decrease its maneuverability. For flat water paddling, you truly only need the single center fin. The difference in fin setup is too subtle to worry about.
The fins themselves are super easy to attach to the board. The center fin is a 9'' dolphin-style and you can either use the Kumano plug system or a fin screw. We find that with the Kumano system, it's easy to get the fin into place with 2 plugs but with 3 you need to use extra force. As for the two smaller side fins, they operate with a click-in system, where you align the fin with the slots, put them in, and then slide them back until they click. There is a fin screw for tightening them into place and the whole process takes less than 5 minutes to complete.
Maneuverability: 8.7/10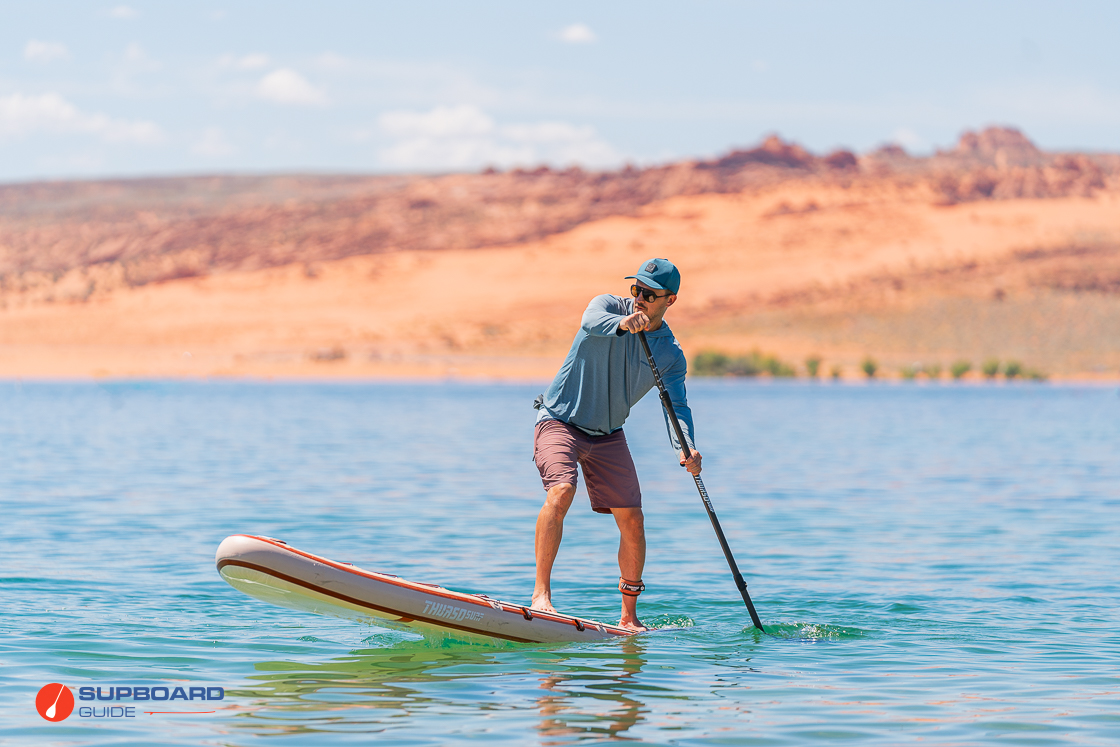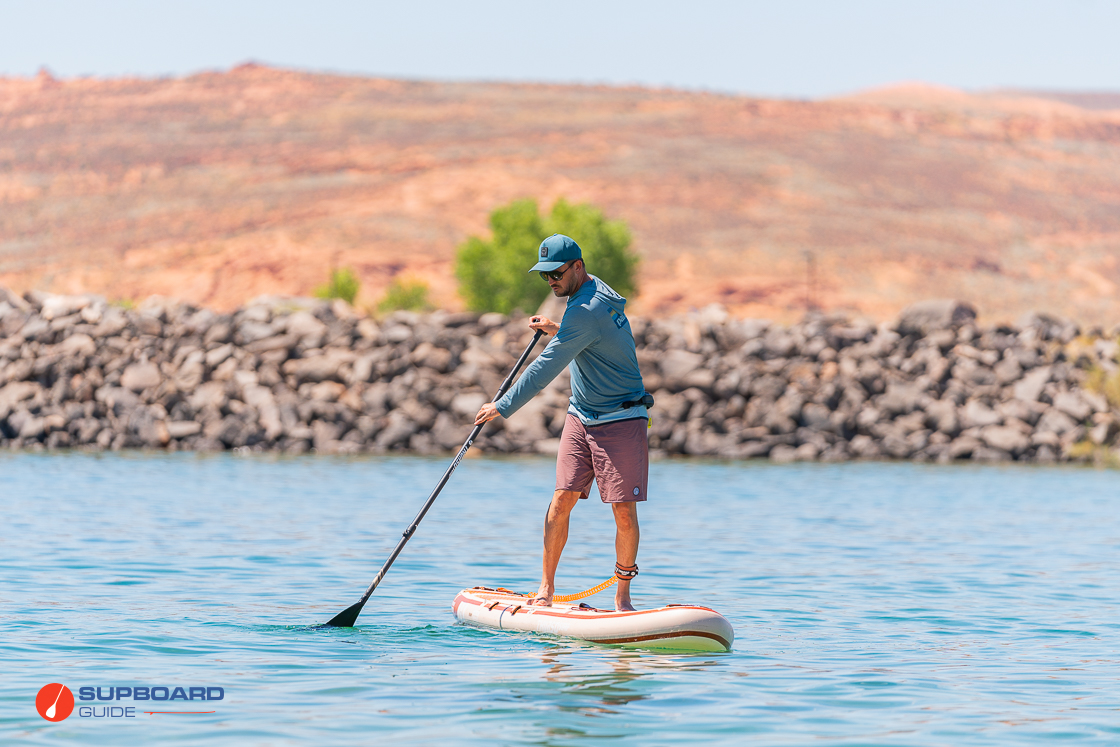 The maneuverability of the Thurso Waterwalker 132 is right in line with where we expected it to be. It turns easily and smoothly, but being 11 feet long, it doesn't swivel on a dime. We found it to take about 5 back sweep turns to turn in a full circle, which is one more than what we normally need when we test typical all-arounders, like a 10'6' board.
Overall, our favorite way to utilize the fin setup is by just clicking on the single center fin. Through our testing, we found this to be the best setup to get this SUP to perform like a true all-around, aka having a balance between its capabilities. With just the center fin in, the board tracks well, has a nice speed, and has increased maneuverability.
Construction Quality: 9.1/10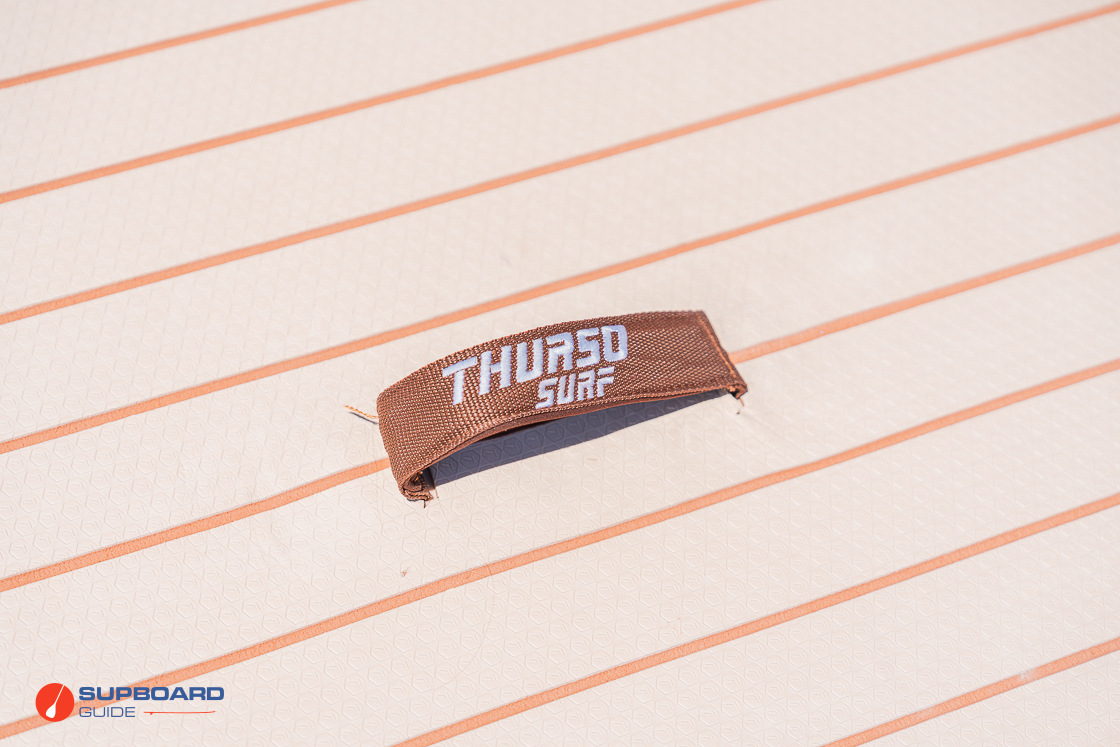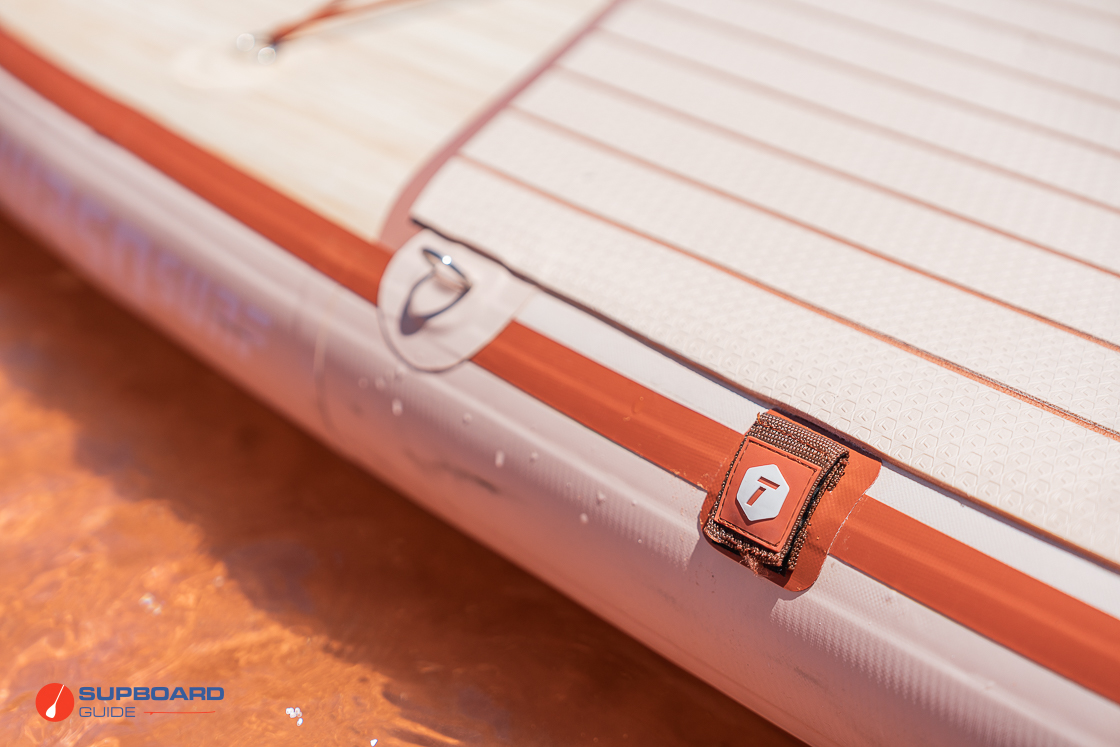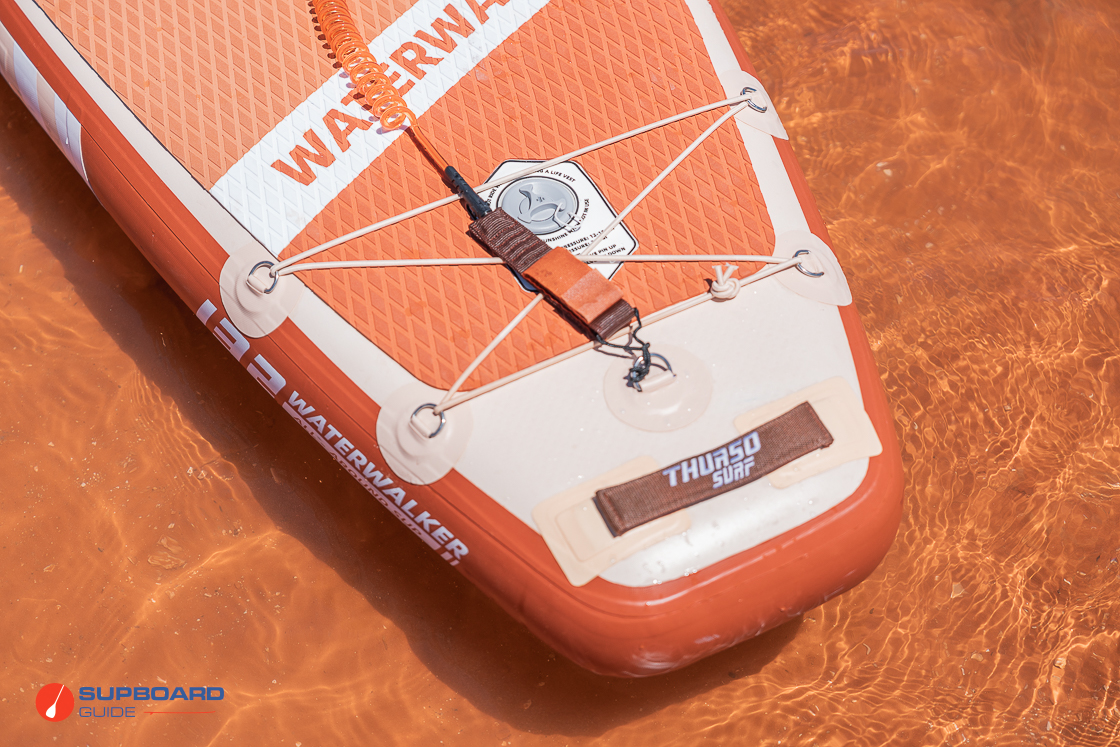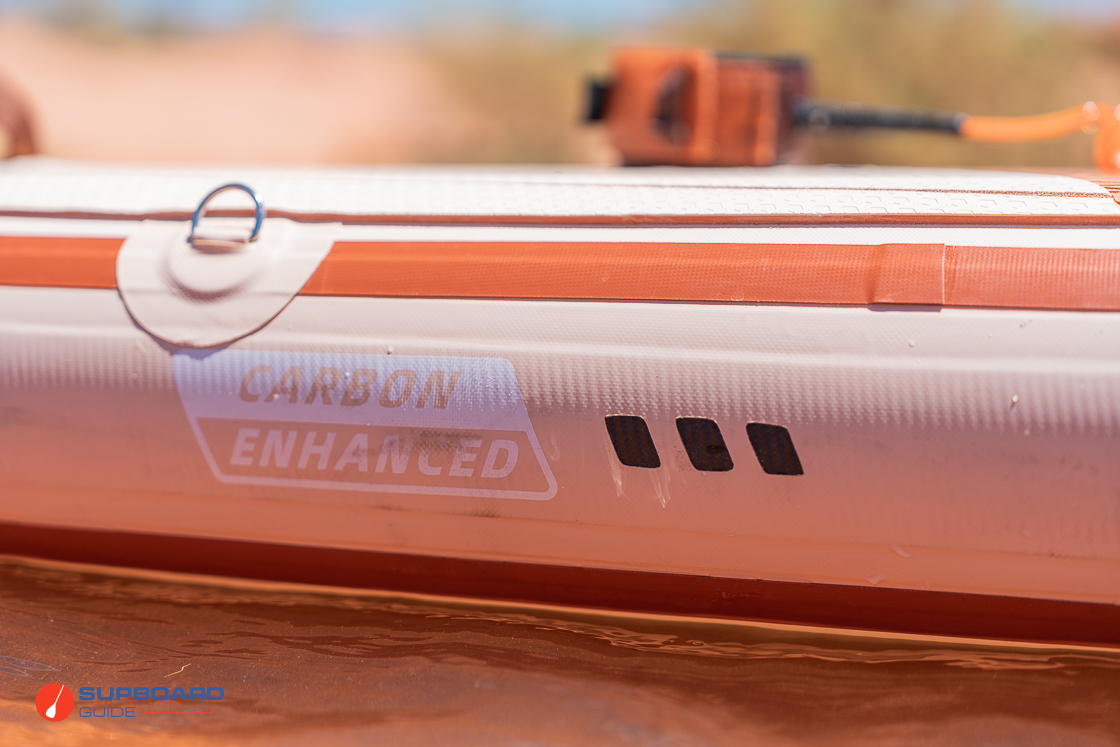 Thurso describes the construction of the Waterwalker 126 as using a V-knitted drop-stitch core, a dual-layer PVC, and carbon rails.
For the inner core, the outer fabric sheets are a knitted fabric (as opposed to woven) and the space yarns that run between the two fabrics create a V shape (as opposed to an X shape). In the SUP world, we are starting to see more brands moving towards an X-woven drop stitch core, but a V-knitted drop stitch is a perfectly good option too and the addition of carbon rails contributes to the board's increased stiffness.
To coat the inner core and create the outer layer, two layers of PVC are laminated to the inner fabric using fusion. Fusion is the process of using heat and pressure to create a bond instead of adhesives/glue. Using two layers of PVC in conjunction with carbon rails increases the stiffness and rigidity of the board even more, and we found this to be true in our bend test (see next section).
All in all, we respect Thurso's decision to use a V-knitted drop-stitch core with a dual layer of PVC and carbon rails. The boards perform well without being so high-tech that they are super expensive. These are affordable, durable options.
Board Stiffness: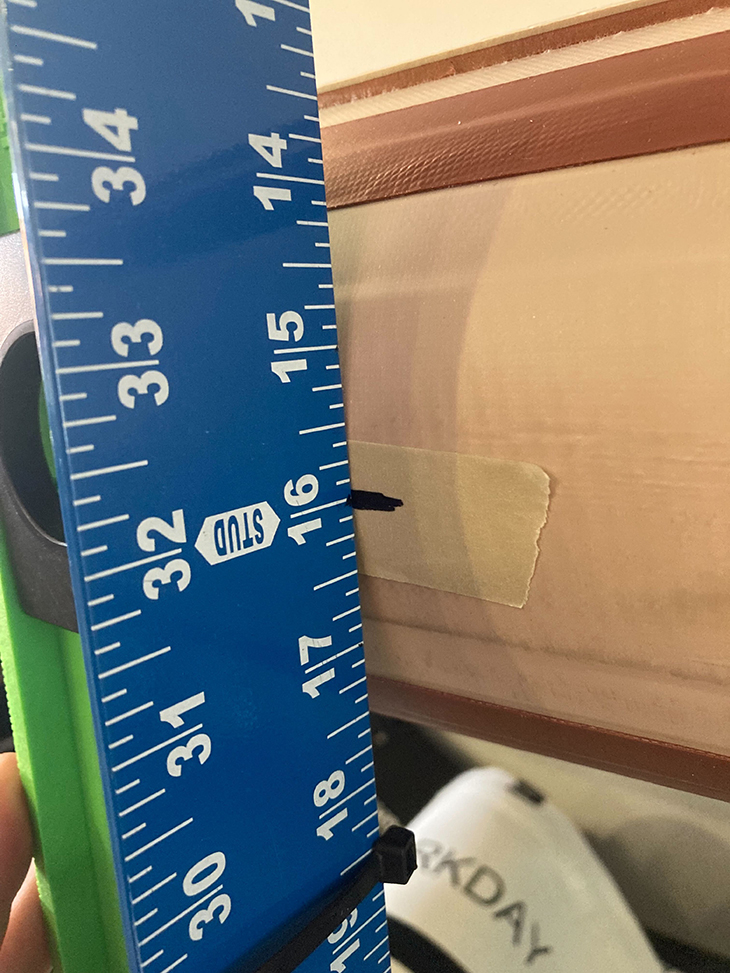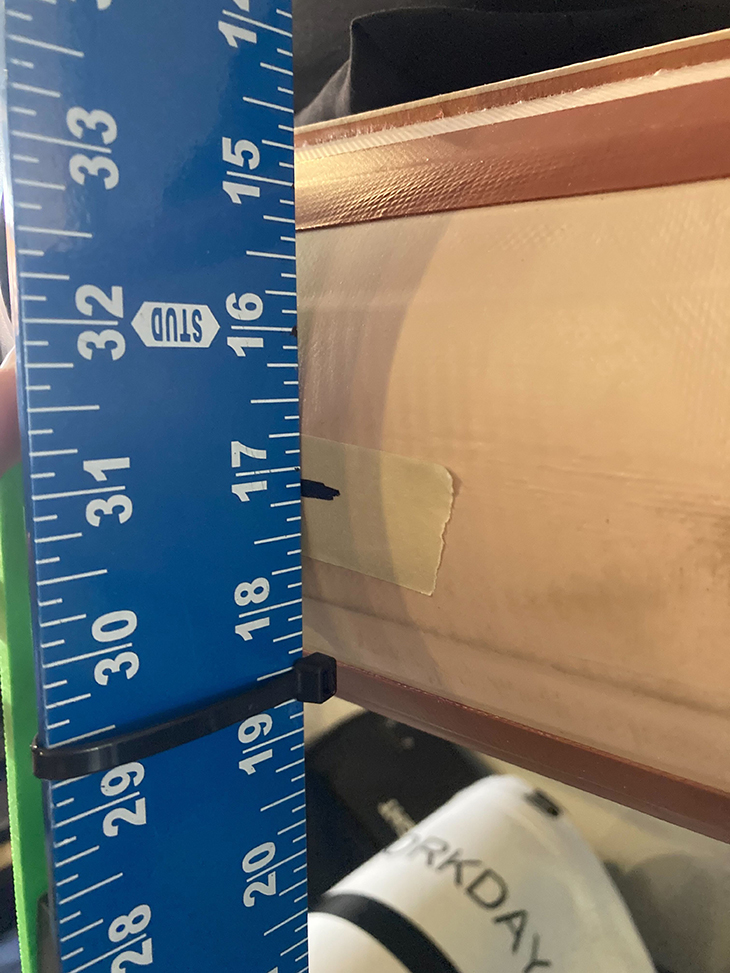 Stiffness Test: 1.125 " Bend
SUP Board Guide's Bend Testing:
In order to attest to the rigidity of each board, we use a bend test curated by Supboardguide. In order to obtain the results, we inflate the board to its maximum recommended PSI and then place it across two sawhorses that are 7 feet apart. We then take a measurement in the middle of the board. Then, we place 150 lbs worth of sandbags on the middle top of the SUP. Last, we record its displacement (the movement from its original position). We use this method for every board we test as a way to mathematically compare boards across a common denominator.
The Thurso Waterwalker 132 bent 1.125 inches, which is the same result we got with the Waterwalker 126. Because the Waterwalker 132 is longer but slightly wider, scoring the same in the bend test checks out. The width balances out the extra bend that would naturally happen with increased length.
We are impressed with these results.
Features/Accessory Review: [9.5/10]
Features: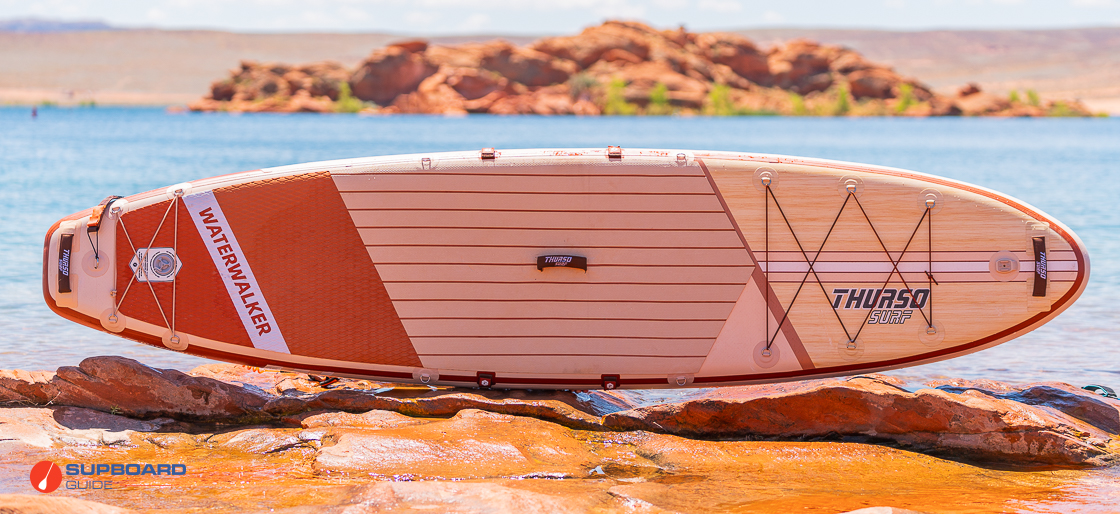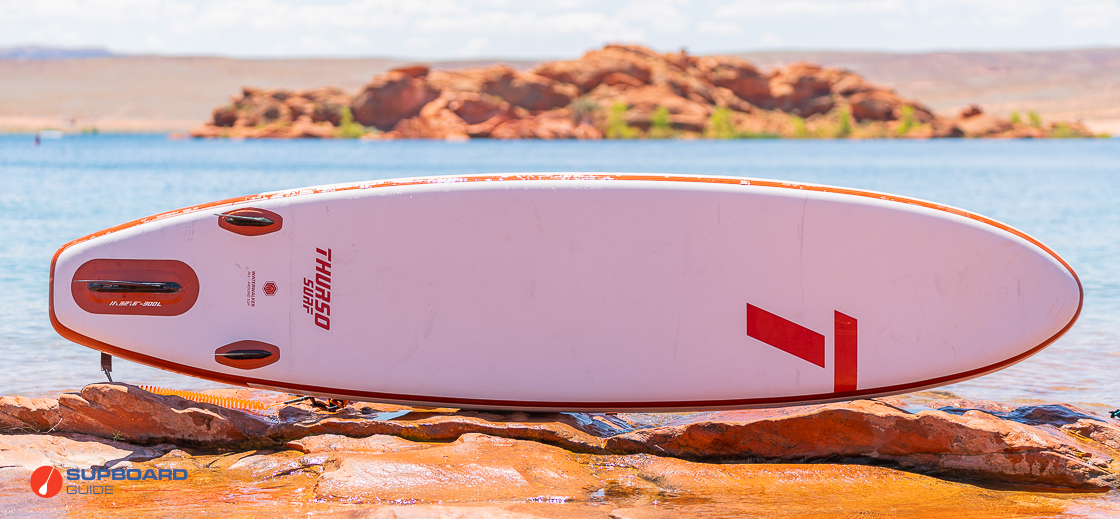 Thurso scored its highest marks in the Waterwalker 132 review in the features department. The overall look of the board is generally simple, with a sporty and modern aesthetic to it. The laminate on the nose of the board is made to look as if it's wood, and the rest of the board is a soft color that complements that (it comes in turquoise, tangerine, or dusk).
While this board is not minimalist, it isn't overly loaded with action mounts and cargo space. It has one action mount directly in the middle of the nose of the board, which we like because it allows for capturing adventures head-on. We do want to see Thurso add a few more action mounts integrated into where the bungees are attached.
There's a bungee cargo area on the nose of the board as well as an additional small bungee cargo area on the tail. These bungees are nice and tight and can strap down small to large objects.
The deck pad is diamond-grooved on the lower half of the board, which is great for step-back turns! It helps with traction and water runoff. There's also a rear carry handle and a leash point.
There is a total of 15 d-rings on the board, with the majority of them being where the bungee cargo areas are. We like this design because it allows you the opportunity to strap down and secure more cargo.
To finish it up, there's a nose-carrying handle.
The only thing we would like to see Thurso change about the setup of this SUP is the center carrying handles placement. We want to see them move it backward an inch so it's more balanced in your hand when you carry it inflated.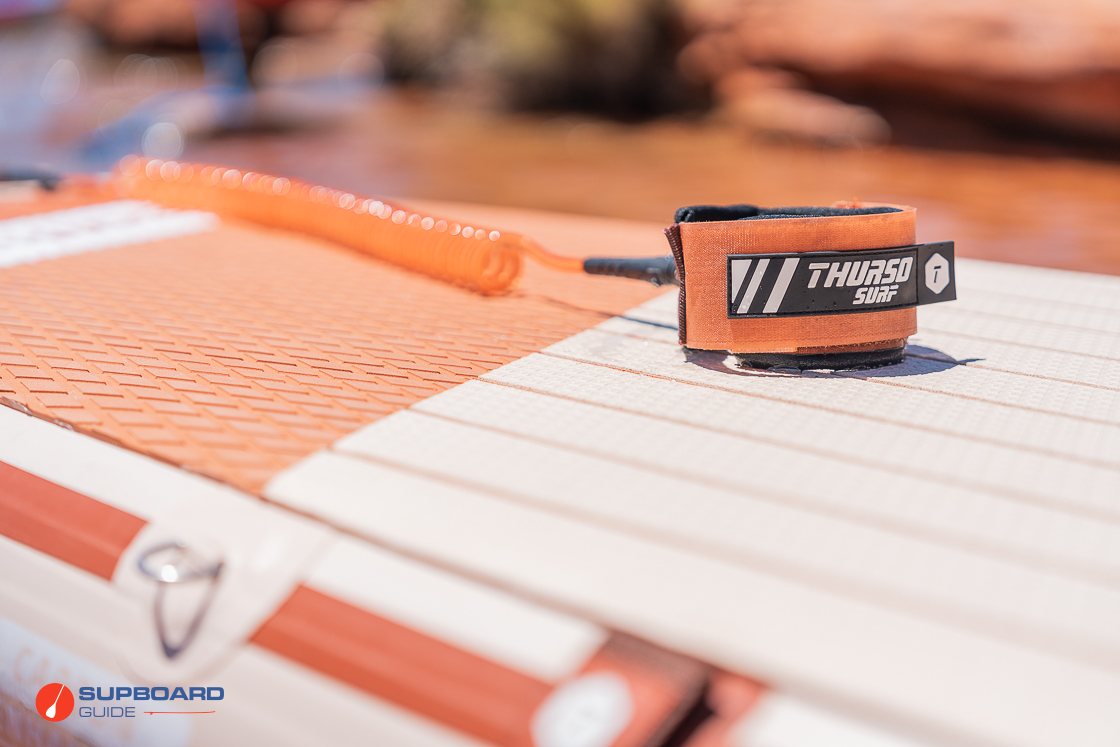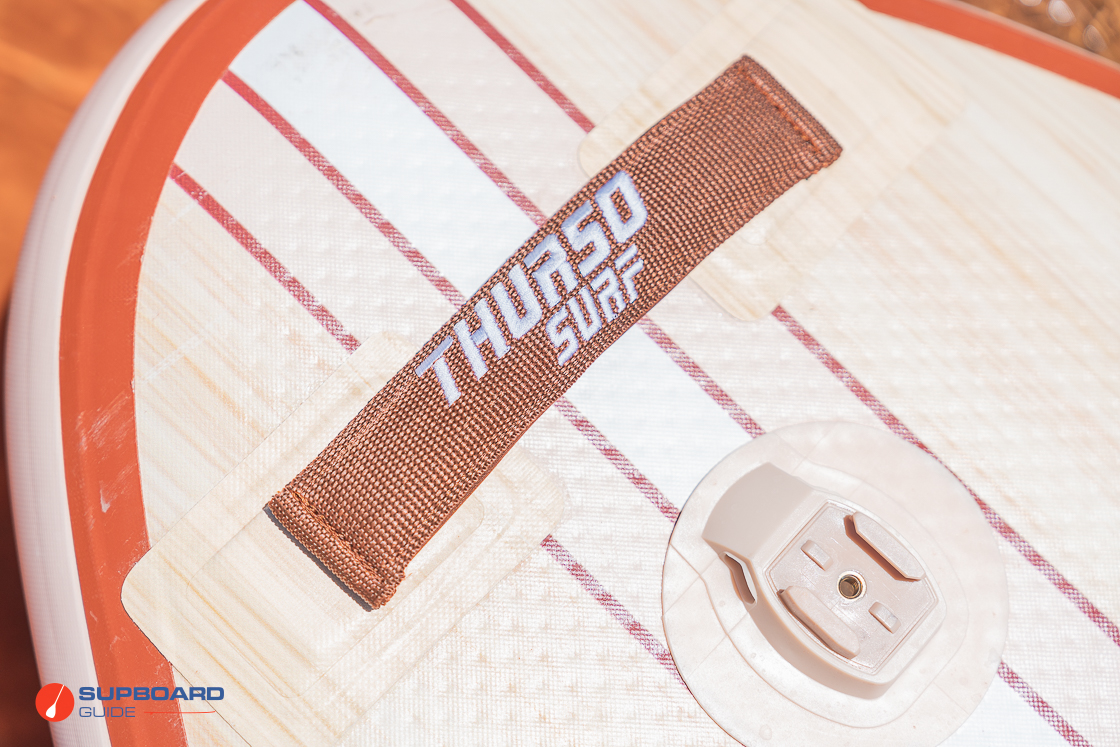 Included Accessories: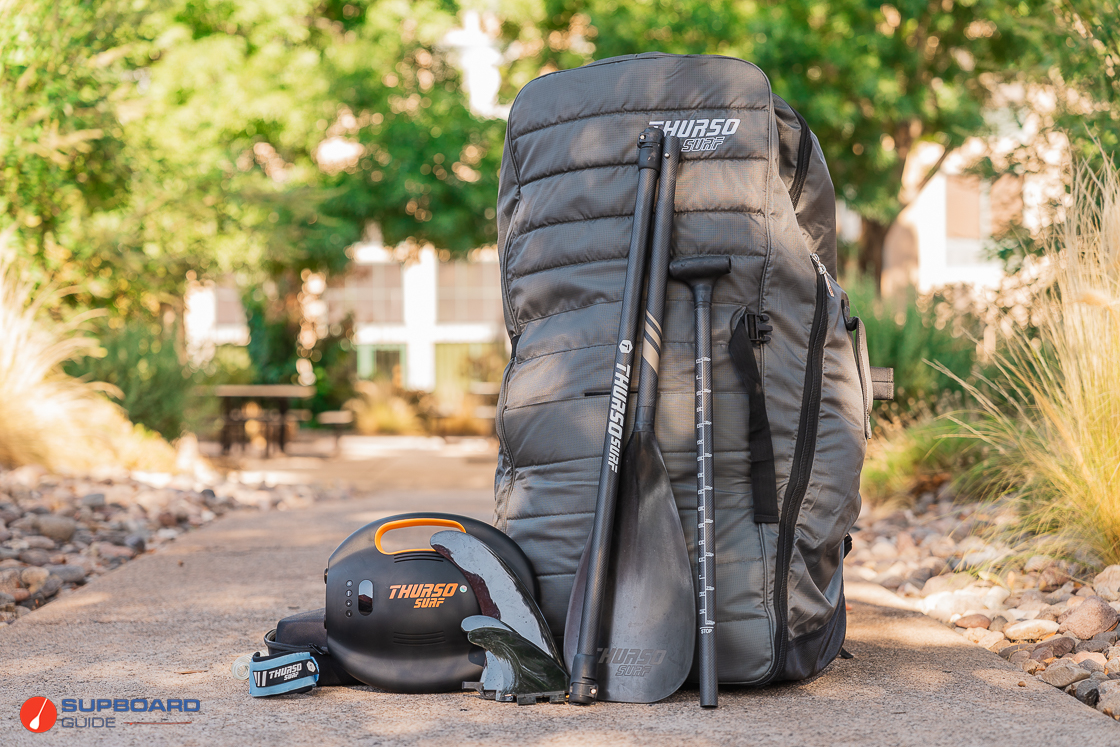 We really like the wheeled backpack and kit that Thurso supplies you with when you purchase the board. First of all, there is an organizational pouch that the fins, tool kit, repair kit, and leash come in. We don't often see this with other boards, and we really like it. It makes it easy to keep track of all the accessories and items that you need to get out on the water. It's an awesome setup and we have a way easier time not losing a piece of gear because of it. As a bonus, the swivel leash is color matched to the board you choose – which we think is a nice touch.
Additionally, an electric pump and a paddle comes included. We think the entire package is a great deal, especially for the price, however, the electric pump is slow to inflate the board. So don't go out there in a big rush – enjoy the moment! As for the paddle, it's a 3-piece carbon hybrid paddle. Carbon hybrid paddles tend to be very durable, and in this case, that checks out. We like the paddle and overall see a lot of worth in this package.
Summary Review of the Thurso Waterwalker 132 – 2023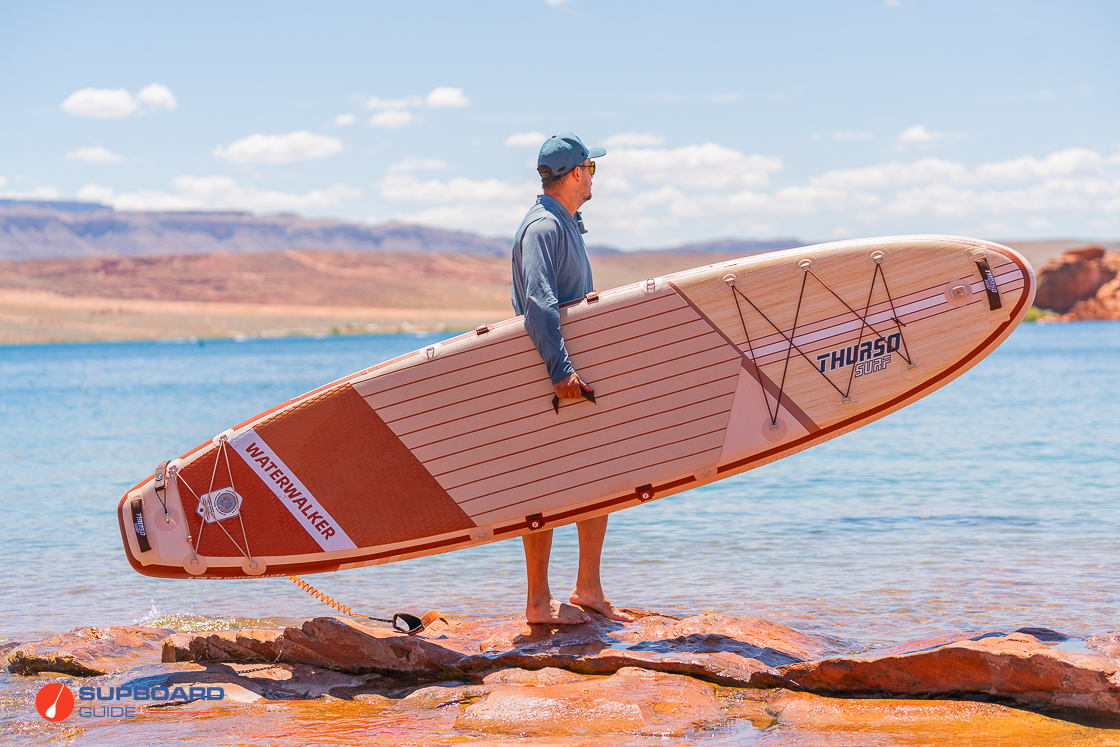 If you are looking for a nimble all-around board that has strengths in tracking and speed, then the Thurso Waterwalker 132 is a great option. At 11 feet long, it has an easier time picking up speed than its smaller counterpart the Waterwalker 126.
While it is advertised as a 32'' board meant for taller/larger paddlers, we found that in reality it is 31.5'' wide, and is not the most stable option for taller/larger people who are new to SUPing. Rather, we find it to be a great option for average-sized paddlers who prefer a longer board for either increased speed or more deck space (6 inches more deck space than the Waterwalker 126 to be exact).
As a team, we have a lot of fun on this board and think Thurso nailed the plan shape in terms of making a trackable, peppy board. Plus, it comes with an electric pump!
We hope you enjoyed reading our Thurso Waterwalker 132 review, and happy paddling!
The following two tabs change content below.
SupBoardGuide
Heyo! At SupBoardGuide.com we are a team who love the water, the outdoors, and are more than grateful that our full-time job allows us to review stand up paddle boards. We paddle year round (it helps that we are just about 2 hours outside of Las Vegas), and we bring in a wide range of paddlers with the goal of providing our readers with the best, most in-depth, and accurate stand up paddle board reviews.
Latest posts by SupBoardGuide (see all)