SupBoardGuide.com is a website dedicated to helping people:
Learn about the wonderful sport of stand up paddle boarding
Help people figure out what SUP is best for them
Answer any questions about stand up paddle boarding (what's the best SUP, paddling tips, etc.)
Help build up the SUP community
Help (good) SUP brands grow and push them to continually make better stand up paddle boards
Below you'll find a short bio about our team. Please contact us if you have any questions or if you are a brand looking for ways to get exposure for your products.
Current SUP Board Contributors
Justin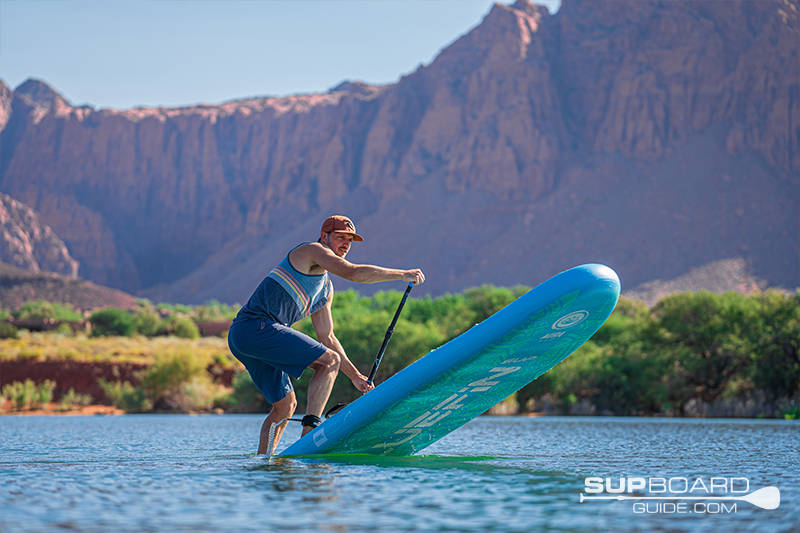 Hi, I'm Justin, and I'm stoked to be part of the SupBoardGuide community! Living in southern Utah as a land-locked not-so-great surfer, I'm lucky to have several great SUP locations near by to get out on the water and out of the heat!
My role as SupBoardGuide is lead product reviewer, and I personally test every board that we get sent for review. I have a passion for finding the best products in everything I buy and love helping others find the right SUP for them.
Currently, I'm working towards becoming a certified PSUPA instructor and also am looking to improve my whitewater SUP skills. Of course, one of my favorite activities is a long paddle with my wife and kids. I also enjoy surfing, mountain biking, and pretty much anything else that takes me outside.
If you have any questions about stand up paddle boards, let me know!
Past Contributors:
Sarah (Sacky)
I'm Sarah. I have a unique sense of humor and have been told that I'm annoyingly optimistic at times. You either have already seen my name/face on the SUPBoardGuide site or will do if you snoop around. I'm the newest addition to the team! I'm water obsessed. SUPs, surfing, sailing, kayaking, snorkelling, rafting, diving…I love it all!

During my time at SupBoardGuide, I hopefully gave you insightful and honest information about all things SUP. For now, you can check out my travel blog. As of this year, I have moved on to work with a SUP company here in Australia, so sadly I'll no longer be part of SupBoardGuide.

Tobias

I'm Tobias, creator of SUPBoardGuide.com. I'm 26 years old and currently live in Hamburg, Germany. I've moved to Hamburg about a year ago after spending some time in Canada, California and Bali. I've been paddle boarding for the last 4 years and have loved every second of it. While SUPBoardGuide.com started out as a hobby, it's turning more and more into a full-time obsession.

Hamburg is definitely one of the coolest cities for paddle boarders and the sport and the paddling community is growing fast! There are tons of small rivers and canals that can be explored by SUP and almost all of them are connected by a large lake in the city center called Außenalster (Check out the picture below).

On top of that, the port of Hamburg is the second largest in Europe giving you the opportunity to SUP right next to huge vessels or cruise ships. It's also just a 50-minute drive to the Baltic Sea so if I ever feel like hitting some waves I drive out there.

Check out the video below to see what it's really like to SUP in Europes most beautiful city!

My goal for the site was to build a fun community of like-minded people that love to be out on the water. While I was with Supboardguide I had the opportunity to cover anything from gear reviews to tips and tricks and the best spots to stand up paddle board but most of all anything that's fun or cool about paddle boarding.Contact Us

To help you find whatever you're looking for we've put together this website as a guide to all things SUP. If you have questions, want to share your story, or get involved in any way? Message us or contact us on Facebook.