Earth River SUP 11' Skylake Green
Pros
High quality materials and manufacturing
Extended deck pad / hybrid grip
Very stable / rigid
Versatile use for all experience levels
Fantastic bag
Cons
I'd like an improved pump
A paddler holder out of the way for more versatile use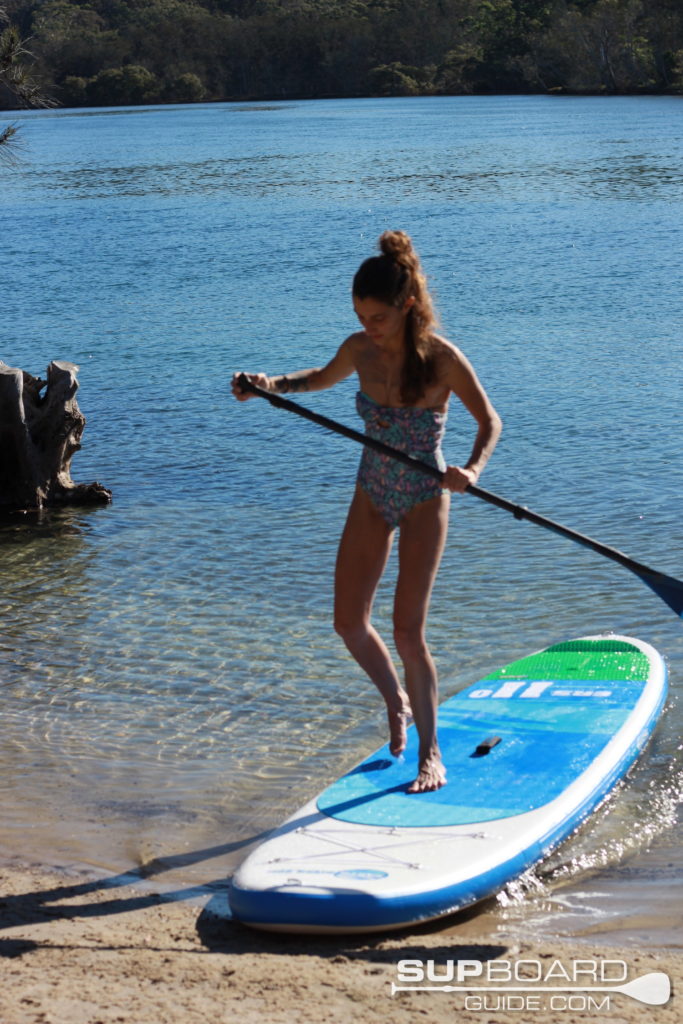 ***Note- Right now ERS is running a promotion for a free carbon shaft/nylon blade paddle worth $199 and free leash worth $50, plus heavy discounts on other upgrades that really bring the price down on this premium SUP board package.***
If you are after something that suitable for any range of experience, something that offers stability but also has high-performance attributes, then this is where you should start paying attention.
The 11′ Skylake Green is a versatile all-arounder that is especially a good pick for bigger/taller riders. It has a bit more volume and spaced stability than the little sister the 10'7″ or 9'6″ Skylakes. If you are after an inflatable SUP for cruisey paddles, and you either are a bigger/taller rider or take kids/pets with you, then this may be your perfect match.
Specs
| | |
| --- | --- |
| Length | 11′ |
| Width | 34" |
| Thickness | 5" |
| Weight Capacity | 265 lbs |
| Weight | 22 lbs |
Performance
The 11′ Skylake green was made as an option for the people who needed the extra volume/stability but still want something fun to ride. Being an all-arounder it's tracking isn't going to be on par with say the ERS V3, which is made for touring but it still tracks well enough for an enjoyable paddle. It's not the speediest board either but again, wasn't made to be. It's made to be a versatile board for leisurely paddling. And with that in mind, it's awesome!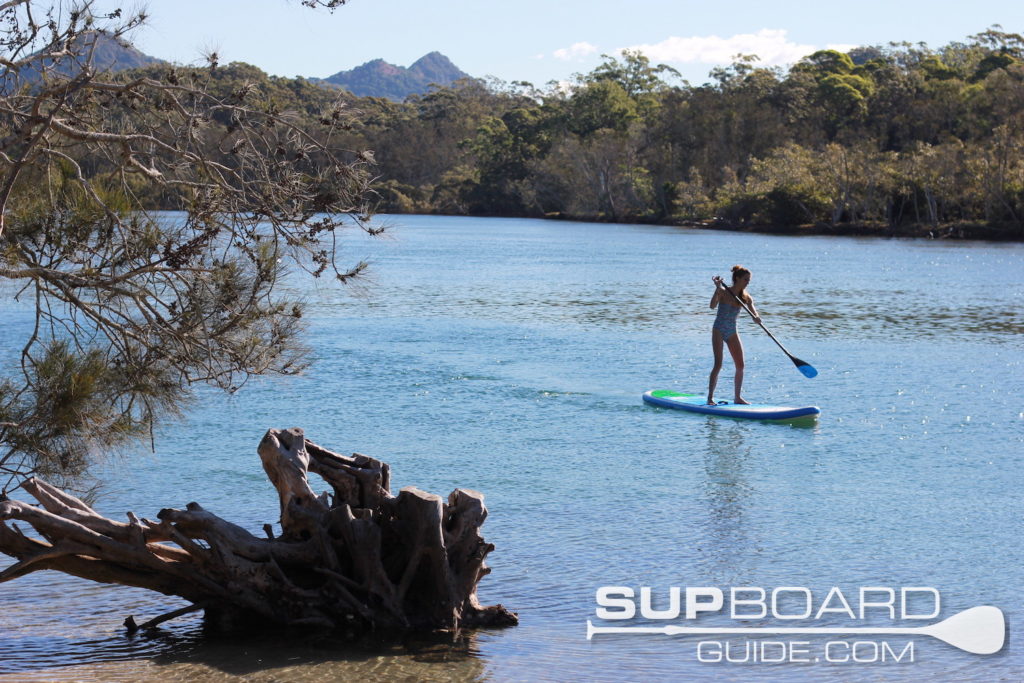 The deck area is super stable at 34″ so you can use this board for a few different things. SUP fitness is taking off and requires some stability in a board, while so does taking energetic kids/animals along for a paddle. Sometimes a big board means you lose out a lot of performance but the ERS Skylake Green is an exception. The thruster fin setup helps boost your maneuvering as does the raised heel pad/kick pad. Both things boost stability in turns which allows you to apply more force. I found turning to be stable as well as easy, perhaps not as easy the V3 as it's got a smaller tail but still better than many other 11′ all-around boards I've paddled before.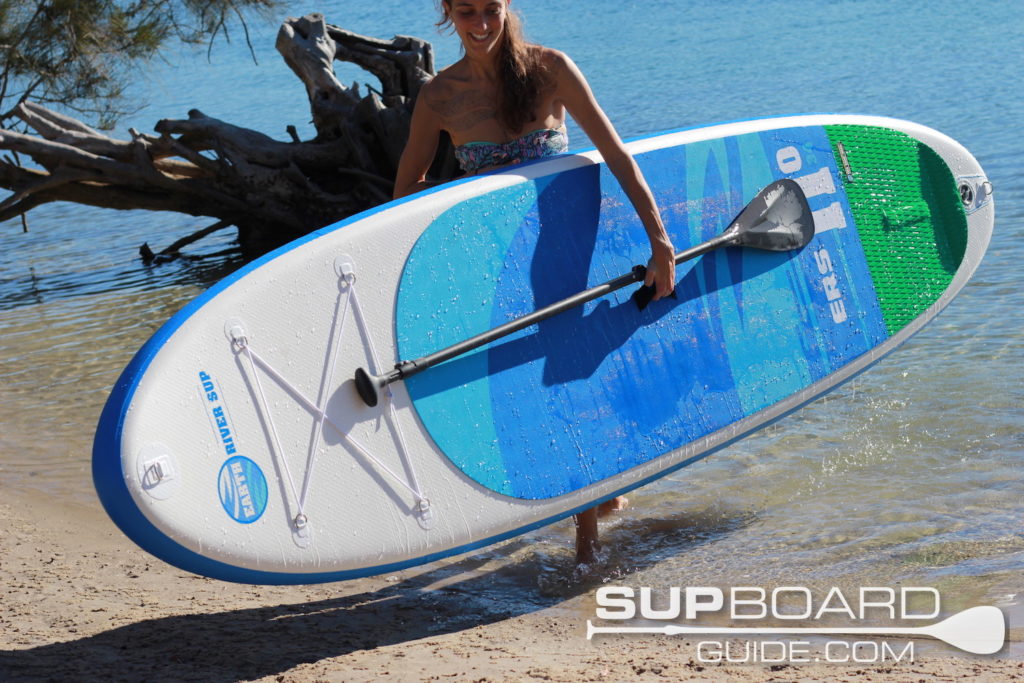 As far as location goes ERS suggest this board can suit chop up to class II waters. I wouldn't say that it's made to be in those conditions but it could handle them. The ideal paddling scenario would be casual paddling in low to moderate conditions.
Materials
Earth River SUP use high-quality materials all the way from the drop stitch core to the board features. To create the Skylake series, they start with a high tensile drop stitch core then fused to that is an additional layer of tough PVC. The system results in a durable, stiff, but lightweight board. The V3 series is a little different as all V3 boards have one extra layering of PVC fused.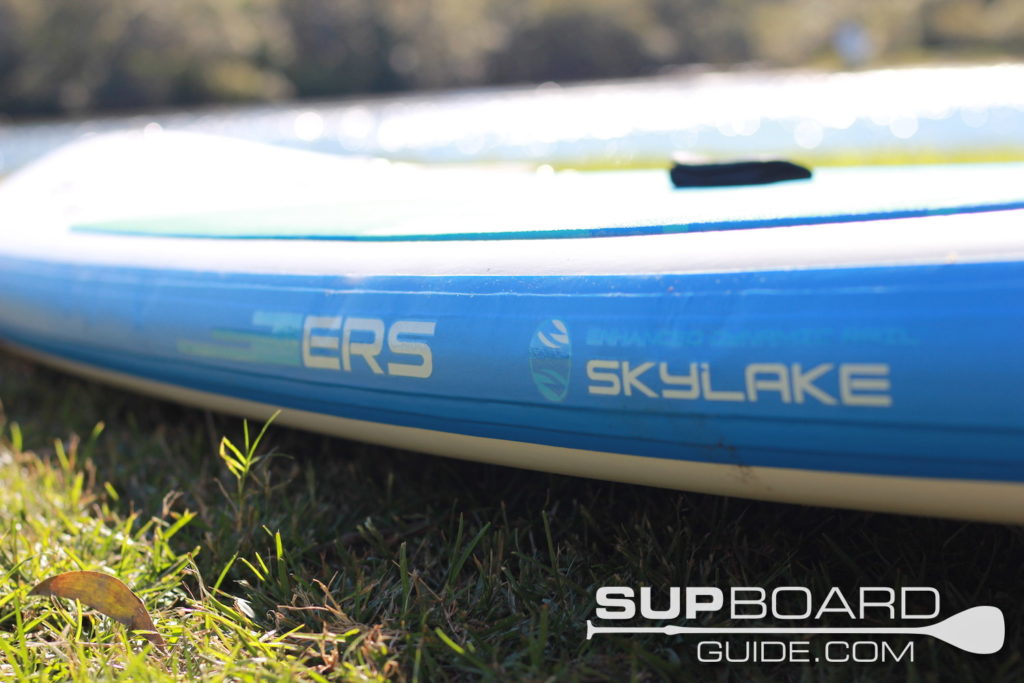 New for 2019, are the Enhanced Dynamic Rails. This feature is found across all 2019 ERS boards with the goal of making the board more stiff while still being light-weight. ERS has but built their Enhanced Dynamic Rail system directly into the board so you don't have to add/remove rods like you do with the RPC stiffening system. This gives you another level of rigidness especially when weight may be displaced unevenly, like in surfing/whitewater activities, etc. and makes the board a great option for those looking to take their paddling to the next level.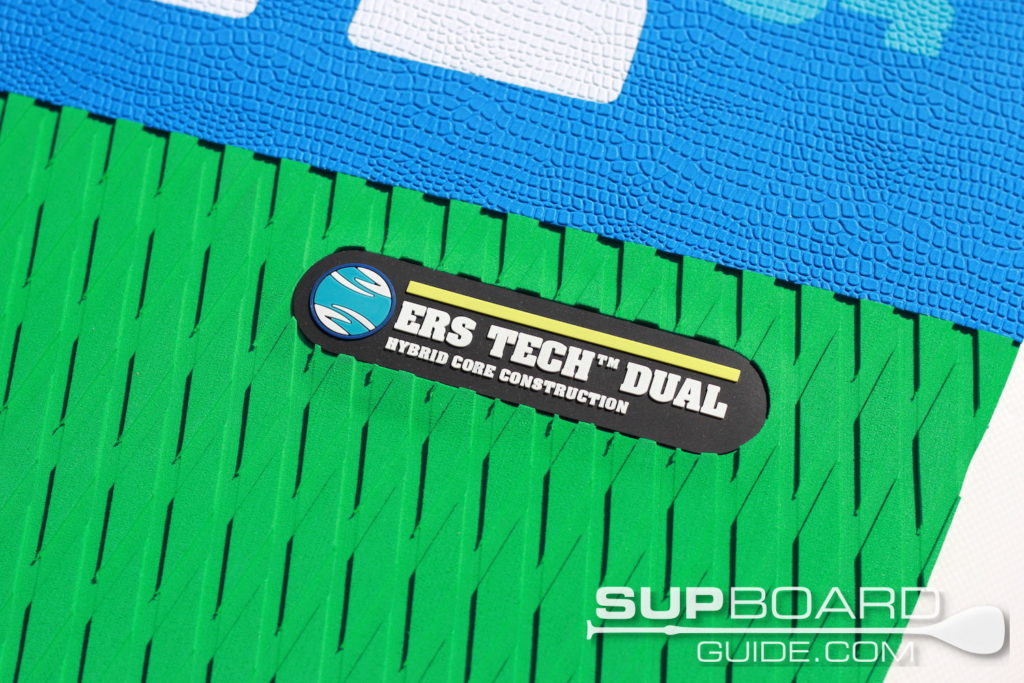 On top of all this is the deck pad. The Skylake series features a hybrid design with both diamond grooved patterns as well as the crocodile skin texture. The diamond groove is placed on the tail end of the board where you need the most grip, while the crocodile skin texture offers more comfort. The deck pads on Skylakes cover most of your board and also feature a kick/raised heel pad for more controlled turns.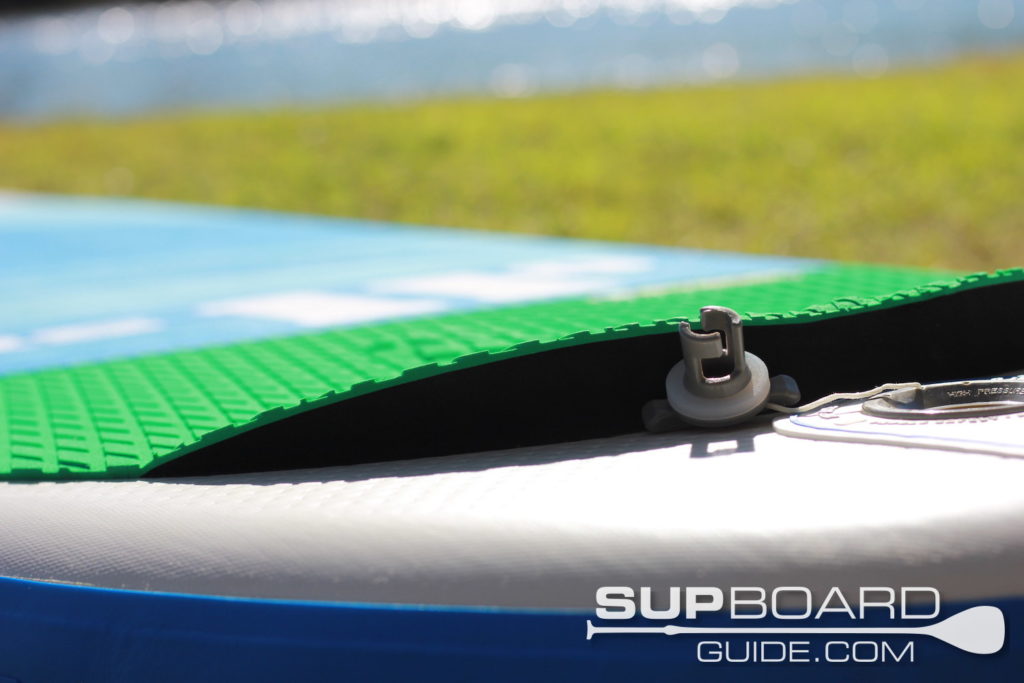 Board Design
As mentioned previously, this board is built as an all-arounder for those who need extra stability/volume. Which could either be a beginner looking for something easy to start on or an experienced rider who exceeds weight capacities on smaller boards. It's wide deck and relatively consistent shape makes for a steady platform while the materials allow for 5″ thickness which helps to maintain the board's performance. The other use this board could be appealing for is SUP fitness. Both for the stability but also the comfort of a large deck pad.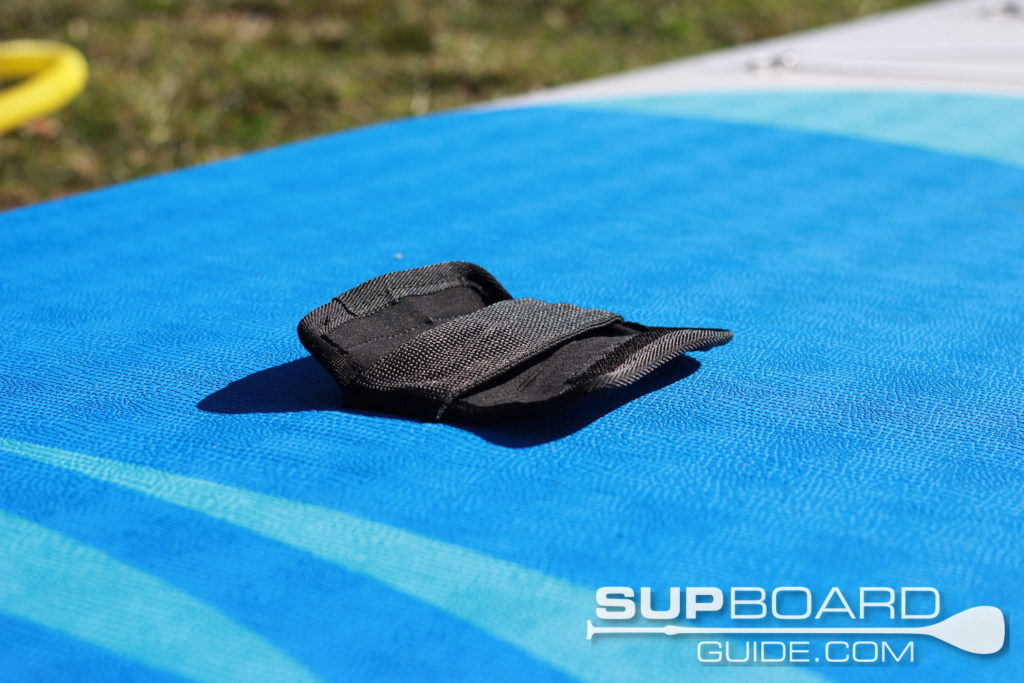 While if you are just going for a cruisy paddle then you'll have the all the features you need. Just enough space on the nose to store a small bag of items under the 4 D-rings and bungee. While on the nose there's an extra D-ring for towing/mooring. After having talked with ERS they quite consciously choose to keep their boards simple. For one, it keeps weight down and two, it leaves a de-cluttered deck for more versatile use of the space. They choose to appeal to a market where people's preference sits with high-quality performance as opposed to loaded features.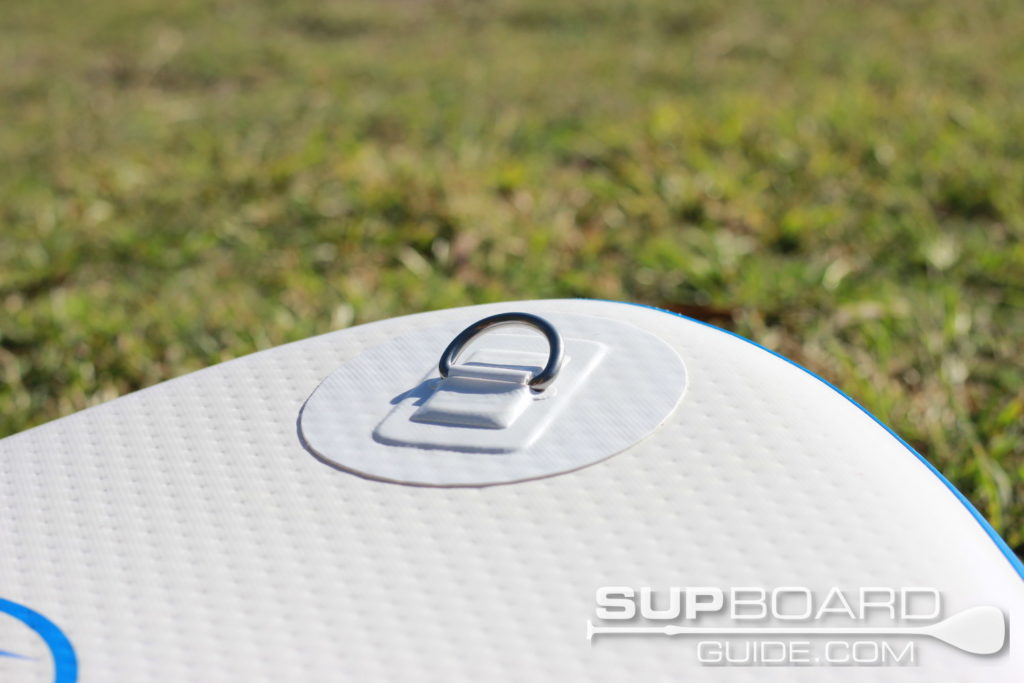 Features
Inflate/Deflate
The inflation of the 11′ Skylake with the pump provided takes from about 10 mins and upwards. Depending on how gung-ho you are to get out there! Though it's quite long and wide, it's only 5″ thick so little less effort than some boards its size. If you are not feeling like pumping by hand then you can invest in an ERS Compressor and perhaps even the GO battery too. If you buy through pumped up SUP you can upgrade with these for a fraction of the real cost!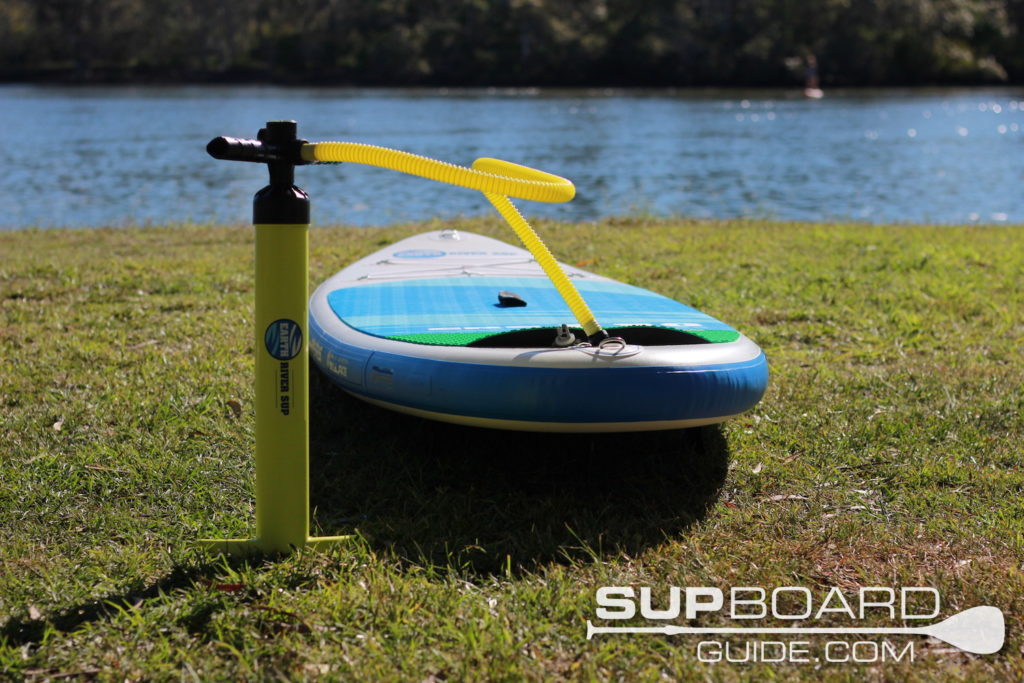 Deflating and rolling your board up takes a bit more effort than previous years but I think it's due to the enhanced rails, a fair pay off! I find leaving your board in the sun for a little while helps make the PVC softer and easier to roll.
Fin Setup
The fixed tri fin setup on the Skylake is in their words "unbreakable". The tri fin is great for stability but it lacks a bit in the tracking department. The joy of fixed fins is it's one less thing to worry about! They do bend and move and can become slightly warped as a result. If this happens, either pour some warm water over them or leave the board out in the sun and they'll move back into shape.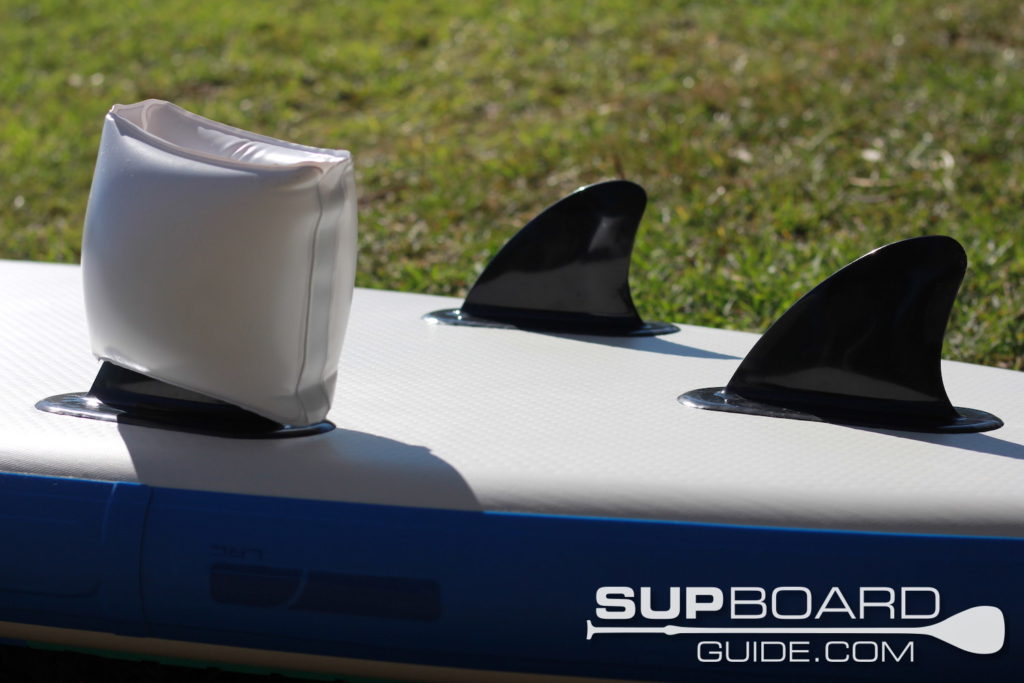 What looks like little arm floaties are also fin protectors for when you are storing the board but also help them keep shape once you have rolled your board up.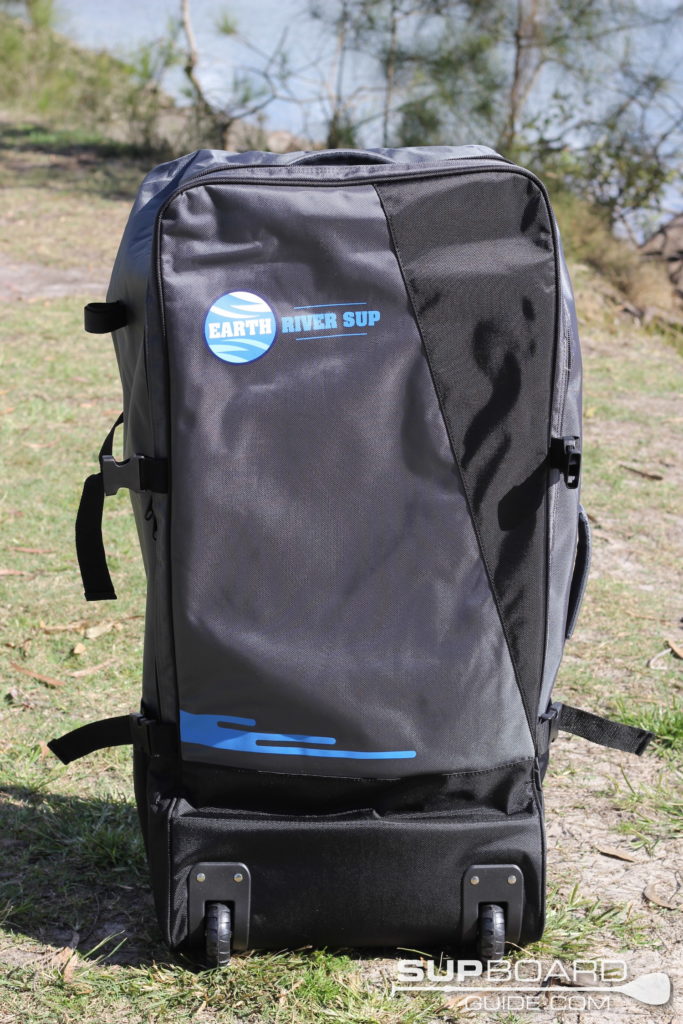 Accessories
Paddle
Depending on where you buy will result in what you get in the way of a paddle. If you buy through PumpedupSUP you currently get a free carbon shaft/nylon blade paddle worth $199.
Backpack
The bag that has it all! I really like the ERS bags. They look great as well as being extremely practical. If you are choosing to carry the bag, the straps have been placed well and very supportive, even with a full bag. While to make transport easier they also included wheels which are pretty good even on uneven tough surfaces. One downside of wheels and straps I've found before is the straps getting caught in the wheels. Not with ERS though! A little velcro on the back to tuck the straps way into prevents this.
Placing the gear inside is easy with the zippers opening right up and there being a great amount of space inside the bag. While moving the bag around is made easy by the padded handles located on the sides and top.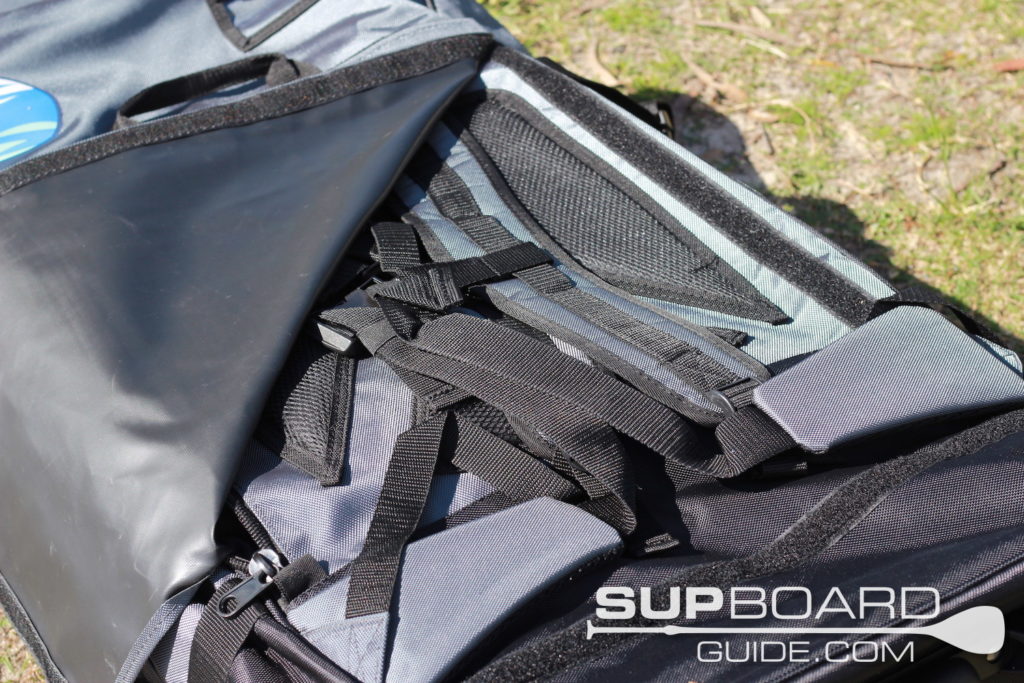 Pump
ERS decided to keep their pump simple and small for portability. It fits in the bag easily this way and keeps the overall weight down. While some of the newer double chamber pumps on the market are a little quicker, in my opinion, the ERS pump still is extremely efficient. With the dual action feature and also a deflate option, you still have a quality pump. The other side thing to consider is you can purchase an ERS Compressor at 40% less of normal price if you buy through PumpedupSUP.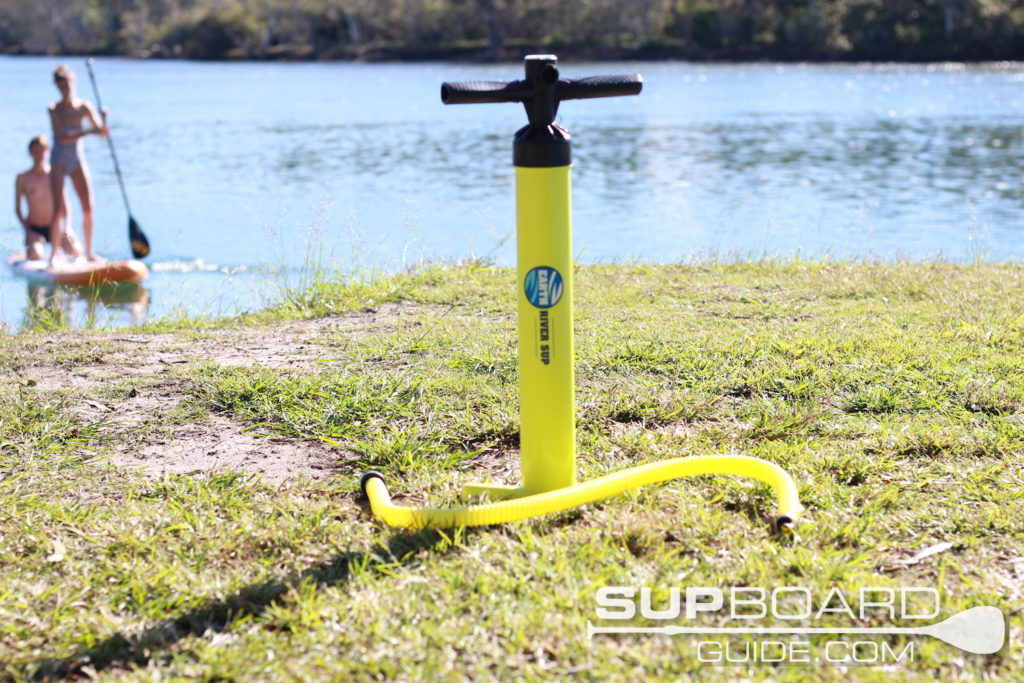 Leash
Same goes as the paddle, it isn't included by purchasing through PumpedupSUP you'll get a leash worth $50.
EXTRA GOODIES!
Electric Compressor + GO Battery
If being efficient is your thing then a compressor should be your first upgrade! If convenience is also important then you should get the compressor and battery combo. The GO Battery is super cool, it holds enough charge to inflate your board 6-8 times but also multiple USB ports to charge phones/speakers, etc.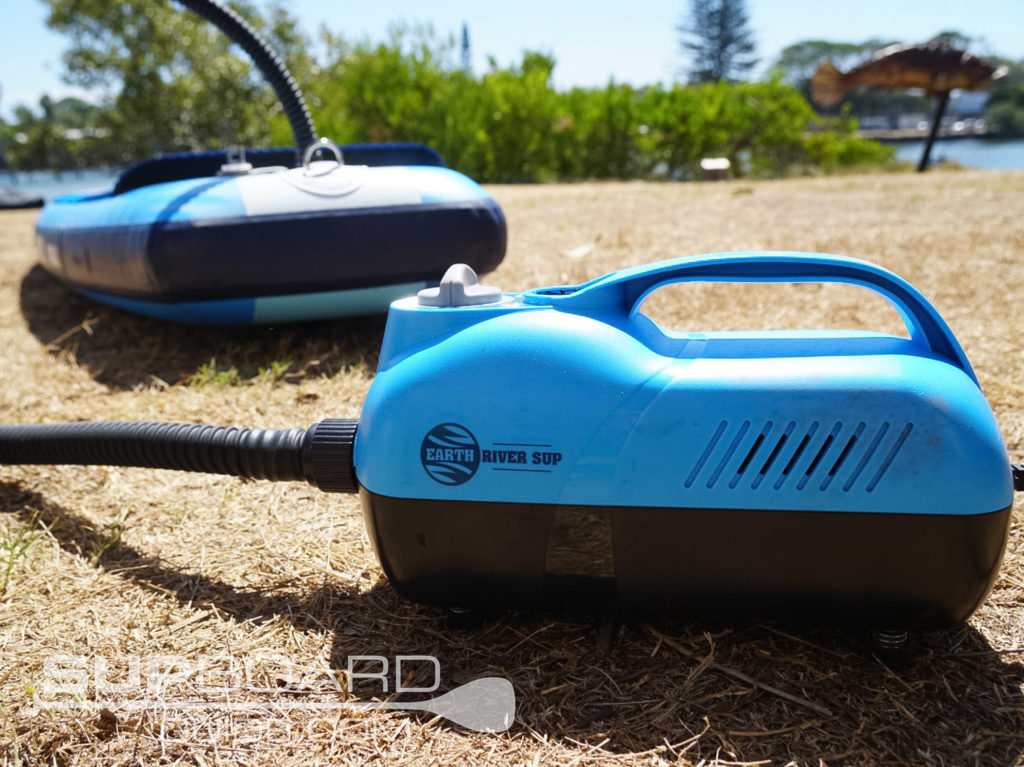 Full Carbon Paddle + Paddle Bag
If you choose to upgrade your paddle at some point, take a look at the ERS full carbon paddle with paddle bag also. It's an amazing paddle! It has no flutter and gives good results with a strong stroke. While some nylon blades are a little more durable they also make your paddle heavier which makes your arms more tired quicker. Learn to paddle smart and be rewarded by a featherweight paddle that delivers a big punch!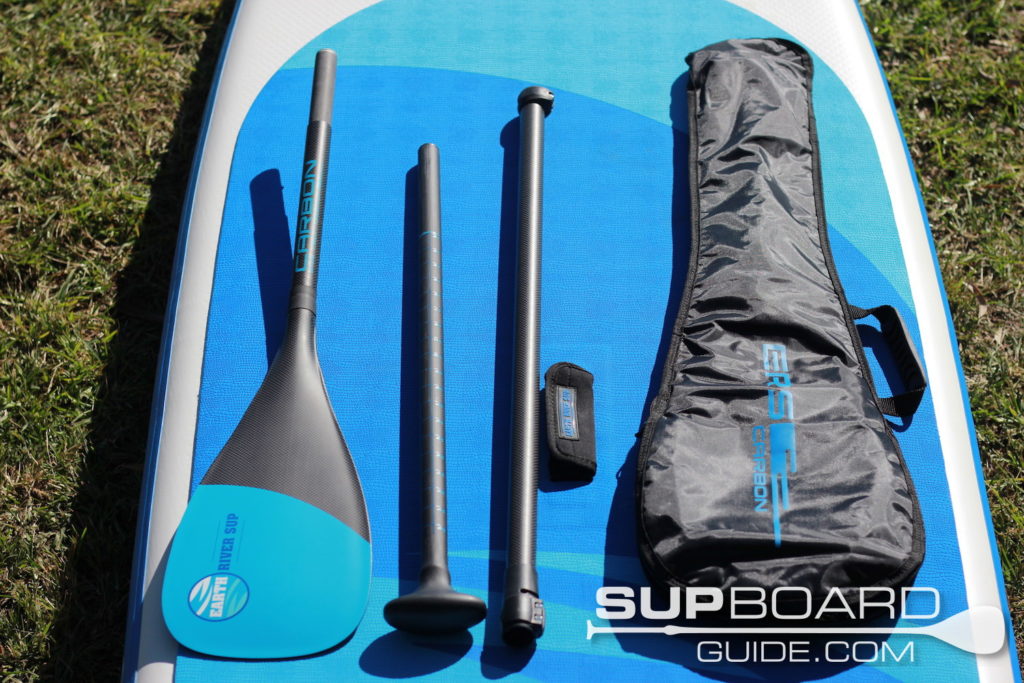 Conclusion
You can't go past the 11′ ERS Skylake if you are looking for a larger all-around inflatable SUP. The cost of extra stability is normally performance but not with the 11′ Skylake. ERS has worked really hard to find the perfect harmony between the two. If you think you probably don't need the full capacity then step it down and have a look at the 10'7″, though not much shorter its shape is different and more responsive.  If you are finding yourself leaning more towards something with more speed and glide, then check out the new V3 range, I recently went out on the 12'6″ V3.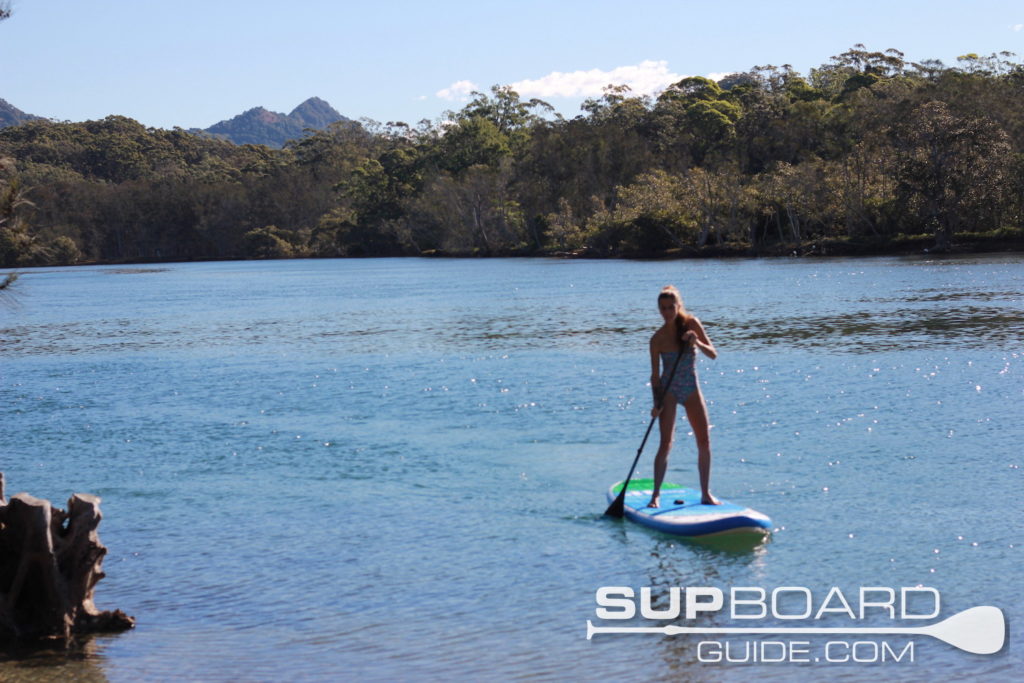 Earth River SUP has a 30-day money back guarantee on their boards as well as their 2-year warranty on all boards. Go out and buy with confidence! There's a reason many SUP rental/schools choose to use ERS boards, reasons you'll understand the moment you step on board.
**Also**
Right now you can get the 2018 version of the 11′ Skylake Green at PumpedUpSup for just $849, or the 10'7 for $829. That is a GREAT value for anyone looking to get a solid SUP board at a great price. Really the only difference is that the 2018 board doesn't come with their new Enhanced Rail System. You also will get a free paddle, leash, and free shipping!

The following two tabs change content below.
SupBoardGuide
Heyo! At SupBoardGuide.com we are a team who love the water, the outdoors, and are more than grateful that our full-time job allows us to review stand up paddle boards. We paddle year round (it helps that we are just about 2 hours outside of Las Vegas), and we bring in a wide range of paddlers with the goal of providing our readers with the best, most in-depth, and accurate stand up paddle board reviews.
Latest posts by SupBoardGuide (see all)