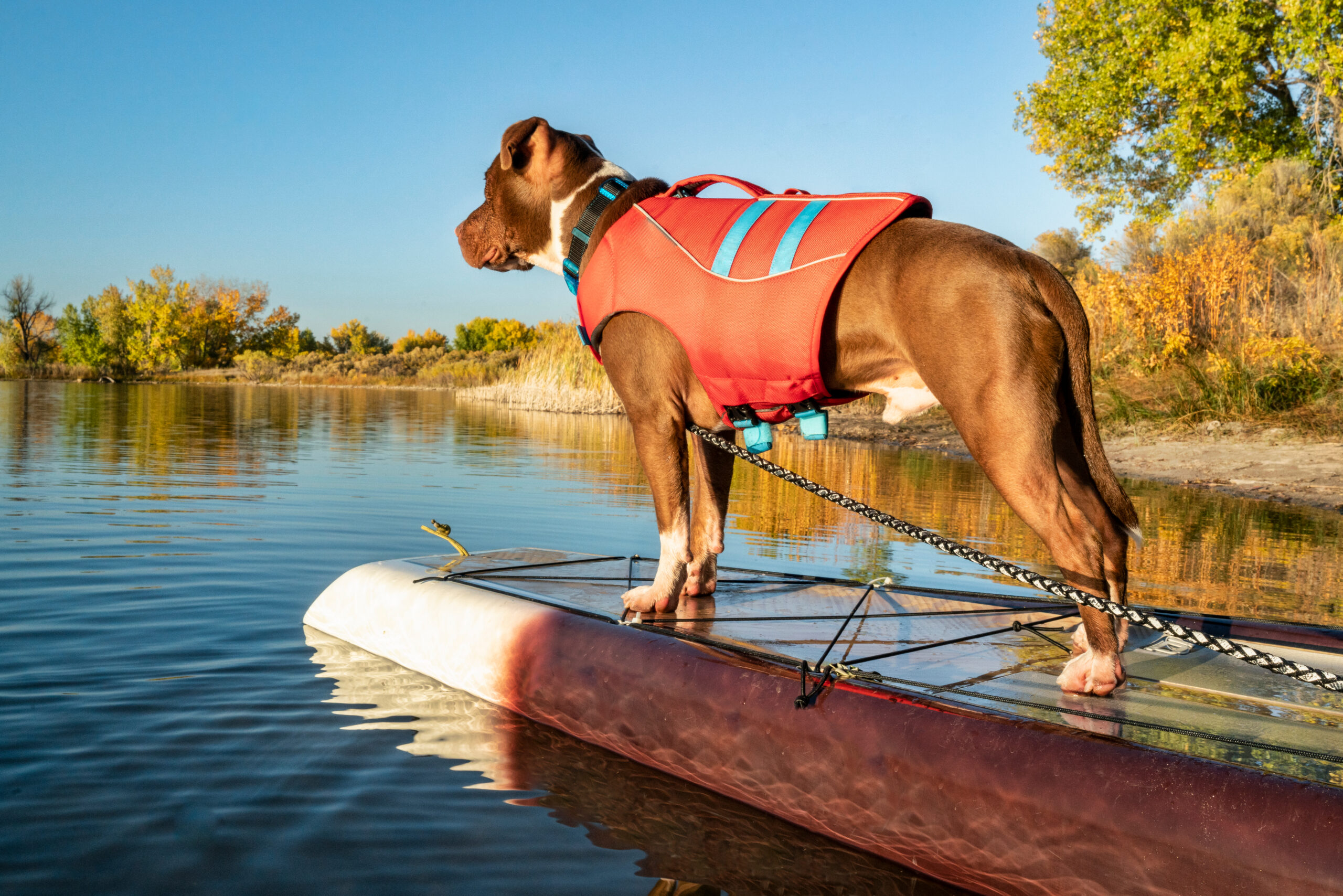 Whenever I'm reading through comments submitted to SUPBoardguide, a large portion of them come from paddlers who are looking for a board specifically to bring along their pup. Truthfully, there's no real surprise here. Paddling with your dog is tons of fun and presents a whole new level of bonding that goes beyond your daily walks; plus it's super hard to resist their little faces when trying to leave them home so you can head out to the water.
The reality is that most SUPs will be fine for most dogs; as long as they can fit on the board, they're essentially good to go. However, if your dog is anything like mine, sitting still is not their strong suit, nor is listening, or not launching themselves (and consequently me) into the water at every passing opportunity. For those cases, the experience will be much more enjoyable, and much less wet, on a stable, exceptionally dog friendly SUP.
Essentially, our list of the Best SUPs for Dogs will cover exactly that. Each of the boards that we'll discuss below are SUPs that I've paddled with my own (less than stellar behaved) dog and had an easy-going and enjoyable experience. We'll get into the criteria of my rankings in the next section, but for now know that each of the SUPs we'll dive into in the following list are stable, comfortable, durable, and well-performing on the water; I wouldn't steer you into SUP-lemons, I promise.
On top of that, we'll also cover some training tips for your pup as well as some SUP-pup essentials to make for a seamless experience transitioning your dog from land to board, so stick with us as we sift through our list of the Best Dog-Friendly SUPs.
What Makes a Great Dog-Friendly Stand-up Paddleboard (SUP)?
Before we delve into our list of the best SUPs for dogs, let's first dive into how we come to those conclusions in the first place. When shopping for a SUP that will comfortably support you and your furry passenger it's important to keep the following in mind: stability, deck pad space, and durability.
Stability
Even when you're solo-SUP'ing, stability is going to play a major role in determining how enjoyable your experience is; that fact reigns doubly true once there is a dog aboard. Unless your pup is impeccably trained (can't relate), they are bound to shift their weight, move around, or maybe even jump in the water. In any of these events, you'll want a board that is stable enough to keep you and your dog on your feet.
With this in mind, my dog and I typically go for SUPs that are between 33" and 35" to mitigate any balance-challenging side to side movement without being so wide to make paddling uncomfortable.
Deck Pad Space
One of the easiest ways to ensure your dog enjoys riding along on your SUP is to give them enough space to get comfortable. Personally, my dog likes to sun-bathe on his back while I paddle, but your dog will be happiest if he or she can stand, sit, or lie down on the deck pad space in front of your feet without being cramped or needing to step on the slippery PVC areas to adjust positions.
Depending on the size of your dog, you'll need a SUP with anywhere from 2-3' of extra deck pad space in front of your standing area. It also helps if this extra space is free of any hard/raised accessories such as D-rings, action mounts, or scotty mounts.
Durability
Durability is always a contributing factor in determining whether or not a SUP ends up on one of our best lists, but it's even more important in the case of dog-friendly paddle boards. Beginner SUP-pups will often use their claws to gain a little extra balance, which can be really tough on lesser quality deck pads. They also tend to use their claws if they need to hop back onto the SUP from the water, putting them in a position to scratch the iSUP's seams (though we do always recommend putting your dog in a lifejacket with a lift handle to easily scoop them back onto your board).
Of course, durability is really hard to test without intentionally damaging boards, but we tend to recommend SUPs that come from reliable companies and are equipped with EVA deck pads and reinforced seams. Company warranties are usually a perk as well, but these don't often cover damage outside of manufacturer defects.
---
Best Inflatable SUPs for Dogs
Keeping in mind the factors listed above and loading my dog onto more boards than he could even comprehend, we've settled on our 2023 list of the Best SUPs for dogs:
Sea Gods Skylla (Best Lightweight SUP for Dogs)
Bote HD Full Trax 11'6 (Best Full Length Deck)
Gili 11'6 Air (Best Cheap SUP for Dogs)
iROCKER Cruiser 10'6
Gili Komodo 10'6
Atoll 11'
---
1. Sea Gods Skylla – Best Lightweight SUP for Dogs (See Full Review)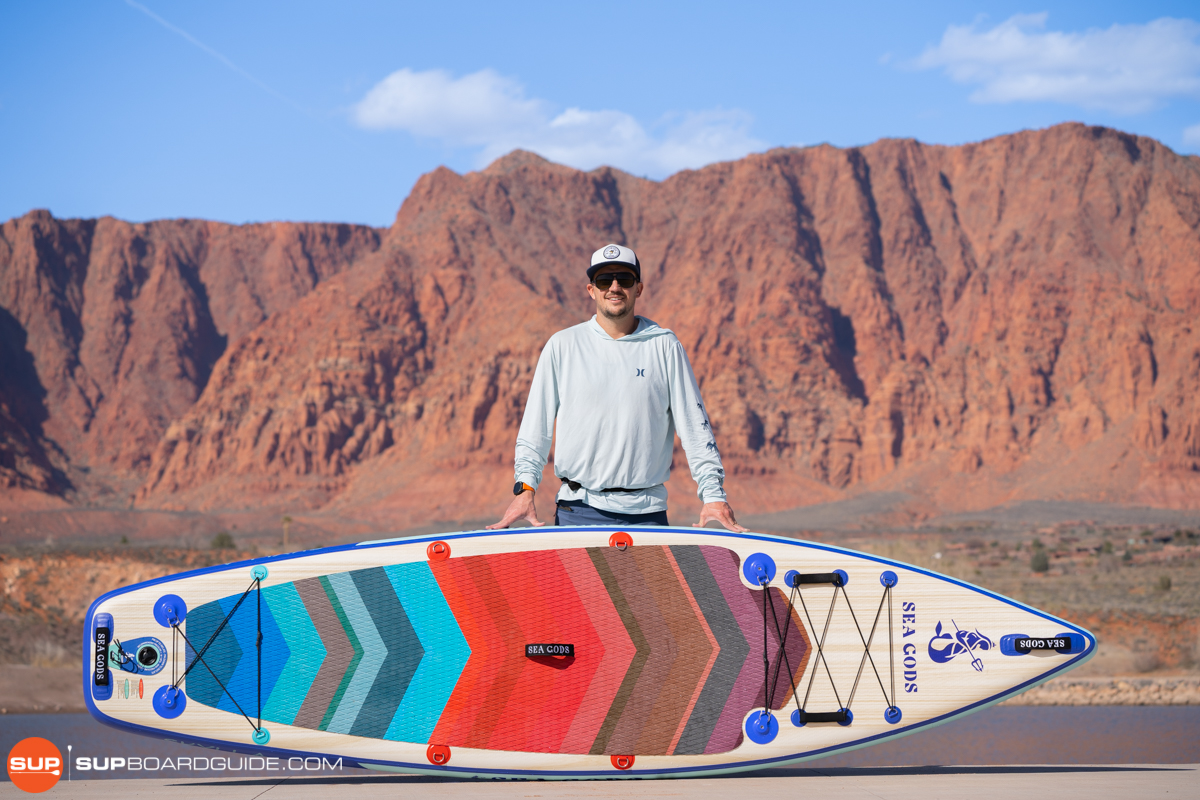 Pros
Very lightweight SUP at 19.5 lbs = easy for smaller paddlers to handle
33" width provides enough stability for dogs and gear
Tapered shape and single fin set-up allow for a bit more speed than more rounded options
Covered by Sea Gods lifetime warranty
Cons
On the higher budget end of the spectrum (due to Sea Gods well-sourced artwork and commitment to advanced construction)
The 19.5 lb Skylla by Sea Gods is my personal favorite on this list. It is a lightweight, stable 11' x 33" iSUP who's tapered shape and single fin will allow smaller to midsize paddlers (5'-6' tall, 125-250ish lbs) with medium dogs (40-60lbs) to pick up a little bit of speed without struggling to balance.
Being longer 11′ long and 33′ wide wide at 33", the Skylla has exceptional stability while having some of the speed capabilities of a touring SUP. Some of its speed comes from its light build, but the Skylla's tapered nose and single fin set-up play a role here as well, while its wider stance and 'boxy' tail still help to limit unsteadying side-to-side wobble. Additionally, the Skylla's rigid construction (we'll get into that in a second) enables it to support a surprising amount of weight, especially at just 19.5 lbs.
Along with its impressive performance on the water, the Skylla is just an overall comfortable SUP. Its diamond groove deck pad provides a lot of grip for unsure dogs and keeps the paddlers feet cushioned and secure. I also like the amount of space that a dog could use in front of the paddler; it's just enough for a dog to be comfortable sitting or lying down, but not so much that it'd encourage them to roam about and potentially knock you off balance. As a last note, the features on the Skylla strike a great balance between minimalism and versatility. Equipped with front and rear cargo areas, 3 carry handles, 2 grab straps, 4 action mounts, and kayak seat compatibility, the Skylla has room for gear and an ability to take on different activities without crowding your space and weighing down the SUP.
Circling back to the Skylla's construction, its build quality is one of many reasons that the Skylla ended up on this list. Sea Gods built the Skylla using a cross-woven drop stitch technology, which we go into more detail about in the full review, but the main point is that it requires less material (less weight) to achieve the same or better stiffness as more heavily constructed SUPs. On top of the drop stitch, Sea Gods applies a PVC laminate layer, which means it's bonded to the fabric layer with heat instead of glue (also contributing to the lightness of the Skylla). In short, this construction process has us pretty impressed and we're super happy to see Sea Gods stand behind their quality with a lifetime warranty.
Topping it off, we really like the Skylla's included SUP kit by Sea Gods. The 11' Skylla comes with a 3-piece carbon fiber paddle, 9" Kumano hatchet flex-fin, 11' full swivel coiled leash, single chamber hand-pump, repair kit, and wheeled SUP backpack. The quality of each of these pieces is exceptional and I've been a big fan of their kumano click fin system especially; it's super convenient and requires no extra small tools.
---
2. Bote HD FullTrax – Best Full Length Deck (See Full Review)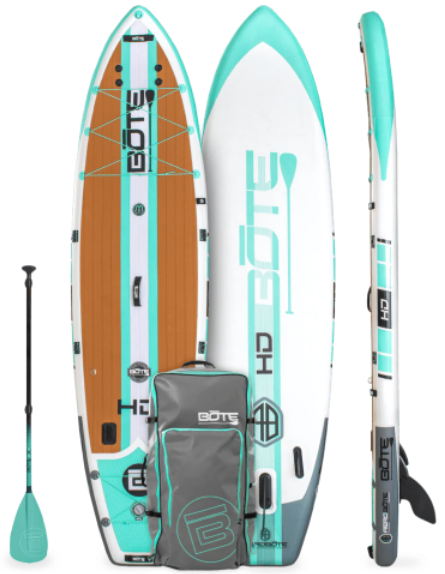 Pros
Full length deck pad gives your dog plenty of options to get comfortable
SUP comes with an array of included accessories to fit with the vast amount of board features
High volume SUP = ideal for taller/heavier paddlers or larger dogs
Cons
We'd appreciate if there was more padding on the backpack, as well as wheels
Though we have not tested out the FullTrax version of the HD specifically, we'll be basing its performance and paddling feel on our experience with the standard HD Aero by Bote (it's the same board, just without the FullTrax full length deck pad). In our testing, the HD Aero is a stable SUP with high enough volume to take on a considerable amount of weight, making it a good choice for taller or heavier paddlers with dogs small and large alike.
Being 11'6 long and 34" wide, the HD Aero will be expectedly stable; it has a lot of surface area on the water, which limits any 'tippiness' or wobble that a paddler would feel . Aside from its specific dimensions though, the HD Aero sports a wider and more rounded shape from nose to tail that also helps to eliminate any balancing challenges that more tapered SUPs present. A final small contributor to the HD's stability is its large 10" hatchet style center fin. All of these features combine into an exceptionally sturdy SUP, capable of taking on even some of our 'rowdier' pups.
While the stability alone makes us happy to recommend the HD Aero to paddlers and their dogs, the real draw here is the full length deckpad of the FullTrax model. Because the grooved deck pad spans the length of the SUP, your dog has tons of room and can be comfortable anywhere on this board (even more so if you remove or adjust your bungee cargo areas). You're also able to fish with the HD Aero's 2 scotty mounts and kayak seat and paddle sheath compatibility, and won't have your space limited by a lack of deck pad.
One trade-off that tends to exist in the inflatable SUP space (with a few exceptions in the premium SUP category) is stability/weight capacity and total SUP weight. Being one of our sturdiest SUPs, the HD Aero is heavily constructed and weighs in at about 30 lbs. Much of this weight comes from the amount of versatile features that are attached to the board itself and the extra deck pad that is placed on the FullTrax version, but its linear drop stitch core combined with its PVC layers contribute here as well. That's not to say the weight is a bad thing though, as the HD Aero is compatible with a ton of accessories and has held up really well for us over the years; it really just comes down to personal preference on SUP weight.
The HD Aero FullTrax 11'6 comes with a 3-piece adjustable paddle, 10" removable center fin, a pair of slide-in aero-rack receivers, removable paddle sheath, single chamber hand pump, repair kit, and a SUP bag. While we're obviously not a huge fan of the included single chamber pump, this is one of the more inclusive kits in the market. We love that Bote gives their paddlers some of the compatible accessories that make for a more versatile, enjoyable experience.
---
3. Gili 11'6 Air – Best Cheap SUP for Dogs (See Full Review)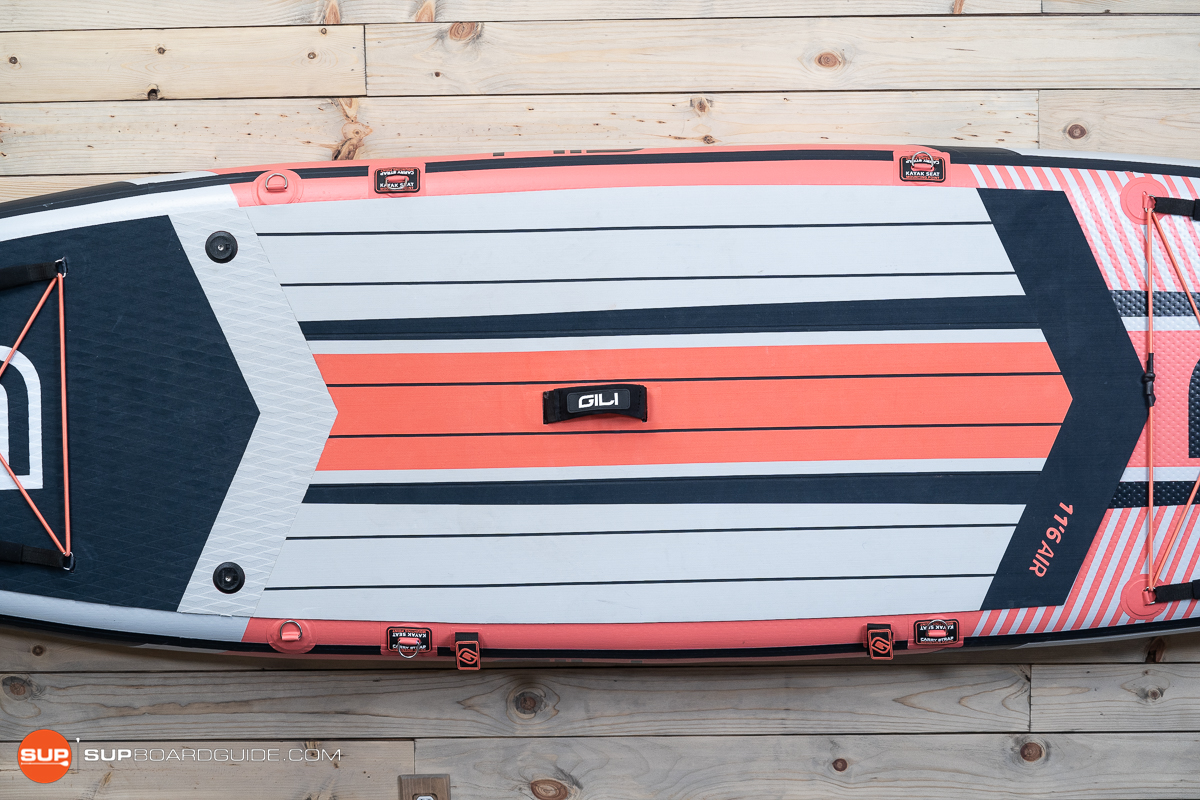 Pros
Budget-friendly option that doesn't make huge sacrifices in quality
Lightweight at 21 lbs = easy to carry and pick up some speed
Decent amount of features for a more affordable SUP
Option to include either an aluminum or fiberglass paddle (we recommend the fiberglass option, if possible)
SUP backpack is well-padded (though it does not have wheels)
Cons
We'd appreciate if Gili moved to dual layer construction on the Air series to accomodate a wider range of paddlers
The Gili 11'6 Air represents an impressive balance when it comes to producing a larger volume, stability focused board that won't push the higher end of the consumer budget. On top of that, it's relatively light, capable of some speed, and fairly maneuverable for a SUP of this size.
Although the Gili 11'6 Air is a little on the narrow end for this wide board dominated list, we've found its 32" wide stance to be plenty stable for a smaller-midsize paddler and a small-medium dog. Though the 11'6 does have a slightly tapered nose, its overall wider shape combined with its 2+1 fin setup help limit any side to side movement that could challenge your balance.
Moving our focus to the deck pad, the 11'6 Air's grooved deck pad is super comfortable, but not crazy traction focused. That's not to say it's slippery though, it just has less aggressive grip than brand stamped or diamond grooved decks. I also like the amount of deck pad space that is in front of the paddler. My medium sized dog (50 lbs) has enough room to lay out and relax without bumping into my feet or having to stand on the PVC on the nose.
Given that the Gili 11'6 Air is within the budget friendly category, it does not utilize the same advanced construction techniques as some of the SUPs on this list. However, our experience with the 11'6 Air has been great so far, and we've had no problems with either durability or paddling performance. Constructed with a linear drop stitch inner core, and coated with a single layer of PVC, the Air is able to remain a light 21 lbs. One caveat to its lighter construction though is that it doesn't have quite as high of a weight capacity as triple layer or fusion SUPs, but we've still found it to perform well right up to 250ish lbs.
Included with the Gili 11'6 Air is a 3-piece aluminum paddle (though we'd recommend upgrading to the fiberglass option), single chamber hand pump, coiled leash, and a SUP backpack. Though not as high quality as some of the other SUPs on this list, the Gili 11'6 Air's SUP kit does include all of the necessities to get you out on the water for an extremely reasonable price.
We also want to note that the Gili 11'6 Air and the Nautical 11'6 are extremely similar SUPs that are both in the budget friendly category. The only real difference is that the Gili 11'6 Air has just a few more inches of deck pad space in front of the paddler. However, because the two paddle so similarly, we'd suggest just going with whichever one is at a better price on the day you decide to buy.
---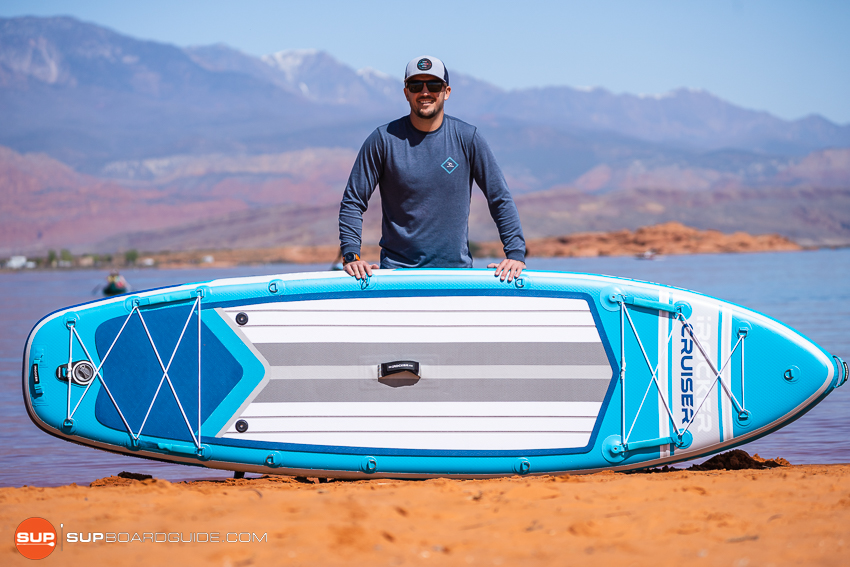 Pros
Stable for beginners and pets without being overly bulky
Enough features to add versatility without cramping your deckpad space
Comfortable deckpad with room in front of the paddler
Triple layer PVC construction will hold up to dog scratches
Cons
We'd like to see iROCKER move the front carry handle onto the top of the nose; it tends to pinch larger hands when carried
Moving onto another 10'6 option, the iROCKER Cruiser is still a stable 33" wide, but is just a bit faster than the 34" wide Gili 10'6 Komodo that we reviewed above (though it doesn't have the full length deck pad).
Due to its 33" width, the 10'6 Cruiser has more stability than classic 10'6 x 32" all-arounds, but doesn't sacrifice much in terms of maneuverability and speed (at least in the all-around category). The 10'6 Cruiser would be a good choice for paddlers that want a good solo SUP that they'd also be able to easily load their dog on occasionally.
Aside from its more solo-board feel, we also really like the grooved, brand stamped deck pad on the Cruiser as well as the amount of space available in front of the paddler for most small-medium sized dogs to sit or lie down. I also personally appreciate that the Cruiser is one of iROCKER's more minimalistic options and features a cleaner looking deckpad, though it does still have kayak seat compatibility, front and rear cargo areas, and 4 action mounts. The 10'6 Cruiser is also constructed with triple PVC layers and a linear drop stitch core, making it reasonably rigid and durable enough to hold up against most dog nails and accidental scratches.
With each iROCKER board comes a comprehensive kit, which includes a 3-piece carbon hybrid paddle, dual chamber hand pump, 10' coiled leash, 3 snap-lock fins, repair kit, and a roller SUP bag. The iROCKER kit adds even more value to the board, and we've been happy with each of the included pieces.
---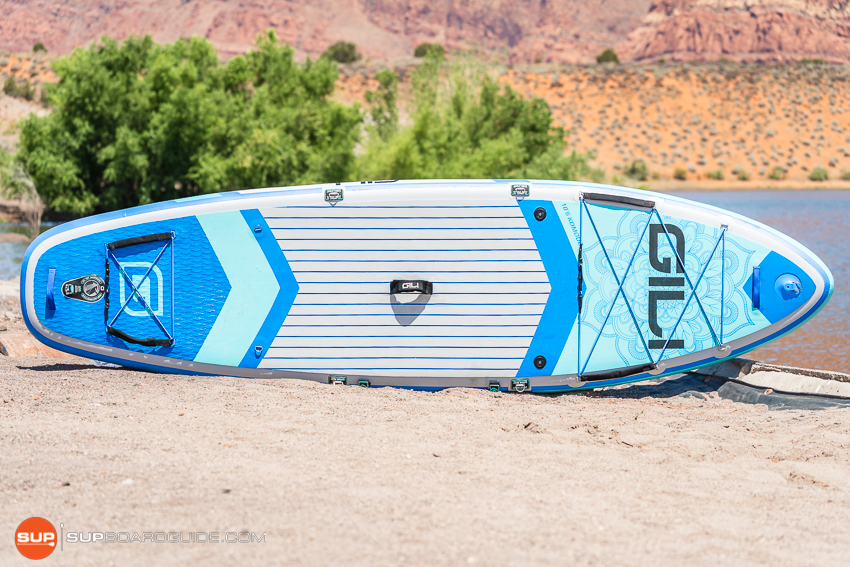 Pros
Very cushioned deck pad is super comfortable for your dog and your feet
High weight capacity to easily handle a paddler and a pet, with some room for gear
Lightweight at 21 lbs, despite being a stability focused 10'6
Cons
We'd like to action mounts to be incorporated into the D-rings to free up deckpad space
Landing on one of the shorter options on this list, the Gili 10'6 Komodo is a great option for paddlers and their dogs who find longer SUPs just a bit too cumbersome.
Being 10'6 long and 33" wide the Komodo excels in stability but is capable of a little more maneuverability than the longer board on this list. Though it's marketed by Gili as a yoga board (which it also does well), the Komodo has been a super fun and easy SUP to paddle with my dog. It's wide throughout, so I don't feel tippy if my dog moves around on the board and, being just 21 lbs, it's quicker on turns than the larger boards we've discussed above. I'd also credit some of the Komodo's capacity for stability to its included 2+1 fin set-up that features a large hatchet style center fin (it just adds a little extra grip on the water).
As we discussed with the HD Aero above, the Gili Komodo also sports a full length deck pad. Of course, this makes sense as a dedicated yoga SUP, but it works doubly as well for restless dogs that like to move around and readjust their position while you're paddling. Also as we mentioned above, you can give your dog even more space by either removing or adjusting the front or rear cargo areas on the Komodo. There's also the option to attach a kayak seat to the compatible D-rings along the rails to be able to paddle sitting down as your dog adjusts to paddling.
The Komodo is constructed a bit differently than the Gili 11'6 Air listed above. While the 10'6 Komodo does use the same linear drop stitch core as the Air, but it differs in the fact that the Komodo is built with dual PVC layers instead of the Air series' single layer construction. This results in the Komodo having some added rigidity, and therefore, better performance when subjected to weight, despite being a light 21 lbs.
Included with the Gili 10'6 Komodo is a 3-piece fiberglass paddle, 3 snap-lock fins, single chamber hand pump, repair kit, and a SUP backpack. As usual with Gili, this kit is fairly standard given it's lower-mid range price, though we would recommend upgrading to the carbon/nylon or full carbon paddle if you are able.
---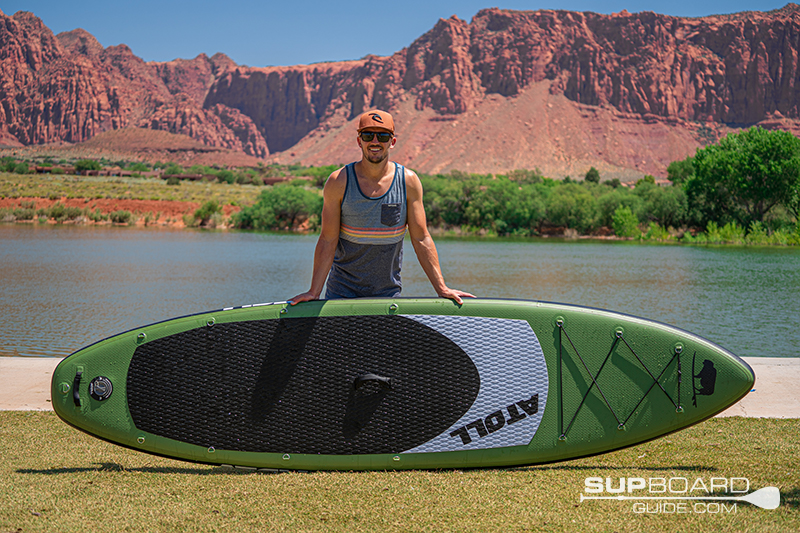 Pros
Lightweight, minimalistic SUP = good for hiking/traveling
Laminate construction balances durability and overall weight
Speed capable SUP without being unstable; easy for semi-experienced paddlers and their pups
Less cluttered look, but extra D-rings for some customization
Cons
We'd like to see Atoll switch to a full removable fin set-up instead of using fixed flexi side fins
The 11' Atoll SUP is one of our more minimalistic SUPs on this list. That's not to be misinterpreted as a bag thing though; personally I really like a cleaner, less cluttered look.
Although simplistic in design, the 11' x 32" Atoll is stable enough for small-midsize paddlers with small-medium dogs. The Atoll 11' SUP won't be quite as stable as the 34"-35" wide boards scattered throughout this list, but it will be among the fastest with its 11' waterline and narrower stance.
Covering the 11' Atoll's deck is a diamond grooved deck with enough room in front of the paddler to accommodate most dogs. I also really like that the deck is free of an exuberant amount of features, making it so there's nothing to trip up you or your dogs feet while paddling. There is still a front cargo area as well as extra D-rings, so you do still have some options when it comes to bringing along gear or adding attachments.
Atoll was able to keep this 11' SUP a light 21 lbs by utilizing dual layers of laminate PVC to encase their inner drop stitch core. This construction method is really similar to what other brands coin as 'fusion', being that the PVC layers are bonded to the interior fabric, and to each other, with heat (instead of glue). Atoll also recently upgraded their seams to include reinforcement tape, which adds overall durability to the SUP.
Despite the minimalistic feel of the board, the Atoll 11' is shipped with a pretty comprehensive kit including a 3-piece carbon hybrid paddle, center fin (w/ a screw plate), 10' coiled leash, single chamber hand pump, and a SUP backpack. All-in-all, I like the Atoll's included kit, but I would appreciate a better hand pump and wheels on the backpack.
What do you need before paddling with a dog?
Now that you've decided on a dog-friendly SUP, you and your pup need to gear up for an adventure. The following are a few accessories we'd highly recommend adding to your arsenal to keep your dog safe on the water.
Dog PFD (personal flotation device):
As we know, most dogs are naturally great swimmers in pools, lakes, or even oceans. However, paddling a SUP adds a whole new element to the mix. If you and/or your dog unexpectedly tip off of your board, they can easily get disoriented and panic. In this case, it's best to have them wear a well-fitted PFD to keep afloat even if they get tired, as well as give yourself a handle to easily scoop them back aboard.
Dry-bag
When paddling with your dog, you'll need to bring along some supplies such as extra water, a bowl, treats, dog-safe sunscreen, a chew toy to keep them occupied while they ride in front of you, or maybe even some food depending on how long you're planning to paddle. It's easiest to store all of these things in a dry bag so you don't have to worry about losing them or getting them wet if you and/or your dog falls or jumps in.
Most SUP brands will have dry bags available on their site, but I've really come to like the Nixy drybags.
Dog-friendly Sunscreen
A really common misconception is that dogs' coats protect them from damaging sun rays, which is unfortunately not the case. All dogs are prone to sunburn on the inside flaps their ears, noses, and bellies (especially if they like to sunbathe on their back like mine), but thin-haired dogs are especially vulnerable and should receive a generous coating of sun protection.
While applying sunscreen to your dog may seem simple enough, it is important to only apply dog-safe sun screens. According to the American Kennel Club, this means sunscreens that are free of zinc oxide and para-aminobenzoic acid (PABA), as those ingredients can be harmful to your dog if licked off or swallowed. I really like the Epi-pet K-9 Care Sunscreen in combination with the My Dog Nose It Moisturizing Balm for dog noses.
Tips on Training Your Dog to Ride on a SUP
We've all seen the Instagram posts of dogs riding peacefully on the front of their human's paddleboard, not moving a muscle, seeming to be at peace with the environment and taking in the scenery. This image could not be further from my own dog's first experience on a SUP.
To put things in perspective, my dog has the following nicknames: Sharkbait, Minnow-man, 'Cuda (as in barracuda), and Tuna-belly. His actual name is Bennie but this dog freakin' hunts fish, and he's good at it! When I first loaded him up on my SUP everything was going well until he catapulted himself off of my board to ambush a group of fish swimming below us. He sent us both flying into the water, a practice that repeated until we made it back to shore.
It was clear that he needed some serious SUP training before I could attempt to take him out on a long tour again. After putting him through a SUP-pup boot camp of sorts, I am happy to say we've come a long way from that rough first paddle, and luckily for you, I've made enough mistakes along the way that I can confidently tell you how to avoid them.
Introduce the water:
While my dog is basically part fish, not all dogs are the same. If your dog dislikes or has fear of the water, this will be your first obstacle to overcome. An easy way to do it is to help them shift their mindset by using a reward system to build confidence and foster a level of comfortability around the water that will allow both of you to eventually enjoy your paddle sessions.
For our most fearful dogs, this may mean giving them a treat for just being calmly within the vicinity of a body of water. For others, it could mean rewarding them for taking a few steps into the water, which could progress into full-on swimming. Every dog's starting point will be different, but slow progression and consistency is what's important here. If that fearful dog gets a reward every time they get just a little closer to the water, before you know it they'll be wading in up to their belly.
Learn SUP commands on land:
As with any passenger on your SUP, you need to be able to communicate with your dog to ensure that both of you stay safe, balanced, and comfortable. The main commands that my dog and I use while paddling are board, sit, between, down, and off. However, these commands will be much easier to teach if you simply lay your SUP on flat ground and train on land (remember to take out your fin while doing this so as to not damage the box).
The first command I taught my dog was 'board', which means I want him to get on the SUP. Without this command, he'd be hopping on when I'm not ready and both of us would be struggling to get situated. I trained this by having him sit while I got on our (grounded) SUP and then invited him onto the board when I was 'ready', practicing having him wait for different periods of time and rewarding when he boarded as told.
Using the same method, he now knows 'sit' (pretty self explanatory), 'between' (to stand between my legs; I use this when there's wake or waves), 'down' (to lie-down; also helpful in waves if it's combined with 'between') and 'off' (to keep him from jumping off the SUP too early when we get back to shore). I'd be lying if I said he listens 100% of the time, but it's nice to be able to use even a few of these commands, and it was much less stressful to train on land when I didn't have to focus on balance and paddling as well.
Start with short paddles (bring lots of treats):
One of the first mistakes I made while paddling with my dog was having the expectation that he could learn all of these commands, be comfortable with the water, and then jump right into a 5 mile tour. It's important to instead start with very short paddles, which could mean paddling out 50 yards and coming right back.
What these short paddles do is help your pup gain an understanding that you will always return to shore. It's sort of similar to the first few times you leave your dog home alone; they freak out thinking you're gone forever until you've done it enough times that they know you'll come back. Applying that same logic, a long tour could be a really stressful experience for a dog that doesn't yet understand that you two will return to land; it's much easier (and more enjoyable) to build them up to it.
These short paddles are also a great low stakes opportunity to practice your land-taught commands with plenty of rewards to follow.
Don't force it and be mindful of the heat:
At the end of the day, some dogs just truly do not want any parts of the water or paddling with their human. Pushing or forcing this type of dog to ride on a SUP is bound to be stressful and non-enjoyable for both of you; not to mention it could damage the trusting relationship between you and your pup.
Go at their pace and see if it's an activity they enjoy; if not, they'll be much happier home on the couch.
As a last note, be careful to pay attention to your dog and monitor for signs of overheating. Usually this presents itself as frantic panting with excess saliva and labored breathing. If this occurs, take your dog to a cool or shaded area ASAP and give them plenty of room temperature water.
---
Final Thoughts
As we said at the beginning, paddling with your dog is a ton of fun. You'll get some one-on-one time on the water, learn some new training techniques, and maybe even incorporate swimming into their exercise routine.
The key to success here is the right board. Nothing will slow down your dog's SUP'ing progress more than a board that's a bit too narrow, doesn't have any space for them to get comfortable, or doesn't have the weight capacity to maintain its performance.
Each of the SUPs we've discussed above in our list of the Best SUPs for Dogs is more than capable of getting you and your dog out on the water with just a reasonable amount of practice.
As always, we feel confident that there is a SUP for every one on this list, but if you have any questions or feel that there's a board we've missed, don't hesitate to reach out in the comments below.
Until next time, happy paddling and don't forget the treats!
The following two tabs change content below.
SupBoardGuide
Heyo! At SupBoardGuide.com we are a team who love the water, the outdoors, and are more than grateful that our full-time job allows us to review stand up paddle boards. We paddle year round (it helps that we are just about 2 hours outside of Las Vegas), and we bring in a wide range of paddlers with the goal of providing our readers with the best, most in-depth, and accurate stand up paddle board reviews.
Latest posts by SupBoardGuide (see all)