If you've found your way to our list of Best SUPs for Beginners, the first thing we want to say to you is Welcome. Welcome to SUP'ing, welcome to the water sports community, and welcome to SUPBoardGuide – we hope you'll stick around. Now, the second thing we're going to say to you could be either good or bad news, depending on where you are in your search for a board: there are a ton of options in the stand-up paddleboard market for beginners. And, of course, if you're new to the sport it can be hard to determine which SUP will work best for your own needs and preferences – that's where we come in.
In this list, we'll lay out the best options for SUP beginners. Every one of these boards has been extensively tested by the SUPBoardGuide team…and a couple of willing newbies we dragged out to the lake with us. Each SUP in the list below was ranked with stability at the forefront of our priority list as this is usually the biggest hurdle for paddlers that are just getting their sea legs. We also considered price, as well as construction to ensure that we were recommending boards that wouldn't put too big of a dent in your bank account, but they'll also last for more than a few seasons as you develop your skills.
It's also worth noting that this list is going to have a lot of crossover with our list of Best Inflatable SUPs, so definitely check out both if you're looking to broaden your options. Before we fully delve into our list though, let's talk about what exactly makes a board ideal for beginners.
What to Look for in a Beginner SUP
Honestly, a great beginner SUP is simply stable and priced reasonably enough for paddlers not wanting to put a dent in their bank account over a new hobby. Of course, there are also fringe details, which we'll get into shortly, such as features, construction, and other areas of performance, but the main thing to keep in mind is that you'll want a board that will empower you to stand up.
The main indicator of stability is the width of your SUP (length is important too, but nearly all paddlers are comfortable on a SUP at least 10'6 long). If lengths are the same, a wider board is ALWAYS going to be more stable than a narrower board. This is because a wider board has more surface area in contact with the water, and is less keen on tipping or rolling from side to side as a paddler shifts their weight – which is especially important for beginners who are a little shaky in the knees. As a general rule of thumb, most beginners will feel comfortable on boards that are 32" wide, though those who need excess stability would benefit from the 33"-35" wide range.
Next on the priority list for most beginners is price. On this list, we have a fairly wide range of prices but tried to keep the majority of them relatively reasonable. Towards the end of this list, we've listed our more performance-focused beginner SUPs that utilize more advanced construction techniques. These are boards that would be a good choice for paddlers who want an entry-level board to stick with them as they develop their skills.
Other details to consider once you've determined your budget and have a general idea of your ideal board width, are features and included accessories. If you know that you'll end up wanting to haul some gear or maybe partake in a little SUP fishing, lean towards boards with cargo areas and action or scotty mounts. Whereas if you're wanting a solo board, some of those extras may not be necessary. And as far as accessories go, all of the boards on this list come with nearly all of the necessities to get you out paddling, with the exception of a PFD. Though if you're looking into other brands, it's always good to double-check that your kit includes a paddle, leash, and appropriate fins (unless you're planning on purchasing any of these separately).
So, now that we've broken down our criteria for choosing the Best Beginner SUPs, let's jump right into our list.
---
Best Beginner SUPs
1 – iROCKER Nautical 10'6
2 – Isle Pioneer
3 – Thurso Surf Waterwalker 126
4 – Gili Air 10'6/11'6
5 – iRocker Cruiser Ultra
6 – Gili Meno 10'6/11'6
7 – BOTE Breeze Aero 10'8
8 – Sea Gods Skylla
9 – RPC 10'6 / 10'8 Ride MSL
---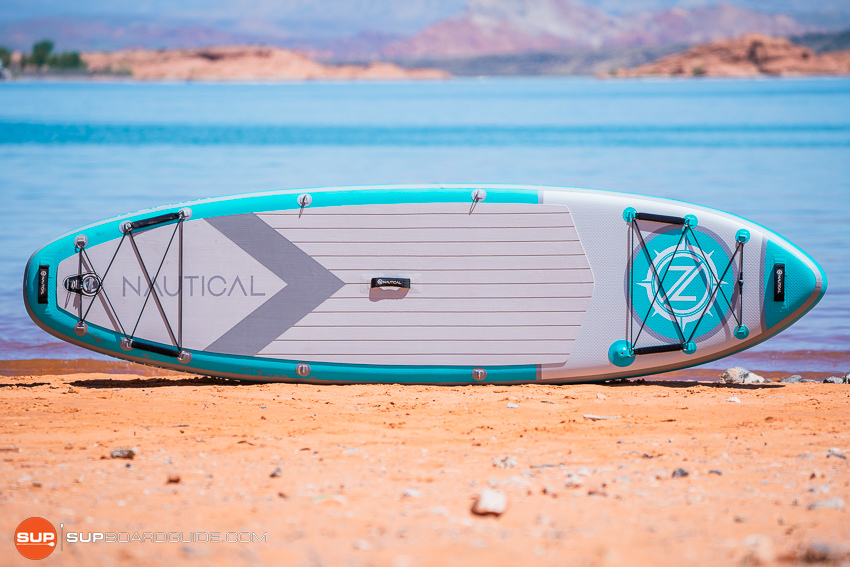 Pros
Priced very affordably for beginners that don't want to break the bank on a new hobby
Stable enough to create a gentler learning curve, but not so wide that beginners will get bored quickly
Comes stocked with most of the same accessories as iROCKER's more advanced SUPs
Has a more versatile feature list than other SUPs in this price range – the action mount, cargo areas, kayak seat attachments, and grab handles are typically only on pricier boards
Cons
Keeping its price in mind, we don't have any qualms about this board or it's kit
At the top of our list for Best SUPs for Beginners is iROCKER's Nautical 10'6. This SUP sits at a phenomenal price considering its construction quality and beginner-friendly performance, and we love the iROCKER carried a lot of the higher quality accessories from their higher-priced lines down to the affordable Nautical series.
Focusing briefly on the performance itself, the Nautical series is accommodatingly stable at 32" wide, though it's not overly wide to hinder a beginner's ability to develop more advanced skills and stroke techniques. It's lightweight and maneuverable but still tracks fairly well in the all-around category. We're also impressed with this board's rigidity at its price; it's one of the only SUPs in this price range that we'd feel comfortable recommending to heavier paddlers.
One of the reasons for the Nautical series surprising rigidity is that iROCKER has constructed this board using dual layers of PVC, whereas boards at this price are typically single-layer. And while increased rigidity is a great benefit to this type of construction, it also adds a bit of durability, enabling you to get a few more seasons out of this board than other similarly priced SUPs.
Finally, the Nautical series comes stocked with almost identical accessories to iROCKER's higher-end line-ups. It's one of the best deals on this list, and we think it's the perfect option to set beginners up for success.
---

Pros
Very stable at 35" wide – will pose little to no learning curve for beginners
Large, soft deck pad is great for bringing along gear, an extra passenger, or pets
Lightweight for such a large board – easy to carry down the beach and get up a good pace on the water
Shipped with a good kit of accessories; we were impressed by the included paddle and fin considering the affordable price
Cons
Deck pad is not quite as grippy as some other boards on the market
Like the Nautical 10'6, the ISLE Pioneer 2.0 sits at a reasonable price for beginners but performed well in all of our testing. However, the main thing that sets the Pioneer apart from the pack is its exceptional level of stability.
At 34" wide, the Pioneer will present virtually no learning curve, even for paddlers who are brand new to the sport. Yet despite its wider shape, the Pioneer is relatively light at just 24 lbs, so it's still able to keep up with a pack of friends without an exorbitant amount of effort. We also like that at 10'6, it's easily maneuverable, and as paddlers advance past the point of needing the Pioneer's excess stability, it's still a great board option to bring along kids, furry passengers, or a load of gear.
Also similar to the Nautical above, the ISLE Pioneer is constructed with dual layers of PVC, which are bonded to each other via fusion technology (the layers are fused together using heat). This type of construction is fairly standard among boards in this price range, but it does help to keep the Pioneer light while maintaining its rigidity. Because of this, the Pioneer still performs well under heavier weights.
As a final note, we were pleasantly surprised with the Pioneer's included accessories and especially liked the carbon hybrid paddle. The Pioneer is a good affordable option for paddlers who prioritize maximum stability, yet prefer a lighter weight SUP.
---
3. Thurso Surf Waterwalker 126 (See Full Review)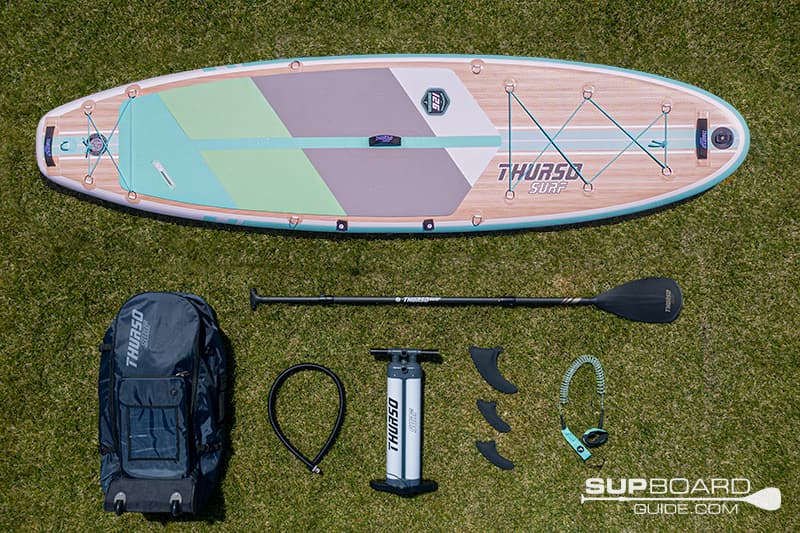 Pros
Among the most rigid SUPs we've ever tested – Thurso's construction is impressively robust
Stable enough for most beginners, but still relatively fast and maneuverable as an all-around
This SUP has an impressive gliding feel to it
All included accessories are great quality; Thurso's included paddle is one of your favorites
Cons
This board is a bit on the heavier side
The Thurso Surf Waterwalker has been a team favorite at SUPBoardGuide for several seasons, and we love recommending this board to beginners. It stands out as being the most impressively constructed and highest-performing SUP on this list. In fact, the Waterwalker series still reigns as our stiffest all-around SUPs to date.
Touching back on performance before we focus on construction. The Waterwalker series has fantastic glide on the water. It makes this SUP feel a bit faster than it actually is, though its speed is still impressive in the all-around category. The shape is perfect for maneuverability and navigating chop or rolling ocean waves, while its 32" width provides good stability for new paddlers. This SUP won't come with too steep of a learning curve, though it's still a board that novices can grow into and build up their skills.
As for construction, the Waterwalker series is built to be supremely rigid, and withstand season after season of consistent use. At the core of this SUP Thurso uses a dense linear drop stitch and encases it in 2 layers of PVC. Along the rails, they've added an additional layer of carbon fiber fabric, which makes these boards much more resistant to scrapes and punctures, while also slightly increasing rigidity.
Never one to do anything by halves, Thurso also included a high-quality range of accessories with the Waterwalker series that are shipped in environmentally friendly packaging (paper, rather than plastic). We love Thurso's paddle and wheeled bag, and still think this SUP and kit are reasonably priced given their quality. It's a good option for beginners who want a performance-focused and well-built SUP that will last for seasons to come.
---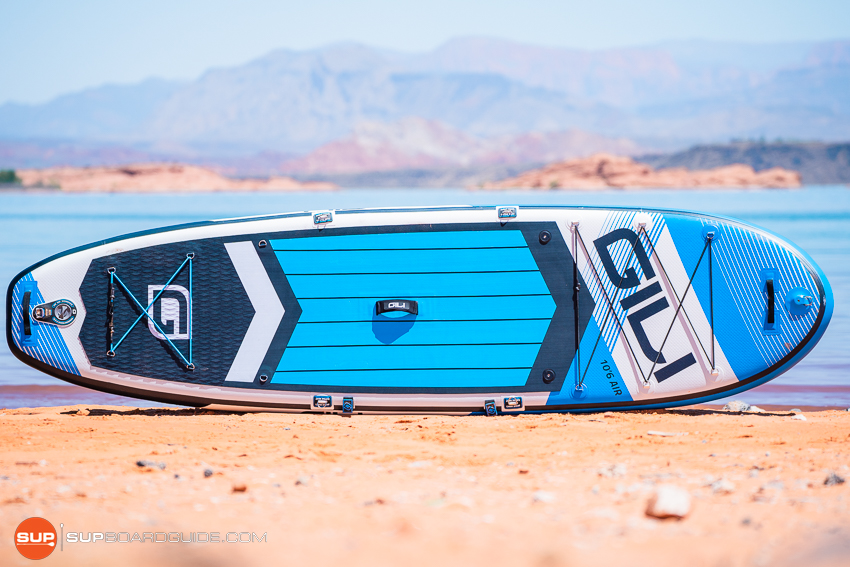 Pros
Very affordable price – this SUP can almost rival the Nautical 10'6 in terms of bang for your buck
Versatile features; We like that this board has 2 action mounts, kayak seat compatibility, and a velcro paddle holder
New brand embossed deck pad is a nice touch for a board at this price point
Upgraded shape makes this board a little bit faster without losing any stability
Cons
Single layer construction isn't as stiff as others – larger paddlers may experience more flex and feel less stable
The Gili Air is extremely similar to the 10'6 Nautical that ranks number one on this list. The two only mainly differ in construction and included accessories, but their performance on the water is nearly identical.
The Gili Air 10'6 is also 32" wide, which seems to be a sweet spot for beginners in that it's not overly challenging, but also not excessively wide to hinder the growth of their skills or contribute to boredom over time. The Air series is also lightweight and maneuverable as an all-around SUP, and with its upgraded shape, the Air series is now capable of a bit more speed than last season's model.
As we mentioned earlier, the Air series differs from iROCKER's Nautical series in construction. The 10'6 and 11'6 Air are constructed using single-layer construction, which does cut down the overall weight of the board, but also makes it a bit more flexible than dual-layered SUPs. While single-layer construction will still feel plenty rigid for most paddlers, heavier paddlers may experience a bit more bending in the board which can lead to instability.
The Air series also differs a bit from the top-rated Nautical in terms of included accessories, as this SUP includes an aluminum paddle rather than a fiberglass paddle. However, the rest of the included accessories are of reasonably good quality considering the affordable price of this SUP kit.
All in all, the Air series is another good choice for smaller-midsize beginner paddlers on a budget, but we'd recommend a dual-layered SUP to heavier paddlers who need a bit more rigidity.
---

Pros
Higher level of performance and responsiveness than others on this list
Compact design is very travel-friendly
Plenty of stability for beginners, though it will still have enough of a learning curve to develop your skills
Lightweight, impressively stiff build – this SUP can support a heavier load without losing much in performance
Shipped with an included electric pump – this is a great value considering this pump has held a spot on our list of Best Electric Pumps for 3 years
Cons
Not quite as stable as iROCKER's original Cruiser (the non-compact version)
The iROCKER Cruiser Ultra is one of the higher end boards on this list, but it serves as a stable, compact option for beginners that prioritize the portability and traveling ease that comes with inflatables.
With its specified width of 33", the Cruiser Ultra is plenty stable for most beginners. Though it is important to note that this board is rigid and responsive, so it will come with a slight learning curve, the performance benefits are worth it once you're past the initial adjustment period. At 10'6, this SUP is fun and maneuverable, and weighs just 21 lbs, making it easy to bring up to a reasonable speed and keep up with a group of friends.
Obviously, the most notable characteristic of the Cruiser Ultra, outside of its improved performance compared to its original predecessor, is that it folds down to half of the size of standard, non-compact paddleboards. iROCKER has split the deck pad on this SUP to enable you to fold it up the middle (hot-dog style) before rolling it up to pack away. They've also included a new compact backpack, that is super comfortable to carry.
One of the main ways iROCKER was able to launch this lightweight, and compact Ultra series is by upgrading their construction technique to utilize a cross-woven drop stitch, which enables them to achieve the same or greater levels of rigidity while using less material, thereby avoiding adding excess weight to the SUP's build.
Along with the construction, iROCKER's Ultra series also comes with an upgraded kit that is one of the best values we've ever seen. They've included their 12V electric pump, which has held a spot on our list of Best Electric Pumps for 3 consecutive years. We also love the compact backpack as we mentioned earlier, as well as the newly shaped twin fin setup as they've significantly improved the SUP's tracking.
In short, the Cruiser Ultra is a great travel friendly and portable option for beginners who still value stability, but want to get a bit more performance out of their al-around SUP.
---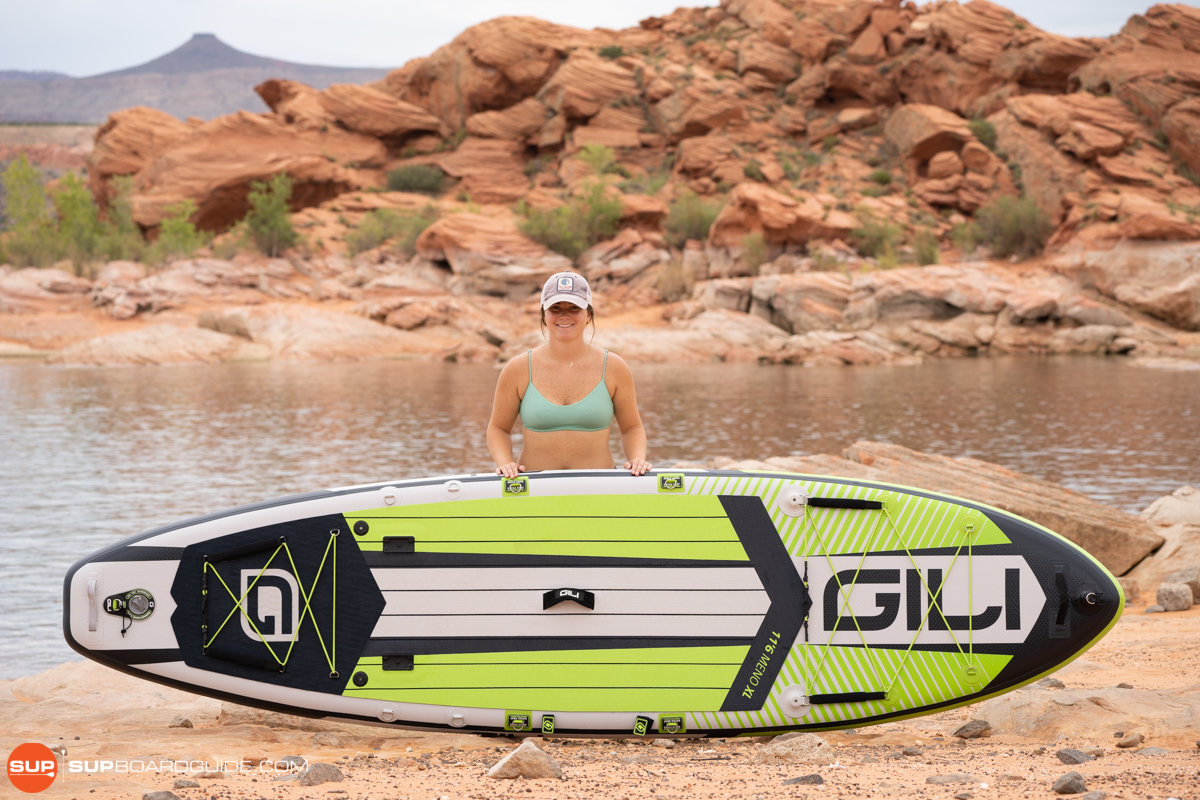 Pros
Extremely wide and stable – entry level paddlers will face little to no learning curve at all
Versatile features; this SUP is equipped for SUP fishing with it's scotty mounts, action mounts, and paddle holder
Carbon fiber rails layers add a touch of extra durability and slightly increase rigidity
Plenty of space on this SUP to bring along child passengers, pets, or a slew of gear
Cons
The removeable bungees are too large to get through the D-rings – you have to cut them anyway to remove them
The Gili Meno 10'6 is one of the most stable SUPs on this list, and is a standout in terms of versatility focused features. It'd be a good fit for beginner paddlers who want to avoid a steep learning curve as they start out in the sport or beginner paddlers who eventually want the ability to fish off their SUP and bring a larger gear load.
The Gili Meno 10'6 is the widest SUP on this list, at 35" across the standing area. There's virtually no side-to-side wobble on this board, and nearly any beginner will be able to stand on this SUP and start paddling with hardly any learning curve at all. And while it's not as speedy or maneuverable as other boards on this list, it's clear that stability was at the forefront of this design.
Another highlight of the Gili Meno is its extensive feature list. Of course, it has a set front and rear cargo areas like other boards on this list, but the Meno is decked out further with 4 multi-use action mounts, 2 scotty mounts (compatible with fishing rod holders), kayak seat compatibility, and a velcro paddle holder. At this price, this is a great level of versatility.
Gili's Meno series differs a bit from the Air series that we discussed earlier in this list in terms of construction. While the Air series is built with a single layer of fused PVC, the Meno series utilizes a dual layer and sports a layer of carbon fiber fabric in its rails to increase durability and add a small bit of stiffness. The Meno also comes with a carbon hybrid paddle, as opposed to the Air series' aluminum, though the remainder of the accessories is essentially the same.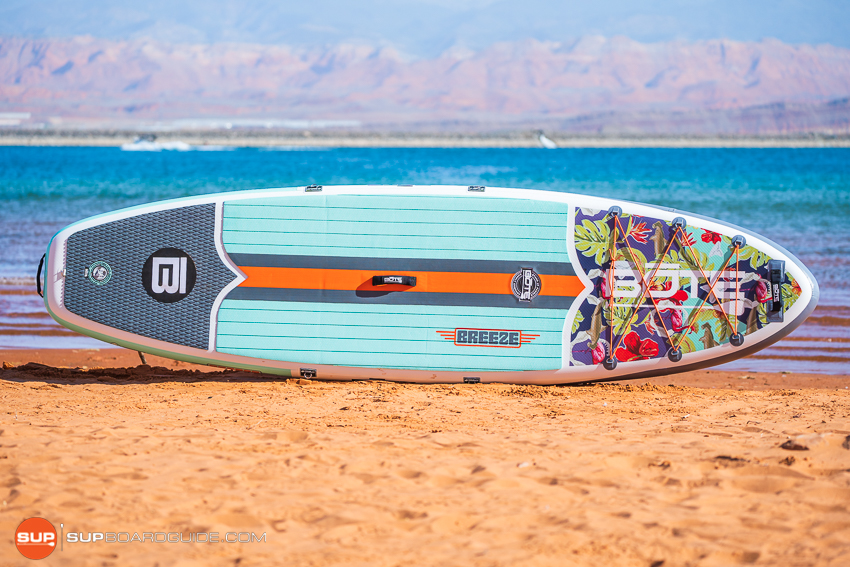 Pros
Lightweight and nimble on the water, but still stable enough for beginners to get their sea legs
Features are more minimalistic and classic – your deck pad space is clear of any scotty or action mounts that can sometimes get in the way
Magnepod cup holder is a nice touch to keep your drink still if it's in one of Bote's compatible drinkware accessories
Reasonably priced, but well constructed – it's entry level, but it will last more than a few seasons
Cons
No included leash; this is a super important piece of safety equipment and you will need to urchase one separately
The Bote Breeze Aero is another affordable option for beginner paddlers who aren't wanting to break the bank on their newfound hobby, but also don't want to make big sacrifices in quality and performance.
Being 10'8 long and 33" wide, the Breeze has a little more volume, and subsequent stability, than a classic 10'6 x 32" all-around. However, it's not so much extra width and volume that it takes away from the fun, nimble nature of this SUP. The Bote Breeze is highly maneuverable and its lightweight 20 lb build makes it easy to get down to the water and up to a comfortable pace while you're paddling. I also personally like that Bote decided to forgo rear bungees with the Breeze, as you can make full use of the diamond grooved traction pad at the tail to practice more aggressive pivot turns (not entirely necessary, but definitely a lot of fun).
Bote's Breeze is also constructed with lighter materials, much like a few other boards on this list. The core of this board is made with a linear interior drop stitch that is anchored into a knitted fabric and encased in a single layer of PVC. As we've mentioned with other single-layer boards on this list, the Breeze does flex a bit more under weight as a result of its single-layer construction, though it's more than capable of supporting small-midsize paddlers.
Lastly, we like most aspects of the Breeze's accessory kit and it's an overall good value for the total price. Our only real qualm with this kit is that it does not include a coiled leash, which is an essential piece of safety equipment, especially for beginner paddlers. Luckily, a leash is easy to buy separately from most local surf shops and online retailers.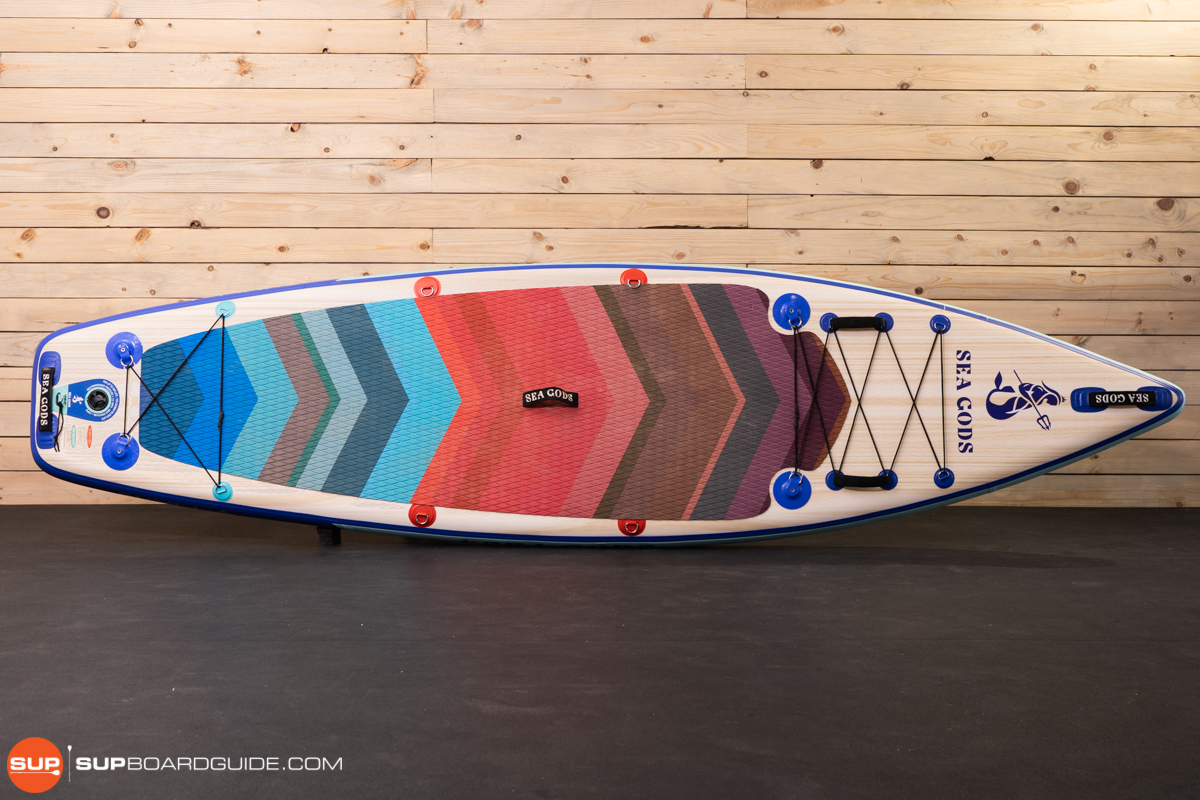 Pros
Very stable for a beginner, but can still pick up speed similar to a touring board
A good balance between versatile features and minimalism – 4 integrated action mounts, 2 cargo areas, and kayak seat compatibility
Lightweight at just 19.5 lbs; this SUP is easy to carry and get up to speed and has some all-around maneuverability
Plenty of space for gear – this is a great SUP camping/adventure board
Backed by a Lifetime Warranty from Sea Gods
Cons
On the higher end of the price spectrum, but this board is exceptionally well made, and showcases unique artwork on the bottom
The Sea Gods Skylla is another higher end SUP on this list that showcases advanced construction and exceptional performance on the water. This SUP strikes a balance between a highly stable all-around and a more speed-focused touring SUP, and has become one of our favorite cross-over models.
Being 33" wide, this SUP is stable enough to accommodate most novice paddlers and easily takes on child or pet passengers, or a load of camping gear. Though its shape has been carefully designed so that its nose is pointed to cut down on drag from the extra surface area that a rounded nose would cause, while it's squared-off tail releases water quickly but is still wide enough to maintain a high level of stability. The Skylla is the fastest SUP on this list thanks to its shape and its lightweight, 19.5 lb build.
Sea Gods were able to make the Skylla this light by constructing it a bit differently than their other SUPs. Similar to the Cruiser Ultra that was discussed earlier, the Skylla is built with a cross-woven drop stitch core, which creates a stiffer board using fewer materials. Sea Gods then applies 2 layers of PVC that are bonded with heat, rather than glue. And despite being their lightest board, the Skylla is also Sea Gods' stiffest, which is a good testament to this upgraded construction.
As is standard with Sea Gods, the Skylla comes stocked with a high-quality package of accessories, including a carbon fiber paddle and a roomy SUP backpack that is wrapped in compostable packaging.
The bottom line is that the Skylla is within a higher price range, but the construction quality and performance of this board are unmatched on this list. It'd make a good fit for a beginner paddler who wants the speed of a touring board but isn't ready to lose some of that all-around type of stability and maneuverability.
9. Red Paddle Co. Ride MSL 10'6 (See Full Review)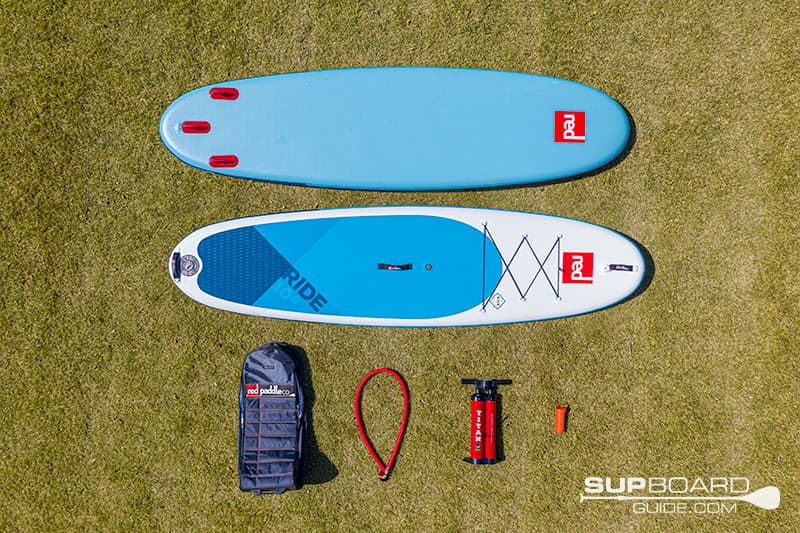 Pros
Extremely well constructed – Red Paddle Co.'s MSL Fusion construction is one of the best in the industry
Minimalistic features don't create any distractions for beginners, and leave plenty of space for moving around on the board
4.75" thick = paddlers center of gravity is lower than it would be on 6" thick boards, which creates more stability in chop/boat wake
Included Titan II hand pump is the most efficient manual pump we've tested
Cons
This SUP is on the pricier side, but again, it's extremely well constructed
The Red Paddle Co. MSL 10'6 Ride is the final board on this list, but don't let that deceive you into thinking it's of any lesser quality than those listed above. In fact, it's actually the opposite scenario. Red's MSL fusion tech is one of the best construction methods in the industry. It creates extremely durable boards that are still lightweight and manageable. The 10'6 Ride would be a great choice for a beginner who wants a classic all-around that will last them for years to come as they develop on the sport.
With its rounded shape and classic 10'6 x 32" dimensions, the Ride is a true all-around. It's stable for paddlers who are just getting started learning how to SUP, and it's also highly maneuverable in a variety of different water conditions. And though it's not particularly designed for speed, the Ride is only 20 lbs, so it's not difficult to cruise around with a group of friends. One of the more notable aspects of the Ride's performance, however, is that because it's only 4.7" thick, it feels a little more like a hard board in that it lowers the paddler's center of gravity and improves stability as a result.
Outside of performance, the main attraction of the MSL Ride is, of course, the MSL (Monocoque Structural Laminate) construction. While the base drop stitch of this construction is fairly standard in that it uses a linear drop stitch pattern, Red Paddle Co. forms a monocoque structure by joining the seams of the drop stitch fabric together. This drastically improves the durability of the board by creating significantly more attachment area for the two rail layers, whereas some other boards are only joined at the same by ½" of glued surface. This structure is encased in a layer of PVC that is machine laminated to the drop stitch fabric. It's this type of advanced construction that warrants Red Paddle Co.'s higher price tags.
Always ahead with technological advancements, Red Paddle Co.'s accessory list is also in a league of its own. Some highlights of this kit are the Titan II hand pump, the most efficient manual pump on the market, and their ATB transformer backpack, which can be stripped to it's lightweight skeleton for SUP packing adventures into more remote paddling locations. The Ride MSL is also one of the few Red Paddle Co. SUPs to come with an included paddle.
It's undeniable that the quality of a Red Paddle Co. SUP is unsurpassed, and the Ride MSL Fusion is no exception. It'd make a great choice for any beginner that prioritizes quality above all else.
Summary of Best SUPs for Beginners
As we've demonstrated in this list, there are a lot of options available for beginner paddlers. However, the main thing to keep in mind is that you want a SUP that best suits your individual needs. For some, that's a stability level that eliminates a learning curve, while others prefer a challenge that they can grow into. Some people prefer feature-rich SUPs with loads of versatility and others like a clean, minimalistic look. There is really no 'one size fits all' in the world of stand-up paddleboarding, and that's never going to change no matter how your skills develop.
As a beginner, it's best to base your search around a board that you'll simply be able to stand up on. This is the key to enjoying your board and being able to further develop in the sport. From there, you can get a little more specific and identify your priorities such as overall performance, construction quality, included accessories, and the total price. For now, though, rest assured that any SUP on this list would make a great beginner board or even a great addition to any paddler's arsenal.
For a wider range of options, check out our list of Best Inflatable SUPs of 2023, as most of those boards are also beginner friendly, and for help getting started once your board hits your doorstep, head over to our YouTube video on How to Stand-up Paddleboard.
The following two tabs change content below.
SupBoardGuide
Heyo! At SupBoardGuide.com we are a team who love the water, the outdoors, and are more than grateful that our full-time job allows us to review stand up paddle boards. We paddle year round (it helps that we are just about 2 hours outside of Las Vegas), and we bring in a wide range of paddlers with the goal of providing our readers with the best, most in-depth, and accurate stand up paddle board reviews.
Latest posts by SupBoardGuide (see all)