Blackfin CX Ultra Inflatable Paddleboard
Pros
Impressively stiff, performance focused all-around SUP
Extremely compact design allows for the most in portability
High Value SUP kit with an included iROCKER 12V Electric Pump
Above average tracking capability as an all-around
Versatility focused features, without crowding your standing area
Lightweight build puts this SUP at just 19.8 lbs
Cons
We'd like to see iROCKER shift the center carry handle more towards the center of the SUP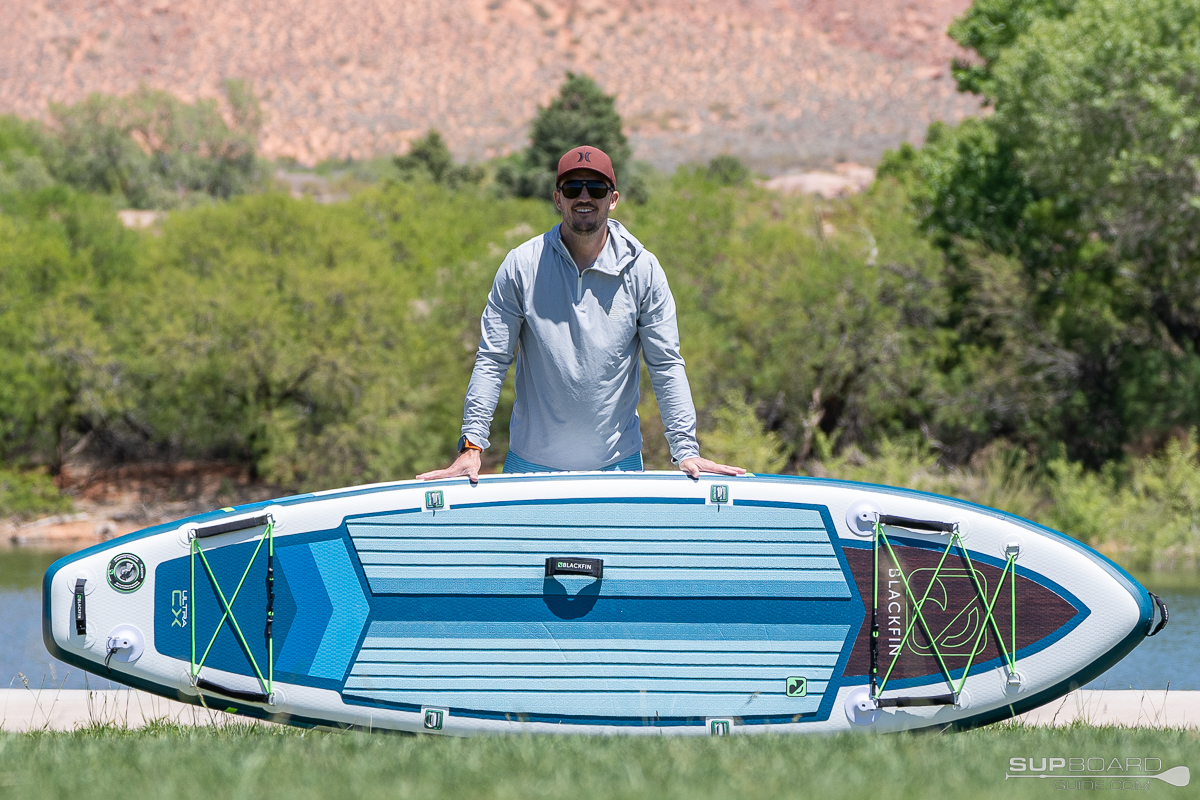 Before we get into the nitty gritty of our review of the Blackfin CX Ultra, I want to put the sheer portability and performance of this SUP into perspective:
I was in the midst of reorganizing our boardroom, in a desperate attempt to create more space, when our regular delivery person, who is used to unloading 5-10 non-compact iSUPs at a time, dropped off the Blackfin CX Ultra. 'Small one today' he said, as I signed off on the shipment. While he went on his way, I was left staring at this little box in complete disbelief that there was a 10'6 x 32.5 " iSUP in there.
Despite my initial doubt, the Blackfin CX Ultra was in that tiny box though, along with a string of other accessories that all pack away to fit into a roughly 2' x 1' SUP bag (about the size of a small carry-on suitcase). It can fit in the corner of a closet, in between the backseat of a car, and is light enough to be brought through an airport. In other words, the Ultra line solved all of our spacial problems in one fell swoop.
While this new development was super exciting, I am stubborn at my core and tried not to let the storage component alone sway me on iROCKER's compact boards. I grew up on hard boards, and have consequently become a bit of a stickler when it comes to performance. And though I knew these boards had the potential to become one of our top recommendations to our readers, I wasn't about to let them have it easy. Rest assured, I put the entire Ultra series, especially the higher-end Blackfin CX Ultra, through the ringer to test for stability, maneuverability, speed, tracking, construction quality, and plain old aesthetics.
I won't leave you hanging; the Blackfin CX Ultra (and frankly, the entire Ultra line) exceeded most of my expectations. At 10'6 long, 32.5" wide, and equipped with a newly designed twin fin set-up, the CX Ultra is the sportiest, most agile and performance-focused SUP in iROCKER's Blackfin Series. Even still, it displays an accommodating level of stability without losing out on speed or tracking, and has achieved a standard of rigidity that surpasses even their heavier built SUPs while remaining just 19.8 lbs.
The Blackfin CX Ultra has successfully intertwined lightweight, stiffness, and performance to manifest into this impressively compact board. As the final cherry on top though, the Ultra line is accompanied by one of the highest value SUP kits we've seen to date, and includes their iROCKER 12V Electric pump, a multi-year placeholder on our list of Best Electric Pumps.
We think the Blackfin CX Ultra would be great for paddlers who:
Want a truly compact inflatable SUP that can accompany them on tons of adventures, whether it be hikes up into mountain lakes or a flight to a tropical destination
Value performance above all else, and aren't willing to compromise between board weight and rigidity
Need a high quality kit to compliment the SUP
Want an all-around with above average tracking and speed capabilities without losing out on maneuverability
Are primarily paddling in flat water with chop or mild ocean waves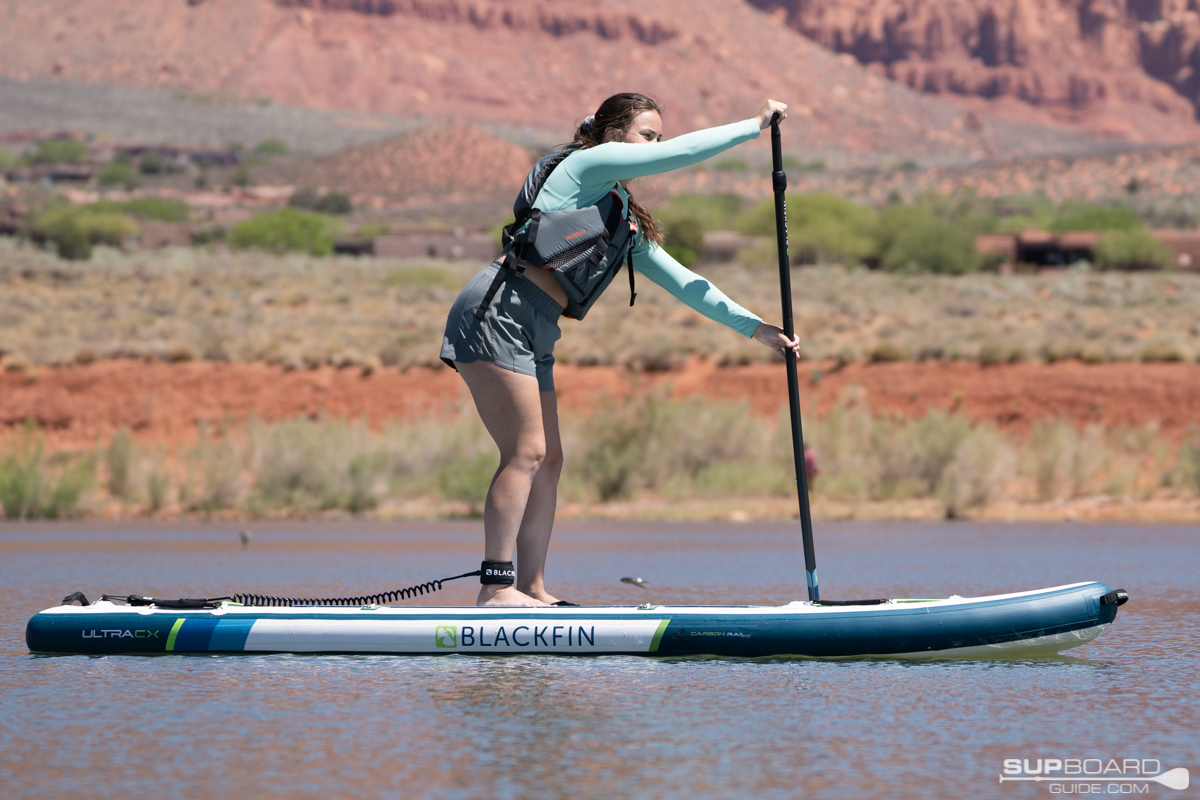 Blackfin CX Ultra : Spec Sheet
Main Category: All-Around, Inflatable
Board Dimensions: 10'6 x 32.5" x 6"
Listed Board Weight: 19.8 lbs
Listed Max Capacity: 320 lbs
Recommended PSI: 14-16 PSI
Fins: 9" twin-fin; snap lock system with tether
Paddle: 5-piece carbon shaft w/ nylon blade
Materials: Woven drop stitch w/ triple PVC layers and carbon fiber rails
Price Range: High
Warranty: 3 years
Performance Review of the Blackfin CX Ultra Stand Up Paddle Board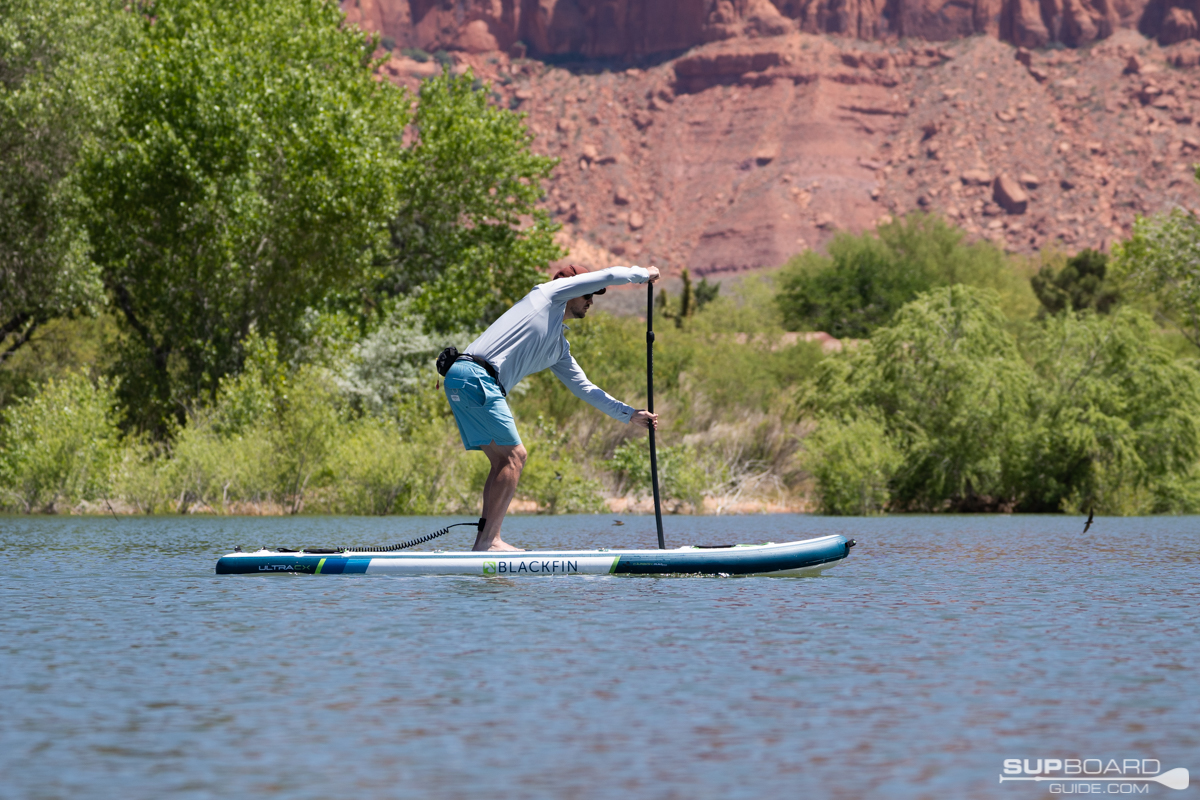 Overall Score: 9.9/10
Stability: 9.6/10
Speed: 9.1/10
Tracking: 9.4/10
Maneuverability: 9.2/10
Construction Quality: 9.8/10
Features/Accessories: 9.8/10
Stability Rating: 9.6
The Blackfin CX Ultra is about 32.5" wide, so will provide plenty of lateral (side to side) stability to keep most paddlers confidently on their feet.
That being said, the CX Ultra is performance oriented, and therefore a bit more responsive as you shift your weight between feet. Additionally, the tapered tail slightly decreases volume and surface area in contact with the water, swapping in a bit of sportiness instead of extra stability. It is not quite as stable as the standard (non-compact) Blackfin line or the similarly sized standard iROCKER 10'6 Cruiser.
That's not to say the stability difference on the CX Ultra is major though, as it's a hair more stable than the iROCKER 11' All-Around Ultra, and about on par with the iROCKER Cruiser Ultra, despite being a shorter, more maneuverable SUP.
Speed Test: 9.1/10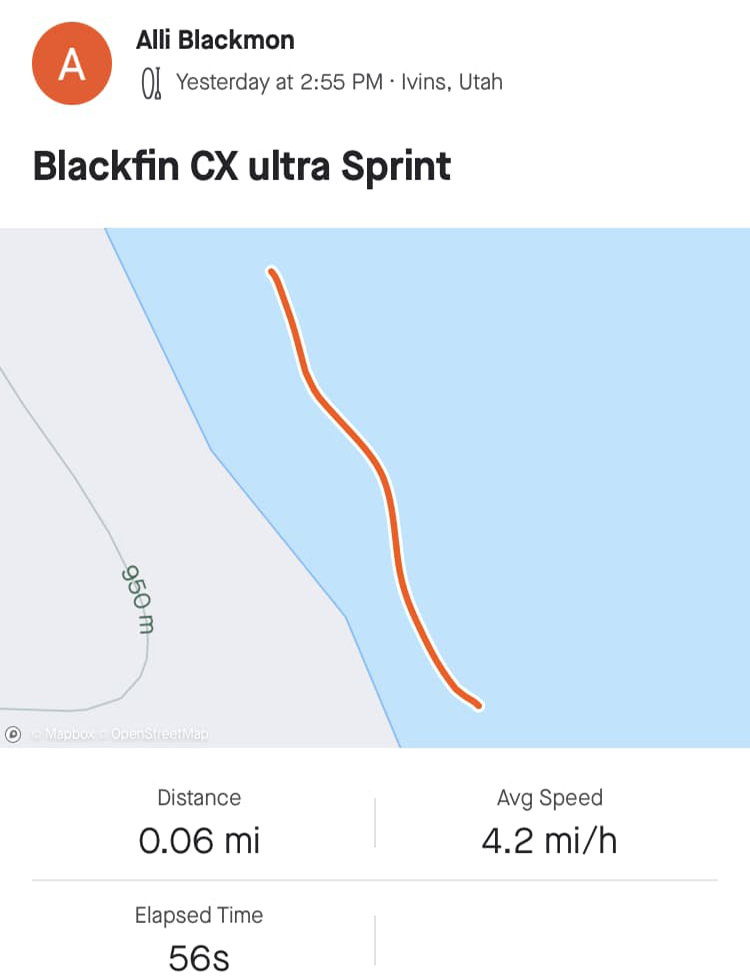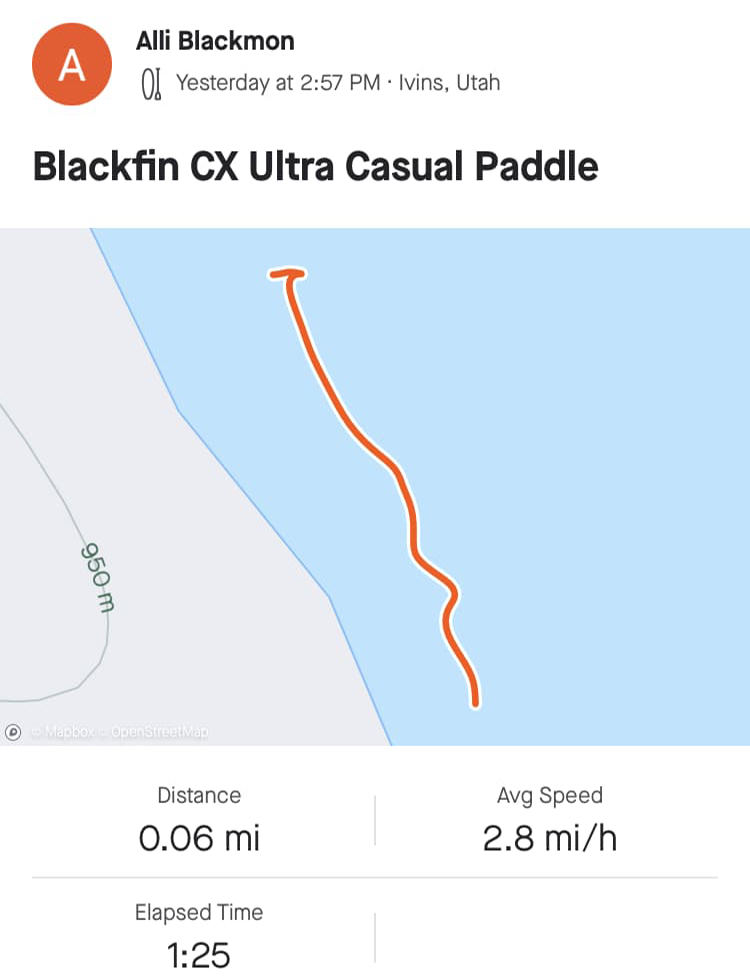 Despite being half an inch wider, the Blackfin CX Ultra proved slightly faster in our sprint test when pinned against the 10' All-Around Ultra from iROCKER. It came across the finish line relatively quickly in our casual paddle test as well, being nearly tied with the narrower 32ish" SUPs in iROCKER's Ultra line.
We think the tapered tail comes into play here as well, since the decrease in surface area that we discussed above should help limit the amount of drag and friction produced against the water. I'd also credit this SUP's above-average stiffness, as it limits any performance-hindering flex or 'taco-ing' to keep the board's rocker consistent as you paddle. Lastly, I think the CX Ultra's lightweight build is also a contributor; being just 19.8 lbs, this SUP paddles with ease and picks up speed with just a few quick strokes.
The Blackfin CX Ultra will easily keep up with a group of friends, and will likely even stay towards the front of the pack. We think it'd make an awesome choice for paddlers who want a bit more speed out of their all-around without trading too much in stability or maneuverability.
Tracking: 9.4/10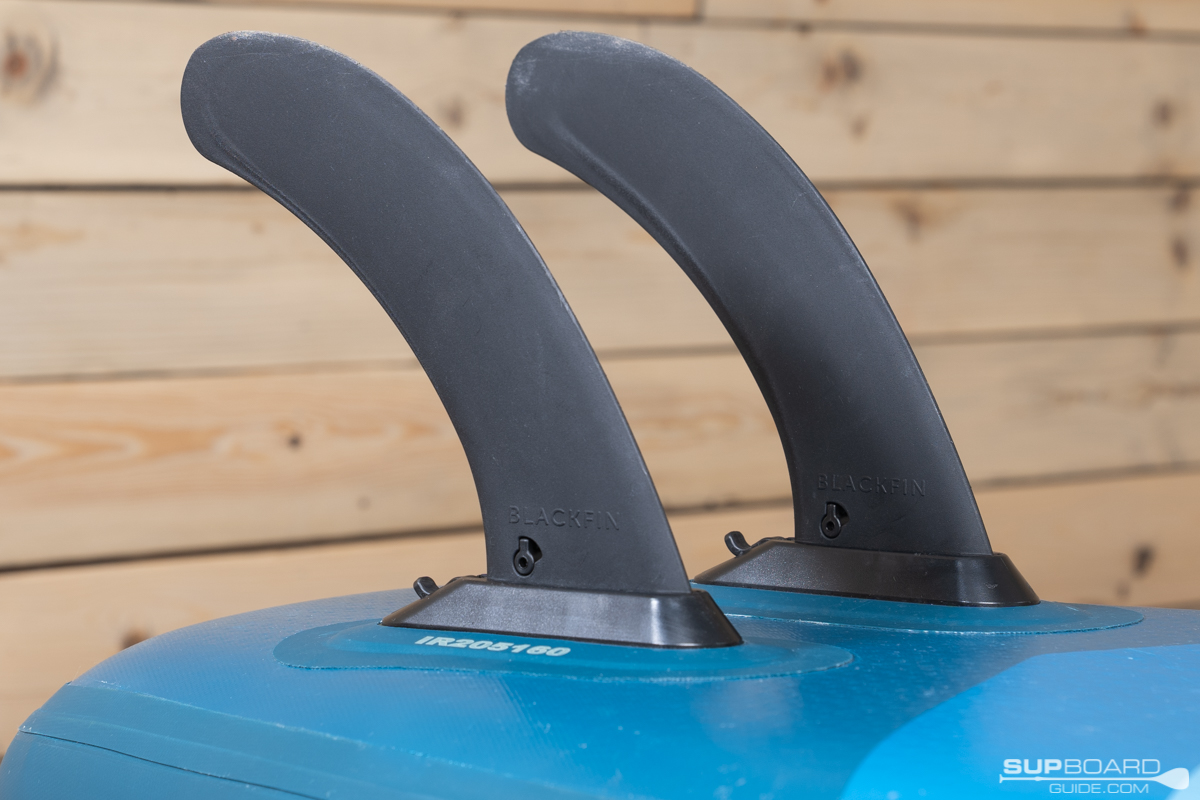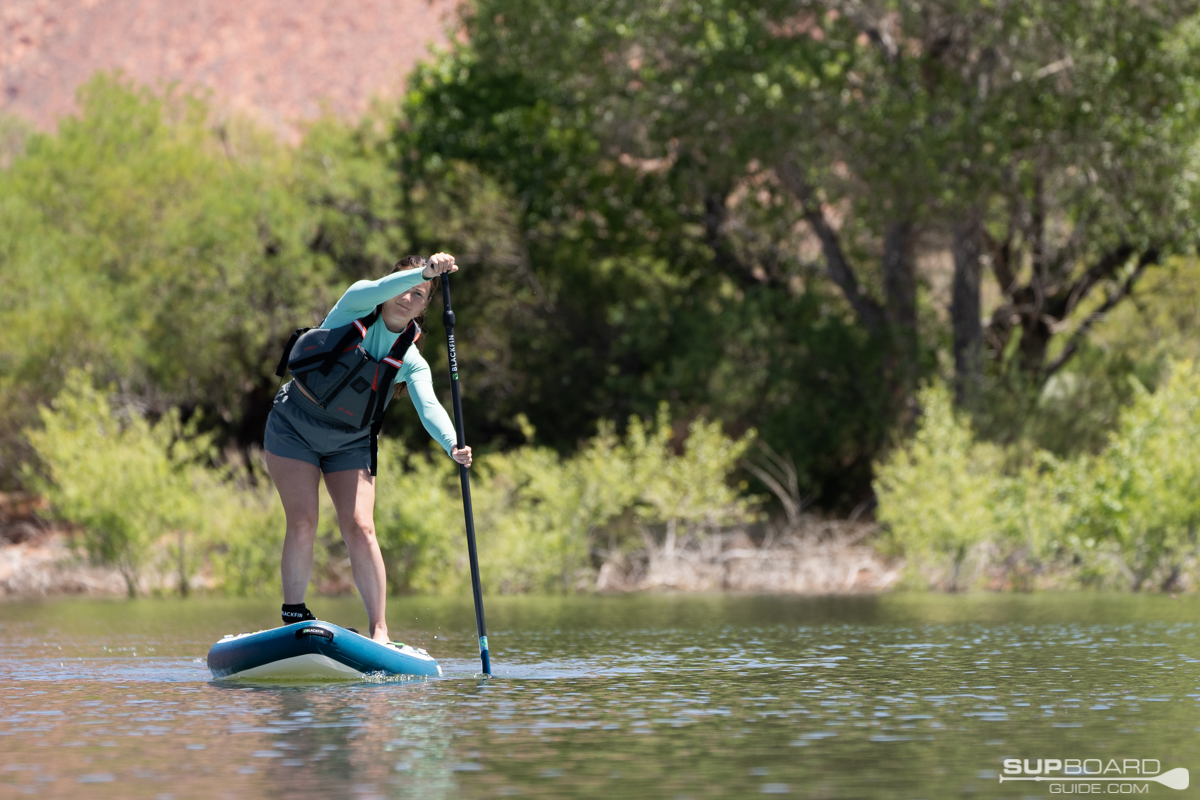 As with the entire Ultra line-up, the Blackfin CX Ultra tracks exceptionally well as a SUP in the all-around category.
The 9" twin fin set-up just seems to get a really firm grip on the water and doesn't allow for much side-to-side sliding in the tail, enabling the paddler to move in a straighter line without having to frequently switch sides.
We even found that the effect of the twin fin set-up is more exaggerated on the Blackfin CX Ultra than it is throughout the rest of the iROCKER Ultra line. We'd estimate that because the tapered tail on the CX Ultra pushes the two fins into a tighter formation, they are able to trap more water between them, limiting tail sliding even further and subsequently improving tracking to an even greater degree.
Of course, this is just our best speculation, and we cannot say with 100% certainty that the difference in fin spacing is fully to blame for the CX Ultra's noteworthy tracking capability. Another component at play is, again, the CX's stiff construction, which results in more consistent water-to-board contact/drag and also helps to keep this SUP moving in a straighter line without too much adjusting from the paddler.
In short, there are a multitude of attributes involved in the Blackfin CX's seemingly natural ability to hold its course in the water. However, it's important to remember that your paddling form is the final piece of the puzzle. With great form comes great tracking, and vice versa.
Maneuverability: 9.2/10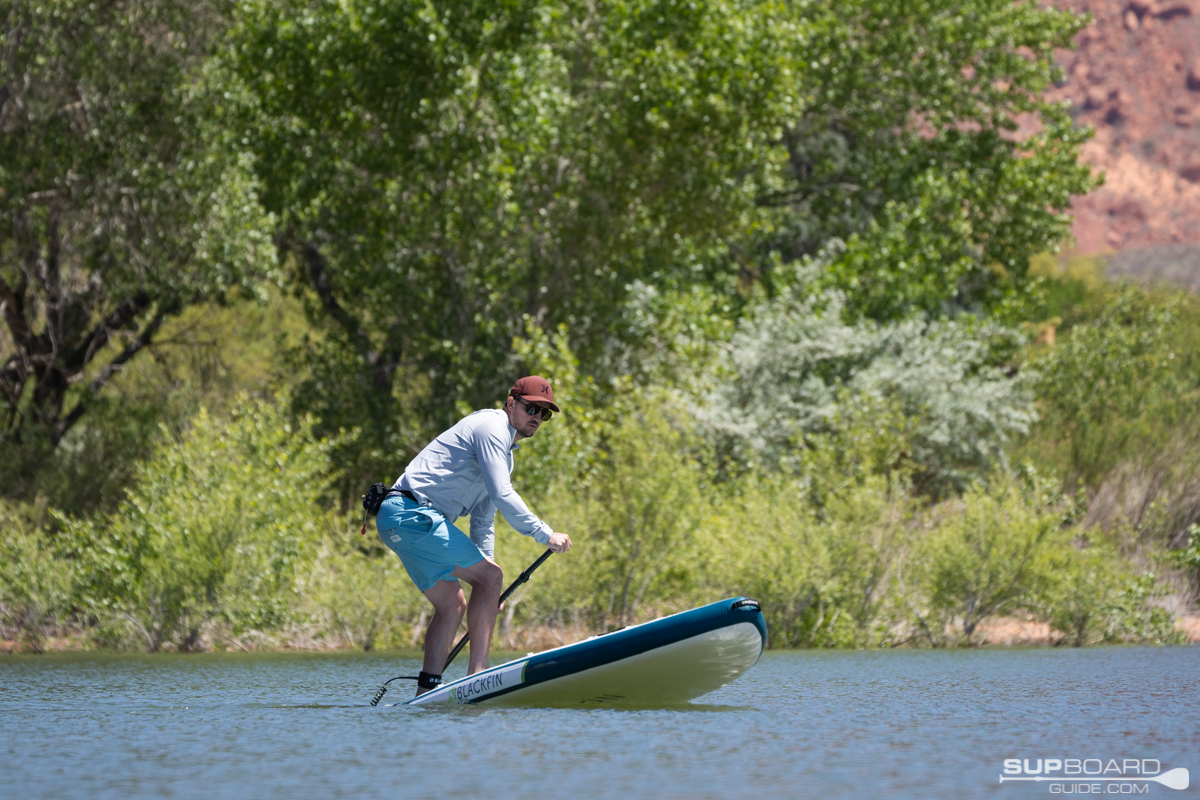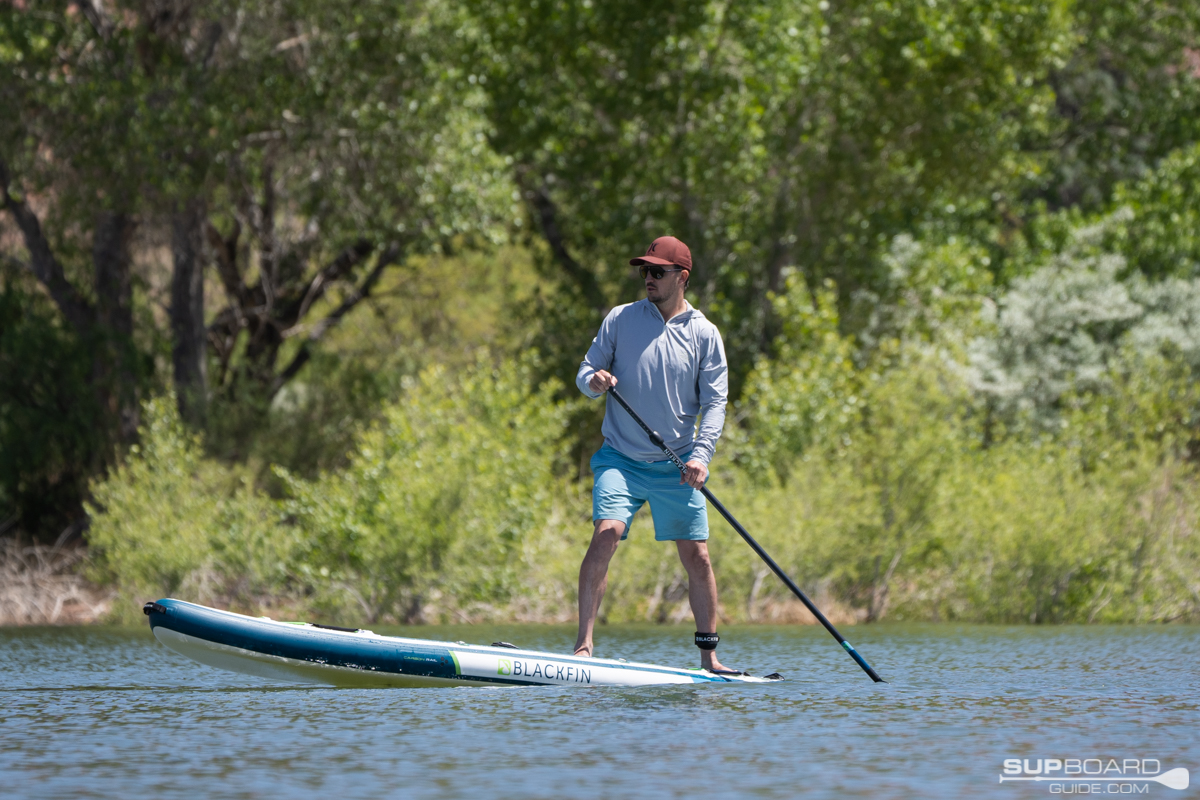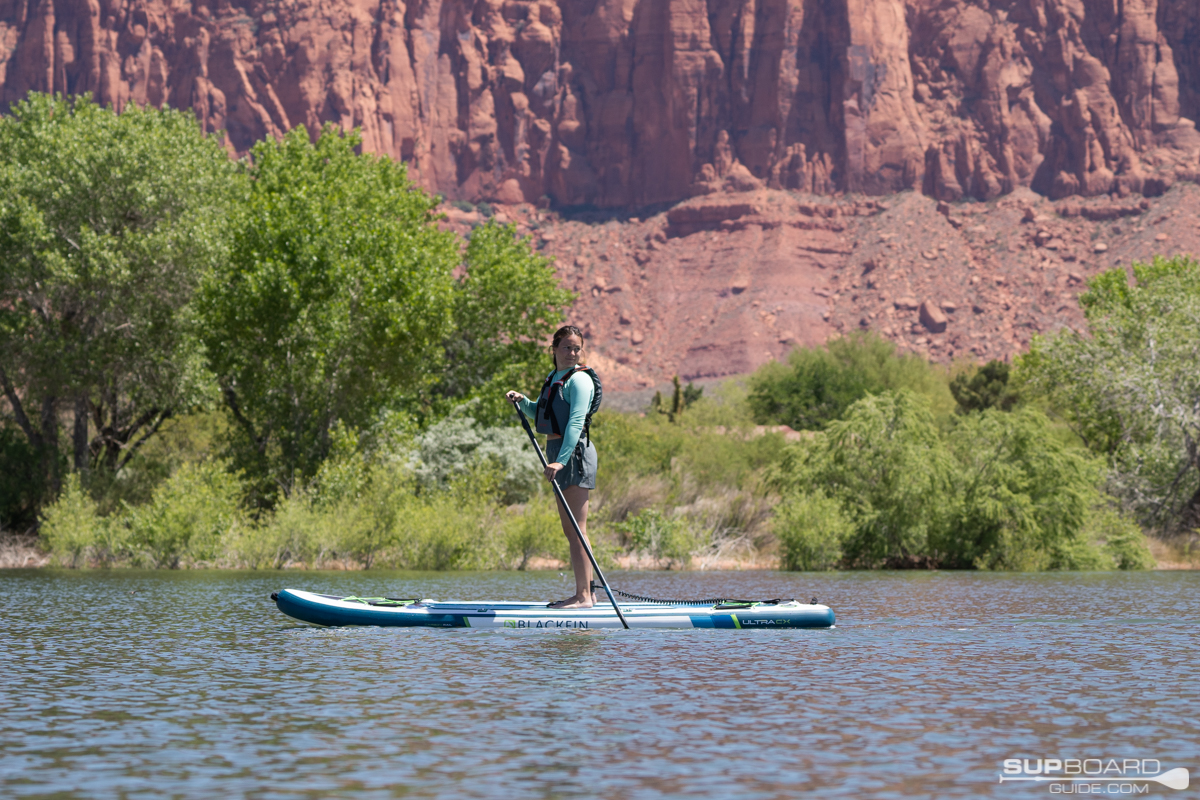 Given how well the Blackfin CX performed in our tracking tests, we were expecting it to make an understandable trade-off in maneuverability. However, the CX Ultra surprised us here, and proved just as maneuverable as the 10' Ultra and even more so than the Cruiser Ultra.
While not quite as maneuverable as some of iROCKER's non-compact SUPs that sport a 2+1 fin set-up, the decrease is fairly minor. Backstroke and forward sweeping stroke turns are still effective; the initial change in direction just requires slightly more effort than we had become accustomed to on some 2+1 fin set-up all-arounds. I'd attribute this to the fin set-up, of course, but I also think it has to do with the fact that the CX Ultra is able to pick up a bit more speed, making redirecting that momentum a little harder.
That being said, the lightweight build on the Blackfin CX Ultra combined with its tapered tail make lifting the nose and sinking the tail for a stepback turn much more manageable, even for lighter or less experienced paddlers.
Overall, the Ultra line-up as a whole, and the Blackfin CX Ultra specifically for this review, are plenty maneuverable for most paddlers. However, paddlers that are needing a SUP capable of quick turns with just a couple of strokes (i.e river paddlers, big wave ocean paddlers) would benefit from swapping out the 9" twin fins for a pair of iROCKER's shorter side fins.
Construction Quality: 9.8/10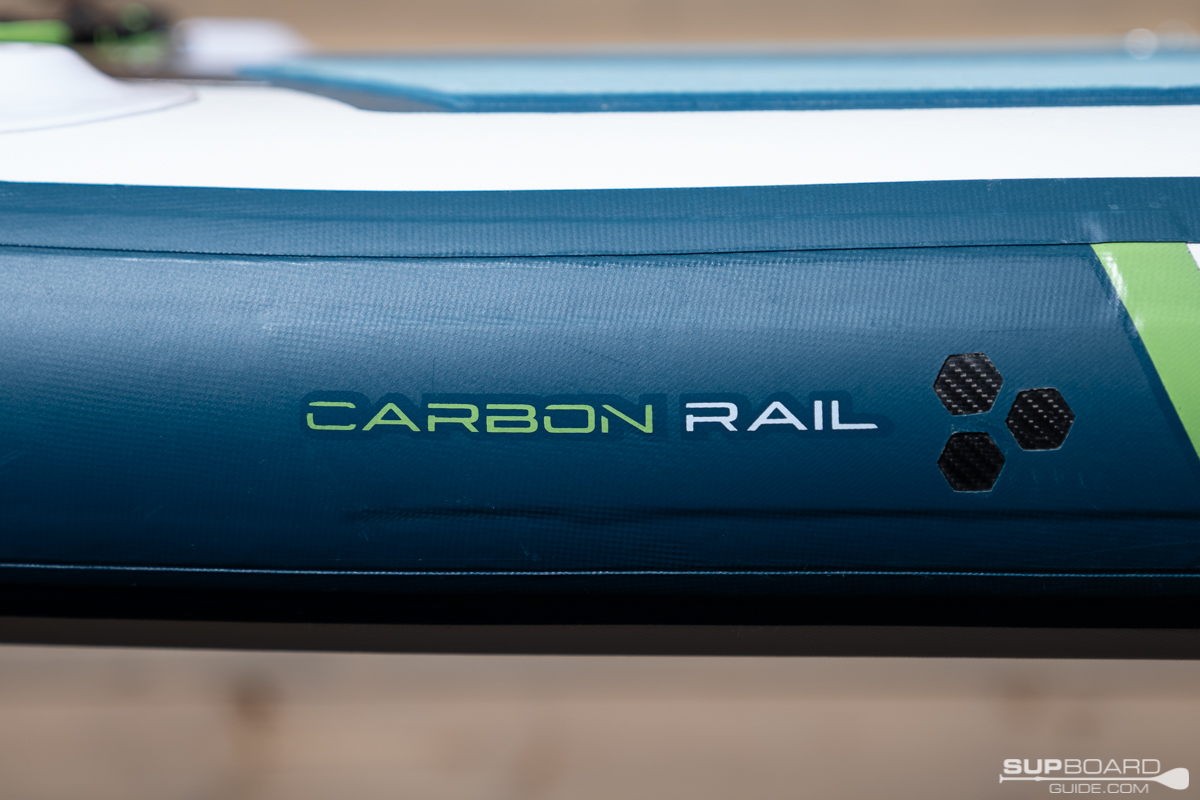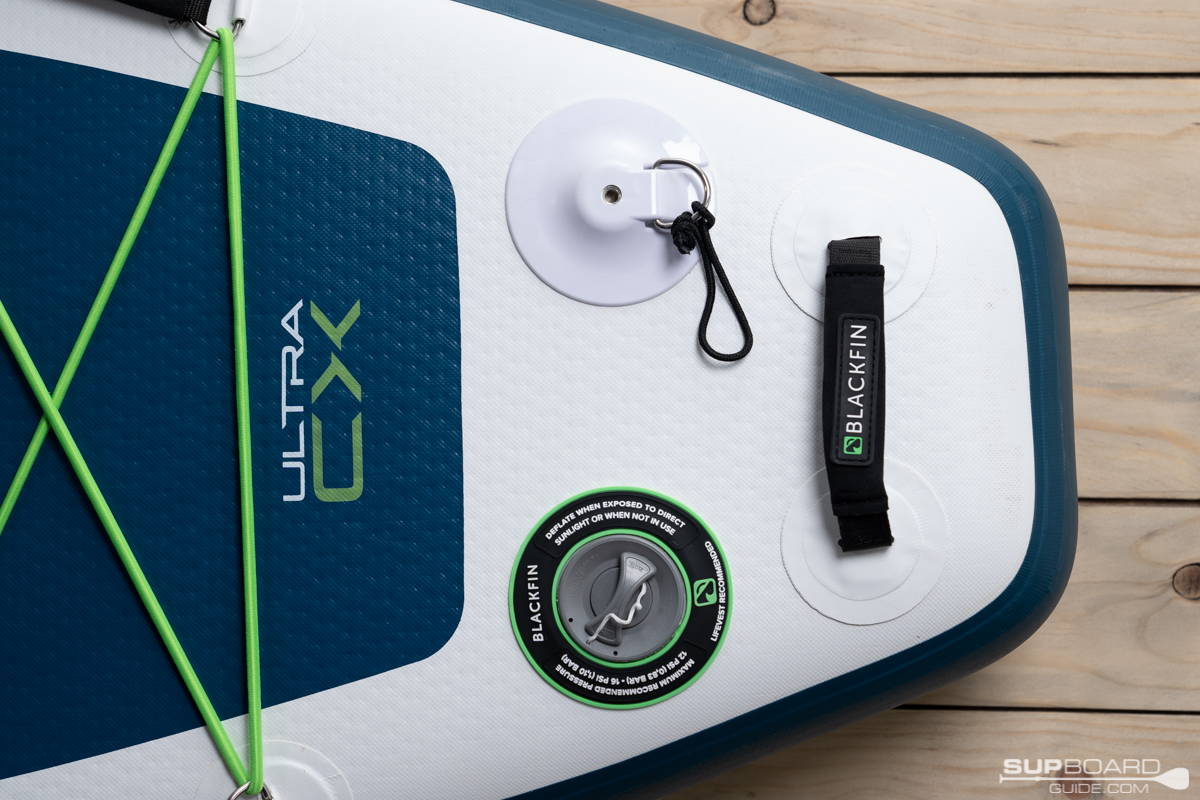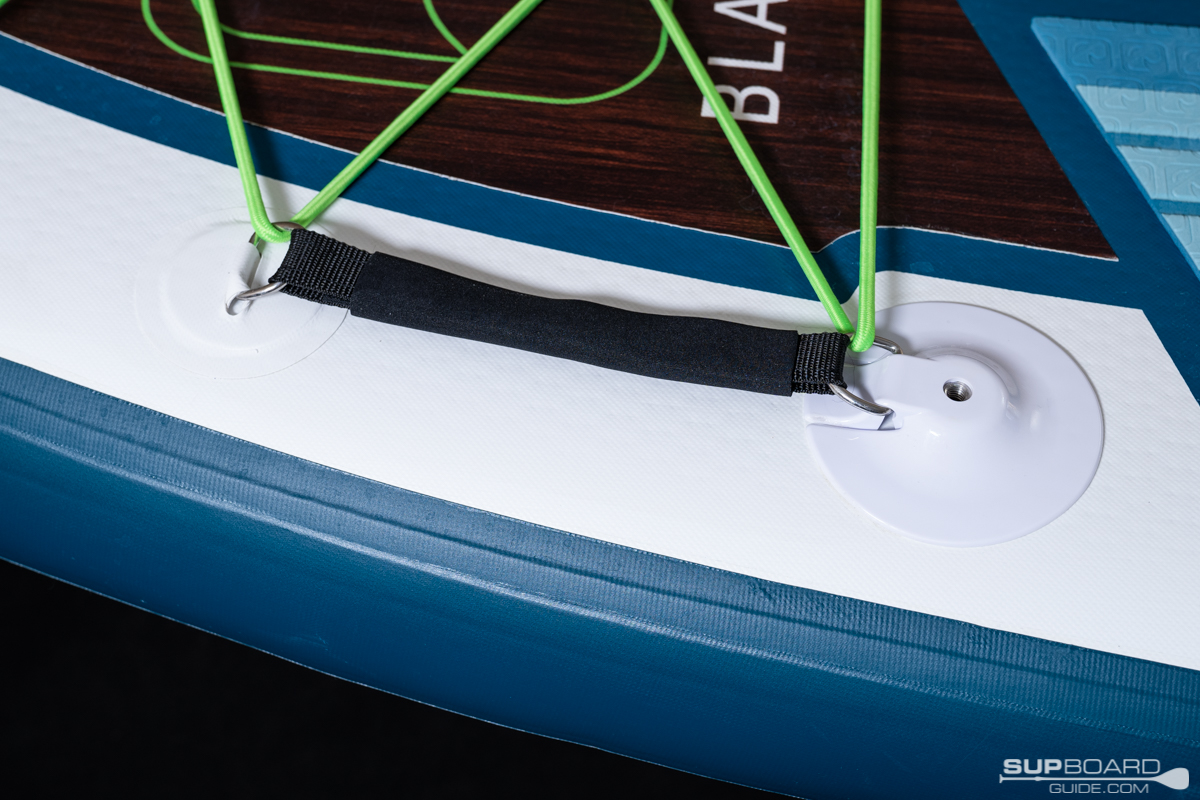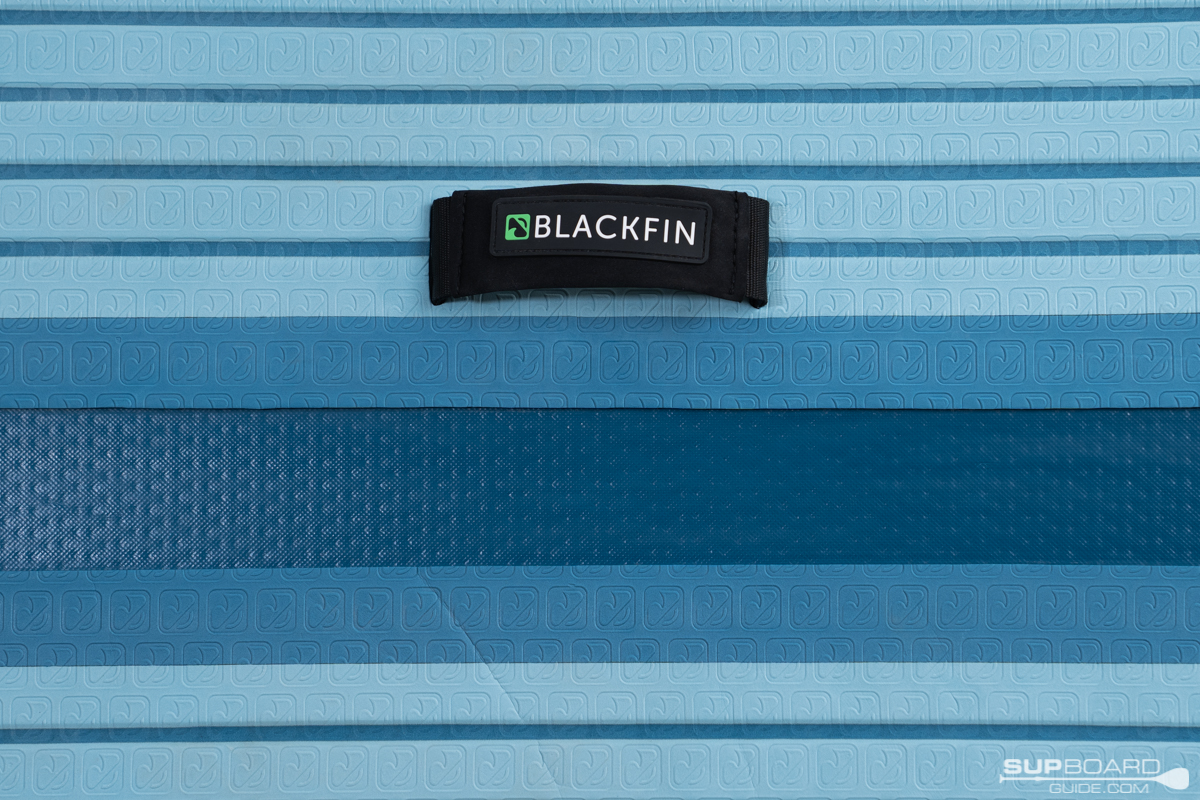 Construction on compact SUPs never ceases to be impressive, and the Blackfin CX Ultra has raised the bar in this category.
Differing from their standard, non-compact line, iROCKER constructed their Ultra line with a woven dropstitch inner core, which achieves more stiffness than a linear drop stitch core while using less material (i.e. creating a lighter board).
The Blackfin CX Ultra is then coated with 3 composite layers of PVC ('composite' meaning each layer is of different thickness), for added stiffness and overall durability. What really sets the CX Ultra apart though, is its carbon fiber rail layer, which is characteristic to the Blackfin line and contributes just a bit more rigidity and makes the SUP more resistant to punctures or other damage.
While we realize that the construction section of our reviews can get laden with technical jargon, the most important piece to understand here is that the Blackfin CX Ultra is exceptionally rigid, despite being just 19.8 lbs.
Board Stiffness: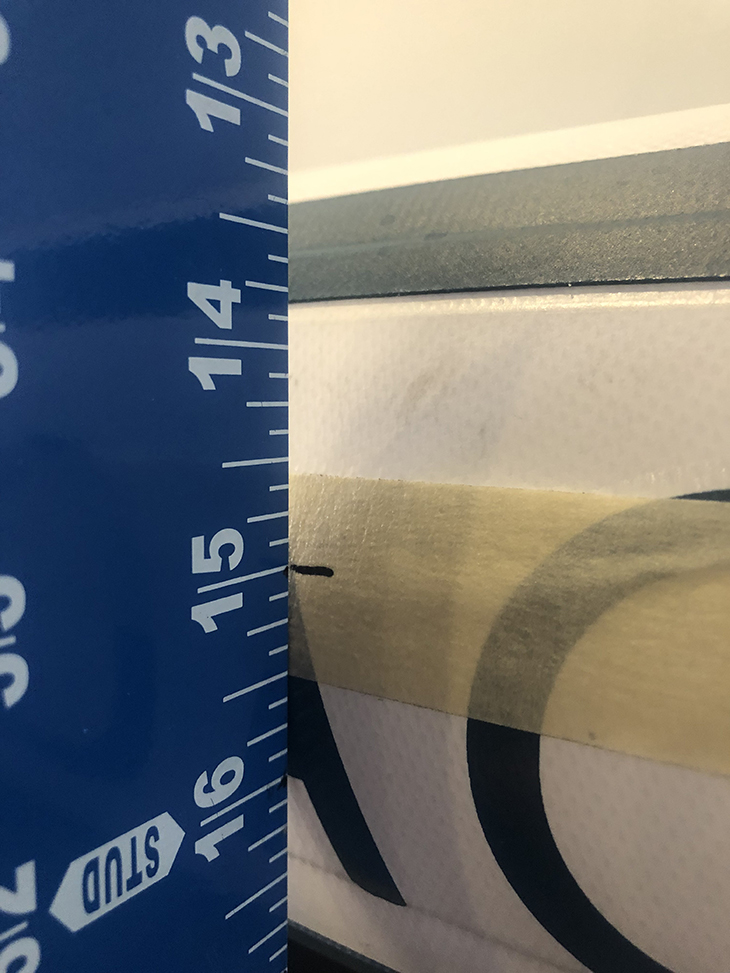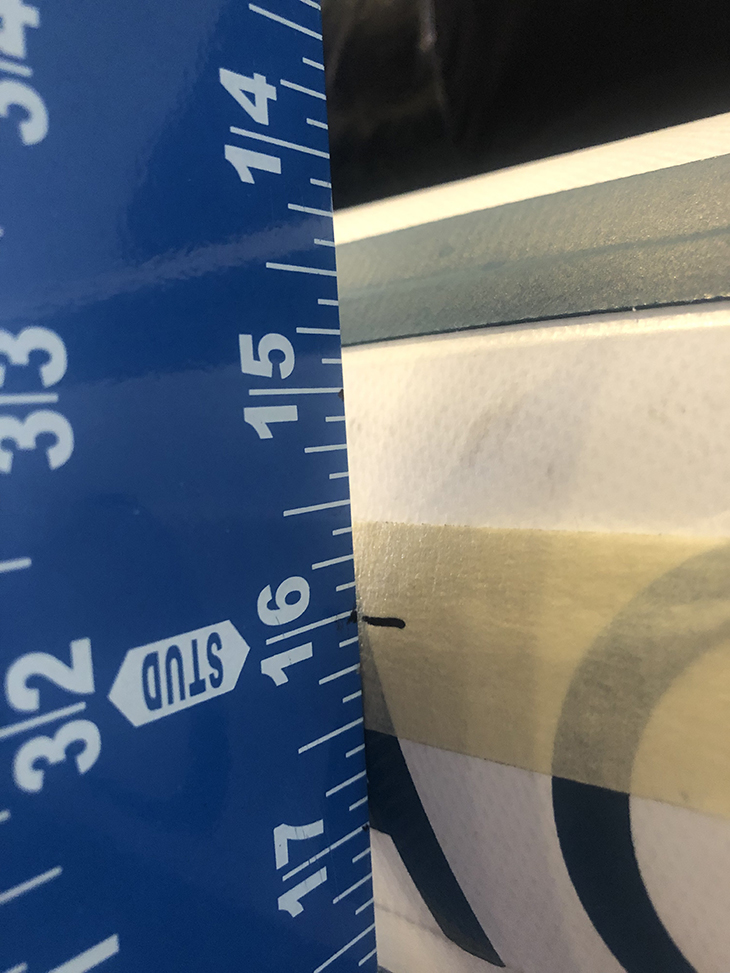 Stiffness Test: 1" Bend
Our stiffness test or 'bend test' is carried out by placing the SUP on two sawhorses set 7' apart and measuring how much the board bends when it's loaded with 150lbs at its midpoint. This test is not so much a replication of the SUP's behavior on the water, but more serves as a tool for us to differentiate between construction processes/materials that are used throughout the industry.
The Blackfin CX performed exceptionally well in this test. It's on par with the rest of the Blackfin line despite being significantly lighter. I'd interpret this as a testament to the effectiveness of a cross or 'woven' drop stitch pattern in producing a lighter SUP without detracting from stiffness.
Features/Accessory Review: 9.8/10
Though compact, the Blackfin CX Ultra does not skimp out on versatility focused features.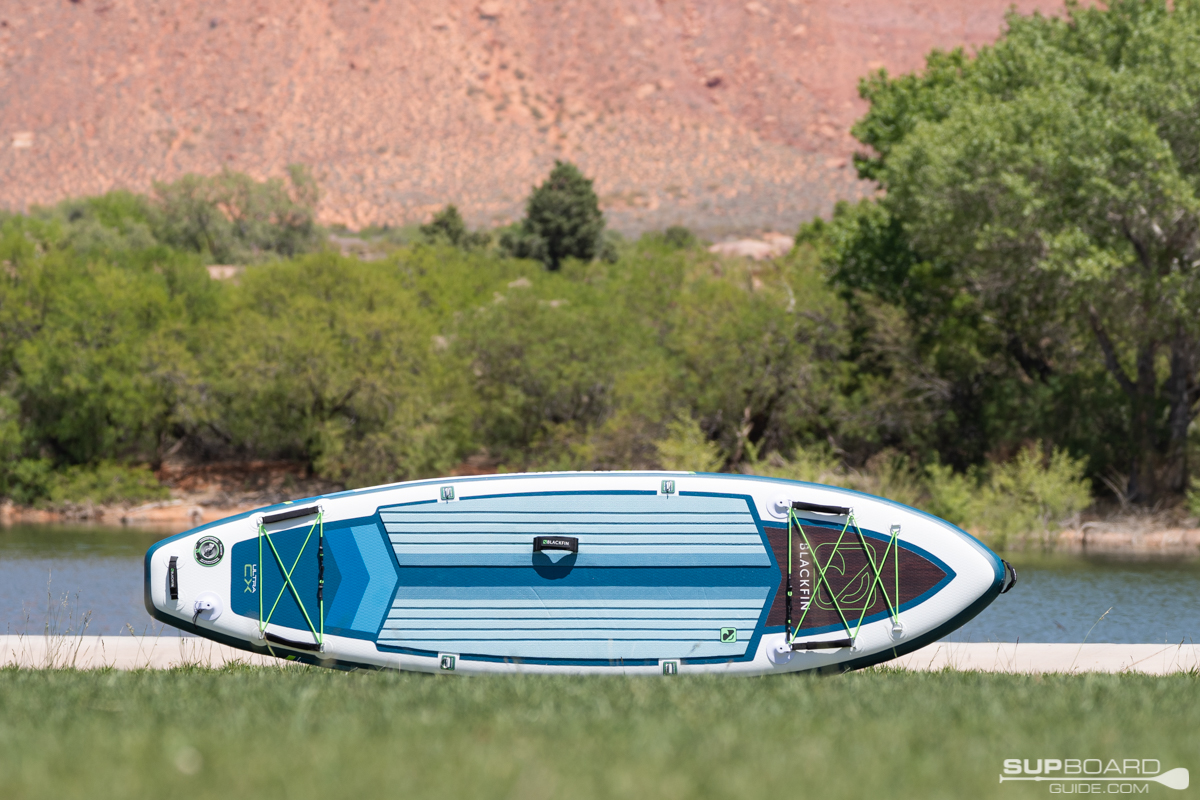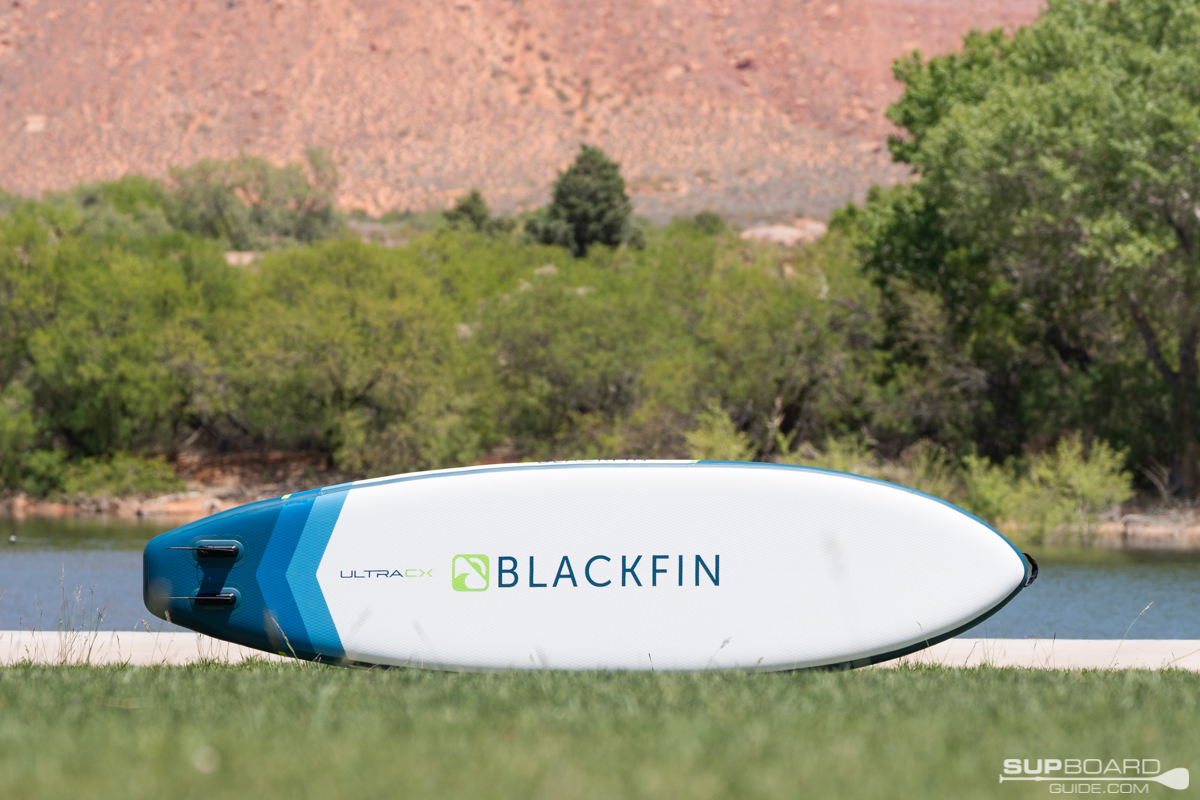 One of our favorite features on the CX Ultra is the removeable bungee cargo areas. iROCKER added a clip to their bungee system that you can simply undo, to thread or de-thread your cargo areas without having to cut and replace your tie-down bungees several times over. We also really appreciate that they kept their standard 3-carry handle system, as that can be something that's left out of other compact SUPs.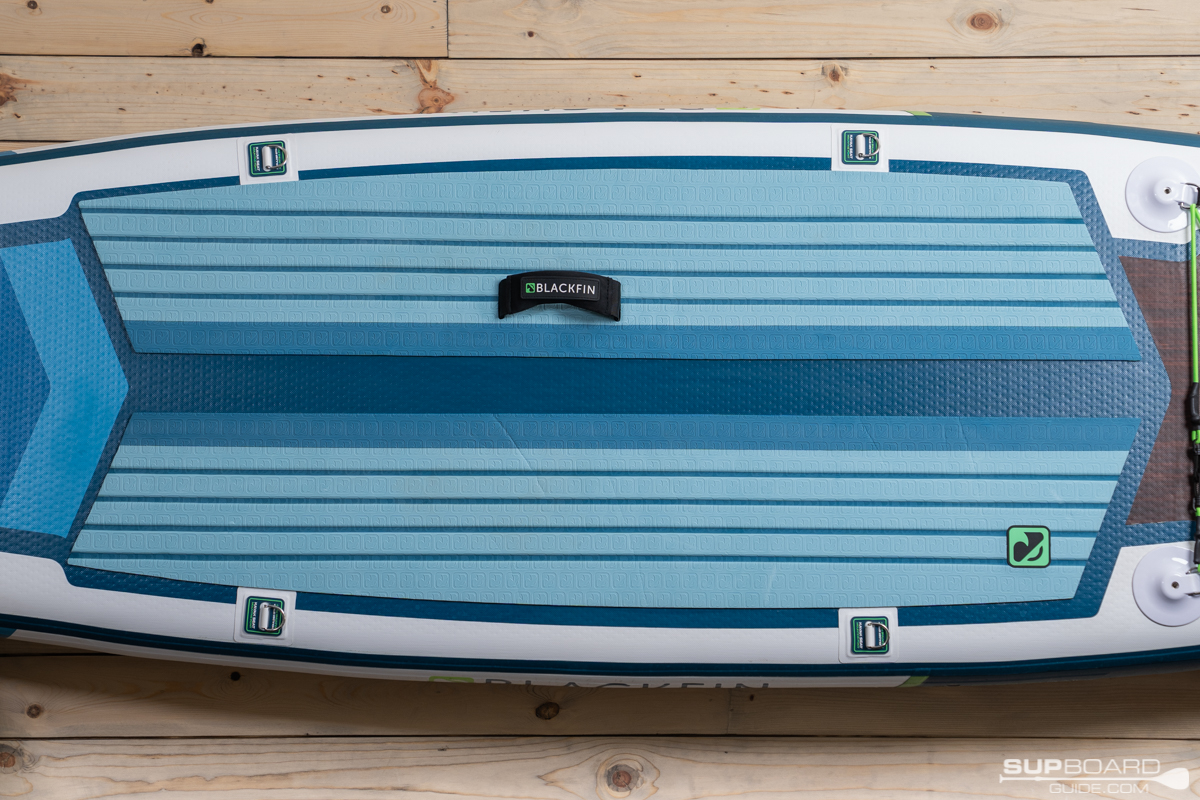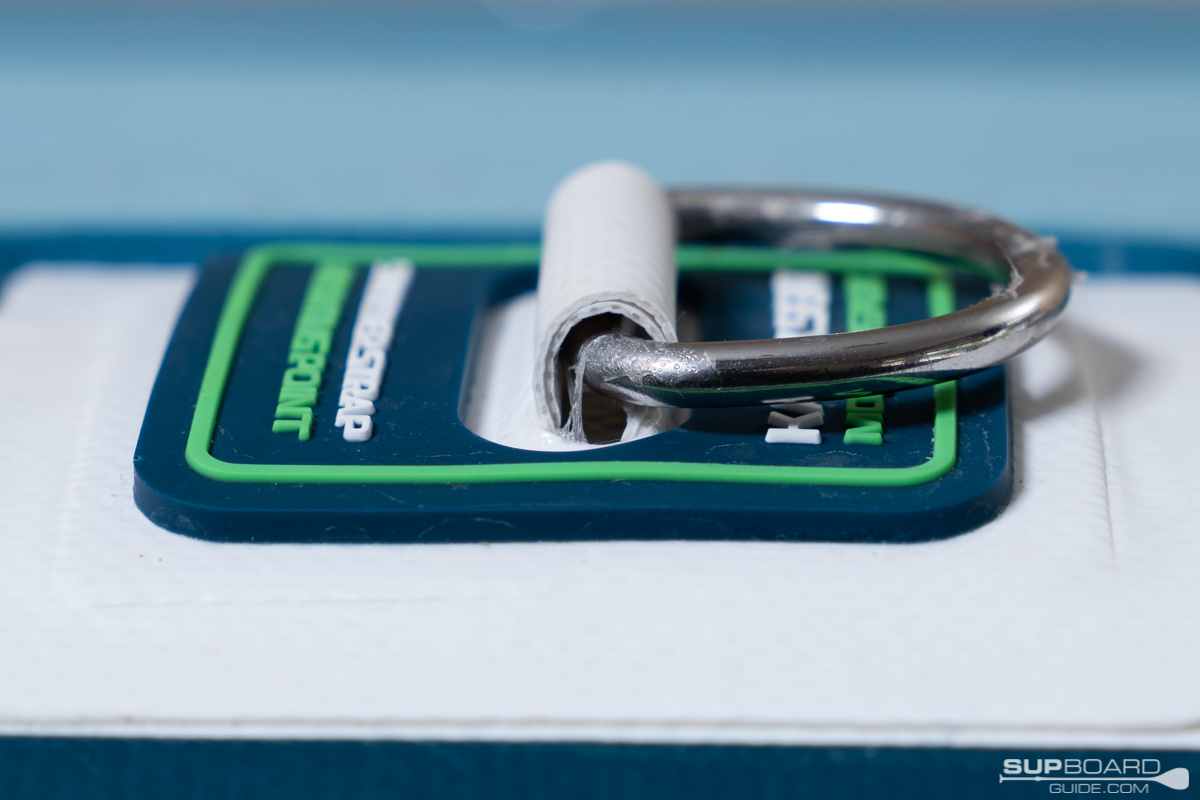 Additionally, we like that iROCKER opted to still incorporate their kayak seat compatible D-rings along the CX's rails, making it easy to switch up your water activities while still benefiting from the compact design of the Ultra series.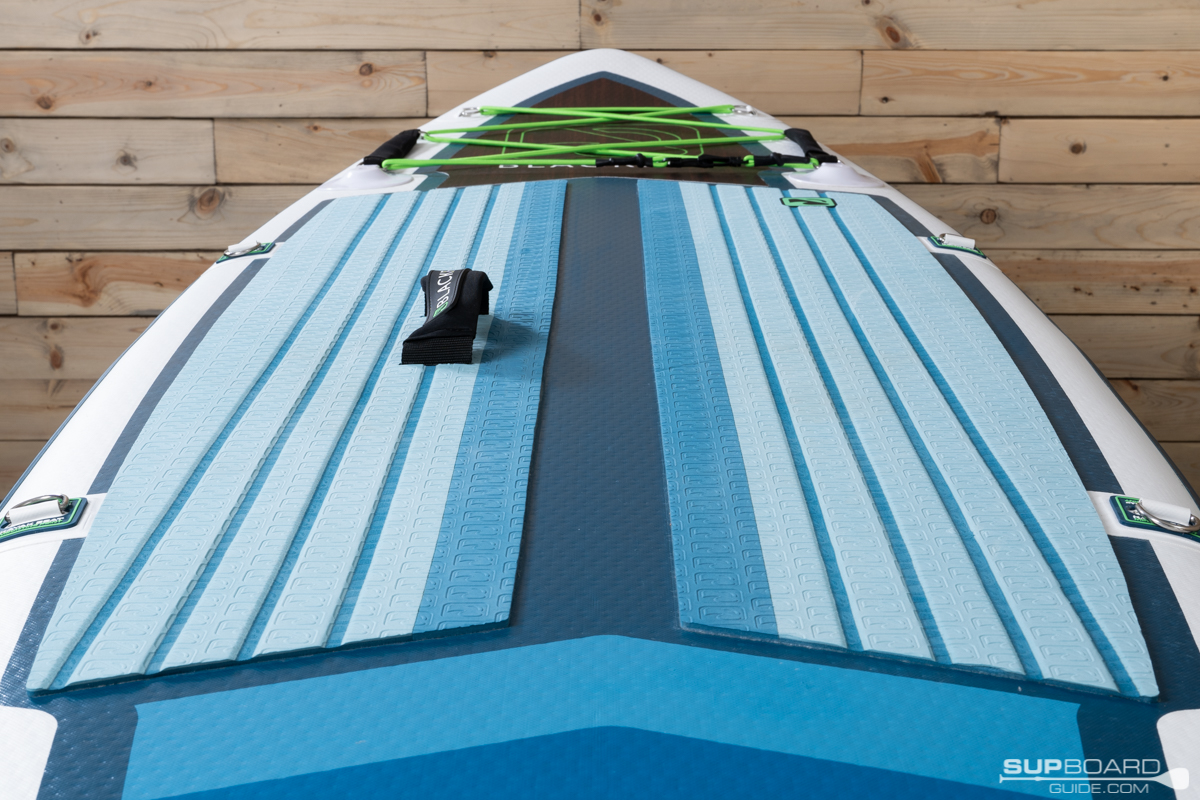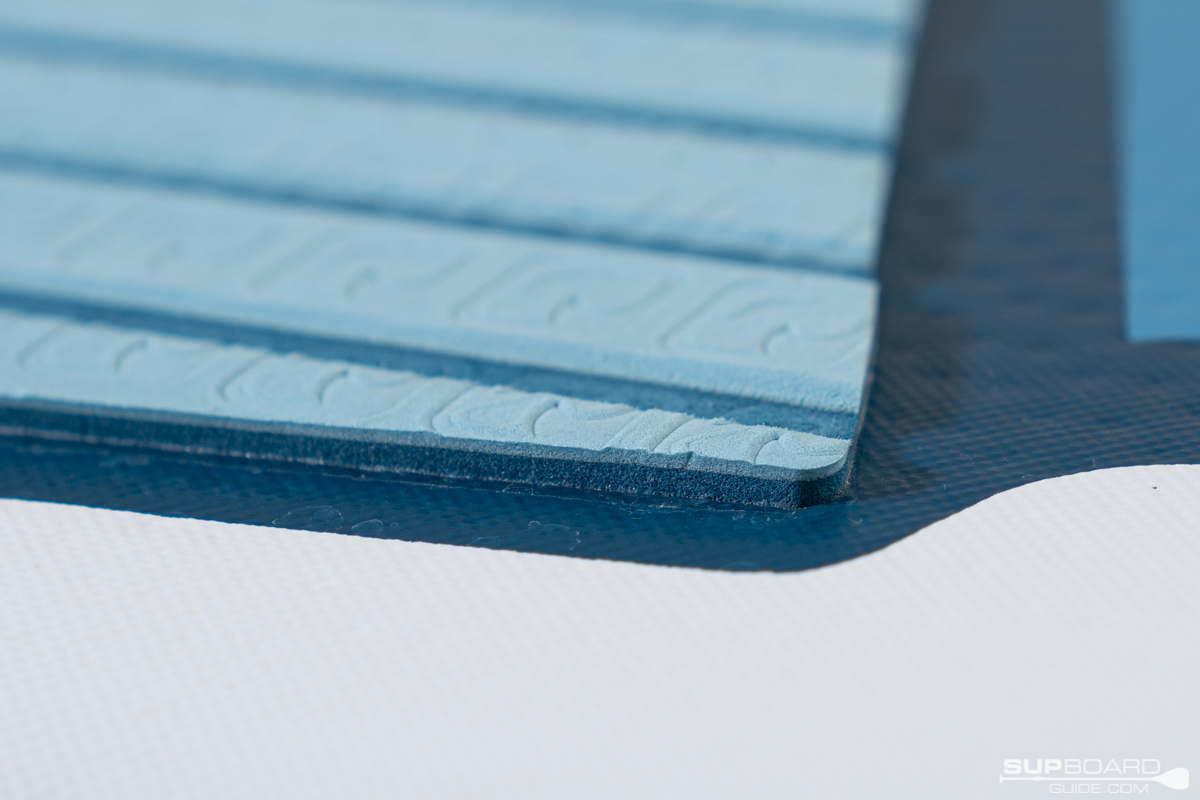 As a final note in this section, we really appreciated iROCKER's decision to keep the CX Ultra's deck pad nearly identical to that of their standard Blackfin line, using deep grooves as well as brand stamping to keep your feet dry and provide some extra grip.
The only real differences between this deck pad and the standard Blackfin deck pad are, of course, the split down the middle as well as the off-centered middle carry handle. Of course, this allows you to fold the board in half before rolling it up, but we'd appreciate it if iROCKER shifted the handle closer to the SUP's midline, as it does sometimes get in the way if paddlers have a more narrow stance.
Included Accessories: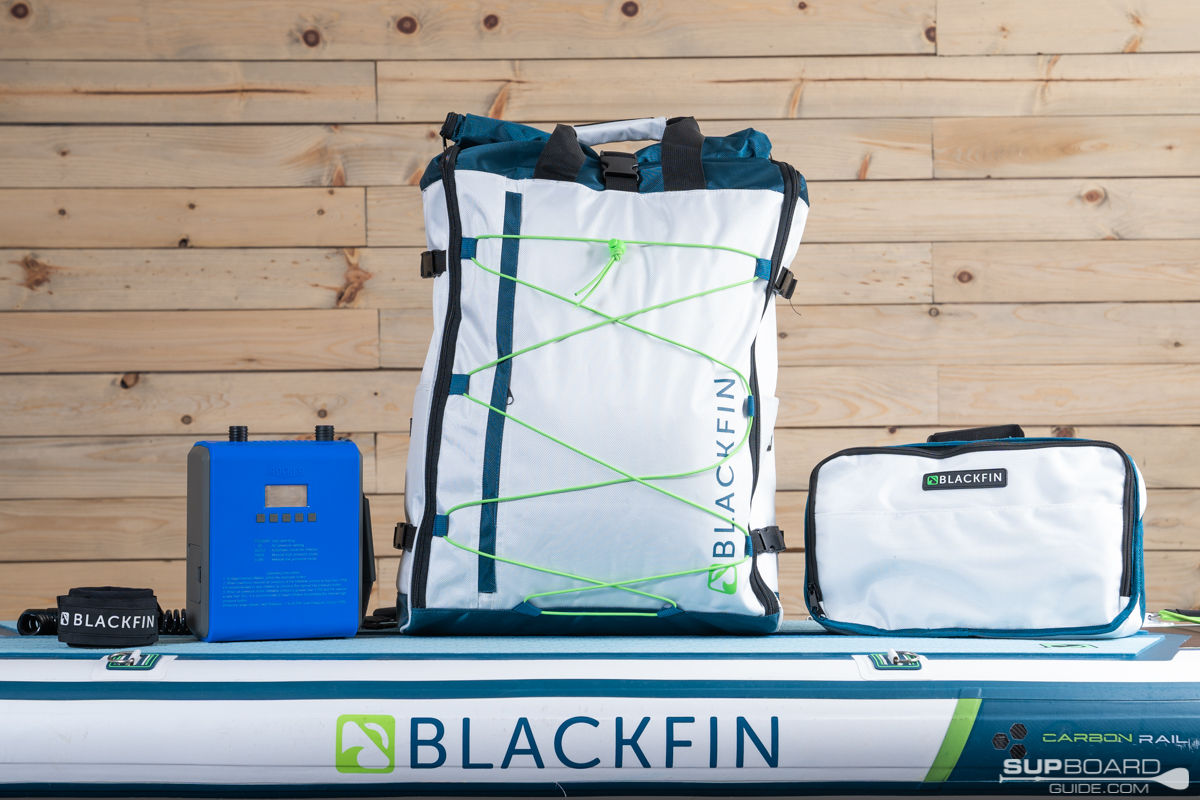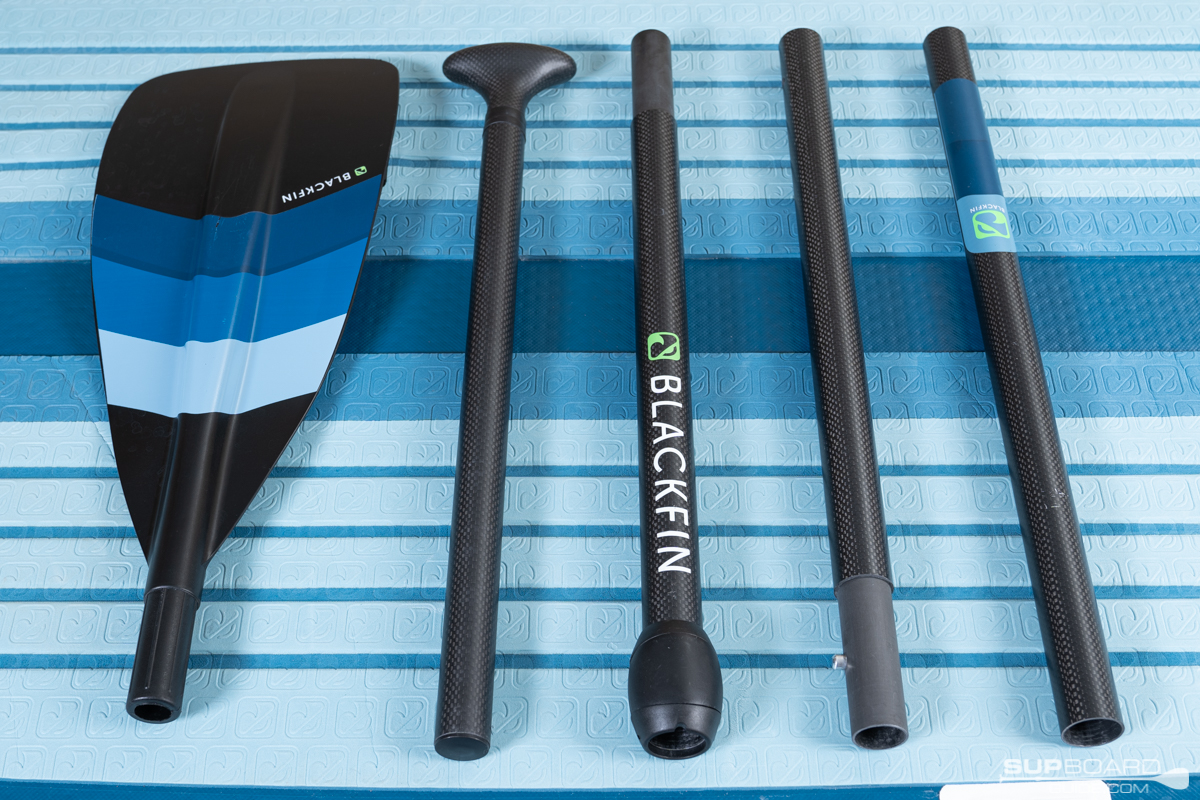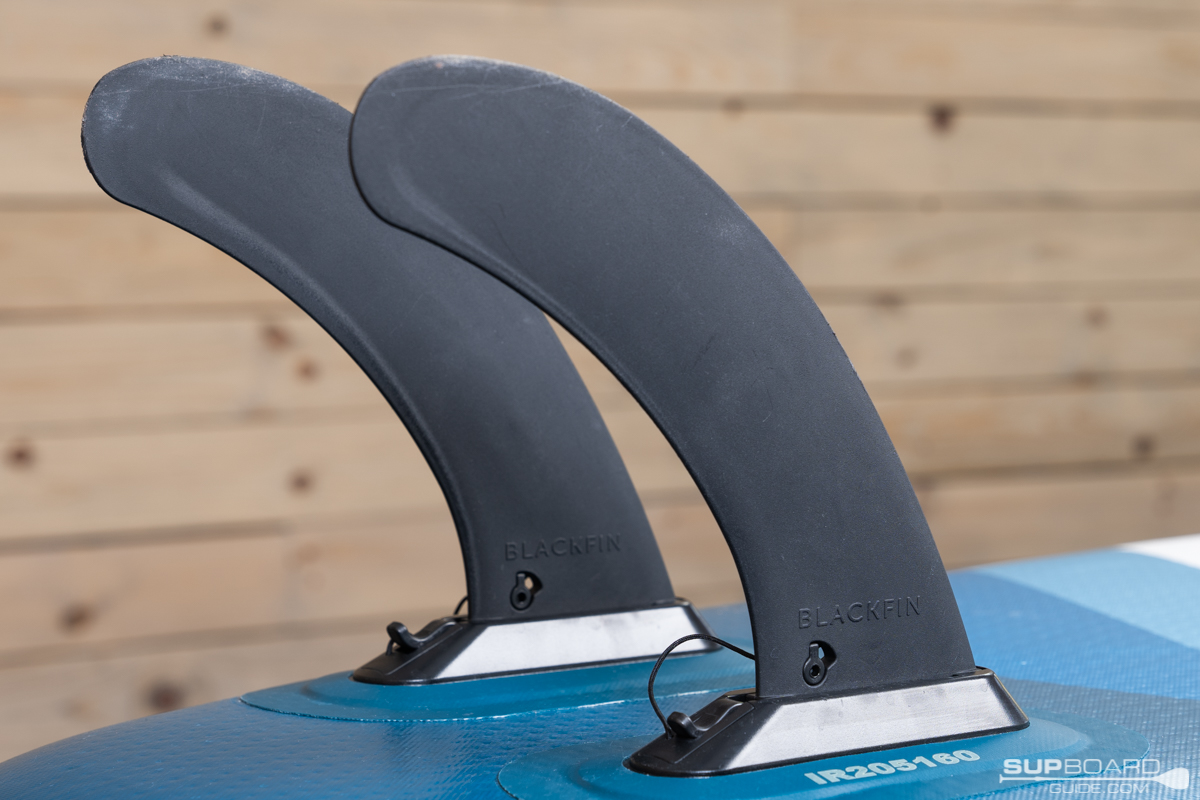 iROCKER's Ultra comes with one of the most inclusive and innovative SUP kits that we've reviewed to date, though there are a few improvements we'd like to see iROCKER make in the future. Included with each Blackfin CX Ultra is the following list of accessories:
5-piece carbon shaft paddle w/ a nylon blade
iROCKER 12V Electric Pump
9" snap-lock fins (x2)
10' coiled leash w/ key pocket
Accessory Pouch
Compact roll-top/front zip backpack
Firstly, we love iROCKER's decision to include their 12V Electric pump with their Ultra line. Any electric pump will make for a much more enjoyable inflatable paddle boarding experience, but iROCKER's electric pump in particular is one of our favorites in the industry. It's fast, reliable, and its shape and cord compartment make it super easy to fit in a SUP bag. This pump even holds second place on our list of Best Electric Pumps.
Moving to one of my personal favorite pieces of this kit, the accessory pouch is not only the perfect spot to store the electric pump, but it also has extra room to hold your fins, leash, and any other small accessories in your arsenal that would otherwise get lost in the backpack.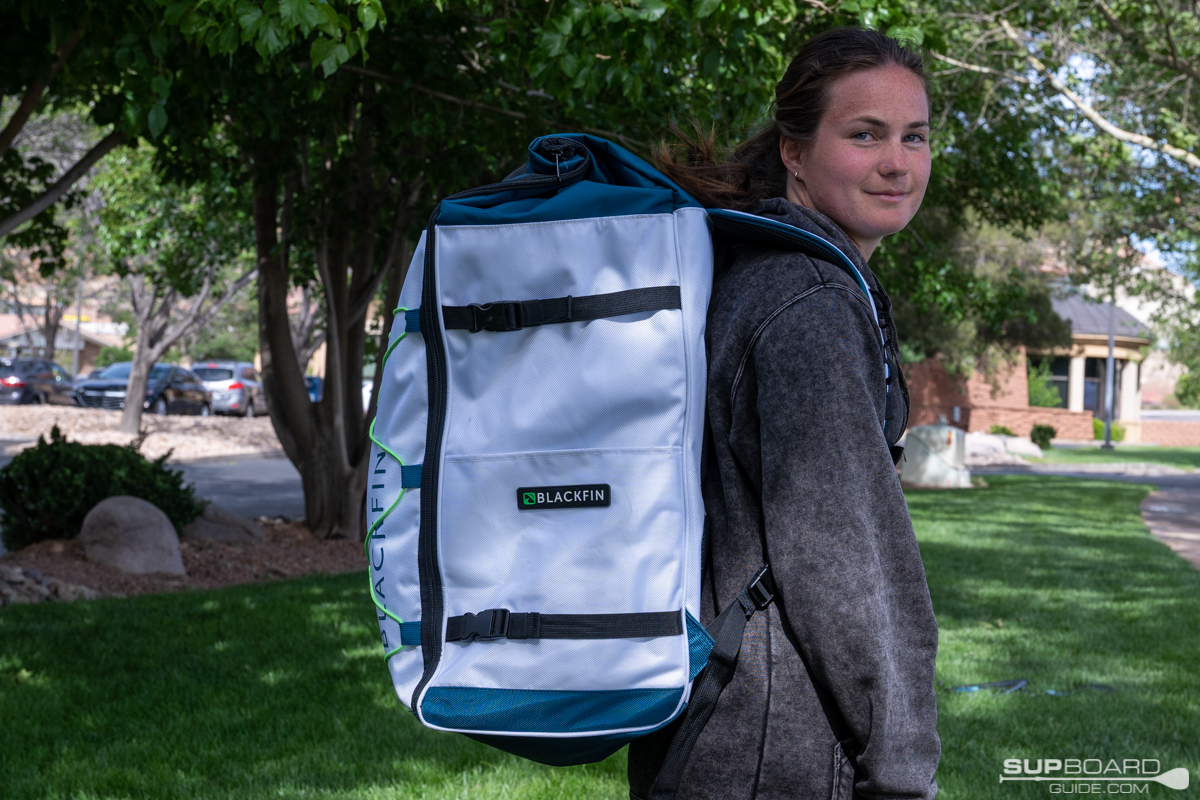 Staying on the topic of the backpack itself, we're essentially in love with it. The entire front panel unzips, making it super easy to just place your SUP inside when it's time to pack up. Once the front panel is re-zipped, the bag functions with a velcro roll top, which allows you to load anything on top of the SUP without having to wrestle with a zipper to get it closed. So far we've just been placing the accessory pouch on top for easy access, but there's plenty of space to take along an extra set of clothes or some towels.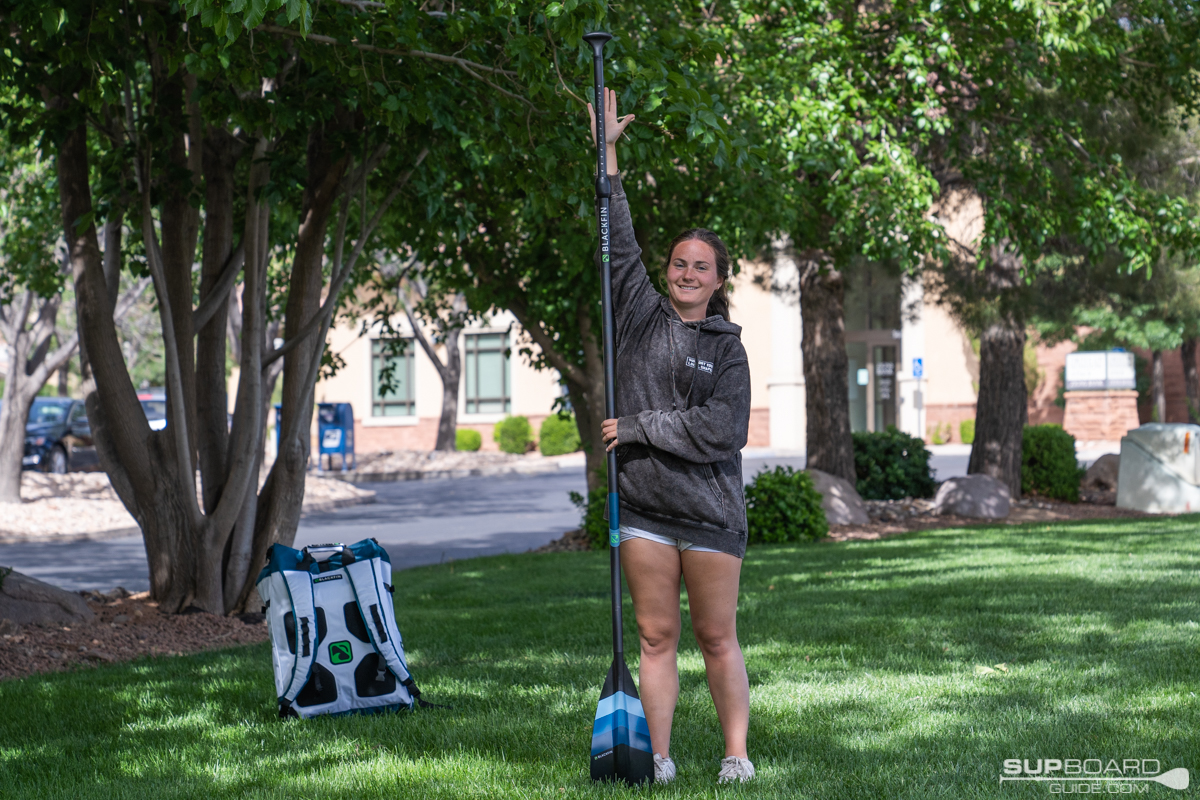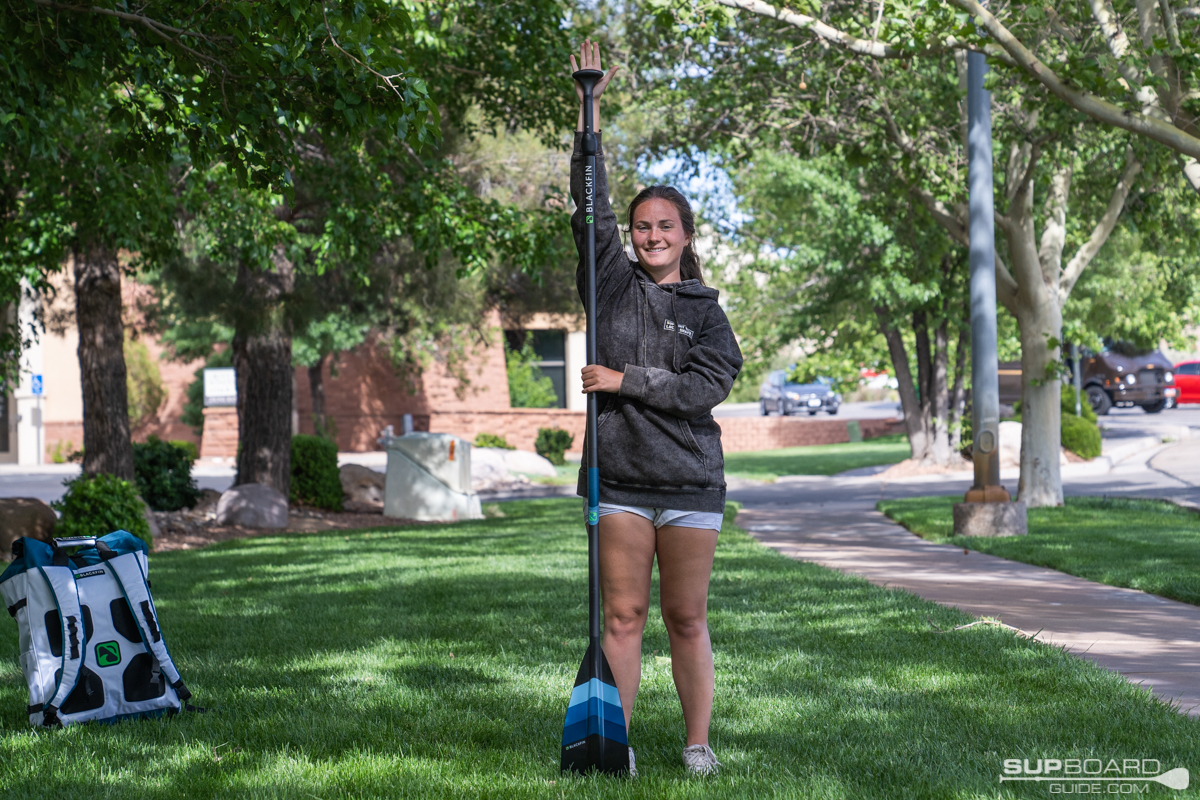 Our only suggestions on future versions of this kit would be for iROCKER to include a shorter pair of twin fins (maybe in the 7" range) that would allow for a bit more maneuverability, as well as adjust the paddle design to adjust to shorter paddlers. At 5'2", the 5-piece paddle is slightly too tall for me even when lowered to its shortest height. Summary Review of the Blackfin CX Ultra Inflatable Paddleboard
Summary Review of the Blackfin CX Ultra Inflatable Paddleboard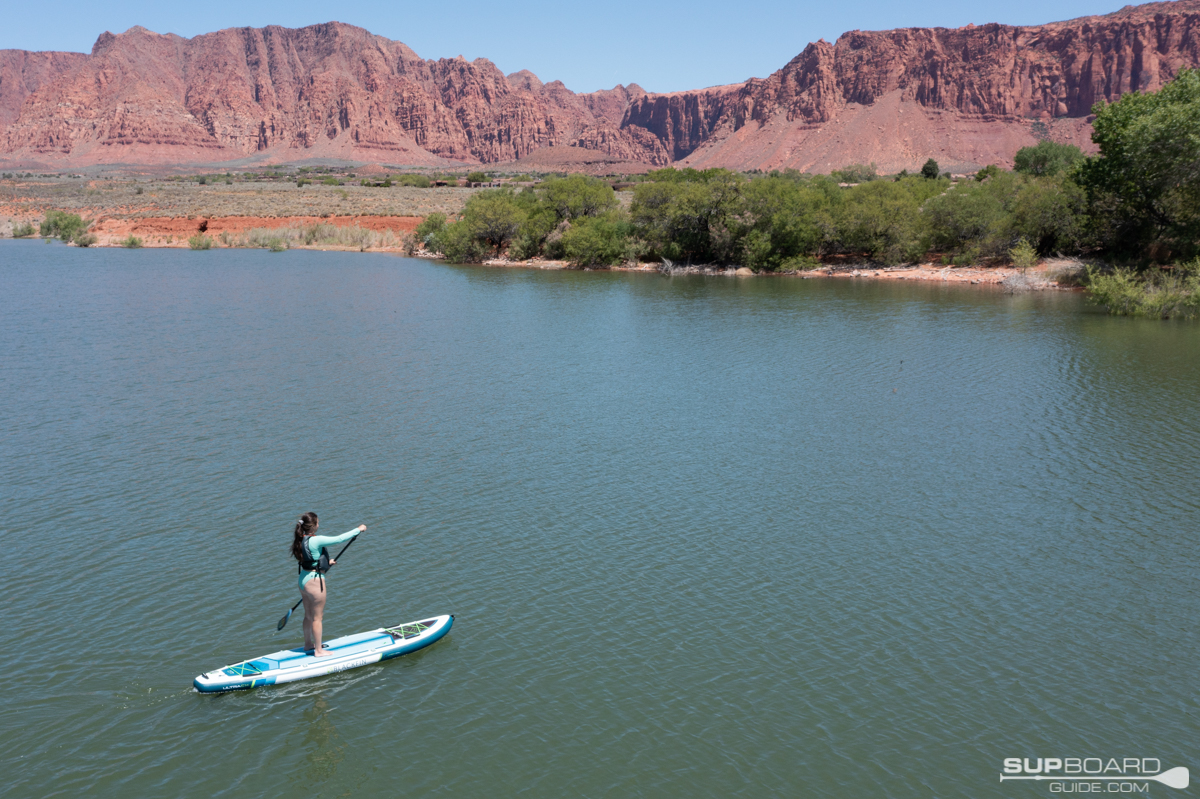 In much fewer words than we've used through the course of this review, the Blackfin CX Ultra encompasses everything we could want out of a compact, inflatable SUP.
It's stable but doesn't lack in performance, and seamlessly displays impressive levels of speed, tracking, and maneuverability.
Overall, this SUP has quickly become a crowd favorite here at SUPBoardGuide, and we think it'd be a great option for paddlers that value quality in their paddling experience, construction, and included kit.
In the future, we'd like to see iROCKER explore the option of 4.7" thick SUPs in their Blackfin Ultra line, but for now, we're ecstatic with the current Ultra series.
As always, we hope you've found our review of the Blackfin CX Ultra helpful, but feel free to let us know in the comments if there's anything we've missed or if you have any questions.
Stay safe; we'll see you on the water!
The following two tabs change content below.
SupBoardGuide
Heyo! At SupBoardGuide.com we are a team who love the water, the outdoors, and are more than grateful that our full-time job allows us to review stand up paddle boards. We paddle year round (it helps that we are just about 2 hours outside of Las Vegas), and we bring in a wide range of paddlers with the goal of providing our readers with the best, most in-depth, and accurate stand up paddle board reviews.
Latest posts by SupBoardGuide (see all)