BLACKFIN Model SX
Pros
Quick, responsive board that is stable and a ton of fun on the water.
Great design that balances simplicity and elegance.
Removable tri-fin set up offers multiple riding options.
Quality EVA deck pad with texture and close grooves that maximize board grip.
Great storage in front and back, 15 D-rings for additional attachments.
Cons
The Model SX does not include the 2020 BLACKFIN paddle.
We would love to see a few more hard board options from iRocker/BLACKFIN (touring ,surfing, etc.)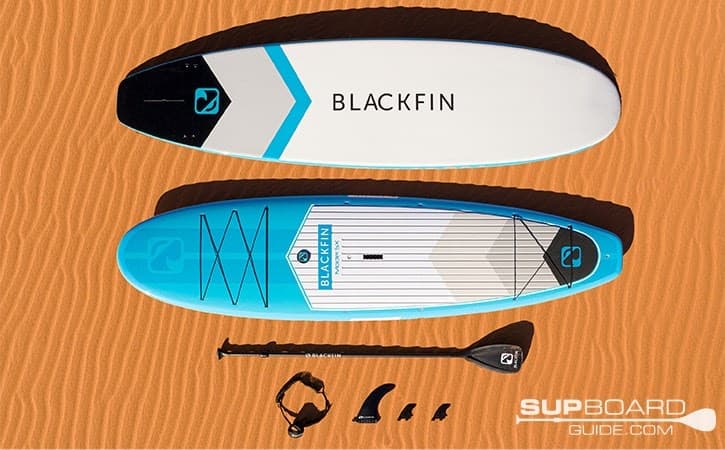 The Model SX is the first hard SUP to be released by iROCKER as part of their BLACKFIN line. Fast, highly maneuverable, and stable, the Model SX offers great performance that will make SUPboarding a treat. 15 D-rings give the Model SX plenty of usability options, as do the removable three fins. Finally, the comfy but grippy deck pad makes even long rides easy on your feet.
People trying out SUPboarding for the first time or switching over from inflatables will both enjoy what the BLACKFIN Model SX has to offer.
SUP Board Specs
| | |
| --- | --- |
| Length | 10'6″ |
| Width | 32″ |
| Thickness | 4.5″ |
| Weight | 32 lbss |
| Max Capacity | 250 lbs |
| Fins | 3 Removable fins |
| Paddle Type | 3 Piece adjustable Carbon Shaft paddle |
| Materials | Fiberglass inner shell, 6 layer Kevlar reinforcement, 1.3mm Polycarbonate ABS outer shell |
Who Should Buy This Stand Up Paddle Board:
Finding a place to store and transport your BLACKFIN Model SX will probably be your greatest challenge. If you have somewhere to put the hardboard, you'll find it well suited for the following types of riders:
Beginners who have never used a SUP before and want a steady board to learn with.
Intermediate to advanced SUPers who want to maximize performance.
Paddlers switching over from inflatable SUPs that are looking for a high quality SUP from a trustworthy company.
SUPers who want a stable, quick, and highly maneuverable board.
A board that can perform in light surf and flat water alike with little performance loss.
For the best riding experience, we recommend taking out the Model SX in conditions such as:
Lakes, bays, and other flat/calm water settings.
Rivers that aren't too hard to navigate or in danger of constantly brushing up with rocks (we would not recommend this for whitewater adventures).
Light to moderate ocean surf settings.
Performance
Stability

We start all of our inflatable SUP board reviews by analyzing stability, and our hard SUP reviews aren't any different. For beginners to advanced users alike, how easy it is to stay on top of your board is closely correlated with how much long term enjoyment you'll get out of your board. We wouldn't call the sport 'stand up' paddleboarding if you spent most of your time falling in the water. So, how does the Model SX stack up when it comes to board stability?
Almost as well as any other BLACKFIN model board, actually. While the Model SX can't support 350+ riding weight like its inflatable brethren, the 250 lbs weight recommendation is still impressive. Riders small and large at our company had no problem using the Model SX, even those who were pretty close to the recommended weight limit. It's a stable board for beginners to advanced users alike, so users of any skill level can have fun with the Model SX.
Maneuverability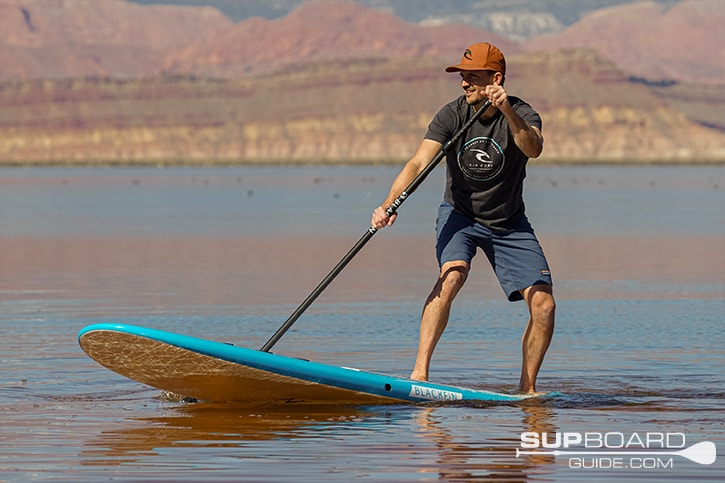 The BLACKFIN Model SX has the traditional all-around SUP shape. The result is that the Model SX is quick, maneuverable, and fun to paddle around the lake or ocean. While it's not a touring board, it will be faster than an inflatable (one of the advantages of a hard SUP), and will perform well in a variety of conditions.
Tracking/Glide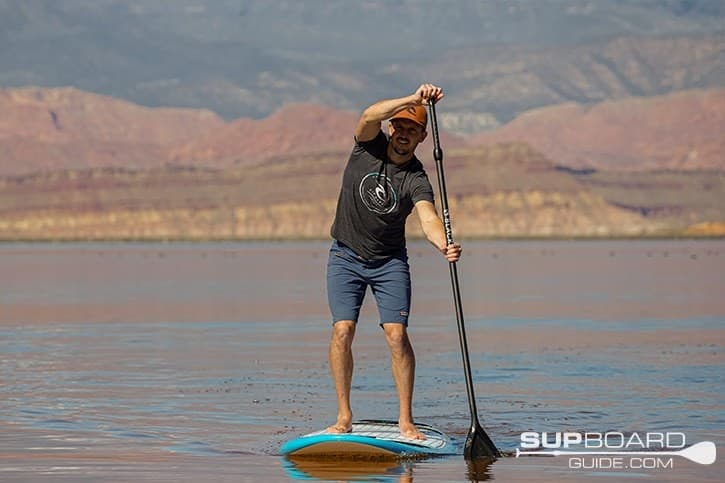 The Model SX tracks well, especially when you're paddling with all three fins locked in. While the typical paddler will be more than happy with the basic nylon tri-fin setup, you can skip the side fins and insert a larger hatchet fin in the center for a more touring-like performance. Getting rid of the side fins tends to decrease stability, so if you're still getting used to SUPing we'd recommend just sticking with the traditional tri-fin setup.
The BLACKFIN Model SX offers a very smooth and comfortable glide. The flat planing nose helps the SX handle most small waves, and maintains a steady and straight performance even with a little wind. With the BLACKFIN Model SX, you can still go out and have a pretty good time on the water, even when it's a less than optimal day.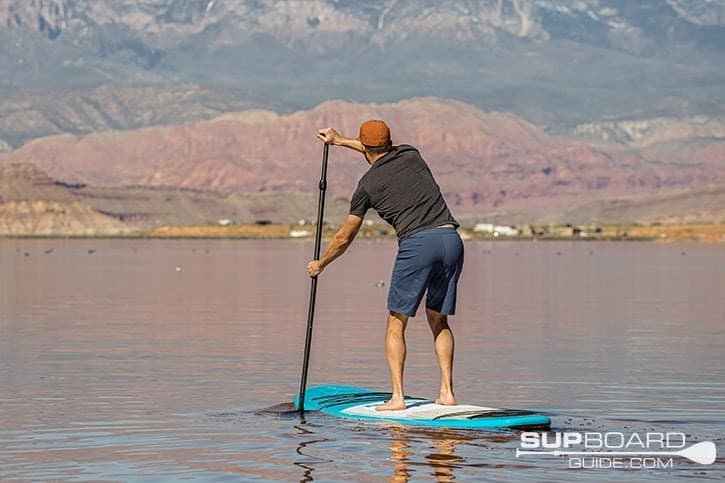 Materials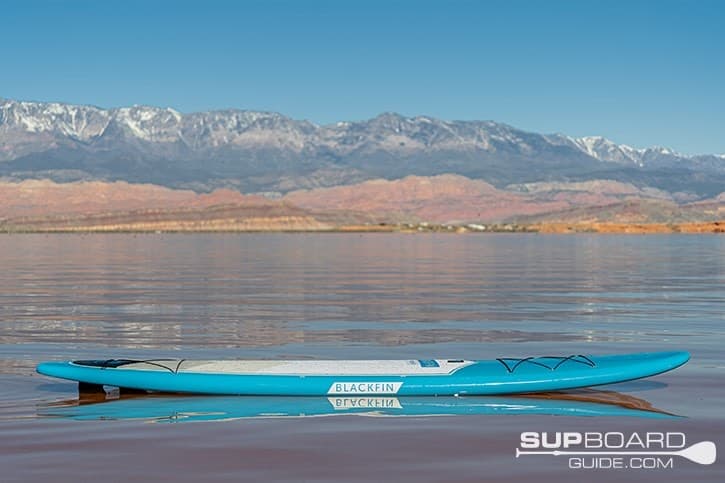 To build the Model SX, BLACKFIN starts with creating a high-density foam core that gives the board its shape, is waterproof in nature, and serves as a foundation for weight and performance. The foam core is then wrapped with a single layer fiberglass shell, and reinforced on the nose and tail with Kevlar. For added protection and support, the final shell is made out of 1.3mm Polycarbonate ABS, making it resistant to most drops and punctures. The result is the highly durable, rigid, yet comfortable BLACKFIN Model SX.
Board Design/Shape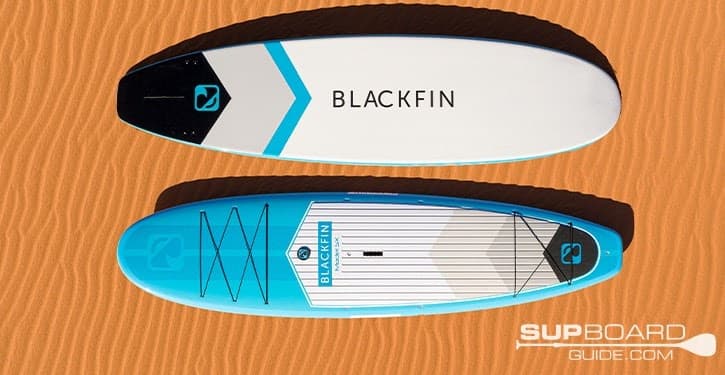 The Model SX 10'6'' length and 4.5" thickness provides this hardboard with some stellar maneuverability. The 32'' width keeps the board stable but also light and fast in the water. The Model SX also has a slight rocker, and with a fat nose you'll have a smooth and stable experience in flat water and some light chop.
Overall, the Model SX is an all-around board that is well suited for a variety of activities. The wide and comfortable deck pad is well suited for yoga, stretching, and paddling long distances. The nimbleness of the SUP makes it capable of navigating tight corners in flat water, making it a great option for exploration. The center four D-rings make the SX compatible with kayaking, making it fun for river trips. While not created to excel at any single activity, you'll be able to experience the full breadth of SUP watersports with the Model SX.
Board Features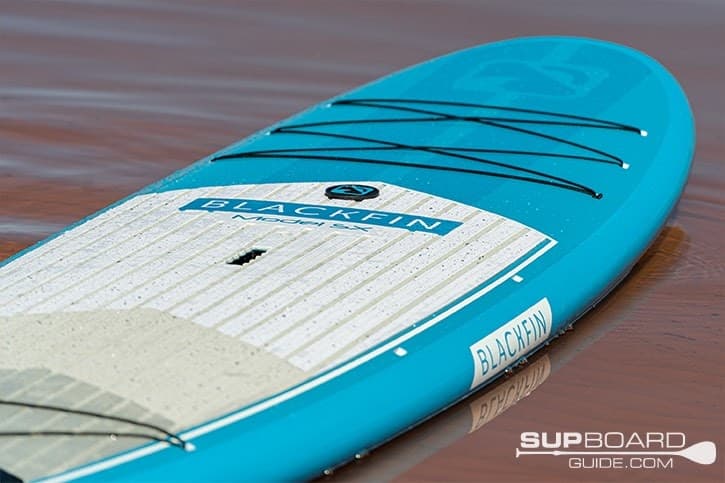 When the SX shows up at your door, expect the following features:
Fiberglass Kevlar Polycarbonate Construction: The Model SX is stable, sturdy, and swift thanks to its construction methodology.
The Model SX has a 2-year warranty and a 60-day guarantee: Expect the same great customer care for the hardboard Model SX as has been given for the other inflatable BLACKFIN sups.
15 D-rings/Front Cargo Area/Back Cargo Area: The Model SX is still compatible with many BLACKFIN accessories. Use the front cargo bungee area to store your cooler or container, or attach a dry bag or other leashes to one of the 15 D-Rings. The back bungee cargo area is great for small containers too!
3-Piece Adjustable Carbon Fiber Paddle: Easy to assemble and adjust, even on the water thanks to its sliding 3-piece assembly. The carbon shaft is smooth to hold, while the fiberglass paddle blade offers the rigidity you need to propel yourself through the water. While we do like the paddle that comes with the SX, we would love to see BLACKFIN offer their newer 2020 paddle that comes with the other BLACKFIN iSUPs.
Center Grab Handle: If you want to hold onto something other than the surface of the board, use the center grab handle to carry your Model SX to and from the water. Surfers will especially appreciate the center grab handle, which will help you flip your board if you ever wipe out on a gnarly wave.
Grooved EVA Deck Pad: Paddle in comfort with the EVA foam deck pad, which will not only provide you comfort but improve your grip and stability. The closely positioned grooves will help you find your feet placement while displacing water that gets on top of your board.
Fins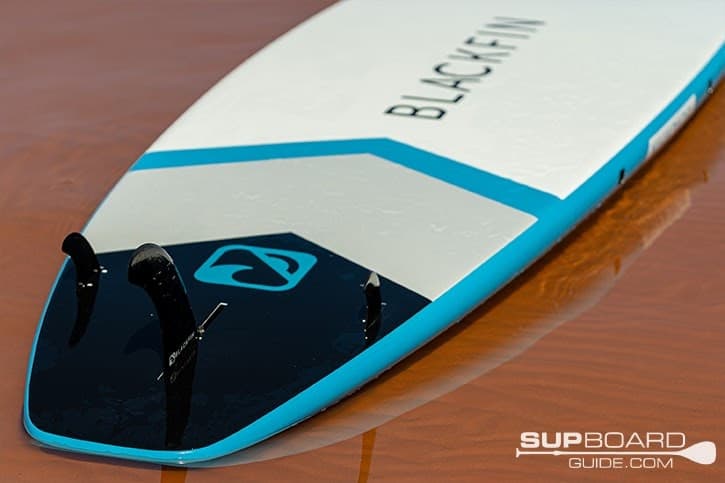 The BLACKFIN Model SX comes with 3 removable fins that make it well suited for a variety of riding conditions. Stick with the large, center fin only if you want to have better tracking and speed. If you're planning on going out surfing, use all 3 fins for maximum stability and thrust on the waves you decide to challenge.
The fins themselves are great, and with a US fin box you'll have compatibility with a wide range of SUP fins. If you're looking to upgrade, we'd recommend checking out the new FCS II fins. Besides offering fantastic performance, they install in seconds and don't have any loose parts you have to keep track of. If you opt to skip the upgrade, Model SX nylon fins are great and will boost your tracking while keeping you even more stable on the water.
Grooved EVA Deck Pad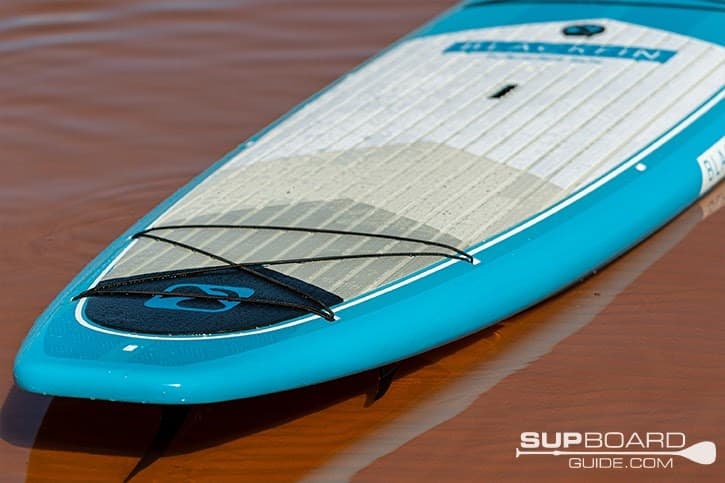 If you count them, there are 14 grooves on the deck pad that you may have written off as just being part of the sweet board aesthetic. While the lines do help improve the board's artistic nature, the grooves largely exist to help you keep your feet on the board. As you ride, you'll be able to track if you're keeping proper placement without having to ever look down at where you're standing. The grooves also help drain water that gets on your board, so you're not slipping all over the deck pad as you ride throughout the day.
The EVA foam is nice and soft on the soles of your feet, while the texture gives your feet a tighter grip. From yoga to sun bathing, you'll be able to stretch out and relax over the long deck pad length. Finally, if you're ever wondering where to stand, just make sure your feet are between the center handle and the logo.
Surfing or just paddling around the lake, the SX deck pad will suit your needs.
Handles
On the Model SX, there's one handle to help you carry the board around. The handle is certainly strong, though there is also a carry strap for long distance trips. Adult paddlers will find it pretty easy to carry the SX around, especially with a little practice. If you find yourself unable to handle your hardboard by yourself though, consider investing in a SUP trolly.
D-Rings/Bungees/Cargo Areas
With 15 D-rings, the BLACKFIN Model SX is ready for a multitude of SUP add ons and options out of the box. Phone bags, dry-bags, and paddle leashes are just a few things you can use the D-rings with, and that's not even counting the front and back bungee cargo areas. For coolers and other large containers, use your front bungee storage area. For cell phones and other small bags you want quick access to, try using the back bungees.
The Model SX is compatible with the BLACKFIN SUP to kayak conversion kit. I think the board would handle well on flat waters like lakes and light,easy rivers, but I wouldn't try to kayak on anything too extreme. The Model SX is sturdy, but it will not handle rivers with the same fineness and strength that a true kayak will. Still, the adventurous can give easier rivers a shot, especially if they don't mind a few dings and scratches on their board.
Accessories
Paddle
The BLACKFIN Model SX features a carbon fiber paddle that is light to hold, easy to use, and helps keep the overall price of the kit down despite being an upper-end board. The blade is firm and will propel you through the water, but also flexible enough that you won't snap it if you step on it. Overall, this is a well built paddle that is perfect for beginners and advanced paddlers alike.
The 3 piece adjustable set is easy to adjust for a rider's height, even on the water, and can be broken down for easier storage. However, as a hard SUP is not something you'll be deflating and storing in your closet, the size of the paddle doesn't really matter much to most owners. As such, I would like to see a single, non-adjustable paddle option in the future for the BLACKFIN Model SX. Single piece paddles tend to be even lighter and better performing than the paddles you can break apart, so for dedicated hardboard paddlers a single piece is the better option.
The Model SX also doesn't have the paddle used for the other 2020 BLACKFIN models. The blade of the Model SX is a little thicker and heavier than the typical BLACKFIN inflatable counterpart. In total, the Model SX paddle weighs 32 ounces, compared to the 28 ounce of the other, redesigned BLACKFIN paddles. While it's only a slight difference in performance between the two, I would like to see the lighter paddle variant used across all BLACKFIN boards.
Leash
It's inevitable that you're going to fall off of your board, and when that happens you don't want to come out of the water and find your board halfway across the lake. The solution is the 10' coil ankle leash that comes with the BLACKFIN Model SX. Attach it to any of the rear D-rings, and you'll be good to go. The swivel ankle mount and stretchy nature of the leash also ensure that you won't suffer from a performance loss as you paddle. With a soft texture, your ankle leash won't grate against your skin either.
Optional Accessories
Unlike the inflatable BLACKIN models, there's no action mounts or fish rack mounts that you can use with the BLACKFIN Model SX. However, the 15 D-rings still offer compatibility with many SUP accessories, including some made by iROCKER themselves. We'd invite you to take a look at the following, official BLACKFIN accessories for the Model SX:
Kayak kit (seat and kayak blade)
Kayak Seat Cushion
Action Mount
Cup Holder
Cell Phone Holder
Hard SUP Roof Rack Pads
Company Review – iROCKER
iROCKER, founded in 2013 by Steve Elder and David Erwin, is one of the friendliest and helpful paddle board companies in the business. Starting with their inflatable iRocker board line, they expanded to high-performance boards with BLACKFIN SUPs, and their first hardboard in the Model SX. Quality boards and quality service have been the aims of the company, and so you can trust in a great product and great support if you go with the BLACKFIN Model SX.
Every BLACKFIN Model SX comes with a 2-year warranty and a 60-day guarantee. iROCKER offers free shipping on their boards to the continental US, Canda, Australia, the UK, Spain, Italy, Germany, and most of Europe. For anyone else, international shipping options are available. Lastly, all of their boards have up to 0% financing options for up to 18 months, meaning you can pay off your board for less than your monthly Netflix subscription bill.
If you want a board and a company you can trust, iROCKER and the BLACKFIN line are among the best in the SUP industry.
For our full iROCKER/BLACKFIN thoughts, be sure to visit our company review here.
Conclusion/Bottom line
The BLACKFIN Model SX is proof that BLACKFIN designs make for not just great inflatable SUPs, but for awesome hard SUPs as well. Stable, highly maneuverable, and quick on the water, the Model SX will make trips to the lake, bay, and ocean all fantastic experiences. As a hardboard, I would also be extra cautious about taking the Model SX into shallow water, or rivers with many twists and turns. For everyone else though, the BLACKFIN Model SX will more than suffice as a good performing all-around hardboard.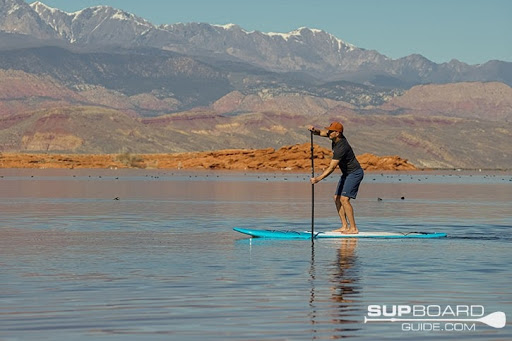 Is there something you want to know about the BLACKFIN Model SX? Or do you have a question about SUPs in general? Ask a question below, or reach out to us directly; we're always happy to help and respond to any inquiries that you have. Otherwise, thank you for reading, and we hope to see you on the water!
The following two tabs change content below.
SupBoardGuide Editorial Team
At SupBoardGuide.com we are a team who love the water, the outdoors, and are more than grateful that our full-time job allows us to review stand up paddle boards. We paddle year round (it helps that we are just about 2 hours outside of Las Vegas), and we bring in a wide range of paddlers with the goal of providing our readers with the best, most in-depth, and accurate stand up paddle board reviews.
Latest posts by SupBoardGuide Editorial Team (see all)