Aqua Marina Fusion Inflatable Paddleboard
Pros
Stable all-around at an affordable price = good entry level SUP
Lightweight at just 19 lbs, so it's easy to carry and doesn;t have a heavy feel to it on the water
Features are minimalistic and your deck space isn't crowded with action mounts, scotty mounts, d-rings, etc., though you can still attach a kayak seat
A good middle ground between a classic 10'6 and an 11' all-around for paddlers who are unsure what would best fit them
Cons
We'd like to see a lighter, stiffer paddle included with the kit - maybe offering a fiberglass paddle vs the current aluminum version that gets a little hot and slippery at times.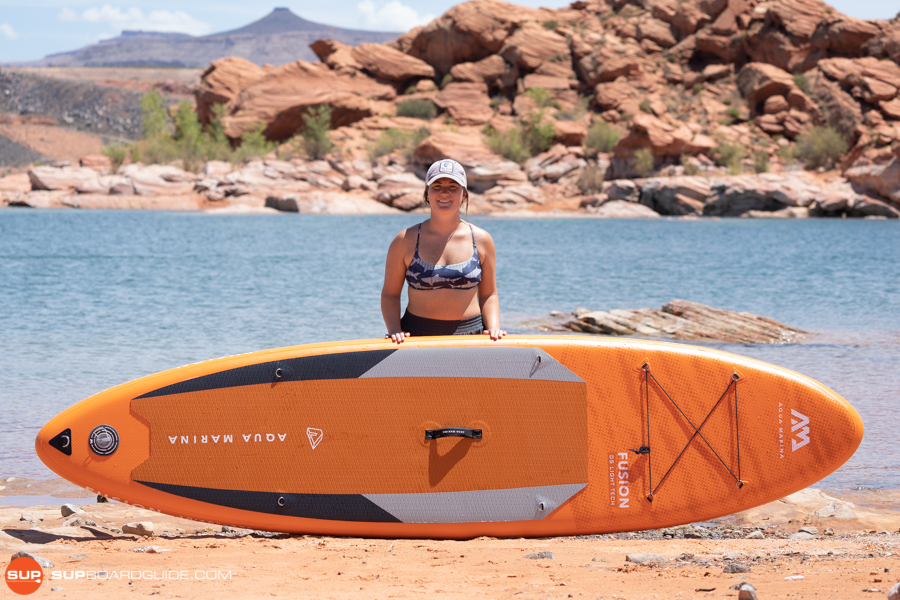 This entire review can essentially be summed up by saying that the Aqua Marina Fusion is a classic entry level, budget friendly all-around.
Being 10'10" x 32", the Fusion has enough volume and stability that nearly anyone, at any skill level could pick it up and start paddling with a very gentle learning curve. Though it's still relatively quick and maneuverable as your skills develop.
I also like that this SUP is only 19 lbs, as it's extremely easy to carry and doesn't feel cumbersome or heavy on the water. The downside of this is that Aqua Marina accomplished the lighter weight using single layer construction, which is appropriate for the price, but does allow it to flex a bit more under weight. As a result, its not the best option for heavier paddlers, as stability tends to decline.
So, while it's a great entry level SUP for most paddlers that don't want to break the bank as they're getting into the sport, larger paddlers may need to opt for Aqua Marina's bigger SUPs like the Atlas.
Overall though, the performance combined with the Fusion's minimalistic design and affordable pricing will suit most beginner paddler's needs and serve as a great 'jumping off' point to get paddlers started SUP'ing – though you can expect to need an upgrade when your skills develop past the capacity of this SUP.
We think the Aqua Marina Fusion would be great for paddlers who
Are new to stand up paddleboarding and don't want to blow their budget as they're starting ot
Paddlers who are unsure if they should opt for a 10'6 all around or an 11' all around, the Fusion is a great middle ground
Want a classic all-around SUP that presents a very gentle learning curve
Prefer a minimalistic look, and don't need a ton of extra features or accessories
Want a SUP capable of handling a variety of water conditions
Aqua Marina Fusion: Spec Sheet
Main Category: All-Around, Inflatable
Board Dimensions: 10'10" x 32" x 6"
Listed Board Weight: 19 lbs
Listed Max Capacity: 330 lbs
Recommended PSI: 12-15 PSI
Fins: Single fin, slide lock fin box
Paddle: 3-piece aluminum
Materials: Single layer, linear drop stitch
Price Range: low-mid
Warranty: None
Performance Review of the Aqua Marina Fusion Stand Up Paddle Board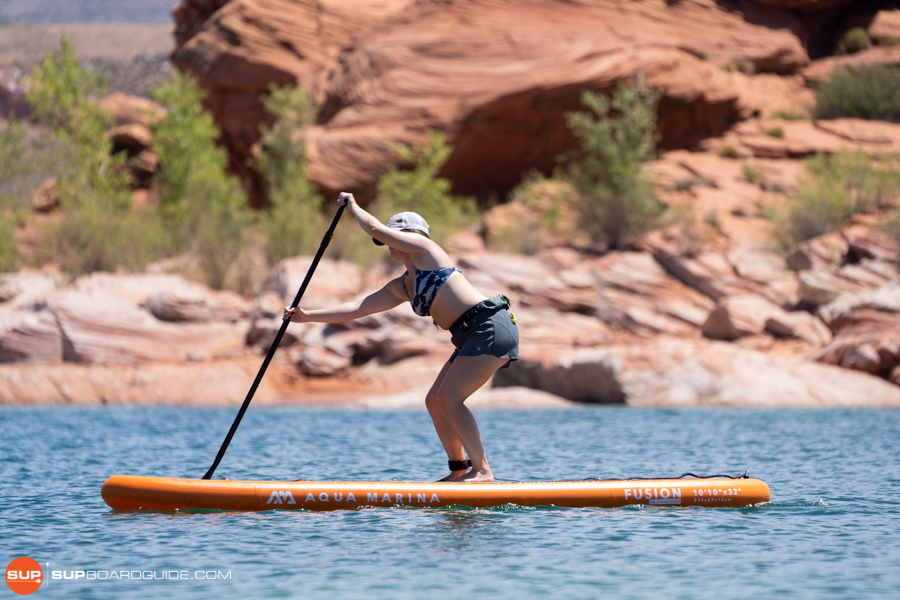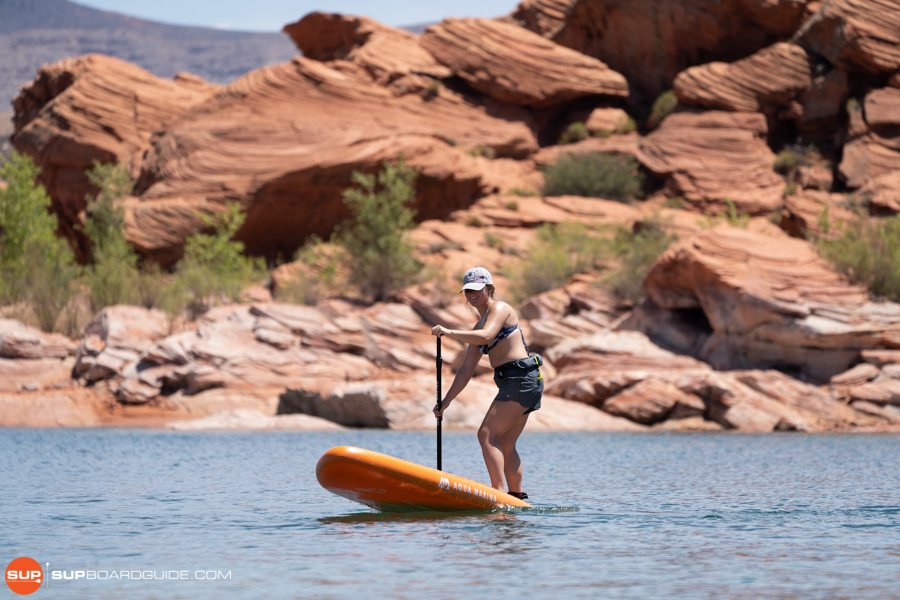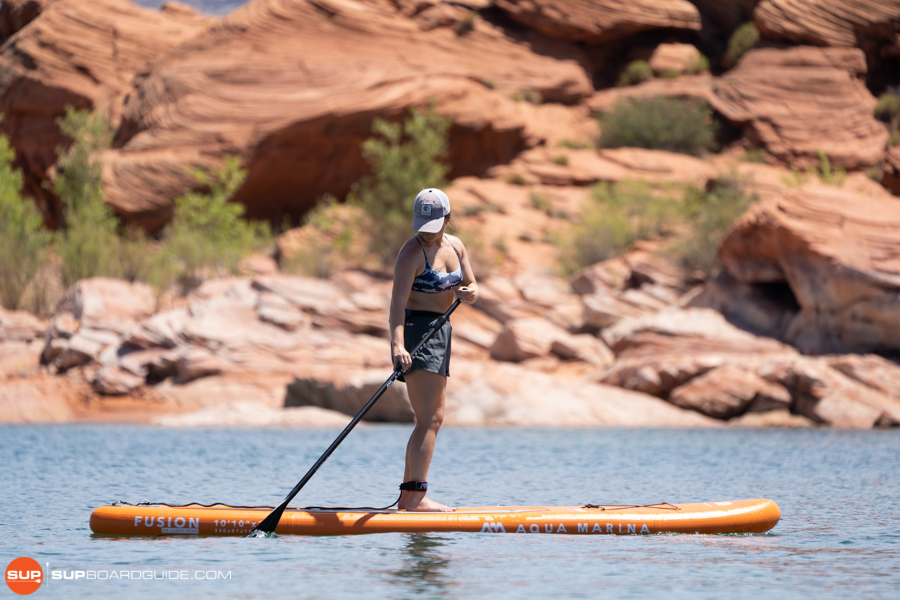 Overall Score: 8.2/10
Stability: 9.0/10
Speed: 8.6/10
Tracking: 8.1/10
Maneuverability: 9.2/10
Construction Quality: 8.0/10
Features/Accessories: 7.5/10
Stability Rating: 9.0/10
As with many aspects of the Aqua Marina Fusion, the stability is what's expected out of a 32" wide, rounded shaped all-around. It's stable enough that most paddlers, even those new to the sport, can stand up and start paddling with a very small learning curve.
Though it's obviously not as stable as larger entry level boards that span up to 35" wide, the 32" width on the Aqua Marina is a good middle ground between stability and a width that paddlers will continue to feel comfortable with as their skills develop. Some paddlers who opt for those larger, wider SUPs find themselves needing to upgrade sooner, as their skills develop past the need for that wide of a board.
Speed Test: 8.6/10
| | | |
| --- | --- | --- |
| Board Name | Top Sprint Speed (mph) | Top Cruising Speed (mph) |
| Aqua Marina | 4.52 | 3.75 |
As for speed, the Fusion performed better than expected.
Part of the reason the Fusion was a bit quicker of an all-around than we initially gave it credit for is because it's only 19 lbs. It's quick out of the gate, especially for a smaller paddler, because there's just not a lot of weight that you need to get moving through the water. I also think it's single fin set-up combined with its pointed tail helps here as well. Without the side fins, you're able to cut down on some drag, and the tapered tail helps to cut down on wet area (further cutting drag) without majorly impacting stability, as the board does stay wide through the standing area and the nose.
Tracking: 8.1/10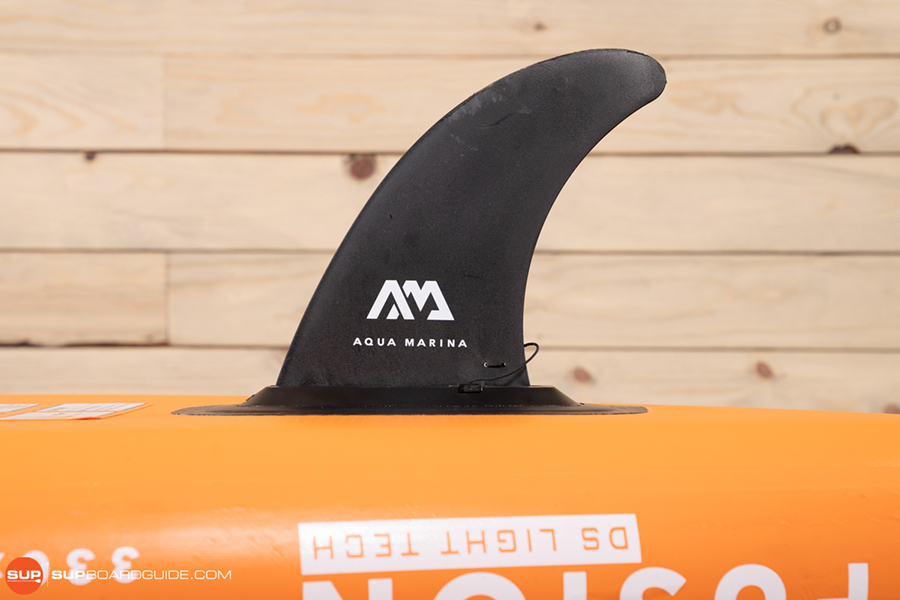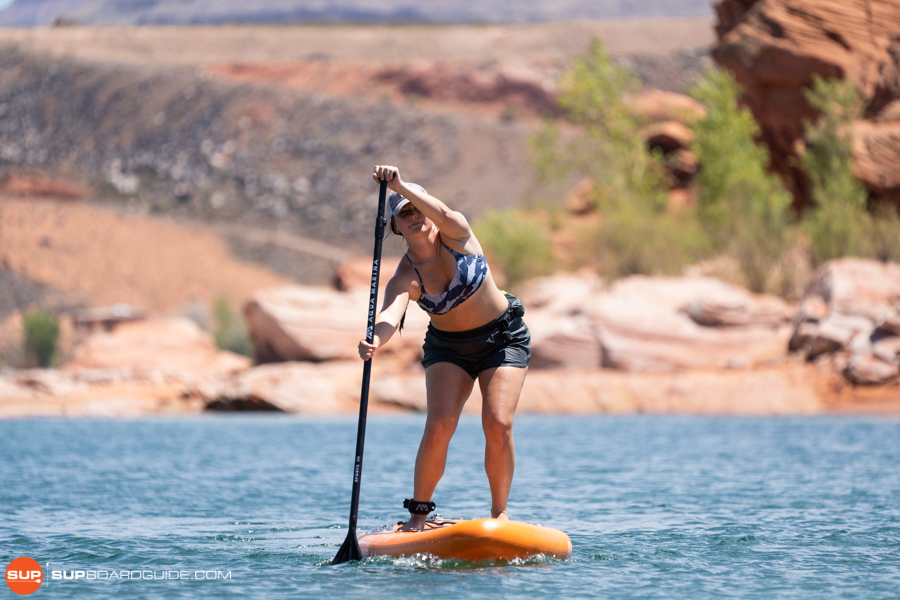 Like many all-around SUPs, the Fusion is built with a priority on stability and maneuverability rather than excellent speed and tracking. So, as to be expected, the Fusion performed about averagely well here.
The dolphin style center fin keeps the Fusion on a relatively straight path as you paddle, but I did still find myself needing to switch sides after 2 or 3 strokes, which is to be expected. It's not a SUP that I'd want to paddle for miles on end, but it tracks well enough to be comfortable during some casual paddles with friends.
Maneuverability: 9.2/10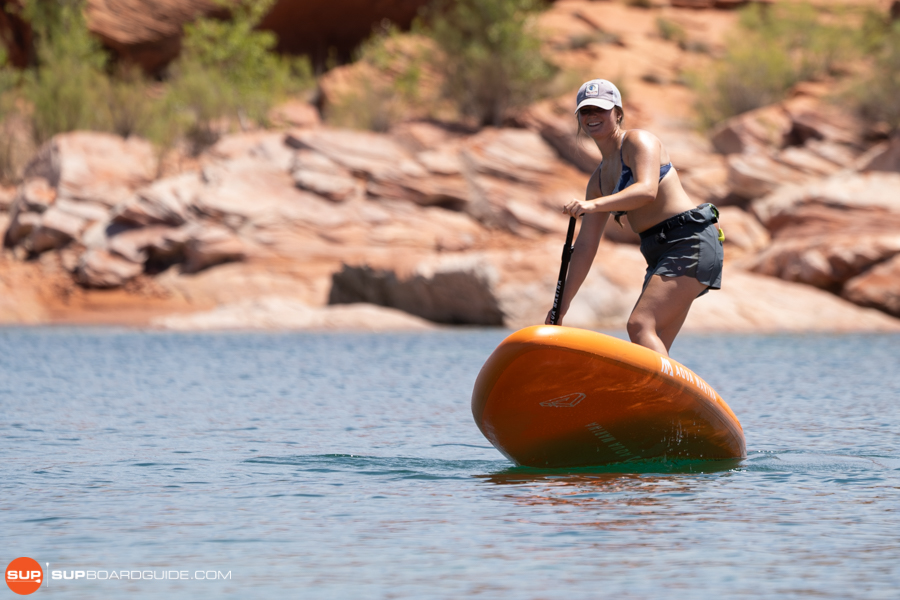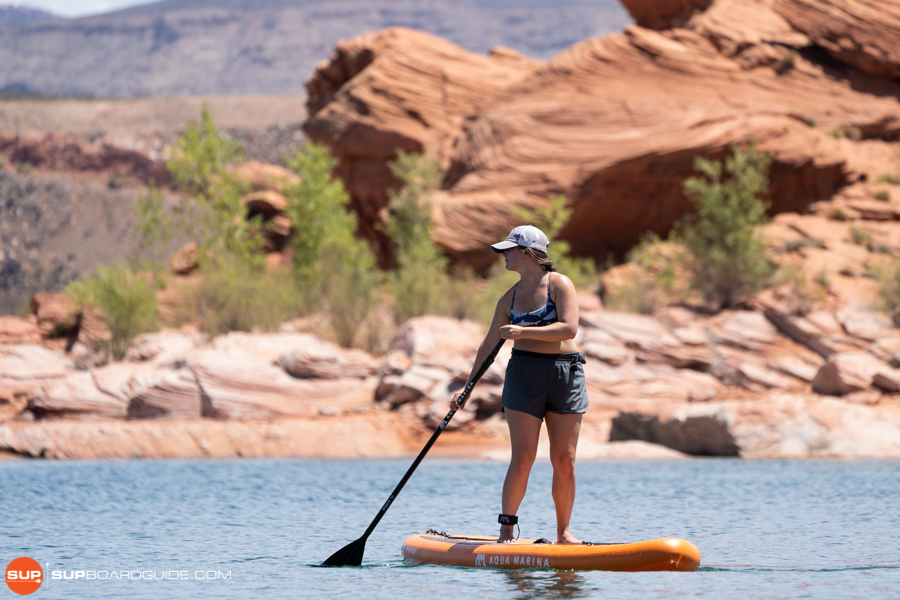 Maneuverability is the Fusion's strong suit. Being 10'10" and only 19 lbs, this SUP easily responds to directional changes, whether it be steering with outward strokes from the nose or turning with reverse sweep strokes from the tail.
The Fusion also performed fairly well when we took it into a pivot turn, as the narrow tail sinks fairly easily, though it's not the most stable to stand on. I would've appreciated a raised kick pad on this SUP, but understand that pivot turns aren't usually 100% necessary for most paddlers.
Construction Quality: 8.0/10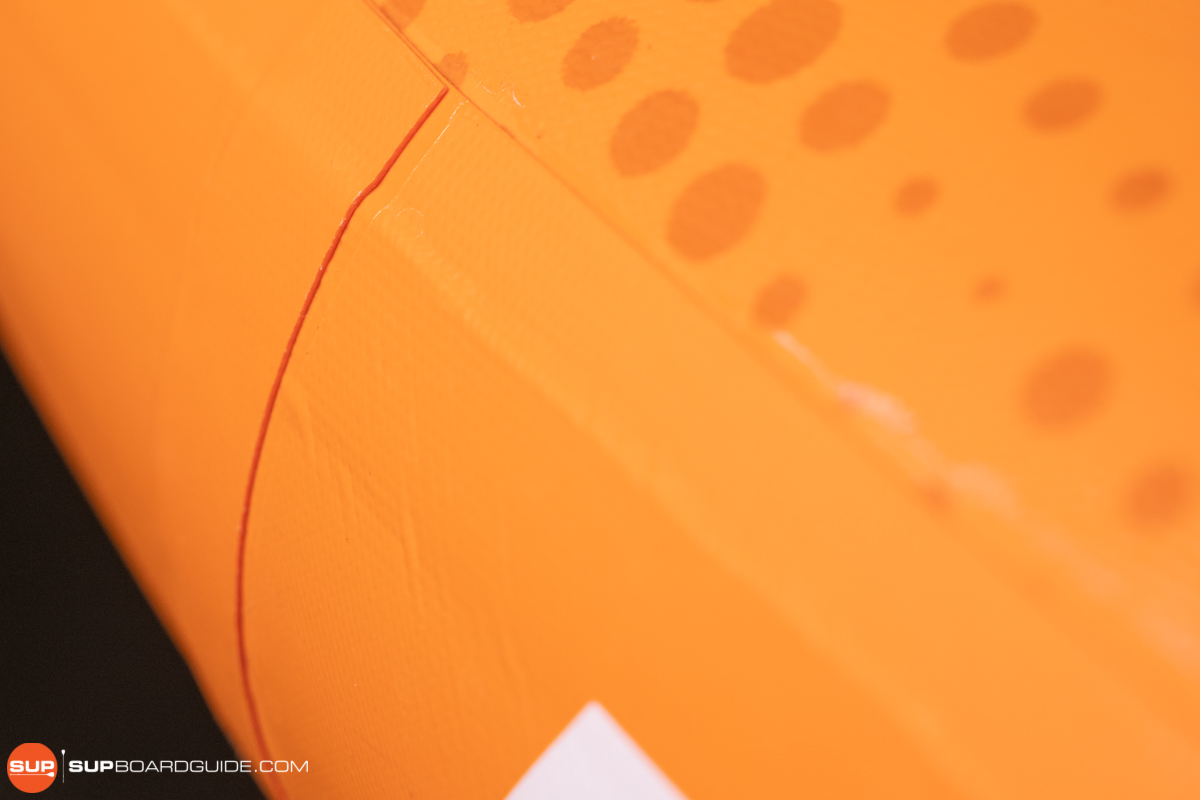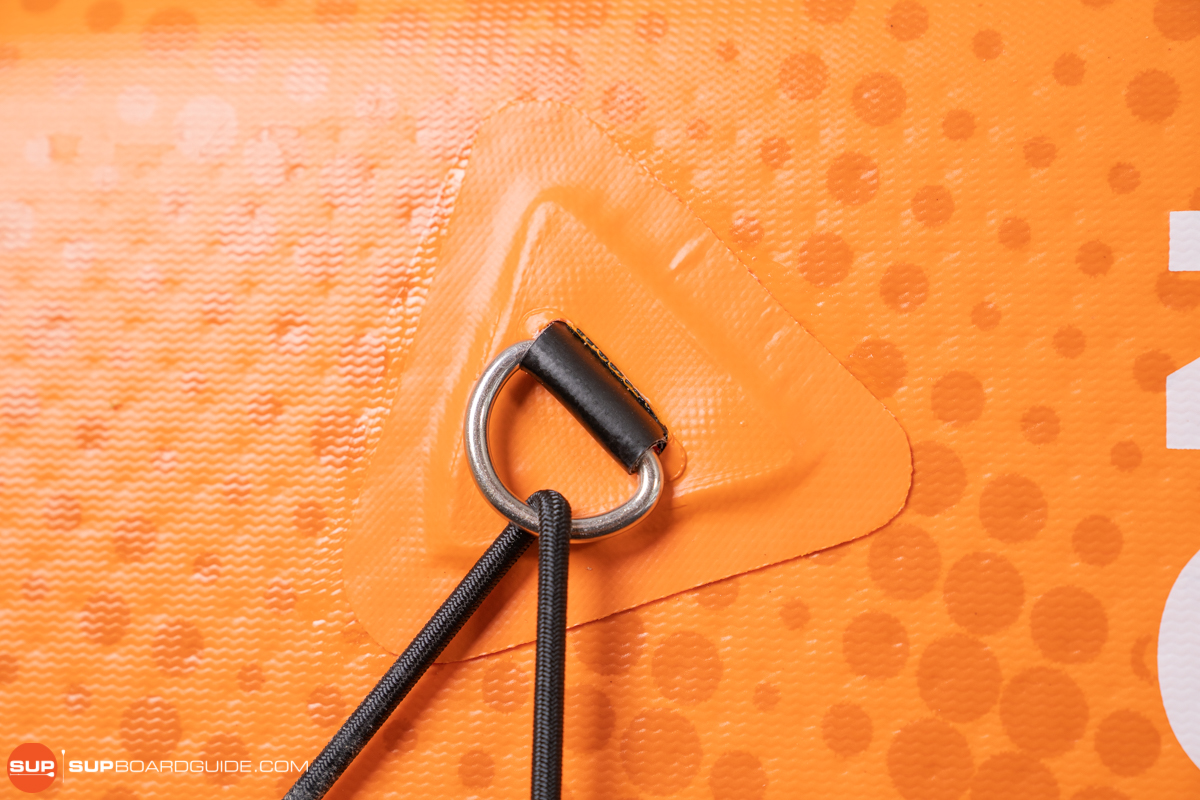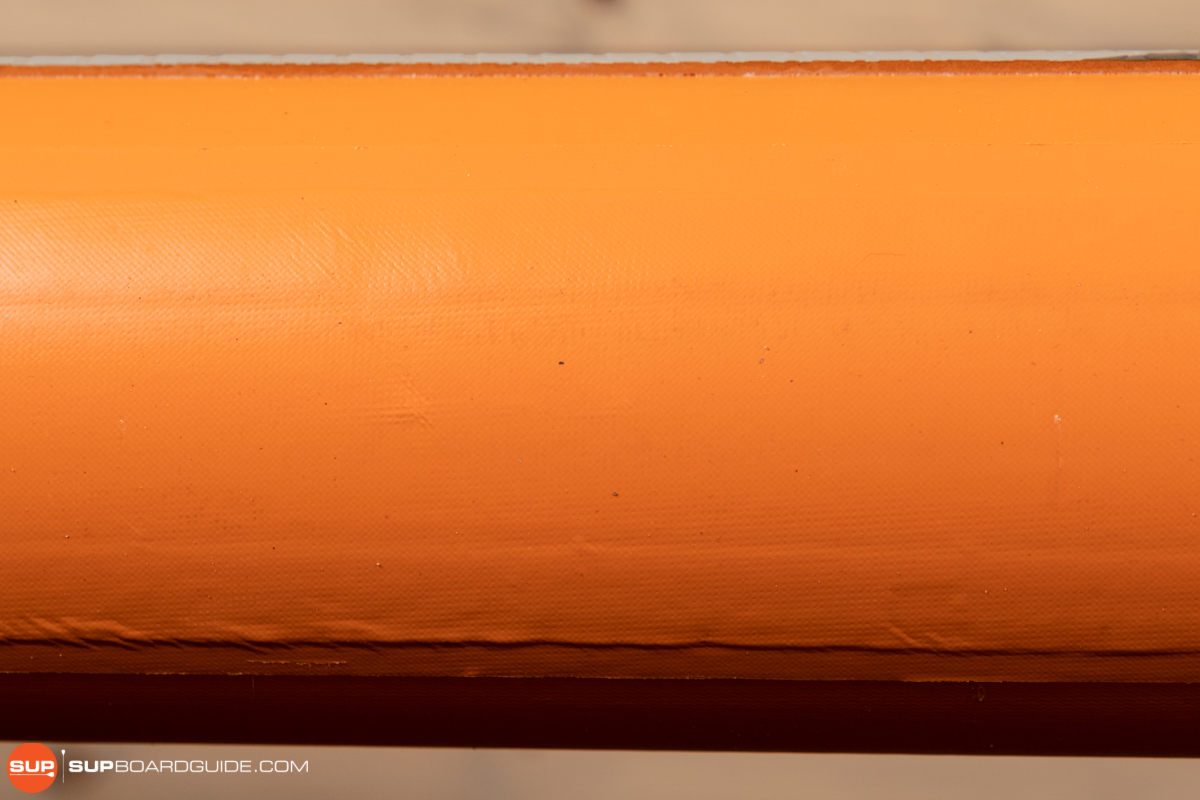 The construction on this SUP is where Aqua Marina saved a lot of expenses to be able to price this board affordably.
The Fusion is constructed around a linear drop stitch core that is encased in a single layer of PVC. While this type of construction is lightweight, hence why the Fusion is a mere 19 lbs, it's also prone to a bit more flex than dual layered SUPs built with a cross-woven drop stitch core (though these boards tend to be more expensive).
For most paddlers, single layer construction works just fine, but heavier paddler will likely need a SUP that has a bit more stiffness.
Board Stiffness: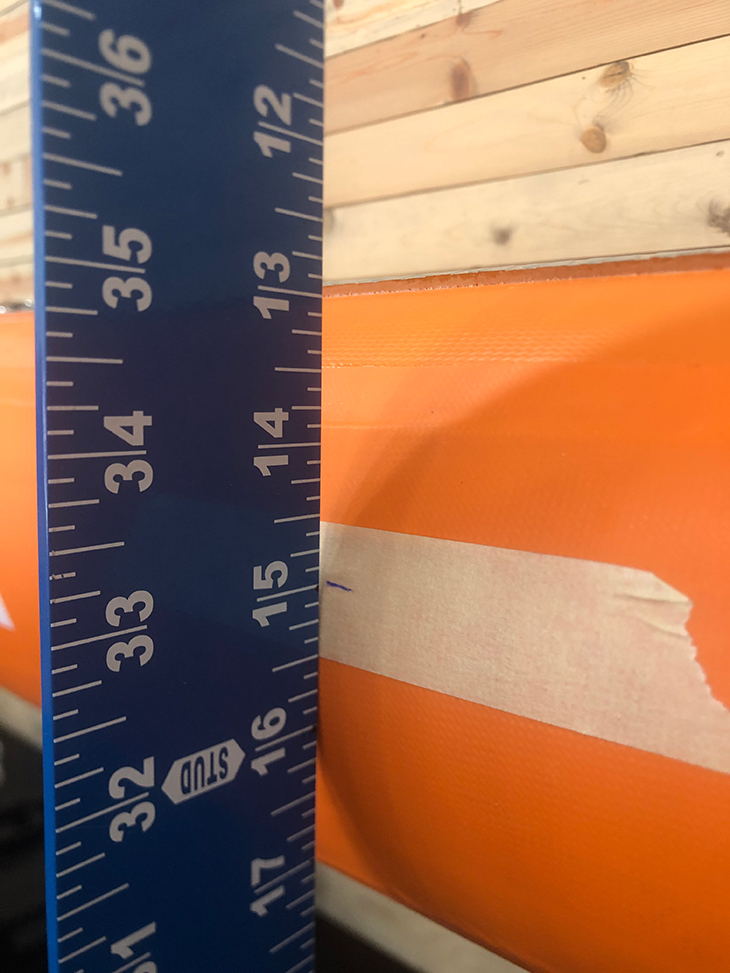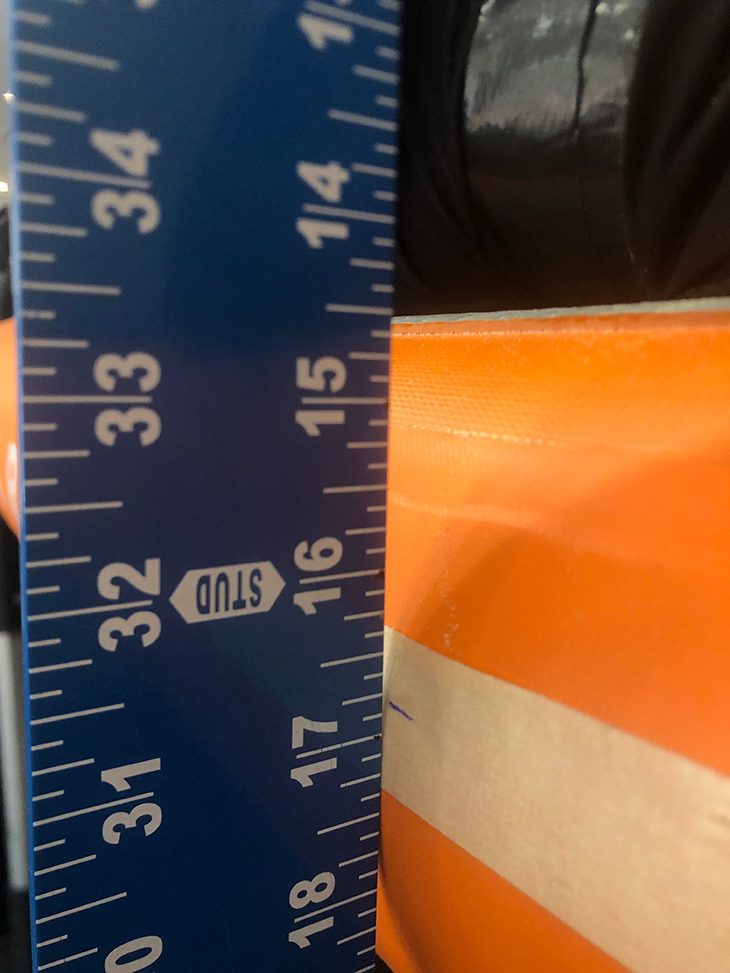 Stiffness Test: 1.750" Bend
Our stiffness test involves setting the SUP on top of two sawhorses that are spaced 7' apart. We then place 150 lbs on the SUP's midpoint and measure how much it bends under the weight.
The Fusion performed a little better than expected as a single layer SUP. We typically see over 2" of bend in these cases, so we're fairly happy with the Fusion's bend of only 1.75". Of course, this is still a bit more flex than we tend to see with dual layered SUPs or those made with cross-woven drop stitch, but the Fusion's result is reasonable given it's price point.
Features/Accessory Review: 7.5/10
Like most Aqua Marina SUPs, the Fusion is minimalistic when it comes to features, though it still has a small amount of versatility.

Located at the Fusion's nose is a 4 point cargo area, and along the deckpad are 4 extra D-rings to serve as kayak seat attachment point, allowing you to switch up your water activities.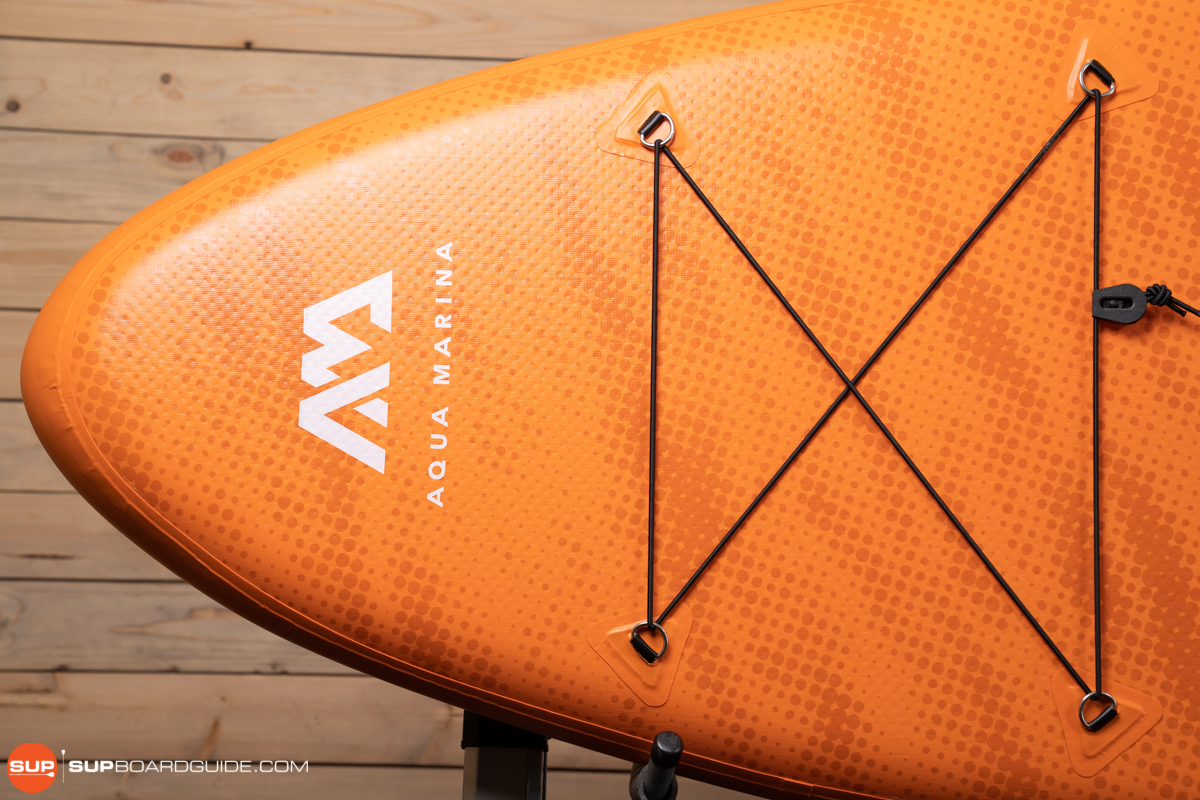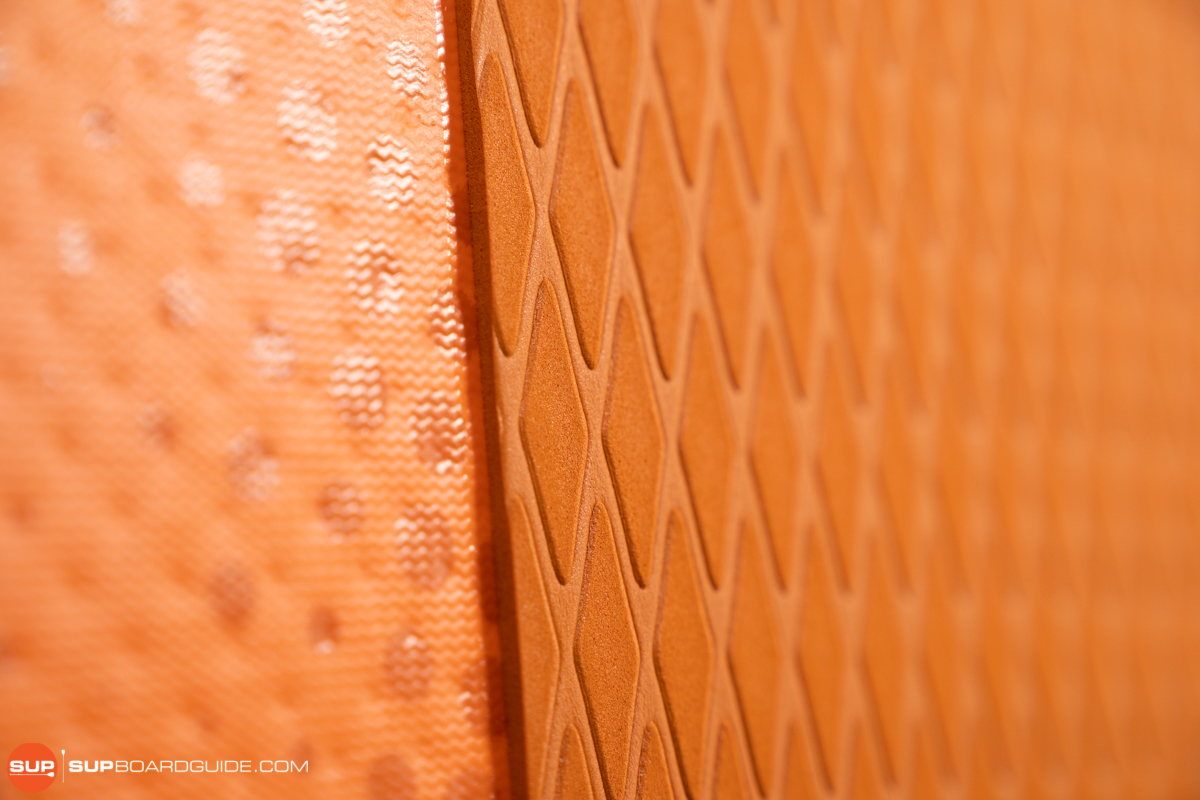 The front cargo area is relatively smaller, but it's spacious enough for a couple of drybags perfect for bringing along food, an extra towel, or other small supplies. Also simplistic, the deck pad is a soft diamond groove pattern that prioritizes comfort, but adds a little more traction.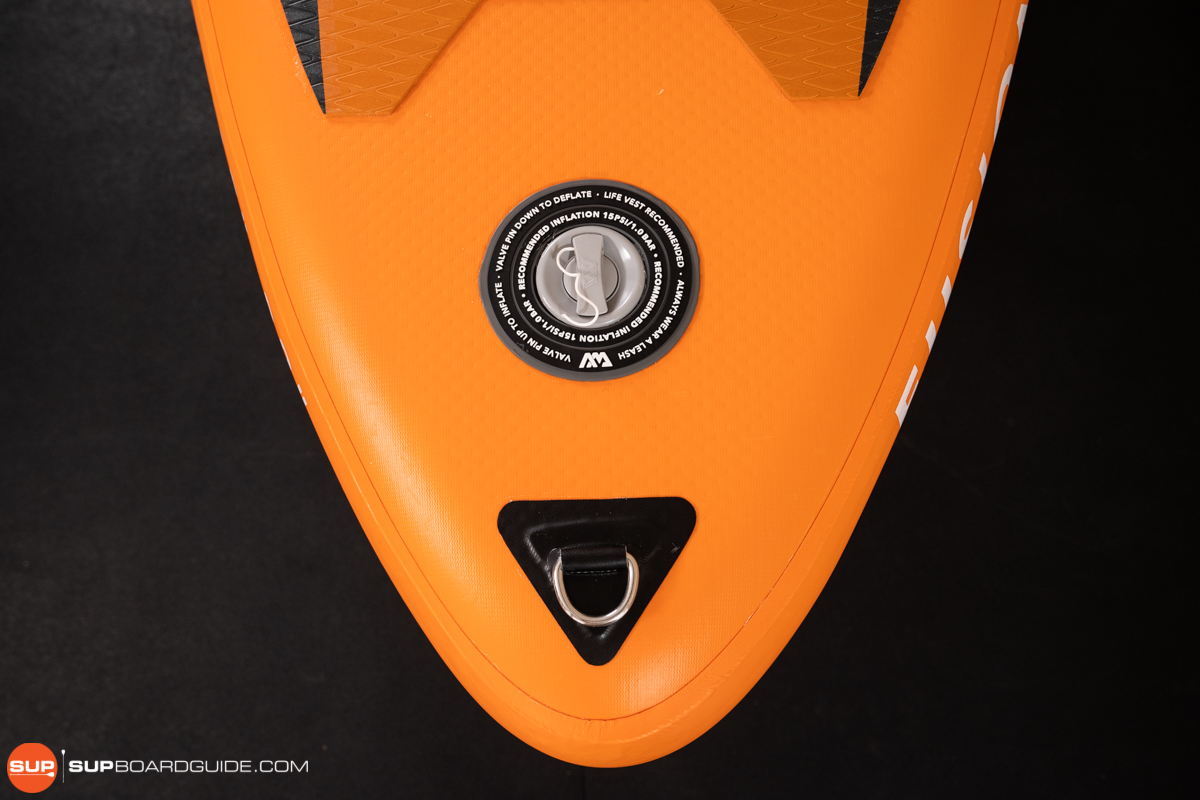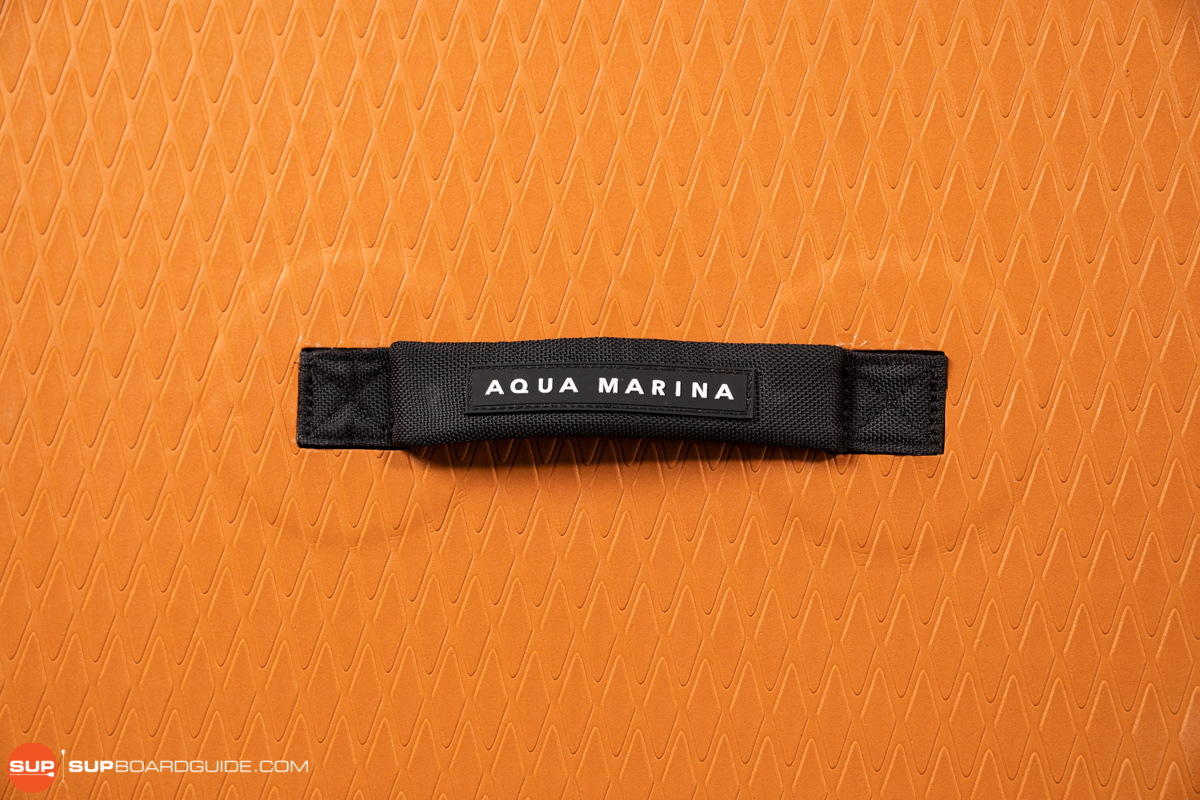 At the tail, the Fusion has a thick D-ring to serve as a leash attachment, and at the SUP's midpoint is the Fusion's only carry handle. The lack of nose and tail handles are our only real qualm with the Fusions feature list.

Along the bottom of the SUP, you'll see the Fusion's single fin set-up and slide lock fin box. Again, we feel this is appropriate for the price, but it's not our favorite style. We'd recommend taking care to not squish the fin box when rolling up your SUP, as this can make it extremely difficult to slide the fin in and out.
Included Accessories: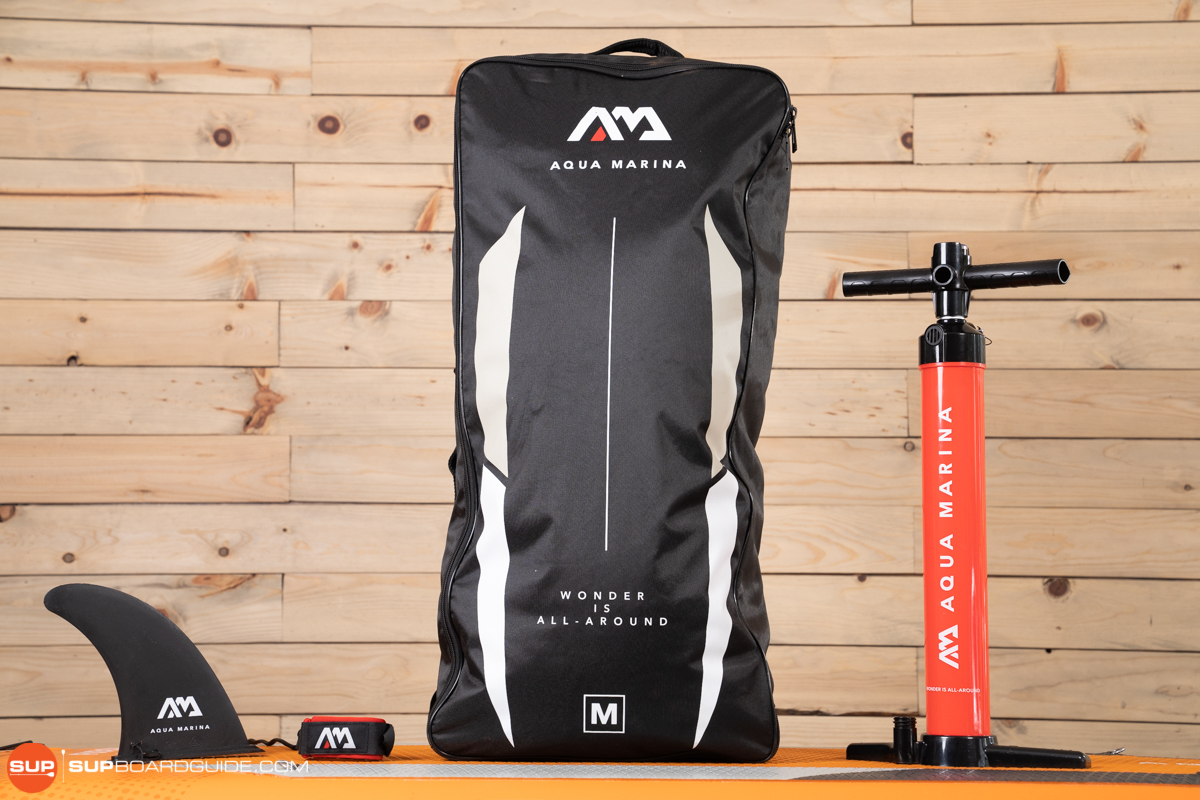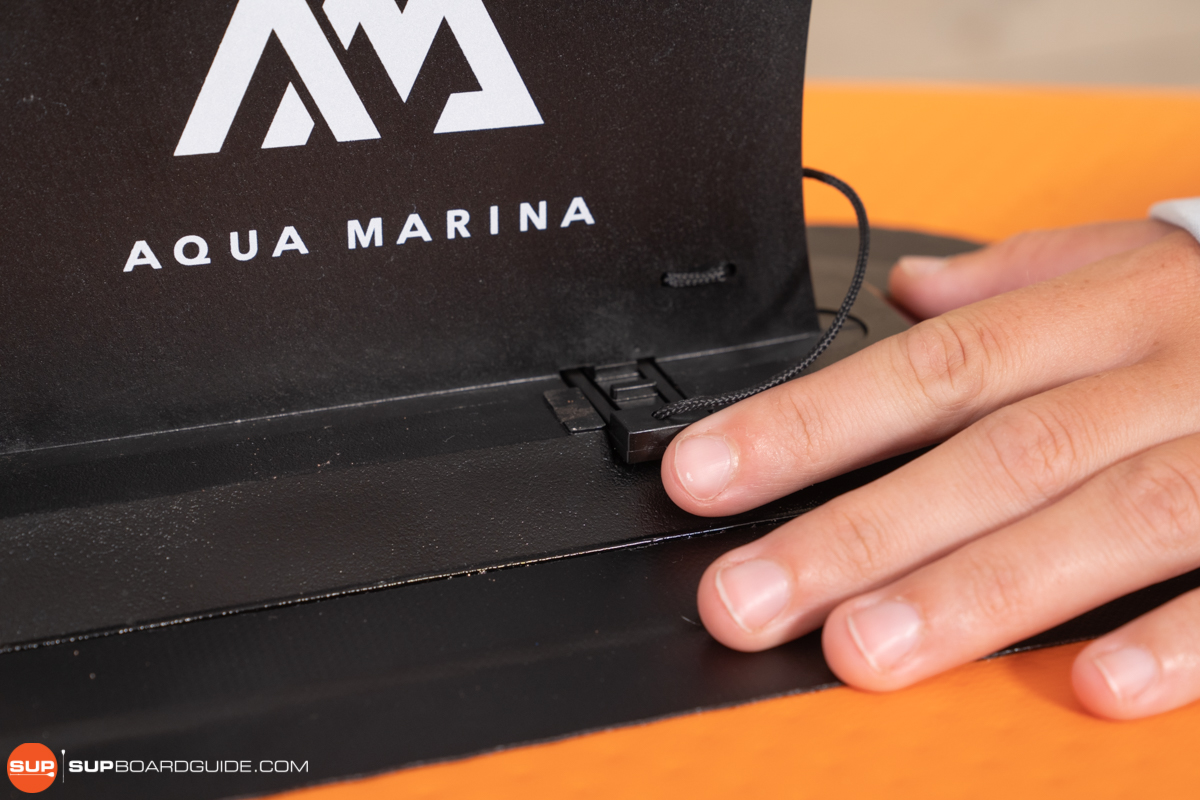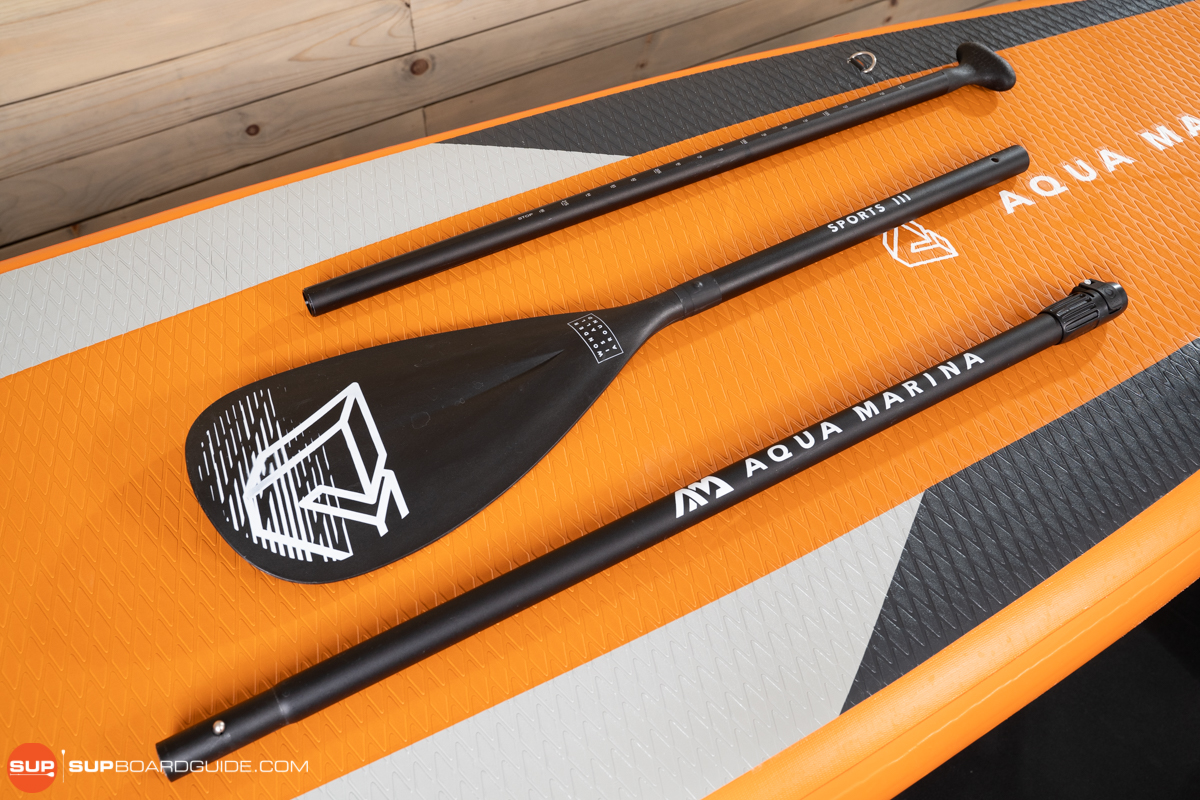 Aqua Marina includes the bare necessities with each SUP. Included with the Fusion is as follows:
3-piece aluminum paddle
Leash
Removable dolphin style center fin
Single chamber hand pump
SUP Backpack
At this price, our only real complaint is that we'd like to see Aqua Marina swap out their aluminum paddle for a fiberglass option. The current aluminum is heavy and can be easily bent out of shape permanently. We've also found that it gets extremely hot in the sun. It's functional if you're not planning on paddling far or are in a more mild climate, but in Southern Utah the paddle was too hot for me to carry to my car without wrapping it up in a t-shirt. Of course, we'd also like to see Aqua Marina improve their bag quality. It's not one that we'd expect to last very long.
Summary Review of the Aqua Marina Fusion
Being an entry level, affordable all-around SUP, the Fusion has met all of our expectations.
It's stable enough that most first time paddlers will be able to get to their feet without conquering a huge learning curve. However, it's still relatively maneuverable and quick on the water so that beginners won't get bored as quickly as their skills develop.
The Fusion also has a reasonable accessory list and is equipped with the necessary features to get anyone start SUP'ing for an affordable price. Though its single layer construction may be problematic for larger paddlers because of its lessned stiffness compared to SUPs built with more advanced construction techniques.
We hope this review has been helpful, but please reach out to us in the comments if you have any additional questions or feel that we've missed something.
In the meantime, happy paddling!
The following two tabs change content below.
SupBoardGuide
Heyo! At SupBoardGuide.com we are a team who love the water, the outdoors, and are more than grateful that our full-time job allows us to review stand up paddle boards. We paddle year round (it helps that we are just about 2 hours outside of Las Vegas), and we bring in a wide range of paddlers with the goal of providing our readers with the best, most in-depth, and accurate stand up paddle board reviews.
Latest posts by SupBoardGuide (see all)