Gili Manta Ray 12' / 15' iSUP
Pros
Fantastic Party/Multi-Person SUP (15'x56" or 12'x45")
Loaded with features (grab/carry handles, action mounts, bungees, etc.)
Great design beautiful manta ray graphics on bottom of the board
Comfortable deck pad
Comes with 2 paddles, 2 pumps, and a variety of fins - and a bag to hold it all
Cons
Would love to see a zipper pocket on the carry bag for accessories
The board is so stable and buoyant that you can literally stand on the nose of the board - so a full length deck pad would be appreciated.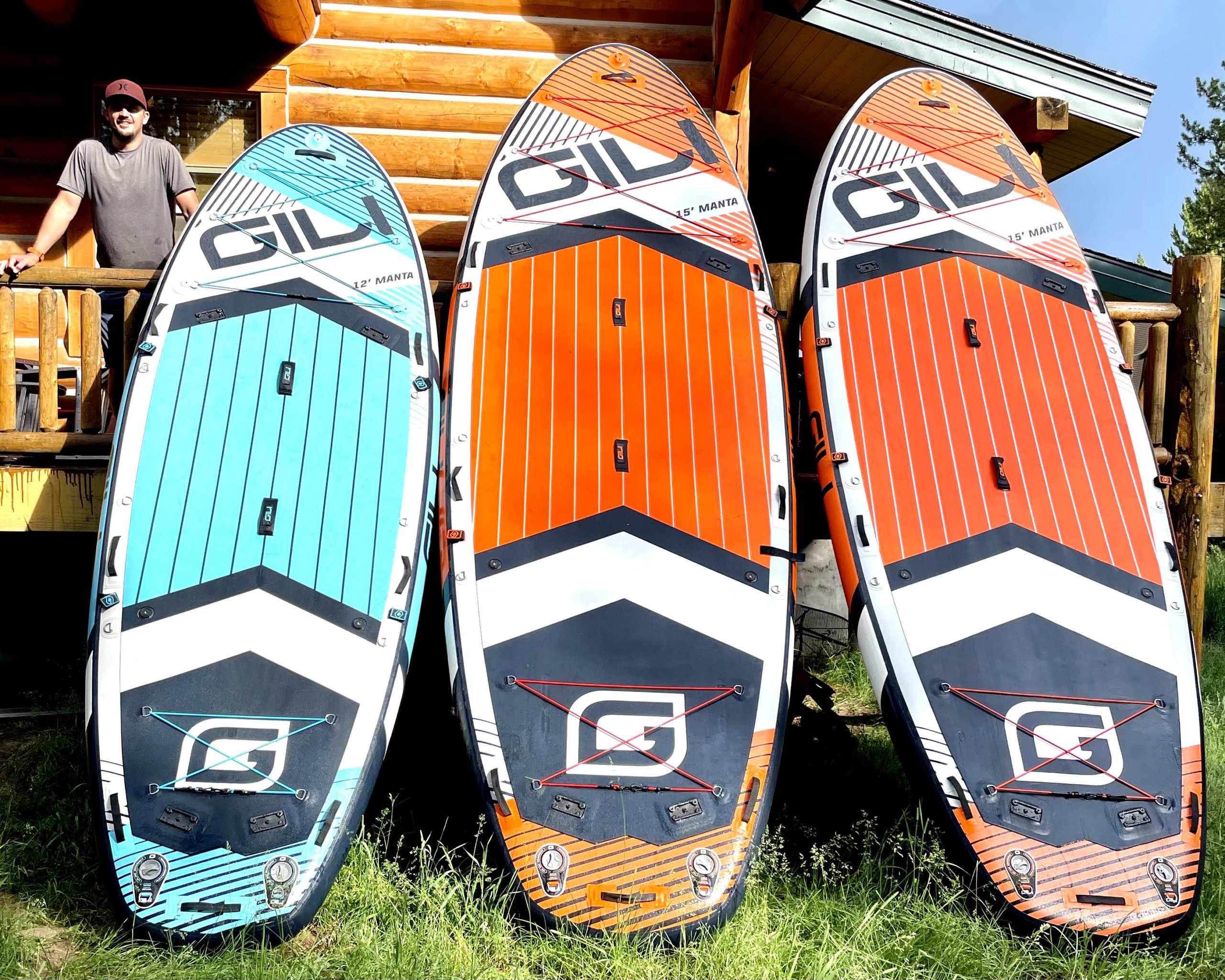 *The Gili Manta Rays are so big, I had to put them against the deck and go to the 2nd floor to get a picture by the boards.
We were stoked when Gili released their 12' and 15' Manta Ray Multiperson SUPs. There are not too many brands making these larger than life inflatable SUPs, and I just don't think enough consumers know how much fun they can be.
The first thing I noticed when Gili set us there are boards was that the Manta Ray SUPs follow very similar patterns with Gili: they are loaded with features and accessories. The multiple d-rings, grab handles, velcro paddle handles, and front/rear bungees make it easy to load up this party/family/friend/multi person SUP with everything you can think of and have a ton of fun!
The timing on getting these SUPs was also perfect – I had a family reunion in Idaho coming up, and there is no better way to test out these types of SUPs. 2 days at the lake and 1 day of paddling down the river with 16 nieces and nephews paddling, jumping, and playing on both the 12' and 15' Manta Rays I have come to the conclusion:
If you are wanting to expand what you can do with family and friends on water, then you need to consider buying a mega SUP, and the Manta Ray is currently my personal favorite.
We think the Gili Manta Ray would be great for paddlers who:
Want to party on the water with tons of friends. These boards fit 4-10 people depending on the size you go with
Families who want a platform for the kids to paddle around, jump off, and play "king of the SUP" at the lake
Those who want to paddle a slower moving river with tons of gear + friends
Gili Manta Ray 12' | 15' Review: Overview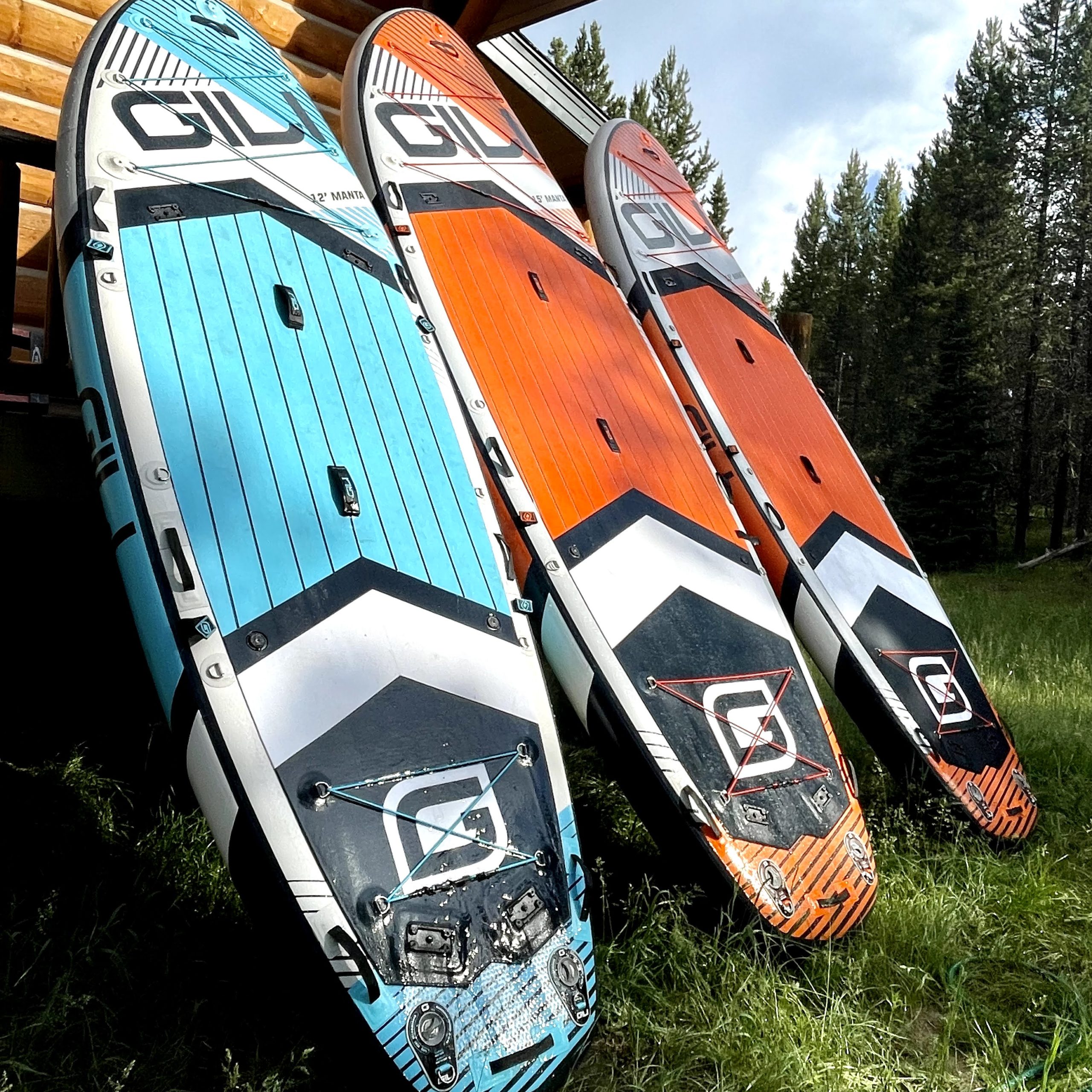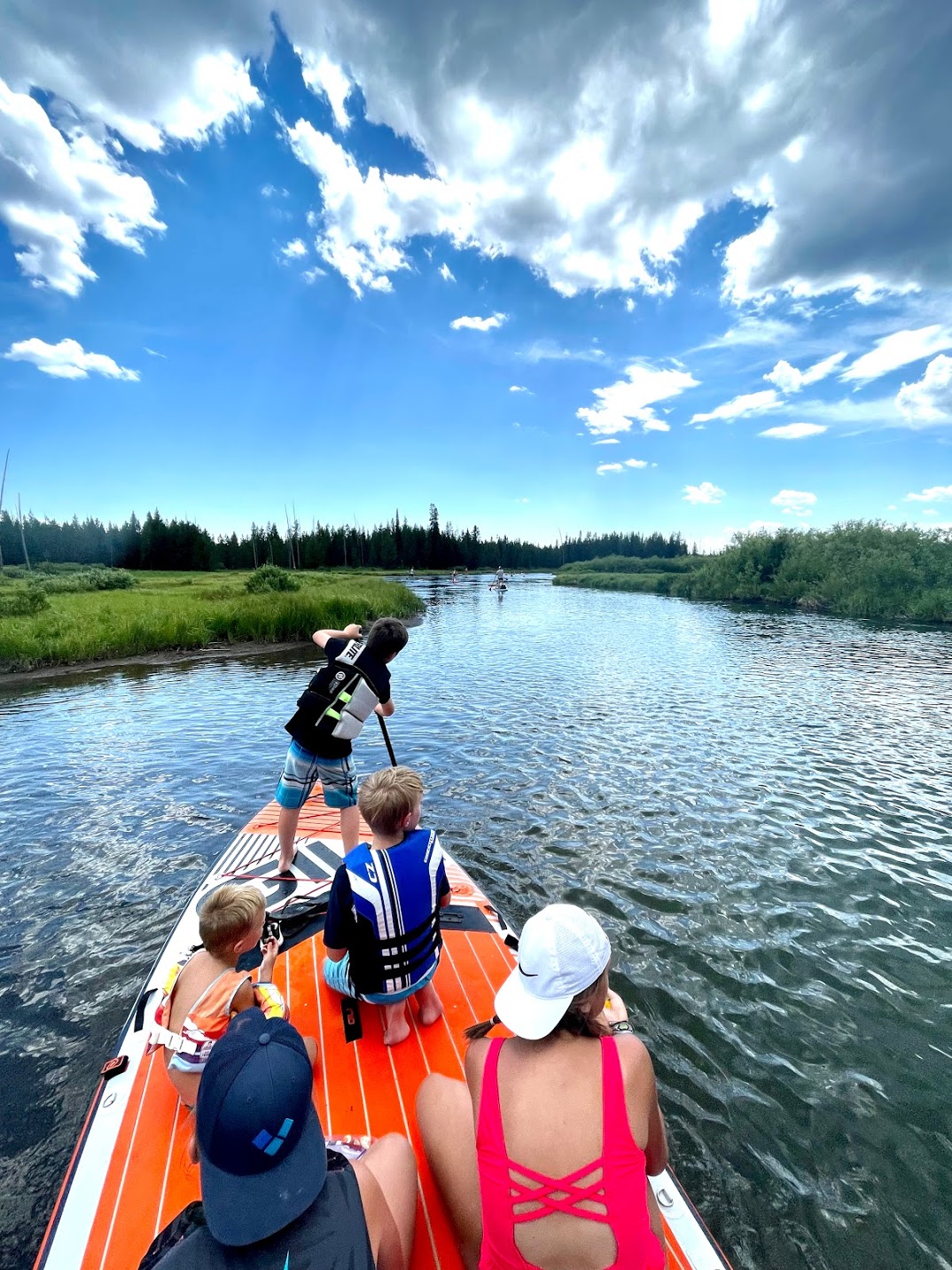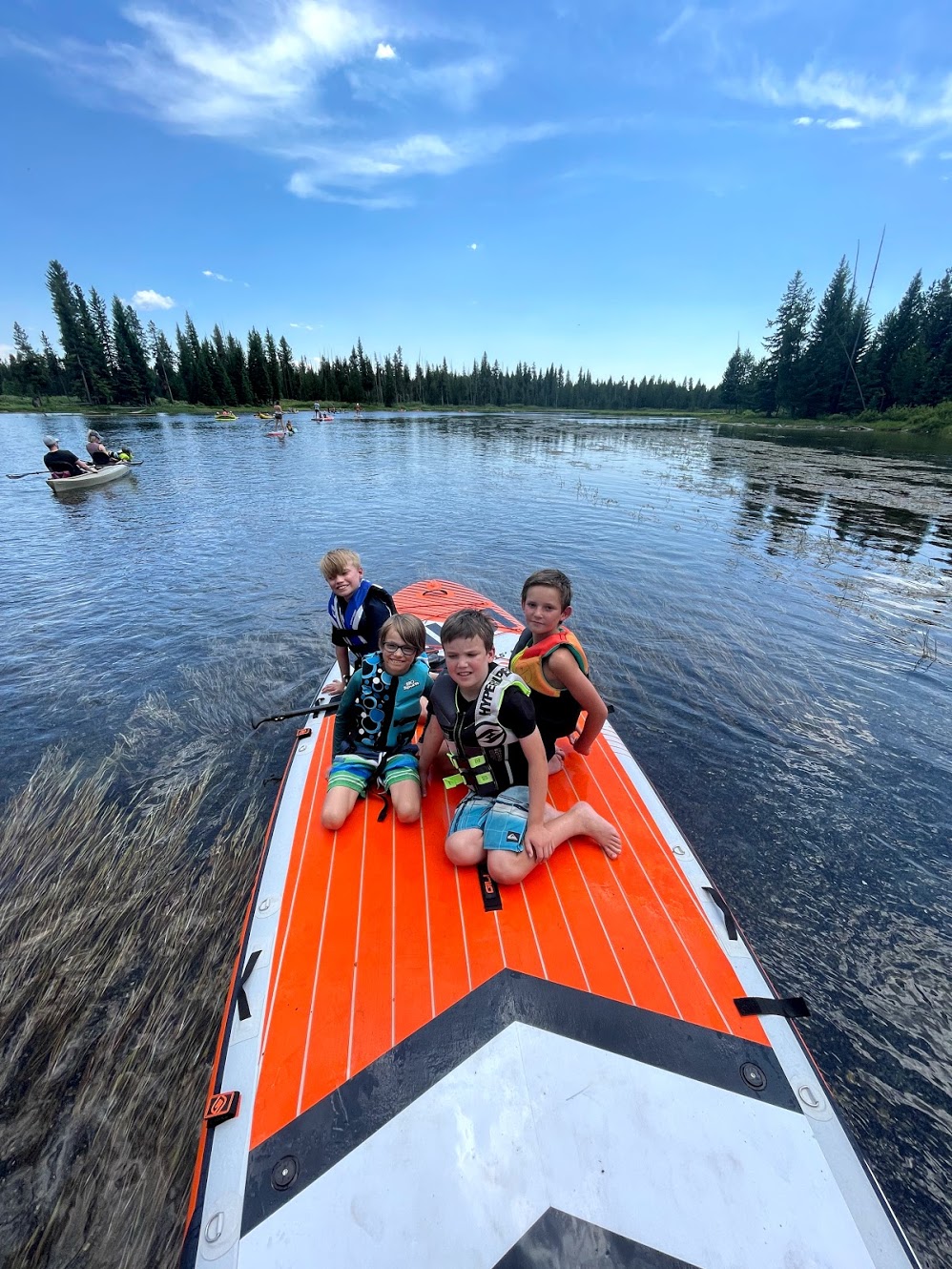 Gili Manta Ray: Spec Sheet
*note: we are listing specs for both the 12' and 15' models. The 12' specs are listed first, and the 15' specs are listed next.
Main Categories: Multi-Person, Family, Party!
Board Dimensions: 12' x 45" x 8" or 15' x 56" x 8"
Listed Board Weight: 35 lbs | 52 lbs
Listed Max Capacity: 725 lbs | 1,150 lbs
Recommended PSI: 12-15
Fins: 5 snap lock
Paddle: (2) Fiberglass Travel Paddles
Materials: Dual layer fusion, drop-stitch inner core
Price Range: Medium/High (these are big boards, with lots of materials)
Warranty: 2 year warranty, 60 day money back guarantee
Official SupBoardGuide.com Test Results: Gili Manta Ray 12' / 15' (2023)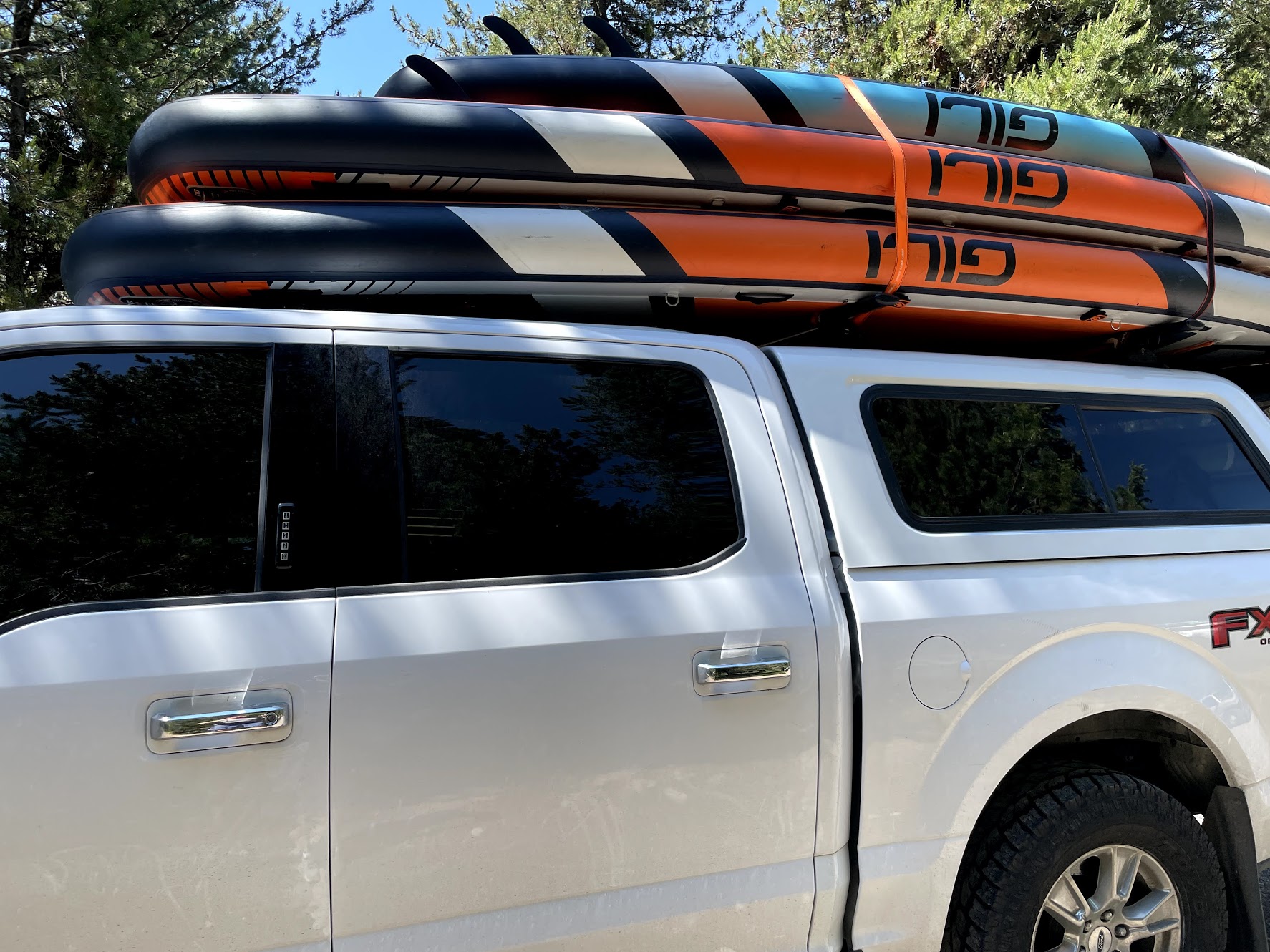 Being a party SUP, we didn't put these boards through our standard tests – they just don't apply. Instead, I decided to spend 3 days using the Manta Rays as they are intended: with lots of people on board, paddling on lakes and slow rivers. The goal was simple: first, to have fun! Second, to see how the board holds up and how functional the SUPs are in these scenarios.
I really do believe that multi-person party SUPs are going to be one of the next things to catch on. In fact, when we floated the river, I think I had 5 different groups of people ask 'where do you get one of those things'. If you have never seen a mega SUP, you're in for a pleasant surprise.
Overall Score: [9.0/10]
The overall score here is a reflection of how well we think this board fulfills its purpose. The board is stable as a yacht, slow as a turtle, and 100% fun – so it does what it's supposed to just about perfectly.
Stability: 10/10
Speed: 2/10
Tracking: 6/10
Maneuverability: 5/10
Construction Quality: 8.9/10
Features/Accessories: 9/10
In-Depth Review of the [Brand] [Model] Stand Up Paddle Board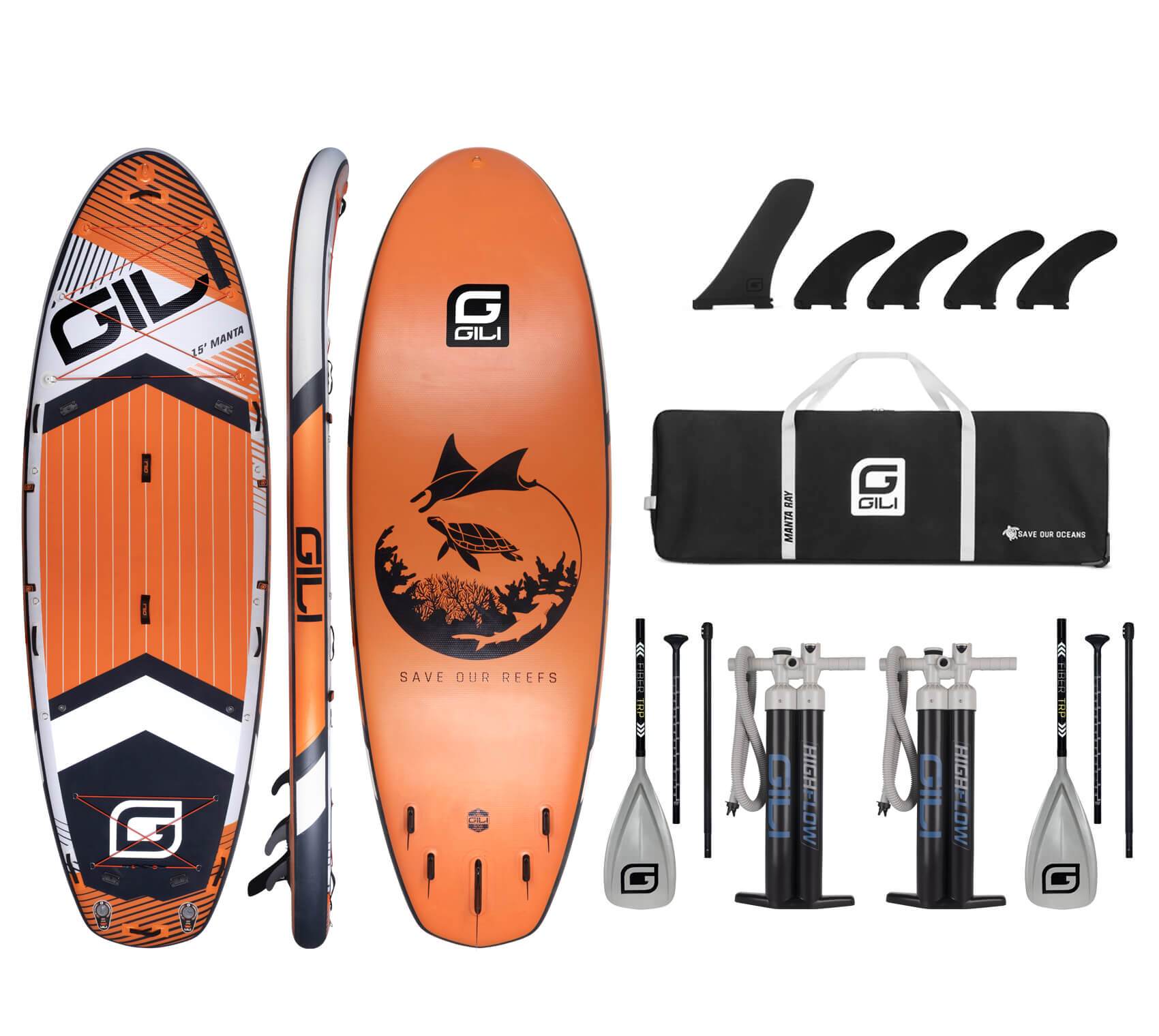 Note: this is a stock image of the 15' Manta Ray, in orange. We decided on a stock photo for this one simply because we found it almost impossible to get everything in a picture that shows what you get better than this stock image.
Stability Rating: 10/10
Weight Capacity: 725 lbs | 1,150 lbs
Tested Capacity: 2 adults + I don't even know how many kids. Basically we put as many kids as you physically could on these SUPs.
I don't know if it's possible to have a more stable inflatable paddle board. How stable is the Manta Ray by Gili? Let's just say that I tried for 3 days to flip over my kids on the 15' Manta Ray and couldn't. If I wanted them to get wet, I had to push them off the board.
The 12' model I could flip them over, but it was a challenge and a half to do so.
In other words, both boards earn a 10/10 on stability, and if you read through our reviews you'll notice that we don't give 10's. Like ever.
You can basically load up both the 12' and 15' models without concern for weight capacity. Part of this is because of the extra volume you get by having an 8" thick iSUP. Add that thickness to the extra wide and long dimensions and you just have so much air in the board that it really can hold about anything you can put on it.
Speed: 2/10
The 15' Gili Manta Ray earns the award for the slowest inflatable SUP tested so far for 2023!
To be clear – this is not a knock against the board, it's what's expected out of a 15' x 56" x 8" iSUP. This boat of a SUP was made to party, not to go fast, and that's OK.
With that being said, I am curious to see how fast I can get these things going with multiple paddlers. I was about to test that with my 3 brothers, but we got caught in a lightning storm and decided it was probably best to pack it up. I'll update the review when I've had a chance to take this out again with 3 others and see what we can do.
Tracking: 6/10
As with speed, tracking is a tough one to give a rating on. If you are a solo paddler, it's just going to be hard to track extremely straight. Again, this isn't really the point or purpose of the board AND if you do have 2 paddlers you can actually track really well on the boards.
Both boards come with a 5 fin set-up, so you for sure can track straight as long as you can get over to the edge, keep your paddle straight, and have 2 paddlers.
Note: if you are solo paddling like I was with 5-7 kids, you will have a slightly better tracking experience with the 12' board.
Maneuverability: 5/10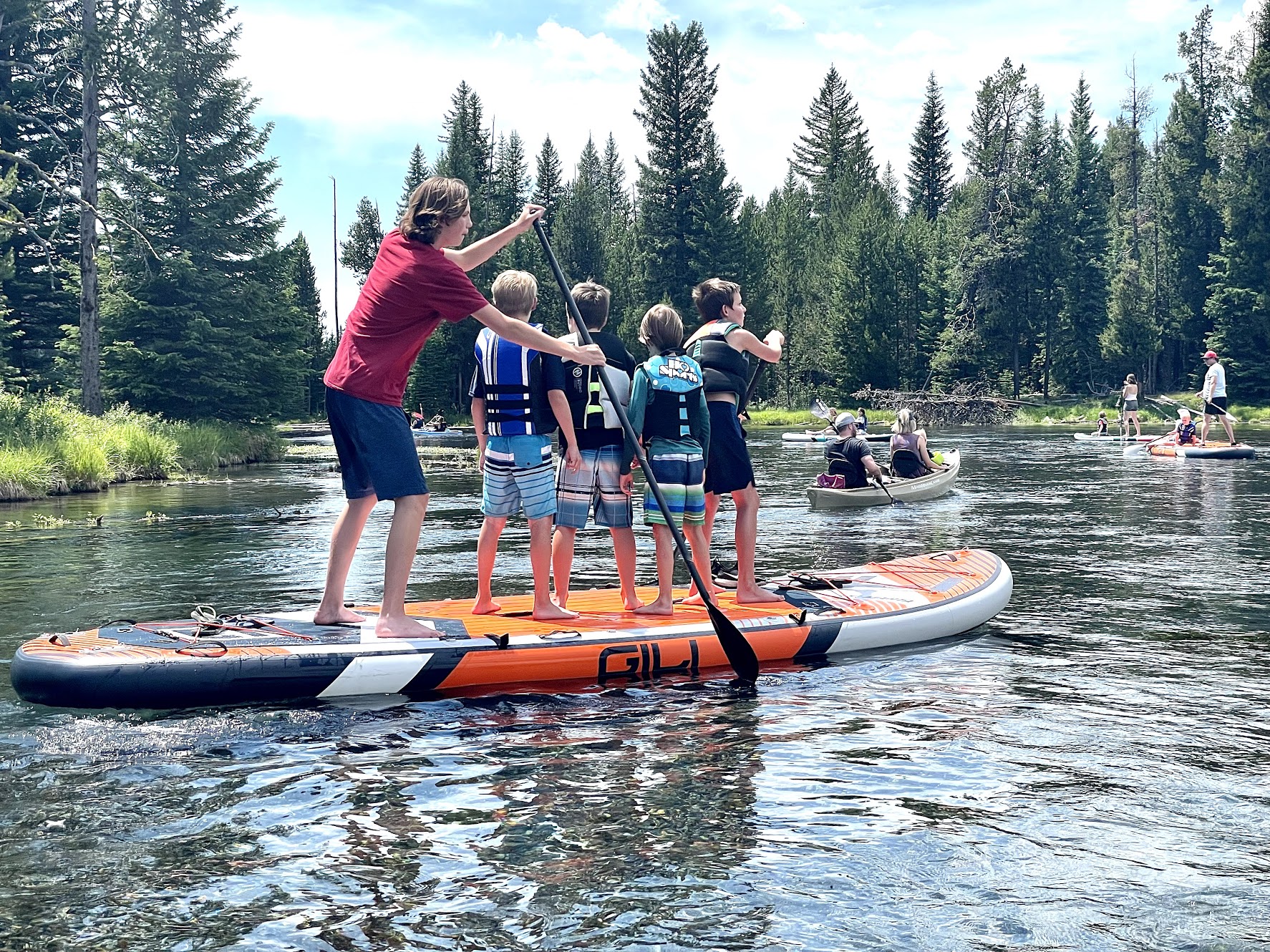 At 45" or 56", you just aren't going to be maneuvering very easily. However, over the 2-3 hours that I paddled kids down the river I had no problem maneuvering around slower tubers, or from one side of the river to the other to find deeper water.
You can even see from the image that my 14 and 9 year old sons were able to maneuver a group of their cousins.
It does help a little bit to paddle from the rear if you need to maneuver a lot, which is what I ended up doing most of the time on the river.
Construction Quality: 9/10
At one point during our 2nd day at the lake, I came back from a short paddle and found my three nephews jumping on the Manta Rays as they were beached on the shore. Muddy feet, fins down, rocks, and three 5 year olds didn't even leave a mark. I did have to scrub the mud off the deck pad, but was able to get everything off (the pictures of the boards against he cabin are post being abused by the little kids).
Inside the board, you'll find same high quality construction that you do with the rest of the Gili lineup: dual layer fusion PVC wrapped around the high-density drop stitch inner core. The PVC held up fantastically being dragged through the shallower parts of the river, the seems were tight, and the board felt extremely solid even at just 12 PSI.
Accessory Review: 9/10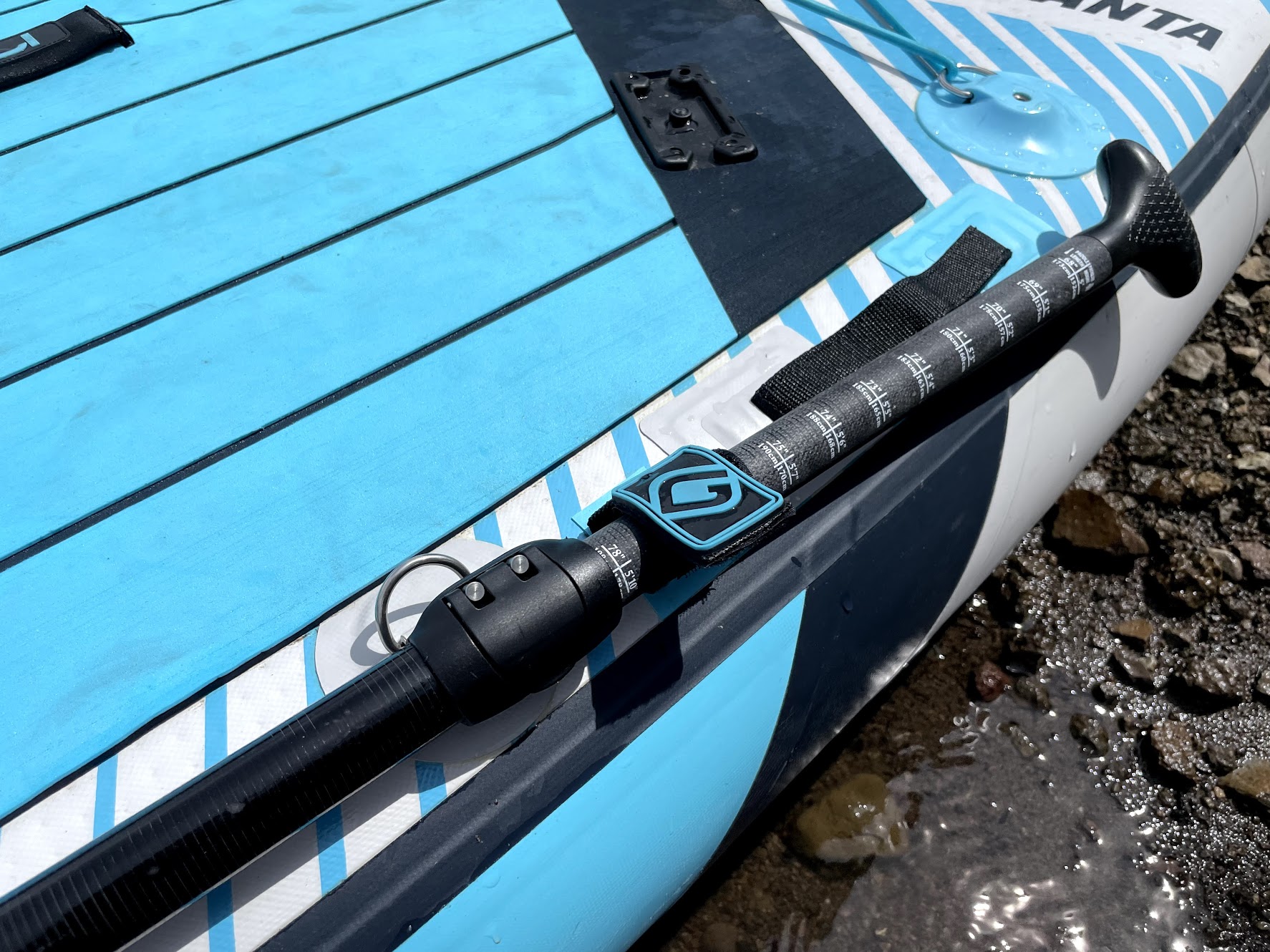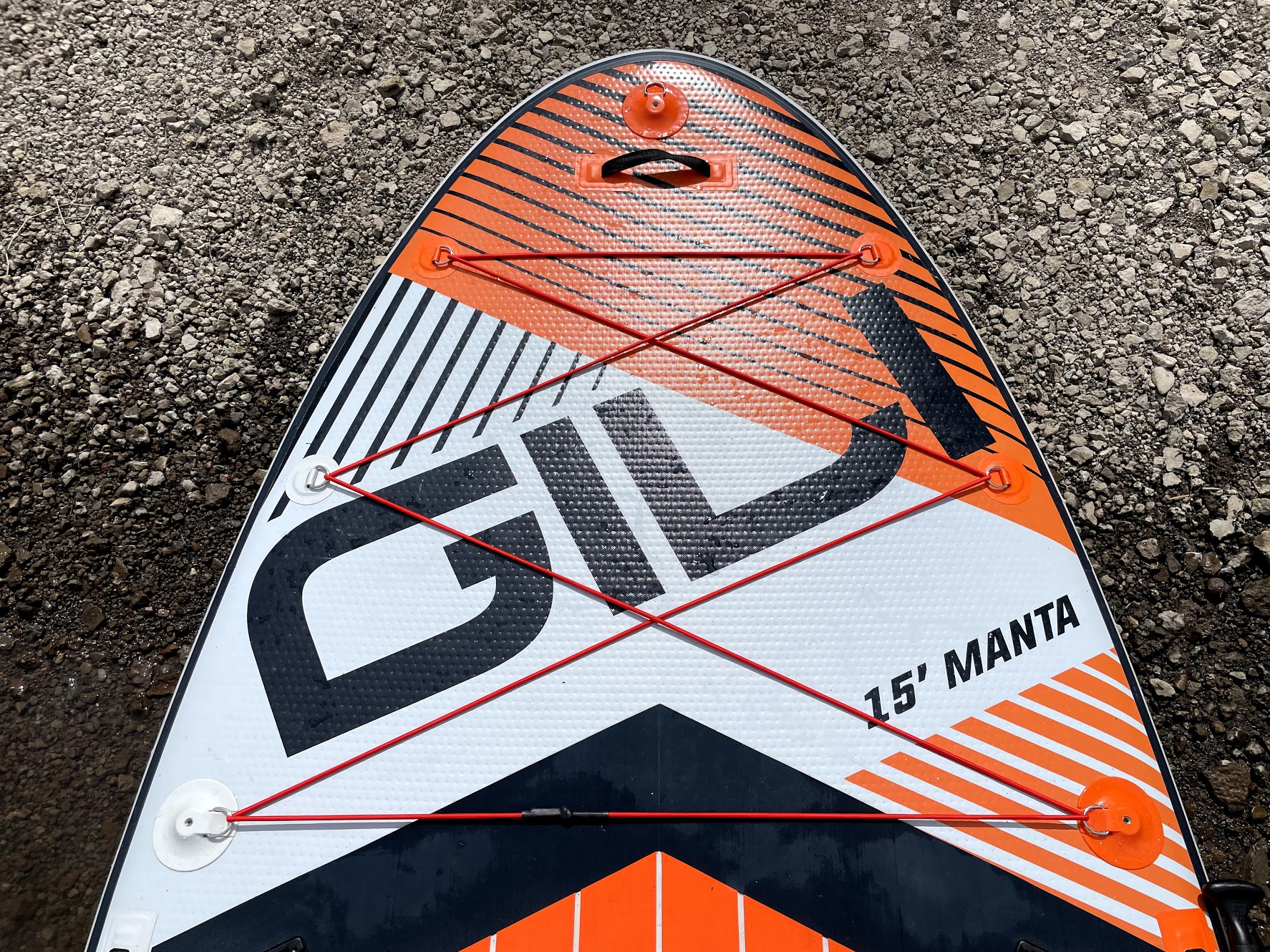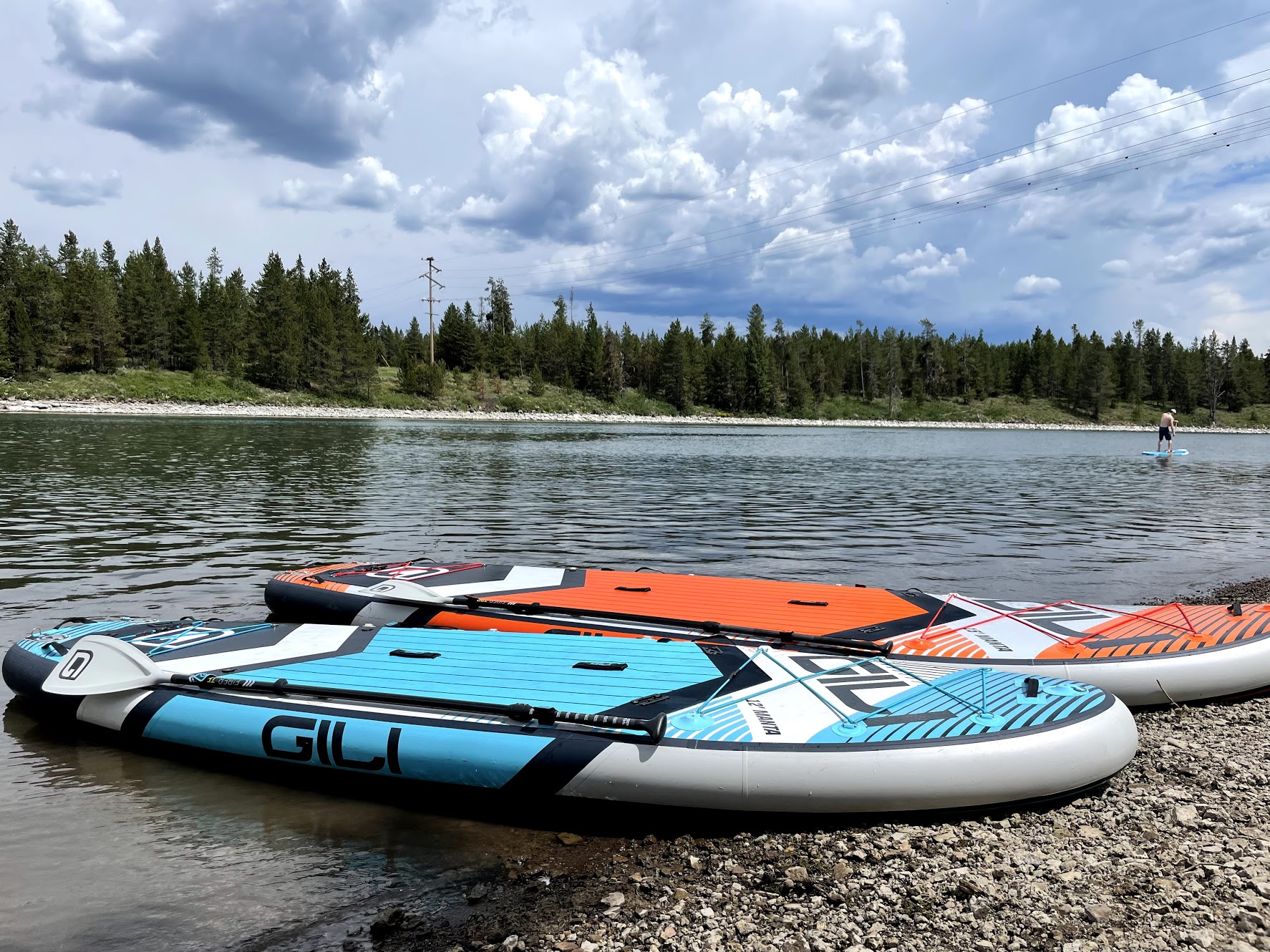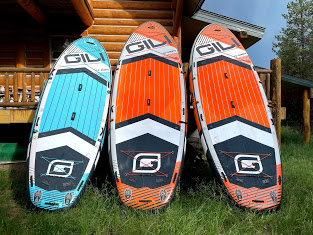 Included Accessories:
As mentioned above, the Gili Manta Ray Multi-Person SUPs come with everything you need to get out on the water, including:
(2) Dual chamber, triple action pumps
(2) Fiberglass shaft, nylon blade paddles
Wheeled Carry bag
5 snap lock fins (1 large center fin + 4 side fins)
There are several things I like about their accessories. First, you really do get everything you need to get out on the water other than the life jacket.
Second, I love how the board comes with a carry bag. Other party SUPs we've reviewed don't, and it just makes it a little hard to transport the board. We had 3 Manta Ray boards this week, and because the boards come in bags I was able to put 2 on top of my van rack and just use tie downs to transport them. I do wish Gili would add a few pockets and also make the bags just a little bit bigger though. I did have to suck out all the air with my electric pump and re-fold the boards to get them in the bag. However, once you get the folding pattern down, the board does fit in the bag nicely, and it's easy to move around thanks to the wheels.
Third, I like how Gili gives you two pumps. Trust me when I say this: you better get a good night's sleep and eat your wheaties if you are stuck pumping up the 15' Manta Ray SUP by yourself. Having a second pump cuts the time in half, and with two inflation valves you can use both pumps at the same time.
Finally, the included paddle is Gili's fiberglass 'travel' paddle. It's a very durable paddle that's a little on the heavy side, but we love how Gili includes two of them in the kit. As we noted before, without 2 people paddling you are not going to be moving too fast.
12' Manta Ray vs 15' Manta Ray
I've already gotten a lot of questions on which SUP someone should be between the 12' and 15' Manta Ray. My recommendations are:
Purchase the 12' Manta Ray if:
You are going to be paddling with 2-3 people, and maybe 4 if 2+ are kids
You want something more maneuverable but still can support a TON of weight
Want to fish with you + one other person
Need a lighter version of the party SUP
Purchase the 15' Manta Ray if:
You are going to be paddling with 4+ people
Want a platform for kids to jump and play on at the lake
Want to fish with you + 2 or more other people
For me, I go with the 15' most of the time simply because I almost always have 5+ kids that want to play "king of the SUP board" and also paddle around and explore.
Summary Review of the Gili Manta Ray Multi-Person SUP (2023 model)
Different than anything you've played on before – and crazy fun. That's how I like to sum up our review of the Gili Manta Ray inflatable SUP.
If you are someone looking for a party, multi-person SUP, then we think that Gili's latest release deserves to be on your list.
The following two tabs change content below.
Justin - Chief Paddler
Heyo! At SupBoardGuide.com we are a team who love the water, the outdoors, and are more than grateful that our full-time job allows us to review stand up paddle boards. We paddle year round (it helps that we are just about 2 hours outside of Las Vegas), and we bring in a wide range of paddlers with the goal of providing our readers with the best, most in-depth, and accurate stand up paddle board reviews.
Latest posts by Justin - Chief Paddler (see all)