iRocker Cruiser inflatable SUP
Pros
Great for SUP beginners or those looking for extra stability
Tracks smoothly and glides evenly in the water
Lots of great features (action mounts, d-rings) that make it very easy to carry a lot of gear
Safety side handles for paddling with kids
Solid 2 year warranty backed by a great company
High quality, durable construction with a great kit that gets you out on the water with everything you need
Cons
Being super nit-picky here, but we'd like to see iRocker move the rear action mounts more to the side of the board.
*note – this is the video review for last year's iRocker Cruiser SUP. We'll update this with our new review video soon!
The iRocker Cruiser 10'6" is one of the most well rounded boards in its price segment. It does most things very well and at a level that is quite frankly comparable to boards in the next price tier up.
As with the rest of the lineup, iRocker didn't "rock" the boat (board?) with any radical changes from the previous year. This means you're getting a time tested board with a few little improvements that make it even better.
For those new to the iRocker line, this board represents their best effort at a completely relaxing, easy, and fun SUP experience. With mounds of features built in and lots of included accessories it's a great board for anyone who:
Is a first time buyers looking to buy a quality board for the least amount of change
is of a higher than average weight
prefers stability first among all else
consistently pack more than just themselves on one board
is a sup yoga enthusiasts
wants to take a child or pet on their journey
We think the Cruiser is great for the following water conditions/situations:
Flat water paddling (lakes & rivers)
Casual recreational paddling (with kids and pets onboard)
Ocean paddling
Surfing in small surf
iRocker Cruiser Review (Overview)
Lets begin with the basics. The shape of the board, specifically it's less pointed, shorter shape, gives it a great stability and maneuverability. While not as fast as others in the iRocker lineup it's not going to leave you far behind in a crowd of competitors. It's 33" width provides lots of stability for even the most novice of paddle boarders. The 400 lb manufacturer listed capacity is some of the best in the industry. What does all this mean? This is a hard to beat choice for those looking for a stable platform from which to enjoy their on-water experience.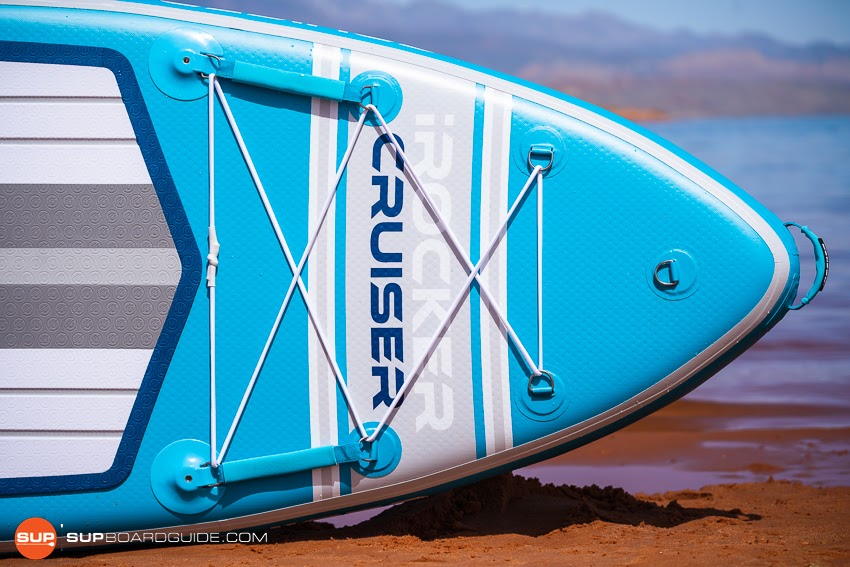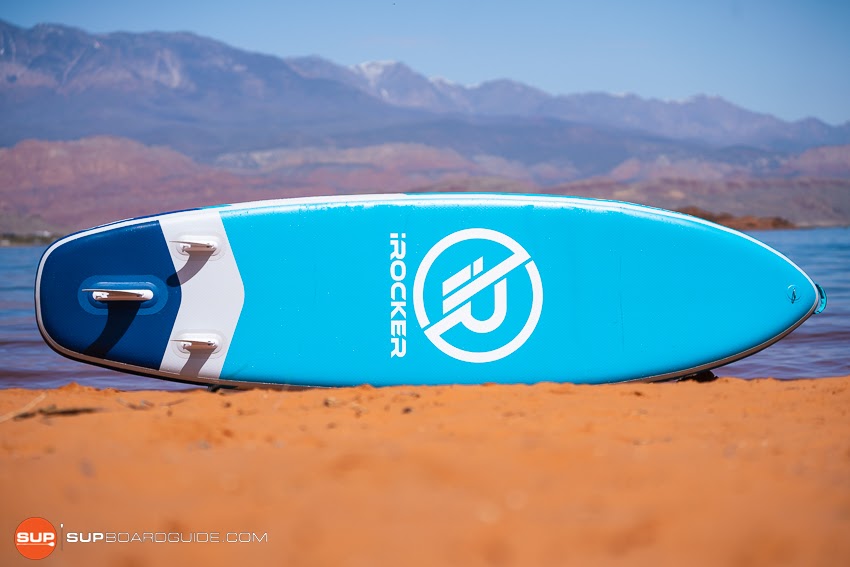 Note: We have put a ton of hours paddling the iRocker Cruiser Series. This review of the iRocker Cruiser is NOT a spec review like you see on so many other websites. It's an actual review, and our recommendations are based on the results from our testing process. As such, if you have any questions about this SUP, please contact us or drop your question in the comments below. We are happy to help you determine if this is the right paddle board for you.
iRocker Cruiser: Spec Sheet
| | |
| --- | --- |
| Main Category | All-Around, Inflatable |
| Board Shape | All Around / Inflatable |
| Board Dimensions | 10'6" x 33" x 6" |
| Listed Board Weight | 25 lbs |
| Listed Max Capacity | 400 lbs |
| Recommended PSI | 14-18 psi |
| Fins | 3 Flip Lock Nylon Removable Fins |
| Paddle Type | Carbon Matte 3-piece paddle with nylon blade |
| Materials | Triple layer composite PVC, carbon-fiber reinforced rails, high density drop stitch inner core |
| Price Range | Medium |
| Warranty | 30 Day Guarantee and 2 Year Manufacturer Limited Warranty on the board |
Official SupBoardGuide.com Test Results: iRocker Cruiser
Below are the results from our in-depth SUP testing. The goal with these tests is to verify the information manufacturers claim about the stand up paddle board, and also help consumers get an idea of exactly how the board will perform in real world conditions.
In-House Measurements:
| | |
| --- | --- |
| Board Shape | All Around / Inflatable |
| Tail Width | 19" |
| Nose Width | 11" |
| Nose Rocker | 13.6° |
| Weight | 26.6 lbs |
| Bend Grade: | 78 (Great) |
Overall Score: 9.5
In the all around category a board has to be great in a lot of areas. That being said this board did very well for itself. While not being the fastest or lightest of boards it does provide ample stability. We recommend this board for those who want stability in a board above all else. It's 33" width gives it just that. Combine that with it's shorter length, you end up with an easy to maneuver board that inspires confidence and loads of smiles.
Stability: 9.7/10 (excellent)

Speed: 7.5/10 (above expectations for a cruiser style iSUP)

Glide: 7.5/10 (above expectations)

Tracking: 8/10 (slightly above expectations)

Maneuverability: 8.5/10 (slightly above expectations)

Board Stiffness: 9.7/10 (excellent)

Weight Capacity: 9.7/10 (excellent)

Construction Quality: 9.6/10 (excellent)

Accessories: 9.5/10 (excellent)
*Also, please keep in mind that we don't award 10's like you see in the NBA dunk contest. If a board earns a 9, that is considered exceptional a far above expectations. A 7 is also considered above average/expectations and is a very good score.
Our overall rating of 9.5 on the iRocker Cruiser is us saying this is an excellent option for those looking for a stable, cruiser-style inflatable SUP in 2022.
In-Depth Review of the iRocker Cruiser Inflatable Stand Up Paddle Board
Performance Review: Speed, Glide, Tracking, and Maneuverability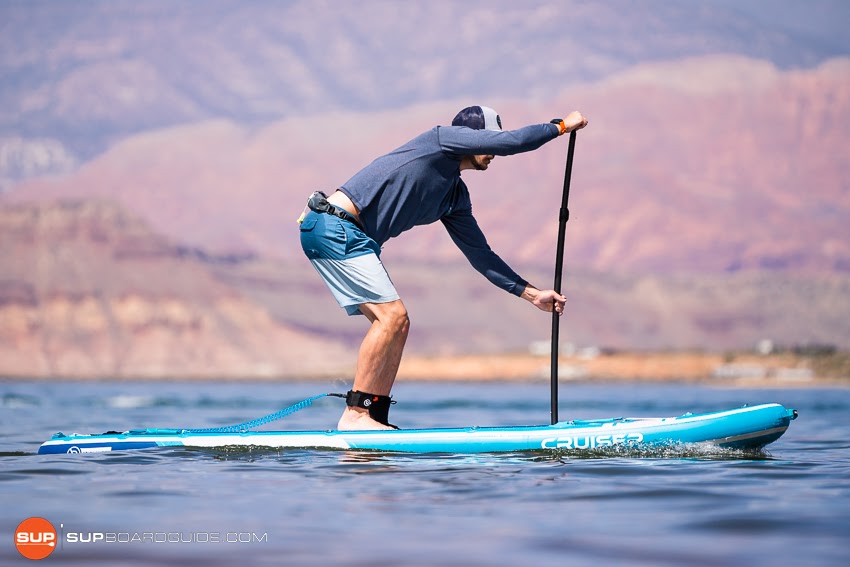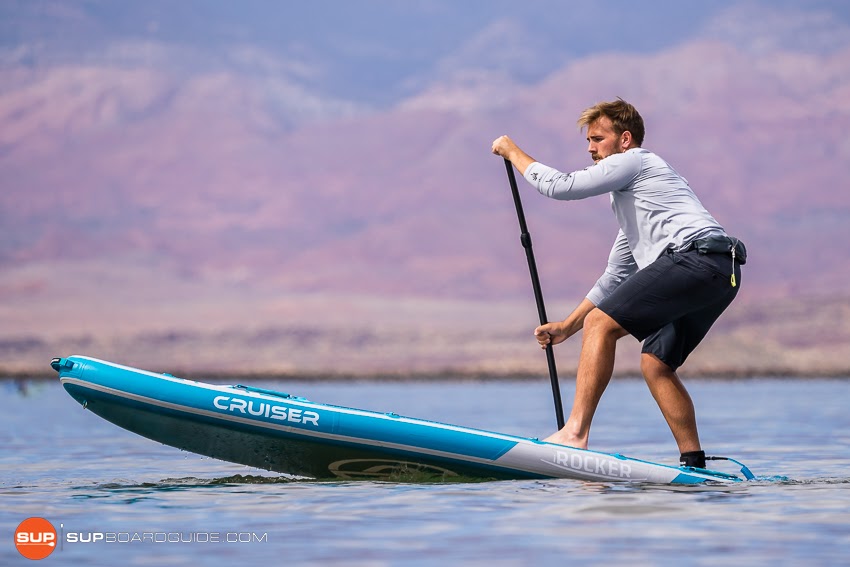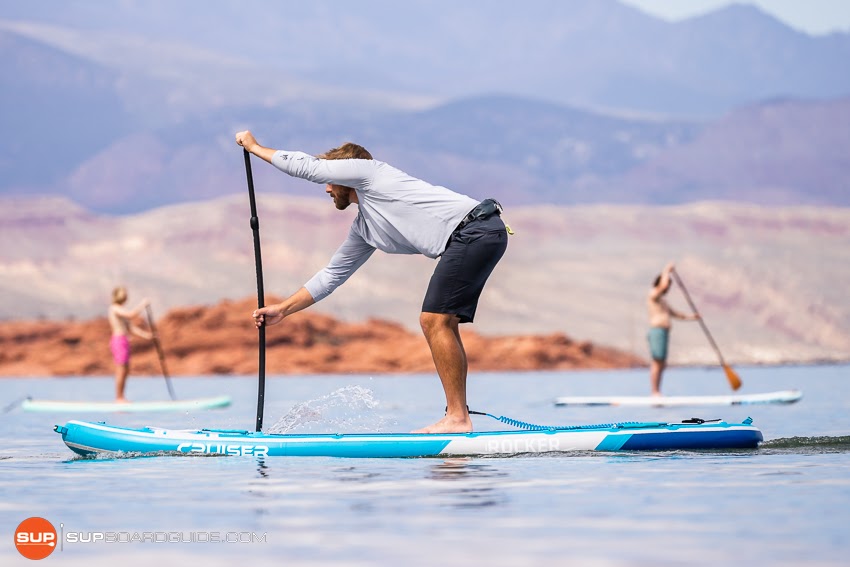 This board does really well in the tests as you will see below. It was just plain fun to paddle around on and is as equally at home on a lake as it is in the ocean. Being shorter and wider than others in the iRocker series we really want to stress this board is for those looking for stability above all else. Pack it with gear for a day on the lake or a sup fishing trip. It's good to go either way with a plethora of standard accessories and features.
Speed Rating: 7.5/10
As expected with a broader and flatter nose as well as an extra inch on the waist, this isn't the fastest board out there. It's no barge by any means so don't think your friends will leave you in their wake either. I personally believe it's 75% the machine (individual actually doing the paddling) and 25% equipment. This board is fast enough for most paddlers, and for some beginners it might even be faster than a thinner, quicker board. The reason is that if you can't balance well, then your not going to go very fast. As a super stable board, most paddlers won't have many issues balancing and will be able to focus on their stroke.
Glide Rating: 7.5/10
Average Distance Per Stroke: (Coming soon)
For those who don't know, glide is a measure of how efficiently a board goes through the water. Again with it's slightly thicker, rounded shape it didn't do the best here either. However I believe the limits of this board's ability are outside the range of any novice paddler anyway. Again it's the machine that takes you 75% of the way.
Tracking: 8/10
I know what you're thinking. Speed, Glide, Tracking, isn't that all the same? The short answer is no, and surprisingly a board can do better in some aspects rather than others. That is the case here as the iRocker Cruisers three fin setup really helps it hold a straight line. This is good for several reasons but most importantly it affects the speed and glide directly. I feel that without such a good fin setup the board would have been slower than it actually was.
Maneuverability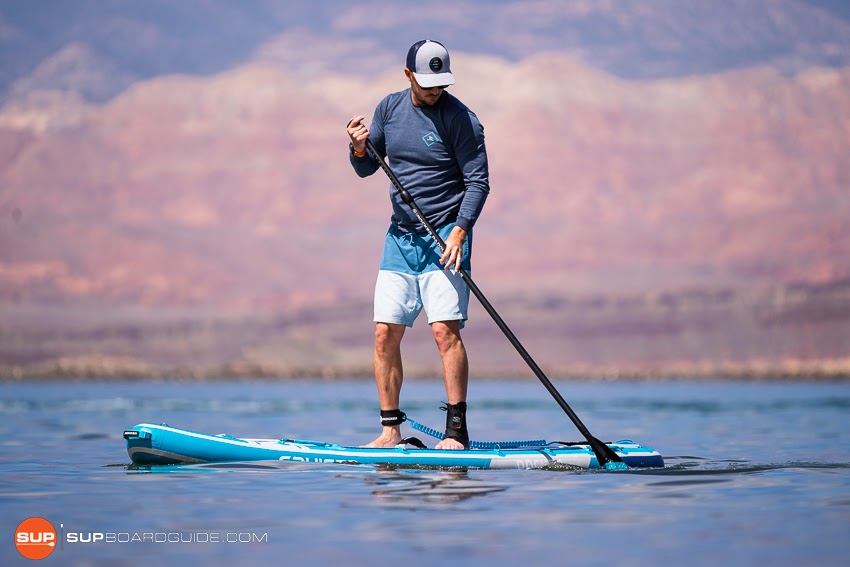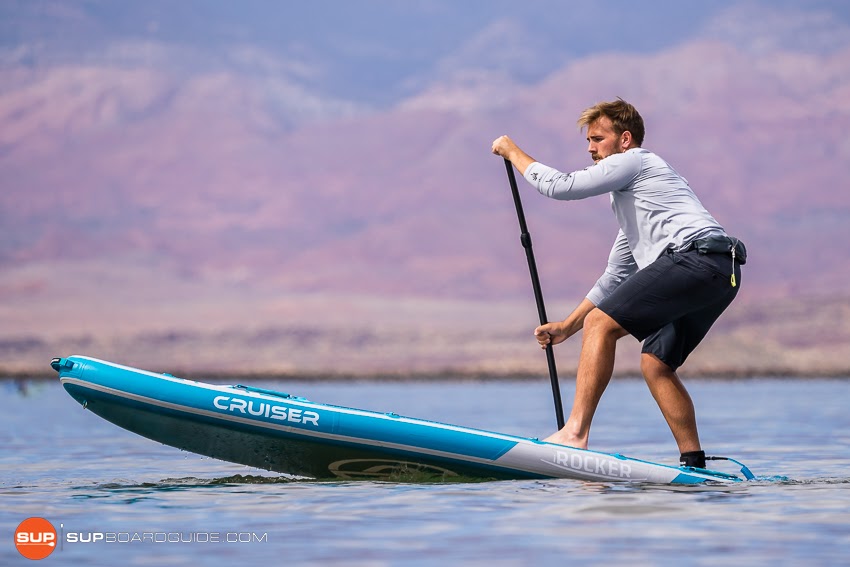 This is always my favorite test of a board's abilities. My highlight reels usually don't make the cut as I end up soaked. That being said you can't really test this factor without "taking it to the limit" (…one more time…). The shape of the board really goes a long way in helping it do well here. Ample width means plenty of side stability even when performing complex turns and the shorter length means you have less board to move.
Board Stiffness
Stiffness Test Results: ⅞" Bend
By placing the board on two sawhorses 7 feet apart and applying 150lbs of weight to the center of the board we see a ⅞" bend, or change in shape, overall. There was a time when even the best iSups on the market would show moderate to severe bend when put through this test and it's just a testament to how far iSup manufacturing has come. This is a combination of several factors such as board PSI, overall dimensions, materials, and construction. With such a little bend you can be sure this board is well made and is stable at it's recommended inflation pressure.
Weight Capacity: 9.7
Listed Weight Capacity: 400 lbs
Tested Capacity: Coming Soon
I think weight Capacity is the single most overlooked facet in iSup purchase decisions. Most manufacturers are fairly honest with their ratings but people will overlook this simple tell tale sign of a quality ride. Theoretically the more weight a board is rated to hold the more stable the rider will be. Bonus, if the board is rated to hold more than yourself, take a kid, dog, or fully packed cooler! Fact, less expensive boards typically have very low recommended weight capacities. You're not going to have a good time if it feels like you just stepped onto a rolling log in a log flume.
Construction Quality: 9.6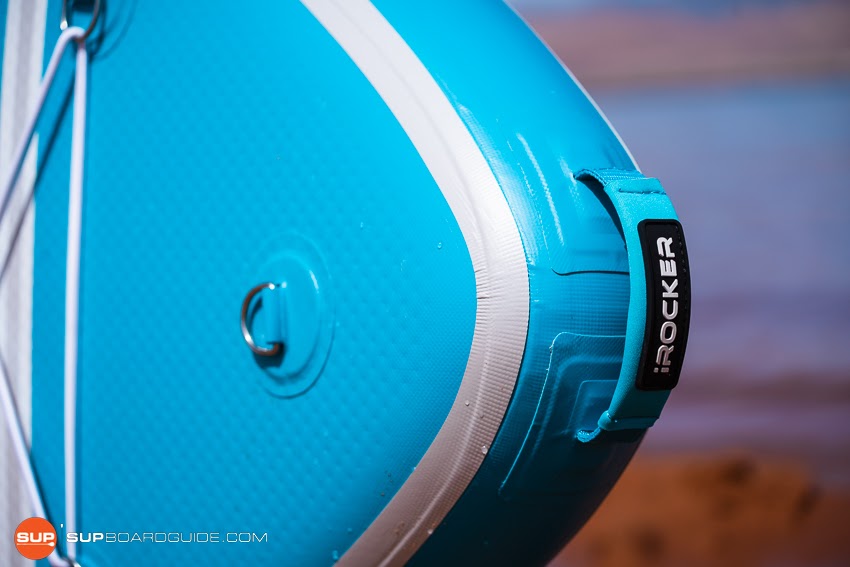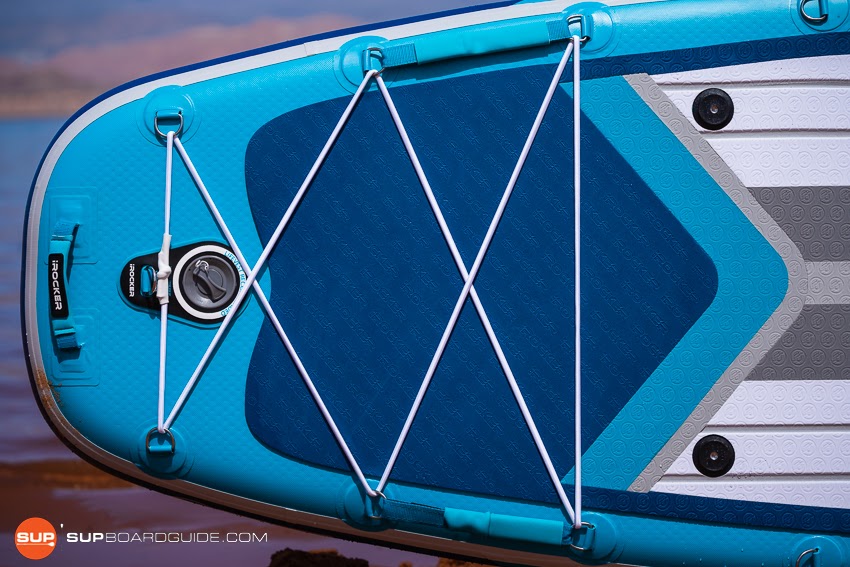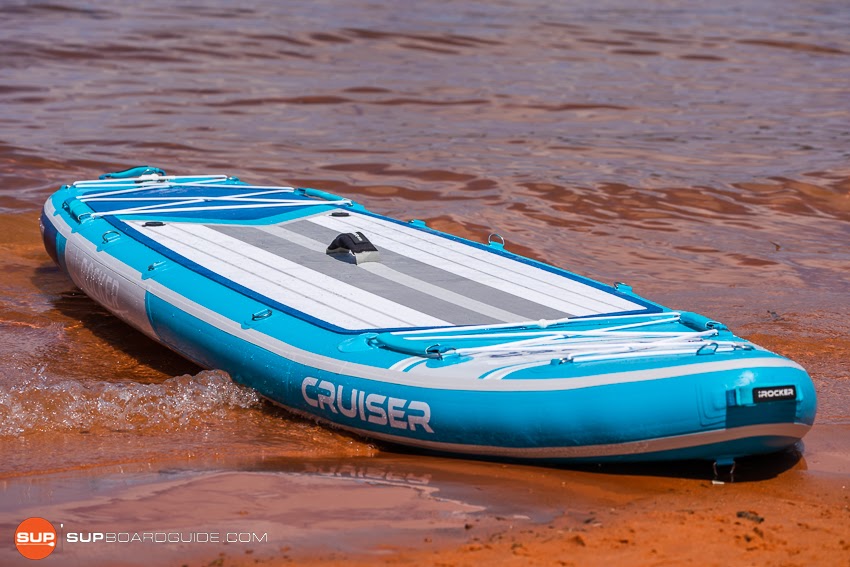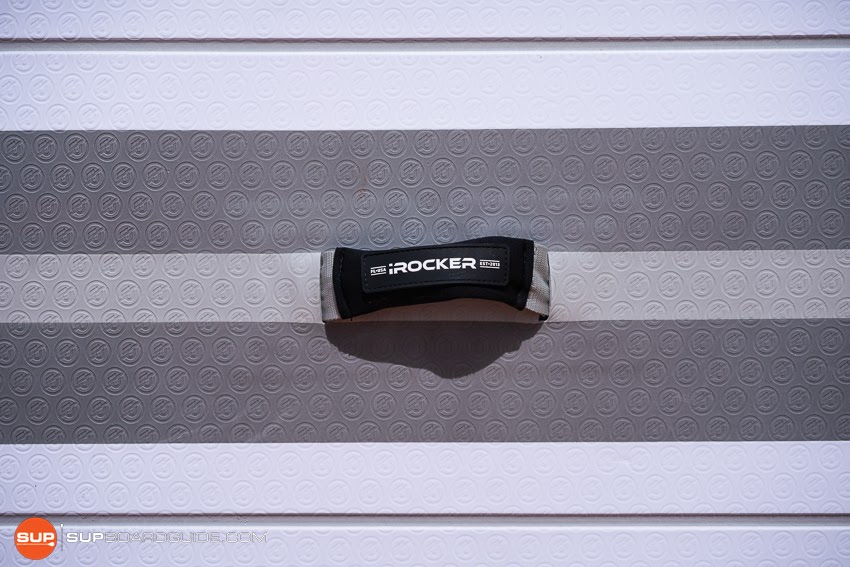 iRocker builds all their 'iRocker' lineup using the same construction materials: triple layer PVC around a drop-stitch core (1000's of high density nylon threads attached to a fabric layer that gives the board its shape). iRocker uses 3 actual layers of PVC on top of the drop stitch core. One layer of solid PVC wraps around the core. A second layer is actually a mesh PVC, then a third full layer of PVC is added to finish things off.
Without cutting into the board itself (it's so hard to justify the murder of such an inocent sup), the exterior is solid. The board layers are applied well on top of each other with no visible breaks or seams. All mounting points (D-rings, action mounts, and handles) seem well attached and sturdy. The deckpad is a nice, high quality EVA foam that feels right in between soft and hard, with pretty deep lines running from the front to the back. I like the lines as they really help keep water off the deck. As with other iRocker's our only complaint with the deckpad was the location of the rear most action mounts. I understand the placement for possible fishing or drinking accessories but, why not integrate it into the rear handles like the forward action mounts? On a paddle board deck space is limited, I feel they could have made better use of the space.
Accessories: 9.6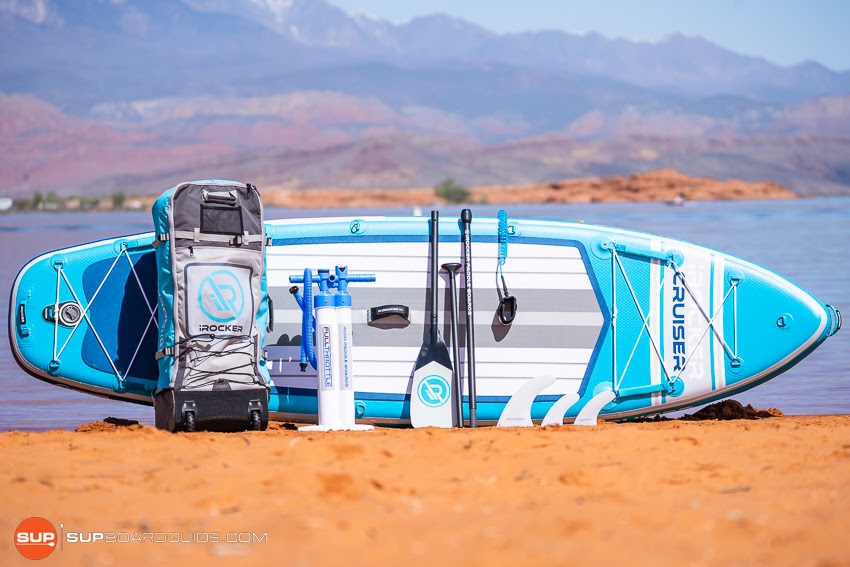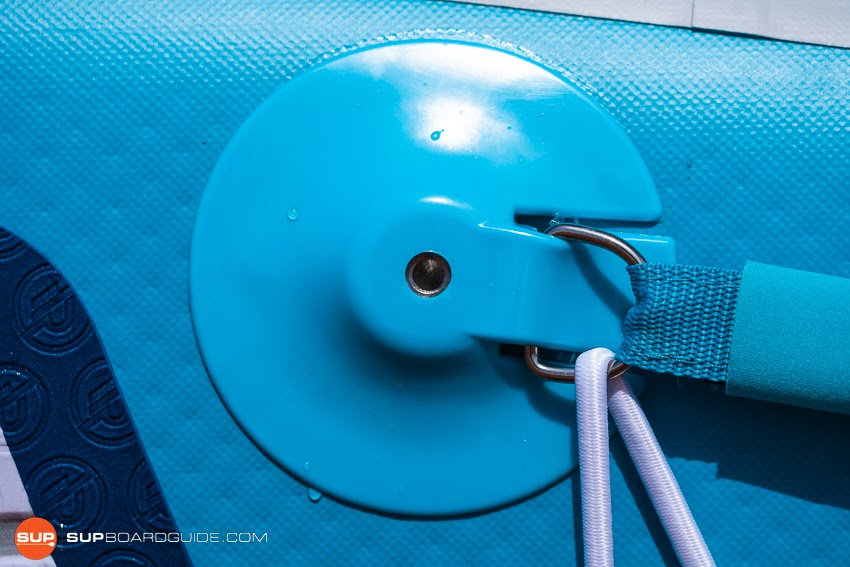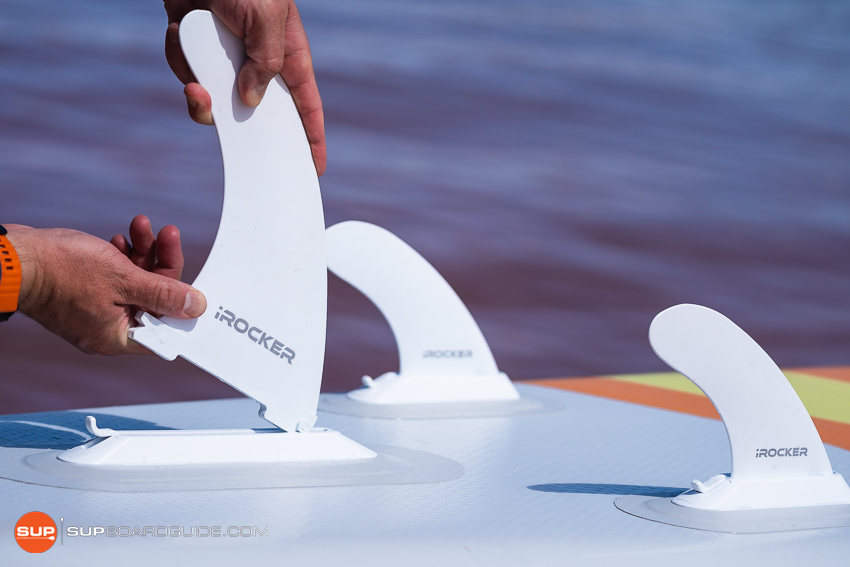 Aside from a coast guard approved life jacket, this package comes with everything you need to get on the water immediately. Fins? Well of course. Paddle? Check! Leash? Sure. Repair kit? You got it. We go in depth about a few pieces below but the bottom line is this. For the price, this board comes fully equipped with above average quality accessories. Our only thought might be to include removable cords found on other manufacturers boards. I personally love all the handles. The ones to the sides of the board are in a perfect location for a child to grab for stability in rougher waters. The front and rear handles make moving the fully inflated board a breeze and the Dring placement is really great for anchors or tying off while docked.
Paddle: 8/10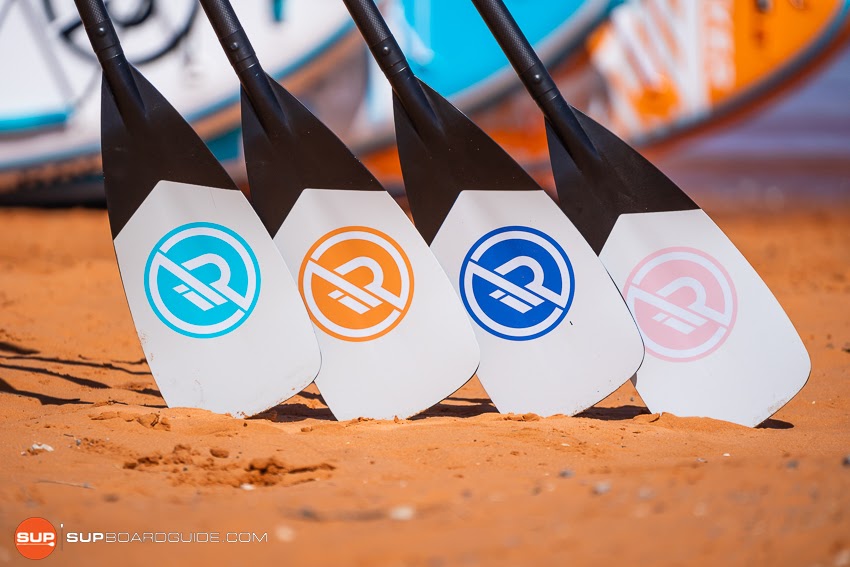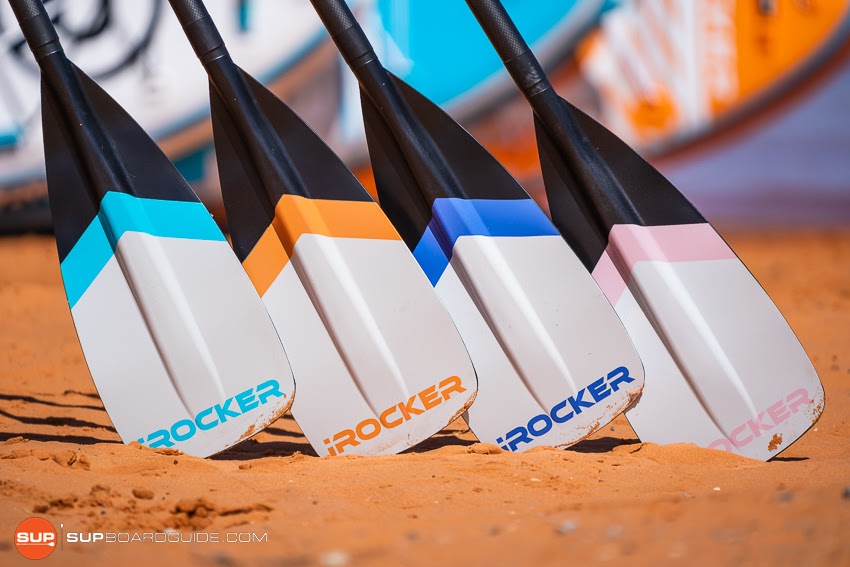 The iRocker Cruiser comes with a full carbon paddle that not only looks sleeker but it's lighter than the previous years fiberglass/carbon blend. At 28.5 oz it is extremely light considering it's standard equipment. For comparison my $400 custom sized race paddle is approximately 20 oz. Let that price point sink in. That's nearly $50 per ounce difference. It also offers a fairly wide range of adjustment from 72" all the way to 86". This paddle does have room for improvement though. Being a three piece paddle it will never be inherently buoyant. iRocker themselves admit that to make this paddle float it needs to have foam inserted into each paddle piece. Additionally it might benefit from a clip or some sort of edged groove preventing twisting of the paddle. Believe me when I tell you that this paddle is an amazing start, and if you ever decide to go custom, this will make a fantastic backup/travel paddle.
Pump: 9/10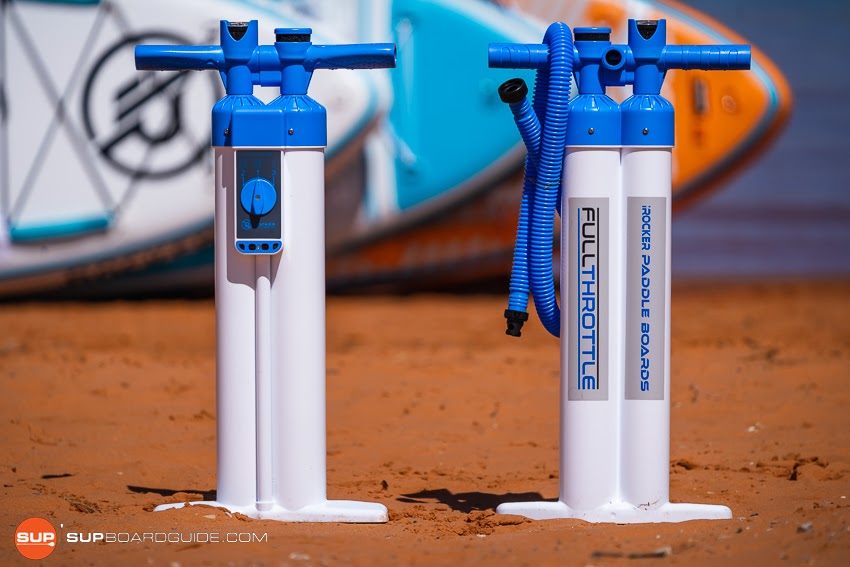 Standing by itself iRockers triple action pump does very well. Though not quite as effective as Red Paddle Co's Titan pump, it will get the job done reasonably well as compared to most others. Inflation time is currently TBD (hey we can't remember to time everything). But we can say that the pump is fairly comfortable and built well enough. What's with the knurling on the handle, I honestly don't know. Maybe the designer rides motorcycles.
All that being said, we still highly recommend iRockers electric pump. Especially considering that during their anniversary sale it's included for free, with certain colored boards! It out tested several others in our comparison tests and is reasonably priced. Trust me, when your friends are sitting around putting on sunscreen, while you're mercilessly forcing air into a plastic tube sweating through your new paddle clothes, you will thank me.
Backpack: 8.9/10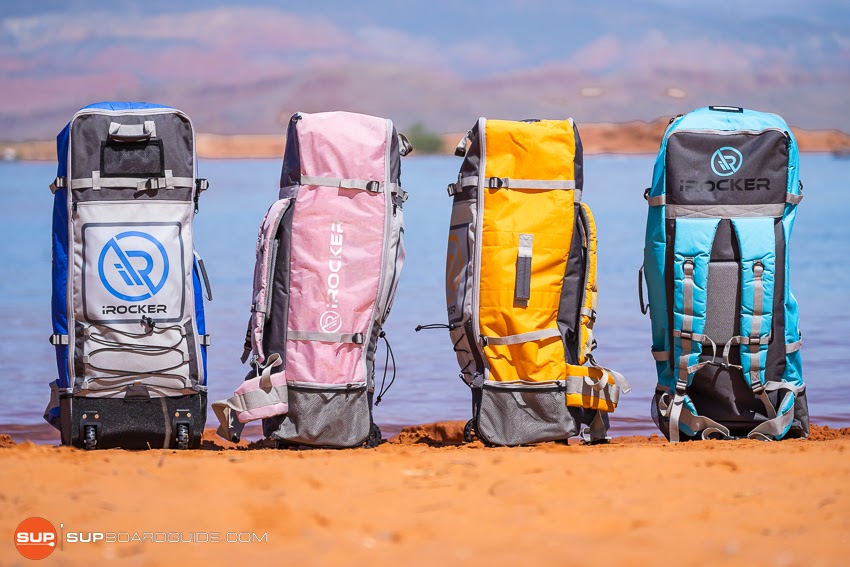 New for this model is the wheeled bag. This, my friends, is a game changer as I've never really carried my setup on my back. It always seems to get slung over my shoulder or held by my side as a duffle. Seemingly endless parking lots? Don't give it a second thought. Long walk on the pier? No problem. Grab a refreshing beverage while you're at it, as you can now roll it one handed.
From a functionality standpoint the bag is as good as most with ample room to store your properly rolled sup and a few pockets for additional items. While it does offer a front pocket as well, it's not very easy to fit the pump in there. Fret not, the front features bungee webbing if you decide that's too difficult. It also comes color matched to your board. So if style is your thing you can now dress to match all of your water equipment.
Optional Accessories
It's all about the accessories when you have so much space and attachment points to work with. iRocker does their best to fill this void with a vast array of pieces that can take your paddle adventure to the next level. Some of my favorites are the electric pump, kayak conversion kit and related seat cushion (sold separately), Vibe waterproof speaker, and both soft and hard shelled coolers. Check out their website for more.
Probably the best option of all is the fact that this board is available in 7 different colors. I'm not saying you need a different board for every day of the week, but with these at least it's a possibility.
Summary Review of the iRocker Cruiser
The iRocker Cruiser 10'6" is a seriously stable sup and it knows it. While other sups in the iRocker line may perform better over water, you would be hard pressed to find a similarly stable platform. For the price it comes with above average equipment to get you on the water safely and smoothly. As we said above this board is best suited for those looking for stability above all else.
Happy Paddles everyone! If you feel we left something out of our review please let us know in the comments below.
The following two tabs change content below.
SupBoardGuide Editorial Team
At SupBoardGuide.com we are a team who love the water, the outdoors, and are more than grateful that our full-time job allows us to review stand up paddle boards. We paddle year round (it helps that we are just about 2 hours outside of Las Vegas), and we bring in a wide range of paddlers with the goal of providing our readers with the best, most in-depth, and accurate stand up paddle board reviews.
Latest posts by SupBoardGuide Editorial Team (see all)