BŌTE HD Aero 11'6 Inflatable Paddle Board
Pros
High Quality construction - the board has a great feel to it
Amazing graphics - one of our favorite boards with great color/design options
High weight capacity SUP, great for those larger paddlers and those worried about stability
Plethora of included accessories, plus tons of optional accessories from BŌTE
We love the paddle sheath
Extra PVC on bottom of nose and tail to improve durability while docking the board on the shore
Cons
We'd like to see them include a leash in the kit when you buy direct.
Standard paddle is slightly heavy, but is also very durable.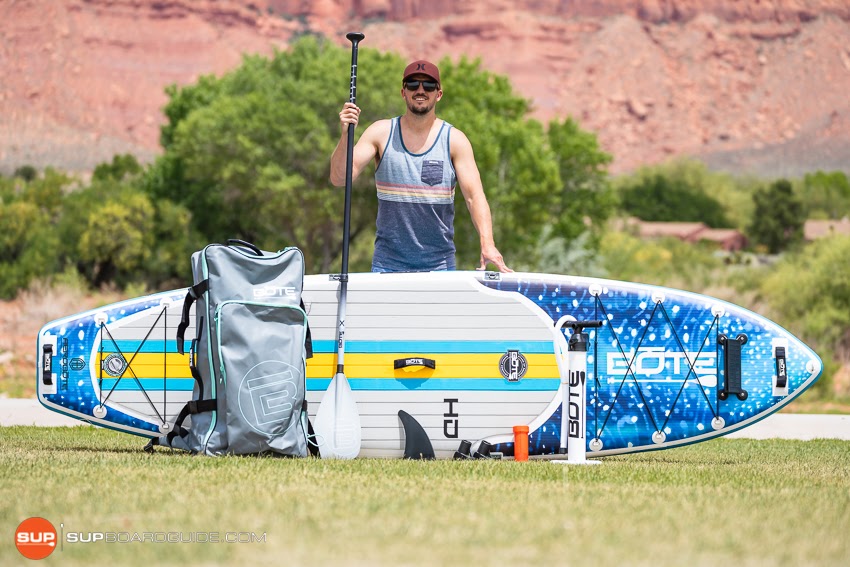 It's a BŌTE you tell your friends. They stare blankly at you and your iSUP. Like a motor boat? They ask. No, it's a BŌTE HD Aero inflatable paddle board, and it's awesome (loosely taking from their pile of marketing clips).
Let me backup a bit first. BŌTE is a stand up paddle board company that began around 2008 in the Destin Florida area. Right out of the gate they shook the still growing stand up paddle board industry. They haven't slowed down since.
Fast forward to today. They are still rocking the industry with new products and features. Their AeroBŌTE inflatable sup line is, in my mind at least, the industry standard. This review of the BŌTE HD Aero inflatable is our way of quantifying their amazing products.
Let's start with some basics. This board lands itself firmly in the all around category. BŌTE explains the construction as a combination of composite drop stitch fibers connecting several layers of high quality "military grade" PVC. It's claimed weight capacity of 315 lbs is more than acceptable for the average paddler and it's plethora of available (and included) accessories allow you to deck this board out for whatever the day calls for. We think the BŌTE HD Aero would be a great choice for anybody that:
Wants a quality made, rugged inflatable SUP good for beginners and intermediate paddlers
Needs to be stable in almost all conditions
Wants a board with a high weight capacity
Wants to paddle with kids/pets and/or additional equipment
Likes the ability to load their SUP with seemingly limitless accessories
We believe the BŌTE HD Aero would be a good choice for these water conditions/situations:
Flat water paddling (lakes, bays, marinas, etc.)
Recreational paddling (beginners, just paddling around flat water w/ friends and kids)
Ocean paddling
SUP fishing (with all the fishing attachments it's hard not to want to at least try)
BŌTE HD Aero Review: Overview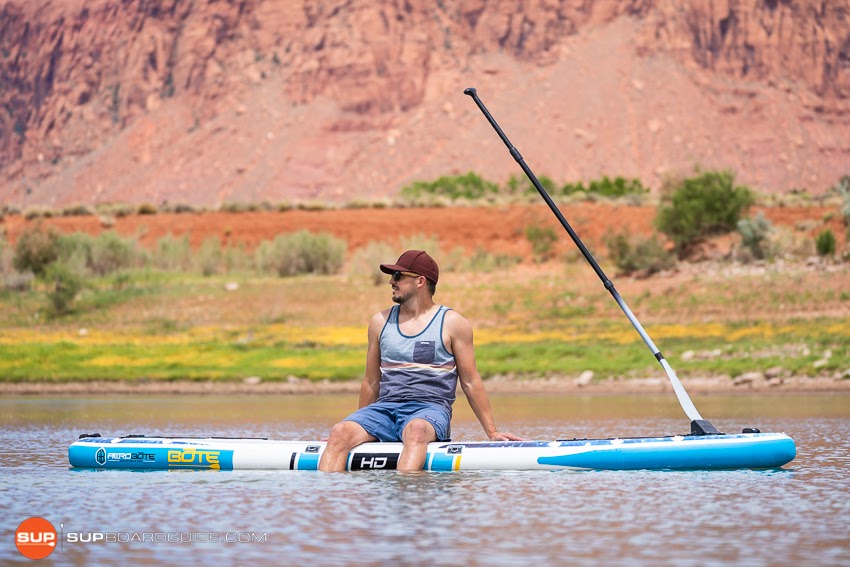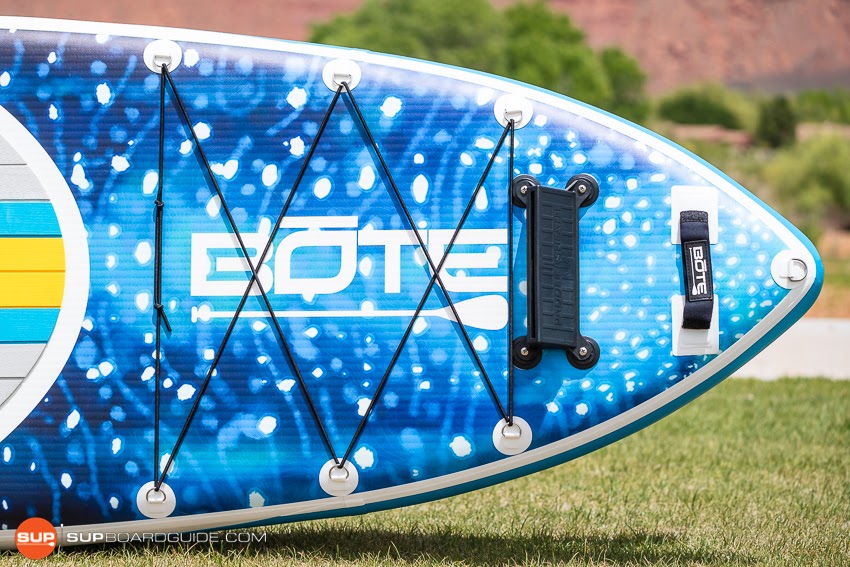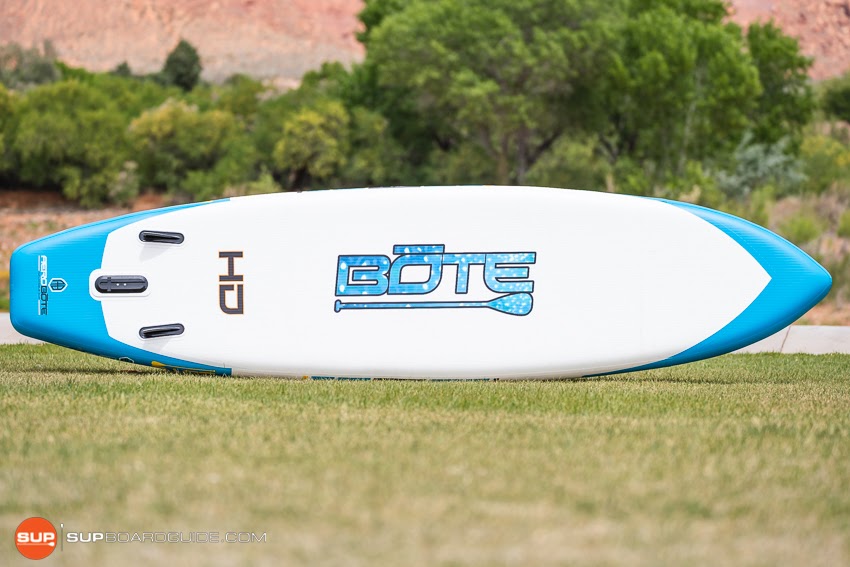 Let's dive right in! This board is available for 2023 in 4 distinct colors plus one specialty design called the "Full Trax", which is made for those needing a full length padded deck and integrated velcro paddle holder (think SUP Yoga, or traction for pets). Speaking of deck pads, BŌTE's BVA foam pads are some of the most well designed in the industry. They are just as much works of art as they are functional.
The board's shape is great for stability and it's long water line allows for a fairly efficient glide across rivers and lakes. The three fin setup aides in guiding the board, though only the center fin is removable. The board comes pretty well stocked out of the bag. BŌTE even adds the attachment point for their rack system (sold separately, I see what you did there, BŌTE), and their innovative paddle sheath. As we reviewed the BŌTE HD Aero, we found that this iSUP checks a lot of boxes.
Note: We paddle A LOT. We take notes nearly every time we are on the water. We try to use these boards throughout the year in a variety of water conditions. We update our reviews when things change or new information surfaces. We don't write quick spec reviews. We do our best to provide an in-depth review of the BŌTE HD Aero and if you have questions about this board, drop us a line – we live for your questions and we are happy to help!
BŌTE HD Aero: Spec Sheet
| | |
| --- | --- |
| Main Category: | All-Around, Inflatable |
| Board Dimensions: | 11'6" x 34" x 6" |
| Listed Board Weight | 30 lbs |
| Listed Max Capacity | 315 lbs |
| Recommended PSI | 10-15 psi |
| Fins | 3 fin system w/ removable center and molded side fins |
| Paddle Type | 3 piece adjustable |
| Materials | Multi layer "Military Grade" PVC w/ composite drop stitch |
| Price Range | Medium |
| Warranty | 2 year + 30 day money back guarantee |
Official SupBoardGuide.com Test Results: BŌTE HD Aero (2023)
As always, our goal is to both verify the information manufacturers state about their products as well as help the general public make an informed purchase decision. Our extensive test results are below and hopefully that will give the end user an idea of what to expect from these boards in real world situations.
In-House Measurements:
| | |
| --- | --- |
| Board Shape: | All Around |
| Tail Width: | (coming soon) |
| Nose Width: | (coming soon) |
| Nose Rocker: | (coming soon) |
| Weight: | (coming soon) |
| Tested Weight Capacity: | (coming soon) |
Overall Score: 9.7
The BŌTE HD Aero did extremely well with a 9.7. It's on par with and has earned the right to be listed as one of our best iSUPs for 2021. It's quality construction and solid feel really stood out to our testers. It was stable enough for just about everything and while not the fastest all around, it still glides through the water very well.
We can't get over the small details BŌTE puts into the product. The almost custom looking BVA foam pads mix seamlessly with their printed graphics. Various attachments (which come in the package!) allow for a host of accessories and different pieces to tailor your on water experience. We are fans of all the D-rings and ample bungee straps as well as the various other features unique to the BŌTE lineup.
Stability: 9.9/10

Speed: 7.8/10

Tracking: 8/10

Maneuverability: 8/10

Board Stiffness: 9.8/10

Weight Capacity: 9.8/10

Construction Quality: 9.8/10

Accessories: 9.5/10
*Take note, we rarely, if ever, award 10's. For our purposes a 9 is an excellent score and a 7 is considered above average. We like to leave room for new and innovative products.
Our overall rating of 9.7 for the BŌTE HD Aero just goes to show how well this board performed in all of our tests and how much fun it is to paddle in general.
In-Depth Review of the BŌTE HD Aero Stand Up Paddle Board
Performance Review: Speed/Glide, Tracking, and Maneuverability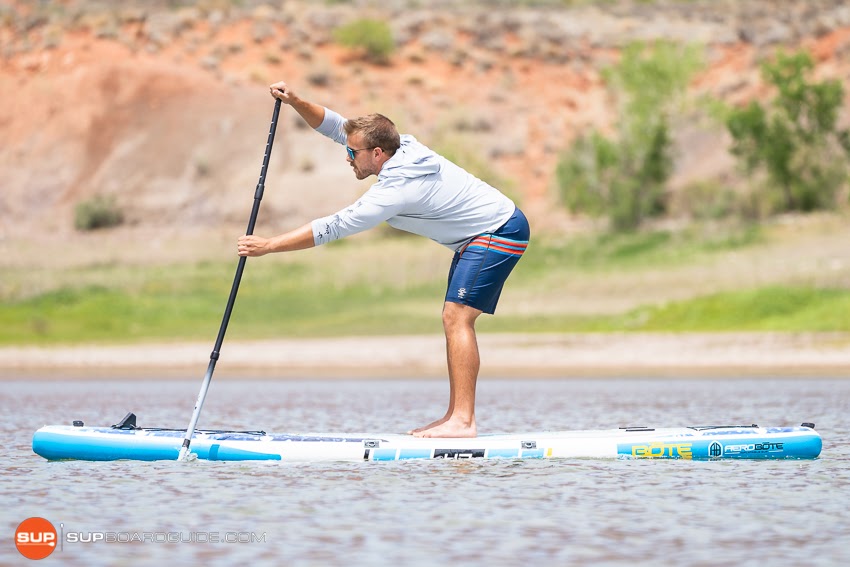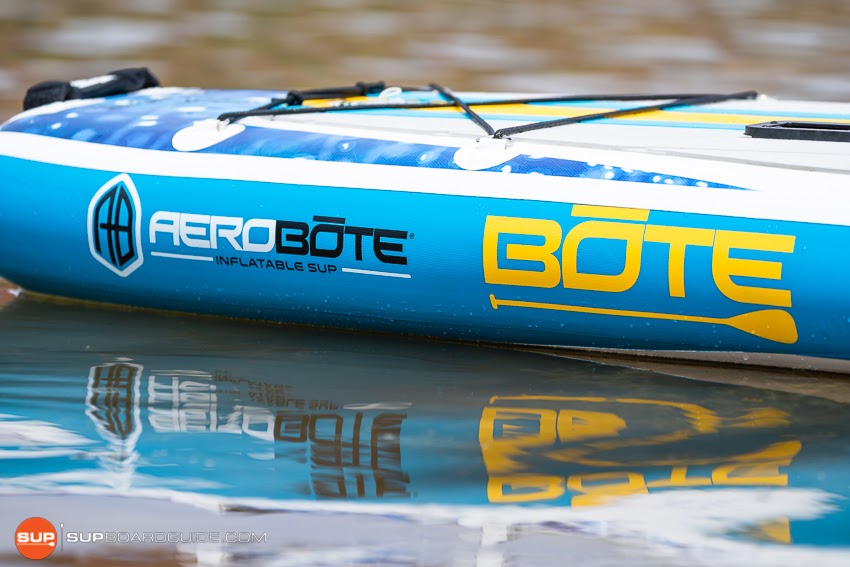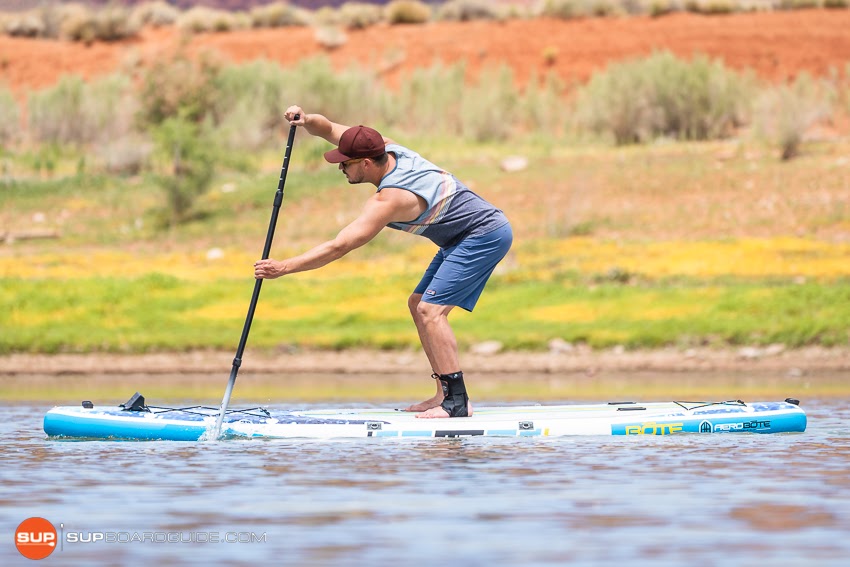 In terms of pure performance this iSUP did fairly well. It's length and width combine to make an extremely stable platform. It's reasonably fast for an all around as well thanks in part to it's three fin setup and its overall shape. We liked how nimble it felt and the traction pad was comfortable even on the longest of paddle tours.
Speed: 7.8
In our review and initial testing, we found the HD Aero to perform just about as we would expect – not the fastest board, but better than you would expect for an 11'6×34" inflatable SUP.
This board certainly has the length close to many touring boards, but it's 34" width does slow it down a little for various reasons:
First, wider boards are simply harder to push through the water (#physics). Second, the wide outline makes it difficult for shorter paddlers (or those with less overall arm reach) to really hit a nice vertical paddle stroke. This in turn gives you wasted energy that not only takes you off course but slows you down.
To be clear, this isn't a knock on the board. It's just good to know that this board leans more towards the stability side of the coin than the speed side. If you're looking for a crazy fast touring board, this isn't it. However, it's not supposed to be. It's built to be a super stable SUP that still performs well as you paddle across the water, and we think it does that really well.
Tracking: 8.0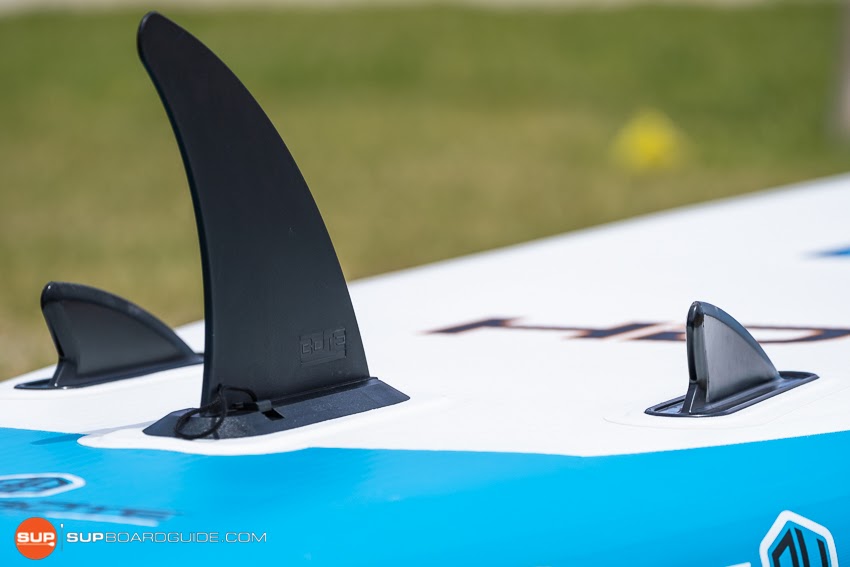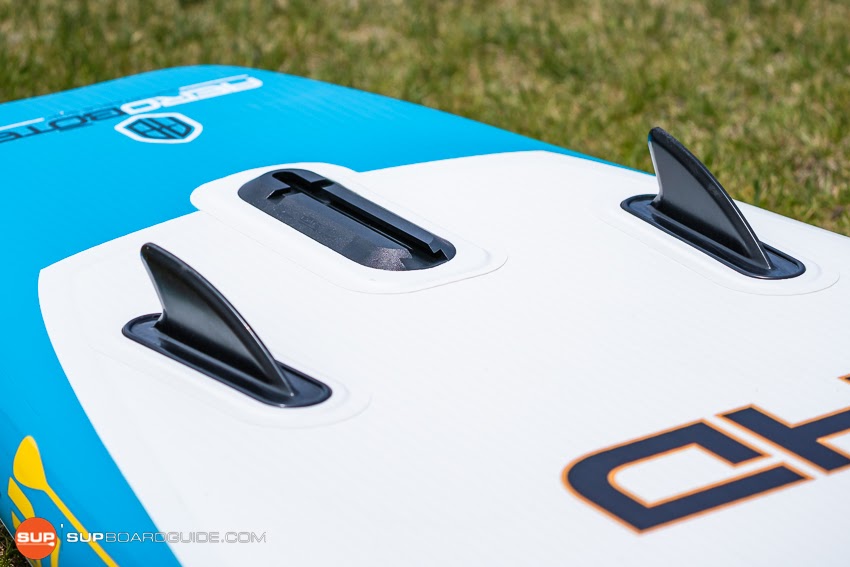 As we previously mentioned this board doesn't track as well as say the Blackfin Model XL. We feel it has to do with the two molded fins being unnecessarily short and angled fairly steeply against the forward plane. This provides additional drag even though it gains considerable stability.
Being as wide as it is (34") also makes it harder for smaller (shorter armed) paddlers to execute a perfectly vertical stroke. This will make the board veer of course more readily than not. I also don't personally believe this board tracks very well at all without the center fin.
We'd love to see BOTE make a few HD Aero's with the option of removable side fins to improve that performance and also make it easier to roll up the board after it's deflated. However, we also acknowledge the counter-argument that fixed side fins are super easy, don't ever get lost, and reduce the time it takes to get out on the water.
Maneuverability: 9.0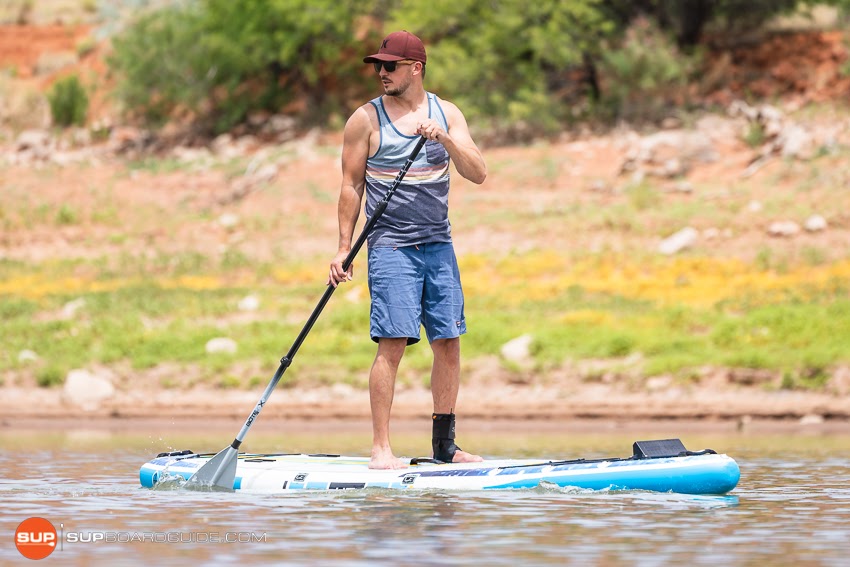 The BŌTE HD Aero is not a small board by any means. This shows up in various factors such as the maneuverability. Without using intermediate paddle techniques the board typically wants to go "where it wants to go". You can still turn the board, but if you are looking for something that needs to be super nimble, you will want to consider their shorter, lighter options.
Step back turns are fairly easy considering the deck pad is extended through the rear of the board and the tail of the HD Aero is very wide. Yes, you will be stepping on bungee cords if you haven't removed them beforehand, but having that nice wide tail to step back on does make this a pretty easy board to do a buoy turn when needed.
Board Stiffness: 9.8
Stiffness Test: 15/16" Bend at 15 psi (board on top of saw horses placed 7' apart, with 150 lbs of weight added right by handle in middle of the board)
The BOTE HD Aero did extremely well in our bend test, which backs up how the board feels on the water (not much noticeable flex or bounce). At 30 lbs, the board weighs more than some of its competitors, and we think the extra weight + the results on the bend test show the quality of materials in the board.
Bottom line – if you want a very stiff inflatable paddle board, the HD Aero should be on the top of your list. We found it to outperform the Blackfin XL, even without the carbon fiber rails. Maybe there isn't as much to the carbon fiber rails as previously thought (we can discuss that later), but the key takeaway here is that this is a very sturdy iSUP.
Weight Capacity/Stability: 9.8
Listed Weight Capacity: 315 lbs
This board is no slouch when it comes to carrying people and gear. BŌTE's various attachments just add to the usability of this board's capacity. Think rack mounts for fishing, cooler mounts for beverages.
Moving around on the board, either for step back turns, or otherwise, the balance isn't upset at all. This board is really very stable in most water conditions and would inspire confidence in even the most beginner of paddlers. Really it's a great option for those just starting out and want a high quality board that will last them through the learning process and beyond.
Our take so far is that the 315 lbs of listed weight capacity is actually more conservative than some listed capacities from other companies. This board has a lot of volume, and is made from high quality materials, and from our tests the board has held as much weight as any other 11'6×34" or smaller board in our quiver.
Construction Quality: 9.8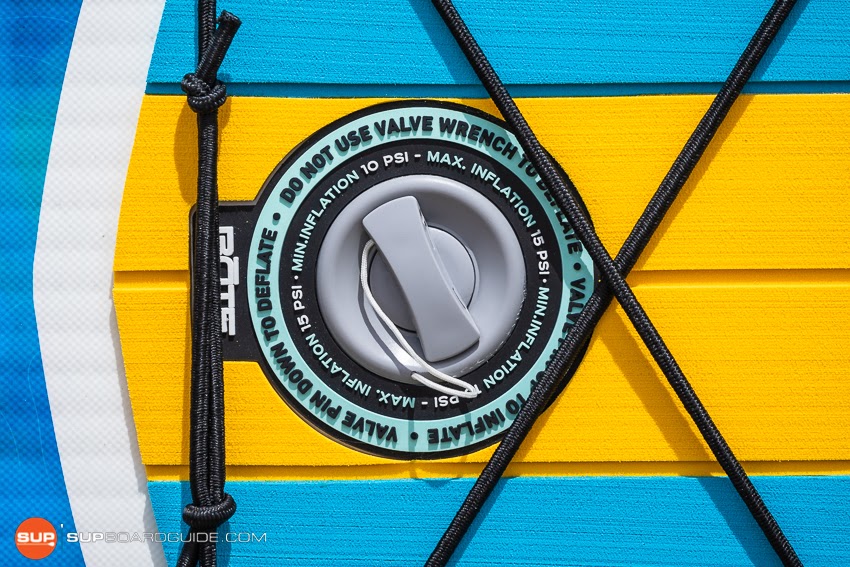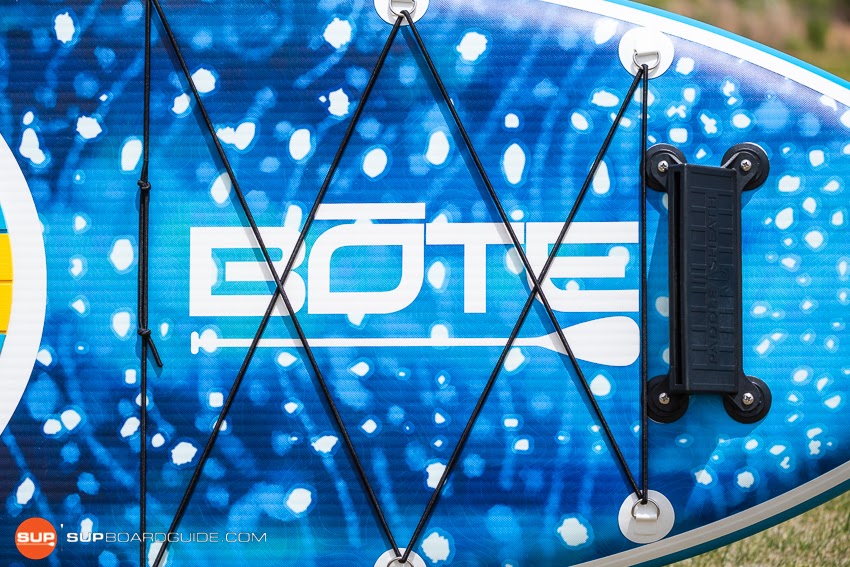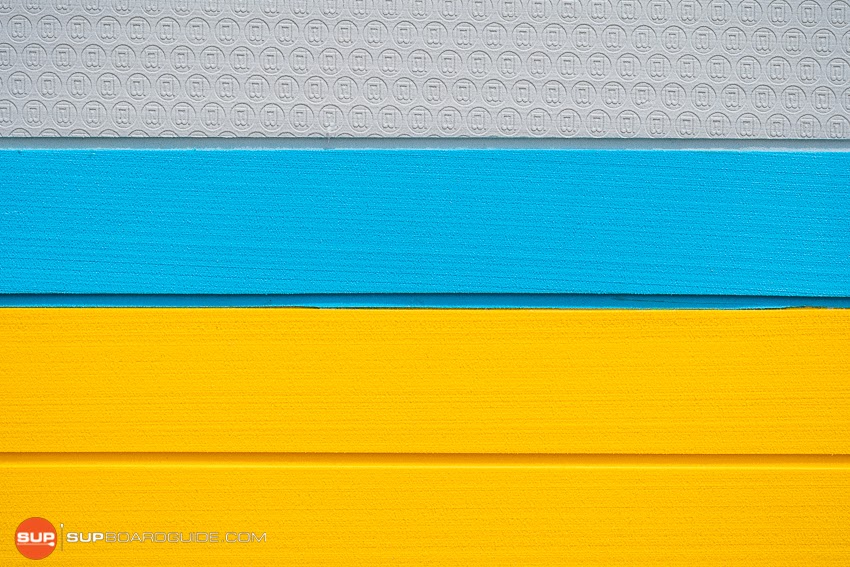 You take this board out of the bag and it just feels substantial. All the accessories and attachment points feel well made and purposeful. After inflation, the board stands out for it's attention to detail. It's a functional work of art as the BVA foam pad integrates well with the board graphics and the placement of all the D-rings and other accessory mounting points. Looking underneath the bow of the board we see additional color and material which, we believe, is for heavy grounding use when paddling to various destinations.
It's that kind of foresight into the customer experience that makes this board really stand out.
The BŌTE HD Aero, as well as the rest of the Aero line, has a composite drop stitch core surrounded by additional layers of "Military Grade" PVC. From our experience we can never really test these claims unless we are willing to sacrifice a board to science and cut the board in pieces. Maybe down the line this will be a regular thing, but for now we think this board is just too nice to cut up. We see no flaws in the workmanship or the quality of the construction anywhere on the board so we are inspired to believe the manufacturer's statements at this point.
Accessories: 9.5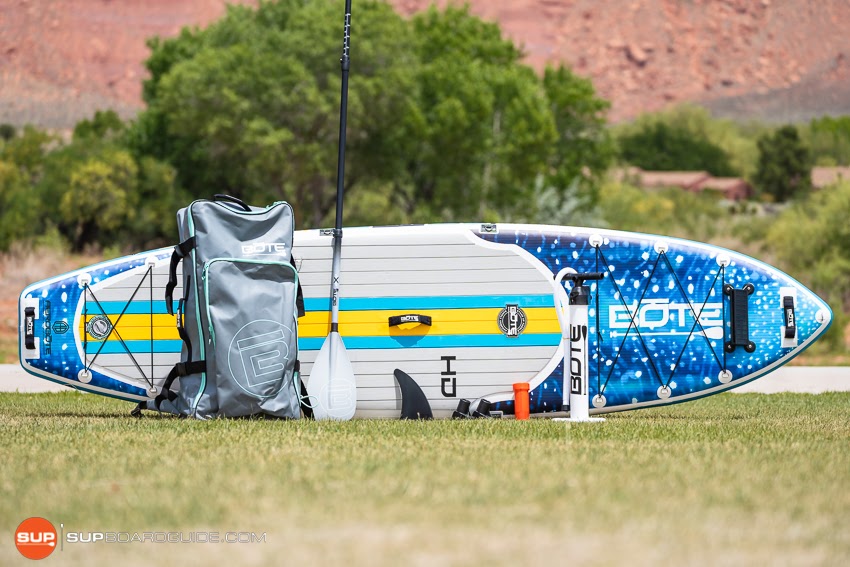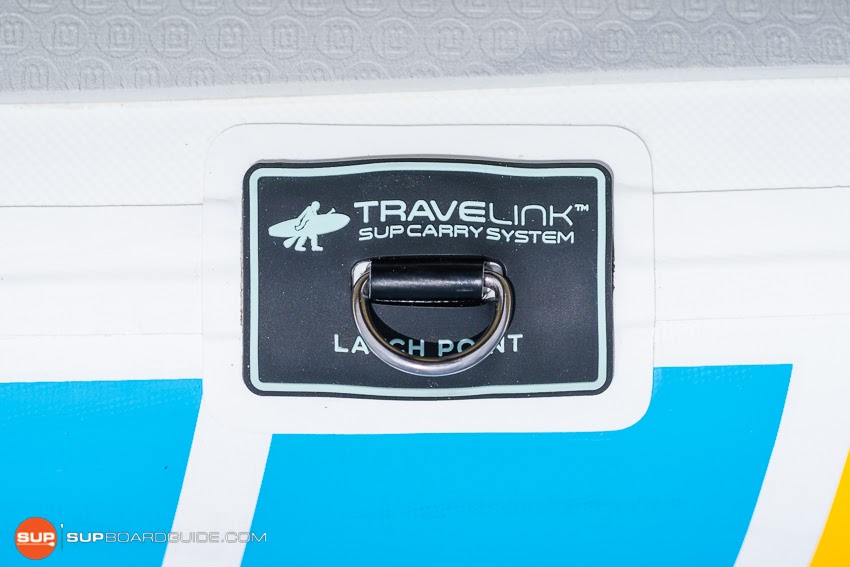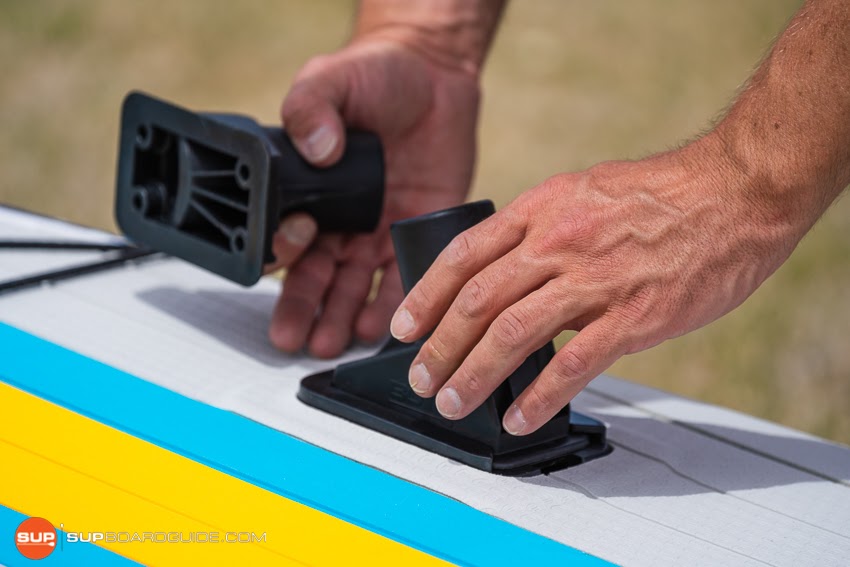 The BŌTE HD Aero comes with a whole host of accessories in the bag, some not typically found on iSUP's in this price range. We love the paddle sheath, it's a great idea for when you need your hands to take a selfie or take a sip of beverage. It also includes the proprietary tackle rack or cooler mount attachment (both being sold seperately of course). This is nice because you don't have to jump to the higher price boards just to add these features. Finally the travellink sup carrier system (you guessed it, sold separately), is integrated into this board as well. A nice feature to have for smaller paddlers wanting the ability to easily carry the board.
The list of included accessories with the BŌTE HD Aero is listed below and we'll dive deeper into a few below:
3 Fin setup, removable 10" center fin, 2 molded side fins
Aero rack receivers
Aero paddle sheath
Aero repair kit
3 Piece adjustable Sup Paddle
Hand pump
Travel bag
All in all we are quite impressed with this package. If we could recommend a single thing to complete this package it would be a coiled leash. We just feel that this has more or less, become the industry standard with most packaged iSUPs. It's not like they still don't have the upsell potential with the racks and travel link systems as well. I think most consumers are looking for a complete package.
Paddle: 7.5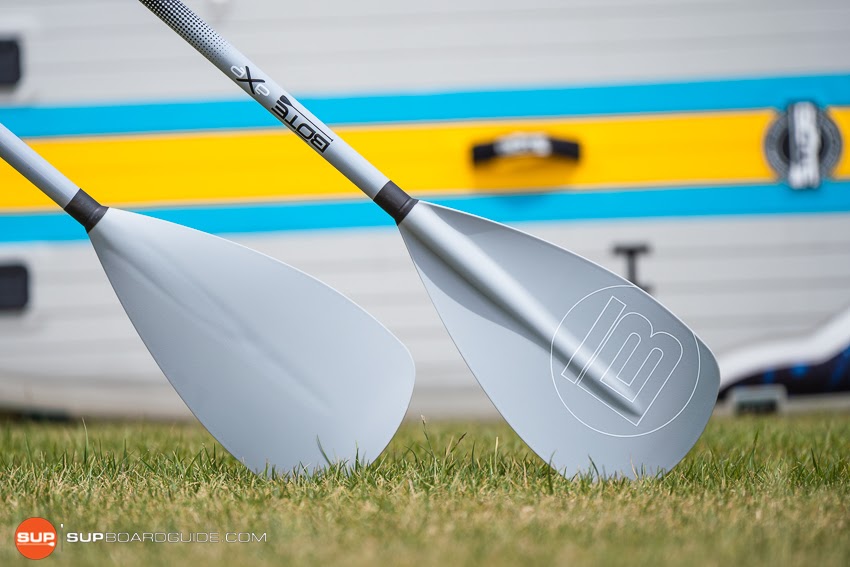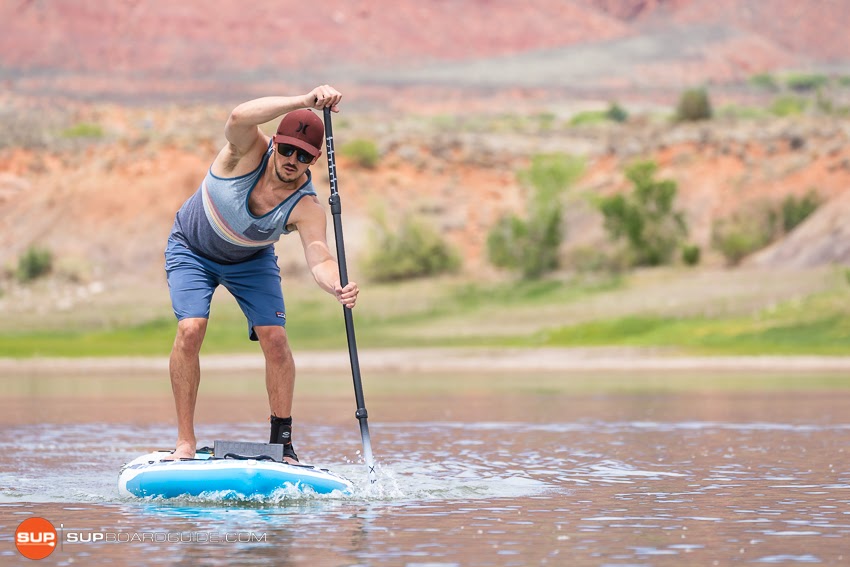 The BŌTE HD Aero comes with a 30 oz paddle that is a blend of carbon fiber, fiberglass, and ABS plastic. The paddle is a very durable paddle thanks to the ABS plastic blade, and is more on the entry-level side of SUP paddles. We think for the kit it's not a bad paddle at all, but wouldn't mind seeing a few ounces knocked off that 30 oz weight and using a different carbon fiber/fiberglass blend with the shaft. The shaft is grippy, but I personally tend to prefer smooth shafts, as my hands tend to blister on longer paddles.
If we can recommend something here for more experienced paddlers, it would be to try their upgraded AXE paddle line. From personal experience I still have my one piece all carbon fiber AXE paddle from back in 2012. So it's a solid peace that will stand the test of time in my opinion. Just understand that these paddles are considerably more fragile than the kit paddle.
Pump: 8.0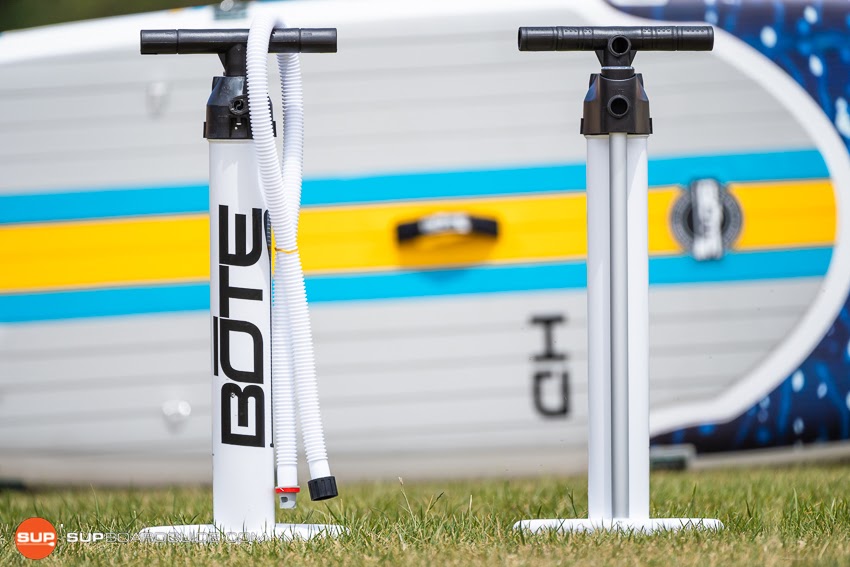 The standard BŌTE inflation pump doesn't really strike us exceptionally better than most other kit pumps. Being a single chamber it's not going to be as efficient as the iRocker or Red Paddle Co Titan. It gets the job done sufficiently. However, we want to HIGHLY recommend upgrading to an electric pump (our current favorite is the iRocker one here) as this will have a direct impact on your enjoyment of the board. The less work it takes to get up to pressure the more energy you will have to enjoy your paddlesports activities.
Backpack: 9.2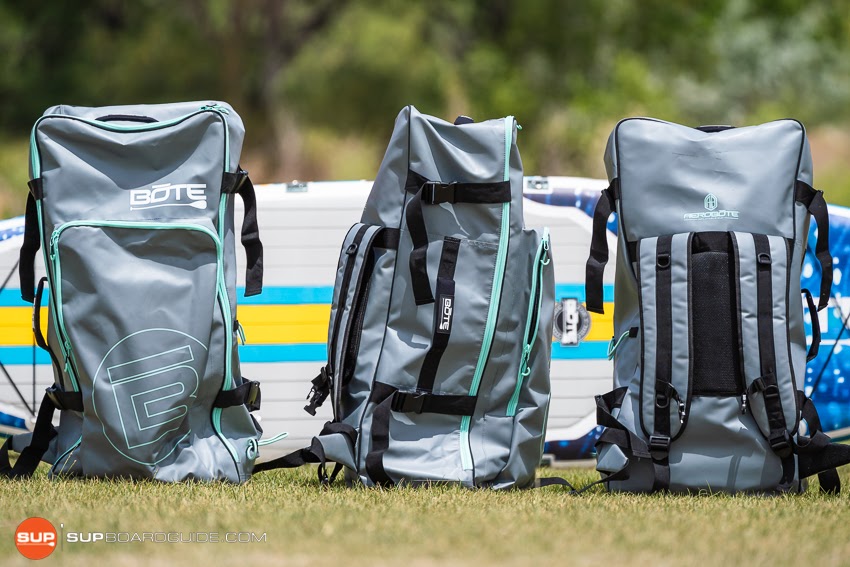 BŌTE includes a very nice bag with this kit. It's made with high quality materials, and should last a very long time (we'll update you after a year of use). It does a great job of holding all the kit equipment and feels relatively comfortable on your back.
Considering the newest crop of iSUP bags includes wheels, we would recommend BŌTE follow suit. Wheels just make it easier to transport the board, which can be a nice thing on heavier boards such as the HD Aero. We would also like to see a few more pockets, mesh or not, for some additional gear on this bag as well. As far as quality goes, however, we are more than impressed with this bag and it's heavy duty zippers.
Optional Accessories
BŌTE does an excellent job of providing useful accessories to tailor your paddling experience however you'd like. Following them back a few years, they are clearly cemented in the SUP Fishing segment, so you can't go wrong with most any of those items for sure.
Where this reviewer thinks BŌTE excels however, is their long list of accessories aimed at solving real world problems faced by SUP owners in general. Board a bit heavy to carry? They have an amazing travel link system! Can't quite find a good cooler for your trip? They created their very own Kula line of coolers that work directly with their rack systems. Simply put, this is a company that uses their gear in the field and is constantly looking to improve the on board experience. Some of our favorites are:
Travelink carry sling
Bucket rack
Kula cooler
Tackle rack
Summary Review of the BŌTE HD Aero (2023 model)
BŌTE makes quality boards and iSUPs. The HD Aero is no exception. It's durable, stable, and comes packed with features and accessories for the price. We really like BŌTE's attention to detail in the board construction, these boards really look excellent and they have several color options for most any taste. The fishing SUP pedigree is there, but that doesn't relegate this board to only those looking for fishing iSUPs. It really does perform well in the all around category and should be a serious contender for anybody looking for a high quality board with tons of available accessories. Personally we are looking forward to reviewing the rest of the BŌTE lineup!
As always, have a great time on the water, no matter what board you choose. If you have any questions or comments about this review or feel we missed anything please let us know in the comments below! See you out on the water!
The following two tabs change content below.
SupBoardGuide Editorial Team
At SupBoardGuide.com we are a team who love the water, the outdoors, and are more than grateful that our full-time job allows us to review stand up paddle boards. We paddle year round (it helps that we are just about 2 hours outside of Las Vegas), and we bring in a wide range of paddlers with the goal of providing our readers with the best, most in-depth, and accurate stand up paddle board reviews.
Latest posts by SupBoardGuide Editorial Team (see all)