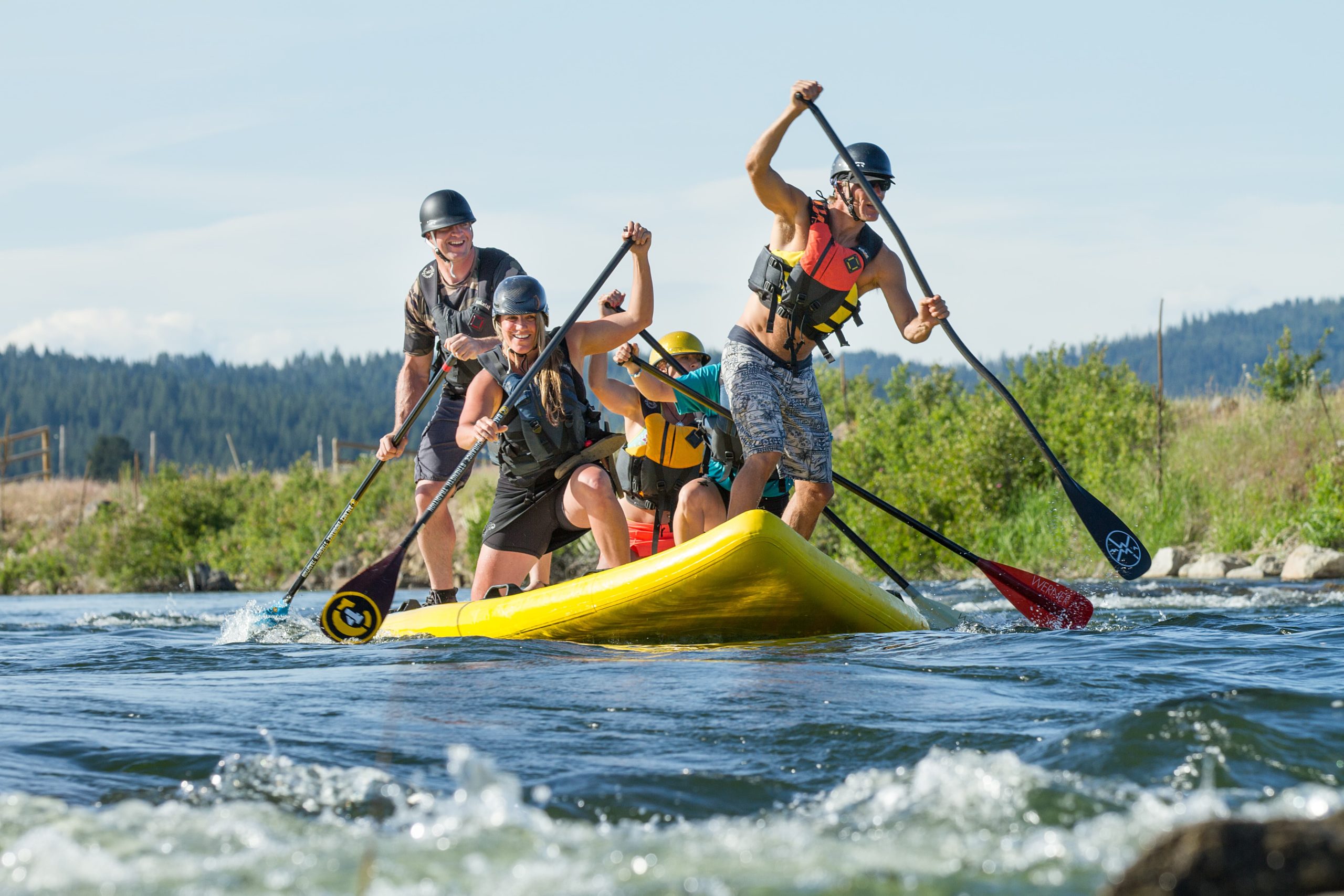 When it comes to paddleboarding with all of your friends having a good time, multi person SUPs are the way to go. Whereas as most traditional paddleboards can fit one to two adult paddlers, multi-person party SUPs are meant to support more than three adults at the same time. There are some multi-person paddleboards that can even support nearly 1,500 lbs! While not very common or popular, these multi-person paddleboards are a ton of fun to go out on with a group, whether it is a family or friends wanting to have a party on the water.
However, even though there aren't a lot of them, multi-person paddleboards tend to be very expensive, and some brands and models are definitely better than others. As they aren't very popular yet, it can also be difficult to research and find out what are some of the top multi-person SUPS, especially as some sites rank based on the specs alone. That's why we're here to help, with our list of the top multi-person SUPs here at SUPBoardGuide.com! While price is very important, we also rank and evaluate paddleboards based on their dimensions, construction, deck pad, handles, and other important features that you'll want in a quality multi-person SUP.
Beyond the equipment, there's a lot more you'll want to know when it comes to multi-person paddleboards. After our list of top SUPs, you'll find tips and tricks that will help you make the most of your multi-person SUP, along with a buyer's guide that will explain our rankings and help you make informed decisions as you shop around. With that in mind, we hope our list of favorite multi-person party SUPs will help you find the perfect SUP for you to go out on with your friends.
Welcome to the 2021 Best Bulti-Person (3+ Group) Party SUPs!
What Makes A Great Multi-Person/Party Stand Up Paddle Board (SUP)?
When it comes to multi-person paddleboards, the most important thing to be aware of is that they are meant for fun, not competitions. If you are looking for a paddleboard that you can use with a partner for a race or touring adventure, you'll want a tandem paddleboard, not a multi-person SUP. Don't expect to go fast or to be able to maneuver well with a multi-person SUP as given how many paddlers you'll have, you'll rarely be able to maintain a steady track in the water either.
So what should you look for in a multi-person SUP? Stability is the most important performance factor, and perhaps the only performance consideration you'll want to make when it comes to having a multi-person SUP on the water. The other major considerations you'll want to make tends to be the features and design of the board, rather than the actual performance of it in the water. As you'll have multiple people on the board, probably for long periods of time, having plenty of comfortable deck space is another major consideration. Multiple carry handles, in order to easily lift and carry the SUP around, will greatly impact how much you enjoy actually transporting the SUP around. How many pumps and inflation valves you have to work with, how many paddles that come with the SUP, the fin setup, besides attachment points also matter when it comes to price and overall quality of the multi-person SUP.
While there are many different factors to consider when it comes to a multi-person SUP, you are a bit limited by the choices that you have. Not only are there a limited number of multi-person SUP models currently available compared to more traditional paddleboards, but there are very, very few epoxy hardboard options you can purchase currently. Inflatable paddleboards are far more stable and offer much greater weight support than epoxy SUPs, with epoxy paddleboards more focused on performance than supporting multiple riders. As such, while they are out there, we highly recommend sticking to inflatable multi-person paddleboards until epoxy multi-person paddleboards are improved.
Common Question: What is the difference between a Multi-Person SUP and a Multi-Person Dock?
Multi-person SUPs and docks are very similar, but there are a couple of key differences that separate them to the point that we don't put them on the same list. The major reasons are as follows:
Reason #1: Different Construction:
Multi-person paddleboards, at least those on our list, are made with the same tough, resilient construction that makes them very hard to damage and break thanks to the drop stitch core and PVC composite layering. Multi-person inflatable docks are not constructed to the same degree, and are much easier to damage and puncture. The difference in the prices of multi-person SUPs and docks is primarily because paddleboards are far sturdier than docks.
Reason #2: Different Shape:
While paddleboards do vary in size, their shapes are typically similar enough so that you can have a somewhat similar paddling experience no matter which paddleboard you use. On the other hand, the squared off rafts, docks, and floats of inflatable docks vary greatly from one another, besides offering a completely different performance compared to inflatable SUPs.
Reason #3: You Can't Paddle with Most Docks: While there are a few docks that come with paddles, the majority of inflatable docks typically either don't have a paddle or don't work well with paddles. Stand up paddleboarding has the sport as part of its name, in that you need a paddle in order to SUP! Because of how different SUPs are from inflatable multi-person docks, we've decided to leave them off our list, though you can expect to find our top recommended inflatable multi-person docks in another article.
With that in mind, here is our list of top inflatable multi-person (3+) party SUPs for 2021:
Best Inflatable Affordable SUPS
1. Bluefin 18' Mammoth
2. Red Paddle Co 17' XL Ride
3. Isle Megalodon 12'
4. Peak Titan 12'
5. Body Glove Crusader 15'
---
1. Bluefin 18' Mammoth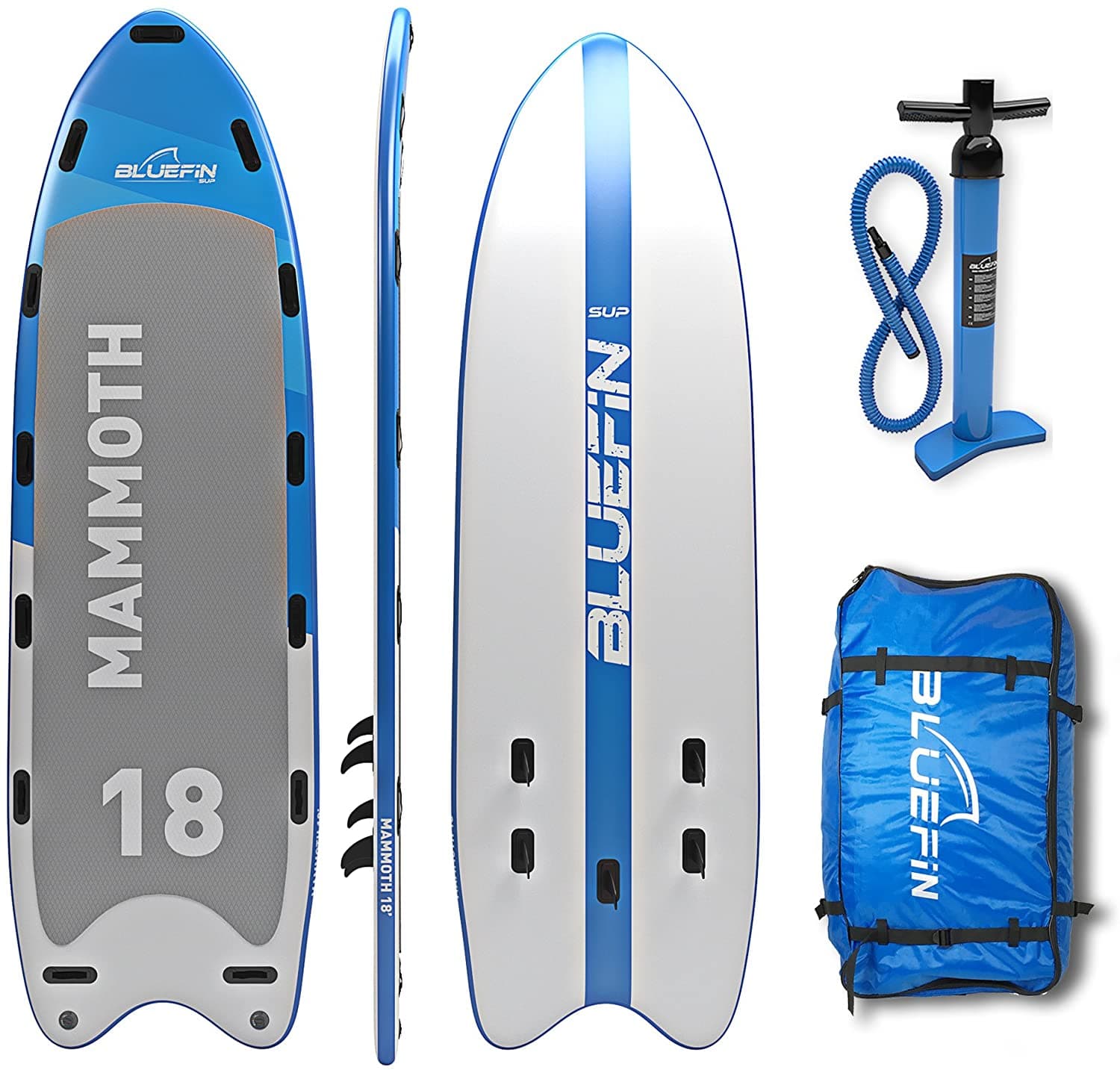 Bluefin 18' MammothSee Best Price & Customer Reviews
The Bluefin 18' Mammoth is our favorite multi-person paddle board, and one that offers a surprising amount of support and performance despite its overwhelming size. This paddleboard is 18' long, with a 60'' wide deck supported by 6'' thickness. Due to its massive size, this paddleboard can support up to ten adults at the same time and still float in the water, making it one of the best options for those looking to go out with a large group of their friends.
The Bluefin 18' Mammoth is a great recommendation for a number of other side features as well, a few of which won't be found on other paddleboards on our list. The soft and cushy deck pad is very comfortable to stand on, while also providing solid grip support so that you won't tumble into your friends when you hit the occasional rough patch. There are thirteen carry handles to transport the paddleboard, and at 60 lbs it's one of the lighter SUP options on our list. With five tracking fins, you'll also be able to maintain a straight and steady line in the water far better than many other multi-person SUPs, especially due to the 18' total length.
The Bluefin 18' Mammoth is a multi-person paddleboard that you can have fun on with your friends while still getting good performance from the paddleboarding side of things. Available for $899, this is also one of the more affordable multi-person paddleboards, and our number one recommendation for 3+ group SUPs!
Pros
Ultra stable, large multi-person SUP with a 1,400+ lbs recommended weight capacity.
18' length provides solid tracking, especially for a multi-person SUP.
Same triple-layer PVC construction as other Bluefin boards. One of the most durable paddleboards on the market, and extremely durable for a multi-person SUP.
60 lbs weight and 13 carry handles. One of the lighter and easier multi-person paddleboards to transport.
Expansive deck pad that is very soft, fuzzy, cozy to stand on. Built to dry quickly, and to protect against skin irritation.
5 removable tracking fins that further improve handling, stability, and overall performance.
Ultra large SUP backpack, very easy to pack away the 18' Mammoth.
Fiberglass paddle.
Cons
Included single-chamber pump is slow, inefficient at inflating the paddleboard.
---
2. Red Paddle Co 17' XL Ride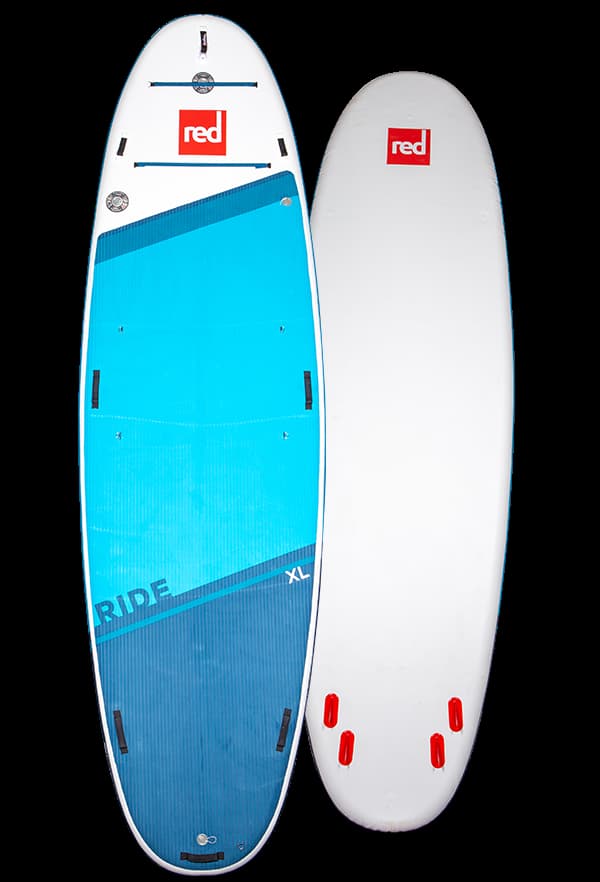 While you don't necessarily buy a multi-person inflatable SUP for great performance, there is an option for those who want to go out with several friends while still having a traditional paddling experience. For those who want the very best multi-person SUP, we would recommend the 17' long Red Paddle Co XL Ride. 8'' thick and 60'' wide, you can expect solid stability, maneuverability, adn tracking even as you load up the paddleboard with up to eight passengers. While it is a better SUP than the SUP 18'' Mammoth, be aware that this paddleboard does cost $3,300 dollars, which is why it takes the second spot on our list.
Now, if the price tag doesn't turn you off, there are a number of reasons and features which will make you love the RPC 17' XL Ride. This paddleboard has eight carry handles, which allows a group of friends to carry the 64.02 lbs paddleboard without over littering the deck space. The traction pad covers everything but the nose of the SUP, giving paddlers the space they'll want to spread out even while they paddle with each other. There are cargo straps on the nose, which you can use to secure a cooler or other medium sized container, or is a great place to strap your pet into. If you have accessories you want to bring along, there are six rigging points that you can clip or tie your add-ons to. Lastly, all four fins are made out of permanent molded plastic, and while they limit fin customization it does mean you can go out anywhere without having to waste your time setting your fins up.
It's a very expensive price tag, but if you do want the best multi-person SUP on the market, the Red Paddle Co 17' XL Ride is the SUP for you.
Pros
Very stable SUP platform that supports up to 8 paddlers at the same time.
Great overall board design, impressive performance despite being a multi-person SUP.
MSL construction is extremely durable. You can run over a MSL Red Paddle Co SUP with a 22 ton road roller and fail to break the paddleboard.
64 lbs weight and 8 carry handles. Easy to carry, while also feeling solid and rigid in the water.
Extended deck pad that covers everything but the nose of the paddleboard. Plenty of space for friends and family to spread out on while on the water.
4 permanent molded plastic river fins, improve handling/tracking and also ensure you can take the XL Ride anywhere. Easy to restore if they ever get bent out of shape.
6 rigging points for attaching clip-on bags and other accessories. Two cargo straps will help you secure a pet, or give you a place to put a lunch box, cooler, or container.
Cons
The $3,300 price tag is very high, and definitely too much for all but the most serious and dedicated paddler.
Included single-chamber pump is small, not well suited for inflating this large paddle board.
No included paddle.
No included travel bag.
---
3. Isle Megalodon 12'(Read Full Review)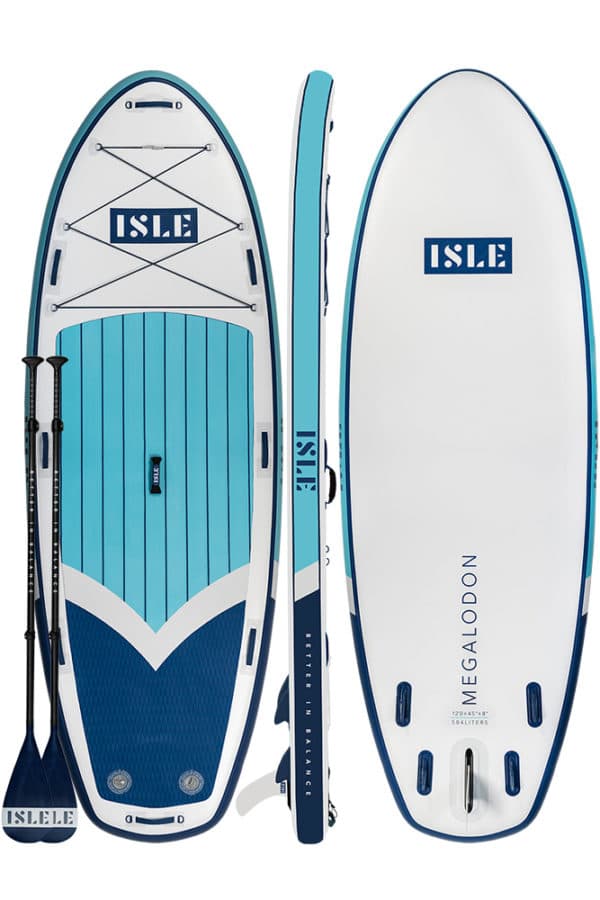 The Isle Megalodon is a smaller, more compact paddleboard that isn't meant for groups as large as the two SUPs listed above. This paddleboard is only 12' long, with a 8'' thickness and 45'' width, having a total recommended beginner weight capacity of 450 lbs. While this paddleboard can support more than that, this is our best option if you're interested in something that is just meant for 4 to 5 paddlers instead of 8 to 10.
Why else might you want to consider the Isle Megalodon 12'? The traction pad is made with EVA foam and offers a grooved pattern, providing excellent grip support, especially as you move to the diamond grooved tail section. The eight grab handles make it easier to lift this paddleboard, and as it weighs just 34 lbs it weighs less than some solo paddleboards out there on the market.The six point D-ring and nose bungee cargo area are very well suited for bring out accessories and add-ons, besides having a place to secure seats or a pet to when you head out. Lastly, this paddleboard kit comes with two paddles, a touring center fin, and two manual pumps, ensuring that you have everything you need to efficiently get to the water out of the box.
If you are hoping to save a bit of money, and prefer a lighter, smaller multi-person SUP, we would recommend going out on the 12' Isle Megalodon SUP!
Pros
Smaller, but still very stable multi-person SUP that can comfortably support 3-4 paddlers at the same time.
Shorter, thinner design makes it far easier to handle, and makes it faster in the water.
ISLE has made the Megalodon with the same Airtech Fusion Lite technology as their other paddleboards. Lightweight, but also very durable as well!
34 lbs weight and 8 carry handles. Very easy to carry with multiple people, and lighter than some solo paddleboards available on the market!
Hybrid EVA foam line/diamond grooved deck pad. Great traction support, even though it's a multi-person SUP.
4 permanent molded plastic river fins, and US center fin box with nylon touring fin. Good fin combination, more fin customization than you tend to see on a multi-person SUP.
6 D-rings and removable bungee cargo area on the nose. Bring along dry-bags, coolers, cell phone cases, and other popular SUP accessories!
2 adjustable 3-piece carbon fiber paddles.
2 manual SUP hand pumps.
Fantastic value at $995. Also, 60-day guarantee, free shipping, and up to 12 month financing options.
Cons
Smaller size means that you can't go out with more than 3 to 4 paddlers at a time.
The paddleboard can have major performance issues in moderate conditions, even with just 3 people onboard.
---
4. Peak Titan 12'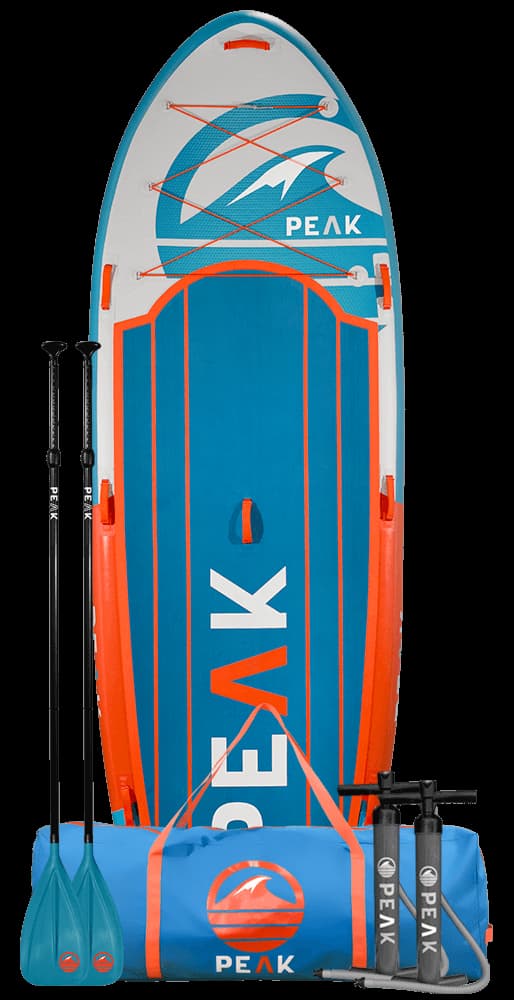 The Peak Titan 12' is very similar to the Isle Megalodon in terms of shape and performance. This is a 12' paddleboard, with a 45'' wide deck and 8'' overall thickness, though due to construction and design differences can support a bit more weight at 500 lbs at the expense of some other features. However, these two paddleboards offer very similar performance, and as they are the same price it will ultimately come down to which design you like more.
That being said, there's a couple of other features that may make you pick one paddleboard over the other. The very smooth deck pad is very comfortable to sit and stand on, though it has limited grip support to help you stay on as you hit less than perfect water conditions. There are four permanent molded plastic fins, with a snap-lock center fin that is easier to install than a US fin box, though is more limited in fin customization overall for it. This paddleboard does have nine carry handles, and also comes with two paddles, two manual pumps, and a roomy travel bag to put it all in.
If you prefer a paddleboard that can support a bit more weight, though having a more limited deck pad and fin options, you may want to go with the Peak Titan 12' as your Multi-Person party SUP.
Pros
Stable multi-person SUP that has a recommended weight capacity of 500 lbs. Able to comfortably support 4 to 6 paddlers with little performance loss.
12' length and thinner, 45'' wide deck provides better handling and speed at the expense of stability.
Military grade PVC construction is durable, while also helps the paddleboard stay lightweight and easy to carry.
34 lbs weight and 9 carry handles. Even two people can easily transport the Peak Titan to the water!
EVA foam deck pad that is very smooth and comfortable to be on. Sit, stand, or sunbathe on the extra large deck pad without worry about blisters or irritating your skin.
4 permanent molded plastic river fins, and US center snap-lock fin. You can install the center fin in seconds, helping you get to the water quicker.
6 D-rings and removable bungee cargo area on the nose. Easy to clip on cell phone cases, dry bags, coolers, and other accessories to the paddleboard.
2 adjustable 3-piece carbon fiber paddles.
2 manual SUP hand pumps.
Fantastic value at $995. Also, 60-day guarantee, free shipping, and up to 12 month financing options.
Cons
Deck pad has minimal traction support, can get slippery and easy to fall off of in moderate conditions.
Snap-lock fin is easier to install, but limited in performance and customization compared to a US center fin box.
Solid value, but feature wise it isn't as good as the very similar ISLE Megalodon, which is available for the same price.
---
5. Body Glove Crusader 15'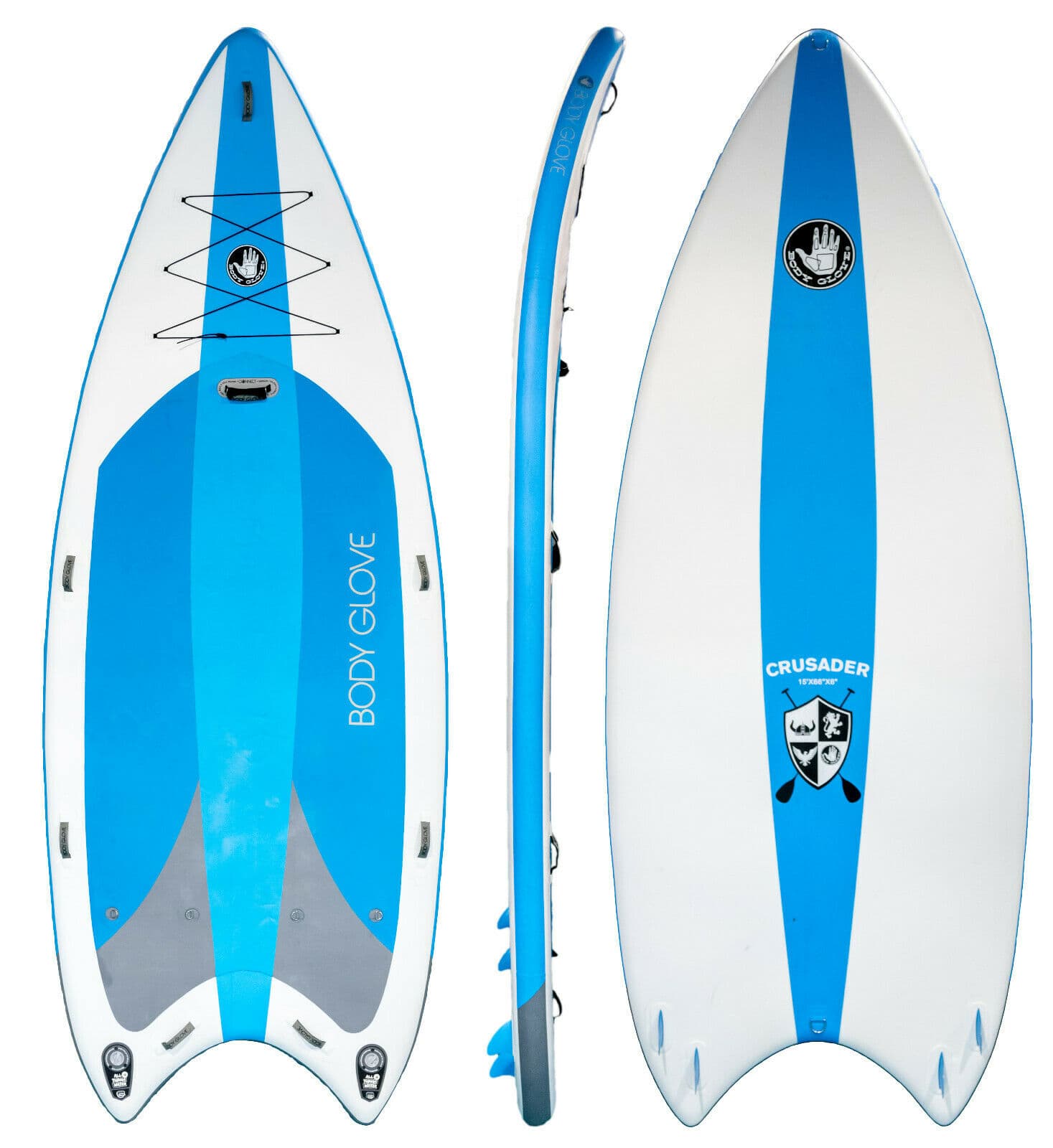 The Body Glove Crusader 15' is a good hybrid paddleboard that balances having fantastic stability to support more than five people without sacrificing too much performance. This SUP is 15' long, and is the widest SUP on our list at 66'', with a 6'' thickness to provide good support and steady control in the water. There are a number of cool features that you can read about that do make it stand out, but at $2,000 dollars it is a bit difficult to recommend, especially as it's only slightly better than the more affordable Bluefin 18' Mammoth.
You do get alot for your money, including two manual hand pumps and four adjustable three-piece paddles. There are just seven carry handles, which does make it a bit tricky since this is the heavy paddleboard on our list at 80 lbs. However, this is also one of the most durable SUPs as well, and you'll find it extremely difficult to damage due to the triple-layer construction and double reincored side rails. If you want to bring extra gear and cargo along as well, this paddleboard does have twelve D-rings, along with a removable nose bungee cargo area.
While very expensive, if you want something with solid performance though not quite as long as the Bluefin 18′ Mammoth, we would suggest considering the Body Glove 16' Crusader.
Pros
Very stable, 1,000 lbs recommended weight capacity multi-person SUP. Easily able to support 4 to 6 paddlers at once, and more with minimal performance loss.
Widest SUP at 66'', but a bit shorter than some party SUPs at 16' length. A solid, balanced design that doesn't sacrifice too much performance.
Extremely durable paddleboard with triple-layer construction and double-layered reinforced side rails. Among the most durable on our list.
EVA foam deck pad that is smooth, stretches out to cover more than two thirds of the paddleboard. Plenty of space for friends to spread out and paddle on the Crusader.
Four permanent molded plastic fins. Improve performance, and ensure you can use this SUP almost anywhere without dragging along the ground.
Removable nose bungee cargo area and 12 D-rings. The most accessory compatible multi-person SUP on our list.
4 adjustable 3-piece paddles. Fantastic inclusion that ensures groups can paddle together out of the box.
2 manual SUP hand pumps.
Extra-large carry bag.
Fantastic value at $995. Also, 60-day guarantee, free shipping, and up to 12 month financing options.
Cons
Very expensive at $2,000 dollars. Dedicated, performance focused paddleboarders only.
80 lbs weight and 7 carry handles. Can be difficult to carry even by even 3 people working together. Recommended for larger groups only.
---
Multi-Person Party SUP Buying Guide:
The above listed SUPs are some of our favorite multi-person party paddleboards, but if you get a good offer on something that isn't on our list it might be worth considering too. There will also be new paddleboards coming out throughout the year, SUPs that you might want to buy before we have the chance to review them. As such, we've developed this buying guide of the top factors you'll want to consider before purchasing a stand-up paddleboard. Some of the most important characteristics you'll want to consider for a multi-person party SUP include:
Stability. Stability is a very important factor to consider for all paddleboards, and it is the most vital factor when it comes to multi-person group SUPs. The paddleboard's stability refers to how well it can support people who are standing on it while the paddleboard is in the water. Inflatables are typically far more stable than epoxy SUPs, which is another reason why we've recommended only inflatable group SUPs. While the stability of a board varies due to many different factors, as a general rule the recommended weight capacity will give you a very good idea of what the stability is. The more weight capacity, and the larger the paddleboard is, the more stable it should be overall.
Deckpad. Generally, the deckpad is just a small consideration when it comes to the overall features and design, but it is very important when analyzing a group-SUP. As you're going to have three people or more on your paddleboard, you want space to spread out so you don't feel cramped together. Party SUPs are generally for sitting, sunbathing, or for having fun with friends, so a comfortable deck pad matters more than something that prioritizes grip and traction support. Deckpads vary in size, the more the deck pad covers, the more comfortable and well suited the SUP is for multiple paddlers.
Carry Handles. Even the lightest multi-person SUPs weigh more than 30 lbs, with many being in the 60+ lbs range. As you're already going out with a group of friends, having good carry handles that makes it easy for everyone to lift and carry the paddleboard to the water is important. Carry handle positioning is also another factor, as too many handles or handles in the wrong place will make it less enjoyable to be on the paddleboard.
Paddles and Pumps. Even the smallest multi-person paddleboards can be difficult to pump up, so we prefer to look for paddleboard kits that have multiple pumps to make it quicker and easier. You're going to have multiple paddlers on the SUP as well, so kits that have multiple paddles also rank higher in terms of our personal ranking. Additional pumps and paddles can cost over $100 dollars each, so an inexpensive kit that doesn't have extra paddles or pumps can be a bit deceiving in how much you really pay.
Construction. Due to their large size, most multi-person paddleboards tend to be built very durable, as you need the structural strength to support multiple paddlers at the same time. However, there is a difference between boards, and that difference can result in not just different performance, but differences in overall durability. Paddleboards that have better construction and durability tend to weigh more, but they also last longer and tend to support more paddlers at the same time as well.
Key Features. Are there D-rings or tether points on the paddleboard? What kind of protection and warranties does it have? Are the fins all permanent, or can you change out the fin setup? Are there bungee cords to help strap coolers, lunch boxes, and other containers down? Sometimes, the difference between boards might not be just the design, but come down to the key features that are also incorporated into the SUP.
Overall value. Due to the limited number of models, along with their large size, multi-person paddleboards tend to be more expensive than traditional paddleboards. While there are a couple, most multi-person party SUPs tend to cost more than $1,000 dollars, with many even costing more than $2,000 or $3,000 dollars. Finding a great, quality multi-person SUP while also saving money, especially since it likely won't be your main, dedicated paddleboard, is an important balance to look for while shopping!
Important Tips for Multi-Person Party SUPs:
Multi-person paddleboards are meant for goofing off and having fun rather than trying to improve your skills and become a master paddleboarder, so there aren't a ton of tips you need to be aware of. However, there are a few things that beginners, especially first time paddlers, will want to know before they go out for the best SUPing experience. In order to make the most of the water, and stay safe while you're paddling, be aware of these suggestions!
Make sure you are using your pump correctly. Inflatable paddleboards are pretty easy to inflate, so even first time paddlers tend to figure out how to pump up their SUPs pretty quickly. However, while smaller paddleboards typically take about 10 to 15 minutes, larger paddleboards can take 25 to 30 minutes, if not longer, for solo or even group paddlers. So, as you're pumping up your paddleboard, make sure that you are in the right action modes, switching over to higher settings as you find it harder and harder to inflate. Furthermore, make sure you are pumping with your legs rather than your arms, as it will save you time, energy, and from experiencing any back pain once you get out on the water. Lastly, if you are with friends, make sure you alternate every 5 or so minutes in order to stay efficient. If you have to pump up a paddleboard alone, take your time inflating your SUP, as you'll enjoy the water more if you aren't on the point of exhaustion even if it does take longer.
Remember to coordinate with your other paddlers. While everyone on the paddleboard might not have a paddle, those who do will want to have the correct positioning in order to propel you through the water. If you want to go in a straight line, make sure you evenly distribute paddlers so that there's an even number of paddles on both sides as you go through the water. If you want to change direction or course correct, move all of your paddlers to the side of the board that you want to turn into. Lastly, while you'll want to try them for fun, we would not recommend trying to perform advanced paddling maneuvers with multiple paddlers on board. Outside of crashing your gear into each other, you will fall off and get wet, though given how many paddlers will be on your deck that should be in your plans anyway!
Know the water conditions before you head out. Multi-person SUPs tend to handle rough water conditions better than most paddleboards, but you'll still want to know the weather and water conditions before you go out. Because you're likely going to fall off, knowing the parts of the lake or bay that are shallow are important so that you can avoid injury while you're hanging out with your friends. Additionally, while wind tends not to affect multi-person paddleboards too much in terms of performance, multi-person paddleboards are not built to handle moderate to severe chop and waves. We highly suggest sticking to calmer, flatwater conditions for multi-person paddleboards for casual SUPing experiences.
Make sure everyone is wearing a PFD. Eventually, you're going to fall off of the multi-person SUP, so make sure everyone is wearing a PFD when going out, even in shallow water. There are many looser, less restrictive PFDs on the market now, including belts that you'll hardly even notice that you're wearing. While it might not seem as cool, PFDs are even more important for multi-person paddleboards as they're meant for rough housing, which can lead to accidents. Furthermore, most paddlers tend not to wear leashes for multi-person SUPs, as they tend to get tangled and trip over paddlers as they walk around the paddleboard. If you want to truly stay safe, make sure you are wearing a PFD before you go out paddleboarding!
Bring your friends, and remember to have fun! Multi-person paddleboards are meant to be enjoyed with friends, so make sure to invite as many as you can when you head out! While we have listed some basic recommended weight capacity ratings above, part of the fun is trying to see how many people you can stick on a paddleboard before you sink and capsize it. Trying to knock or bump other people off the paddleboard is one game you can play, or just relaxing and chilling on the water with friends is a great option as well. These paddleboards are large and bulky because they're meant to be enjoyed by multiple people, so invite as many as you can to go out with you if you have a multi-person SUP!
Conclusion: The Group Paddleboard Option!
If you have a group of people, it can be very difficult to transport (and very expensive as well!) to have everyone on their own individual paddleboard. You also might not be interested in touring, racing, or engaging in other dedicated SUP sports, and are hoping just to hang out with some of your friends. If that's the case, a multi-person party SUP is the paddleboard you'll want to consider! While they might not offer great performance, they pave plenty of deck space and weight support to allow 3+ people, and in some cases 10+ paddlers, to ride on the same SUP. If you have a group that wants to hang out together, then a multi-person paddleboard is definitely a great option to consider!
Thank you so much for visiting our top recommended multi-person paddleboard list and guide! If you would like to know more about our paddleboard recommendations, or have a question about paddleboards in general, be sure to reach out to use! You can leave a comment below if you have a question you think others might have as well, or reach out to us by email if it's something you want to ask privately. While you're here though, be sure to check out our individual paddleboard reviews of the latest, most popular SUPs, or visit our other top board lists or informational guides to learn about touring SUPs, yoga SUPs, and more. We also have a SUPBoardGuide.com Youtube channel, where we are doing deep dives into some of the top SUPs hitting the market.
So thank you again for reading! We hope you stay safe and have plenty of fun with your friends on your next multi-person paddleboarding adventure!
The following two tabs change content below.
SupBoardGuide
Heyo! At SupBoardGuide.com we are a team who love the water, the outdoors, and are more than grateful that our full-time job allows us to review stand up paddle boards. We paddle year round (it helps that we are just about 2 hours outside of Las Vegas), and we bring in a wide range of paddlers with the goal of providing our readers with the best, most in-depth, and accurate stand up paddle board reviews.
Latest posts by SupBoardGuide (see all)