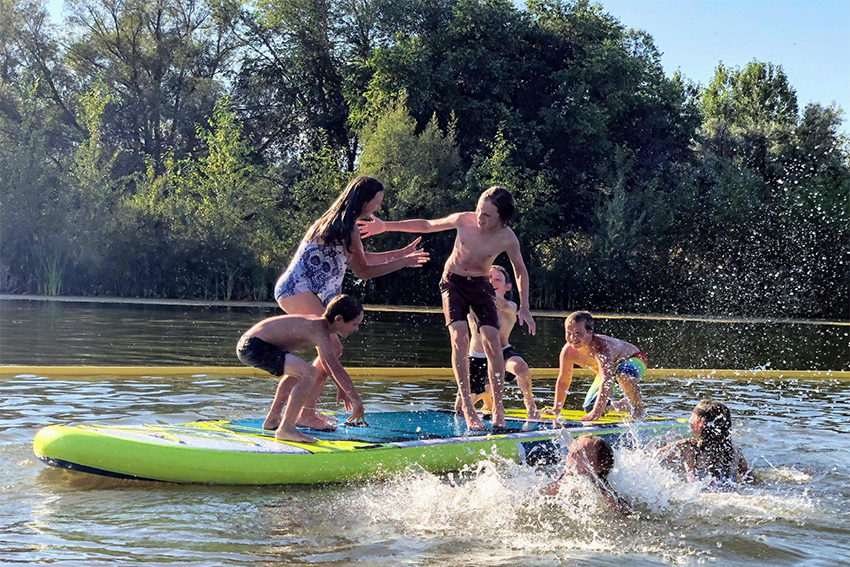 If you're looking to paddleboard with a group of friends or family and don't want the added hassle of loading up 8-10 separate boards in the truck, multi-person SUPs are the way to go. These boards are made to support at least 3 adults, with some even being able to support 8-10 riders with a nearly 1,500lb weight capacity.
While multi-person SUPs are loads of fun on the water, searching for the right one to fit your preferences can be a bit of a challenge. Here at SupBoardguide, our goal is to walk you through our list of the top multi-person party SUPs currently on the market. Over the course of this post, we will cover each board's specs and get into some of the features that set brands and models apart to help you make an educated purchase, as it can be a considerable investment. We also want to note that because the purpose of multi-person party SUPs is more about fun than actual performance, this article will have less focus on board construction and other performance based characteristics such as tracking and glide than our other posts.
With our goals in mind, let's dive into our list of Best Multi-Person / Party SUPs for 2022.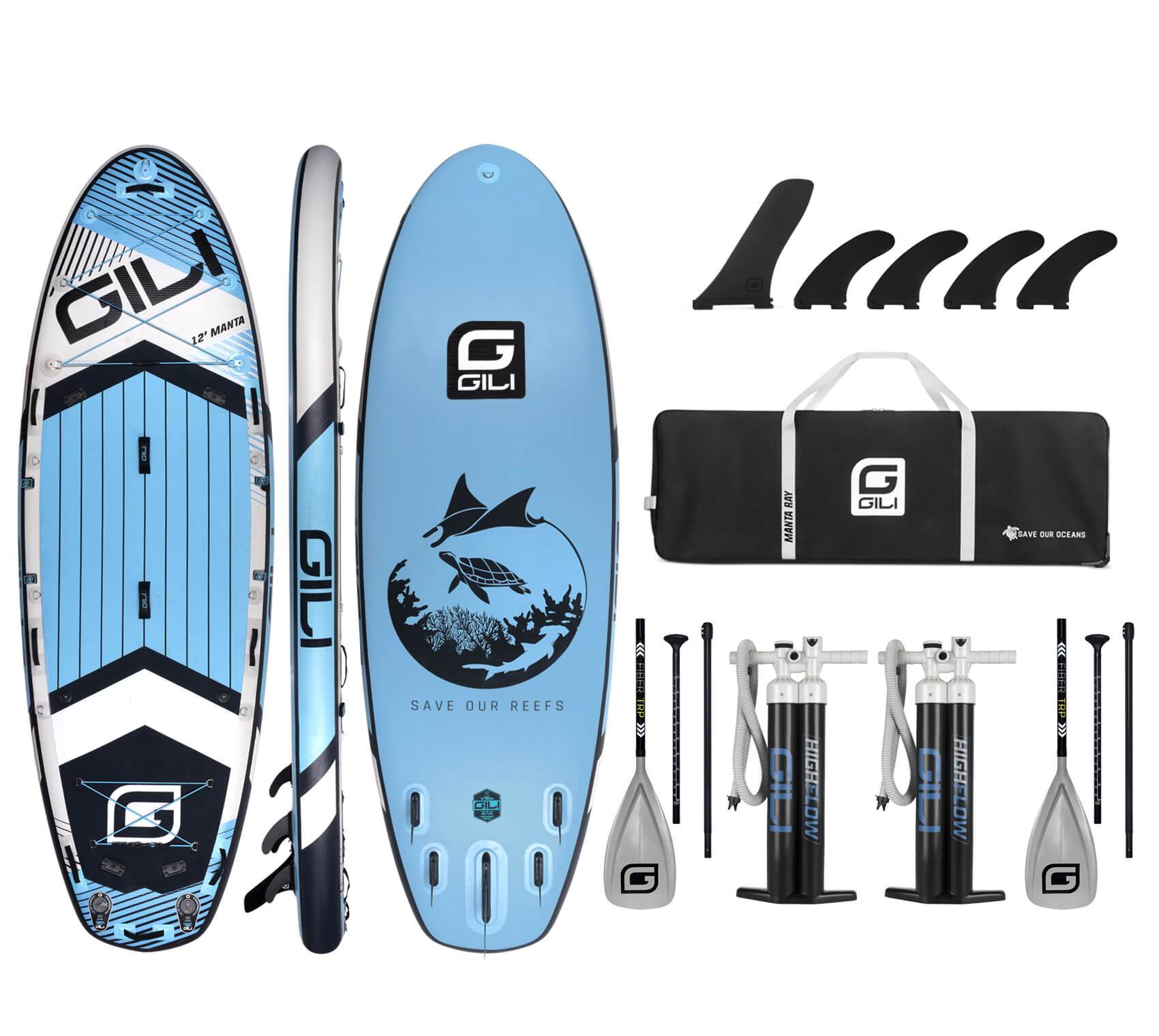 Gili's 15' Manta Ray takes the top spot on our list. This board is 15' long, 56" wide, 8" thick, has a weight capacity of 1150lbs, or 4-6 adults, and weighs just 52lbs making it a super stable yet lightweight option for those looking to have a blast on the water. In addition to the board, this kit comes with a rolling duffle bag, 2 travel paddles, 2 dual chamber hand pumps, a 9" snap-in race fin, 4 snap-in side fins, and a repair kit, all for a lower range price.
As far as features go, the Manta Ray just about has it all. Your group can work together carrying and launching this board using its 6 carry handles distributed along the sides, nose, and tail of the board. Gili's grooved deck pad should keep everyone comfortable and give you some added traction once on your way. This board also features 5 action mounts, 10 total D-rings, and dual paddle holders enabling you to easily store all of your gear during your ride.
Looking at the bottom of the board, the 5 fin set-up should aid a little bit in tracking, but as we've already said tracking tends to go by the wayside with multi-person SUPs. The main focus with the Manta Ray's fins is the convenience of snap-lock fins. Attaching and removing them is less complex than fins with a US fin box, and only slightly more complicated than the fixed flexi fins we find on the Isle Megalodon and some other party SUPs. On top of that, being able to remove all the fins makes it much easier to stack or roll up the board and allows you to easily pop the center-fin out if you're venturing into shallower water.
To recap, Gili's 15' Manta Ray ranks at the top of our list due to its stability under a larger weight capacity, and its abundance of features at a comparatively affordable price. It's important to note that this board also comes in a 12' option for those wanting to be able to paddle with a small group or by themselves at times.
Pros
Stable Party SUP for 4-6 adults
Tons of features (carry handles, action mounts, D-rings) – even has scotty mounts for fishing gear
Comfortable deck-pad
Inclusive kit (2 paddles, 2 pumps, variety of fins, a travel bag to carry it all)
Has a 12' option
Convenient snap-lock fin system
Cons
A full length deckpad would be appreciated for more standing room on such a stable board
---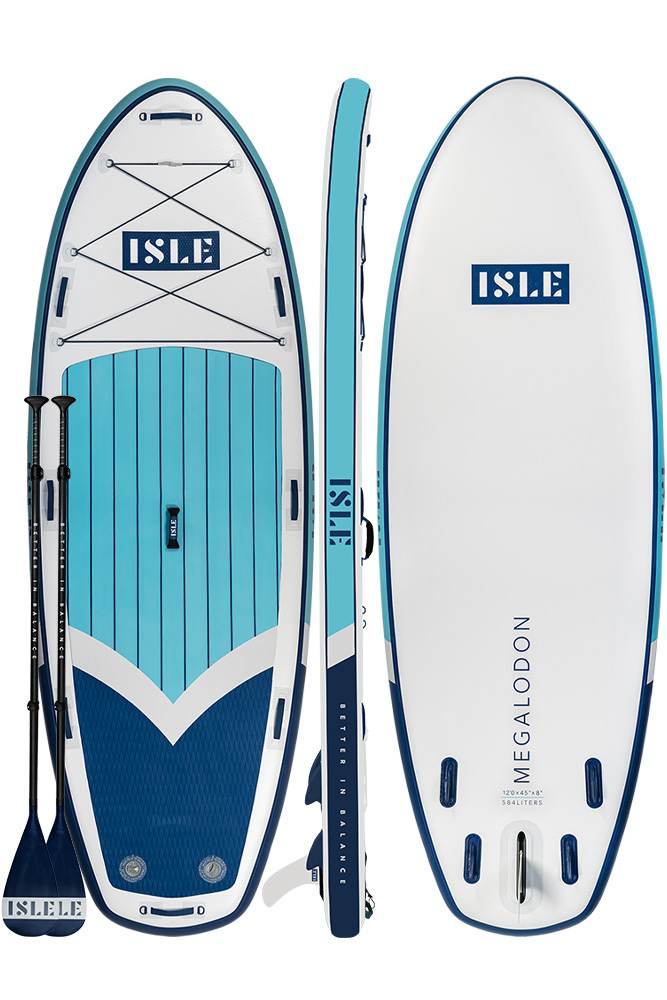 Second on our list of best party SUPs is the 15' Megalodon by Isle. This board sits at 15' long, 56" wide, and 8" thick, making it almost identical size wise to the Gili Manta Ray. However, when it comes to weight and weight capacity, the Megalodon comes in at 50lbs and is rated for 1,050lbs, or 4-5 adults, a bit less than the Manta Ray.
Where the two really start to differ is in the kit and the price. Included with the Megalodon are travel paddles, a nylon center fin, and a manual single chamber dual action pump for around $1,500. There is an option to purchase a roller duffle bag separately, but it is currently out of stock for the 15' board option. Though this price is still fairly average for party SUPs, we would have liked to see the roller bag included and a second pump to allow for two people to pump up the board at the same time.
The Megalodon compares similarly to the Gili Manta Ray when it comes to features as well. It has 6 carry handles along the sides, nose, and tail of the board to allow teamwork transporting the board into and out of the water. It also features a grooved deck pad for comfort and traction. The Megalodon offers a bit more standing room at the tail of the board, as it doesn't come with the extra D-rings and bungee cords you see on the tail of the Manta Ray. That's not to say that there's no storage space though, the 6 D-rings on the nose of the Megalodon should give you plenty of room for a cooler or two.
When it comes to fins, the Isle's Megalodon has a 5-fin set-up with 4 fixed side fins and a center fin with a US fin box. While the US fin box allows for much a wider variety of customization for your center fin, the fixed side fins pose a small challenge when stacking or rolling up your board.
Overall, if the Megalodon is in your price range it's a great choice for those looking for the extra space of a party SUP without needing to load down too much with gear or carry around larger groups of people. It could also be a good option if you have the space to store or transport the board without needing to roll it up to fit into a duffle bag.
Pros
Lightweight compared to other multi-person SUPs
Has a 12' option
Stable to bring friends and family along
A lot of storage space at the nose
Cons
Would like to see a more efficient pump included
Would appreciate if the roller bag was included in the with the board
Fixed fins pose a bit of a challenge when it comes to rolling up and storing the boards
---
=
Red Paddle Co. 17' Ride XL MSL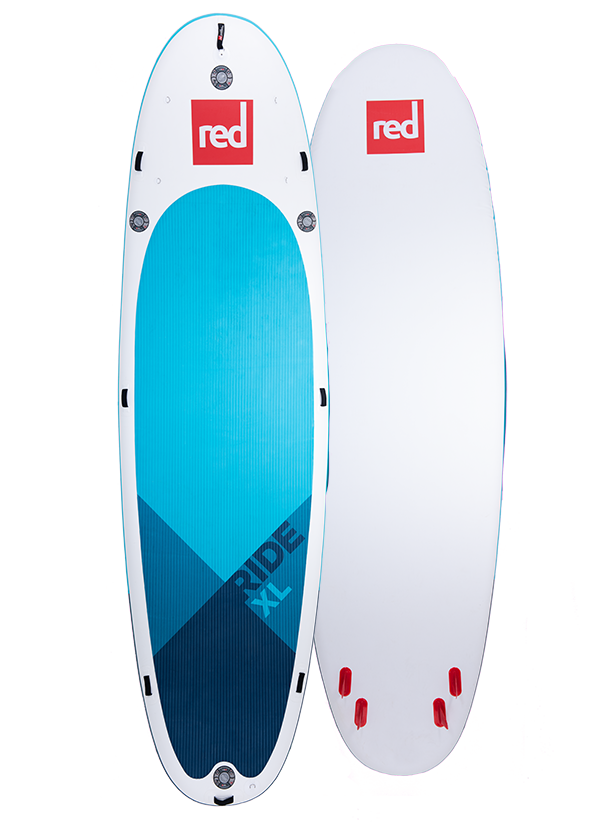 At number 3 on our list, Red Paddle Co.'s Ride XL MSL inflatable Paddle Board measures 17' long and 60" wide. At 64lbs, this board is rated for up to 8 riders. We have not been able to personally verify this yet, but at 17' long and 60" wide, 8 riders seems reasonable.
Included with the board, the kit contains an 8" coiled leash, a repair kit, a water-resistant phone case, and a single chamber pump. The main reason the 17' Ride XL does not rank higher on this list is due to its above average price point. At the price, I would have liked to see a paddle (or two) included along with their Titan II pump. However, this board is still a good option if you and your group already have your own paddles, a way to store and transport a board this size, and want a little more in performance than the average multi-person SUP.
As far as features go, the 17' Ride XL has 8 carry handles placed on the sides, nose, and tail of the board as we've seen with the other boards on this list to make moving this behemoth a bit more manageable. This board also sports an almost full length textured EVA deck pad to add a lot more traction and comfort. There are also 4 D-rings on the nose of the board that give you a smaller amount of storage space than we've seen so far on this list, but the trade-off is a little more standing room for 8 riders.
Looking at the fins, this board features Red Paddle Co.'s iFins in a 4 fixed fin set-up. Without the center fin, you should be able to paddle in shallower water or in rivers where you could run into some rocks. With river riding in mind, the fixed fin makes more sense as you eliminate the risk of losing them along the way, but you lose some ease of storage and transport.
Red Paddle Co.'s 17' Ride XL is a huge board that allows for a large number of riders. While being on the more expensive side, this board is a great option for a group of more advanced paddlers that want the fun of a multi-person SUP, without sacrificing as much in performance.
Pros
Higher quality construction giving us a more durable board that will last
Has a large weight capacity for added stability under larger groups
Improved performance compared to other multi-person SUPs
Cons
Above average price (though this is because of the construction quality)
We'd like to see more D-rings so you have to opton to bring gear
---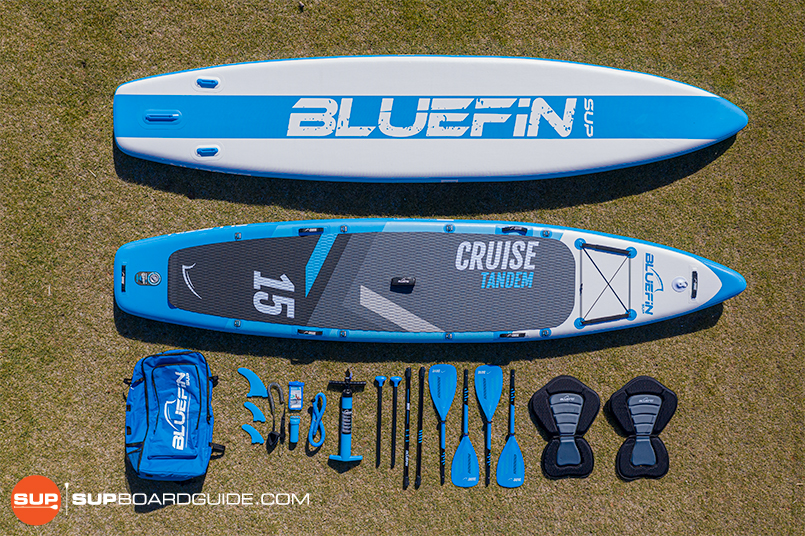 Before we get into the Bluefin Cruise 15' Tandem, I want to be clear that tandem boards are slightly different from your typical party SUP. The Bluefin Cruise tandem, and other tandem varieties, give you the option to paddle alone or with one or two other people when you want to without losing massively in performance and speed.
With that said, let's focus on the Bluefin Cruise 15' Tandem specifically. This board is 15' long, 36" wide, and about 6" thick, has a weight capacity of 540lbs and only weighs about 35lbs. The narrower design enables this board to be faster than a true party SUP, but still stable enough to carry 2 or 3 riders.
As always with Bluefin, this kit is pretty much all inclusive. Along with the board you are given 2 kayak seats, 3 snap-lock fins, a coiled leash, a single chamber dual action pump, 2 travel paddles, a waterproof phone case, a repair kit, and a high quality duffle bag to carry it all, though it's not easy to fit everything in the bag. At less than $1,000, this is an incredible deal.
The main reason this board is not ranked higher on the list is because it technically is not a multi-person party SUP, and is much better suited for 2 paddlers. We also would have liked to see a double chamber pump given the size of the board, but with its lower price, you might have a little wiggle room to invest in Bluefin's electric pump.
The Bluefin Cruise 15' Tandem also offers tons of features. The 8 handles on the nose, sides and tail make it easy for one or two people to transport this board to and from the water, while the center handle doubles as a paddle holder. The crocodile grooved diamond deck pad is a great balance between comfort and traction, and it also features a kick pad to help with quicker turns, which can be a challenge on a board this size. There are 14 D-rings located around the board for storage as well as kayak seat attachments on the sides, giving you a lot of options for cargo placement and some versatility in your water activities. There is also an action camera fixed mount on the nose of the board if you're interested in documenting your paddle adventures. Moving onto the fins, the 15' Cruise tandem has a 3 snap-lock fin set-up, which enables you to quickly pop out the center fin if you're entering shallower water and allows for easier storage.
This board offers so much for a low price. It's perfect for someone who wants the ability to switch between paddling with one or two others and paddling on their own without needing to buy more than one board or break the bank. Compared to true party SUPs, this board gives you a great combination of both single-paddler performance and multi-person fun.
Pros
Stable, well constructed board for an affordable price
Little sacrifice in performance while still being able to enjoy as a tandem SUP
Traction and comfort focused crocodile deck pad
All inclusive kit to get you started with all the right gear
Five year warranty that covers outside of normal wear and tear
Cons
Triple layer construction adds extra weight (this a personal preference if you want a more durable board)
Would have liked to see a dual chamber pump to make inflating the board easier
---
Red Paddle Co. Voyager 15' Tandem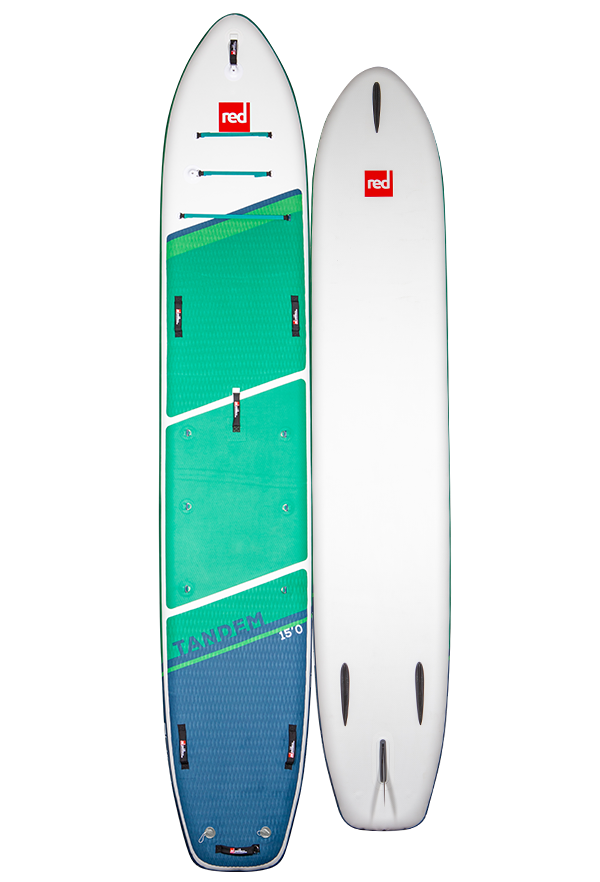 The last board on our list is the 15' Tandem Voyager by Red Paddle Co. At 15' long, 34" wide, 8" thick and just 38lbs. The voyager also features a displacement hull, the only board to do so on this list. With that said, I would expect the Voyager to be a bit faster than the Bluefin Tandem due to the hull and that 2" decrease in width without losing much stability, as its weight capacity is 700lbs.
Looking at specs alone, you may be asking yourself why the Voyager is not ranked higher than the Bluefin Tandem, as it appears to be the better performing board. The answer is that it's just simply more expensive and we think the Bluefin is a better bang for your buck. However, if you are looking for a higher performing tandem board, the Red Paddle Co is the better option.
Included in the Voyager's kit is a twin chamber pump, single chamber pump, an FCS II center fin, 10" straight leash, repair kit, water resistant phone case and an all-terrain backpack. For the price, we would have liked to see a paddle included or discounted with the purchase of the board. However, if you have the budget and paddles of your own this could be the board for you to do some quality solo or tandem touring.
Touring was definitely in mind when designing the features of this board. The Voyager has 7 carry handles making it easy to carry into and out of the water. Its diamond-cut deck pack extends all the way to the tail of the board allowing for plenty of standing room for two people as well as providing some extra traction and cushion for your feet during a long day. There is also plenty of room to carry along your gear with 4 D-rings at the nose, and 6 D-rings in the middle of the deck.
As for the fins, the Voyager has a 3 fin set-up with US fin boxes. As we've said before, the US fin box enables you to easily customize your fins, but you lose the ability to quickly remove or add fins when going into shallower or rocky water, so it's really just up to your preference and lifestyle.
The overall take away for the voyager is that it is a tandem SUP that does not sacrifice in quality and performance. This board would be perfect for a duo of advanced paddlers that have the budget and want to settle into some long days of paddling with all their gear along for the ride.
Pros
Faster than other tandem boards
Better performance while still allowing for tandem paddling
Kit comes with two pumps, making inflation a team effort
Traction focused diamond deck-pad gives plenty of standing room for two paddlers
Centered D-rings help with balancing gear for a longer ride
US fin box allows for customization of your fins
Cons
Higher price point (this can be expected with a better performing board)
---
Multi-person Party SUP Buying Guide
At this point you might have made it through our list and have not found the perfect match for your lifestyle and budget or maybe you already had a board in mind but wanted to compare it against some other options. We want you to be confident in your purchase regardless of if we have recommended a specific board or not, so below you'll find a buying guide with key traits to look for while multi-person SUP shopping including: stability, comfort and convenience features, kit value, and construction.
Stability

When shopping for the right multi-person SUP, most people generally have a group size in mind between 4-10 people. The stability of multi-person party SUPs depends heavily on its weight capacity. If you have a smaller group you can look for boards with a less extreme weight capacity, typically in the 700-1,050lbs range. Likewise, if you are planning on piling on more people, you need a board with a weight capacity in the 1,500lb range.
Of course there is some nuance to this, depending on the weight of your riders. You'll have more weight limitations when you are planning on paddling with a group of adults versus if you're planning on taking out a group of younger kids to play king of the mountain at the lake.
Comfort and Convenience Features

Comfort and convenience features encompasses your deckpad, carry handles, D-rings and action mounts, and kit-included pumps. If you are planning on riding down rivers with occasional light rapids with your group, you'll want a deckpad that is more focused on traction such as diamond cut or crocodile grooves. If you know that your group just wants to paddle out to the middle of the lake and use the board as a "home base" while swimming around in the water, you want to focus on a larger, more cushy deckpad.
Additionally, you'll want enough carry handles to make moving these huge boards less challenging, as well as an appropriate amount of D-rings and action mounts to accommodate gear you plan on bringing. It also helps to pay close attention to the fins of your board, if you prefer snap-lock over a US fin box or vice versa.
Another important thing to consider is whether or not the kit comes with an adequate pump. These boards can take quite a bit of effort to inflate, so you'll want to keep an eye out for dual action or double chamber pumps. It's also even better if the kit includes more than one pump, as most boards will have more than one valve so you can have two people working at the same time to expedite the process.
Kit Value

What we mean by kit value is the amount of gear included with the board for the price. We touched on this a lot in our list, with the Bluefin Tandem taking the cake for most inclusive kit at a great price.
As with everything though, this depends on your personal needs and budget. If you are a more experienced paddler that has a lot of your own gear, you might not need to look for a board that includes all the bells and whistles. Likewise, if you already have an electric pump, you may not need to consider what kind of pump is included in your board, though we recommend using your manual pump with your electric pump when inflating the larger party SUPs
Two things you will almost always want to look out for though when purchasing a multi-person SUP is that it comes with an included travel bag and repair kit. These boards can be difficult to store and transport and are likely to take a beating when it comes to large groups of people.
Construction

As I just mentioned, multi-person SUPs can take a beating. With that in mind, you'll want to consider the durability of the board before making your decision. All the multi person paddle boards on our best list above are well-constructed, durable party SUPs.
Multi-person Party SUP Tips
So you have bought your first multi-person SUP, now how do you get the best use out of it? Below you'll find a few quick tips to help you have the most fun with your party SUP while avoiding some first-timer mistakes.
Inflate as a team

The best thing about multi-person SUPs, besides all the laughs on the water, is that you already have a group of friends to share the task of inflating your massive board. If you are relying on manual pumps alone, it's easiest to have two, or one for each valve, and have two people pumping at the same time. It's even easier if you all take turns being the two that are inflating the board.
If you have access to an electric pump, it takes a lot of the grunt work out of the process, but be sure to have a manual pump as backup and monitor that your electric pump doesn't burn out as inflating the board will still take a considerable amount of time.
Coordinate With Your Group

While it is a ton of fun, paddling with a group can have its challenges. You will need to coordinate with your group to keep your board heading in the right direction. For instance, if you want to head straight, you need to evenly distribute your paddlers or if you want to turn to the right or left you'll all need to paddle on the opposite side. Be prepared for a different level of communication than is necessary when paddling on separate boards.
Wear a PFD

A PFD (personal flotation device) or life jacket is a necessity when enjoying a multi-person SUP, or any SUP for that matter. With a group of people, comes the added risk of jostling around on the board and inevitably falling off. With that said, you'll also want to make sure to be familiar with the body water and avoid shallow spots to prevent any injuries to your group.
Luckily, there are tons of options for PFDs, such as waist belts and shoulder harnesses that won't get in the way of your paddling. Be sure to check out our post on all the different kinds of PFDs if you are on the market for one.
Relax and Have Fun

Multi-person SUPs are a great way to include all your friends, paddlers or not, and have a great day on the water. While we discuss recommended weight capacities a lot in this post, it's still a blast to pile on as many friends as you can and have a lot of laughs trying to sink or capsize the board. These boards are also loads of fun to bring all your kids, and let them tire themselves out playing king of the mountain and swimming around in the lake. If games aren't really your speed or you're looking for a little more relaxation, multi-person SUPs are a great alternative to a floating dock that allows you to paddle out into the lake and just chill on the water.
Final Thoughts
Although multi-person SUPs are not super common on the market, there are definitely multiple options to fit your needs and lifestyle whether it be paddling with a large group of friends, or touring with one or two other people.
We hope our list of best party Sups, along with our buying guide and tips have been helpful for you to make an informed purchase and fully enjoy your board once in your hands.
Remember to have fun, stay safe, and be sure to come back and check out our other reviews when you're on the market for individual boards or in need of some gear.
The following two tabs change content below.
SupBoardGuide
Heyo! At SupBoardGuide.com we are a team who love the water, the outdoors, and are more than grateful that our full-time job allows us to review stand up paddle boards. We paddle year round (it helps that we are just about 2 hours outside of Las Vegas), and we bring in a wide range of paddlers with the goal of providing our readers with the best, most in-depth, and accurate stand up paddle board reviews.
Latest posts by SupBoardGuide (see all)