Bluefin 12' Cruise Inflatable Stand Up Paddle Board
Pros
Very solid all-around SUP with a ton of great equipment and features. Given its budget friendly price, this is a fantastic value and one of our go to beginner all around options.
Stable performance with a great 385 lbs weight capacity. Easy to turn and maintains a line in the water well. True all-around inflatable paddleboard.
Durable ESL construction, utilizing 11,200 stitches of denier space yarn. Makes for a heavy paddleboard, but a rigid and great feeling one as well.
Croco-diamond deck pad with raised kick pad for bracing and step-back turn support. A particularly favorite deck pad of a few of our team members.
Included kayak conversion kit and dual-bladed paddle. If you ever wanted to give SUP kayaking a shot, this is the paddleboard option to do it with.
All of the gear you need for the water out of the box, and more. Paddle, pump, leash, cell phone case, and other fun accessories.
Cons
The 12' Cruise is on the heavier side, so it can be a bit of work to get it into the water but not as bad as the Cruise Carbon boards. Once it's out there though, it feels wonderful to paddle on.
Fiberglass paddle is a step above typical aluminum paddles. This one feels noticeably heavy though, so we'd suggest upgrading paddles when you can.
The single chamber pump is underwhelming. You're probably going to need at least 10 to 15 minutes to inflate the Bluefin 12' Cruise.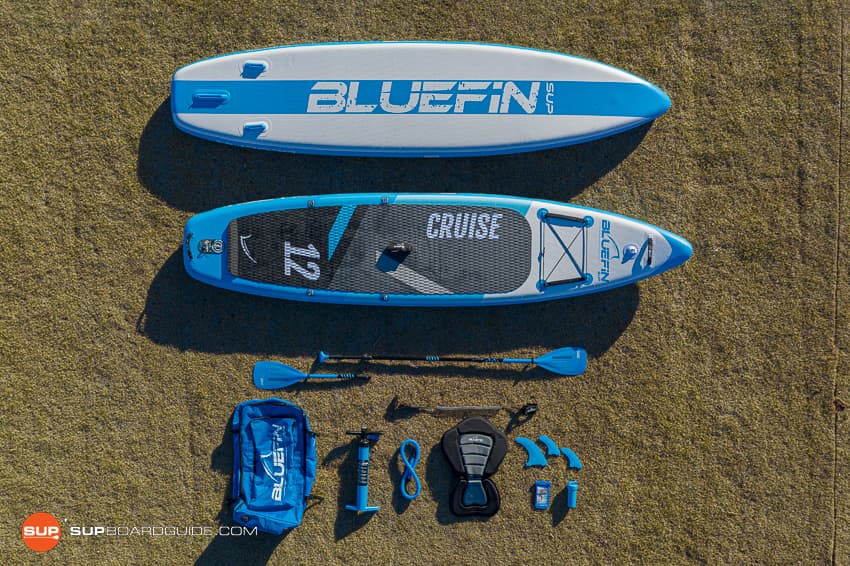 The Bluefin 12' Cruise is a fantastic all-around option, especially for those who want great performance in a more affordable, budget friendly paddleboard. This SUP provides plenty of stability for beginners, with a 385 lbs weight capacity, while also providing good maneuverability and tracking that will satisfy intermediate and advanced paddlers. The croco-diamond deck pad is fantastic, providing a good mixture of traction and comfort while also providing extensive D-ring/action mount support. One of the things that set this paddleboard out from the competition is just how much gear you also get with it, including a kayak conversion kit, a single chamber pump, a thick yet cushy equipment backpack, and much more. So, if you are looking for an upper mid-tier paddleboard at a very budget friendly price, we suggest learning more by reading our full review of the Bluefin 12' Cruise!
SUP Board Specs
| | |
| --- | --- |
| Length | 12' |
| Width | 32'' |
| Thickness | 6'' |
| Weight | TBD |
| Rider Capacity (lbs) | 385 lbs recommended weight capacity |
| Recommended Inflation | 15 – 18 PSI |
| Fins | Two permanent plastic molded side fins Single snap lock center fin |
| Paddle Type | Fiberglass shaft + polyurethane blade, four pieces with two paddle blades |
| Construction | ESL Military Grade PVC construction |
Who Should Buy This Stand Up Paddle Board:
As an all-around paddleboard, the Bluefin 12' Cruise is designed so you can try a little bit of everything with it while you're out on the water. To be a bit more precise, we suggest the 12' Cruise if you are one of the following:
A new, inexperienced paddler who wants something that is very stable to help you learn how to paddle without falling in every two seconds.
A more experienced paddler who is looking for a high quality secondary SUP, especially one with great tracking.
Someone who wants to go out paddleboarding with their kids, pet, or even a second adult paddler.
Someone who is interested in a heavier paddleboard that is able to handle choppy, windy settings better than the typical inflatable SUP.
Customers who are on a tight budget, but still want as much gear and performance they can get for an entry-level price.
Performance
Stability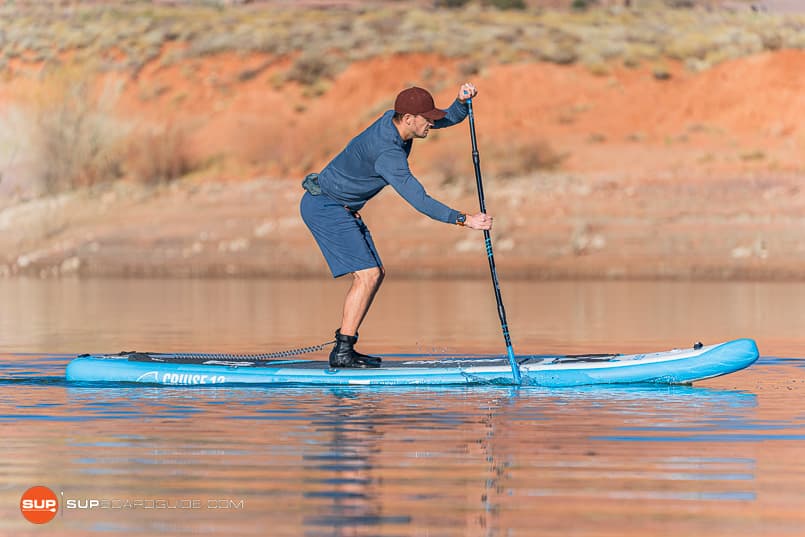 The recommended weight capacity for the Bluefin 12' Cruise is 385 lbs, which is going to be more than enough for the typical solo paddler. Every member on our review team felt quite stable with the 12' Cruise, even our heavier beginners who tend to struggle with some of the paddleboards we test. We loaded up a couple of adults on the same paddleboard, and while it's definitely not going to be as steady we were still pretty steady paddling around with the 12' Cruise. If you have kids or a pet you want to bring out with you, the 12' Cruise is a great option to consider. However, if you are looking for a true tandem paddleboard, we would suggest considering the 15' Cruise over the 12' Cruise.
Maneuverability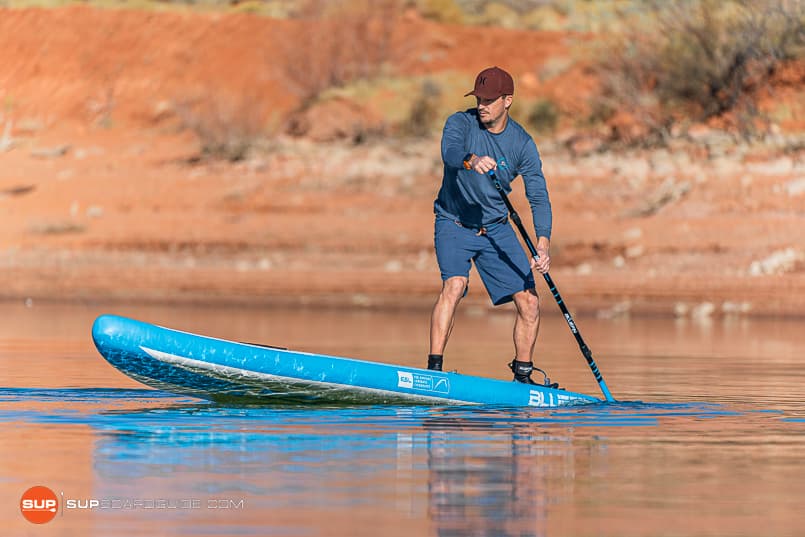 We were very satisfied with the 12' Cruise maneuverability. Before you even need to guess, because it's longer than the 10'8'' Cruise, it won't be as maneuverable as the shorter paddleboard. However, we still had a blast turning when we needed to, and we even managed to get the nose higher than expected when we performed a step back turn. This is a paddleboard you can use to not only dodge other SUPs and lakeside visitors, but a SUP you can maneuver with to explore every nook and cranny of your favorite waterfront. We do prefer wider SUPs for river running, but if you had a slower river the 12' Cruise would be a solid option to consider, especially if you're already experienced at river paddleboarding.
Tracking/Glide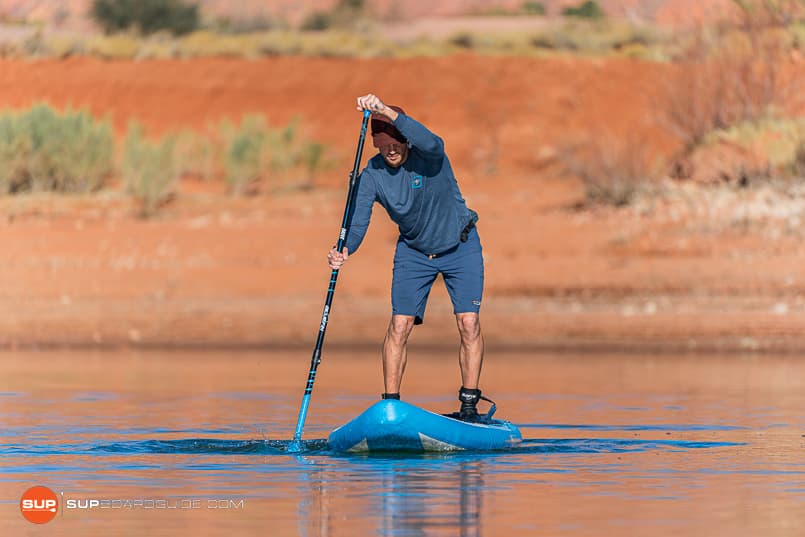 We had a great time paddling around the 12' Cruise, and one of the major reasons was its great tracking. The better your paddling form, the straighter you'll go in the water, but with a 12' pointed nose you just need to be okay in order to maintain a steady path with the 12' Cruise. The heavy paddleboard weight may make it a bit of a pain to get the SUP to the water, but once it's in it has an enjoyable glide, letting you tackle smaller chop and windy days without much trouble. Speed can be a hit or miss factor with heavy SUPs, but we were zooming all around the water with the 12' Cruise. There's definitely a lot of performance to love with the 12' Cruise, especially given its entry-level price point.
One of the things to be aware of that will further impact performance is the fin setup. The permanent side fins tighten up the turning radius, and also provide more stability by reducing rocking when the center snap-lock fin is installed. The center fin itself can be added to improve your tracking even further, allowing even first time paddlers to maintain a largely straight path while paddling in the water. For the best paddleboarding performance, we highly recommend using the center snap-lock fin, though make sure to take it out if you're paddling in extremely shallow water settings.
Materials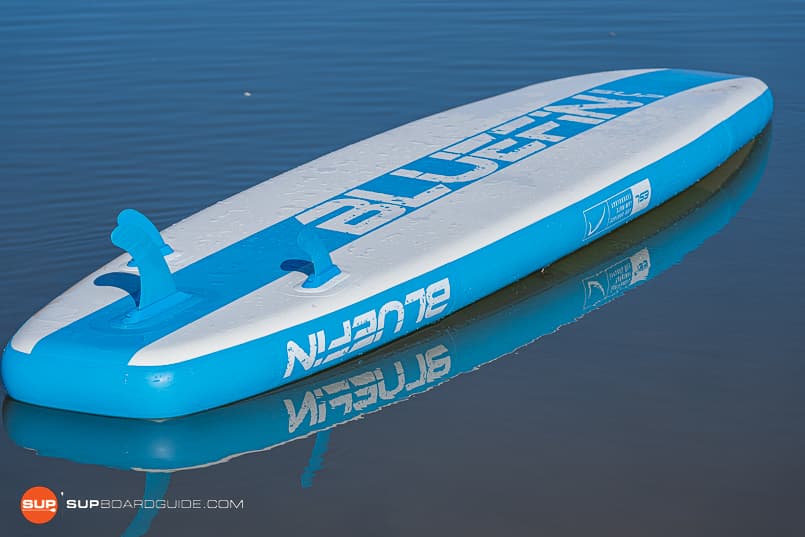 Bluefin paddleboards are designed to be extremely tough and capable of withstanding the typical drops, crashes, and accidents that come with using a paddleboard. To understand why they are so capable, you need to understand the two central components. The first component is the tight drop stitch core, which is made up of sheets of fabric bound together with over 11,200 stitches of denier space yarn. Air is pumped into this core, causing the paddleboard to inflate but maintain a SUP shape thanks to the positioning of the internal drop stitching. With drop-stitch technology, you get stability, agility, and overall performance while still being flexible and easy to pack due to its inflatable nature.
To further improve the paddleboard, and help it feel rigid like an epoxy SUP, the drop-stitch core is protected by a coating of military grade PVC layering. With this PVC composite shell, along with a Exo Surface Laminate (ESL) finish, you get an extremely durable SUP that is harder to damage than even a epoxy SUP. This rigidness that comes with the PVC shell also helps the paddleboard feel more stable and comfortable to paddle on, while able to withstand the occasional crash, drop, or common SUP accident. As a final layer of protection, a UV resistant HQ coating is also applied, extending the overall usage life of the paddleboard by minimizing degradation that comes with paddling in the sun.
Board Design/Shape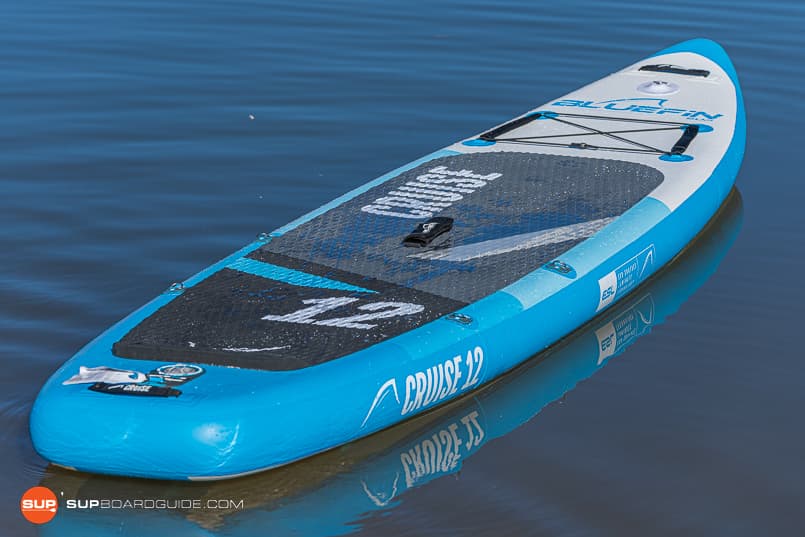 This is a very typical all-around shape, though a bit longer for superior tracking and weight support with a 12' length. The 32'' wide deck provides plenty of space and paddleboard structural support so ensure even large, heavy adult paddlers don't feel cramped. As for the 6'' thickness, this is a typical thickness for beginner SUPs as it provides even greater weight support, at the expense of less overall maneuverability and paddleboard control.
With this design, you can try all sorts of activities, from some casual touring or cruising, to even some friendly races with other non-racing paddleboards. If you're interested in yoga, the deck pad is very accommodating for it, though you can also just use the long deck pad length to take out your kids and family with you. As a jack of all trades paddleboard, it might not excel as much as specialty boards, but it will still give you a great sample of what you can do with an inflatable SUP!
Board Features
We love the performance of the Bluefin 12' Cruise, but we also think the paddleboard stands out from the competition thanks to a number of other great features. Some of our favorite features we wish to highlight include the following:
ESL Construction.
10 D-Rings + Action Mount.
Removable Nose Bungee Cargo Area + Grab Handles.
Triple carry handles.
Raised kick pad.
Thermosealed Croco-Diamond Deck Pad.
Fins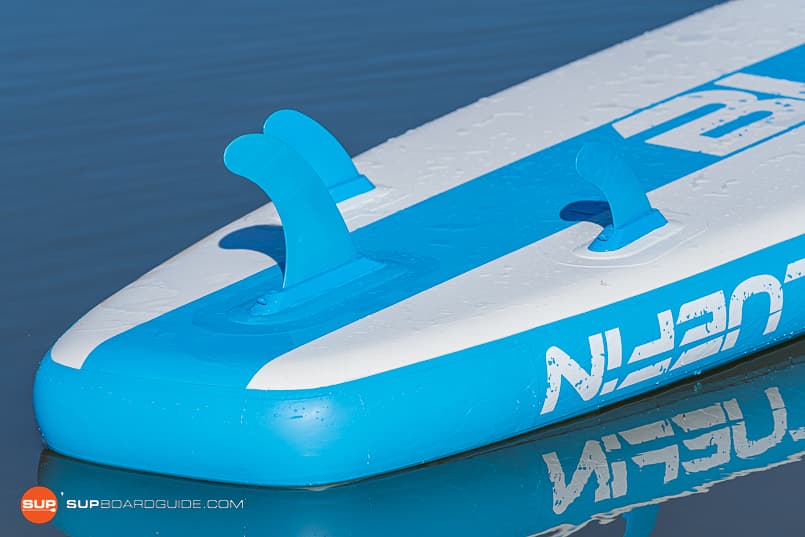 The 12' Cruise has a single removable snap lock center fin, along with two permanent plastic molded side fins. The center fin takes just seconds to install, while the side fins are nearly indestructible, and take just a few minutes to fix back into like new shape if bent. If they are out of shape, simply douse them with hot water, leave the paddleboard out to dry with the fins facing the sun, and after fifteen to twenty minutes the fins will be looking great. Overall, it's a solid fin setup, though we hope Bluefin will replace the side fins in the future with snap lock fins for greater fin customization.
Traction Pad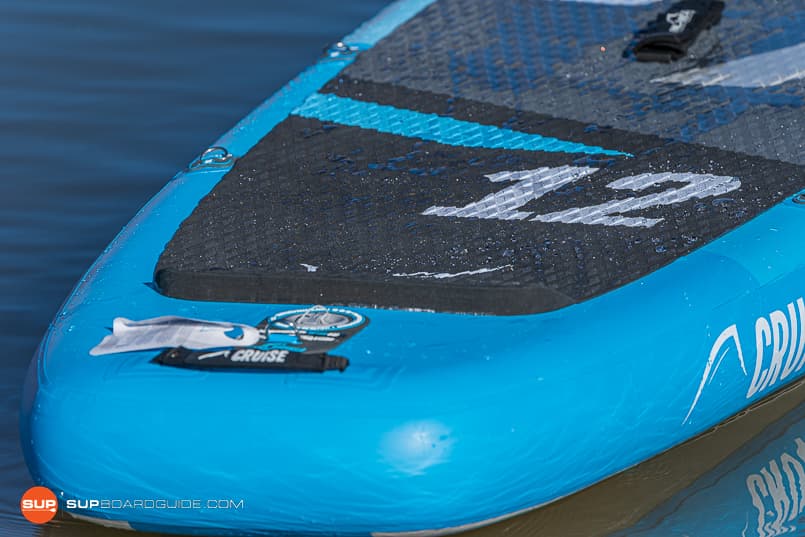 The diamond grooved extended traction pad is the favorite deck pad for Bryce, one of our team reviewers. The crocodile texture, along with the diamond groves themselves, provide a very grippy deck pad to stand on, and with EVA foam its plush and comfy to stand on as well. EVA foam dries and drains quickly when wet, and is built with comfort in mind since it's the same material used in many popular yoga mats. The deck pad covers more than two thirds of the paddleboard length, so you'll have plenty of room to spread out on even with a second passenger. There is also a raised arch heel pad near the tail, which you can use to brace when you hit a wave or a place to push down to perform a step back turn.
Handles
You will find three carry handles on the Bluefin 12' Cruise, all of which are made with high quality neoprene covers. With neoprene, you can comfortably carry the paddleboard even with very cold or soaking wet hands, which can get irritated with basic urethane handles. The handles are located on the nose, center, and tail of the paddleboard, giving you the ability to carry the SUP solo or with the help of a second person. Great handle setup, but not one you always see with lower priced paddleboards.
D-Rings/Bungees/Cargo Areas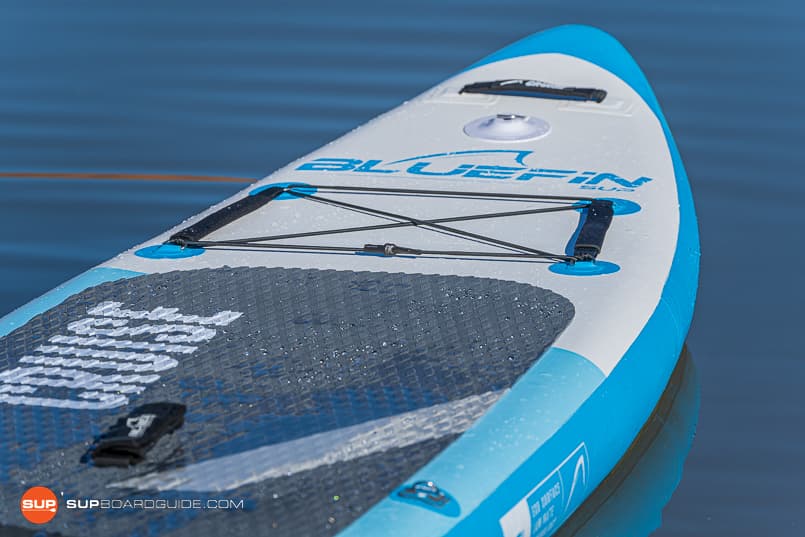 There are 15 D-rings on the 12' Cruise, which are great for attaching dry bags, the included cell phone case, and other common clip-on accessories while paddling. The D-rings are spaced out to work specifically with the included kayak conversion kit, and are oversized so your fingers don't get caught in them either. The nose action mount is there if you have a GoPro camera, Bluetooth speaker, or another electronic device you want to secure by screwing into the mount. The last major accessory option is the nose bungee cargo area, which can make sure your cooler or lunch box is secured tightly to the SUP. The nose bungee cords also have side grab handles, which your kids can hold onto when you hit turbulent water.
Accessories
Paddle
Included with the Bluefin 12' Cruise is a three piece fiberglass shaft and polyurethane blade, along with a second paddle blade for kayak paddling. A second paddle blade can often cost over $100 dollars, so the already great value of the kit is even more impressive with this inclusion. For traditional paddlers, we do think the fiberglass paddle is suitable for beginners but noticeably heavy for intermediate and especially expert paddlers. As you get more accustomed to paddling, we highly recommend upgrading to a carbon fiber paddle.
The paddle comes in multiple pieces so that it's very easy to pack away, while being easy to put together when you're ready to hit the water. You can also adjust the paddle for most typical adult paddler heights, and even do it out on the water if you find your paddle too long or short. The paddle will float if dropped into the water, but be aware that it floats away quickly in fast currents, so grab your paddle out as soon as you can.
Pump
One of the few equipment pieces that we are disappointed with is the include single-chamber, dual-action pump. While it is a simple pump (instructions located on the outside chamber), the single chamber pump is not as efficient as a dual-chamber pump. This isn't a problem for smaller paddleboards, but given how big the 12' Cruise is, inflating the paddleboard can be rather time consuming. Since it takes around 10 to 15 minutes to inflate the 12' Cruise, we do hope that Bluefin provides an option to upgrade and swap out the single chamber pump for their dual chamber pump in the future.
However, if you do want the best overall inflation and paddling experience, we would recommend just adding the Bluefin electric pump to your kit. Electric pumps are our favorite paddleboard accessory because they will do the hard work of inflating, and deflating, for you. Electric pumps weigh about as much as single chamber pumps, but are more compact, making them easier to store in your SUP backpack. We think that electric pumps are the best accessory you can add to your paddleboard kit, so take the time to consider the Bluefin electric pump!
Backpack
The included backpack is great in several different ways, with a thick build that will make sure your paddleboard withstands rain, wind, sand, and the other elements you'll encounter on your paddleboard adventure. The adjustable backpack straps are built to be extra wide, ensuring that smaller and larger paddlers can both hike with this backpack with ease. Reinforced zipper webbing, along with several pockets and a front pouch all help you separate and organize your gear, ensuring that the main compartment isn't cluttered. As for the main compartment, it is built with extra space in mind so that you can easily store your paddleboard and other gear, without struggling like you typically would with a tent bag. It isn't Bluefin's best backpack, but it is still a great inclusion that further sets the Bluefin 12' Cruise apart from the competition.
Leash
A 10' coiled leash is included with the Bluefin 12' Cruise, which will help you paddleboard stay close to you when you inevitably fall off the SUP. Wearing the leash is easy, as all you have to do is put the cuff around your ankle or thigh while attaching the other end to one of the many Cruise 12' D-rings. D-rings are very important to wear as they make it easier to get back on your paddleboard, but one thing they cannot do is help you float any better. Always wear a PFD while paddling to stay safe, even in friendly or shallow water environments.
Repair Kit
A standard repair kit is included with the 12' Cruise. Inside the repair kit you'll find an inflation valve wrench, designed specifically for tightening up the Halkey-Roberts inflation valve. You can also use the wrench to smooth out the adhesive patches, which will seal up small tears and holes that did not occur on the seams.
For more significant paddleboard damage and performance issues, be sure to contact Bluefin SUPs. Warranty coverage information is available below.
Company Review – Bluefin
Bluefin is well regarded in the paddleboard industry for being one of the first companies to introduce a 5-year warranty. This warranty is particularly great because it covers all damage outside of normal wear and tear for the whole length of the warranty. In addition to the comprehensive warranty coverage, Bluefin also offers free shipping to the US and many parts of Europe. International paid shipping is available to those who live outside of free shipping areas.
Visit our Bluefin company overview page for our full review of the SUP manufacturer, along with the list of countries they offer free shipping to.
Conclusion/Bottom line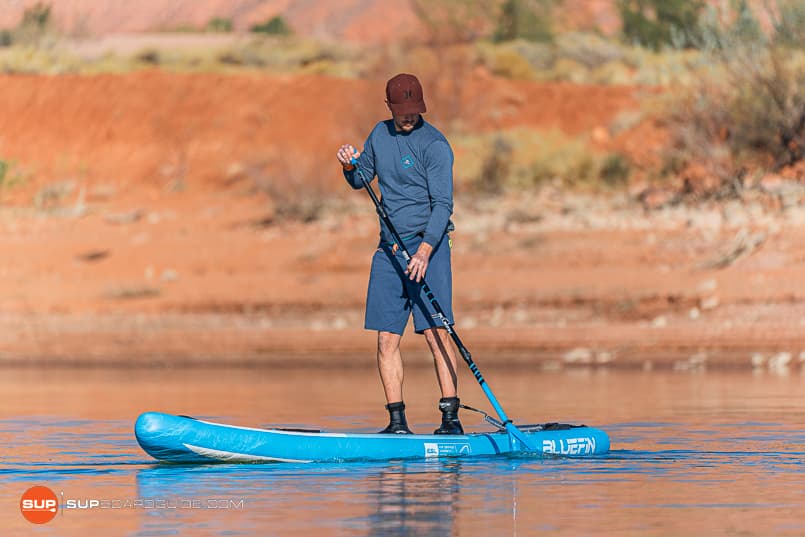 The Bluefin 12' Cruise is a great paddleboard option for those who want an upper mid-tier SUP on an entry-level budget. The great 385 lbs stability is enough to support not just beginner, first time paddlers, but can also allow you to bring your kids or pet along for the trip. The paddleboard is easy enough to maneuver with, while offering excellent tracking and glide that will make every trip to the water an enjoyable experience.The high quality deck pad is one of our favorites in the paddleboard industry, and it pairs well with the durable, rigid ESL construction. There is a ton of gear you get outside of the paddleboard as well, including a kayak conversion kit, a kayak ready four piece fiberglass paddle blade, a comfy yet thick equipment backpack, and more. We mean it when we say that this paddleboard kit is one of the best values on the market, though it is a bit heavy and could improve a couple of accessories. Personally, we think it's worth spending a couple hundred dollars extra for the Cruise Carbon 12', which you can read more about at this review link. However, if you don't have that much to spend but still want a great paddleboard, we would definitely highly recommend going with the Bluefin 12' Cruise all-around SUP!
Thank you so much for reading our review of the Bluefin 12' Cruise all-around inflatable SUP. If you have any lingering questions after reading our review, or would like to give us your feedback on this paddleboard, be sure to leave a comment below or send us an email with your thoughts. We update our reviews as we receive feedback from readers and with further testing, so visit our review again in the future for our up to date thoughts, along with any special deals that might be going on. You will also find other reviews, instructional guides, beginner tips, and even in-depth video reviews here at SUPBoardGuide.com, so stick around and learn more about stand up paddleboarding.
Thank you again for visiting, and be sure to let us know what you think of the Bluefin 12' Cruise all-around inflatable SUP!
The following two tabs change content below.
SupBoardGuide
Heyo! At SupBoardGuide.com we are a team who love the water, the outdoors, and are more than grateful that our full-time job allows us to review stand up paddle boards. We paddle year round (it helps that we are just about 2 hours outside of Las Vegas), and we bring in a wide range of paddlers with the goal of providing our readers with the best, most in-depth, and accurate stand up paddle board reviews.
Latest posts by SupBoardGuide (see all)