Paddle North The Portager iSUP
Pros
Well constructed with a good warranty
Comes with a built-in pressure regulator (we love how this SUP includes that feature for long-term durability)!
Simple design that is visually very appealing
Paddle community support by the manufacturer
Fast moving and stable touring SUP
We love the duck logo
Cons
We really want to see the paddle and the pump upgraded (see details below)
A longer, fuller deckpad and front handle would be nice.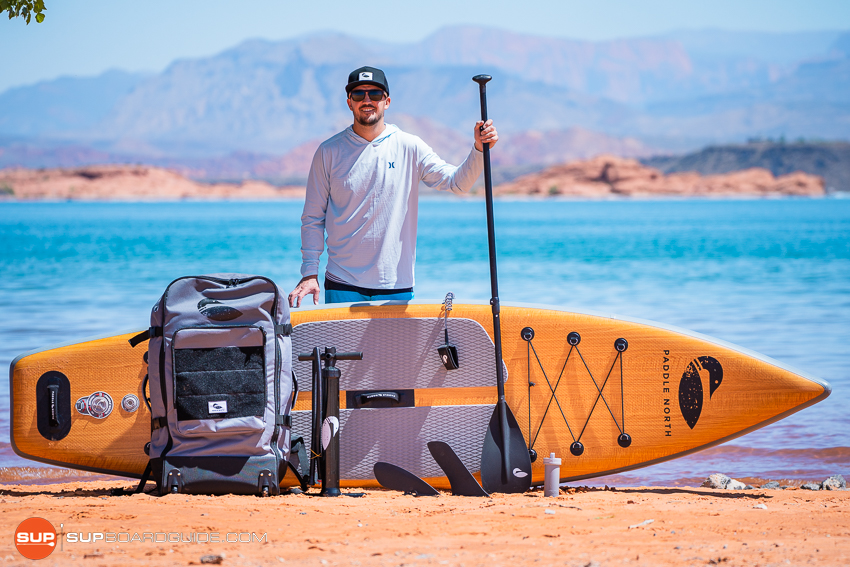 Paddle North is an interesting company focusing on a variety of on water activities. They make three different SUPs as well as various other water toys like inflatable docks, inflatable kayaks, and a wakesurf board. It's clear that they love being on the water and in nature – and their designs reflect that. In talking with the company, it was clear that they set out to create paddle boards that reflect the mountain/woods/cabin culture that the founder (Peter Mogck) loves so much. Most other SUP brands tend to focus their design on the costal/surf culture, and Paddle North wanted something different. You see this design aesthetic throughout all their products, and we think they did a great job here.
This review will focus on Paddle North's The Portager model. It is their main selling inflatable SUP with the other being a party barge style multi person float. The Portager is a fairly simple board with a clean wood grain aesthetic. The kit it comes with follows their philosophy with a "less is more" kind of feel. That being said we think the Paddle North The Portager would be a great choice someone who:
Is interested in a simple yet highly functional iSUP
Wanted a board with a reasonable (350 lb) carrying capacity
Wants an all around iSUP that is geared more towards touring and long distance adventures
Would like to load gear and equipment on their iSUP
In our opinion the Paddle North The Portager is excellent option in the following conditions or situations:
Touring across flat water (lakes, bays, and marinas)
Beginner recreational paddling
Open ocean paddling
Paddle North "The Portager" Review: Overview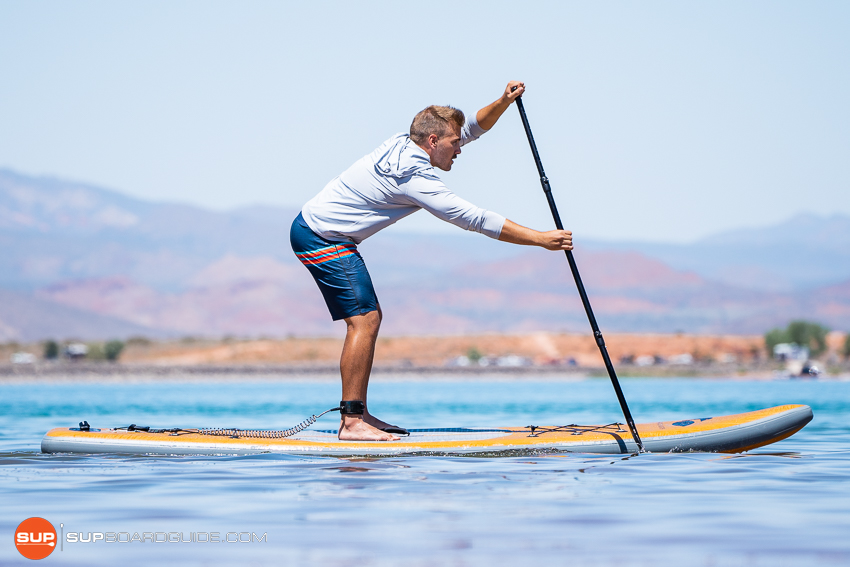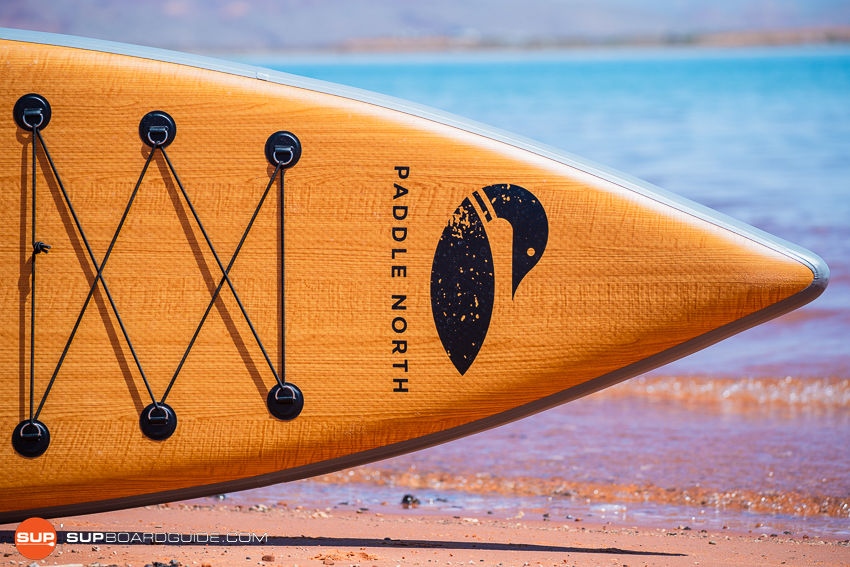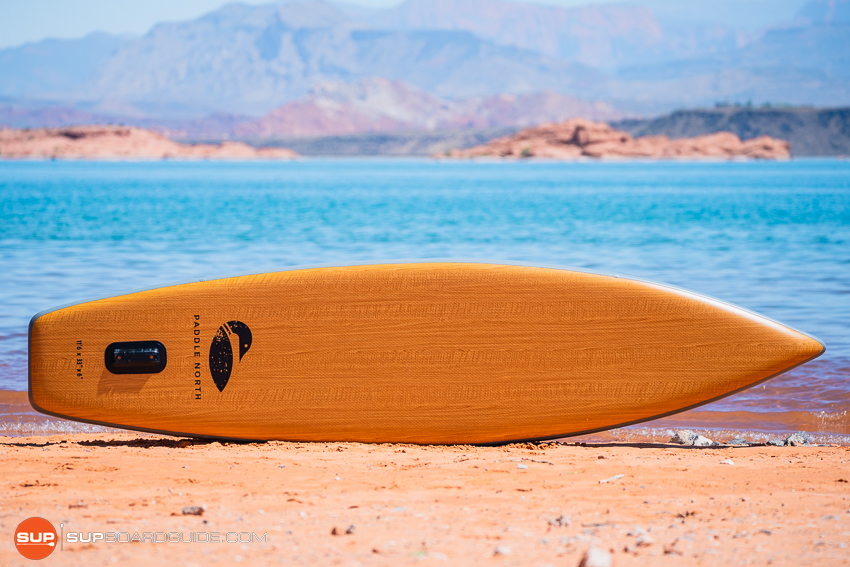 The Portager is certainly a unique board. We reviewed it alongside the other all around boards and it really did stand out in terms of its shape and overall look. At 11'6 x 33", and with a pretty wide tail, the Portager is a great combination of all-around SUP and touring SUP – making it a great board for beginners to intermediate paddlers who are looking for a more touring-oriented inflatable SUP.
Note: We get on the water quite often. When we do we try to take a variety of boards to test (and retest) in various water conditions. We do not put thought to screen without thoroughly evaluating a board, and even then we will often come back and update our reviews as we become even more familiar with the boards. Bottom line, we do not write simple spec reviews found on other sites. We are happy to answer your questions too so please comment below.
Paddle North The Portager: Spec Sheet
| | |
| --- | --- |
| Main Category: | All-Around, Inflatable |
| Board Dimensions: | 11'6 x 33" x 6" |
| Listed Board Weight | 21 lbs |
| Listed Max Capacity | 350 lbs |
| Recommended PSI | 18 psi |
| Fins | Single fin, removable |
| Paddle Type | 3 piece aluminum paddle with plastic blade |
| Materials | 1.2mm drop stitch PVC |
| Price Range | Medium |
| Warranty | 2 year with 30 day guarantee |
Official SupBoardGuide.com Test Results: Paddle North The Portager (2021)
The results from our hours of testing with the Portager follows below. We want to be a reliable source for consumers to use when making their SUP purchase decisions. We try to use these boards as much as possible to get a realistic view of how the boards will perform in day to day conditions.
Overall Score: 9.1/10
We rank our boards after thorough testing in six main categories. We then combine these scores (with an appropriate weight) to get our overall score.
Stability: 9.2/10

Speed: 9.0/10

Tracking: 8.9/10

Maneuverability: 8.4/10

Construction Quality: 9.1/10

Features/Accessories: 8.6/10
In our opinion, The Portager is a solid all around board that performs very well on the water. It performed very well in our speed tests, and it's a very stable board. At 11'6 x 33", we also like how Paddle North went longer than some other brands who seem to start with 10'6 as their base model SUP. We generally find that longer boards perform better for most situations, and for an all around/touring SUP, we think they did a great job with the shape.
You can read more about this below, but there are a few areas we think Paddle North could improve on with the board. Namely, adding a larger deck pad and d-rings, and upgrading the kit paddle. However, if you are someone wanting a very natural-looking, good performing iSUP and don't need those features, then this would be a fantastic board for you.
Our overall rating of 9/10 for the Paddle North The Portager goes to show how much we like how the board performs and are excited to see what Paddle North does in the future.
In-Depth Review of the Paddle North The Portager Stand Up Paddle Board
Performance Review: Stability, Speed, Glide, Tracking, and Maneuverability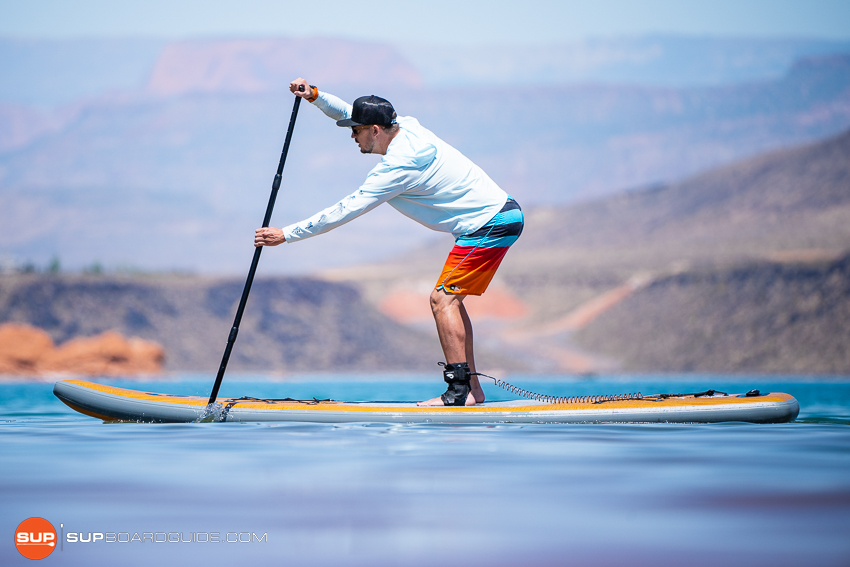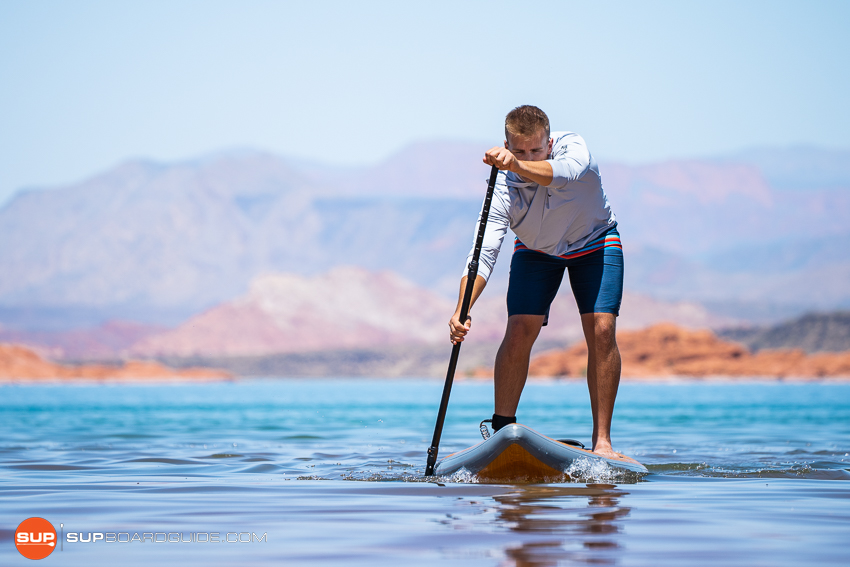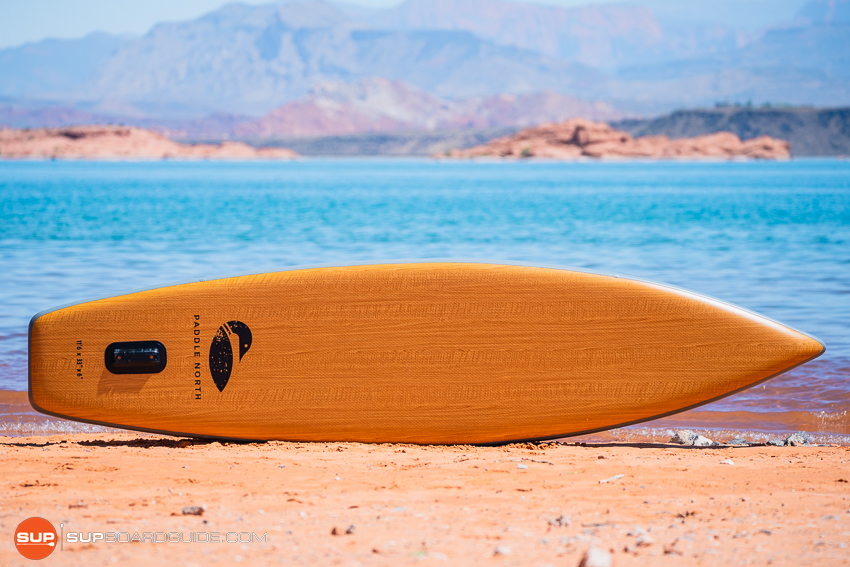 Performance wise, Paddle North's the Portager, did very well. It's overall shape lends itself to being relatively fast through the water at both low and high efforts. It has a very aggressive point at the nose and some decent rocker as well. We were impressed with how the board felt moving through the water but the lack of an extended deck pad made this board nearly impossible to turn aggressively. The single removable rear fin did it's job well, and we also liked the inclusion of a smaller fin for rivers and shallows.
Stability Review: 9.2/10
Stability is the number one thing we look for in a stand up paddle board. The more stable you as the end user are, typically the more fun you will have. We try to systematically break down this stability into the three categories of board stiffness, weight capacity, and construction quality.
The Portager is nice and stable for most riders 250 lbs and under. Even at this weight, an additional 50lbs of gear is manageable if spread out evenly. When tested with two reviewers at once (400 ish lbs) it was decidedly much harder to paddle and control. The lack of grab handles and deckpad would make this a bad choice for kids and pets as neither would have anything to secure themselves too.
Board Stiffness: 9.6/10

Stiffness Test: 1 1/16" bend (board on top of saw horses placed 7' apart, with 150 lbs of weight added right by handle in middle of the board)
The Portager did well for itself in the bend test, coming in on par with other light-weight, dual fusion PVC SUPs. We wonder if that extra rocker had some hand in this. It also returned to its original shape well after the initial test. To us this is a good sign of solid construction and quality materials.
Weight Capacity:
Listed Weight Capacity: 350 lbs
Tested Capacity: 400 (ish) lbs
Weight capacity is something often misunderstood. Both by the buying public and manufacturers. We at SUPBOARDGUIDE.com like to think of it as the maximum capacity a paddle board can hold and still be usable in the hands of the average intermediate paddler.
A stand up paddle board gets its weight capacity from a variety of different things. As mentioned above this board seems to have a fairly good construction quality combined with good materials. The weight capacity is also affected by the size and shape of the board as well. This board is a little bit longer than the average all around SUP, and about average when it comes to it's 33" width.
In our tests, the Portager did great with light paddlers all the way up to 250 lbs (ish). There was even room for additional gear so long as it was bungeed down fairly evenly front and rear. When we did our max test with two reviewers the board "supported" the weight but was extremely difficult to paddle. Perhaps in calm waters this wouldn't be an issue but we say stick to their recommendation of sub 350 lbs on the board.
Speed Test: 9/10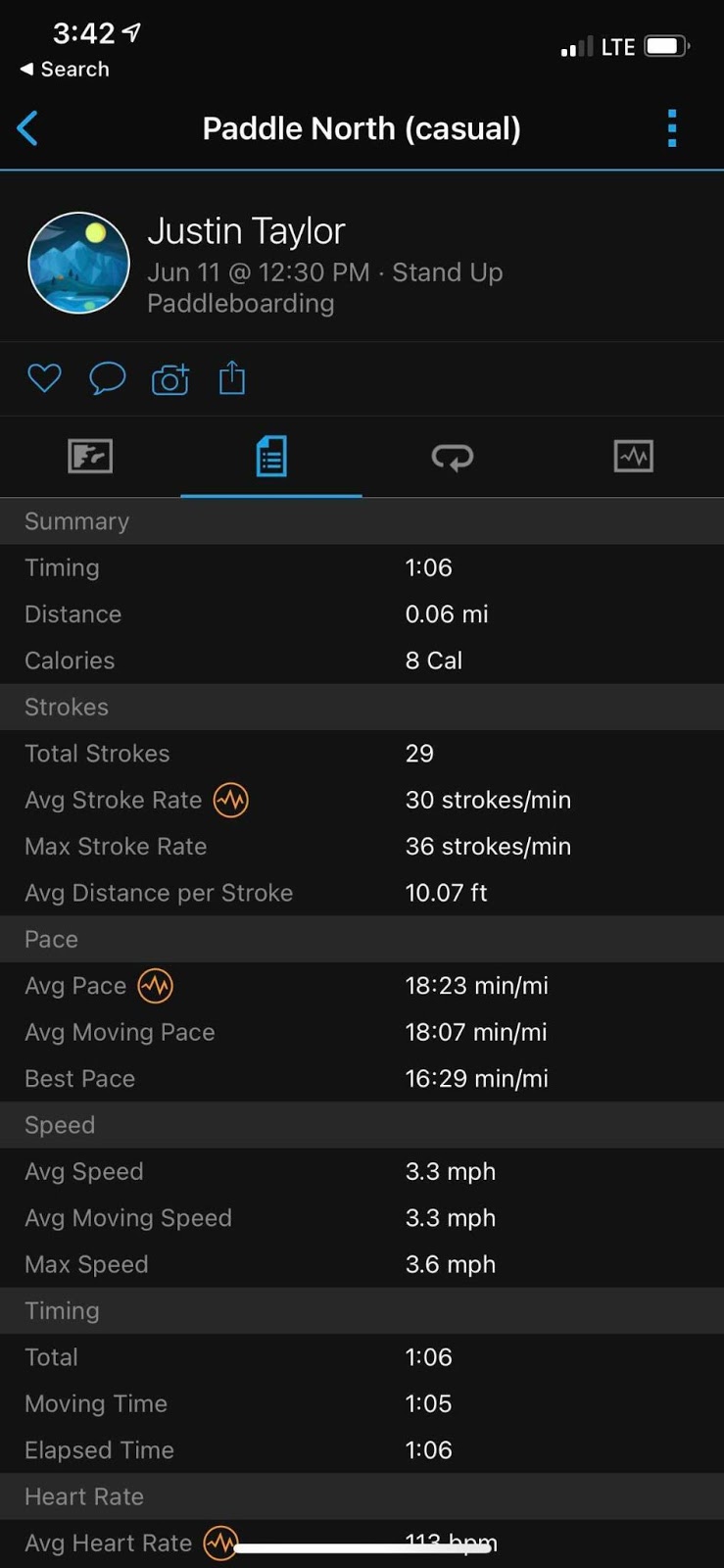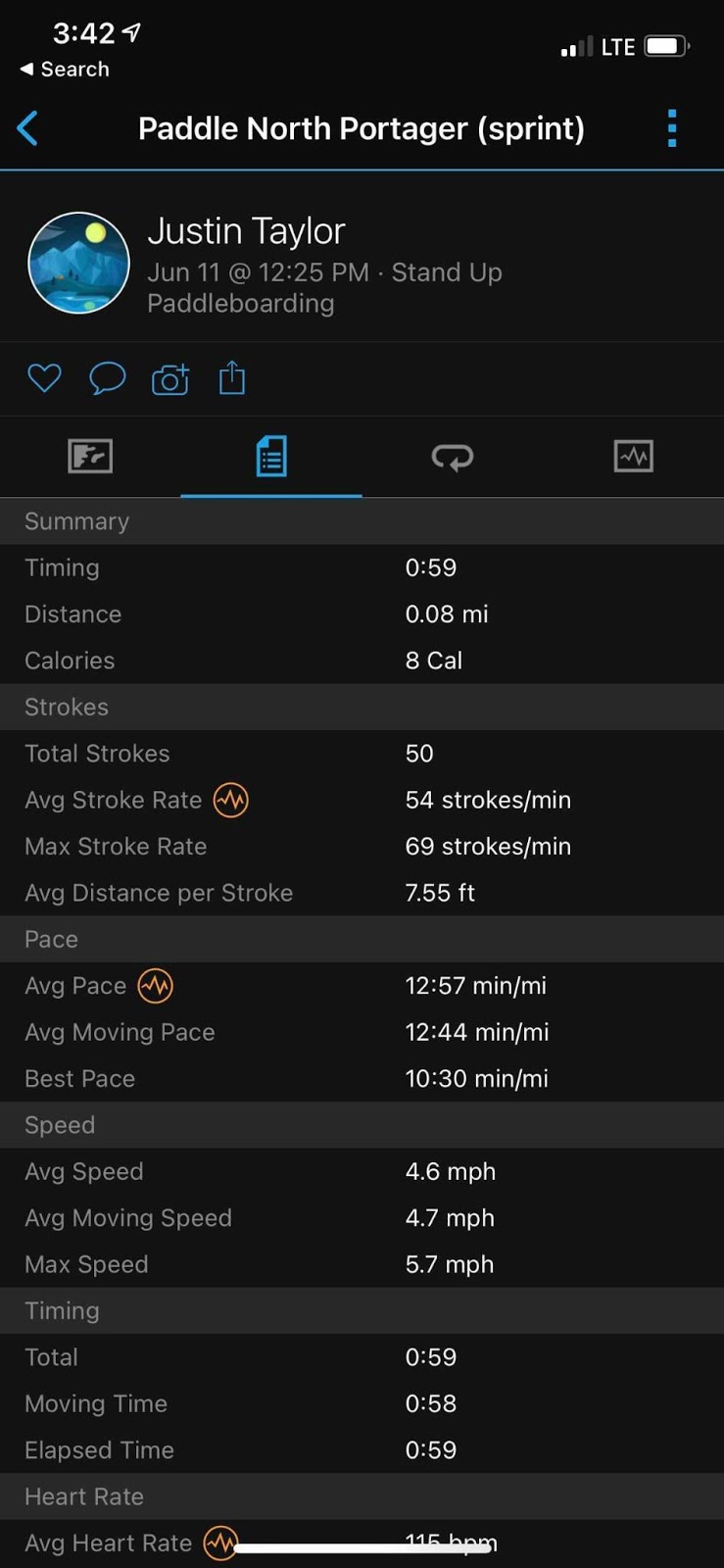 As mentioned, the Portager did well in our speed tests. It was right in line with the 11' Atoll, which we think is a good comparison board given they are both light-weight boards that lean more toward the touring side of things as all arounds.
The Portager feels tuned to go well given a minimal effort, and also did really well in our casual paddle test. Needless to say, we were impressed.
Tracking: 8.9/10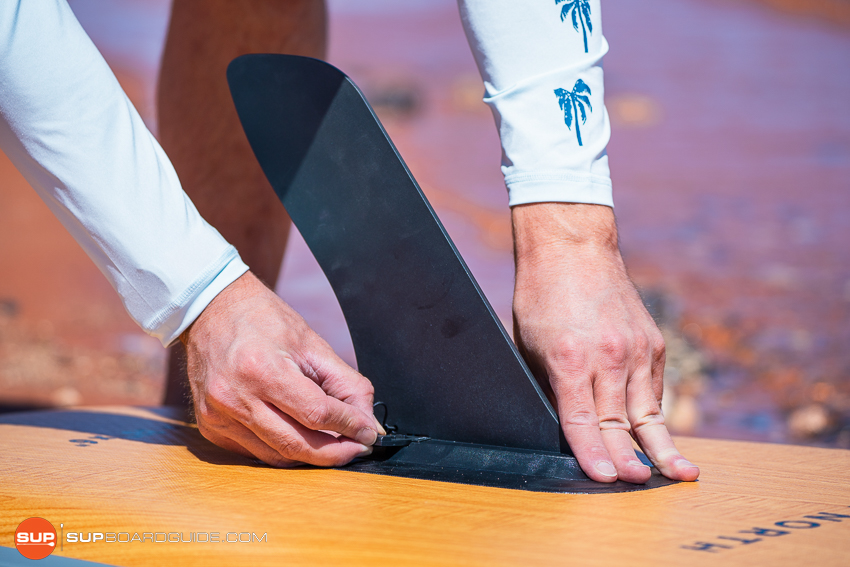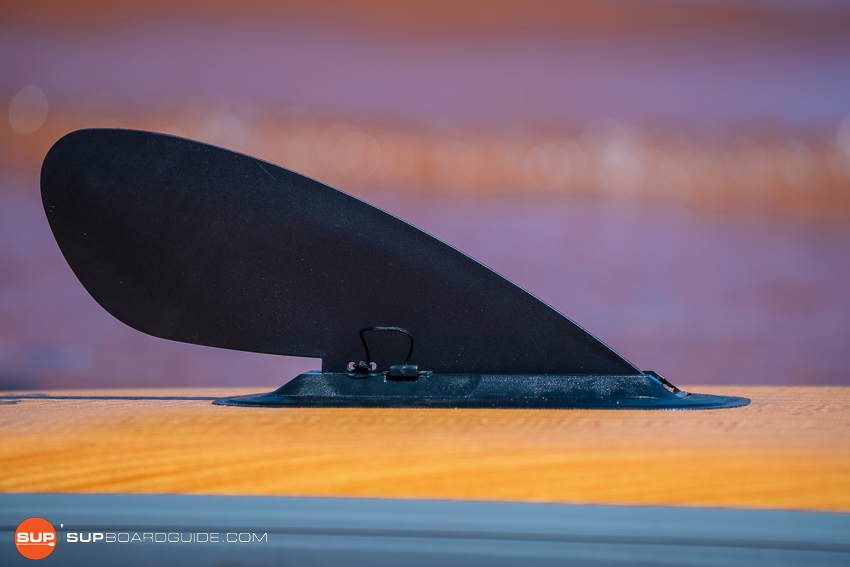 The Paddle North Portager, comes with two separate fins. The first is a 12" long touring fin that really does a great job of keeping the board in line. We also think the tailored shape of the nose and it's 11'6" length helps with that as well. At 33" wide, it's also not too hard for paddlers to get their paddle firmly planted in the water at a 90 degree angle. This leads to much more forward momentum rather than sideways movement.
The included 5" fin does a great job for when you need to tackle the shallows or overgrowth commonly found in rivers and creaks. Another thumbs up to Paddle North.
Maneuverability: 8.4/10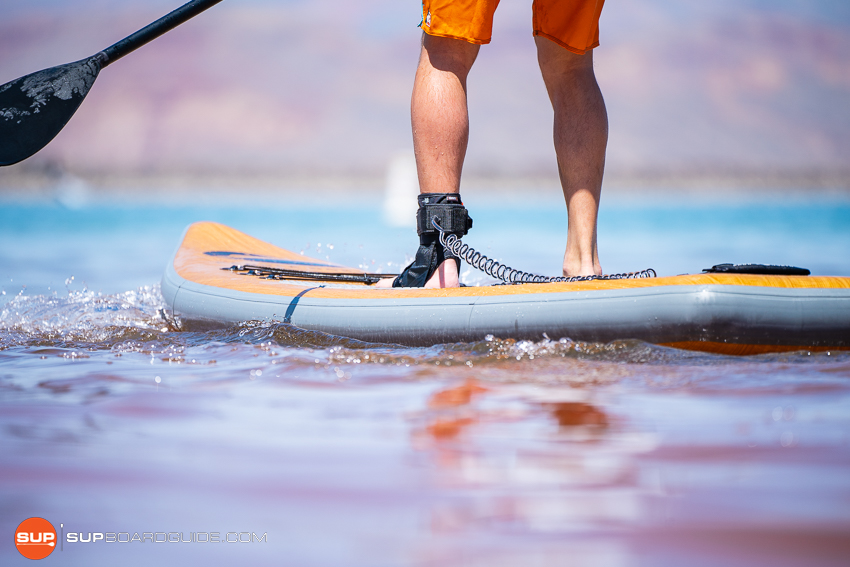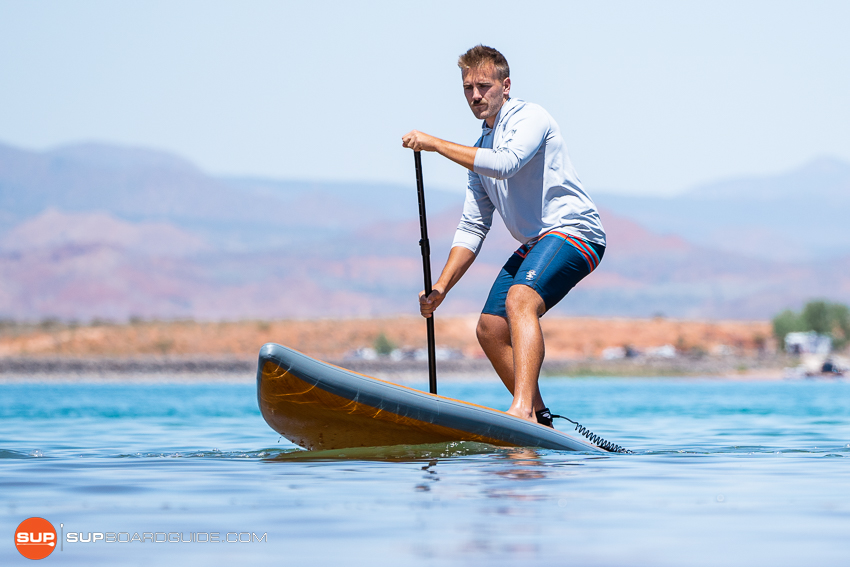 The Portager is relatively light, so basic maneuvers with your feet planted are not too difficult. However, when it comes to more advanced techniques and the need for drastic changes in direction the Portager can get a little slippery. Any shift or change in stance causes the paddler to move off the traction pad (which covers maybe ⅓ of the whole deck) and onto the good looking, but fairly slippery surface of the board.
If we could make one recommendation, it would be to extend this pad both forwards and to the rear as far as the bungee placement allows. Ideally we would like to see it go all the way to the valves at the rear of the board.
Paddle North specifically decided to not put a full width, longer deck pad on the Portager. The reason behind this is to improve durability of the deck pad, as they believe that larger deck pads tend to have durability issues with frequent rolling/unrolling of the board. So what is included is them "striking a nice balance between size and longevity". If you are a paddler who isn't looking to bring pets or kids, or do step-back turns, then the shorter deck pad honestly won't make much of a difference to you and you will probably really like what Paddle North has done here.
Construction Quality: 9/10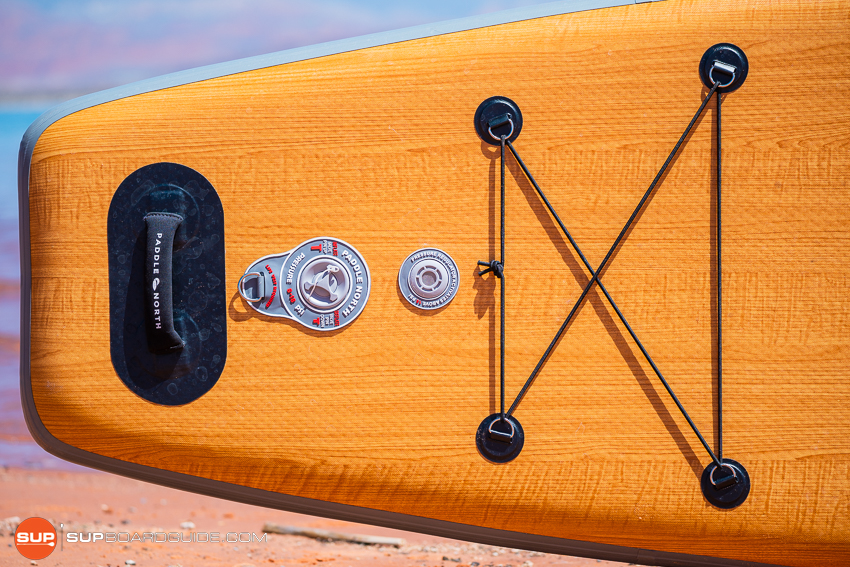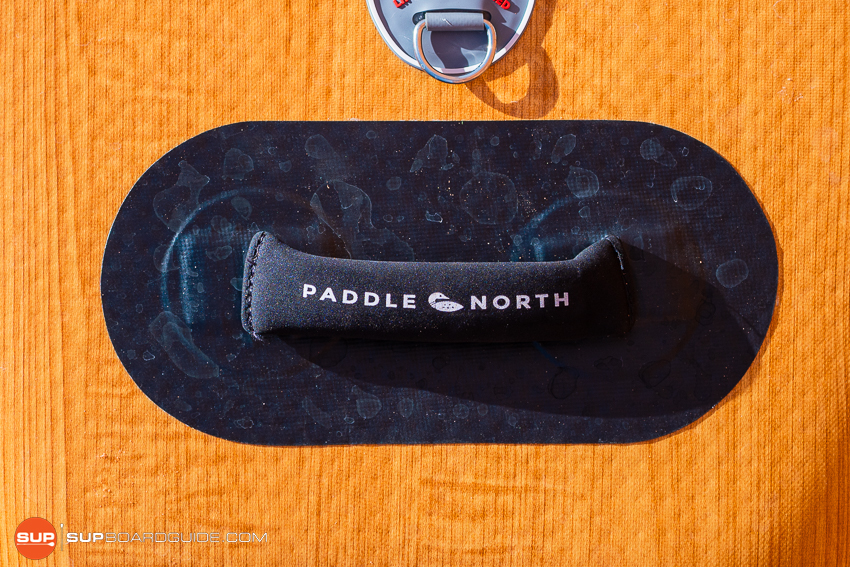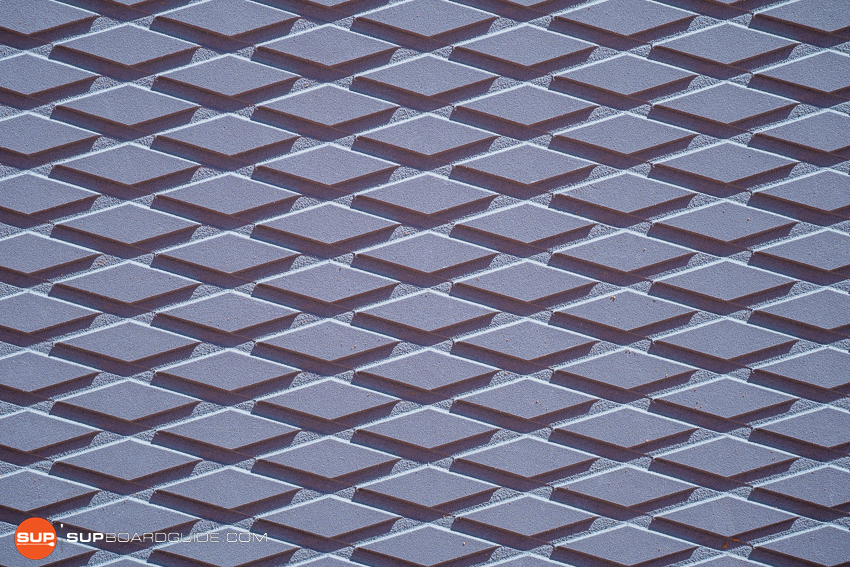 We really think Paddle North did a great job in terms of the construction of The Portager. It has extremely clean lines with no visible defects and everything just feels well made. The traction pad is the very nice and grippy diamond tread pattern, and the two handles are comfortable and solid feeling (also wish they added one up front). The bungee cords and their tie downs felt sturdy and well made as well.
We want to take a moment to point out a very unique feature (though it shouldn't be for iSUP's) of The Portager. It has a built-in pressure regulator. This may seem like a simple idea but as iSUPs get more and more advanced their inflation pressures go up as well. What this valve does is effectively prevent you from overinflating the board. This is also extremely useful if the board is kept inflated all the time and left in the sun. This normally would lead to pressure build up inside of the board exceeding the PSI limit of its construction. You then end up with popped seams and ultimately an unrepairable board. We don't see this very often. Great job, Paddle North!
Aside from that the rest of the board is fairly simple and well constructed. While we would love to see a handful of d-rings added to make the board a little more functional for SUP adventures and kayak conversion kits, we do think Paddle North did a great job on the construction of the Portager.
Accessory Review: 8.6/10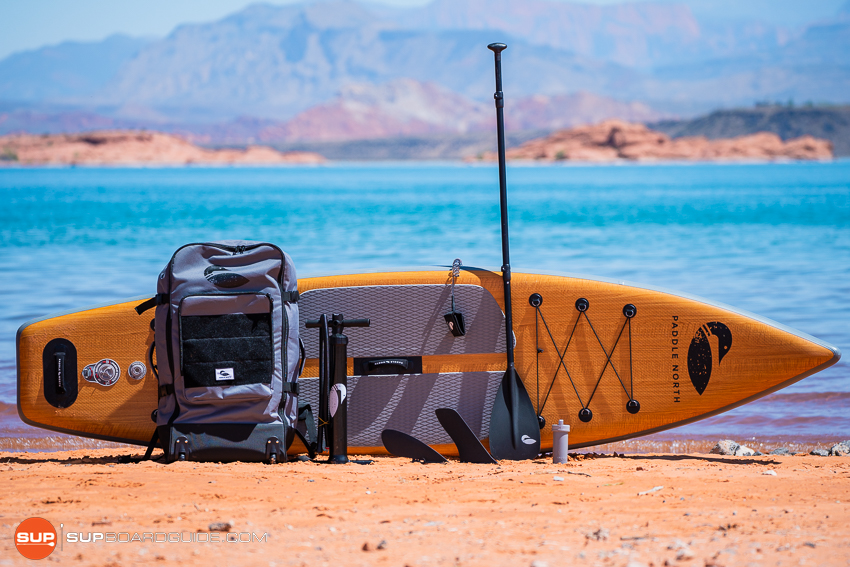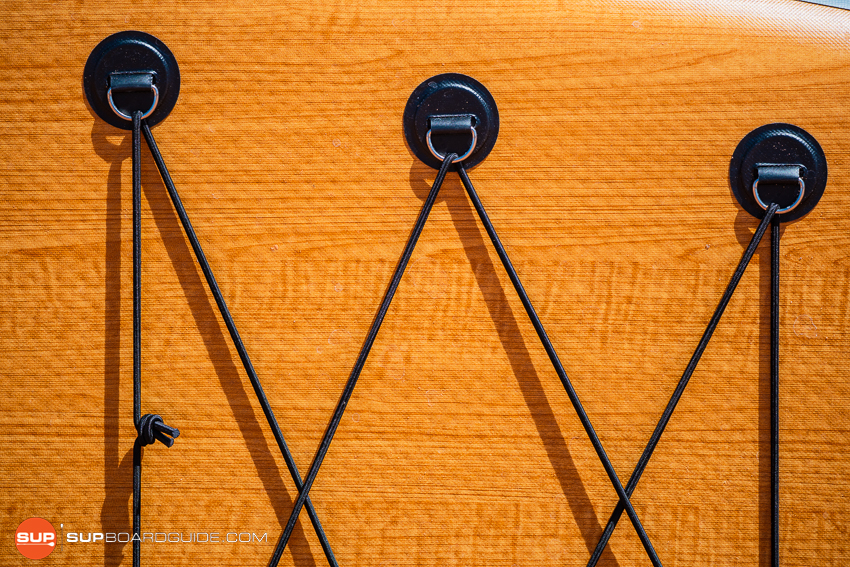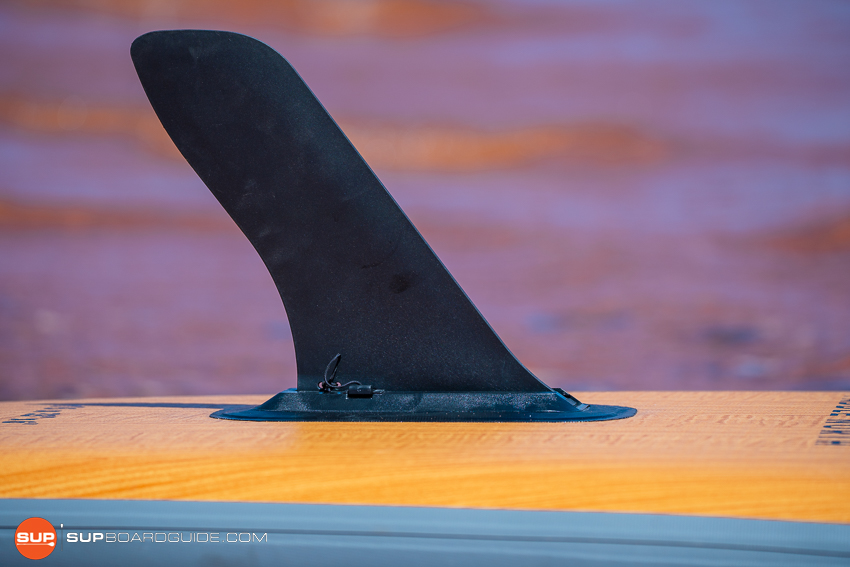 Included Accessories:

Much like their aesthetic view on the board, the Paddle North accessories have a very purposeful look and feel to them. In this kit you get:
All terrain backpack
Single chamber, dual action pump
10' coiled ankle leash
3 piece aluminum paddle with plastic blade
12" fin
5"
Repair kit
The kit is pretty standard giving you everything you need to get on the water (besides a life jacket). We really like the inclusion of various fin sizes for different conditions. We think more manufacturers should follow this standard.
Paddle: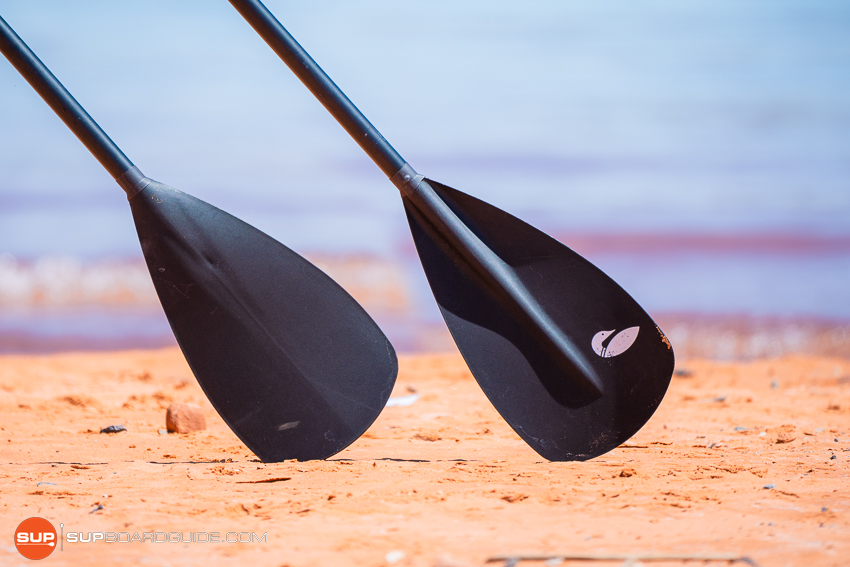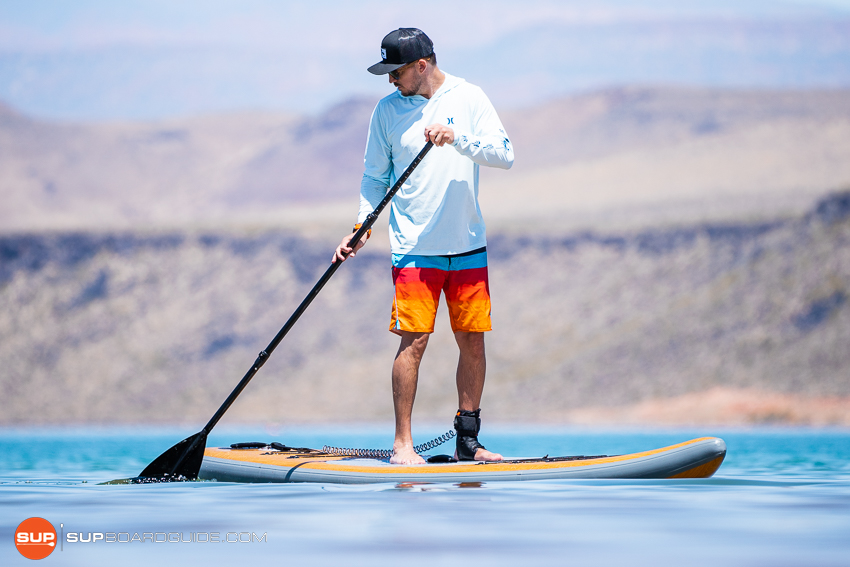 I must say that an aluminum paddle is no longer considered the base for most mid priced kits these days. We would really like to see a carbon/fiberglass blend here.
In terms of overall feel the paddle felt sturdy and well made (if just a bit too heavy). The connection points were all very solid and allowed for little if any twist while paddling. The blade was average for the All Around category and we really have no complaints there.
In conclusion, Paddle North needs to upgrade this to either a carbon/fiberglass or full carbon piece. They can even keep the other things the same, but carbon fiber blends have become the new normal in this price point.
Pump: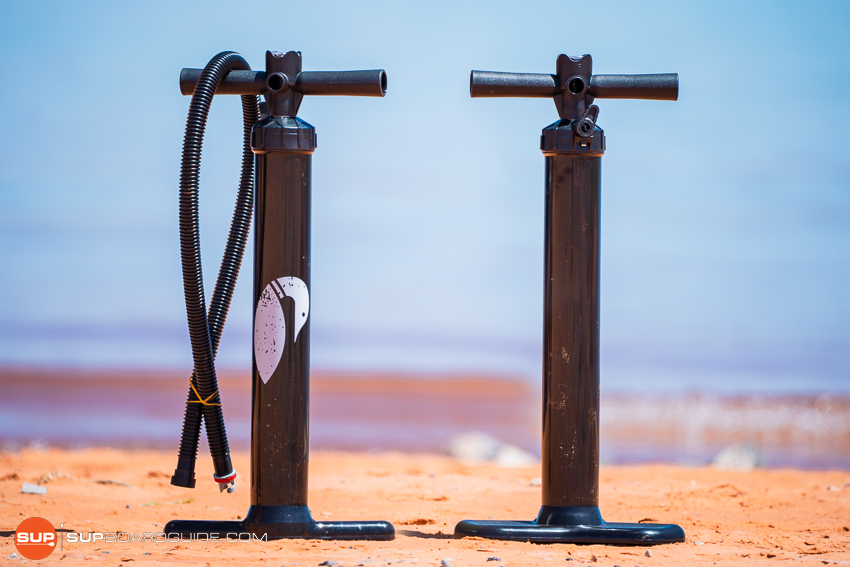 Much like the paddle, we think Paddle North could use a slight upgrade when it comes to it's included pump. It's a single chamber dual stage pump that was standard up until the last few years. Most other manufacturers have gone to some sort of dual chamber design with 2 or even 3 stages to the pumping mechanism.
The counter argument to this recommendation is that the included pump is lightweight and easy to backpack with. You don't want to be hiking around with a dual chamber pump. Personally, if this is the goal at Paddle North, then I'd recommend including a single chamber pump that has a larger air chamber – kind of a "meet in the middle" pump between air volume and weight.
By itself, the pump gets the job done. It's not the easiest or the fastest but it can certainly be used to pump up a board to it's recommended PSI. Our main problem with this older style pump is that it is often very difficult for lighter/smaller paddlers to get those last few PSI into the board. We have seen countless individuals struggle to get the board up to it's recommended PSI.
As always: buy the electric pump. Paddle North offers a branded one but we are also big fans of iRockers current electric pump. It doesn't matter which one you buy. Just buy it and thank us later.
Bag: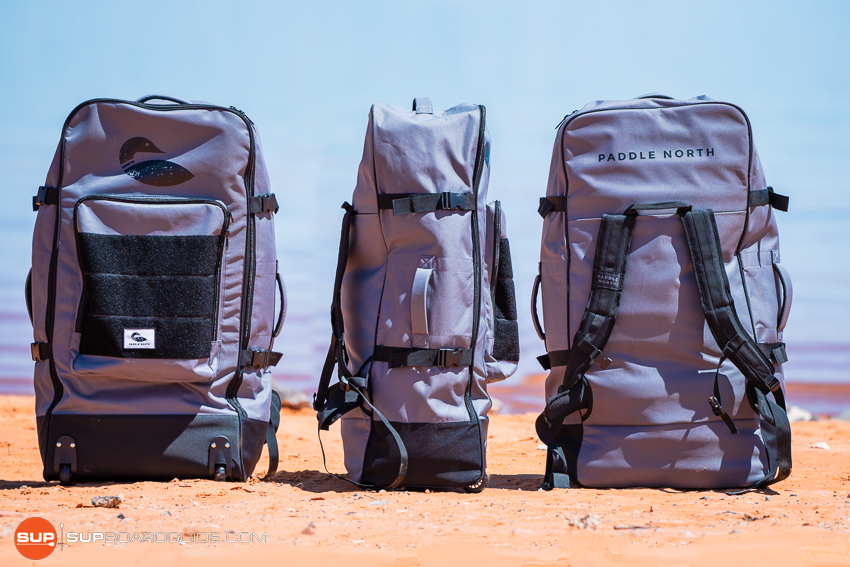 We do really like the look, feel, and capacity of the Paddle North bag/backpack. The straps, while skinny, are decently padded and include a sternum strap for securing the load on longer hikes. It has heavy duty handles on the top and sides, good for moving the bag around. It also has wheels which make it even easier to transport longer distances, and like we said the handle is nice and thick which is good for longer rolling journeys. It has a single exterior pocket for the accessories. The pump however has to go in the bag with the board, which is fine given how much space you have in the main compartment. This bag is all business and no frills.
Our favorite feature of this bag though is that empty velcro loop area on the outside of the exterior pocket. We are big fans of supporting a community of paddlers and their various accomplishments. Paddle North offers FREE PATCHES for those individuals looking to display their achievements. We really like this as it is just another great way to bring the paddling community together. Our favorites are the Great Lakes Paddle Challenges and the Marathon Paddle Challenge. Paddle north calls them challenges on their website and they operate on the honor system (for now). It's just a really unique idea for a paddleboard company to include with their products.
Optional Accessories:
Paddle North has a fairly limited supply of accessories, at least when you consider other manufactures like iRocker, Gili Sports, and BOTE. What they do have is useful and in line with their brand's overall idea of being in nature without all the distractions. Some of our favorite pieces are:
Electric Pump
Carbon fiber paddle (it looks amazing with the bamboo blade)
Various dry bags
Mooring bungee
Valve adapter w/ gauge (another solution for mechanized pumping)
4 year extended warranty (total warranty not addition too)
Summary Review of the Paddle North The Portager (2021 model)
In summary we really liked how The Portager performed in our tests. Visually the board looks great. The wood finish print looks great even up close (not true for some manufacturers) and it has an undeniable quality to it.
The accessories leave some room for improvement with their included pump and paddle, but the board itself is very well built and sturdy. It's fast through the water and fairly maneuverable in low speed (low movement) kinds of turns. We really think extending that deck pad would go a long way to help this board out.
The company itself seems wonderful in it's inclusion of challenges for their community. We really like brands that support the local community, wherever it may be. It might sound weird that we keep hitting on this, but this type of involvement shows that they are a brand here to stay AND who supports their customers. We love this type of passion and hope to bring in more Paddle North equipment for future reviews.
Thank you for reading our review of the Paddle North The Portager. If you have any questions or comments please leave us a comment below. We love answering questions!
As always, happy paddling and we look forward to seeing you on the water!
The following two tabs change content below.
SupBoardGuide
Heyo! At SupBoardGuide.com we are a team who love the water, the outdoors, and are more than grateful that our full-time job allows us to review stand up paddle boards. We paddle year round (it helps that we are just about 2 hours outside of Las Vegas), and we bring in a wide range of paddlers with the goal of providing our readers with the best, most in-depth, and accurate stand up paddle board reviews.
Latest posts by SupBoardGuide (see all)