Xplor 7'6'' Kid/Child SUP Board
Pros
Shorter, thinner paddleboard built with younger SUPers in mind. Good weight support while staying lightweight and easy to carry by kids.
Smaller size makes it easy for kids to navigate the water. 7'6'' also encourages younger paddlers to improve their form instead of just relying on a longer adult SUP.
Solid inflatable construction that you won't have to worry about your kids breaking if they have the occasional drop or crash. Paddle also reinforced to prevent snapping.
Very comfortable deck pad that kids should find plush and comfy. Mostly clean deck pad in order to prevent junior paddlers from tripping to getting caught on small objects.
Full accessory lineup that has everything a junior paddler would need for the water out of the box. Great overall paddleboard value despite its very entry-level price.
A percentage of every sale is given to Shine on Malawi, an organization that helps provide meals for children in East Africa.
Cons
Simple to use a single chamber, a single action pump can be too tough for kids to inflate past 10 PSI. Adults may need to top off inflating the paddleboard.
Backpack doesn't offer much in terms of padding or adjustability support. Adults may need to also carry the paddle board kit to the water for their kids as well.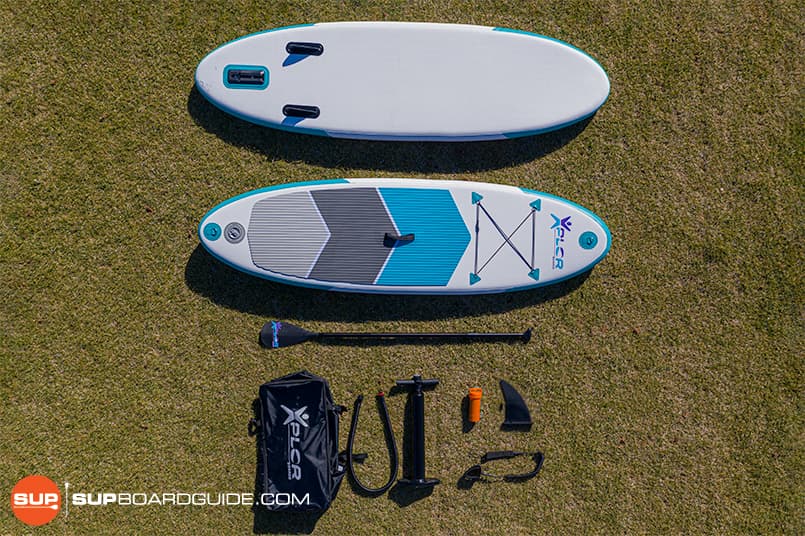 Helping kids get into paddleboarding can be a tricky endeavour, as there's not too many options on the market we can recommend. However, one we do suggest considering would be the Xplor 7'6'' junior SUP. Rated for junior paddlers between the ages of 5 to 10 (we think up to 12), this smaller paddleboard is designed to be quick, nimble, highly maneuverable, and stable for young paddlers. The deck pad is also quite cushy, ensuring your kids will want to stay out on the water, and has minimal D-rings and mounts that can trip them up or get caught on if they aren't paying attention. This paddleboard kit also has everything a junior paddler needs to get on the water, with accessories designed with them in mind like a shorter, lightweight paddle and single action pump. Available for a very low price as well, read our full review of the Xplor 7'6'' inflatable SUP to learn more about why we think it will be a great option to help your kid get into paddleboarding.
SUP Board Specs
Length
7'6''
Width
25.5''
Thickness
4''
Weight
23 lbs
Rider Capacity (lbs)
110 lbs
Recommended Inflation
12-15 PSI
Fins
2 Permanent Side Fins
1 Removable Snap Lock Center Fin
Paddle Type
Aluminum shaft, Nylon blade, 3 pieces
Construction
Military Grade PVC, Drop Stitch Core
Who Should Buy This Stand Up Paddle Board:
The Xplor 7'6'' is a junior paddleboard, and is specifically designed for children between the ages of 5 to 10, or up to 110 lbs. Xplor also develops two other models of their paddleboard, which will be better for older and larger paddlers. We suggest following this suggested weight and age guide when selecting your Xplor paddleboard:
Xplor 7'6'': Ages 5 to 10, 110 lbs weight capacity.
Xplor 9': Ages 10 to 15, 150 lbs weight capacity.
Xplor 10'6'': Ages 15+, 220 lbs weight capacity.
Performance
Stability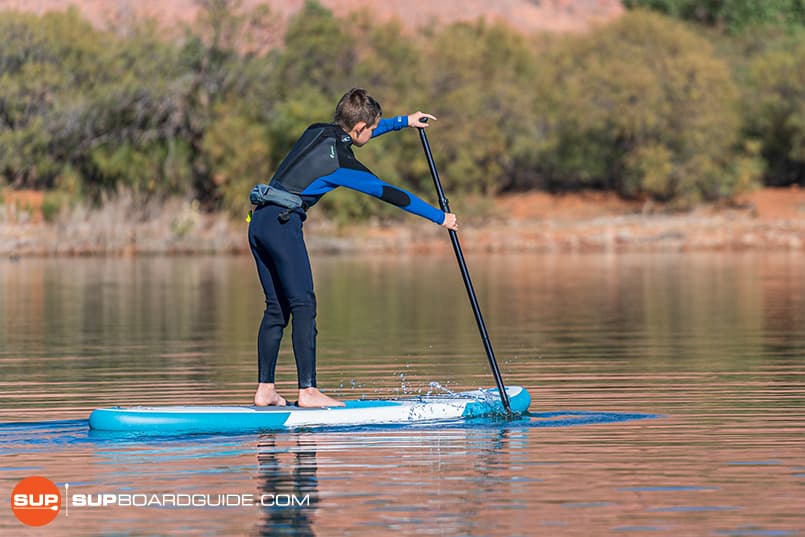 When it comes to a beginner paddleboard, stability is the most important factor. It's not fun, especially for kids, if every few seconds they fall face first into the water because their SUP is unsteady. Making a SUP larger than is a good way to ensure stability, but make it too large and while it might be stable, it won't be easy to maneuver with.
The Xplor 7'6'' is a good balance of the two, providing great performance you'll read about in the next few sections while being quite stable for young, junior paddlers. The estimated weight capacity is 110 lbs, but we think any child within the estimated age range should feel at ease while paddling with the Xplor 7'6''. In fact, we think that Xplor may have even underestimated a bit, and think that children between the ages of 5 to 12 should all be able to use the Xplor 7'6'' without much prior experience. With this paddleboard, it won't take too long for your kid to get used to being on the water, but will also help your child improve their ability to balance and properly improve their paddleboarding skills.
Maneuverability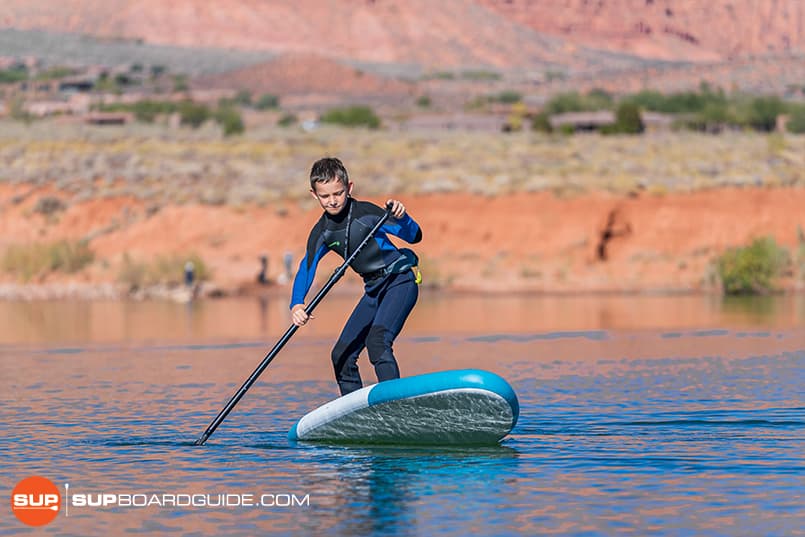 One of the best performance factors of the 7'6'' is its maneuverability. Longer, adult paddleboards are very difficult to turn for junior paddlers, which will take away how much fun they're having since they can't go where they want to. By going with a 7'6'' length, this paddleboard will be extremely nimble and maneuverable, letting kids explore every nook and cranny they can see out on the water. This shorter sized paddleboard is even great for helping kids learn how to perform a step-back turn, like you see in the photo above. To perform a step-back turn, have your child slowly move a foot to the tail of the SUP, push the tail into the water, and maintain their balance as the nose rises. Then, by paddling at their side, your junior paddler can pivot on the spot. Once they've turned where they want to go, they just need to move their back foot to the center of the paddleboard, letting the nose fall down. With the step-back turn mastered, your junior paddler has learned their first paddleboarding trick, and will be on their way to exploring coves and windy water passages alike!
Tracking/Glide
The 7'6'' Junior SUP is not going to have anywhere close to the same level of tracking as an adult sized paddleboard, but that is actually a good thing. Adult paddleboards, when used by junior paddleboards, are quite slow and take a lot of work to get going in the water. Furthermore, because of their superior tracking, kids are never encouraged to try to improve their paddling form. Junior paddleboards stand out because they are a lot easier to get going in the water, providing solid tracking but still requiring kids to make the effort in maintaining proper paddling form.
Such is true with the Xplor 7'6'' SUP. The junior paddlers who tested this paddleboard had a blast paddling with it, finding it had a smooth glide that was steady while they were paddling in flat water. While they had to put some effort into it, it didn't take too much work to maintain a straight line, and if they focused they could get to anywhere they wanted on the water. Most importantly, the paddleboard was quite zippy, with our younger paddleboard testers enjoying how fast they could get the Xplor 7'6'' compared to a larger, oversized paddle board.
There is something else that can help with the tracking, and that is the fin setup. There are two permanent side fins, which are included to help tighten up the turn radius of the 7'6'' iSUP. However, there is also a removable snap-lock center fin that, when used, will help the paddleboard maintain a straight line while paddling in the water. With all three fins together, the overall SUP rocking is also reduced, improving stability as well. We highly recommend that your junior paddler head out with all three fins, except when paddling in very shallow water settings that would cause the center fin to drag across the ground.
Materials
There are two components you need to know about in order to understand how the Xplor 7'6'' is built. The first component is the inflatable tight drop-stitch core. The core is made up of sheets of fabric that are held together with thousands of internal strings. As air is pumped into the core, it expands like a balloon, but will maintain a SUP shape thanks to the internal threading throughout the drop-stitch core. This core provides the base performance of the SUP, letting the Xplor 7'6'' float on the water and paddle like an epoxy SUP while still being a lightweight inflatable.
The more rigid a paddleboard is, the better performance it will provide, so the second major component of the 7'6'' Junior's construction is the outer shell. The outer shell consists of a durable coating of military grade PVC, and while it does weigh down the SUP it makes it more stable, durable, and rigid as well. Some parents are concerned about their children damaging their paddleboard, but you won't have to worry too much with the Xplor 7'6''. Thanks to its high quality PVC coated construction, the typical drop, crash, or other common SUP accident that comes typical paddleboard use will do little to no damage to the 7'6''. This is a paddleboard built to last, and will be a fun option for your junior paddler until they grow out of it.
Board Design/Shape
Xplor founded their company with the goal of making inflatable paddleboards designed specifically with children in mind. The 7'6'' length ensures that the paddleboard is highly maneuverable, while the 25.5'' wide deck ensures that the paddleboard stays lightweight and speedy in the water. The 4'' thickness helps the paddler stay closer to the water, lowering their center of gravity for greater paddleboard control. As a result, the 7'6'' does have a low 110 lbs recommended weight capacity, but it provides great speed, maneuverable, and overall performance for kids within the recommended 5 to 10 age range that the board is built for.
Junior paddlers who use this SUP will have a great time trying out a number of activities. They'll be able to cruise around with friends, or even have fun with some light racing. The smooth deck pad is great for short and long paddling trips alike, with easy to use bungee cords that make it easy to store snacks or a cooler while paddling. This paddleboard is designed for tackling flat water conditions, and should still provide solid performance for light water environments. If you want a paddleboard that will allow a junior paddler to paddle independently with their parents, the 7'6'' Junior is definitely an option worth considering.
Board Features
There are a couple other features that make the Xplor 7'6'' a fun paddleboard and great overall value. Some features we want to highlight include the following:
Military Grade PVC Construction with a tight Drop Stitch Core.
6 D-rings + Removable Bungee Cargo Area.
Child friendly aluminum shaft + reinforced nylon blade paddle.
Center Carry handle.
Textured Extended EVA deck pad.
Fins
There are two permanent side fins on the Xplor 7'6'', with a removable snap-lock center fin. This is a minimal effort fin setup, but with a great removable center fin that significantly improves tracking when in use, while being removable for very shallow water. The two permanent side fins are made with molded plastic, and are very easy to restore to their proper positions if they ever get bent out of shape. Pour some hot water on the side fins, leave the paddleboard out to dry facing the sun, and wait fifteen minutes. Once they are dry, the 7'6'' Xplor side fins should look as good as new, and will let your kid get back out to the water in order to have fun again!
Deck Pad
Much of a junior paddler's enjoyment is going to come from the quality of the deck pad, as a bad or poorly made deck pad is going to cause blisters or hurt your junior paddler's feet. The Xplor 7'6'' inflatable SUP, fortunately, avoids these issues. The deck pad is made out of high quality EVA foam, the same material used in popular yoga mats, and is designed to allow you to paddle for hours without irritating your skin. The EVA foam dries and drains quickly, so the deck pad shouldn't ever get so slick that you have to worry about your junior paddler slipping off the paddleboard. While largely smooth, there is a textured pattern to the deck pad that does offer some traction support for better paddler grip. While more premium junior paddleboards may offer deep or diamond grooves for even superior grip support, we think this is enough and even a better option for kids who prefer comfort over unnecessary traction support.
Handles
There is just a single carry handle on the 7'6'' junior SUP, but given the paddleboard's lightweight and short length, it's more than enough to get the SUP to the water. Very young, such as the 5 to 7 range, may still find the SUP a bit too large and will need to rely on an adult to help carry the SUP for them. However, since we highly recommend adult supervision when children are paddling, the handle is more for adults to help carry the board to the water than for kids. The handle is cushy though, so kids should find it plush to grab with if they want to try to lift the SUP by themselves.
D-Rings/Bungees/Cargo Areas
Unlike adult SUPs, we typically prefer children SUPs with limited accessory mounts as it means less objects kids can get their fingers and hands stuck in. However, we also like some accessory attachment points for add-ons, which is why we think that the 7'6'' has found a good balance. There are six oversized D-rings, which you can use to attach a leash or other clip on accessories too without worrying about your junior paddler's hand getting caught in them. Additionally, there is a nose bungee cargo area, which you can use to secure a cooler, a bottle, snacks, or other small to medium sized objects your kid might want while paddling. These bungee cords are removable, but they are loose enough and far up enough on the nose you shouldn't have to worry about kids tripping over them either.
Accessories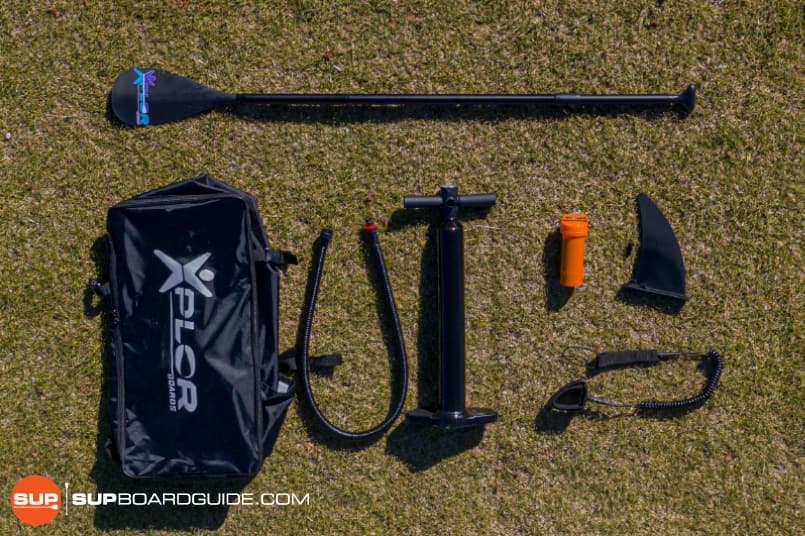 Paddle
The lightweight aluminum paddle is built specifically for young, junior paddlers in mind. This makes it easy to adjust by younger paddlers, while also ensuring that they will have a better form since they aren't having to deal with a longer, awkward adult paddle. The shaft is smoothed out to ensure your kid won't get a splinter while holding the paddle. As for the blade itself, it is flexible but reinforced in the center so that it can provide a great paddle stroke in the water, but also ensure it doesn't break when it occasionally hits the ground. The paddle does float, so if your junior paddler drops it in the water it should be easy to retrieve as long as they aren't in a fast moving water area.
Pump
The Xplor 7'6'' Junior comes with a single chamber, single action pump. We're a bit mixed on the pumping situation, as the included pump is designed to help younger paddlers inflate a SUP. Our 8-year old testor was only able to get to about 10 PSI before he couldn't inflate anymore, which is when one of our team members had to take over and finish off inflating the SUP to 15 PSI. While it was easy to top off and finish inflating, if an adult had to finish inflating the paddleboard for their junior paddler, why not just include a traditional adult pump to do it? The overall value and quality of the pump is going to vary from family to family, with older or stronger kids able to inflate their board by themselves, while younger kids will need an adult to inflate it at all. Even so, we are glad that the Xplor 7'6'' comes with a pump, as some other junior paddleboard kits we have reviewed did not, assuming you'd reuse the same pump used to inflate an adult paddleboard.
Backpack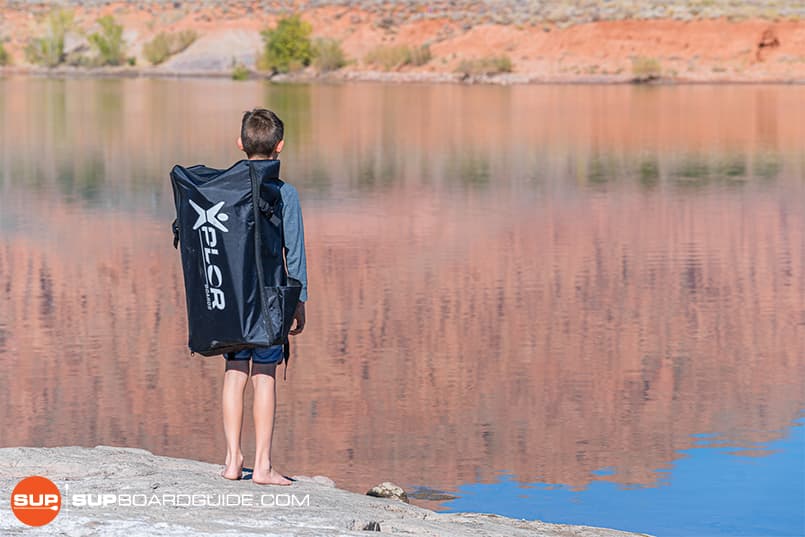 The backpack is quite roomy, making it easy to pack all of the gear that comes with the Xplor 7'6'' inflatable SUP. The thick nylon build also ensures that your gear will stay protected, no matter the environment or weather conditions you may encounter on your way to the water. However, there are limited adjustment straps, no backpack padding, and only one carry handle that is located on the backside of the paddleboard backpack. It isn't particularly comfortable for junior paddlers to wear, especially if they aren't at least 8 years old and above. Most of the time, you're probably going to have to carry the kit backpack for your child, but with limited handles and strap adjustment options there really isn't a very comfortable way to do it.
Leash
The Xplor 7'6'' Junior does come with an 10' ankle strap leash, which is very important due to the safety benefits it provides. Wearing the leash is very simple, as you just put the coil over your ankle or calf, and then attach the other end of the leash to the back D-ring. When worn, the paddleboard will stay close to your junior paddler, and with a tug on the leash can bring it directly to them while they float in the water. With a coil build, tugging on the leash will bring the paddleboard closer without having to worry about whiplash that comes from pulling too hard.
As a reminder, we want to note that wearing a leash will keep a SUP close when you fall off, but it will not help you float any better. Please remember to wear a PFD at all times when paddling, and to set a good example for your kids by wearing one yourself!
Repair Kit
The Xplor 7'6'' comes with a standard SUP repair kit, which features two items. The first is a Halkey-Roberts inflation valve wrench, which you can use to tighten up the inflation valve if it ever comes loose. The second triage option consists of adhesive patches that you can use to seal up small tears and holes on your paddleboard, as long as the damage isn't to the seams.
For significant paddleboard damage and performance issues, be sure to contact Xplor Paddle Boards.
Company Review – Xplor Paddle Boards
Xplor is an inflatable SUP manufacturer founded in 2019 when a family of stand up paddlers started looking around for a high quality yet affordable SUP for their young paddler. Unable to find the perfect junior paddleboard, they decided to develop their own option and began to manufacture Xplor inflatable paddleboards. This year, they now offer three unique paddleboard options, with a 7'6'' young child option, 9' teenage paddler option, and 10'6'' all-around adult option. Each of these paddleboards are lightweight, while offering solid performance that will help you enjoy the water on a very budget friendly price.
Xplor paddleboards deserve your consideration for one other major reason as well. With the purchase of a new paddleboard from the company, a percentage of each sale will be donated to Shine on Malawi. Shine on Malawi is a non-profit organization with the goal of fighting against poverty through educational support, community partnership, and sustainable development in East Africa. One of their major programs consist of feeding impoverished students, helping them worry less about their stomachs growling and focus more on the things they need to learn and do to improve their country. With every Xplor paddleboard purchase, you'll be helping Shine On Malawi take another step forward in fighting poverty in Africa.
Conclusion/Bottom line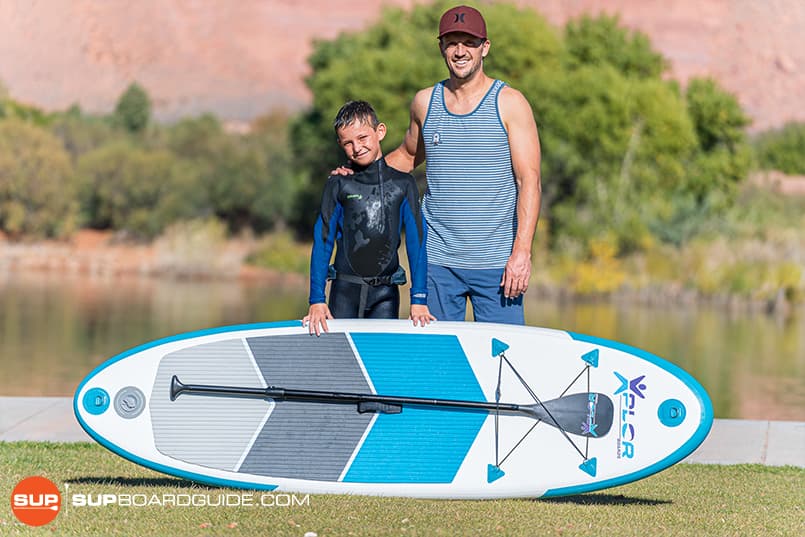 The Xplor 7'6'' is a great junior paddleboard option for those who have a young child interested in trying out paddleboarding. It's one of the most affordable junior SUP options on the market, while providing solid overall performance. The 7'6'' paddleboard is stable enough to support up to 110 lbs, while being fast, maneuverable, and easy to paddle with in normal, typical flatwater conditions. The lightweight paddleboard is easy to carry, while being quite comfortable to stand on for hours thanks to the smooth, EVA foam deck pad. The other accessories are designed with junior paddlers in mind as well, though an adult should stick around to help with inflating and carrying the backpack. Xplor's contributions to Shine on Malawi also deserves special praise, as every new purchase results in a donation to the African charity. There's quite a lot to love about the Xplor 7'6'' junior inflatable SUP, so you will definitely want to consider it if you have a paddleboarder that is between the age of 5 to 10.
Thank you very much for reading our 2020 review of theXplor 7'6'' Junior SUP. If you have any lingering questions about this paddleboard, or want some help finding the perfect paddleboard for your kid, just send us an email or leave a comment below with your thoughts. While you're here, you can find paddleboard reviews for junior and adult paddlers alike, allowing the whole family to get in on the fun. We also have beginner tips and informational guides for more advanced paddlers, along with video reviews at our SUPBoardGuide.com Youtube channel. So, look around and be sure to let us know how we can continue our mission of being the number one paddleboard resource on the internet.
Thank you again for visiting, and be sure to let us know what you think of the XXplor 7'6'' Junior SUP!
The following two tabs change content below.
SupBoardGuide
Heyo! At SupBoardGuide.com we are a team who love the water, the outdoors, and are more than grateful that our full-time job allows us to review stand up paddle boards. We paddle year round (it helps that we are just about 2 hours outside of Las Vegas), and we bring in a wide range of paddlers with the goal of providing our readers with the best, most in-depth, and accurate stand up paddle board reviews.
Latest posts by SupBoardGuide (see all)