Bixpy SUP Motor
Pros
Great for SUP fishing; frees up your hands to troll your line
Easy set-up - just lock the motor into your center fin box, attach to the battery, and sync your remote
Relatively long battery life at lower speeds = you can fish for a larger portion of the day
Cons
We would have preferred 3-5 speed settings rather than 12
We'd like to see Bixpy add a fin to the bottom of the motor to improve tracking when the motor is powered off

The Bixpy J-2 Outboard fin is an electric fin that is compatible with a range of, otherwise man powered, marine vessels such as stand-up paddleboards, kayaks, and dinghies . It effectively takes a lot of the muscle work out of these activities without the use of gasoline, and allows the user to free up their hands, relax, and enjoy the water environment. And while we feel the Bixpy would be most applicable for fishing purposes, in that a SUP or kayak fisherperson could troll their line and not have to worry much about paddling, it's still just a ton of fun for any type of paddler.
Specs
| | |
| --- | --- |
| Battery Type | Rechargeable Lithium Ion; 25.2 V; 378 Wh |
| Run time (according to specs*) | 80 minutes on full power |
| Controls | Wireless Remote |
| Water proof | No, splashproof only |
| Charging | Universal wall charger (100-240V) |
| Speeds | 12 Forward, 3 Reverse |
*Run time is subject to change based on water conditions, board type, and the total load weight. NEVER go further than you'd be comfortable paddling back on your own power.
How it works
As with any new piece of water gear, there's sometimes a learning curve when it comes to setting up and getting started on the Bixpy motor. In this section, we'll walk you through set-up and operation to get you going on the Bixpy without any confusion.
Set-up
The first step of setting up the Bixpy motor is choosing the right adapter. If you'll be attaching this to your SUP, choose one that is compatible with your fin box. In our testing, we were using a board with either a snap-lock or FCS fin box.
Once the correct adapter is chosen and attached to the motor, you'll want to begin set-up on your SUP by placing the motor into the center fix box in the same way that you would set-up your standard center fin.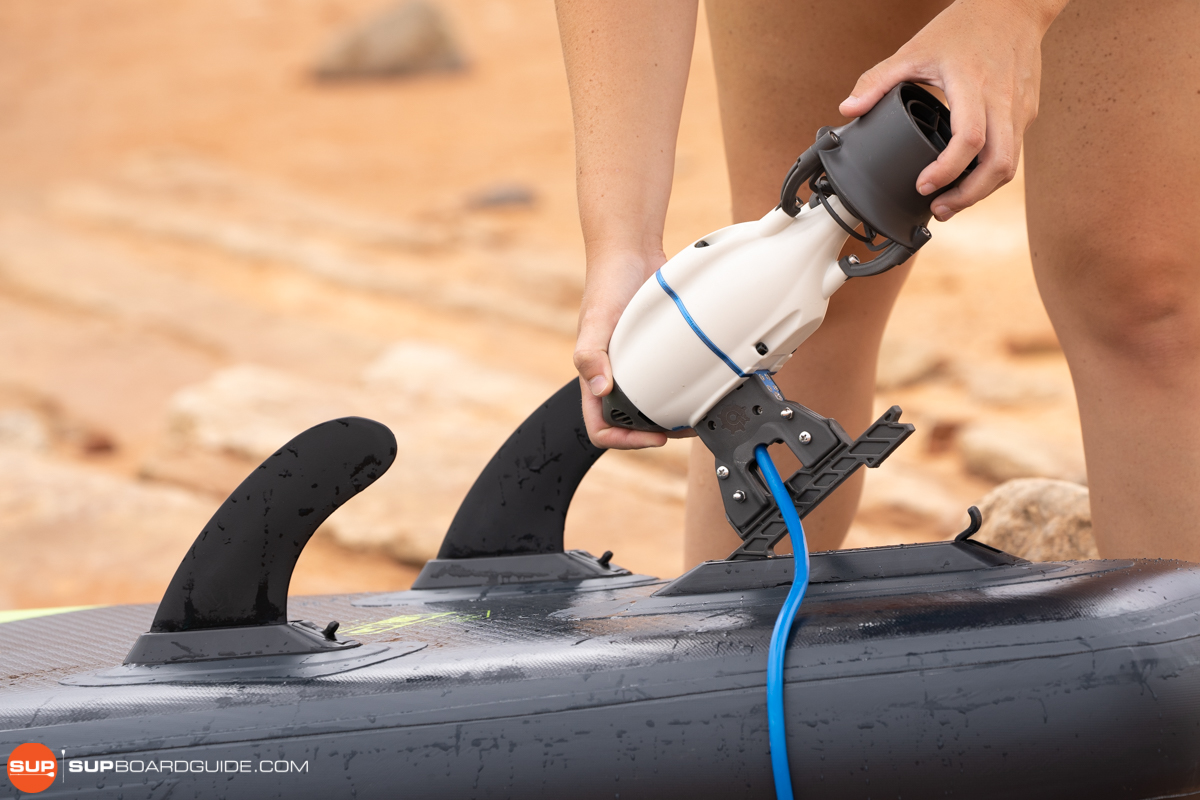 Next, you'll need to flip your SUP over to set up your outboard battery pack. It's easiest if you have a set of rear bungees to secure the outboard battery onto the tail of your SUP, but you could also set some up yourself by purchasing an extra set of D-rings and bungee tie-downs.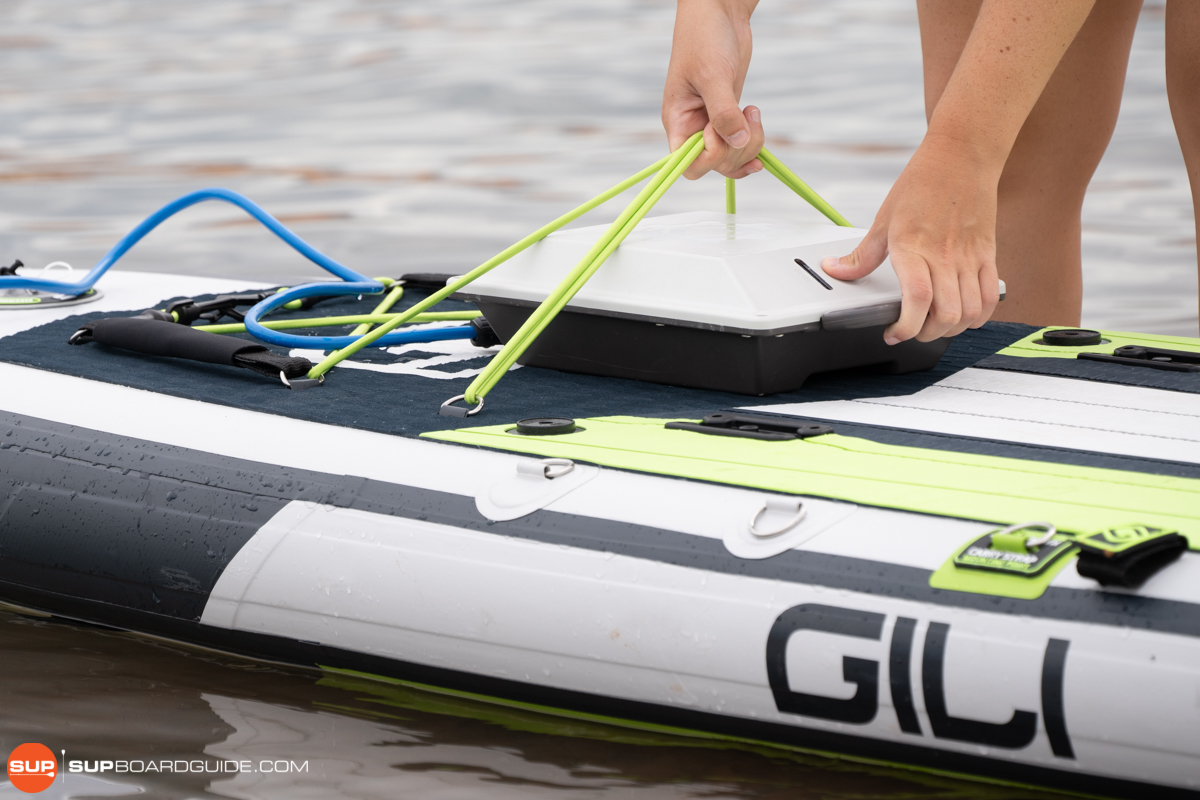 Once your battery pack is placed, you need to plug your motor into the battery pack using the indicated connection point – there will be a propeller symbol on your motor. During this step it's important to double check that your motor is completely plugged in and that you secure it in place by twisting the blue piece.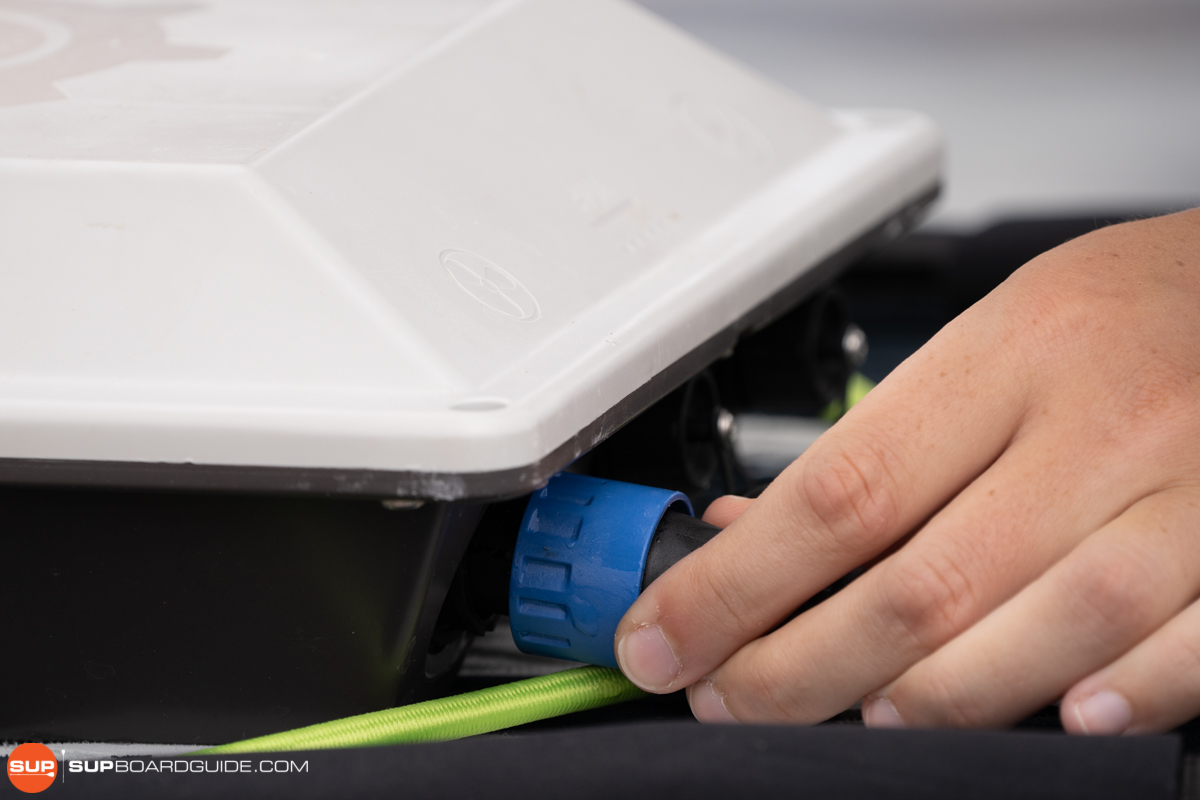 The final two steps involve powering on your battery and syncing your remote. In order to turn on your battery, you need to attach the magnetic kill switch to the bixpy logo located next to the battery indicator panel. Once connected, the indicator panel will light up blue. At this point you can sync your remote by hitting the stop buttom 3 times, the forward button once, the reverse button once, and then the stop button one final time – you should then hear a series of beeps to indicate that your remote is synced.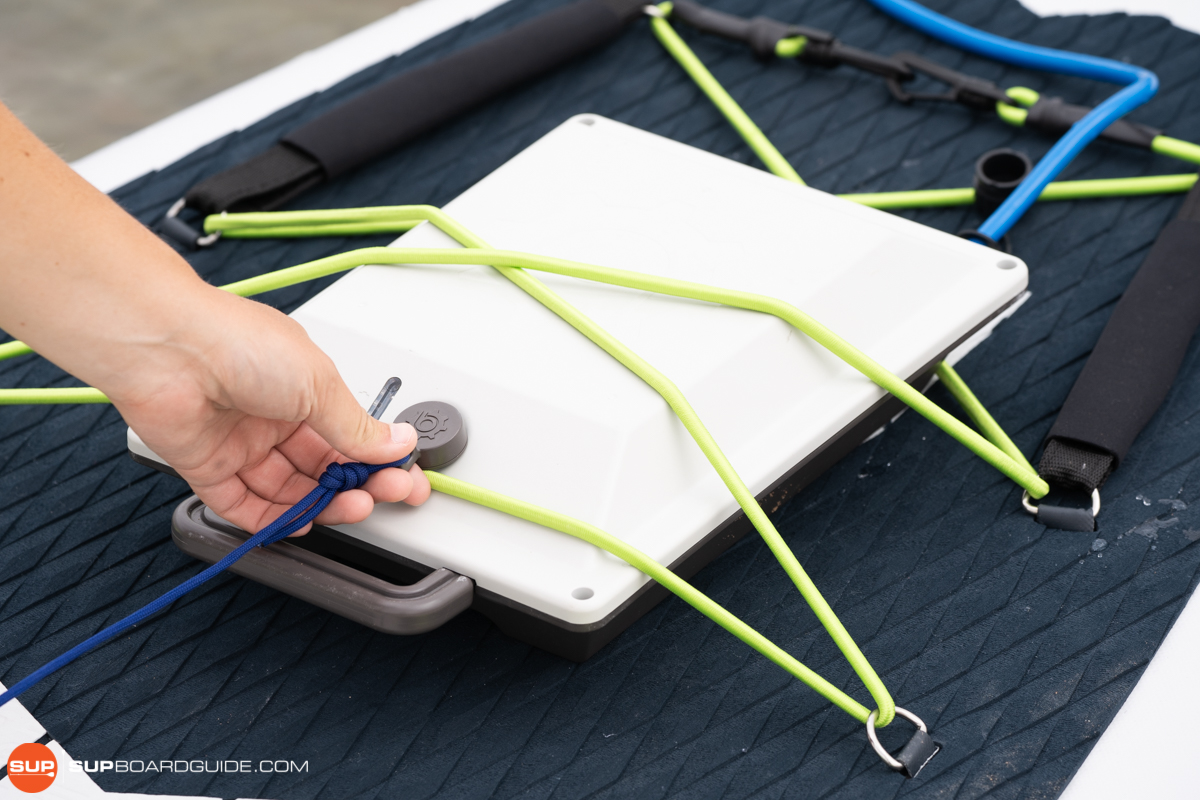 Now that your motor is powered on and your remote is synced, you're ready to get going. However, it's important to keep in mind that while the motor does have 12 forward speeds and 3 reverse speeds, there is no steering mechanism. This means that you will have to bring a paddle with you to steer, and as a precaution in the case that the battery dies on you or otherwise stops working. And, although this should go without saying, we want to make clear that you should NEVER go further with the Bixpy than you'd feel comfortable paddling on your own, nor should you ever go out on a SUP or any other marine vessel without a PFD. It's extremely easy to get into a dangerous situation if you overestimate your own ability levels and use the Bixpy to compensate.
Speed
The speed capabilities of a Bixpy motor is going to largely depend on your board type, your water conditions, and the total weight (paddler + gear + board) that the motor is pushing.
With that in mind, we were able to get the Bixpy up a bit over 5 mph when attached to Starboard's 12'6 x 25.5" Allstar Airline race SUP and were able to get the BLACKFIN Model V, a 12'6 x 32" adventure touring SUP to 4 mph when pushed to the top speed setting with each board. Although these speeds don't seem like much at face value, they're actually extremely impressive. 5 mph on the Starboard was about the same as our moderate cruising pace when we paddled with ~70% of full effort, and 4 mph on the BLACKFIN Model V is just below some of our paddlers sprint speed for that board – and the best part about the Bixpy of course is that you can reach these speed with just a push of a button, rather than breaking a sweat.
Battery Life/Run Time
As for its battery life, it's going to vary a lot as you adjust your speed settings. According to the specs on Bixpy's site this motor should last for 80 minutes on full power, and you'll obviously get a bit more battery life out of it at lower speeds, though again, this varies depending on your water conditions and total weight.
Bixpy has provided the following chart to layout their own battery life and speed estimates: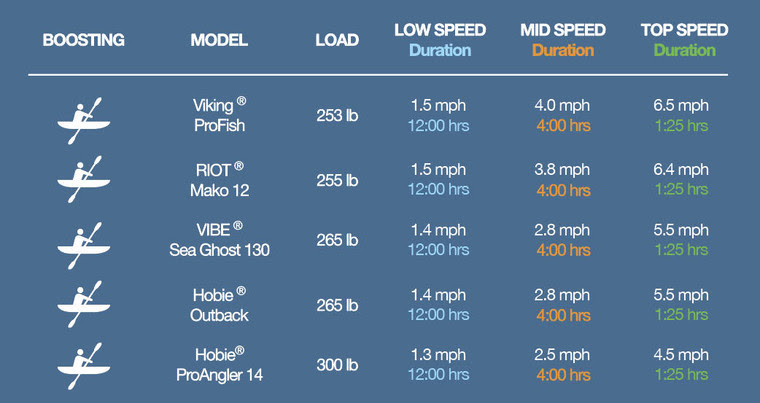 Features and Included Items
The Bixpy features are fairly self explanatory. On the battery pack itself there is a collapsible carry handle, a battery life indicator light, the magnetic Bixpy logo to attach the kill switch, and a set of three power connection points to hook up the motor, the charger, and an auxiliary cable.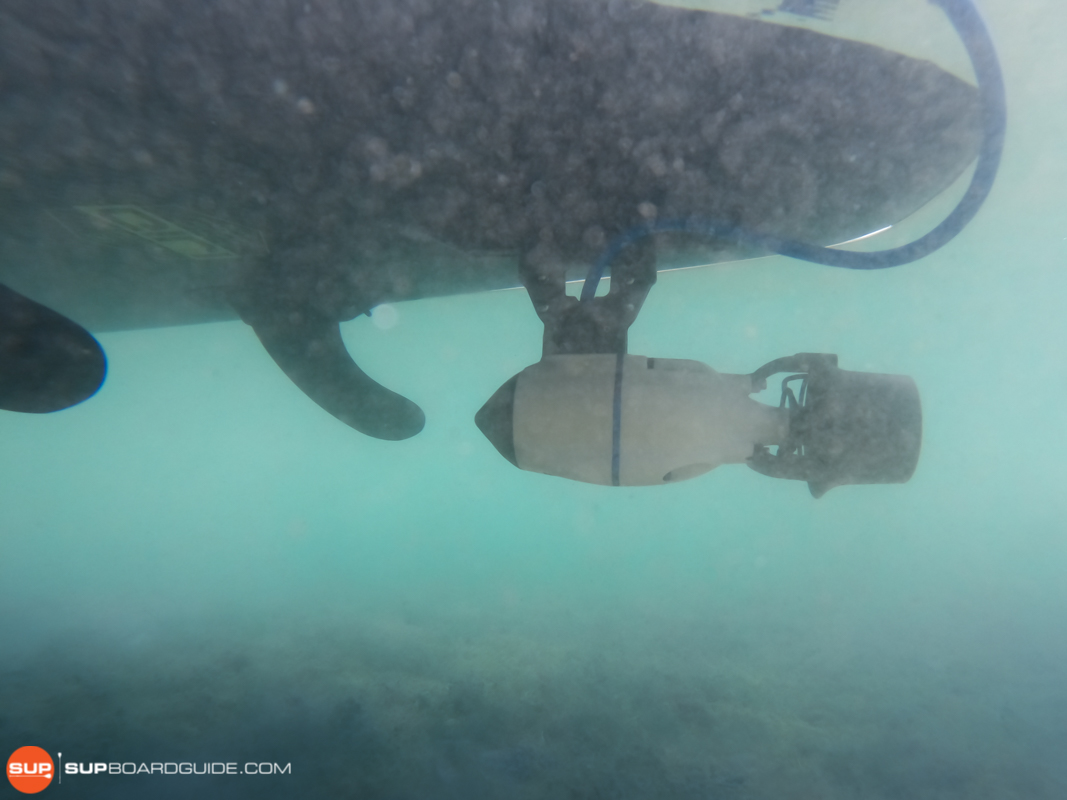 As for the motor itself, it's shaped almost like a torpedo, which does make it fairly low drag. The only problem with this design is that without the addition of a fin beneath the motor, the tracking on the SUP is extremely poor if you're just paddling without the motor assisting you. Of course, this isn't a huge deal when the motor is assisting you, but in the event that it dies or otherwise cuts out, paddling a SUP with no tracking is an undeniably miserable experience. We'd love to see Bixpy adjust their mtor shape to include a fin.
The following are all of the included items that are shipped with the Bixpy motor:
Bixpy J-2 Outboard Motor
Bixpy motor adapter
Wireless remote control
Magnetic kill switch w/ leash
Universal wall charger
Allen key
5 ml of di-electric grease
User Manual
Bixpy decal
Essentially, this is everything you need to safely operate and maintain your Bixpy. Our only qualm is that they've included a tube of di-electric grease without any instructions on how or when to use it. Though the main thing to understand with dielectric grease is that it's meant to protect a connection against corrosion due to dirt, water, etc. it does not improve connections – and a little goes a long way in terms of that protection.
Summary Review of the Bixpy J-2 Outboard Motor Kit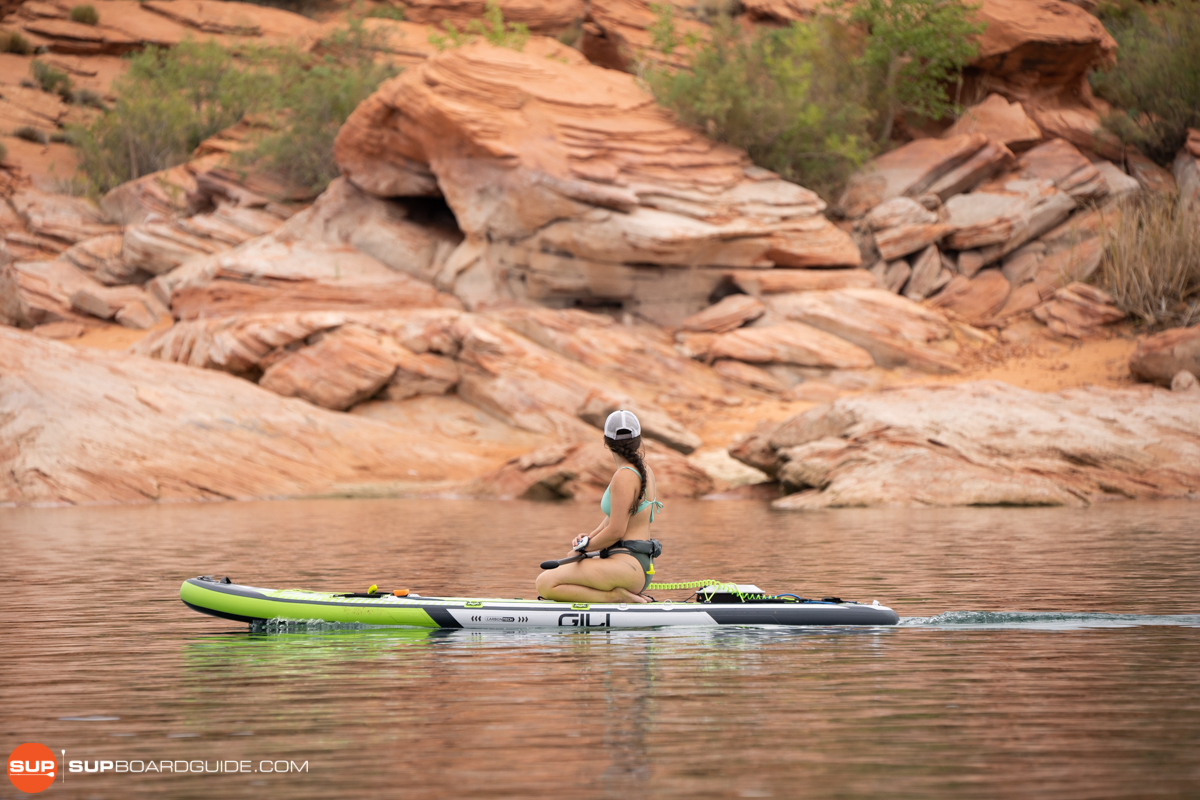 The bottom line is that the Bixpy motor will give you a whole new experience on the water. Although it's definitely not paddling in its purest form, it still presents a gasoline free option to effortlessly get around at the same speed you would hit if you were paddling at a moderate pace.
While the Bixpy is fun to play around with for all paddlers, we still would deem it most applicable to SUP fisherpeople. Equipping your SUP with a Bixpy essentially turns it into a low speed microskiff for a fraction of the cost, and enables the paddler to troll a line virtually hands free or discreetly move into harder to reach fishing holes.
All in all, it's a super interesting product and one of only a few available on the market. We're excited to see how this space evolves and how Bixpy improves upon their design.
The following two tabs change content below.
SupBoardGuide
Heyo! At SupBoardGuide.com we are a team who love the water, the outdoors, and are more than grateful that our full-time job allows us to review stand up paddle boards. We paddle year round (it helps that we are just about 2 hours outside of Las Vegas), and we bring in a wide range of paddlers with the goal of providing our readers with the best, most in-depth, and accurate stand up paddle board reviews.
Latest posts by SupBoardGuide (see all)