Startsmart Shark Repellent Inflatable Paddleboard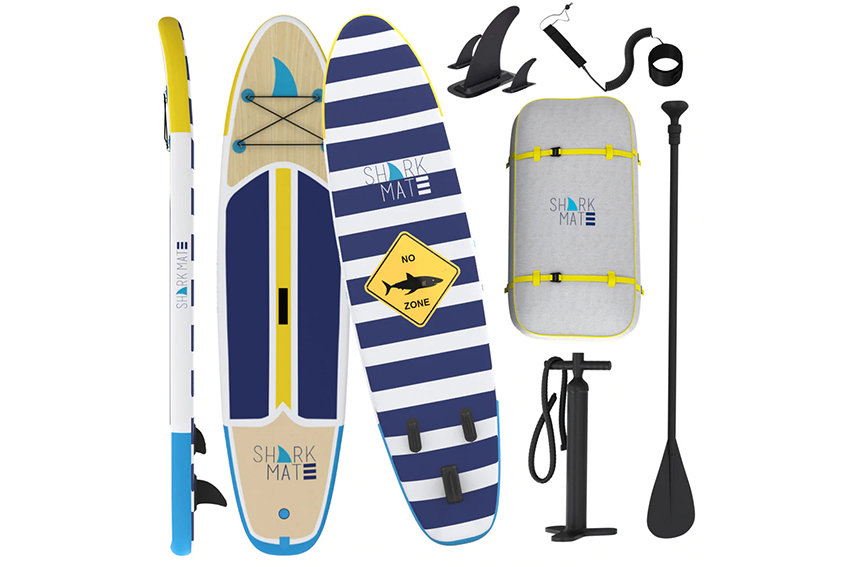 When we first got a hold of the StartSmart SharkMate- 'Shark Deterrent' iSUP for review, I had the obvious question: how can a paddle board possibly deter sharks? I had heard of scientifically proven products like Ocean Guardian that utilize electric fields to deter sharks, but that product alone will cost you more than this entire SUP kit.
When we asked Derk De Korver, the man behind the SharkMate SUP, for an explanation into how this board works, he shared this TEDTalk with us. During this talk, ocean swimmer Hamish Jolly walks us through the history of a banded pattern, much like the one on the bottom of the SharkMate, that is commonly used on wetsuits and swim apparel with the hopes of deterring sharks.
We'll get into whether or not this idea has any merit below, but for now we'll review the SharkMate on its standing as an all-around 10'6 iSUP, regardless of its supposed 'shark deterrent' properties.
The StartSmart SharkMate is an all-around board for a beginner or leisurely paddler that doesn't need a premium performance-focused board. It's stable, easy to paddle and maneuver, and at an affordable price point. Startsmart also does a good job at supplying you with everything you need to get started within this board's included kit.
We think the Startsmart SharkMate would be great for paddlers who
Want a stable inflatable SUP that's great for beginners in a variety of water conditions
Prefer a less cluttered deck pad but want the option to bring along gear
Want an all around SUP that balances speed and maneuverability
Does the SharkMate iSUP Deter Sharks?
Let's get right into acknowledging the elephant in the room: does the SharkMate actually deter Sharks? The makers of the SharkMate 10'6 utilized what they call a 'shark deterrent' black and white banding pattern on the bottom of the board in hopes of lowering the risk of accidental shark bites in the water.
We discussed the banding pattern with Dr. Nathan S. Hart, the Head of the Department of Biological Sciences at Macquarie University in Australia and a world leader in comparative sensory biology research. Dr. Hart explained that the use of black and white bands as a shark deterrent is based on anecdotal reports of some sharks (mostly reef sharks) avoiding banded sea snakes, as well as observations of the commensal relationship that is seen between tropical/ reef sharks and striped pilot fish.
While this hypothesis seems reasonable on the surface, Dr. Hart states that the jury is still out on whether or not a banding pattern would make any difference in deterring sharks. Its use has not undergone any type of rigorous scientific testing that would allow anyone to say with certainty that a black and white banding pattern would statistically lower your chances of being bitten or approached by a shark.
Dr. Hart also mentioned that tiger sharks are known to eat sea snakes, so there's the possibility that a banding pattern would be attractive to sharks in this category, along with other cues such as the splashing of the paddle or the disruptive, high contrast, outline on the surface of the water. Though again, there is simply not enough data with real sharks to know for sure either way.
In short, Dr. Hart and the SupBoardGuide team do not advise paddling with the expectation that a black and white banding pattern on the bottom of your board will reduce your risk of a shark bite. However, if you want to learn more about how this pattern came about and the outcome of some small scale testing, this article about its use in dive wetsuits is a great place to start.
Startsmart SharkMate Review: Overview
StartSmart is a newer contributor to the iSUP market, and we were excited to review their version of an affordable iSUP. The StartSmart SharkMate 10'6 is a classic all-around, entry level paddle board. Its rounded, less tapered shape combined with its 2+1 fin set-up and 33" width gives it enough stability for beginner's, but its lightweight construction keeps it maneuverable in the water.
With that said, I hope you enjoy reading our in depth review of the StartSmart SharkMate – Shark Deterrent inflatable Paddle Board.
Startsmart SharkMate Spec Sheet
Main Category: All Around, Inflatable
Board Dimensions: 10'6 X 33" X 6"
Listed Board Weight: 19 lbs
Listed Max Capacity: 330 lbs
Recommended PSI: 15 PSI
Fins: 2+1 all removable slide-lock fins
Paddle: 3-piece adjustable aluminum
Materials: Single Layer
Price Range: medium
Warranty: 1 year + 90 day return window
Official SupBoardGuide.com Test Results: Startsmart SharkMate – Shark Deterrent iSUP
Overall Score: 7.9/10
Stability: 8.4/10
Speed: 7.9/10
Tracking: 8.0/10
Maneuverability: 9.0/10
Construction Quality: 7.9/10
Features/Accessories: 8.5/10
In-Depth Review of the Startsmart SharkMate Stand Up Paddle Board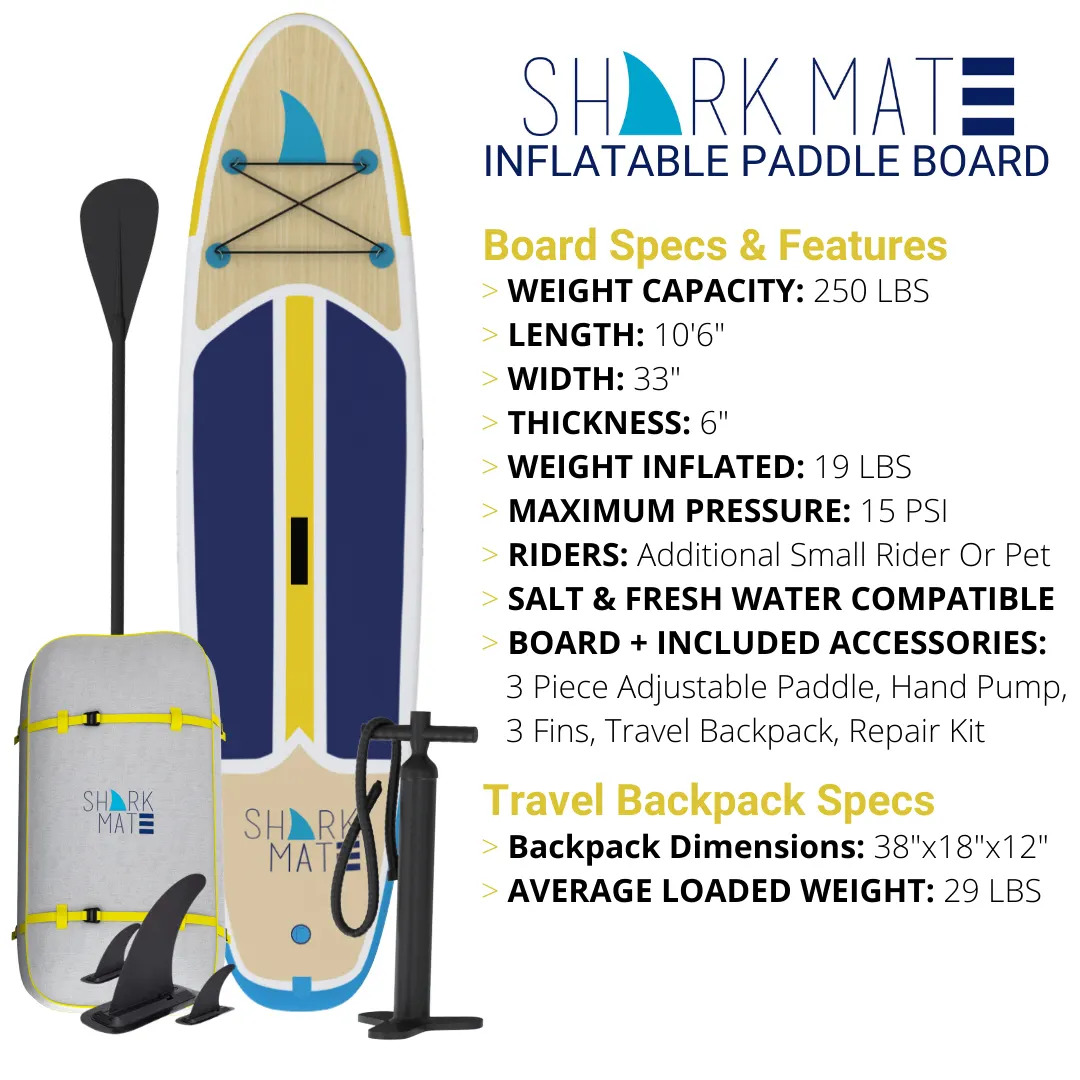 Shape wise, the Startsmart SharkMate is a classic all-around 10'6" board. It is 33" wide and sports a rounded nose to give you added stability as a beginner or a paddler loaded down with gear or a small passenger. However, this board is a light 19lbs, so only takes a small amount of effort to get up to a decent speed or make sharp turns while paddling.
Looking at the fins, its 2+1 slide-lock fins set up adds some extra stability compared to just a single fin set-up. We also love when companies choose to make all 3 fins removable, instead of utilizing fixed flexi fins. We find that the flexi fins tend to get bent out of shape once the board is rolled up and can hinder your tracking and steering ability.
With all that said, let's get into the nitty gritty of our review. Our goal here at SupBoardGuide is to relay to you our personal experiences riding these boards and testing their limits.
Stability Rating: 8.4/10
As I mentioned before, this board is 33" wide (an inch wider than many all-around boards) so provides plenty of stability to shake those beginner wobbles or bring along some gear. The rounded nose and 2+1 fin set-up also help to provide more surface area of the board in contact with the water, playing a part in this added stability as well. I felt little to no side to side movement while paddling this board and had a much easier time walking backwards on this board for a step-back turn than I have on other boards.
I want to note here that I am a smaller paddler (5'2" and 140lbs), so my experience with the SharkMate board's stability is not going to be universal for larger or taller paddlers, and I am definitely not pushing the board's weight capacity (which I will go into more detail about shortly) on my own. That being said, I would still expect this board to handle anyone within a 170-190 lb range fairly well.
Weight Capacity:
Listed weight Capacity: 330lbs
One thing that is important to understand when looking at the listed weight capacity of any iSUP is that the manufacturer is telling you at what point the board will no longer stay afloat. This is usually well past the point that you'd see a noticeable decline in the board's performance.
Our main piece of advice when determining which board will comfortably carry you + any gear or passengers you plan to bring along is to determine what board volume you need in regards to your total weight. Beginners should look for a board with a volume of 1.5x their body weight in pounds (if you know you're going to be bringing along a certain amount of gear, include that with your body weight), whereas more advanced paddlers will typically look for a board volume around 1.1x their body weight in pounds + gear.
The Startsmart SharkMate board has a volume of 250 liters, so it would be ideal for a beginner paddler up to about 170lbs. Of course, a more practiced paddler above that weight range would likely have no issue on this board either. The main point of this discussion is to understand that the board's volume is more valuable than its listed weight capacity when determining if it will comfortably perform for you on the water.
Speed Test: 7.9/10
I had no issue getting the Startsmart SharkMate board up to a comfortable cruising speed. This is no surprise given how light the SharkMate is. I also think part of this goes back to our stability discussion in that the SharkMate's width limits side to side movement, and enables you to focus on a good paddling cadence rather than trying to keep your balance, especially beneficial for beginners.
I realize saying that added width makes for a faster beginner board is a bit controversial, but I think stability is more important than speed while someone is learning proper paddle technique. Once the paddle technique is honed in, balance usually develops along with it and then the person will be ready to advance to a narrower, more dynamic board.
In short, the Startsmart SharkMate iSUP is stable enough that the paddler can focus on putting in a little extra paddling effort to get it up to a good speed. It also makes for a great board for more leisurely paddles as it's an easy cruiser.
Tracking: 8.0/10
Tracking depends more on the paddler's technique rather than on the board itself, especially in the context of an all-around, cruiser style board.
The Startsmart SharkMate Shark Deterrent iSUP had decent tracking capability. If I really focused on good technique, I could keep the board in a straight line without having to switch sides too often, usually after 5-7 strokes. On other hand, if I paddled more casually, I was switching sides every 3-5 strokes. Like I said, it largely depends on your technique and your reach.
Given that the board is 33" wide, the shape likely does play into tracking capability for smaller paddlers with less reach like myself, as we have to extend our arms more to get a straighter paddle stroke, but it's by no means impossible. It's also a lighter weight board, so it's a bit more responsive (we'll get into maneuverability next) to changes in direction than a heavier board.
Maneuverability: 9.0/10
I was happy with the maneuverability of the Startsmart SharkMate board. It's a lightweight, smaller board at only 10'6" in length and was overall responsive on the water.
Part of this likely goes back to the stability of the board, in that it was easy to balance on the tail of the board for a stepback turn without too much side to side movement; the diamond pattern on the tail of the deckpad helped here too. The lightness of the SharkMate made it easier for me to pop the nose portion of the board out of the water with less effort and turn on just the tail. The 2+1 slide-lock fin setup makes it much easier to "carve" around on the water compared to just a single fin set-up as well.
Construction Quality: 7.9/10
Going from the inside out, the Startsmart SharkMate- Shark Deterrent iSUP is constructed with a woven drop stitch, wrapped with 1 layer of PVC glued over the dropstitch core. In short, this is a single layer board. It feels similar to the iROCKER's Nautical 10'6 in that it has a bit more flex underweight than dual or triple layer boards would, but is a bit slower than the Nautical line to paddle (likely due to the SharkMate's rounded shape).
While single layer and glue based construction does have some drawbacks from a durability and rigidity standpoint, it allows the manufacturer to keep this board lightweight. Because of how light it is, the SharkMate 10'6 is easy to carry around and get into and out of the water. The lightness of this board also adds to its speed and maneuverability as well.
As far as features go, the center handle seems sturdy, but the d-rings on the nose and the leash attachment at the tail appear to be glued on top of the deck, so I am interested to see how those hold up over time. The deck pad feels comfortable and there's not any obvious areas that I would expect to peel, but again only time will tell on these fronts.
Board Stiffness:
Stiffness Test Results: 2.5" of bend
Our stiffness test is done by setting the board on top of two sawhorses, placed 7 feet apart, and placing 150 lbs on its midpoint. We then measure how much the board bends under the weight. Admittedly, this is not 100% replicative of how the board behaves in the water, but the main goal here is to understand how the board's construction and materials affect the overall stiffness/change in shape under a small amount of weight.
Because the SharkMate is built with a single layer of PVC, I was not surprised to see 2.5" of bend. This test was on par with other single layer boards that we've reviewed and helps to verify the SUP's construction.
Of course a dual or triple layer board would be expected to bend less for the tradeoff of added weight. The SharkMate is a lightweight board, but will not be as durable or rigid as a SUP constructed with multiple layers of PVC. This really comes down to what you value as a paddler. If you're needing a lower budget, lightweight board, the SharkMate could be a good option, but if you're looking for a bit higher quality in construction, consider iROCKER's Nautical line.
Our advice, reflecting the results of this test, would be to err on the side of caution when considering this board's weight capacity, but also consider the trade-off in rigidity/stiffness of the construction with weight and affordability.
Features/Accessory Review: 8.5/10
Features:
The SharkMate leans towards the cleaner/less cluttered look as far as features go. There is one carry handle at the center of the board and a 4-point d-ring cargo area at the nose of the board. I liked that the EVA deck pad stretched all the way to the tail of the board, giving you plenty of standing room. I also appreciated that Startsmart chose to incorporate a groove-pattern on most of the deckpad, excluding the tail, which is a more traction focused diamond pattern. The grooves help to keep water off your standing area, while the diamond pattern gives you a little extra grip when performing step-back turns.
Generally, we like to see carry handles at the nose, tail, and sides to help with getting the board into and out of the water, but this board is relatively lightweight, so the center handle is sufficient. I would also like to see a larger cargo area or have a few d-rings at the tail of the board, so I have the option to bring along more gear, but this is not 100% necessary if you're going for shorter or more leisurely paddles.
Looking at the bottom of the board, there is obviously that banded "shark deterrent" pattern, along with 3 slide-lock removable center fins. We love when companies choose to make all 3 fins removable instead of just a removable center-fin with flexi side fins. Over time, we've found that the flexi-fins get easily bent out of shape when the board is rolled up for storage, which ends up affecting the board's overall performance.
Included Accessories:
Keeping in mind that the Startsmart Shark Deterrent iSUP is at a comparatively affordable price, I was pretty satisfied with the kit-included accessories. With the purchase of the SharkMate board, you are given:
Aluminum 3 piece paddle
3 removable slide-lock fins
Coiled leash
Manual dual action single chamber pump
Carry backpack
Startsmart also has an electric pump available on their site. We have not personally tested this pump yet, so cannot speak on its quality. We do always recommend purchasing an electric pump along with any iSUP, and lay out all of our favorites in our list of the best electric pumps.
Paddle:
Again, considering the affordable price of this whole kit, I was pretty satisfied with the included 3-piece aluminum paddle. It feels sturdy on the water and the blade itself feels like it would hold up just fine if it brushed up against some rocks or concrete. One thing I really liked about this paddle was that there is a groove in the handle piece that fixes the handle to be completely parallel with the blade, and eliminates the risk of the handle twisting while you adjust up and down or while you're paddling.
While paddling, I do think the aluminum tends to get slippery when wet or gets cold if you're paddling in the winter, but again it's a decent paddle for an affordable kit. I would always prefer a carbon fiber or carbon fiber blend paddle, but understand that this would drive up the overall price. I also found that it's difficult to tighten up the latch to lock in the handle piece's height and stop any shifting from happening.
Pump:
Included with the Startsmart Shark Deterrent iSUP is a single chamber dual action hand pump. While it is totally doable to fully inflate your board using this pump, it is not the most enjoyable start to your paddle sesh. It only took me about 15 minutes to fully inflate this board, but I definitely broke a sweat and my apple watch asked multiple times if I wanted to start recording my workout. We like to see companies include a double chamber hand pump, but we still always recommend purchasing an electric pump with any iSUP.
At this point we know that we sound like a broken record, constantly advising you to buy an electric pump, but we really do think it's worth repeating over and over again. Being able to apply sunscreen, mix up a drink, or get the rest of your gear ready in the 10-15 minutes it will take an electric pump to inflate your board beats sweating over a small plastic hand pump every single time.
Bag:
Startsmart's Shark Deterrent board comes with a roomy backpack, able to comfortably store the board itself and the included accessories. I liked the straps across the front of the bag to allow me to clip on a water bottle, pair of sandals, or anything else that can be held with a carabiner. I also liked the mesh pocket on the side of the bag that is large enough to hold my phone and keys and or your fin set as well.
We could have used an extra zipper pocket on the front or sides for organization's sake, though everything does fit in the main pocket without any struggle. I would have liked some more padding on the hip straps as well as a longer, higher quality chest and shoulder strap. They both feel somewhat flimsy and are not long enough to get a good fit, which I could see being irritating if you need to carry the board a decent distance. We also would have loved for Startsmart to add roller wheels onto this backpack, as it allows for way easier travel with your board, but we recognize that this entire kit is comparatively lightweight.
I am excited to see how Startsmart continues to develop this bag as they continue to grow in the iSUP community. To summarize, some of the main things I liked about this bag were its:
Roomy main compartment
Side mesh pocket
Front straps (to bring along more gear)
Optional Accessories:
The only optional accessory on the Startsmart site is their electric air pump. We have not gotten to review this pump yet so cannot offer too much input on it.
Summary Review of the Startsmart SharkMate 'Shark Deterrent Paddle Board'
To summarize, the Startsmart SharkMate Shark Deterrent Inflatable Paddle Board utilizes a super interesting concept while also being a good entry-level all-around board. It's stable, lightweight, and priced very affordably.
We were also happy to see that Startsmart makes sure to include the basics with their kit to get a beginner paddler started on the water with a little added peace of mind if sharks are more prevalent in their environment (though we do not advise actively trying to paddle with sharks). I am looking forward to seeing the research surrounding the efficacy of a banding pattern in preventing shark attacks as it develops.
Happy paddling everyone! We hope you enjoyed this review of the Startsmart SharkMate – Shark Deterrent Inflatable Paddle Board. If you have any questions or comments please leave us a comment below!
The following two tabs change content below.
SupBoardGuide
Heyo! At SupBoardGuide.com we are a team who love the water, the outdoors, and are more than grateful that our full-time job allows us to review stand up paddle boards. We paddle year round (it helps that we are just about 2 hours outside of Las Vegas), and we bring in a wide range of paddlers with the goal of providing our readers with the best, most in-depth, and accurate stand up paddle board reviews.
Latest posts by SupBoardGuide (see all)