Bluefin Cruise Carbon 10'8"
Pros
An awesome dual chamber design called the Air Duo System
Very effective Flex Reduction system
Extremely light carbon fiber paddle included
2 Cargo areas
Amazing Deck Pad + Kick Tail
Free kayak kit included with purchase
Cons
Doesn't come with a repair kit
To improve tracking we'd like to see a removable sidefin option
Intro
We have been really looking forward to reviewing The Bluefin Cruise Carbon 10'8″. The Cruise is an excellent performance all-arounder that sports some great features. With it, you get an extremely durable rigid board with carbon side rails, a dual-chamber board setup, as well as a drop-stitch hull that can be inflated up to 28 PSI. Not only do you get all those impressive bells and whistles, but you get a 5-year warranty and support from a company that stands behind their boards.
SUP Board Specs
| | |
| --- | --- |
| Length | 10'8" (83.5cm) |
| Width | 32.5" (82.5cm) |
| Thickness | 5.9" (15cm) |
| Weight | 25 lbs (11.3 Kg) |
| Weight Capacity | 286 lbs (130 Kg) |
| Recommended Inflation | 12 – 15 PSI (28 PSI Max) |
| Fin | US Box Fin |
| Action mount | Yes |
| Pump Type | Triple-action, dual-chamber |
| Drop-stitch Density | 11200 m2 |
| Paddle Type | Carbon Fiber |
| PVC Layers | Dual Layer |
Performance
Stability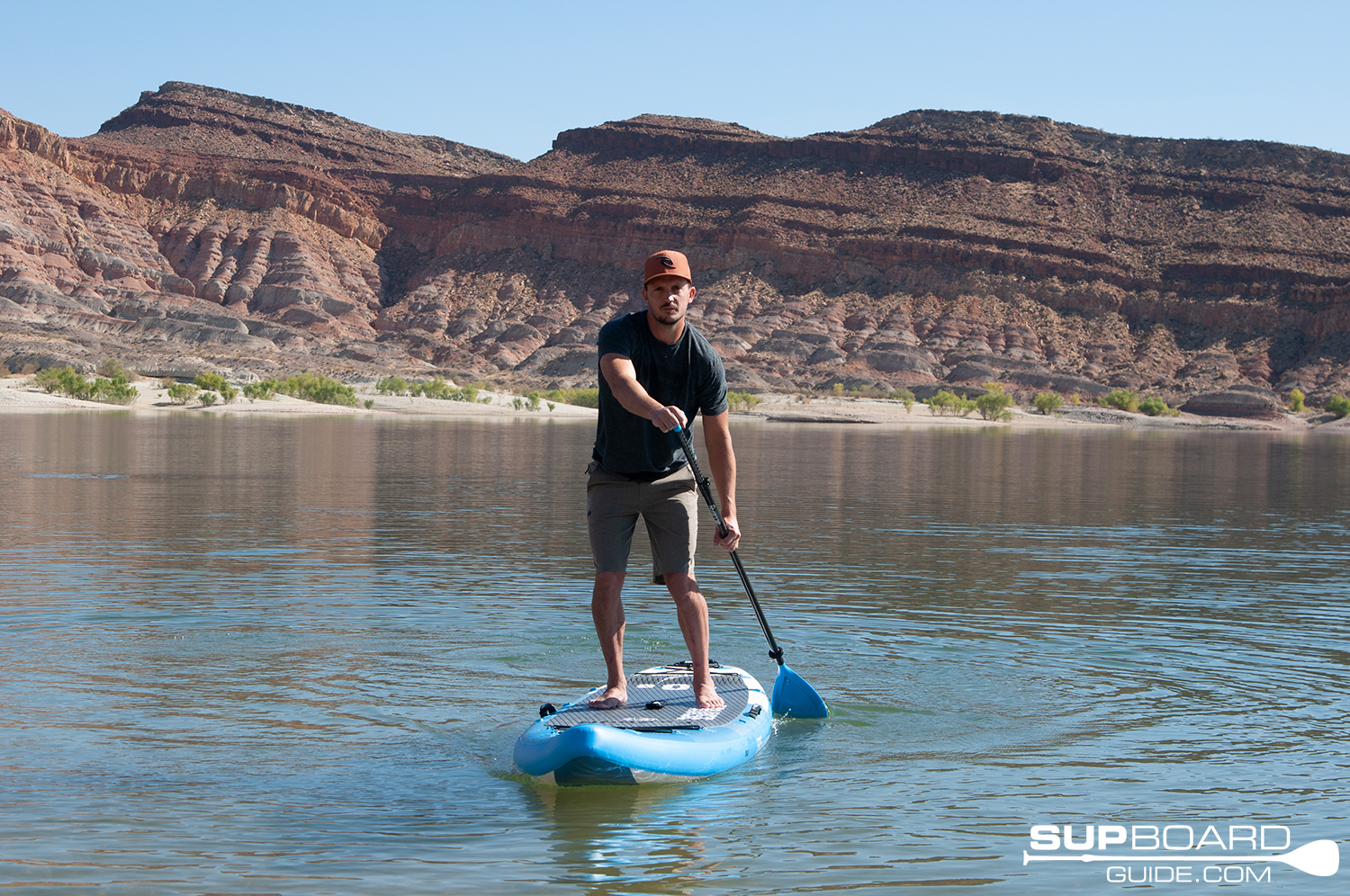 We were impressed by the Cruise Carbon's stability. You can feel the difference Bluefin's Flex Reduction Systems makes when compared to its little brother, the Cruise. Justin and I both hopped and jumped on the board, and we were impressed by the lack of flex. Another of the Cruise Carbon's features that make to board uber stable is the Air Duo Inflation. More on that later.
From back fin turns and walking the length of the board, to just paddling around, we found the Bluefin Carbon to be a very stable board. The Carbon's high weight capacity and dual inflatable chambers simply make for a very sturdy, stable stand up paddleboard. In fact, it is one of the firmest inflatable SUPs we've ever tested.
Maneuverability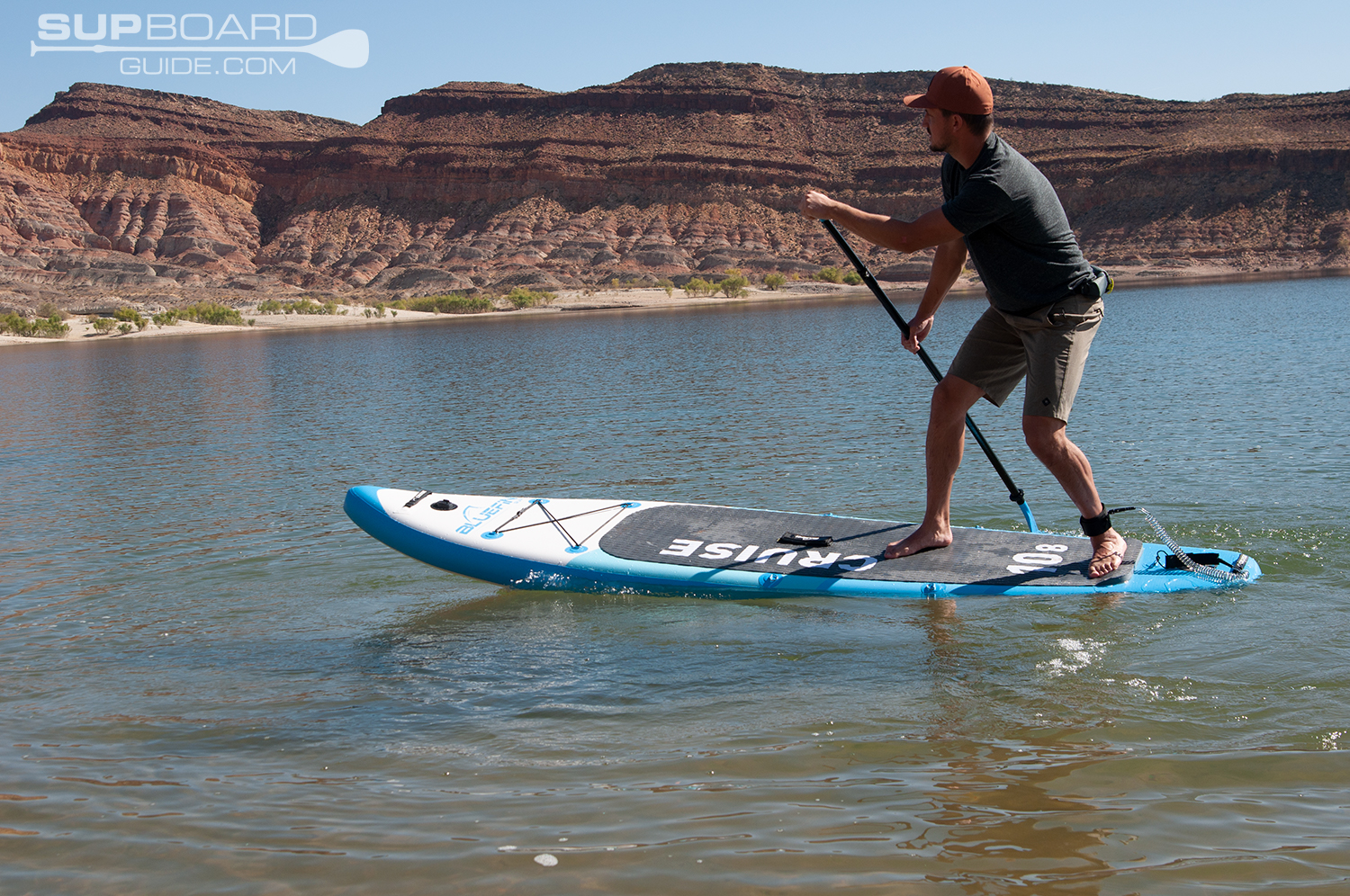 The Cruise Carbon 10'8″ had no issue maneuvering. It was more sporty than we thought it was going to be. We also found it to be very responsive to both the back paddle and step-back turns. Honestly, it feels like you can turn on a dime with a step-back. The pointed nose on this all-arounder helps to blast through the chop and surf. Having a board that tracks well and is also maneuverable is a fine line for any iSUP company to walk. But it seems that Blufin found a suitable happy medium.
Tracking/Glide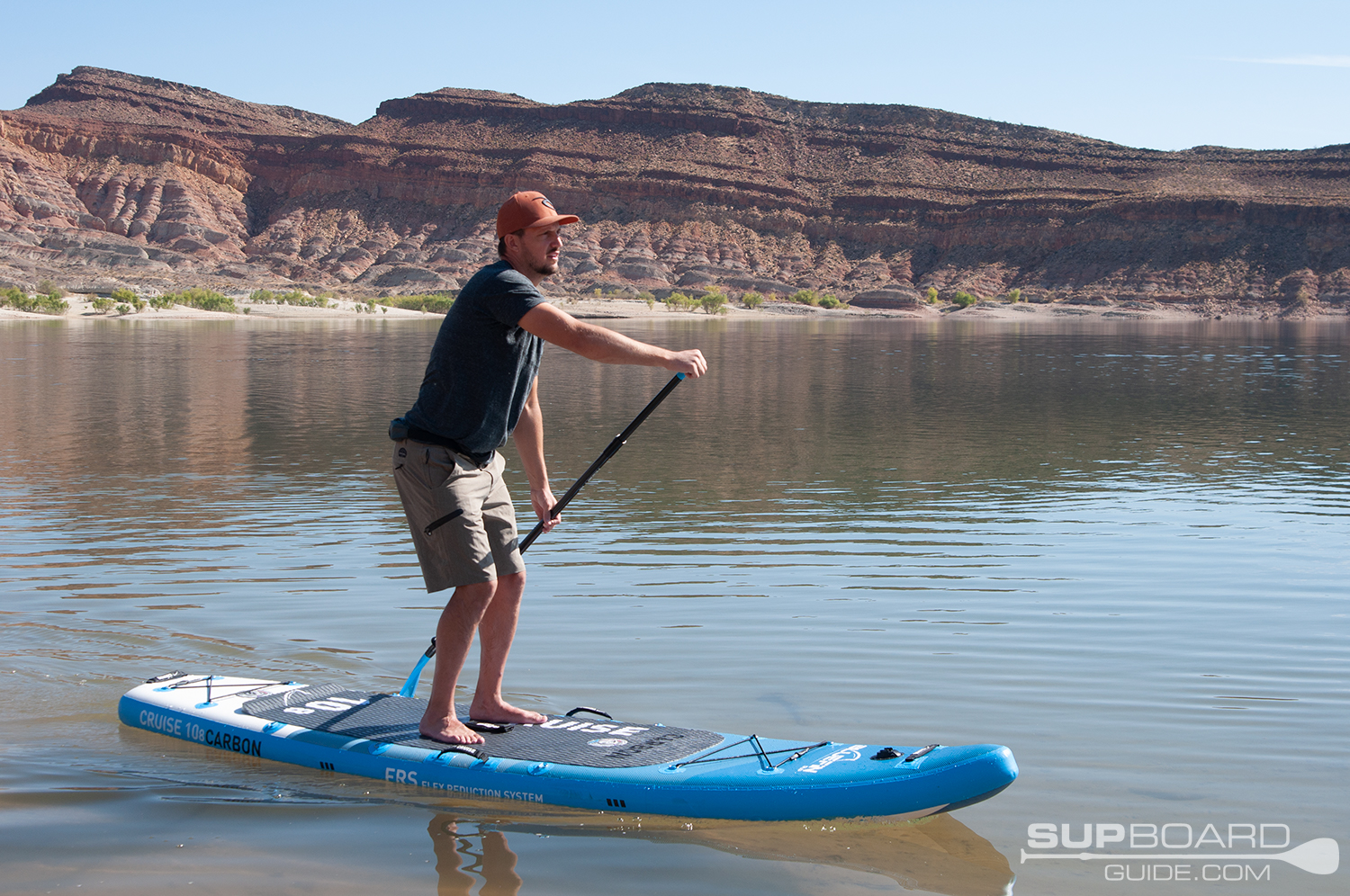 We were impressed by the glide. This board is so stiff, and with that pointed nose, we were able to glide with less effort. The whole experience just felt smooth, and the board just cruised over the water (the board is aptly named). Both beginners and advanced users alike will find the Bluefin Cruise to be a tracking and gliding machine.
In terms of tracking, the Cruise did well. We were able to keep on point and make it to the end of the lake without issue. What we would like to see would be some bigger removable side fins. This would give the users the option to add on bigger fins for better tracking or to remove them for more maneuverability.
Materials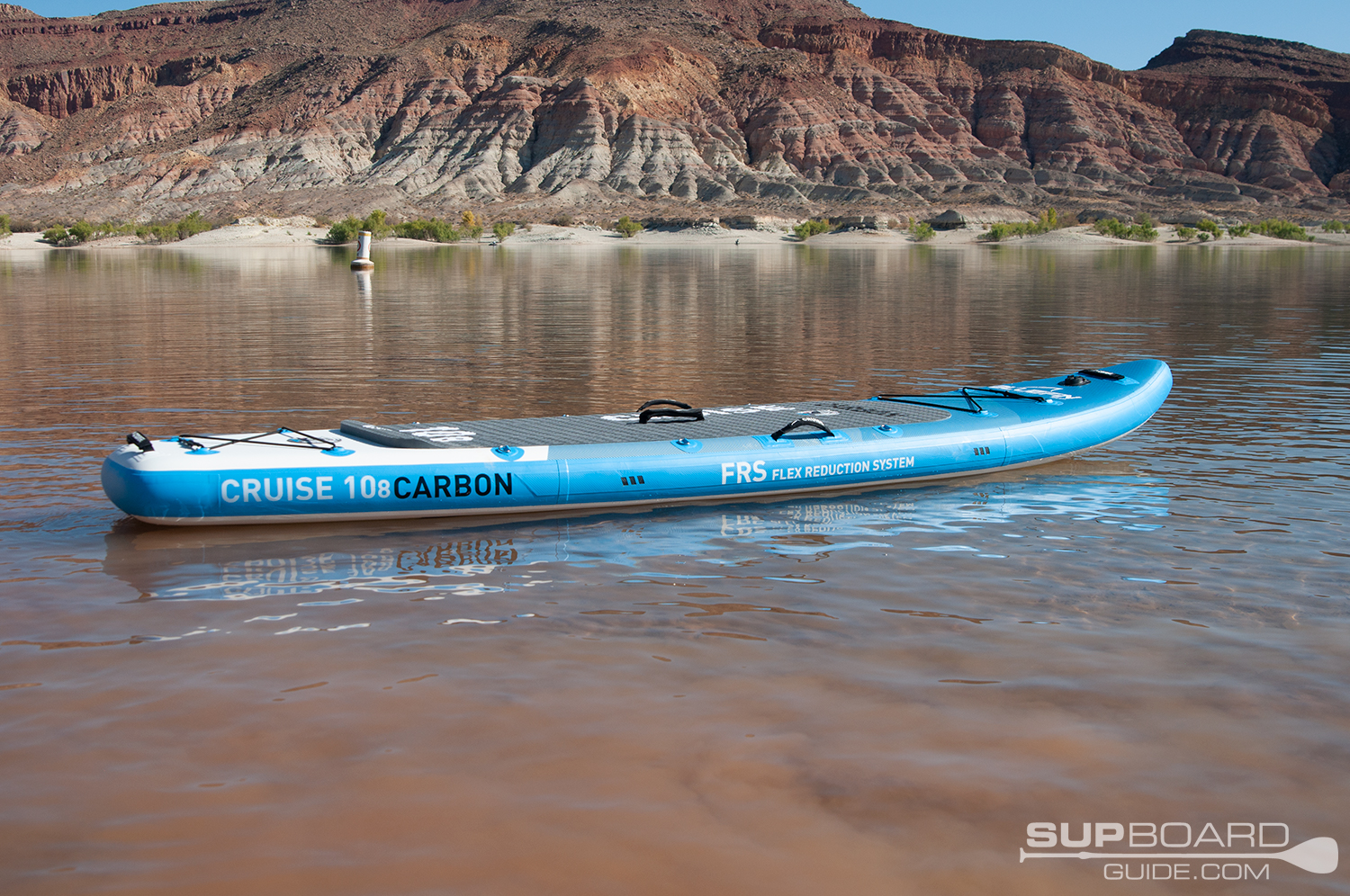 The Carbon has some really heavy-duty construction. It is made from a dual-layer military-grade PVC construction with two extra layers of heat-welded carbon fiber railing on the side. This is partly why the board is so rigid. The entire board is coated in an anti UV coating that prevents degradation of the board. It also comes standard with a drop-stitch dual-chamber hull design, which allows this board to be inflated to higher PSI than some of the other similarly priced boards.
(side note: It still isn't a good idea to leave any SUP board out in the sun for extended periods. Always store your boards after use to preserve its durability and longevity).
The Carbon is also backed by a 5-year warranty. It speaks to the board's craftsmanship and Bluefin's confidence that it'll be free from manufacturer defects for that long. One thing to note is that the board is most definitely covered for defects for 5 years, but you will have to pay for the initial return shipping after 6 months from the time of purchase. Bluefin will pay to ship it back to you. Even though you do have to pay half of the shipping, you're still getting an extended warranty that is longer than anyone else we know of in the industry.
Board Design/Shape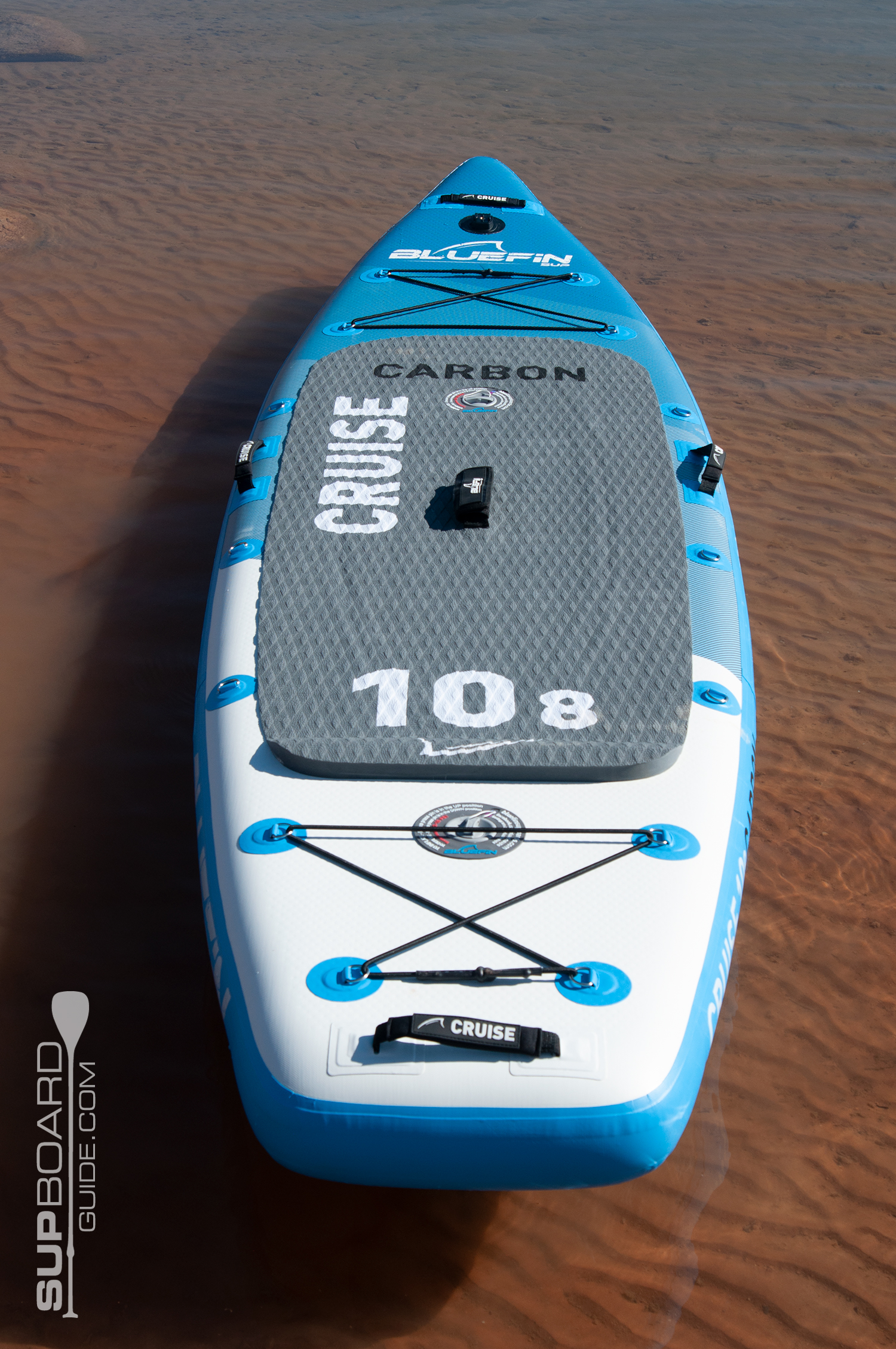 The Cruise Carbon 10'8″ is designed to be an all-around performance board with some very sporty aspects. It has an all-around shape, with a pointed nose for cutting through the surf and a flat tail that improves stability. It has a rocker capable of making even choppy waters still very maneuverable. And with the carbon fiber side rails, the Air Duo system, and high-pressure hull makes this board extremely rigid, which gives you better overall performance. It was designed to be a performance board aimed at beginners and
This board is designed to be extremely rigid and to handle all kinds of usage conditions. You can take it on small waves and do some light surfing. You can also take it out on the lake for a day of fun in the sun. It can also be taken on rivers with some very light rapids (class I). Overall it can go almost anywhere you go. The included backpack is even designed to be checkable at airports.
Board Features
Fins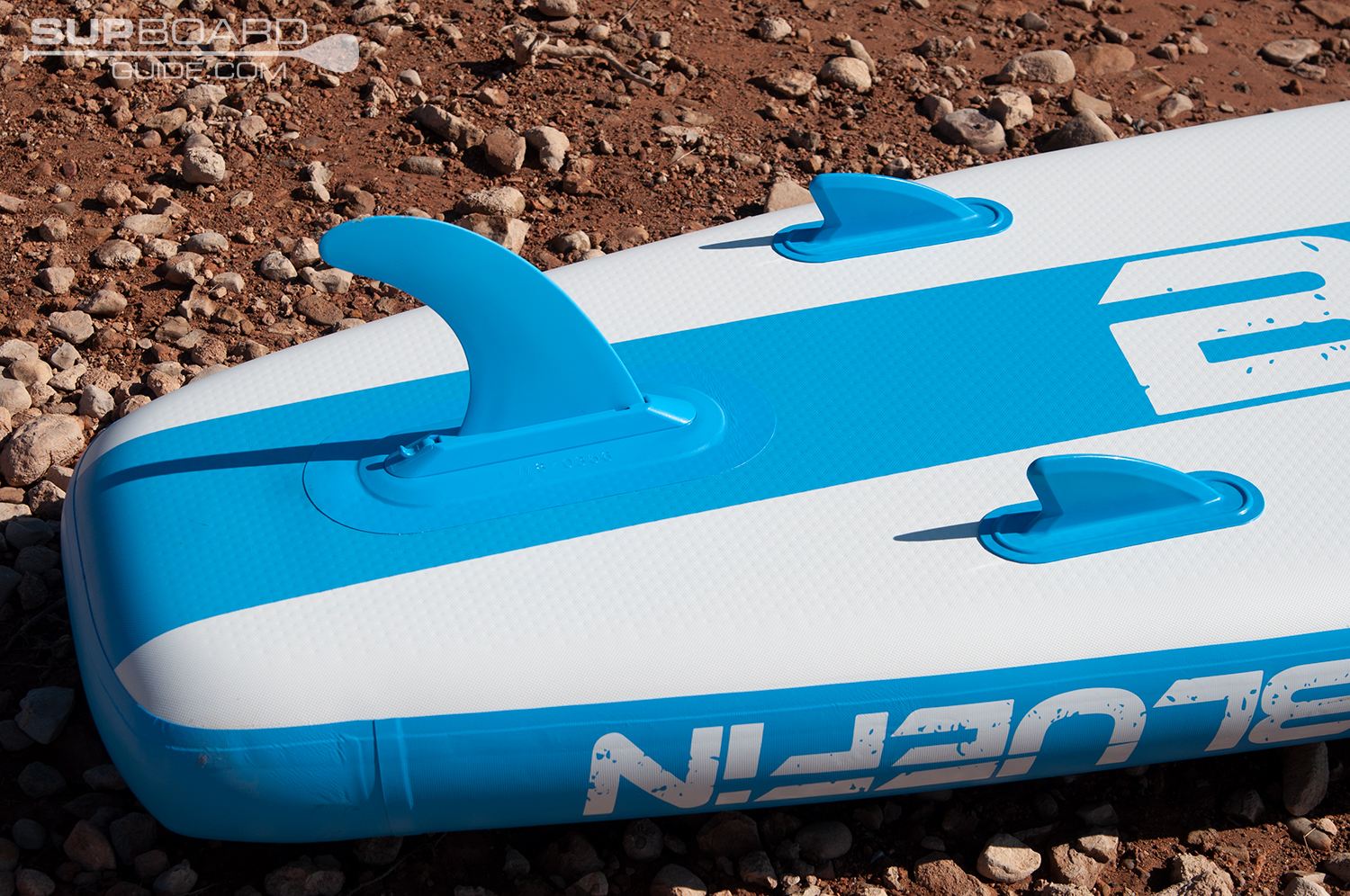 Not only is the deckpad snazzy looking, but it's functional too. The charcoal gray complements the various shades of blue on the board surface. The Croco-Diamond deckpad is really well designed. As its name implies, it has a crocodile textured diamond design that gives the user an excellent non-slip experience. This really helps both beginner and advanced users alike whether you're trying to carve a turn or hang on for dear life. It'll work. With the added lift of the kicktail, you'll get an even better experience on step-back turns.
Croco-Diamond Deckpad + Kick Tail
A great feature of this board is the Croco-Diamond Deckpad with a kicktail. Even at first glance, this deckpad looks cool, and it provides some excellent traction. The kicktail is also a great feature to include an all-around board and is a nice edition that makes back fin turns easier and more comfortable.
Handles
The Bluefin Cruise Carbon has five comfort grip handles. One on both the nose and tail, two on the sides, and one in the middle of the deckpad. All of them are conveniently placed to allow a person to carry the iSUP by themselves or to have a friend help.
Air Duo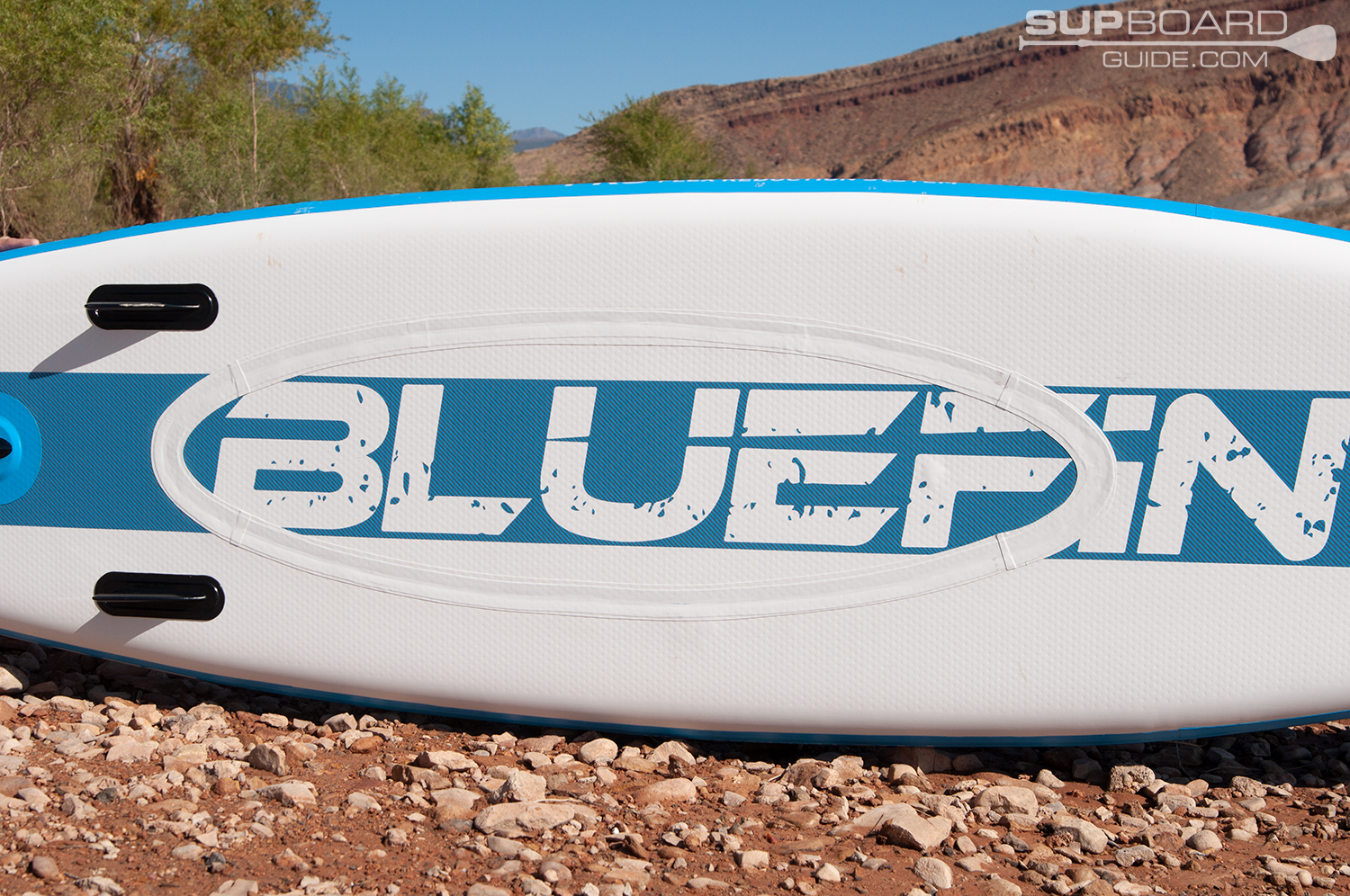 The Air Duo system is a pretty great feature and one that had a remarkable effect on the overall board stability. What does the "Air Duo" system mean then? It means that there are two chambers to fill. The main chamber covers the majority of the board's surface. And underneath the deckpad is the central chamber. Inflating the main chamber and central chamber gives you a crazy rigid board. That paired with the flex reduction system, you get an insanely rigid one. On top of all that, if the outer chamber should ever be compromised, then the inner bladder could be used as an additional flotation device.
Flex Reduction System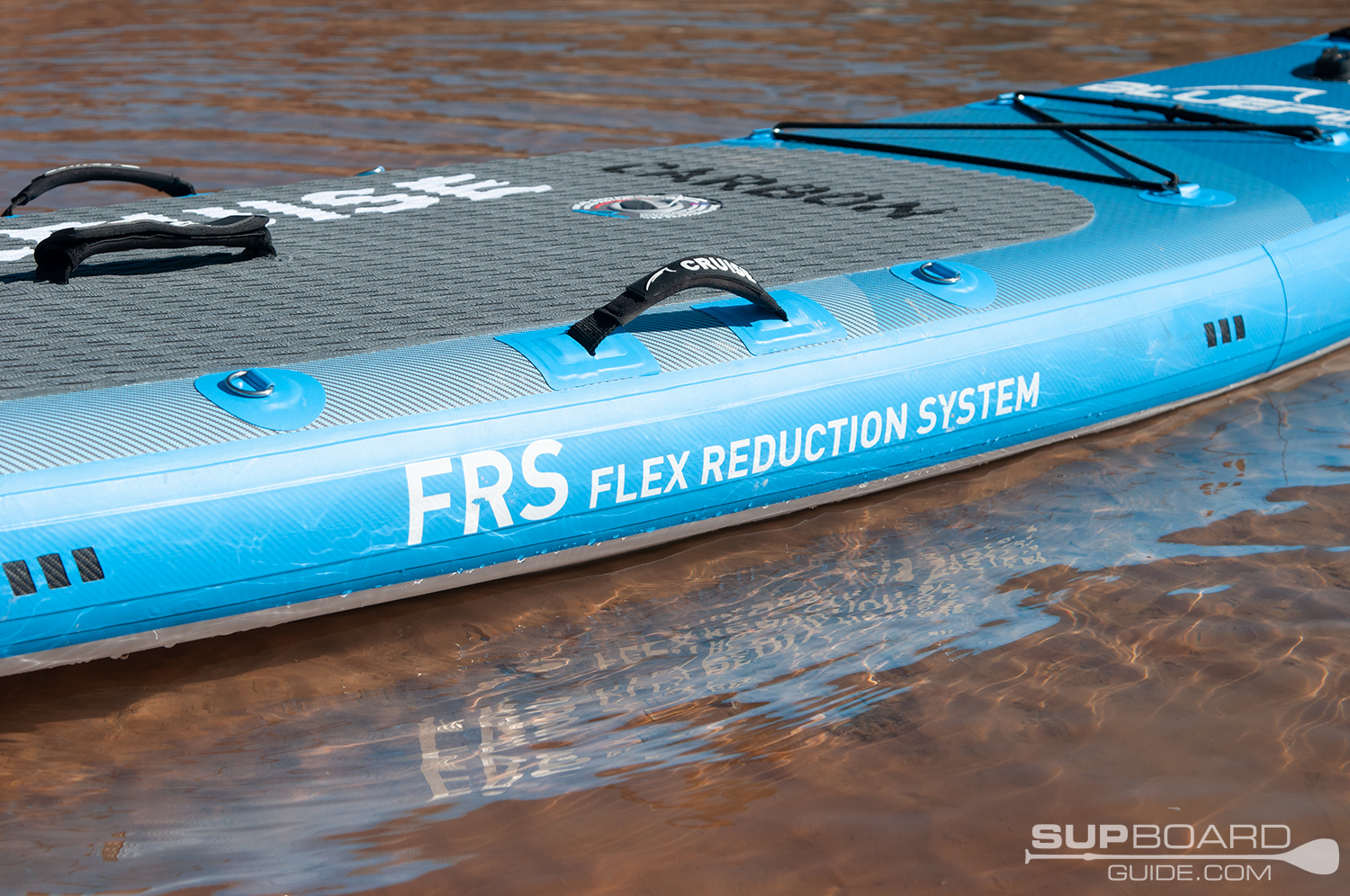 Bluefin's Flex Reduction System (FRS) contains a carbon fiber rail layer that is heat-welded between two layers of PVC on the side of the board. This makes the board extraordinarily rigid and helps keep its shape, even in choppy water conditions. It also facilitates the rider to move around on the board without any bowing or flexing that could destabilize them. Overall the system works quite well. We noticed almost no bending even when bouncing on the board.
Included Kayak Conversion Kit
This iSUP has a lot of D-rings. 14, to be exact. This gives you plenty of opportunities to mount things. It also allows for the use of a clip-on shoulder strap, and with that many D-rings, your most certainly going to find a comfortable position.
The Cruise Carbon also has two cargo areas with bungies where you can store your gear without the need of attaching anything. This is a great place to put shoes, duffle bags, or even a water bottle.
Accessories
Paddle
The paddle that comes with the Bluefin Cruise Carbon is a carbon fiber paddle, and it is incredibly light. We compared it to several different brands that we already have here around the office, and it is notably lighter than the rest. If you don't think paddle weight matters much, you will after you go several miles with a heavy paddle… The carbon fiber paddle also has good construction. It doesn't rattle or feel like it's going to fall apart.
Dual-Chamber Triple-Action Pump
The Cruise Carbon comes with a dual-chamber triple action pump. This will help you get your iSUP inflated faster than with the single chamber dual-action pumps. The pump also has a built-in pressure gauge so you can accurately inflate the Carbon with relative ease.
Backpack
Bluefin Carbon's included backpack is heavy-duty. It follows suit with most of the backpacks from similar brands. A few things to note that make this bag great. One is that it has wheels and those wheels are on the opposite side of the shoulder and waist straps. This is helpful because it avoids getting the straps caught in the wheels, which can trip you up pretty good.
Another thing to note is the lumbar pad on the bag is big enough to fit your whole back. Making this bag extra comfortable for those longer treks to the beach. Another great aspect of this backpack is the pockets found inside the main pocket. They are absolutely perfect for putting the central fin and other odds and ends.
Leash
The leash that comes with the Bluefin Cruise Carbon 10'8″ is pretty standard. It is a 10 ft coiled leash with velcro fastenings. One aspect that we really like about it is the nylon loop that is attached to the velcro end of the leash cuff. This really makes it easy to take off the leash even while it's underwater.
Phone Dry Bag
The Bluefin Cruise Carbon also comes with a handy dandy dry bag lanyard that you can put your phone in. This makes it possible for you to bring your phone with you on the board without the fear of drowning it.
Conclusion/Bottom line
Buying the Bluefin Cruise Carbon is a no brainer if you're an average-sized beginner or an experienced user who wants an extremely durable and rigid board, a 5-year warranty, and some premium features. If you are over 6′ or over 250 pounds, you may find the 10'8″ a bit wobbly and hard to use. But, you're in luck. They also have a 12′ carbon that'll fit you with the same and includes all the aforementioned features.
The following two tabs change content below.
SupBoardGuide Editorial Team
At SupBoardGuide.com we are a team who love the water, the outdoors, and are more than grateful that our full-time job allows us to review stand up paddle boards. We paddle year round (it helps that we are just about 2 hours outside of Las Vegas), and we bring in a wide range of paddlers with the goal of providing our readers with the best, most in-depth, and accurate stand up paddle board reviews.
Latest posts by SupBoardGuide Editorial Team (see all)