Sea Gods Elemental Wave ULF 10'6'' Inflatable Paddle Board
Pros
Stable enough for beginners
Not so wide that it will hinder speed or maneuverability
Kayak seat compatibility
All inclusive kit with high quality accessories
Beautiful artwork from canvases by Colleen Wilcox
Cons
We'd like to see the front cargo area moved a bit towards the nose for more deck pad space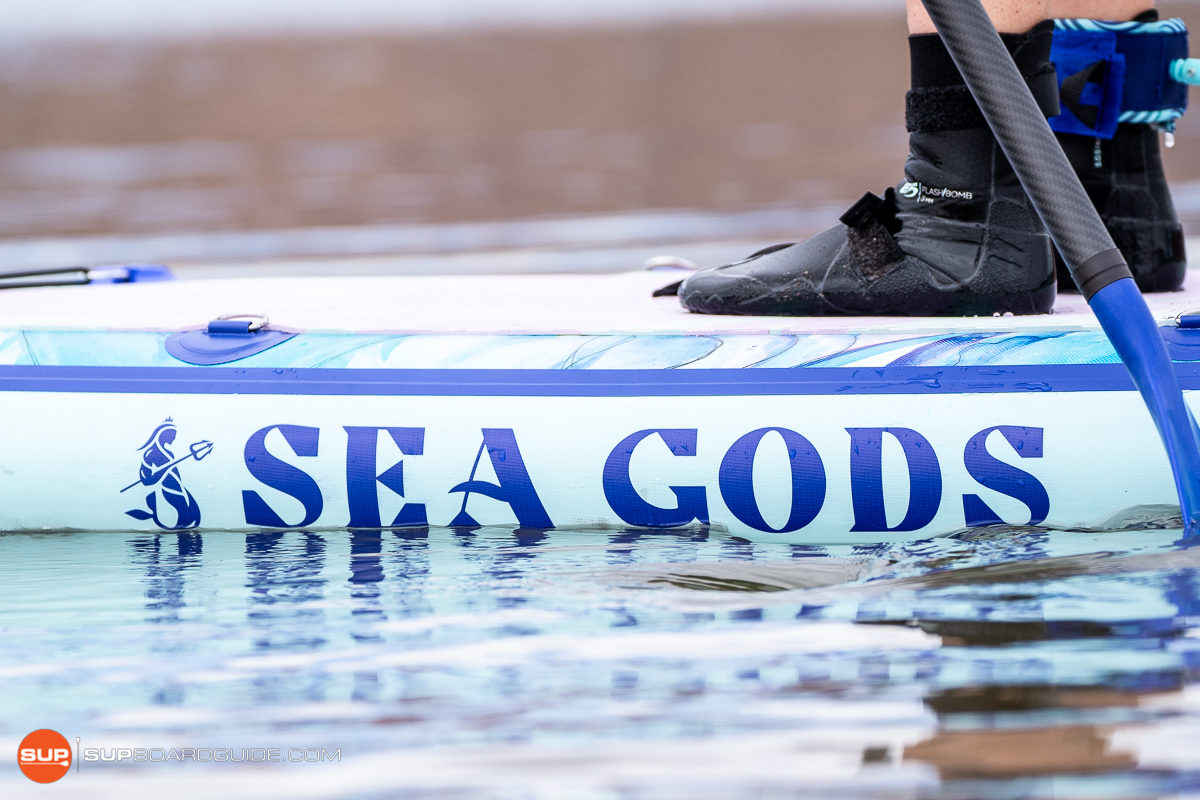 To be completely honest, writing a review for a 10'6 x32" all-around SUP, like the Sea God's Elemental Wave, can sometimes be a bit of a challenge. The simple fact of the matter is that the industry is saturated with thousands of boards with those exact dimensions and after a while, they just get more challenging to differentiate.
However, Elemental Wave by Sea Gods has successfully stood out among the ever-growing sea of 10'6 x 32" SUPs. Because of Sea Gods light, rigid construction, and attention to detail when it comes to raw material, this SUP will continue to out-perform its counterparts on the water season after season.
So yes, the Sea Gods Elemental Wave is a textbook 10'6 by 32" wide all-around iSUP, but there's a bit more to it. It's stable enough to minimize the learning curve for a wide range of SUP newcomers but not so wide that it's cumbersome for more advanced paddlers to maintain their form. It's also lightweight, maneuverable and easy to get up to a decent cruising speed without much effort or practice.
In short, the Elemental Wave is a performance focused 10'6 x 32" all-around that will fit a variety of environments, skill sets, and paddlers sizes but is especially suited to smaller paddlers who find the Diatom Ten6 just a little too wide.
We think the Sea Gods Elemental Wave would be great for paddlers who are:
Paddlers in the 120-230lb range
Wanting a classic 10'6 by 32" fun all-around with just an added edge in performance due to quality construction
Need a rigid SUP to carry along gear or a pet
Paddlers who venture into several paddling environments: flat water, chop, or ocean sessions
Want the comfort of a Lifetime Warranty should any (unlikely) manufacturer defect arise
Sea Gods Elemental Wave: Spec Sheet
Main Category: All Around, Inflatable
Board Dimensions: 10'6 x 32" x 6"
Listed Board Weight: 22lbs
Listed Max Capacity: 250lbs
Recommended PSI: 18 PSI
Fins: Single fin, Dolphin style Kumano pressure fit with FCS fin-box
Paddle: 3-piece Carbon Fiber
Materials: Ultra-light Fusion Technology
Price Range: high
Warranty: Lifetime
Performance Review of the Sea Gods Elemental Wave Stand-Up Paddleboard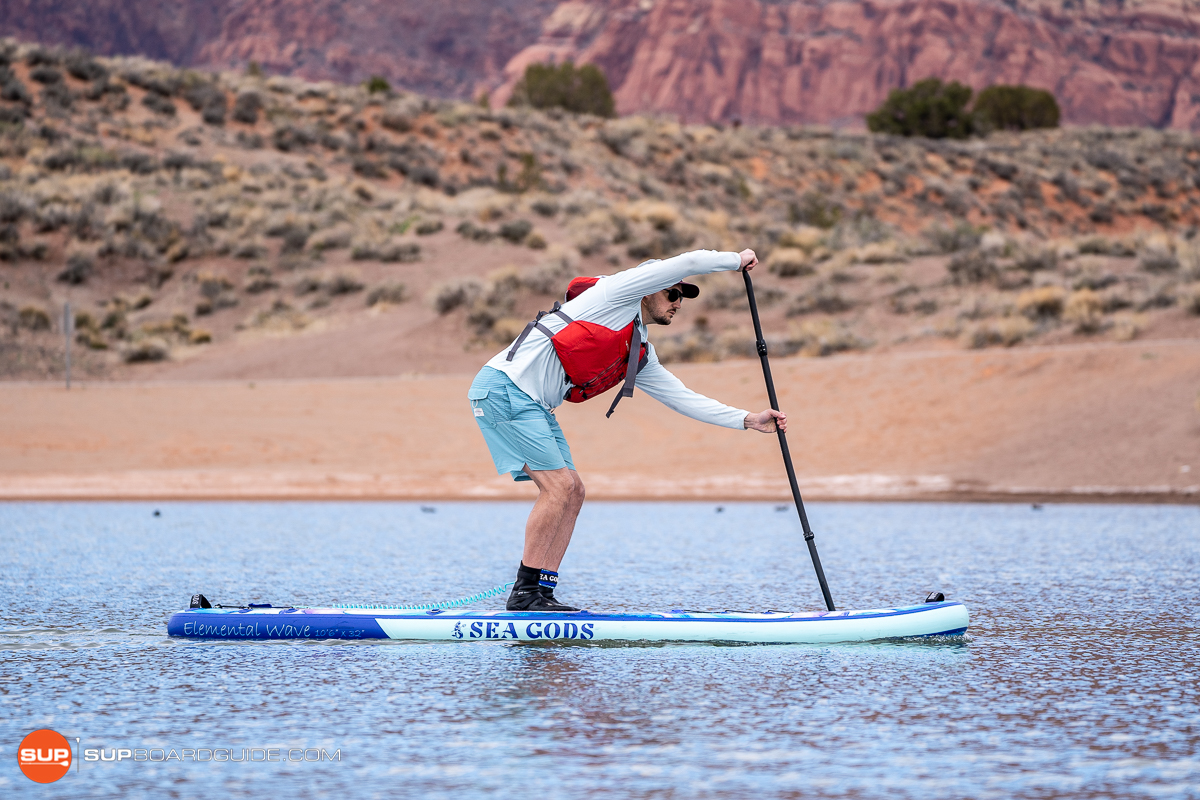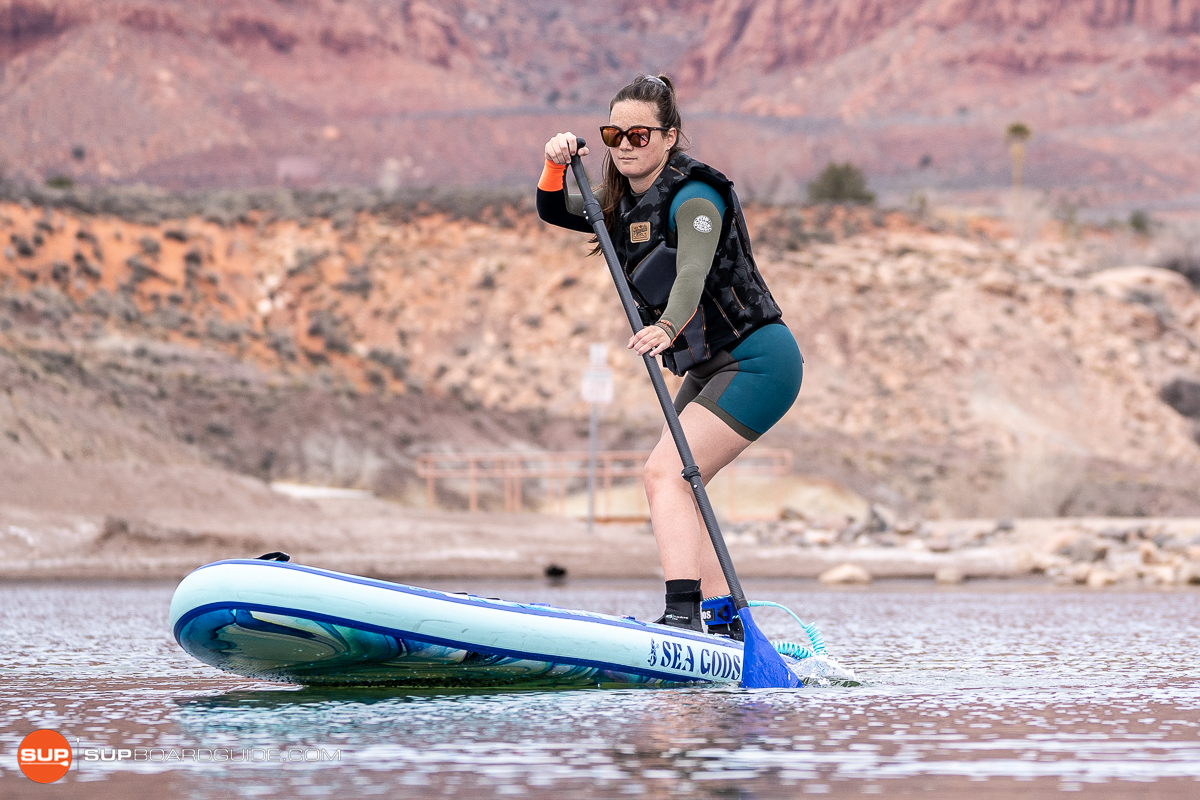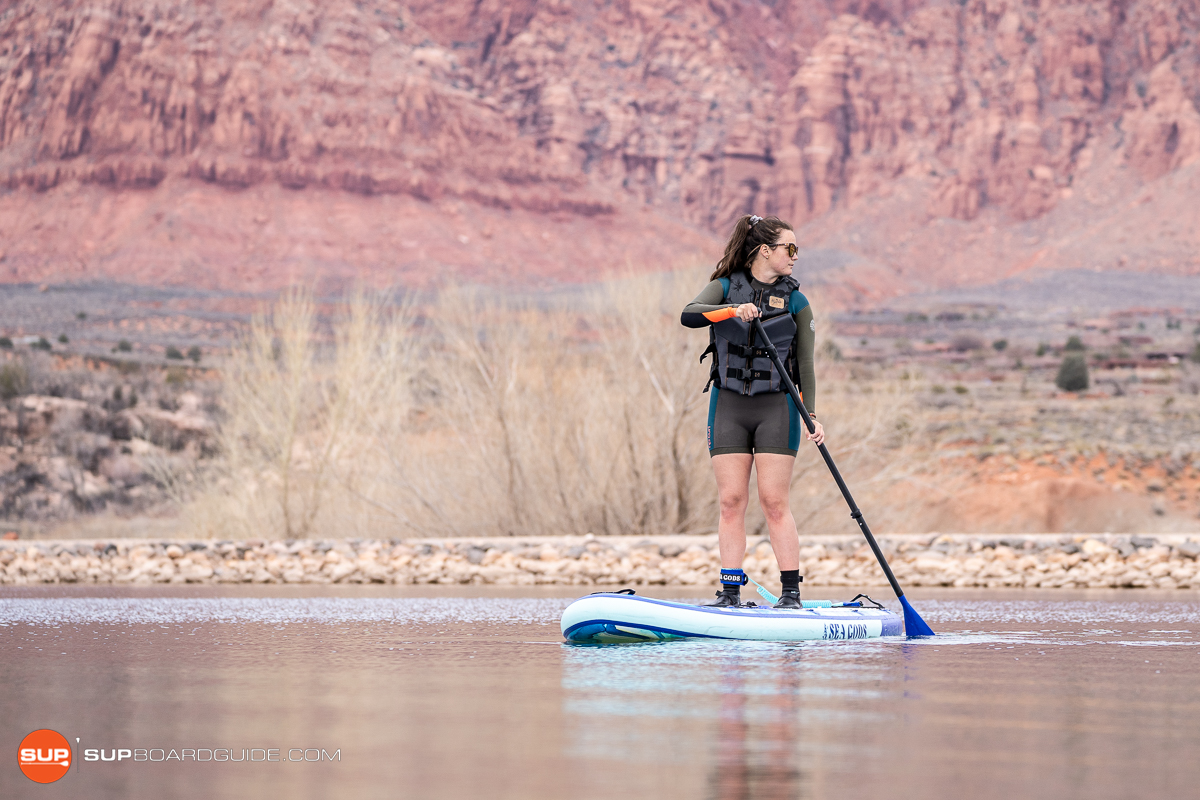 Overall Score: 9.3/10
Stability: 8.8/10
Speed: 8.5/10
Tracking: 9.0/10
Maneuverability: 9.1/10
Construction Quality: 9.7/10
Features/Accessories: 9.4/10
Stability Rating: 8.8/10
Listed weight capacity: 250 lbs
Tested weight capacity: 180lbs (paddler weight, no gear)
The Sea Gods Elemental Wave is stable enough to minimize the learning curve for a large range of novice paddlers, without being so wide that intermediate or advanced paddlers won't be able to keep their form.
During our testing, we've found that smaller paddlers in the 120-180 lb range will have enough added volume and stiffness to bring along some gear or a pet without feeling off-balance or hindering performance. Larger paddlers in the 190-250 lb range would enjoy the Elemental Wave as a fun, shorter, solo board that won't force them to deal with any excess bend or flex that would otherwise cause instability due to Sea Gods rigid construction.
Speed Test: 8.5/10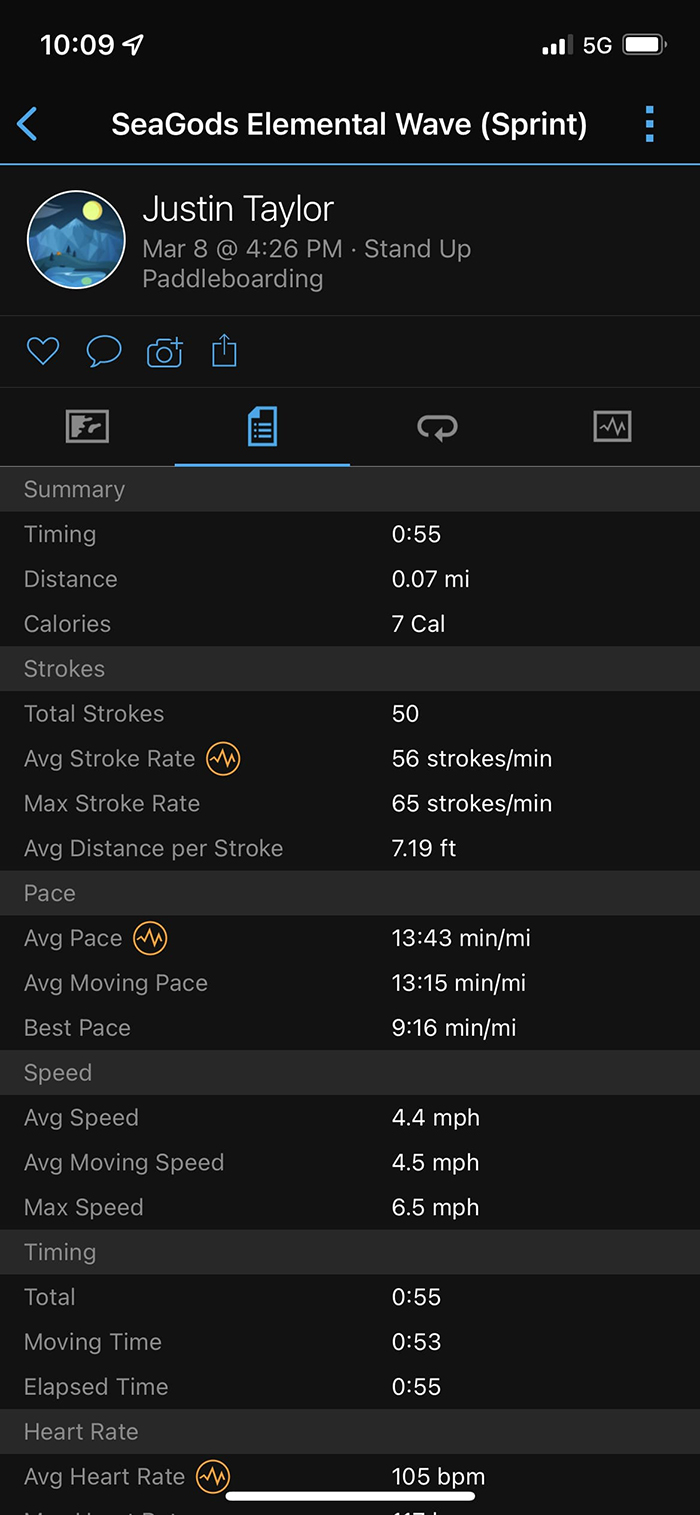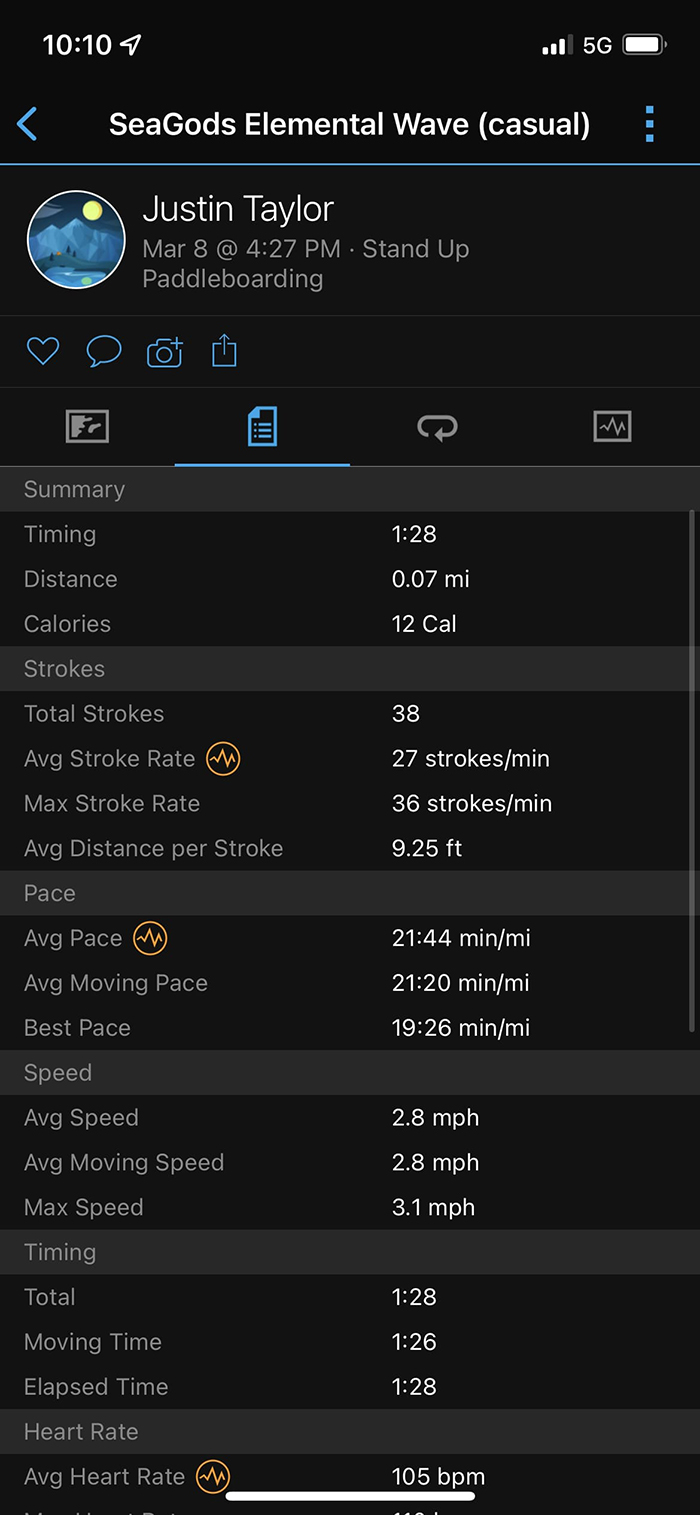 The Elemental Wave did a bit better than we expected for our speed test, but was still relatively on par with most all-around SUPs.
It's not going to rip through the water (that's okay, it's not supposed to) but it's light enough that getting up to a decent cruising speed doesn't take much effort. The Elemental Wave has a great balance between stability and speed that won't leave you huffing and puffing to keep up with your friends but also won't have you tipping off your board every other stroke.
Tracking: 9.0/10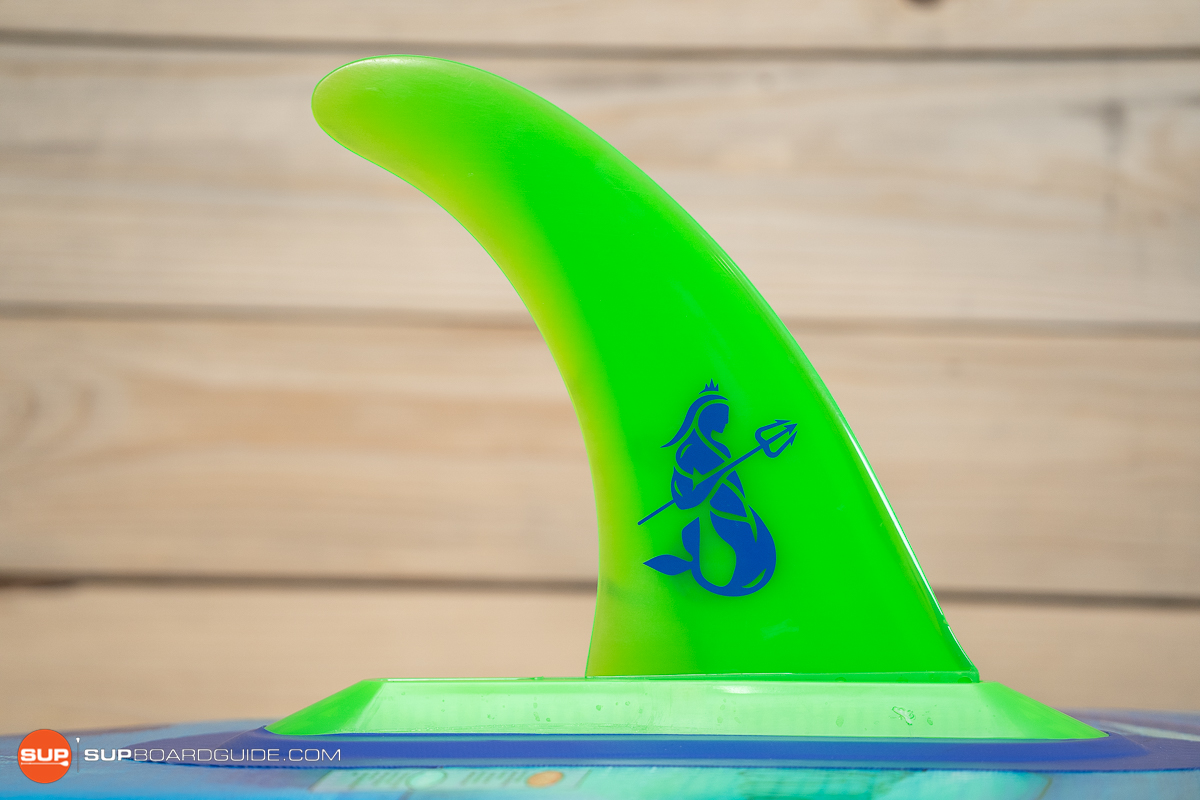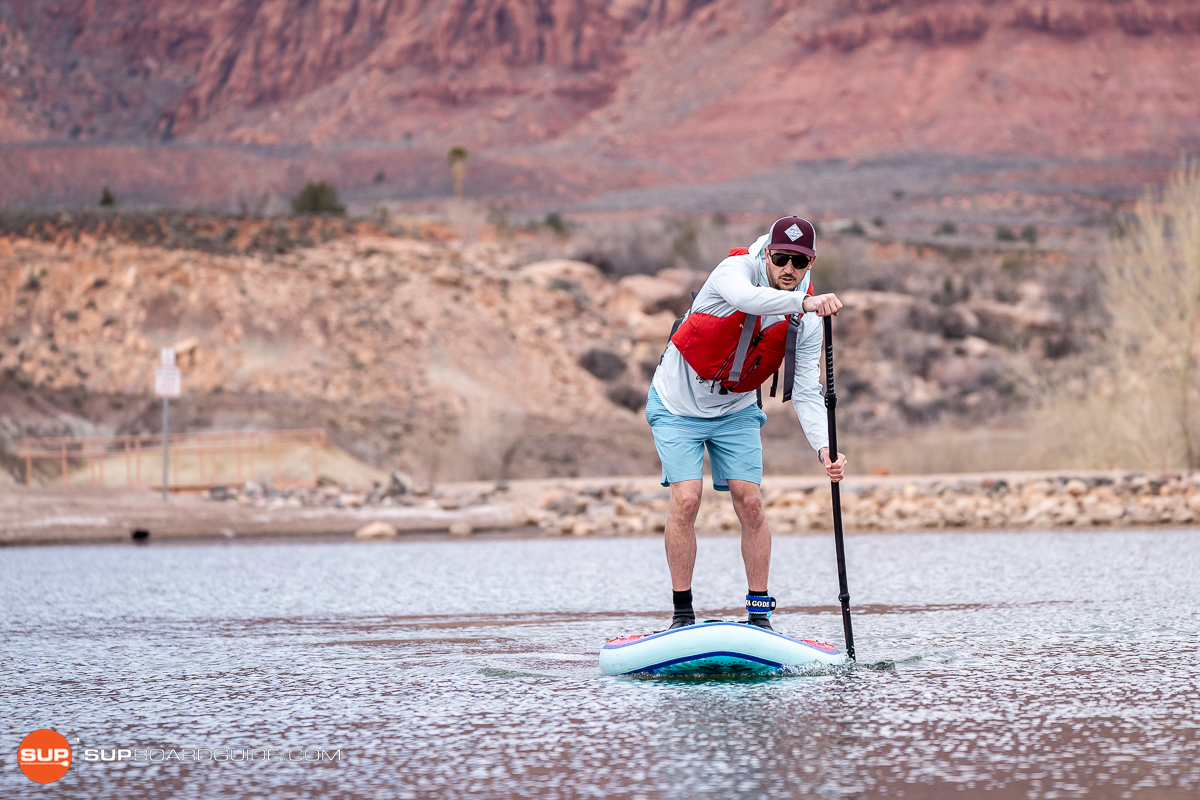 Like speed, tracking is generally not the main focus of an all-around board. With that in mind, the Sea Gods Elemental Wave again performed about as expected within its category.
If you maintain a good paddling technique the Elemental Wave will keep a decently straight path in the water with just a few side-to-side adjustments. If your paddle stroke form is more casual, you'll need to switch sides just a little more frequently, but not significantly more than other SUPs in this category.
Also on the subject of paddling form, the Elemental Wave will be a bit easier for paddlers with less reach (like myself) to keep their paddle vertical as it enters the water since it's only 32" wide. Sure, you won't have quite as much stability as you do on the ultra-stable 34" wide Diatom from Sea Gods , but you will gain some extra tracking capability and speed, so it really just comes down to personal preference.
Maneuverability: 9.1/10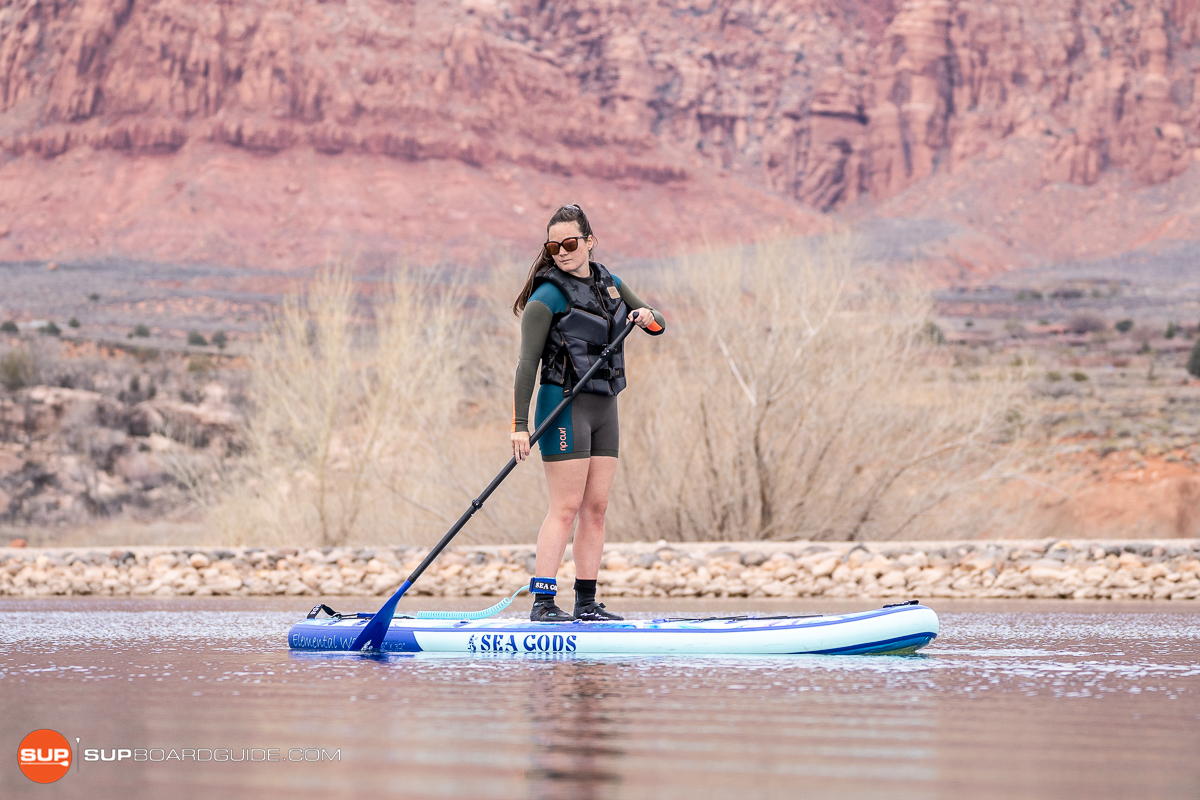 At risk of sounding like a broken record at this point, the Elemental Wave again performed as expected in our maneuverability tests.
Being a lightweight, 10'6 by 32" SUP, maneuverability is just simply in its nature. We've found it to be pretty effortless in the casual turns, meaning it's not difficult to change direction even with a bit of momentum going. It's also pretty easy going in the stepback turns, given that it's stable enough to make walking yourself back to the tail less of a challenge and it's light enough that the nose pops up without much pressure.
My only complaint is that I felt like I needed to step right on top of the rear cargo area or the valve to make that turn just a bit tighter. Of course, I'd appreciate a kick-pad (especially at this SUPs price) to really make the Elemental Wave rise above the pack in terms of maneuverability, but we realize that step-back turns aren't a full blown necessity on all-around boards.
Construction Quality: 9.7/10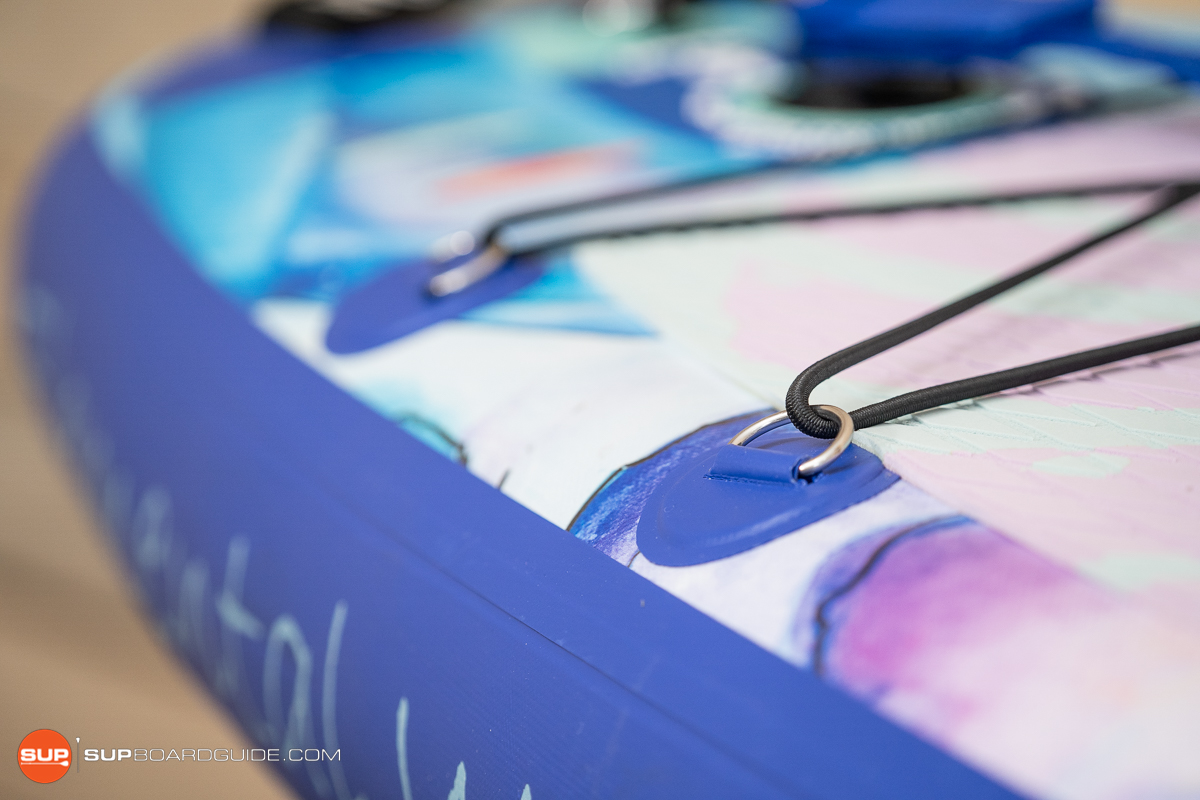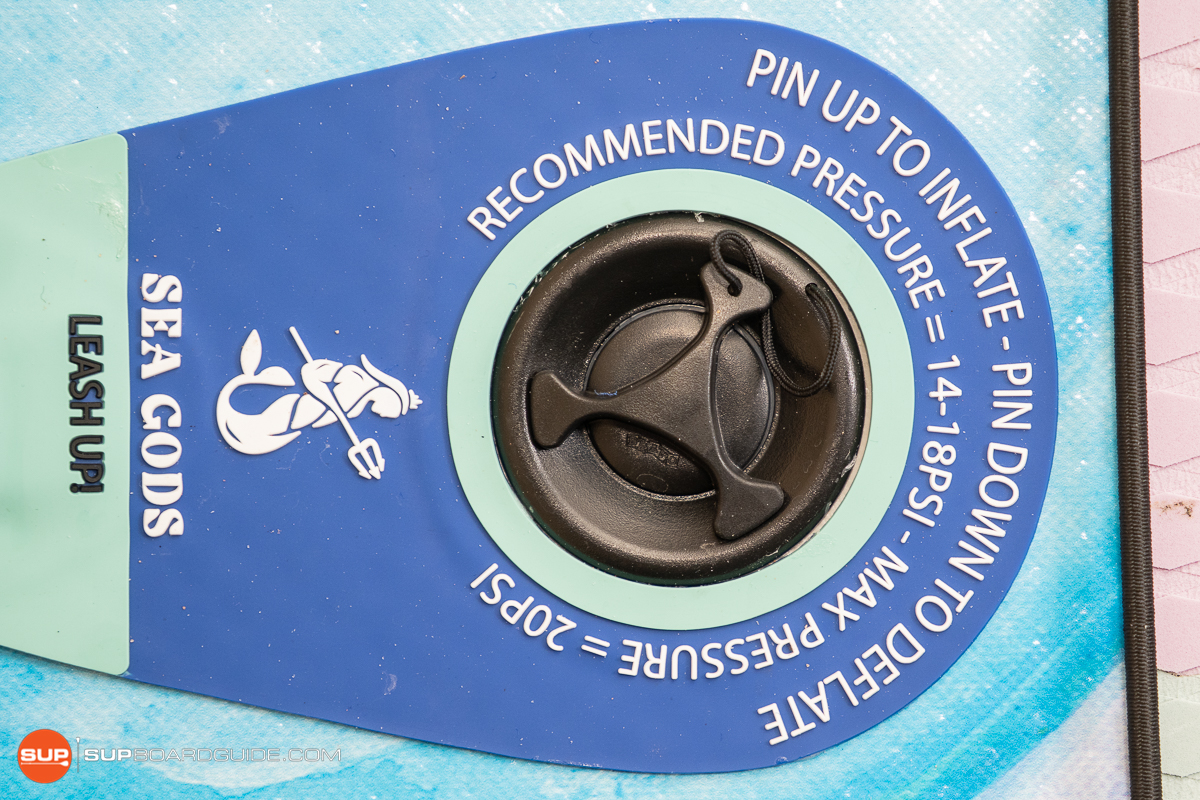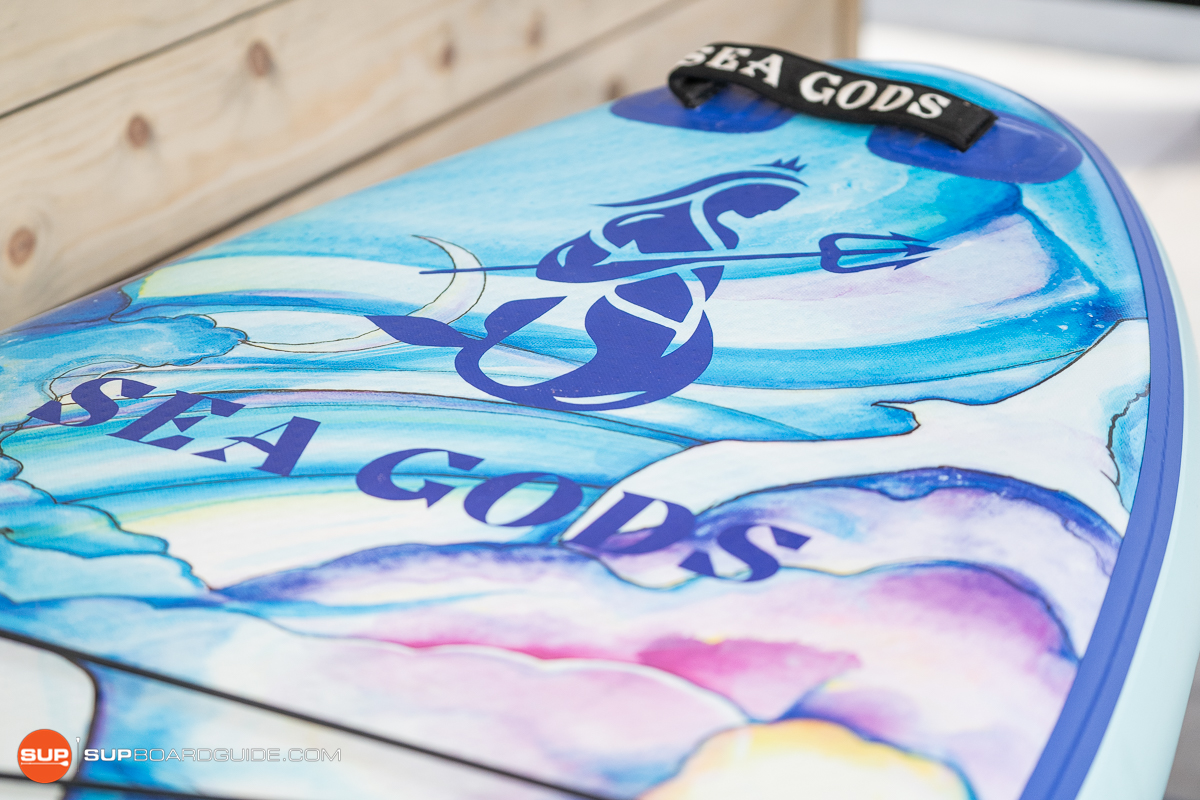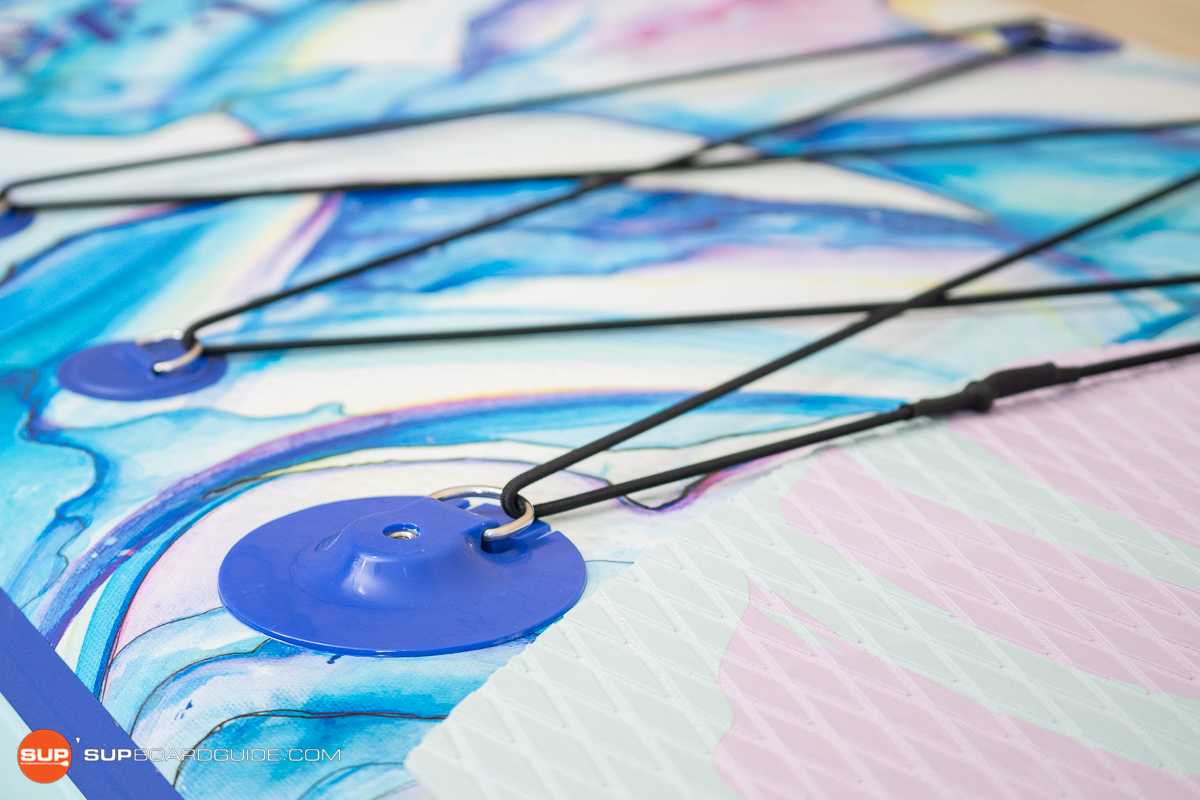 Sea Gods' Elemental Wave is constructed with a woven-linear drop stitch core that is PVC coated using 'Ultra-light Fusion Technology'.
In plain terms, this means that SUP's shape is held together by thousands of threads running vertically (top to bottom of the SUP) and parallel to each other that are stitched into a woven fabric layer.
The SUP's PVC layers are then applied with heat instead of glue to avoid adding excess weight. The rails are solidified after this step with heat molding and are reinforced with seam tape.
Sea Gods has also updated their construction to include a different PVC material that has a lower friction coefficient and less brittle-ness. They say that this makes for a SUP that seems to 'glide' on the water, instead of creating that 'pushing water' feeling. Obviously we cannot 100% verify this, but we did find the newest model of the Elemental wave to feel much smoother while paddling and overall more enjoyable.
Sea Gods ' construction process results in impressively rigid, lightweight SUPs that are performance oriented on the water. Sea Gods also stands behind the durability of their product by offering a lifetime warranty in the unlikely event of a manufacturing defect.
Board Stiffness: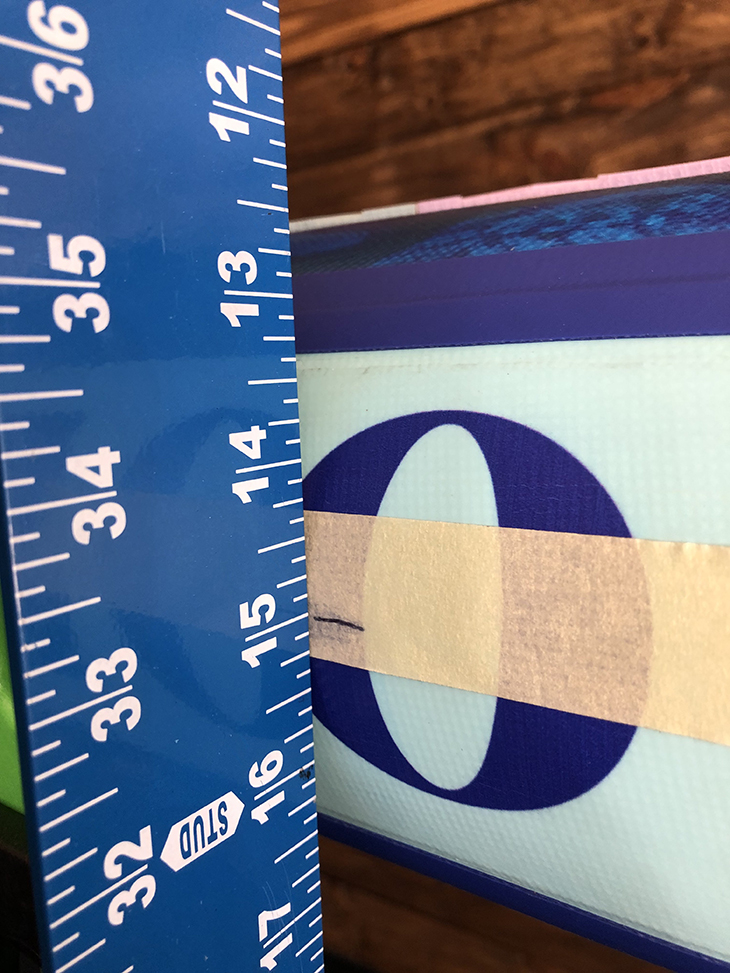 Stiffness Test: 1.0625" Bend
During our bend test, we set the SUP on top of two sawhorses placed 7 feet apart. We then place 150lbs on the board's midpoint and measure how much the SUP bends under weight. We realize this does not replicate how the board would behave under weight in the water, but this test is more so aimed at understanding how certain construction processes relate to stiffness.
The Sea Gods Elemental Wave did fairly well on our bend test with just a bit over 1" of bend. This is on par with the rest of Sea Gods line and helps us verify that all boards are constructed to a uniform quality when it comes to lightweight and stiffness.
Features/Accessory Review: 9.4/10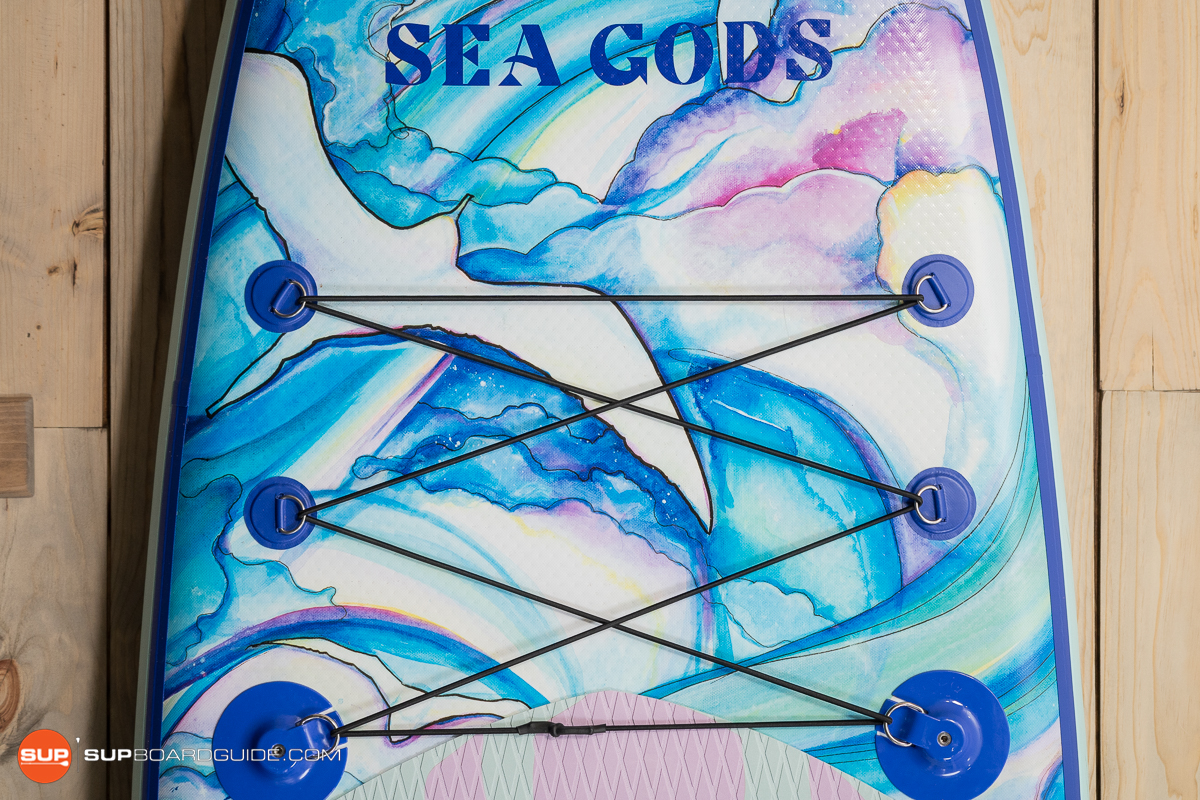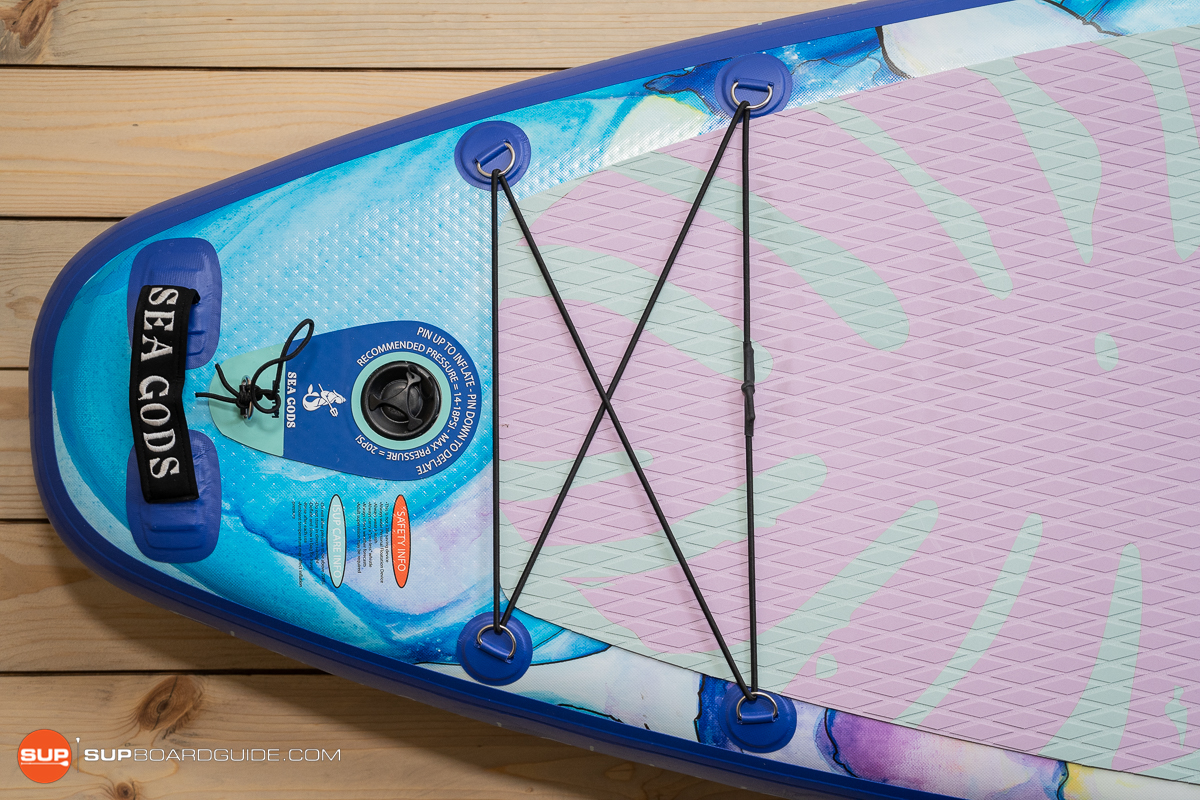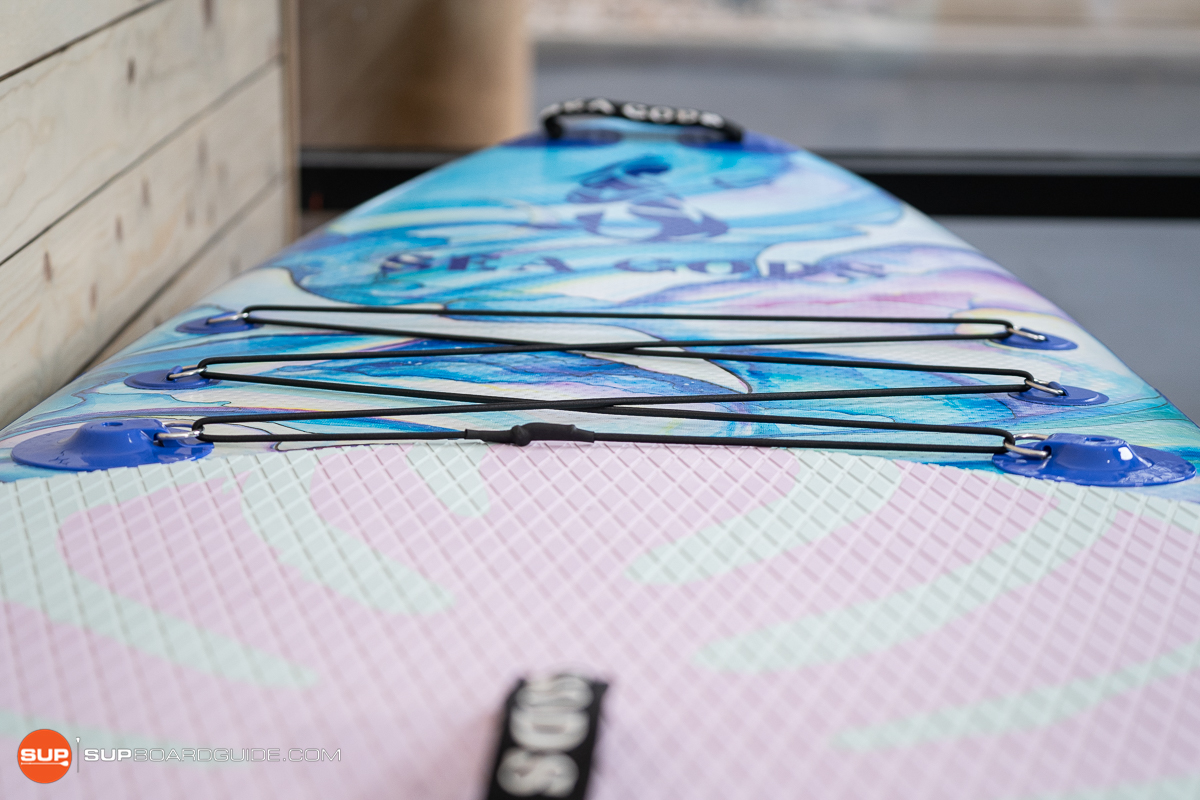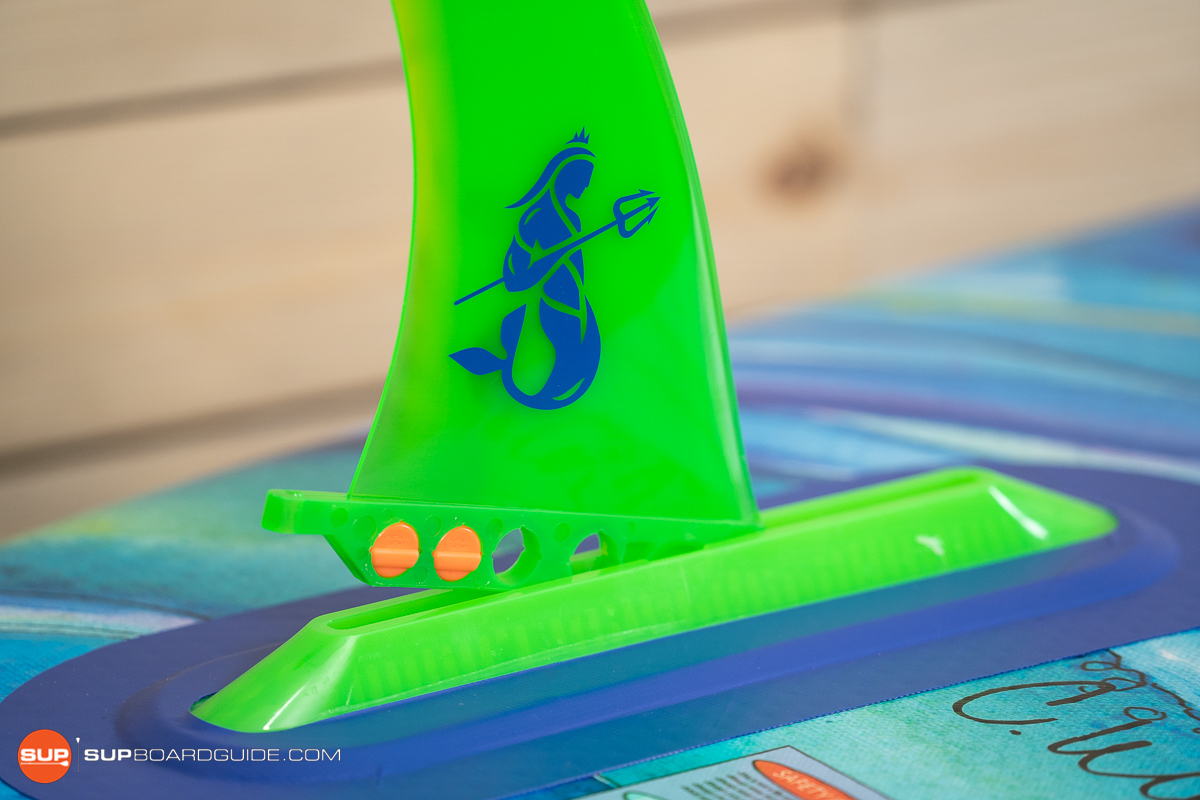 Features:
The Elemental Wave has undergone a bit of a 'features makeover' since the last model. Sea Gods has increased the size of their front cargo area from a 4-point tie down to a 6-point tie down to give you more space when it comes to stowing gear; they've also integrated 2 new action mounts into the first 2 of these tie-down D-rings. Additionally, they've made the Elemental Wave kayak seat and shoulder strap compatible by adding D-rings to the rails. As a small final touch, Sea Gods has also built the latest Elemental Wave model with 3 carry handles, instead of the previous lone center handle and revamped the overall design to feature art from well-known artist Colleen Wilcox, based in Honolulu, Hawaii.
Included Accessories: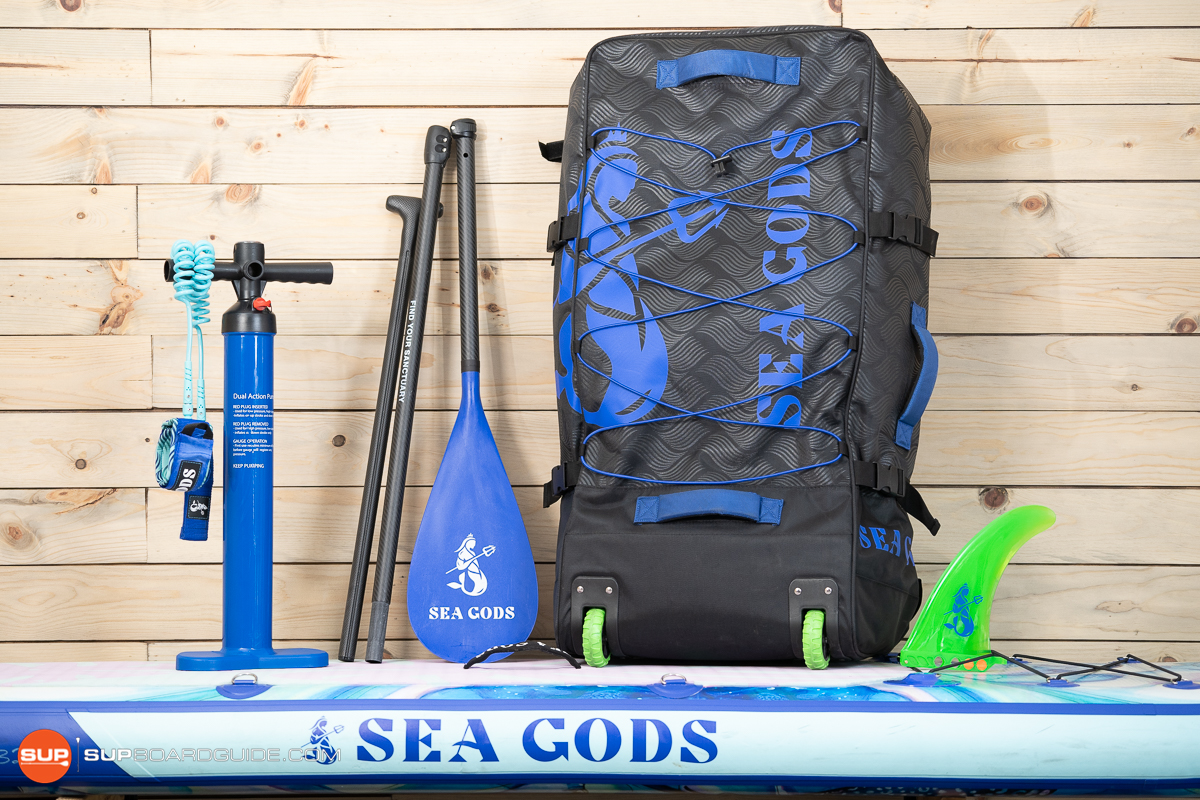 Sea Gods provides one of the highest quality kits of any we review, and includes everything you need to get right out on the water. With your Sea Gods Elemental Wave, you receive the following:
3-piece carbon fiber paddle
10' Sea Gods coil leash with key pocket
Single Chamber, dual action hand pump
Kumano pressure fit center fin
Repair kit
Wheeled backpack
In all honesty, there's not much we would change about this kit other than the single chamber hand pump. We'd always appreciate a double chamber pump, especially for boards that go up to 18 PSI, but we generally recommend always investing in a reliable electric pump to save yourself some energy and sweat before your paddle session anyway. Other than that, we really like the wheeled backpack; it's well padded and roomy enough to easily fit your board and accessories. I'm also personally a huge fan of the Kumano pressure fit fins because I love not worrying about tools but also love the customization ability of an FCS fin-box.
Summary Review of the Sea Gods Elemental Wave
As I've said throughout this review, the Sea Gods Elemental Wave hits all the marks and exceeds expectations when it comes to a 10'6 x 32" all-around. It's light, maneuverable, easy and fun to paddle, and will fit the needs of a wide range of paddlers from all skill-sets, not to mention it features a beautiful design.
The main reason I'd recommend the Elemental Wave above most other 'cheaper' all-around SUPs is because it's built with Sea Gods high quality construction, making it more rigid and just a bit higher performing than a lot of alternatives. It also comes with an array of high quality accessories included in the kit that add even more to its value. Lastly, I know that Sea Gods will stand behind this product by offering their lifetime warranty.
As always, we hope you've enjoyed reading our review of the Sea Gods Elemental Wave. If you're looking for a bit more in stability and volume, head over to our reviews of the Sea Gods Diatom and Infinite Mantra. Likewise, if you're looking for a touch more speed or tracking capabilities we'd point you towards the Ketos, Skylla, or Carta Marina.
Stay safe and happy paddling!
The following two tabs change content below.
SupBoardGuide Editorial Team
At SupBoardGuide.com we are a team who love the water, the outdoors, and are more than grateful that our full-time job allows us to review stand up paddle boards. We paddle year round (it helps that we are just about 2 hours outside of Las Vegas), and we bring in a wide range of paddlers with the goal of providing our readers with the best, most in-depth, and accurate stand up paddle board reviews.
Latest posts by SupBoardGuide Editorial Team (see all)