Sea Gods Elemental Wave 10'6'' Inflatable Stand Up Paddle Board
Pros
Very light (19 lbs) all-around paddle board. Many times we don't love sub 20lb boards, as they don't feel stable or solid enough in the water. That is not the case with the Elemental Wave - it feels great while paddling and can support weight capacity
Great SUP for situations you need to carry the board in. Not only does the bag have roller wheels but is also well constructed, heavily padded, and the overall package is light enough to take on situations that require hiking to your SUP destination.
The artwork of the board is truly remarkable and one that will draw the attention of everyone paddling due to its beauty. Sea Gods does a fantastic job with the art design of their boards.
Fantastic fin set up. The Kumano plugs let you install your center fin in seconds for a secure fit as well as an additional screw for extra security. US fin box also provides additional fin compatibility.
Comes with great accessories. The carbon-fiber paddle is a solid, lightweight paddle and we love how it comes included in the kit. We also really love the included backpack with rollers - it's very comfortable and high quality
Stellar lifetime warranty protection. Free repairs for manufacturer defects, and discounted repairs for accidental damage. Also can't forget Sea Gods "30 Day Love It Guarantee" policy.
Cons
We'd love to see a few side d-rings so paddlers could attach a kayak seat if they wanted.
Intro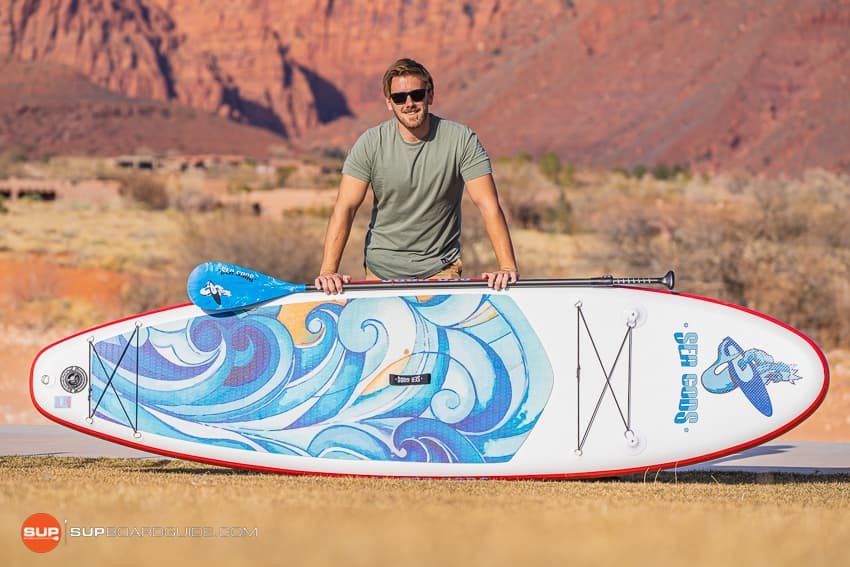 Sea Gods stand out from the competition with their board's brilliant designs, and they're pretty great when it comes to performance on the water too! The Sea Gods Elemental Wave Ten6 is their all-around shaped stand up paddle board, offering solid stability, maneuverability, and solid tracking. While it may only weigh 19 lbs, the Elemental Wave 10'6'' does support up to 250 lbs, making it a good option for solo paddlers who need a lightweight board that's easy to travel with.
The EVA deck pad is absolutely beautiful with a complimenting design to the bottom of the board. There is also a number of accessory mounts for add-ons but doesn't come across as overwhelming by cluttering the board with features that you may or may not use. As for the accessories, the cool Kumano click-in fins, the rolling hiking backpack, and the ultra lightweight carbon fiber paddle are premium grade accessories that you don't often see supplied with premium level paddle boards.
Sea Gods has quickly earned a spot amongst our favorite board companies to take out. If you are interested in reading about a high performing board that will look better than any other board on the water, you will want to read our full review of the 2022 Elemental Wave Ten6 inflatable SUP!
SUP Board Specs
Length
10'6''
Width
32''
Thickness
6"
Weight
19 lbs
Rider Capacity (lbs)
250 lbs
Recommended Inflation
15 to 20 psi
Fins
Single US/FCS Fin Box
Kumano Click Fin
Paddle Type
Carbon Fiber shaft and Nylon blade
Construction
ULF Fusion Construction
Double Reinforced Military PVC Rails
Who Should Buy This Stand Up Paddle Board:
The Elemental Wave 10'6'' is an all-around SUP, and is built to let you try out all sorts of water sports while paddling like cruising, touring, yoga, and more. As an all-around paddle board, almost anyone can enjoy paddling on the Elemental Wave 10'6'', but you will definitely want to consider this SUP if you are among the following:
A new or beginner paddler that wants an all-around paddle board package that includes everything you need to get started paddling. All the equipment you need for the water is included in the box.
Someone who needs a very lightweight paddleboard to travel with. Not only does the board weigh 19lbs but the accessories are lightweight as well and the backpack is very comfortable making for a great hiking experience.
Paddlers looking for a board that makes it easy to just get out and enjoy being on the water.
If you care about the design and look of your paddleboard as much as the performance. Sea Gods produces some of the best looking paddleboards on the market.
Performance
Stability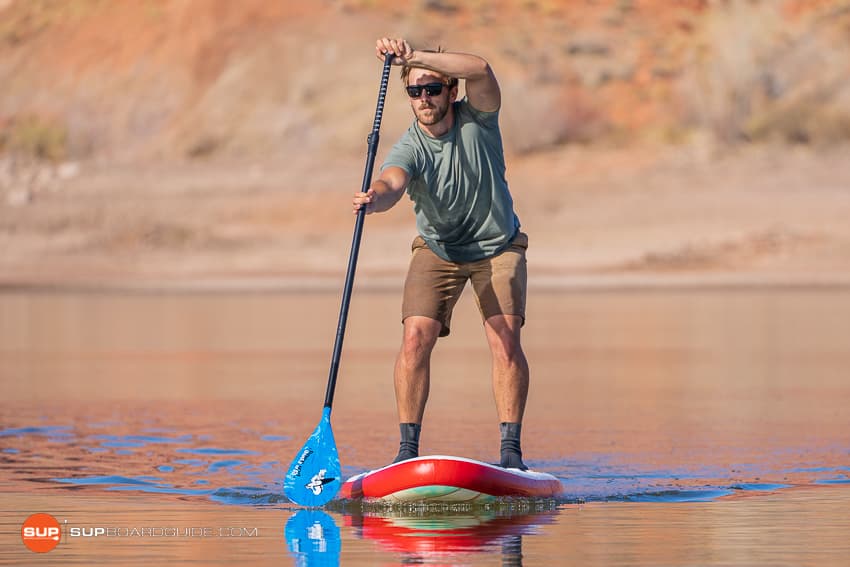 The overall stability of the Elemental All Around SUP will be impacted by your height and weight. For our reviewers who were 6' and shorter, the Elemental Wave 10'6'' felt very stable, even for the newer, less experienced reviewers on our team. However, one of our taller paddlers who is 6'5" did feel a little unstable on the Elemental but said it was more middle of the pack in terms of stability with the boards he has tested as he is most comfortable on boards that are wider than 34".
If you're a beginner and under 6 ft tall and weigh under 200 lbs, we are confident the Elemental Wave 10'6'' will be a great board to begin on. However, larger paddlers may want to consider the SeaGods Diatom Ten6, as it's wider and has a higher weight capacity for those who need it. For comparison, I weigh around 210 lbs and felt more than comfortable on the Elemental, so it is possible!
Maneuverability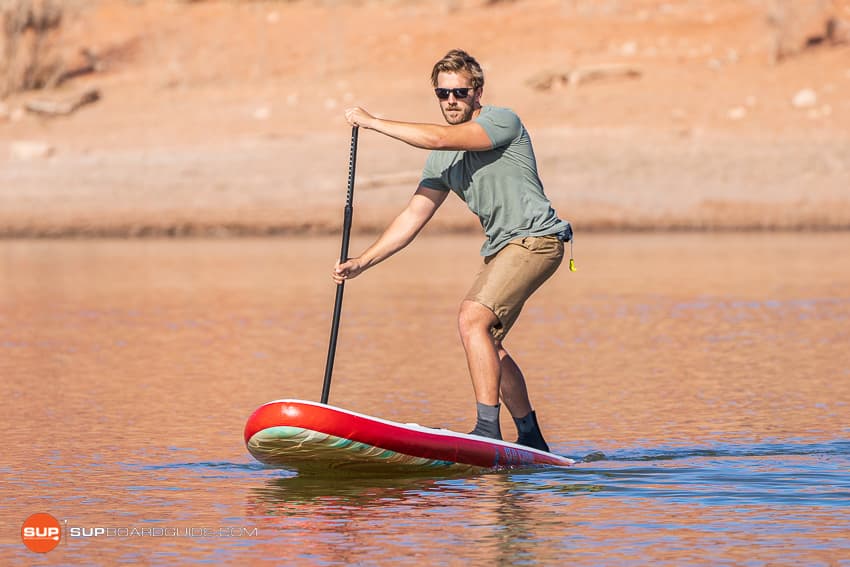 The Elemental Wave 10'6'' maneuvers very well in the water. The 10'6 All Around shape of the Elemental does a very good job when it came to turning with a sweep stroke allowing for you to correct your course and turn the board easily out on the water.
When it came to performing a step back turn, the Elemental did an excellent job. The long center fin gripped the water very well and the narrow tail of the board accompanied with the light weight was very easy to sink in to lift the nose out of the water and pivot accordingly.
Tracking/Glide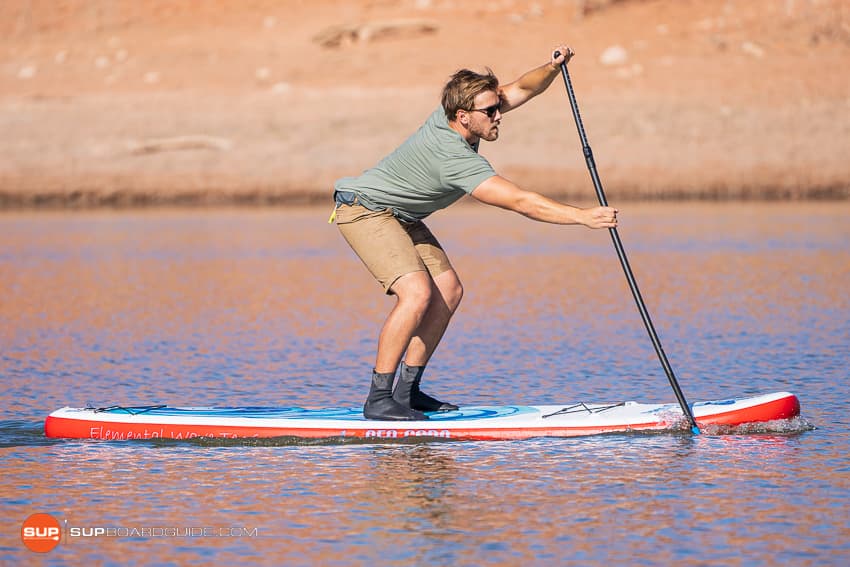 The Elemental Wave 10'6'' has a single center fin box, and comes with a long 9'' fin. That combination creates a solid all-around board in terms of tracking capabilities. Paddling form greatly impacts how straight you go in the water, but with the Elemental Wave 10'6'' even our beginner paddlers were able to maintain an excellent line in the water. The Elemental Wave 10'6'' has a raised rocker and lightweight design that further provides it with a quick and steady glide in flatwater, making it a very smooth and fun paddle board to paddle on.
Another quick note: we like how the Elemental comes with an extended US fin box. This allows you to buy a replacement fin at any local surf shop, and also gives you the ability to tweak how the board feels by sliding the fin forward or back in the fin box. A more forward set up will increase the maneuverability of the SUP (best for paddling in a river or trying to catch a small wave), and sliding it backwards will improve the tracking of the board for longer paddling adventures.
Materials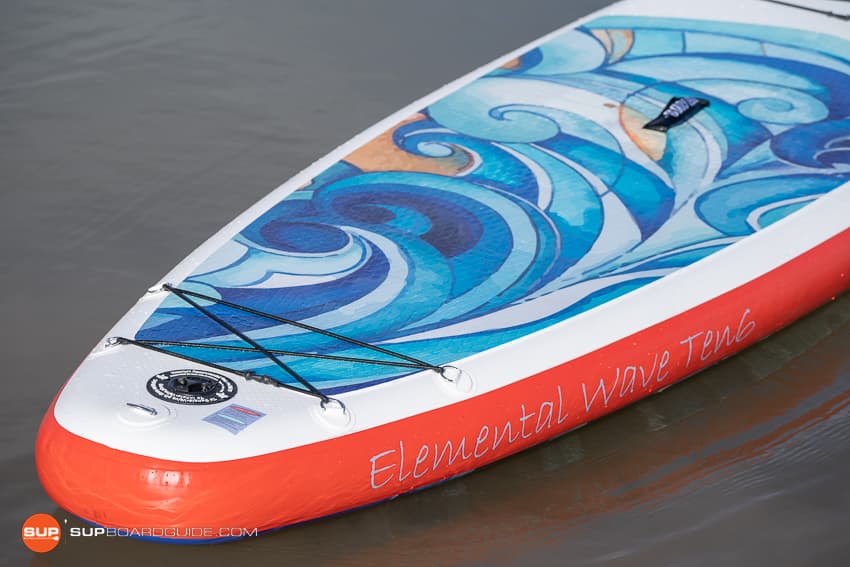 The Elemental Wave is constructed using SeaGods' Ultra Light Fusion technology with heat welded, dual layer PVC seams. SeaGods also uses a very high quality, dense dropstitch inner core. All of this creates not only a surprisingly lightweight iSUP, but one that performs very well. As mentioned in our Pro's/Con's section, we typically see a decrease in weight capacity and performance in iSUPs that weighs less than 20 lbs, but that is not the case with the Elemental. It's a high-quality, performance level all-around SUP that is also very light weight.
Board Design/Shape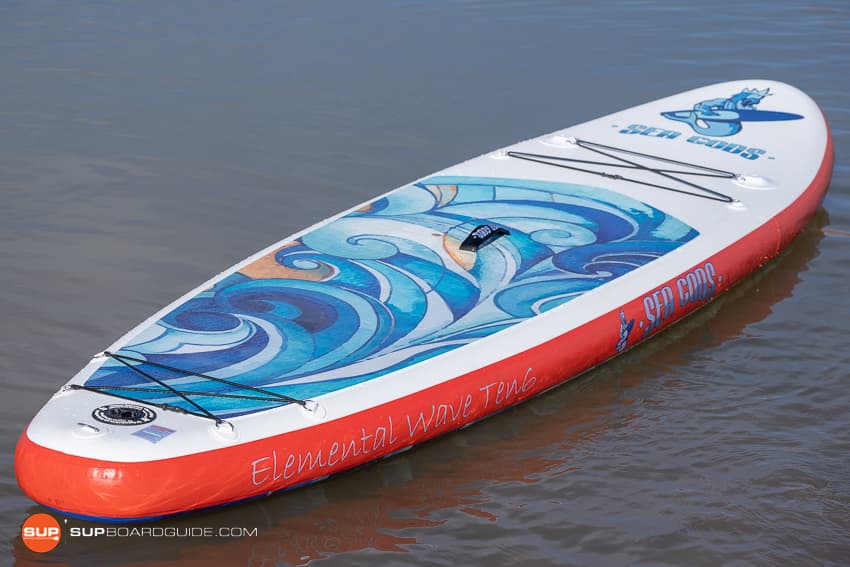 The Elemental Wave by Sea Gods is a true all-around SUP, designed for trying out a little bit of everything when you're out on the water. At 10'6" x 32" wide, the Elemental won't be as fast as the 28" wide Ketos or 11'6" long Carta Marina. Nor will it be as stable as the 34" wide Diatom. However, it will be more of an all-around SUP than those boards are, and will perform well in a variety of situations.
Ultimately, we would recommend the Elemental Wave 10'6'' for those looking for an all-around SUP and who are 6' and shorter, or those who weigh less than 200 lbs. Those who are taller and heavier will want to consider the wider and more stable Sea Gods 2022 Diatom 10'6'' iSUP.
Board Features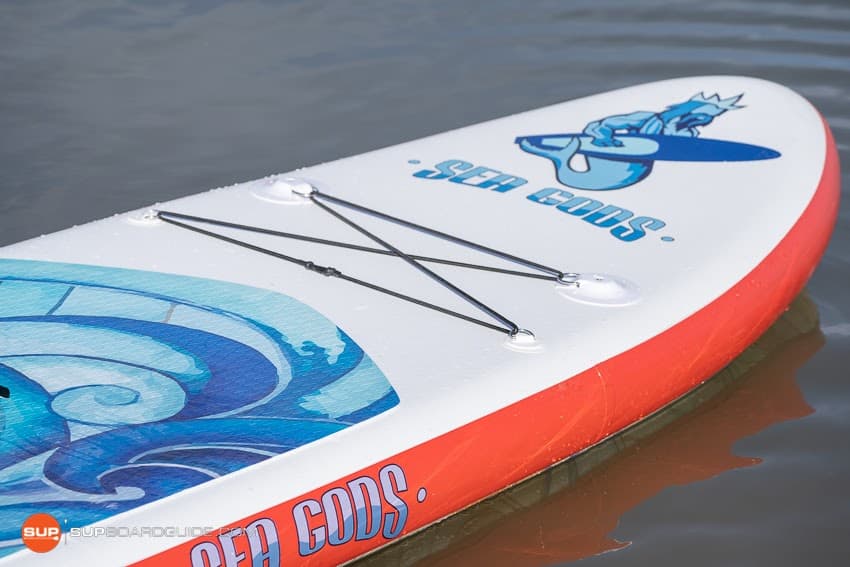 We've covered the performance of the Elemental Wave 10'6'', but we also recommend the Sea Gods Elemental Wave 10'6'' for a number of other features as well. Some of the key features we think are worth highlighting include:
ULF fusion layer construction.
9 D-rings + Dual-Bungee Cargo System.
Center carry handle.
Diamond grooved, ultra cushy deck pad.
Unique wave pattern art design.
Fins
The Elemental Wave 10'6'' has a single US fin box, but the included fin actually has two ways you can install it. The first is the traditional method, using the screw and plate that is the standard for US fins across the paddleboard industry. The second method is by making use of the Kumano plugs. By installing up to three Kumano plugs for a tight grip, you just have to insert your fin into the fin box for the plugs to lock the fin in place. It takes just seconds to install with the plugs, and while it won't be as tight as the screw and plate it was still tight enough that we had no concern about the fin falling out while paddling. You could even insert the screw and plate for added security to secure the most secure fit possible. The Kumano plug fin is a great inclusion, and with a US fin box you can install other US fins in as well for a more customized paddling performance.
Traction Deck Pad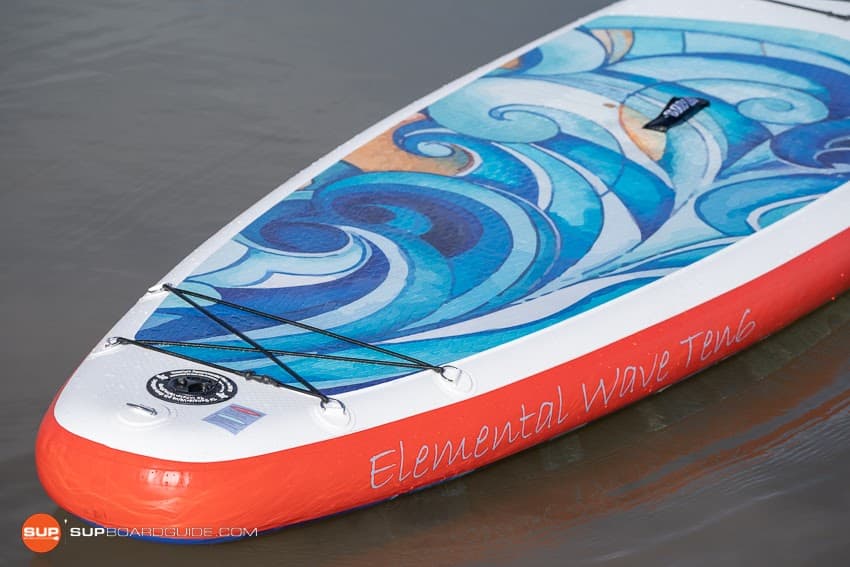 One of our favorite design features of the Elemental Wave 10'6'' is the deck pad. Made out of EVA foam, the same material as many popular yoga mats, the 5mm thick deck pad feels very comfortable to stand on even after paddling for hours. The deck pad itself covers about two thirds of the paddleboard, with a beautiful wave pattern that helps the deck pad look like it was painted onto the SUP, rather than just pasted on like many other SUP designs. A fantastic deck pad in design and performance, we absolutely love the Elemental Wave 10'6'' iSUP!
Handles
The Elemental Wave features a single carry handle in the center of the deck pad, but given the paddleboard weighs just 19 lbs you don't really need extra handles to lift this SUP. The single carry handle incorporates a neoprene cover, which is a step above the traditional nylon handle that is the common alternative for paddleboards. With a neoprene cover, you can comfortably hold your paddle board even when your hands are freezing cold or soaking wet without worrying about chafing like when you grab a pure nylon handle.
D-Rings/Bungees/Cargo Areas
Some paddlers prefer a SUP with a clean deck that doesn't take away from the performance or design, which is the case with the Elemental Wave 10'6'' inflatable SUP. There are still 9 D-rings on the SUP for attaching gear to, allowing you to clip on a cell phone case, pouch, leash, or other equipment for your paddling adventure. However, we would have liked to see more D Rings to accommodate for a kayak conversion kit as other similar all around boards provide.
The nose and tail both have removable bungee cords as well which form cargo areas, great for packing a cooler, lunch box, or small container under. If you want to clear up your deck space, it takes just a few seconds to remove the bungee cords, though they are out of your way enough that we typically just leave them on.
Accessories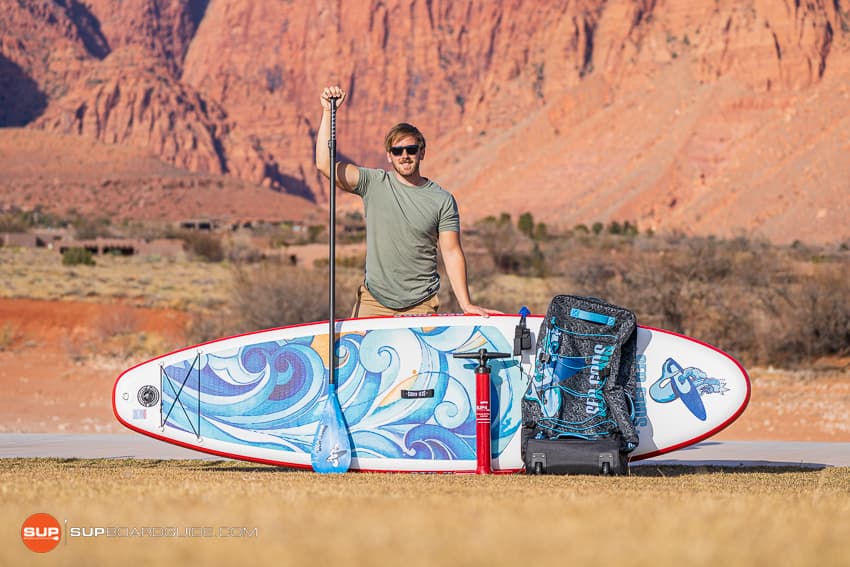 Carbon Fiber Shaft + Nylon Paddle Blade
Sea Gods have included a three piece carbon fiber shaft and nylon paddle blade with the 2022 Elemental Wave 10'6'' kit. Carbon Fiber is one of the lightest materials used in paddle construction, but tends to be one of the more expensive paddle material bases as well. So, it's a fantastic deal that Sea Gods has included a carbon fiber paddle with the Elemental Wave, further increasing the overall value of this SUP kit.
As the paddle comes in three pieces, it's very easy to store in the included backpack, and it takes just a few seconds to put together once you've arrived at the water. The shaft is smooth and comfortable to hold, while the blade provides a powerful stroke in the water while being flexible enough that it won't shatter if you drop it onto solid ground. From our testing, we can also confirm the paddle will float in the water.
Pump
The Elemental Wave 10'6'' comes with a single chamber pump, which is lighter and easier to store than a dual-chamber pump. The only downside to this is that it will take a little longer to pump up the SUP than it would if you have a dual chamber pump option.
If you are looking to upgrade the pump, then we would highly recommend upgrading to an electric pump. As one of our most recommended upgrades, they do the hard work of inflating a SUP for you and will inflate a paddleboard faster than the included single-chamber pump. If you need help looking for an electric pump, visit our top electric pumps list at this link for a few suggestions, many of which are even more affordable than your typical dual-chamber pump.
Backpack
Like the paddleboard itself, the backpack included with the Elemental Wave 10'6'' is one of the more unique and stylish looking paddleboard backpacks on the market. Made with a dense canvas material, this backpack is rugged and thick enough to protect your gear against sand and water, while also drying out very quickly when it does get wet. The back of the bag, the chest strap, and hip belt, and the backpack straps are all padded and adjustable, providing a very comfortable and snug feel when worn whether you are on the short or taller side of things.
The roller wheels work quite well on pavement and solid surfaces, and are located on the front side of the bag so they won't get tangled with your straps or dig into you while backpacking with your kit. Lastly, we want to highlight that Sea Gods has gone the extra mile and placed the zipper on the backside of the SUP backpack, allowing you to lay the bag down naturally on its wheels when packing it. We had a ton of extra space in the bag even after we put in the Elemental Wave, pump, paddle, and a few other accessories inside the bag, so consider the Sea Gods backpack another stellar inclusion.
Leash
A 10' coiled leash is included with the Sea Gods Elemental Wave 10'6'' kit. Wearing the leash is really simple, since all you have to do is slide the cuff over your ankle or thigh while wrapping the velcro strap around one of the SUP D-rings. Once you have your leash on, your paddleboard will stay close to you when you eventually fall into the water, and with a small tug you can even bring your paddleboard closer to you as well. Just make sure you are wearing a PFD when you go out SUPing, as wearing a leash won't help you float any better and is there just to help you get onto your paddleboard quicker.
Company Review – Sea Gods
Sea Gods goes out of their way to make sure that every paddler who tries out their equipment will have a fantastic experience, and includes several policies to improve your time with their SUPs. If you aren't happy with your paddleboard for any reason, you can return the Elemental Wave 10'6'' iSUP within 30 days of delivery minus a 10% restocking fee and any additional fees based upon the damage to the board.
Additionally, Sea Gods sets itself apart as one of the very few companies that offers a lifetime guarantee for their paddleboards. Any manufacturing failures or defects will be repaired or replaced for free by Sea Gods, with wear and tear along with accidental damage able to be repaired at a discounted price. Sea Gods has been highly responsive to our questions since we discovered their paddle boards this year, and is quickly becoming one of our favorite SUP manufacturers on the market.
Our full company review, along with additional warranty and shipping information about Sea Gods paddleboards, will be coming soon.
Conclusion/Bottom line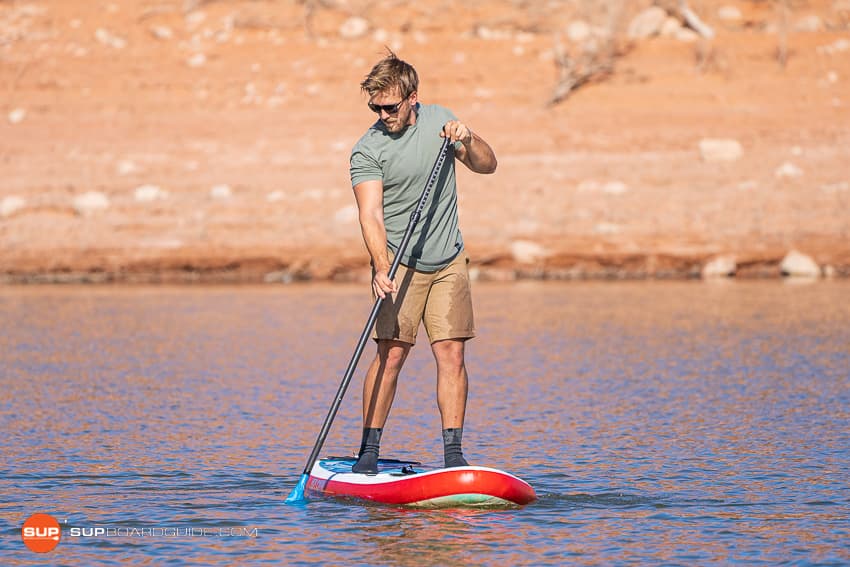 The Sea Gods Elemental Wave 10'6'' is an all-around that performs nearly as well as it looks. This All Around SUP feels solid in the water and is easy enough to maneuver with and comfortably stand on, but especially excels in its tracking thanks to the large single fin box. The ULF construction provides over 250 lbs of weight support while weighing just 19 lbs, making it an excellent option for younger, shorter paddlers, and hikers looking for an easy to carry high quality inflatable stand up board. The deck pad is stunning with the artistic wave design, and is equally cushy to stand on and grippy enough you won't ever slip off the board as it gets wet.
While we aren't thrilled by the single chamber pump, we think that the impressively light carbon fiber paddle, easy to install Kumano fin, and nifty roller wheel backpack are all premium level accessories. If you want an all-around that stands out wherever you paddle, we would recommend you go with the 2022 Sea Gods Elemental Wave 10'6'' inflatable SUP!
Thank you so much for reading our review of 2022 Sea Gods Elemental Wave 10'6'' iSUP! We hope we've answered any questions about the board you may have, and are happy to chat more if we haven't. If you want to learn more about the board, or if you have a question about paddle boarding in general, you can leave a comment below or send us an email with your thoughts. While you're here, you can also learn more about paddleboarding by visiting our other reviews, instructional guides/tips for beginners and expert paddlers, or watch our in-depth videos discussing the most popular paddleboards on the market.
Let us know how we can continue to make SUPBoardGuide.com one of the best paddleboarding resources on the internet! Stay safe, have fun, and let us know what you think of the 2022 Sea Gods Elemental Wave 10'6'' iSUP!
The following two tabs change content below.
Justin Taylor, Head Paddler
At SupBoardGuide.com we are a team who love the water, the outdoors, and are more than grateful that our full-time job allows us to review stand up paddle boards. We paddle year round (it helps that we are just about 2 hours outside of Las Vegas), and we bring in a wide range of paddlers with the goal of providing our readers with the best, most in-depth, and accurate stand up paddle board reviews.
Latest posts by Justin Taylor, Head Paddler (see all)