Bay Sports 11' Mandala Yoga
Pros
Ultra-stable yoga board, capable of supporting multiple paddlers.
Fusion-tec construction, weighs just 21 lbs when inflated to 15 PSI. Very easy to carry.
Deck pad covers the whole length of the board, and is very cozy to practice yoga on.
Beautiful deck pad and wood grain design. Mandala patterns aid with feet placement.
Dual-chamber pump + fiberglass shaft and paddle blade. Great starter kit that includes everything you need for the water.
30 Day Guarantee + 3 Year warranty. Long lasting coverage for the board.
Cons
No center carry handle can make carrying the SUP tricky.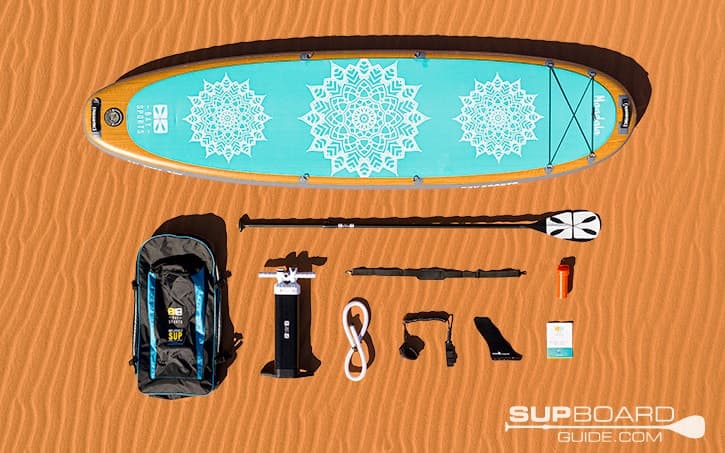 The Bay Sports 11' Mandala is a fantastic paddleboard that is well built for yoga, but is also enjoyable for some casual cruising around the lake as well. This is a very stable SUP, featuring a recommended weight capacity of 375 lbs while only weighing 21 lbs, making it well suited for small and large paddlers alike. The large deck space is great for stretching on, featuring a deck pad that covers the whole length of the board. The 11' Mandala is friendly to newcomers, and with a little practice will be able to take out their kids, pets, or even another adult paddler with them. The accessories included with the board, such as a dual-chamber pump and a full fiberglass paddle, will be just as nifty for brand new or experienced paddlers alike. Overall, the 11' Mandala is a great option for those interested in a yoga board, performing well in the water and being beautiful to look at too!
SUP Board Specs
Length
11'
Width
34''
Thickness
6″
Weight
21 lbs
Rider Capacity (lbs)
375 lbs
Recommended Inflation
15 psi, limit of 26 psi
Fins
9'' FCS Connect II center click in fin,
2.5'' molded plastic side fins
Paddle Type
Fiberglass shaft and Fiberglass Blade, 26 Ounces
Construction
Fusion-Tec Drop-Stitch Construction
3-Layer Side Rail
Who Should Buy This Stand Up Paddle Board:
While almost anyone will find enjoyment with the 11' Mandala, the board will perform best for these types of paddlers:
Beginner boarders who want a stable, easy to use board that will help them learn to stand upright on an inflatable SUP.
Families, or paddlers who are intending to ride with more people than just themselves.
Younger, smaller paddlers who want a lightweight board that is still very durable.
Yoga fanatics who love having a deck pad that covers the whole length of the SUP.
Anyone who wants a paddleboard that performs well and is very pretty to look at!
The 11' Mandala SUP is best suited for the following conditions:
Calm and flat water. Optimal setting for your yoga session!
Lakes, bays, and marinas with some wind or chop, if you want a fun, casual cruising experience.
River paddling is swell, if you stick with those that are slow and friendly.
The ocean, though you'll have a better time exploring instead of surfing with the 11' Mandala.
Performance
Stability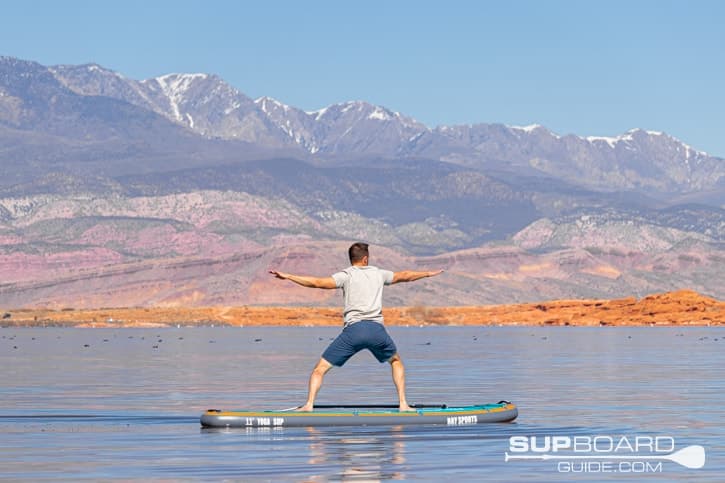 The primary factor when it comes to yoga boards is stability, given that you need to be able to stretch and move without tipping yourself over every few seconds. Fortunately, the stability is the 11' Mandla's best performance factor. It is very easy to stay on, and has a 375 lbs recommended weight capacity when inflated to at least 15 PSI. The large weight capacity is well suited for taller paddlers who might find other SUPs unsteady, or those who've struggled learning to stand on other SUPs. The board is great for bringing out kids or pets as well, and is a good choice for tandem paddlers who have a little bit of experience. This is a beginner friendly board, both for learning how to paddle on the water with and for learning water yoga alike.
Maneuverability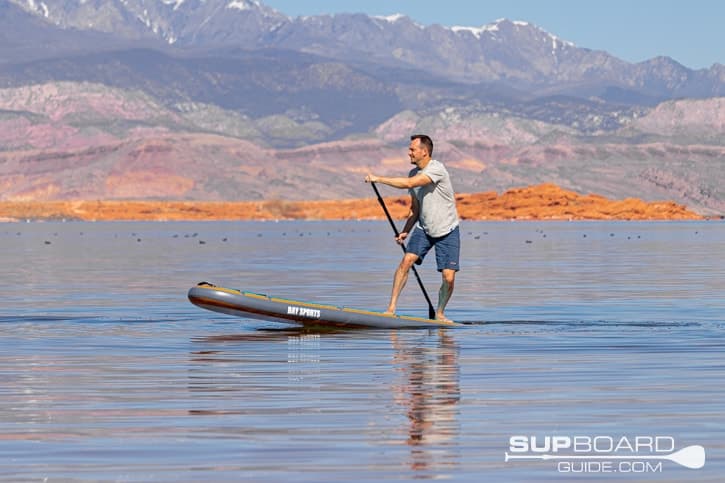 Yoga boards are definitely built with stability first in mind, but they are also designed to offer the maneuverability you need to cruise and casually explore the water. With just a few hard pushes to your side, you'll be able to alter the course of your SUP to dodge objects in the distance. For a more immediate turn, we find it easy to perform a step-back turn like the one you see above. It's quick and fun to push down on the tail to raise the nose, at which point you can pivot on the spot to where you want to go. Practice this trick a few times, and you'll have no trouble maneuvering with the 11' Mandala.
Tracking/Glide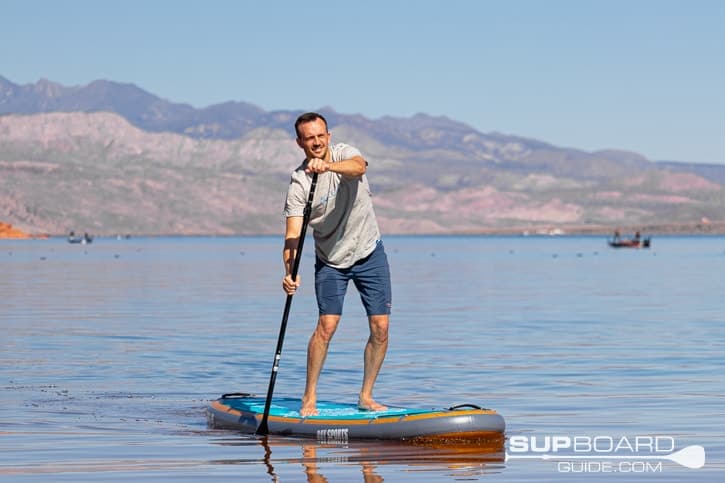 The 11' Mandala offers a smooth paddling experience, and with the proper paddling technique manages to keep a good straight course in the water. The Mandala's slightly raised rocker helps tackle light waves and chop alike. The Mandala also has triple-layered reinforced rails that increases the rigidity of the board, further improving how well it tracks and handles waves alike. You'll need to paddle a bit to build up speed, but once you're going you'll enjoy how you cruise along the water.
Included with the 11' Mandla is a 9'' FCS II center fin. The fin is very easy to install in the center US fin box, and when used will significantly improve your tracking in the water. The 11' Mandala also features two permanently attached 2.5'' side fins that will further improve stability when used in conjunction with the center fin. You'll definitely want to insert the center fin when you head out for a smoother paddling experience, though leave it off if you're paddling in shallow water.
Materials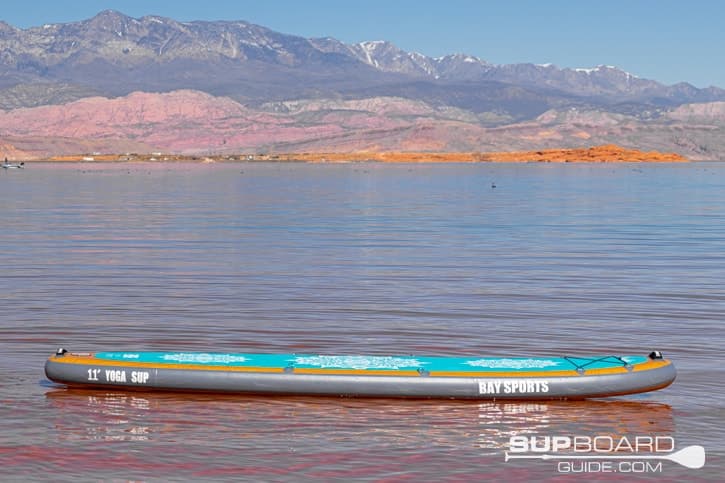 The 11' Mandala is made with the same high-quality Fusion-Tec methodology featured in all Bay Sports inflatable SUPs. To explain its construction, we start with the tight drop stitch core. Thousands of threads are bound to sheets of fabric that extend out when the board is inflated. The threads are positioned in such a way that when the core is inflated, the SUP achieves a board shape you see above.
This drop-stitch core is very resilient, but can be punctured and damaged like other inflatables. To protect it, a military grade PVC coating is fused directly to the exterior of the drop-stitch core. This coating provides additional weight support, stability, and durability that will resist most drops, scratches, and beachside debris. A UV coating is also added to guard against sun damage, along with extra tape layering on the rails for additional rigidity and seam protection. The end result is Bay Sports' Fusion-Tec built board, which will last you for years even if you do occasionally crash with it!
Board Design/Shape


For maximum yoga stability and comfort, the Mandala is built to provide plenty of deck space while helping you tackle the waves that tumble through the water. 11' long and 34'' wide, even tall paddlers will find a ton of space to lay down, stretch, and practice without having to worry about toppling over. The 6'' thickness also helps provide the board with the strength and stability needed for its 375 lbs recommended capacity, so no trip with the 11' Mandala has to be a solo experience. The nose and tail are also thicker than the center mass of the board, enhancing overall stability and making it easier to tackle waves. We also want to highlight the reinforced rails, which both serve to add extra protection for the seams while increasing overall performance.
Board Features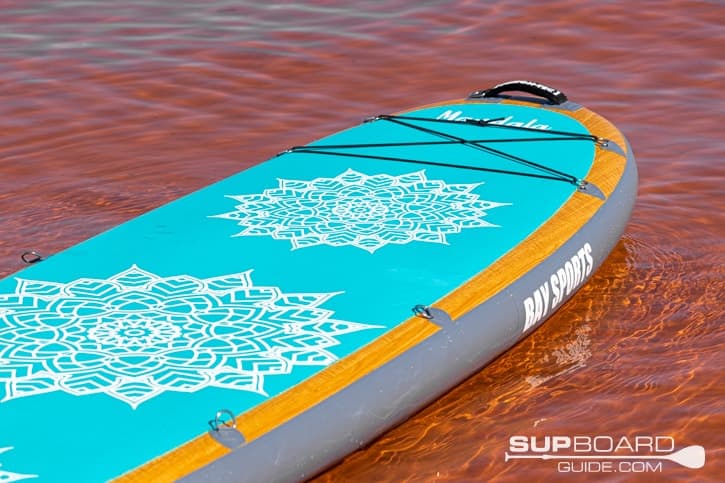 The Bay Sports Mandala has been purposefully created to have a largely clear deck pad so that those practicing yoga won't be jabbing themselves with unnecessary accessories. Even so, the board offers a number of additional key features that make it a worthwhile purchase. These features include:
Fusion-Tec drop stitch PVC layer construction: Nothing ruins peace of mind like a broken paddleboard, which is why the 11' Mandala is built to last. You can drop it, crash into another paddleboard, and even hit the occasional shore with little to no damage. We love the printed design though, so don't treat your SUP like a demolition car either!
Compact, removable cargo area: On the nose of the 11' Mandla is a small cargo storage area secured with 4 D-rings. This cargo space is a great place to put a dry-bag, cooler, or other small container. You can also remove the bungees to make the most out of the extended deck pad.
9 D-rings: Have a speaker, a phone case, or some other accessory you want to clip to your board? You'll have 9 different D-rings to choose from, located all around the 11' Mandala. The center 4 D-rings are even compatible with the Bay Sports kayak conversion kit!
Fiberglass shaft + Fiberglass paddle: When put together, this 3-piece paddle weighs 26 ounces, a great weight for beginner and intermediate paddlers alike. Very easy to assemble and adjust, so you can swap with friends as you take turns on the SUP.
Dual carry handles + Carry Strap: Tandem paddlers will be able to use the carry handles located on the nose and tail to carry the board together. For those paddling solo, you can grip the board itself or use the included Bay Sports carry strap.
Full length EVA deck pad: A smooth, EVA deck pad that covers the entire length of the board. The three spaced out Mandalas ornaments help guide your feet placement while providing a beautiful design. The textured EVA foam also helps you maintain your grip on the board, even when the surface of your board is soaking wet.
Fins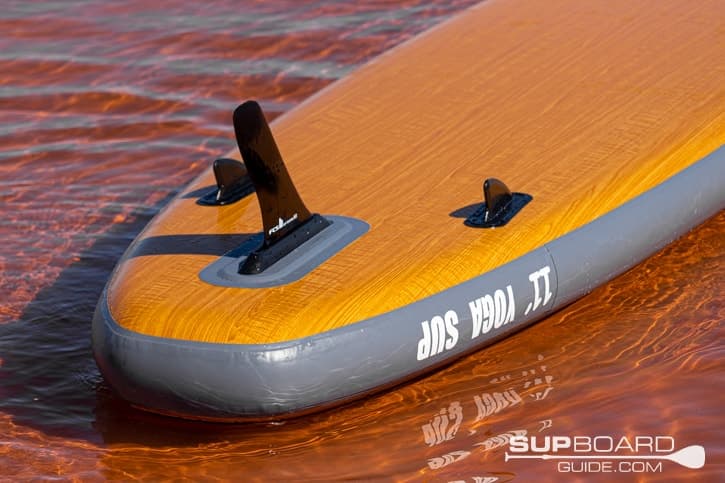 The 11' Mandala includes an FCS Connect II center fin, which is not only one of the best quality fins on the market, but also among the easiest to install as well. Push the front half of the fin into the center, slide the fin along the rail, and then push in the back end of the fin to engage the barrel lock. No extra parts, three seconds to install, made from durable urethane material and easily adjustable while you're on the water to maximize your paddling experience. Using the center fin will improve your tracking, though you can also adjust its position for added benefits. Move the fin forward for easier turning and a tighter turn radius, or move the center fin back for extra stability, especially when dealing with rougher water conditions.
The board also comes with two permanently attached side fins, which grants additional stability to the board and other minor performance benefits. Made from molded plastic, these side fins can get bent out of shape, especially when you accidentally run ashore. Don't worry though, as they can be easily fixed and restored to normal. Heat up some water, douse the fins with them, and let them dry in the sun for around 10-15 minutes, at which point they should look as good as new!
Full-Length Premium Eva Deck Pad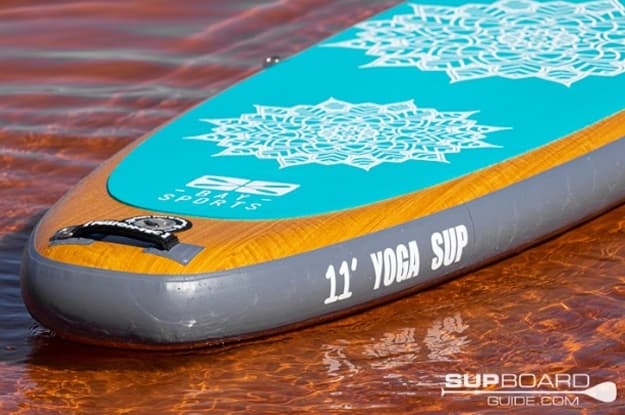 The full-length premium deck pad covers the entire length of the board, giving you all the room you could want to practice yoga, stretch, or just spread out on. The EVA material gives the board added grip strength while keeping the pad comfortable, water-resistant, and soft. While the deck pad does not have the diamond groove texture included with other Bay Sports SUPs, the grooveless textured foam still improves board grip and is more comfortable for yoga.
The design of the deck pad is made with peace and tranquility in mind, and should definitely help most aspiring yogis get in the mood for the day's stretches and postures. They're also purposefully spaced out to help new paddlers find the best places to stand, and designate optimal sitting spots for younger paddlers. It's a great design that looks beautiful while also being practical, and compliments the wood grain printwork that covers the rest of the SUP.
Handles
The 11' Mandala features two neoprene handles that will help you drag the board in and out of the water. These handles are definitely comfortable enough that even long-distance carrying wouldn't be an issue for two people working together. The neoprene covers are also great in that they're comfortable to use even if your hands are wet or cold, a problem found in some basic SUP handles.
There are no center handles, meaning that solo paddlers will have to try to carry the board by gripping its sides or by using the included carry strap. The carry strap is very handy, and we do like how there's nothing to trip on in the center of the deck pad. However, a center handle would make carrying the 11' Mandala even easier, especially for younger or shorter paddlers who aren't able to use the carry strap.
D-Rings/Bungees/Cargo Areas
For those who are intending to bring a cooler or dry bag with them on their ride, the 11' Mandala has a forward bungee cargo area that will keep your goods locked down and secured. These bungees are attached to 4 D-rings, which can attach to other accessories you might bring with you on the water.
The center 4 D-rings are kept on the very edge of the board, so you won't have to worry about tripping over them or accidentally jabbing yourself as you practice yoga. For those who want to take their board on an adventure, the 11' Mandala is compatible with most inflatable SUP kayak conversion kits. There is a final D-ring just above the inflation valve, perfect for attaching your included 11' coil leash to. In total, there are 9 D-rings that are all well suited for SUP accessories, some of which you can read about in the next section!
Accessories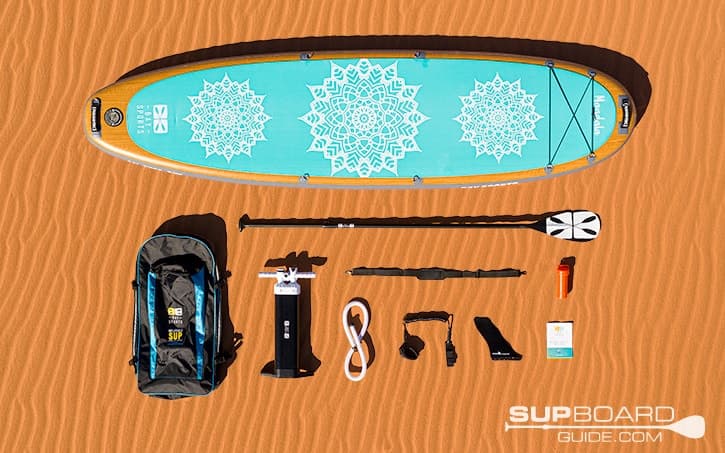 Paddle
The 3-piece adjustable paddle has a fiberglass shaft and blade, and weighs 26.7 ounces when fully assembled. The handle and shaft are both comfortable to grip while staying lightweight so you can paddle for hours without tiring out. The fiberglass paddle blade also weighs less than plastic and nylon alternatives, while still retaining the strength and flex you need for powerful strokes in the water. In total, we like the included paddle and think it will be great for beginner to intermediate paddlers, though those who can afford the upgrade will like the 23 ounce carbon fiber paddle more.
The paddle breaks down into three separate parts, making it easy to pack away and to put together. Once assembled, the paddle is easy to adjust to the optimal length thanks to the height chart printed on the shaft, allowing paddlers to quickly change to the perfect length even on the water. This paddle is also very hard to break as well, and should last you just as long as the 11' Mandala itself.
Pump
Every kit comes packed with a Helios triple-action, dual-chamber pump. The dual-chamber pump is faster than the basic single-chamber pump included in the past, and is very easy to use as well. By following the instructions printed on the body of the Helios pump, even first time paddlers will be able to inflate the 11' Mandala in 10 to 15 minutes.
The Helios triple action, dual-chamber pump is a great pump that will get you out on the water without too much work. However, our number one recommendation is to invest in an electric pump. Electric pumps are smaller and easier to transport than the triple action pump, and pump will inflate your board for you. When you're wrapping up the day, an electric pump will also help deflate your board, making sure it's empty and ready to pack away in your bag. If you see yourself getting involved in SUP water sports long term, this will be the best add on you can add to your paddleboard kit.
Backpack
Bay Sports provides a premium ballistic-weave nylon backpack for storing the 11' Mandla. The backpack has a soft back and padded shoulder straps, making it comfortable to wear and adjustable so that you should never have to feel the bag digging into the back of your head. The bag was made with extra space in mind, so packing your board away won't be like packing a tent. There is a large face storage compartment as well, which you can use for your fins, repair kit, your wallet, keys, and other small to medium sized objects you want to keep dry. Finally, there are also three carry handles, giving you ways to haul the bag a short distance without having to wear it.
Overall, Bay Sports makes one of our favorite backpacks for iSUPs.
Leash
For those who worry about taking a tumble, the 11' coil leash will ensure your board doesn't float away too far when you fall. Remember though; the leash is to keep the board near, but it won't necessarily keep you above water if you fall in. Always remember to take a personal flotation device with you when you're on the water!
Repair Kit
A standard repair kit is included with the 11' Mandala. Included are a few patches that will work on tears that aren't located along the seams, and a wrench for the Halkey-Roberts inflation valve if it comes loose. For more significant damage, be sure to contact Bay Sports, whose policies you can read up on below.
Optional Accessories
The 11' Mandala is a great board ready for the water right out of the box, but there are accessories you can purchase to make your time out an even better experience.A few from Bay Sports we would invite you to consider include:
Bay Sports Hercules electric pump
Stand Up Paddle Board Trolley
Dry Bags/Waterproof Deck Bag
Waterproof deck phone case
Compact key vault
Company Review – Thurso Surf
Founded in 2012 as Bay Kayaks, Bay Sports is 100% family-owned and operated business based out of Sydney, Australia. Originating with kayaks, Bay Sports branched out into other water sports including surf skis and inflatable SUPs. Focusing on lightweight but rigid boards, Bay Sports have constantly released products that are affordable, high performing, and durable. With over a thousand five star reviews of their boards, Bay Sports boards are among the best in the inflatable SUP world.
Despite being based out of Australia, Bay Sports offers free shipping to the US and many other countries throughout the world. All of their boards come with a 3-year warranty and 30-day guarantee, and offer exchange options for defective or damaged boards. Bay Sports SUPS are built to last, and we can fully recommend all of their paddleboards. If you like the 11' Yoga Mandala, we invite you to check out their Explore, Cruise, and Tour paddleboards as well.
Conclusion/Bottom line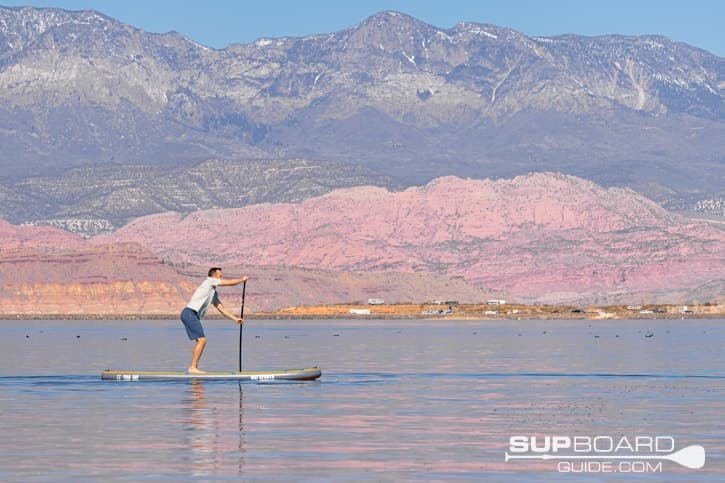 If you want an easy to handle, stable SUP that will get you in the right mindset for yoga,the 11' Mandala is a worthwhile board to invest in. Its large dimensions and smooth EVA deck pad gives it plenty of room for paddlers to spread out on, and bring their friends as well. The raised rocker and thick dimensions will help you challenge chop and waves alike, and you'll enjoy the extra rigid feel of the Fusion-Tec construction and reinforced rails. The kit has everything you need for the water out of the box, including a great pump, paddle, and FCS II fin. For beginners and experienced paddlers interested in getting in on inflatable SUP yoga, this is a fantastic option, and one of our favorite yoga boards out there.
Have a question about the 11' Mandala, or want some ideas on how you can make the most of your yoga board? Maybe you want to know something else related to paddleboards, be it from gear to your technique. Whatever you want to discuss, we invite you to leave a comment below, or to shoot us an email with your questions. We're happy to talk paddleboarding, and also make sure to update our reviews based upon the feedback we receive.
Check back on our review in the future for the latest of what we think about the 11' Mandla and Bay Sports. Otherwise, thank you so much for reading!
The following two tabs change content below.
SupBoardGuide
Heyo! At SupBoardGuide.com we are a team who love the water, the outdoors, and are more than grateful that our full-time job allows us to review stand up paddle boards. We paddle year round (it helps that we are just about 2 hours outside of Las Vegas), and we bring in a wide range of paddlers with the goal of providing our readers with the best, most in-depth, and accurate stand up paddle board reviews.
Latest posts by SupBoardGuide (see all)