Honu Byron 10'6 SUP
Pros
4.7" thickness = high-performance, hardboard-like experience on the water
Lightweight and easy to get to speed
Stable for beginner paddlers
Raised kick pad is well placed for easier stepback turns
2+2 Warranty covers manufacturer defects and board repairs
Cons
Would like to see the front cargo area extended or moved up toward the nose for more cargo and deckpad space
For heavier paddlers, we'd recommend looking at the larger Fairlight model
When Justin first stood up on the Honu Byron 10'6 All-rounder for our testing, he only had one thing to say: 'wow'. In my time here working at SUPBoardguide, I've never seen a board render him speechless. Usually he's firing away his thoughts for the review at warp speed and I struggle to get everything down on paper, so the respite that Byron provided was more than welcome.
Since that first day, Honu's Byron has continued to impress us and everyone else we've dragged out to give it a try. It's light but rigid, un-cluttered but functional, compact but accommodating, maneuverable but tracks well, quick but stable, so on and so forth; I'm clearly still trying to wrap my head around how well this board fits the definition of 'all-rounder'.
The bottom line is that the Honu 10'6 Byron is a performance focused all-around iSUP option that rises above the pack when it comes to innovative lightweight build quality, stiffness, stability, maneuverability and speed. Because this 10'6 by 32" SUP is only 4.7" thick, it has more of a hardboard-like feel on the water than other 6" thick all-around SUP options.
However, because of its below average thickness, it also has slightly less volume than 6" thick SUPs of similar lengths and widths making Honu's 10'6 Byron best suited to paddlers within or below a 110-230lb weight range. Paddlers above this range can also enjoy this board, but will experience a slight decrease in performance. These paddlers would benefit from the added volume of the Honu Fairlight 10'9.
We think the Honu Byron 10'6 would be great for paddlers who
Are between a 110-230 lb weight range (paddlers above this range would enjoy the Honu Fairlight 10'9)
Want a lightweight all-around that doesn't sacrifice rigidity and performance
Want a hardboard feel with all the benefits of an iSUP
Prefer a cleaner look to your deck space instead of a variety of action mounts, D-rings, etc.
Paddlers who explore flatwater, chop, or ocean environments
Honu Byron 10'6: Spec Sheet
Main Category: All Around, Inflatable
Board Dimensions: 10'6 X 32" X 4.72
Listed Board Weight: 16.9 lbs
Listed Max Capacity: 250 lbs
Recommended PSI: 20
Fins: Single fin, FCS II
Paddle: not included

*Honu offers a variety of high quality paddles for additional purchase, and a discount is provided if you bundle it with your SUP.

Materials: X- woven fused drop stitch
Price Range: mid-high
Warranty: 2 years of manufacturer warranty + 4 years of free repairs

*Boards must be registered for the warranty to receive 4 years of free repairs
Performance Review of the Honu Byron 10'6 Stand Up Paddle Board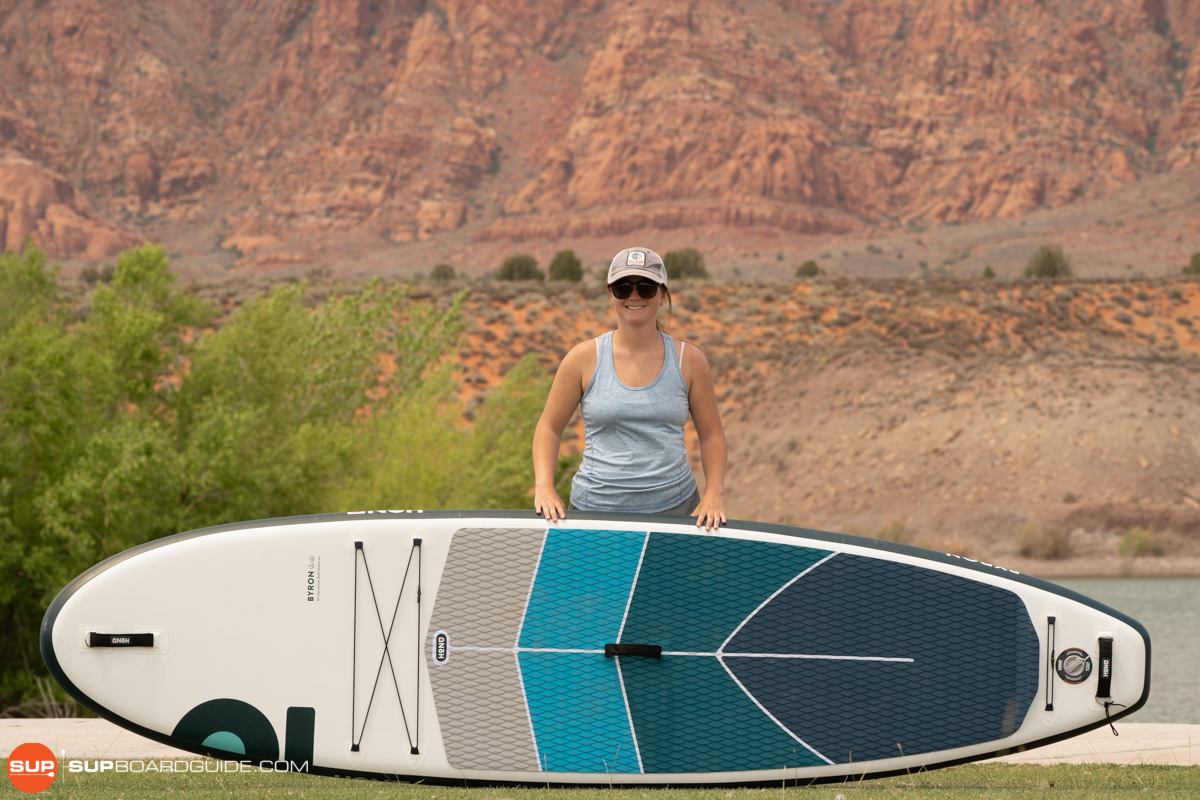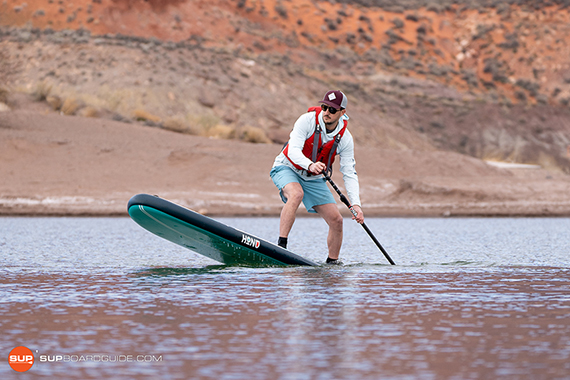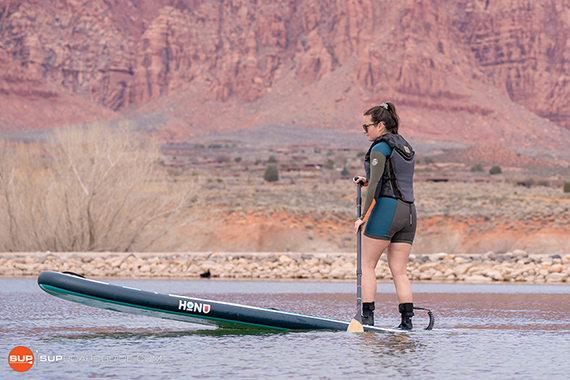 Overall Score: 9.4/10
Stability: 8.8/10
Speed: 8.6/10
Tracking: 9.1/10
Maneuverability: 9.5/10
Construction Quality: 9.8/10
Features/Accessories: 8.5/10
Stability Rating: 8.8/10
Listed weight capacity: 250 lbs
Tested weight capacity: 230 lbs
The Honu Byron 10'6, with it's 32" width and impressive stiffness, provides plenty of stability for our paddlers between 110-230lbs. Because it's only 4.7" thick, the Byron also lowers your center of gravity, contributing to a more solid, hardboard-like feel for smaller paddlers in particular. The caveat to this, however, is that going from the usual 6" thickness that most iSUPs have to the Byron's 4.7" thickness slightly decreases the volume of the SUP, which can cause inexperienced heavier paddlers to feel less stable on the water.
The Byron did perform well for one of our product testers that is about 230lbs. However, he is a veteran paddler though, so his experience will not be comparable for paddlers his size or above with a beginner skill set. He also still prefers the Honu Fairlight 10'9 as a higher volume, more stable alternative to the Byron 10'6, that doesn't force you to sacrifice having a lower center of gravity.
Speed Test: 8.6/10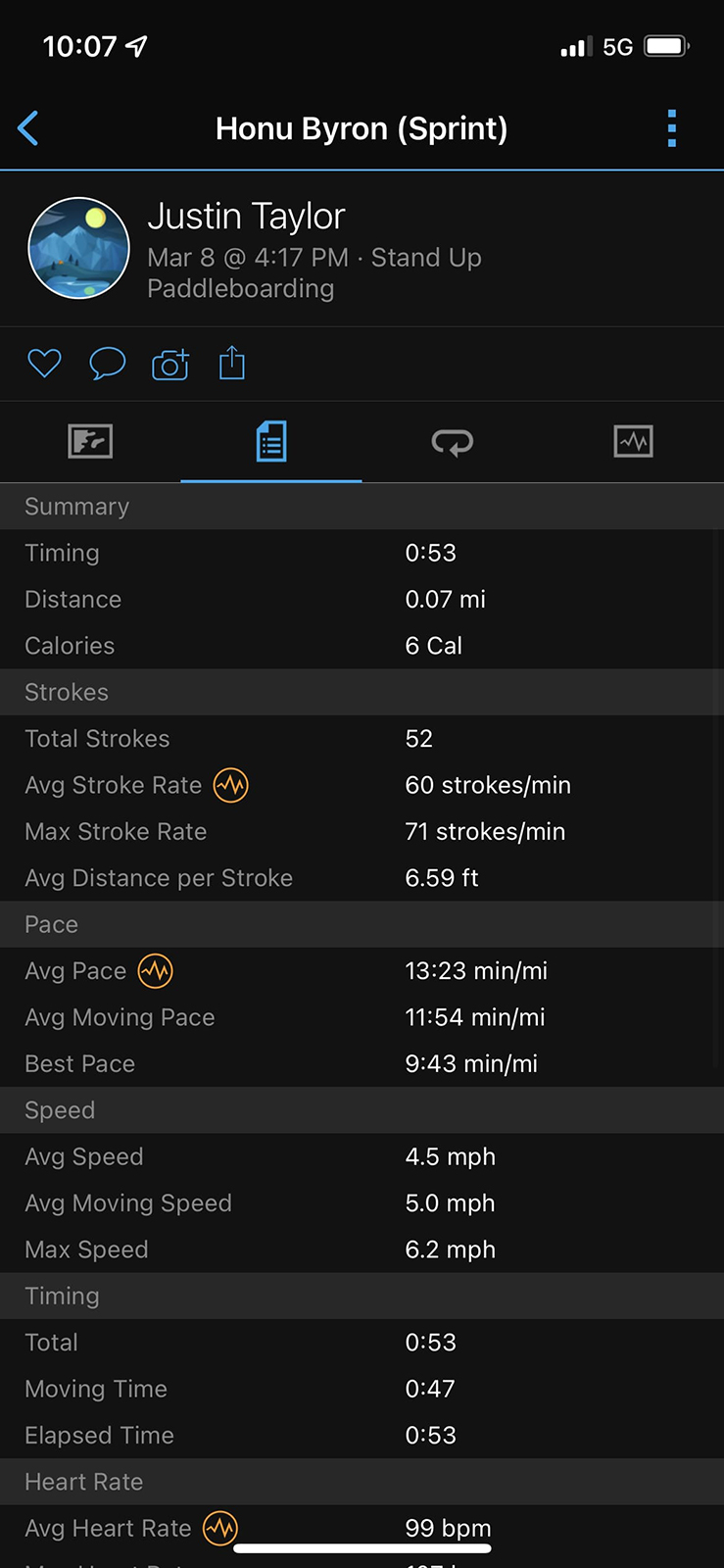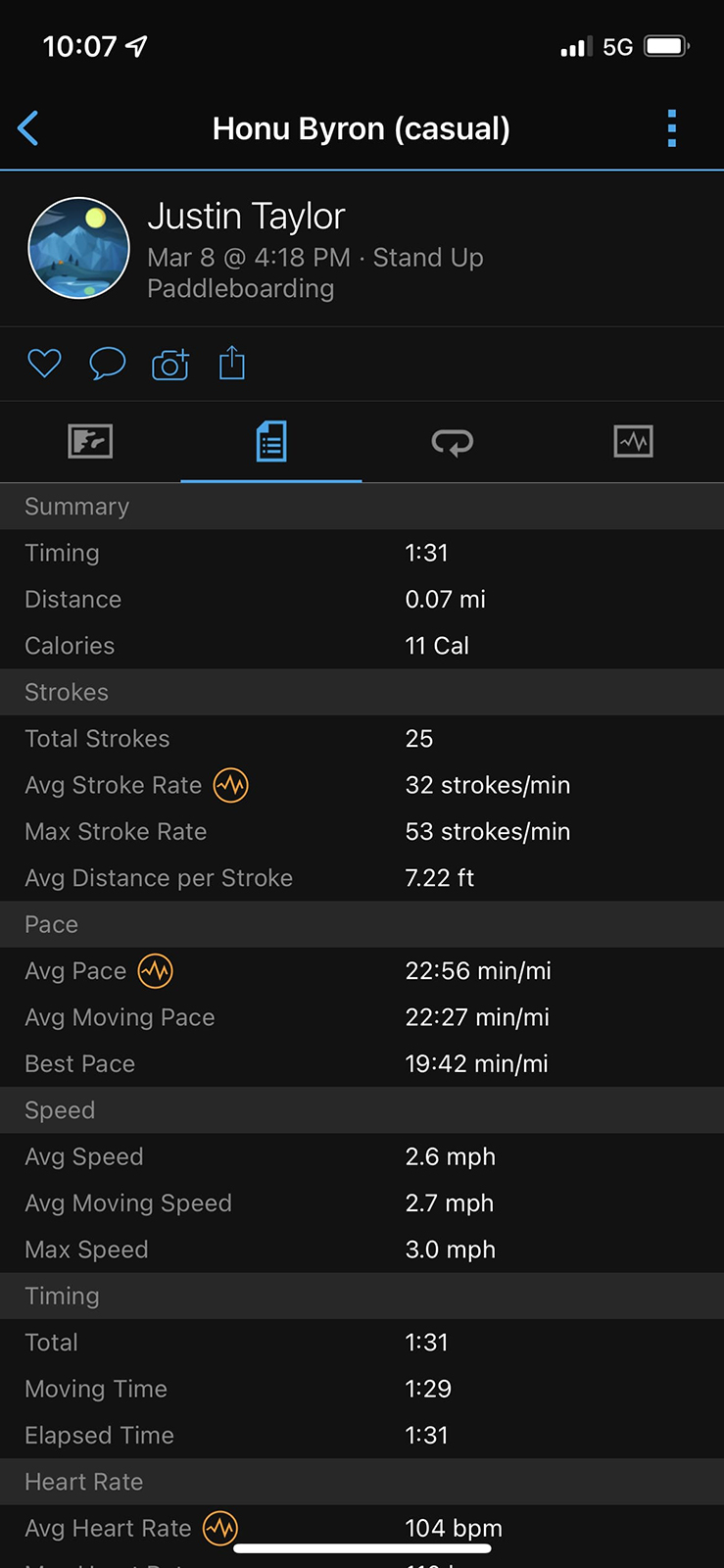 Being that the Honu Byron 10'6 is an all-around board, I was pretty impressed with its speed. No, it's not going to rip through the water like a dedicated touring SUP, but it's lightweight (16.9lbs) helps it feel pretty effortless to paddle and easy to get up to a decent cruising speed when compared against heavier all-around options. I also think the Byron's level of stability will help with beginner's speed because they'll be able to focus on their paddling form rather than trying not to fall off. Lastly, this all-around also sports a single fin, which should help to decrease any extra drag in the water that sidefins may cause (though we can't say for sure without being able to test it with side fins).
Tracking: 9.0/10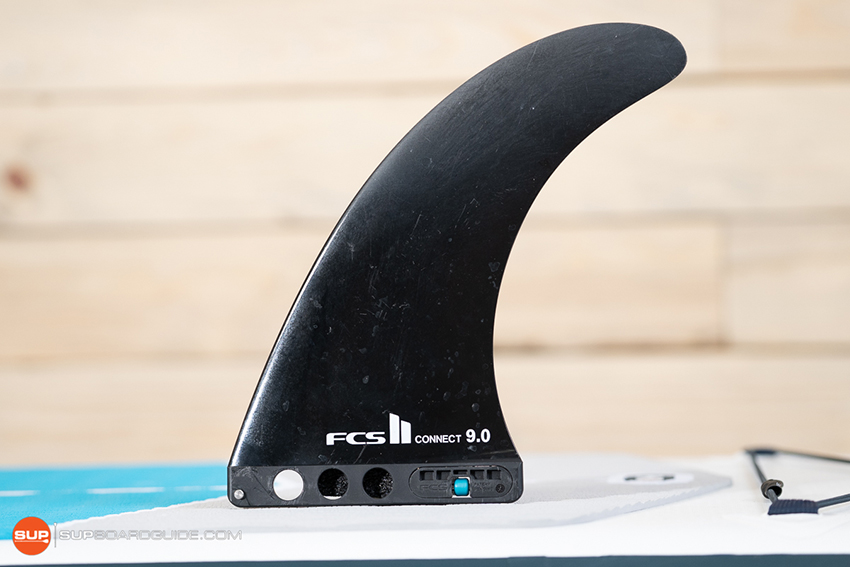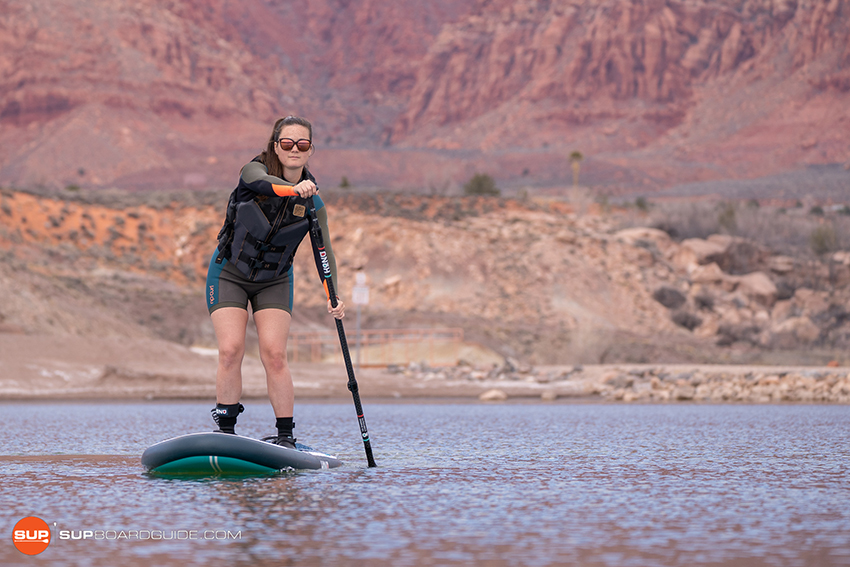 Again, being that the Byron is a classic all-around, it still has great tracking capabilities. Of course, we do want to note that tracking is largely dependent on your technique, but even keeping casual paddling form the Byron keeps a reasonably straight path in the water.
Also, as a smaller paddler with less reach than my fellow longer-armed SUP testers, I appreciated that the Byron isn't so wide that it would make it hard to keep my paddle vertical as it entered the water.
Maneuverability: 9.5/10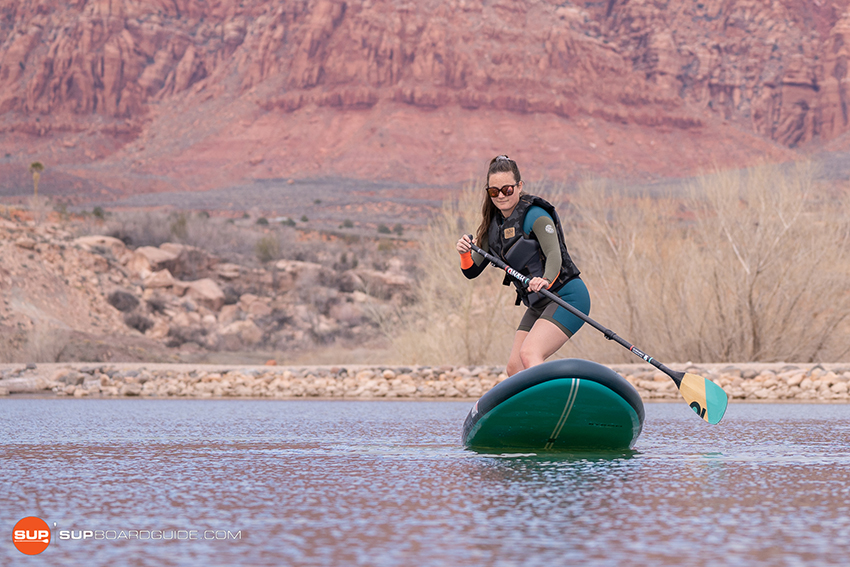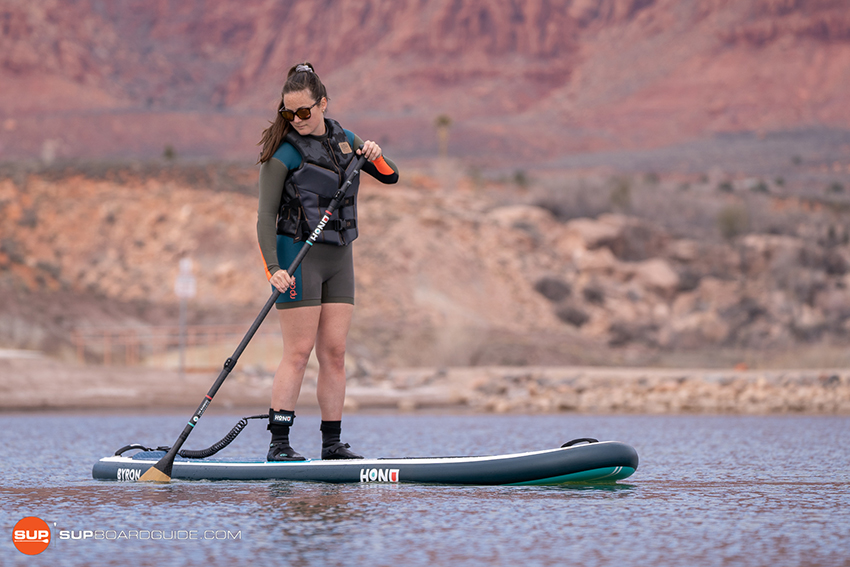 Honu's 10'6 Byron impressed us in every aspect of our testing, but where it really shines is in maneuverability. This lightweight board changes direction with ease when it comes to a casual turn, and its stability combined with its well-placed raised kick pad make stepback turns a breeze even for inexperienced paddlers.
In fact, the placement of the kick pad is one of our favorite aspects of the Byron. Honu has made it so precise that all you really have to do is stand with one foot on the pad to sink its tail. You don't have to push down or really work for it at all.
That being said, when you do need to really sink the tail and turn on a dime, the Byron performs very well. It not only turns on a dime, but does so without losing stability.
Construction Quality: 8.0/10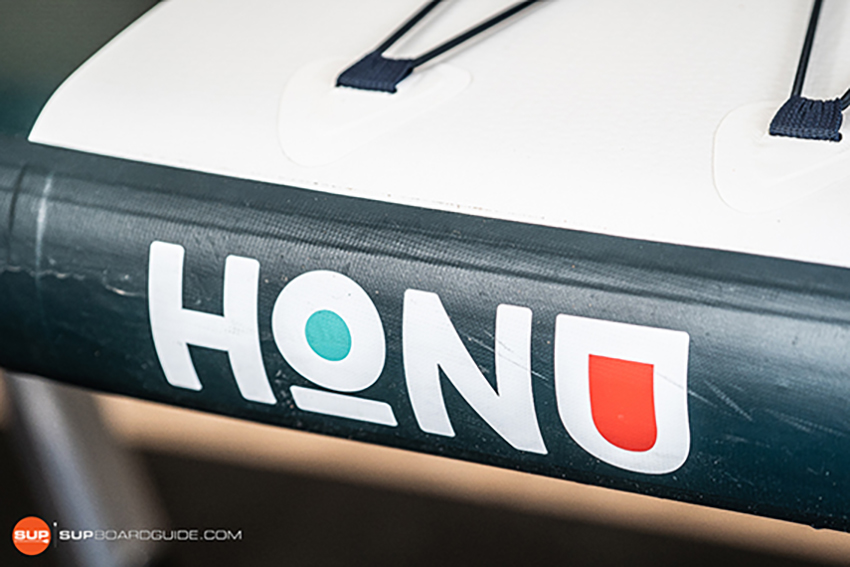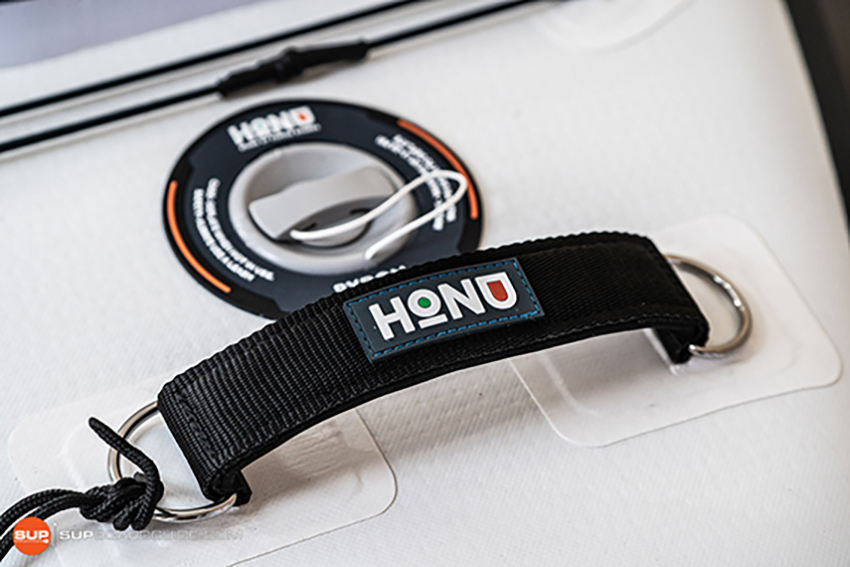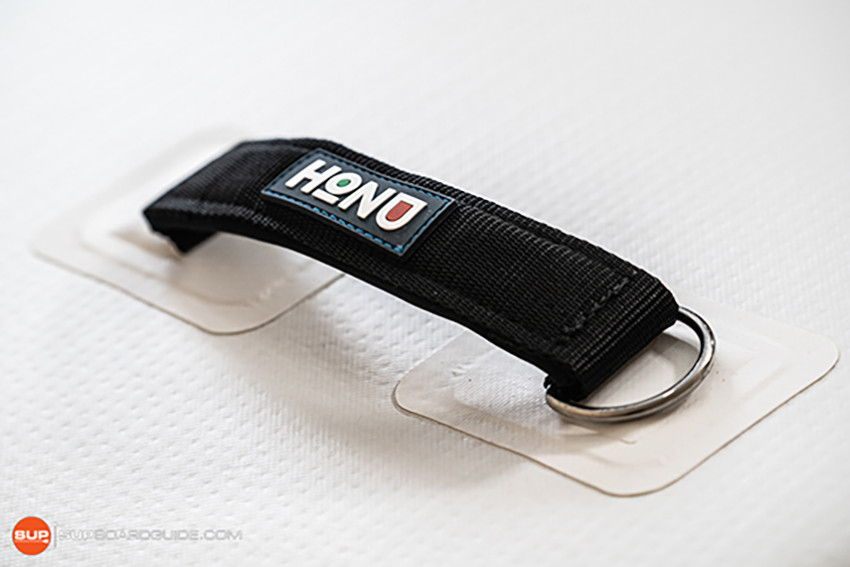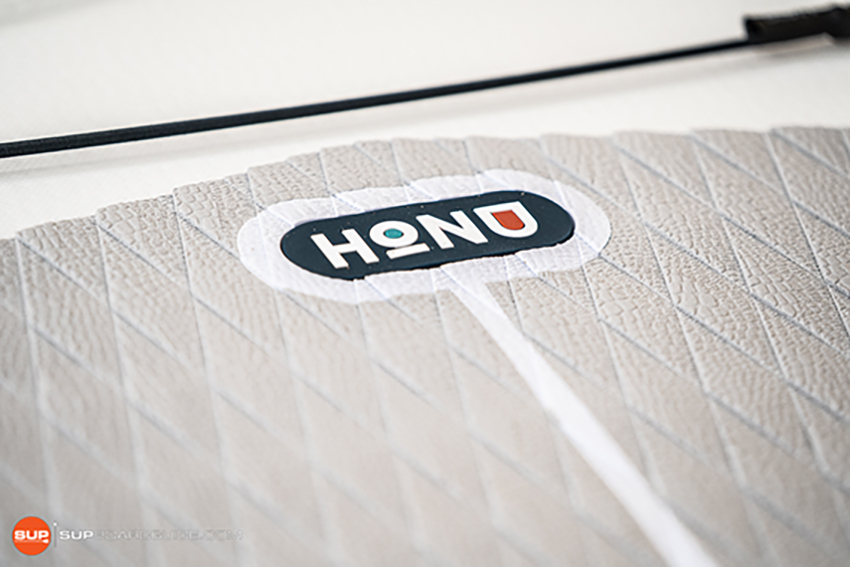 Honu as a whole displays a commendable level of attention to detail when it comes to lightweight, rigid, and thin iSUP construction, and the Byron 10'6 is no exception to this rule.
The Byron is constructed with a woven fabric core held in shape with cross oriented drop-stitch threads. Two layers of PVC are then fused to the woven fabric with heat, instead of heavier glue, to keep the Byron light.
After the PVC solidifies, Honu adds the rails to the SUP in 3 separate PVC layers with the goal of enhancing the rigidity and durability of the Byron 10'6. As a final touch, the Byron features are added such as the carry handles, spliced deckpad, and front and rear cargo areas.
When asked how they keep these boards so rigid yet remarkably lightweight and only 4.7" thick, Honu's Mark Travers gave most of the credit to their rail process and some to their cross-woven drop stitch. He explained that adding 3 layers of PVC to just the rails stiffens up the board without needing to add multiple layers of PVC throughout the board. This helps them remain lightweight without sacrificing great on-the-water feel.
Of course, it's always hard for us to verify construction information without cutting apart the board, but in this case you can actually see the demarcations of the 3 layers on the Byron's rails (top left photo in the grid above). What we can verify with more certainty is that the Byron has the one of the closest 'hardboard-esque' feels out of the many boards we've tried.
Board Stiffness: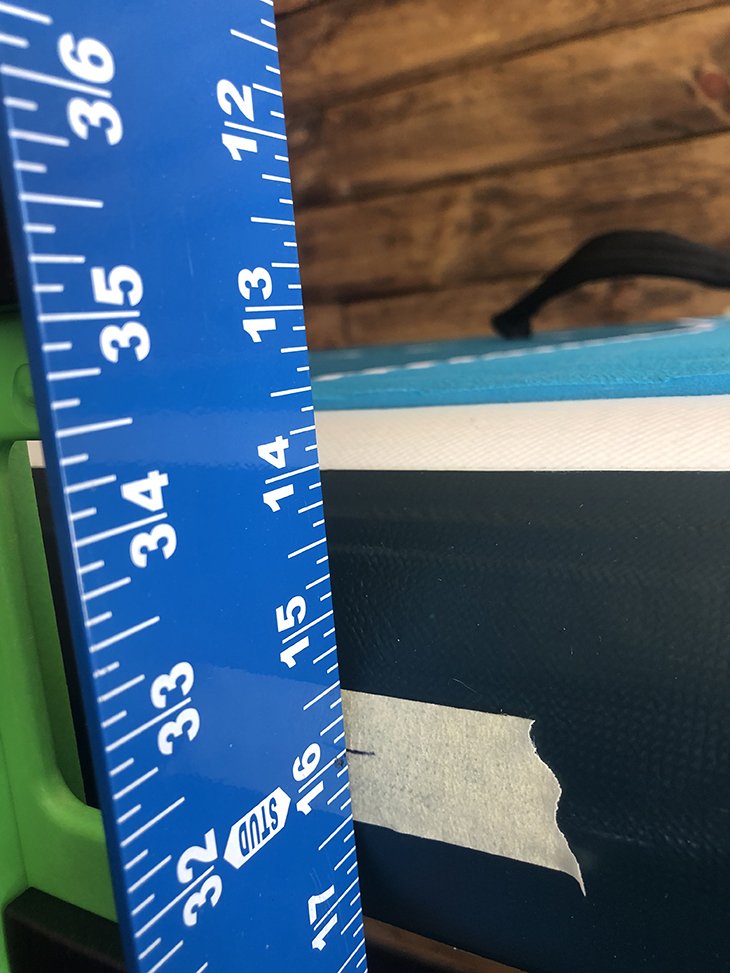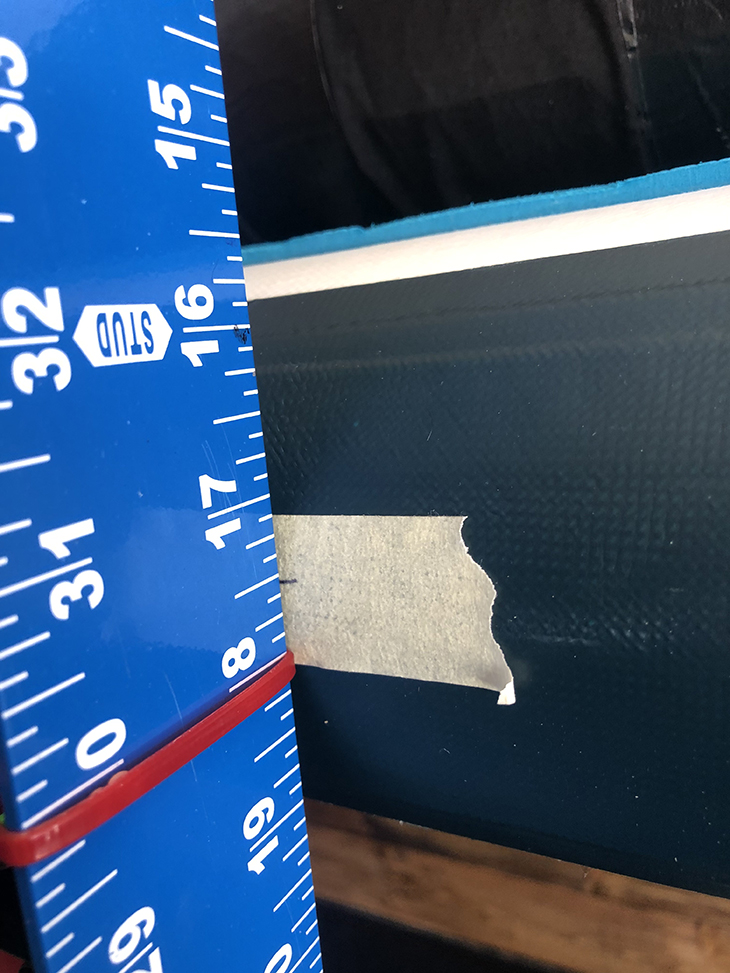 Stiffness Test: 1.5" Bend
During our bend test we set two sawhorses 7 feet apart, set the SUP on top and then place 150lbs at the board's midpoint (usually at the handle). We then measure how much the board bends under this weight. We realize that this test is not replicative of how the board behaves on the water, but it serves as an ongoing way for us to better understand how SUP construction contributes to stiffness under weight.
The Honu Byron 10'6 did excellent in our bend test with only 1.5" of bend when inflated to its max of 20 PSI. Compared to other boards that are of similar length and 4.7″ thick, the Byron performed exceptionally well in the bend test. This demonstrates Honu's ability to create a performance-focused, thinner, lightweight iSUP without comprising rigidity.
Features/Accessory Review: 8.5/10
As is the case with most performance focused SUPs, the Byron 10'6 shows off a cleaner, less accessory cluttered deck space than more casual all-arounds.


Still, the Byron has 3 carry handles as well as a small cargo area at the front of the deck pad to store a couple drybags, shoes, or water bottles. There's also a smaller bungee located at the tail of the board behind the much appreciated kick pad that turns out to work great as a paddle holder. Admittedly, I was really skeptical of this little bungee at first and thought it was a poorly executed water bottle holder, but now that I know it's purpose it may be my favorite feature on this board.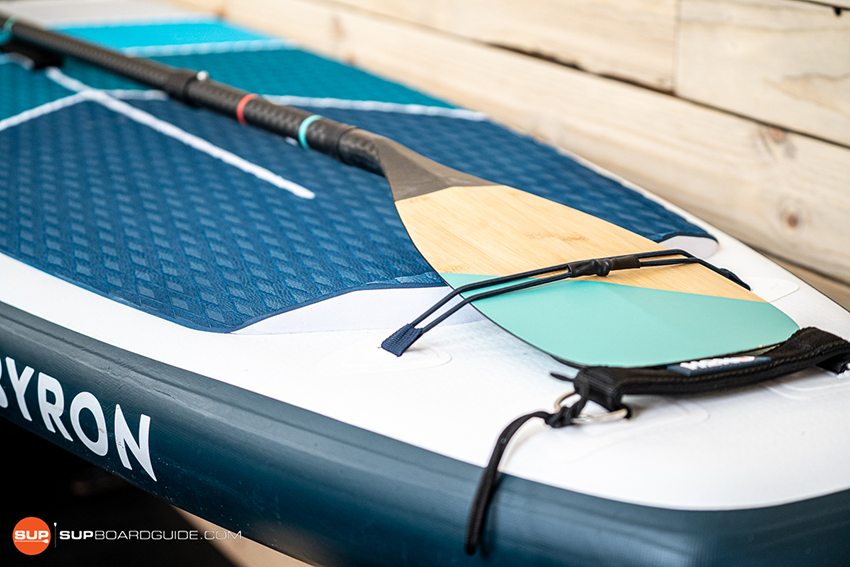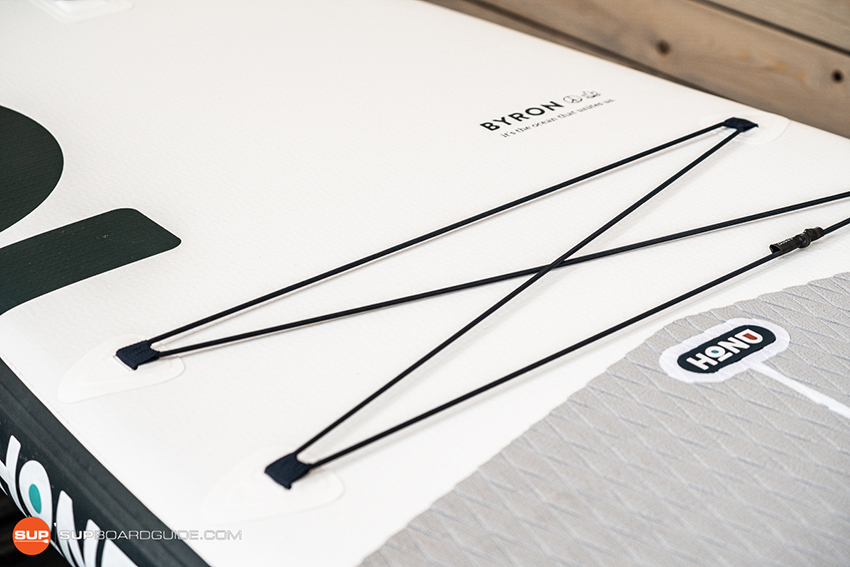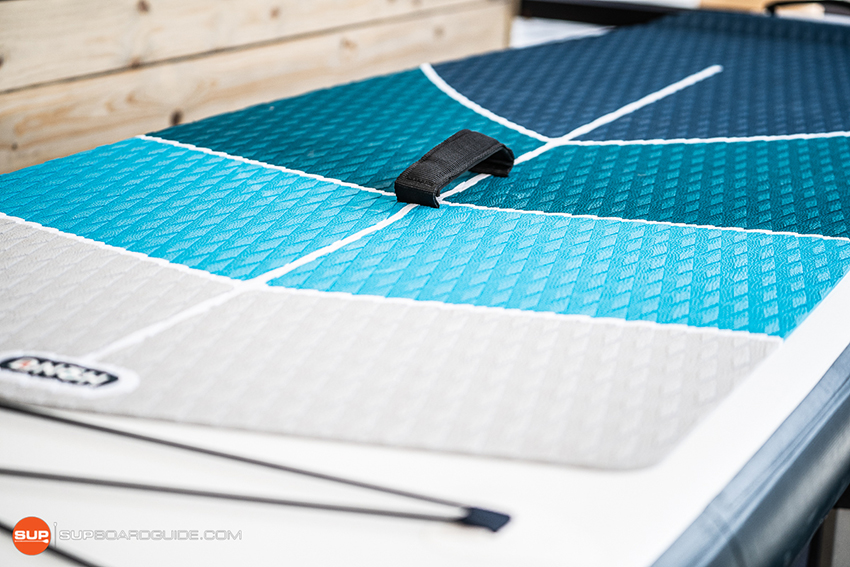 I also loved the comfy diamond grooved deck pad as well as Honu's decision to trade out their D-rings for nylon loops. Though I will be interested to see how the nylon holds up for our salt water paddlers.
Included Accessories: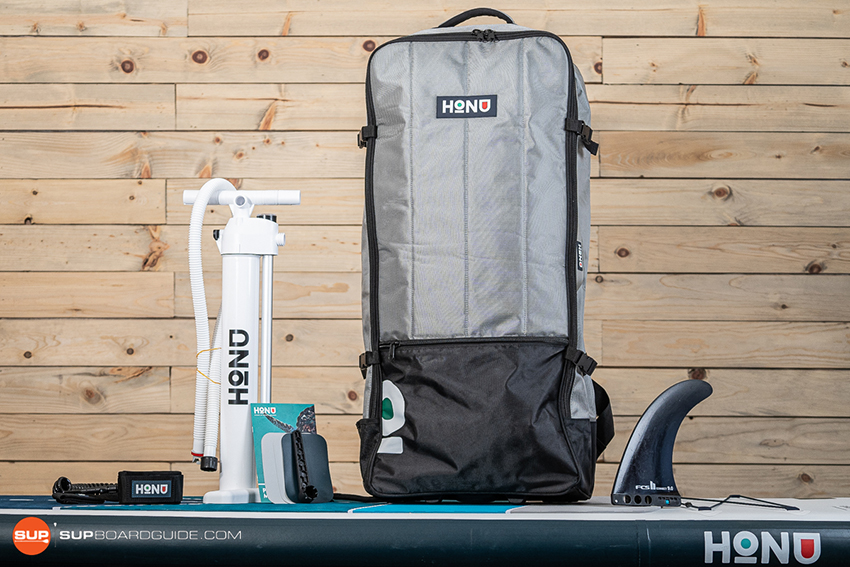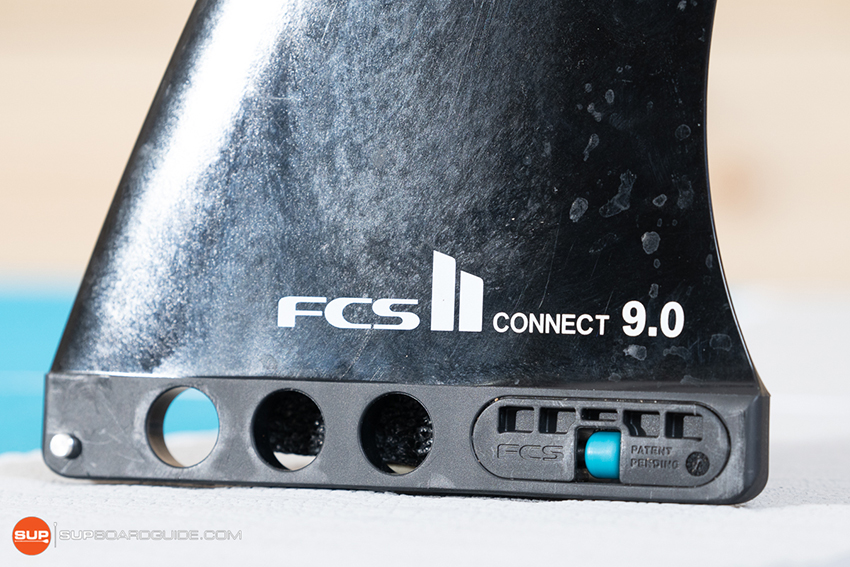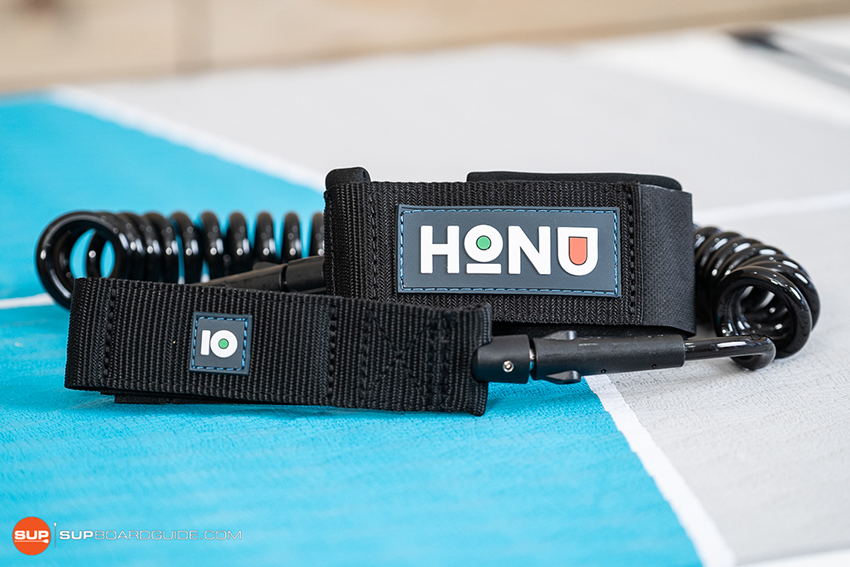 Listed below are the accessories that are included with the purchase of a Honu Byron 10'6. We also want to note that we were super happy to see Honu using minimal and compostable packaging for their SUP and accessories.
Roller backpack (with front zipper compartment)
Single chamber dual action pump
10' coiled leash
FCS II Center fin
The Honu SUP backpack is roomy enough that your SUP and pump easily fit inside, and there's an external pocket on the front of your bag to store your fins, leash, or other smaller accessories. I'm also partial to the FCS II fins because I love the easy set-up and the customization ability that comes with a universal fin box. However, I would advise being careful not to bump your fin on anything because it's somewhat easy to knock out of the box.
Being a performance oriented SUP, the Byron does not come with a paddle included. Instead, Honu provides the option to choose from their variety of high quality paddles for an additional discounted cost when you bundle it with your SUP.
Honu Byron Review: Summary
All in all, the Honu Byron 10'6 is among the best performing all-around iSUPs in the market right now. It's lightweight, stiff, stable, easy to get up to speed, and mauverable in the water.
That being said, the Honu Byron is definitely more of a minimalistic paddler's board (myself included in there). If you're looking for an array of action mounts, d-rings, rod holders, etc. then this might not be the right choice, but for paddlers who value performance above all else, the Byron is a great fit.
As a final note, I'm super excited to see Honu continue to make innovations and work to set the bar for iSUP construction and performance.
Thanks for sticking with us through our review of the Honu Byron 10'6, stay safe and get out on the water!
The following two tabs change content below.
Alli Blackmon - SupBoardGuide.com Staff Writer
Latest posts by Alli Blackmon - SupBoardGuide.com Staff Writer (see all)