Red Paddle Co Ride 10'6" MSL
Pros
Beginner friendly, higher performance all-around SUP that has a good balance of stability, tracking, and maneuverability.
MSL fusion PVC construction provides great durability while maintaining a light, but not too light board.
Outer rail tape further improves durability, rigidity, and firmness of the board. This is a very solid feeling SUP.
Hybrid textured/diamond grooved deck pad balances comfort and solid grip support.
7 D-rings and nose action mount provide accessory support while keeping the board from getting cluttered.
4.75" thickness improves board feel and overall stability - you feel more like you're gliding through the water rather than on top of it.
Cons
None of the fins are removable. This makes it super easy to get out on the water, but given how well this board paddles we'd love to see some more fin options for those who want to fine-tune their fins as they improve their paddling.
You have to pay extra to add a paddle to your SUP kit.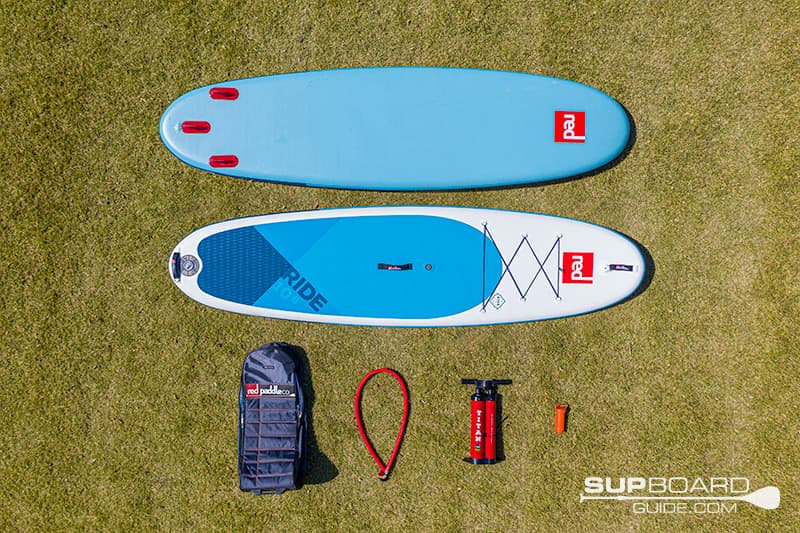 The Red Paddle Co 10'6'' Ride is a good performance board for those trying to get into the world of SUPs, or for those with experience looking to upgrade to a fun all-around SUP. As a well built all-around paddleboard, the 10'6'' Ride offers a solid mixture of stability, tracking, glide, speed, and maneuverability, letting you have fun engaging in all sorts of water sports. The MSL fusion and Tec Arc construction gives the 10'6'' Ride a resilient build that withstands almost everything you throw at it, with a balanced weight that is easy to carry but withstands wind and chop alike. This paddleboard also has a fantastic deck pad that is soft and grippy to stand on, with one of our favorite deluxe backpacks and dual-chamber chambers to round out the kit. From board to accessories, the 10'6'' Ride is a premium paddleboard option for those who are starting off or have years under their belt looking to invest in a SUP that will bring the most out of their performance.
SUP Board Specs
| | |
| --- | --- |
| Length | 10'6'' |
| Width | 32'' |
| Thickness | 4.7'' |
| Weight | 21.89 lbs |
| Rider Capacity (lbs) | 220 lbs |
| Recommended Inflation | 18-25 psi |
| Fins | Permanent moulded tri iFIN system |
| Paddle Type | No included paddle |
| Construction | Tec Air + MSL Fusion |
Who Should Buy This Stand Up Paddle Board:
All-around paddleboards are built so that all sorts of people can try all sorts of water sports when they're paddling on the water. The types of paddlers we think will like the 10'6'' Ride the most include:
Brand new paddleboarders who want a SUP that is beginner friendly.
More advanced paddlers who want a high performance board that is easy to travel with.
Lighter solo paddlers. Heavier paddlers should look at the 10'8'' Ride instead.
Paddlers who want a great balance of stability, maneuverability, and tracking.
Those who love the look and design of the popular Red Paddle Co brand.
This all-around board offers great performance almost anywhere you take it. Some water settings we suggest trying out the 10'6'' Ride on include:
Lakes, bays, marinas, and other calm water settings for the best overall performance.
Winder, choppier water environments with surprisingly little performance loss.
River paddling! Get some practice in maneuvering with the ride 10'6'' before you try to navigate the river.
Ocean paddling. Explore the great blue sea and try to catch a wave with the 10'6'' Ride if you're daring!
Performance
Stability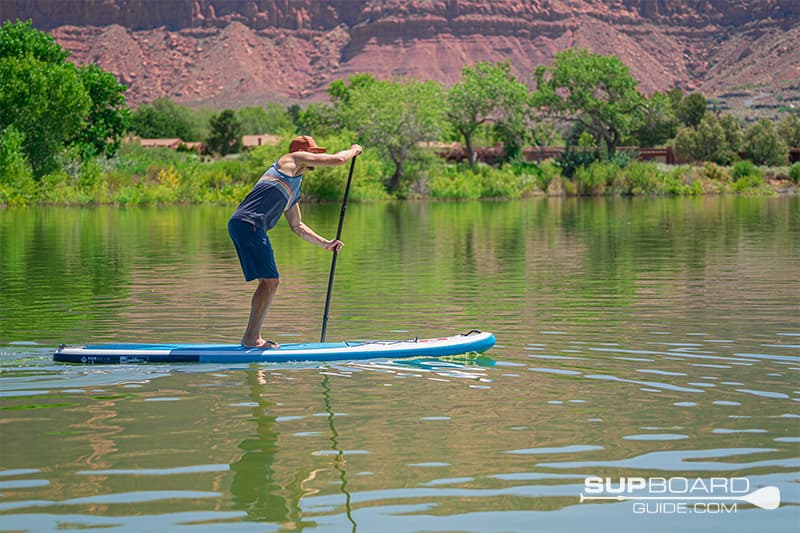 The 10'6'' ride offers a level of stability that will make it an enjoyable paddling experience for most adults who use it. The 4.7'' thickness lowers your center of gravity so you feel more in control of your SUP while you paddle in the water rather than on top of the water. The tail and nose are both thicker for added stability and weight support. The reinforced rail tape also further improves the rigidity and firmness of the SUP, which in turn improves the stability and overall feel while you're on the Ride. Red Paddle Co has also put in the work with the Tec Air and MSL fusion so that we still felt stable even with some light chop and wind. Overall, this board offers good stability to solo paddlers, though adults who weigh more than 200 lbs and are new to the sport will want to consider the 10'8'' Ride instead.
Maneuverability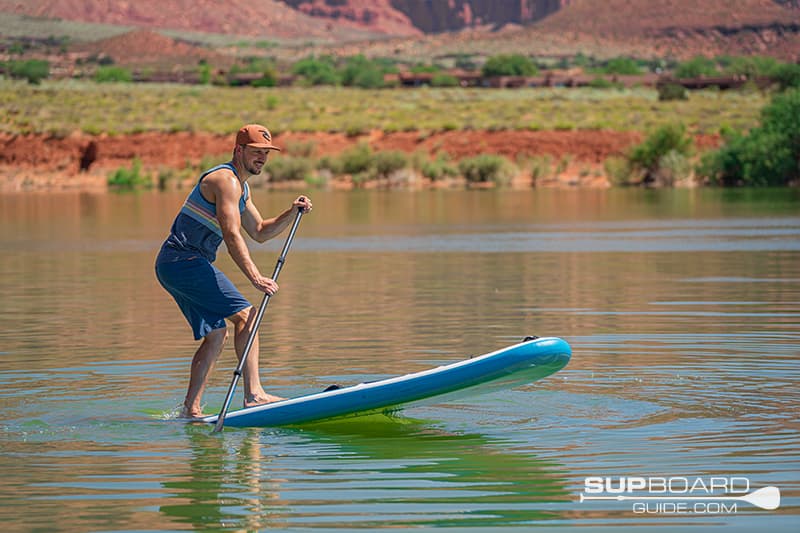 The 10'6'' length and overall design makes this version of the Red Paddle Co ride an easy to maneuver with SUP. You will have no trouble turning and navigating the water, able to deftly dodge the trees, rocks, boats, and even other paddleboards you encounter while you're out. If you need to make a quick turn on the spot though, this board is also accommodating in helping you perform a back-step turn. Move your foot to the specially marked diamond-grooved tail section, press the butt of the board into the water, and you'll raise the nose like you see in the picture above. Once your nose is in the air, you can pivot the 10'6'' Ride on the spot and turn it in any direction you want to go, giving you additional maneuverability options with the 10'6'' Ride.
Tracking/Glide

We love how the 10'6'' Ride paddles, with a smooth and steady glide that really feels like you're going through the water rather than paddling on top of it. While the 10'6'' Ride is an inflatable, the combination of the 4.7'' thickness, MSL build, and reinforced taped rails all help the 10'6'' Ride bridge the gap for a more hardboard SUP paddling feel. As for the tracking, even beginners who are just beginning to get their proper paddling form down will find it easy enough to maintain a straight course with this SUP.
The Red Paddle Co 10'6'' Ride has a tri-fin setup of three non-removable molded plastic fins. These three fins further improve the stability and tracking of this paddleboard, besides also improving how tight of a turn you can make with it. These fins are short enough that you can enjoy their performance benefits in very shallow water without worrying too much about your SUP dragging along the ground. Overall, we quite enjoyed our time paddling with the Red Paddle Co 10'6'' Ride, from the way it glides through the water to the straight and steady course it maintains.
Materials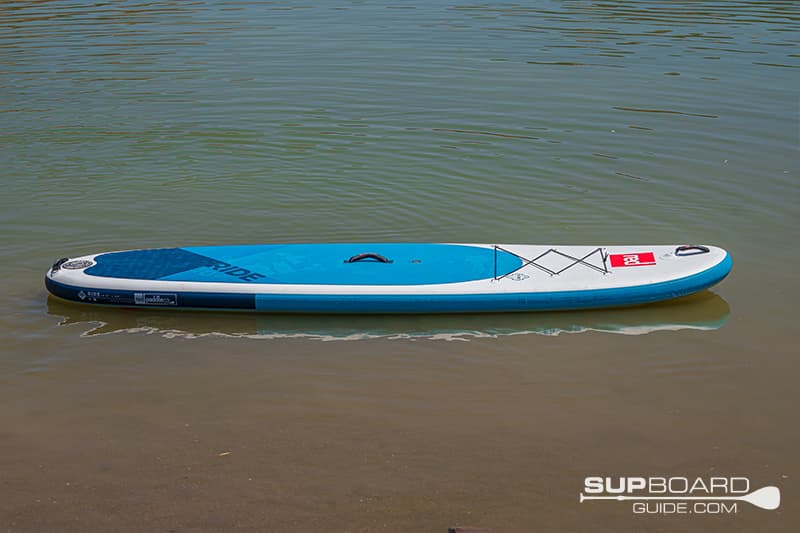 Red Paddle Co uses a combination of their Tec Air and MSL construction methodologies to create the 10'6'' Ride, the end result being a lightweight, sturdy, firm, and resilient SUP. Red Paddle Co SUPs are known for being able to withstand immense weight, with a MSL constructed board even able to survive being run over by a 24 ton road roller. If you want a board that will last you for years, Red Paddle Co SUPs are definitely worth your consideration.
To break down the Red Paddle Co 10'6'' Ride, we'll start with by explaining the tight drop-stitch core. The drop-stitch core is made up of sheets of fabric that are bound together with thousands of internal threads holding the core and board together. As air expands the inflatable board, the drop-stitch core and threads help it attain the board shape you see above. The carefully, machine assisted construction of creating the drop-stitch core is the Tec Air construction.
The MSL, or Monocoque Structural Laminate, refers to the protective layer fused to the drop-stitch core. A layer of adhesive is applied to the drop-stitch core that acts as a seal and a bonding layer for a machine laminated, high density PVC coating. This high quality PVC coating provides protection, weight support, and a nice, firm feel to the board, capable of withstanding over 24 tons. As such, you will have an incredibly difficult time damaging the Ride 10'6'', and should feel confident that it will withstand the common drops, crashes, and other beach or water accidents that happen. The 10'6'' Ride also has reinforced taped rails, which adds further protections for the seams while also making the Red Paddle Co board even more stable and rigid.
Board Design/Shape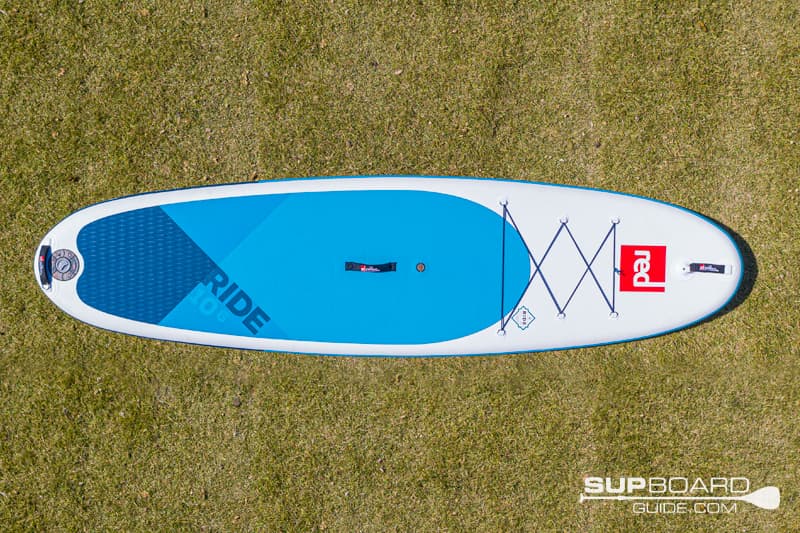 This paddleboard has a mostly traditional all-around shape, with a 10'6'' length and 32'' center width that matches many popular all-around SUPs. The key difference with this SUP is the 4.7'' center thickness, which not only keeps the weight down but keeps you closer to the water for greater stability and control. The performance of this board makes it fun for all sorts of casual SUP activities, a true jack of all trades board that will let you sample a bit of everything. You can go on a fun touring expedition with the 10'6'' Ride, have a friendly race with your friends, or just enjoy cruising around on this wonderful paddleboard. Hikers, or those traveling long distance, will appreciate this SUP as a high performance adventure board, while younger paddlers will enjoy how light weight and easy it is to handle the board. Lastly, we want to highlight the reinforced tape rails, as they really do help the board feel firm and closer to a hardboard.
Board Features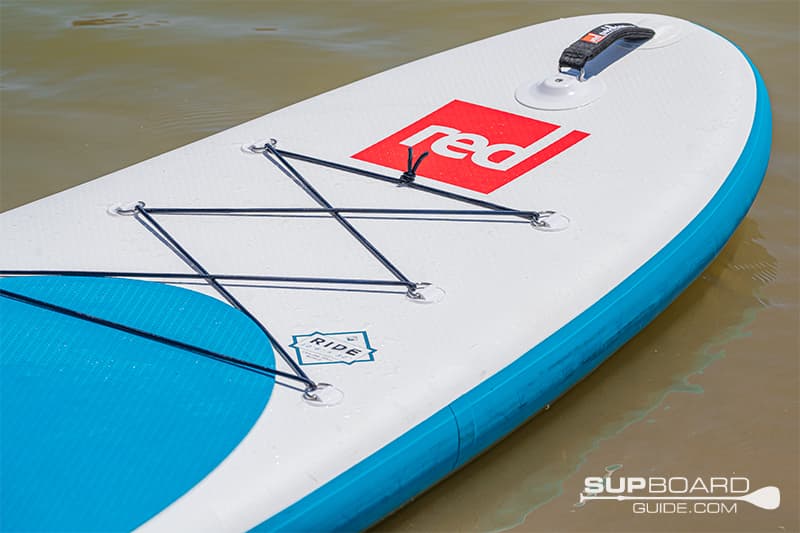 The Red Paddle Co 10'6'' Ride has a number of exciting features that make it worth your money outside of just its performance. Some of our favorite features include:
Reinforced Taped Rails: Rail and seam reinforcement systems are some of our favorite features on a paddleboard. The reinforced taped rails improve the rigidity and firmness of the SUP, leading to greater overall performance, while also adding additional protection to the seams. Many Red Paddle Co boards rely on removable rods, but the reinforced taped rails improve the board's performance without significantly increasing the weight or adding additional setup time.
Tec Air/MSL construction: We love how durable the board is, while finding the perfect weight that allows this board to be easy to carry but also perform well in light wind and chop. Red Paddle Co really goes the extra mile in terms of what their boards can withstand, so with a little care you'll be able to use the 10'6'' Ride for years with little performance loss!
7 D-Rings + Action Mount + Removable Bungee Cargo System: This paddleboard is a good option for those who have some, but not too many, accessories they want to bring with them on the water. The D-rings are great for dry-bags and phone cases, while the action mount works well for GoPro camera mounts and other popular electronic mounts. Finally, there is the large front removable bungee cargo system, which will secure coolers and other small to medium sized containers on your board.
Triple carry handles: All three carry handles have neoprene covers, allowing you to avoid chafing and other forms of skin irritation when held with cold or soaking wet hands. Located on the nose, center, and tail, either carry your board yourself or get a friend to help you with this triple handle setup.
'Red' hybrid traction pad: The excellent 'Red' traction pad by Red Paddle Co offers a great balance of traction support and soft, cushy foam so you can paddle all day with ease. The main portion of the deck pad has a textured pattern that will improve your grip while normally paddling, while the tail portion has a diamond grooved pattern for additional traction support. We also love the design and color combination of the deck pad!
5 Awesome color options: Available in yellow/orange, blue/yellow, pink/gray, green/gray, and navy/turquoise. The blue/yellow is the version pictured throughout our review.
Fins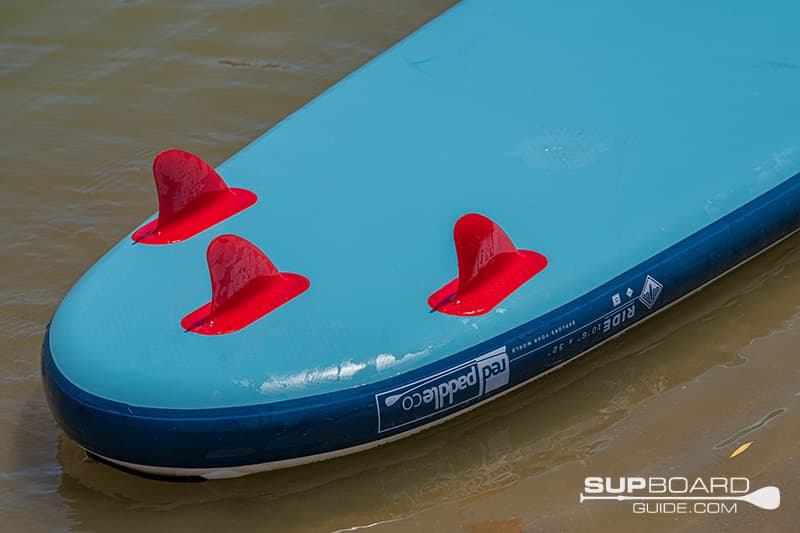 The triple iFIN setup is an overall good inclusion that makes the Red Paddle Co 10'6'' ride a great option for beginners, but will turn off more advanced paddlers who want to fine tune their performance. By including these three fins, the 10'6'' will have improved stability, tracking, and overall improved performance, and due to the fins short length they will work in shallow and deep water alike. Made with molded plastic, the iFins are very difficult to damage, and are easy to re-shape if they do occasionally get bent. Douse the fins with hot water, leave them to dry by facing the sun, and within ten to fifteen minutes the high quality iFins will be just as good as new!
As these fins are permanent, you don't have any loose parts or extra pieces you have to deal with everytime you go out, getting you on the water faster. However, as you can't remove any of the fins, you are going to have the same performance every time you go out on the 10'6'' Ride. The majority of beginners who go with the 10'6'' Ride will love the fin setup, but we would prefer to see removable fins, such as a quick to install snap-lock option, in a future model for increased performance customization.
Traction Pad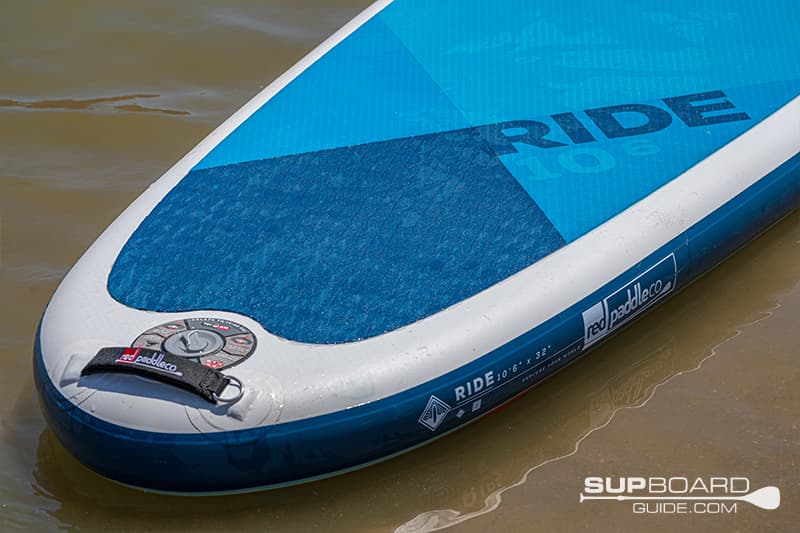 Red Paddle Co's 'Red' traction pad offers great grip support that is also comfortable and relaxing to stand on. The deck pad is made with EVA foam, the material used in many popular yoga mats, ensuring that you can paddle for hours without developing blisters or irritating your feet. The front half of the deck pad also has a textured pattern, improving traction and grip support as you paddle, with the EVA foam drying and draining quickly when wet to prevent slippage. Lastly, we also love the diamond grooved texture in the tail of the board, which improves your grip even more and makes it easier to perform a step-back turn. This deck pad is very well suited for beginners, and will help them maintain a steady and firm grip to their SUP as they paddle.
Handles
The Red Paddle Co 10'6'' Ride has a triple handle setup, with a handle located on the nose, center, and tail respectively. All three handles are built with neoprene, which not only keeps the handles from fraying but makes the SUP more comfortable to lift. The handles on the nose and tail of the board allow you to easily maneuver the board while it is in the water and the center handle is centered rather well in order to carry this lightweight board comfortably. The nose handle also has an action mount while the tail handle has a leash D-ring, offering greater accessory compatibility you can read about next.
D-Rings/Bungees/Cargo Areas
There are a total of seven D-rings on the 10'6'' Ride, with one D-ring in the tail handle and six more on the nose. The tail D-ring is great for attaching a leash to, while the nose D-rings support the removable bungee cargo area while also working well with many popular SUP clip-on accessories. Dry bags, phone cases, and other small cases are just a few of the accessories we like to put on D-rings. Additionally, the 10'6'' Ride has an action mount, which is great for GoPro camera mounts, phone mounts, and other common electronic mounts. All in all, there is quite a bit of accessory compatibility on the 10'6'' Ride, though a few center D-rings would make it compatible with kayak conversion kits and a few other popular SUP accessories.
If you have a cooler, a lunch box, or some other small container, it will fit well underneath the nose bungee cord system. This bungee cord system is also entirely removable if you want to clear up deck space, though it's situated far enough on the board that you can paddle normally without tripping over it. It is another good feature on the 10'6'' Ride, ensuring that you bring food, drinks, and other stuff along to enhance your SUP trip.
Accessories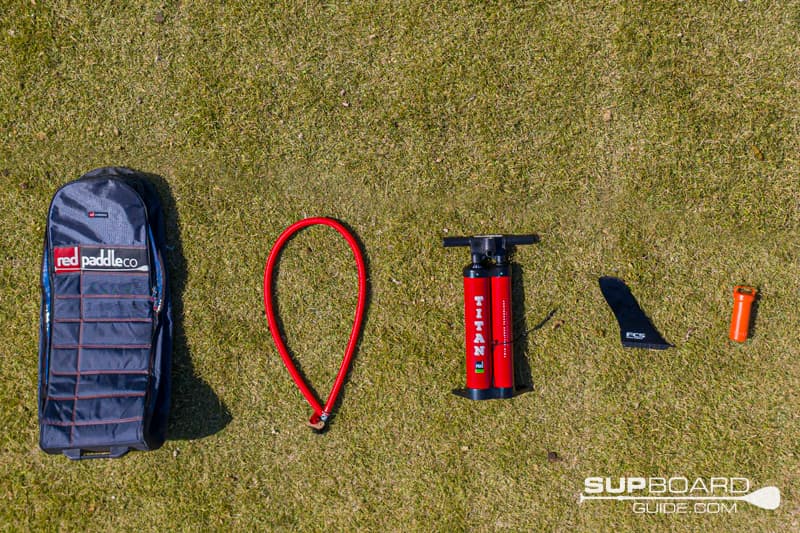 Paddle Options
While this is a premium board package, one of our major complaints is that no paddle is actually included with the paddleboard, so you'll have to buy one separately at checkout. Red Paddle Co's lineup of paddles, ranging from the Alloy Nylon paddle to the Carbon 100 lightweight paddle, are all excellent options if you wish to buy one from Red Paddle Co.
If you are interested in buying the Red Paddle Co 10'6'' Ride, we would suggest doing it through Pumped Up SUP due to the discounts that they offer. With the 10'6'' Ride, you can add on a hybrid carbon three piece 28 ounce paddle for just $99 dollars, or an even lighter two piece 25 ounce version for $129. Both of these ERS paddles have carbon fiber shafts and nylon blades, and are easy to assemble or pack away, and are adjustable for any paddler height.
These are some of our top paddle recommendations, though we would be happy to help you find other paddles to match the Red Paddle Co 10'6'' Ride if you wish to leave a comment below or send us an email!
Pump
To inflate the Red Paddle Co 10'6'' Ride, you can use the included dual-chamber, triple-action pump. The dual-chamber pump is very easy to use, with instructions printed on the pump so that even first time paddlers will be able to figure out how to inflate their SUP quickly. By following the instructions and using the three different action modes, you will be able to inflate the 10'6'' Ride in ten to fifteen minutes, or even quicker if you have the stamina for it. This is a very well built pump, and one of our favorite manual pumps on the market, so we're glad that Red Paddle Co includes it in the base 10'6'' Ride kit.
Backpack
The All terrain Red PAddle Co backpack will ensure you can safely travel with your paddleboard kit, protecting your gear against the elements in several ways. The tough exterior of the bag is made with double stitched seams and strong bonded nylon, ensuring that water, sand, and debris won't be able to penetrate the bag. On the inside of the bag you'll find a foil lining that will ensure your gear stays cool on the hottest summer days, with the bag built with space in mind so you can easily store all of your equipment. The interior also has a paddle storage system, allowing you to keep three piece paddles in place, which will also prevent your paddle from scratching the 10'6'' ride.
In terms of transportation options, the backpack straps are adjustable, allowing shorter and taller paddlers alike to feel comfortable while wearing it, and has a velcro system for storying the straps when not in use. If you are going a short distance, you can use the top carry handle along with the integrated wheels, which are positioned to avoid getting tangled with any of your bag straps. Overall, this is a fantastic backpack and an awesome way to store and transport the 10'6'' Ride, keeping your SUP both safe and organized as you travel.
Leash
If you are paddling in fast moving water, you will want to wear the 8'' coiled leash included with the 10'6'' Ride. The coiled leash is easy to put on, as you put one end on your ankle or thigh and attach the other end of it to one of the Ride's D-rings. If you fall off, the coiled nature will allow you to pull your SUP close without having to worry about the whiplash from a straight leash. Just be aware that while a leash will keep your paddleboard near, it won't help you float if you fall, so be sure to go out with a PFD to stay safe as you SUP!
Optional Accessories
Red Paddle Co has an extensive lineup of apparel that will help you look stylish on the water, and also have some official accessories that will compliment the 10'6'' Ride. Some of our favorite Red Paddle Co accessories we recommend adding to your board kit include:
'Red' original waterproof SUP deck bag.
'Red' insulated stainless steel water bottle.
'Red' quick dry microfiber towel.
'Red' waterproof soft dry bags, coolers, and dry pouches.
'Red' cargo net.
Company Review – Red Paddle Co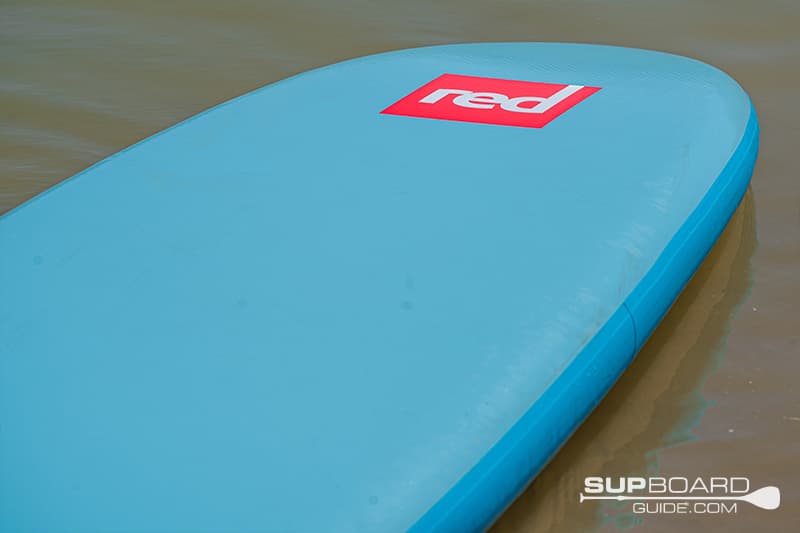 Red Paddle Co was founded in 2008 when John Hibbard, who was trying out hardboards, thought he could develop a lighter, inflatable alternative that was easy to transport. The results have been Red Paddle Co's awesome lineup of premium inflatable paddleboards, with over twenty-five different models available. Red Paddle CO builds boards for racing, touring, yoga, wind-surfing, and other speciality experiences, while also developing all-around SUPs like the 10'6'' ride. These paddleboards are also built with environmental friendliness in mind, Red Paddle Co factories producing zero waste through their focus on long lasting, reusable and recyclable materials.
With Tec Air and MSL construction, the Red Paddle Co 10'6'' Ride is built to last, and will be nearly impossible to break or damage if you show just a little care while paddling with it. However, in the extremely rare event something does go wrong, the 10'6'' Ride has a outstanding 5-year warranty that covers most defects and injuries outside of normal wear and tear. To receive the 5-year warranty, all you have to do is remember to register your board online within the first three months of purchase. This warranty is also extended to all authorized Red Paddle Co retailers, which includes PumpedUpSup and the links posted on their website.
From their fantastic and wide range of paddleboards to their impressive level of protection and care they provide, Red Paddle Co is one of the best paddle board manufacturers in the industry!
Conclusion/Bottom line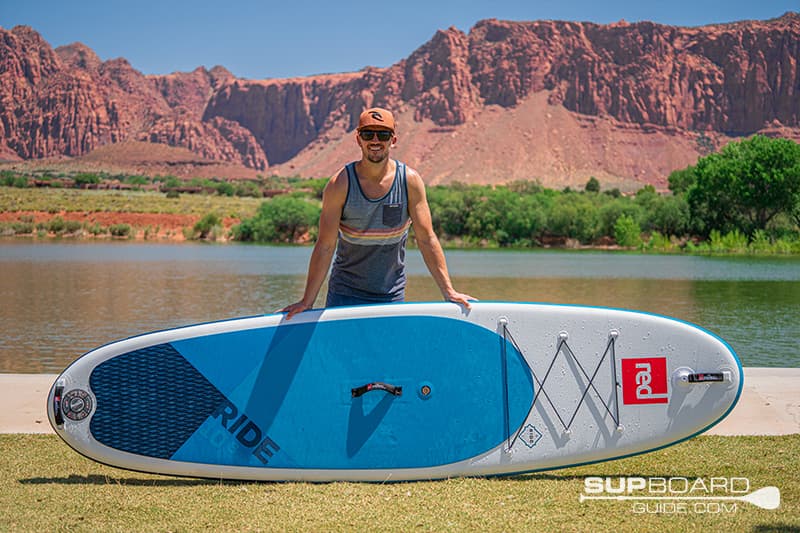 The Red Paddle Co 10'6'' Ride is a great all-around and adventure board for those who want high performance in an easy to carry board that has great durability. This board is beginner friendly and stable for most adults, while also offering impressive maneuverability and a fantastic glide with its 4.7'' thickness. The Tec Air and MSL construction, along with the reinforced taped rails, help the board feel rigid and firm, making it great to stand on along with the impressive deck pad. The included Titan double-chamber pump is fast and very well built and the backpack offers awesome protection for your gear while keeping it tidy as you travel. From the board itself to the included accessories, the Red Paddle Co 10'6'' is a truly premium experience for those who want a SUP they can use for years to come.
Have a question about the 10'6'' Ride, or want to learn more about Red Paddle Co as a company? Need some help finding a paddle for this SUP, or are you interested in how to improve your performance with the 10'6'' Ride? Then be sure to leave a comment below with your thoughts, or send us an email with any questions or feedback you may have. We love to hear about your own experience with the 10'6'' Ride, as it helps us update our reviews based upon how others enjoy the paddleboard. Be sure to check out our review in the future for the most up to date information on the 10'6'' Ride, including any special offers or discounts!
Thank you so much for reading, and we hope you have a great time SUPing!
The following two tabs change content below.
SupBoardGuide
Heyo! At SupBoardGuide.com we are a team who love the water, the outdoors, and are more than grateful that our full-time job allows us to review stand up paddle boards. We paddle year round (it helps that we are just about 2 hours outside of Las Vegas), and we bring in a wide range of paddlers with the goal of providing our readers with the best, most in-depth, and accurate stand up paddle board reviews.
Latest posts by SupBoardGuide (see all)