Red Paddle Co Ride 10'6" MSL
Pros
Fantastic on-the-water feel! This high-performance all-around has a great blend between stability, tracking, maneuverability, and speed.
Lightweight (20 lbs) yet super stable and long-lasting - Red's production process is precise - it takes them 72 hours to make each board.
A fantastic glide sensation due to having a lower center of gravity - this SUP is 4.7" thick as compared to a typical 6"
Improved tracking thanks to the upgrade from a tri-fin system to a twin-fin system. We also like that it's easier to roll up with only two fins.
Aesthetic finish - the seams are perfectly straight and the deck is blemish-free (and Red embossed!)
High-quality bag and pump (the Titan pump is one of best manual pumps on the market) included with the kit
A 5-year warranty (longer than most) from a brand that's been in the industry for a very long time
Cons
Removable fins would be nice for more options, but as it stands you don't have to worry about anything and these are the best gummy/fixed fins we have seen
A high-performing all-around inflatable paddle board for the average-sized paddler.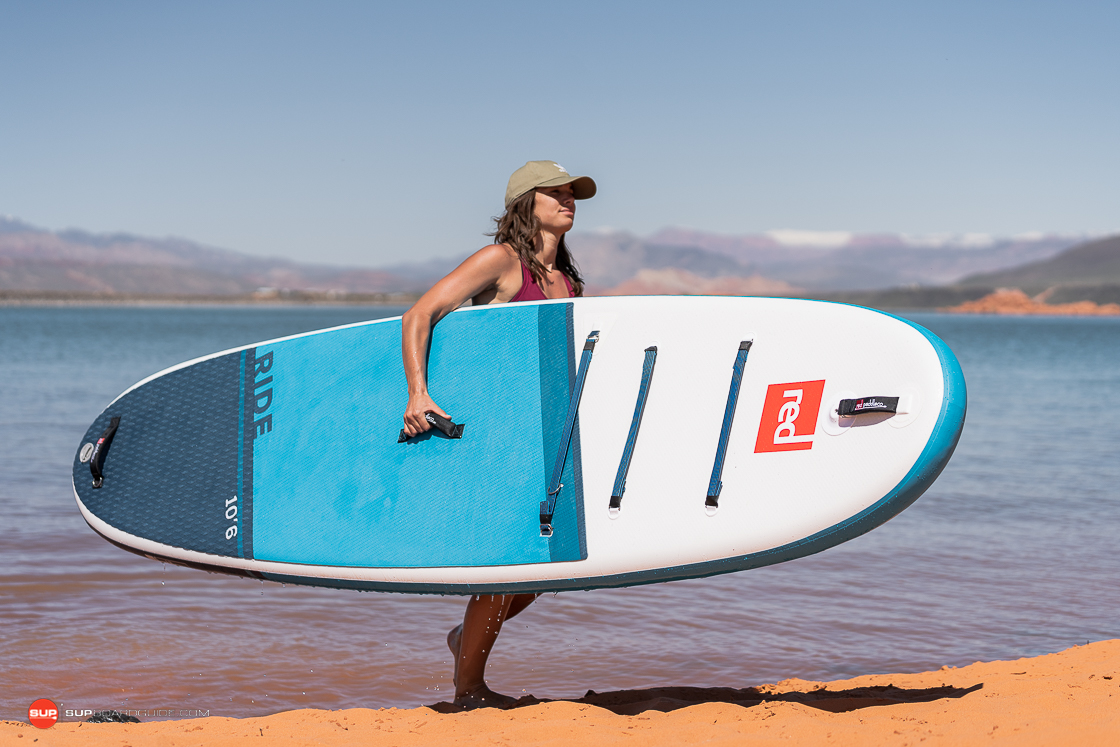 The Red Paddle Co 10'6' Ride is an all-around iSUP with fantastic performance that you immediately notice when you step on the board and start paddling. It's almost hard to describe how great it feels on the water because, after all, it's a feeling. But nonetheless, in this Red Paddle Co 10'6'' Ride review, we are going to do our best to tell you what we believe gives this board such an awesome on-the-water sensation.
As an all-around model, the 10'6'' Ride has a great balance between stability, speed, tracking, and maneuverability. It's meant to be taken out and used however you please. However, its shape and size work best (in our opinion) for paddlers who are under both 6 ft and 190 lbs. If you are over this size, you may not feel as stable on this model and we suggest checking out the slightly larger version of this board, the Red Paddle Co 10'8'' Ride.
In our Red Paddle Co 10'6'' Ride review we will dive into how Red applies its patented MSL (monocoque structural laminate) to construct an impressively stable yet lightweight board, how our test results wowed us, and what upgrades were made to make this board next-level awesome.
While this board is more expensive than many all-around SUPs, we found the high performance and construction quality to warrant the high price.
We think the Red Paddle Co 10'6 Ride would be a great SUP for paddlers who:
Are under 6' and 190 lbs and want an exceptional all-around style iSUP
Want a stable SUP but do not want to compromise performance
Want an awesome on-the-water feel that comes from a lightweight, sporty, thinner board
Red Paddle Co 10'6'' Ride: Spec Sheet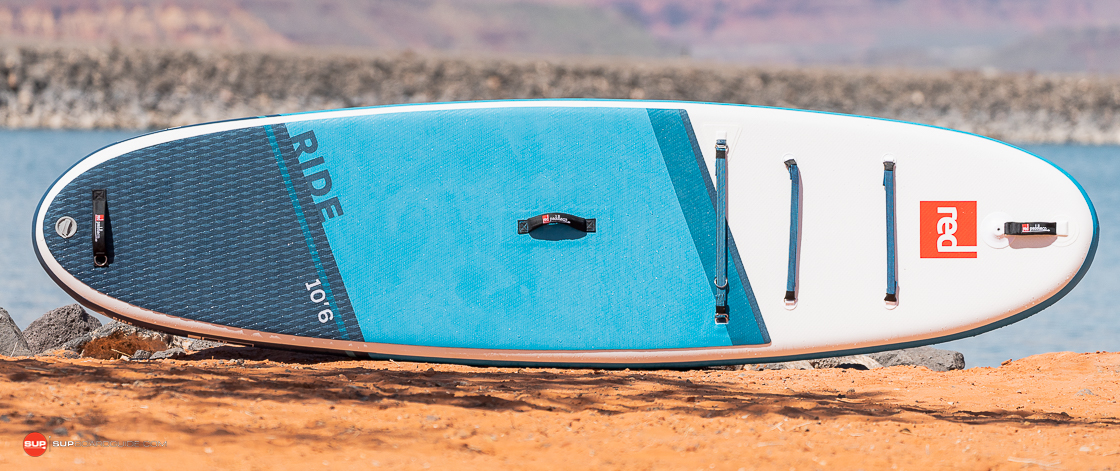 Main Category: All-around
Board Dimensions: 10'8''x4.7''x32''
Listed Board Weight: 20 lb
Listed Max Capacity: 220 lb
Recommended PSI: 20
Fins: molded twin iFIN system
Paddle: Not included
Materials: patented MSL (monocoque structural laminate), PVC
Warranty: 5 years
Performance Review of the RedPaddleCo 10'6'' Ride Stand Up Paddle Board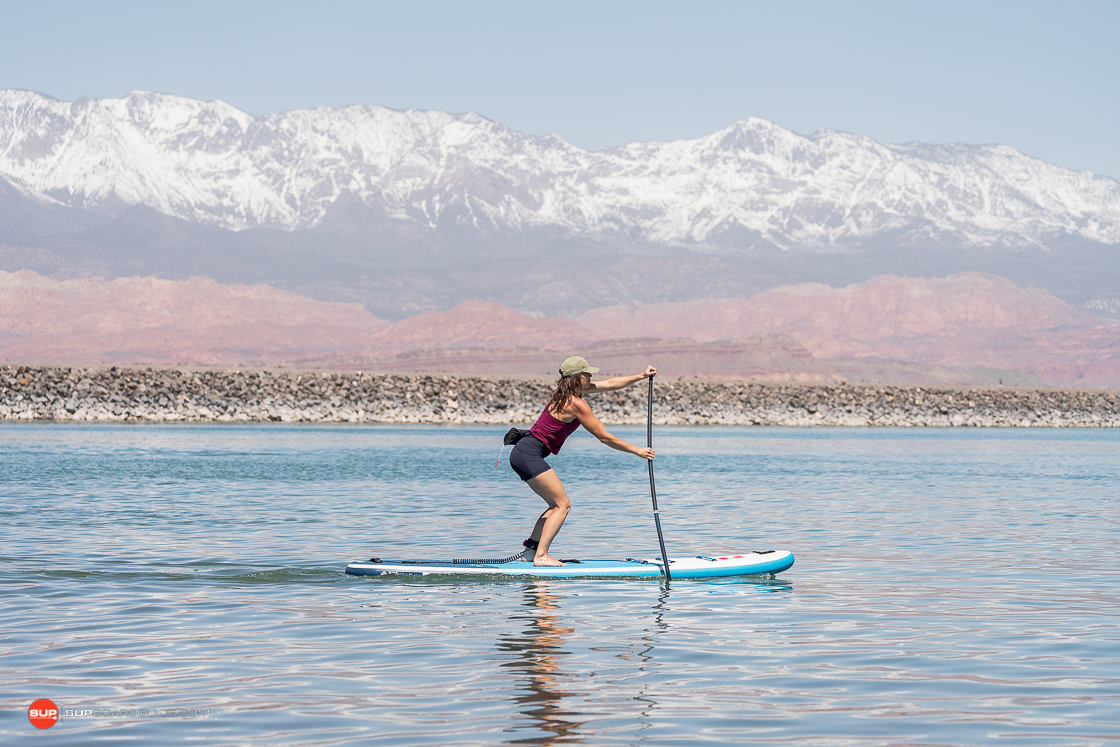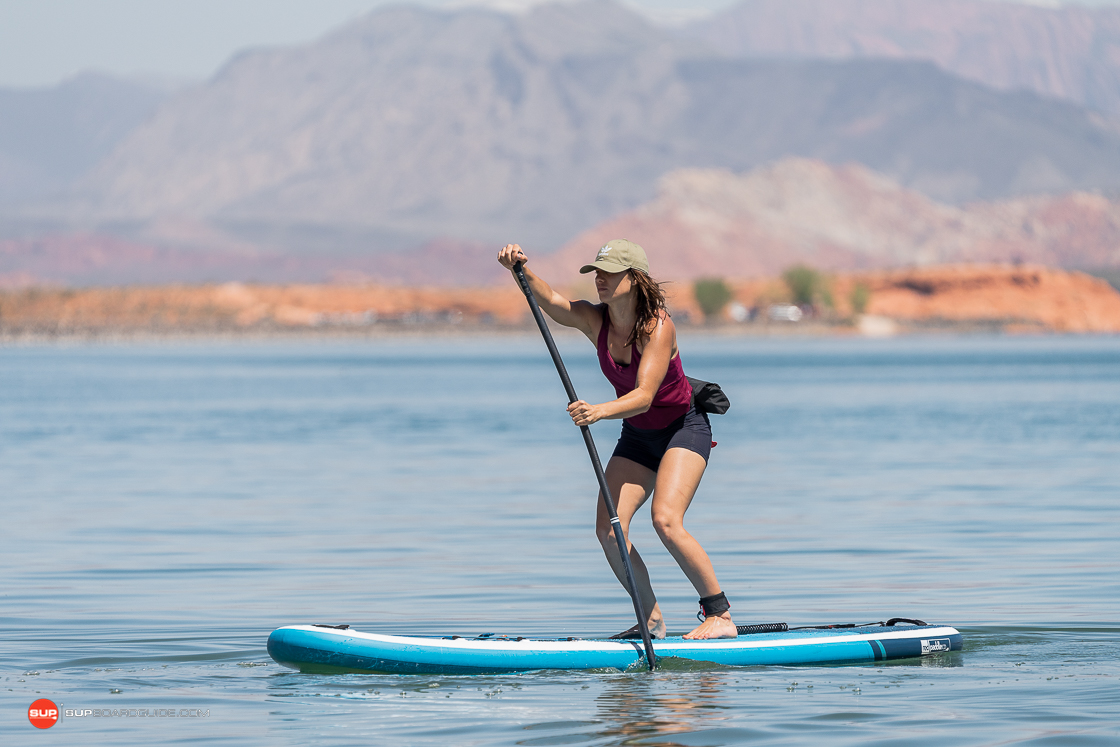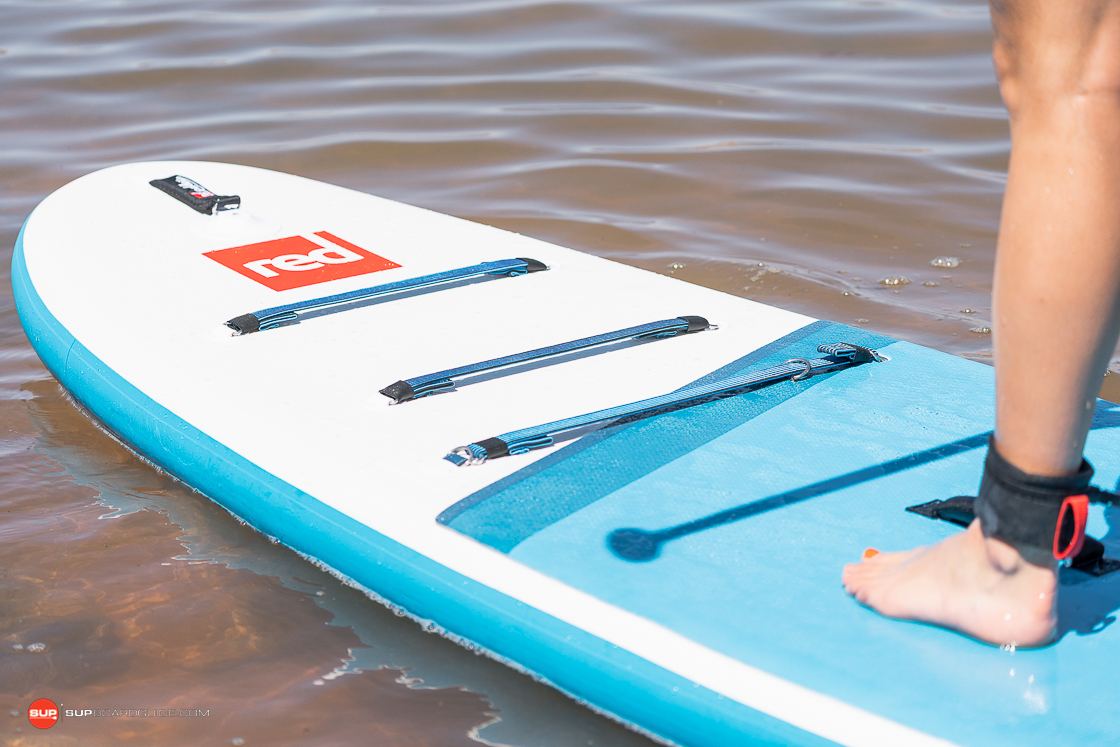 Overall Score: [9.3/10]
Stability: 9.0/10
Speed: 8.6/10
Tracking: 8.8/10
Maneuverability: 9.1/10
Construction Quality: 9.3/10
Features/Accessories: 9.1/10
Stability Rating: [9.0/10]
We found this to be a highly stable board for anyone around 6' and under 190-200 lbs. I had the opportunity to paddle in windy conditions and even when the rails sank under the waves, I felt flat and balanced on the board. There was no twitching or urgent side-to-side movement. It was as if the board itself knew how to stay calm in choppy water.
It has a classic all-around oval shape, without any dramatic taper on either the nose or the tail. This shape allows for a large amount of surface area to be in direct contact with the water, allowing for greater stability.
At 10'6''x32'' and with an oval shape, this is a stable board for the smaller – average-size paddlers. However, we use the term "average size" lightly, meaning, there isn't a defined cut-off for who can feel stable on this board. The high-quality construction makes it a stable board in general, and we even had Griffin (6'1 and 235 lbs) test the board out and he had no problems paddling even though he's bigger than we would recommend for the 10'6 model.
If you're on the cusp of being an average size adult (around 6' tall and 190 lbs) but don't have a lot of paddling experience, then go ahead and go with the slightly larger 10'8'' Ride for improved stability.
Speed Rating: 8.6/10
| | |
| --- | --- |
| Board | |
| Top Sprint Speed: | 5.1 MPH |
| Average Cruising Speed: | 3.8 MPH |
*Notes on our speed test: We get accurate speed test results by using the SpeedCoach SUP 2. For our sprint test, we paddle as hard as we can for about one minute and then record our results. For our cruising test, we paddle at a stroke rate of approximately 40 – 45 strokes per minute for around a minute and then record our results. We do this in calm conditions to maintain consistency.
Without being a super long board, the 10'6'' Ride is faster than we expected it to be. Justin's cruising speed came out to be just a tad faster on this board compared to the larger version of this model (the 10'8'' Ride), which is most likely due to the fact that the 10'6'' is slightly lighter and narrower than the 10'8'' while only being 2'' shorter.
The sprint result of 5.1 MPH is a great score for an oval-shaped, all-around style board. We can confidently say that this board does not compromise speed and is a fantastic board if you want high quality with a balance between all of its capabilities.
Tracking: 8.8/10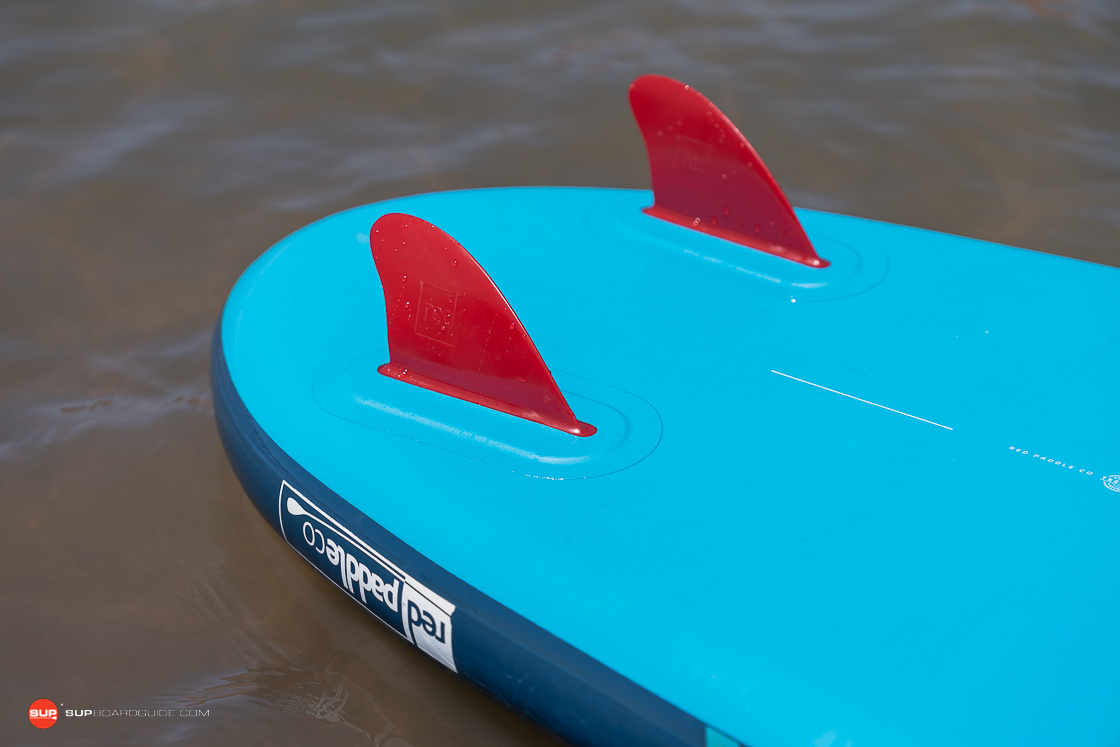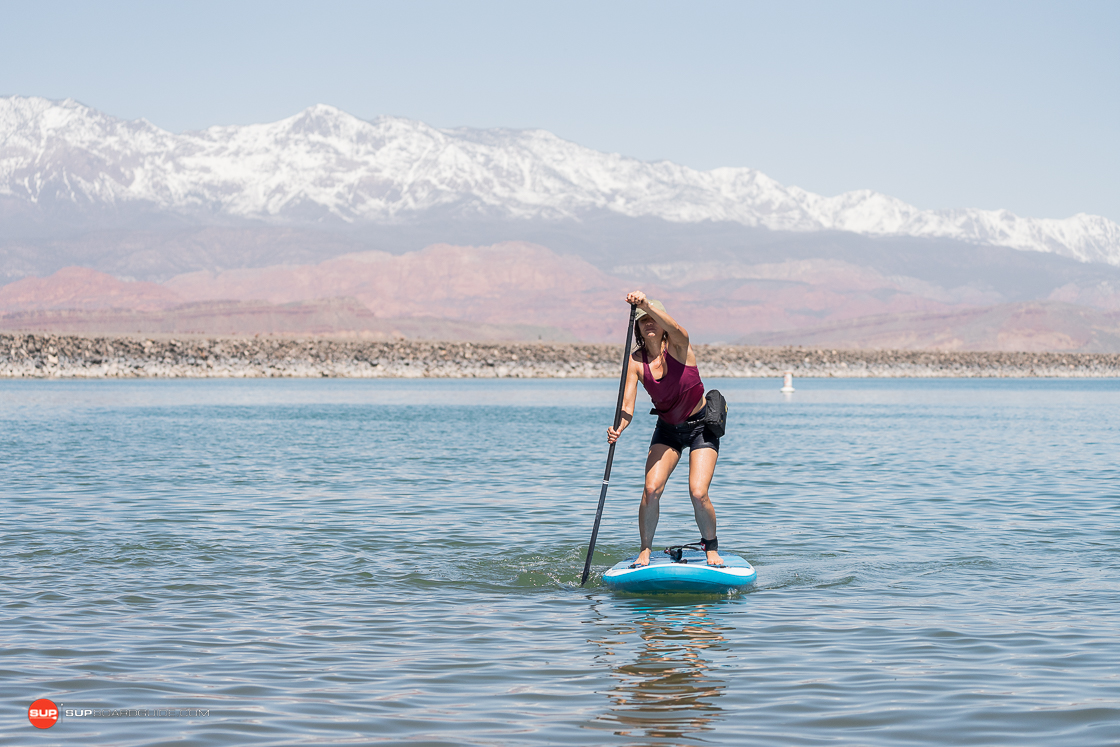 The Red Paddle Co 10'6" Ride tracks reasonably well, exceeding our expectations for a super stable board with little to no taper on the nose or tail.
It has an integrated twin iFin system that consists of (2) gummy fins that are permanently glued to the board. Each one is 4.5″ long, and together they help the board track straight.
This twin-fin setup has replaced the tri-fin setup of the previous model of this board. Compared to the tri-fin system, the twin-fin system offers greater agility, performance, and greatly improved the tracking capabilities of the 10'6 Ride. While some people think a twin fin SUP looks weird (we did the first time we saw it), we have become big fans. The twin fins allowed Red to increase the surface area of the fins which improved tracking, but they also reduced the boards' weight.
While removable fins are kind of our jam (we like the ability to swap fins out) this fixed fin system does make it a hassle-free experience and you don't lose any performance. In reality, we think most consumers are going to like this even if we (the team at Supboardguide) don't.
Maneuverability: 9.1/10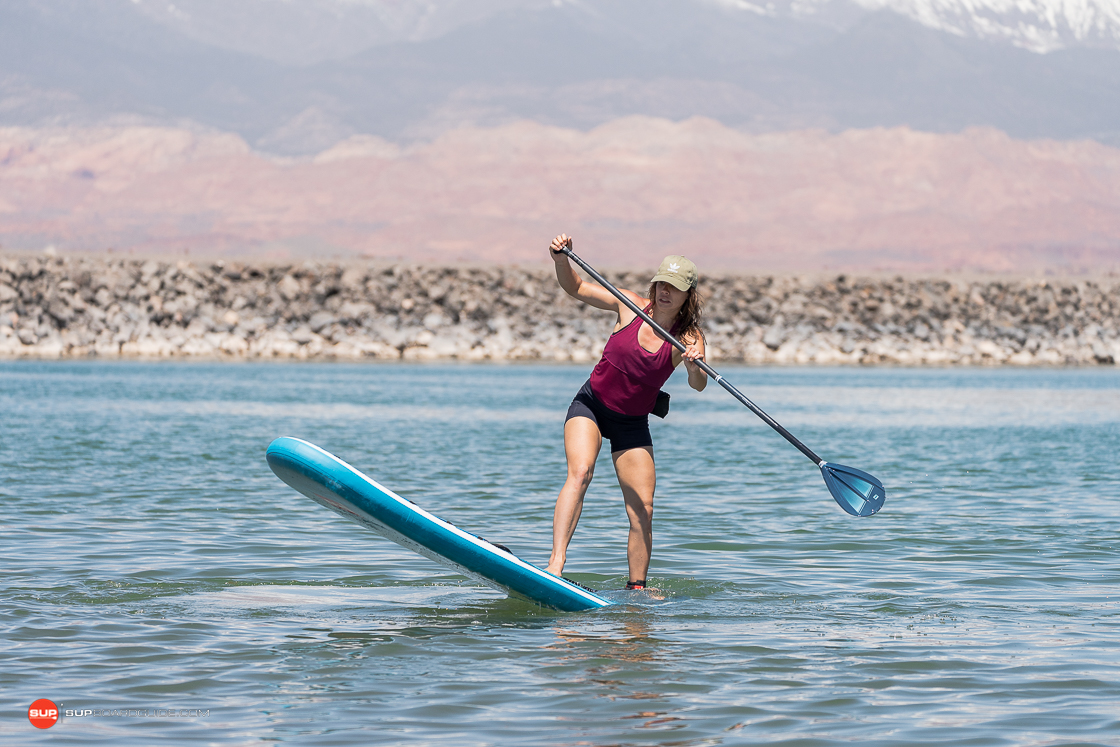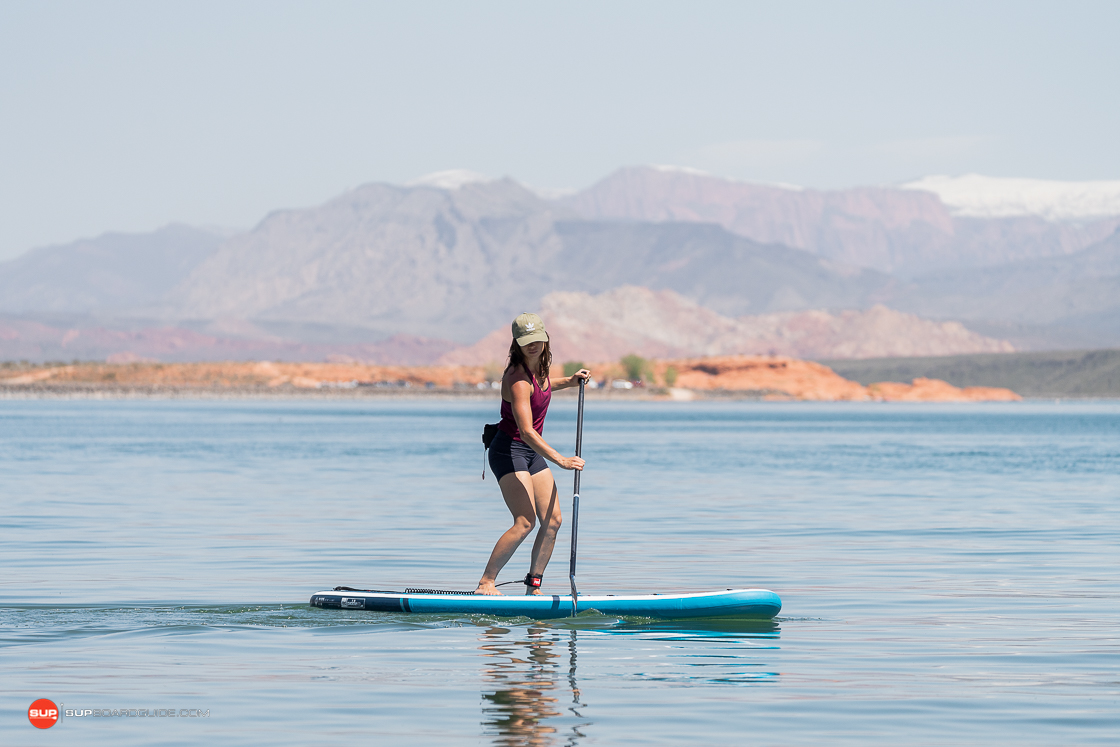 This is where my love for this SUP truly came to be. Due to being only 20 lbs and 4.7'' thick, and 10'6" long, it's very easy to maneuver and I felt completely in control when paddling this board. I was taking tight turns around buoys, popping the nose out of the water higher than I thought I could, and overall having a blast.
This is also where our taller/larger paddler Griffin had his "ah-hah!" moment when it comes to maneuverability. We like to use Griffin when we test boards because he isn't, by his own admission, a SUP expert, so we get honest feedback from a perspective outside of ourselves. He specifically told us that paddling this board helped him realize maneuverability could be a lot of fun if he still had the right amount of stability and tracking.
And I feel it noteworthy to mention that Griffin came the closest to performing a successful step-back turn on this SUP than he ever has before!
So needless to say, this board excels in maneuverability while not sacrificing stability or tracking, which we love to see.
Construction Quality: 9.3/10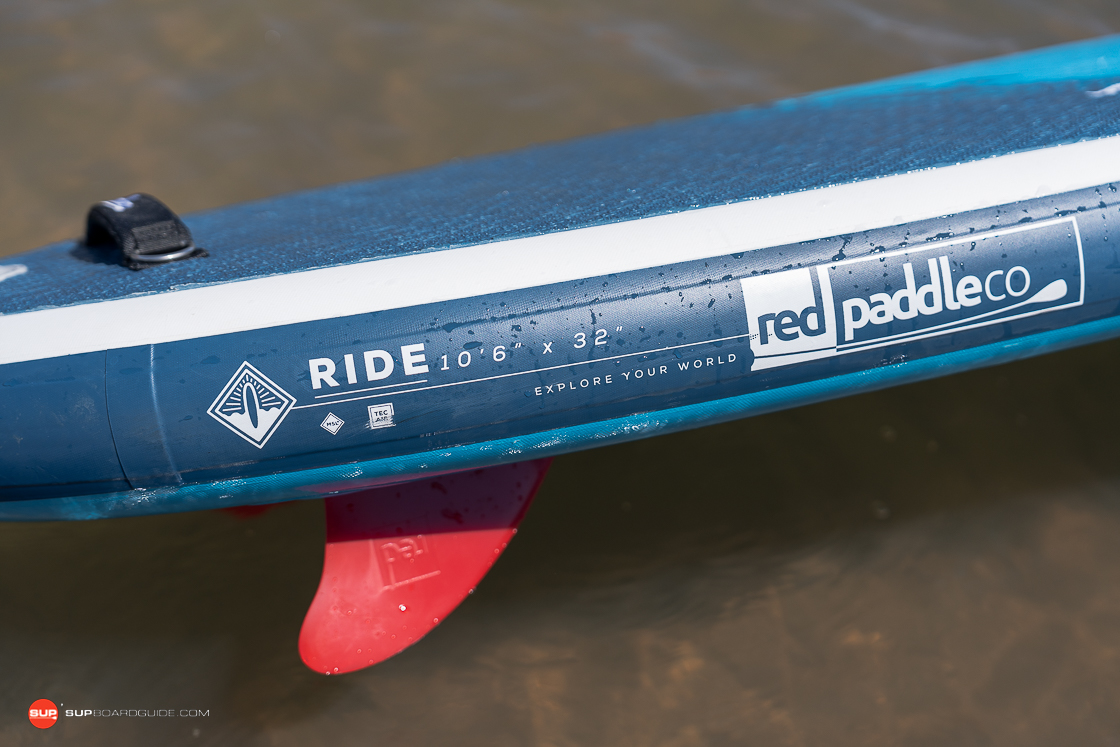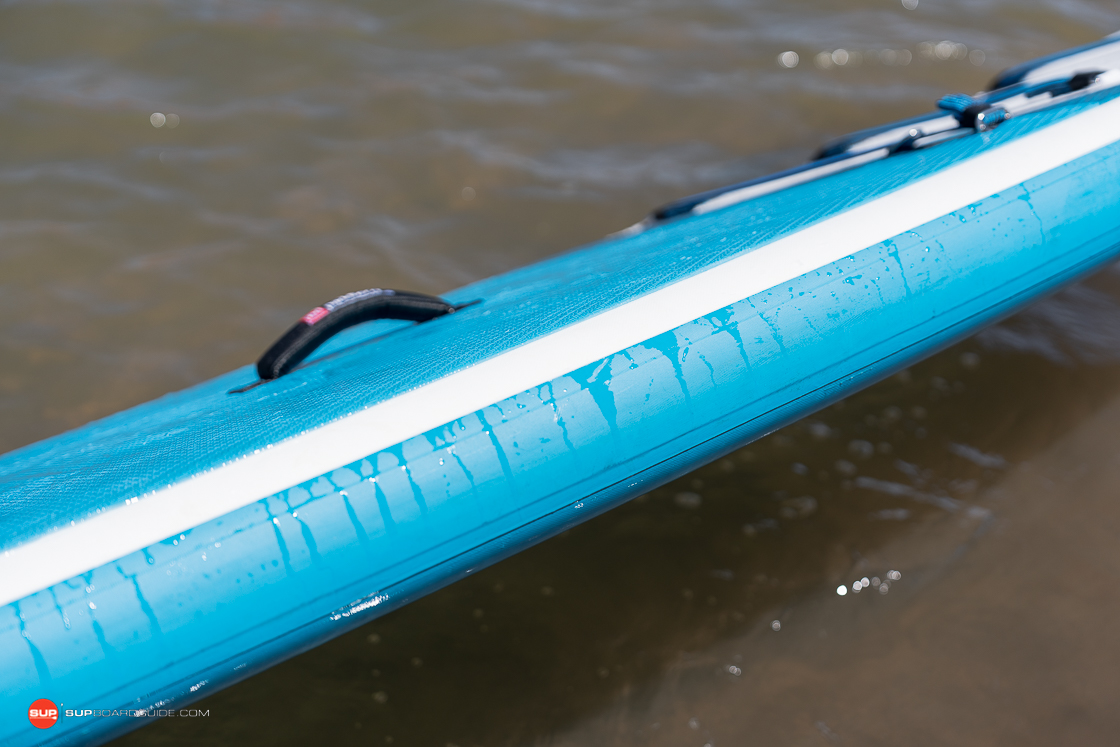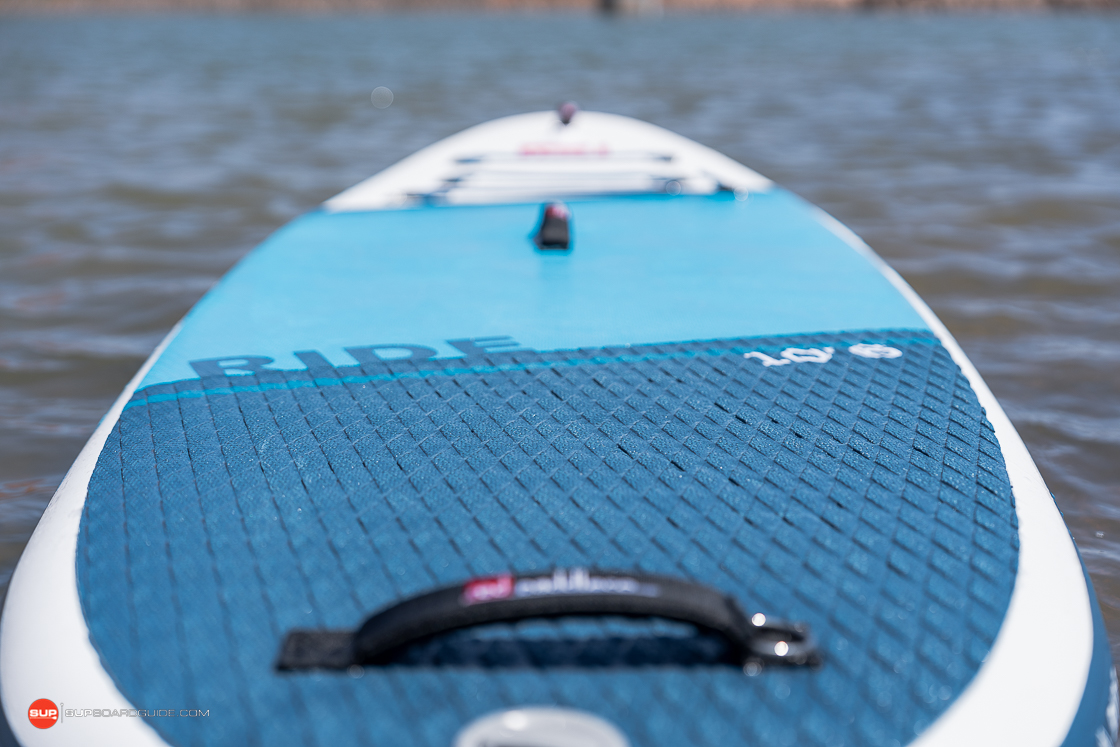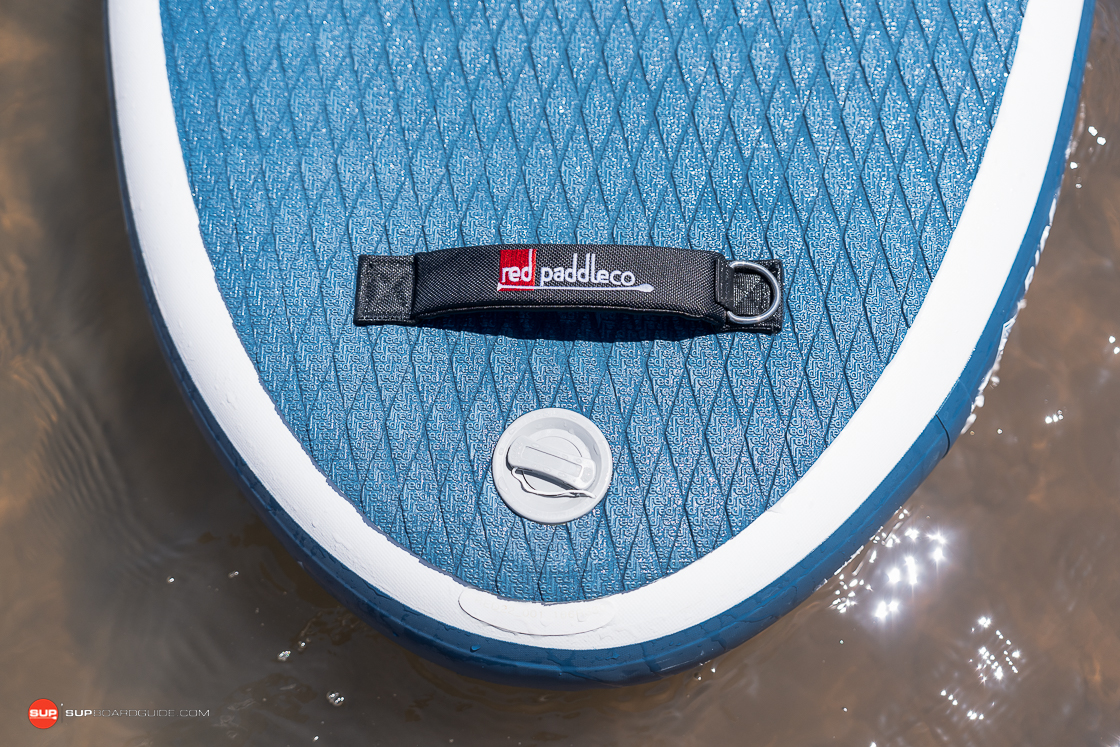 Said plainly, the way this board is built is phenomenal.
Red Paddle Co's commitment to the world of iSUPs shines through when you analyze its design and construction processes. They spend a total of 72 hours on each individual board, ensuring that even the minute details – like cosmetic finishes – are perfect.
Each seam is straight and fused using heat and high pressure. They emboss their deck pad with their own logo and then press it onto the board at 170 PSI to ensure a tight bond.
The construction process uses Red's patented MSL (monocoque structural laminate). They directly adhere a hard-wearing polymer to the drop stitch core in order to create a seal and bonding layer at the raw material stage. This ensures a rigid, air-tight, and durable board even before more layers are added. This allows the SUP to handle more pressure at lower volumes and directly stiffens it. Because of the bonding layer, the pressure stays confined to the top of the board rather than the rails, and any ballooning is completely avoided.
The next step in the process is machine-laminating a structural PVC layer onto that first adhesive layer. Then, to reinforce the rails, the extra wide outer tape is added. This increases durability and decreases any possible weakness.
With this precise process, Red is able to build boards that have a fantastic on-the-water sensation. The 4.7'' thickness allows the board to sit in the water and makes the ride feel tight yet fluid.
We admire Red Paddle Co for achieving an iSUP that is both lightweight and rigid, as well as has a high-performing feeling that you don't find in too many other SUPs.
Board Stiffness: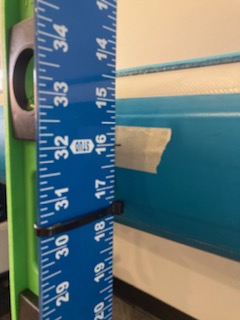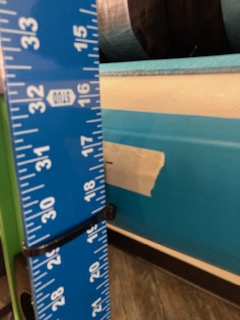 Stiffness Test: 1.3125" Bend
To determine the rigidity of a SUP across a common denominator, we use our own custom bend test. The SUP is inflated to its maximum PSI for this test, and it is then laid across two sawhorses spaced 7 feet apart. The height of the board is then measured at the center. Last but not least, we add 150 lbs. of sandbags to the center of the board and measure the displacement (change from the starting point).
It makes perfect sense that the Red Paddle Co 10'6" Ride bent more than an inch given that it is built more thinly than the typical large all-around iSUP (it is 4.7" thick as opposed to the typical 6" thick SUP). We were pleasantly surprised by its score because to be very honest, we expected it to bend more.
Features/Accessory Review: [9.1/10]
Features: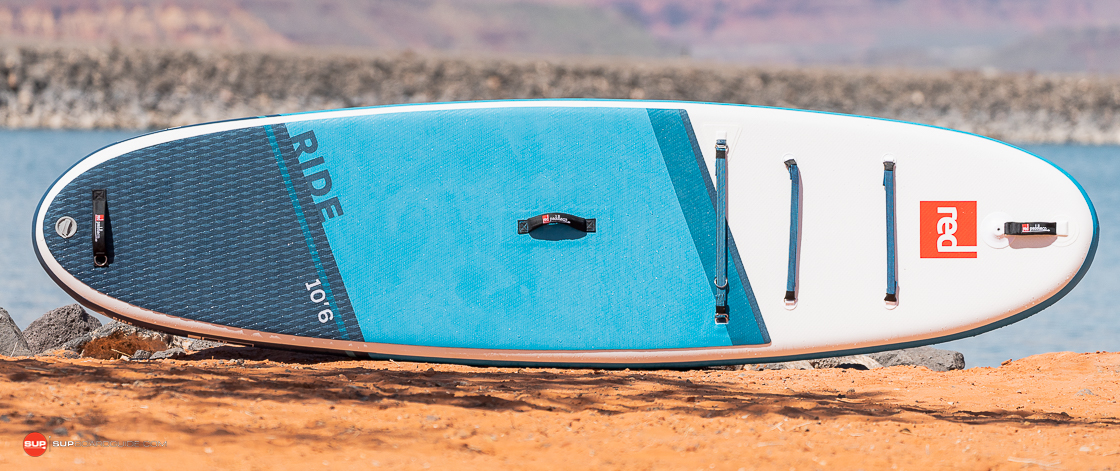 To start, there are self-closing flat bungee straps on the 10'6″ Ride that has been updated from the last iteration of this model and are efficient for keeping your belongings secured and protected. In keeping with the name, the straps are constructed of better material than bungee cords and can secure more objects than you might think. You can attach items you wish to have easy access to, like a water bottle or your shoes, to the longest strap, which is the one that is closest to you while you're paddling.
There are carrying handles on the nose and tail as well as in the middle. They are wrapped in thick material for comfort and embroidered with the Red logo.
While there is not a raised kick pad, there is what Red labels a "tail pad." This is a diamond-grooved rear section that is extra grippy for easier step-back turns. We think this feature is cool and it looks great but we hope to see a raised kick pad in future models. As for the deck pad, it is made out of high-quality EVA material that is embossed with Red's logo. It's made with precision and feels great on your feet.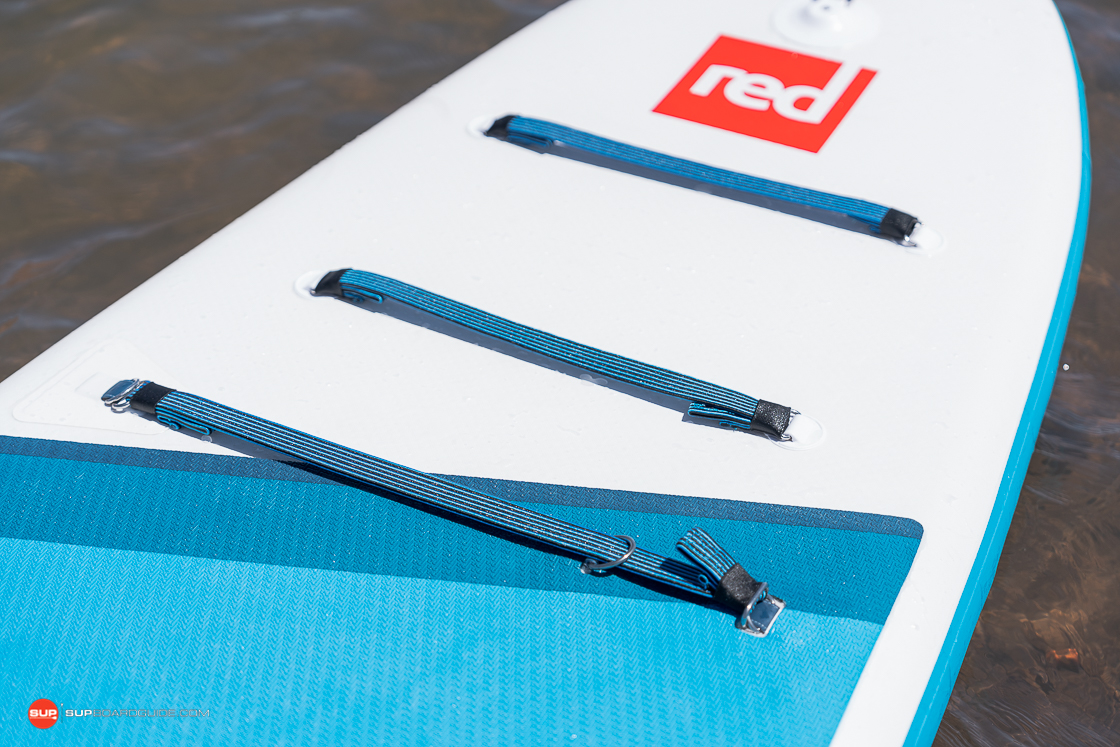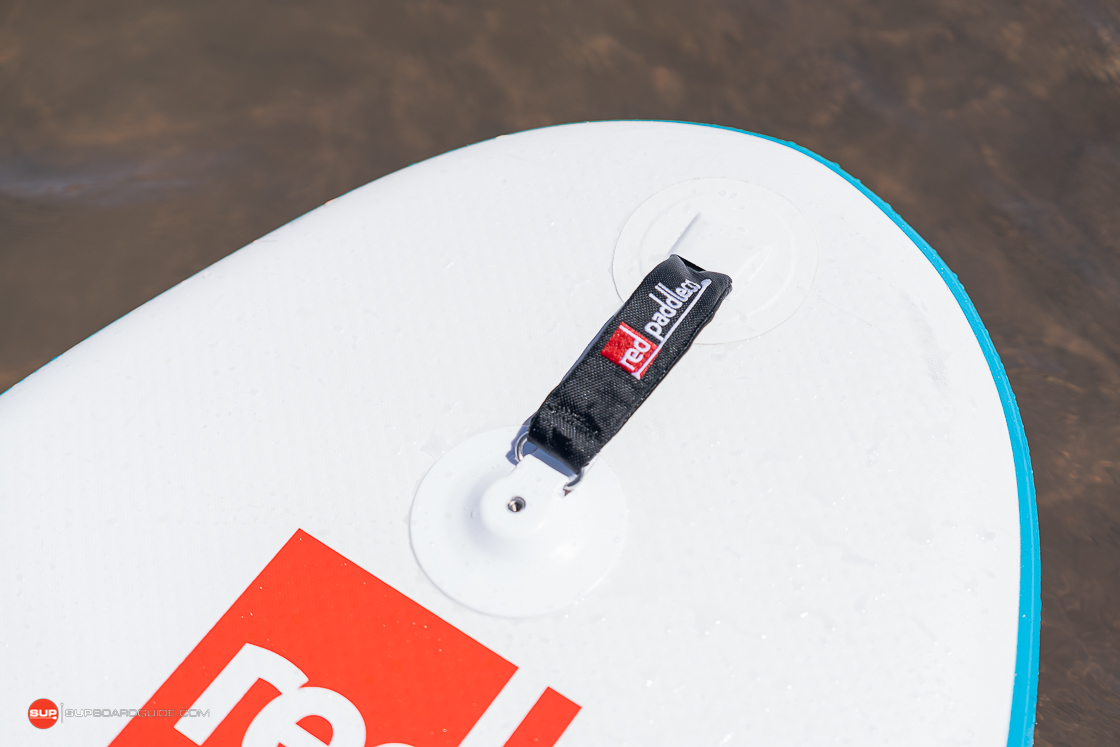 Included Accessories: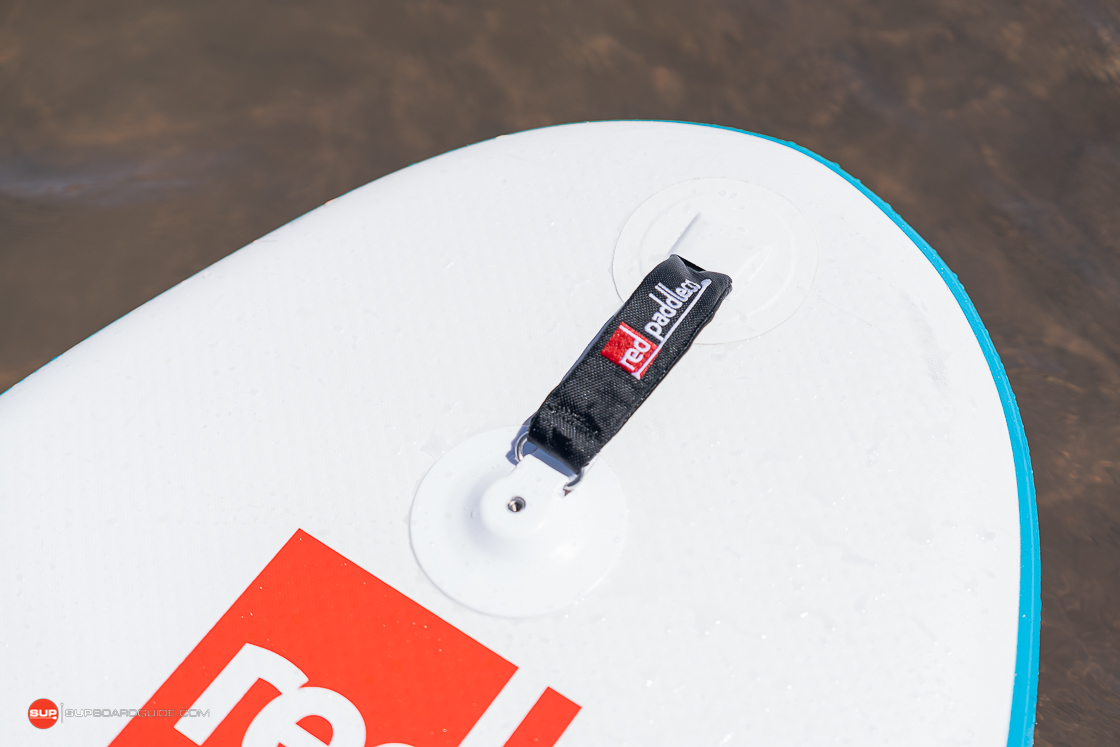 Both the exceptional Titan 2 pump and ATB bag are included with the Red Paddle Co 10'6″.
The fact that I can tell the ATB backpack was made with paddlers in mind is what I value most about it. Due to its size (160 liters), the rolled-up SUP can fit inside without having to struggle with the zipper. Additionally, it has an expandable storage space where you can keep extra accessories or personal items apart from the portion of the bag that holds the SUP. Additionally, this bag has room for the many cool accessories that Red Paddle Co offers for its boards (silent air remover, UV board jacket, shoulder carry strap, etc).
But what is extra cool about this backpack?
No, it's not that there is a velcro system to secure the paddle. Or the individual pocket for the blade. While those enhancements are great, the best part about the backpack is that it can be "bagless"! Sounds crazy I know. But you can attach the deflated and rolled-up board onto solely the straps of the backpack, throw it on your back, and take it wherever you want. You can ditch the big backpack (and the bulk) in the car if you want!
Due to the dual-cylinder system and twin-chamber technology of the pump, it's possible to pump the SUP up to 20 PSI in about half the time than a regular hand pump. When it becomes too difficult to continue pumping, you push the lever on the front of the pump further forward which exhausts the front chamber! Our only knock on the pump is that it is heavy, which does add some weight to the overall kit.
Summary Review of the RedPaddleCo 10'6'' Ride – 2023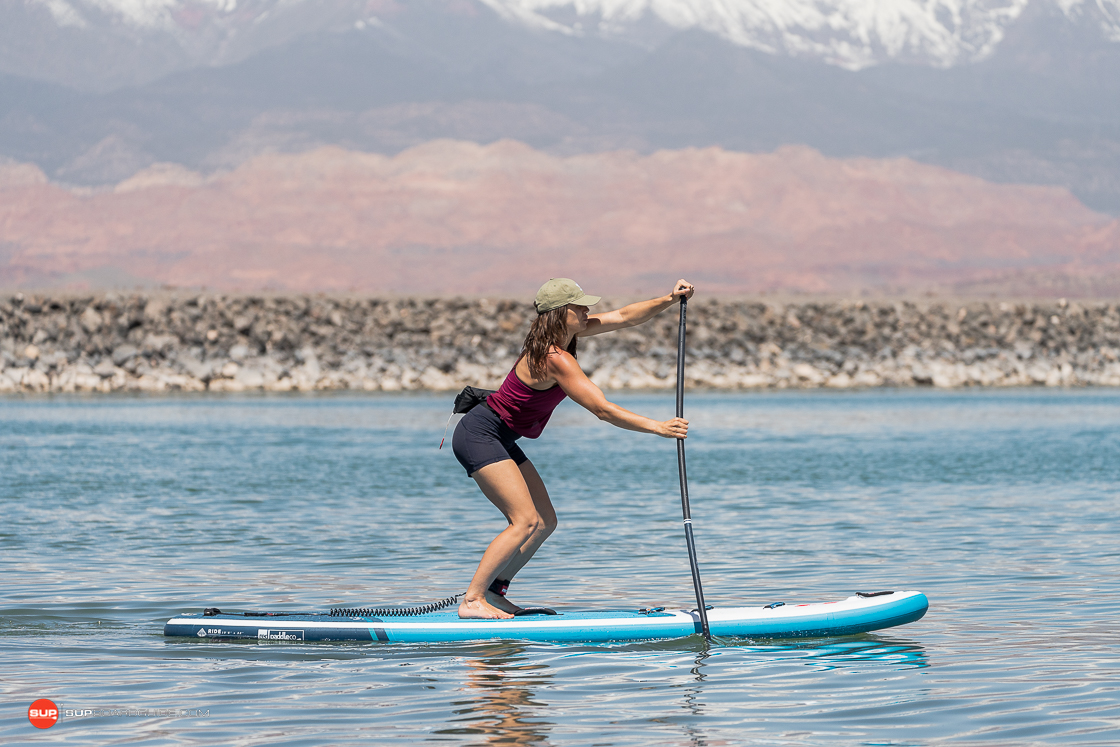 Personally, I love this board. And our entire team agrees. While it is slightly more expensive than other all-around SUPs, the Red Paddle Co 10'6'' Ride will impress you and once you start paddling, you'll be very pleased with your decision.
I've said it (how many times now?) and I'll say it again: the MSL construction gives this board an on-the-water feel you just don't find that often in the SUP world. It's lightweight and thin, so it glides across the water, but high-quality and stable so you feel secure while you paddle.
It's an awesome board and we truly hope you decide to try it out for yourself.
Thanks for reading and happy paddling! Let us know if you have any questions we didn't answer in our Red Paddle Co 10'6" review down in the comments below.
The following two tabs change content below.
Latest posts by Laura Coor (see all)