Ten Toes Weekender
Pros
Super stable and easy to use for beginners
Solid construction
Good value for money
Great design and you can chose from 5 different colors
Cons
The pump should definitely be improved.
Backpack and Leash are not included!
It seems to be raining inflatable SUPs of late. Recently, I reviewed the stellar Solstice Bali, and was impressed by how far cheap inflatable boards have come.
Just a few days after I was done testing the Bali I landed on another inflatable board – the Ten Toes Weekender, or more popularly known as the Weekender. Suffice it to say, the board is another piece of work. I had heard about the Ten Toes and all the good things that people have to say about it. Some even said that this could be the best low-price board they have ever set foot on. So, does theWeekender live up to its hype? Read on…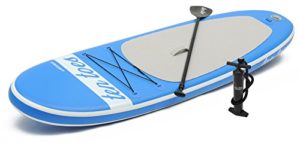 The Real Review
Some boards have the innate ability to feel just right at the very first touch or paddle. You can put it down to design, the board's construction, or simply how it makes you fell out on the water. The Ten Toes Weekender is one such board. The moment you hold it in your hand, you feel as if the two of you will probably share a special relationship.
One reason why theWeekender feels so right is because of its carefully constructed foam body. If you are looking for tough, no other material comes closer than military-grade PVC. It acts as a protective shell for the 10-inch board, bestowing on it an aura of invincibility and indestructibility. This outer covering is filled with layers of premium foam. There is a base cloth on top of which sits two layers of high-density sheets. The three layers are then topped with an extra supported fabric that lies just below the PVC. The result: a six-inch-thick body when inflated that will feel like another hardwood board.
A lot of attention has been paid to the board's construction. Right from the material used to the SUP's assembly. All the elements are held firmly in place with an impenetrable 6" drop stitch. This serves to add more thickness and stability, which are important factors for an inflatable SUP. The superior drop stitch weave also allows the board to take a fair amount of abuse and still hold its own. This will hold special interest to newbies who are probably still getting a hang of the leisure sport. The pros too would love to have a board that they can ride around a bit rough.
The rigid construction allows the Weekender to glide smoothly on the water, providing a great response to the paddle's thrust.
Tracking Pads
Staying with the top of the board, your feet will love the feel of the non-slip EVA pad that sits on the rear of the board. The pad provides a soft, cushioning comfort for your feet while holding them down firmly in place. The feet don't feel tired even after hours spent on the board. Your knees too will feel absolutely comfortable on it if you are in the mood to kneel and paddle.
This may come as a surprise, but Ten Toes have provided an extra portion of tracking pad. In case the original wears out, you have an additional one to replace it. Now that's what I call paying attention to detail!
A Nose That Tells A Tale
At first glance, you may not notice it, but a closer inspection will reveal a design gem that sits in plain sight – the board's nose.
The reason why I have brought it up specifically for this board is that the nose plays a very important role in the overall performance. It gives a SUP its primary characteristic: a sleeker nose for faster speeds, and a flatter one for more stability. When it comes to the Ten Toes Weekender, the nose has a bit of lift and is rounded. This gives the inflatable SUP a versatility that is impressive. Take it out on flat waters, and the board will track well. Use it to tackle choppy waters, and the board will navigate them without trouble. Even waves do not present a problem as the nose allows you to ride them without breaking into a sweat. Talking of sweat, you can use the solid, stable inflatable SUP to perform your morning yoga on the lake.
Customize Your Board's Performance
From the top of the board I now move to its underbelly. Most inflatable SUPs come with one removable fin. This allows boarders a certain amount of customization. The Ten Toes Weekender has kind of pushed the envelope here.
It is perhaps one of the rare inflatable boards that allow you to remove all three fins. Yes, that's right. You can play around with one large fin in the center for challenging waters, remove all three if you encounter debris in the water, or go for all three in flat waters. I have done a post on fins and how different combinations allow different attributes. The fact that you can chop and change all three on the Weekender is just an extension of its impressive versatility. The board truly feels like many SUPs put together in one.
What makes the customizable fins even better is that they can be removed and attached again with a minimum of fuss. They are secured easily in their slots with a push-in clip that locks them in. Once they are set, they will not budge.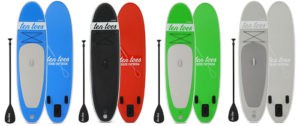 Cool Designs
Any review of the Weekender would be incomplete without a mention of its chic look. The design is minimalist, which only adds to its allure, and the color palette makes the board a stunner to look at. You can choose from a range of color options. There's red, blue, green, and aquamarine. My favorite though is the black board.
What Can Be Improved
The Ten Toes Weekender is a stellar board, and I am really nit-picking when I say that it could do with an extra D-ring at the front of the board. The board has four of them attached to a bungee cord. An extra ring can go a long way when you have something extra to carry.
The other aspect that is a bit disappointing is the hand pump provided. It is not the worst, but it is certainly not top notch either. You may need to spend a good eight minutes or so pumping the board to its ideal pressure (12-15 psi). I would recommend that you invest in an independent pump, preferably electric.
Last but not least you should keep in mind that the backpack and leash are not included. A backpack should be included with an inflatable in my idea, and a leash is definitely a nice extra. Keep that in mind, so you're not disappointed when your SUP arrives.
A Near Perfect Inflatable SUP
When I look at the Ten Toes Weekender, I see a near perfect inflatable SUP for beginners and casual paddlers. Solid construction, cool looks, stellar performance, versatile, and available at an economical price point. It looks like we have a winner with the Weekender.
Board Specs
| | |
| --- | --- |
| Length | 10′ |
| Width | 30″ |
| Thickness | 6″ |
| Fin | 3 removable fins |
| Hull | Planning |
| Weight Capacity | 275lbs |
| Rolled up | 11″x36″ |
The following two tabs change content below.
SupBoardGuide Editorial Team
At SupBoardGuide.com we are a team who love the water, the outdoors, and are more than grateful that our full-time job allows us to review stand up paddle boards. We paddle year round (it helps that we are just about 2 hours outside of Las Vegas), and we bring in a wide range of paddlers with the goal of providing our readers with the best, most in-depth, and accurate stand up paddle board reviews.
Latest posts by SupBoardGuide Editorial Team (see all)