Founder(s): Shenglong
Where: Toronto
When: 2017
If you are looking for comprehensive Thurso Surf SUP reviews then you've come to the right place. Here on this page you can find out some information of Thurso Surf the company itself, why we love their boards, and why we rank them in categories like our Best All Around SUP list and access to the full review of each one of their boards. We have been testing and reviewing Thurso SUP boards for years so we have the advantage of comparing the improvements from year to year and having a real hands on experience for each review.

Thurso Surf is predominantly an iSUP company but also produces soft top surfboards, bodyboards and handboards. While we haven't tested their soft top products (yet), we can confidently say the SUP range is impressive. There's been a lot of changes and improvements with Thurso over the years, quite often it coinciding with suggestions we've made, which tells us, they listen!
Why We Love ThursoSurf SUPs & Recommend Them
Thursosurf as a company we love because they take a lot of time to really make sure we have all the information we need. If we ask questions, we get detailed responses. There's lots of care and thought going into how they make their boards and why they choose certain methods/things over others and they fill us in. Always quick to respond and from what we've seen on a customer service side of things, the same company values play out there too.
The boards themselves we love because they are unique. The designs look great and makes them a real stand out amongst a sea of blues, greys, whites and black. Not only do they look unique, they ride uniquely. Though they are a bit heavier than some other iSUPS that are very comparable, they paddle very well and possibly a bit faster than other boards in their mid-level range. The founder of Thurso is a fluid dynamics engineer, and he's done a lot of modeling/testing that goes into the shape of their boards – which we think is pretty cool. Additionally, the Thurso boards have lots of features that make them versatile, which increases their value. Things such as the loaded up storage areas on both the nose and tail, D-rings in the middle of the board for a kayak seat and my absolute favourite the velcro side rail paddle holders.
When you purchase a Thurso you get the full starter kit (listed below) which really appeals to beginners and we love that they are so focused on getting everyone into the sport. Most entry to mid level SUPs include everything, but that's not always a good thing as sometimes in the cheaper boards the accessories are almost unusable. With Thursosurf your accessories are fantastic quality and you even get some premium features you won't see elsewhere like the carbon shaft paddle.
Thurso Surf Review: Accessories
A fantastic, fun, durable inflatable SUP
The suave grey bag that can either be wheeled or carried**
A dual action high pressure pump
3 piece carbon shaft paddle (Epic!)
10ft Coiled double swivel SUP leash
3 fins – all removable and tooless insert
Repair kit with patches and valve wrench
** The Prodigy Junior board comes with a duffel bag instead (it's what's cool – I think)
Optional Accessories
1. Compressor – the Thurso electric pump to save you effort, it works off any 12V port. Easily set the PSI and press go, the pump will turn off at the set PSI by itself.
2. Upgrade to a full carbon paddle – lighter and better performance!
3. Swag – It's all about the swag and I have to say their sunnies have become a favourite worth fighting over in my household
4. Board carry strap – Help distribute that load
5. Insulated deck cooler bag + Waterproof phone case – The bag is really awesome. Big and clips onto the board easily and very secure.
6. Kayak bundle – create double the fun by attaching your kayak seat (compatible with all Thurso boards) and inserting the extra paddle blade into the handle of your existing SUP to create a sit-on-top kayak experience.
ThursoSurf Waterwalker 10'

The baby of the gang, but by no means any less capable! The 10' X 30" X 6" Waterwalker was made especially for those riders that are too big for the junior board but still prefer something a touch smaller than the popular 10'6". If you are a petite rider, you'll enjoy the 10' as it's easier to move around.
It's got all the features much the same as it's bigger siblings so you aren't missing out on anything by opting the smaller size. You can take this board on a day adventure, you'd even have some fun in smaller waves!
Those who are experienced riders may enjoy this board as a more versatile all-around than the 10'6" or 11", it's size giving it an advantage in trickier conditions. Though I recommend some experience as it won't feel as stable to a bigger rider as the petite. Your 10' Waterwalker is best suited to a broad range of conditions, though in moderate levels. Though it's the right size, it's not the best shape to be tackling big waves or treacherous canyon rapids
Read our full review of the ThursoSurf Waterwalker 10' SUP
ThursoSurf Waterwalker 10'6"

Probably their most popular, the ThursoSurf Waterwalker 10'6 X 31" X 6" is an incredible agile and fun all-around SUP. Though it's slightly heavier than most it's competition, it somehow moves better, which leaves an assumption of some clever engineering. This combined with the stable deck area, it makes for the perfect beginners board that can grow with you as your advance.
One of my favourite things about this board is the design, love the color scheme. It's nice to see some unique designs disrupting the usual dual tone boards. That and, of course, my favourite feature of the side rail velcro paddle holder.
The 10'6" Waterwalker is a fantastic all-around for the average SUP rider. It's going to suit most riders in both their size and skill. The best part being if you feel like you want something smaller or bigger there is options! It's one of the better performing all-arounds in it's price range and so is suited to a range of conditions. From mild to moderate, calm lakes to small waves and ocean chop. You won't be disappointed!
Read our full review of the ThursoSurf Waterwalker 10'6 SUP
ThursoSurf Waterwalker 11'


Here is the biggest of the Waterwalker range. The 11' X 32" X 6" Thurso is a perfect pick for a range of riders. If you are a bigger rider you will find the 11' a lot more stable and easier to move, while the same applies if you aren't a bigger rider but are wanting to take extra weight on board whether that be a dog, gear or your kids.
It's a diverse board with a big deck pad to also offer up a nice platform for some SUP yoga or other fitness while also being one of the better options of the Thurso range for the kayak bundle. The side paddle holder is especially helpful if you are kayaking.
Your ideal paddling locations for the 11' will be calmer conditions (flat or gentle choppy water). While it could handle some trickier conditions especially if you are experienced, you'll get the most out of it in the gentler conditions. It's a very stable SUP so anyone will is able to paddle it but smaller riders would maybe find it harder to maneuver. Choose a Waterwalker best suited to your size!
Read our full review of the ThursoSurf Waterwalker 11' SUP
ThursoSurf Expedition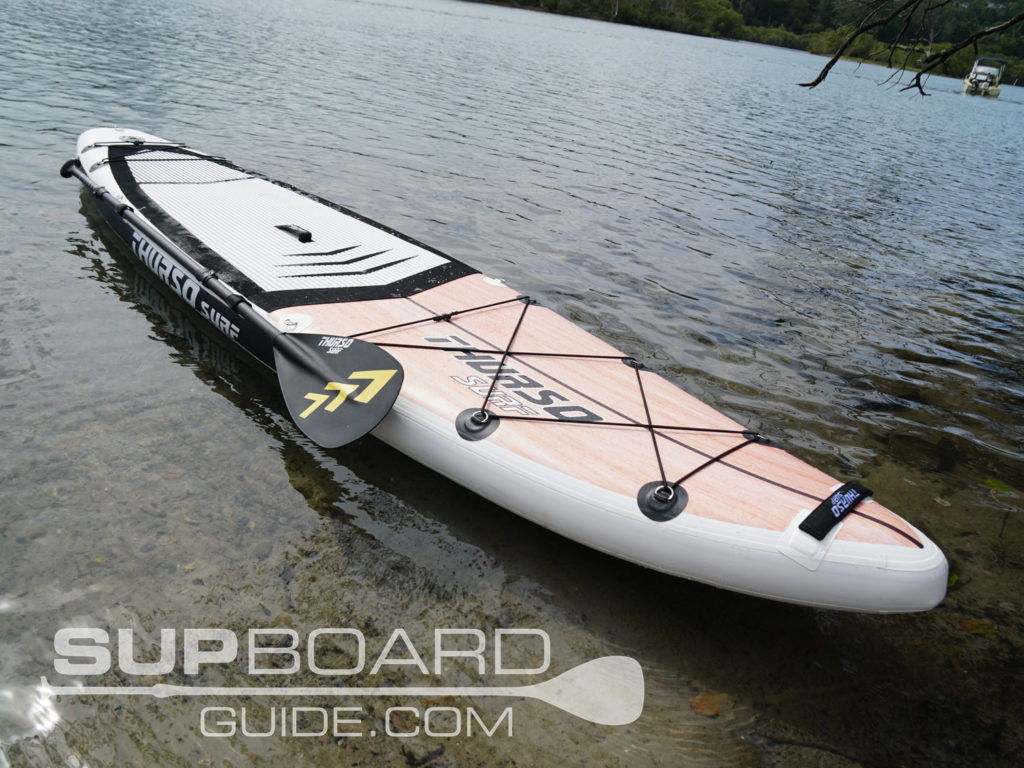 In the mood for adventure? The 11'6" X 30" X 6" Thursosurf Expedition will get you on your way. It's built for speed and agility. The narrow body and tapered nose cuts through water leaving the world and its worries behind in a few strokes. While all this sounds fun it does also require the rider to have some experience or at least be a confident beginner.
If you are planning on a long adventure then you'll be glad to know there is plenty of storage on board to be taking gear. Just keep in mind all your combined weight doesn't come too close to the 330 lb capacity.
Anyone looking to travel with speed, especially those who are looking to cover long distances in a reasonable amount of time, then the Expedition is for you. While I believe it wouldn't take too long for a beginner to get used to the board, it's worth noting that you may find it a bit more difficult than other Thurso SUPs. The reward is definitely worth it though!
Read our full review of the ThursoSurf Expedition SUP
ThursoSurf Max Multi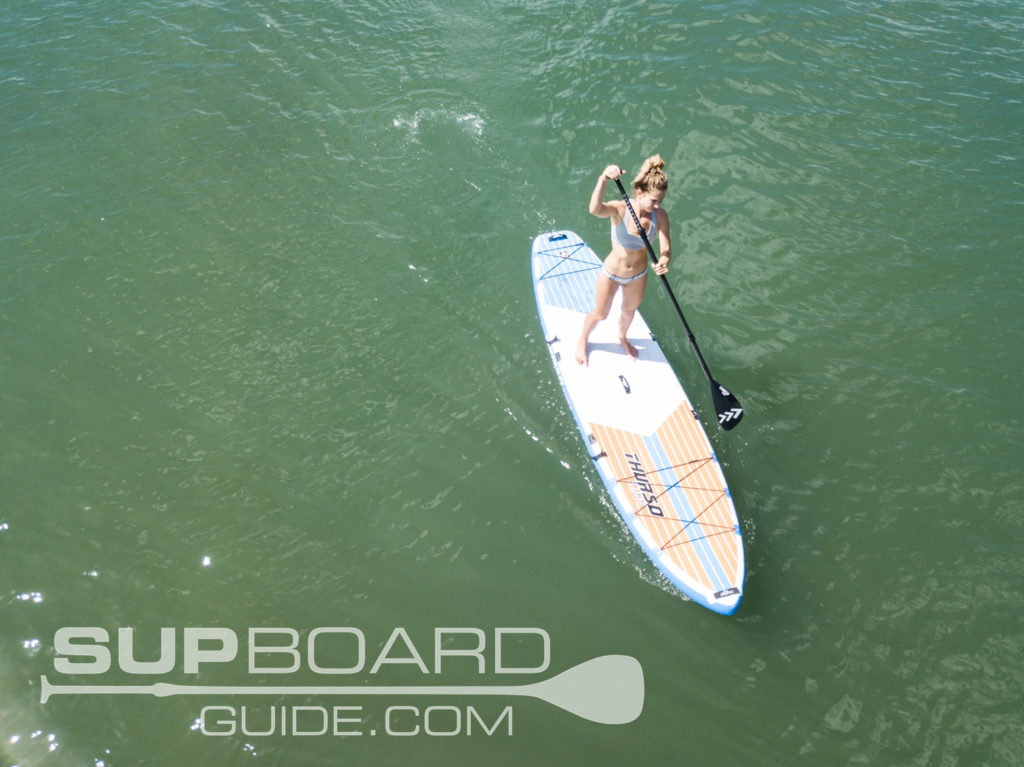 This is going to be the winner of the lot for those who are looking for a bit more of a niche family / fitness board. The Max Multi is big and stable at 11'6" X 34" X 6". Where it loses a bit of performance it makes up in specialised features for it's intended use.
The super wide deck also features a full length deck pad meaning you have comfort and grip the whole way down the board. This is ideal for kids, pets or as a grippy SUP fitness surface. The side rail velcro paddle holder comes in handy especially for SUP fitness/yoga.
The Max is able to be enjoyed by all riders. It's not the fastest or most responsive on the list but it's not built for that! It's built to be enjoyed by the whole family but still also valued for a solo day out on the water. Given it's shape/size it's not going to fair to well in anything more than some light ocean/wind chop. It's best suited to calm rivers, lakes etc.
Read our full review of the ThursoSurf Max Multi SUP
ThursoSurf Tranquility Yoga

The beautiful lotus SUP! The envy of every yogi. Now what makes this yoga SUP particularly different to many others is that it's still enjoyable to paddle around! Many Yoga SUPs are made to resemble a blow up air mattress but the Tranquility can still be enjoyed for a leisurely paddle.
The introduction of the Max may leave you questioning why the Tranquility. Aside from it being a very beautiful design that suits the Yogi vibe, it's probably got a little more performance than the Max so it's a slightly more versatile fitness SUP.
As you can imagine a Yoga SUP is all about stability which means wide deck and relatively consistent shape. So it's not going to be zipping down the river or taking sharp drops into waves. It's best suited to calm conditions and those who like to zen out on the water!
Read our full review of the ThursoSurf Tranquility Yoga SUP
ThursoSurf Prodigy
One of the juniors! What better way to get them into the sport by buying them their own SUP! At a very affordable price and competitive accessories/quality compared to other junior board too. Coming in a blue or pink, choices for all.
The Prodigy is made with the same durable and super tough materials so the kids can go nuts and you don't have to worry. It's the kind of present that will just keep on giving!
**Current Discounts **
Where To Buy
Online! Which is really the most convenient and simple way to purchase. Scared to buy before you try? It's okay we've tried and you have our absolute word that we are honest in our reviews. If you are having a hard time deciding which one to buy, we also strive to get back to you ASAP on any comments/questions you have.
Go check out the ThursoSurf store after you've decided on which board will be yours. Thurso ships (For free!!) to the following countries:
The following two tabs change content below.

SupBoardGuide
Heyo! At SupBoardGuide.com we are a team who love the water, the outdoors, and are more than grateful that our full-time job allows us to review stand up paddle boards. We paddle year round (it helps that we are just about 2 hours outside of Las Vegas), and we bring in a wide range of paddlers with the goal of providing our readers with the best, most in-depth, and accurate stand up paddle board reviews.

Latest posts by SupBoardGuide (see all)