Who is Thurso Surf?
Founder(s): Shenglong You
Where: Toronto, Canada
When: 2017
Hello, and welcome to our Thurso Surf SUP overview page! Down below you will find all of our reviews for the 2022 models of Thurso Surf inflatable stand up paddleboards, or iSUPs for short. Thurso Surf creates some of our favorite paddleboards out there, and we are excited to share our thoughts and highlight why the 2022 models are better than ever!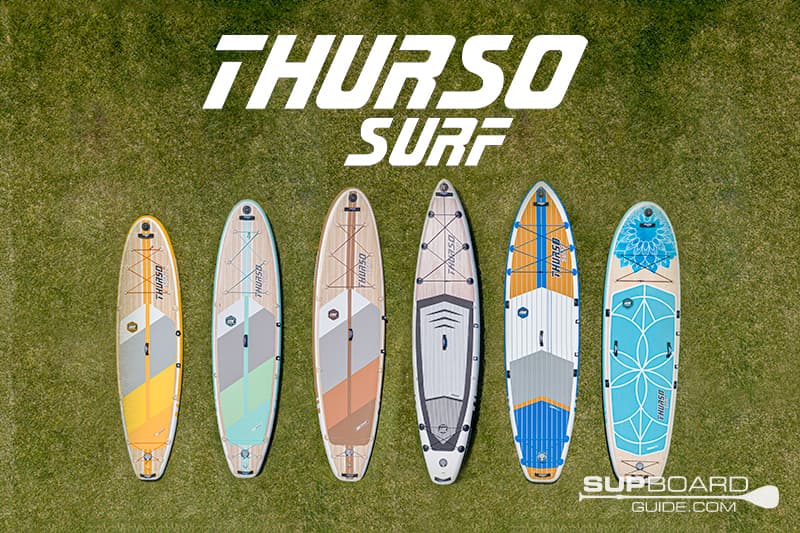 In the next section, you can learn more about Thurso Surf as a company, and why we love all of their SUPs in general. The second section of this page will give you snippets and links to each individual Thurso Surf board review. After the reviews, you'll also find some recommendations about the top accessories we recommend for Thurso Surf boards. Last of all, we also have a breakdown of the return and warranty policies for Thurso Surf products. Be sure to leave a comment if there is anything else you would like to know about Thurso Surf, and we hope this page will help you find the perfect Thurso Surf SUP for you!
Why do we love Thurso Surf SUPs and recommend them?
Founded by Shenglong You, Thurso Surf produces a wide variety of paddleboards that are fit for all types of paddlers and SUP activities. No matter your size or skill level, we're confident that Thurso Surf has a paddleboard you'll fall in love with, especially due to the unique design and performance of their boards.
Shenglong You, with a background in mechanical engineering and fluid dynamics, has designed his paddleboards with performance in mind. All Thurso Surf paddleboards are designed with speed in mind, their unique shape experiencing reduced drag for a better paddling feel in the water. New to the 2022 model as well are carbon fiber reinforced rails, making their paddleboards even more rigid and firm compared to past models. Thurso Surf SUPs are a blast to paddle with, offering a quick but smooth experience to beginners and experienced paddlers alike.
We also love Thurso Surf paddleboards for their balanced construction that offers fantastic durability without weighing down their boards excessively. Thurso Surf SUPs have a tight drop-stitch core protected by dual-layer military grade PVC composite layers. While the first layer has a single PVC coating, the second layer has an additional two coatings of PVC for triple PVC reinforcement. A similar system is used on the seams, providing quadruple PVC protection that is extremely difficult to penetrate or tear. With UV coatings to protect against the sun, you'll be able to use your Thurso Surf paddleboard for years to come with little to no performance loss. This great protection is all topped off by a wood-grain design used on almost every Thurso Surf SUP, making it sturdy in the water but also beautiful to look at as well!
Lastly, Thurso Surf has been a great company to communicate with. They are quick to respond to our questions, and have worked hard to improve their boards year over year. It's very difficult to damage their boards, but each of their inflatable SUPs comes with a 30-day guarantee, 2-year warranty, and free shipping to the US and many parts of Europe. Furthermore, while their boards are already offered at an affordable price, they have additional finance options that will help you pay off your SUP over the course of up to 18 months.
If you want a fast, sleek, and beautiful looking paddleboard that will withstand almost anything you throw at it, definitely check out Thurso Surf paddleboards!
Thurso Surf SUP Reviews – The Boards
Waterwalker 120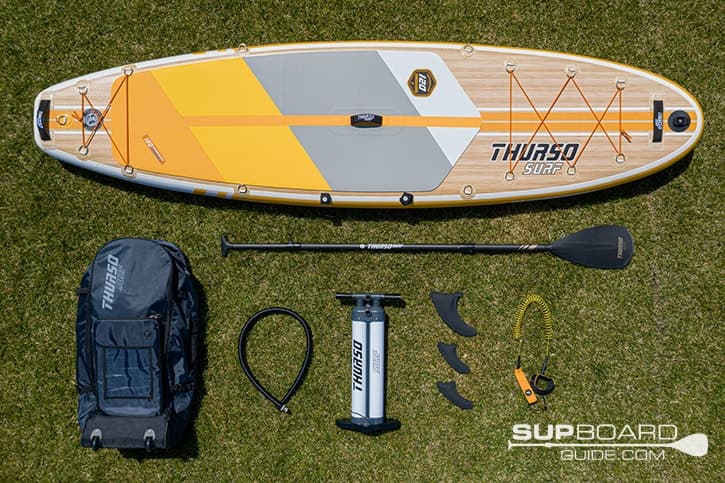 The Waterwalker 120 is the shortest adult paddleboard made by Thurso Surf, but is still very stable and more than capable of supporting beginners despite its size. The shorter length also makes it highly maneuverable, besides having a great glide and quick acceleration. If you are interested in a smaller all-around SUP, the Waterwalker 120 is definitely worth your consideration.
The Waterwalker 120 is 10' long, 30'' wide, and 6'' thick, with a 15 PSI recommendation. The board weighs just 24 lbs, and has a base recommended weight capacity of 260 that can be exceeded with experience and even weight distribution. Outside of its 15 D-rings, a new action mount has been put on its nose for even greater accessory compatibility.
Between the well-designed construction and carbon fiber reinforced rails, this is an excellent board option for shorter beginners, especially teenagers and adults 5'6'' and shorter. Lakes, bays, marinas, some light surf, and even slow moving rivers are all suitable for paddling with this SUP. So, if you want a good all-around SUP for solo paddling, definitely give the Waterwalker 120 a shot!
Read our full review of the Thurso Surf Waterwalker 120 by clicking on this link.
Waterwalker 126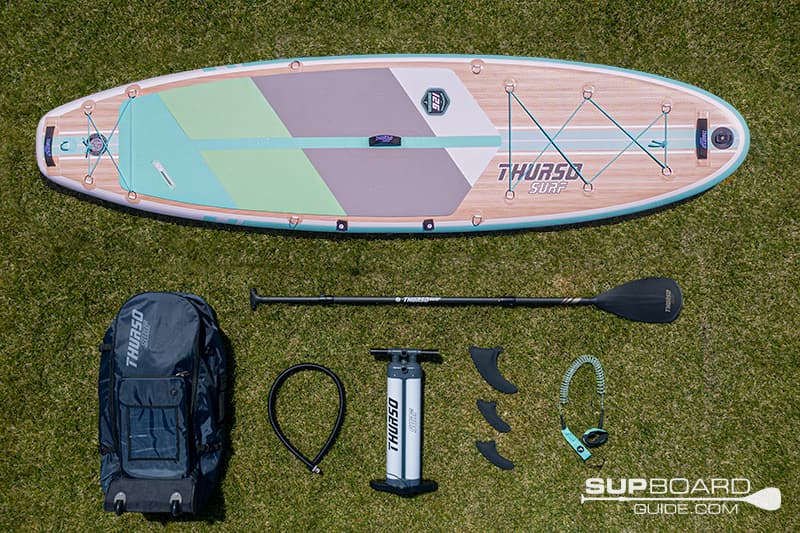 The mid-sized Waterwalker variant, the 126 is a very fun all-around SUP that has a great balance of stability, maneuverability, tracking, glide, and speed. This is a great tool for beginners trying to learn how to SUP quickly, and experienced paddlers looking for a solid all-around.
The Waterwalker 126 measurements are 10'6'' long, a 31'' width at the center, and a 6'' SUP thickness, with a 15 PSI recommendation. The board will weigh approximately 26 lbs, with a recommended max rider weight capacity starting at 300 lbs. Along with the 15 D-rings, this paddleboard was also upgraded with carbon fiber rails and a nose action mount in 2022.
This balanced all-around is set up for paddlers between 5'6 and 5'9 (approximately), but in reality is suitable for both short and taller paddlers alike. It is built to be especially well-suited for beginner to intermediate level paddlers looking to SUP in large bodies of water, rivers, and ocean waves alike. We love the Thurso Surf Waterwalker 126, it's fantastic looks, and overall performance.
Read our full review of the Thurso Surf Waterwalker 126 by clicking on this link.
Waterwalker 132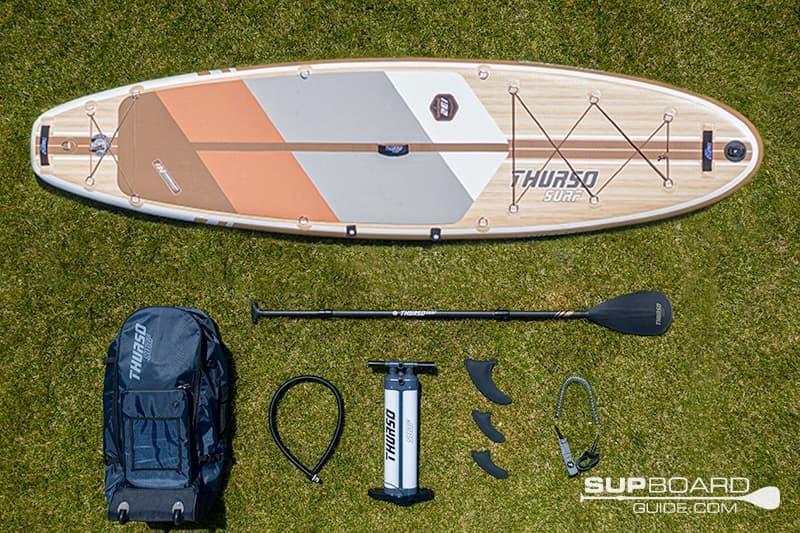 The longest of the three Waterwalker boards, the 132 length makes it the most stable Waterwalker made by Thurso Surf, with the best speed, tracking, and glide as well. While very large, it still offers solid maneuverability, and after a few sessions you won't have any trouble navigating with the Waterwalker 132. If you are a heavier or taller paddleboarder above 5'10", or want to bring out your kids or pet with you, definitely consider the Waterwalker 132!
The Waterwalker 132 has a length of 11', a width of 32'', and a thickness of 6''. Featuring a recommended inflation of 15 PSI, the Waterwalker 132 weighs about 29 lbs, and has a max recommended rider capacity of 330 lbs. This large board was firm in the past, but newly added carbon fiber rails make it even more stable and rigid. Accessory junkies will also appreciate the 15 D-rings and the newly added nose action mount, perfect for GoPro camera and other common SUP accessories!
Taller and heavier paddlers, especially those new to the sport or have little experience, will benefit the most by paddling with the Waterwalker 132. Due to its large size and many accessory options, we also recommend this board to those who like to bring gear out with them, or want to paddle with their kids or pet. The excellent tracking makes this a good paddleboard for long open water environments, like bays, marinas, and the coast line. You can tackle some longboard style waves with the Waterwalker 132 as well, or navigate some rivers if you don't have to deal with too many twists and turns. If you want an all-around though that emphasizes stability and tracking, go with the Thurso Surf Waterwalker 132!
Read our full review of the Thurso Surf Waterwalker 132 by clicking on this link.
Expedition 138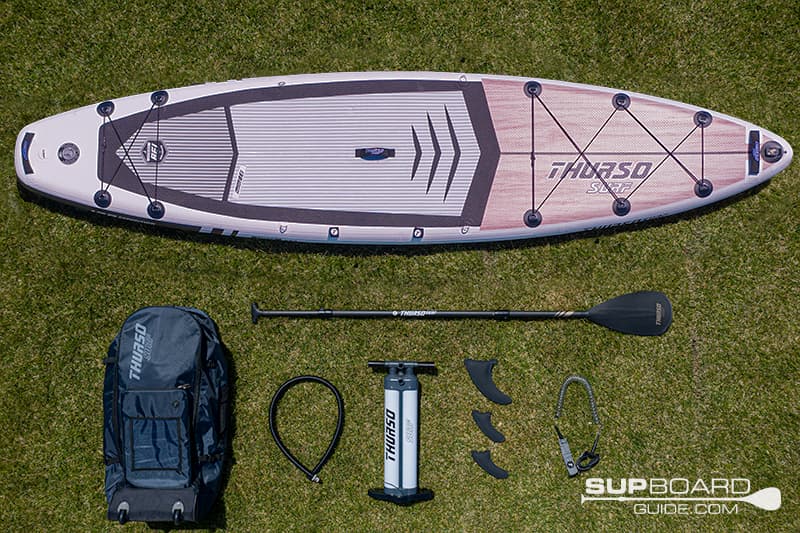 Interested in a touring board for long range expeditions? Then you will love the Expedition 138, which is built with tracking, glide, and speed in mind. It doesn't take much work to maintain a smooth and steady course with the Expedition, and between the Thurso Surf design and its overall shape you'll quickly build up speed and maintain it well. It is a little heavier than some other 11'6 Touring SUPs, but the weight and durability of the board make it great for paddling in calm and less than fair water conditions and weather alike!
The Expedition 138 is 11'6'' long, 30'' wide, and has an overall board thickness of 6'', the Expedition having a recommended 15 PSI inflation. The Expedition weighs approximately 28 lbs, and for a solo paddler has a recommended weight capacity of 330 lbs. The 15 D-rings are well spaced out so you can put all sorts of add-ons and accessories on your board, or use the new action mount if you have a compatible device!
As a touring board, the Expedition 138 is built for long paddling adventures, from navigating the coast line to going out to sea or exploring rivers. If you want a very durable touring board that is stable, quick, and still somewhat easy to handle, we recommend the Thurso Surf Expedition 138!
Read our full review of the Thurso Surf Expedition 138 by clicking on this link.
Max 138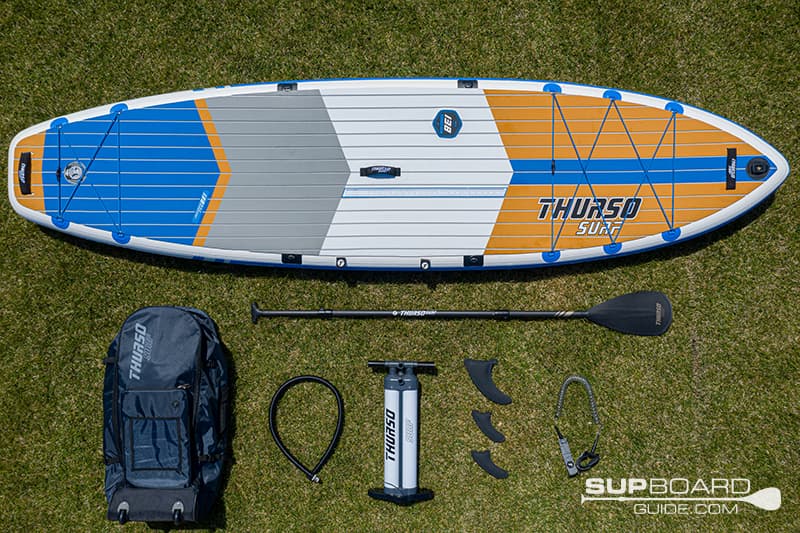 A multi-purpose SUP, the Max 138 is the most feature and accessory heavy paddleboard made by Thurso Surf. This paddleboard is built for those who want something able to do a little bit of everything, from touring to yoga to even some fishing. With great overall performance that is capable of tackling almost every water environment, the Max 138 is for those who want to make the most out of their paddleboard!
The Max 138 is a large board, and measures 11'6'' long, 34'' wide, with a 6'' board thickness. The Max weighs around 33 lbs, and has a recommended weight capacity of about 370 lbs, with a recommended 15 PSI inflation. Outside of the 14 D-rings and cool new action mount, a fishing ruler has also been built into the deck pad for the Max!
Of the Thurso Surf paddleboards, this is the best version for those interested in going out with their kids, pet, or another adult paddler. The great build and large size make it well suited for calm water environments and rougher settings alike. Wind and chop have less impact on the performance of the Max, so take it out into lakes, bays, the ocean, and rivers alike. If you want maximum stability and tracking and good overall performance, there is the Thurso Surf Max 138!
Read our full review of the Thurso Surf Max 138 by clicking on this link.
Tranquility 128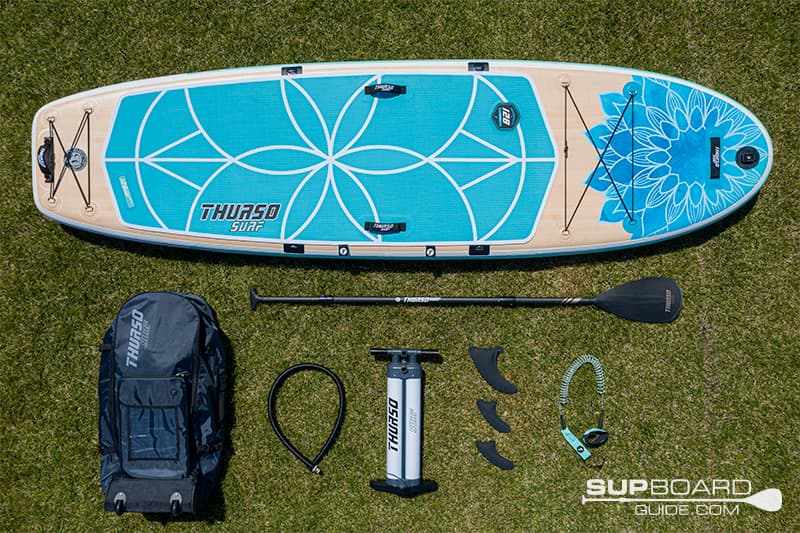 If you are interested in trying out SUP yoga, you will want to check out the Thurso Surf Tranquility 128. The Tranquility 128 is among our favorite inflatable yoga SUPs, offering a very soft smooth and beautifully designed deck pad with fantastic stability. Outside of yoga, the Tranquility still offers solid enough performance to travel the water, explore, and take in the sights and sounds only found in nature.
As a yoga board, the Tranquility 128 is built to be long and wide. This paddleboard has a length of 10'8'', a width of 34'', and a 6'' thickness at the center. For the best performance, we recommend inflating the Thurso Surf Tranquility to 15 PSI. The Tranquility weighs about 29 lbs and 350 recommended weight capacity, though you can exceed that quite easily with some weight distribution. To maximize deck space, there are just 12 D-rings on the Tranquility, though an action mount has been added for the 2022 model. The carry handles have also been reconfigured, with four grab handles now spaced about the Tranquility 128 for easier lifting!
Those who want something easy to stand on, or are interested in paddling with their kids, pet, or a partner will find the Tranquility 128 very enjoyable. This paddleboard is best suited for calm and slow moving waters, and offers solid performance in light chop and wind as well. If you are interested in a paddleboard built for yoga, or just something stable and fun for the whole family, think about purchasing the Thurso Surf Tranquility 128!
Read our full review of the Thurso Surf Tranquility 128 by clicking on this link.
Thurso Surf SUP review – Accessories
Some key accessories and features included with every Thurso Surf paddleboard includes:
A fully adjustable, roomy nylon backpack to hold your kit in. The wheels have been moved from the back to the front for the 2022 version, ensuring your straps will no longer get tangled!
A dual-chamber, triple-action pump that will help you inflate your paddleboard in 10 to 15 minutes!
A 10' coiled leash, keeping your paddleboard from floating away in fast moving water environments.
An adjustable 3-piece carbon fiber shaft paddle and nylon blade. Weighs 32 ounces, and can be altered to fit almost any adult paddler height.
For all Thurso Surf paddleboards but the Expedition, 2 + 1 removable quick lock fins. The Expedition uses a standard US center fin box with removal quick lock side fins.
Standard orange inflatable SUP repair kit. Includes patches for small tears and holes and a Halkey-Roberts inflation valve wrench.
2 Year Warranty and a 30-day guarantee. More information about shipping and returns can be found below.
Thurso Surf also offers the following great accessories that we would recommend adding to your SUP kit!
The Thurso Surf Electric Pump. It's our favorite Thurso Surf accessory, as it will do the hard work of inflating your paddleboard for you!
The Thurso Surf kayak conversion seat. Great for those who want a SUP/kayak hybrid experience, or just like to have a nice chair to sit on while paddling.
The Thurso Surf deck cooler bag. Bring your keys, phone, drinks, or other small items with you by securing them to the deck. Keeps your personal items safe from falling into the water or from getting wet form sudden waves!
The Thurso Surf SUP strap carrier. If you want to make it even easier to carry Thurso Surf paddleboards, you can rely on the SUP strap carrier to carry your board on your shoulder.
With D-rings and action mounts, there are plenty of third-party add-ons you might be interested in as well. Always check compatibility with Thurso Surf SUPs before purchasing third-party equipment!
Where To Buy a Thurso Surf Stand Up Paddle Board, Warranties, and Return Policy:
While there are third party retailers you can purchase Thurso Surf paddle boards from, we recommend you purchase their boards directly from their website. By doing so, you have quick and direct access to their fantastic customer support team, along with receiving a 30-day guarantee and a 2-year warranty. Outside of these policies, Thurso Surf also offers free shipping to the countries listed below, with paid shipping options available for other countries. Finally, Thurso Surf offers up to 18-month finance plans, the terms and payments of which will vary by board.
The following two tabs change content below.
SupBoardGuide
Heyo! At SupBoardGuide.com we are a team who love the water, the outdoors, and are more than grateful that our full-time job allows us to review stand up paddle boards. We paddle year round (it helps that we are just about 2 hours outside of Las Vegas), and we bring in a wide range of paddlers with the goal of providing our readers with the best, most in-depth, and accurate stand up paddle board reviews.
Latest posts by SupBoardGuide (see all)