Who is Thurso Surf?
Founder(s): Shenglong You
Where: Toronto, Canada
When: 2017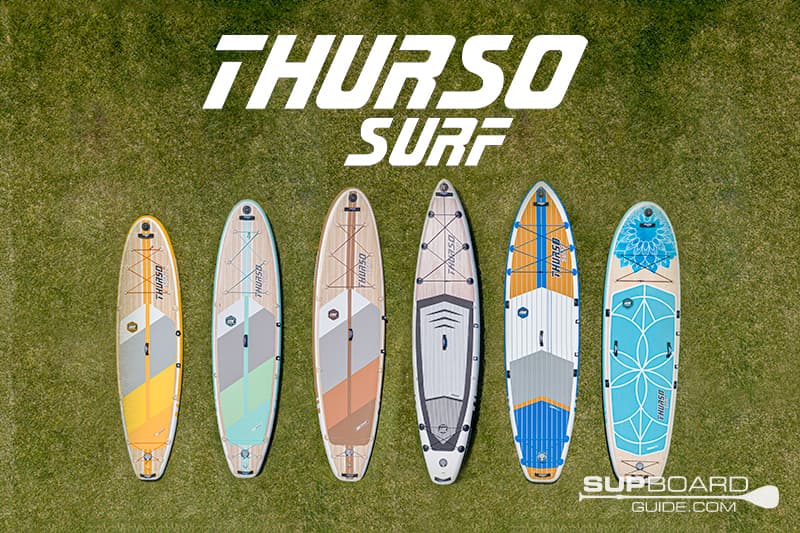 Below, you can learn more about Thurso Surf as a company, and why we love all of their SUPs in general. The second section of this page will give you snippets and links to each individual Thurso Surf board review. After the reviews, you'll also find some recommendations about the top accessories we recommend for Thurso Surf boards. Last of all, we also have a breakdown of the return and warranty policies for Thurso Surf products. Be sure to leave a comment if there is anything else you would like to know about Thurso Surf, and we hope this page will help you find the perfect Thurso Surf SUP for you!
Why do we love Thurso Surf SUPs and recommend them?
Founded by Shenglong You, Thurso Surf produces a wide variety of paddleboards that are fit for all types of paddlers and SUP activities. No matter your size or skill level, we're confident that Thurso Surf has a paddleboard you'll fall in love with, especially due to the unique design and performance of their boards.
Shenglong You, with a background in mechanical engineering and fluid dynamics, has designed his paddleboards with performance in mind. New to the latest models as well are carbon fiber reinforced rails that are aimed at making their paddle boards even more rigid and firm compared to past models. Thurso Surf SUPs are a blast to paddle with, offering a quick but smooth experience to beginners and experienced paddlers alike.
We also love Thurso Surf paddleboards for their balanced construction that offers fantastic durability. Thurso Surf SUPs have a tight drop-stitch core protected by dual-layer of PVC composite layers.. A similar system is used on the seams, providing extra PVC protection that is extremely difficult to penetrate or tear. With UV coatings to protect against the sun, you'll be able to use your Thurso Surf paddleboard for years to come with little to no performance loss. This great protection is all topped off by a printed wood-grain design used on almost every Thurso Surf SUP.
Lastly, Thurso Surf has been a great company to communicate with. They are quick to respond to our questions, and have worked hard to improve their boards year over year. Due to their durable construction, it's very difficult to damage a Thurso SUP, but each of their inflatable SUPs comes with a 30-day guarantee, 2-year warranty, and free shipping to the US and many parts of Europe. Furthermore, while their boards are already offered at an affordable price, they have additional finance options that will help you pay off your SUP over the course of up to 18 months.
If you want a fast, sleek, and beautiful looking paddleboard that will withstand almost anything you throw at it, definitely check out Thurso Surf paddle boards.
Thurso Surf SUP Reviews – The Boards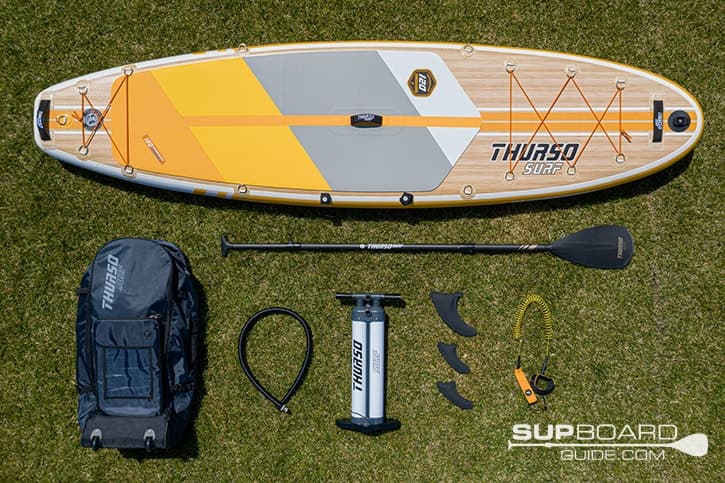 The Waterwalker 120 is 10' long, 30", and 6" thick, making it Thurso's shortest adult paddle board options, As a result, the 120 is super maneuverable and pretty quick to get up to speed, but is still stable enough for lighter paddling novices. Thurso was even able to take some weight off of the 120 in its most recent model, going from 24 lbs to it's current 22.5 lbs. Thurso Surf's Waterwalker 120 has a suggested rider weight of 100-150 lbs, making it a great choice for smaller beginners or more advanced paddlers looking for a sporty, lightweight, all-around.
One of the things we love about the Waterwalker series is its versatility due to its range of accessories. Each Waterwalker board has 15 D-rings, including front and rear cargo areas as well as kayak seat attachment points. There's an action mount on the nose for even greater accessory compatibility, as well as 3 carry handles to make this smaller, lightweight board even easier to move around. We love the comfy stamped EVA deck pad, and the velcro paddle holder on the ride.
Between the well-designed construction and in-built carbon fiber reinforced rails, this is an excellent board option for shorter, lighter beginners. Lakes, bays, marinas, some light surf, and even very slow moving rivers are all suitable for paddling with this SUP. So, if you want a good all-around SUP for solo paddling, definitely give the Waterwalker 120 a shot.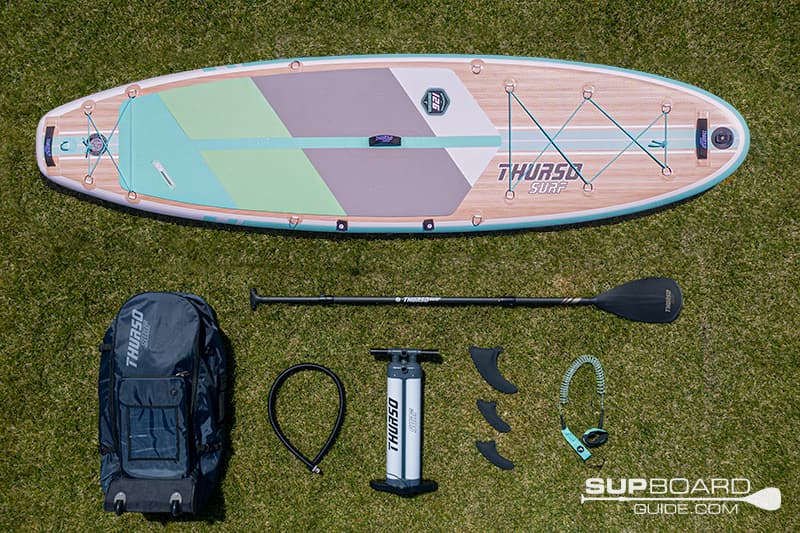 The Waterwalker 126 measurements are 10'6'' long, a 31'' wide, and a 6'' thick. The newest version of this board weighs 24 lbs, an improvement from its previous 26 lbs weight. This is a better option for larger or taller paddlers than the 120, as the 126 has a recommended rider range of 130-180 lbs, though we think more advanced paddlers could push the limit a bit if they wanted an easily maneuverable but stable 10'6.
Because the 126 is still a part of the Waterwalker series, it has the same list of accessories as the 120 we discussed above, including the in-built reinforced carbon rails. There are 15 D-tings to accommodate front and rear cargo areas and a kayak seat attachment. There's also an action mount on the nose, a stamped EVA deck pad, a velcro paddle holder, and 3 carry handles. We appreciate the 3 carry handles a bit more on the Waterwalker 126, as this board is on the cusp of entering the 'heavyweight' category at 24 lbs.
This balanced all-around is set up for mid-weight paddlers between 5'6 and 5'9 (approximately), but in reality is suitable for both short and taller paddlers alike. It is built to be especially well-suited for beginner to intermediate level paddlers looking to SUP in flatwater or small ocean waves alike. We love the Thurso Surf Waterwalker 126, it's fantastic looks, and overall performance.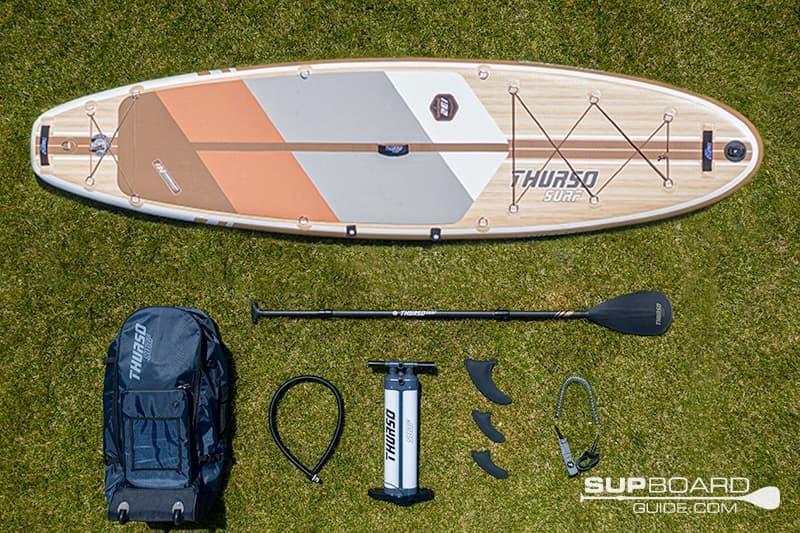 The Waterwalker 132 is 11' long, 32" wide, and 6" thick, making it the longest of the Waterwalker series and the most suitable for larger or taller paddlers, or paddlers who need space to bring along gear. At 26 lbs, this 132 is definitely on the heavier side, but has a recommended rider weight of 160-210 lbs. Despite the added weight compared to the shorter Waterwalker boards, the 132 is not a huge challenge to get up to speed, and it's not wide enough to make paddling difficult. The 132 is a great balance between stability/support and all-around performance.
Accessory junkies will also appreciate the 15 D-rings and the nose action mount, perfect for GoPro camera and other common SUP accessories. As with every Wateralker, the 132 features Thurso's EVA stamped deck pad as well as 3 carry handles, that lighten the task of carrying and launching a 26 lbs board. It also has the standard in-built carbon rails, aimed at increasing the rigidity and performance of Thurso boards.
Due to its size and stability (without the sacrifice of some performance attributes), the Waterwalker 132 is a great choice for beginner paddlers, especially those that are taller or heavier. It's also a great option for those needing the extra space for gear or a passenger. The Waterwalker 132 is capable of tackling a variety of environments, from flatwater lakes or bays to very slow moving rivers and small ocean waves.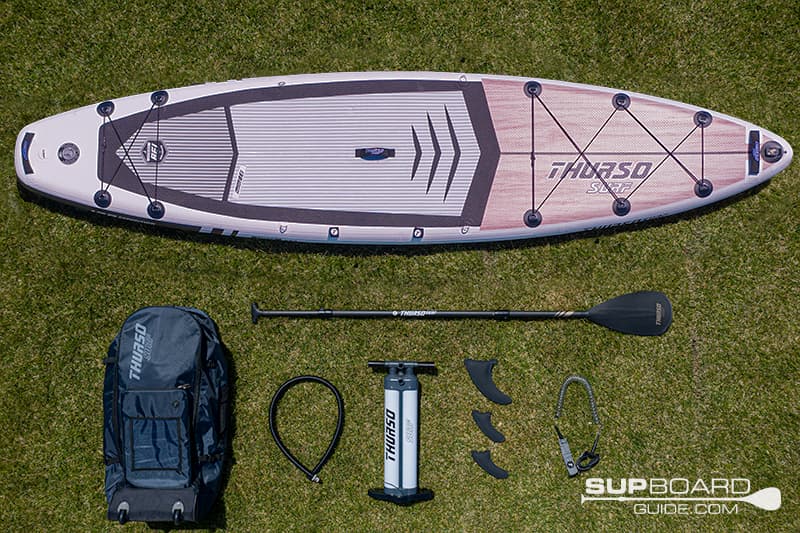 The Thurso Expedition 138 has more of a touring board feel being 11'6 long and 30" wide. It's the fastest in Thurso Surf's arsenal, despite being a heavier 26 lbs, and its single touring fin provides some added tracking capability when coupled with a great paddle technique. Though on the longer, narrower side, the Expedition still has enough stability to make it a great choice for small to midsize beginners (130-180lbs) looking for something a little bit more serious than a touring board.
Even with the Expedition 138 being a touring focused option, it still sports the usual features and versatility of any Thurso board. The 15 D-rings are well spaced out so you can put all sorts of add-ons and accessories on your board, or use the action mount if you have a compatible device. This board also has 2 velcro paddle holders, one on either side, and a 3 carry handle configuration as well as inbuilt carbon rails.
As a touring board, the Expedition 138 is built for long paddling adventures, from navigating the coast line to going out to sea or exploring rivers. If you want a very durable touring board that is stable, quick, and still somewhat easy to handle, we recommend the Thurso Surf Expedition 138.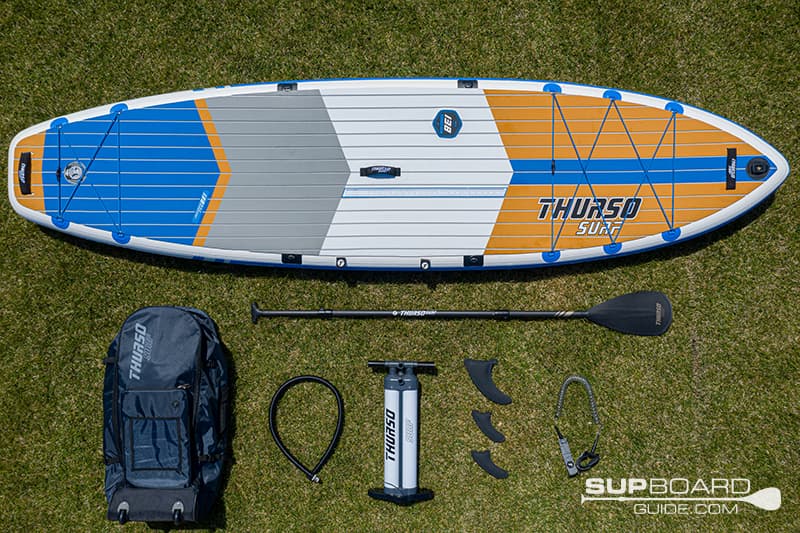 A multi-purpose SUP, the Max 138 is the most feature and accessory heavy paddleboard made by Thurso Surf. The Max is 11'6 long, and 34" wide, making it one of Thurso's widest and most stable boards. That being said, it's also one of the heaviest at 31 lbs. However, if you don't mind a little extra weight, the Max is suitable for a huge range of riders with its recommended capacity of 200-300 lbs, giving you tons of space when it comes to bringing along gear, kids or pets.
This paddleboard is built for those who want something able to do a little bit of everything, from touring to yoga to even some fishing. There are 7 carry handles on the Max, for easy transportation and launching, as well as 16 D-rings to make up front and rear cargo areas and kayak seat attachments. You're able to store your paddle on either side of the Max Mutli-purpose board with its pair of velcro paddle holders, and you could even measure a fish with its printed fish ruler towards the midpoint of the full-length, stamped deck pad. You can also document all of your SUP activities by mounting a camera on the nose action mount.
Of the Thurso Surf paddle boards, this is the best version for those interested in going out with their kids, pet, another adult paddler, or those who want the ability to try out a variety of different SUP activities. The great build and large size make it well suited for calm water environments or light chop settings while being stable enough for heavier or taller beginner paddlers.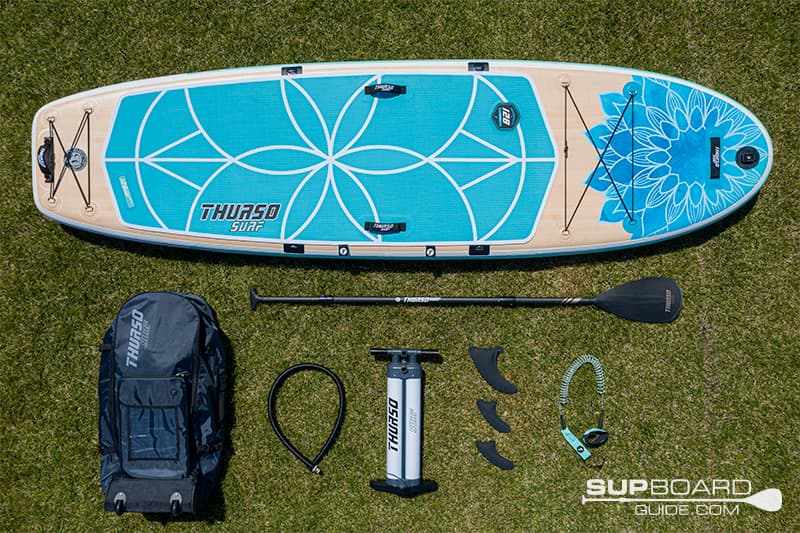 If you are interested in trying out SUP yoga, you will want to check out the Thurso Surf Tranquility 128. This board is beyond stable enough to get you through any yoga flow at 10'8 long and 34" wide. Of course, it's 29 lbs heavier and moves a bit slower in the water due to its added width, but it's able to support up to 240 lbs, giving you the option to pile on gear or do some partner yoga.
.
The Tranquility 128 shows off a beautifully designed, soft, stamped deck pad along with a range of features that enable you to branch outside of SUP yoga. The Tranquility 128 has 14 D-rings to make up kayak seat attachments and front and rear cargo areas. It also has a front action mount and 4 carry handles, located on the nose, tail, and sides, to clear up your deck space. The addition of 2 velcro paddle holders was an especially nice touch on the Tranquility as to safely stow your paddle out of the way during your yoga session.
Those who want something easy to stand on, or are interested in paddling with their kids, pet, or a partner will find the Tranquility 128 very enjoyable. This paddle board is best suited for calm and slow moving waters, and offers solid performance in light chop and wind as well. If you are interested in a paddleboard built for yoga, or just something stable and fun for the whole family, think about purchasing the Thurso Surf Tranquility 128!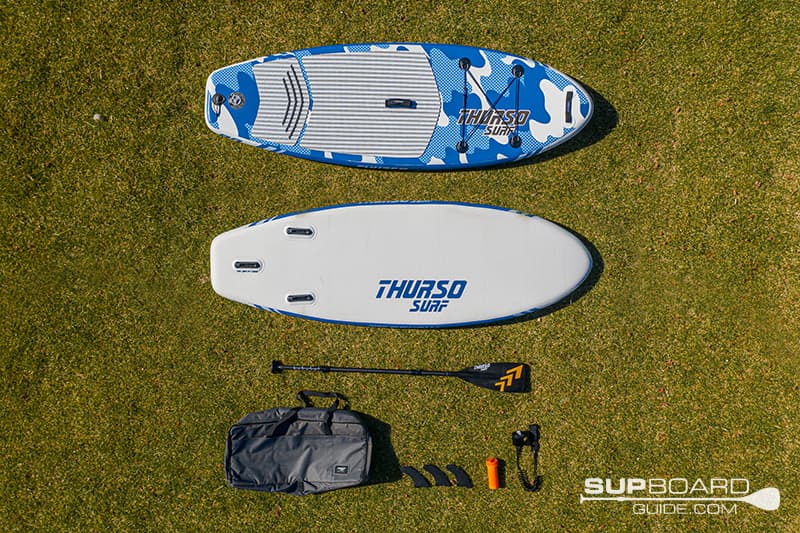 The Prodigy Junior is Thurso Surf's version of a kids' SUP. Being 7'6 long, 30" wide and just 19lbs, the Prodigy is fittingly only suitable for smaller riders and has a recommended capacity of just 80 lbs. Don't let the idea of a kid's SUP fool you though; this board goes above and beyond being just a water toy, or lesser built foam beginner board. It's constructed just as well as Thurso's adult boards and possesses the same stability and maneuverability in the water to help young beginners hone in the right technique as they grow into the sport.
Though a bit lighter on the feature list than Thurso's adult boards, the Prodigy still has a front cargo area to store gear and a grippy stamped deck pad. I wouldn't expect to see multiple attachment points and accessory compatible mounts on a kids SUP, as it would drive the price up and add weight to the overall build.
Thurso Surf's Prodigy Junior SUP is a great option for a kids SUP that is built to last as your child develops their paddling skills. It's smaller size combined with its stability and maneuverability will allow your younger paddler to focus on their technique rather than struggling to propel an adult board.
Thurso Surf SUP review – Accessories
Some key accessories and features included with every Thurso Surf paddleboard includes:
A fully adjustable, roomy nylon backpack to hold your kit in. The wheels have been moved from the back to the front for the latest version, ensuring your straps will no longer get tangled
A dual-chamber, triple-action pump that will help you inflate your paddleboard in 10 to 15 minutes
A 10' coiled leash, keeping your paddleboard from floating away
An adjustable 3-piece carbon fiber shaft paddle and nylon blade. Weighs 32 ounces, and can be altered to fit almost any adult paddler height
For all Thurso Surf paddle boards but the Expedition, 2 + 1 removable quick lock fins. The Expedition uses a standard US center fin box.
Standard orange inflatable SUP repair kit. Includes patches for small tears and holes and a Halkey-Roberts inflation valve wrench.
2 Year Warranty and a 30-day guarantee. More information about shipping and returns can be found below.
Thurso Surf also offers the following great accessories that we would recommend adding to your SUP kit
The Thurso Surf Electric Pump
The Thurso Surf kayak conversion seat. Great for those who want a SUP/kayak hybrid experience, or just like to have a nice chair to sit on while paddling.
The Thurso Surf deck cooler bag. Bring your keys, phone, drinks, or other small items with you by securing them to the deck. Keep your personal items safe from falling into the water or from getting wet from sudden waves
The Thurso Surf SUP strap carrier. If you want to make it even easier to carry Thurso Surf paddle boards, you can rely on the SUP strap carrier to carry your board on your shoulder.
With D-rings and action mounts, there are plenty of third-party add-ons you might be interested in as well. Always check compatibility with Thurso Surf SUPs before purchasing third-party equipment!
Where To Buy a Thurso Surf Stand Up Paddle Board, Warranties, and Return Policy:
While there are third party retailers you can purchase Thurso Surf paddle boards from, we recommend you purchase their boards directly from their website. By doing so, you have quick and direct access to their fantastic customer support team, along with receiving a 30-day guarantee and a 2-year warranty. Outside of these policies, Thurso Surf also offers free shipping to the countries listed below, with paid shipping options available for other countries. Finally, Thurso Surf offers up to 18-month finance plans, the terms and payments of which will vary by board.
The following two tabs change content below.
SupBoardGuide
Heyo! At SupBoardGuide.com we are a team who love the water, the outdoors, and are more than grateful that our full-time job allows us to review stand up paddle boards. We paddle year round (it helps that we are just about 2 hours outside of Las Vegas), and we bring in a wide range of paddlers with the goal of providing our readers with the best, most in-depth, and accurate stand up paddle board reviews.
Latest posts by SupBoardGuide (see all)