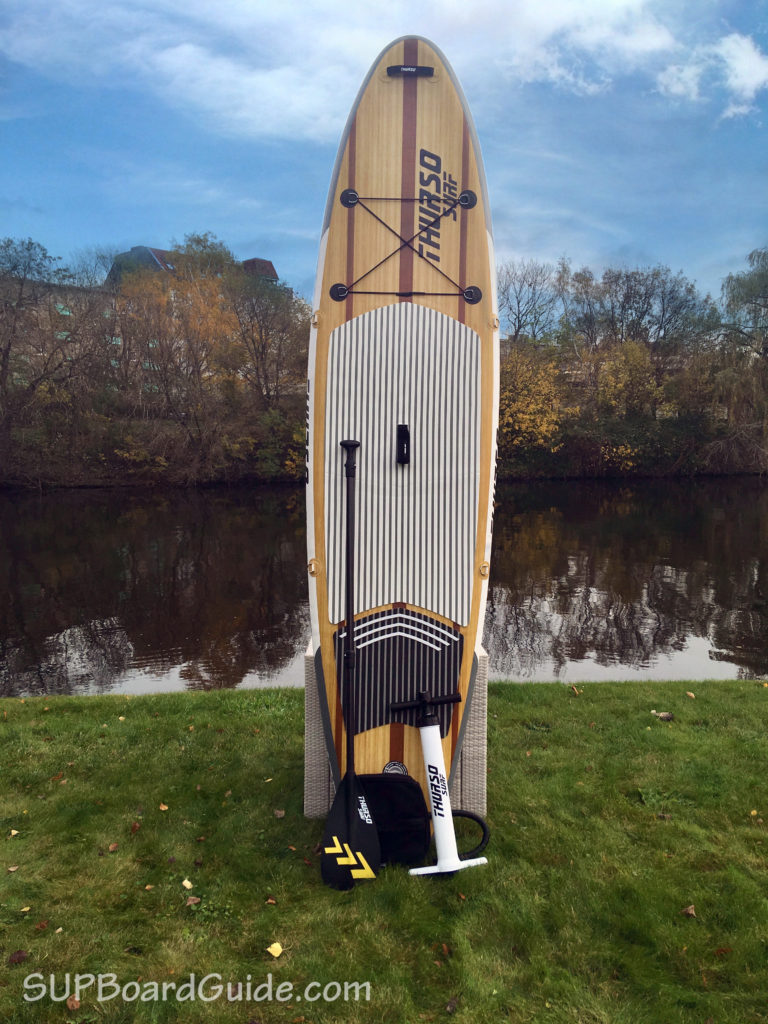 Thurso Surf has done it again.
They've produced yet another outstanding board.
The 10'6″ Waterwalker is the little brother of the super popular 11′ Waterwalker released last year.
This ideal all-rounder is great for anyone – no matter your age, fitness level, skill level or sex. Everyone will be having more fun than a barrel of monkeys.
Check it out with full confidence knowing you have 24 months of warranty and if by the rare chance you did act on that warranty, be comforted knowing their customer service goes above and beyond.
Specs
| | |
| --- | --- |
| Length | 10'6 |
| Width | 31" |
| Thickness | 6" |
| Weight | 24 lbs (23.5lbs) |
| Max Capacity | 280 lbs |
Performance
Judging an all-rounder boards performance is always a finicky thing given there generally isn't one area they excel, for the most of it they are just one of those jack-of-all-trades types of SUPs.
Thurso Surf's Waterwalker is unique in the fact that you can remove all of the fins. Some of you may understand that – some may not. For those who don't, I'll enlighten you!
What we've found is that being able to use an all-rounder as a single fin in flatwater gives the board fantastic tracking abilities. 31" for width also means it's incredibly stable but still not so bulky you slow down. Note: If you're looking for a true touring SUP check out their 11'6″ Expedition!
Then if you are in choppier water or surf where you need to have faster and sharper turning abilities the two side fins give it the extra flex. Again 31" is prime width for being a medium of stability and maneuverability.
The board is also super light-weight making it even easier to maneuver and transport. Thurso claims the board weighs just 24lbs. Since the claimed manufacturer weight is sometimes not exact we always weight boards we test to be sure. The result? The new Waterwalker is actually 0.5lbs less than advertised.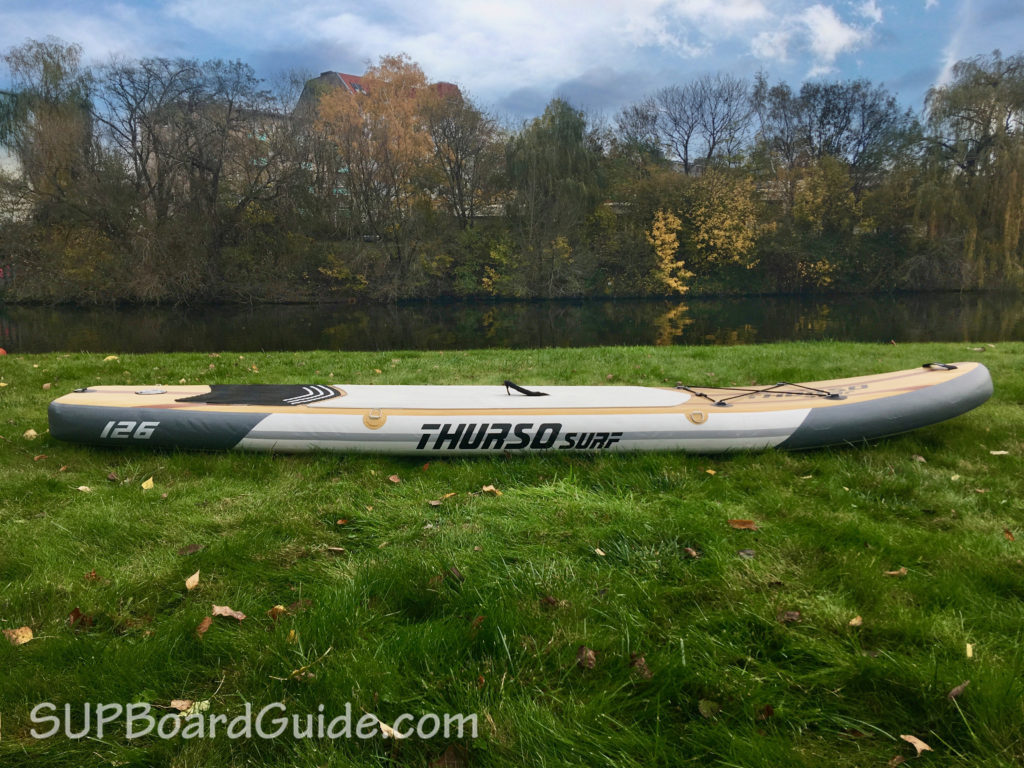 The 11' model is still a fantastic option for the larger rider in flatwater conditions too. Thurso Surf is yet to release a board in their series that disappoints us. When comparing the 11′ and the 10'6 Waterwalker, the only difference is the obvious length. The width and thickness, as well as all the materials, are identical. We found the 11′ excels on the flat water. Its optional single fin setup is great for tracking, and the extra length helps pick up and maintain speed. The 10'6, however, is much more flexible as an all-rounder. You can play with the fins, and the slight difference in length makes it a touch easier to maneuver in small waves.
It would be nice to see their deck pad extend back to the tail and possibly even a tail raise, this would compliment the fin setup beautifully!
It's a super comfortable ride regardless, the deck pad covers ample amount of area to stand or kneel with plenty of cushioning.
You can even give some SUP exercise like yoga a go! The grip and cushioning are all there and the handle in the middle doubles as a secure place to store your paddle.
Features
Fins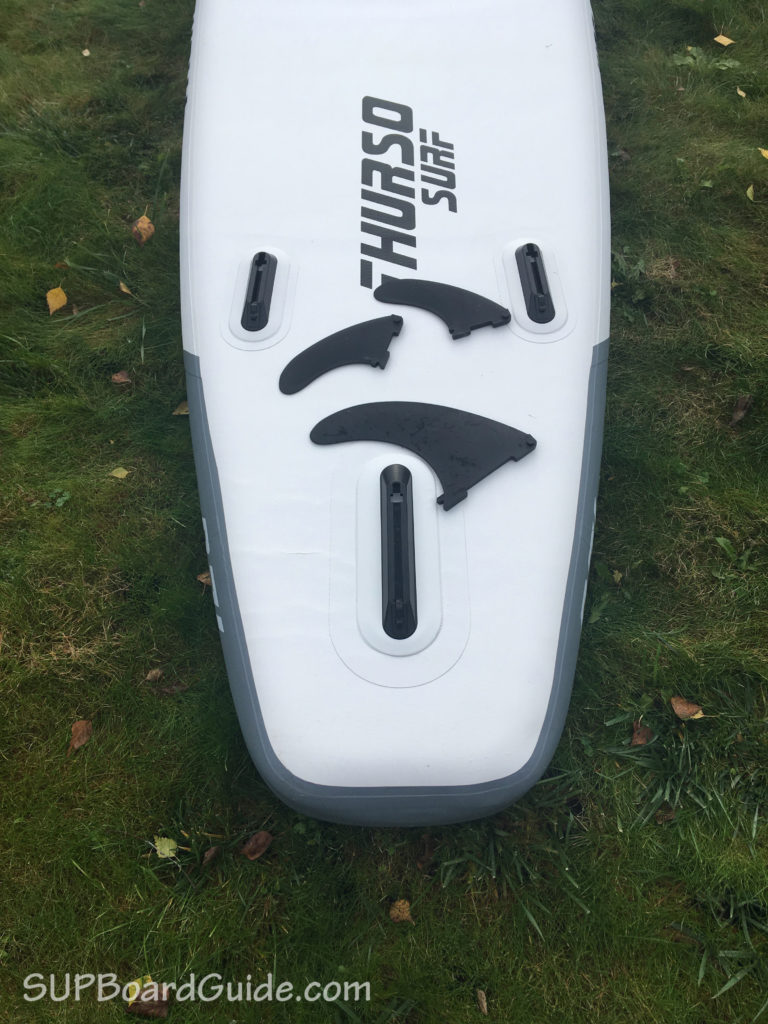 The 11′ Waterwalker was originally released as a single fin board. However, all Thurso Surf boards now feature the previously mentioned 3-fin setup.
All three fins are removable, and you won't need any tools to get the job done! They seem extremely secure, so I wouldn't worry about losing them either.
The downside is that only Thurso Surf is producing these fins so replacements can only be sourced from them.
As far as performance goes with the fin setup, having the three fins, you'll feel a difference in sharper/quicker turning. Sometimes when a board is opted out from a single fin to tri fin, tracking can feel a little more difficult. On a board like the Thurso Waterwalker, the difference is hardly noticeable, the center fin is much larger than the other two side fins, so it still gives a great deal of direction.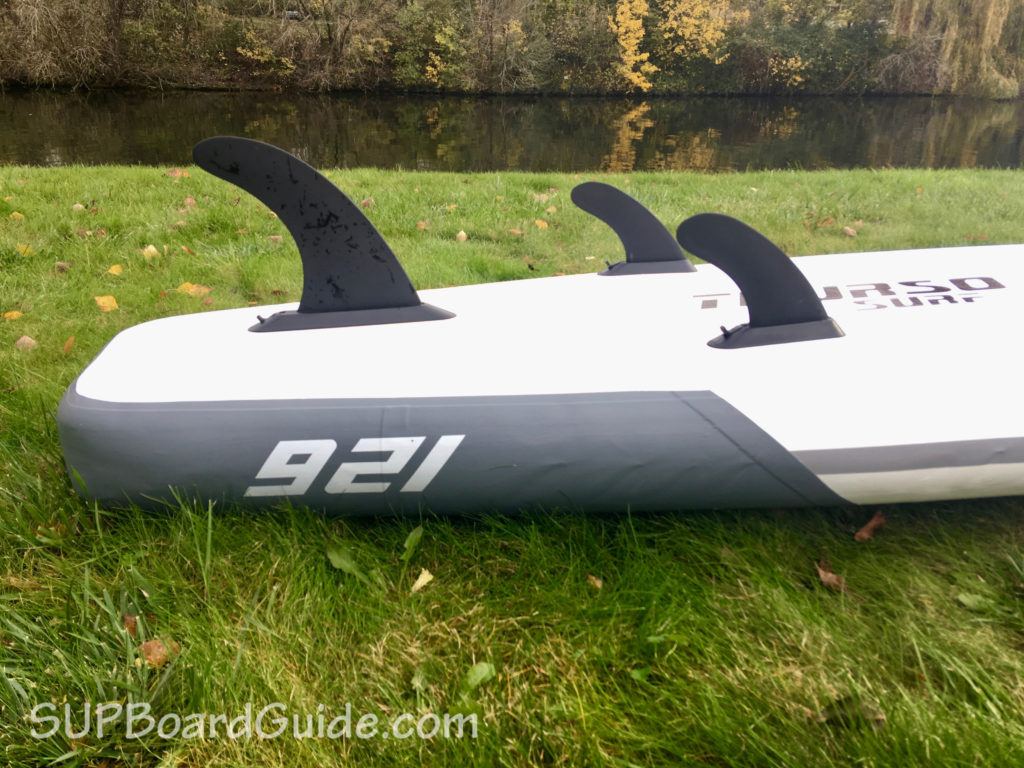 Inflate/Deflate
One of the biggest perks of Thurso Surf SUP's is the added accessories. Not only are they plentiful – they're high quality!
The double-action pump is no exception and takes about 6-8 mins of pumping to reach the optimal 15 PSI pressure. You'll notice the labeling as how to switch back to single action, this is for when the going gets tough, it reduces the resistance when pushing air in.
The pump now also has a deflate option, meaning you can use it to suck the last bit of air out of your board. That's awesome since it's tricky to get all of the air out of the board otherwise. If you've ever deflated and inflatable mattress you know what I'm talking about.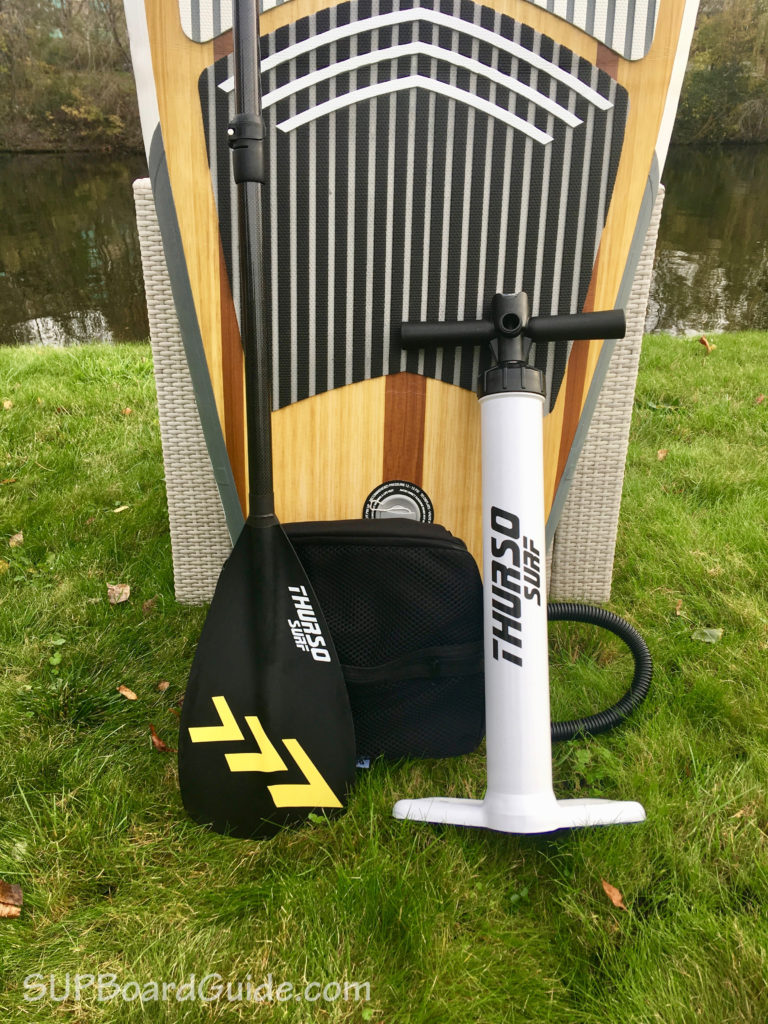 Board Design
The Thurso Surf trademark wooden design is still some of the best design we've ever seen, so we're happy little paddlers to see they've carried it onto into the new models. The wooden looking deck is done so professionally people constantly think it's a real wooden board from afar.
It makes the board a HUGE standout from most other SUPs, you can't help feeling a bit cool when owning one!
Below is a picture of the 10'6″ Waterwalker next to the 11'6″ Expedition.
Check Prices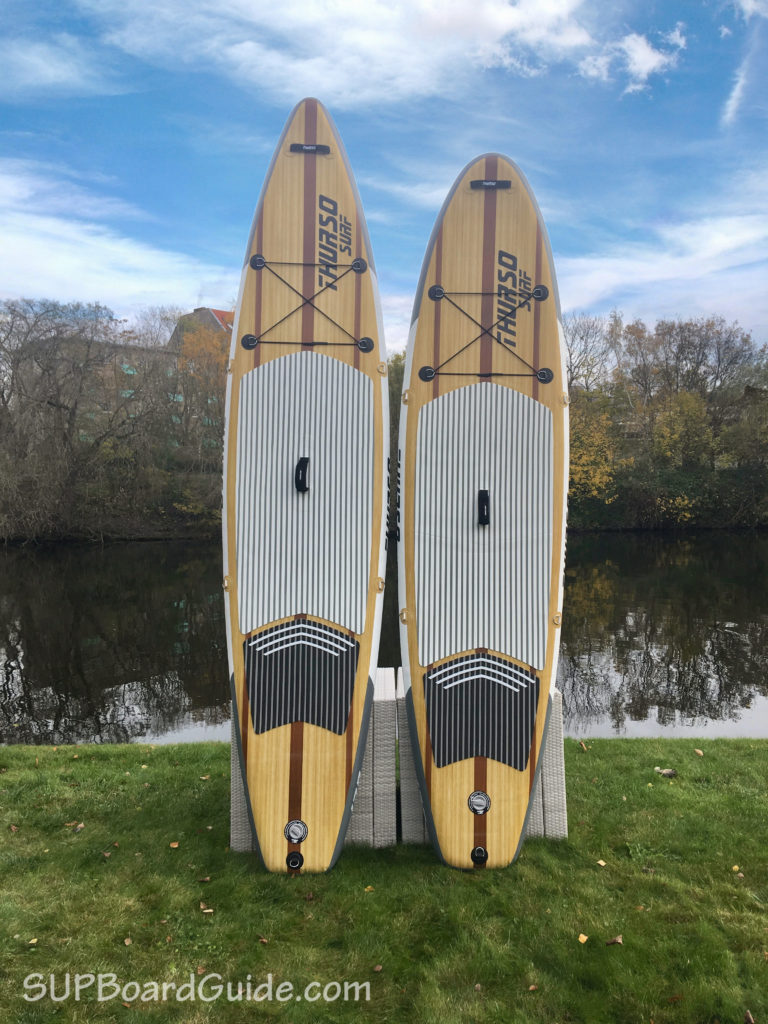 Portability
We already know how great these boards, well the bags really are to transport. The backpack is sensational – still the same as previous years, which I will go into more detail further below.
The added feature this year is on the board itself, a new handle appeared on the nose, super handy (pun) for pulling your SUP in out of the water and carrying it with your SUP buddy.
Accessories
Paddle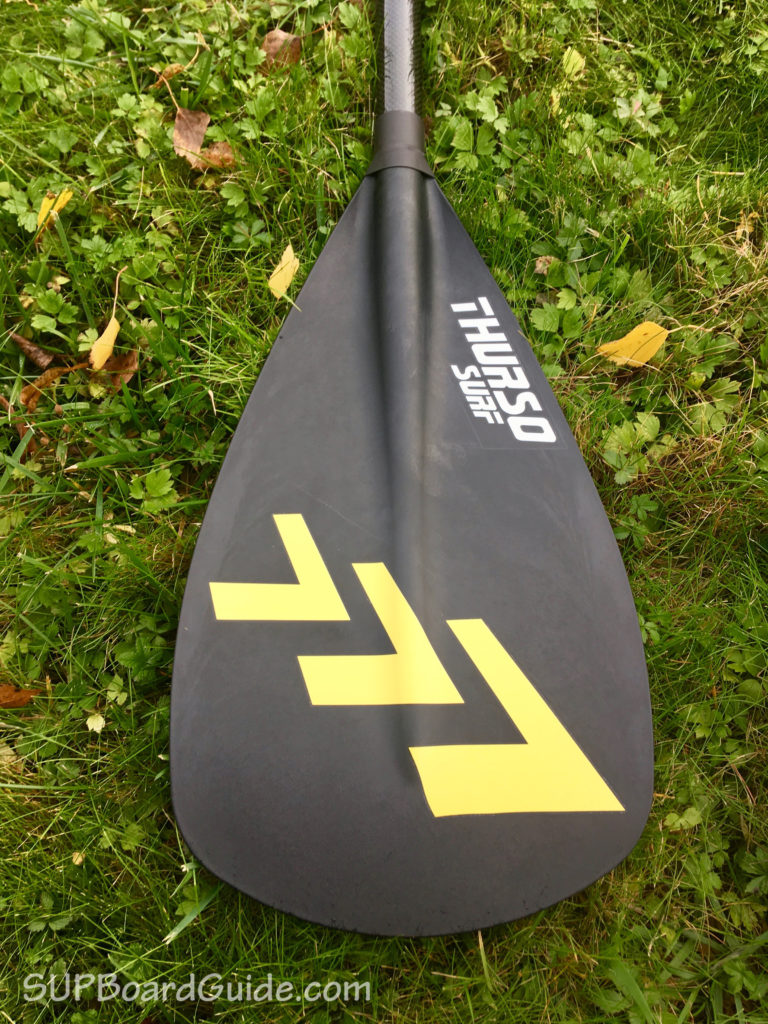 Only the best! We love the carbon shaft paddle, it's really light and propels fantastically. While you can still go one better and get a full carbon fiber paddle, this is one of the very few SUP packages that includes a decent paddle.
Many other inclusive packages you'll get aluminum paddles, they are durable and miles ahead of plastic paddles but still quite heavy – especially on long distances. The carbon shaft dramatically drops this weight.
Not only did we find our performance increases with it, but the paddle also has some unique and wonderful features. Most of these features have been a standard since the beginnings of Thurso. Such as;
Floats
Marked height levels
Simple snap lock system
What's new?
You can insert the handle directly into the blade for a short paddle, which is ideal for beginners who prefer kneeling and need the shorter abilities it provides.
Note: According to Thurso Surf the paddle weighs just 800g. We weighed it and it came out slightly heavier at 900g.
Leash
Straight out and curly is in. A lot of SUPs include a straight leash if any. The Waterwalker includes a coiled leash.
Why?
Coiled leashes are safer (not so much spring back) and easy to store!
Backpack
We've had a few iSUP bags come through our reviews and for the most of it, the bag is there for necessity and not exactly convenient. Again, Thurso Surf hasn't dropped the ball with theirs. The bag you receive with the 10'6 is the same as previous models.
In case you haven't seen the older review or don't know much about the bag, I'll explain a little further.
The bag has full support – waist, back and shoulders. The journey from car to launch area suddenly isn't so arduous and you can get adventurous trekking remotely.
Another issue we've faced with other bags is the lack of room, but not with this bag, plenty of extra room and zips that go the full length – ever so convenient for getting your SUP in and out.
Extras
BOOYEAH! We loooove extras.
And what would be the perfect companion for an already fully loaded SUP package?
Well, somewhere to store my lunch would be nice! Voila, just because the guys at Thurso Surf love their customers all board packages include an insulated lunch bag.
Disclosure: You can store other things than your lunch in there too 😉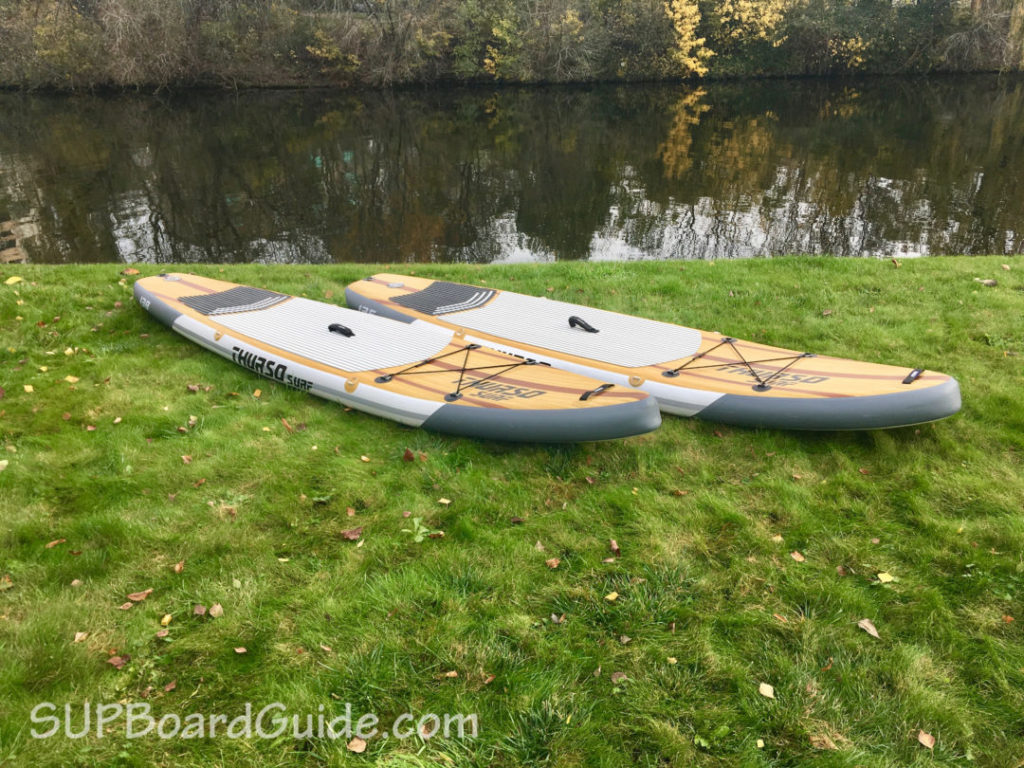 Conclusion
Any level of skill that's looking for an all-rounder that can be fine-tuned to get the most out of in any given conditions – look no further!
Beginners are all over the Waterwalker given its ease of use and being supplied with all necessary gear to get going. Intermediates and experts are getting all chuffy too though! Playing with the fins so they can play in their favorite playgrounds makes us more advanced riders satisfied. Not to mention being supplied with a bag and paddle that are worth using for more than the convenience of just having them supplied.
Though if you are looking for something faster we still recommend checking out their Expedition. It's a lightning bolt on the flat water and incredibly fun to paddle.
You'll see many similarities to the 11'. The 11′ better suits those doing long hauls on flatwater and the bigger riders or anyone taking extra weight with them.
Really – between this board, the Expedition and previous 11', there is a choice for everyone. They produce the top boards for the value we've had the pleasure to review.
The following two tabs change content below.
SupBoardGuide Editorial Team
At SupBoardGuide.com we are a team who love the water, the outdoors, and are more than grateful that our full-time job allows us to review stand up paddle boards. We paddle year round (it helps that we are just about 2 hours outside of Las Vegas), and we bring in a wide range of paddlers with the goal of providing our readers with the best, most in-depth, and accurate stand up paddle board reviews.
Latest posts by SupBoardGuide Editorial Team (see all)