Thurso Surf Waterwalker 120
Pros
SUP is great for shorter, lighter paddlers.
Versatile all-around SUP with good performance
Dual-layer construction + carbon fiber reinforced rails. SUP is built to last, but easy to carry around as well.
A ton of great accessory mounts, including D-rings, an action mount, and bungee cargo cords. Also a rare SUP with a built-in paddle holder.
Great wheeled backpack and carbon fiber/nylon paddle. New dual-action pump design is outstanding
Stellar wood design with 3 color options
Cons
Paddlers who are 5'8'' and taller may struggle with the Waterwalker 120 if they are brand new to paddleboarding. Consider the Waterwalker 126 or 132 if you are a larger paddler.
Would like to see the action mount moved to where you can reach it while paddling.
*Note – the video review above is the review of last year's Waterwalker series. We will have updated video reviews of the Thurso Walterwalker 132 soon!
Last year's version of the Thurso Surf Waterwalker 120 was one of our favorite all-around paddle boards for smaller paddlers. So, while not much has changed, the 2023 Waterwalker 120 continues to be a great SUP. This is a very maneuverable SUP, while also providing great weight support along with solid tracking and a smooth glide thanks to the rigid dual-layer construction and carbon fiber rails. The deck pad feels cushy while providing some nice grip support while paddling, with a slightly revamped design but two additional color options available.
The backpack and paddle have been revamped, but the true highlight of the paddleboard kit is the improved dual-chamber pump, which cut down our manual inflation time by almost half. Overall, Thurso Surf made some nice, subtle changes to their boards this year, with the most prominent being moving to a dual layer PVC with woven drop stitch. This drops 1.5 lbs off the board vs previous models, and gives the boards a slightly more responsive feel in the water.
Whether you're brand new to Thurso Surf SUPs or just want to find out what has changed for this year, read on for our full review of the 2023 Thurso Surf Waterwalker 120 inflatable paddleboard!
The 10' Waterwalker 120 is an all-around SUP, so it's designed for trying out a little bit of everything while you're out on the water. If you're on the fence about buying a paddleboard for yourself, consider the Waterwalker 120 if you are among the following:
A beginner to intermediate paddler who wants a stable SUP that is very easy to maneuver with.
You're a more experienced paddler that wants a good secondary all-around SUP that is easy to travel with but doesn't compromise on SUP performance.
A shorter paddler who has struggled with larger all-arounds. A particularly good paddleboard option for paddlers 5'7'' or shorter.
A paddler who is interested in a paddleboard with a soft yet grippy deckpad. New design that looks even better than last year's model.
Someone who wants a paddleboard that is very durable, but without being too slow or heavy in the water. Dual-layer construction with triple/quadruple PVC coating protection.
We think the Thurso Surf Waterwalker 120 would do great in the following situations/water conditions:
Flat water paddling
Recreational paddling
Ocean paddling
Surfing in small waves (1-3 ft)
Thurso Surf Waterwalker 120 Review: Overview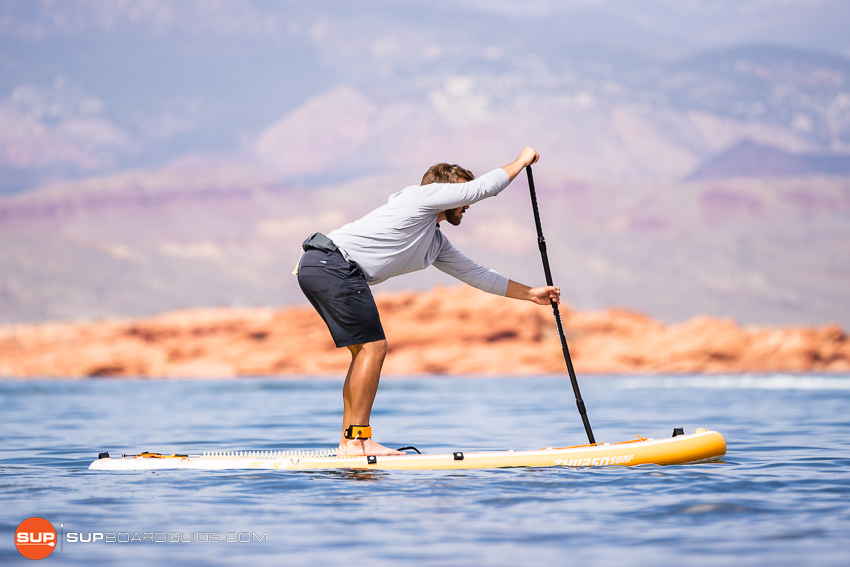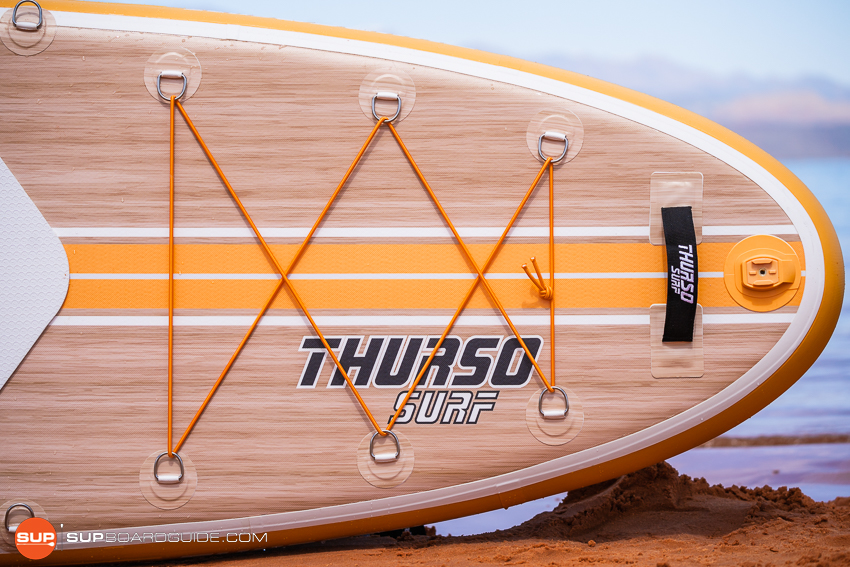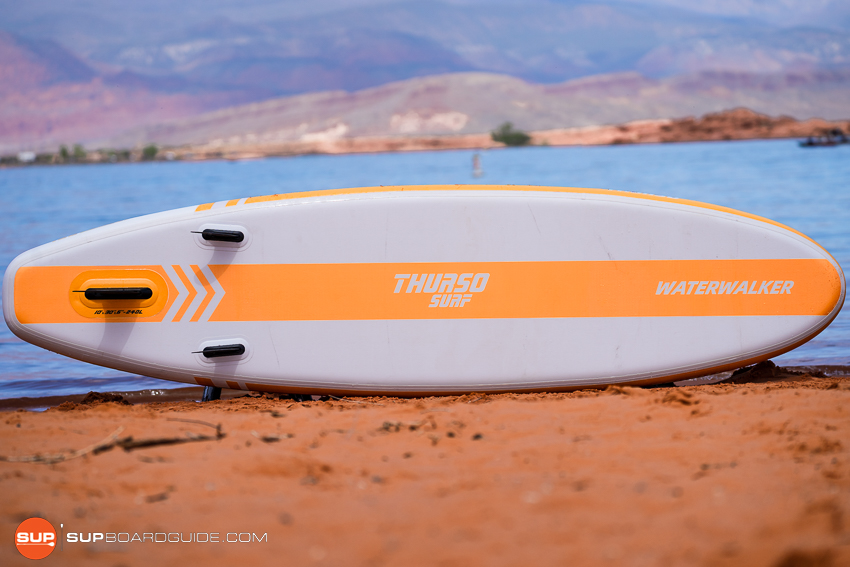 Note: We paddle all of our test boards quite often. We put them through as much different testing as we would expect to see in the real world. We do not write spec reviews. We are constantly updating our rankings to ensure you, the consumer, get the best information possible when making your purchasing decision.
Thurso Surf Waterwalker 12: Spec Sheet
| | |
| --- | --- |
| Main Category | All-Around, Inflatable |
| Board Dimensions | 10' x 30" x 6" |
| Listed Board Weight | 24 lbs |
| Listed Max Capacity | 260 lbs |
| Recommended PSI | 12-15 psi |
| Fins | 3 removable quick lock fin setup |
| Paddle | 3 piece carbon fiber shaft, nylon Blade |
| Materials | Triple Layer PVC, drop stitch core + Carbon fiber composite reinforced side rails |
| Price Range | Mid range |
| Warranty | 2 years |
Official SupBoardGuide.com Test Results: Thurso Surf Waterwalker 12 (2023)
Overall Score: 9.2
We believe that the Thurso Waterwalker 120 performs very well as an all-around iSUP for shorter and lighter riders. At 30" wide, it's easy for shorter paddlers to maintain a vertical paddle stroke, and the board also glides very well on the water.
Stability: 8.7/10

Speed: 8.5/10

Tracking: 8.4/10

Maneuverability: 9.5/10

Construction Quality: 9.2/10

Accessory Review: 9.5/10
Our overall rating of 9.2 on the Thurso Waterwalker 120 is us saying this is a great option for those looking for an all-around inflatable SUP in 2023 and is one of our top rated inflatable SUPs for 2023, especially for smaller paddlers.
In-Depth Review of the Thurso Surf Waterwalker 120 Stand Up Paddle Board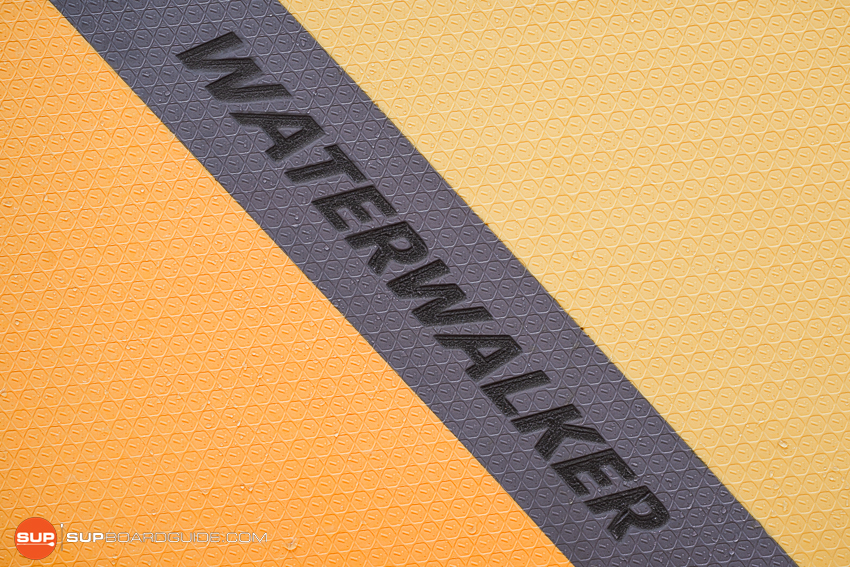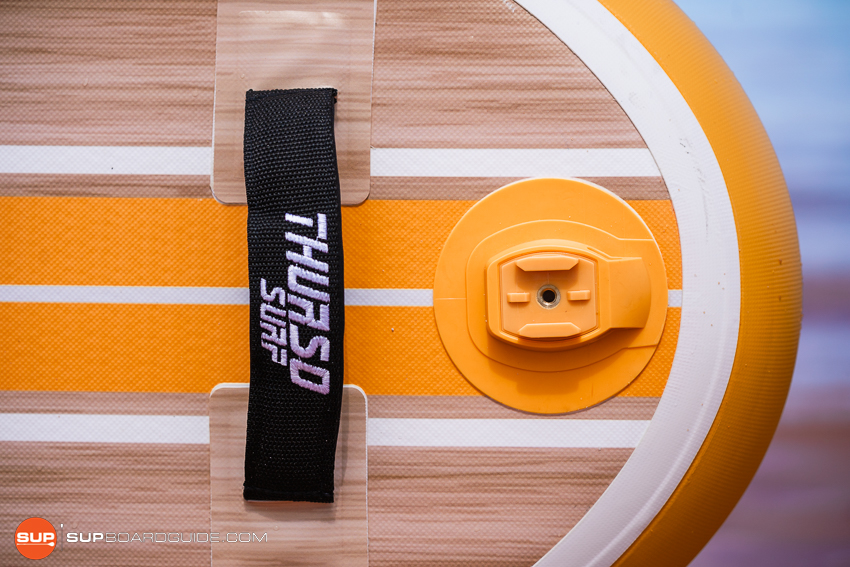 We found the Thurso Surf Waterwalker 120 to be more stable than what you would expect from a 10'x30" iSUP. While the 120 is the option for smaller paddlers, it still performed really well with our stability tests, and I've had no problems paddling with my younger children (it's a little small for me and my 14 year old son who is 6'0 tall).
Stability Rating: 8.7/10
Board Stiffness:

Stiffness Test: .8125" bend at 15psi (board placed on 2 sawhorses 7 ft apart, with 150 lbs placed over center handle of board)
Despite the controversy, we are going to say that currently, in our tests, carbon rails are adding stability to boards where it's included. We will of course update as more results come in, but based on our initial findings these carbon fiber reinforced rails are more effective at getting a board to hold it's shape. The 10' Waterwalker did surprise us in that it performed just as well as the 10'6 and 11' Waterwalker models.
Bottom line, Thurso Surf has managed to make a line of iSUPs that are extremely firm and retain their shape very, very well. We attribute this to the high quality materials used in the new woven drop-stitch + the reinforced carbon fiber rails.
Weight Capacity:

Listed Weight Capacity: 260 lbs
Tested Capacity: (coming soon)
We always liked how stable the Thurso Surf Waterwalker series feels in the water, and despite being the shortest SUP in the lineup the Waterwalker 120 still has great stability for beginners and expert paddlers alike. Even the newer paddlers on our team felt comfortable going out on the Waterwalker 120, with the 260 lbs weight capacity being a soft cap that can be exceeded with experience.
The overall great construction, along with the carbon fiber reinforced rails, is what makes the Waterwalker 120 as stable as it is. While we wouldn't try to stick two adults on it except for horsing around, a lighter adult who wants to go out with a pet or kid should be able to do so if they have some basic SUP experience.
Heavier and taller adults can go out on the Waterwalker 120 and feel great, especially if they have paddling experience. This is a shorter SUP though, which are typically designed for smaller and shorter paddlers. If you're taller than 5'8'', we would recommend considering the Waterwalker 126 or 132 over the 120 model. However, the Waterwalker 120 is the lightest of the three SUPs, so if you need something to hike or travel long distance without sacrificing performance, the Waterwalker 120 is the best option to consider.
Speed Test: 8.5/10
Speedwise, we found the Thurso 120 to be just a little slower than the 126 and 132 Waterwalkers. I know we keep talking about the 10' length of the 120, but that is because it's the limiting factor when we are talking about speed. With a shorter waterline, you generally won't go as fast as you would with a longer board. Just Youtube race SUPs, and you'll see what we mean – those boards are going to be 12'6 to 14' long. Longer board = faster board.
However, it's not just that simple. Width also comes into play. A thinner board will have less resistance and can then in theory paddle faster. Thurso designed their Waterwalker series so that as you step down to shorter boards you also get a thinner board. While this doesn't help with stability, it does with speed. As such, for smaller paddlers you can still paddle pretty fast (for an iSUP) on the 10' Waterwalker 120.
Tracking: 8.4/10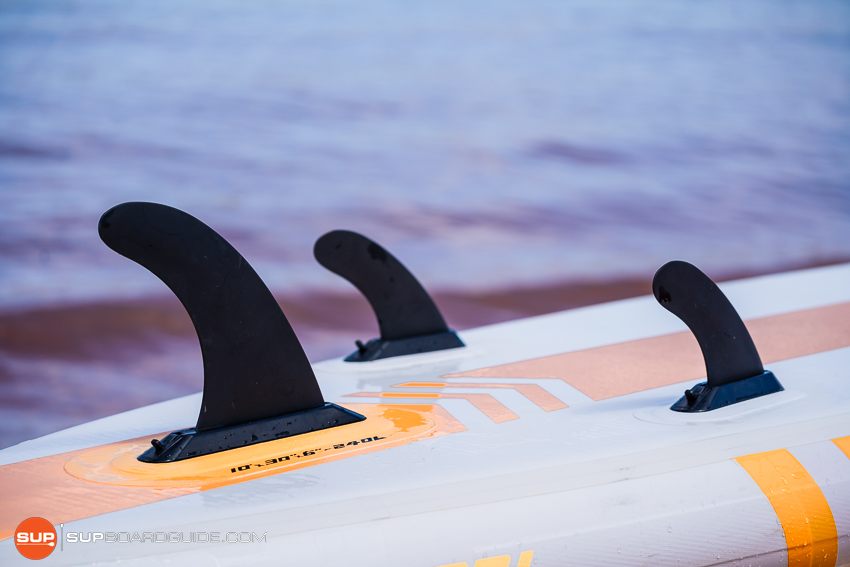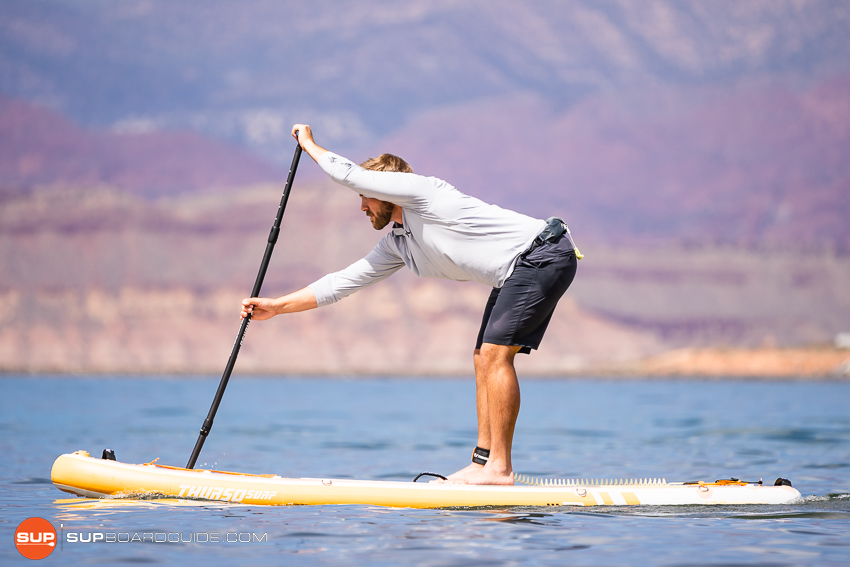 It may be the shortest of the Waterwalker lineup, but the Waterwalker 120 still has good tracking that makes it easy to get where you want to on the water. Part of the reason is that, while it may be shorter, the 30'' width is a bit thinner compared to what you typically find in an all-around, making it easier to 'reach over' and maintain a vertical paddle.
There is a way to further improve your tracking and overall performance, and that is by making use of the tri-fin setup. The Waterwalker 120 uses snap-lock fin boxes, allowing you to install two side fins, a longer center fin, or all three fins at the same time. The center fin will improve your tracking, while the side fins will tighten up your turn radius for even better maneuverability. When all three fins are used together, you'll find that you're more stable due to reduced rocking in the water. We typically use all three fins together when we go out paddling, but make sure to take the center fin out if you paddle out on shallower water.
Maneuverability: 9.5/10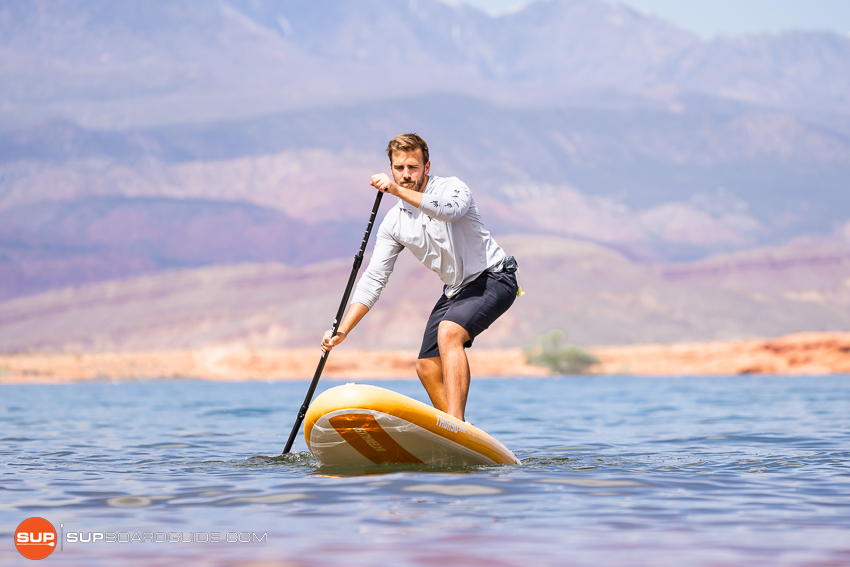 The maneuverability is the main draw of the Thurso Surf Waterwalker 120. At just 10' long, this is the easiest paddleboard to turn and maneuver with, allowing you to dodge obstacles with ease as you explore every nook and cranny in the water.
The decreased weight and short SUP length also means this is a fantastic option for those wanting to really pivot on a dime around a buoy with a step back turn. Yes, the learning curve of the step back turn is going to be a little steeper for beginners on the 120, but if you want a highly responsive and nimble paddleboard, we would definitely recommend considering the Thurso Surf Waterwalker 120.
Construction Quality: 9.2/10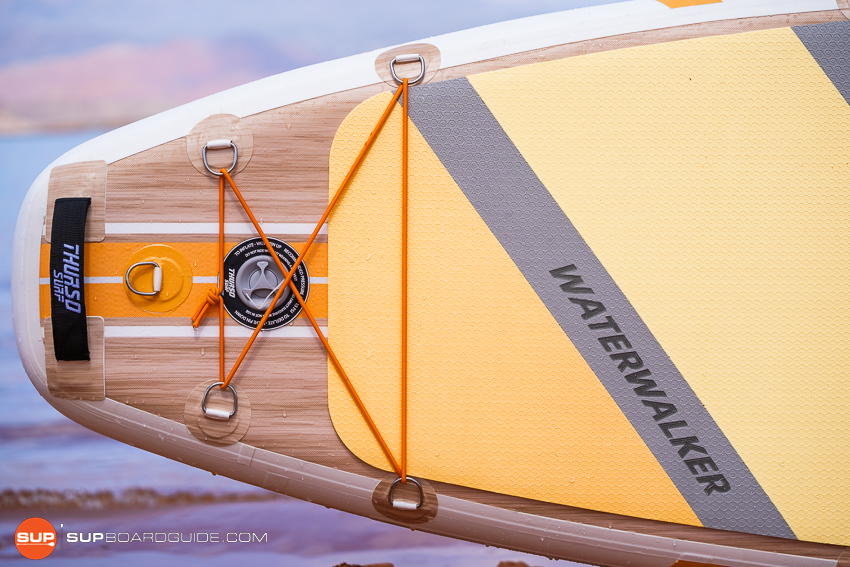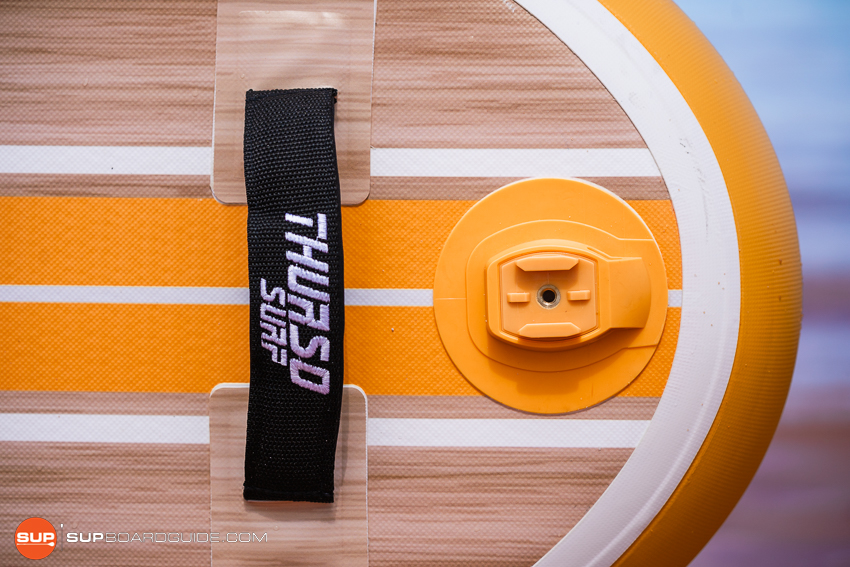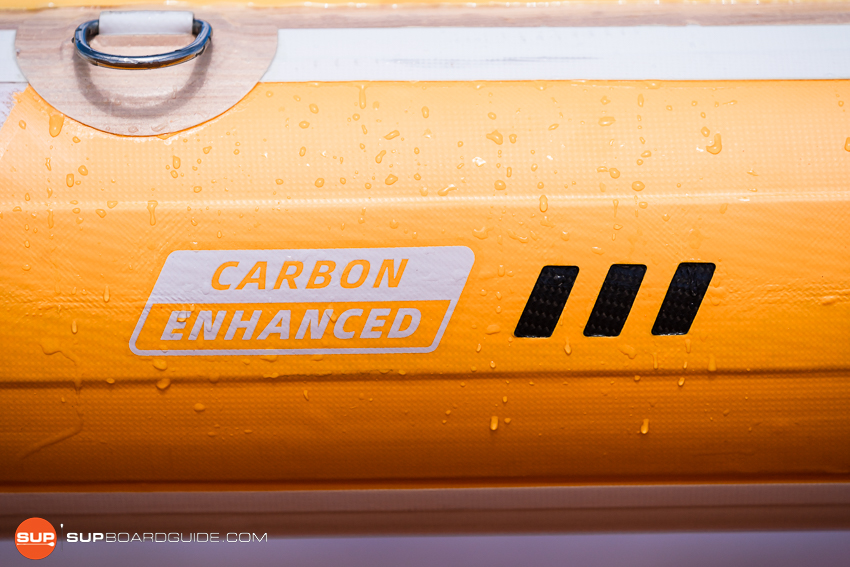 Thurso's SUPs always have a nice, high quality feel to them. This year's Waterwalker series is not different. They not only feel great on the water, but we found them to have a quality feel during our "poking and prodding" test of the board.
The Thurso 120 follows the same construction as the other Waterwalkers, with a dual-layer PVC construction, woven-drop stitch inner core, and carbon fiber reinforced railes. The end product is a very 'solid' inflatable SUP, which we verified with our bend test. Thurso uses quality materials in each component on their boards.
The Waterwalker 120 is also lighter than previous versions. Instead of a triple layer PVC, Thurso went to a dual-layer construction. They also changed to woven drop-stitch. The end result is a 10' iSUP that weighs in at around 22.5 lbs vs 24 lbs like last year's model. From a performance standpoint, it didn't change much – the 120 still performs very well. However, we personally think the lighter weight board has a more responsive, fun feel to it now that it's lost a little weight. Kudos to Thurso for doing that without compromising the quality of the board.
Features/Accessories: 9.5/10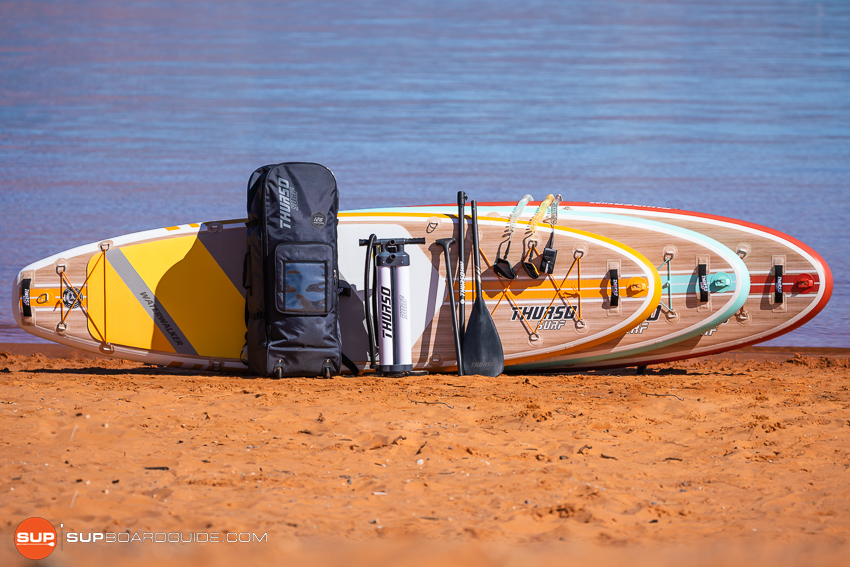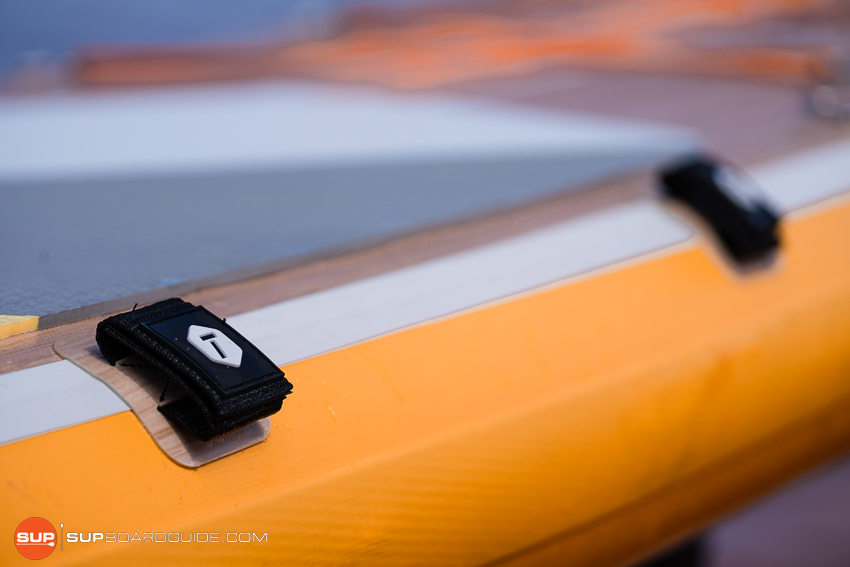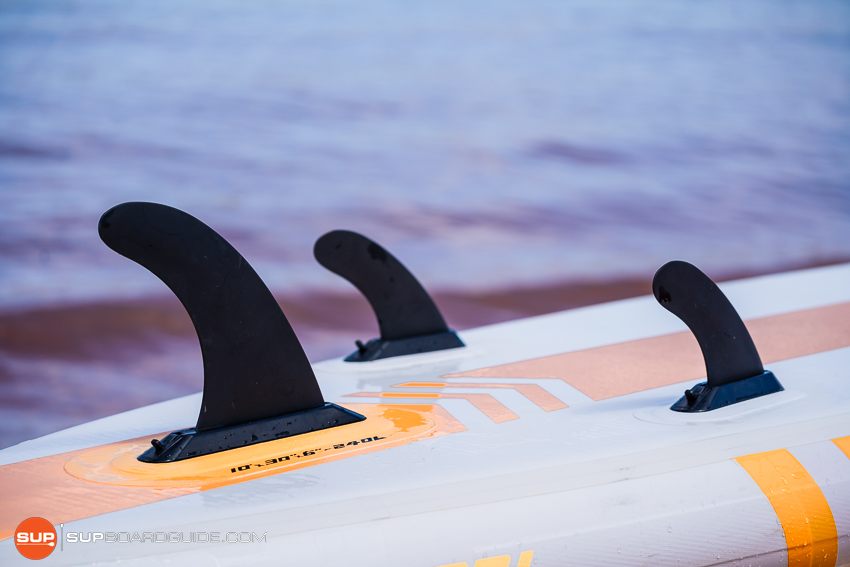 The main features you find with the Thurso Waterwalker 120 include:
Carbon fiber reinforced Rails.
Dual-layer military grade composite PVC Construction.
15 D-rings + Nose Action Mount
Dedicated velcro paddle holder
3 Carry handles (front, middle, tail)
Dual cargo bungee areas
Textured Stamp Logo EVA deck pad.
We really like all the accessories Thurso Surf included with the Waterwalker 120:
3 piece carbon hybrid paddle
Dual chamber, triple action pump
10' double swivel leash
Compact, padded roller backpack
Standard SUP repair kit
For the most part you get everything you need to get out on the water. We will go in depth with some of the pieces below but know this: you get a lot of value here.
Paddle: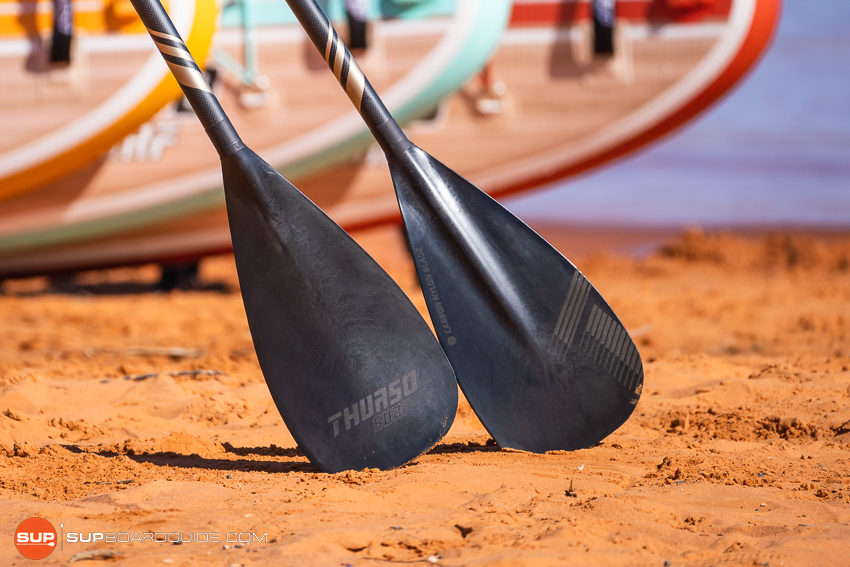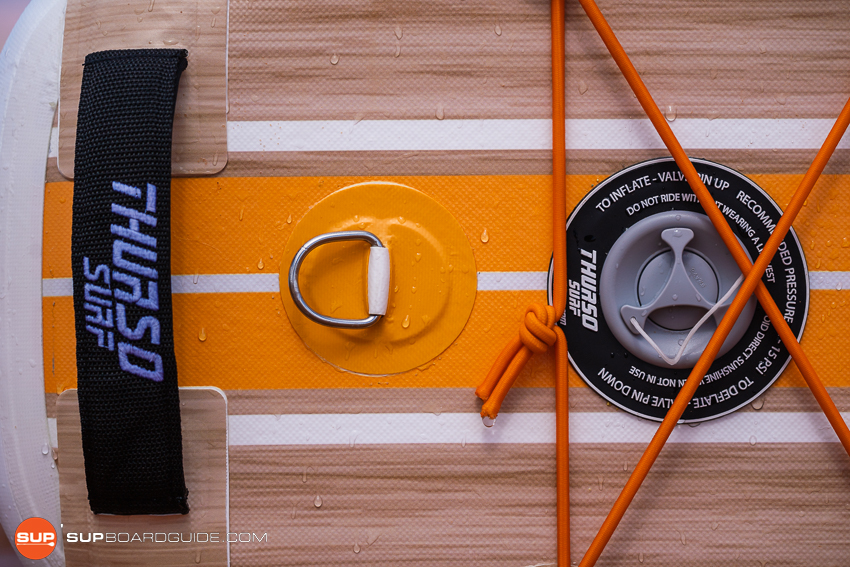 The Thurso Surf Waterwalker 120 comes with a 32 ounce carbon fiber paddle shaft and nylon paddle blade. Carbon fiber is considered one of the best material bases for paddle shafts, and is often only packed in with premium paddleboards due to its great rigidity, feel, and lightweight nature.
At 32 ounces, we do think the paddle is just a tad bit on the heavier side, but that is less due to the shaft and more due to the nylon paddle blade. Given the price of the paddleboard kit, we think that the included paddle is a good option, but we would recommend customers upgrading to a carbon blade once they've reached an intermediate or advanced level.
The paddle comes in three pieces, which can be assembled together or broken down in seconds. By coming in multiple pieces, the paddle is very easy to store in the included backpack, while also allowing you to adjust the paddle height on shore or even out on the water. We have tested and can confirm this paddle will float in the water if you drop it, but be sure to grab it quickly as it can float out of reach in fast moving water.
Pump: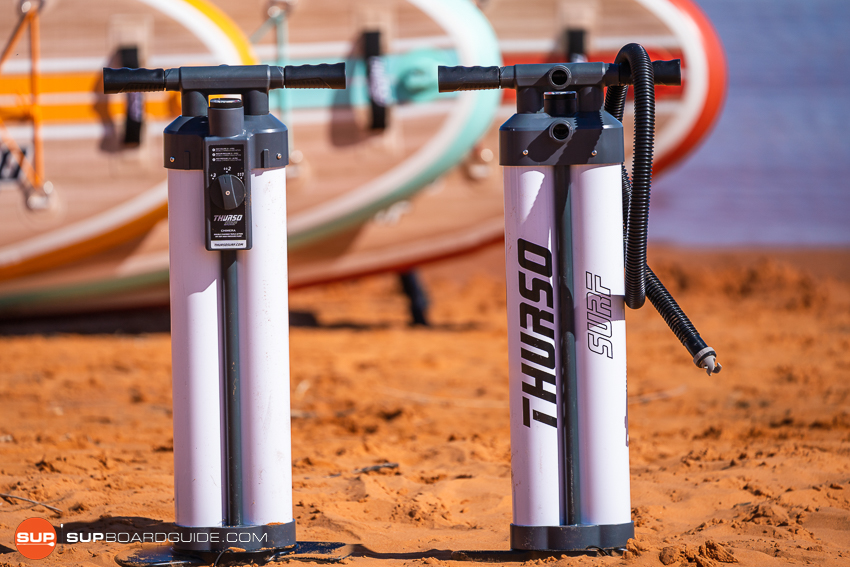 The Waterwalker series comes standard with Thurso's new, dual chamber, triple action pump. We found the pump to be an excellent kit option, and really like the way it kind of breaks down to be as slim as possible. Yes, it's heavier than single chamber opinions, but we prefer the dual chambers simply because it makes it a ton easier to pump up your board.
Of course, we still recommend looking at an electric pump for your SUP. This recommendation is especially true for smaller paddlers, as pumping in the last 3-4 PSI does get hard with any manual pump for those under 130 lbs.
Backpack: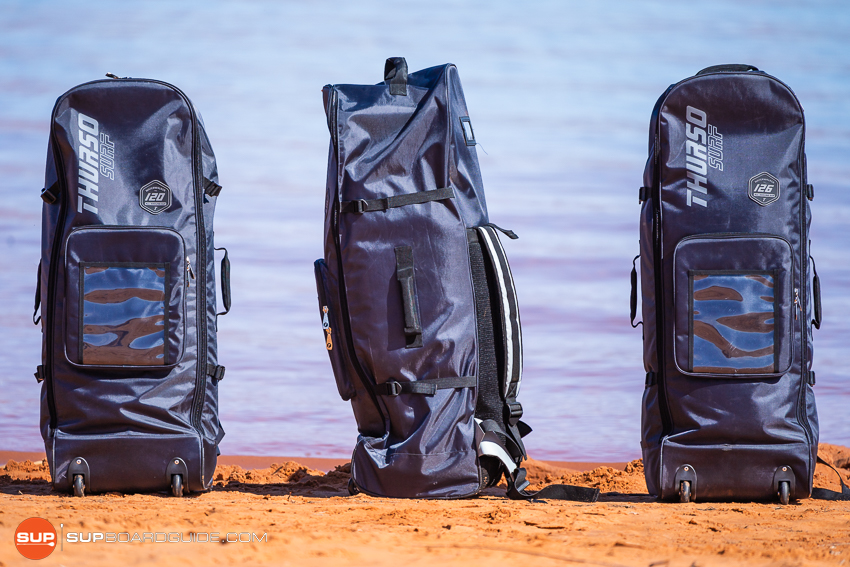 We really like what Thurso has done with their backpacks the last two years. Last year, Thurso completely revamped their backpack. This year, they didn't change as much but have added a few nice touches – like the labeling on the outside of the bag.
The bag is for sure large enough to fit the 120 model, along with all the accessories, and we think this is the perfect size bag for a 10' board (we find the bag to be a little on the small side for the 126 and 130 models).
The bag is made with a nice, thick nylon outer shell with quality zippers throughout. You get one large main compartment along with a smaller front zipper pouch. We find ourselves putting the fins and leash in the zipper pouch, and the board + paddle + pump in the main compartment.
In terms of traveling with the bag, there are three carry handles, a padded backside with adjustable straps, and front roller wheels on the Thurso Surf backpack. Whether you're traveling a short distance to get to the water, a long hike through the woods, or by airport to go across the country, the thick nylon Waterwalker 120 backpack will keep your gear safe while you travel.
Optional Accessories
Thurso offers a decent amount of additional accessories to use with your Thurso Waterwalker 132. Some of the notable accessories include:
Electric Pump
SUP Kayak Seat
SUP Deck Bag 20 Can Soft Waterproof Cooler
SUP Deck Bag 10 Can Soft Cooler
Paddle Board Carrying Straps
Waterproof Phone Case
Replacement Parts
Summary Review of theThurso Surf Waterwalker 120
The 2Thurso Surf Waterwalker 120 is a great all-around paddleboard for shorter or lighter paddlers, or those who prefer to go out on something with great maneuverability. While its ease of turning is its main draw, the 260 lbs weight capacity and the solid overall tracking and glide with quick acceleration make it a good paddleboard in every major performance factor. The other design elements, from the many accessory mounts to the grippy yet soft deck pad look better than ever, with a few new design flourishes that further enhance the unique Thurso Surf design.
Thank you so much for reading our review of the Thurso Surf Waterwalker 120! Our goal was to discuss the paddleboard kit in as much detail as we can, but we know we can't hit every question our readers might have. So, if there's anything you want to know about this paddleboard we didn't get to in our review, just leave a comment below or send us an email with your question. While we work hard to have the best paddleboard reviews on the internet, we also try to publish helpful informational guides, ranked paddleboard lists, and other tips and tricks to help new and expert paddlers alike. You can also expect video reviews on popular paddleboard series, like the Thurso Surf Waterwalker paddleboards, at our SUPBoardGuide.com Youtube channel.
The following two tabs change content below.
Justin - Chief Paddler
Heyo! At SupBoardGuide.com we are a team who love the water, the outdoors, and are more than grateful that our full-time job allows us to review stand up paddle boards. We paddle year round (it helps that we are just about 2 hours outside of Las Vegas), and we bring in a wide range of paddlers with the goal of providing our readers with the best, most in-depth, and accurate stand up paddle board reviews.
Latest posts by Justin - Chief Paddler (see all)