120 ThursoSurf Waterwalker
Pros
Lots of board features
Great bag / paddle
Ideal for smaller riders
Durable materials
Nice design
Cons
Pump can be improved
I would prefer less board features being a smaller board, easier to move on the board and less weight

Looking for that smaller all-arounder that can be used in more versatile conditions?
Thursos new 120 is a fraction smaller than the 10'6″ Waterwalker making it a great board for juniors and smaller paddlers. Of course being smaller but still boasting great performance makes it a more ideal option for trickier conditions too.
Specs
| | |
| --- | --- |
| Length | 10′ |
| Width | 30" |
| Thickness | 6" |
| Weight Capacity | 260 lbs |
| Weight | 24 lbs |
Performance
I so far have loved every single Thurso board so it's not a huge surprise I like this one also. Especially because I am the kind of rider this has been built for. Singling out the petite riders, Thurso made an all-around much like the Waterwalker 10'6 and 11′ Waterwalker but a touch smaller.

It's much easier to maneuver than previous models given the smaller size, though I found to get a smooth line happening (tracking) a little harder. Though smaller, it's still quite wide and the stiff rails make it very stable. Obviously, for bigger riders, this may not be the case, but if that's you, you need to look at the 10'6″ because it really caught my attention this year.
Again, it's also the speediest board but it was super pleasurable as a gentle, cruisy ride around the calm river. It even held a couple of smaller framed riders easily and they had a great time. Especially for beginners, a huge board can be a bit much to get used to, so this is a perfect entry level board for the smaller rider or even teens going on young adults.

It's a lovely paddle and does move quickly so you'd be okay in small waves to light rapids, but I wouldn't recommend it for that sole purpose. It's better off being used as a general paddler for calm conditions.
Materials
Starting at the beginning, Thurso boards are made with a drop stitch core which is held together by the first layer of PVC. Then an additional layer is wrapped around the whole board while the rails see one more layer again for extra durability and stiffness.

When the weight on board starts to spread unevenly, say you are moving around a bit, the extra rigid rails help maintain balance. The PVC used is some of the best available and super tough. While on top of the board, the deck pad is a super thick and comfortable foam, the grooved edges providing the traction.
Board Design
First Thurso bought out the Max as the bigger all-around alternative and now the 120 as the smaller! It's great to see them covering all basis. The 120 is a bit smaller than the 10'6″ Waterwalker making it more ideal for smaller paddlers or those wanting the extra maneuverability.

Though slightly smaller, Thurso hasn't held back onboard features. There are the 6 d-rings with bungee on the nose as well as the smaller area behind the paddler on the tail.  While then there is every so useful handle located on the nose, center, and tail. Things like these extra features can weigh a board down a little but if you are just wanting a cruisy board that is also convenient, then it's a worthwhile payoff.
In the middle of the board is 4 more D-rings with are there for the option of a kayak seat, and one last D-ring at the tail for your leash. On the side of the board, you'll notice the velcro straps, these are for your paddle. The best paddle holder I've seen so far, keeping it completely out of the way but secure too. It does become very useful in many situations!
Features
Inflate/Deflate
One nice feature of smaller boards is that they take less time to inflate! Be up and ready to go in about 8 minutes. Though if you are a regular SUP user I'd consider getting one of the Thurso compressors (listed below).

After opening the valve and releasing the majority of the air, you'll need to push the last bit out. Alternatively, use the deflate option on the hand pump that is attaching the hose to the hole labeled "IN". It helps to get that last bit of air out and therefore makes rolling the board up a bit easier.
Fin Setup
Use the tri-fin setup for great maneuverability or just the single center fin for a little more tracking. All fins being removable isn't just great for the versatility it also makes the board easier to roll up. Each fin is secured with a latch that you push down after you've inserted the fin. Easy and quick install/uninstall! The fin boxes are designed for only this type of fin but this is the best fin setup you can expect to see in this price range!

Accessories
Paddle
Thurso Surf is the only company in the mid-range priced bracket that includes a carbon shaft paddle. It is a real stand-out extra! The paddle breaks down into 3 and holds together at the joins with pin and backed up with a clasp. It's a solid paddle that I don't feel much flex from.

The paddle blade is a nylon head that can handle pushing off rocks without being damaged.  Another perk is the width of the blade offers some stability while paddling. Additionally, the dihedral shaped blade is ideal for deterring flutter and keeping your stroke smooth and strong.

Backpack
Thurso outshone their backpack from last year tenfold with the 2019 range. Minus their prodigy juniors board, every Thurso SUP comes with this high quality, suave looking bag. You can carry it or wheel it, with both options being just as ideal as the other depending on your conditions. The straps have been made to support and protect your back, while the wheels are durable enough for rocky surfaces.
Inside you'll find heaps of room for your board as well as extra gear and a cinching strap to keep the bulk in place. On the outside, there's one more pocket, which I find convenient for any extras you want to be able to get to easily. All in all, this is such a fantastic value piece of the Thurso package that I'm still finding impressive!
Leash
All Thurso boards come with a SUP leash for your safety. It attaches to the D-ring on the tail of the board and can then attach to your ankle/calf. These SUP leashes are coiled so they don't fall into the water and get snagged easily. I have no complaints with the Thurso leashes!

Pump
Thurso includes a dual action, high-pressure pump to inflate your SUP with. It's also got a hose hole for inflating as well as deflating. Use the "In" to deflate and "Out" to inflate. While it easily gets the job done, I do really like iRockers double chamber pump, which their boards in the same price range. I would love to see an upgrade in Thurso as well as I already love a lot of what else they have to offer, more than their competitors.

Repair Kit
A couple of patches and a valve wrench and you're a DIY fix-it master! Use the patches on any damage you fear may leak air and the wrench to clean out the valve free from sand and grit.

EXTRA GOODIES!
Electric Compressor 
This compact compressor is a little beast. It inflates boards in about the 8-10 min mark and is super easy to use. You can plug it into any 12V port, then set your desired PSI and away she goes! One little extra feature I would like to see is the ability to also use it with alligator clips on batteries.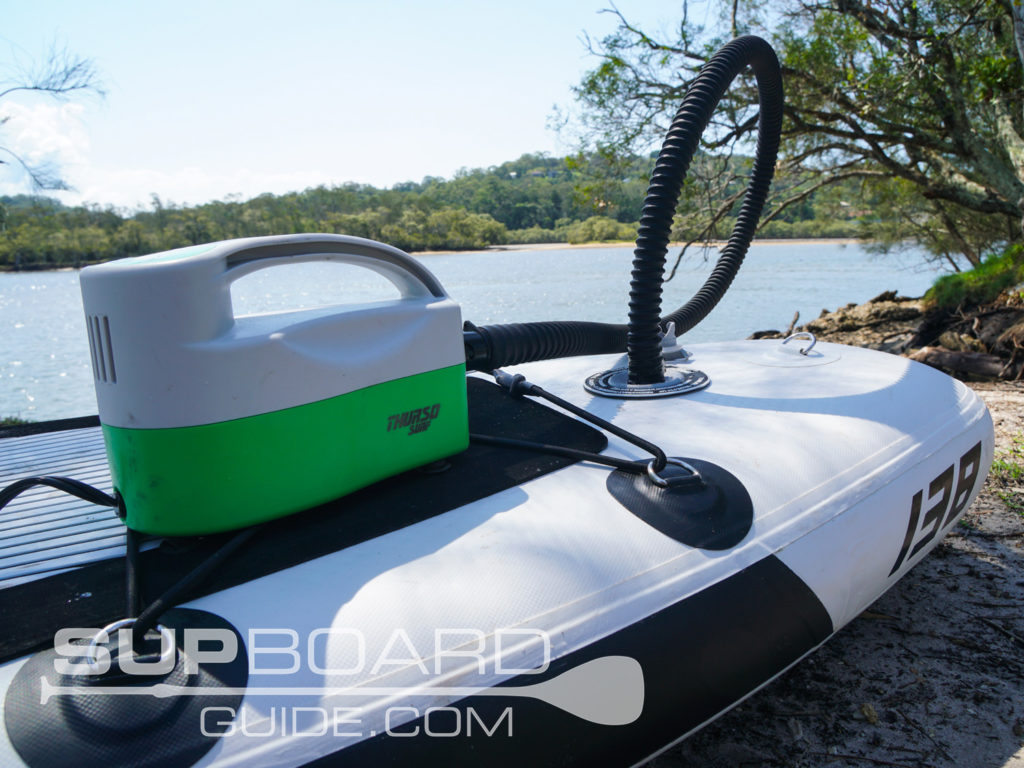 DeckBag + Bag Strap
Keeping things organized and fresh is the insulated deck bag. It clips onto the board at any of the D-ring points via its own little clips. Great for taking snacks and drinks along.

Sunnies + Hat
Some swag to get you looking the full part! Polarised sunnies, I particularly love the wood grain look they've continued with.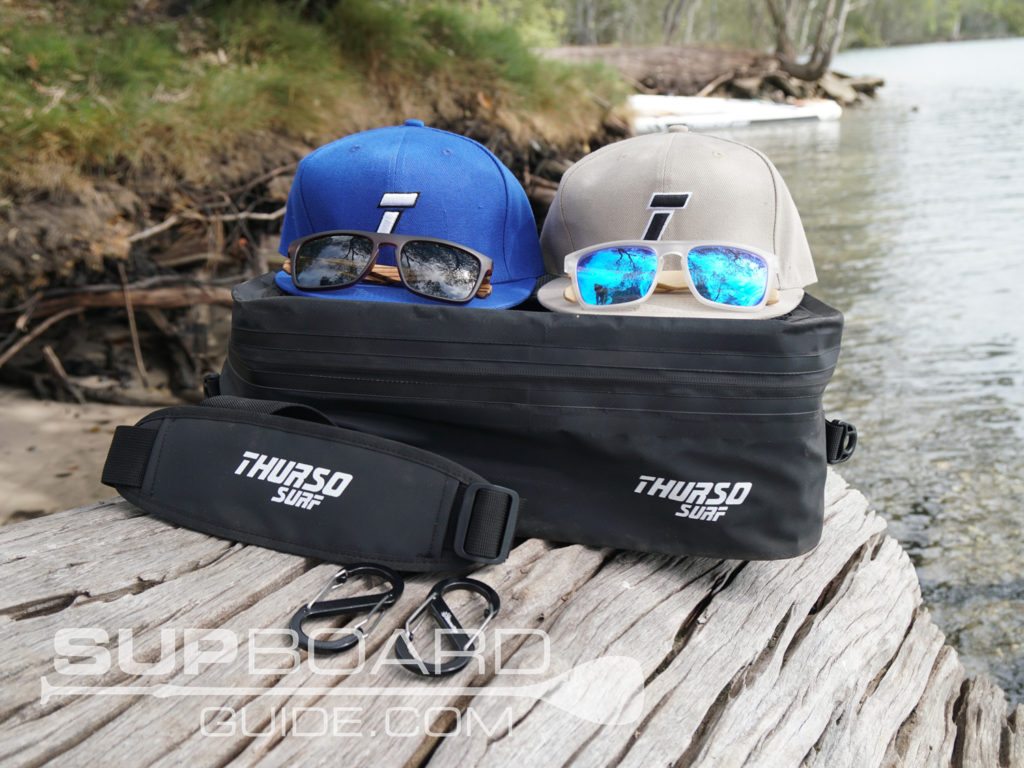 Kayak Seat And Extra Blade
To create a fun versatile SUP, all Thurso boards have 4 D-rings in the center of the board. They are there for attaching this optional kayak seat. Once that's done, just insert the extra paddle blade into the end of your paddle and you're set for a kayaking adventure.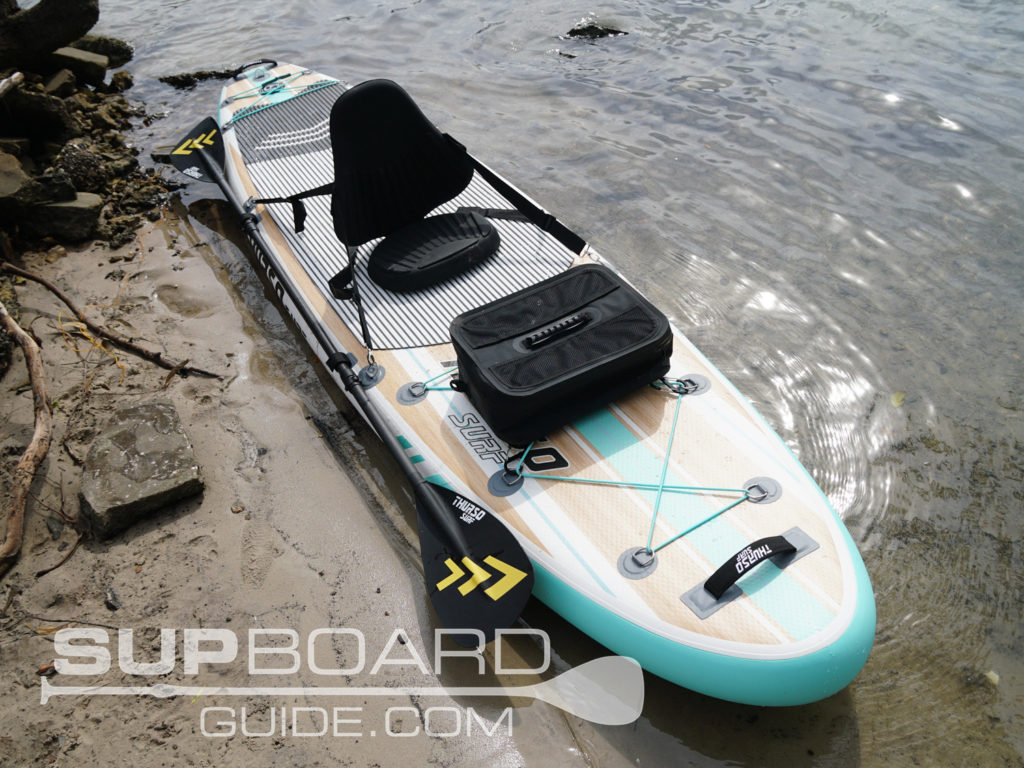 Conclusion
If you are a smaller rider who wants something easy to move around on, the then 10′ ThursoSurf 120 Waterwalker is for you! It's going to be an ideal beginner board for a smaller rider including teens. You get everything you need to get out on the water straight away and a few high-quality pieces like the carbon paddle and great bag! If you are thinking it'll be too small I do highly encourage you to look at the 10'6″ Waterwalker as it's been one of my favorite boards this year so far.

To keep customers happy and confident in their purchase, Thurso includes a 2-year warranty on all boards and you can be certain you'll be treated with kindness and respect by the team!
The following two tabs change content below.

Sacky
Heyo! I'm Sarah or as many call me, Sacky! I'm an Australian lover of the outdoors. From losing teeth to rock faces and surfing with dolphins - it's all my second home. I do the online thing to fund my obsessions and keep me seeing this wonderful world. Hope you've enjoyed my content 🙂