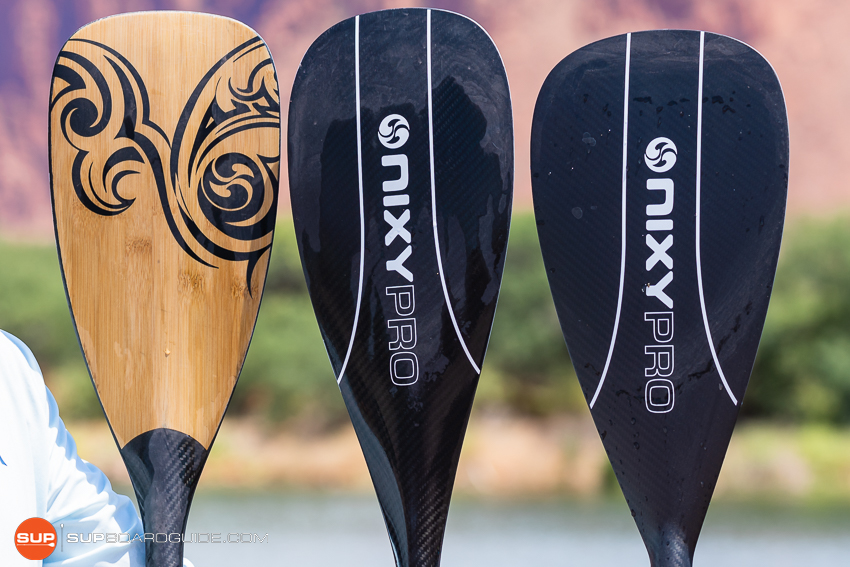 One thing there is no short supply of when reviewing paddleboards is paddles. We honestly have a problem keeping them all organized in our office space. If you don't believe me just ask us to see the "back closet" one day.
If you remember, the standard Nixy Sports 3 piece hybrid paddle is our favorite kit paddle out there. It caused so much of a stir that we had to verify with the manufacturer that they didn't send us their upgraded paddles by accident. As it turns out, they were saving the best paddles for a later day, and we finally received three Nixy Sports Pro Carbon Fiber paddles. So let's get started. We think the Nixy Sports Pro Carbon Fiber Paddles would be great for anyone who:
Wants an upgrade from their included kit paddle (yes they are even better than the Nixy Sports kit paddles!).
Wants a more transportable paddle setup than a standard 2 piece and some 3 piece designs. (DOES IT INCLUDE THE PADDLE BAG?)
Wants a great gift for the paddler who has it all (we are especially fond of the bamboo finish).
Nixy Sports Carbon Fiber Pro Paddles Review: Overview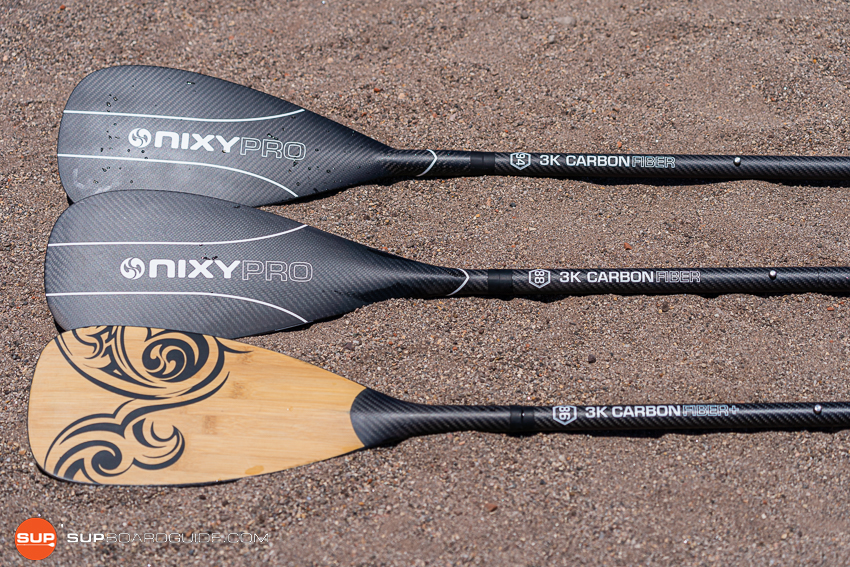 Note: We paddle quite a bit. We do this in order to provide you with the best real world condition reviews that we can. In the instance of these paddles we have been grabbing them whenever we can on personal trips to get a good idea of how they handle. Believe us, they are great and if you have any questions about them we would be happy to answer them below.
Nixy Sports Carbon Fiber Pro Paddles: Spec Sheet
| | |
| --- | --- |
| Main Category: | Accessories |
| Paddle Dimensions: | 86 / 88 / 94 SQ inches |
| Listed Weight: | 20.5 / 21 / 22 oz |
| Materials: | 100% carbon fiber w/ 3k, 12k, or bamboo finish |
| Warranty: | 30 Day money back guarantee and 1 year warranty for manufacturer defects |
In-Depth Review of the Nixy Sports Carbon Fiber Pro Paddles
Starting from the standpoint that Nixy Sports already includes our industry favorite paddle with their kits, it's truly impressive to see their Carbon Fiber Pro paddles in person. With the heaps of praise we place on the standard kit paddles, these are simply better. With full carbon construction and an amazing exterior finish regardless of your preference, these paddles feel just amazing to paddle. Besides the aesthetics these paddles are extremely lightweight and make the chore of paddling long distances, or focusing on race speeds, much more enjoyable. Bottom line, we really loved using these paddles and we think you will too.
Construction Quality: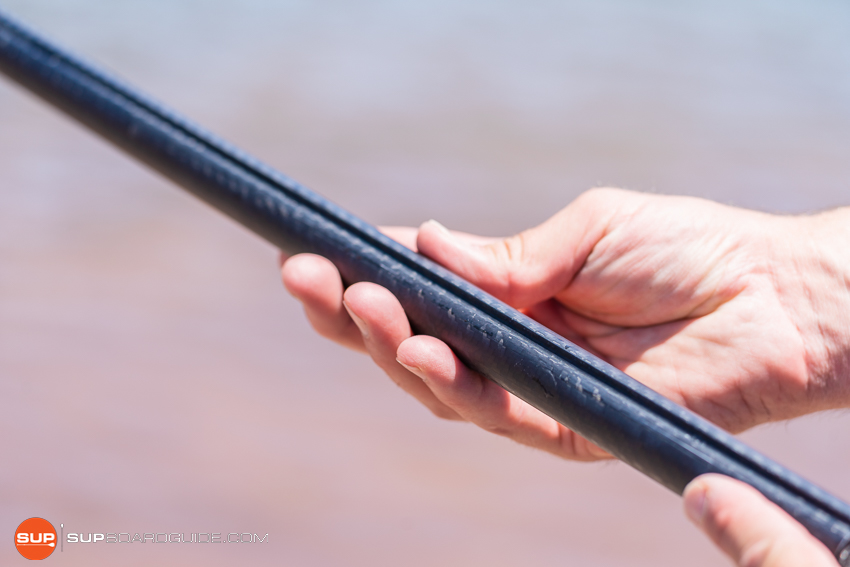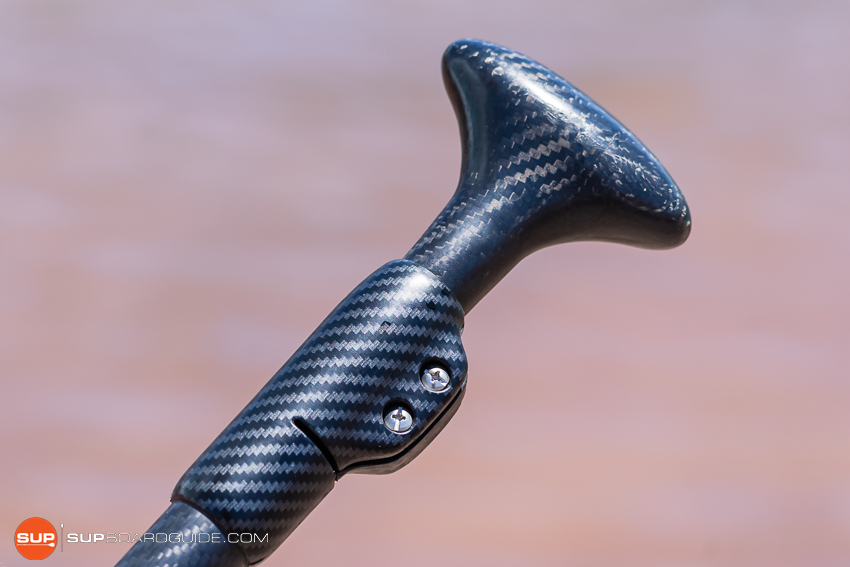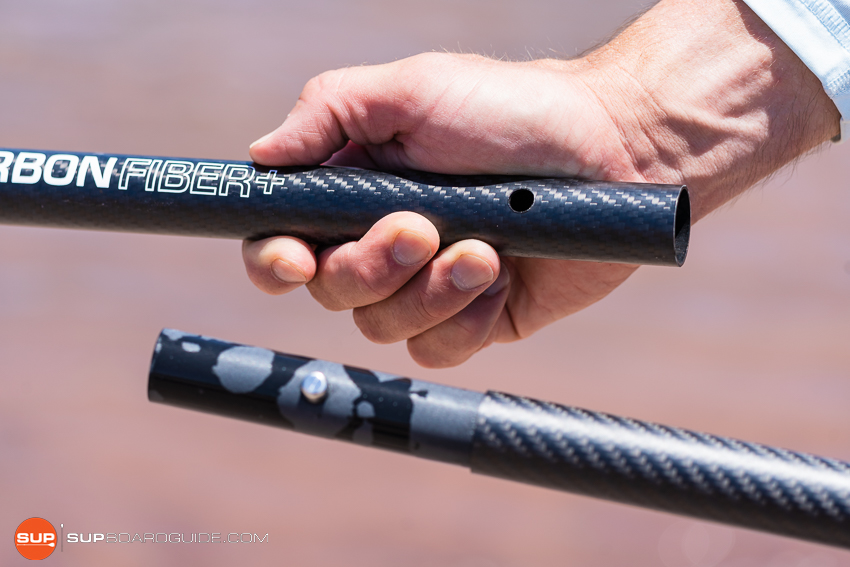 As the name implies the Nixy Sports Carbon Fiber Pro Paddles are constructed of 100% carbon fiber and are available in a variety of finishes:
A 3k carbon weave throughout.
A 3k carbon weave with a bamboo overlay (our personal favorite).
And a 12k carbon weave.
For those unfamiliar working with carbon fiber, the difference in number is a difference in the filaments in each weave of the carbon fiber. 3k has 3,000 filaments per "tow", 12k has 12,000 filaments. The difference being the way the carbon fiber pattern shows through when finished. The 12k has a more noticeable checkered pattern while the 3k has a much smaller "weave". In other applications the 12k is considered the stronger layup, but with simple paddles I'd have to say they have similar properties.
Perhaps the 12k is slightly "stiffer" in it's construction and overall resistance to flex, but those are thoughts (like the blade size and shape) that are out of the realm of this article. From blade to handle these paddles are made with superb craftsmanship and are a true delight to paddle with. They are not only stunningly beautiful but when used correctly they take the chore out of long distance paddling.
Feature Review:
Features:

The first thing to note is that all three paddles came with a two digit number stamped above the blade. For those that might not know, these represented different paddle blade sizes. You can customize your paddling experience beyond the shape and color of your board. The idea of different sized paddle blades has been around for some time and it basically boils down to this.
By changing the overall size of your paddle blade (all other things remaining constant) you effectively "gear" up and down. In simple terms the larger the blade the more water the paddle pulls the more force you generate. The opposite is true as well with smaller paddle blades, effectively gearing you down.
So which size is right for you? That is a more complicated question unfortunately. One with various schools of thought, but I can say this without hopefully offending all sides. Given the choice of bicycling up a hill, what gear would you choose? The lowest to aid in your effort against gravity. I believe paddling is similar only the "hills" are made of varying water conditions and applications (think racing, touring, cruising, etc). The best "one size fits all" is typically the lower gear giving you more useful power even as the going gets tough.
According to Nixy Sports the sizes are as follows:
86 sq inches for paddlers weighing less than 145 lbs.
88 sq inches for paddlers weighing between 140 lbs and 190 lbs.
94 sq inches for paddlers weighing over 185 lbs.
What happened to the 90-92 sq inch blades? Well, conveniently enough, Nixy Sports includes their Hybrid Carbon paddle with the 90 sq inch blade with all of their G4 iSUPs. There is a reason we say their kit paddle is still the best available.
Bag:

All of the Nixy Sports Carbon Fiber Pro Paddles come with an included paddle bag. Great for storage and protection, these bags fit the three piece paddles perfectly. Additionally these bags will also fit their standard carbon hybrid G4 paddle. It's just another nice touch on the part of the whole Nixy Sports collection and it makes the additional cost for the carbon fiber paddles more justifiable.
Summary Review of the Nixy Sports Carbon Fiber Pro Paddles (2021 model)
Well there you have it. Not only does Nixy make the best kit paddle in our opinion, but they make some of the nicest upgraded paddles as well. All the paddles share the same quality construction, anti twist shafts, and sturdy clamping mechanisms. They are all amazing to look at and use. We are thoroughly impressed with these and would recommend them to anyone looking for a better paddle at a non custom paddle price.
Thank you for reading about the Nixy Sports Carbon Fiber Pro Paddles. If you have any thoughts to add or questions, please leave us a comment. We would love to take your opinions on these paddles as well! So until we meet again on the water, Happy Paddling
The following two tabs change content below.
SupBoardGuide
Heyo! At SupBoardGuide.com we are a team who love the water, the outdoors, and are more than grateful that our full-time job allows us to review stand up paddle boards. We paddle year round (it helps that we are just about 2 hours outside of Las Vegas), and we bring in a wide range of paddlers with the goal of providing our readers with the best, most in-depth, and accurate stand up paddle board reviews.
Latest posts by SupBoardGuide (see all)