SeaGods Medusa CX iSUP
Pros
Original artwork created specifically for this board! Christine Kuo's colorful surf-inspired art is absolutely stunning.
Excellent design for Yoga! It's an open and clean deckpad thanks to the carrying handles being placed on the sides, and the diamond grooves provide comfort and extra grip.
Very stable and rigid, yet lightweight and maneuverable thanks to the new CX (cross-weave) technology and SeaGods excellent design team.
The long and wide shape (11'x34'') makes for superb stability and lots of room to move around, with a high carry capacity (350 lbs!) suited for bringing extra cargo or people.
An easy-to-carry and thoughtfully designed wheeled backpack that is large enough to quickly put in and take out the rolled iSUP along with other SUP accessories.
Comes with a full package kit with gear such as: a 3-piece carbon fiber paddle, a 10' coil leash, a double-chamber high-pressure pump, a repair kit, and a Kumano pressure fit center fin (with a US fin box)
Cons
We like the 9'' dolphin fin that comes with the board but think it would make sense to include SeaGods' touring fin for improved stability + tracking
We'd love to see SeaGods extend the rear deck pad and give removable bungees
A majestic surf inspired piece of art that doubles as a Yoga specific inflatable paddleboard.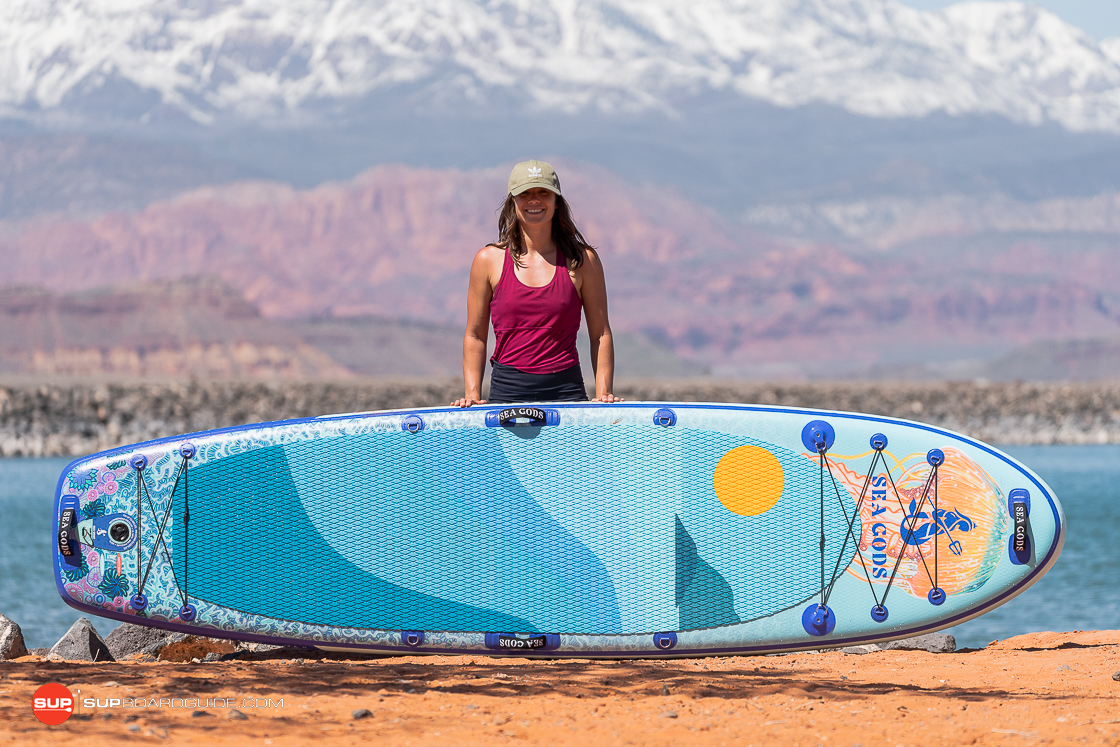 When I saw that the SeaGods Medusa CX happened to be a yoga-specific board, I got very excited. No, I am not a yoga instructor or even a regular practitioner of yoga, but I do love to sunbathe. That extra wide shape is perfect for laying down, anchoring in, and….dozzingg…of…f…
Just kidding (kind of). But really, I grew up doing gymnastics so when I hear "yoga" board, I think "a board I get to try a headstand on!" In other words, testing out this board was super fun, and on top of that, I have a lot of great things to say about it in our SeaGods Medusa CX Review. It impressed our entire team in each of our testing categories.
At 11' x 34'' x 6'' with an oval nose and wide squared-off tail, the SeaGods Medusa CX is very stable and has a high carrying-capacity to support a large range of paddlers, from smaller to larger. It's also built wide through the nose, hips, shoulders, and tail, making it stable enough to attempt a one-legged tree pose, or for those larger/heavier paddlers who did not find enough stability in the SeaGods Elemental Wave CX. In other words, the Medusa CX can also be used as an all-around style board.
Additionally, its new and improved CX (cross-weave) technology paired with the ULF (ultra light fusion) PVC makes it not only lightweight, but a rigid and durable board that tracks and maneuvers very well. So if you're looking for a wide and strong board for yoga, to support a larger paddler, or to load up with cargo or multiple friends (furry or not), this board is an excellent choice.
And once again SeaGods has blown us away with the artwork printed on to the deck and hull of the board. Christine Kuo's surf-inspired art is detailed and colorful, setting it apart from a lot of the iSUP competitors in the market.
We think the SeaGods Medusa CX Ride be a great SUP for paddlers who:
Want a yoga SUP that is also a majestic piece of art
Are looking for a wide (34'') and very stable board with a high carrying capacity (350 lbs)
Need a Yoga iSUP that won't slow you down or feel too unmanageable to venture into more distant spots
SeaGods Medusa CX Ride: Spec Sheet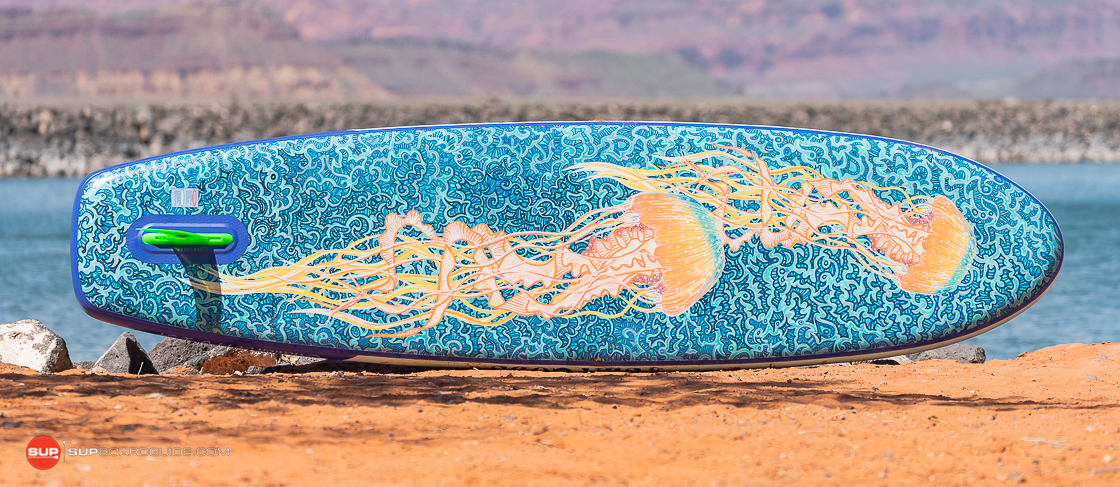 Main Category: Yoga
Board Dimensions: 11'x34''x6''
Listed Board Weight: 21
Listed Max Capacity: 350
Recommended PSI: 14- 18 MAX 20
Fins: Single fin, Dolphin style Kumano pressure fit with Air 7 V2 Universal Fin Box
Paddle: 3-piece carbon fiber
Materials: Upgraded 2023 Cross Weave ULF technology and heat molded seams
Warranty: lifetime
Performance Review of the SeaGods Medusa CX Stand Up Paddle Board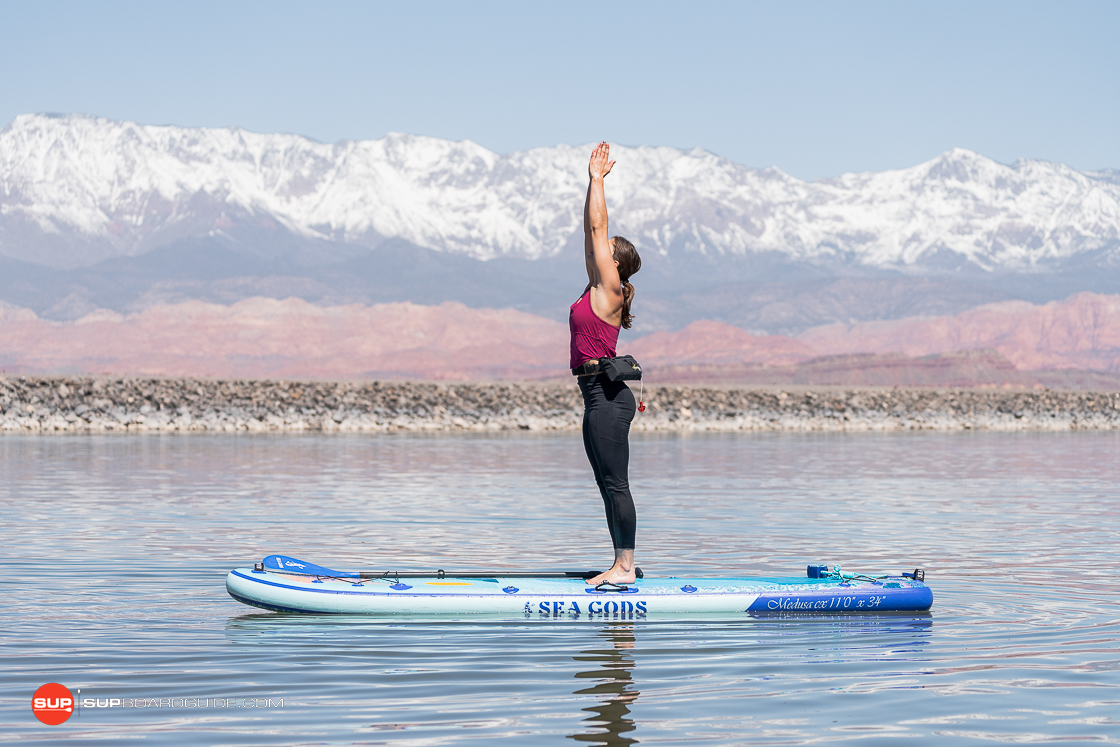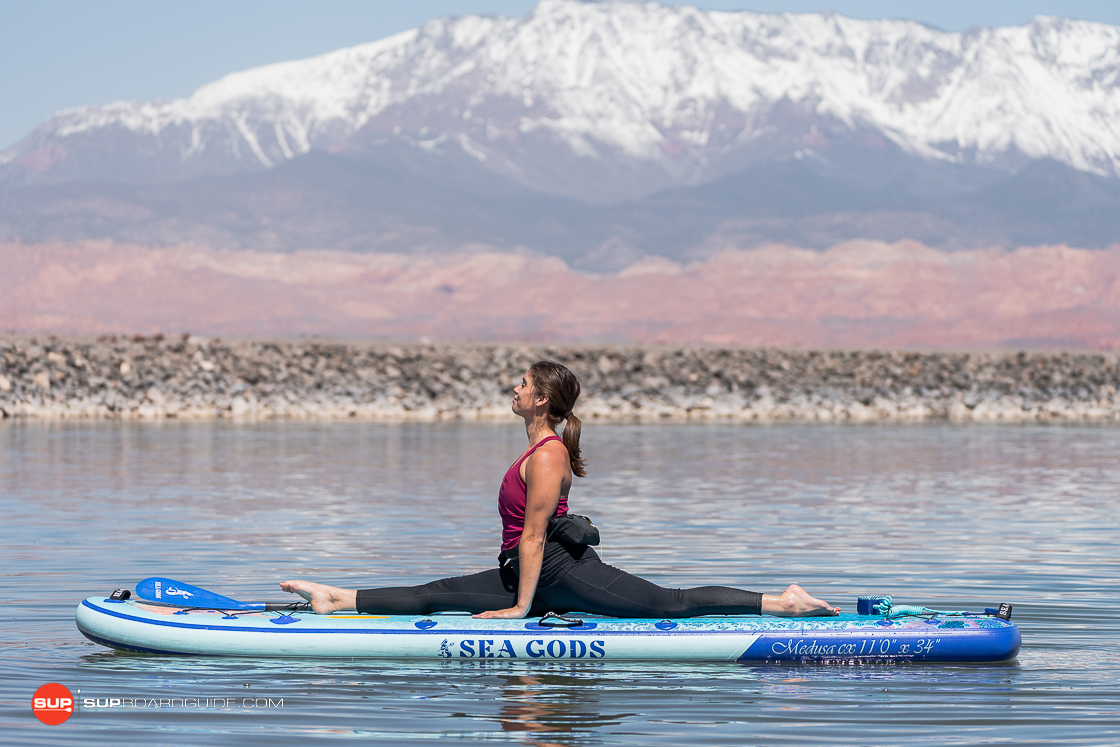 Overall Score: [9.4/10]
Stability: 9.2
Speed: 8.9
Tracking: 8.6
Maneuverability: 9.2
Construction Quality: 9.8
Features/Accessories: 9.4
Stability Rating: 9.2/10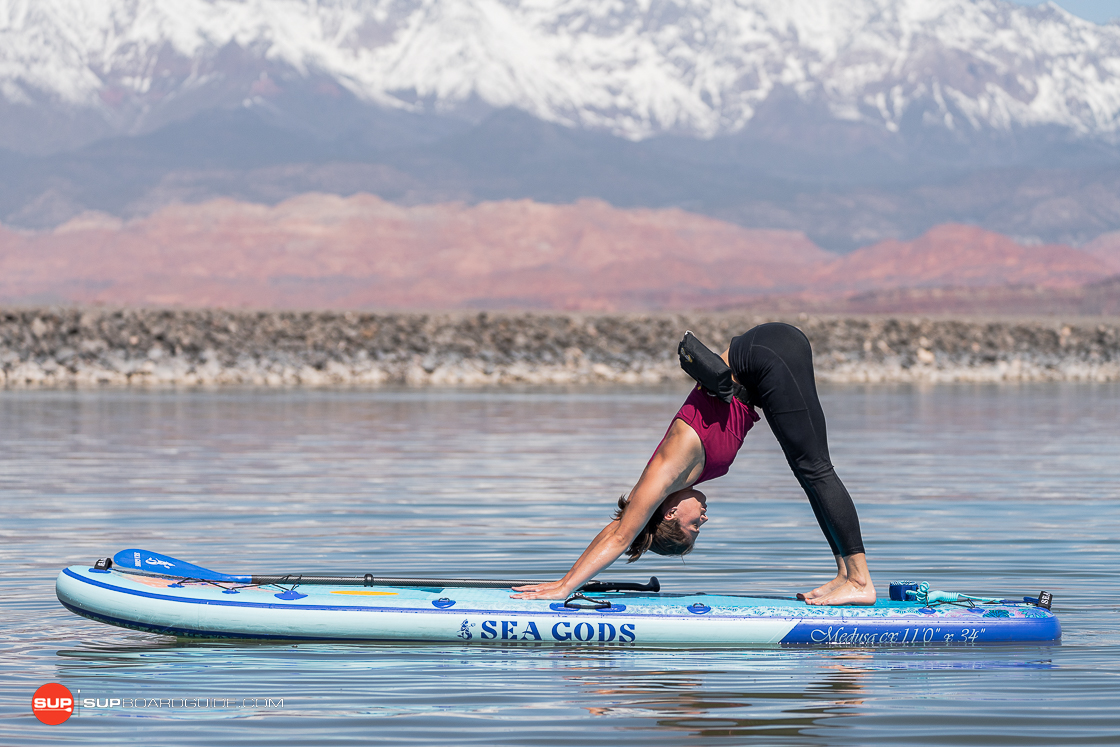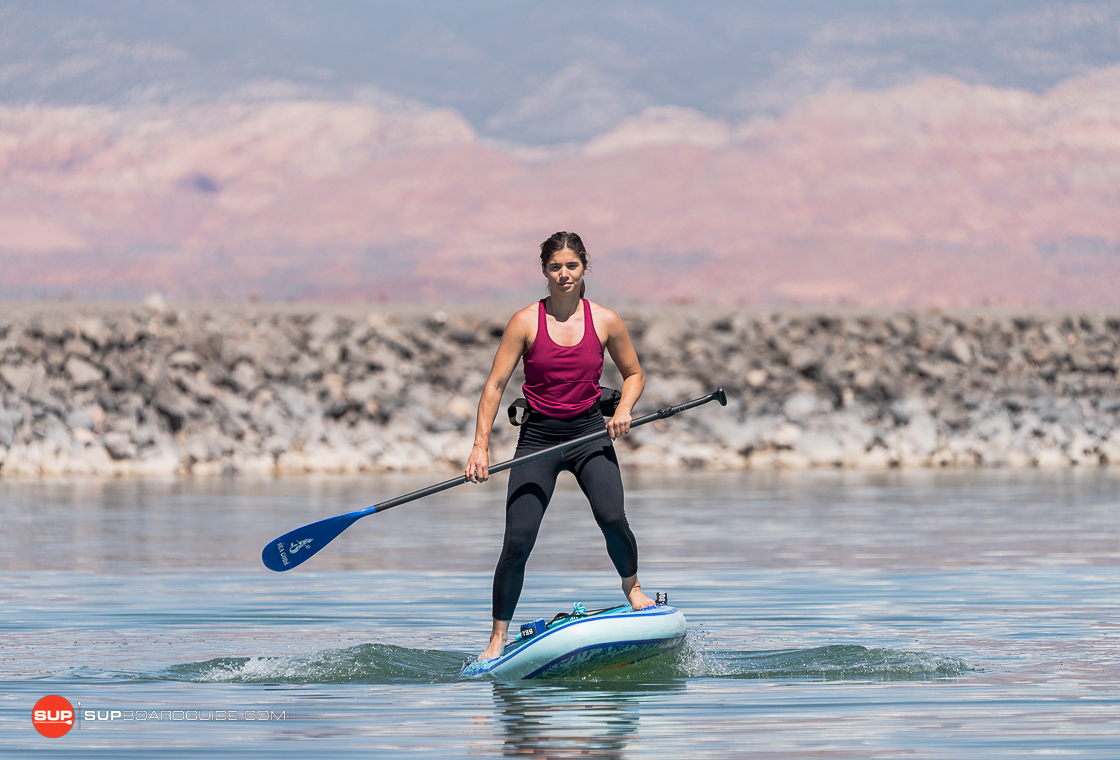 Thankfully, this board is extremely stable. The 11' length, 34'' width, parallel rails, boxed-off tail, and rounded nose all work together to create stellar stability with almost no side-to-side movement. As you can see in the board profile pictures, the Medusa CX is shaped as we would expect from a Yoga board: it's wide not just in the middle of the board, but also through the nose and tail. We like to describe this shape as a board that is wide through the shoulders and hips. Given this shape, the board's large surface area is in direct contact with the water in an evenly distributed fashion.
Thanks to this wide and even build combined with the 6'' volume, the carrying capacity of the Medusa CX is very high: 350 lbs! This makes it a SUP that is not only great for yoga, but also great for larger paddlers or for paddlers who want to bring extra cargo or friends on board.
Yet because it is lightweight (21 lbs), it does not feel sluggish on the water and we found that it is still very capable of being paddled as if it is an all-around style board. We love this because it makes it easier to find a more secluded spot to practice yoga that may be farther offshore and because it gives larger paddlers an option for an all-around style board by SeaGods.
Did I successfully do a headstand? Indeed I did! I spent a lot of time on this board practicing different yoga positions and testing out what skills I have left from my gymnastics days. I found it to be very stable and super fun to play around on. I especially noticed that the stiff parallel rails minimized any side-to-side movement and I could get very close to the edge of the board without tipping it and losing my balance. While the picture above captures a successful headstand, I definitely rolled over a few times in my first attempts. I was able to do a full summersault out of a headstand and still stay on the board! I thought that was awesome.
Speed Test: 8.9/10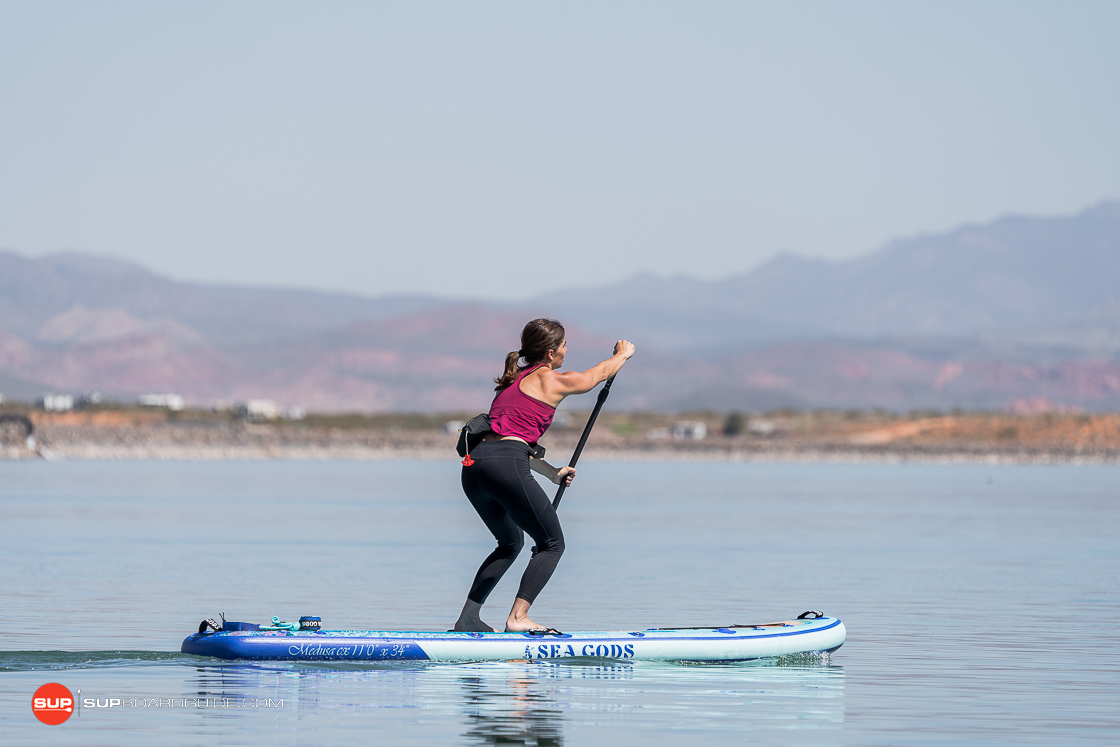 | | |
| --- | --- |
| Top Sprint Speed: | 5.0 MPH |
| Average Cruising Speed: | 3.9 MPH |
*Notes on our speed test: In order to gather our speed data, we use a SpeedCoach SUP 2. Our top sprint speed is gathered by first maintaining a cruising speed and then paddling at full throttle for 10-15 seconds. In order to maintain a consistency across all boards, we try to orchestrate the test in calm, smooth water with minimal to no wind.
In terms of speed, the Medusa CX performed faster than expected and is above average for a Yoga specific SUP. These results are why we feel confident saying that the Medusa CX can be paddled distances and is also a great choice as an all-around board for larger paddlers. You're getting a clear stability benefit in the wider body of the board, but in terms of speed, you're only a fraction slower than the swifter build of more narrow SUPs.
Tracking: 8.6/10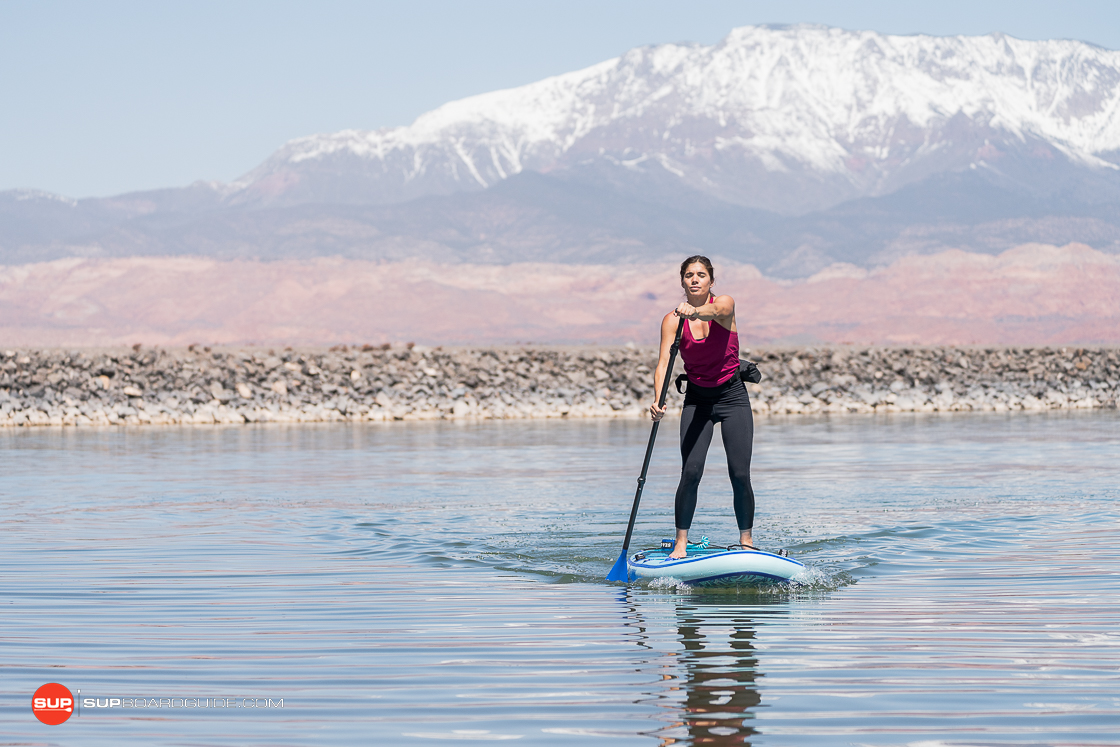 We found the Medusa to track fairly well. It comes spec'd with the SeaGods neon green all-around fin, and while we like this fin, we do think the Medusa CX would be slightly better if it came with the larger touring fin that you find on the Carta Marina CX .
The larger fin would slightly improve tracking and stability, which are both qualities that help increase the performance of a Yoga SUP.
I do want to add, however, that in general you won't have any issues with tracking on this board. It performs as we'd expect a Yoga SUP to perform, and swapping out the all-around fin for the touring fin that tracks slightly better is not hard to do. Especially with SeaGods' Kumano fin system where tools are not necessary to swap out fins.
Maneuverability: 9.2/10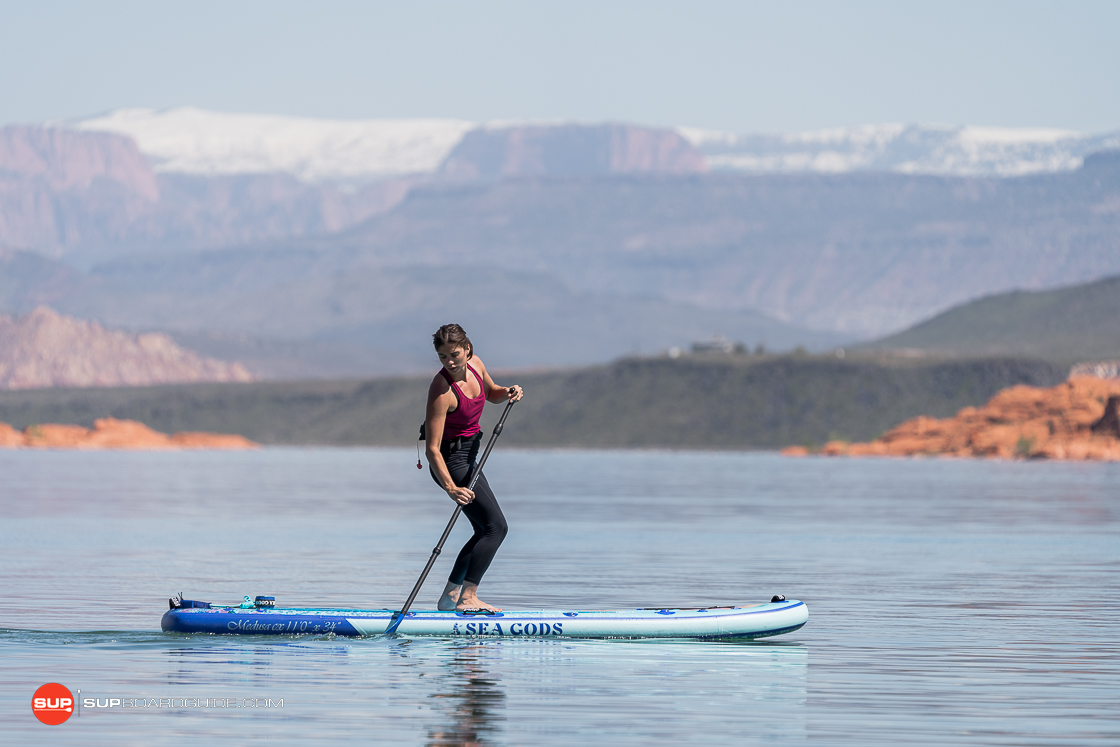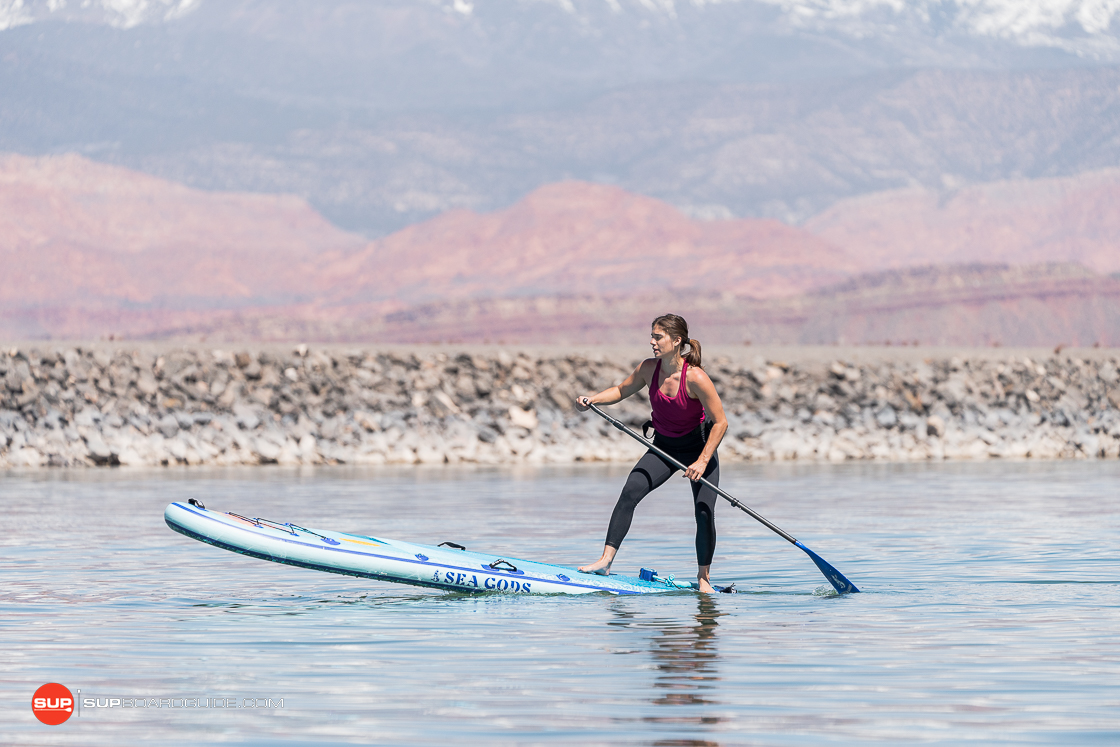 We were surprised with how maneuverable the SeaGods Medusa CX was in our testing. For Justin, it took less reverse sweep strokes (3.9) to turn a full 360 degrees on the Medusa CX than it did on the Elemental Wave (4). Yes, the difference is very small, but Yoga SUPs are generally very slow and cumbersome to move around in the water. We never use words like 'zippy' or 'sporty' for a Yoga SUP.
Except that is how we find ourselves describing the Medusa CX!
If you are someone who wants a Yoga SUP that is also easy to turn, this is the one. Being only 21 lbs and having the 9'' all-around fin make this a very sporty Yoga SUP.
With this sportiness you do lose a little bit on the tracking and stability side, so if that worries you then we'd recommend adding the touring fin to your cart and swapping that with the all-around fin.
Construction Quality: 9.8/10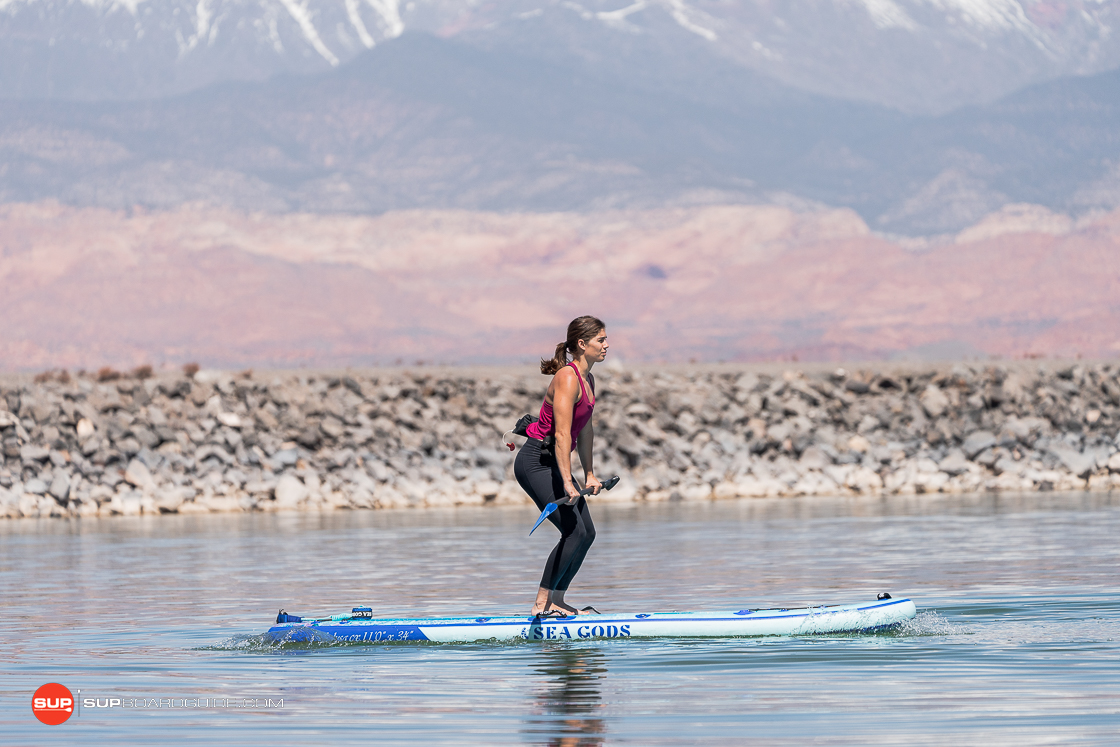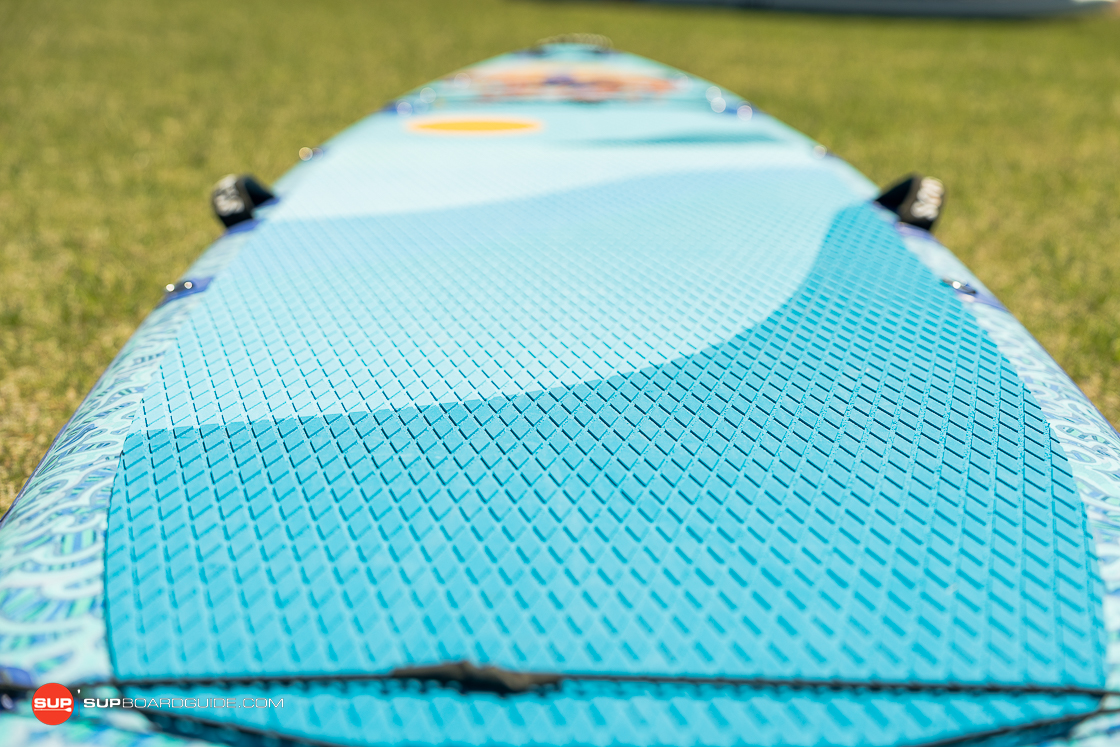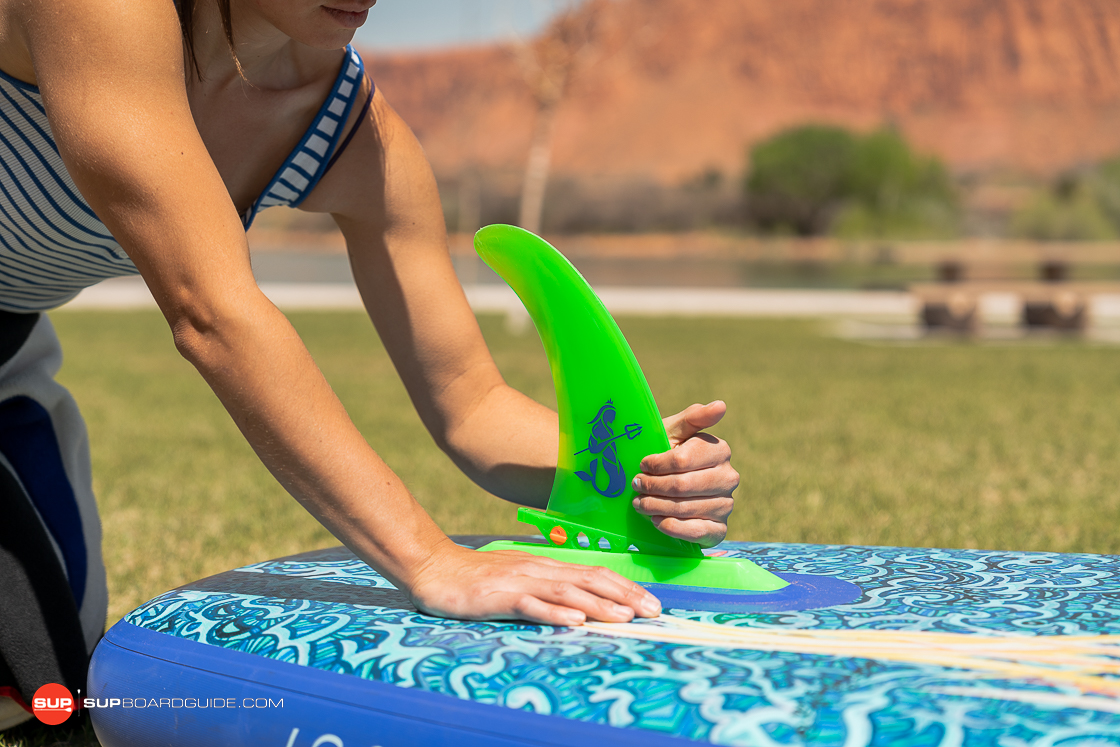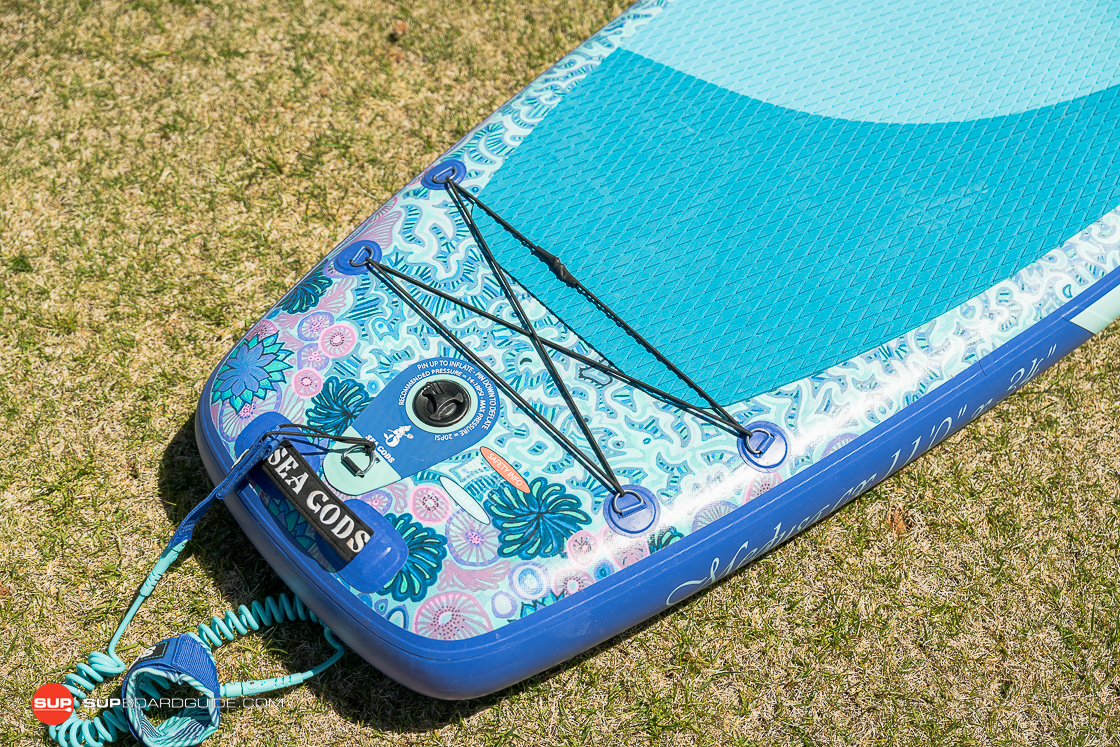 SeaGods'technology, procedures, and attention to detail continue to shine as they continue to design and create rigid, durable, lightweight iSUPs. On SeaGods boards, you can feel the quality.
With the new cross-weave technology, the Medusa is 4.5 lbs lighter than the SeaGods Infinity Mantra Yoga SUP. Cross-weave means that the space-yarns in the inner-layers of the SUP cross over each other in an X pattern rather than align linearly. This establishes even more rigidity without adding weight. Applying this to a board that is 34'' wide creates a stiffness and rigidity that holds up even when you are nearing the maximum capacity of 350 lbs.
In order to adhere the dual layer PVC to the fabric layers, SeaGods continue to use their coined "Ulta Light Fusion" (ULF) technique. This means the PVC is applied as a liquid sheet to the inner fabric layer using heat and pressure. With this technique, there is a more uniform bond between the PVC and fabric layers. It also eliminates any extra weight that using glue might add.
The pretty blue rail tape that you probably thought was just a feature to benefit the look of the board (not like me or anything), is actually reinforcing seam tape that helps mitigate damage, seam tears, and storage rub. I love that SeaGods is able to incorporate excellent technology into their aesthetically pleasing design ideas.
Board Stiffness: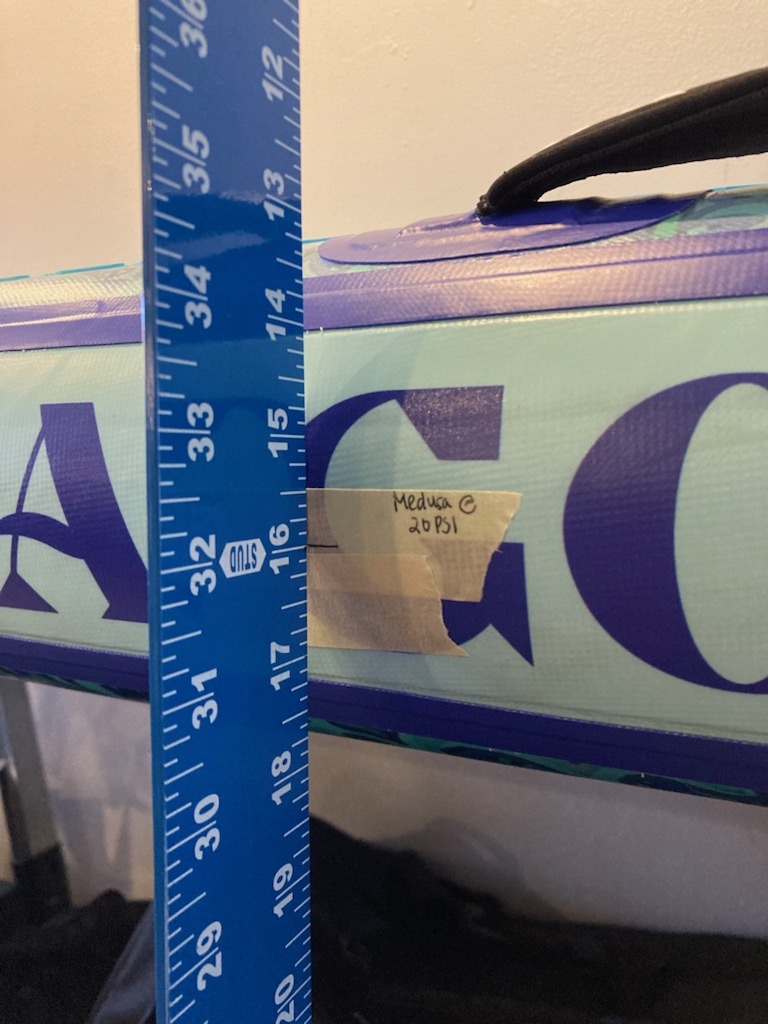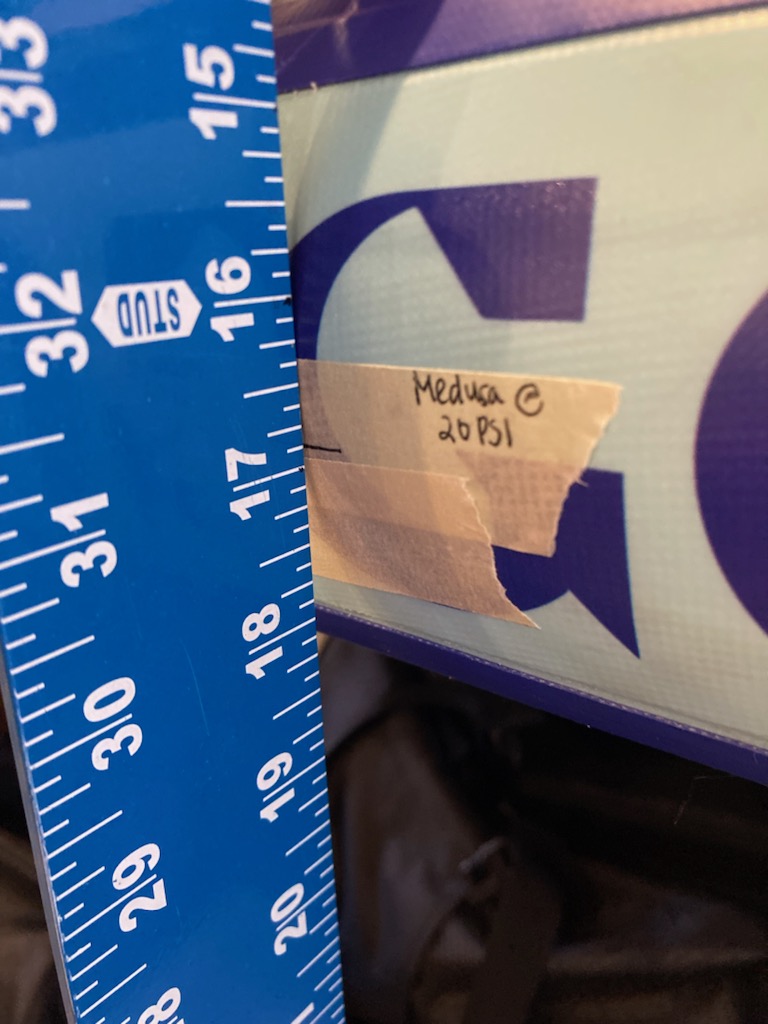 Stiffness Test: 0.875Bend
To test the stiffness of the iSUPS we use a bend-test created specifically by our team. We test each board at its maximum stated PSI. For the Medusa CX we tested it at 20 PSI. We lay the board across two sawhorses that are placed 7 feet apart and take an initial measurement in the middle of the board. Then we place 150 pounds worth of sandbags on the top of the middle of the board and take another measurement. Our result is curated from measuring the displacement of the board (the movement from its original position). We use this same test for every board we test as a way to mathematically compare boards across a common denominator.
The SeaGods Medusa CX bent 0.875 inches. That's a great score and not surprising based on how it feels on the water. Thanks to the new and improved CX (cross-weave) technology, the Medusa CX has cut weight yet increased rigidity. When the space-yarns cross over each other in an X pattern, they are stronger than when they align linearly. This is backed by our improved bend-test data, and through our on the water testing where we essentially bounce up and down on the board. If you check out the picture above (where my knees are bent) you'll still see the SeaGods label above the water! This means we noticed hardly any flex even when putting in effort to bend the board.
Features/Accessory Review: [9.4/10]
Features: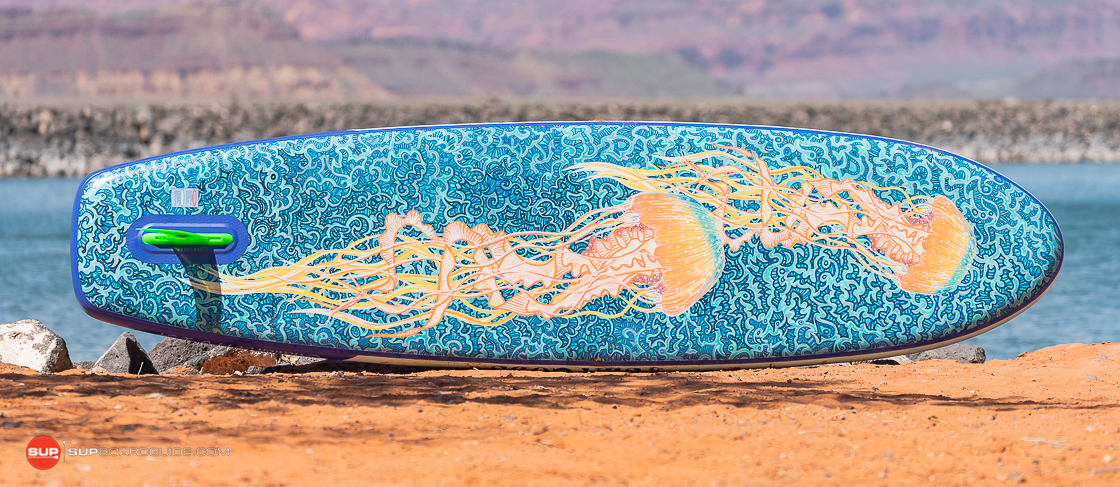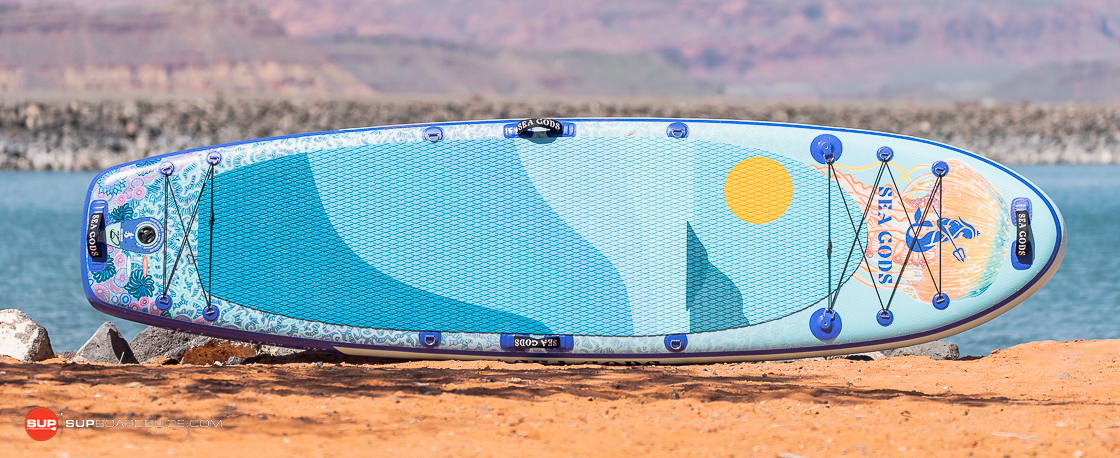 Given that this is a Yoga iSUP, let's start with the deck pad. First of all, it's completely free and open wide. There is no middle carrying handle which is purposely done because this is a Yoga board. Personally, I appreciate this design as it makes poses where you are laying down on the board a lot more comfortable. The two carrying handles are on the sides of the board, which I found was a nice addition because I could use them to grab on to and pull myself deeper into a stretch.
It comes with a shoulder carrying strap and D-rings for easy attachment so you won't have any problems carrying it down to the water despite having no middle handle. There are also carrying handles on the nose and tail of the board for easy partner carrying or launching.
But back to the deck pad: not only is it completely clean and open, it is also beautiful and comfortable. It has a tranquil ocean scene with a bright orange sun and mountainous details. And on the nose, there is an amazing jellyfish printed right on to the board. I love this design for a yoga board because it helps set a relaxing vibe, as well as the jellyfish doubling as a defined place to spot when you are practicing a balancing pose. And the diamond grooves are subtle enough to add grip without compromising comfort.
On the tail of the board, there is a 4-point bungee cargo holder that can easily hold items such as water bottles, sweat rags, a yoga towel, or other accessories you may want with you during your practice. There is a 6-point bungee cargo holder on the nose of the board with two integrated accessory mounts.
Being 5'5'', I had no issue with the fact that the deckpad does not extend to the farthest tip of the board on either side. However, it might be nice for SeaGods to extend the deckpad all the way to the farthest tips and make at least one of the bungee cargo holders removable for those who are very tall and may want a bit of extra grip throughout the entirety of the SUP.
Additionally, there are four triple-enforced stainless steel D-rings near the rails of the board strategically placed to rig up an optional kayak seat.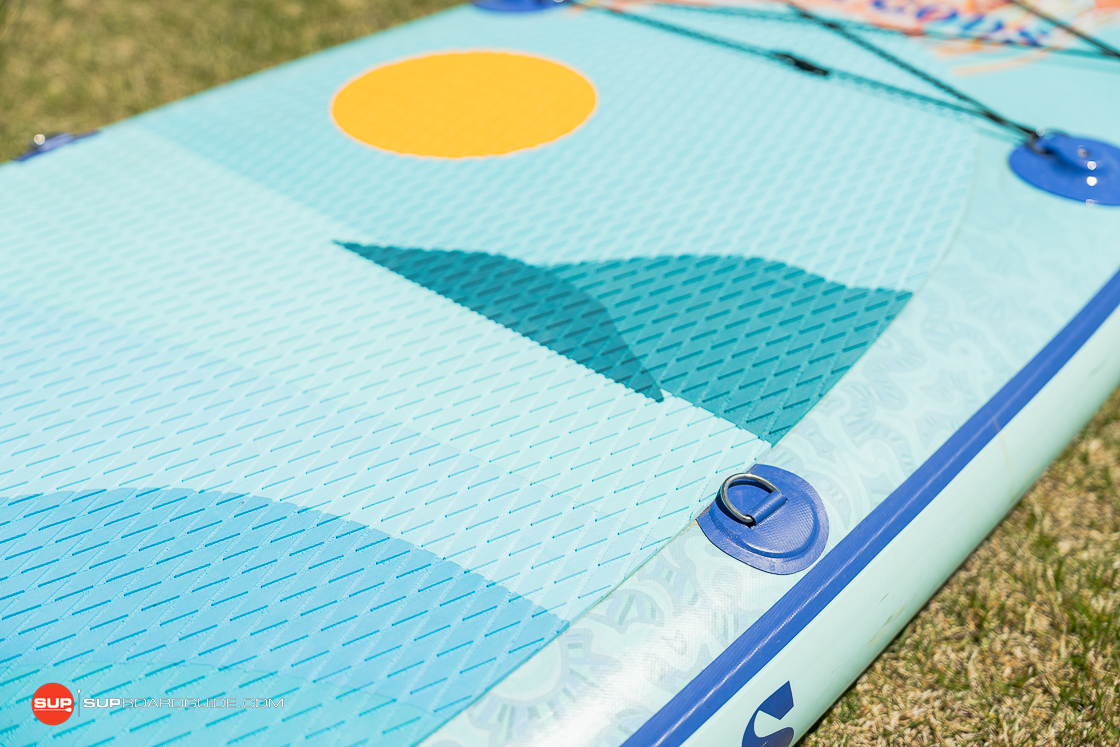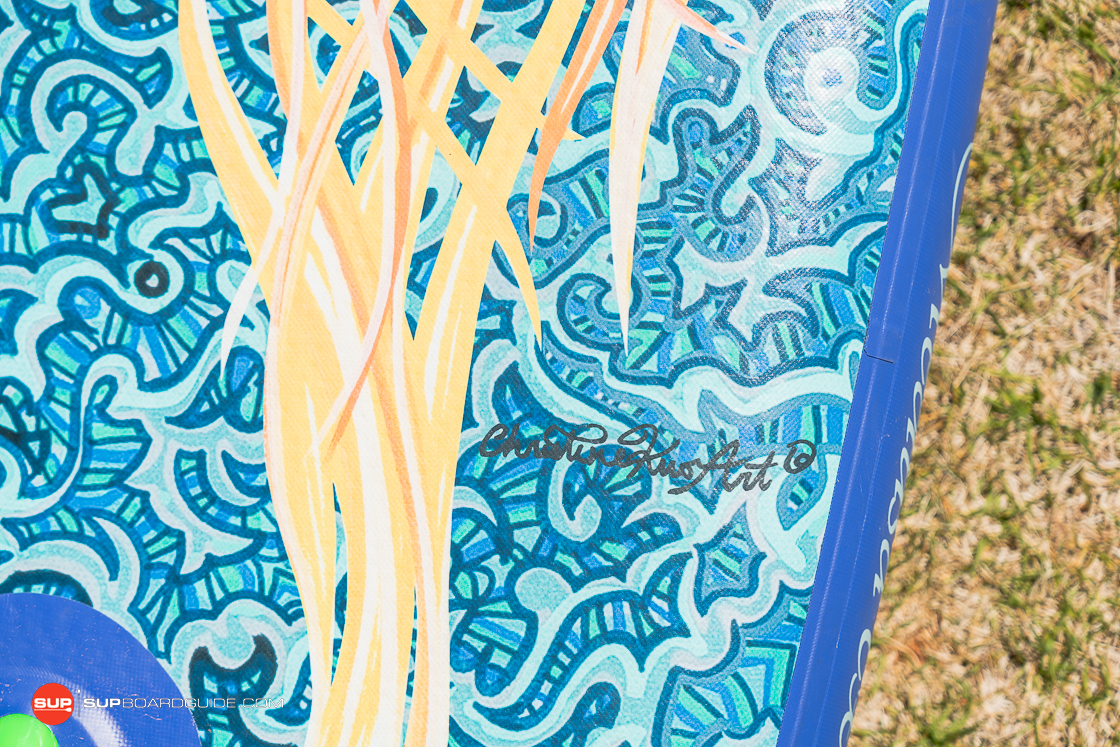 Included Accessories: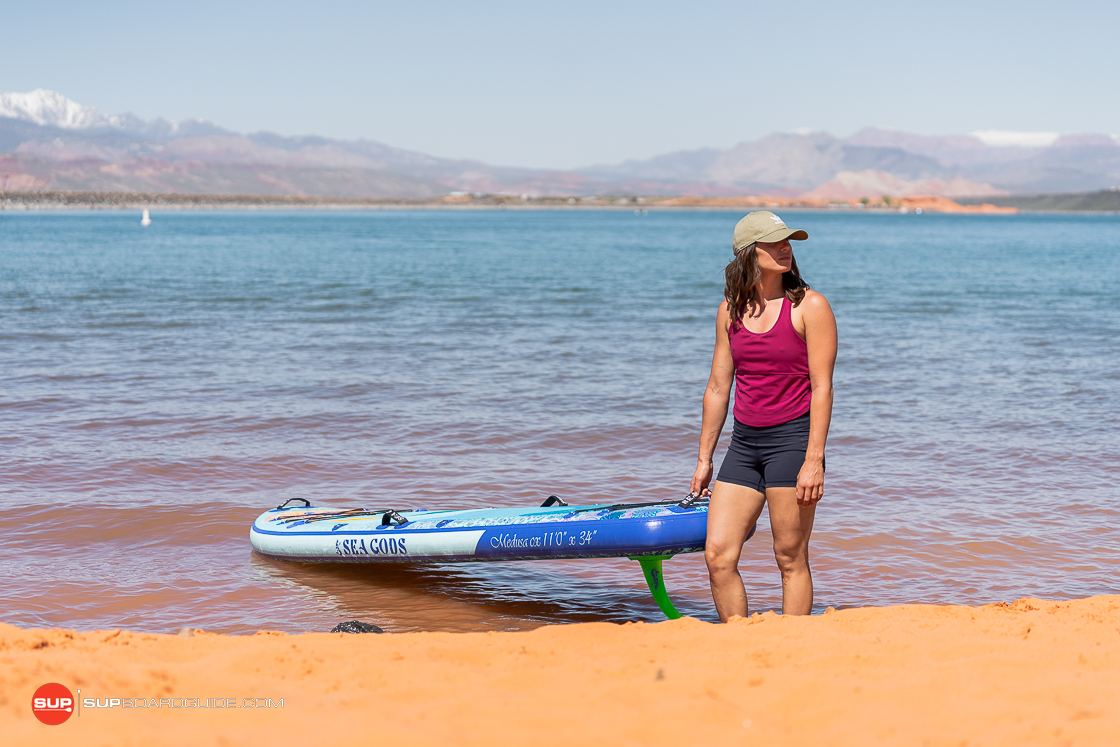 When you order the SeaGods Medusa CX, you also get everything you need to start paddling right away. We have noticed that a lot of brands are starting to not include a paddle with the purchase, which can be a pro or a con depending on how you look at it. But in this case, the 3-piece carbon fiber paddle is included. With the SUP you also get:
3-piece carbon fiber paddle
10' SeaGods turquoise leash with key pocket
Double-action high-pressure pump
Kumano pressure fit center fin
Repair Kit
Wheeled backpack
Personally, I love the SeaGods 3-piece carbon fiber paddle. When putting it together, the top two pieces have a specific way they fit together which is established by a small ridge on the poles. This makes it easy to tell where/how you are supposed to align the two poles before sliding them together. I like this because it eliminates any time spent readjusting the pole so the top handle is in alignment with the blade.
Additionally, SeaGods upgraded their hand pump to a dual-chamber high-pressure pump so you can more easily inflate the board to a higher PSI without exhausting yourself. But we do always suggest using a high-quality electric pump.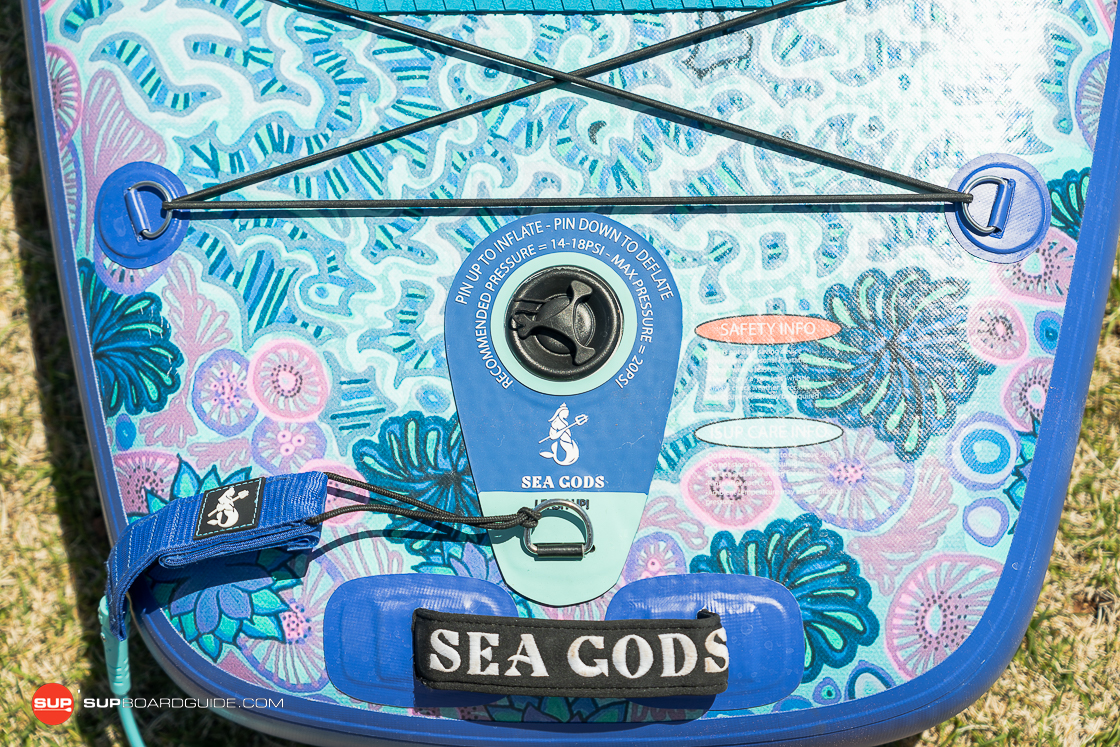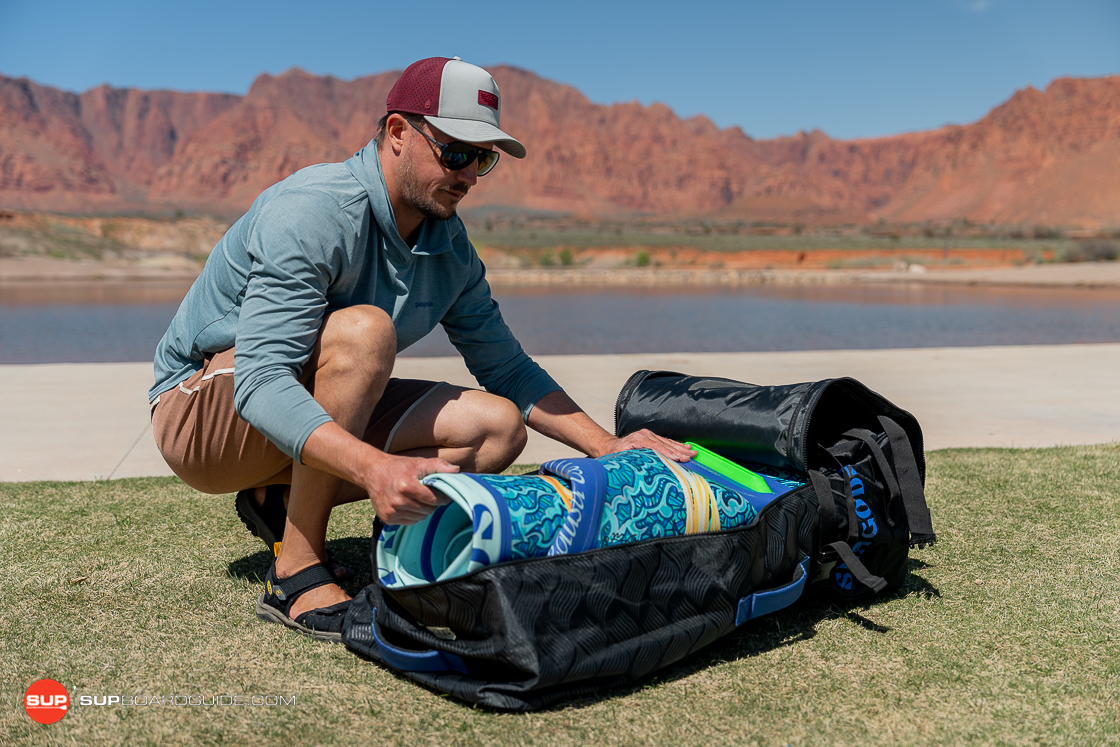 Summary Review of the SeaGods Medusa CX – 2023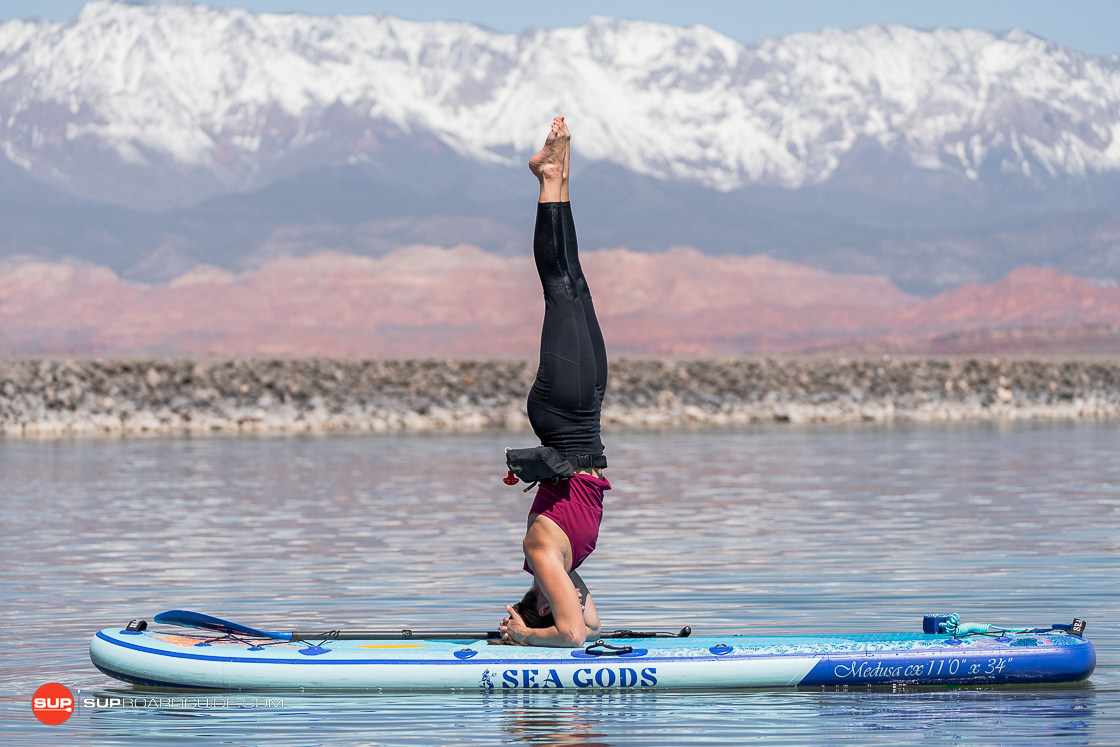 All in all, the SeaGods Medusa CX is an incredible board and is super fun to take out and attempt to strike a pose. Its dimensions are on point for having enough space to practice your flow with no interruptions, as well as having enough stability to not flail off even if you're new to yoga.
And in terms of other qualities and abilities, the Medusa CX is impressive. It's lightweight but has incredible rigidity thanks to the CX technology. It's trackable and maneuverable enough to be able to paddle the board and change directions with ease. If you have a destination in mind that's far enough away that you would want a comfortable board to paddle, the Medusa CX lives up to that criteria. This is why we also suggest this board as an all-around for those who really want a Yoga SUP but who don't want to sacrifice in terms of speed and performance.
So whether you want a yoga board or a big board to sunbathe on with your dogs, the Medusa CX could be your match!
Thanks for reading, and we are looking forward to hearing your comments and questions!
The following two tabs change content below.
Latest posts by Laura Coor (see all)