Sea Gods Ketos 14' Inflatable Stand Up Paddle Board
Pros
Patented V-hull design significantly increases your speed capabilities
Stiff construction = The Ketos will suit a wide range of paddlers sizes
Newly added kick pad aids in maneuverability
Included kumano fin is quick, easy, and requires no tools
High quality kit of all the necessary accessories (one of the more inclusive kits in the race SUP market)
Competitive pricing as a dedicated race board.
Cons
We'd appreciate if Sea Gods could eliminate the rear cargo area and shift the whole deck pad back for better kick pad placement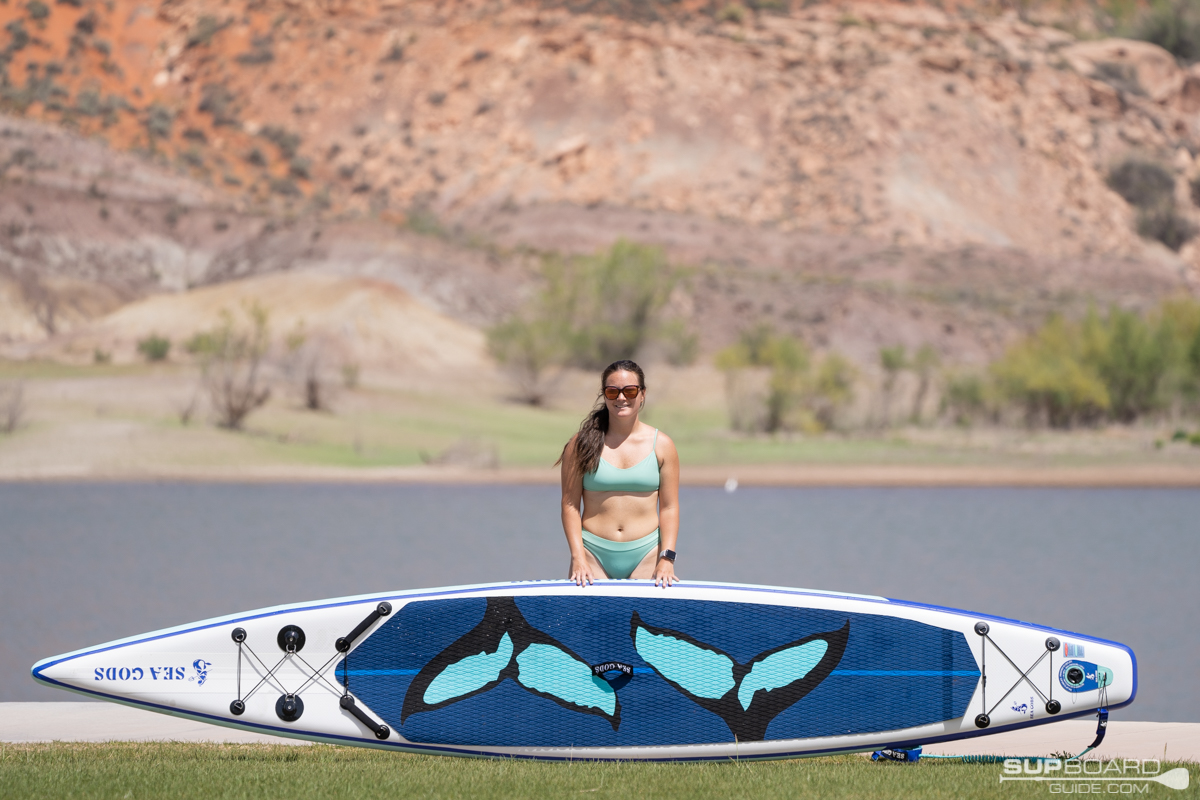 Do you remember that scene in Ferris Bueller's Day Off when Ferris and Cameron open up the unlocked garage to reveal (and subsequently 'borrow') Cameron's dad's 1961 Ferrari 250 GT California? The car sat shining in the middle of that massive glass room, tires untouched by the pavement, but nearly begging to rip over asphalt miles as it was intended for.
That was essentially the vibe while opening up the Sea Gods Ketos for this review.
While I didn't have a 'Cameron' to protest my taking it for a spin, nothing was going to stop me from paddling the visually-stunning Ketos almost immediately after I got it out of the box.
This SUP seems to speak to those of us with a need-for-speed and a more competitive approach to the sport. The Sea Gods Ketos is aiming to be the ultimate in paddleboard speed, design, construction, and performance, while serving as a landmark for inflatable race SUP potential; It doesn't hurt that it looks (almost) as great as Cameron's dad's Ferrari, too.
Being 14' long, 28" wide, and equipped with an innovative v-hull, the Ketos is poised to give many epoxy race SUPs a run for their money. This board effortlessly slices through the water with its elongated waterline and drag-reducing build, though its stability may take a little bit of (well worth it) adjustment.
It also comes with a fantastic kit containing a selection of high quality accessories and is backed by Sea Gods lifetime warranty. Above all else, the Ketos falls in the middle of the line in terms of pricing for inflatable race SUPs.
In short, there's not much we don't like about the Sea Gods Ketos. With just a few minor tweaks, the Ketos is well on its way to the front of the pack when it comes to race dedicated inflatables.
We think the Sea Gods Ketos would be great for paddlers who:
Want to enter the fitness paddling and racing scene
Are looking to develop and hone in their skills on a high performance iSUP
Need a well-constructed, rigid inflatable race SUP
Value a stunning design and original artwork on their board
Need a race SUP capable of tackling anything from flatwater to chop or ocean paddling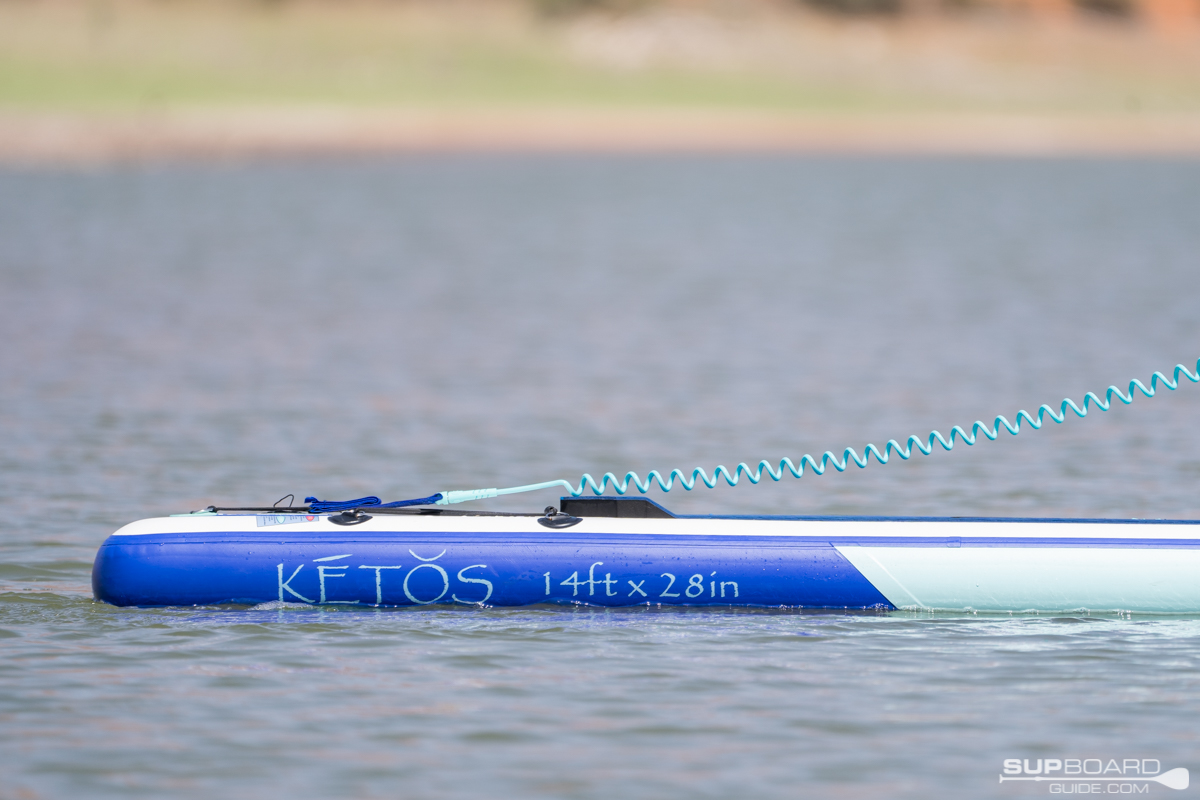 Sea Gods Ketos Racing iSUP: Spec Sheet
Main Category: Racing, Fitness Paddling, Inflatable
Board Dimensions: 14' x 28" x 6"
Listed Board Weight: 25 lbs
Listed Max Capacity: 300 lbs
Recommended PSI: 14-18 PSI; Max of 20 PSI
Fins: Single Hatchet/Touring Fin
Paddle: 3-piece carbon fiber w/ nylon blade
Materials: Ultra-light Fusion PVC w/ woven-linear drop stitch and a patented V-hull
Price Range: mid (in the racing SUP category)
Warranty: Lifetime
Performance Review of the Sea Gods Ketos Stand Up Paddle Board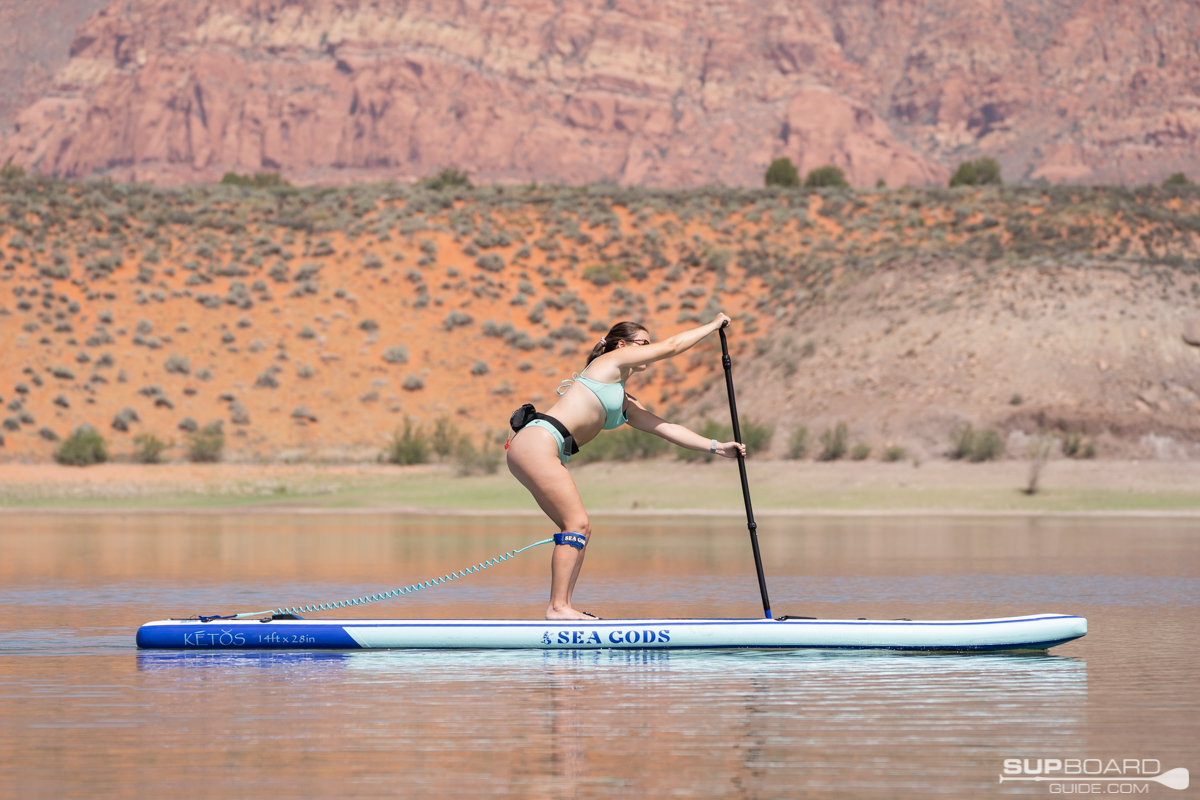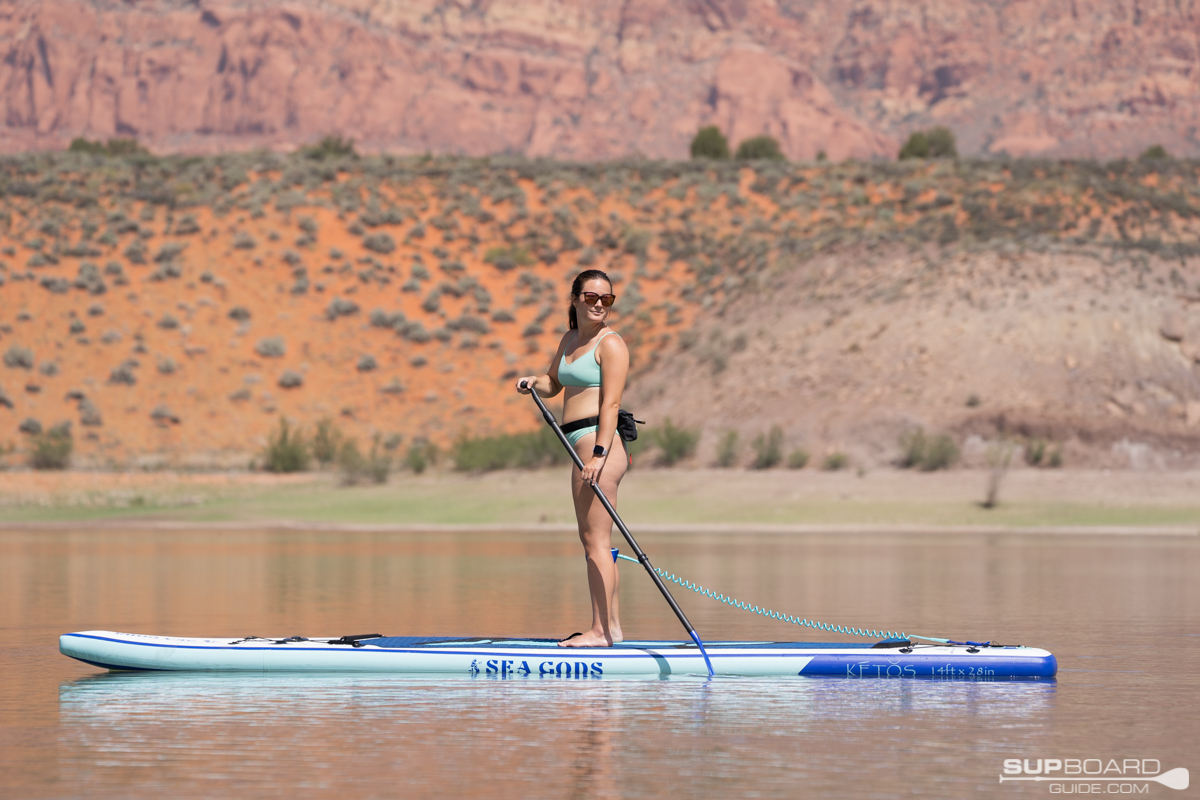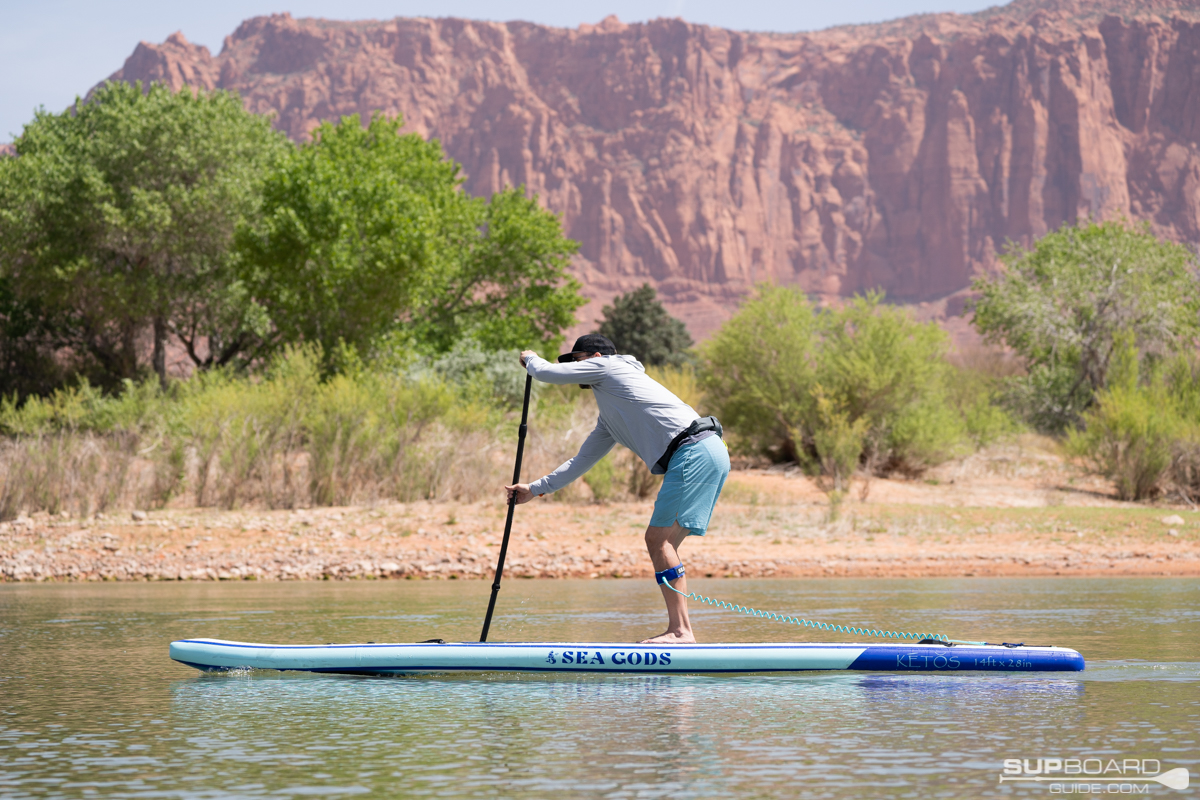 Overall Score: 9.7/10
Stability: 9.3/10 *compared to other race-dedicated SUPs
Speed: 9.8/10
Tracking: 9.6/10
Maneuverability: 8.6/10
Construction Quality: 9.8 /10
Features/Accessories: 9.3/10
Stability Rating: 9.3/10
– Listed weight capacity: 300 lbs
– Tested weight capacity: 230 lbs
The Sea Gods Ketos is a SUP that is clearly built for speed, and stability is an expected trade-off.
The Ketos' 28" width combined with its V-hull, tapered shape, and single hatchet fin all contribute to its ability to slice through the water at a jaw-dropping pace, but will pose a learning curve for paddlers coming from wider, all-around or touring SUPs. However, if you're ready or willing to adjust to the Ketos, you'll love it even more as your balance improves.
That being said, this board is geared towards more advanced paddlers looking to develop their skills and enter into the racing and fitness paddling scene. If you're someone that has less of a need for speed and are instead wanting the stability of adventure style touring SUP that you can load up with gear, I'd redirect you to the Sea Gods Carta Marina instead.
I also want to note that the Keto's rigid construction will enable it to perform for a wide range of paddler sizes. All of our product reviewers, spanning from myself at 140 lbs to another tester at 230 lbs, felt well supported on the Ketos and saw no noticeable changes in overall performance. This leads us to believe that the Keto's 300lb weight capacity is within its capabilities, whether it be solely paddler weight or the dispersed weight of a paddler and their gear (though there is not a ton of gear storage room on the Ketos).
Speed Test: 9.8/10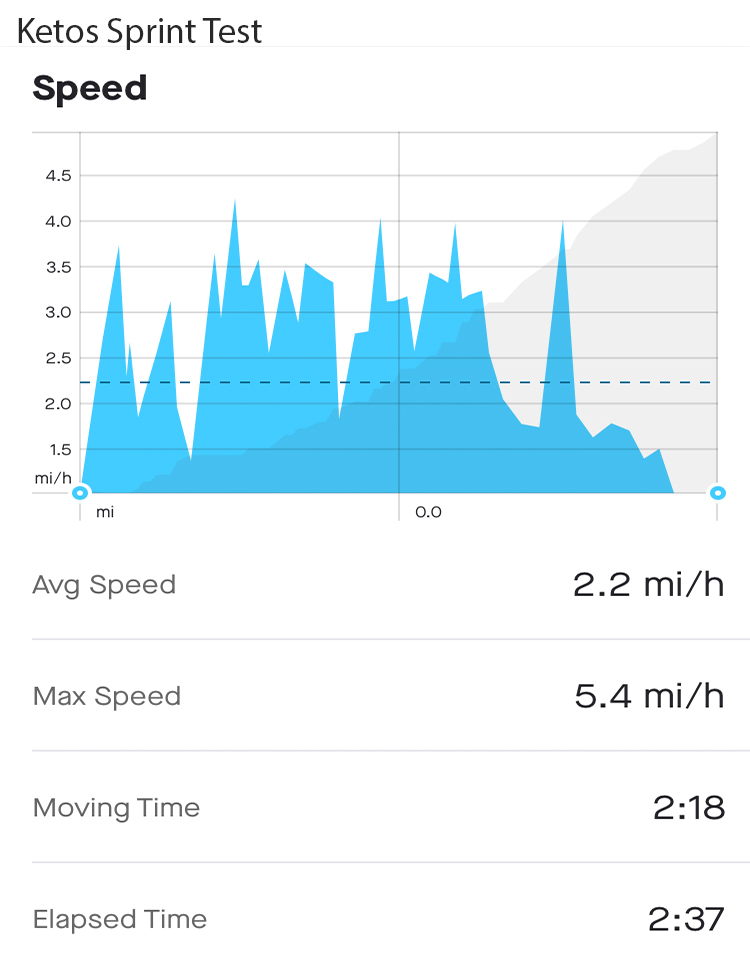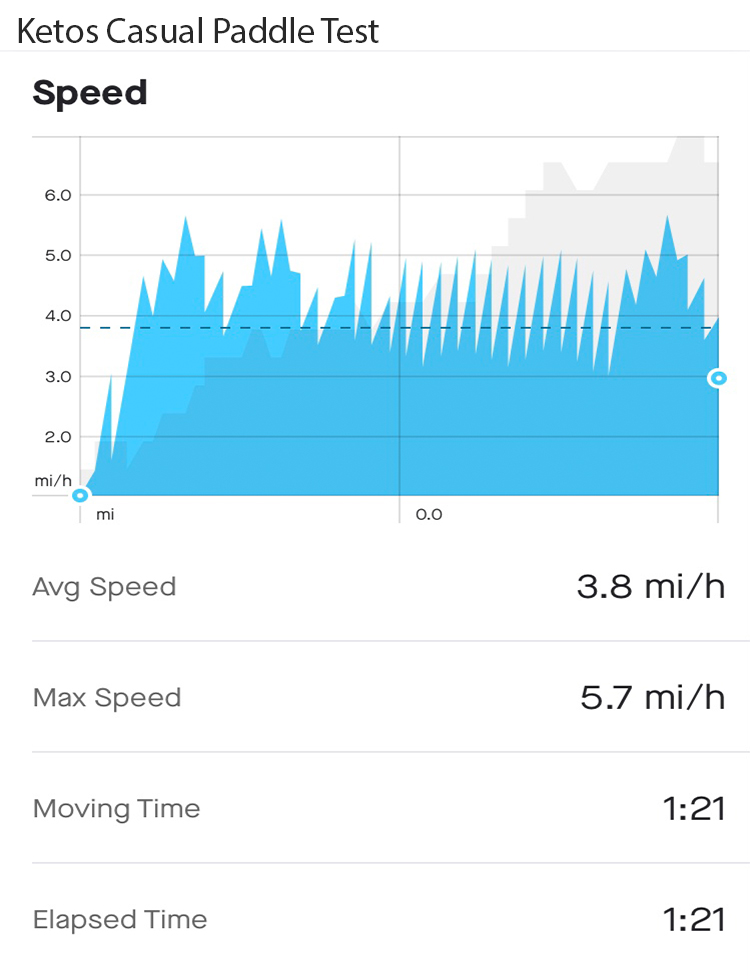 Dropping the professional front for a second, I shamelessly had an absolute blast speed testing the Ketos. Sure, I collected the hard data seen above, but I also challenged my less experienced, unsuspecting, wide-SUP-paddling friends to several races just to watch them disappear behind me after a few strokes. It was like pinning a ferrari against a minivan: technically unfair but wildly entertaining.
The Ketos is destined for speed right off of the drawing board. Its patented V-hull shape enables you to cut through the water, rather than glide over top, reducing friction and minimizing drag. Combine that with the narrow 28" width, squared off speed tail and single hatchet fin, and the Ketos will move as fast as you ask it to.
Of course, this does come with a caveat regarding the previous section on stability. There is no denying that the Ketos is built to go fast, but it cannot go fast if the paddler is fighting to stay on their feet. At the end of the day, if 28" is too narrow for you, you will be faster on a wider board. It's also something to keep in mind in those early days of adjusting to the Ketos, as you may not feel quite stable enough yet to unlock the potential of this SUP. Don't sweat it; the speed will come, but your skills need to come first.
Tracking: 9.6/10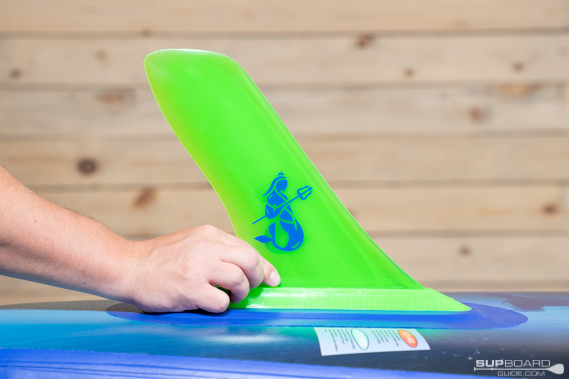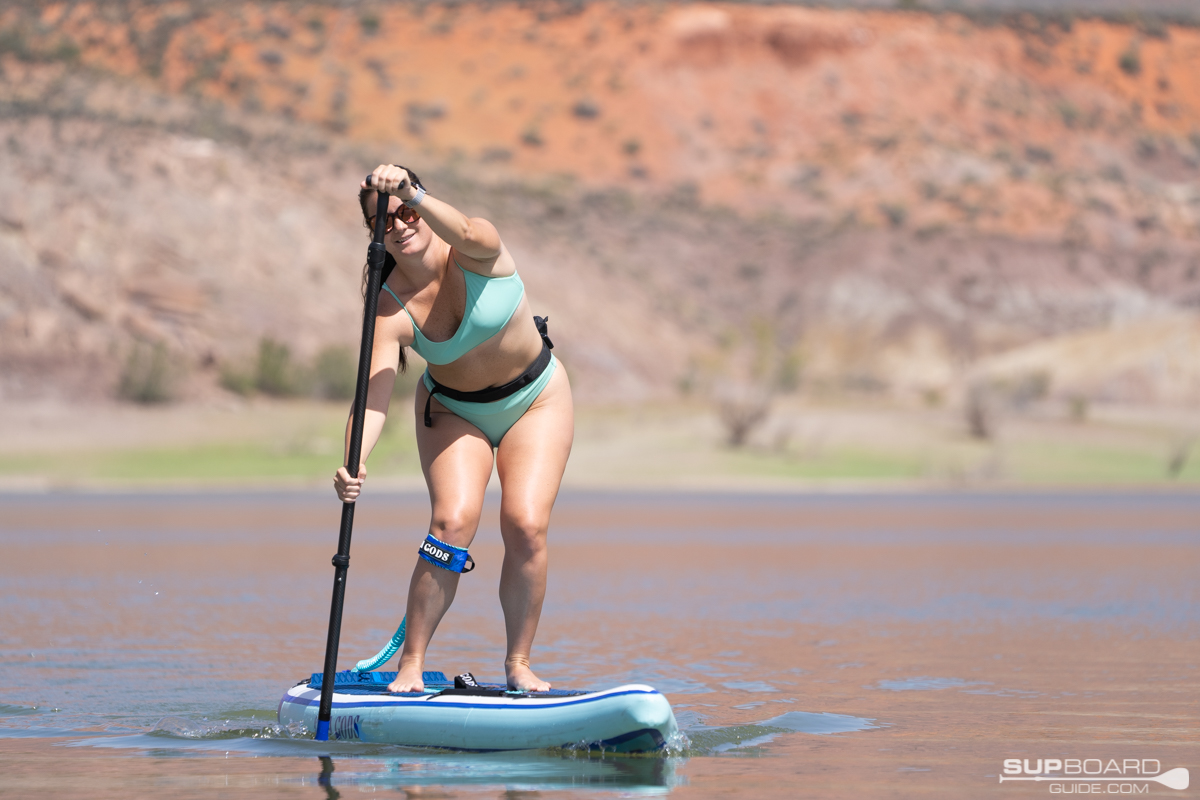 The Sea Gods Ketos tracks really well, but isn't quite at the top of the pack when it comes to dedicated racing SUP or some higher performance touring SUPs we've tested out in the past.
While I do love the concept of Sea Gods semi-flex fin, I don't think it's doing the Ketos many favors. The fin can be easily bent out of shape by relatively minor things such as being packed away tightly in the SUP bag or gently resting in the sand. The resulting inconsistencies in the fins shape will hinder the board's tracking capabilities when paddled up to speed, as the Ketos is intended.
In this case, I think it would be more appropriate to equip the Ketos with a less flexible fin to allow you to fully access its potential as a dedicated racing/fitness touring SUP when it comes to board tracking.
Maneuverability: 8.6/10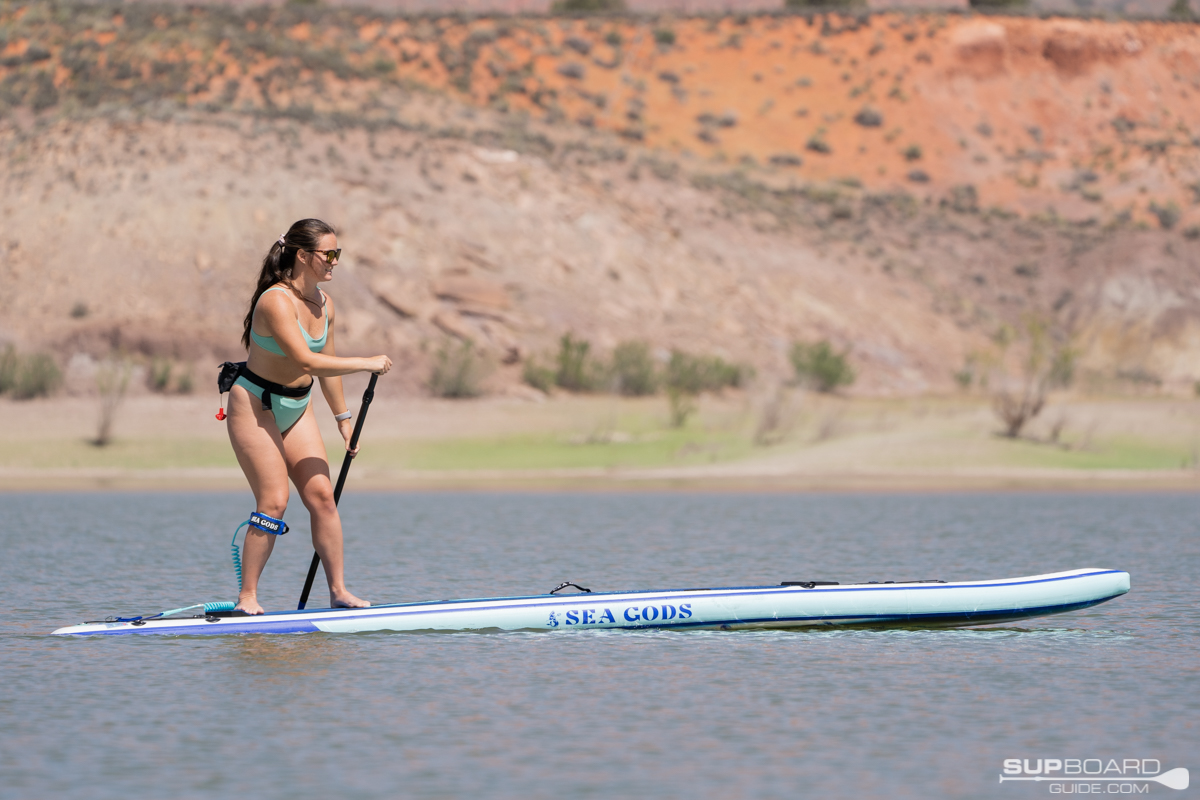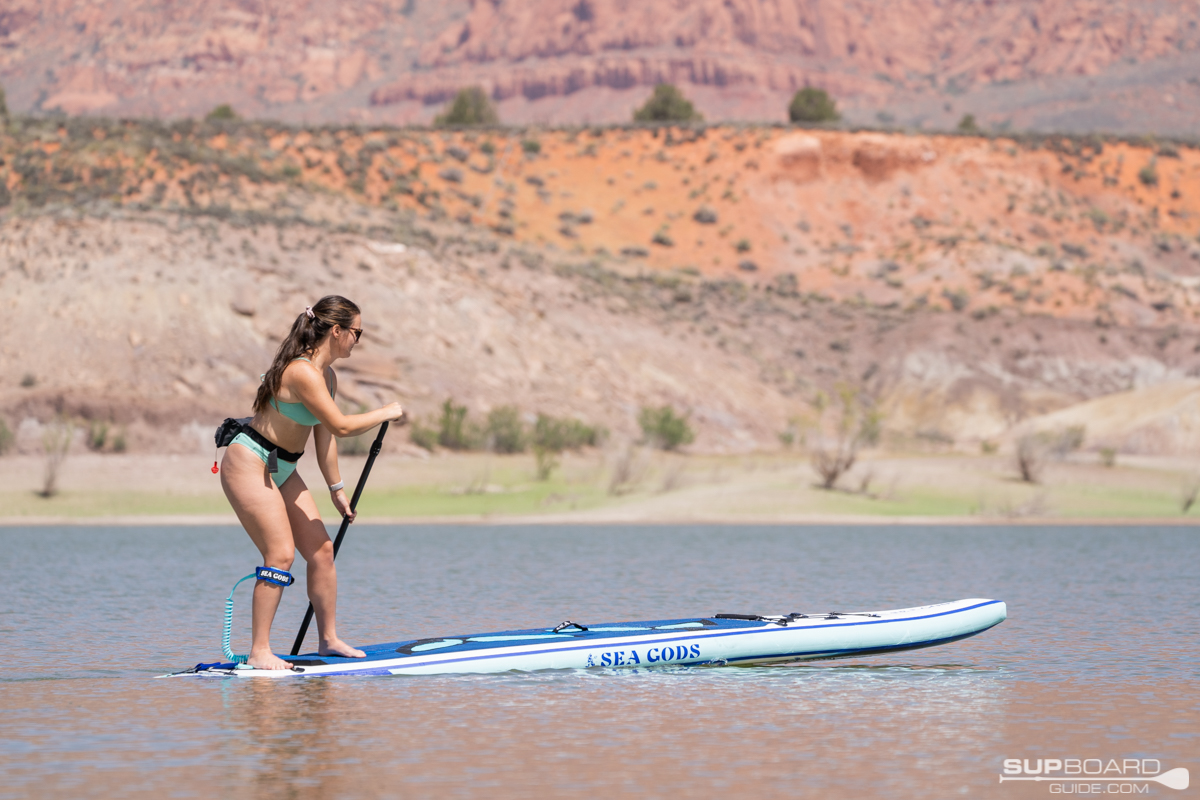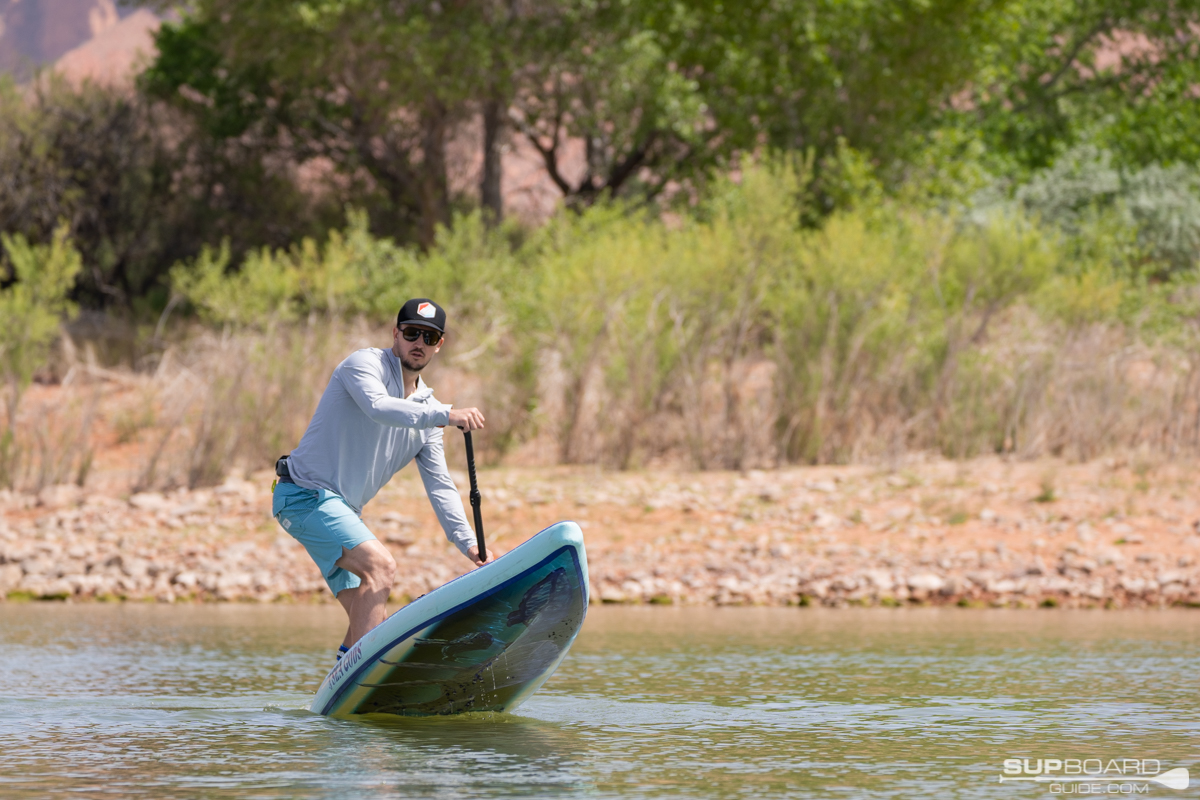 As with any 14' race SUP, the Ketos would rather hold its line in the water than easily be shifted into a different direction.
Casual backstroke and forward sweeping turns on the Ketos are naturally going to be slower than they would be on a shorter SUP. However, because the Ketos is relatively light (25 lbs), turns don't necessitate a ton of energy, despite being slower.
It's also important to remember that because the Ketos is a race SUP, it's not designed with casual turns in mind. If the Ketos was truly in its element, you'd likely be performing a step-back turn around a buoy. While this type of turn will require a good bit of practice considering the Ketos is on the narrower/less stable end of the spectrum, it is made much easier with the addition of the raised kick pad at the tail-end of the deck pad.
That being said, while we appreciate the new addition of the kick pad, we think its function would be improved if Sea Gods eliminated the rear cargo area in order to shift the entire deck pad (kick pad included) further towards the tail.
The main reason being that the current placement of the kick pad is too far forward and doesn't sit over top of the fin. This makes it more difficult to sink the tail (especially for smaller paddlers without much weight to push with), and forces you to step over the kick pad and on top of the rear cargo area to actually have your foot in the best spot to lift the nose and pivot the board in any direction.
As seen in the top left photo, I am hardly able to lift the nose with my foot on the kick pad but am able to lift it just a bit more in the top right photo with my foot placed on top of the cargo area behind the kick pad (though I honestly should have placed my foot even further back). In the bottom photo, Justin is able to actually lift the nose when he places a foot towards the tail end of the rear cargo area, again stepping over the kick pad.
In short, we love that Sea Gods chose to add a kick pad on the Ketos; we just think it could be massively improved by shifting it further back on the board.
Construction Quality: 9.8/10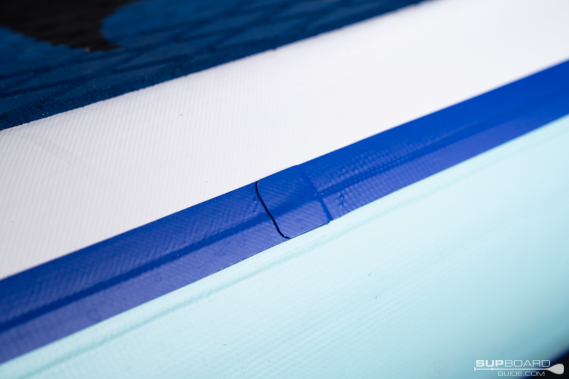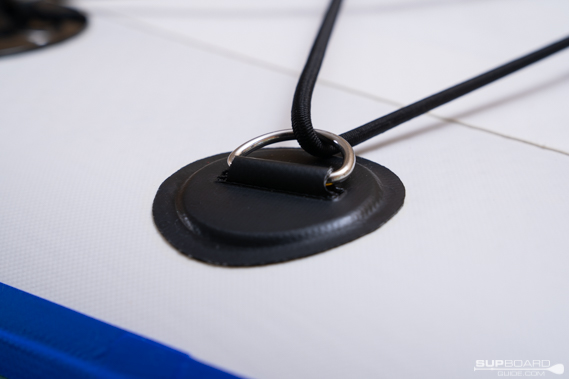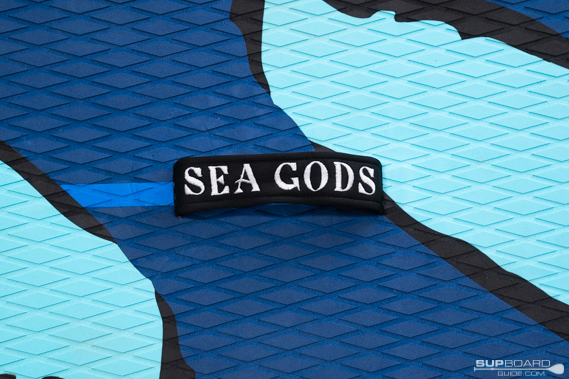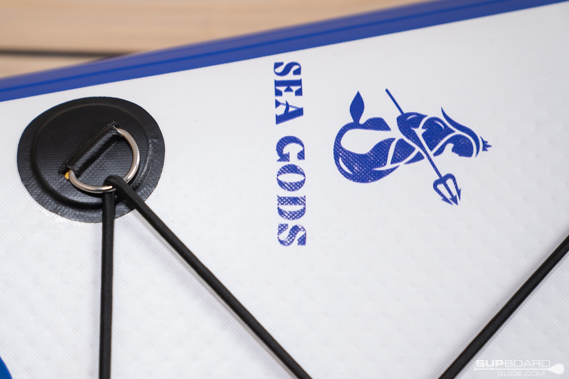 Construction quality has always been the main area where Sea Gods continues to impress us. Not only are they super transparent about their processes and materials, they also understand and are able to explain how those processes translate into the overall performance of their SUPs.
Regarding the Ketos specifically, the foundation of its construction is Sea Gods standard ultra-light fusion (ULF) technology with a woven linear drop stitch.
What this means is that the core of the Ketos is a tight woven fabric layer that is able to maintain its shape due to thousands of parallel threads. The woven layer is then coated with a liquid form of PVC that forms a seamless bond as it solidifies, eliminating the need for heavy glue. Sea Gods then adds on double layered rails and reinforces the seams via heat molding and reinforcement tape for added durability.
What really makes the Ketos stand out is its unique v-hull shape. Though we're not exactly sure how Sea Gods accomplishes this from a construction standpoint, we can attest to the fact that it enables this SUP to slice through the water in a way that otherwise wouldn't be possible for an inflatable board. This type of drag reduction and the resulting hydro-mechanics are what allows the Ketos to hold its weight against epoxy SUPs in the racing category while still maintaining the convenience of an inflatable paddleboard.
Board Stiffness: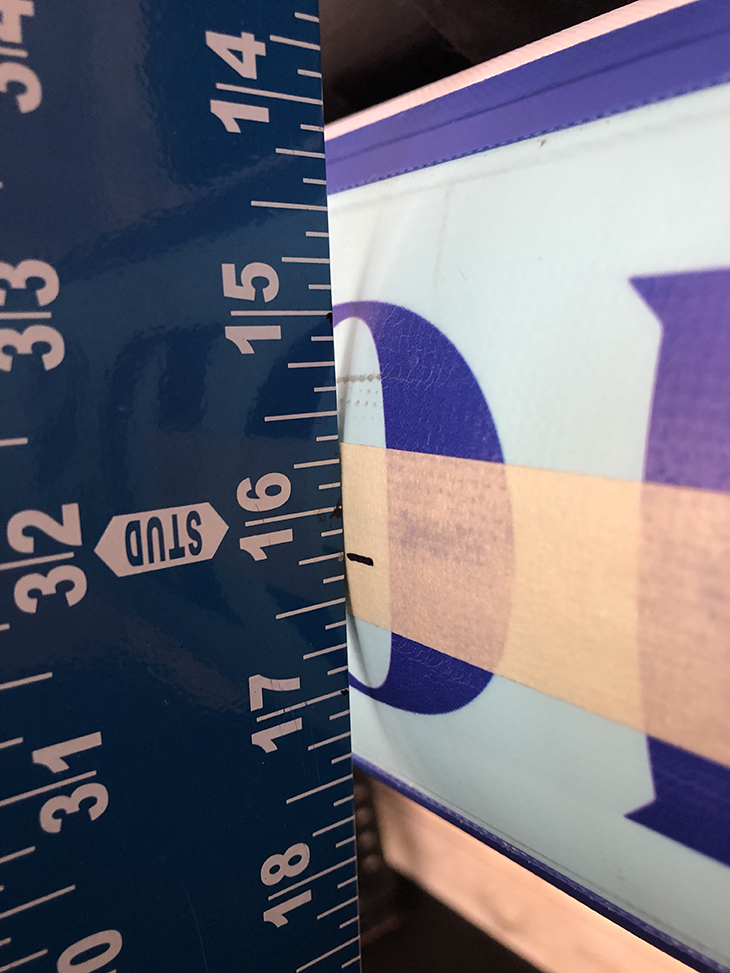 Stiffness Test: 1.0625" Bend
Our bend test is carried out by placing the SUP on top of two sawhorses that are spaced 7 feet apart. We then load 150 lbs onto the midpoint of the SUP and measure how much it bends/flexes under the weight. Obviously, this is not replicative of on-the-water conditions, but this test does help us differentiate between construction processes and quantify how it affects board stiffness, which does often translate into performance and overall weight support.
The Ketos performed well in the bend test with only 1.0625" of bend and is on par with Sea Gods entire line-up of SUPs. What is most impressive about this result is that the Ketos only weighs in at 25 lbs, which is fairly light when it comes to dedicated racing inflatables. Sea Gods was able to achieve stiffness from their drop stitch fabric/density and raw PVC material instead of loading on layer after layer with excess glue.
Features/Accessory Review: 9.3/10
The Ketos is actually on the feature heavy end of the spectrum when it comes to racing SUPs.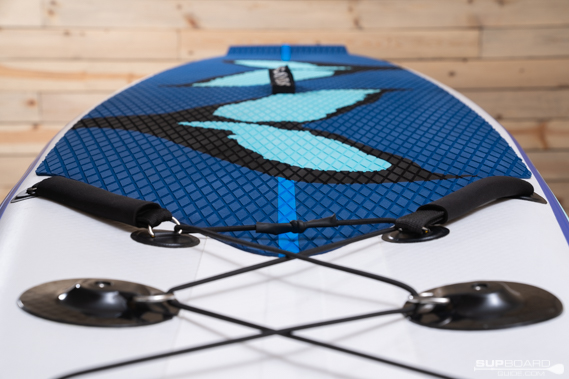 Starting at the Keto's nose, there is a 6-point bungee cargo area with 2 integrated action mounts, as well as a pair of grab handles.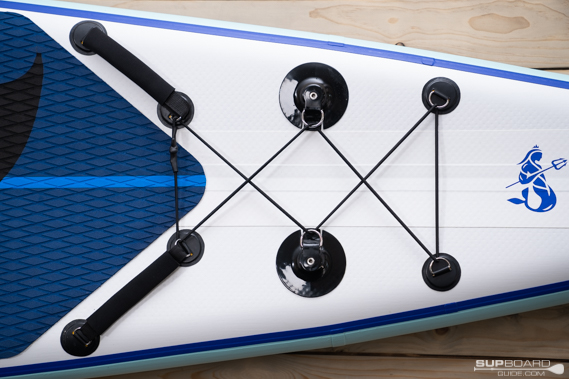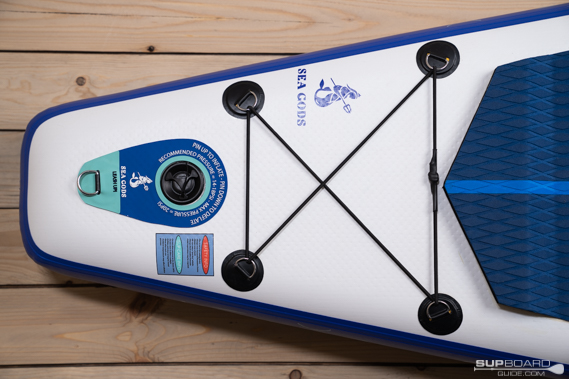 On the tail, Sea Gods implemented a much-appreciated raised kick pad that has a 4-point cargo area just behind it. The Ketos also sports a grippy diamond grooved deck pad and a well-balanced center handle that makes it pretty easy to carry this 14' monster.
We love that Sea Gods chose to make the Ketos a little more versatile and gear capable than other SUPs in its category, however we do still have some suggestions as this SUP continues to evolve.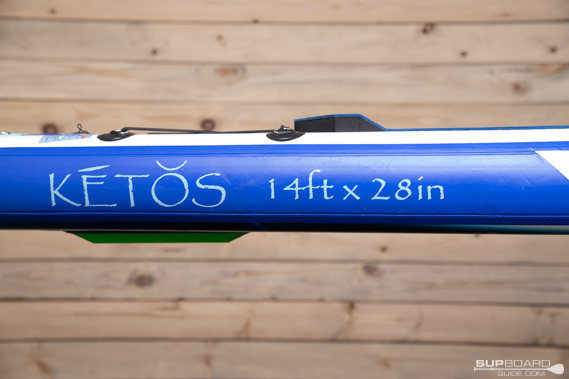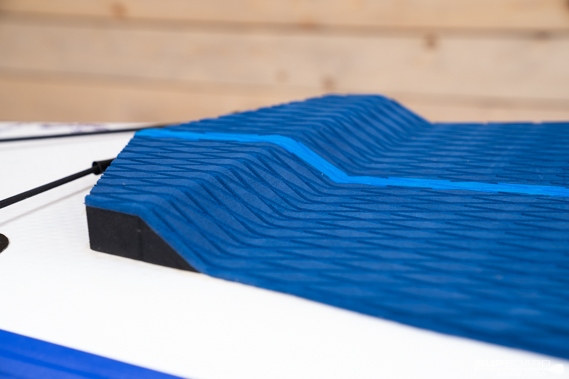 As we mentioned earlier, the raised kick pad is just a bit too far forward to be as effective as it could be. If Sea Gods shifted the entire deck pad back towards the tail so that the kick pad sat right over top of the fin, you'd be able to sink the tail much more efficiently and perform a tighter step-back turn.
This would also create some room up front to shift the nose cargo area down, widening it up for more gear storage and putting the grab handles in a better spot for running beach starts if you were to enter the Ketos in a SUP race.
Included Accessories: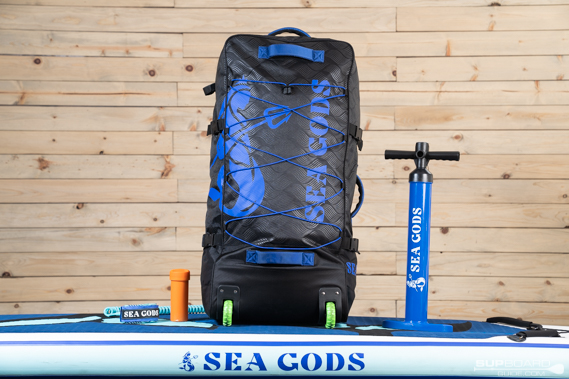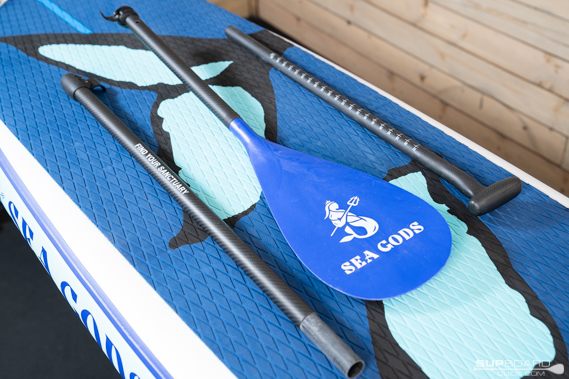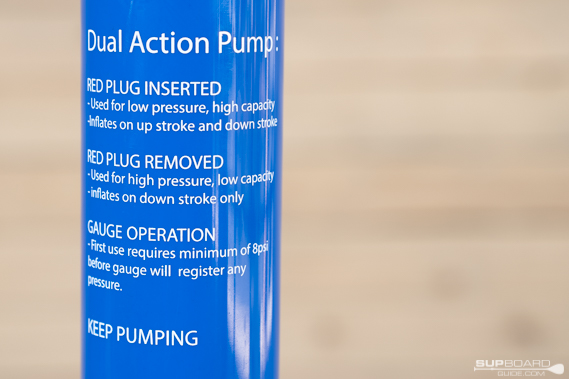 Unlike most racing SUPs, the Ketos comes equipped with all of the necessities to get you out on the water. You'll find the following included with your Sea Gods Ketos:
3-piece carbon fiber paddle w/ nylon blade
9" hatchet/touring flex fin
11' coiled Sea Gods leash
Single chamber hand pump
Wheeled SUP backpack
Overall, we're really happy with the quality of Sea Gods' kit. You can find a more detailed review of their accessories on our Sea Gods Accessory Review.
Summary Review of the Sea Gods Ketos Racing iSUP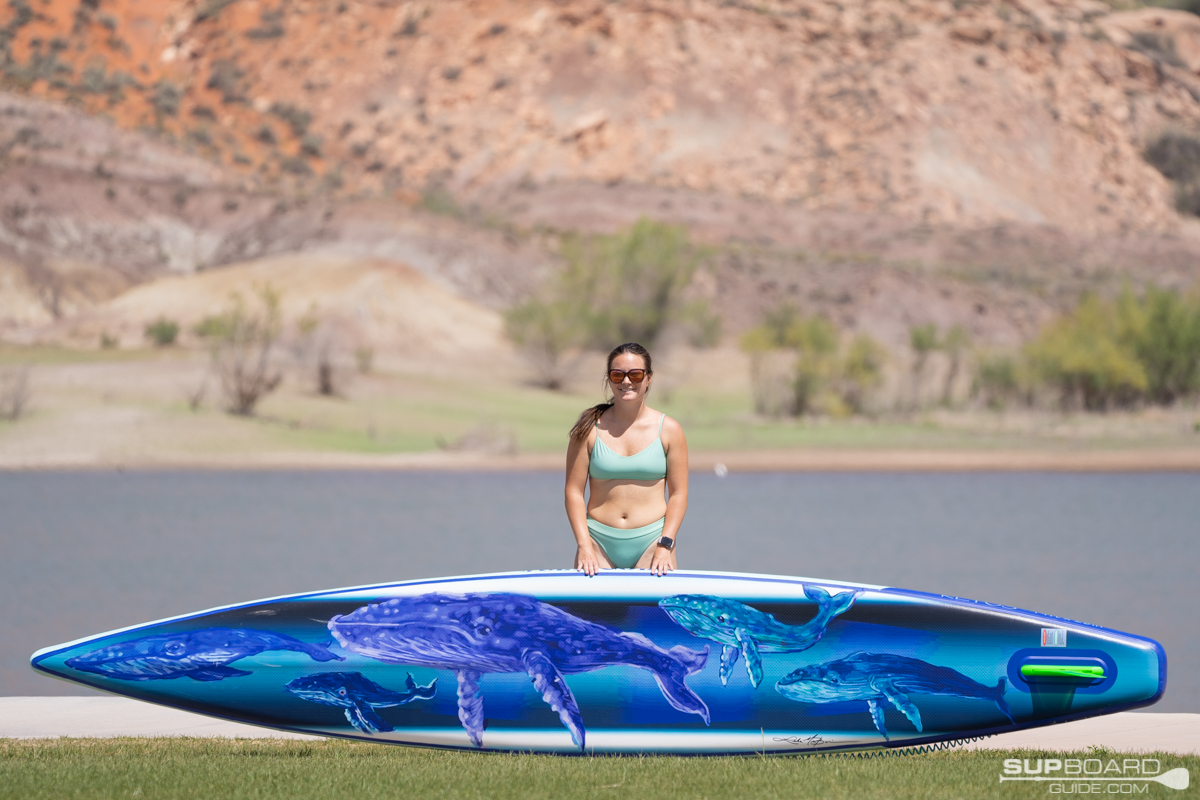 If it wasn't already evident by this review, the Sea Gods Ketos is one of our favorite boards to test out out.
Its stiff build, 14' waterline, narrow 28" width, v-hull technology, and hatchet fin set-up combine to make the Ketos a formidable contender at the starting line and gear it towards more advanced paddlers looking to enter into the racing or fitness touring scene.
On top of it's performance, we were also impressed by the included Sea Gods accessories, as well as the Keto's accommodating features despite the fact that it falls into the racing iSUP category.
Lastly, but certainly not of lesser importance, the Ketos shows off stunning artwork by Luke MacBain that you won't find anywhere else in the SUP industry.
As always, we hope you've enjoyed reading through our review of the Sea Gods Ketos Racing Inflatable Paddleboard. If you have any questions or feel that there's something we've missed, don't hesitate to comment below.
Stay safe and happy paddling!
The following two tabs change content below.
SupBoardGuide Editorial Team
At SupBoardGuide.com we are a team who love the water, the outdoors, and are more than grateful that our full-time job allows us to review stand up paddle boards. We paddle year round (it helps that we are just about 2 hours outside of Las Vegas), and we bring in a wide range of paddlers with the goal of providing our readers with the best, most in-depth, and accurate stand up paddle board reviews.
Latest posts by SupBoardGuide Editorial Team (see all)