Sea Gods Ketos 14' Inflatable Stand Up Paddle Board SUP Board
Pros
Gorgeous whale pod design with meaning that is relevant to what Sea Gods intended the board for - racing!
22 lbs weight makes for a very lightweight packing option to take your board anywhere you please.
The integrated displacement hull cuts through the water and provides excellent gliding and tracking capabilities - both excellent qualities to have with a touring/racing board.
Universal US fin box + fantastic Kumano fin that plugs into the fin box in seconds and securely stays in place.
High quality backpack, leash, and carbon fiber paddle all included. Great accessory kit overall!
Impressive lifetime warranty coverage. Sea Gods stands by their SUPS, and goes the extra mile with a '30 Day Love It Guarantee'.
Cons
We'd still like to see an option to purchase a dual chamber pump vs the single chamber pump that comes with the kit. However, the single chamber pump is a quality pump that does get the job done, and is easier to carry around than a dual chamber pump would be.
If you are a beginner, the displacement hull might take a little getting used to as it does decrease stability a little bit (makes you feel like you are teetering on axis when still). However, as you improve your paddling and balance skills you will love how well the hull cuts through the water.
Intro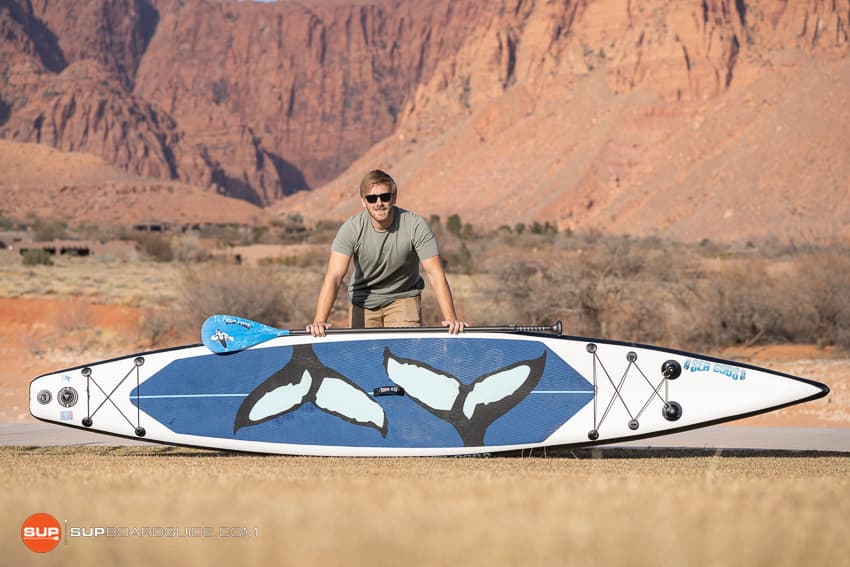 The 2022 Ketos SUP by Sea Gods is an absolute water rocket! This racing paddle board is a true stand out amongst inflatable stand-up paddleboards for it's beautiful design, the features it provides, the accessories included, and it's racing/touring performance.
The paddleboard absolutely cuts through the water with precision, and with a narrowly pointed displacement hull and 14' length you'll hardly have to swap sides paddling to maintain a straight tracking line. The comfortable diamond deck pad is well made for long day paddling adventures or intenses races, with a stellar design that makes the deck and bottom of the board truly jaw dropping.
You have some great high quality accessories included as well, including a lifetime warranty from Sea Gods covering damage outside of normal wear and tear. If you're looking for a lightweight race/touring iSUP to compete against your fellow paddle boarders on, read our full performance review to learn why we highly recommend the Sea Gods Ketos 14' iSUP!
SUP Board Specs
Length
14'
Width
28''
Thickness
6"
Weight
21 lbs
Rider Capacity (lbs)
300 lbs
Recommended Inflation
20 psi
Fins
Single US/FCS Fin Box
Kumano Click Fin
Paddle Type
Carbon Fiber shaft and Nylon blade
29 Ounces
Construction
ULF Fusion Construction
Double Reinforced Military PVC Rails
Who Should Buy This Stand Up Paddle Board: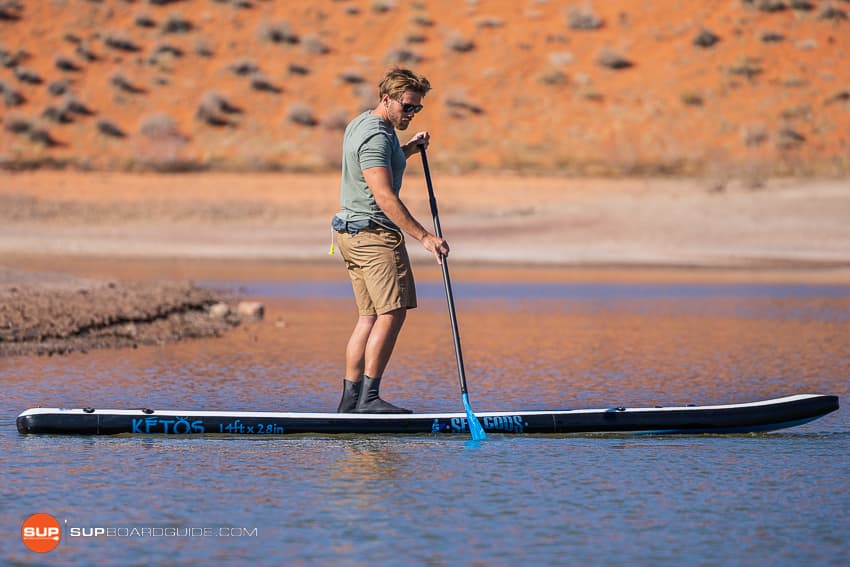 The Ketos 14' iSUP by Sea Gods is a racing/touring style hybrid paddleboard. Hard SUPs are better suited for racing (hard sups will generally be faster than inflatables), but the Ketos 14' is going to keep up very well in a race, especially when compared to other iSUPS. Consider the Ketos 14' if you are among the following:
Paddlers who are interested in a racing style inflatable SUP that also works as a touring board given it's stability. Extended pointed nose is a true inflatable displacement hull.
Hikers who want a SUP that is great for long distance paddling, but easy to hike long distances with as well. 22 lb board weight makes this easy to carry while backpacking.
Those who are interested in the fastest SUP that Sea Gods has to offer. The Ketos 14' also offers the best tracking as well, so you'll hardly have to switch sides paddling to maintain a straight course.
Consumers who want a SUP that is equal parts impressive design and performance. The Ketos 14' has a whale design that makes it one of the best looking SUPs out there. I personally love whales, so I inherently loved the Ketos from the moment I saw it.
Performance
Stability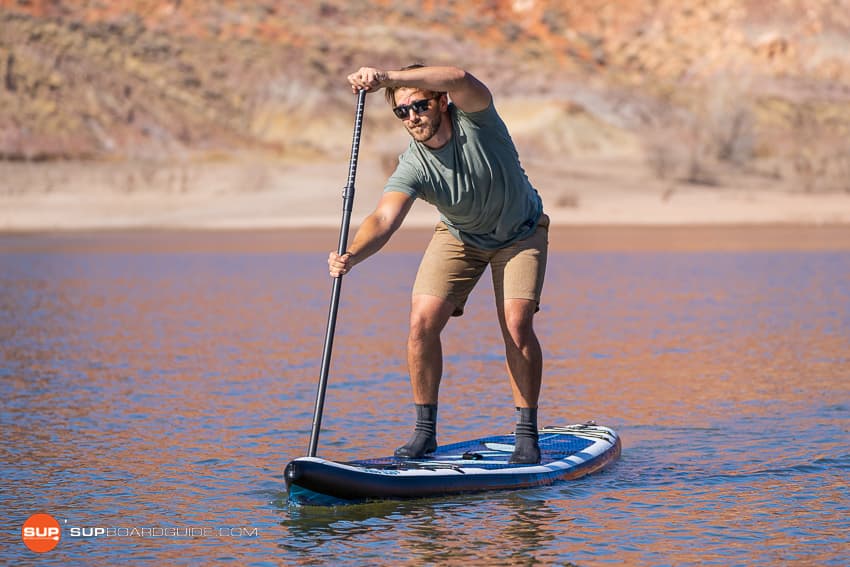 Racing SUPs try to be as lean and mean as possible in order to provide maximum speed, which is why some racing iSUPs are not the most stable of paddleboards – especially for beginners.
However, we found the ketos to be very stable, even for beginners. The 6" thickness gives the board a lot of volume and provides paddlers with a high, 300 lb weight capacity.
As mentioned in the above Pro's/Con's section of this review, the displacement hull does provide a unique feeling at first that takes a little bit of adjusting to. Given that the Ketos is a 14' x 28" board, the displacement hull can make some beginner paddlers feel unstable at first. However, as you start to move your stability increases and we don't think adventurous, athletic beginners who want a race SUP will have any problem with stability on this SUP after a little bit of practice.
Maneuverability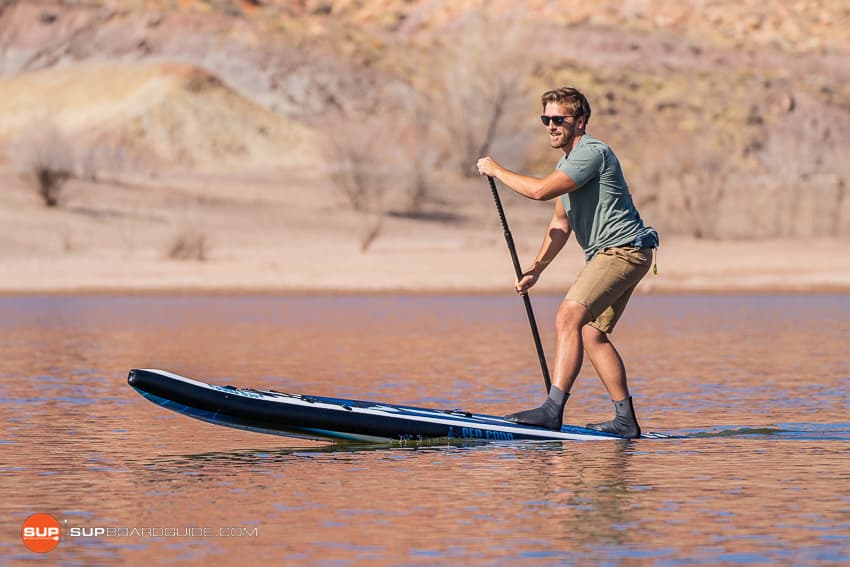 When evaluating maneuverability on racing SUPs, we are predominantly looking at how easy and how well you can perform a step back turn on the SUP. From the middle of the board, any racing SUP is going to be harder to turn than an all-around SUP.
With the Ketos, we found performing a step back turn to be comfortable and fairly easy. The tail of the Ketos is 7 inches across, so there isn't a lot of board width preventing you from sinking the tail. It is also a very easy board to raise out of the water given it's only 22 lbs. My own recommendation here is that I would love to see a raised heel pad to better grip the board while turning, and to make it easier for me to just step back and know exactly where to place my foot.
Tracking/Glide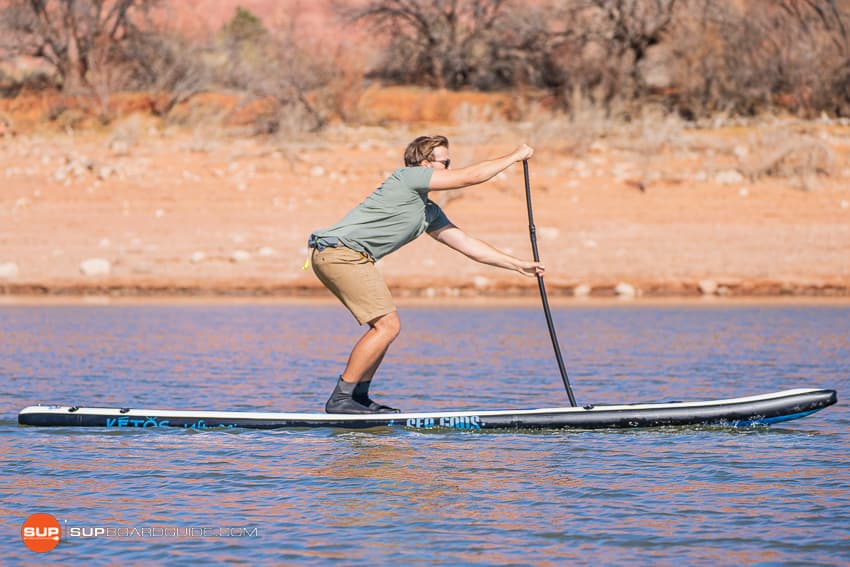 Racing SUPs excel in terms of tracking, and that is what you'll see once you start paddling on the Ketos 14' iSUP. We tried it at a couple of lakes and reservoirs in the area, and we were quite pleased with how each of our testers were able to keep a very straight line while paddling. The Ketos' displacement hull helps you maintain a straight line in the water while cutting through chop rather than being impacted like a typical iSUP board.
Speed is king with the Ketos 14', and it is easily the fastest iSUP made by Sea Gods, in fact it is one of the fastest iSUPs we've reviewed here at SUPBoardGuide. With how light the Ketos inflatable paddle board is, we had no issues on getting to top speed effortlessly from the get go.
Materials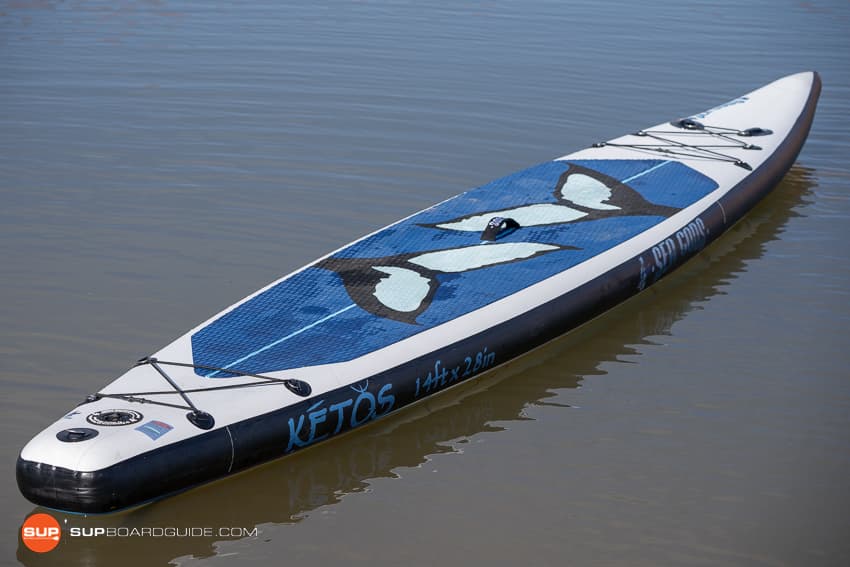 The Ketos 14' is a very rigid iSUP, providing great weight support despite being a very light, 22 lb SUP. This is made possible with the stellar Ulta Lightweight Fusion construction, providing a balance of portability and performance. The inner core is made up of sheets of fabric stitched together with over 12,800 super reinforced strings, forming what is called a drop-stitch core.
The core gives the SUP its shape as air is pumped in, with an outer shell applied to the inner drop-stitch core for even more rigidity and performance. This outer shell is made up of additional sheets of fabric separated by coatings of military grade PVC, all of which is machine laminated for a tight core and shell fusion. As a result, the Ketos 14' is more durable than many epoxy SUPS, emerging unscathed after days of heavy testing. With a UV protection coating, the Ketos 14' won't degrade from sun exposure either, so take good care of it and you'll have an iSUP that will last you for many, many years to come.
Board Design/Shape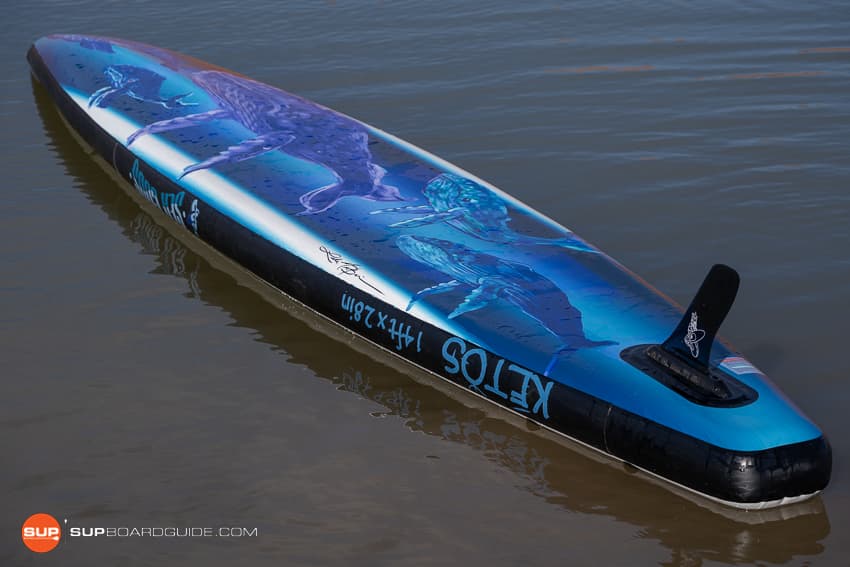 As a racing SUP, the Ketos is designed to be long and lean so that it provides excellent speed while being easy to paddle and able to maintain a very straight line in the water. The 14' length is typical of racing style SUPs, providing excellent tracking so you can focus more on speed and less on having a perfect paddling form. The thin 28'' width is just wide enough that you have enough space to comfortably stand on the SUP, but still thin enough that you're going to have much better speed than an all around or even touring dedicated iSUP. The 6'' thickness provides nice volume to increase the weight capacity up to 300 lbs.
Board Features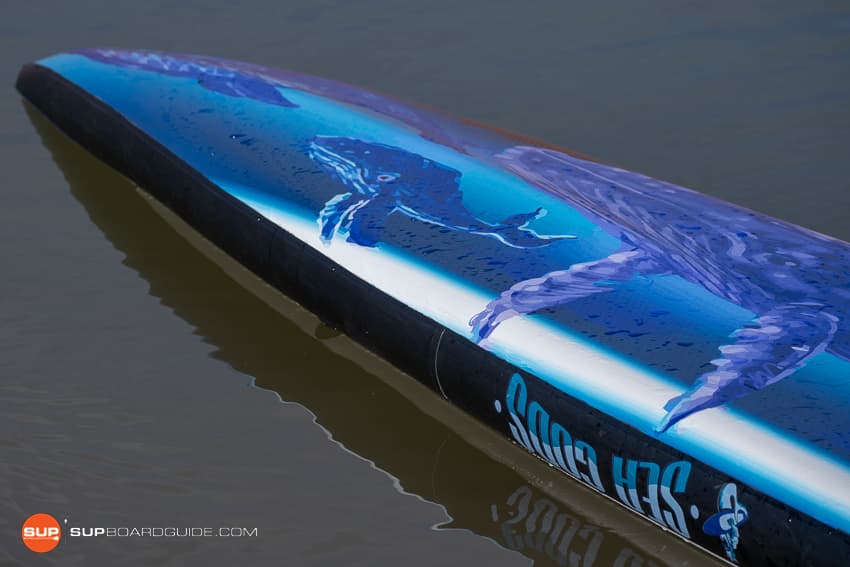 The Ketos 14' iSUP has several other features that we wish to highlight along with the great SUP performance. Some of these features we think are worth highlighting include:
ULF fusion layer construction.
11 D-rings + Dual-Bungee Cargo System.
Center carry handle.
Diamond grooved, ultra cushy deck pad.
Displacement Hull
Unique artwork designed by a local artisan.
Fins
Something that we hope other SUP manufacturers will take from Sea Gods going forward is the innovative fin setup. The Ketos 14' has a single US fin box, but instead of just a traditional screw and plate fin you install the 9'' fin with Kumano plugs instead. You can insert one to three plugs, depending on how tight you want your fin to be, and is one of the easiest fins to install on the market. The Kumano fin installs faster than both a snap-lock and screw and plate fin, but with the added benefit that it works in the US fin box in case you need to swap it out for another fin. US fin boxes help you customize and finetune your SUP performance, so we are very impressed by the fin setup on the Ketos 14' iSUP.
Traction Deck Pad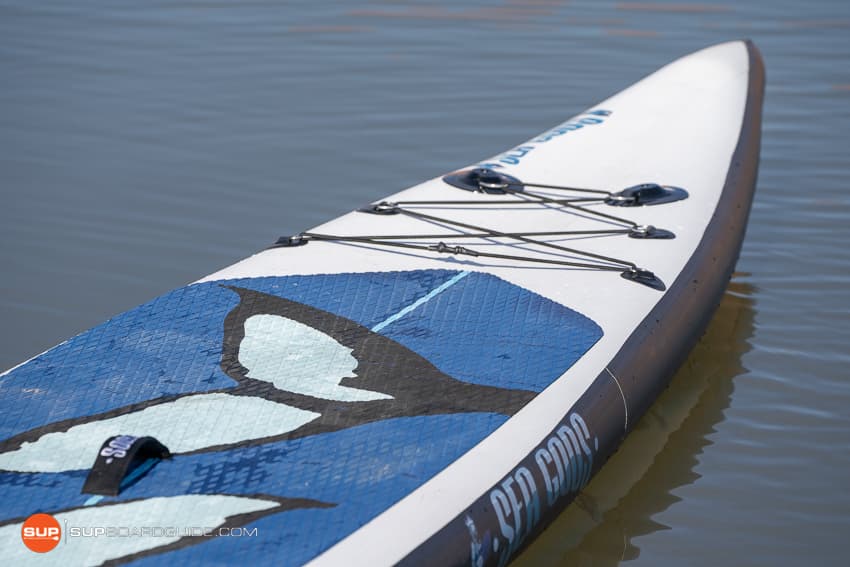 Ask our review team, and one of the favorite features included with the Ketos 14' is actually the traction deck pad. The look is absolutely beautiful, featuring a pair of whale tails that compliment the breathtaking whales that mark the bottom of the SUP. It feels as good as it looks, since the deck pad is made out of EVA foam, the same base material used to construct many popular yoga mats. Your feet will feel great even after you've been paddling for several hours, but the traction pad has a great diamond grooved pattern for improved traction and grip support as well. So, whether you're paddling on calm, flat water or on a windy day as you cruise down a coastline, you will have a blast paddling on the Ketos 14' inflatable SUP!
Handles
The Sea Gods Ketos 14' has a single carry handle in the center of the SUP, the handle featuring a neoprene cover that's comfier to hold than just a basic nylon handle. There is only one grab handle, but we found from our own testing that at 22 lbs, you don't really need someone helping you carry this SUP to the water. We don't mind the lack of a nose or tail handle then, but you should pay careful attention to how you carry the paddleboard. The SUP is heavier in the tail due to the fin box, so keep an eye out so your tail doesn't drag across the ground while you head for the water.
D-Rings/Bungees/Cargo Areas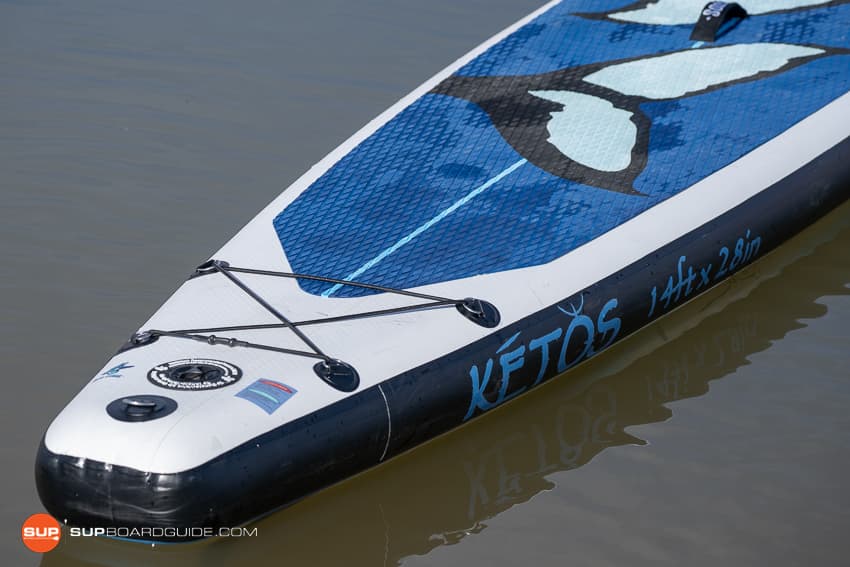 There are 11 D-rings you can attach your dry bag, cell phone case, and other clip-on accessories if you want to bring some gear with you out on the water. In addition to the D-rings, there are also 2 action mounts that you can screw in a GoPro camera, Bluetooth speaker, and several other popular electronic devices. Nose and tail removable bungee cargo cords are also included, allowing you to bring a cooler, lunch box, or backpack for those interested in multi-day touring adventures. Overall, it's a good accessory setup, with everything out of your way so you don't trip up while aggressively paddling to win a race.
Accessories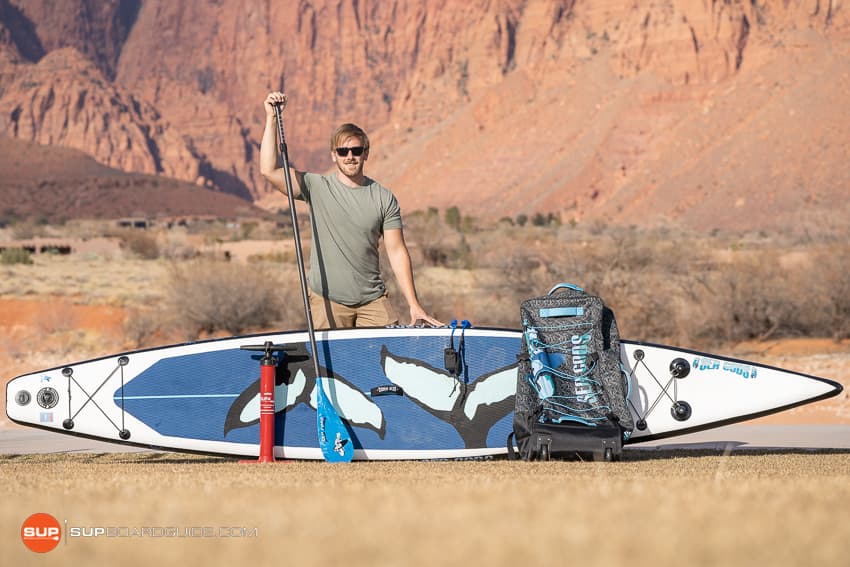 Carbon Fiber Shaft + Nylon Paddle Blade
Carbon fiber is the go to material for premium paddles, so it is great to see it used for the paddle that comes with the Ketos 14' iSUP. The shaft and paddle blade together weighs about 29 ounces, and while there are lighter paddles the included paddle will work great for most paddlers. It is very easy to adjust, even on the water, and it fits well into the included backpack as well. Dedicated racers may want to go even lighter, but for casual racers and touring adventurers we recommend sticking with the included Sea Gods paddle.
Pump
As we mentioned above, we would love to see Seagods offer an option for a dual chamber pump. The pump that comes included is a quality single chamber, dual action pump. We just pump up A LOT of iSUPs, so for us we prefer to save the 3-5 minutes of time and our arm strength. However, we would not say that the pump that comes with the kit is a bad pump. It's a great pump for those who want to minimize carry weight (backpackers, hikers, etc.) and does a good job – it's just a little slower than a dual chamber pump would be.
That is why we highly recommend just upgrading to an electric pump. Electric pumps do the hard work of inflating a SUP for you, and will help deflate your SUP as well. They are even smaller than a manual pump, making them easier to pack and take with you. For a list of our favorite electric pumps, please be sure to visit this link.
Backpack
We really like the Seagods backpack. The high quality bag is built with a sturdy canvas material, making it comfortable to wear while protecting your gear against the elements. There are multiple strap adjustment options, consisting of a chest strap, hib belt, and backpack straps. Traveling through the airport or on pavement is easy as well, thanks to the two roller wheels on the front of the backpack. The front wheels mean they won't dig into your side when you hike, and when you lay the bag down flat it's easier to open it up as well.
The backpack is oversized, so you don't have to roll your SUP up as tight as a tent just to get it to fit into the bag. There are two storage compartments, so you can separate your gear out as well for a more organized kit. We typically store the SUP, pump, and paddle together in the main compartment, with everything else getting placed in the extra storage compartment. However you do it, the Sea Gods backpack is a bag you'll want to store the Ketos 14' and other SUP equipment in!
Leash
The Ketos 14' comes with an extended 11' coiled leash, which we highly recommend wearing when you go out paddleboarding. To put the leash on, attach the velcro strap to one of the D-rings on the SUP and then wrap the cuff around your ankle or thigh. If you fall off while wearing a leash, your board will stay close to you instead of drifting away, especially if you fall into fast moving water. You will want to wear a PFD as well, because while a leash will keep the Ketos 14' close to you, a PFD is the only safety gear that will help you float better once you fall into the water.
Repair Kit
One final accessory that is included with the Ketos 14' is a standard iSUP repair kit. The repair kit comes with two tools, consisting of an inflation valve wrench and adhesive patches. The inflation valve can come loose overtime, so you can use the wrench to tighten it up once every couple months or if it seems the air is leaking. Additionally, there are adhesive patches as well that are very easy to apply, and can be used to seal small holes and tears that don't occur on the seams of the paddleboard.
For more significant SUP damage, be sure to contact Sea Gods for additional support.
Company Review – Sea Gods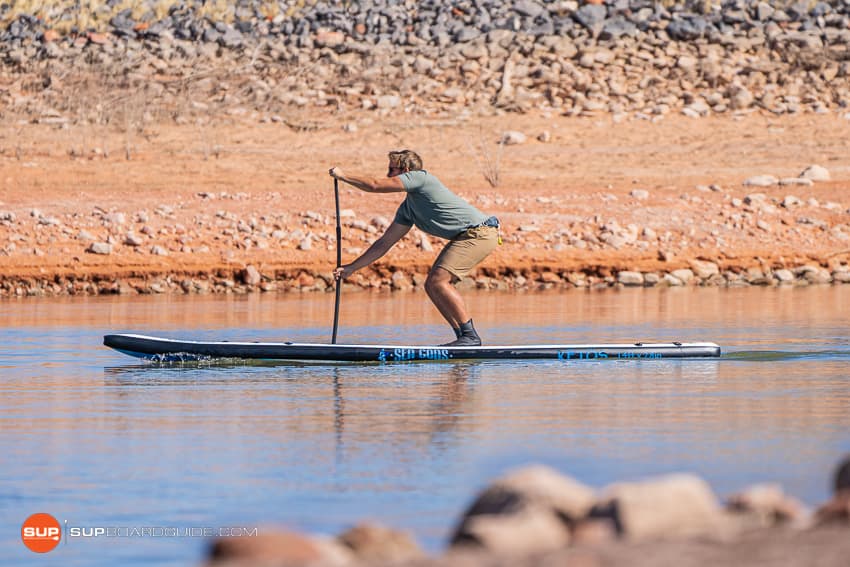 Sea Gods make very durable iSUPs, using their great ULF construction to make long-lasting boards that are very difficult to damage. From the time it arrives at your door, you have 30 days to test and try out the Ketos 14', and if you aren't completely satisfied you can return it minus a 10% restocking fee. Along with the guarantee, you also have lifetime warranty coverage, which covers all damage outside of normal wear and tear. If you do accidentally damage your board, you can even get the Ketos 14' repaired or replaced at a discounted price. Sea Gods has only been around for a couple of years, but they are already setting themselves apart as one of our favorite SUP manufacturers on the market!
Conclusion/Bottom line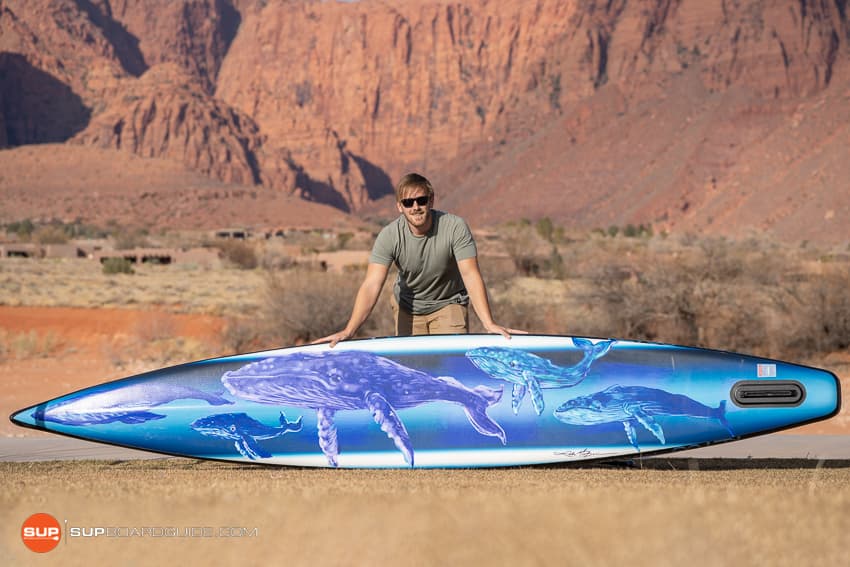 The Ketos 14' is a fantastic racing and touring hybrid that paddlers interested in racing and touring purposes can go out on and have an absolute blast on. The stellar tracking, extra stability, and lightweight build adds up to make one incredible inflatable stand up paddle board. The deck pad is great for all-day adventures, with great accessory mounts so you can bring food, music, and other gear with you to make your paddling adventure even better.
The high quality backpack, paddle, fin, and leash are all premium accessories, all of which would be worth several hundred dollars if you bought it separately. So if you are looking for a fast, easy to use iSUP with excellent tracking that will help you outrace all of your friends, check out the Sea Gods Ketos 14' inflatable racing SUP!
Thank you for reading our performance review of the Ketos 14' iSUP! Please leave a comment below if you have any other questions, and check out the rest of our reviews here at SUPBoardGuide.com!
The following two tabs change content below.
Justin Taylor, Head Paddler
At SupBoardGuide.com we are a team who love the water, the outdoors, and are more than grateful that our full-time job allows us to review stand up paddle boards. We paddle year round (it helps that we are just about 2 hours outside of Las Vegas), and we bring in a wide range of paddlers with the goal of providing our readers with the best, most in-depth, and accurate stand up paddle board reviews.
Latest posts by Justin Taylor, Head Paddler (see all)