Gili Air 11'6
Pros
Very competitively priced right now
Lightweight, but still has plenty of stability for beginners
Great speed and tracking capability
Well padded backpack
Lots of features for an inexpensive SUP
Option to have an aluminum or fiberglass paddle included in the kit (we highly recommend the fiberglass paddle)
Cons
We'd like to see a dual layer construction to improve performance for larger paddlers
We love the removable bungee concept - but they don't fit through the D-rings so you can't remove them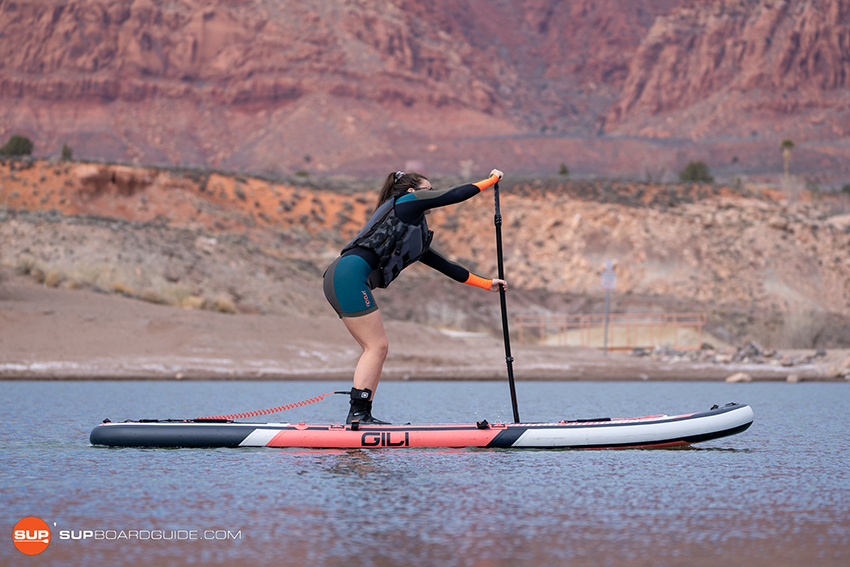 There is a lot to like about the updated Gili 11'6 Air. We were excited to see GILI add this to their product line, as it adds a bigger board as an option for paddlers who want a less expensive iSUP from GILI. At 11'6 x 32, we think this inflatable paddleboard would make a great choice for paddlers between 150 – 230'ish lbs who are in need of an affordable, lightweight, all-around/touring hybrid SUP.
The 11'6 maintains enough stability to keep beginners confidently on their feet, but its newly adapted tapered shape gives you a wide range of capabilities when it comes to speed. These attributes, combined with Air series' accommodating list of features, had us super excited to share our detailed review of this iSUP below.
*Weight range recommendations are subject to variation depending on paddler skills. As you get close to the high end of our recommended ranges (230lbs+ on the 11'6 GILI Air) please note that the performance of the board will decrease for beginner paddlers. Experienced paddlers will still find the 11'6 GILI Air to perform fairly well at 230 lbs, but we did notice the board starting to bend a bit at that weight.
We think the GILI 11'6 Air would be great for paddlers who
Are within a 150-230lb size range
Want a very affordable lightweight all-around that could handle some moderate touring
Want a SUP that has a variety of features that add versatility to your board
Need space to store gear
Want to paddle in flat water conditions (lakes, marinas, bays, slow moving rivers)
We think the GILI 11'6 is great for the following water conditions/situations:
Flat water paddling
Slow moving rivers
Very light chop/waves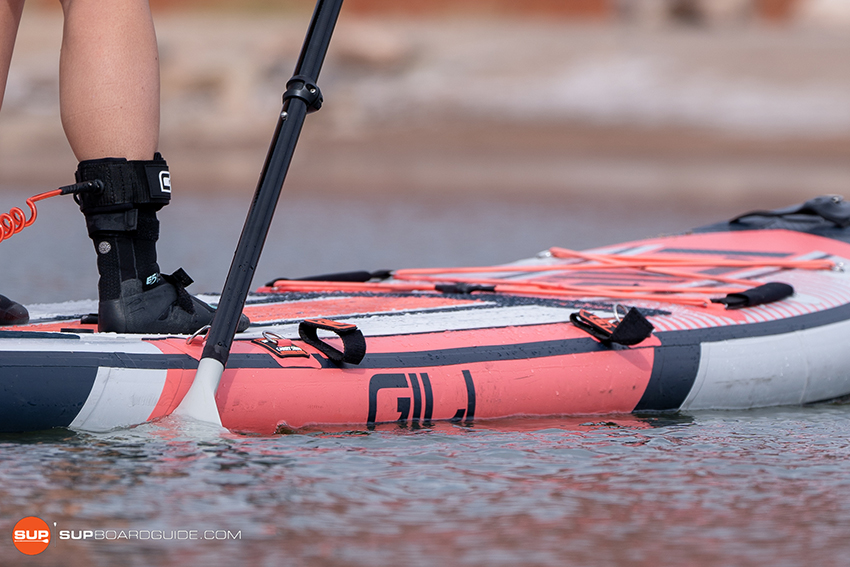 GILI 11'6 Air: Spec Sheet
Main Category: All-Around, Inflatable
Board Dimensions: 11'6 x 32" x 6"
Listed Board Weight: 21 lbs
Listed Max Capacity: 295 lbs
Recommended PSI: 15
Fins: 2+1, snaplock
Paddle: Aluminum with the option to upgrade to a fiberglass paddle for a small price increase
Materials: single layer PVC construction
Price Range: low-mid
Warranty: 2 years
Performance Review of the GILI 11'6 Air Stand Up Paddle Board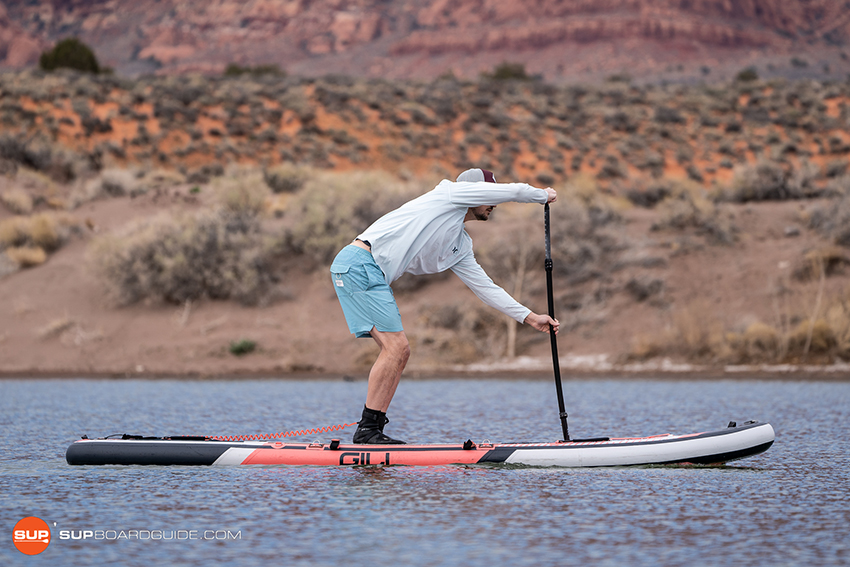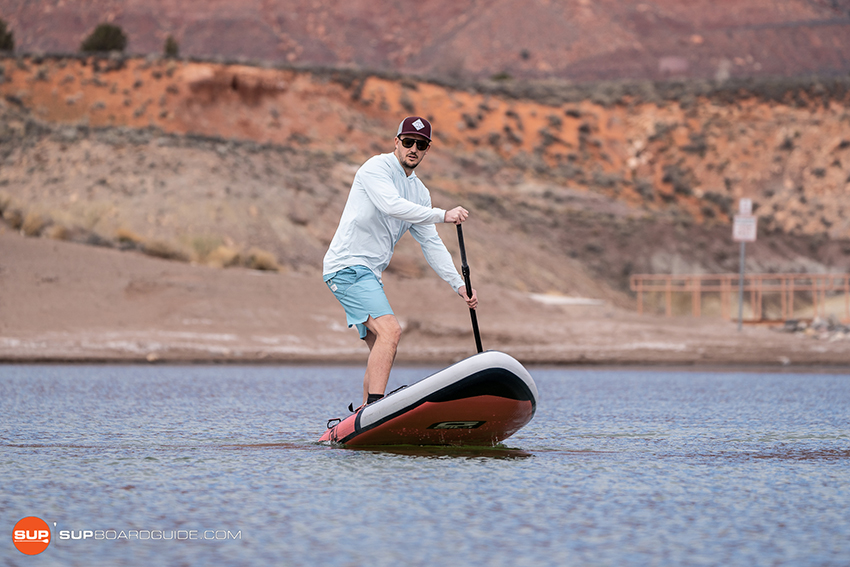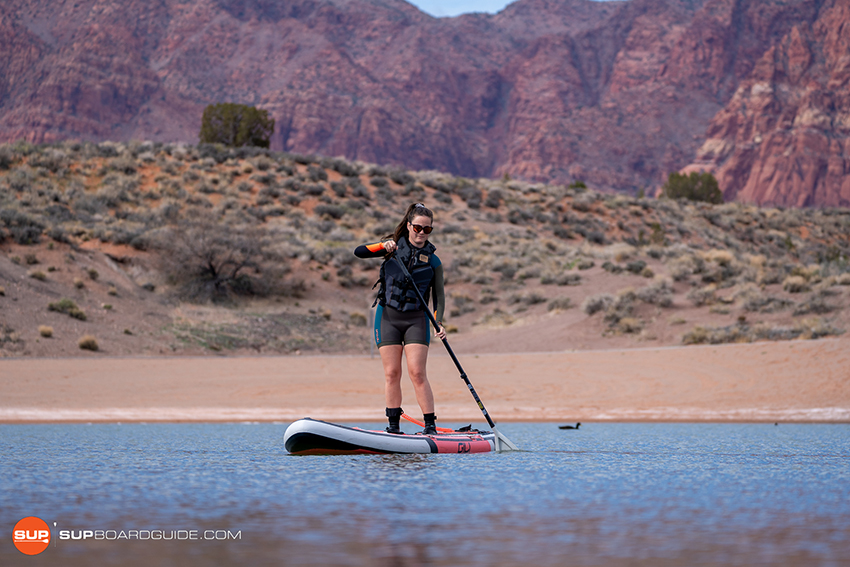 Overall Score: 8.7
Stability: 9.2/10
Speed: 8.7/10
Tracking: 9.0/10
Maneuverability: 8.9/10
Construction Quality: 8.0/10
Features/Accessories: 8.0/10
Stability Rating: 9.2/10
Listed weight capacity: 295 lbs
Tested weight capacity: 230 lbs
The 11'6 GILI Air excels in stability for paddlers within its size range. It's wide enough at 32" that we felt little to no side to side rock or 'tippiness' even if we tried to create some movement under our feet. Adding even more stability to the 11'6 Air is its 2+1 fin set-up and it's updated very gradually tapered shape, which helps this iSUP to maintain an impressive level of stability while still allowing you to pick up speed pretty easily.
One thing I do want to note about the 11'6 Gili Air's stability, however, is that it's single layer construction contributes to more bend under paddlers that are more than 230 lbs, despite having a listed weight capacity of 295lbs. This flexing or banana'ing will cause these paddlers to not only feel less stable, but also feel limited in terms of performance. If this is you and you want to stick to the same budget, I'd recommend the dual layer GILI 12' Adventure, or the dual layer Nautical 11'6.
Speed Test: 8.7/10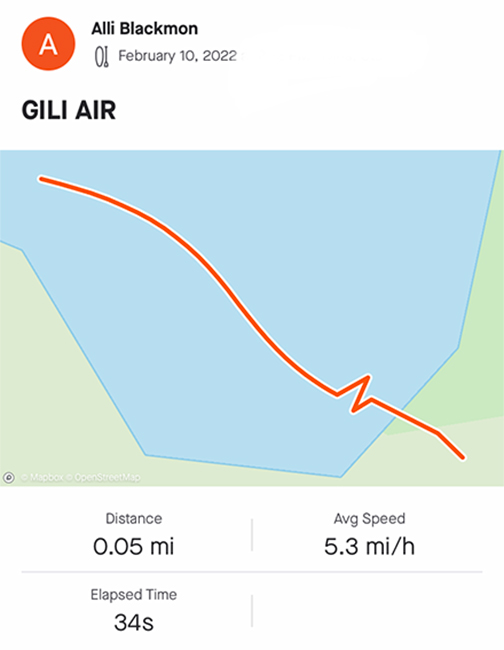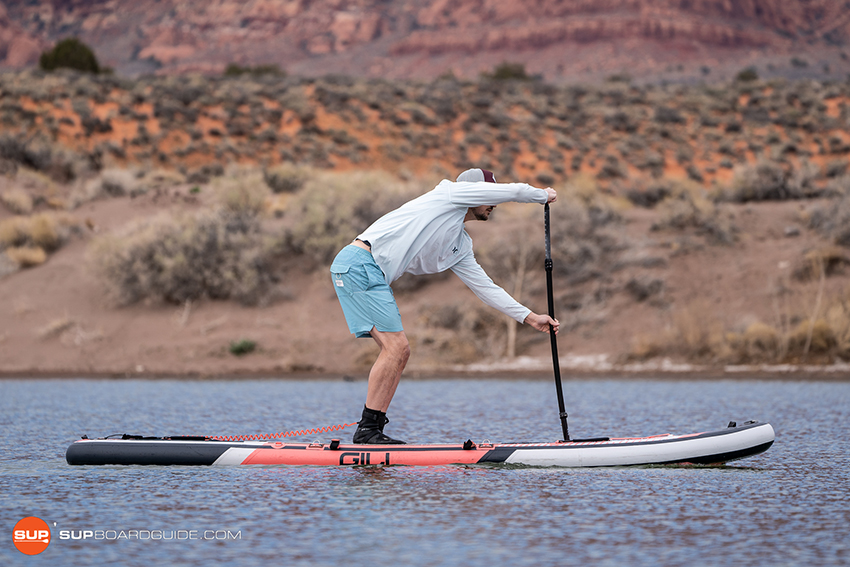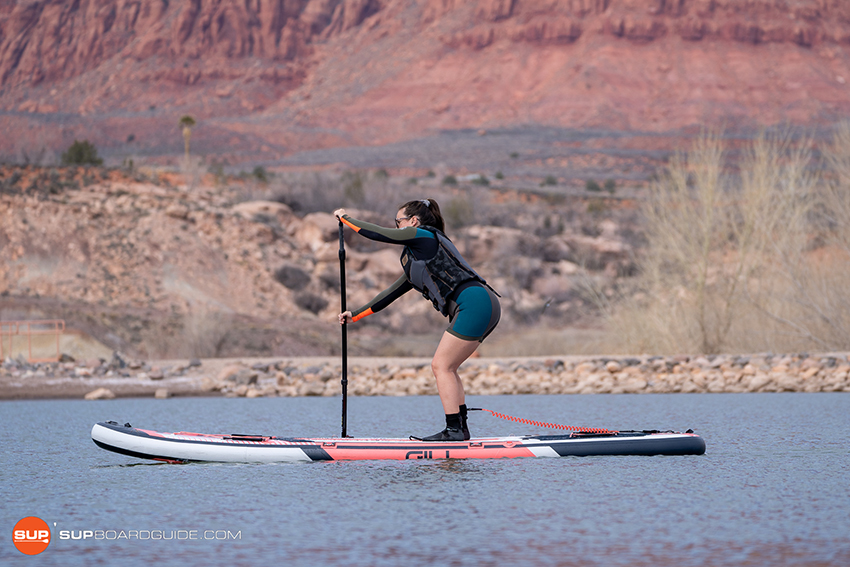 When it comes to speed, I have a tendency to underestimate the capability of SUPs in the all-around category (I'm working on it, I promise). Even still, the 11'6 Air left me pleasantly surprised after its sprint test. It'd make a great option for beginner paddlers with a budget that want an all-around board that won't limit them to short, casual paddles. This SUP could definitely handle some miles and won't have you breaking a sweat just to keep up with your friends.
Its lightweight construction makes it easy to pick up speed off the jump and its stability allows you to focus on powering into each stroke without worrying about the 'tippy-ness' that comes with speed-oriented race or touring boards. I also think the updated, more tapered shape cuts some surface area, thereby minimizing drag and friction against the water (i.e. it's easier to go fast with less effort).
Tracking: 9.0/10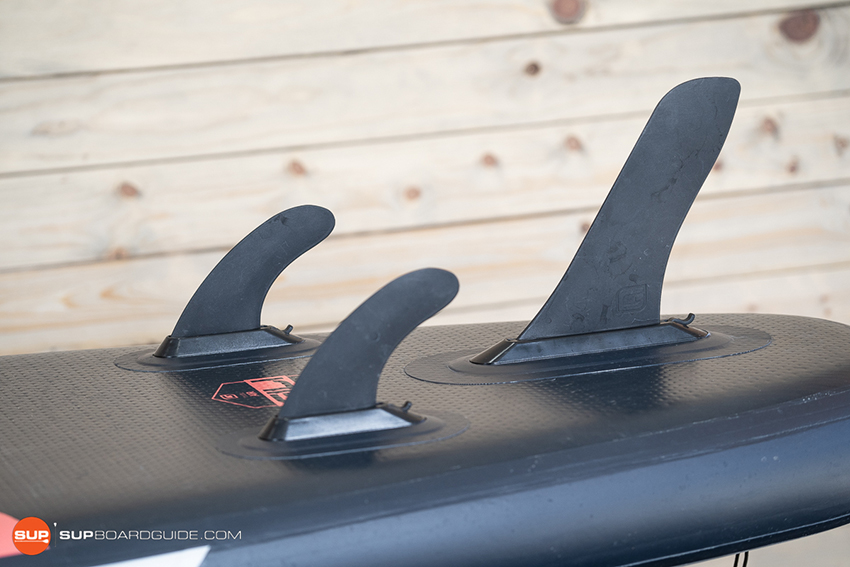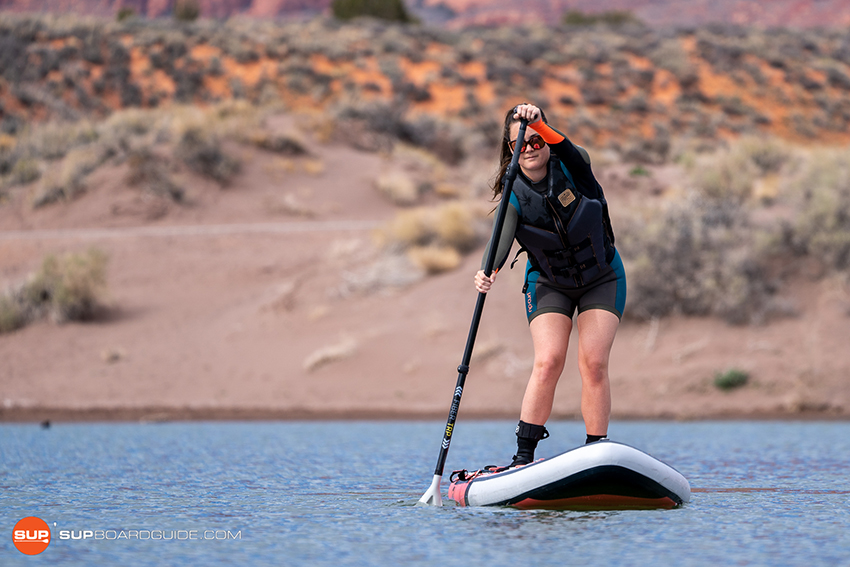 Overall, the 11'6 again left me pleasantly surprised with its tracking capability when tested against similarly priced all-around SUP options. Its 2+1 fin set-up helps you grip your path in the water while GILI's standard hatchet style center fin minimizes side-to-side tail wobble even further. This is something that would really be appreciated over long days on the water, as you have to switch sides a bit less often.
To be completely honest though, tracking depends mostly on your paddle technique and very little on the board itself (I'd estimate a 95% to 15% ratio). As we're testing, we try to keep our technique solid to allow the board to perform as well as it's capable but we also want to keep it realistic in that most people aren't honed in 100% on technique.
Maneuverability: 8.9/10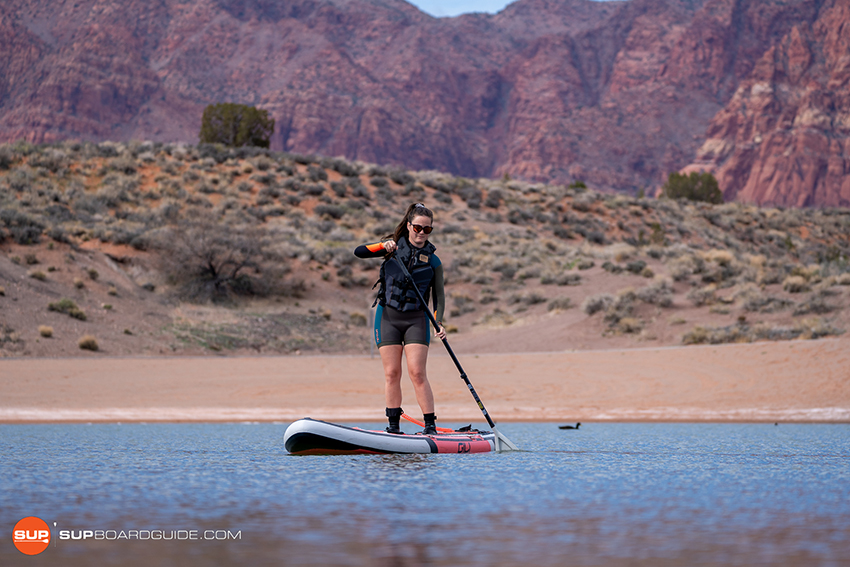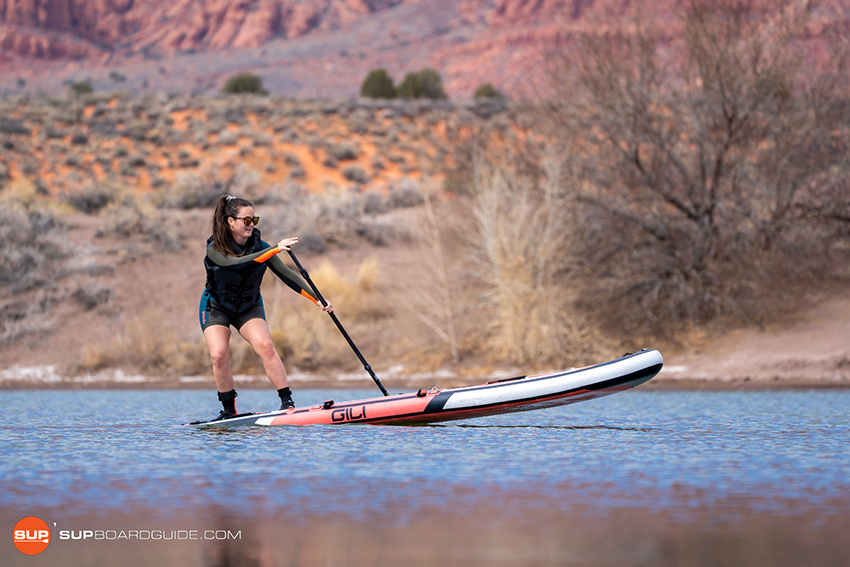 The best way that I can describe the GILI 11'6 Air's maneuverability in one sentence is that it's less maneuverable than most shorter SUPs but more maneuverable than other similarly shaped 11'6 boards that I've tested.
Any 11'6 SUP is typically going to be a little slower and wider in more casual turns than smaller board options, and the GILI 11'6 Air is no exception, but because it's lighter than most 11'6 boards the 11'6 Air takes less effort to change its direction. It also has enough stability, both coming from its 32" width and 2+1 fins, to make a step-back turn a lot more manageable for a beginner paddler.
Construction Quality: 8.0/10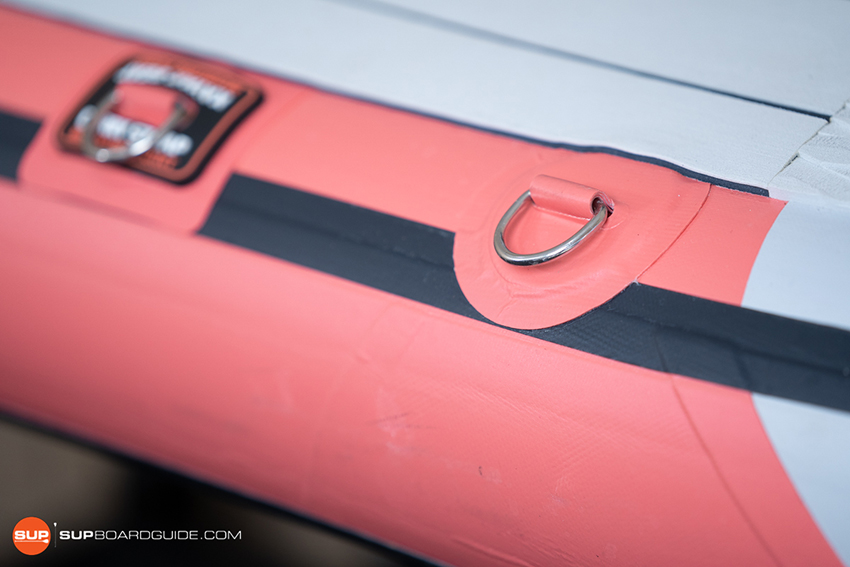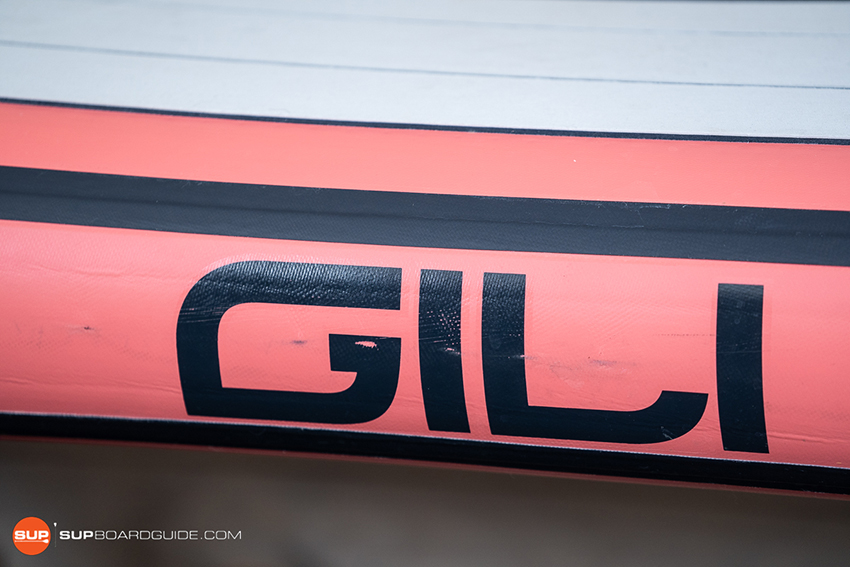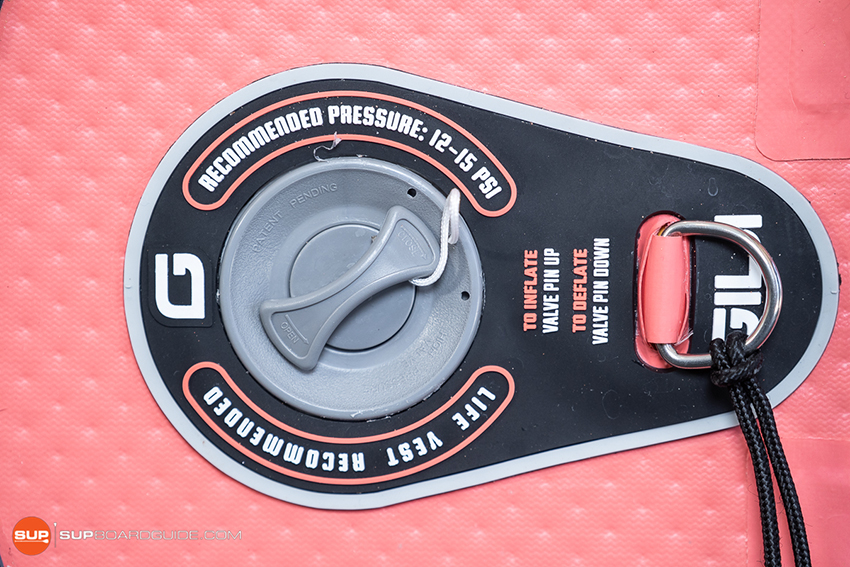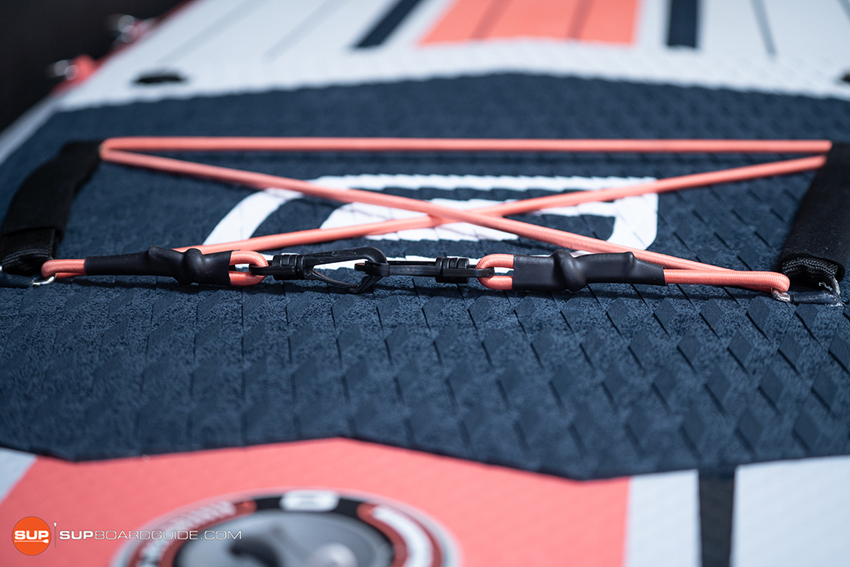 Keeping full transparency at the forefront, I'm on the fence about GILI's decision to build the 11'6 GILI Air using single layer PVC construction. I understand GILI's intention is to keep the Air series lightweight and affordable, but iROCKER's Nautical 11'6 is about the same price and weight, and is constructed with dual PVC layers. Further, GILI's own 12' Adventure is also built using dual layer construction and is very similar in price, shape, and features.
Performance wise, the 11'6 GILI Air and the 11'6 Nautical ride extremely similarly in the water, as long as you fit the GILI 11'6 Air's weight range (150-200lbs). Beyond that weight range, the Nautical 11'6 will be your better bet because of the banana'ing on the Gili 11'6 Air that we discussed earlier.
I also want to note that we've personally never had any issues with the GILI Air series in terms of durability with past or the current model(s), nor has anyone reached out to us stating they've had issues with its durability either. We're still trying to work out how to determine each SUPs durability in relation to its construction without just having to keep them around for years and see if any issues develop (mostly because this would be a storage nightmare). Still, I would love to see GILI move to dual layer construction for the Air series in the future.
All else considered, the D-rings, action mounts, paddle holders, and carry handles seem to be well attached on the GILI 11 '6 Air, but time will tell on that front so we'll have to keep you updated. Our only complaint here is that the bungee clips that are supposed to make the cargo bungees removable don't fit through the D-rings, essentially defeating the purpose of having clips all-together.
Board Stiffness: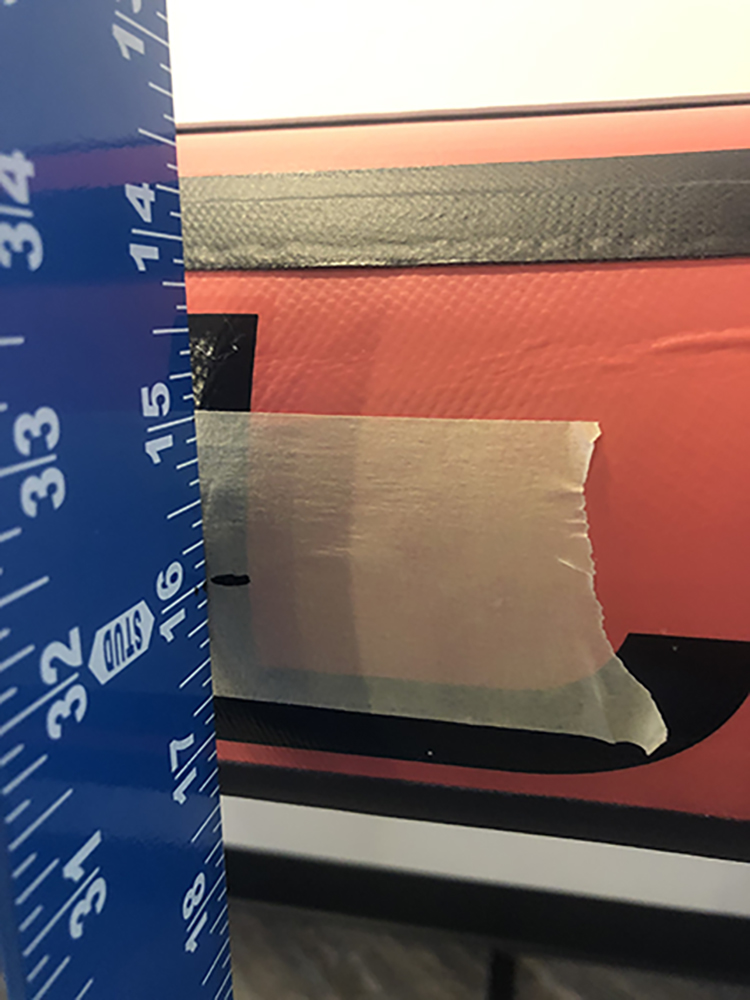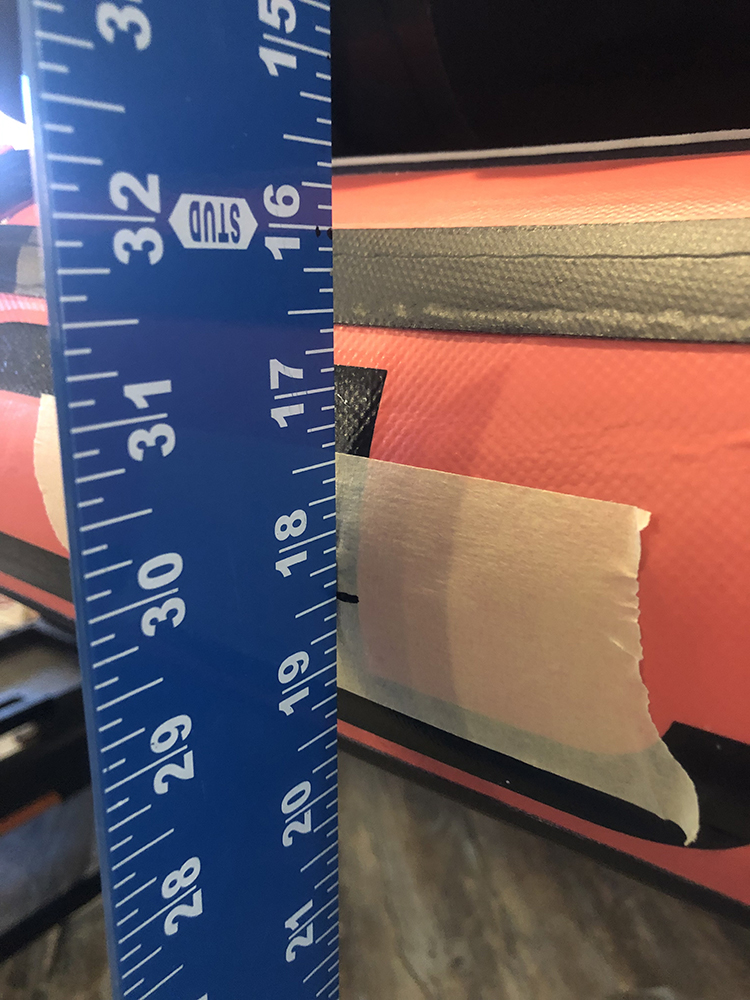 Stiffness Test: 2.5" Bend
Our bend test is performed by placing the board on top of two sawhorses (tressels) that are 7 feet apart. We then place 150 lbs on the board's midpoint and measure how much the board bends under this weight. We realize that this is not 100% replicative of how the board will behave in the water, but it does help us differentiate and verify each board's construction.
Given that the GILI 11'6 Air is a single layer board, 2.5" of bend is within the expected range when compared to other similarly constructed SUPs. Again, this isn't to say that it will bend this drastically in the water under just 150 lbs, but we did see a decent amount of bend or 'taco-ing' under one of our product reviewers that is in the 230'ish lb range, which is still well below the 11'6 GILI Air's listed weight capacity of 295 lbs.
The most important thing to take away here is that single layer boards, while lightweight and usually affordable, typically offer less rigidity and ability to perform under weight than dual or triple layer constructed SUPs. This is not something to worry about if you're a smaller paddler in or below the 150-200 lb range, but if you're within the 225-250 lb range, you'd benefit from a slight upgrade to the dual layer GILI 12' Adventure.
Features/Accessory Review: 8.8/10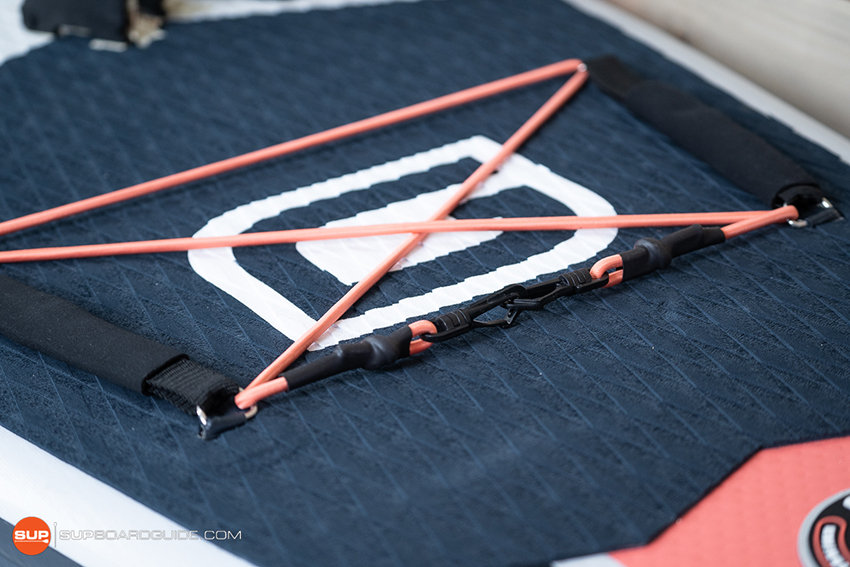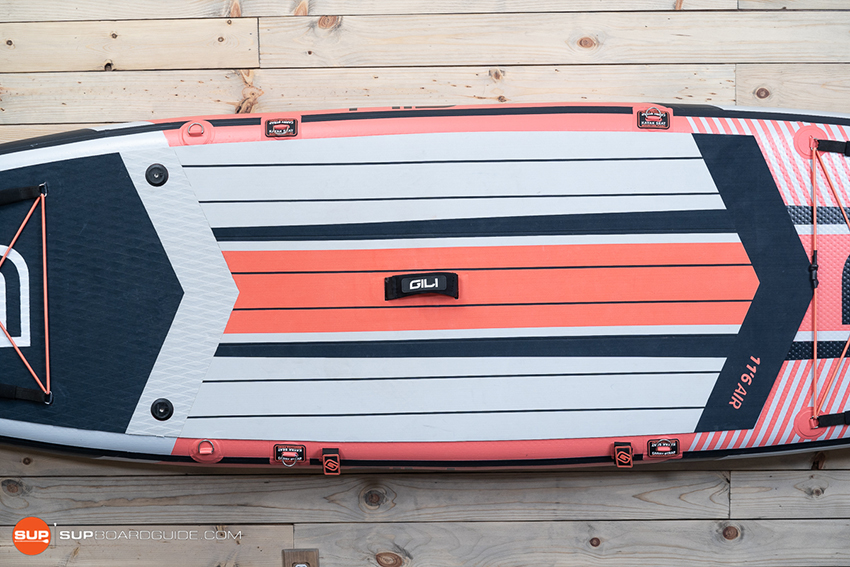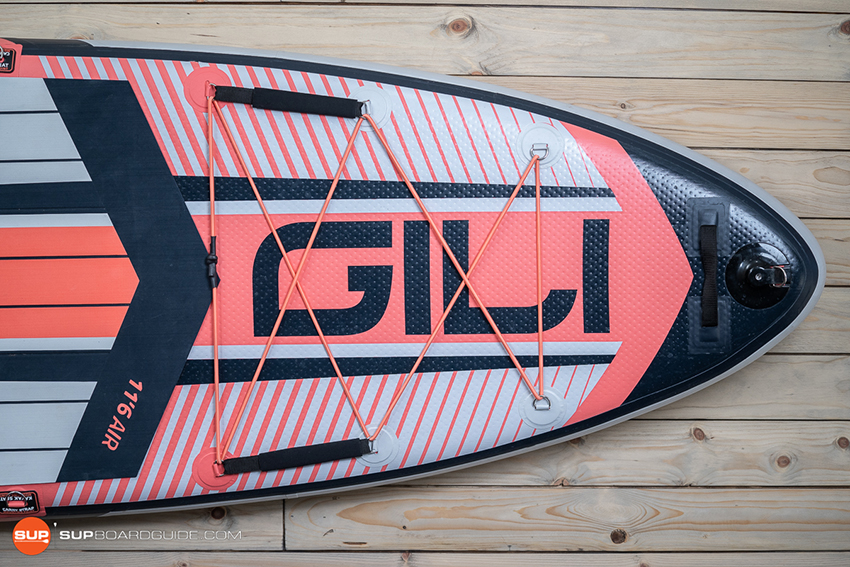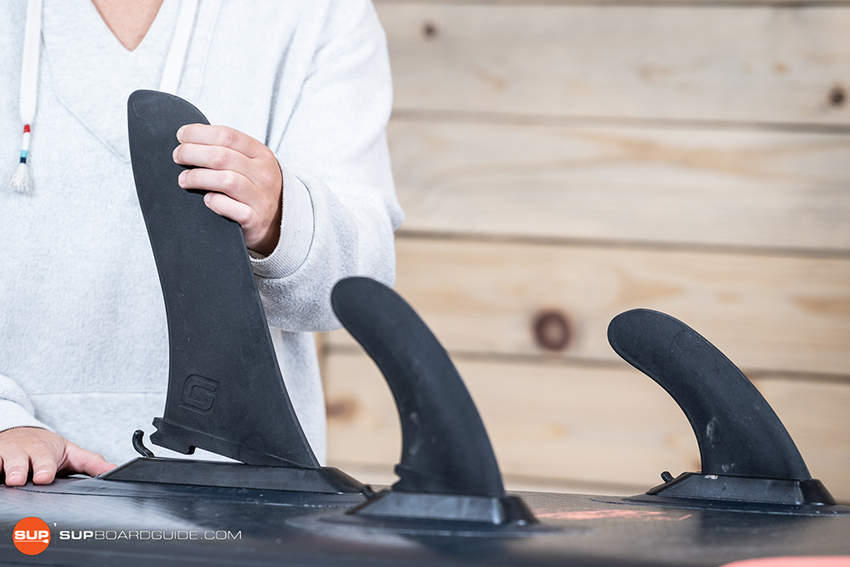 Features:
One of our favorite things about the GILI 11'6 Air is it's versatile array of features. This SUP sports a 6 point caro area at the nose and a 4 point cargo area at the tail for all of your gear stowing needs. There's also 3 action mounts, one at the nose and 2 towards the tail-end of the deck pad. We appreciate the 3 carry handles that make launching and loading this 11'6 board much easier along with the safety straps at the front and rear for a small child or passenger to hang onto. Additionally, you have the option to store your paddle on the side of your SUP using the GILI Air's velcro paddle holders. You also have the option to turn your SUP into a kayak using the kayak seat conversion compatible D-rings along the rails of the 11'6 Air. Lastly, we love the cushy deeply grooved deck pad on the 11'6 GILI Air that keeps your feet comfortable and dry.
Included Accessories: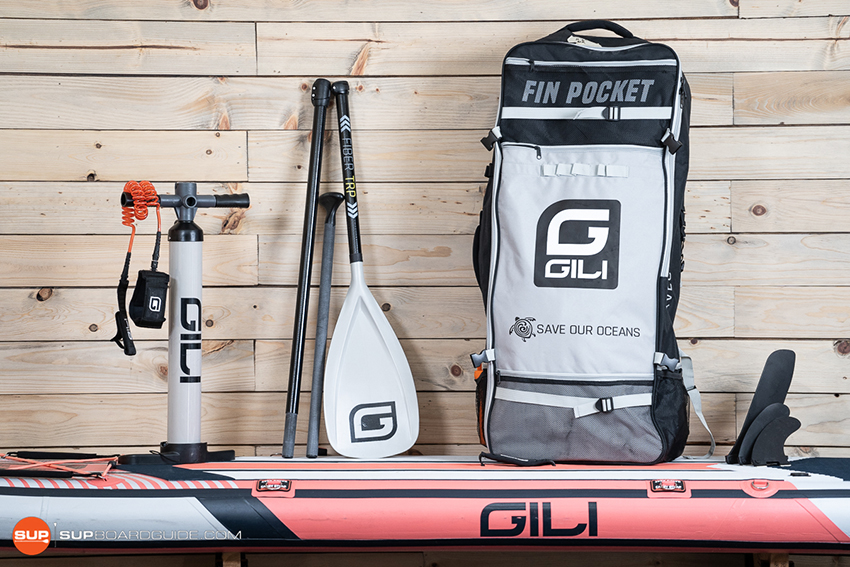 Listed below are all of the included accessories that you'll receive with the purchase of your GILI 11'6 Air. They've done a great job at providing everything a beginner would need to get out on the water straight out of the box.
3 snap-lock fins for 2+1 set-up
Coiled leash
3-piece aluminum or fiberglass paddle (fiberglass paddle does cost a little bit more)
Single chamber dual action hand pump
SUP backpack (no wheels)
In the future we'd love to see GILI just get rid of the option to include an aluminum paddle in the kit. The aluminum option will do just fine for short, casual paddles, but once you start racking up some miles or hours on the water, you'll notice it's just a bit too heavy for the long haul and will prefer the fiberglass option.
Summary Review of the GILI 11'6 Air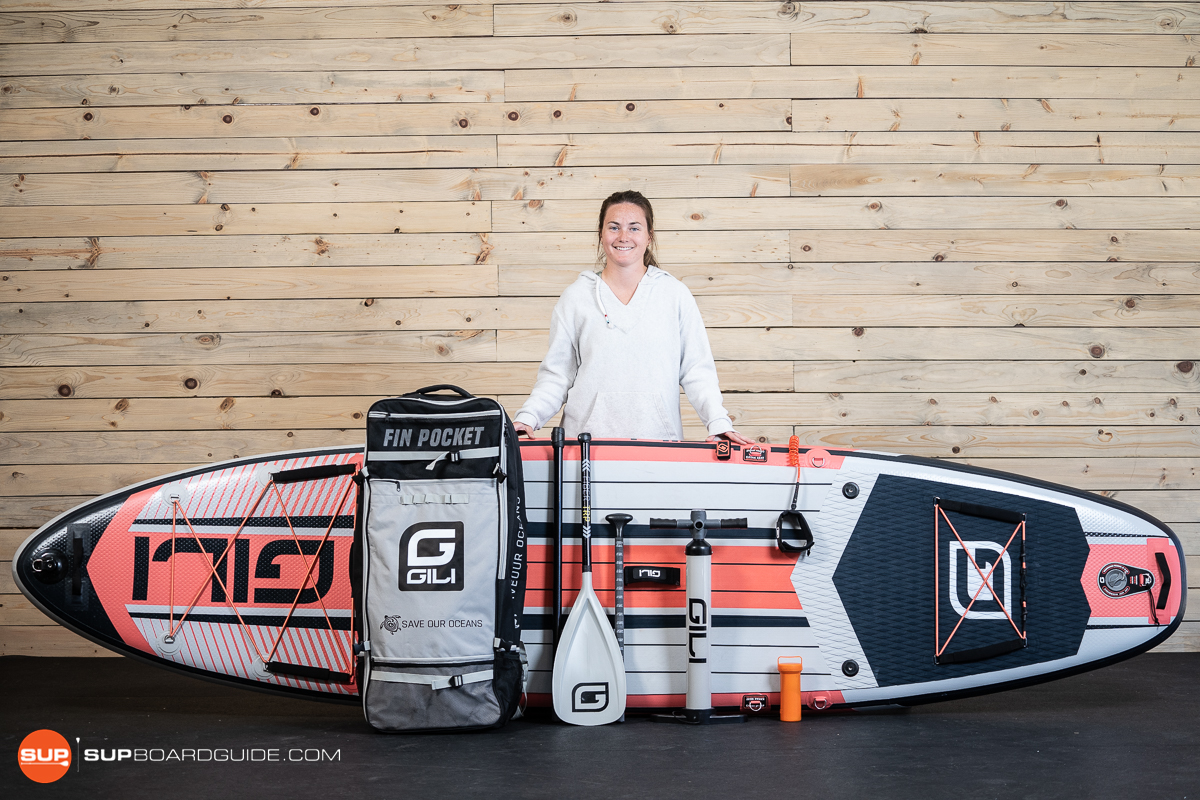 In short, the GILI 11'6 Air is a great affordable, lightweight option for beginner paddlers within or below a 150-200 lb range that need stability from their iSUP but still want the ability to go faster on the water.
Like most all-around SUPs, the GILI 11'6 Air did well across all of our tests and we think GILI is making some fantastic upgrades in both the new touring-hybrid shape and in the soon to come stamped deck pad. We'd still love to see GILI move to dual layer construction in future models of this SUP so that paddlers within a 230lb range could enjoy the Air series without making sacrifices in performance.
Overall, GILI did a great job at noting industry trends and incorporating them into their own boards. This is a solid SUP and kit that will let you have a great time on the water without breaking the bank. If you're still on the fence about which affordable iSUP would best suit your needs, head over to our post on the Best Cheap SUPs of 2023!
Until next time, stay safe and happy paddling!
The following two tabs change content below.
SupBoardGuide
Heyo! At SupBoardGuide.com we are a team who love the water, the outdoors, and are more than grateful that our full-time job allows us to review stand up paddle boards. We paddle year round (it helps that we are just about 2 hours outside of Las Vegas), and we bring in a wide range of paddlers with the goal of providing our readers with the best, most in-depth, and accurate stand up paddle board reviews.
Latest posts by SupBoardGuide (see all)