Sea Gods Cross Touring Inflatable Paddleboard
Pros
Lightweight 19.5lbs (Sea Gods lightest adult sized SUP)
Can get up to some decent speeds but still a stable 33" wide
Kayak seat compatible
Lots of space for drybags/gear
Backed by Sea Gods lifetime warranty
Stunning artwork
Cons
Would like a raised kick pad to help with maneuverability
On our first glance of Sea Gods' Skylla Touring Cross, we didn't fully know what to expect for this review. 11' x 33" aren't among the more common SUP dimensions and we were struggling to categorize this board, even in the world of hybrids. It wasn't until we spent a good amount of time on the Skylla that we realized it serves varying purposes and experiences for a range of paddler sizes and skill sets.
When I (a smaller paddler; 5'2" x 140) took out the Skylla, I described it as a gear-loadable, adventure-style touring SUP, that wouldn't limit me in maneuverability the way a more classic 12'6 board would.
On the other hand, when Justin, a taller paddler (6'0 x 180ish), took out the Skylla, he likened its performance to a fun 11' all-around that has a lightweight feel on the water, but wouldn't consider it himself for an adventure style tour.
What do we do with that type of answer? I was locked in mental turmoil about whether I or Justin was wrong, or if we had misinterpreted this SUP all-together. As it turned out though, neither of us had settled on the wrong description of the Skylla, we were just dealing with a 'sisterhood of the traveling pants' type of situation. This SUP fit both of us in different ways and gave each of us a separate experience on the water, while remaining the same lightweight, stiff, eye-catching build quality that we've come to know and love from Sea Gods.
The Skylla Cross Touring iSUP hits the mark for a stable, yet speed capable and maneuverable hybrid board. At 11' long and 33" wide, the Skylla has lots of volume to fit a large range of paddler sizes. It will be enjoyed by taller paddlers who find 10'6 SUPs just a bit too small, as well as smaller paddlers that want the option to bring along some gear or a passenger without making huge sacrifices in maneuverability. On top of that, the Skylla is lightweight, rigid, and durably constructed to serve as a 'jack of all trades' on the water. It also doesn't hurt that it's got some gorgeous art work on the bottom of the board, as well as a colorful deck pad and a wood-grain look.
We think the Sea Gods Skylla Cross Touring iSUP would be great for paddlers who
Want some of the speed attributes of a touring board, but don't want to sacrifice all-around stability
Want a lightweight SUP that still has some versatility focused features
Want a SUP that doubles as a functional piece of art on the water
Paddlers that are primarily in flat-water with mild to moderate chop or paddlers who paddle in the ocean (not surfing and past the breakers)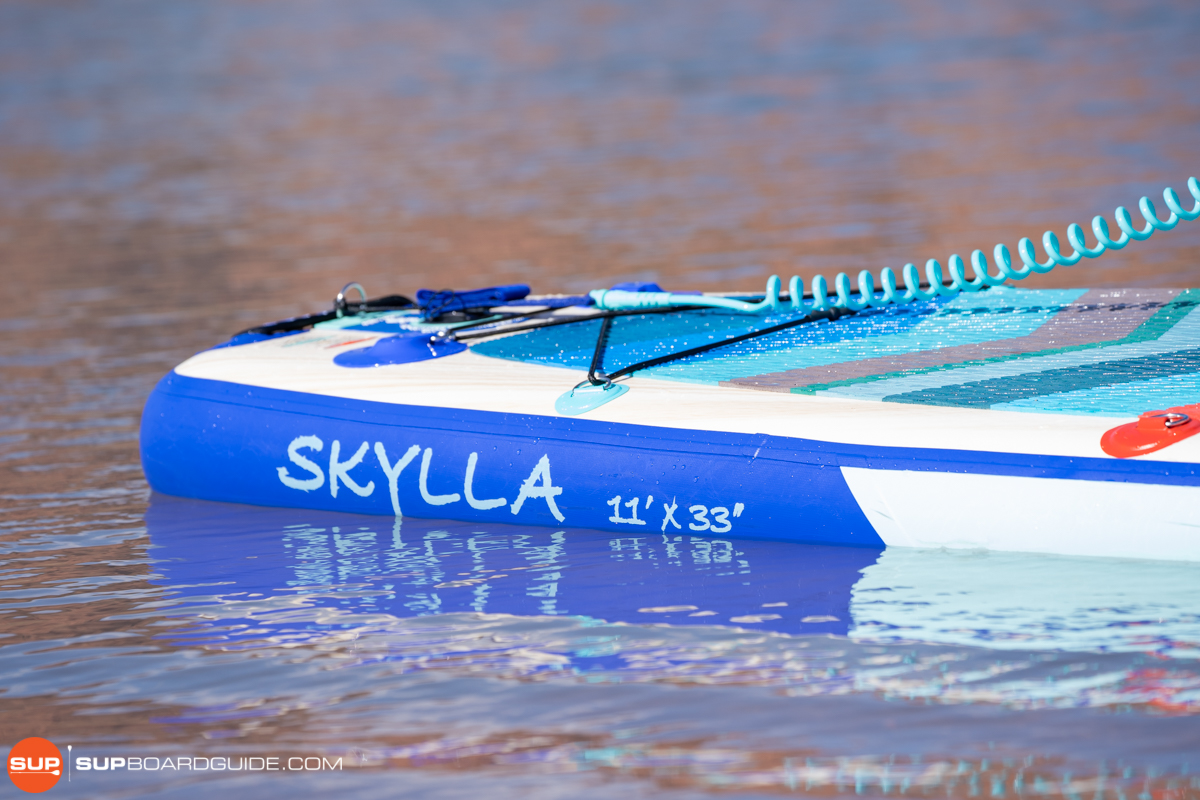 Sea Gods Skylla: Spec Sheet
Main Category: All-around, touring hybrid Inflatable
Board Dimensions: 11' x 33" x 6"
Listed Board Weight: 19.5 lbs
Listed Max Capacity: 350lbs
Recommended PSI: 14-18 PSI (Max 20 PSI)
Fins: Single fin, Dolphin Style Kumano w/ FCS fin-box
Paddle: 3-piece carbon fiber
Materials: cross-woven drop stitch w/ fusion bonded PVC
Price Range: High
Warranty: Lifetime
Performance Review of the Skylla Cross Touring Stand Up Paddle Board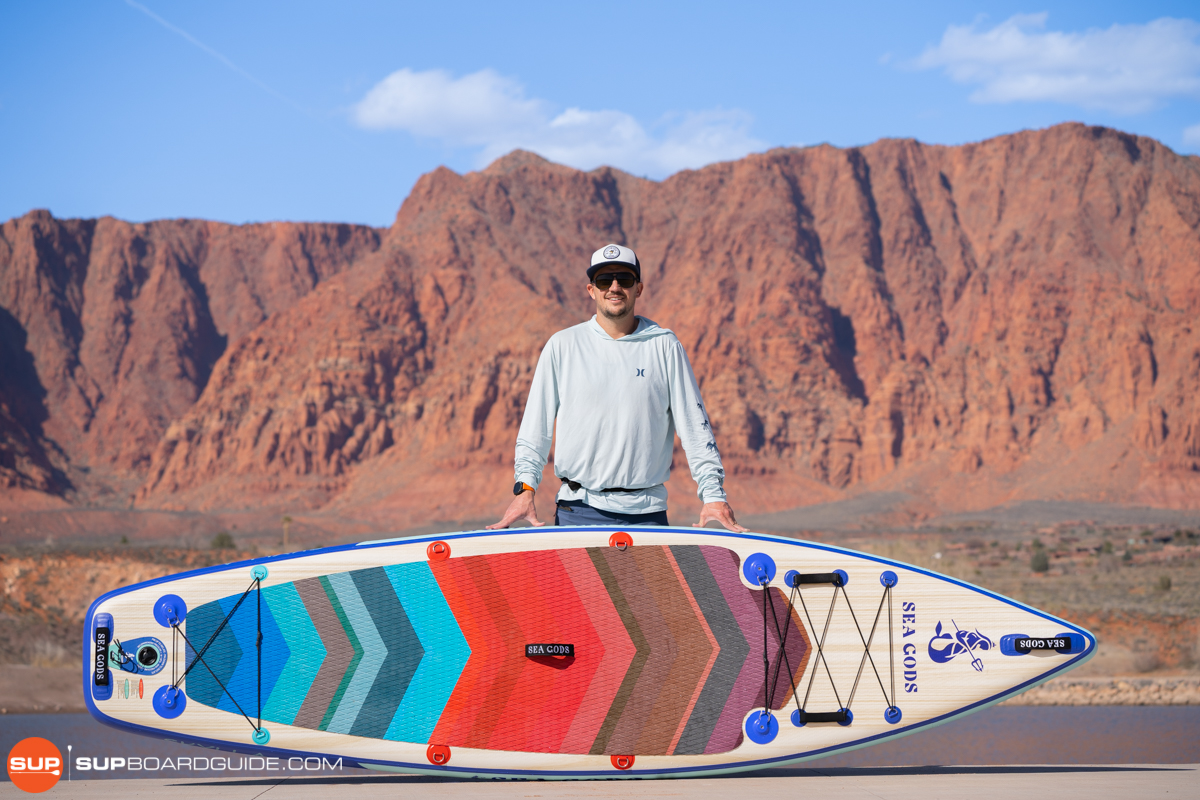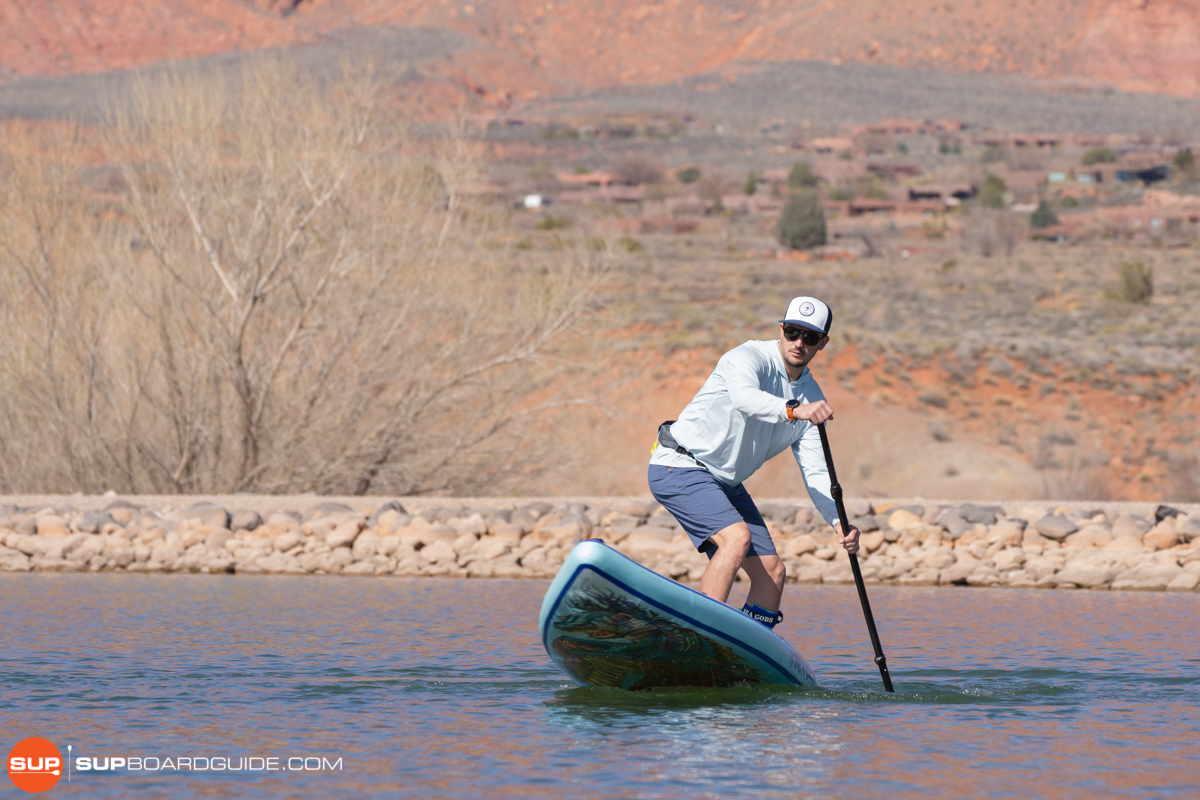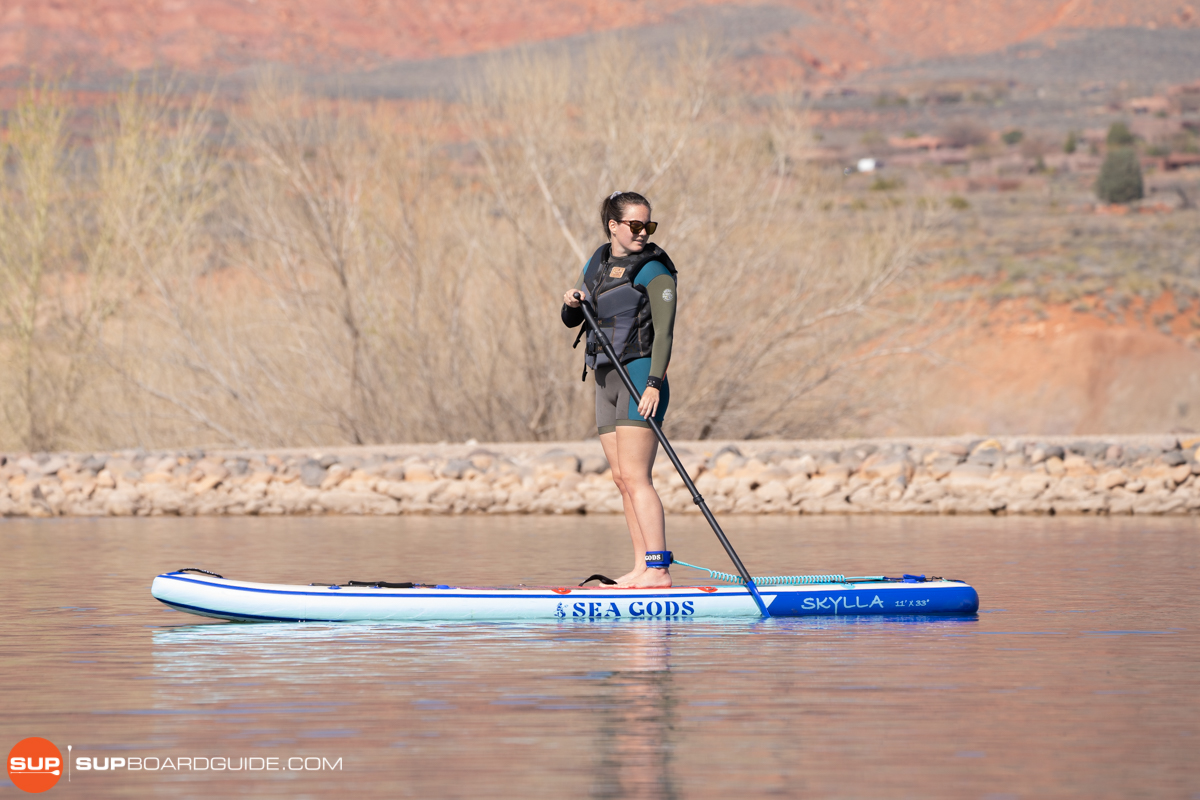 Overall Score: 9.7/10
Stability: 9.4/10
Speed: 8.9/10
Tracking: 9.2/10
Maneuverability: 9.0/10
Construction Quality: 9.8/10
Features/Accessories: 9.3/10
Stability Rating: 9.4/10
listed capacity: 350
tested capacity: 188
Being 11' long and 33" wide, the Skylla has plenty of volume to give you a stable feel on the water. Though not quite as stable as the 34" Diatom by Sea Gods, the Skylla will still be a great option for novice paddlers searching for an all-around/touring hybrid board.
What I mean by an all-around/touring hybrid is that the Skylla still has a more tapered nose to reduce surface area and drag on the water, allowing you to move a little faster than a true all-around, but its 33" width doesn't force you to trade off stability. Sure, it's not going to rip through the water like the 14' x 28" Ketos, but new-comers won't have to fight just to stay on their feet.
The rigid construction of the Skylla also likely helps with stability in that it allows you to carry more weight without feeling a decrease in performance. I was able to paddle myself (140 lbs) and my dog (48 lbs) without feeling and bend or 'flop' from the board that would otherwise cause some instability on the water.
Speed Test: 9.6/10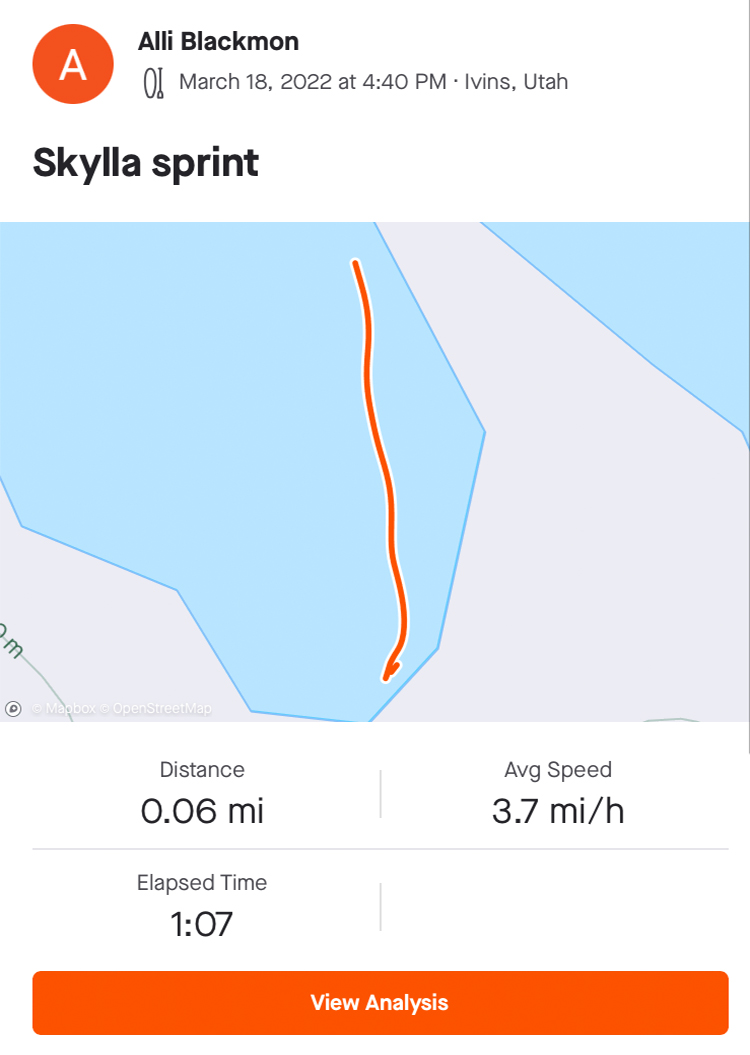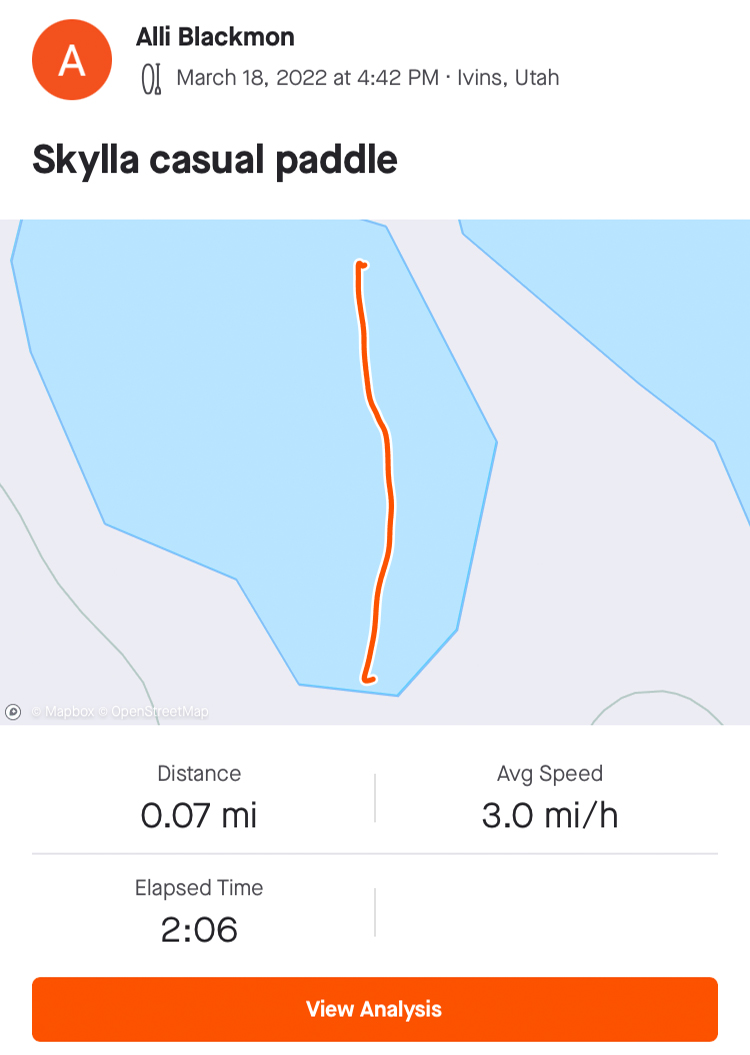 The Skylla performed about as expected in our speed test for an all-around/touring hybrid SUP. It was expectedly faster than the wider, more rounded, 10'6" x 34" Diatom all-around, but a few seconds slower than the longer, narrower, 12' x 32" Carta Marina touring SUP.
Hard data aside, the Skylla still has an easy paddling feel to it. I'm not sure if this is due to the lightweight construction, the rigidity of the SUP, or the fact that Sea Gods includes a killer paddle within their kit, but you do feel a nice gliding sensation when paddling the Skylla. It hits a comfortable cruising pace really easily and I do find myself reaching for this board if I want to load up some gear for an easy going touring day.
Tracking: 9.2/10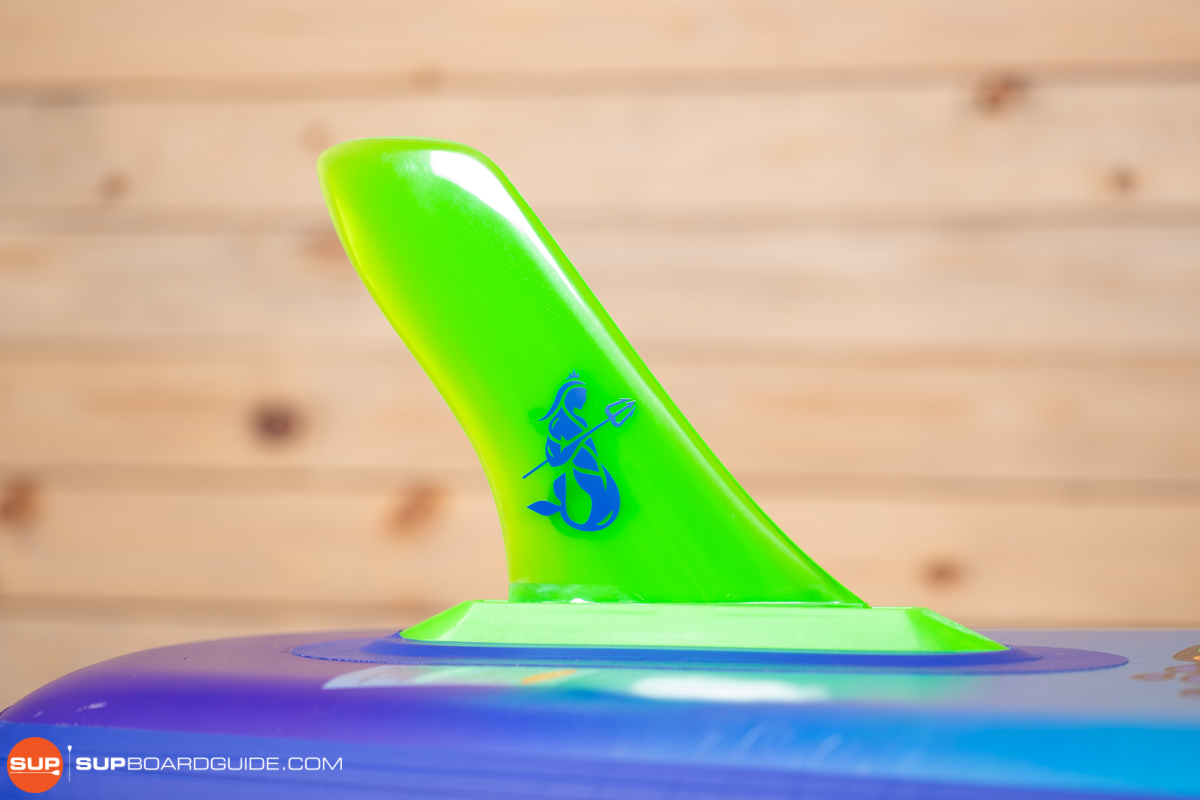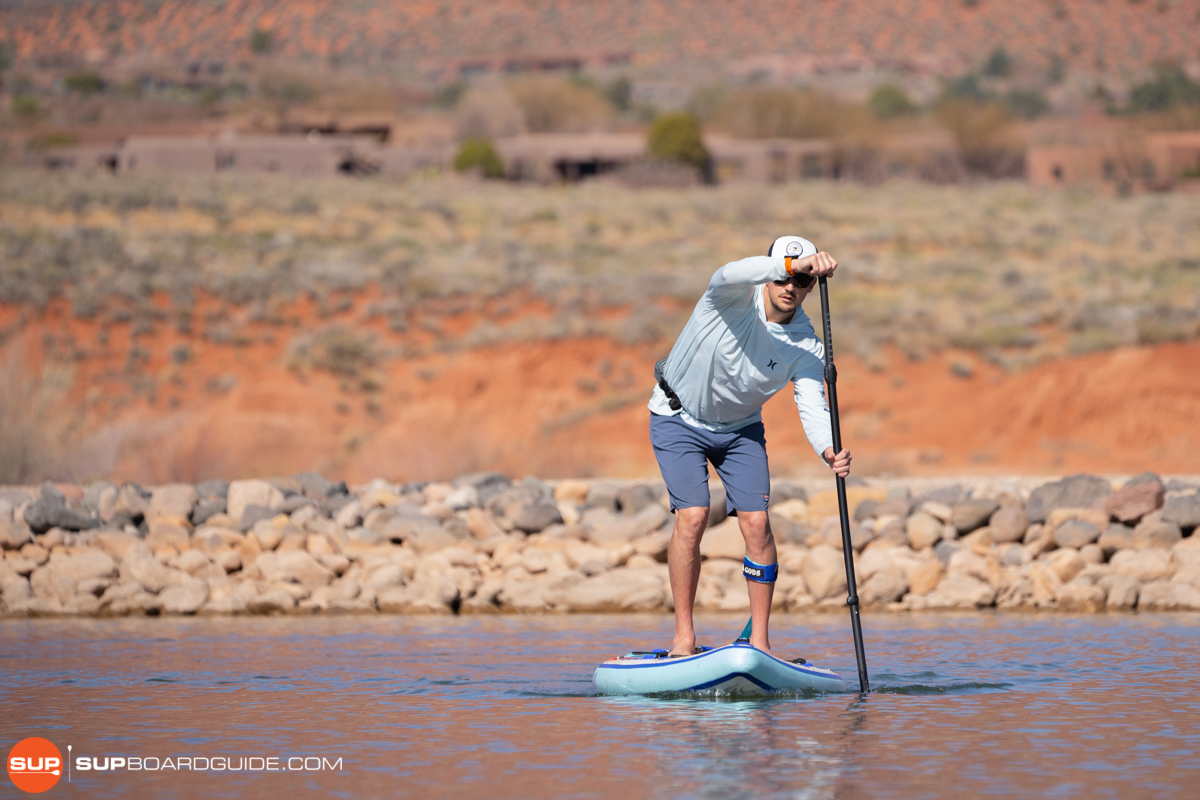 Again, the Skylla performed about as expected considering it's an all-around/touring hybrid rather than a true, dedicated touring SUP. If your technique is 100% honed in, the Skylla is capable of tracking fairly well. If your technique is more loose, the Skylla will track just slightly better than a classic all-around SUP.
Because the Skylla aims to bridge the gap between tracking and maneuverability, I'm wondering if it would benefit from a 2+1 fin set-up rather than the single hatchet fin that the current model uses.
With the 2+1 set-up you'd minimize side to side movement in the tail that decreases tracking capability as you paddle, without hindering the SUPs maneuverability the way that a tracking focused hatchet style single fin would. The only real downside to a 2+1 set-up is that the side fins could create just a touch more drag in the water that could slow down the SUP, but I'd argue that the Skylla is probably light enough to make that added drag pretty un-noticeable, especially if you aren't planning on paddling the Skylla in an all-out sprint.
Of course, this is just a speculation/estimate. It's impossible for me to say for sure whether a 2+1 would improve the Skylla's tracking without adding side fins to test this theory (which I unfortunately cannot do because there's no side fin boxes on the SUP).
Maneuverability: 9.0/10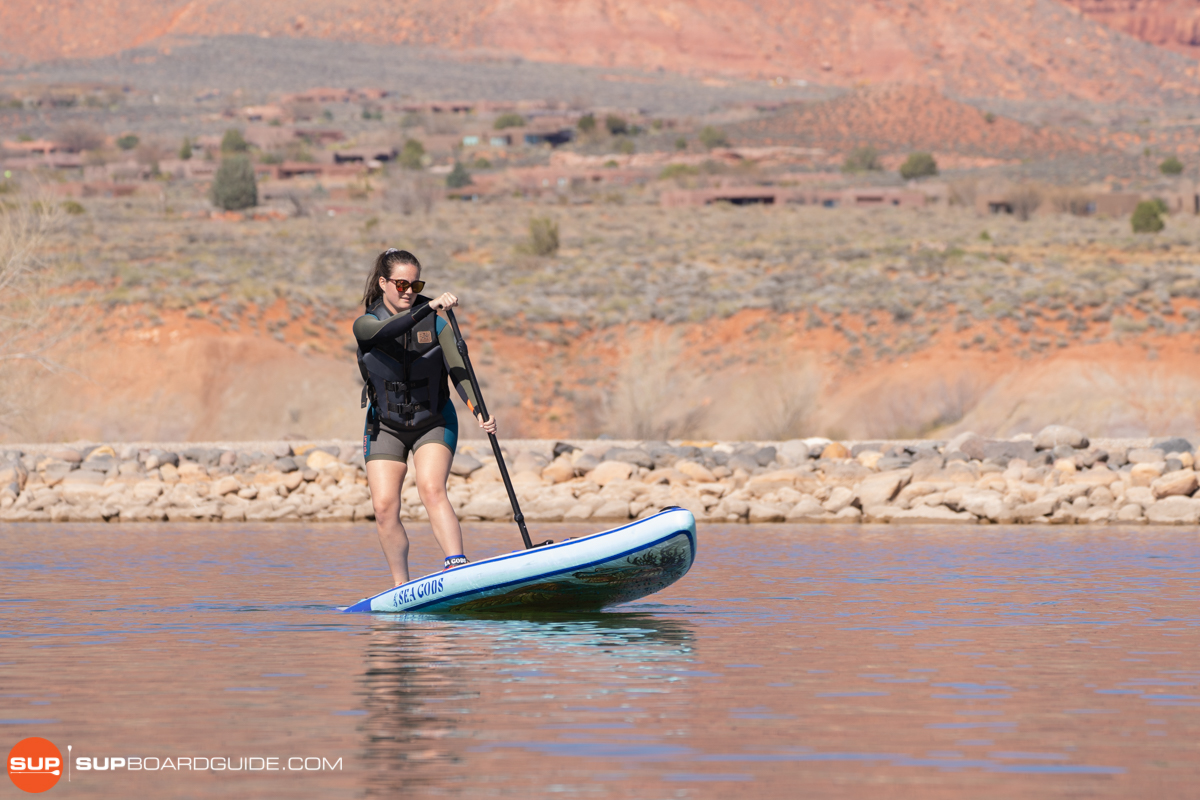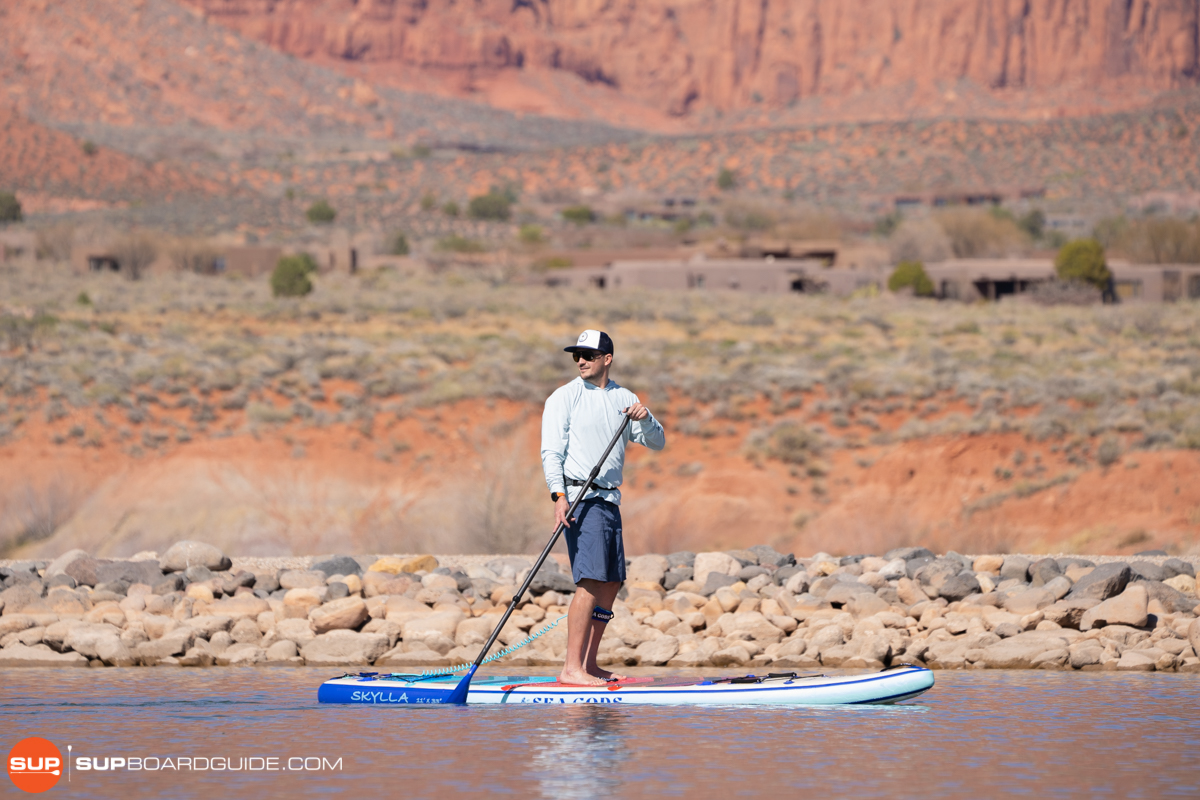 The Skylla is a light 19.5 lbs so is pretty easy-going and quick on a casual turn just to change direction. When it comes to step-back turns, the Skylla was surprisingly a bit slower than its longer counterpart, the 12' Carta Marina, but I'd attribute this to its wider tail, which adds volume and makes it a little harder to sink in the water to pivot. I think this could be easily mitigated by the addition of a raised kick pad, to give you a little more leverage to really press down the tail and tighten up your turn.
Though I wouldn't exactly consider this a fault, since step-back turns are mainly done in the racing scene and rarely take place during casual paddle sessions, unless of course you're just trying to show off and have fun with some friends.
Construction Quality: 9.8/10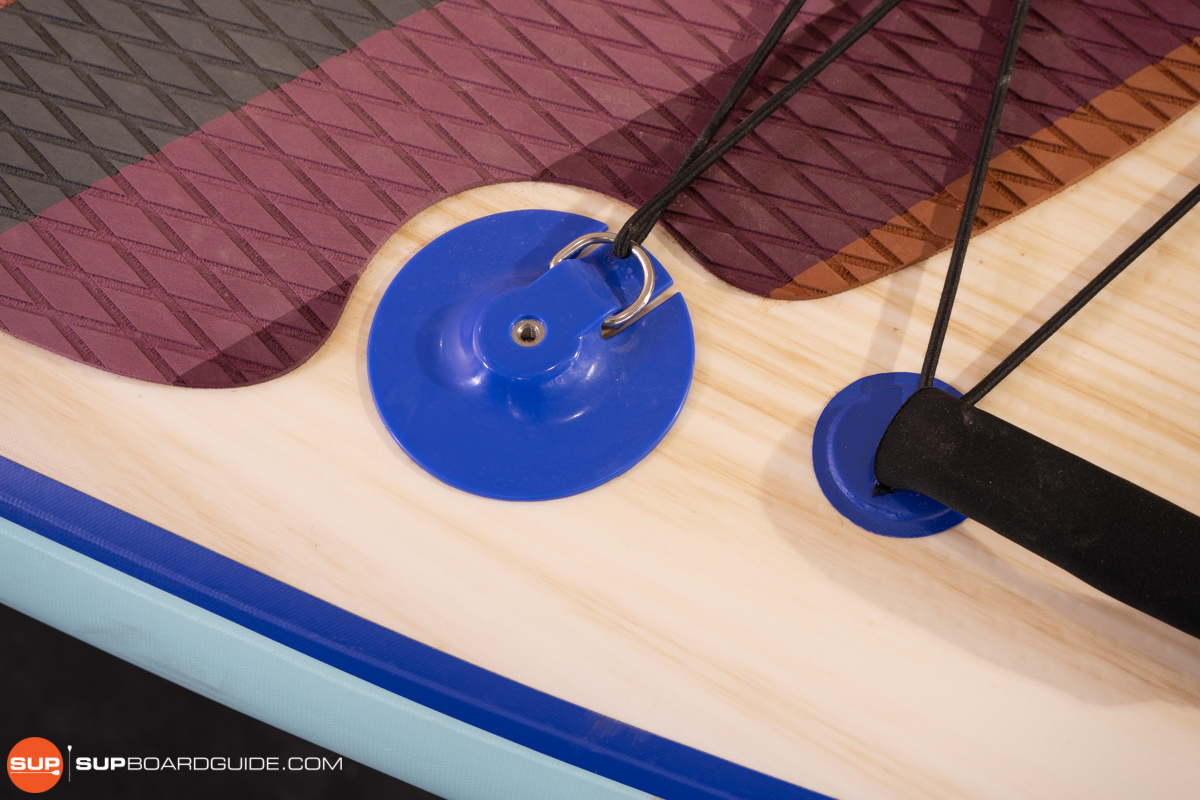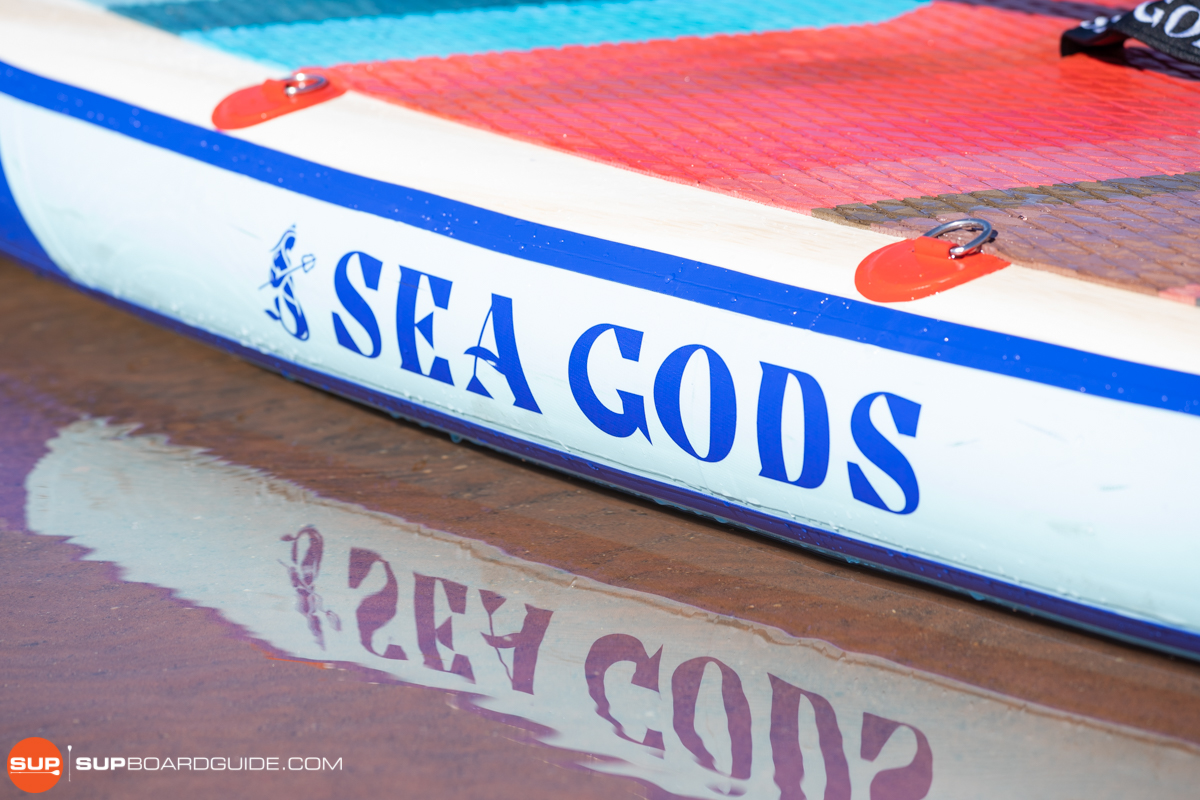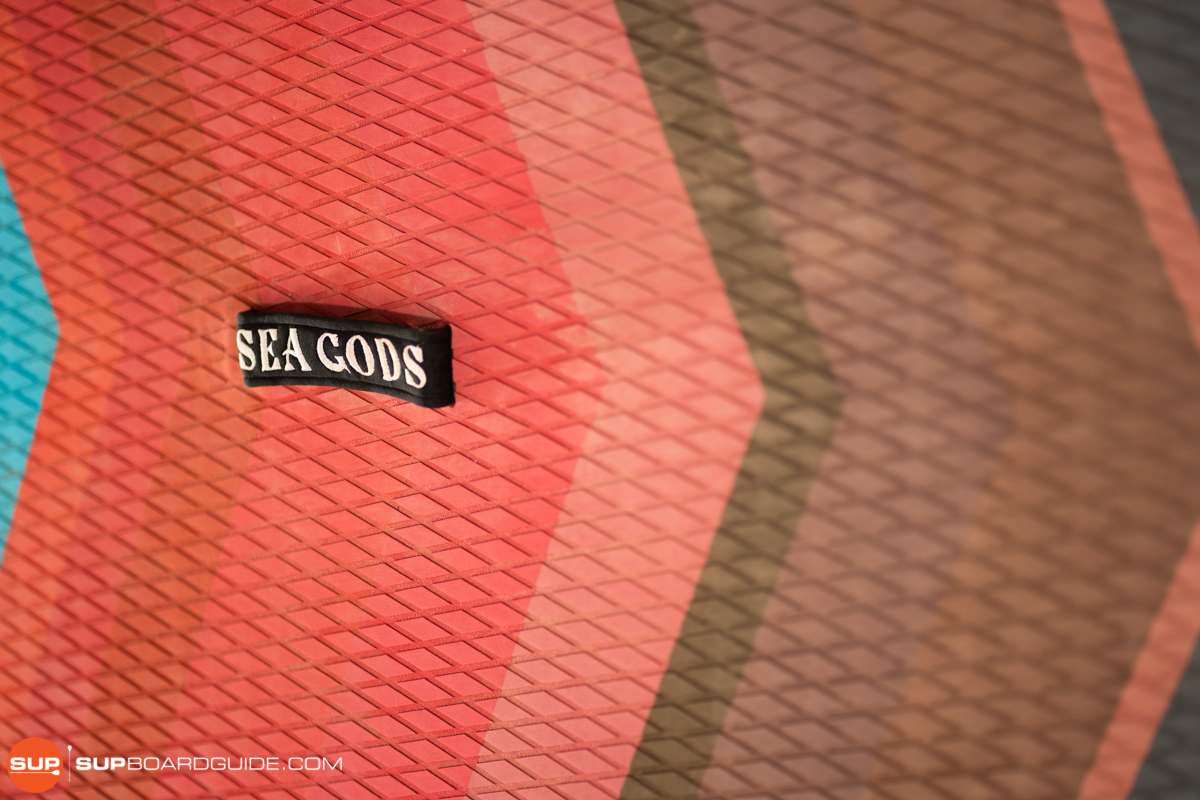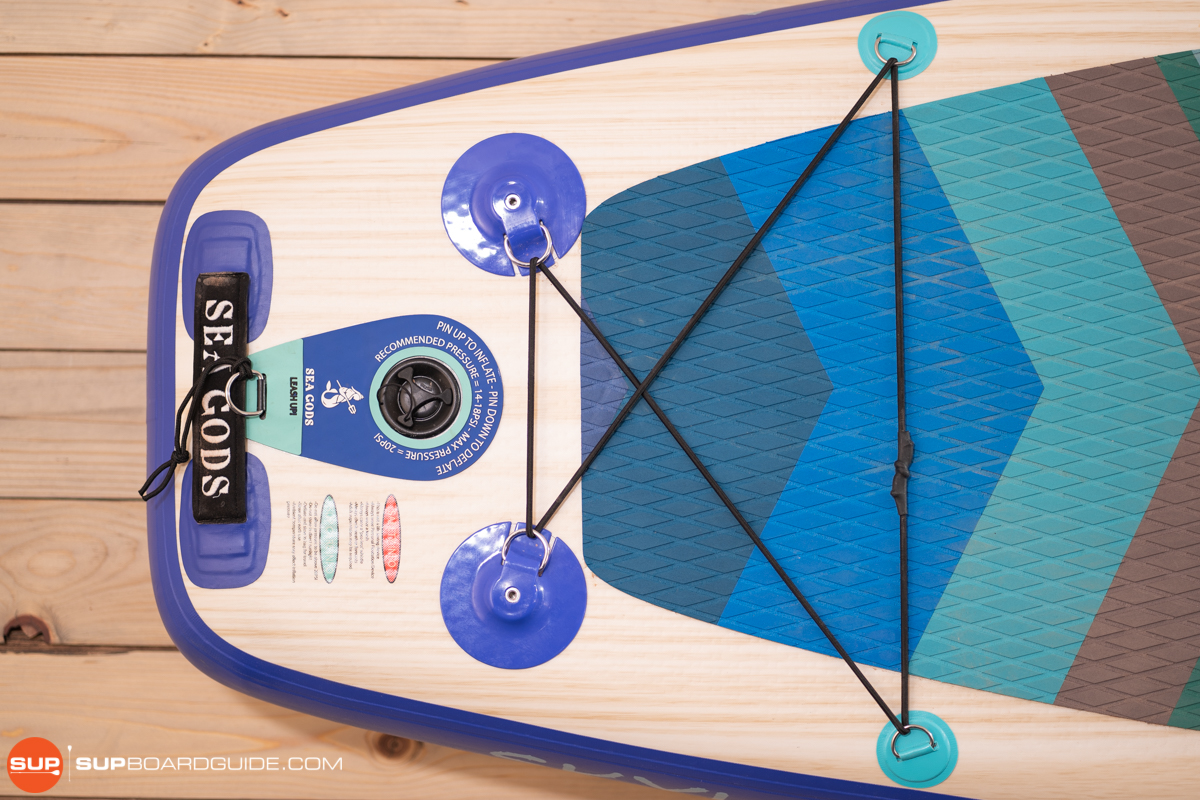 The Skylla differs in construction slightly from all other Sea Gods SUPs. Instead of using woven linear drop stitch as the core of the Skylla, Sea Gods chose to use a cross-woven drop stitch.
What this means is that the thousands of threads holding the shape of the Skylla intact are oriented in 'x' patterns for the same (or higher) rigidity of linear drop stitch SUPs, while using less material, making for a lighter board. The evidence of this can be seen directly in the fact that both the 10'6 x 34" Diatom and the 10'6 x 32" Elemental Wave are heavier than the 19.5 lb Skylla, despite being 'smaller' boards.
Aside from the drop-stitch orientation, the remaining steps of the Skylla's construction are consistent with the rest of Sea Gods' line-up. The PVC layers are applied to the woven fabric layer via 'fusion', which bonds with heat instead of glue, hence their coined term 'Ultra-light Fusion'. To seal the Skylla together, the rails are applied and molded with heat, and then reinforced even further with seam tape, to make for a durable board that Sea Gods confidently backs with their lifetime warranty.
To really get across how well the Sea Gods SUPs are built/ what they can endure, I'll share with you a bit of anecdotal evidence. While I don't typically intend to put our test boards through sketchy situations to try their durability, sometimes happy little accidents happen.
My dog and I were paddling the Skylla in a slot canyon in Lake Powell when we got caught in a sudden wind storm. If you're familiar at all with desert weather or Lake Powell, you'd know that wind storms hit hard and fast and this one easily picked up to 25+ mph. With the Skylla's rigid construction, I was able to paddle through some serious white caps and do some knee surfing on the wake (to my dog's dismay, of course). Once we reached a shoreline to rest and wait it out, I made the mistake of setting the lightweight Skylla down to fix my lifejacket and the wind sent this board absolutely flying. It was sliding across rocks, shells, tumbleweed fragments and finally stopped when it slammed into a sharp, rocky cut-out.
Most lesser quality boards in this situation would have popped or would have had too much flex for me to safely paddle myself and my pup out of that. Instead, the Skylla walked (or paddled?) away with only some (surprisingly minor) cosmetic damage. When the wind died down again and the water turned back to glass, we were able to hop on the Skylla and paddle home like nothing happened (aside from catching a case of strep throat from inhaling too much red dust).
The bottom line here is that SUP construction, while sometimes a confusing topic, is crazy important. Sure, you want a board that will last and look nice, but what really counts is whether or not it'll keep you safe in some less than ideal situations. When the wind started to pick up, I was glad to be on a Sea Gods paddleboard; and I think I might have been swimming back home if I was on a less carefully built iSUP.
Board Stiffness: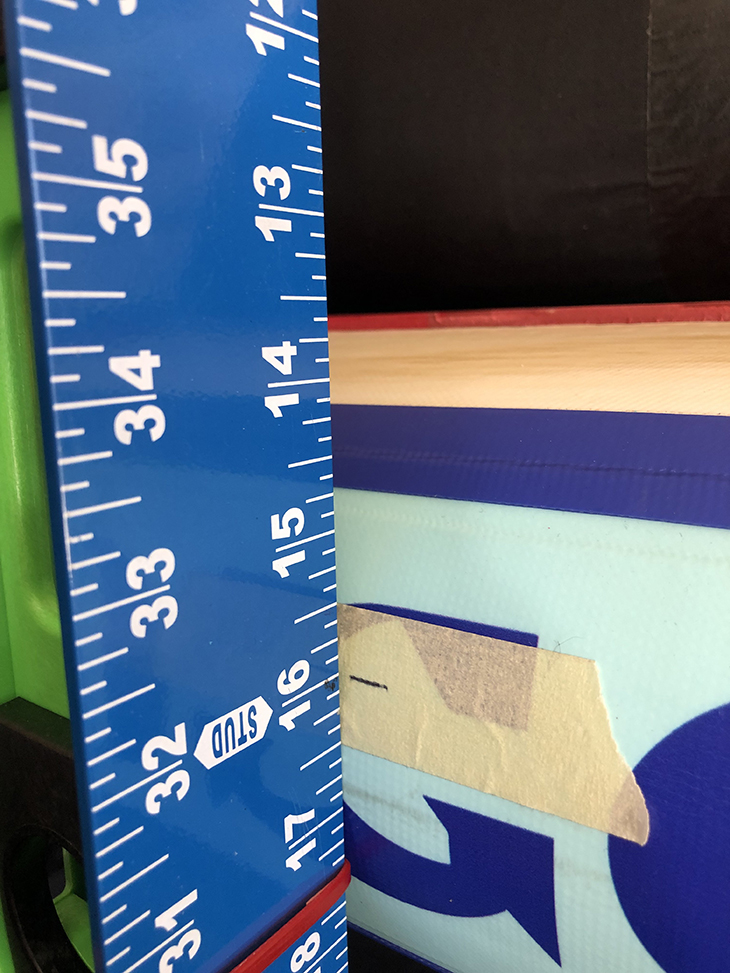 Stiffness Test: 1.0" Bend
During our bend test, we place the SUP on top of two sawhorses that are spaced 7 feet apart. We then place 150lbs on the board's midpoint and measure how much it bends under that weight. This test helps us differentiate between construction processes and helps verify manufacturing claims from each brand.
Considering the Skylla's quality construction, cross-woven drop stitch with fusion layers, 1" bend is well within our expectations. This is also on par (and just a little bit better) compared to the rest of Sea Gods' board line-up. The most important takeaway here is to note that Sea Gods was able to achieve the same (or slightly better) level of rigidity on the Skylla as seen on the rest of the SUPs, while significantly decreasing the weight of this board.
In the future, I'm interested to see how Sea Gods continues to incorporate cross-woven drop-stitch construction into their other paddleboards in the effort to raise the bar for lightweight, performance SUPs.
Features/Accessory Review: 9.3/10
Sea Gods focuses on balance when it comes to SUP features. They want you to have enough versatility to make for a more enjoyable experience on the water, but not load you down with too many add-ons that would clutter your space and weigh down your board. I think they've hit the mark with the Skylla.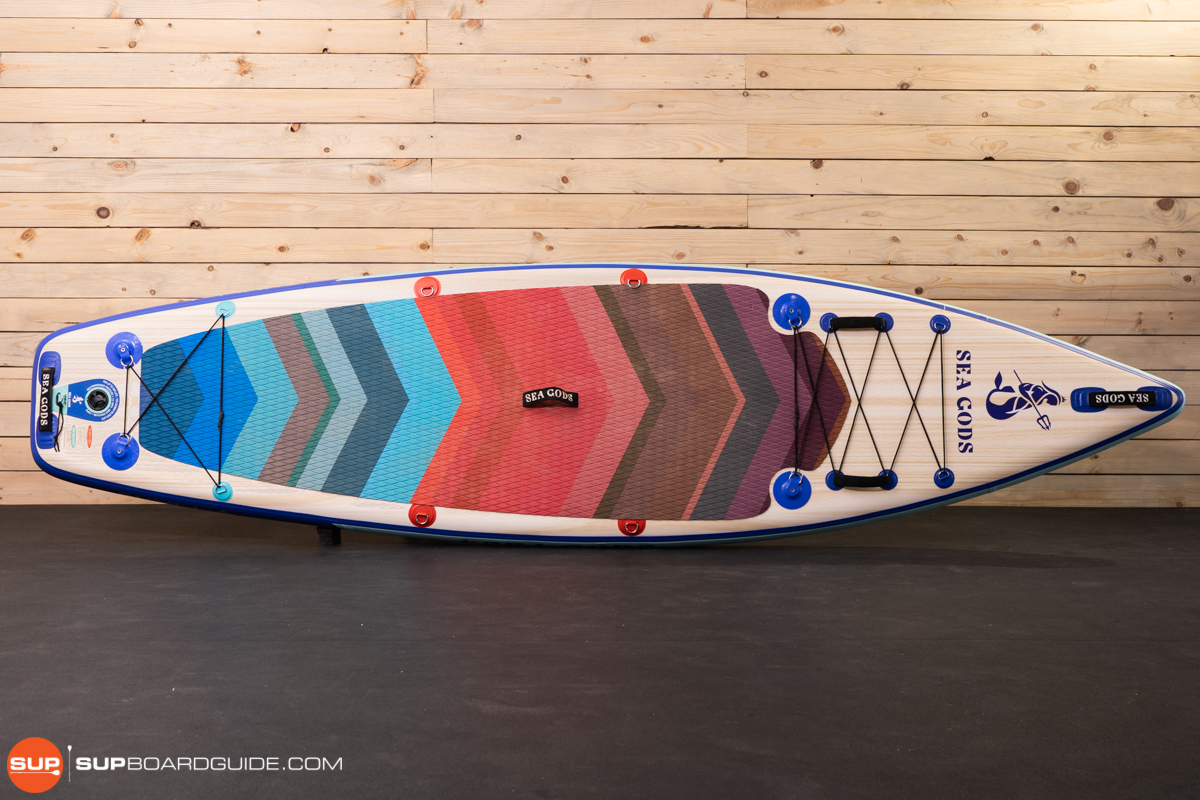 The front cargo area ties into 6 D-rings with 2 integrated action mounts and removable grab straps. The Skylla also has kayak seat compatibility with the 4 D-rings located on the rails.
Reaching down to the tail there is a 4-point cargo area that also has 2 more integrated action mounts. Lastly, Sea Gods always nails it on finishing touches, in this case the addition of 3 carry handles, and a grippy diamond groove deckpad..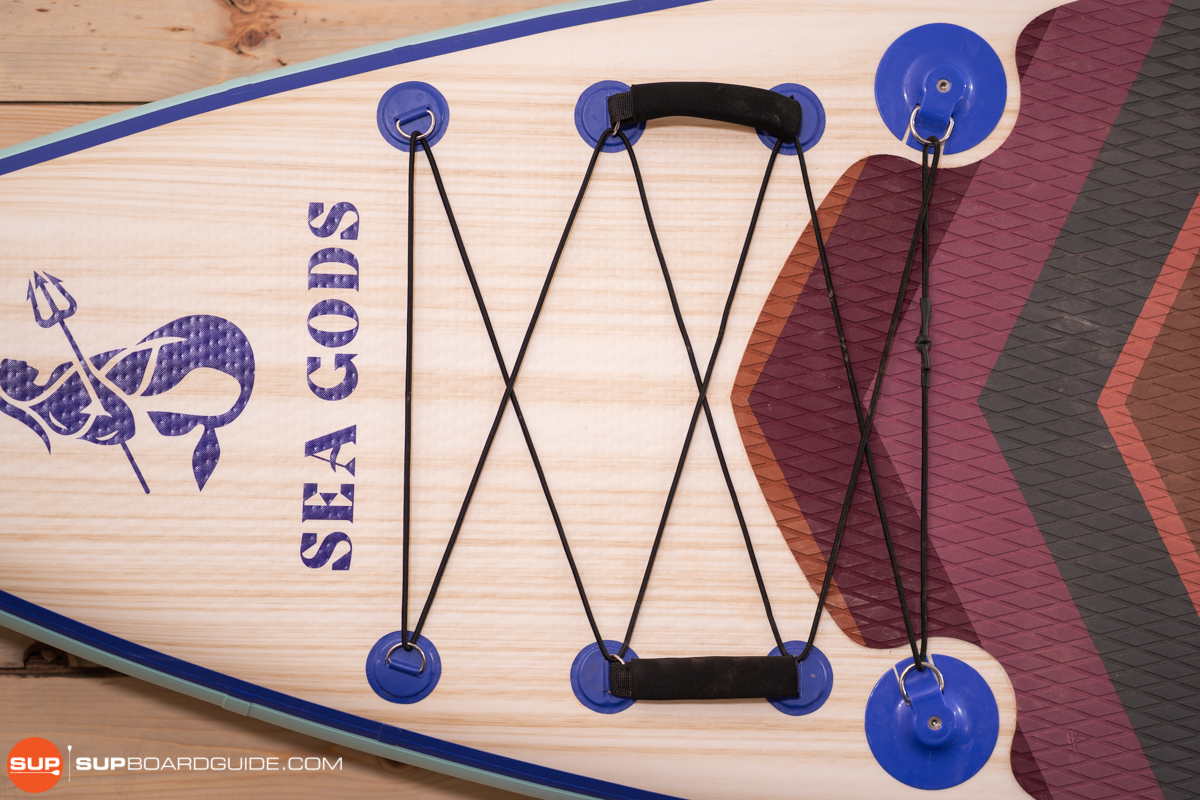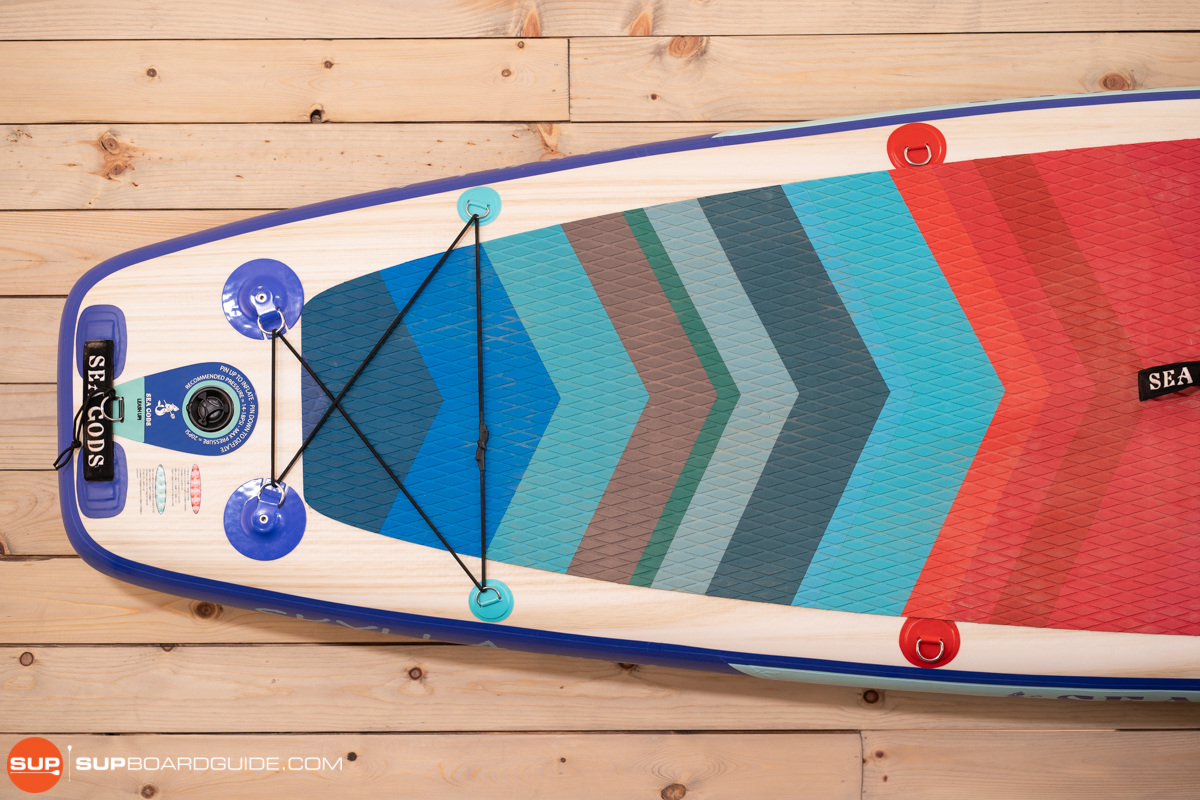 Included Accessories: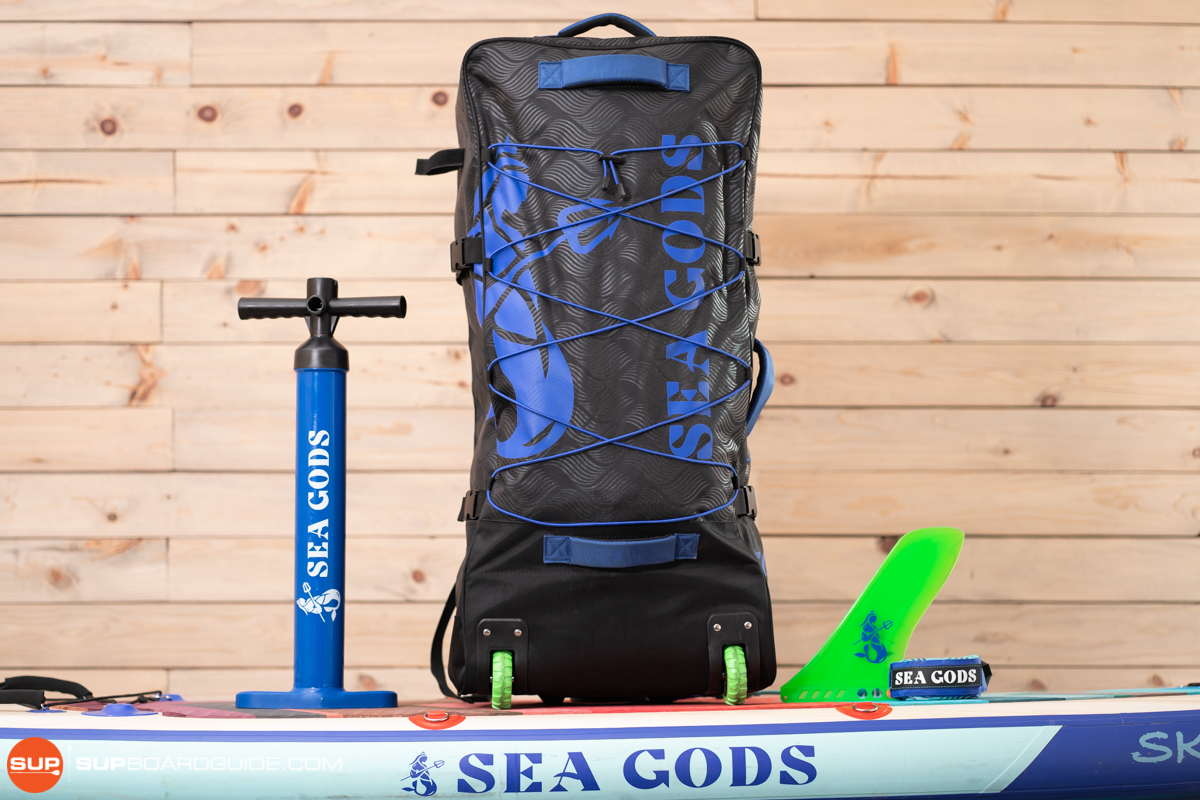 All Sea Gods SUPs including the Skylla come with the following accessories:
3 – piece carbon fiber paddle
Single chamber hand pump
Semi-flexible kumano pressure fit fin
Full-swivel coiled leash w/ key pocket
Repair kit
SUP roller backpack
Overall, we really like this kit. The lightweight carbon fiber paddle is majorly appreciated during a long day of SUP'ing, and the roller backpack is super roomy to easily fit your board and smaller accessories (because the last thing you'll want to do after a long paddle is wrestle with your bag). I also personally really like the kumano click fins; I think they are harder to knock out than the FCS II Connect fins and still eliminate the need for tools. We do wish there was a better hand-pump included for boards with an18 PSI recommendation, but still always advise investing in an electric pump anyway.
Summary Review of the Skylla Cross Touring iSUP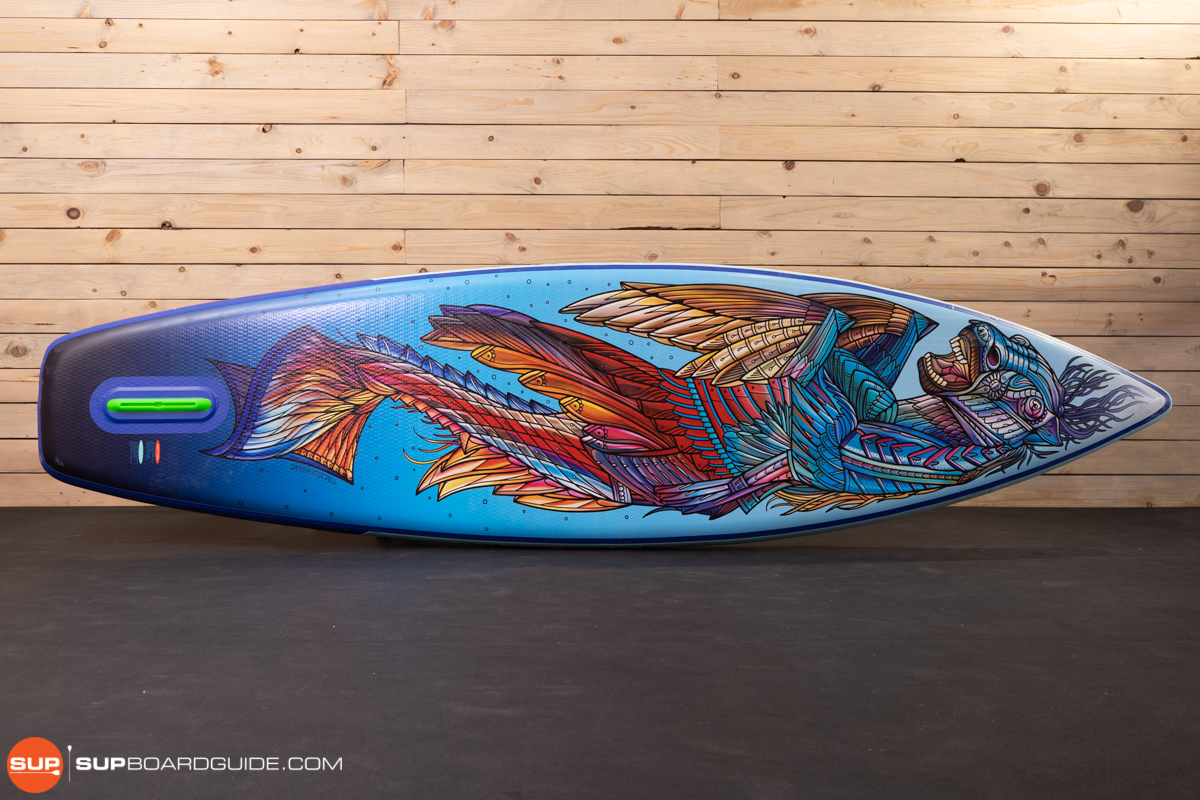 As we mentioned at the beginning, the Skylla is sort of a jack of all trades in the water. It's a stable 11'x33" board but its tapered shape and lightweight construction make it easy to paddle and maintain some decent speed to keep up with your buddies. It's also pretty maneuverable and more than capable of hauling some gear or a human or furry passenger.
Bottom line-I'd be hard pressed to find something I don't like about the Skylla and I'd feel confident recommending it to any paddler that wants some touring board performance without having to fight to stay on their feet.
Lastly, we were also super excited to see Sea Gods move to compostable and minimalistic packaging on their latest SUP line to help limit their environmental impact.
As always, we appreciate you taking the time to read through our review of the Skylla by Sea Gods. See you on the water!
The following two tabs change content below.
SupBoardGuide
Heyo! At SupBoardGuide.com we are a team who love the water, the outdoors, and are more than grateful that our full-time job allows us to review stand up paddle boards. We paddle year round (it helps that we are just about 2 hours outside of Las Vegas), and we bring in a wide range of paddlers with the goal of providing our readers with the best, most in-depth, and accurate stand up paddle board reviews.
Latest posts by SupBoardGuide (see all)