Bote Wulf Inflatable Paddleboard
Pros
Super stable in the water with a 34" wide deck and wide, boxy tail makes this a great entry level SUP - nearly anyone can stand on it, and it's at an affordable price point
Very lightweight at just 20 lbs making it easier to carry to and from the water and a bit faster/ more maneuverable while paddling
Deck pad stretches all the way to the tail, leaving plenty of room for activities - yoga, paddling with pets, moving around the board for turning maneuvers, etc.
Comes with an Included leash and D-ring attachment point - As vital as a PFD in terms of SUP safety equipment
Priced very affordably for paddlers that are new to SUP and don't want to break the bank just yet for a new hobby
Cons
We'd like to see Bote move past their flexible side fins as they don't improve tracking and are easily bent out of shape
We would have appreciated at least a fiberglass paddler over the currently included aluminum paddle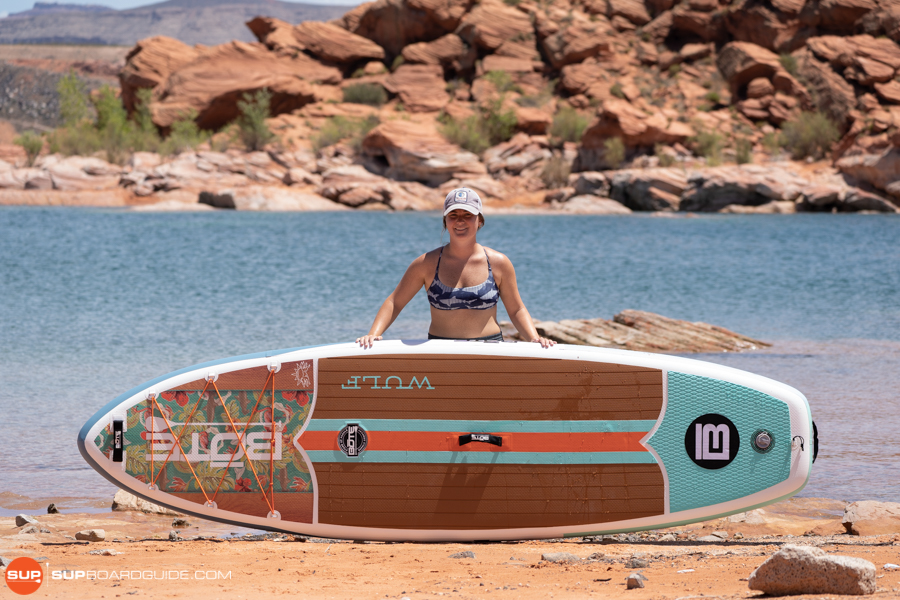 The Bote Wulf Aero 10'4 is Bote's take on an affordable entry level SUP that can be readily enjoyed by a wide range of paddlers. In testing out the Wulf for this review, we've found that this is a SUP that nearly anyone can stand on and start paddling without taking a massive blow to the wallet.
Being 34" wide and carrying it's width nearly down to the tail, the Wulf enables SUP newcomers and heavier paddlers in need of more volume to feel stable and supported on the water while it's shorter length allows the Wulf to keep an easy and fun level of maneuverability that gives it a sportier vibe than some longer, wide SUPs available in the industry.
What's really boosting the Wulf's overall performance though, aside from its shape and dimensions, is its lighter build. The Wulf is just 20 lbs, which is impressively light. By shedding some weight, the Wulf is not only easy to tote around but also capable of a decent amount of speed over shorter distances and a nice cruising pace over longer distances; it was even able to keep pace with some of our 32" wide all-arounds.
Overall, the Bote Wulf is a great choice for all paddlers who prioritize stability, but aren't wanting a large, heavy, and expensive SUP that sacrifices speed and maneuverability. Likewise, it will also be a good option for heavier paddlers in the 200-250lb range that need a bit more volume, but still prefer a sportier all-around. Stick with us as we dive into the details below!
We think the BOTE Wulf Aero 10'4 would be great for paddlers who
Want a stability focused SUP that's also lightweight
Need more volume than a typical 32" SUP can offer
Prefer a more agile SUP over exceptional tracking capabilities
Would like to try out SUP yoga, or bring along a human or furry passenger
Need a SUP that's comfortable and stable in flatwater and chop, or slow moving rivers
BOTE Wulf Aero 10'4: Spec Sheet
Main Category: All-Around, Inflatable
Board Dimensions: 10'4 x 34" x 6"
Listed Board Weight: 20 lbs
Listed Max Capacity: 250 lbs
Recommended PSI: 10-15 PSI
Fins: 2+1 ; One removable center fin + 2 fixed flex-fins
Paddle: 3-piece, Aluminum
Price Range: low-mid
Warranty: 2 years
Performance Review of the BOTE Wulf Aero 10'4 Stand Up Paddle Board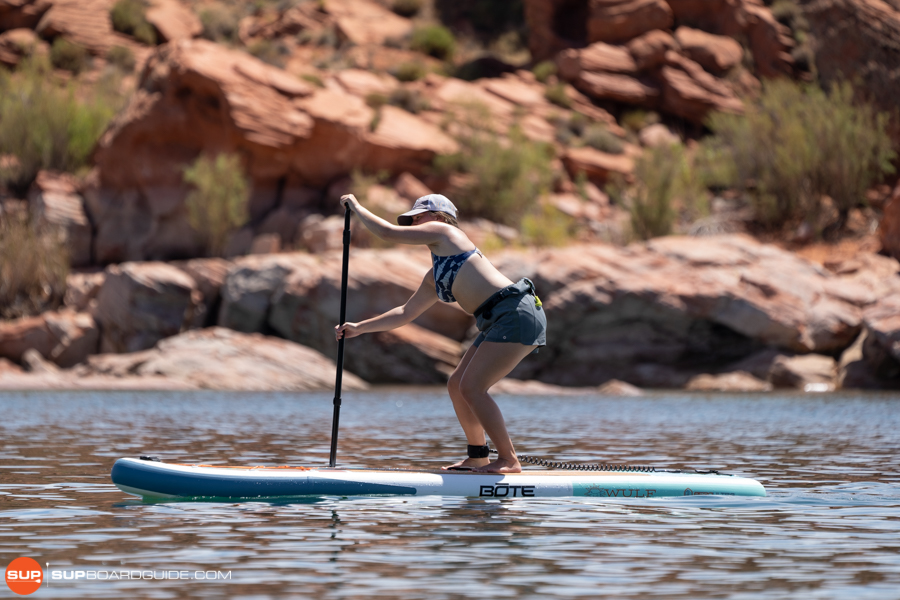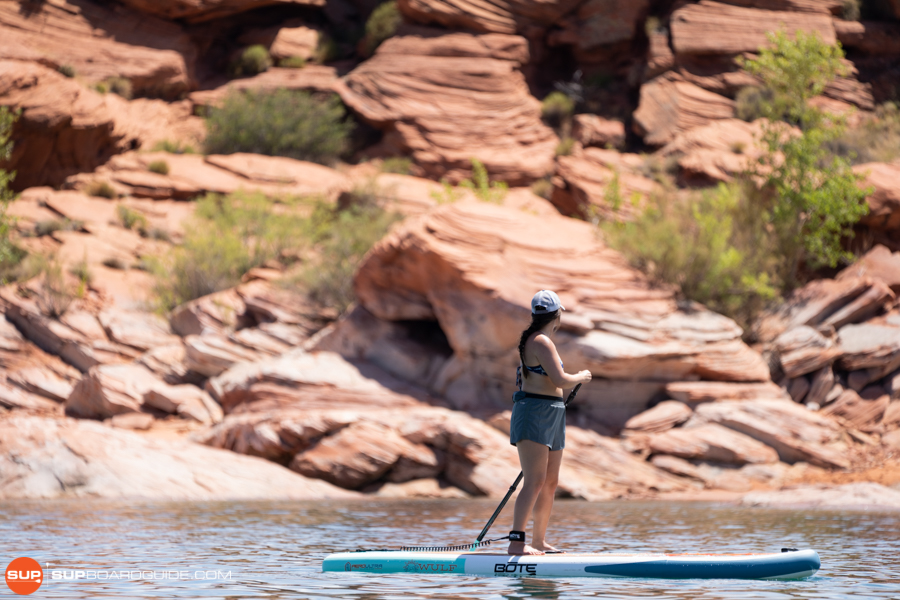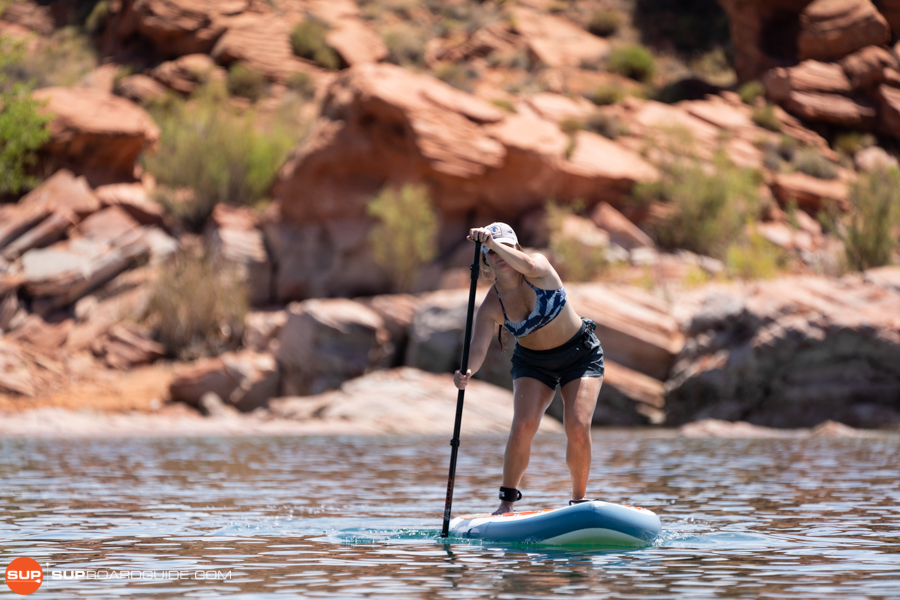 Overall Score: 8.9/10
Stability: 9.3/10
Speed: 8.8/10
Tracking: 8.3/10
Maneuverability: 9.3/10
Construction Quality: 8.2/10
Features/Accessories: 7.8/10
Stability Rating: 9.3/10
The Bote Wulf is extremely stable – and it's no surprise given this SUP is 34" wide. BOTE has carried the width over the entire length of the Wulf too, by gradually rounding off the nose rather than having it dramatically taper and by keeping the tail wide and squared off. This increases the overall wet area of the board and allows the water to provide more support under the paddler.
This translates to a more stable paddling experience, as this board doesn't have any 'tippy' or 'rolly' feeling as you shift weight between your feet. It even felt really solid when confronting some heavy boat wake. The only caveat to the Wulf's stability is that it is a shorter board at just 10'4", so taller paddlers (5'10" +) will likely feel unstable in the forward and back directions.
For shorter to mid sized paddlers that prioritize stability above all else, but don't want to deal with an overtly large SUP, the BOTE Wulf is an extremely viable option.
Speed Test: 8.8/10
| | | |
| --- | --- | --- |
| Board | Top Sprint Speed (mph) | Top Cruising Speed (mph) |
| Bote Wulf 10'4 Aero | 4.07 | 3.5 |
*All data is collected using the NK Sport Speedcoach 2. Results will obviously carry between paddlers and across different conditions, but this test helps us quantify speed difference between boards for our individual reviewers. The Sprint test is executed over a short distance, 10 second sprint , while the Cruising test takes place over a longer distance with a sustained top speed.
The BOTE Wulf performed well in our speed test, and is on par with several of our wider all-around SUPs.
During our short distance sprint test, the Wulf was quick to jump up to an average top speed of 4.07 mph, but it took a bit more effort to hold it there. Still, the Wulf clocked in at a reasonably good cruising pace of 3.5 mph over the course of our longer distance speed test.
On the water, it feels easy to paddle up to speed, and doesn't have that sluggish feel that some heavier SUPs tend to have for smaller paddlers like myself (5'2" x 135ish lbs). And considering the Wulf's stability focused shape, we're confident in crediting it's lightweight build as the main contributor for the Wulf's faster feel; at just 20 lbs, the Wulf is tied with the Bote Breeze (10'8 x 33") for being Bote's lightest adult SUP.
Tracking: 8.3/10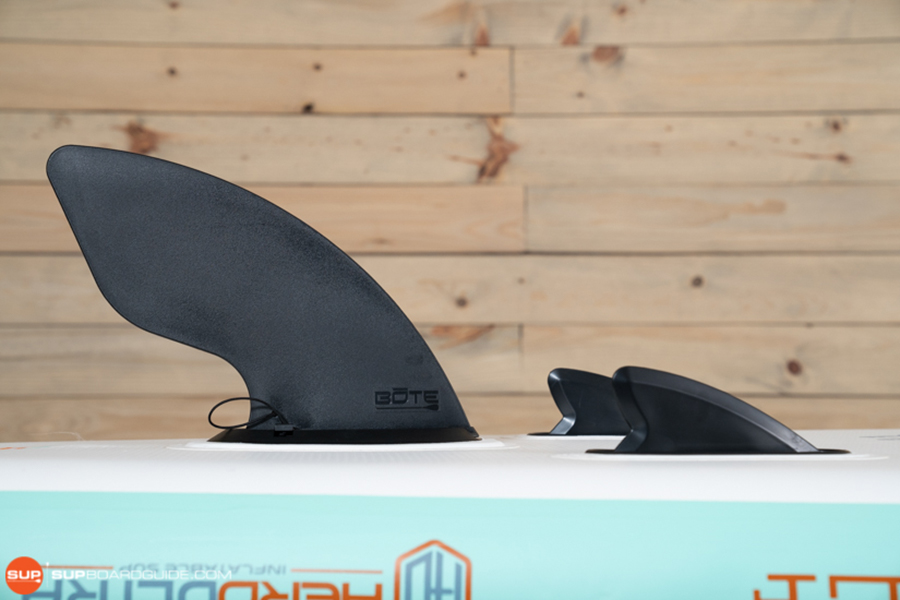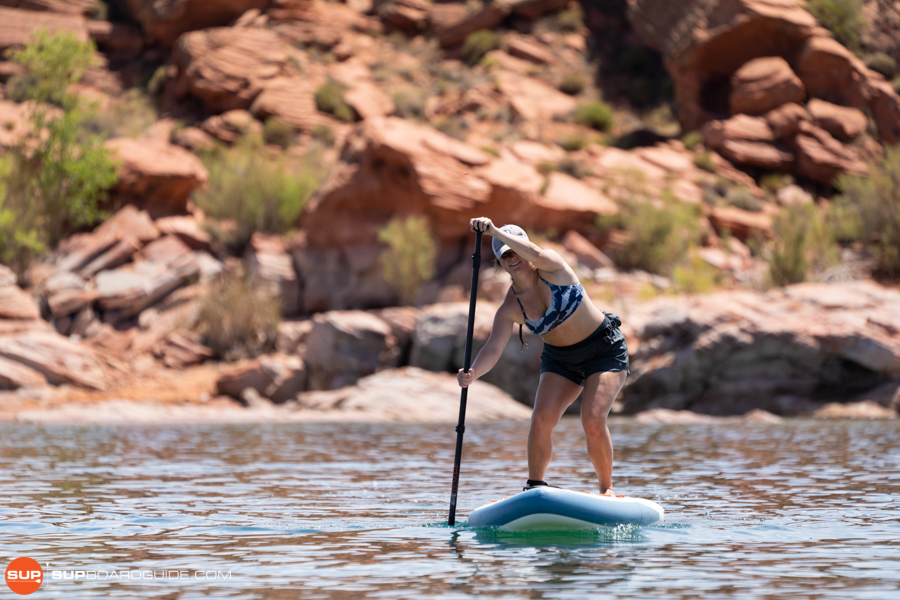 The Wulf did not necessarily excel us in our tracking tests, and we didn't expect it to, given that it's a shorter and wider SUP.
We did, however, expect the large removable center fin to boost the Wulf's tracking a bit more than it actually did. We think it's hindered by the 2" fixed flexible side fins, in that they're not quite long enough to actually provide any directional support for the board, but they do get bent out of shape each time the SUP is packed away and can cause the board to pull awkwardly in either the right or left direction if you're not careful about reshaping them before getting onto the water. We'd love to see Bote forgo the fixed side bites all-together and think the Wulf's tracking would be all the better for it.
It's also worth noting that this is a wider board paired with a fairly wide paddle. As a result, smaller paddlers will have to reach further over the rail to get their paddle vertical as it enters the water, and thus
Maneuverability: 9.3/10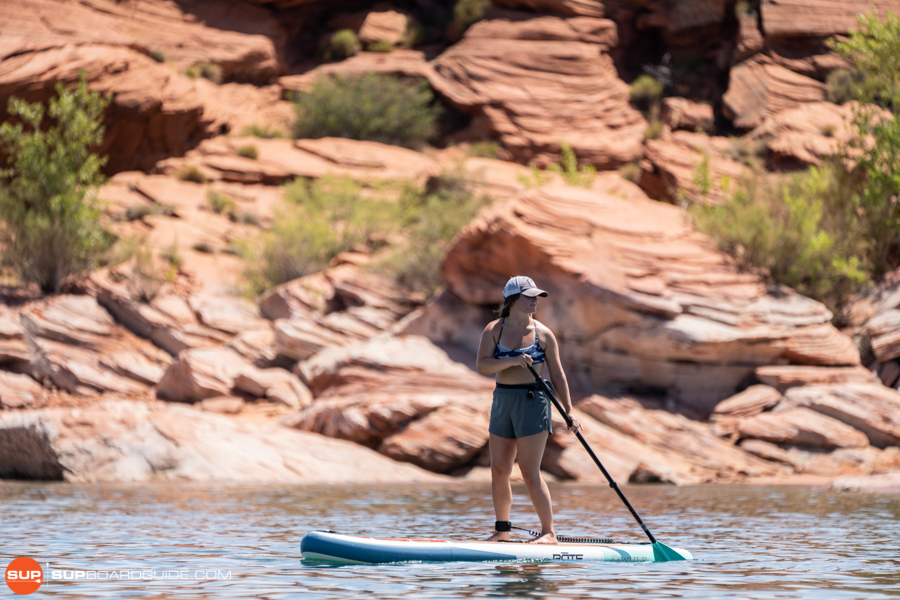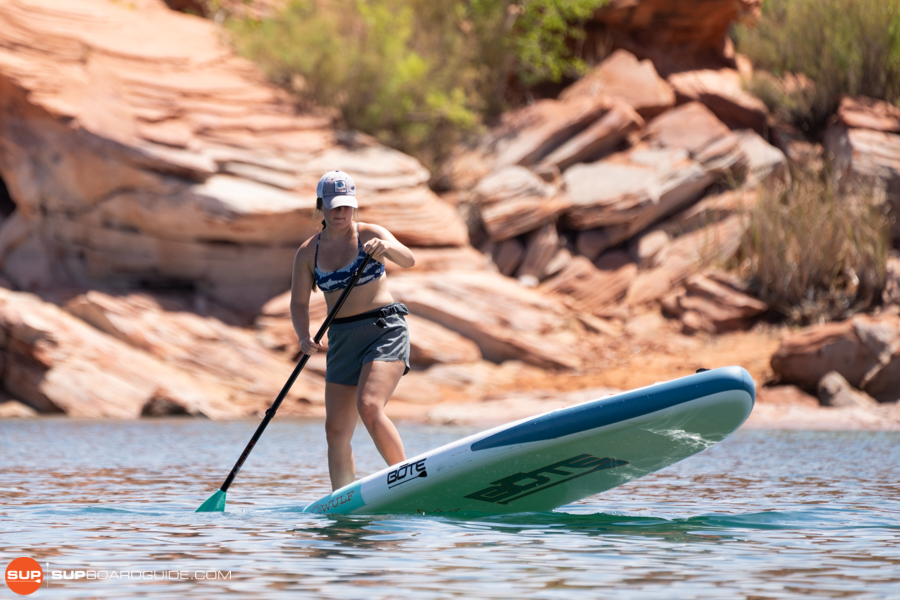 As to be expected from a 10'4 SUP, the Wulf performed well in our maneuverability testing. While shorter SUPs like the Wulf are inherently maneuverable by design, this SUP's lighter build seems to give it a boost.
Using reverse sweeping strokes from the tail, the Wulf turned 360 degrees using only 3 strokes, and didn't require much effort at all to initially change its direction and redirect its momentum. It's also stable enough that walking back to the tail for a tight pivot turn is relatively easy, but the tail on the individual Wulf model that we were testing does seem to be a little downturned, making it hard to balance once you do walk yourself back to sink it (I was in the midst of falling off in the pivot turn photo above). We're not 100% sure if the downturned tail is intentional, or if it's a defect on the particular SUP that we've been sent, but we have reached out to Bote for clarification and will update this review with their response. For now, it doesn't seem to have a significantly negative impact on performance in any other facet.
Construction Quality: 8.2/10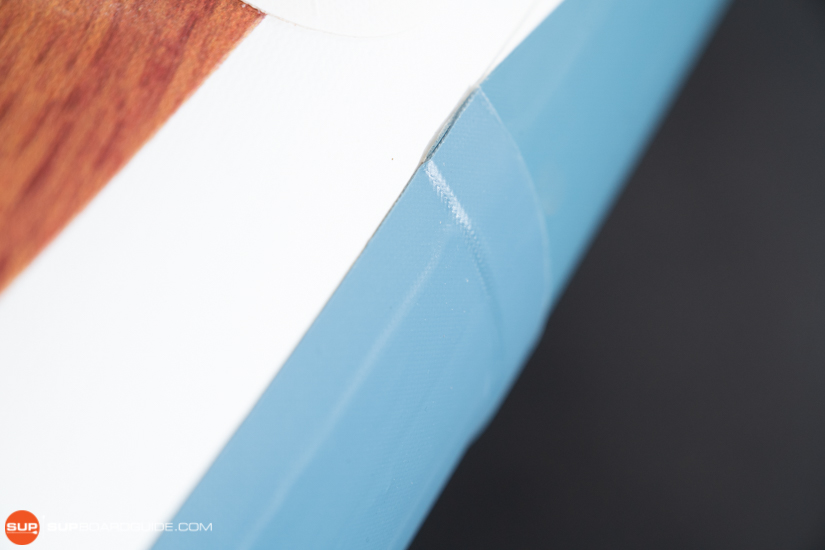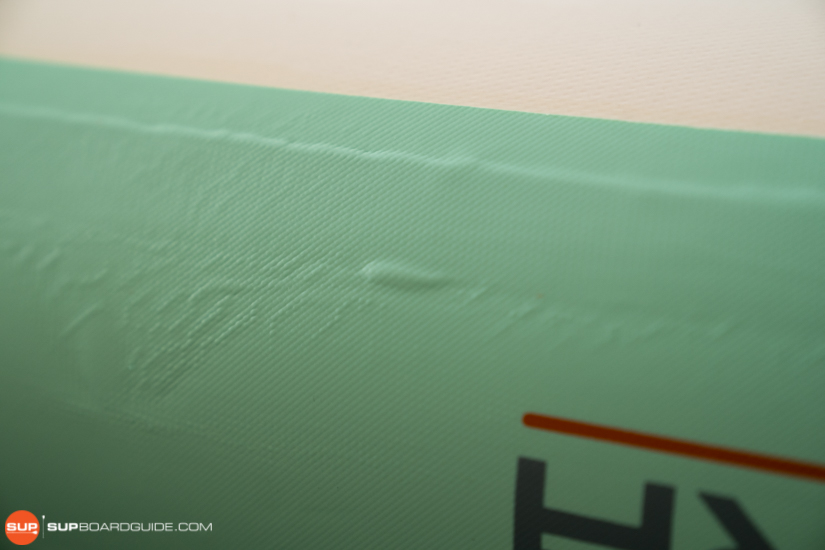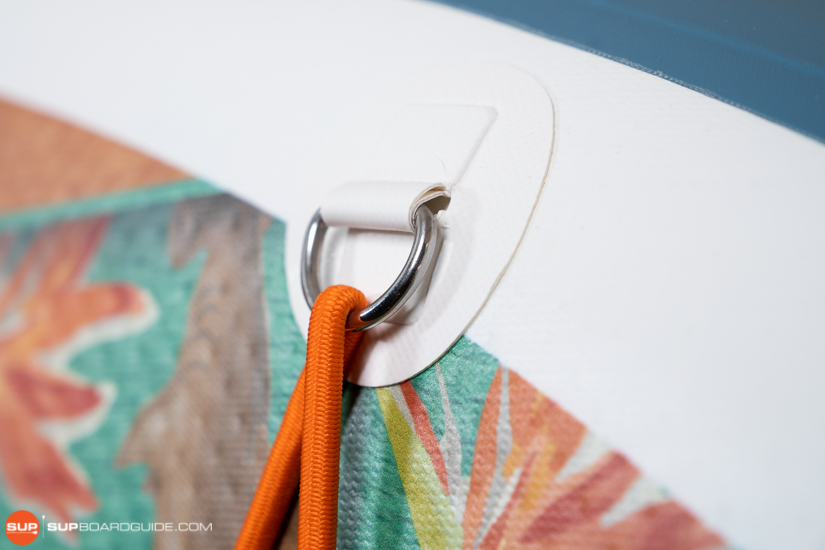 At this affordable point point, the Wulf's construction is fairly standard.
The Wulf features Bote 'AeroUltra' technology, and is constructed with a linear dropstitch core that is anchored into a knitted fabric. Essentially, this means that the thousands of threads running from the deck to the bottom of the interior of the board are oriented linearly, or parallel to each other, rather than being cross-stitched (forming 'X' patterns with each other). This is a simpler method, and it's fairly typical to see it used on boards within the Wulf's price range.
Also characteristic of their AeroUltra technology, the Wulf's exterior consists of a single PVC layer that is fused to the drop stitch fabric with heat rather than excess glue. It's then sealed with a heat-pressed seam and reinforced with rail tape – again, all pretty kosher for a budget friendly board.
The only thing we raise our eyebrows at when considering Bote's construction is their generous use of glue. Of course, this isn't necessarily a bad thing, but many of their boards tend to have a wrinkled or bubbly look along the rails, which is purely cosmetic, but we'd like to see them clean this up in the future.
Board Stiffness: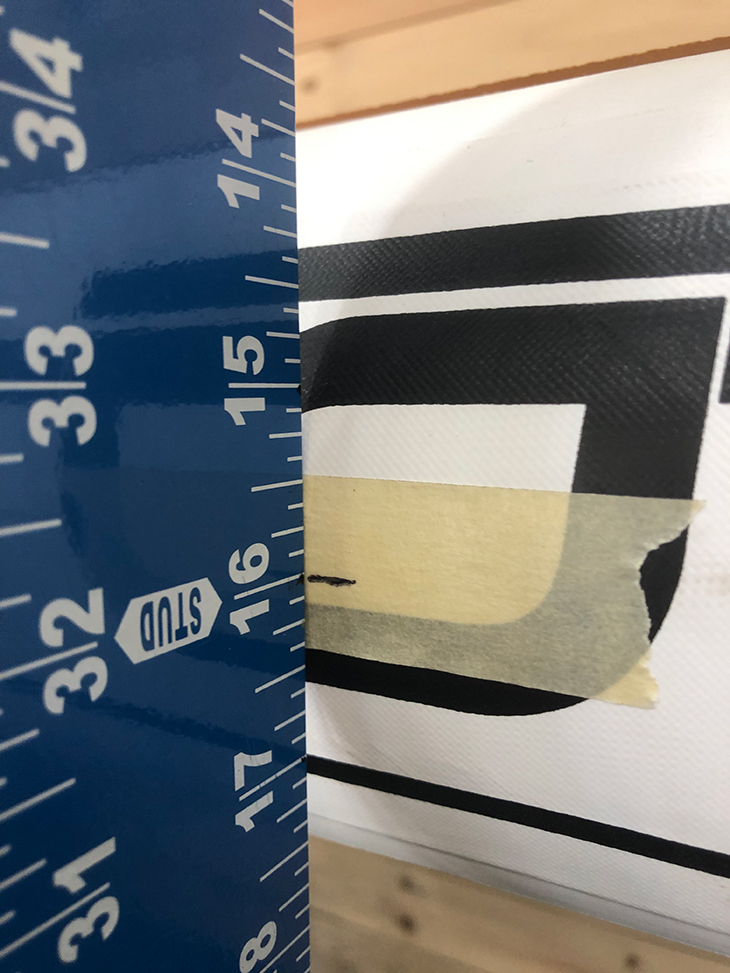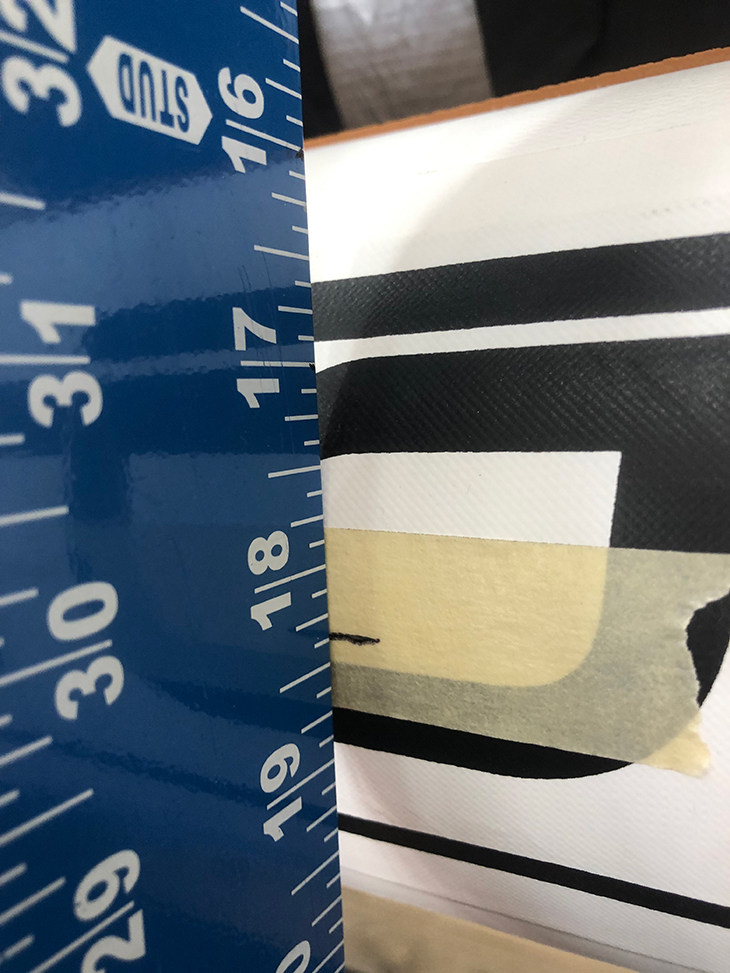 Stiffness Test: 2.3750"
Our bend test is completed by placing the SUP on top of two sawhorses spaced 7' apart. We then set 150 lbs on the SUP's midpoint and measure how much it bends or flexes under the weight. While this test is obviously not meant to replicate how the board will behave on the water, it helps us quantify how construction techniques can contribute to stiffness.
The Wulf bent a bit more than BOTE's other SUPs in this test, but no more than to be expected of a single layer SUP. And we want to note that we didn't notice any significant flex in the water. Most paddlers will be well supported by the Wulf, and we think they may be selling this board short with its 250 lb weight capacity, but more testing will be needed to determine where the actual capacity lies.
Features/Accessory Review: 7.8/10
The Bote Wulf is one of their less feature heavy models – which is not at all a bad thing.

Because it's relatively minimalistic, the Wulf gives you plenty of space to stretch out on the deck pad, get into some paddleboard yoga, or maybe even bring a pet or small passenger along for the ride. They've also added their standard nose, tail, and center carrying handles for easy transport and launching. And while the Wulf is devoid of some of Bote's more typical features like kayak seat attachment points and multi-use action mounts, we can appreciate the simplicity and classic feel of this entry level SUP.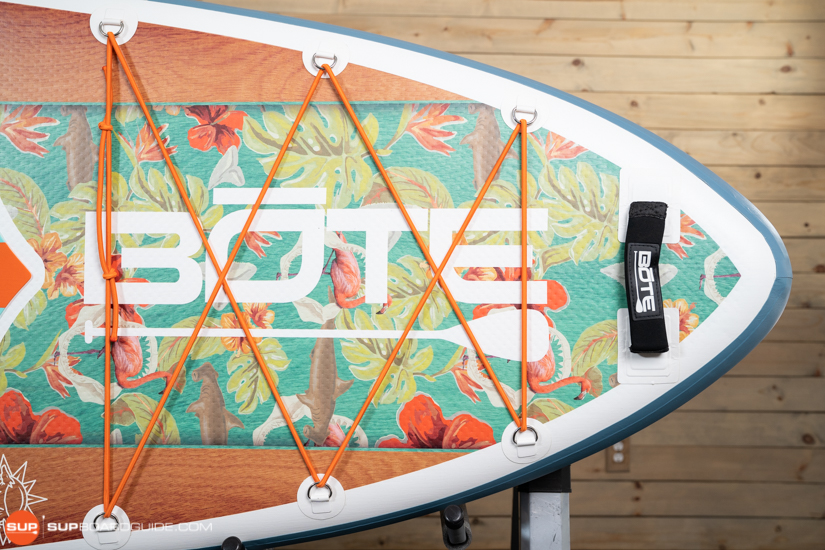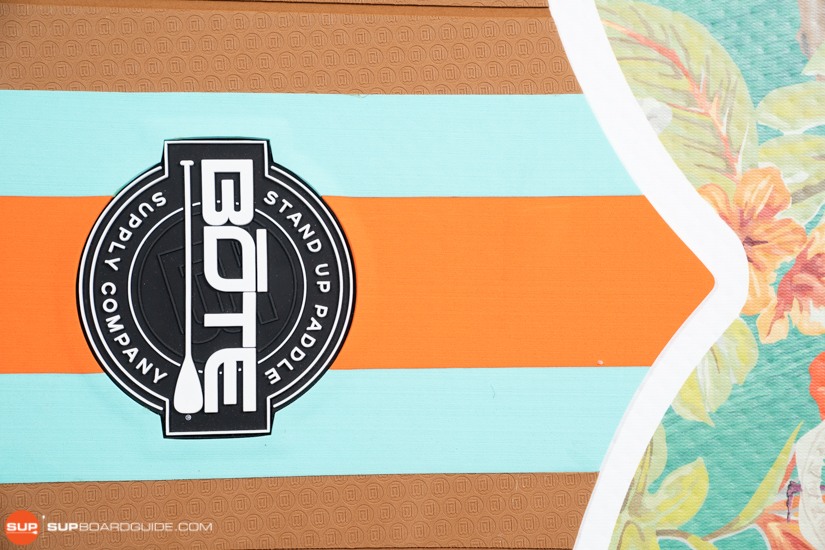 There is a large front cargo area at the nose of the WULF, as well as their 'Magenod' magnetic cup-holder, conveniently located just in front of your standing area.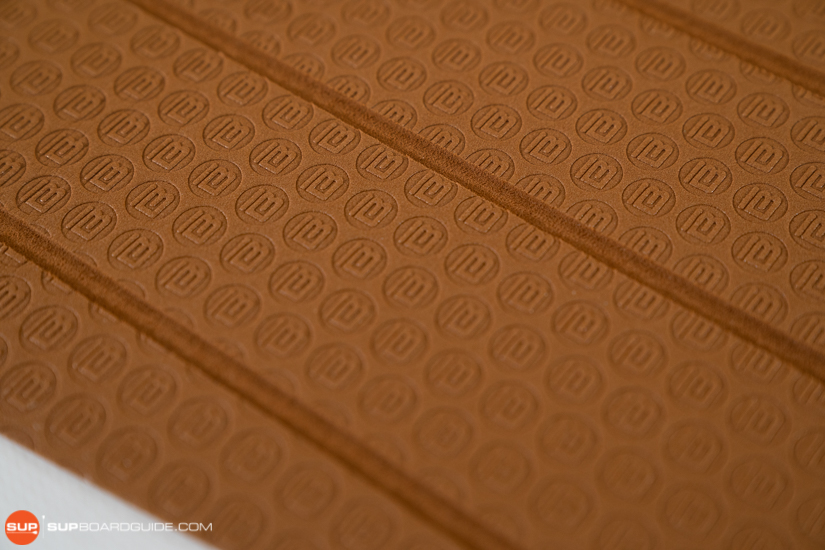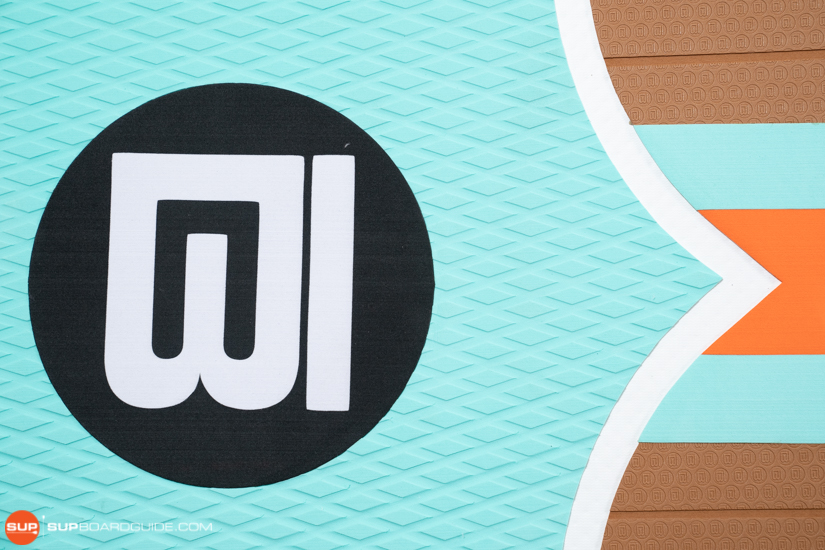 On the deck, Bote adorned the Wulf with a comfortable grooved and brand stamped deck pad with a diamond grooved portion at the tail for better grip during tighter turns.

Along the bottom of the SUP, The Wulf has a pair of 2" fixed flexible fins that are angled towards the center of the SUP, as well as a slide lock fin box for their large removable center fin.
Here, we want to reiterate our point from our tracking section, which is that we'd like to see Bote do away with the fixed side fins. In general, they get squished out of shape each time the SUP is packed away, and if they're not fully straightened out before each session they can cause the SUP to pull weirdly in either the right or left directions while paddling. And even when they're straightened out, their angle doesn't allow them to add any benefit to this SUP's tracking.
We'd also like to see Bote move away from a slide lock fin box. This particular mechanism has proved difficult when inserting or taking out your fin, and we've even had to adopt the habit of bringing a rubber mallet along in our SUP kit in case a fin gets stuck. Over time, we've also run into the issue of the fin box bending inward, making inserting your fin even more difficult or nearly impossible without the use of tools.
Included Accessories: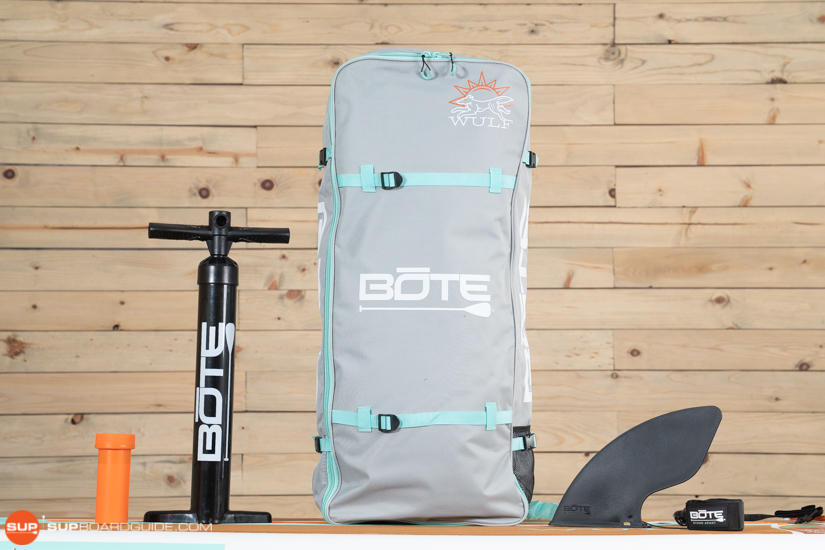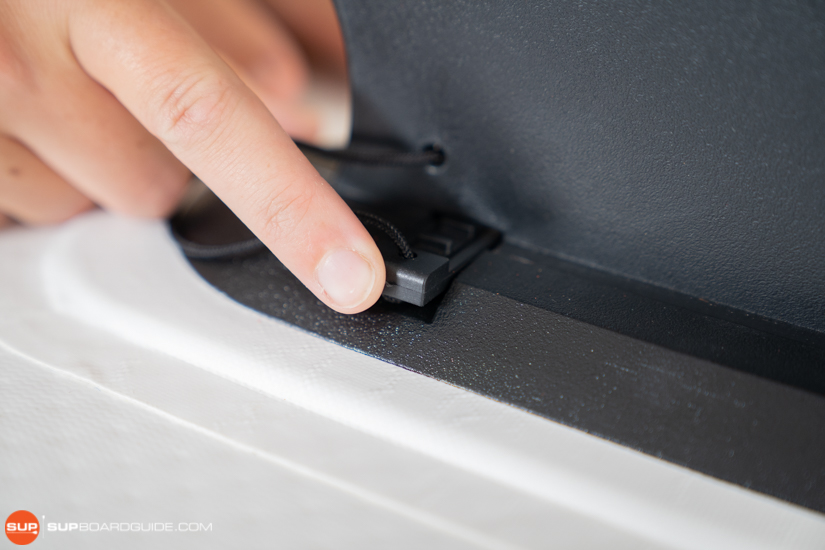 The BOTE Wulf comes with the following accessories:
3-piece adjustable aluminum paddle
10" removable center fin
Coiled leash
Single chamber hand pump
Repair Kit
SUP backpack
Let's start with the positives: we're so happy that the Wulf comes with a leash. This small, and sometimes overlooked, piece of gear can literally be a life saver in any event that you fall off of your board in windy or choppy conditions. We'd love to see BOTE include a leash with all of their boards, as it's so vital for basic safety, but we're happy to see it's at least included with the Wulf for now.
Now for the negatives: we are massively disappointed with BOTE's decision to include an aluminum paddle with the Wulf. Not only is it heavier than the fiberglass or carbon fiber hybrid option, it's also extremely easy to permanently bend if you throw a little more power and weight behind your stroke. To add fuel to the fire, this black aluminum paddle gets blazingly hot in the sun and ultra slippery when wet, so even if you cool it down by giving it a dunk in the water, you're going to have a hard time getting a grip on your paddle, especially if you have any type of sunscreen residue on your hands. We've seen many boards at this price point come with a fiberglass paddle, or even a carbon hybrid paddle, and we'd strongly suggest BOTE start doing the same.
As for the SUP backpack – it's okay. We'd appreciate an extra pocket to store your leash and fin, but that may just be us nitpicking and being sticklers for organization. Our main complaint with this bag (and many other SUP bags from BOTE) is that it doesn't have wheels, though to be fair, the Wulf is BOTE's lightest board so it's not necessarily an ordeal to throw it on your back.
Summary Review of the BOTE Wulf Aero 10'4
To wrap things up, the Bote Wulf is overall a great entry level SUP. It's stable enough that nearly anyone can stand and start paddling without a massive learning curve, and it's affordable so beginner paddlers can feel more at ease investing in a new hobby.
Up until the past couple of seasons, paddlers who placed rock solid stability at the top of their stability list were typically confronted with a list of options that would usually entirely include bulky and sometimes pricey boards. The Wulf presents that same level of stability but differs from these options, not only in price, but in that it's lightweight, maneuverable, and easy to paddle – especially for smaller paddlers (like myself) that struggle to paddle heavy boards efficiently.
We'd feel confident recommending it to nearly any entry level paddler, and even veteran paddlers needing a little more volume on a tighter budget.
As always, we hope you found this review helpful, but if you have any questions please reach out to us in the comments below.
Until next time, happy paddling!
The following two tabs change content below.
SupBoardGuide
Heyo! At SupBoardGuide.com we are a team who love the water, the outdoors, and are more than grateful that our full-time job allows us to review stand up paddle boards. We paddle year round (it helps that we are just about 2 hours outside of Las Vegas), and we bring in a wide range of paddlers with the goal of providing our readers with the best, most in-depth, and accurate stand up paddle board reviews.
Latest posts by SupBoardGuide (see all)