BOTE Flood Aero
Pros
Well constructed medium priced board with many accessories
Solid performance for paddlers up to 225lbs
Good stability for beginner paddlers
Full deck pad option makes it great for SUP Yoga or pets
Beautiful design options
High quality bag and other standard accessories
Cons
The Aero Rack receiver mounting points need to be rethought. When not using them, the mounts stick out and have a rather sharp leading edge.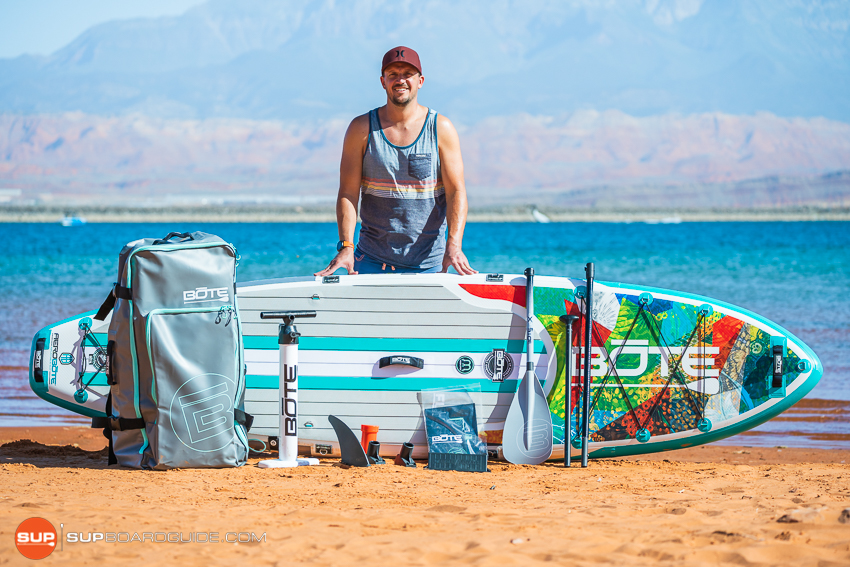 This is the first year we have had the opportunity to test and review equipment from the Florida based company BOTE and so far we have been nothing but impressed. So let's get started with the BOTE Flood Aero Review!
Like the rest of their lineup the BOTE Flood Aero just feels like a quality piece of equipment right out of the box. The overall colors and textures of this single board really appealed to most reviewers. That is saying something considering some manufacturers can produce as many as 6 different color ways for a single board type. BOTE doesn't skimp when it comes to quality feeling materials either. Absolutely nothing you can look at or touch feels out of place or cheap.
The Flood Aero sits in the size category just shy of the BOTE HD Aero, so while it doesn't quite have as much volume as that board, it is still a fairly sizable board at 11' by 32". This lends itself to being very stable and a good choice for beginners of most weight ranges. In terms of accessories this board is also just shy of the HD Aero, it's missing some included features but still has plenty of options for paddlers looking to tailor their water experience to their unique tastes. Most notably this board still has the Aero Rack receivers included, meaning you are only a purchase away from a good fishing setup or a nice KULA rack system.
We think the BOTE Flood Aero would be great for:
Beginner paddlers up to around 225 lbs
Paddlers looking for a solid SUP fishing or cooler setup
Paddlers wanting a full length deck pad for SUP Yoga or pets
Paddlers after a decent touring board
We think the BOTE Flood Aero is great for the following water conditions/situations:
Flat water paddling through rivers and lakes
Recreational paddling with smaller pets or kids
Sup Yoga or any on board fitness program (Full Trax option)
Light ocean paddling
BOTE Flood Aero Review: Overview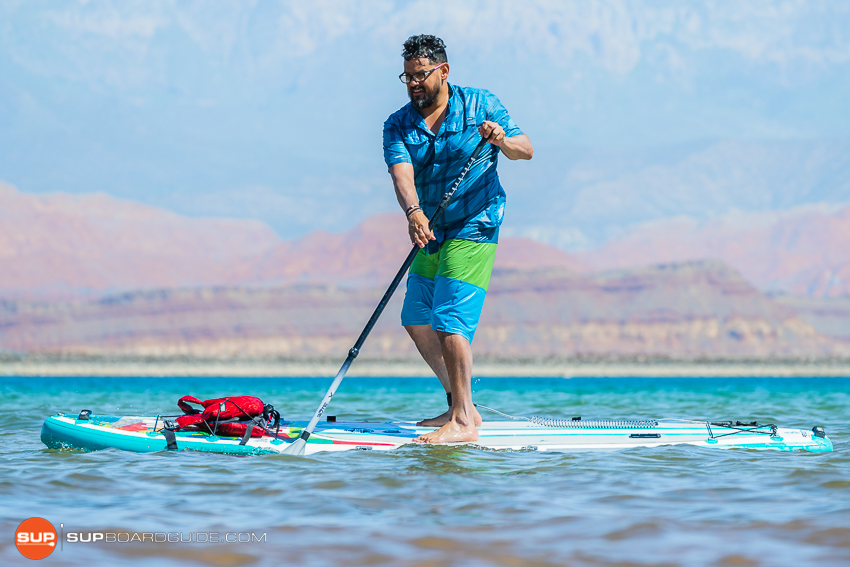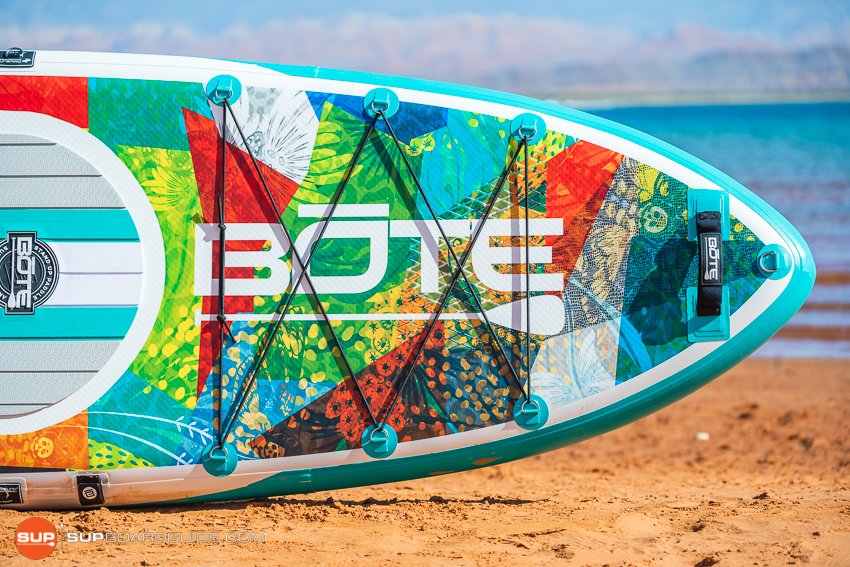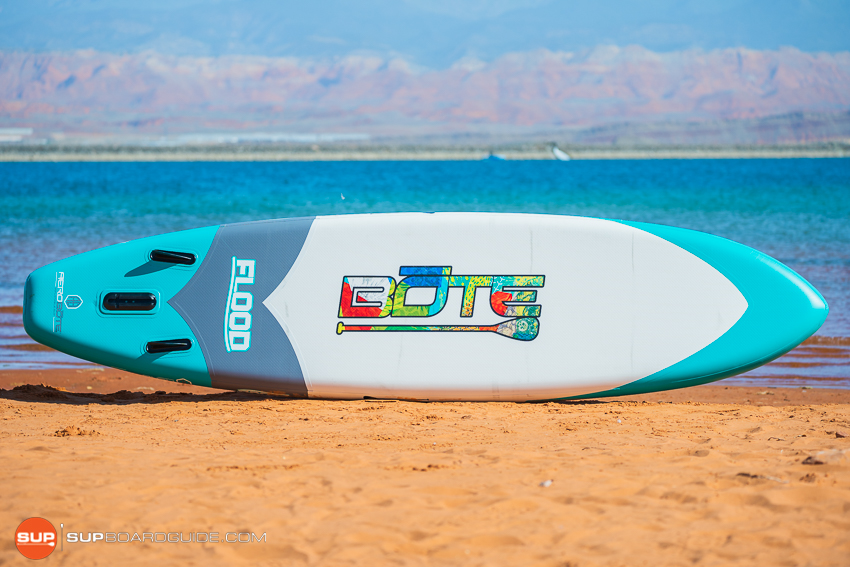 Note: Our crew paddles a lot. We take these boards out as much as possible, in as many different conditions as possible. We update our reviews as we encounter new situations or experiences. Bottom line, we don't put out spec reviews. We do our best to give you the results of real world use. As such, if you have any questions please leave us a comment below and we will be happy to answer you.
BOTE Flood Aero: Spec Sheet
| | |
| --- | --- |
| Main Category | All-Around, Inflatable |
| Board Dimensions | 11' x 32" x 6" |
| Listed Board Weight | 28 lbs |
| Listed Max Capacity | 275 lbs |
| Recommended PSI | 10-15 PSI |
| Fins | 1 removable center fin, 2 permanent side fins |
| Paddle | 3 piece adjustable |
| Materials | AeroBOTE inflatable technology |
| Price Range | Medium |
| Warranty | 2 years, 30 day guarantee |
Official SupBoardGuide.com Test Results: BOTE Flood Aero (2023)
Overall Score: 9.5/10
The BOTE Flood Aero is certainly a quality inflatable SUP. It's solid construction and stability really make this a great choice for beginner paddlers in the 225lb range. It also comes with some of the best features available from the manufacturer. All of this at its mid range price makes this board a very good value.
Stability: 9.3/10

Speed:8.6/10

Tracking: 8.7/10

Maneuverability: 8.9/10

Construction Quality: 9.4/10

Accessory Review: 9.6/10
Our overall rating of 9.5/10 for the BOTE Flood Aero goes to show that BOTE is serious about making quality inflatable standup paddle boards. We were very impressed with this board in almost all of the categories and have no problems recommending it to both beginners and more advanced paddlers, which is why we have awarded this as one of our best inflatable paddle boards for 2023.
In-Depth Review of the BOTE Flood Aero Stand Up Paddle Board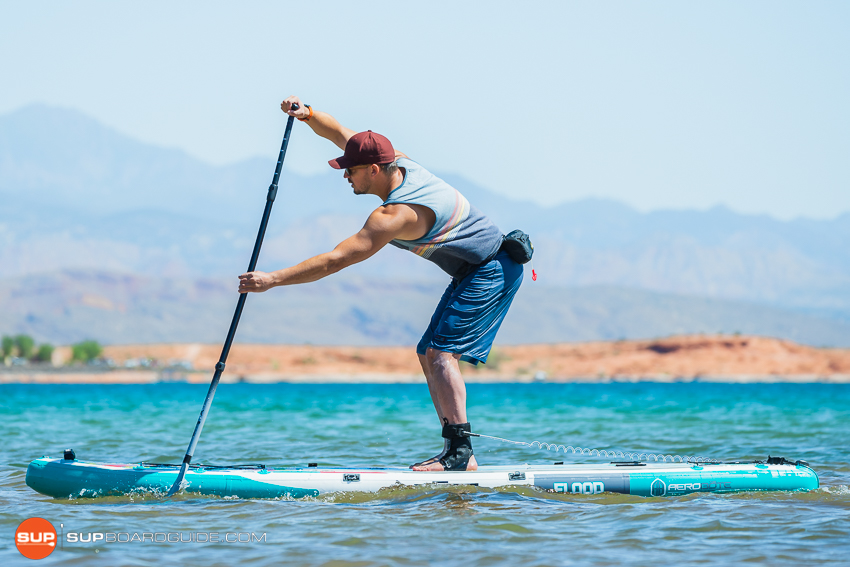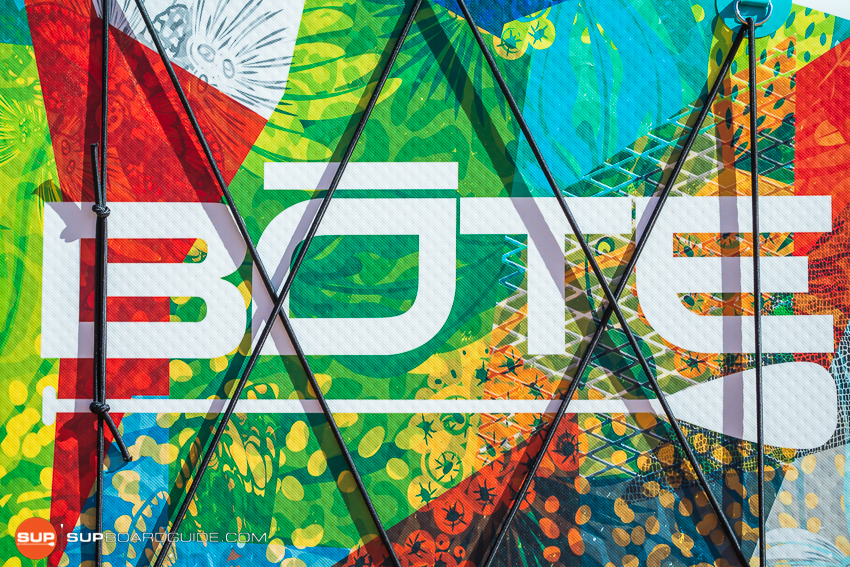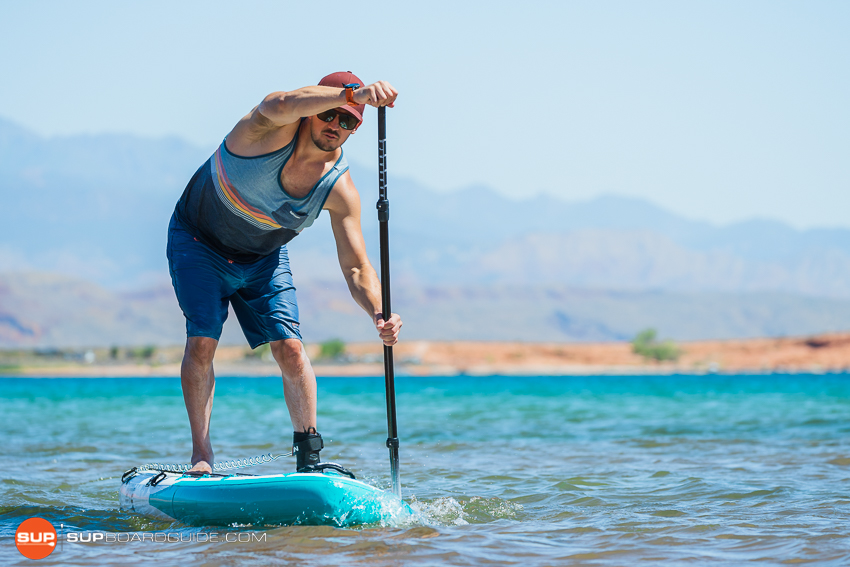 This board did really well in all of our tests. So our best summary is that it's a great all around board in the mid priced segment. It comes with plenty of features and even more manufacturer add-ons to customize your paddling experience. Most reviewers liked how it paddled and felt fairly stable on the board despite being 225 lbs and above.
Stability Rating: 9.3/10
In terms of stability the BOTE Flood Aero did not disappoint. It's a fairly large board at 11' long, so it certainly has the volume to keep a good deal of weight afloat (more below), but more importantly it adds to the boards stability. BOTE has said themselves that it's combination of entry (nose) rocker and thick rails make the board extremely stable and we agree that the overall shape of the board does add significantly to its stability.
As we have said many times over, a board's stability is probably it's most important characteristic. Especially when considering new paddlers looking to purchase their first inflatable SUP. This board felt solid under all the reviewers feet (150 lbs up to 225+ lbs) and the stability score shows just how solid the board felt to all reviewers.
Weight Capacity:

Listed Capacity: 275 lbs
Despite what a manufacturer might say, we like to think of the weight capacity as the absolute limit in which a board is still basically maneuverable as a paddle board. Yes we could weigh it down until it sinks (or pops) but that doesn't do any good as your ability to paddle the board would have gone out the window way before that point.
For our purposes we believe this board is good for someone up to around 225 lbs (depending on skill level) and a few small extras such as a cooler or small pet or child. Certainly not all three though. I think BOTE is genuinely very fair when it comes to their max capacity ratings. That should make it easier on consumers when choosing a board for their needs and experience level.
Speed Test: 8.6/10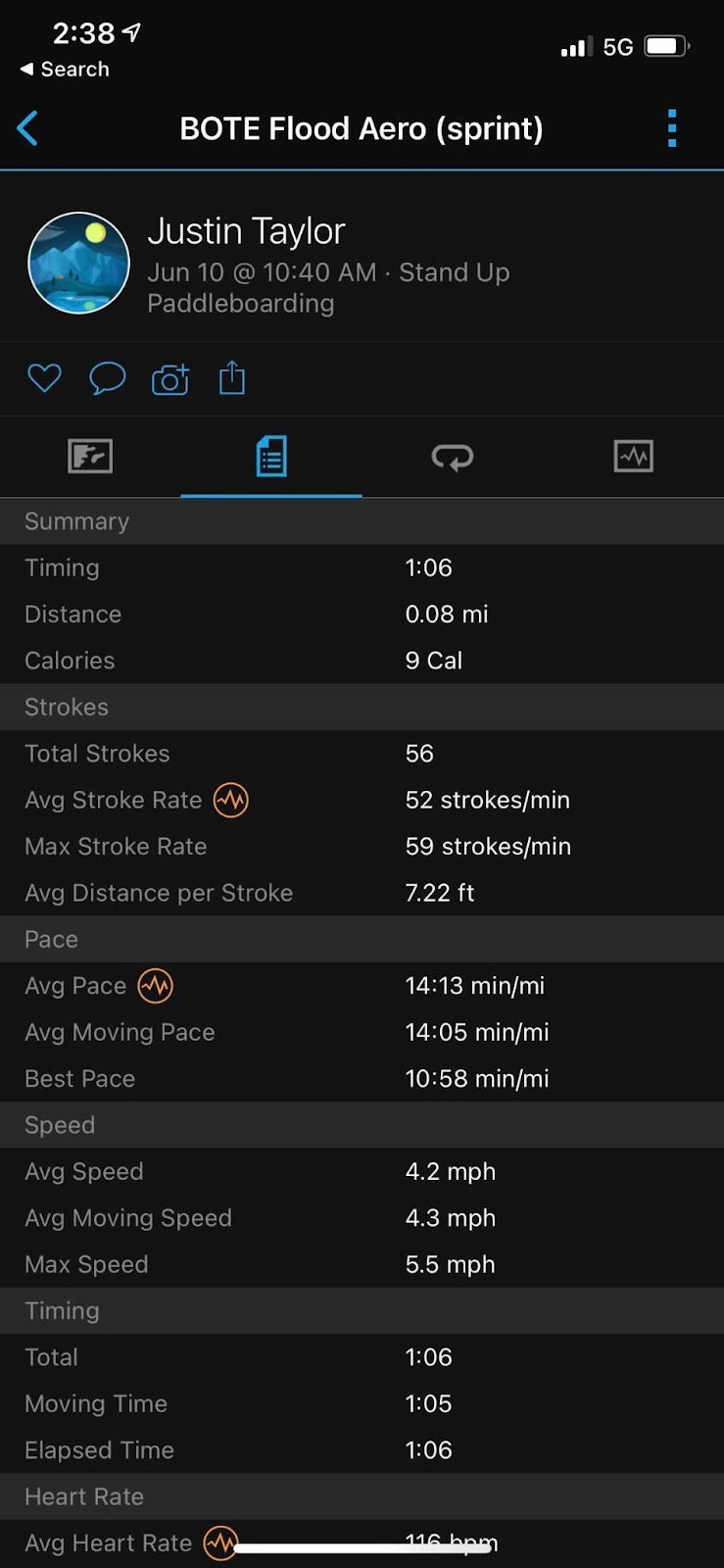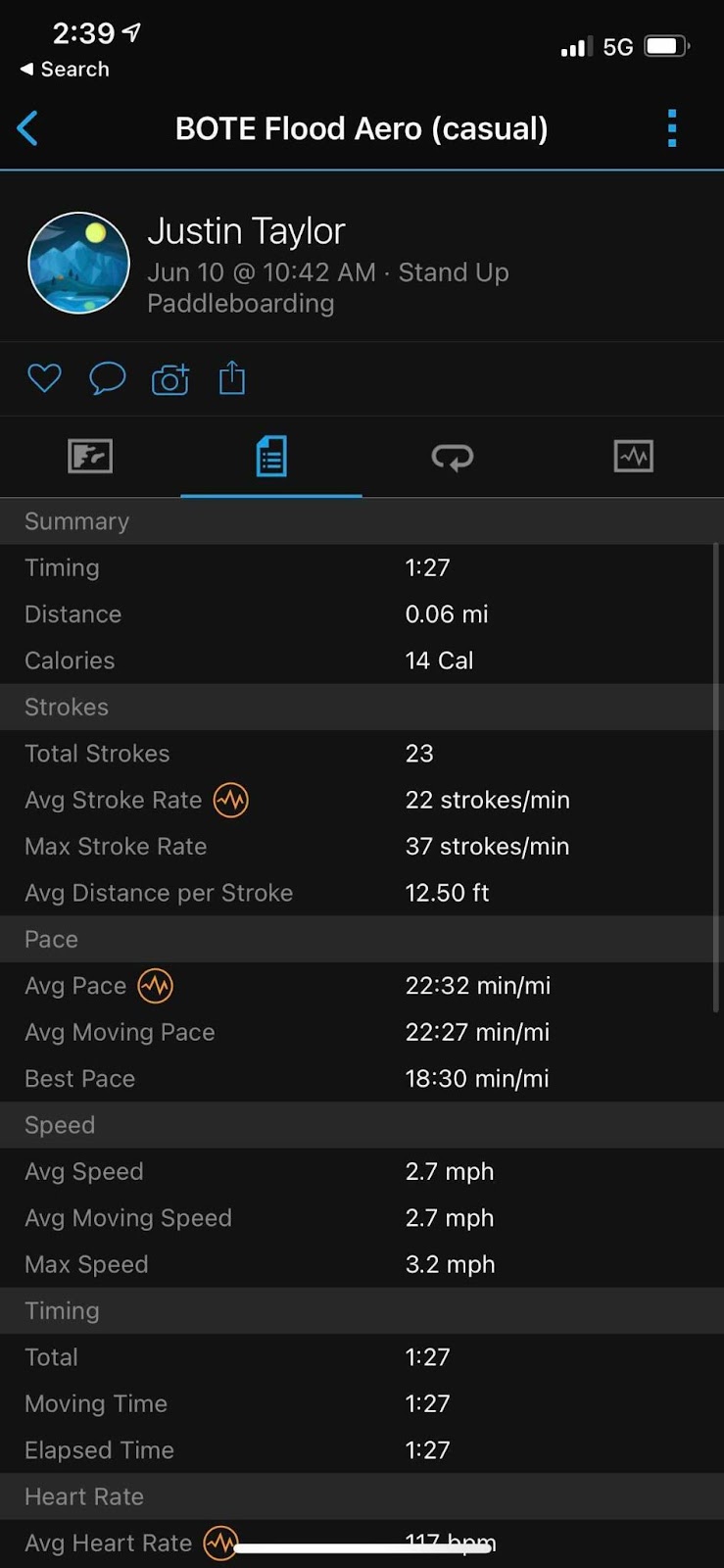 Despite it's long 11' water line this board was certainly not one of the fastest we have paddled. Like the rest of the BOTE fleet we seem to think these boards are fine tuned for a set cruising speed.
What I mean by this is that the Flood Aero liked to go at exactly one speed. It was fairly easy to get up to that speed and maintain that speed (around 3 mph). But to do any better required a tremendous amount of additional energy. We think that this is due to the weight and overall shape of the board. As BOTE added stability with the hybrid nose design and rocker, and added weight with additional materials for durability, they limited its overall speed.
This is great for an all around board, if you think about it. With a typical all-around SUP, you're not looking to be the fastest, just fast enough. This board should keep you, with minimal effort i might add, in the lead group of your fellow distance paddlers without a problem.
Tracking: 8.7/10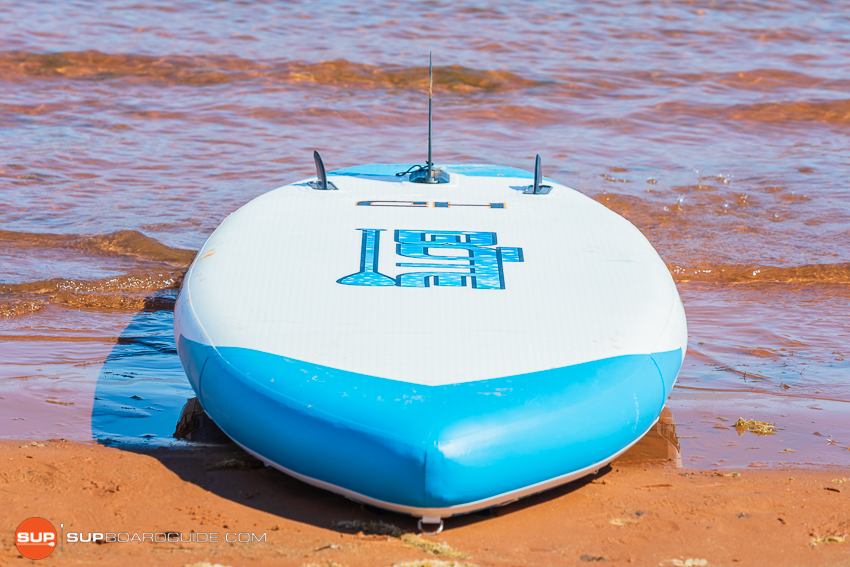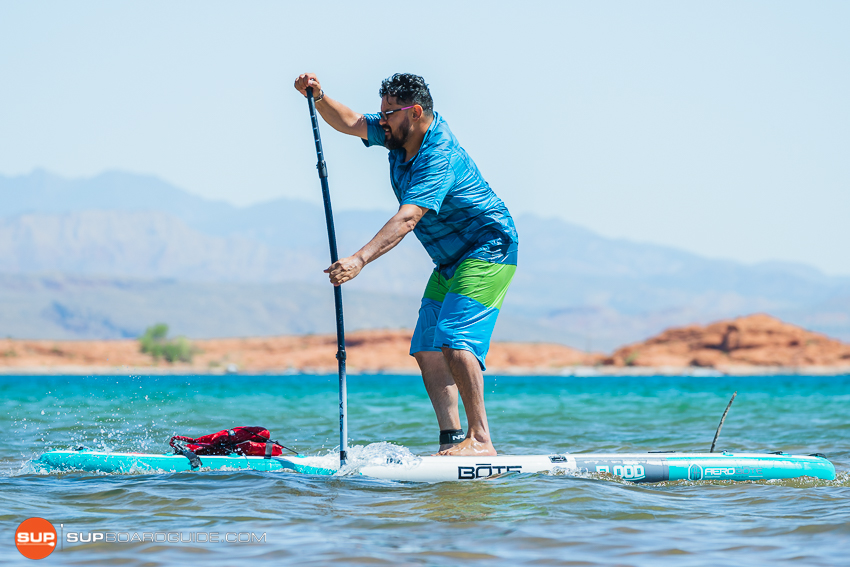 With an score of 8.7, the BOTE Flood Aero sits in the lower middle of our top rated inflatable SUPs for overall tracking.
We really like the single removable center fin for sure, but we are just not sold on those permanent rubber fins. In our opinion we feel the board would track better if it had larger (removable) side fins. That would also get rid of the headache that is having permanent fins. It makes the board much more complicated to roll up as you have to account for those in your process. It also makes general storage a pain as well. Whereas a board with all removable fins could be stacked easily on each other, these will always interfere with that. What's worse is that they often deform and bend with sun exposure so there is just no winning.
Maneuverability: 8.9/10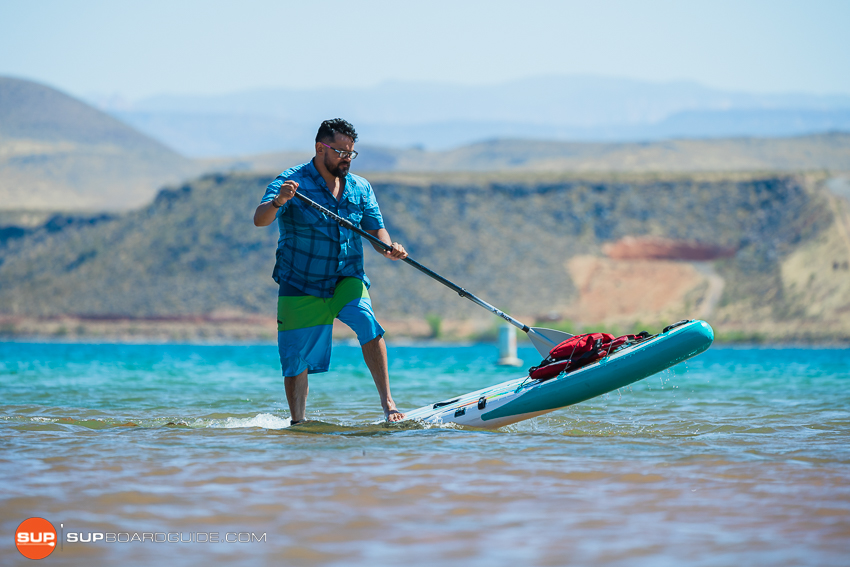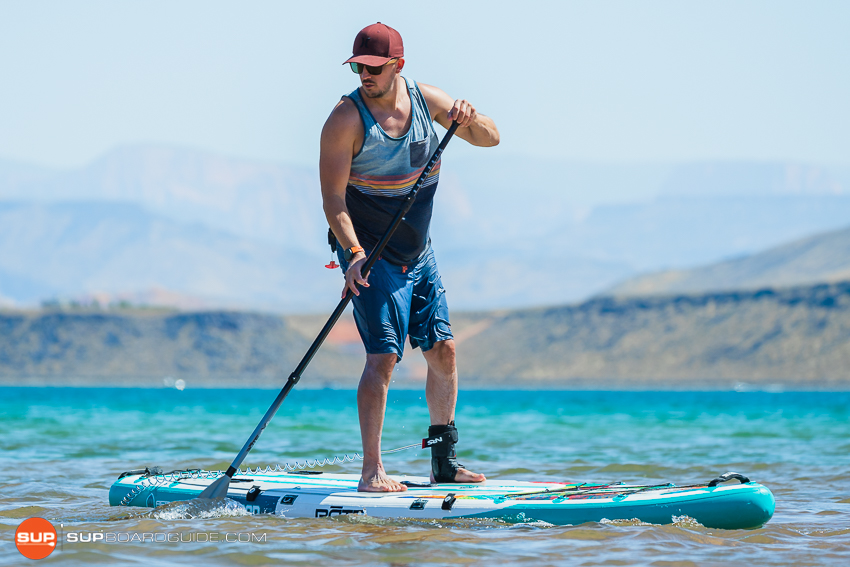 The BOTE Flood Aero maneuvers quite well despite it's 11 foot length. In terms of basic (non stepping) turns it did well. The board was able to tackle a slalom course of water plants with composure. You never really felt like you had to work extremely hard to make this board change directions. This may also have to do with it's somewhat limited overall speed though. It's hard to keep the pace up when turning a lot in the slalom if the board only wants to go a certain pace.
Looking at step back turns or really anything that requires you to move your feet around this board was a little less stable. I really feel those Aero Tackle Rack mounts are made out of hard edged plastic that I could almost see myself slicing my foot on. Again this is not an issue if you're not a more advanced paddler trying to do step back turns, or if you consistently have the Aero Tackle Rack in place (who doesn't go paddling without their KULA? Am i right!). I would just suggest to BOTE that these mounts need to be more flush or more like the scottie mounts used by other companies. That sharp edge for the slide in attachment is just not ideal.
Construction Quality: 9.4/10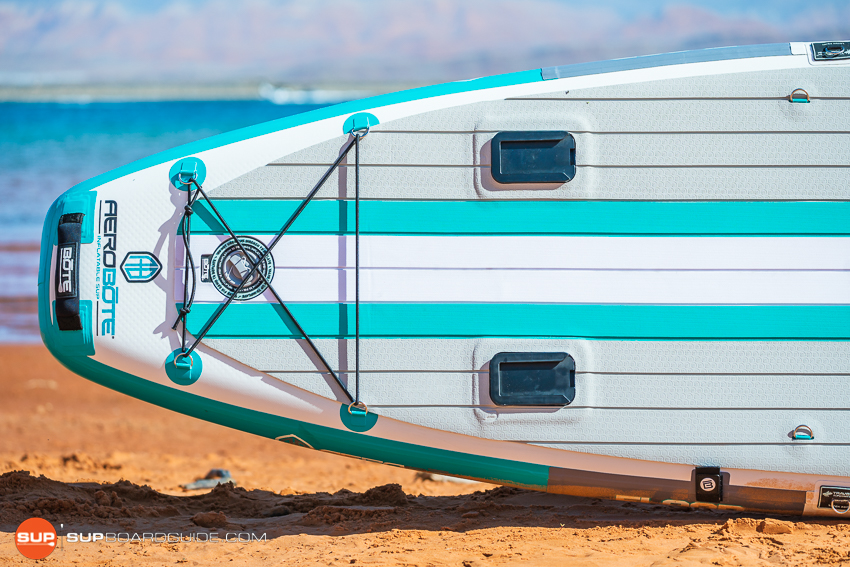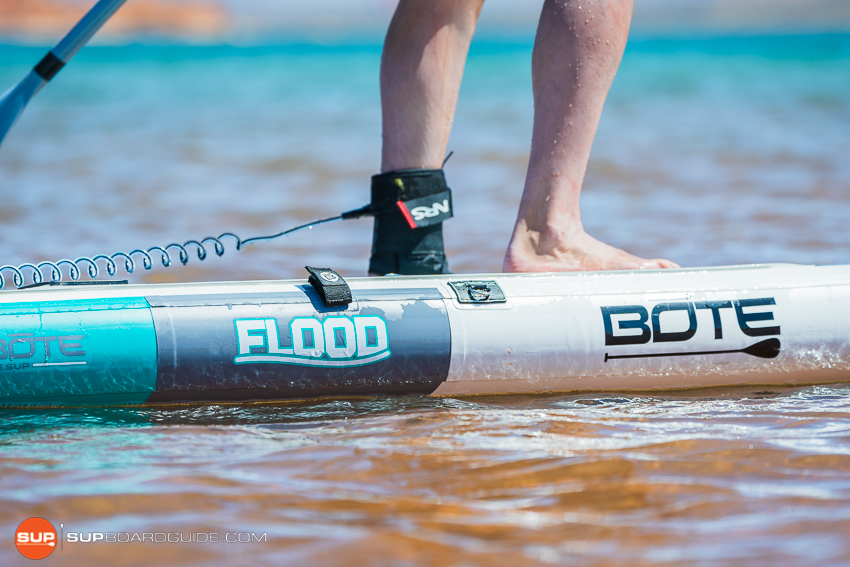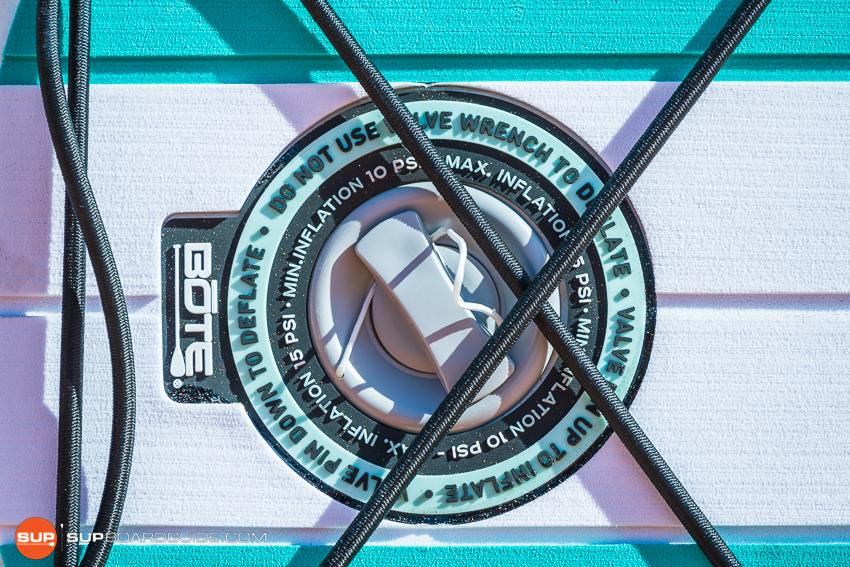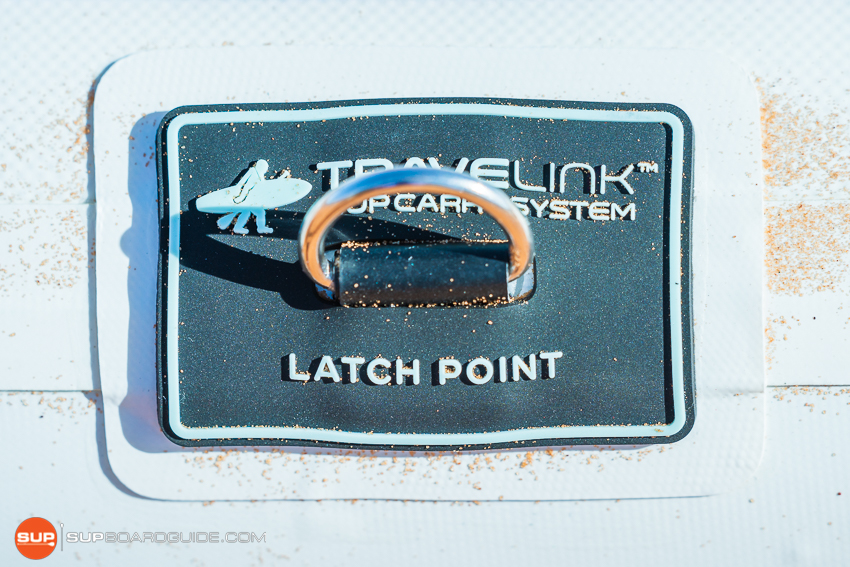 BOTE says all the Flood Aero is made with the "extremely tough AeroBOTE technology", but what exactly does that mean? Well looking forward into their materials you see that they have essentially two construction methods for their iSUPs, AeroBOTE and AeroULTRA. The first, which is used in this board, consists of a composite dropstitch core and two additional layers of fusion composite "military grade" PVC. The result is an overall finished product that feels solid in your hands. It's not extremely light compared to other boards, but that's ok. It is extremely sturdy and has allegedly been extremely tested by BOTE founders in various fun ways.
Moving on to the overall finish of the board you will quickly see that BOTE makes the board second to almost no one. They have an amazing eye for detail and color that extends all the way down to the multicolor EVA foam deck pads that wear the signature "B" logo. When you first get the board it looks like something that costs a considerable bit more – in fact, most people are very surprised when they see the price tag of the BOTE Flood Aero. We agree and think the board looks and feels very high quality throughout.
Board Stiffness:

Stiffness Test: ¾" Bend (board on top of saw horses placed 7' apart, with 150 lbs of weight added right by handle in middle of the board)
To us, board stiffness is a product of several factors but most important of them all is probably the construction of the board itself. We typically, though not always, see boards with high stiffness typically have above average stability and construction quality. We do this test to get an idea how each board performs in relation to one another using the same standardized repeatable test. It's one of the few ways we can see an apples to apples comparison across the board.
We found the BOTE Flood Area to be very stiff and perform very well on this test – backing up our assessment that the quality of materials BOTE uses is top notch.
Features/Accessory Review: 9.6/10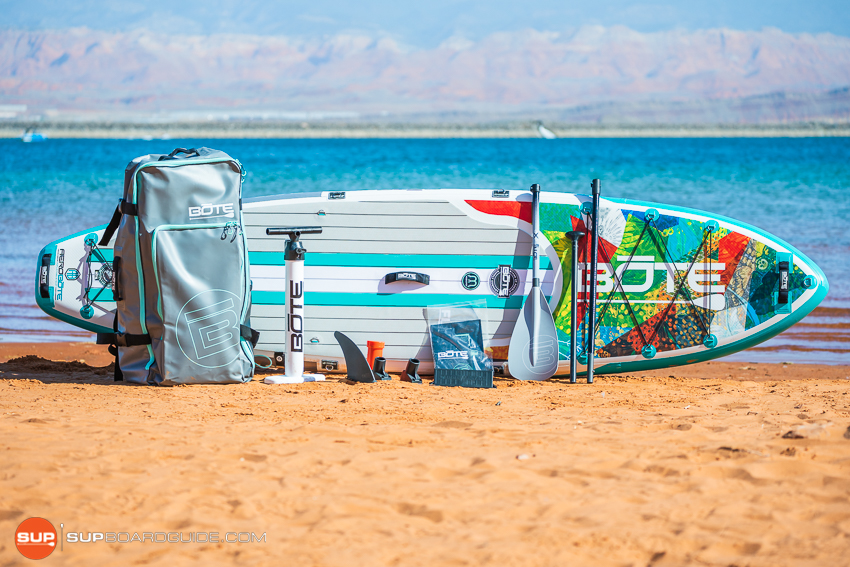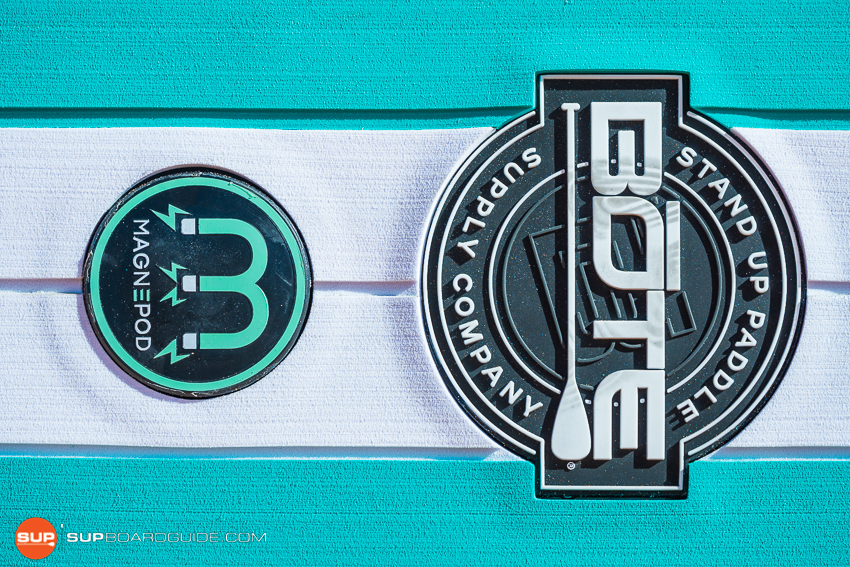 Features:
The BOTE Flood Aero is certainly not light on features. BOTE has an extensive library of additional add ons and this board is positioned to use most if not all of them effectively. To start this board comes with a very nice deck pad and the only option on this board is to go with either the full length deckpad (full trax) or the standard length with amazing graphics. Both of these certainly have their uses with the full trax being perfect for a SUP Yoga routine, or paddling with pets. On the other hand the graphic nose of the smaller option is just wonderful to look at and perfect if you just plan on paddling solo. New for this year is the inclusion of the MagnePod piece which incorporates rare earth magnets to secure cups and drink koozies. Simply an amazing idea
The Flood Aero also comes with front and rear bungee straps. These are great for stowing any extra gear you may want to take along on your journey. Another nice feature is the side mounted velcro paddle holder. Great for those SUP Yoga sessions or when you are lazily floating. This board also comes with D-rings for their Travelink system. This system is essentially a sling with attachment points to carry your board on your shoulder. There are two more D-rings located on the rear portion of the deckpad made for securing a cooler, or any larger item, to the deck for a trouble free paddle experience. Finally, the Flood Aero is also able to accept the use of BOTE's various Tackle Rac systems or cooler mounting systems with it's included Aero Rac receivers.
That's quite a lot of included features for such a modestly priced iSUP and we only expect this feature list to grow as the new technology on their flagship boards slowly makes its way down the line.
Included Accessories:

In case you haven't gotten the sense already, the BOTE Flood Aero comes with quite a lot of features and accessories right out of the box. It is probably one of the most feature rich boards at this price point and it's quite impressive. We will dive deeper into some of the items below but the BOTE Flood Aero kit comes with:
3 piece adjustable paddle
10" removable Aero center fin
1 pair of slide in Aero Rac receivers
Aero repair kit
Hand pump
Travel bag
That's quite a healthy list to start with and we only expect things to get better as new technology and features are trickled down. For now though we can say this is a great overall kit and it makes the BOTE Flood Aero a fantastic all around board that can be tailored to your specific needs when paddling.
Paddle: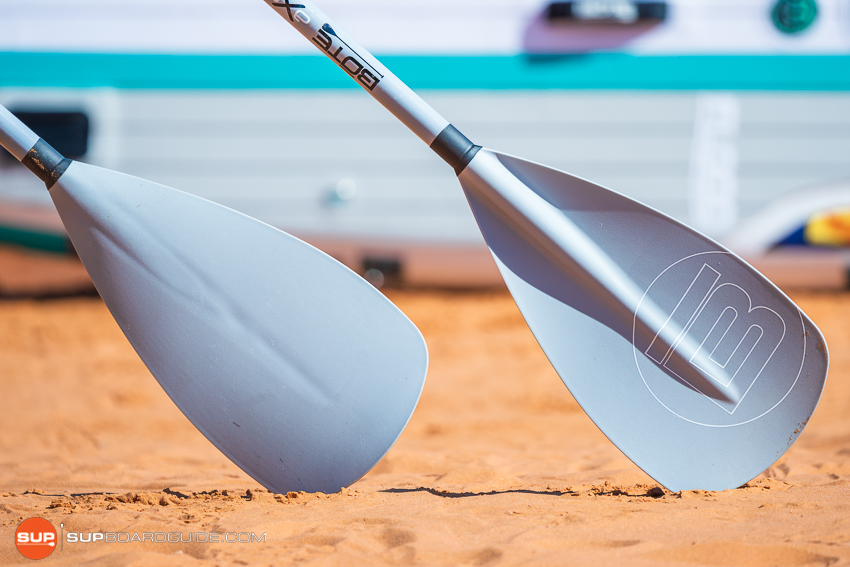 This kit comes with a 3 piece fiberglass paddle with an ABS edged blade. It's fairly light and we particularly like how the blade is really designed to stand up to some rough abuse. The shaft has little or no twist due to the heavy duty clamps on both the top and bottom of the unit. The plastic handle is not quite as nice as others at this price point, but that's more of a subjective call than anything else. We like it's adjustability range from 66" to 86" and we feel that it would be able to accommodate most paddlers. Any larger and you would probably want to be using a larger board anyway. While it certainly is not the best kit paddle we see in the inflatable all around SUP category (we see you, Nixy Newport) it is more than adequate for any kind of use this board will see. It's also extremely durable, which is very nice for beginner paddlers and for paddling in rocky areas.
Pump: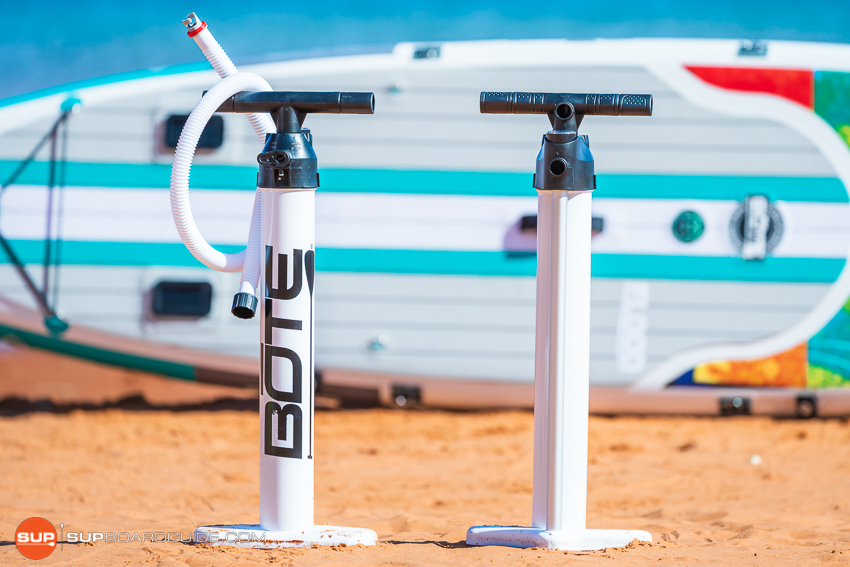 The only place we really have an issue with this kit is in the included hand pump. While not the worst we have seen in kits it certainly leaves a lot to be desired. For starters it's a single chamber design. This was common 5 or more years ago as the standard for kit pumps. Nowadays, unfortunately most companies not in the budget sector are going with dual chamber designs. This also leads to another area of improvement. With the single chamber it's only possible to engage a 2 stage pump. When you have a dual chamber pump you get the ability to run a 3 stage pump. What does all this add up to? Not much, but we like to point out that smaller paddlers will have a difficult time reaching those last few PSI with the single chamber dual stage design.
That is a good segway into our repeated talk on the value of electric pumps for paddle boards. BOTE has one, you should get it (especially if it's on sale!). But even if you don't get the BOTE brand one, you should still get one. Save your arms and lower back for the paddling trip ahead. Take the time you would normally spend manually inflating to put on some sunblock, pack your gear, anything really. The point is that everyone should have an electric pump by now. Seriously, you will thank us.
Bag: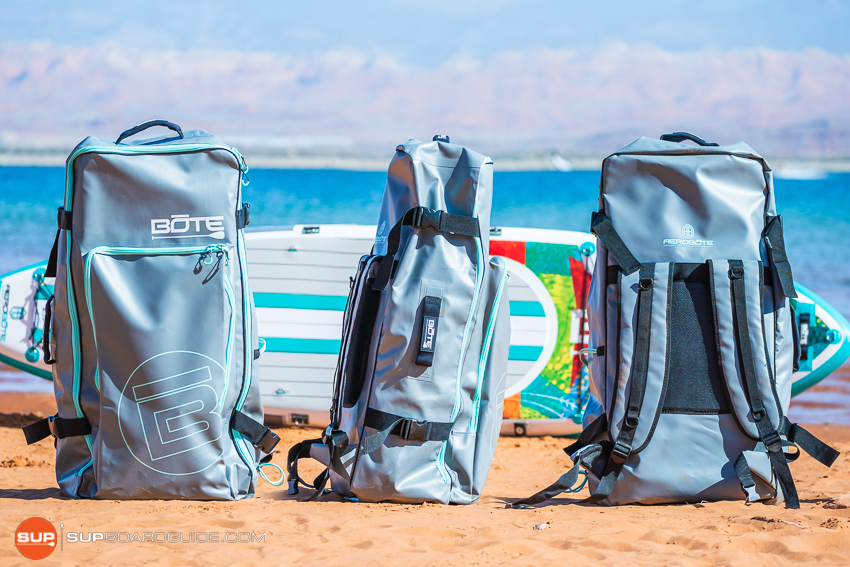 The material BOTE uses to make these bags seems almost like it should be in a science fiction movie. The best way I can describe it is sort of like a flexible plastic, that for all intents and purposes should be waterproof (like some of their available accessory bags). It has big easy to handle zippers for both the main compartment and the rear pocket. The handles and straps are all very thick and feel good in your hands or on your shoulders. They also included a nice back pad should you choose to wear this as a backpack. As mentioned it does have that one large exterior pocket, not quite big enough to hold the pump but still good for all the other accessories you might need. Speaking of the pump, we have a feeling that the set of looped bungies and bungee straps on one side of the bag are a perfect spot to store the pump, possibly a paddle, but we like putting the pump there. It also has the cinch straps on either side to compress the bag down, making it easier to handle and carry. All in all we really liked the bag.
Optional Accessories
Ok, so this is where things really take off. In my opinion BOTE has been one of the industry's leading designers of new technology and pieces that now seem standard on all iSUPs. Things like the original Tackle Rac have gone on to become industry standards when it comes to SUP fishing. And they haven't slowed down one bit since! Here are some of the wonderful accessories you can use to customize your BOTE for whatever journey you plan on having:
Tackle Rac and Bucket Rac in various colors
Travelink carry sling and Hitchhiker
3" and 6" center fin replacements
AeroPump auto electric pump
Sandspears (for floating aimlessly in place)
Various inflatable PFD options
Again, this is just a small piece of all the accessories they offer. Not to mention some of the accessories that are probably soon to be included on iSUPs (MagnePod). BOTE also has an unbelievable list of inflatable docks, inflatable chairs, and their own brand of KULA coolers. You come for the paddle boards but you stay for the small navy of accessories!
Summary Review of the BOTE Flood Aero (2023 model)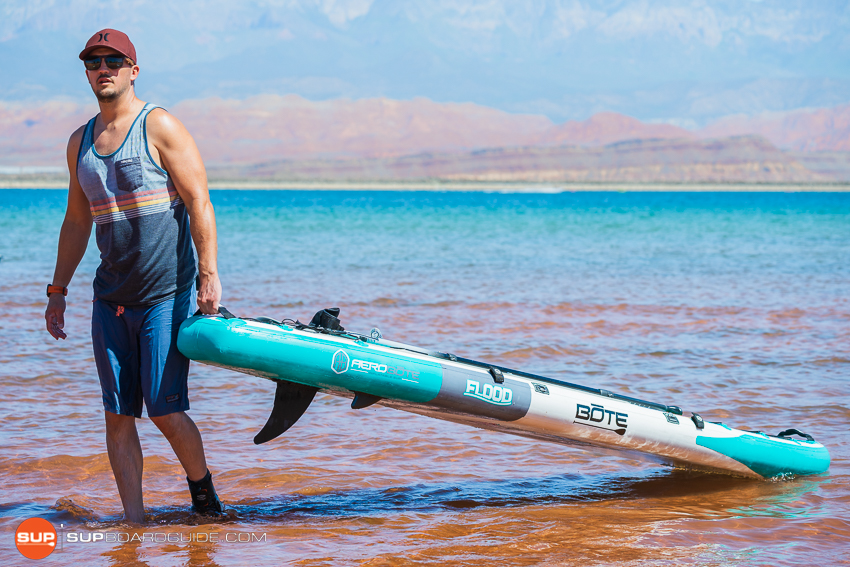 Wow, BOTE really makes some quality products and has the customer service department to back it up. The Flood Aero in particular is a fantastic all around board for beginner or intermediate paddlers. It has plenty of features and available accessories to make your time on the water as much fun as you want it to be. We are also impressed with the quality of the materials and construction found on this and other BOTE inflatables. We think most buyers would be more than happy with this board in most foreseeable situations.
As always we look forward to seeing you out there. If you have any questions or comments about our review of the BOTE Flood Aero, please don't hesitate to leave us a comment below. We love answering questions and will get back with you asap! Happy Paddling!
The following two tabs change content below.
SupBoardGuide
Heyo! At SupBoardGuide.com we are a team who love the water, the outdoors, and are more than grateful that our full-time job allows us to review stand up paddle boards. We paddle year round (it helps that we are just about 2 hours outside of Las Vegas), and we bring in a wide range of paddlers with the goal of providing our readers with the best, most in-depth, and accurate stand up paddle board reviews.
Latest posts by SupBoardGuide (see all)