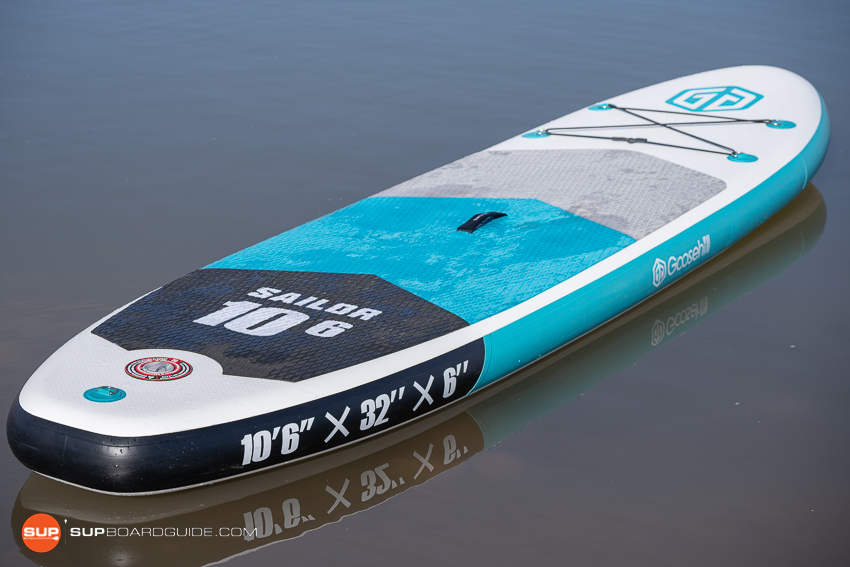 I'll start the Goosehill Sailor 10'6 SUP Review off with a spoiler: we're not going to recommend this board to you.
Don't get me wrong, it does have its highlights. It has a good, stability-focused shape for beginners, a fairly comfortable deck pad, a somewhat surprising level of stiffness, and comes with an entry-level kit that includes most of your necessities. There's also no denying that the Goosehill Sailor is on the less expensive end of the market, especially if you purchase from Amazon rather than directly through Goosehill's site.
Now for the bad news. We just don't think the Sailor's construction is up to par with the rest of the market, even at their price point. We've also seen quite a few customer reviews showing either popped, ripped, or leaking seams, and faulty valves. While we realize that manufacturer 'duds' happen, this seems to have more to do with Goosehill's decision not to incorporate seam reinforcement tape into their build; a step that is rarely overlooked across most other brands.
That being said, I don't want our Goosehill Sailor SUP review to come off as our team knocking 'cheaper' boards. We want this sport to be accessible to everyone, but we don't want companies capitalizing off of construction that cuts corners. Although we don't recommend the Gooshill Sailor to our readers, we do recommend any of the boards listed on our list of Best Cheap SUPs.
We think the Goosehill Sailor 10'6 would be great for paddlers who
Need a stable SUP to paddle short distances offshore
Want a SUP that they can attach a kayak seat onto
Want the ability to customize their SUP
Frequently paddle in flatwater, shallow water, or along the shoreline
Goosehill Sailor 10'6: Spec Sheet
Main Category: All-Around, Inflatable
Board Dimensions: 10'6 x 32" x 6"
Listed Board Weight: 21 lbs
Listed Max Capacity: 440 lbs
Recommended PSI: 12-15 PSI
Fins: 2+1; 2 fixed fins + 1 removable dolphin style center fin
Paddle: 3-piece aluminum
Materials: Single layer PVC w/ dual layered rails
Price Range: mid
Warranty: None
Performance Review of the Goosehill Sailor 10'6 Stand Up Paddle Board
Overall Score: 8.0/10
Stability: 9.6/10
Speed: 7.8/10
Tracking: 7.9/10
Maneuverability: 8.9/10
Construction Quality: 7.7/10
Features/Accessories: 8.0/10
Stability Rating: 9.6/10
The Goosehill Sailor was actually more stable than we anticipated, considering it's in the realm of some lesser quality Amazon boards.
I think part of its stability can be attributed to its shape. The Goosehill Sailor has almost no tapering, other than just a small portion at the tail; the SUP remains wide throughout and is rounded off on the nose. This creates a ton of surface area for the board to connect to the water, creating a more stable/supportive feeling for beginner paddlers.
Speed Test: 7.8/10
Focusing again on the Goosehill's untapered, rounded shape, it's clearly not going to be the fastest in the line-up. This is okay because it's geared towards stability and SUP newcomers, but it is something to keep in mind if you're eventually going to want to pick up a bit of speed.
I also want to clarify that just because the Goosehill isn't the fastest, does not mean it's torturously slow. At 21 lbs, it's easy enough to paddle at a casual pace with friends.
Tracking: 7.9/10
Tracking is the main area where Goosehill really starts to fall behind.
Simply put, we weren't impressed. The board has a decent bit of side to side movement in the tial as you paddle and you do have to switch sides a bit more frequently than you will on some of the higher quality boards seen on our list of Best Inflatable SUPs.
We think it's fixed gummy side fins are partly to blame here, as they're just not long enough to actually contribute to better tracking, and they get bent out of shape pretty easily each time the board is packed away. At that point, you're really only relying on the dolphin style center fin to maintain your tracking, which simply cannot do a great job of stabilizing the wide tail on the Goosehill. I'd like to see them switch to a hatchet fin in the future if they continue with the fixed side fins.
Maneuverability: 8.9/10
Its poor tracking capabilities aside (but not unrelated), the Goosehill Sailor does well in terms of maneuverability.
Seeing as it seems to want to turn, even when you're trying to go straight, the Sailor makes turns fairly quickly and easily. It only takes a few sweeping backstroke turns to make a 360 degree turn on this board. Additionally, it provides a ton of stability during stepback turns, making this maneuver much more manageable for beginners.
Construction Quality: 7.7/10
As we've stated in the beginning, we're a little disappointed in the Sailor's construction.
The Sailor is constructed using a linear drop stitch core and a single fused layer of PVC. They've also added a second layer of PVC to their rails, which adds a bit of stiffness and a small amount of durability.
My main concern is that Goosehill chose to forgo reinforcement tape on their seams, which raises the likelihood of a seam tearing, the board popping, etc. I'd like to say that my concerns are unfounded, however, I've seen quite a few reviews online from Goosehill SUP customers showing photos of busted seams, and irreparable tears after only a few uses.
Features/Accessory Review: 8.0/10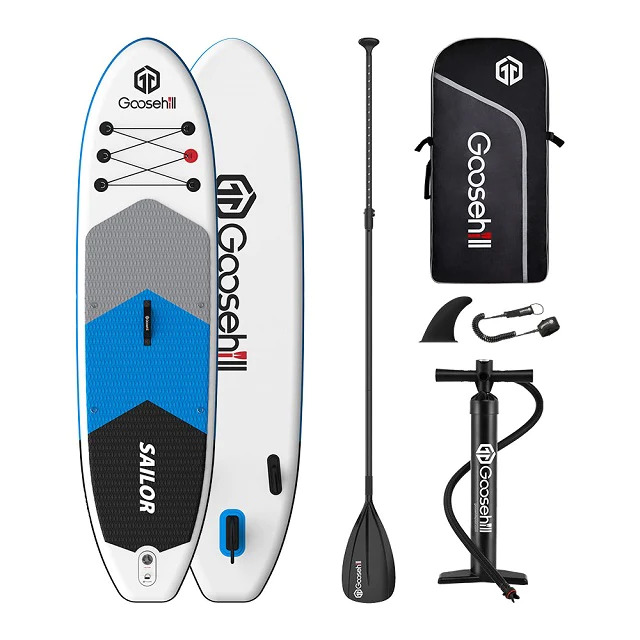 Features:
As far as features go, the Goosehill is minimalistic. It sports a front cargo area large enough for a couple of drybags, as well as a diamond stamped deck pad, kayak seat attachments, and a center carry handle.
Included Accessories:
With your Goosehill SUP, you'll receive the following accessories:
3-piece aluminum paddle
Single chamber hand pump
Coiled leash
Removable slide-lock center fin
SUP backpack
Repair kit
While I like that this kit includes most of the necessities, I'm not the biggest fan of aluminum paddles; they tend to bend when you put any power behind your stroke. It will work fine if you're going for shorter paddles or just dinking around at a lake, but you will need to upgrade to a better paddle if you're looking to get some longer tours under your belt. I'd also recommend Goosehill swap out their fixed side fins for a pair of longer, removable side fins. The current fixed fins aren't long enough to contribute to better tracking or stability, and they are easily bent out of shape.
Summary Review of the Goosehill Sailor 10'6
Bottom line – I think the Goosehill Sailor 10'6 has the potential to be a decent beginner level SUP. It displays a good amount of stability, is relatively lightweight, not difficult to paddle and maneuver, and comes with a base level list of accessories.
That being said, I cannot give this SUP my complete stamp of approval, given the construction issues that I've mentioned above.
Until Goosehill amends these quality issues, and makes some advancements in their construction, the SUPBoardGuide team cannot recommend this SUP to our readers, and would direct you instead of any of the boards listed on our Best Cheap SUPs page.
As always, we hope this review was helpful, but if you have any questions, don't hesitate to reach out in the comments below.
Stay safe, and enjoy the Summer sun!
The following two tabs change content below.
SupBoardGuide
Heyo! At SupBoardGuide.com we are a team who love the water, the outdoors, and are more than grateful that our full-time job allows us to review stand up paddle boards. We paddle year round (it helps that we are just about 2 hours outside of Las Vegas), and we bring in a wide range of paddlers with the goal of providing our readers with the best, most in-depth, and accurate stand up paddle board reviews.
Latest posts by SupBoardGuide (see all)