Whenever we get questions from people asking which board we'd recommend for them, they usually state they want something lightweight. Of course, this makes total sense to us. Heavier boards can be challenging for people to transport, travel with, and handle on the water, whereas lighter-weight boards tend to be much more portable and have higher performance capabilities.
However, there are some key differences between lighter-weight boards that are well made and lighter-weight boards that are only lightweight because they're lacking in materials and build quality. And, with the latter becoming ever-more prevalent on Amazon and in big box retailers, we think it's essential to walk you through our list of Best Lightweight Inflatable Paddleboards and explain why each of these boards is better than the rest.
What Makes a Great Lightweight SUP?
Lightweight SUPs are always a bit of a conundrum in stand-up paddleboarding. On one hand, there are super high-performance lightweight SUPs, like the Honu Byron, that showcase a relatively higher price point. On the other hand, there are super cheap boards that you'll see littered across Amazon and gracing the aisles of your local big-box retailer. So, if these boards can be roughly the same weight and spec'd to the same dimensions, what is the difference, and why is one worth so much more?
Like most things, the devil is in the details, or in this case, in the construction methods. Boards like the Honu byron achieve lighter weights by using more advanced construction methods such as cross-woven drop stitch and fusion bonded PVC layers. This enables them to cut weight without sacrificing performance, rigidity, and durability. However, those super cheap Amazon boards cut weight by using construction techniques that make them pretty 'floppy' on the water and not keen to last more than a couple of seasons.
In short, a good lightweight board is an investment, but by choosing the right one, you're setting yourself up for a board that is excellently constructed and inherently designed for higher performance on the water.
Below is our list of the Best Lightweight Inflatable Paddleboards, so let's dive right in!
1 – ISLE Switch
2 – Sea Gods Skylla
3 – iROCKER 10' Ultra
4 – RPC 11' Compact
5 – Nixy Newport
6 – Red Paddle Co. Ride 10'6
7 – Atoll
8 – ISLE Pioneer 2.0
9 – Gili 11'6 Air
10 – Honu Byron (out-of-stock fave)
---

Pros
An extremely versatile SUP that couples as a kayak
VERY lightweight, especially considering the Switch's size and rigidity
Very stiff considering its weight
Full-length deck pad is perfect for yoga, pets, dogs, suntanning, or bringing along passengers
ISLE Link system offers a lot of customization ability from where to set up your kayak sea to how to set up your cargo areas
All necessary accessories for kayak conversion are included in the package
Cons
We'd like to see a lighter weight paddle included, rather than the current aluminum
This 19 lb SUP doubles as a kayak with all necessary accessories. It also utilizes cross-woven drop stitch construction, fused PVC, and 3 distinct PVC stringers that help this SUP remain impressively rigid.
What surprised us most about the Switch is that it performs well as both a SUP and a kayak, rather than doing the two things poorly, as can sometimes be the case with dual-purpose products. The inflatable kayak seat and footrest make for a more natural feeling kayaking experience, while the extreme stability of this 35" wide SUP eliminates the learning curve of stand-up paddleboarding.
This is a great choice for individuals who want to switch up their water activities without having to purchase extra accessories separately. It also works well for entry-level paddlers or paddlers with gear and performs well for SUP yoga or paddlers with pets due to its full-length deck pad.
Overall, the Switch is an extremely versatile, lightweight option.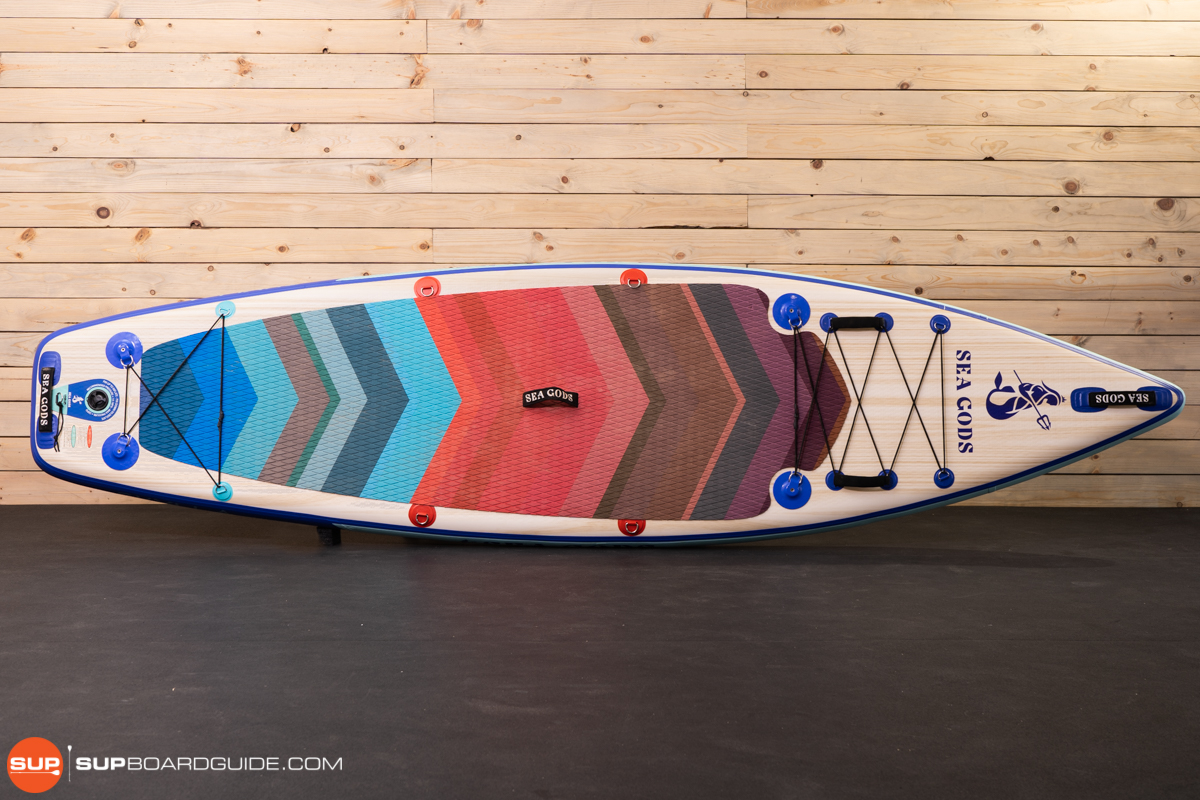 Pros
Lightweight, but extremely stiff due to cross-woven construction
Very stable = can suit a wide range of paddlers
Relatively fast on the water
Backed by a lifetime warranty
Cons
Priced higher than others on the list, though this is because of the advanced construction and artwork
The Sea Gods Skylla has been a team favorite of ours for its perfect ability to blend all-around stability with touringboard-like speed. On top of that though, the Skylla is stunningly lightweight, at just 19.5 lbs.
Despite its lightweight build, the Skylla is also Sea Gods' stiffest board due to its cross-woven construction. Sea Gods was able to use less material, but achieve a more rigid build. They also shed weight ever further by bonding their PVC layers with fusion, rather than heavier adhesives.
As a result, the Skylla performs exceptionally well on the water. It's stiffest makes it responsive, while it's 33" width makes it impressively stable. The touring board-like shape helps you to pick up a bit more speed, and it's 11' length detracts little from its maneuverability.
The Skylla is a prime example of a board that is lightweight but not at all lacking in either quality or performance, and with it's lifetime warranty and excellent accessory kit, there's not many people we wouldn't recommend this board too.
---

Pros
The lightest of iROCKER's compact Ultra series
Very rigid, super responsive and sport on the water
Extremely nimble due to its short length
Packs down tightly into iROCKER's new compact backpack = very travel friendly/portable
Perform really well for smaller paddlers
Cons
Is not well suited to taller/ larger paddlers – though iROCKER offers larger options in their Ultra line
The iROCKER 10' Ultra is the lightest in iROCKER's new compact line-up (though honestly any one of the Ultra series SUPs could've made this list). This SUP is extremely portable, and very travel friendly, but its performance seals the deal for us.
Due to its cross-woven construction (similar to the Skylla we discussed above), the 10' Ultra is only 19.8 lbs. However, like the Skylla, it is extremely stiff. Because of this, it's also one of the most responsive boards we've ever tested. And, with its shorter length, the 10' Ultra is extremely maneuverable – though its twin fin system makes for great tracking capabilities.
Of course, the most unique factor about the 19' Ultra is that it's extremely compact. It folds up the middle before being rolled away to fit into a 2' x 1' backpack. And, because this SUP is already so light, it's the easiest of the Ultra series to travel with, hike with, etc. We also love that it comes with iROCKER's electric pump.
---
Pros
Higher-performance all-around SUPs, but is incredibly light and compact
4.7" thickness lowers the paddler's center of gravity – increases stability and makes for a more natural feel
Plenty of deckpad space that stretches all the way back to the tail
Included 5-piece paddle is super solid compared to other 5-piece compact paddles
Cons
Can be challenging to roll up and pack away – it gets better with practice
The Red Paddle Co. 11' Compact is another incredibly travel friendly SUP on this list. Able to be folded in half and carried in an impressively tiny backpack, there's not many places you cannot go with this board, and its lightweight build at just 18.5 make it a great 'go-anywhere' SUP.
Making the 11' Compact even more unique, is its 4.7" thickness. Where most boards are 6" thick, and tend to have your center of gravity fairly high off of the water, this SUP lowers your center of gravity and increases stability when paddling in chop or waves. It's also super maneuverable and tons of fun on the water due to its lighter build and twin fin system.
The Red Paddle Co. Compact is built with Red's MSL construction, which is renowned as one of the best in the industry. Not only are their SUPs impressively light, but they're also rigid and durable. Our 11' Compact has seen some extreme use of the years and is holding up just fine.
We also love that the Compact comes stocked with Red Paddle Co.'s Titan II pump. It's one of our favorite manual pumps, and while we do prefer electric, the portability of a manual pump is hard to beat. And, we know a Red Paddle Co. board is an investment, but we think the quality, reputation, and performance is unmatched.
---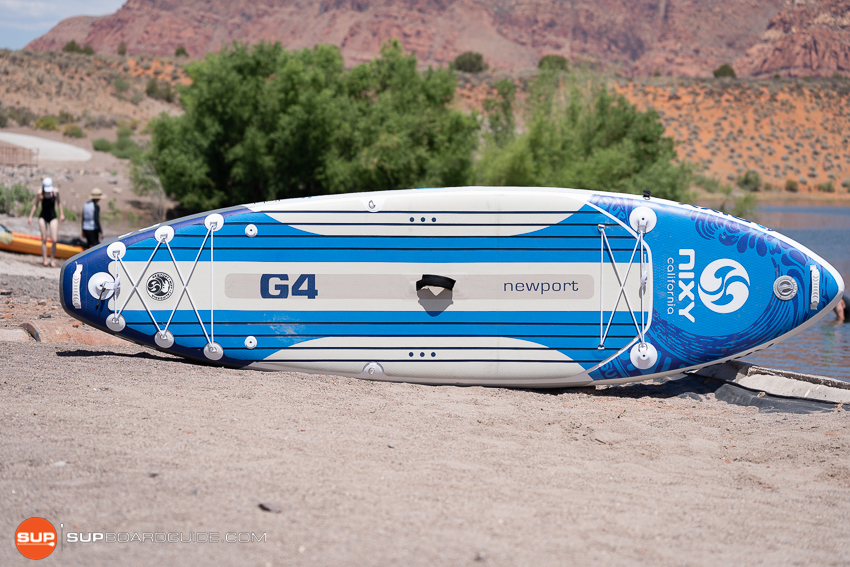 Pros
Among the most rigid SUPs that we've tested, but remains lightweight and responsive
Comes with a super high quality paddle and great accessories
Sporty and maneuverable on the water – a fun all-around SUP
Performs extremely well for smaller paddlers, this is always a favorite among our smaller testers
Cons
We'd like to see Nixy extend the front cargo space on the Newport
The Nixy Newport is always a favorite among our smaller product testers, though we all love it for its impressive construction, lightweight build, and sporty feel.
Nixy's build quality continues to impress us season after season. Their use of cross-woven drop stitch and fusion technology keeps their boards among the most rigid and lightweight that we test – and the Newport is no exception. At just 21 lbs, the Newport is easy to manage, whether on the water or while carrying it down the beach. We also love how responsive this board is to turning maneuvers; it has a super playful feel to it.
On top of the Newport's performance, it also comes with some of the best accessories in the industry. Nixy's included paddles are full carbon fiber, which is almost unheard of in a kit paddle, and their backpacks are consistently some of the most comfortable that we test.
This brand is not one that cuts corners. Nixy's main focus has always been on providing excellent quality for their prices, and the Newport encapsulates that.
---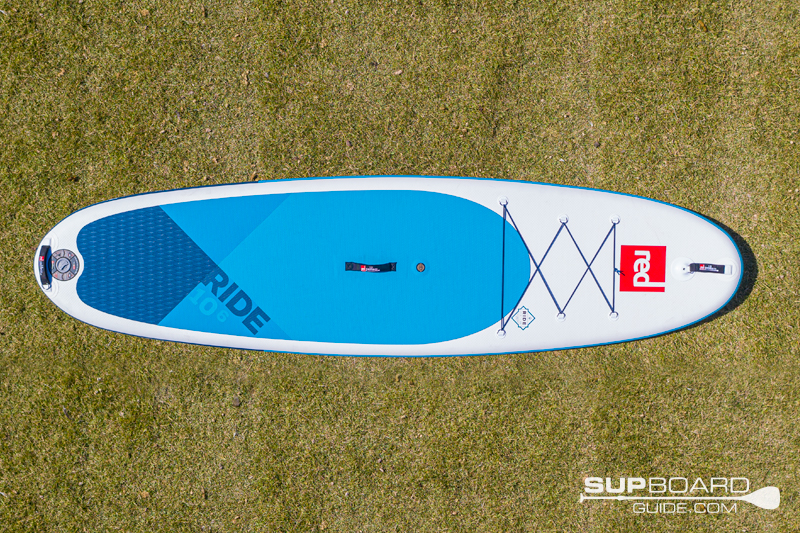 Pros
Built with Red Paddle Co.'s lightweight MSL construction
Very stable for a variety of paddlers, especially those that are entry level
Very rigid considering the weight and it's 4.7" thickness
Thinner build makes for a more stable paddling experience in waves or chop
Comes with Red Paddle Co.'s transformer backpack and titan II pump – some very innovative accessories
Cons
Does not come with an included paddle, which is somewhat limiting for entry level paddlers
The second Red Paddle Co. board on this list, the Ride is well suited to a wide variety of paddler sizes and skill levels. It's very stable, but also lightweight and features the same impressive MSL construction that we discussed above.
At 33" wide, the Ride is extremely accommodating for entry level paddlers or paddlers with gear or passengers. And, because it's 4.7" thick like the 11' Compact that we discussed above, the Ride offers a lower center of gravity and improved stability. It's also easily maneuverable and light enough to pick up a decent pace on the water.
Like the 11' Compact, the Ride comes with an impressive accessory list, including the Titan II hand pump, and Red Paddle Co. transformer backpack, which breaks down into a lighter skeleton for hiking with your SUP.
Bottom line – this board, like all Red Paddle Co. boards, is an investment, but if you're looking for a lightweight SUP that excels in stability and quality, the Ride is one of the best options on the market.
---

Pros
Very affordably priced, but still lightweight and relatively well constructed
Stable enough for a variety of paddlers, but not overly wide
Lots of customization ability with a lot of extra D-rings
Performs like an all-around, but is also decently fast
Makes a good backpacking SUP due to its lighter kit size, and comfortable backpack
Cons
We'd love to see Atoll swap out the fixed side fins for a pair of removal side fins
The Atoll 11' is an extremely affordable lightweight SUP, but it's not lacking in quality. It's been among our top recommendations for backpackers and travelers that need something lightweight to lug around, that will perform well once they reach their destination.
Being just 21 lbs, the 11' Atoll is super manageable to carry on your back, carry down to the water, and can get up a decent amount of speed while paddling. Its 32" width is also plenty stable for most entry level paddlers or paddlers with gear and pets, but it's not so wide that you'll get bored or feel like you're paddling a boat. It also has a ton of customization options with 8 extra D-rings towards the tail. You can string up extra cargo areas, or attach more accessories.
Our only qualm with the Atoll 11' is that we'd love to see Atoll forgo the flexible fixed side fins. They don't seem to have any positive or negative impact on performance, but they can be annoying when rolling up the board.
In general, this is a great lightweight SUP for paddlers on a tighter budget that want some versatile performance.

Pros
Very lightweight for a stability focused SUP
Extremely stable SUP, great for entry level paddlers or paddlers needing extra volume
Priced affordably, though still has good construction and accessories
Tons of deck space for yoga or bringing alone pets/passengers
Cons
The included backpack does not have wheels, though the entire kit is fairly light
Another affordable option on this list is the ISLE Pioneer 2.0, and while this SUP is heavier than the boards we discussed above, it is also the most stable and the most accommodating of heavier loads. The Pioneer 2.0 is a great choice for heavier paddlers or paddlers with pets and gear that don't want to rely on a super heavily built SUP.
Being 24 lbs, the Pioneer 2.0 is relatively light for a board of this size. It's 10'6 x 34", which is extremely wide, and because of that, it is extremely stable. It performs well for entry level paddlers, heavier paddlers, paddlers with gear, paddlers with pets, SUP yoga enthusiasts, or really anyone that wants to minimize their learning curve.
We were also verifiably impressed with the Pioneer's build quality and accessory kit, given its lower price point. This SUP is decently rigid to easily support a wide range of paddler sizes, and it comes with a nice carbon blend paddle, a high quality leash and backpack, and is stocked with a US fin box and included hatchet style center fin.
Overall, this is a great 'bang-for-your-buck' lightweight board for paddlers who need a lot of stability.

Pros
Priced extremely affordably
Lightweight, despite its larger size
Has a good array of features for a SUP in this price range
Stable SUP, but still capable of a bit of speed
Cons
We don't like the included aluminum paddle, we'd definitely recommend upgrading for the fiberglass option
Like the ISLE Pioneer 2.0 the Gili 11'6 Air is a good affordable, stable, lightweight SUP.
This is a larger board at 11'6 x 32", but its still impressively lightweight at just 21 lbs. Now, Gili was able to achieve this by making the Air 11'6 with a single layer of PVC, which is a bit less advanced than the SUPs we discussed above. Because of that it does have the tendency to flex under heavier paddlers in or above the 250 lb range. However, for paddlers under this range that need stability without hauling around a heavy board, the Air 11'6 performs just fine.
Its tapered shape allows it to pick up a decent bit of speed, while its hatchet style fin keeps much more directional than we expected. The accessory kit is reasonable as well, though we would have appreciated a fiberglass or carbon hybrid paddle, rather than the included aluminum.
Generally though, the Gili 11'6 Air is a great entry-level SUP that remains relatively lightweight.

Pros
The most rigid 4.7" thick SUP we've ever tested, which is extremely impressive given that it's only 16.9 lbs
The lightest SUP on this list, yet the highest performing
Extremely maneuverable on the water
Offers enough stability for a lot of paddlers and differing skill sets
Covered by Honu's 2+2 warranty – which is one of the more encompassing warranties in the industry
Cons
Does not come with an included paddle, though Honu offers a selection of high quality paddles for an addition, discounted purchase
Unfortunately, the Honu Byron is currently out of stock, but there's a good reason this board flies off the warehouse shelves – it performs like a dream, and it's only 16.9 lbs.
The Byron is actually the lightest board on this list, but that doesn't mean it's lacking anything. Honu was able to build this board exceptionally rigid with a cross-woven inner core and triple layered rails. In doing so, they've kept the Byron extremely light without making it 'floppy' on the water.
Because of its construction, the 4.7" thick Byron is incredibly responsive, and honestly feels a lot like a hard board on the water. It's easily maneuverable, and has a good, sporty feel to it, while its lighter build lets it pick up a good amount of speed for an all-around SUP.
Given its performance and fantastic construction, the Byron is priced relatively affordably, except it does not come with an included paddle. Honu does offer a selection of high quality paddles, however, that are heavily discounted when bundled with your SUP.
This is a phenomenal choice for any paddler that wants the most out of their SUPs performance, but also prefers something shockingly light and portable.
Summary of the Best Lightweight SUPs
One of the great things to come out of the ever-growing popularity of inflatable SUPs is advancements in construction that have made it possible for board to be increasingly lightweight, yet still exceptionally well built.
Where in the past, a lightweight board was almost sure to be lacking in necessary materials, lightweight SUPs of today can be among the highest performing and most well-constructed SUPs on the market. And, with cross-woven drop stitch becoming increasingly popular, these SUPs are becoming extremely stiff.
To be honest, we think lighter and stiffer builds are the future of the SUP industry. It vastly improves portability, traveling ease, and backpacking opportunities, and opens up your speed capabilities a lot more. Perhaps more important than that though, a lighter SUP is just flat-out easier to manage, especially if you have a long walk down to the water.
We hope you've found this page helpful as you search for the perfect lightweight SUP to suit your needs. Please don't hesitate to reach out to us with any questions you may have.
Happy paddling!
The following two tabs change content below.
SupBoardGuide
Heyo! At SupBoardGuide.com we are a team who love the water, the outdoors, and are more than grateful that our full-time job allows us to review stand up paddle boards. We paddle year round (it helps that we are just about 2 hours outside of Las Vegas), and we bring in a wide range of paddlers with the goal of providing our readers with the best, most in-depth, and accurate stand up paddle board reviews.
Latest posts by SupBoardGuide (see all)