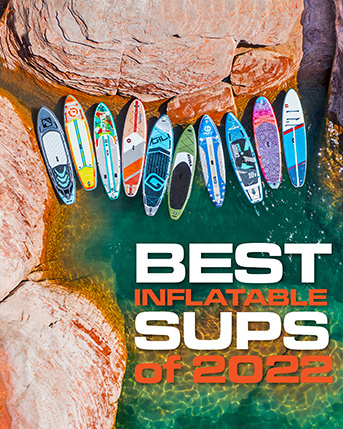 Are you looking to purchase a new inflatable SUP board? If you are, take a moment to read over our newly updated 2022 best inflatable paddle board list. This list will continue to be updated as new boards hit the market – so be sure to check back often for updates.
Sadly, the internet is full of false information from people who have not tested any of their top-rated iSUPs (some of them have never even paddle boarded before). Instead, they simply throw up a list of 'top 10 rated inflatable stand up paddle boards' and move on to the next post. Or you have a paddle board company who puts together their top rate list, which is inherently going to be biased towards their brands and unfair to others.
At SupBoardGuide.com, we not only paddle and test each board we recommend, but we spend hours talking with manufacturers and give them advice on how to better improve their boards every year. We are a team of people across the globe, from the USA to Germany to Australia and have one goal – to give you the best inflatable stand up paddle board reviews so you can find the right iSUP for you.
Below you will find our current 10 Best All-Around Inflatable Stand Up Paddle Boards for 2022. This list is our attempt at putting together recommendations based on how well each board performs on the water, how well the SUP is built (we want to make sure any board listed is made with high quality materials and is going to last), and what people old and young, short and tall, small and large think about the boards. This list is not just a list from industry pro's who are so far removed from the average paddler that they only recommend $1,500 inflatable paddle boards. We know that most people are budget-conscious, and also take cost into consideration when creating this list. Finally, we also vet every company and make sure that you will be given the customer support after you make your purchase.
Best Inflatable Stand Up Paddle Boards of 2022
(scroll to the right to see all the boards)
Board
Blackfin CX Ultra
ISLE Switch
Thurso Surf WaterWalker
Sea Gods Skylla Cross
Gili Meno 11'6
BŌTE HD Aero 11'6
Atoll 11'
NIXY Newport
BlueFin Cruise
iROCKER Cruiser Ultra
Sea Gods Diatom Ten6
Honu Byron 10'6 All-Rounder
Red Paddle Co Sport 11'3"



Full Review




Full Review

Full Review




Full Review

Full Review




Full Review




Full Review




Full Review

Full Review

Full Review




Full Review




Full Review

Full Review

Rating out of 10
9.9/10
9.8/10
9.7/10
9.7/10
9.6/10
9.7/10
9.3/10
9.2/10
8.9/10
9.8/10
9.8/10
9.7/10
9.9/10
Pricing

See Best Price

See Best Price




See Best Price

See Best Price

See Best Price

See Best Price

See Best Price

See Best Price

See Best Price

See Best Price

See Best Price

See Best Price

See Best Price

Best For Person Who Wants:
High performance compact SUP, good level of speed capabilities without losing out on stability, above average tracking for an all-around, high value SUP kit
Tons of versatility, ability to kayak instead of SUP'ing and vice versa, super light board at 19 lbs, plenty of options for accessories and gear
Most rigid SUP we've tested to date. Has a smooth, gliding feel on the water making for a more enjoyable, relaxing experience.
A highly stable board that can still pick up some speed, ability to load up with gear, kids, or pets due to the Skylla's impressive weight capacity, Gorgeous artwork make this SUP a head turner and conversation starter in and out of the water.
Best Family SUP, high weight capacity yet lightweight construction makes it easy for kids to carry, paddle, or ride along as passengers.
Best Fishing All-Around SUP, stable, high weight capacity, tons of features and accessory compatibility for fishing gear.
Great Adventure SUP, lightweight all-around board that's easy to throw on your back to hike in to lakes, or make it through an airport, GREAT logo, plenty of options for cargo space.
Best SUP for Smaller Paddlers, very lightweight, can turn easily, carbon fiber reinforced rails, high quality fins, great backpack and accessories
A super rigid, lightweight board with lots of accessories
Best Compact all-around SUP, lightweight build quality that is exceptionally stiff, super comfortable and compact backpack
Very stable Around SUP with one of the best designs
Best high-performance all-around, has a hardboard-like feel on the water due to the 4.7" thickness and impressive construction
Most technologically advanced SUP that we've tested, high performance all-around/touring SUP, phenomenal construction, seamless paddling experience
Pro's

🙂
Lightweight and compact construction, twin fins increase this SUPs tracking capabilities, extremely travel friendly, a comfortable level of stability while being a fun, sporty all-around.
Great board for larger paddlers and for beginners alike, lightweight construction, ample room for accessories and customization, full length deck pad
Fast, stiff board due to quality construction, carbon rails, and unique shape
Extremely lightweight while still being Sea Gods' most rigid option. Plenty of room for gear in the front and rear cargo areas, a little bit more versatile with 4 action mounts and kayak seat compatibility, comes in compostable packaging made from corn.
Dual layer fusion construction, good array of features, comfortable deck pad, kit includes tons of fins for more customization ability
High quality construction, fun graphics, super stable with a high weight capacity. Kit includes tons of great accessories from BŌTE.
Fun all-around performance, lots of D rings for attachments, US Fin box, , stable and easy to paddle, very lightweight
Very lightweight, can turn easily, carbon fiber reinforced rails, high quality fins, great backpack and accessories
Rigid SUP for a great price, stable on the water, raised kick pad adds maneuverability, nice grippy deck pad
Still has a stable cruiser feel on the water, faster than the original Cruiser from iROCKER, innvoative compact design and backpack massively increase portability and storage ability, iROCKER's 12V electric pump is included in the kit making for a great value.
Stunning SUP with great stability.
Single fin box leads to great tracking.
Premium range of SUP accessories included. Kumano fin, carbon fiber paddle, and more.
Stiff but lightweight construction at 16.9 lbs.
Excels in all of our testing: stability, maneuverability, tracking, etc.
Backed by a comprehensive 2+2 warranty.
Included FCS II fin ads convenience and customization ability.
Speed tail and RSS battens make for enhanced performance in and rigidity, Light, well-built. 4.72" thickness gives a more hardboard feel. Great tracking and glide, comes with a fantastic hand pump,
Con's

🙁
Larger paddlers will need to practice a bit to fully enjoy the performance of the CX.
Nothing yet 🙂
Board slightly heavier than other all-arounds (due to intensive, durable construction)
At higher price point due to it's advanced construction and locally sourced artwork
We'd like the D-rings to be larger.
Fixed side fins, no leash included in the kit, a little heavier than what we'd like to see
Side fins aren't removable, accessories could be improved
Very sporty, but not super stable for heavier beginners
No removable side fins, a little heavier than we expected
Offset center carry handle can sometimes get in the way if you have a narrower stance
Included single chamber hand pump makes it tough to get to te recommended 18 PSI
Kit does not include a paddle (though you have the option to choose one for a discounted rate)
Does not come with a leash or paddle
Specs
CX Ultra
Switch
Thurso surf
Skylla
Gili
BŌTE
Atoll
Nixy
Bluefin
Cruiser Ultra
Sea Gods
Honu

Red Paddle Co
Length
10'6"
11'6
11'
11'
11'6"
11'6"
11'
10'6"
10'8"
10'6
10'6"
10'6
11'3"
Width
32.5"
35.5"
32"
33"
35"
34"
32"
33"
32.5"
33"
34"
32"
32"
Thickness
6"
6"
6"
6"
6"
6"
6"
6"
6"
6"
6"
4.7"
4.72"
Weight
19.8 lbs
19 lbs
26 lbs
19.5 lbs
24 lbs
30 lbs
19 lbs
20 lbs
25 lbs
21 lbs
24 lbs
16.9 lbs
22 lbs
Capacity
320 lbs
425 lbs
330 lbs
350 lbs
485 lbs
315 lbs
400 lbs
300 lbs
200 lbs
300
340 lbs
250 lbs
240 lbs
Note: 
It's important to reiterate that at SupBoardGuide, we judge boards based on their category and price level (i.e. how much the average consumer wants to spend). For example, with our top all-around SUP boards for 2022 we compared mid-level priced boards against each other and have another category, Performance SUPs, for the higher-end performance boards. If you are an experienced paddler or someone looking for an inflatable SUP with top of the line performance, then we would recommend checking out our best performance SUP, the Red Paddle Co 11'3 Sport, below.
Just keep that in mind and let us know if you have any questions!
---
10 Best All-Around Inflatable/Blow-Up Stand Up Paddle Boards
This year we have chosen to set up our best stand up paddle board page a little different. Below you will find our list of the best iSUPs for 2022. As mentioned above, each of these boards have been fully tested in a variety of conditions by a variety of paddlers.
Best Stand Up Paddle Boards
Blackfin CX Ultra
ISLE Switch
Thurso Surf Waterwalker 132
Sea Gods Skylla Cross
Gili Meno
BŌTE HD Aero
Atoll 11′
NIXY Newport G4
Bluefin Cruise
iRocker Cruiser Ultra (Best Compact SUP)
Honu Byron 10'6 All-Rounder (Best Performance All Around)
Sea Gods Diatom (Best Designed Performance All Around)
Red Paddle Co Sport 11'3 (Best Performance Touring SUP)
*Note – We update this list to prevent listing boards that are not currently for sale (or at least try our best).
So what makes a good all-around stand up paddle board?
Versatility really! As the name suggests, an all-around iSUP is going to be good at doing most things. All-arounders may not be the best for paddling long distances (that would be a touring board), or the best for surfing (that is probably not an inflatable to begin with), but they are the best if you are looking for a great board that you can take just about anywhere in a variety of conditions. From the lake to the ocean in smaller waves and a little chop. Essentially, it's the jack-of-all-trades that is easy enough for a beginner to paddle but also still enjoyable for someone more experienced.
Next, an all-around iSUP also lets you do a lot of different things, from normal SUPing around to kayaking, fishing, or even yoga. If you want to do it all, then an all-around is a great choice.
So with that in mind, our best rated iSUPs on this list all have: higher weight capacities, great stability, and quality performance that allows beginners and advanced paddlers alike to have a great time on the water.
---
1. Blackfin CX Ultra
Read Full Review | [Check Latest Price]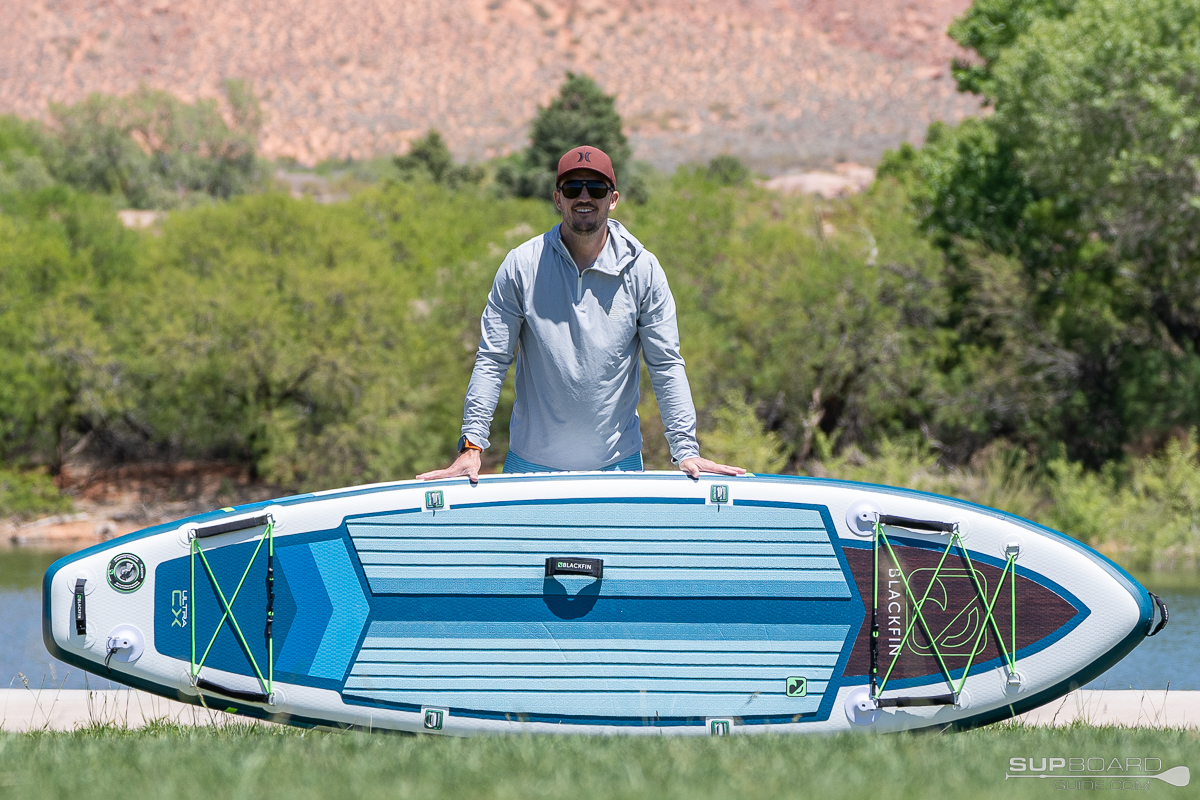 Check Latest PriceBLACKFIN CX Ultra
The Blackfin CX Ultra is a high performance compact SUP for paddlers wanting a bit more speed and tracking out of their all-around without losing maneuverability. It's also EXTREMELY compact and easy to carry and launch – so much so that we are not surprised that iRocker is moving full speed ahead with their Ultra Series.
The bottom line is that we think iRocker has successfully created an inflatable SUP that 1) performs very well in terms of speed, 2) is very stiff given it's high quality construction and x-woven drop-stitch core, and 3) is one of the lightest and easiest inflatable SUPs to carry that we've ever seen.
And they did this all for less than $1,000 AND even include their electric pump in the kit (also a first in the industry). If you are someone looking for an ultra-compact, all-around inflatable paddle board, then this is our top recommendation for 2022.
Pros
High performance compact all-around
Portable enough to be taken on moderate hikes, airplanes, small cars, etc.
Carbon Fiber rails and X-woven drop stitch give the board impressive rigidity while still being super lightweight at just 19.8 lbs
Come with an great SUP kit featuring iROCKER's 12V Electric Pump
Packs down into a bag 1/2 the size of a regular iSUP
VERY easy to carry to and launch on the water, and is also a great option for backpacking or hiking into remote lakes and rivers
Cons
This is more of a note than a 'con': the Blackfin CX Ultra is 10'6 x 32.5″ wide. So no, this is not your traditional, wide Blackfin and doesn't have the same stability that comes on their Model X or XL
---
2. ISLE Switch 2 in 1 Inflatable SUP/Kayak
Read Full Review | Check Latest Price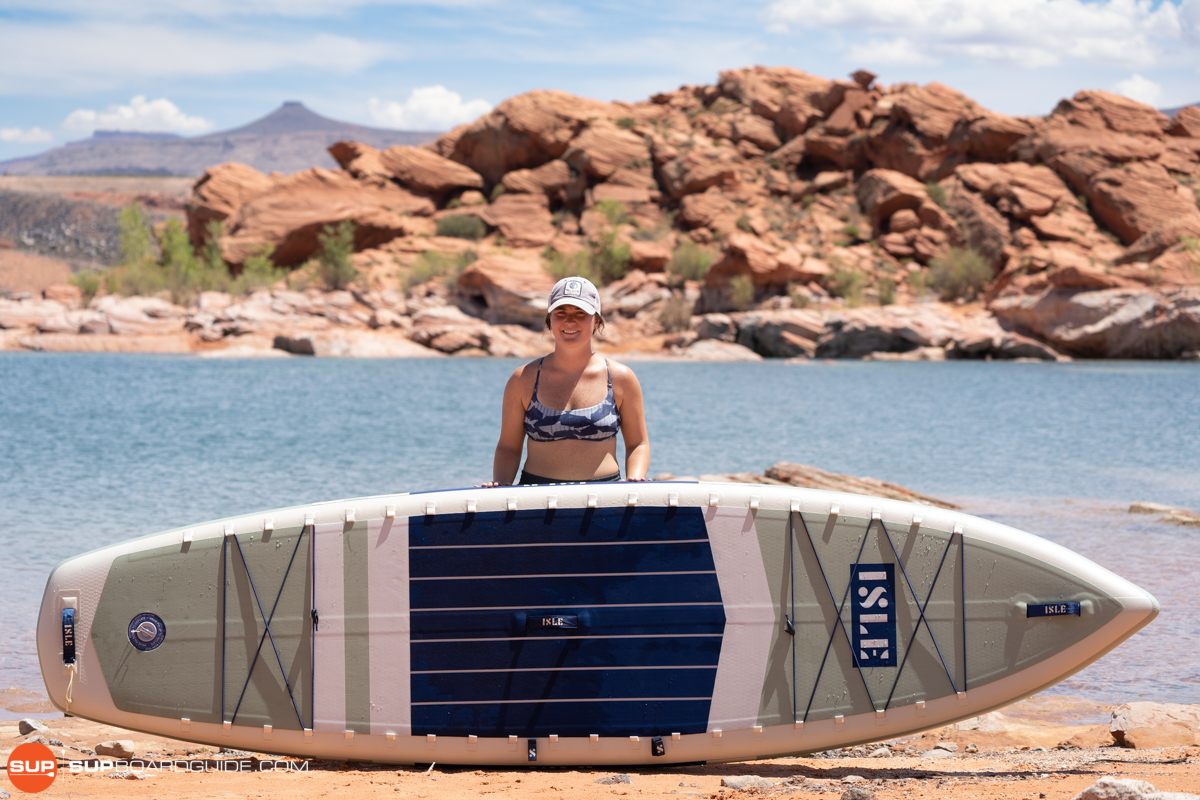 The ISLE Switch is a newer addition to this list, and a super exciting addition. It is a 2 in 1 SUP/Kayak hybrid, and so far the only board of its type that we've found to offer great performance as either a kayak or a SUP.
Being 11'6 x 35.5" the ISLE Switch is supremely stable, but it's also incredibly lightweight at just 19 lbs. This takes away any of the heavy, cumbersome feeling that sometimes comes with larger boards, and allows you to pick up a surprisingly level of speed for a board of this size. It's also easy to maneuver, and while a bit slower to turn with sweeping strokes, it doesn't require much effort from the paddler.
Performance aside, the Switch is extremely versatile even outside of its 2 in 1 label. The Switch showcases what ISLE has termed their 'ISLE-LINK Connect System', which is a series of polyester loops that run from nose to tail along both rails of the SUP. They allow you endless possibilities in fine tuning your kayak seat and footrest placement, adjusting your cargo area sizes, adding more attachments, anchoring down extra gear, or even attaching a second kayak seat to make this 'SUPYak' a tandem.
We were also impressed with the Switch's included accessory list, as ISLE has made sure to include everything necessary to get you out on the water SUP'ing or kayaking, with the inflatable kayak seat and footrest being our favorite inclusion.
This is, without a doubt, the best 2 in 1 hybrid board available.
Pros
Very stable SUP/kayak at 35.5″ wide
Tons of versatile features and plenty of room to add your own accessories/customizations
The lightest hybrid SUP-Kayak available at just 19 lbs
All inclusive accessory kit comes with everything you need to use this board as either a SUP or a Kayak
Cons
We're not huge fans of the aluminum paddle; we'd like to see ISLE upgrade to a fiberglass or carbon fiber blend.
---
3. Thurso Surf WaterWalker 132
Read Full Review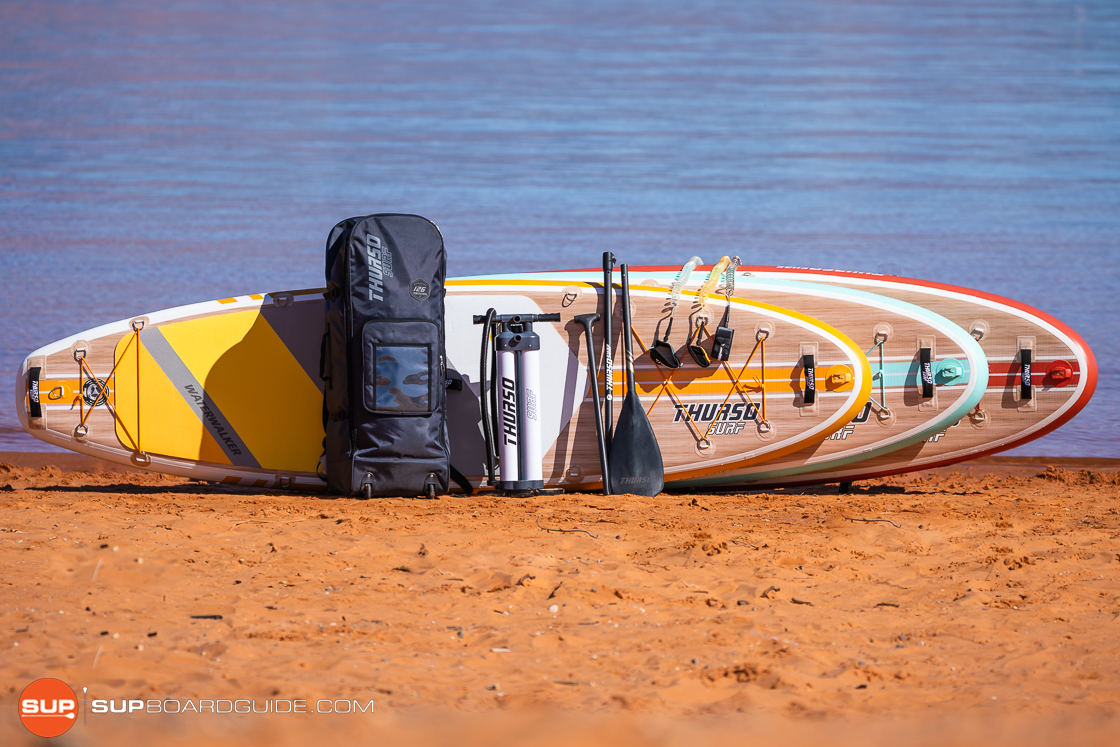 Check Latest PriceThurso Waterwalker 132
Coming in at #3 on our list of best iSUPs is the ThursoSurf Waterwalker 132. While we'll be focusing on the 132 in particular, the Waterwalker also comes in a 10′ and 10'6 version that are better suited to smaller solo paddlers.
The 2 things we love most about the Waterwalker are the board design and how the board performs in the water; it's stable but not cumbersome, and has a really smooth glide that gives it a faster feel. Thurso cut some weight on the board this year, moving to a higher quality drop stitch (woven) and we really like the lighter weight and the added responsiveness. This is a very stiff board – it has so far outperformed every other SUP on this list in our bend test.
Accessory wise, there are a lot of things that we love about the WaterWalker. The upgraded bag comes with two wheels and an extra zipper pouch for fins and other accessories (leash, repair kit, etc.). Looking at the board, we love the velcro paddle holder on the side of the board that safely secures your paddle out of the way. On other boards, the center handle that can undo and wrap around the shaft acts as the paddler holder. This kind of design still leaves the paddle in the way for anything like SUP Yoga. Thurso's design is the best for a paddle holder I've seen yet! It makes this one of the best-suited boards for any kind of extra activities like SUP fitness or yoga. I also love the extra D-rings and the bungee cords on the front and back of the board for storing all kinds of things or setting up the optional kayak seat.
Thurso chose to make their boards with a dual-layer PVC that's both durable and has a high weight capacity. They also add an extra layer of PVC + carbon fiber to the rails for better protection and stiffness. Finally, Thurso kept with their well-known style of a wooden grain print but have a few different color options that we just love.
Overall the board is awesome, and we are excited to see what Thurso Surf comes out with in the future as they continue to grow!
Pros
Well designed – very fast for an all-around
Unique graphic design
Carbon fiber side rails
Quality Carbon Fiber Shaft Paddle
3 handles for easy carrying (front, middle, back)
Lots of D-rings and bungees for storage and accessories like kayak bundle
Velcro rail paddle holder
All fins are removable
Bag has wheels and extra pouch
Cons
Board has a solid and stable feel to it on the water
We'd like to see Thurso continue experimenting with cutting weight
---
4. Sea Gods Skylla Cross
Read Full Review | [Check Latest Price]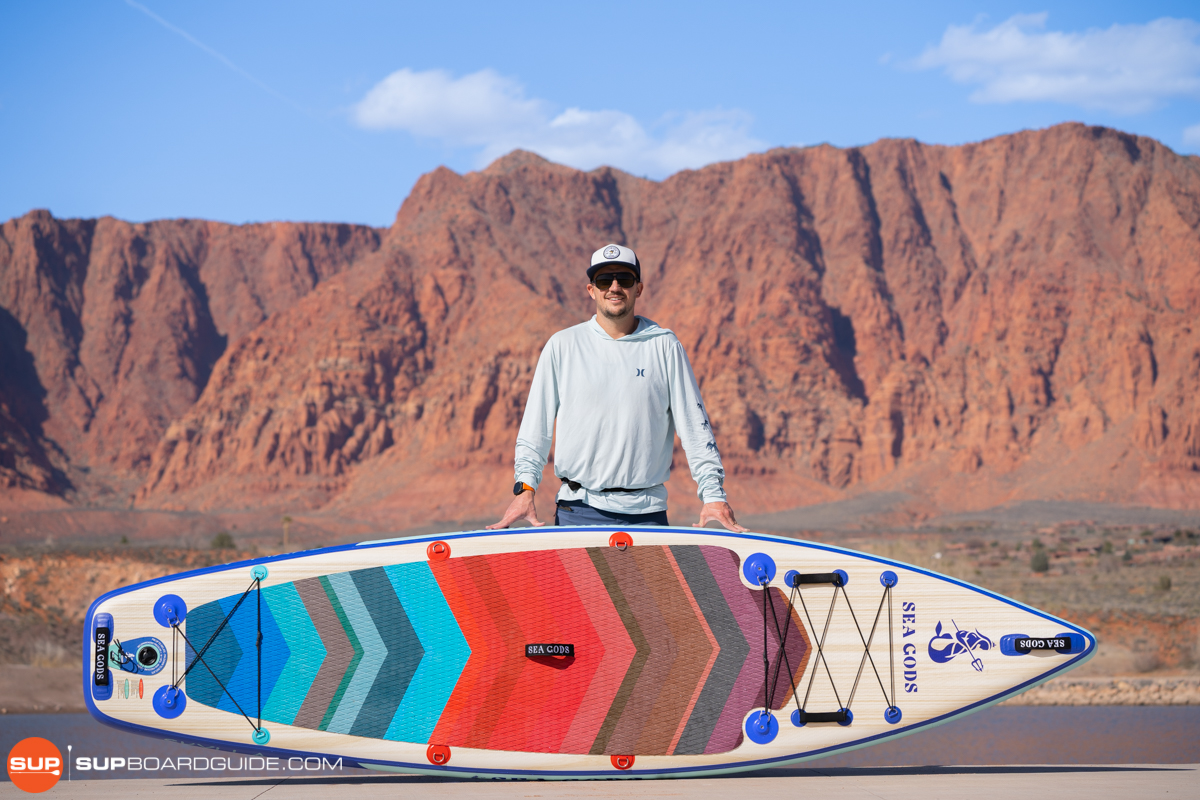 Check Latest PriceSea Gods Skylla
The Sea Gods Skylla is an impressive and lightweight hybrid board that balances the stability and versatility of an all-around with the speed and tracking capabilities of a touring SUP.
At 11' x 33", the Skylla's dimensions are a bit unorthodox at first glance, however its longer waterline combined with its tapered nose raise its speed capabilities above that of more classic all-arounds. At the same time, the 33" width combined with its boxy, squared off tail help to maximize the wet area, keeping the paddler feeling stable and supported on the water.
As with all Sea Gods SUPs, the Skylla has a few features to make it even more accommodating to a range of SUP activities. Integrated into the front and rear cargo area, the Skylla showcases 4 total universal action mounts, as well as kayak seat compatibility with 4 extra D-rings along the rails.
One of the things that impressed us the most about this board is its thoughtful construction. Unlike the rest of Sea Gods line, the Skylla is constructed using a cross-woven drop stitch, enabling Sea Gods to make this their lightest SUP at just 19 lbs, while also being the stiffest of their line up. On the water, this translates into a higher weight range without needing to opt for a heavily built SUP.
The Skylla has been a weekend staple here at SUPBoardGuide, as its versatile performance and ability to load up with camping gear, passengers, or pets make it a true 'jack of all trades'.
Pros
Extremely lightweight at just 19.5 lbs
Sea Gods most rigid SUP due to its cross-woven dropstitch construction
Is capable of decent speed for a 33" wide iSUP
Features gorgeous artwork
Comes with Sea Gods High quality accessory kit and is backed by their lifetime warranty
Cons
We'd like Sea Gods to include a more efficient hand pump
---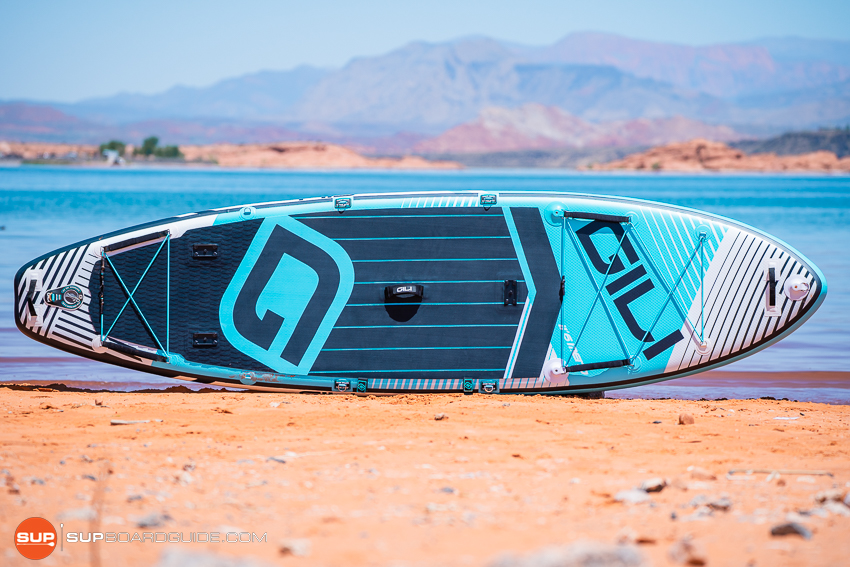 Check Latest PriceGili Meno 11'6
We have been super impressed with the Gili Meno series this year! Gili kept the core of the Meno series the same (dual layer PVC, carbon fiber rails), but upgraded most of the features and accessories. In general, the board just feels more fine-tuned and is a great inflatable SUP for anyone who wants a big board that is also light-weight. At just 24 lbs, this is one of the lightest 11'6 x 35″ iSUP on the market – but don't think that the lightweight-ness of the board hurts its performance. The 11'6 Meno, despite being such a large board, tacked fairly well and was reasonably fast. Simply put – it's a ton of fun on the water.
With a quality backpack, a standard fin set that includes 5 fins, and the ability to upgrade to a full carbon fiber paddle, the Gili Meno series is a great option. You'll also notice that it comes in at a great price!
Pros
Very lightweight for it's size and still paddles really well on the water
High weight capacity for larger paddlers and carrying gear
Loads of great features and accessories
Carbon fiber shaft paddle is light and great for paddling all day – plus you can upgrade to a full carbon blade paddle at checkout for a great price.
Snap lock fins improve performance while only taking seconds to install.
Large dual bungee/cargo areas
A portion of the proceeds are donated to ocean charities with every purchase. Iconic turtle logo bottom!
Cons
The D-rings are a little small, which makes it hard to remove the bungees.
---
6. BŌTE HD Aero
Read Full Review | Check Latest Price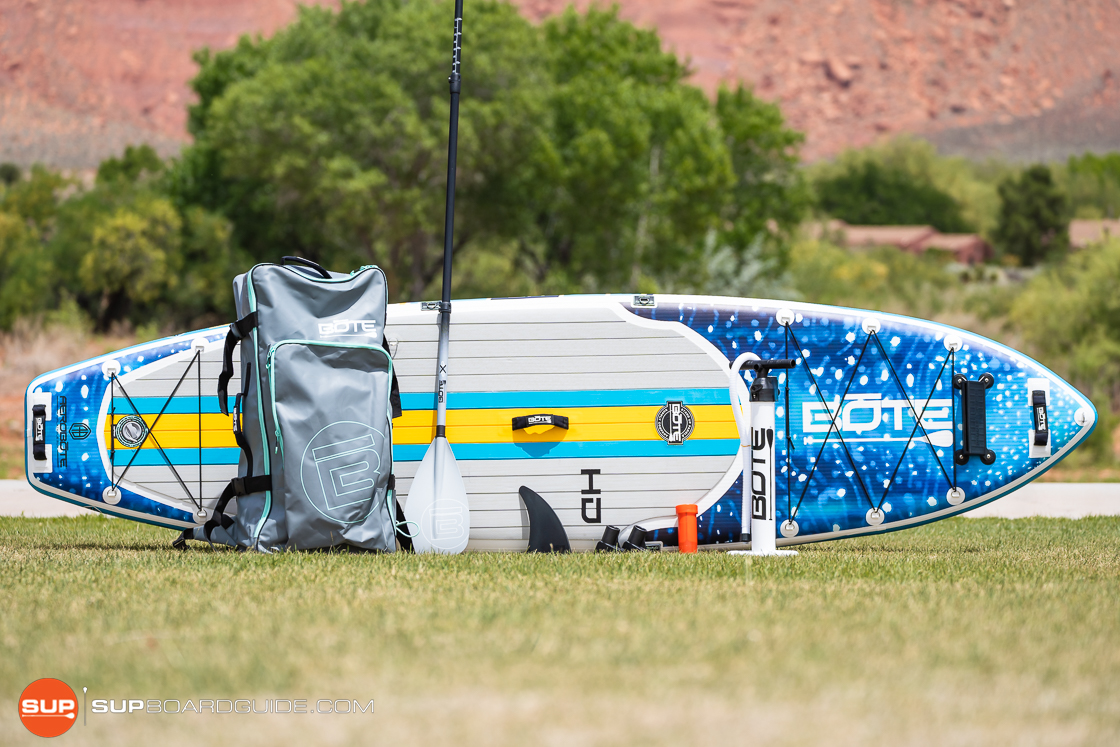 Check Latest PriceBŌTE HD Aero
New to our list for 2022 is the BŌTE HD Aero Inflatable 11'6 stand up paddle board. BŌTE is known for their sturdy and stable SUPs, and their 2022 HD Aero model doesn't disappoint. At 11'6 and 34″ wide, this SUP has a ton of volume – and it's, consequently, one of the most stable of our list. It's also loaded with great accessories like BŌTE's super cool paddle sheath, rack mounts, loads of d-rings, along with front and back bungees. This SUP does a phenomenal job of combining and all-around board with a solid fishing platform.
It's also one of the best looking boards in our opinion, with 4 different color and design options to choose from. And note – these color options are not just different colors of the same design. BŌTE offers 4 completely different designs with this board, so we are pretty confident you'll be able to find one that suits you.
From cruising across flat water lakes and marinas, to fishing all day with friends, and even paddling in open ocean waters loaded with gear or kids, we've found the BŌTE HD Aero to perform very well.
Pros
Very stable SUP, with lots of accessory options to help you load up your gear
Fantastic design options
Very stiff – made from high quality materials and backed by a solid brand
Great option for those who need stability (beginners) and/or high weight capacity board
Top notch accessories and kit
Cons
Kit doesn't come with a leash, so you will need to purchase one
Board is on the heavier side. However, it feels very sturdy in the water
---
7. Atoll 11' Inflatable Paddle Board
Read Full Review | Check Latest Price


Cruising next onto the list is the Atoll 11'. At 21 lbs, it's a zippy board on the water, and is a great option for someone looking for a solid all around board that is ultra light but still stable.
With their 11′ option, Atoll does a good job of covering its bases with a board that is a mix of all-around and touring yet still lightweight and stable. Atoll is able to keep the weight down by using fusion technology in the manufacturing process.
The difference that the Atoll has compared to many other all-around boards is it's shape being more tapered in the front and back, giving it more of a touring/cruiser shape. This design makes the Atoll a super fun board to paddle. It's fast and glides through water very easily.
It's got great features on board with the nose having a good amount of storage and loads of D-rings on the rest of the body. The extra D-rings can be used for more storage, a kayak seat, anything you can clip on really! Though I would like to see one more handle on the nose, especially given its length, it'd make the portability better.
The pump could be improved but it's an absolute score you get a carbon fiber blend paddle and high quality center fin. It's a super fun board for beginners to intermediates alike. It comes in a few different color choices and a 2 year warranty.
Pros
Cool logo/design
Good amount of storage up front
Loads of D-rings for versatile use, kayaking, more storage, fishing etc
Nice fin setup
Interesting shape that's fast
Lightweight, fusion material
2 year warranty
Carbon fiber blend paddle
Comes with all accessories
Cons
Pump could be improved
Another handle on the nose for better portability would be preferable
No 10' 6" option for smaller or advanced paddlers
---
8. Nixy Newport G4
Read Full Review | Check Latest Price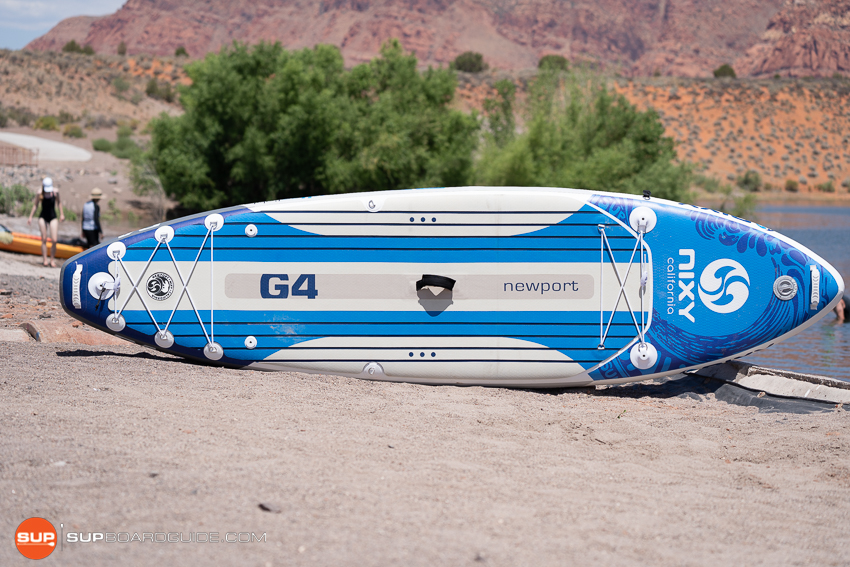 Check Latest PriceNixy Newport G4
The NIXY boards made a strong impression this year; they really focused even more on the accessories for the new models. In fact, we think NIXY deserves credit for giving paddlers the best kit paddle out of all the boards on our best inflatable paddle board list.
Back to the board itself, the NIXY Newport is the brand's all-around board made to paddle in a variety of situations – and it does a great job.
If you are an intermediate to advanced paddler, and don't need a high weight capacity board, then you should take a strong look at the NIXY Newport given the lightweight, quality construction and playfulness of the board. Out of all the top all-arounders, we think the Newport is the most maneuverable and playful of the group. With that extra maneuverability you do sacrifice some stability that you get with the larger SUPs on this list, but it's more than manageable for smaller paddlers.
As far as materials go, NIXY has created a super light board due to their dual layer FUSIONtec technology. At just 20 lbs, the Newport is always one of the lightest boards on our top SUP list, but with the addition of carbon fiber rails you don't sacrifice the strength or durability of the board.
Essentially, the NIXY founders created the exact board they personally like to use – a great all-arounder that displays a higher level of performance.
Looks wise, we love the fresh feel of the NIXY Newport. It's clean yet stylish, and we love the attention to detail – down to their logo being imprinted on the deck pad.
As always, the accessories on the NIXY Newport continue to be top-notch, especially when it comes to their backpack and paddle. The NIXY backpack feels the most comfortable in the group, and has tons of great little compartments and features (like 3 wheels vs 2) that you don't find on other boards. They also include a triple action, double chamber pump. Additionally, NIXY includes high quality, removable fins (great for tracking), 3 handles for easy carrying, extra D-rings for a kayak seat and securing other accessories, and even a carry strap included in every purchase.
The Newport makes for a great inflatable paddle board that can be utilized for a variety of activities and is highly recommended for those people looking for a more nimble, playful, all-around board.
Pros
Very fun, easy to maneuver board
High quality, lightweight materials
Carbon fiber rails for extra stiffness
Great carbon fiber paddle!!!!
One of the best backpacks on the market
Nice design
Several color options
Carry strap included
Extra D-rings for kayak seat and other accessories
Easy to use and efficient pump
Cons
Not super stable for heavier beginner paddlers (lighter beginners love the board though)
Storage space on the nose could be bigger
---
9. BlueFin Cruise 10'8 All-Around Inflatable SUP -2022
Read Full Review | Check Latest Price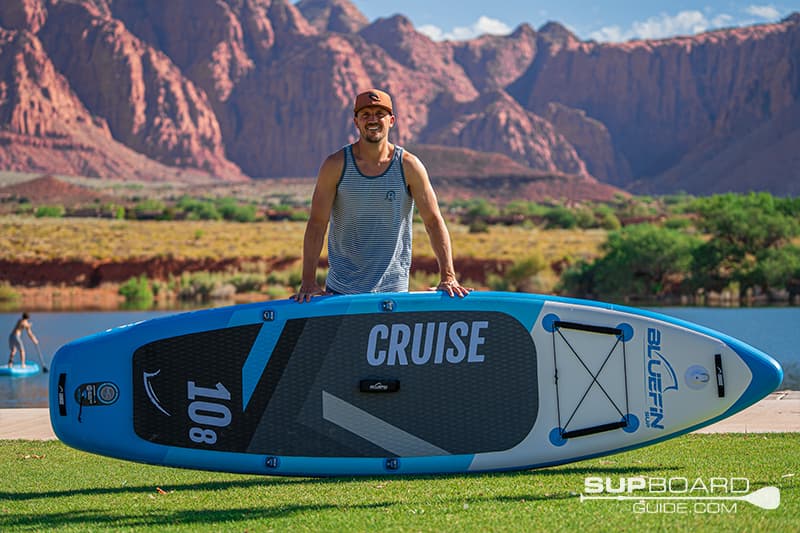 Check Latest PriceBluefin Cruise 10'8
Bluefin is newer to make our best inflatable SUPs list. However, they are not new to making stand up paddle boards. Located in the United Kingdom, BlueFin is a dominant player in Europe (perhaps the largest iSUP manufacturer there). Now, BlueFin is entering the US market in a big way. BlueFin makes excellent quality boards, and we love how the BlueFin Cruise feels. With an excellent build quality, the Cruise is one of the stiffer iSUPs we've tested.
In addition, the BlueFin Carbon literally comes with about every SUP accessory you could ever need, including: 3-piece fiberglass paddle, leash, single chamber dual action action pump, phone dry bag, and kayak conversion kit! Yes, it makes for a larger than average backpack, but it's a great value!
We are excited to welcome BlueFin from across the pond, and think they have made a fantastic board and kit at an excellent price point!
Pros
Very rigid inflatable SUP
Extremely well built board – sturdy materials
Sporty design, creating a very maneuverable SUP
Kit comes with all accessories, including the kayak seat!
High quality EVA deck pad
5 year manufacturer warranty
Cons
We love to see removable side fins
Board is a little on the heavy side
---
Best Compact SUP
iROCKER Cruiser Ultra iSUP (Full Review)

Check Latest PriceiROCKER Cruiser Ultra
Truth be told, we were blown away by the entirety of iROCKER's Ultra series. From their compact designs to their impressive rigidity, and exceptional performance on the water, the Ultra series has quickly become staples in our team's SUP collection. The Cruiser stood out among the pack as a stable, yet lightweight and sporty all-around that improved upon everything iROCKER's original Cruiser had to offer.
The main difference we noticed between the Cruiser Ultra and the Original Cruiser is the weight. Being 10'6 x 33″, the original Cruiser was fairly heavy at 25 lbs, but the Cruiser Ultra weighs in roughly 4 lbs lighter at just 21 lbs. What this translates to is a much better 'gliding' feeling as you paddle, and it's much easier for smaller paddlers to get the Cruiser Ultra moving up to a decent speed. Also impressive, is that iROCKER was able to cut this weight while compromising nothing in stiffness, as the Ultra series is even more rigid than their original counter parts. On top of the weight, the Cruiser Ultra has a new set twin fins that make for excellent tracking capabilities and aiding in the compact nature of this board.
While the performance and build quality alone had us hooked on the Ultra series, we also love the included accessories. The Ultras come in an extremely comfortable, compact, and lightweight SUP backpack, with a 5-piece carbon hybrid paddle, coiled leash, a pair of newly designed twin fins, and iROCKER's 12V Electric Pump. An accessory list of this quality adds so much value to this SUP and it's kit, making it impossible to beat in the compact SUP market right now.
Pros
The most comfortabe and portable compact SUP on the market
Lightweight yet impressively stiff construction
Carries the stability of the original cruiser while gaining speed and overall performance
Good array of features that don't limit 'compact-ness'
Included accessories make this an incredible value
Cons
We'd like the deck pad extended towards to tail
---
Best All-Around Inflatable SUP For Performance
If you are looking to take your SUP game to another level, then you are most likely looking for a high performance SUP. These SUPs cost more, but they will also outperform less expensive SUPs in certain areas. From fast touring to whitewater rapids, if you are someone who has $1K+ to spend on a SUP and know exactly what you are looking for, then you should consider one of our top rated performance SUPS. Below is a short summary of our top rated all-around performance SUP for 2022, the Honu Byron 10'6 All-rounder and the Sea Gods Diatom Ten6.

Check Latest PriceHonu Byron 10'6
The Honu Byron 10'6 is one of the highest performing all-around inflatable SUPs we've tested to date. At 10'6 long, 32" wide, and just 4.7" thick, it's stable enough for a wide range of paddler skill sets while having more of a hardboard-like feel on the water.
During our testing, the Byron proved to excel in all of our categories, whether it be stability, speed, maneuverability or tracking. The Byron does have a caveat though, in that its 4.7" thickness results in less volume than 6" thick SUPs, and will often cause inexperienced paddlers at or above its weight capacity to feel unstable and experience a decrease in performance. These paddlers would better enjoy the Byron's larger counterpart, the Fairlight 10'9".
Outside of (but not unrelated to) how it feels on the water, we were also very impressed with Honu's construction. The Byron is constructed with a cross-woven drop stitch core encased in two layers of fusion-bonded PVC and sealed with triple layered rails, resulting in an iSUP that is rigid yet a lightweight 16.9lbs.
As the final cherry on top, the Byron 10'6 and Fairlight 10'9 are both competitively priced, despite being in the premium performance category and each come with a kit full of high quality accessories.
Pros
only 4.7″ of thickness= lower center of gravity and higher performance on the water
Lightweight 16.9 lbs = easy to carry and easily gets up to cruising speed while paddling
Well placed raised kick pad aids in making this SUP super manueverable
Honu's 2+2 warranty is very extensive and shows their willingness to stand behind their product
Cons
We'd appreciate a larger front cargo area
Not a crazy high weight capacity (though heavily paddlers would enjoy the Fairlight 10'9)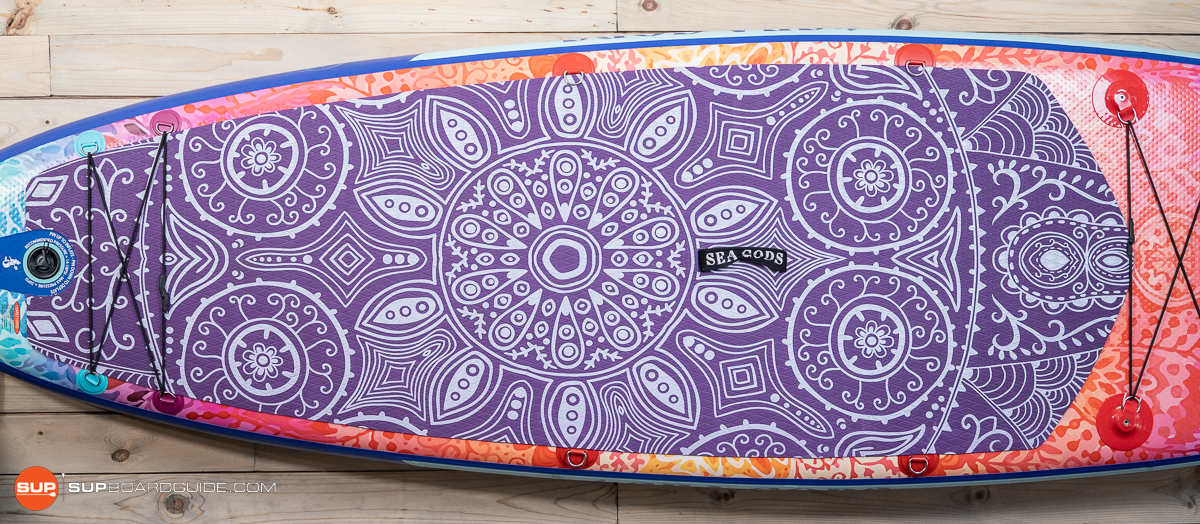 Check Latest PriceSea Gods Diatom Ten6
The Sea Gods Diatom 10'6'' is worth considering because of it's incredible artwork alone; aside from the fact that it displays stellar performance on the water. If you're a person that values artwork and aesthetic appeal as well as high performance, quality construction, and great weight support, the Sea Gods Diatom Ten6 will be a phenomenal fit.
The Diatom 10'6 more than meets the mark in the all-around SUP category. This lightweight board weighs just 24 lbs, and it's high volume dimensions (10'6 x 34″ x 6″) and rigid build quality allow the Diatom to support over 350 lbs. The paddleboard is both beginner friendly and perfect for taller/heavier paddlers and features a nice, clean deck perfect for practicing yoga on without having to buy a dedicated yoga SUP. It also has D-rings for kayak seat compatibility as well as two bungee cargo areas for storing dry bags, coolers, or small containers.
We're very impressed with the included accessories as well. The lightweight carbon fiber 3-piece paddle is one of our personal favorites and the unique Kumano flex-fin setup fits into the US fin box in seconds, without having to deal with a screw and plate or tools (like typical FCS fins). While the included pump is rather basic, the fantastic roller backpack isn't, with sturdy roller wheels, a roomy fit, and plenty of organization pockets. Lastly, the Diatom Ten6 is backed by a lifetime warranty, which is a testament to the high quality work by Sea Gods.
If you want a paddleboard that is equal parts stunning to look at as it is fun to paddle with on the water, you should check out the Sea Gods Diatom 10'6'' iSUP.
Pros
Ultra-stable at 34″ wide w/ a lot of weight support
Rigid but lightweight construction at just 24lbs
relatively easy to maneuver despite width
Versatility focused features that don't crowd the deck pad
Delivered in compostable packaging
Cons
Single chamber pump is not the most efficient
---
Best Premium Touring iSUP Board For 2022
Red Paddle Co Sport 11'3″ Full Review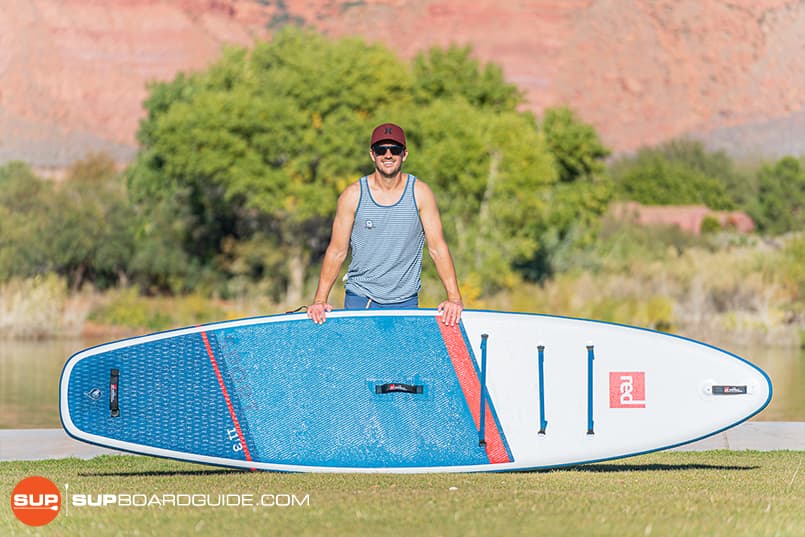 Red Paddle Co makes some of the best paddleboards in the industry, so it's hard to pick which board we want to include on our list. From what we've tested though, we think that the 11'3'' Sport is one of the best iSUPs on the market that anyone can enjoy.
The 11'3 Sport is very lightweight, weighing just 22 lbs, but has great rigidity and stability thanks to its premium MSL/Tec-Air construction and RSS fiberglass rod reinforcements. Newish (it came last season) is the brand new speed tail, which breaks up the water for reduced drag for an even faster SUP. The 4.7'' is ultra thin, helping you ride real low to the water for greater SUP control, with a 32'' wide deck and very comfortable RED hybrid deck pad for a cushy yet grippy foot hold. Oh, and can we highlight the great accessories, including the brand new Titan II manual pump, the fastest manual pump out there able to inflate the 11'3'' Sport in less than 5 minutes?
A truly premium paddleboard, enjoy great speed, tracking, and overall performance with the 2022 Red Paddle Co 11'3'' Sport!
Pros
Fantastic all-around/touring hybrid. Great for beginners and experts alike.
Lightweight at 22 lbs. Tec-Air/MSL construction makes it one of the sturdiest boards on the market.
Brand new speed tail design. Breaks up the water for improved speed and stability.
Hybrid RED deck pad. Grippy, yet also cushy so you can paddle longer yet with better balance.
Fantastic accessory lineup. RSS rails and new Titan II pump are the highlights.
RPC has some of the lowest return rates in the world. 5-year warranty if something does go wrong.
Cons
The most expensive SUP on our list. Truly premium performance, but if you don't love paddleboarding it might be too much as your first SUP.
It doesn't come with a paddle either. Cuts down on the price for veteran paddlers, but even more expensive for newcomers.
---
Best Budget/Cheap Inflatable SUP Board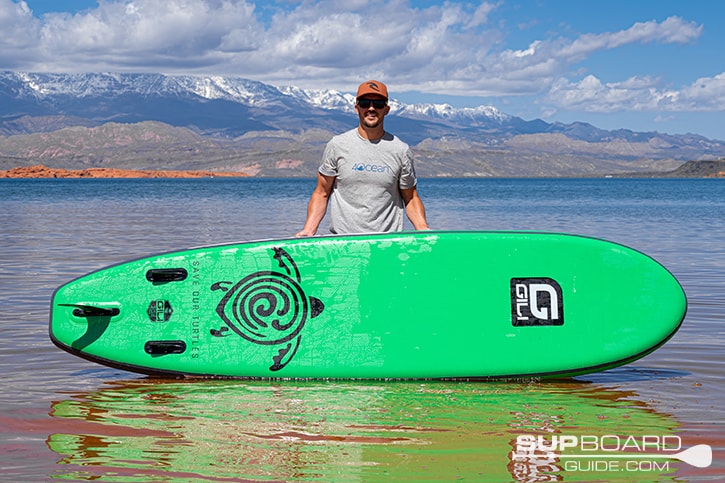 We know the reality that not everyone is lucky enough to be able to afford top of the range SUPs. But, that doesn't mean people should miss out. Which is why we went on the hunt for some of the best budget board this year, where you can read the full review here.
Funnily enough, after we finished that comparison up popped the Gili Air and popped out way on top of the list, we had mustered.
The 10'7 Gili Air is not going to be your fastest inflatable board, nor will it be the most durable or high performing but it will at least track well and has an above average pump and bag. Its profile is basic but those paddling for the first time will still get a kick out of riding this blue beauty.
Much like most of the budget blow up SUPs it's a single layer PVC. However, it's put together nicely with hardly any bubbles or separation around seams. Again, these were features we saw happening lots on the budget list.
With everything included in the package to start you on your SUP ventures, decent manufacturing and a price tag that low, it's amazing value.
---
Best Yoga Board
Yogi's rejoice! You'll be keeping your yogi toes dry on this buoyant and stable yoga platform.
A huge deck area at 34″ wide and its round shape makes this a perfect board for doing yoga on. Not only is it stable, but it's also comfortable. The deck pad is super cushioned and extends over most of the board. You'll also notice both the handles can be undone to lay flat on the board to keep the deck area unobstructed.
Then there's the beautiful lotus design on the nose to set the tranquil mood you're after. Before receiving the board and only seeing pictures on the internet, I did wonder if it would just look tacky, but I really like it!
The big reason it's the best in our opinion though is that paddling the Thurso Surf Tranquility Yoga SUP is fun too. Many other yoga boards are just big rectangles that wouldn't be much good for a casual paddle. I enjoy doing some stretches but still being able to go for a cruise too. I found the Tranquility to be a pleasure to ride and even handled pretty well for such a big board!
---
Overall Comparison Of The Best All-Around Inflatable SUP Boards
Something to keep in mind when taking all of this information in.
We have judged each boards performance based on the following:
Performance and Versatility. A good all-around SUP board is one that performs well in multiple conditions as a jack-of-all-trades.
Stability. From beginners to intermediate/advanced paddlers you want to make sure the board will support its weight limit. Nothing is worse than buying a 300lb capacity board, only to find it extremely difficult to balance on if you are 220 lbs (this is what happens when you buy a cheap board from a store like Costco).
Tracking. Tracking refers to the ability for the board to paddle straight. A good all-around board might not track as well as a touring board will, but with a good fin set up the all-arounder will do a great job.
Durability. The last thing we want is for you to be dragging your deflating board behind you, paddle sunk to the bottom of the lake.
Features and Accessories. You want an iSup that comes with good paddles, bungees for storage, and D-rings for adding accessories like kayak seats. Another big selling point for iSUPs is how portable they are, so you are also going to want a quality backpack to store and carry your board in.
---
How they Compare: Performance and Versatility
The first thing you need to understand when it comes to performance is that your personal performance on each board will vary depending on:
Skill level – an experienced SUP boarder will be much better on boards with lighter weight capacity and might find they enjoy how such boards are more maneuverable and playful.
Weight – if you weigh 120 pounds your experience is going to be much different than someone weighing 180 or 220 lbs.
We found great performance with each paddle board on this list (we don't just put up any board on this list). Each board performs really well, and the differences are slight, but important.
Overall, the performance on the iRocker Cruiser was the best – it worked great for beginners to advanced and from lighter to heavier paddlers. For larger people (190 lbs+) and for those really concerned with balance issues we found the Meno 11'6 performed the best. Smaller individuals typically liked either the iROCKER Cruiser or, if they were more experienced, they preferred the NIXY Newport. And for those who aren't strong paddlers, the ThursoSurf Waterwalker glides and moves just a little bit faster in flat conditions than the iRocker Cruiser. The Meno 11'6X also glides well, but is bigger so it's a little harder to get going.
Now the only other thing that comes into the performance is the paddle. So what paddle you get with these boards will determine a bit of your performance. However, I don't make a huge remark about the paddles as you can easily just upgrade a paddle. Most companies will offer you a discount on an upgrade if you are already buying a board (so don't be scared to ask!!). The best paddle here is the NIXY I believe. It's a got a slim blade that is also quite light thanks to less materials. Though because it's been shaped with the ridges it is still quite strong and doesn't flex. The Sea Gods and Cruiser Ultra paddles – both carbon fiber, as are the ThursoSurf paddles. The BlueFin paddle comes in last here as it's a bit heavier/clunkier than the others.
---
How they Compare: Stability
There is a strong correlation with weight capacity, width and length with stability. That is the case with the top all-around SUPs on this list.
The most stable board here is the Gili Meno 11'6 Model X family board. The iRocker Cruiser and Thurso Waterwalker 132 are pretty close, followed by the Atoll 11' and the Diatom from Sea Gods. Of course, there is a trade-off between stability and maneuverability, so keep that in mind.
Also, remember that if you are 110 lbs you are going to be much more stable than someone weighing 230 lbs, so you might want to choose an iSUP that is a little more nimble.
---
How they Compare: Maneuverability / Turning
The ability for the inflatable SUP to turn easily and maneuver makes for a fun board long after your first year of SUPing. The move maneuverable SUPs on this list are pretty much the opposite of the stability winners – like we said, stability and maneuverability are trade-offs. The NIXY Newport was the most nimble, maneuverable board on this list, which is one of the reasons we recommend it so highly for advanced, smaller paddlers. It's a ton of fun! From and all-around perspective, the Atoll 11′ again did a great job of balancing the ability to turn and maneuver while still being stable. The Honu was extremely high performing here as well.
Finally, if you are a taller, more heavy SUPer then you are going to be able to maneuver the Thurso Waterwalker 132 much like a 120 pound person will maneuver the NIXY Newport.
---
How they Compare: Tracking
Tracking is a function primarily of fin setup and board shape/quality. Rubber, bendy fins that are short simply won't grip the water and don't help you track well. Larger, more firm center fins provide the best tracking, so if you are looking for long, straight adventures you want a very large, firm center fin set up. If you want to SUP in a river where there are shallow spots then you are going to need shorter fins, and you are going to sacrifice some ability to go straight for the ability to move and be agile around the rocks.
As far as tracking goes, every board on this list does a fantastic job. We brought out a group of beginners to intermediate SUPers and not a single one could tell us which board tracked better. That being said, there are some slight differences. The Waterwalker 132 comes with a fantastic, large center fin, and 2 removeable side fins. Combine that with the stable platform and you get a SUP that tracks exceptionally well. The NIXY has the next best fins and does track very well for such a nimble, maneuverable board – tracking on par with the Thurso Waterwalker.
---
How they Compare: Durability
Durability comes down to what materials are being used in the manufacturing of the iSUP, and every manufacturer on this list prides themselves in using the highest-quality materials available. You won't find a board on this list that isn't durable and dependable. We've talked and reviewed in depth each company's manufacturing process and materials – and you can feel comfortable on each of these boards.
One thing to note – iRocker and Thurso Surf use 3+ layers of high quality PVC for added rigidity and durability. Isle, NIXY, and Atoll use a fusion process that mechanically fuses two layers of high quality PVC. This fusion process allows the boards to be very rigid (up to 20 PSI) and durable but also lighter due to using less materials.
So which is better? It kind of depends on who you talk to. Each manufacturer claims their process is the best and most durable(of course). From our testing the last several years we have yet to see a problem with either process and can fully recommend both. Fusion tends to be lighter, but if this isn't a priority, than either construction method will suit your needs.
---
How they Compare: Features and Accessories
We think it's easiest to compare what key features and accessories each board comes with in the following table:

Board
BLACKFIN Model X
iRocker All-Around 11'
Thurso Surf WaterWalker
BlueFin Cruise Carbon
Gili Komodo
Atoll 11'
NIXY Newport
Sea Gods Elemental Wave Ten6
Red Paddle Co Sport 11'3"



Full Review




Full Review

Full Review

Full Review

Full Review




Full Review




Full Review




Full Review

Full Review

Rating out of 10
9.9/10
9.8/10
9.5/10
9.4/10
9.3/10
9.3/10
9.2/10
9.3/10
9.9/10
Pricing

See Best Price

See Best Price




See Best Price

See Best Price

See Best Price

See Best Price

See Best Price

See Best Price

Best For Person Who Wants:
Best SUP Board for 2020, a SUPER stable board or family board
Best All-Around SUP Board, stable, fun, great performing SUP board
A stable, fast all-around board
A super rigid, lightweight board with lots of accessories
A stable, lightweight SUP with large weight capacity
A lightweight all-around board w/ a GREAT logo
A lightweight board that's easy to turn for lighter or more advanced paddlers
Lightweight All Around SUP with one of the best designs
High performance all-around/touring SUP
Pro's

🙂
High Quality & Durable board with a super high weight capacity. Carbon Fiber Rails, tons of d-rings, and action mounts. Can be used for fishing and comes with a 2 year warranty
Great performance, high quality accessories and pump, good value, very durable, high max capacity and very stable board, great customer service
Fast board due to unique shape, quality construction, carbon rails, nice velcro paddle holder
Most rigid board (up to 28 psi), great construction, kayak seat comes included
Triple layer fusion construction, all around shape, and fully covered deck pad means a versatile, rigid board
Quality board, lots of D rings for attachments, ability to use aftermarket fins, great company logo, stable and easy to paddle, very lightweight
Very lightweight, can turn easily, carbon fiber reinforced rails, high quality fins, great backpack and accessories
Stunning SUP.
Lightweight with great stability.
Single fin box leads to great tracking.
Premium range of SUP accessories included. Kumano fin, carbon fiber paddle, and more.
Light, well-built. 4.72" thickness gives a more hardboard feel. Great tracking and glide, fantastic pump
Con's

🙁
No US Fin box, and can be a little wide for smaller paddlers
No US Fin box and could move the back 2 action mounts to the side
Board slightly heavier than others on the list
No removable side fins
A dual chamber pump would make pumping the board up more enjoyable
Side fins aren't removable, accessories could be improved
Very sporty, but not super stable for heavier beginners
Not much 🙂
Does not come with a leash or paddle
Specs
BLACKFIN
iRocker
Thurso surf
Bluefin
Gili
Atoll
Nixy
Sea Gods
Red Paddle Co
Length
10'6"
11'
11'
10'8"
10'6"
11'
10'6"
10'6"
11'3"
Width
35"
32"
32"
32.5"
33"
32"
33"
32"
32"
Thickness
6"
6"
6"
6"
6"
6"
6"
6"
4.72"
Weight
27 lbs
24 lbs
26 lbs
25 lbs
21 lbs
19 lbs
20 lbs
19 lbs
22 lbs
Capacity
450 lbs
435 lbs
330 lbs
286 lbs
340 lbs
400 lbs
300 lbs
250 lbs
240 lbs
---
Top 6 All-Around VS Performance All-arounds
So how does our Top 6 shape up next to the performance all-arounds? Generally speaking the performance all-arounds excel in the variety of conditions they can tackle. They handle waves and rapids, any bodies of water that are bit more turbulent.
That's because (again generally speaking) they tend to be thinner at 5", not 6". They can be thinner because they use the best quality materials so that they don't have to sacrifice rigidness or durability to use less materials. Another factor is performance board features. Namely the fins. Your fins play a huge part into how well your board will track,respond etc. Performance boards tend to use better quality fins and also a US fin box so you can even upgrade your fins with anything compatible including the world leading FCS fins.
---
Top 6 All-Around VS Budget Boards
The difference between out Top 6 and the budget boards is everything from materials to accessories. Of course, each board exceeds in some places and others don't. Though in the case of our choices it comes down to the accessories, the materials, the board features and the shape of the board and how that shape affects performance.
---
Conclusion
Now we're done analyzing, it's your time to shine.
What will it be? This is the exciting part where you get to decide who's going to be arriving on your doorstep soon. If you are in need of some more reassurance, refer to our graph again. Or even better, leave us a comment below.
Like we mentioned, this is our list. It's what we think is best. We might share different preferences than you, but we spend hours every week testing different boards and get our friends to come along, so we don't get too biased. We've paddled in rivers, seas, rapids, and lakes. Sometimes not all that successfully, but we try!
Choosing from this list, you can be assured that it's really been put to the test. The only reason why we would suggest overlooking this list is if you are in the market for particularly niche boards. Racing or surfing hardboards for instance. Otherwise, there is something here for absolutely everyone. It doesn't matter your experience, budget or preference, our best inflatable SUPs for 2022 is an all-inclusive list!
Till next time! Keep on enjoying the beautiful sport that SUPing is!
Note: We constantly update our content to make it as up to date and relevant as possible. That's why you will see some comments about boards no longer listed in this review. Also, we've recently revamped this list to focus on the All-around iSUPs. We are working on new, more in-depth lists for best performance All-Around SUPs, best touring SUPs, best SUPs for Yoga/Fitness, and more. Finally, boards we previously recommended include the iRocker Cruiser, Starboard Atlas, and Red Paddle Co Ride. They are all great but boards but just didn't make it on the list this year.
The following two tabs change content below.
Justin Taylor, Head Paddler
At SupBoardGuide.com we are a team who love the water, the outdoors, and are more than grateful that our full-time job allows us to review stand up paddle boards. We paddle year round (it helps that we are just about 2 hours outside of Las Vegas), and we bring in a wide range of paddlers with the goal of providing our readers with the best, most in-depth, and accurate stand up paddle board reviews.
Latest posts by Justin Taylor, Head Paddler (see all)