It's a well-known fact that water makes up 71% of our earth's surface, which is great news for a stand-up paddleboarder who likes globetrot. No matter where you go in the world, you're almost sure to find a body of water just begging to be paddled. And, the fact that our inflatable paddleboards are so much more portable than their epoxy counterparts makes exploring new waterways easier than ever.
However, not all inflatable SUPs are made equal in terms of traveling ease. Some are pretty heavy, and some don't pack down as small as others. So, if you're a paddler who wants a board that can accompany them on vacations or hikes into alpine lakes, these, sometimes overlooked, attributes are at the top of your priority list. Unfortunately though, 'travel-ability' is one thing that's really hard to infer from specs lists or a few product photos. It's the main reason we spent so much time thoroughly testing these boards to determine how well they traveled. We wanted to find out if they're easy to hike with, able to be navigated through an airport, or packed tightly in a gear-loaded car. And, while it did take a significant amount of time to narrow down our list of Best Compact SUPs for Travel, we're confident that any one of these boards can check the boxes for any paddler that's got a case of wanderlust.
Before we take a deeper look into our list though, let's take a moment to understand the criteria that we considered while testing each of these SUPs to determine if they could hold a spot on this page.
What Makes a Great Travel SUP
When we're deciding if a SUP belongs on this list, we run it through a bit more extensive testing than we would for a more standard product review. Of course, we still take a board's on-the-water performance into account, but we pay extra close attention to the following characteristics:
Pack Dimensions
This is one of the most important aspects to consider when shopping for a travel board, and unfortunately, it's not usually listed in a SUP's spec section. And, if you're someone who's looking to fly with their SUP often, this information is invaluable. Some of the more advanced compact SUPs on this list can pack down as small as a 2' x 1' backpack, and can sometimes (extra emphasis on 'sometimes') pass as a carry-on item – depending on the airline and your gate agent's mood.
Pack dimensions are also important for SUP hikers that like to strap their SUP on their back and reach some never-paddled-before alpine, or generally remote, lakes. Here, there's a fine line to walk between a small enough pack to be wearable, and too small of a pack that ends up being uncomfortable. Dimensionally small does not always mean ultra-light and if the weight of your board and accessories aren't well distributed, hiking up a mountain can get really uncomfortable really fast.
Pack Weight
Traveling with a heavy SUP just sucks. I don't really want to sugarcoat it; there's nothing worse than trying to haul 35+ lbs down a trail or through an airport (especially if you're already dealing with your regular luggage). None of the boards on this list exceed 23 lbs for this very reason.
Pack Fit/Comfortability
If we're not testing exclusively for travel-friendly SUPs, this is something that we sometimes overlook. Most standard SUPs have roller bags, and there are just very few instances that you'd actually need to carry your SUP on your back if it's only going from the garage to the trunk, and then to a local paddling spot. However, if you're hiking your SUP or walking through an airport, odds are you'll need to backpack it. The boards on this list come with backpacks that are well-padded on the back and shoulder areas and come equipped with sternum and hip straps to help distribute the load. We wore these packs for longer stretches of time and took more than a couple of them on 3+ mile hikes to ensure that the straps won't dig or rub you the wrong way.
Performance
As always, performance is huge to us. It's great if a SUP is lightweight, can be packed down pretty small, and is relatively comfortable to wear, but if the performance isn't up to par, then everything else goes out the window. Imagine going out for a paddle in a gorgeous new environment, with tons of areas to explore, but your board is unstable or slow, or difficult to maneuver. It would undoubtedly put a damper on the experience and have you coming back to shore much sooner than you would on a higher-performing SUP.
Durability
Admittedly, durability is something that's more difficult for us to determine. It's one of those things that may take several seasons of putting boards through the wringer to accurately gauge, but for now, all of the SUPs on this list are constructed with more advanced construction techniques and are built and sold by companies with excellent reputations, warranties, and customer service. Frequently traveling with your SUP can put a bit more strain on it than just occasionally chucking it into the car. Airplanes in particular come with their own 'roughness', with being at the mercy of baggage handlers, and it was important to us that we recommend travel-SUPs that can hold up through some abuse.
Obviously, all of the SUPs that we'll list below have their own unique differences, but these overall criteria are the main attributes that they have in common. Without any further ado, however, let's jump right into our list. Below, are the Best Compact SUP for Travel.
---
Best Compact SUPs for Travel
1 – Blackfin CX Ultra
2 – Red Paddle Co. 11'/9'6 Compact
3 – iROCKER Cruiser Ultra
4 – Nixy Huntington Ultra-compact
5 – Honu Byron
6 – Sea Gods Skylla
7 – Atoll 11'
8 – Paddle North The Portager
---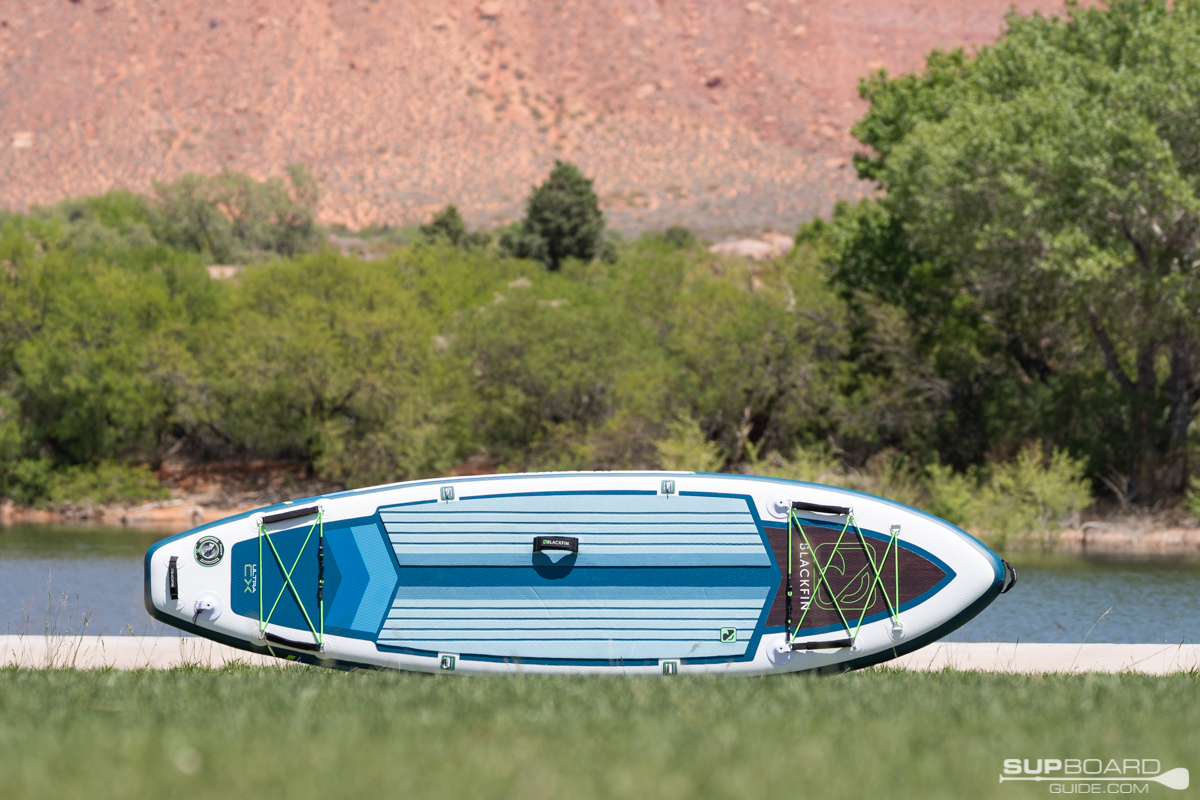 Pros
Extremely compact design fits into a 2'x'1 backpack
Lightweight SUP at 19.8 lbs with a comfortable backpack = easy to carry on an light hike or through an airport
Can be packed small enough to pass as a carry-on item in some airports (though your paddle will need to go in a checked bag)
Rigid construction contributes to good performance on the water
Stable design that's still agile and responsive, a good balance between stability and performance
Cons
5 piece paddle has a bit more movement in the connection joints than we'd like
This SUP only comes with an electric pump, meaning you'll have to rely on a power source to inflate your SUP
The Blackfin CX Ultra is part of iROCKER's new compact SUP series. Each SUP in this series packs down extremely small and comes in our new-found favorite SUP backpack. It also comes with iROCKER's 12V Electric Pump, which has held a spot on our Best Electric Pumps list for several seasons in a row.
Of course one of the most notable things about this SUP is that it's able to fold in half, before being rolled up. This, in combination with its 5-piece paddle, enables this kit to pack down astonishingly small into the Ultra-series backpack, which ends up having a 2' x 1' footprint. Because of this, the CX Ultra fits nicely into a loaded-up car, and can sometimes even pass as a carry-on for some airlines (if packed correctly).
More than that though, the included bag is one of the most comfortable SUP packs we've ever tested. The shoulder and back straps are well padded and come equipped with a sternum strap, while the overall size of the pack helps to distribute the weight evenly. It's a great SUP pack for hiking due to its comfortability. However, this SUP does not come with a manual pump, which means that you'll need to invest in a hand pump if you're planning on taking this SUP into remote locations away from your car or power source. Alternatively, you could invest in iROCKER's portable battery pack, but carrying the electric pump and the battery pack in one bag with your SUP and accessories does get heavy to haul on longer hikes.
When it comes to performance, the Blackfin CX Ultra checks all of our boxes. It's rigid and responsive while still being stable enough for entry-level paddlers. Though its quick and agile nature will let more advanced paddlers have fun too.
In short, this well-constructed, 19.8 lb SUP is a great investment for paddlers looking to travel with a high-performance SUP, but don't want to be bogged down with a large, heavy gear bag.
---
2. Red Paddle Co. 11'/9'6 Compact (See Full Review)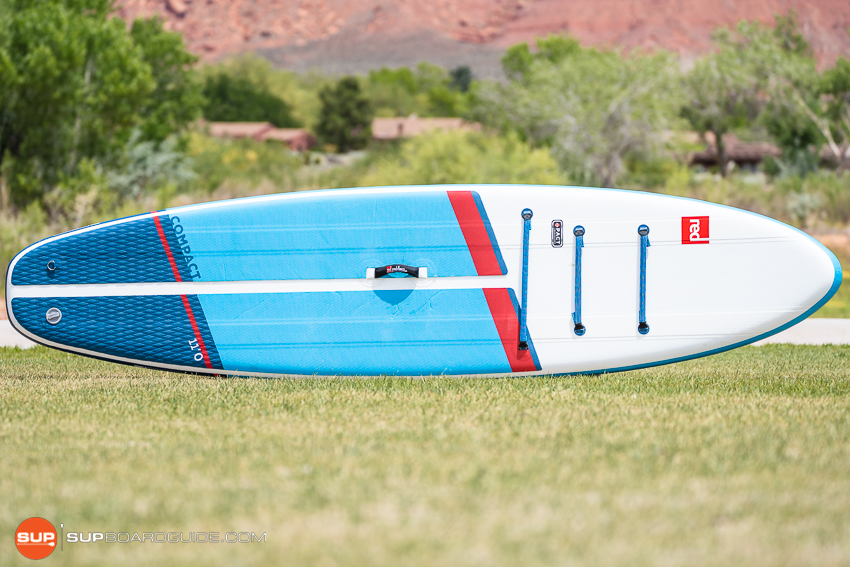 Pros
Folds tightly into a compact backpack
4.75" thickness lowers the paddler center of gravity and gives this SUP a hardboard-like feeling
Is shipped with Red Paddle Co.'s Titan II Pump, the most efficient handpump on the market
Extremely lightweight at just 18.5 lbs, which is nearly unrivaled in the category of 11' iSUPs
Twin fin system makes for nice manueverability without hindering tracking
5 piece paddle is super solid because RPC angled the joining sections
Red Paddle Co MSL construction is one of the best in the industry
Cons
We'd appreciate more padding on the shoulder straps, as the backpack can be unfcomofrtable to carry for longer periods of time
Not the most rigid SUP we've ever tested, though this doesn't massively affect it's performance for us
Red Paddle Co. is a detail obsessed brand, and their 9'6 and 11' compact SUPs serve as tangible proof of this fact.
Like the Blackfin CX Ultra, the 11' and 9'6 Compacts have split deck pads, which allow them to be folded up the middle (hotdog style) before being rolled up. However, Red Paddle Co. has made this, sometimes challenging, packing job a little bit easier on their most recent Compact series by sectioning out their deck pad horizontally as well, giving the board pre-determined 'folding points' that the paddler won't have to wrestle with.
Once folded around the included Titan II handpump, the Compact fits nicely into the Red Paddle Co. Compact bag. While this bag is similar in size to the Blackfin CX Ultra that we discussed above, it does have a little bit more depth to it, which causes it to protrude outward from your back a bit further. This, combined with the very lightly padded shoulder straps, can make this bag a little uncomfortable to wear and carry for longer hikes – though this is really our only 'qualm' with this board. We really like how small this bag is, as it can be stored under the backseat of a truck and is super easy to bring through an airport with little fuss.
Where the Red Paddle Co. Compact really shines for us is in the performance category; this SUP has been Justin's personal favorite for about 2 years now. One highlight is that this SUP is only 4.7" thick (others are typically 6" thick), which lowers the paddler's center of gravity and offers a more stable feeling in chop or waves. And, combined with Red Paddle Co.'s rigid, woven drop stitch construction and quad stringer system, the Compact feels a lot more like a hardboard than other inflatable SUPs. We also love the maneuverability that comes with their twin fin system, as it gives the compacts such a fun, playful feel.
One final accolade to the Red Paddle Co. Compacts is that their included 5-piece paddle is the most solid 5-piece paddle we've tested due to Red's carefully angled design at the joining points.
So, while a SUP from Red Paddle Co.'s compact series is definitely a sizeable investment compared to other compact iSUPs, it would make a great choice for a paddler that wants the highest performance possible out of an expertly designed compact SUP.
---

Pros
Lightweight 21 lbs, easy to carry on your back to a more remote body of water
Folds into iROCKER's new compact backpack that measures about 2' x 1'
One of the most stable compact SUPs we've tested – good for paddlers who are new to the sport or wanting to bring along some gear
Highly maneuverable on the water, even for an all-around, but also has great tracking capabilities
Performance is more responsive and a step above most other stability-oriented boards
Is Shipped with iROCKER's 12V Electric Pump
Cons
Measured a hair narrower than it's spec'd width. Not a huge deal, but it's not quite as stable as iROCKER's Cruiser Original
The iROCKER Cruiser Ultra comes from the same 'Ultra series' as the Blackfin CX ultra that we discussed above. However, the two differ in performance.
Although the Blackfin CX Ultra and the Cruiser Ultra are both spec'd to be about 33" wide, the Cruiser Ultra's wider tail and rounder nose make it noticeably more stable than its counterpart. As expected, it is also a touch slower and less nimble. However, due to its rigid, cross-woven construction, the Cruiser Ultra is a hair more responsive, and concurrently less stable, than iROCKER's original Cruiser. Still, it'd make a great choice for an entry-level paddler in need of a travel-friendly, compact SUP or a more advanced paddler that wants to bring along gear or pets.
And, as we stated earlier, the Cruiser Ultra can be folded in half the same way as the Blackfin CX Ultra and fits into the same 2' x 1' compact backpack. It's comfortable to carry, and also comes with iROCKER's Electric pump, though again, we'd recommend investing in a manual pump if you intend on hiking this SUP significant distances to paddle, otherwise, iROCKER's portable battery pack would work as well.
In general, though, the Cruiser Ultra really does share a ton of similarities with the Blackfin CX Ultra above. However, it does serve as a more stable compact option for paddlers who need a bit of extra volume, whether that be to mitigate any entry-level paddler wobbles or to provide support for gear and passengers.
---
4. Nixy Huntington Ultra Compact (See Full Review)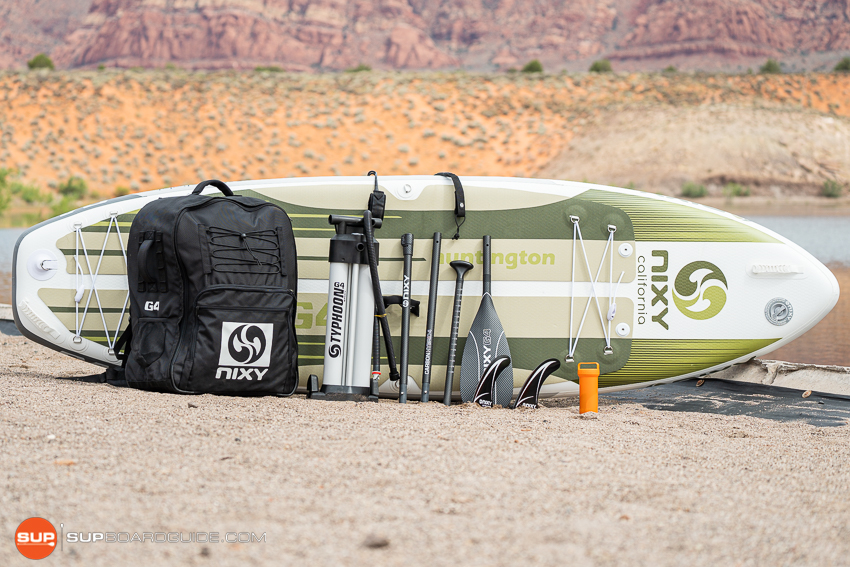 Pros
Nimble, maneuverable SUP at just 9'6, but still forgivingly stable at 32" wide
Packs down into Nixy's compact backpack, which is comfortable to carry and has tons of organizational space
4-piece paddle is a bit more solid than a 5 piece paddle, and we love that it's made entirely of a carbon fiber hybrid
One of the more comfortable backpacks to carry on a short hike
Built with Nixy's rigid and lightweight construction that makes for higher performance, and more responsive feel on the water
Cons
At 9'6, this SUP is mainly limited to shorter paddlers
The Nixy Huntington Ultra Compact was one of the earlier compact SUPs on the market, and it has easily withstood the test of time.
Like other compact SUPs on this list, the Huntington Ultra Compact has a split deck pad which enables you to fold it in half before rolling it up into the included compact backpack.However, this compact bag is a little big larger than others and has an array of organizational pockets, which is super nice if you're packing all of your paddling gear in one bag. There's plenty of room for a towel, wetsuit, a change of clothes, or other smaller items that you choose to bring with you. Because of this, and its comfortability, the Huntington Ultra Compact backpack is great for hiking. One last thing to note here is that the actual size of the folded SUP is much smaller than the bag itself, so if you need it to be even more compact for a flight it'd be a good idea to get it tightly wrapped at the baggage counter.
Part of the reason that the bag is larger is that the Huntington Ultra Compact's paddle breaks down into 4 pieces, rather than 5, which obviously makes the sections a little bit longer. Of course, the upside to this is that the paddle feels really solid since there aren't as many weak points. It also helps that Nixy's included paddle is made entirely of a lightweight, rigid carbon fiber hybrid.
Performance-wise, The Huntington Ultra Compact is great if you're a smaller-midsize paddler. This SUP is only 9'6, which is on the shorter side, especially for paddlers above 5'9. As expected, its shorter length does make it extremely sporty and maneuverable, while its impressively stiff but lightweight construction makes it very responsive. However, the Huntington Ultra Compact is more rounded on the nose and wider through the tail, so while it is stable, it's also a little bit slower than other 32" wide SUPs.
The Huntington Ultra Compact would be a good option for smaller paddlers who don't need a compact SUP that packs down super small, but just need a SUP that's easier to store and fit in the trunk or backseat of a car. I'd also recommend this SUP for paddlers who need a little more versatility out of their compact bag.
---

Pros
High-performance all-around; this SUP feels like a sporty hardboard on the water
4.7" thickness lowered your center of gravity for more stability in waves and chop
Honu's impressive construction makes this one of the most rigid 4.7" thick boards we've ever tested
Lightweight at just 16.9 lbs, this board is extremely easy to throw on your back and carry to a more remote lake or beach
Cons
Does not pack down into a 'compact' backpack like others on this list, but because it's so light, it is relatively easy to travel with and offers fantastic performance
The Honu Byron, while not a dedicated compact SUP, is still extremely travel friendly thanks to it's lightweight and minimalist design.
At just 16.9 lbs, the Byron is the lightest SUP on this list. Being that the rest of the SUP kit only consists of a lightweight roller bag, an FCS fin, and a coiled leash, Byron's pack remains comparatively lightweight and easy to carry. And, while this SUP pack is not small enough to be a carry-on, it would be a relatively lightweight checked bag for air travel. It's also surprisingly comfortable to carry on shorter hikes, though the placement of the wheels can get annoying during longer treks.
The main reason that the Byron made this list, aside from the fact that it's extremely lightweight, is because its performance and construction are extremely impressive. The Byron, light the Red Paddle Co. Compact series, is only 4.7" thick, but it is significantly more rigid. In fact, the Byron outperformed the Red Paddle Co. 11' Compact in our bend test (read more about that in the Byron's individual review), despite being inflated to a lower PSI. This SUP feels extremely similar to a hardboard, and we love that's light and quick, and extremely maneuverable.
So, although the Byron is not fully a 'compact' SUP, it is still easy enough to travel with or hike into a more remote lake, and the performance is top-notch. One final thing to note though is that the Byron does not come with a paddle, but you can bundle one of Honu's paddles (they're great, we love them) with your SUP for a discount.
---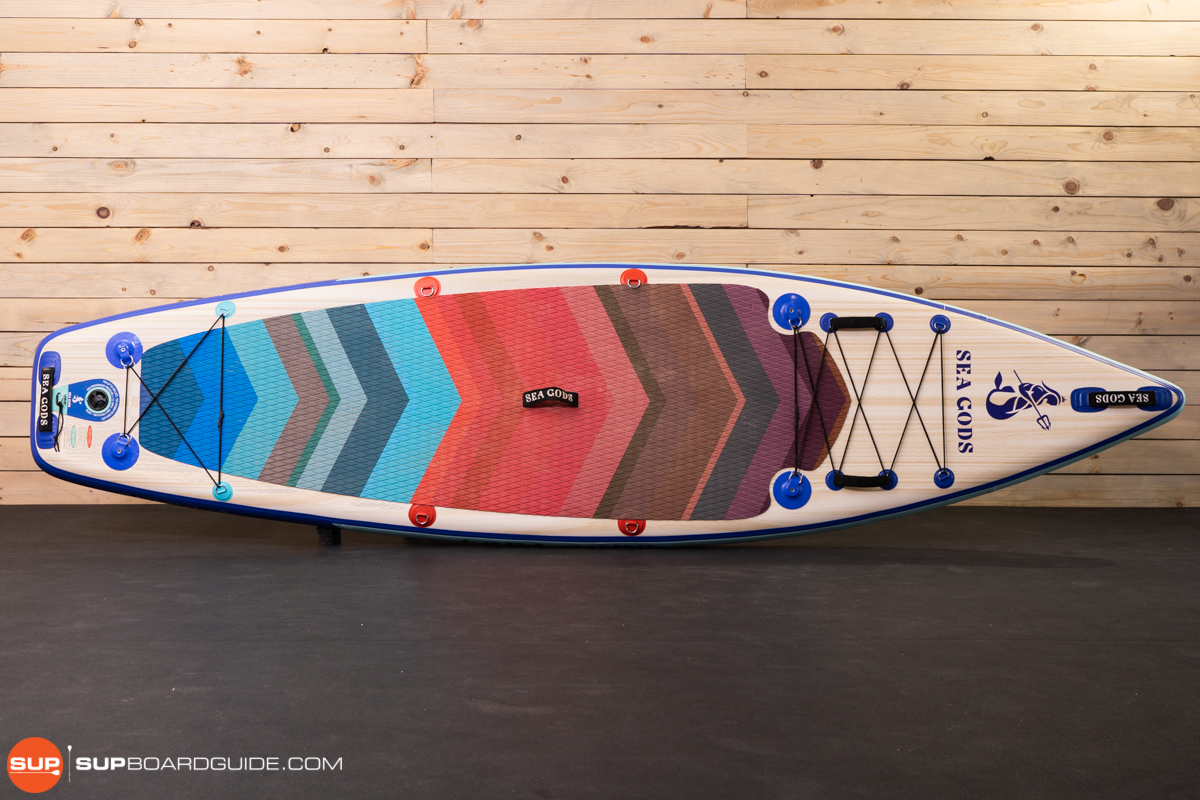 Pros
Extremely stable but also among the faster boards on this list
Sea Gods cross-woven drop stitch construction makes the Skylla lightweight at just 19.5 lbs, but also their stiffest iSUP
Included roller backpack is comfortable to carry on short-moderate hikes and has extra space for towels, snacks, or other accessories
Comes with a higher quality 3-piece carbon fiber paddle
Cons
This SUP is definitely larger than other compact options, but it;s still lightweight and comfortable enough to carry on a hike or wheel through an airport
The Sea Gods Skylla is also not a dedicated 'compact' SUP that folds in half ultra-small, but it is very lightweight despite it's larger size.
At just 19.5 lbs, the Skylla is extremely easy to carry and is even lighter than the iROCKER Cruiser Ultra that we discussed above, despite being dimensionally larger. The Skylla is extremely stable with its 33" width carried back through its wide-set tail, though its tapered nose cuts down drag and lets it pick up a bit more speed than a typical all-around. It's one of the best all-around/touring cross-over boards we've ever tested, and we love that it nicely balances maneuverability with tracking. It's a good, efficient board to paddle for longer distances, but you're still able to paddle with pets or load up with camping gear.
And, because the Skylla is so lightweight the total pack weight isn't astronomical either, which makes it a little easy to throw on your back for a hike. The backpack itself is comfortable as well since Sea Gods made sure to add plenty of padding to the back and shoulder sections. We also love that they placed the wheels opposite of the shoulder straps, as otherwise, the wheels on your lower back can get annoying when you're carrying the pack for longer distances. Of course, there are sternum and hip straps as well, which work nicely to distribute the load of a larger pack. It's made out of study material too, which would make us more comfortable checking this SUP in at the airport.
Overall, the Skylla is a great travel-friendly option for paddlers who want a bit more of a touring-board style than dedicated compact SUPs are able to offer.

Pros
Performance is a good balance between a touring SUP and an all-around; it's relatively fast, but also easily manueverable and has a decent amount of stability
Atoll has left gear storage and customization up to you with 8 extra D-rings
Being 21 lbs, this SUP is on the lighter side and is easy for most paddlers to carry on their back or down to the water
Backpack is pretty comfortable for longer walks to the water
Cons
Atoll does not use the most advanced construction techniques or stock the highest quality accessories, but this is still a good, travel friendly, entry-level SUP
The Atoll 11' is a simplistic and affordable 'jack of all trades' type of SUP, though it's lightweight build and comfortable backpack earned it a spot on this list.
The Atoll 11' is just 21 lbs, making it very manageable to carry on your back. The total pack weight is relatively light as well since this SUP comes with just a single fin, a light fiberglass paddle, and a coiled leash. Because of its pack weight and comfortability, the Atoll 11' remains one of our top recommendations for SUP hikers that don't prefer a split deck pad or a 4-5 piece paddle that typically comes with dedicated compact boards.
The construction on the Atoll 11' isn't as high-tech as others on this list, but it still performs well, especially at its affordable price point. It's relatively quick as an all-around SUP and its single dolphin-style fin set-up keeps it easily maneuverable. It has a comfortable level of stability as well that is forgiving for entry-level paddlers, and supportive for paddlers who bring along extra gear or bring a pet on board.
However, we do want to note that while this SUP pack is great for hiking, the material may not be heavy-duty enough to withstand the abuse at an airport. We'd recommend getting this bag wrapped before checking it for your flight.
In short, the Atoll 11' is a great option for paddlers who want a travel-friendly SUP on a budget without making big sacrifices in performance or quality.
8. Paddle North The Portager (See Full Review)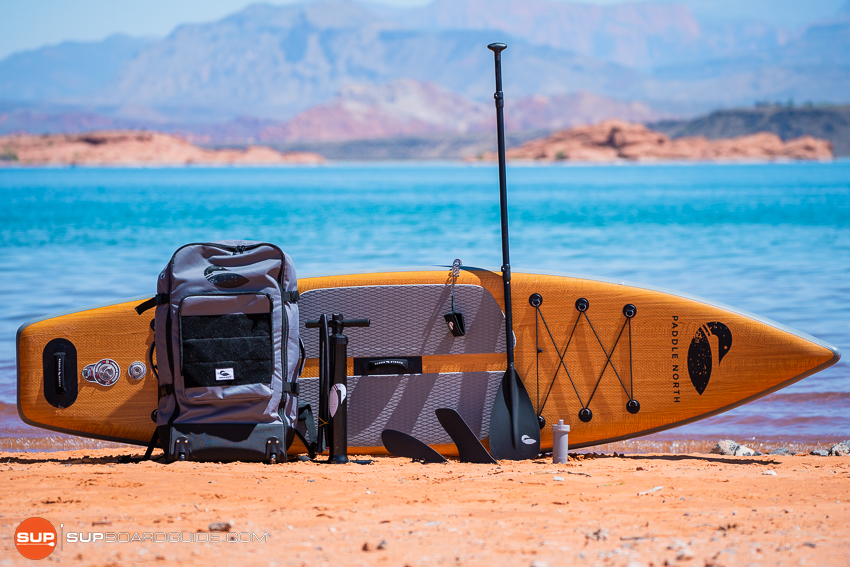 Pros
Has a built-in pressure regulator which helps mitigate the risk of your SUP's pressure getting too high when left out in the sun
Good touring, all-around crossover; the Portager is relatively fast but isn't unstable or difficult to maneuver
Lighter weight at 21 lbs, it's easy rough to transport and carry
Rigid construction makes for good performance and a good ability to haul gear
Cons
We would have appreciated a lighter weight fiberglass paddle rather than aluminum
Deck pad is fairly small, but this is one way that Paddle North was able to keep this SUP light
The Portager is another affordable, but good quality option for paddlers looking for a travel-friendly SUP that almost broaches touring board territory.
Being 11'6 x 33", the Portager is plenty stable for a wide range of paddler sizes and skill levels, but at just 21 lbs, it's still easy to carry and doesn't take a ton of effort to load on your back. However, its pointed nose helps keep this board quick on the water while its hatchet-style fin keeps it directional.
Comfortability-wise, the Portager's pack isn't too bad to haul on a shorter hike. However, there's not much padding on the shoulders or back areas, and the straps can start to dig in if you've got a long walk to the water. I do like that this backpack has a nice front pocket, and the velcro section is a nice touch. It pairs with Paddle North's paddle challenge patches, which operate on an honor system but are a great idea to get the paddling community engaged and focused on common goals.
Most notable about the Portager though is its built-in pressure regulator. While it does require regular upkeep, the regulator stops your board from being over-pressurized when sitting out in the sun or in hot conditions for extended periods of time. This is a great addition if you're paddle camping for a few days and need to keep your SUP inflated, as it helps to mitigate the risk of a seam rupture due to too much pressure.
The pressure regulator, and its lightweight build, earned the Portager's spot on this list, as we think it's a good option for campers who frequent hot, sunny climates, like SUPBoardGuide's home here in southern Utah 🙂
Tips for Traveling With Your SUP
Traveling, in general, can be anxiety-inducing, so throwing a SUP in the mix can only add to that. Of course, the best way to combat this is to go in with a plan and know what to expect.
Know your Airline's Bag Restrictions
Over the last 2 years, it seems like airlines have made a lot of changes to their Bag Restrictions. With some making travelers pay for carry-on items, and others changing their size limitations. It's hard to know exactly what's in clear to throw in the overhead bin.
When it comes to compact SUPs, there are some that can pass as a carry-on, if packed correctly. However, even with these SUPs, you will need to check at least one bag anyway since a paddle is often not allowed to be carried onto the plane.
No matter what though, it's always good to get thoroughly familiar with your airline's baggage rules and pack and plan for your SUP accordingly.
Protect your Pump and Paddle
While your SUP itself can take a good beating, the more fragile items in your SUP pack are your pump and paddle. We recommend wrapping these items inside your SUP as you're packing it up. The tough PVC will provide a lot of protection and help to stabilize everything whether you're flying or hiking into a body of water.
Opt for a Manual Pump
This is probably the only time we'll ever favor a manual pump here on SUPBoardGuide, but it does help to lighten your overall load. An electric pump is always going to be heavier than a manual pump, and this is especially important if you're hiking with your SUP. There's also the added risk that an electric pump would get damaged if taken through an airport, which would obviously render your SUP useless when you arrive at your destination.
Get A High-Quality Backpack (or wrap it)
All of the SUPs on this list come with backpacks that are sturdy enough to withstand plenty of rough handling. However, if you do have any doubts, it doesn't hurt to switch it out for a large, heavy-duty duffle bag. Alternatively, you can ask for your bag to be wrapped before checking it in.
Summary of Best Compact SUPs for Travel
We think being able to easily travel with your SUPs is one of the best perks of inflatables. If you've ever paddled with an epoxy board, you know that it is a hell of a hassle, and comes with constant worrying that your board will be in several pieces upon arrival.
And, while all of the SUPs on this list will be especially great for traveling due to the criteria we discussed in the beginning, the truth is that nearly an inflatable is 'travel-friendly' to a degree. As long as it folds down into a bag, it can ultimately be toted anywhere with just some careful planning and mindfulness.
The bottom line is that there is an endless amount of gorgeous places to paddle all over the globe, and it'd be a shame if we didn't venture to at least a few of them.
As always, we hope you've found this page helpful, but don't hesitate to reach out to us in the comments below with any questions.
Safe Travels!
The following two tabs change content below.
SupBoardGuide
Heyo! At SupBoardGuide.com we are a team who love the water, the outdoors, and are more than grateful that our full-time job allows us to review stand up paddle boards. We paddle year round (it helps that we are just about 2 hours outside of Las Vegas), and we bring in a wide range of paddlers with the goal of providing our readers with the best, most in-depth, and accurate stand up paddle board reviews.
Latest posts by SupBoardGuide (see all)