Bluefin 14' Sprint Inflatable Stand Up Paddle Board
Pros
Great overall touring board with a very affordable price tag. A true entry-level dedicated touring board option.
Impressive stability, 425 lbs recommended weight capacity. Very durable triple-layer PVC construction that makes it extremely durable.
Fantastic tracking, glide, and speed that provides a true inflatable touring board experience. Snap-lock fins are easy to install and hold up well.
Diamond-grooved crocodile skin textured deck pad. Very comfortable, grippy, and easy to stand on for long periods of time. Raised heel pad is a nice touch for finding your footing when stepping back on the board.
Ample amounts of cargo area making for packing up all the gear needed for a true touring excursion.
Five year warranty that covers all defects and damage outside of normal wear and tear. One of the most comprehensive SUP protection policies within the industry.
Cons
This SUP is on the heavy end of inflatable boards. While the construction is solid and durable, in thanks to the triple-layer PVC construction, this unfortunately comes with a cost in added weight.
Aluminum paddle and single chamber pump keep the kit price down, but aren't as nice as the paddles and pumps included with other Bluefin kits.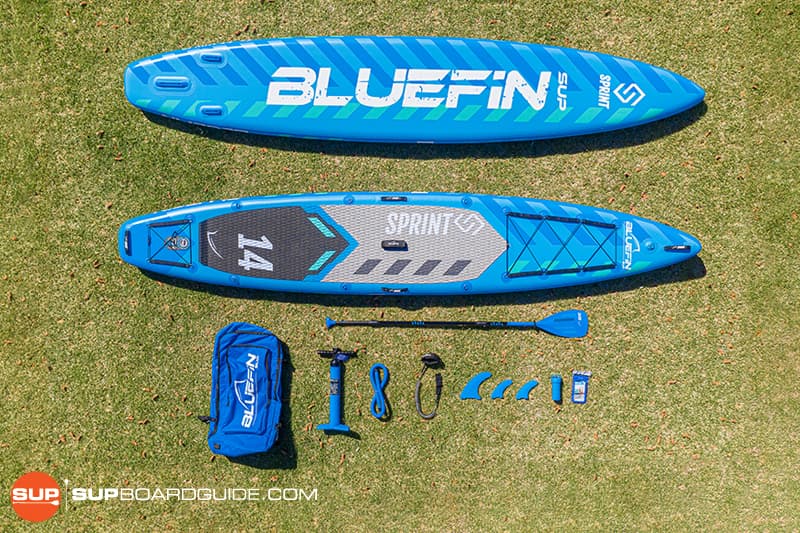 Touring boards are traditionally some of the most expensive and specialized paddleboards on the market, so these types of boards typically cost in excess of $1,000 dollars for even a mid-level touring board. However, the Bluefin 14' Sprint SUP comes in just under that, providing a great value that is made even better with great tracking, speed, and overall performance. The paddleboard is very beginner friendly, with great stability that isn't too difficult to turn, thanks in part to the great deck pad and raised heel support. The triple-layer construction makes the paddleboard heavy, but very durable and better able to handle some chop and wind without too much performance loss.
Accessory wise, the snap-lock fins are easy to install, and with a pump, leash, and paddle you have everything you need for the water out of the box. All of the included gear also fits into the great, roomy Bluefin paddleboard bag. The 2023 Bluefin 14' Sprint is a high quality board that is a fantastic starter option for those looking for the touring experience, and a less expensive option for those looking to upgrade or add a secondary touring/racing board to their collection.
SUP Board Specs
| | |
| --- | --- |
| Length | 14' |
| Width | 30'' |
| Thickness | 6″ |
| Weight | TBD |
| Rider Capacity (lbs) | 425 lbs |
| Recommended Inflation | 15 – 18 PSI |
| Fins | Tri-fin, snap-lock fin setup |
| Paddle Type | Aluminium shaft + polyurethane blade |
| Construction | Triple Layer Military Grade PVC construction |
Who Should Buy This Stand Up Paddle Board:
As a touring board, the 14' Sprint is built for those who want to go on long paddling adventures, or for those who want an edge when it comes to outracing their friends. A great board overall, you may want to consider buying the Bluefin 14' Sprint if you are one of the following:
A new or beginner paddler who wants something very stable in the water that is easy to learn and grow with.
Looking for a true touring inflatable SUP experience, but don't want to pay for a premium SUP that costs $1,000+.
Paddleboarders wanting a secondary board for friends and family to join them on excursions with, without breaking the bank.
Someone who is interested in paddling with kids, pets, or an adult partner in tandem.
Seeking a board that performs well on the water and whose performance isn't impacted as much as the wind and waves pick up.
A larger, heavier paddler who is looking for a touring board that also provides great stability and weight support.
Performance
Stability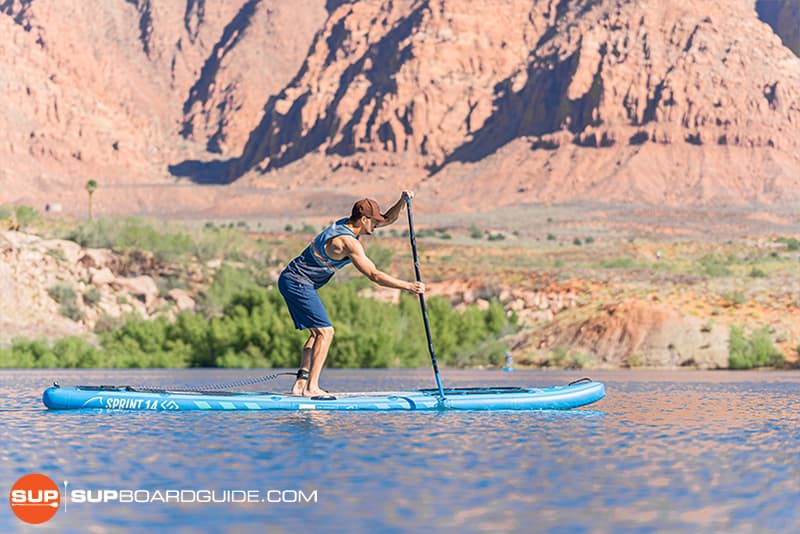 Width is typically the greatest determining factor when it comes to SUP stability, combined with length, construction materials, and overall shape. As touring boards tend to be narrow but long, they tend to vary when it comes to stability, with some more beginner friendly and stable than others.
The 14' Sprint is definitely up there in terms of touring board stability, and a great option for those trying to learn how to comfortably stand on top of the water. The 14' Sprint has a recommended weight capacity of 425 lbs, and as we tested it we confirmed that it's more than able to support any solo paddler. Due to the long length and high weight capacity, this is also a great paddleboard option for those who want something stable enough to support bringing along their pet or their children with them. You can also use the 14' Sprint as a tandem paddleboard, but depending on how heavy your team is you'll have some performance loss if both adults weigh more than 200 lbs. Overall though, most paddlers will be more than satisfied with the stability of the 14' Sprint, though consider going with the 14' Sprint Carbon if you are looking for something that two heavy paddlers can paddle in tandem with little performance loss.
Maneuverability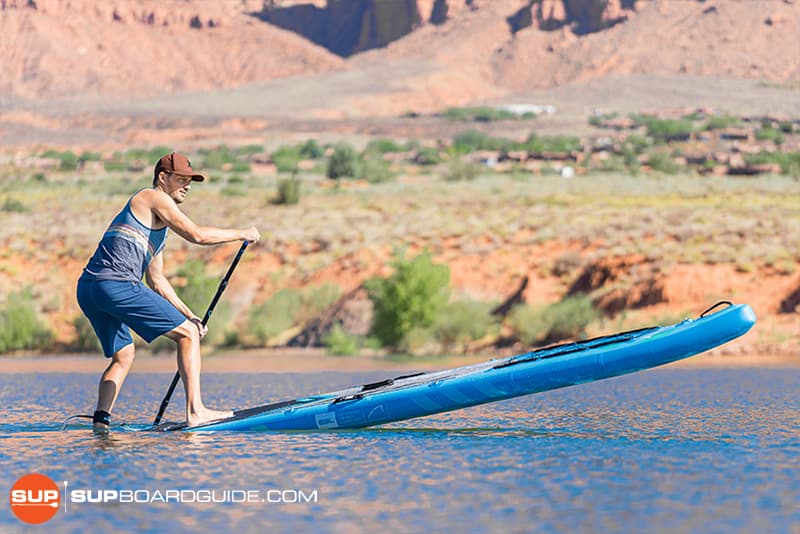 The downside of touring boards tends to be maneuverability, but the 14' Sprint is still largely easy to handle despite its long length. If you're paying attention and just take the time to start paddling to your side early, you'll be able to change the direction you need to go in order to dodge rocks, underwater trees, or incoming boats and paddlers while you're on the water. Something else that helps with the maneuverability is the raised heel pad, which is there to help guide you when you need to perform a step-back turn like you can see in the photo above. To perform a step-back turn, move a foot to the raised heel pad, press down into the board, and you'll raise the nose from the water. With the nose in the air, paddle to your side to pivot on the spot, allowing you to more quickly turn where you want to go. Once you're pointed in the right direction, just move your back foot back to your normal standing position, and you'll be good to go on the 14' Sprint!
Tracking/Glide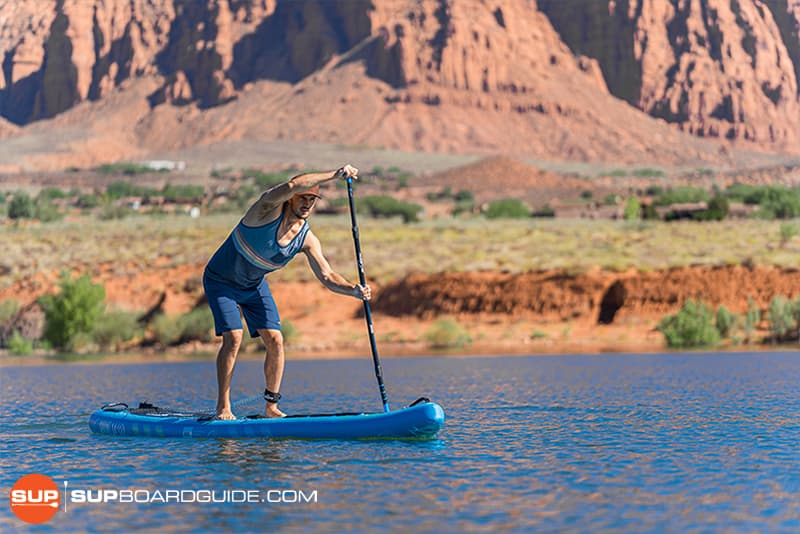 The best performance factor of the 14' Sprint is the tracking and glide, which is great for beginners and expert paddlers alike. Proper paddling technique has a large impact on how straight of a path one maintains in the water, which can make some paddleboards tricky to use for beginners or paddlers too tired to maintain a correct form. With the 14' Sprint, the long length and pointed nose make it very easy to maintain a solid line. First time paddlers can get where they want to go with the 14' Sprint, while advanced paddlers can go from one side of a lake to the other rarely changing sides. Thanks to the triple-layer build and thick board weight, the 14' Sprint is also very steady even as the wind and waves pick up, making it a great option for those who are paddling on the coast or in busier lakes and marinas.
On its own, the Bluefin 14' Sprint offers great tracking and performance, but something else that helps a lot is the fin setup. We discuss the fins in greater detail in the accessory section below, but when it comes to tracking, glide, and performance enhancements the fins are a huge help. Installing the side fins will tighten up the turn radius on the 14' Sprint, while adding the center fin will improve the overall tracking even more, with board stability also improved when all three fins are used together.
Materials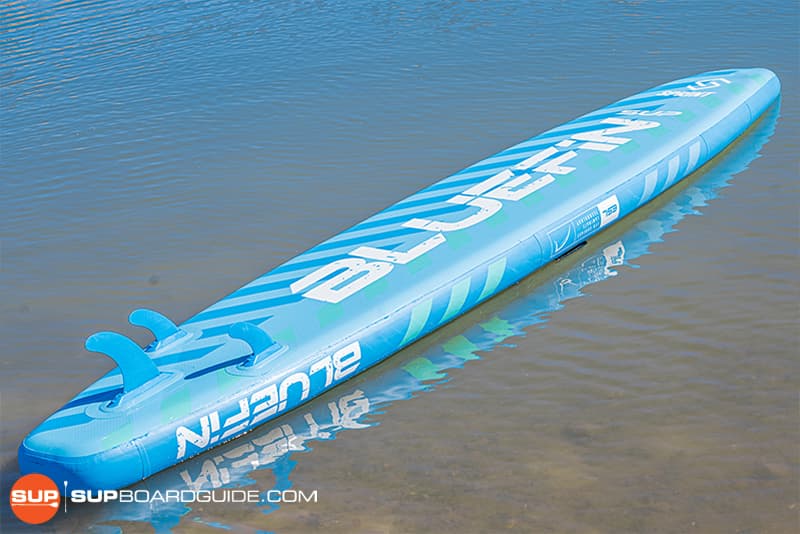 Bluefin paddleboards are some of the toughest paddleboards on the market, with exceptional durability that is constructed to last for years no matter what you throw at them. To explain their construction, we have to start with the tight drop-stitch core that makes this an inflatable. The tight drop-stitch core is made up of sheets of fabric that are held together by denier space yarn that tighten up as the paddleboard inflates. Thanks to the placement of the inner threads, the drop-stitch core causes the inflatable SUP to attain a traditional paddleboard shape that you can see in the photo above.
To protect the drop-stitch core, and to provide further performance enhancements, layers of military grade PVC composite coatings are applied to the core. On the 14' Sprint, there are three layers of fabric/PVC that make this paddleboard very difficult to damage. Bluefin has also made sure to apply a UV resistant HQ coating that, besides giving the Bluefin SUP a great look, helps protect the paddleboard against sun damage. We do think the board is a bit on the heavy side and think Bluefin should consider switching to a dual-layer system, but with triple-layers of protection this is an extremely durable SUP that is great for any challenge.
Board Design/Shape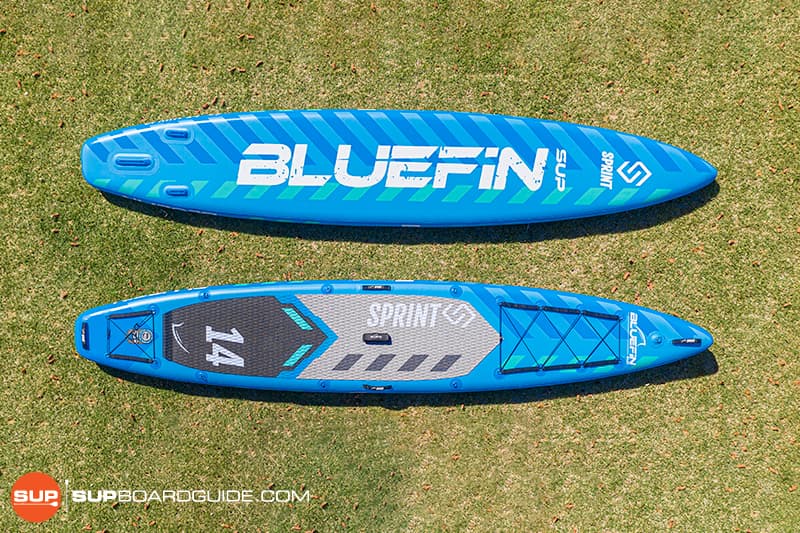 The Sprint is a true inflatable touring SUP, with a 14' length that provides the impressive speed and tracking of the inflatable paddleboard. The 30'' wide deck is a bit wider than many premium touring SUPs, but combined with the 6'' thickness it helps the paddleboard have an impressive weight support that many touring boards fail to match. This is a paddleboard you can definitely go out on with your kids or pet, and most adults will have a great time even using it as a tandem SUP.
As a touring board, the 14' Sprint is great for those who want to embark on overnight adventures, or want to navigate down coastlines or along the shore of a whole lake. The long and narrow board is quite fast as well, making it a great paddleboard for those who want to race their friends. The diamond-grooved EVA foam deck pad is comfortable while offering great grip support, making it a solid option for performing SUP yoga if you don't mind the handles. Alternatively, the wide assortment of D-rings and action mounts make this a good casual SUP, for those wanting to take pictures or listen to music as they chill on the water. There are plenty of activities that the 14' Sprint is well suited for, so try them all as you go out with the Bluefin 14' Sprint!
Board Features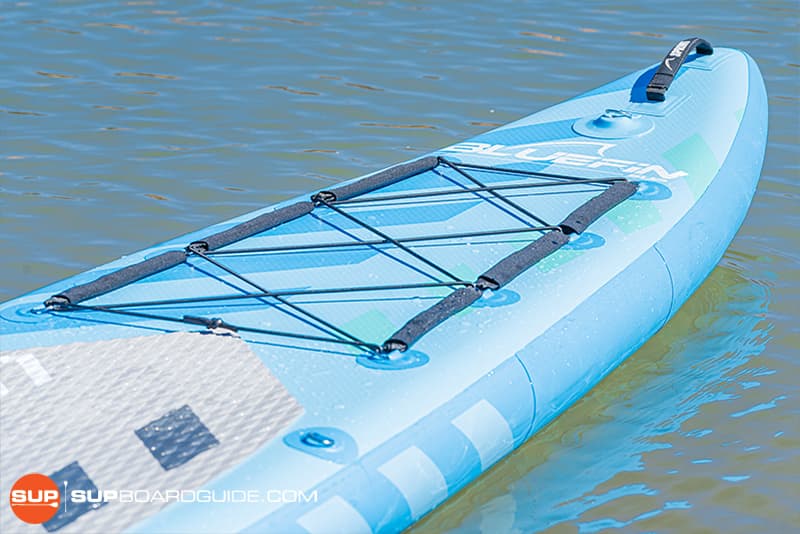 There aren't many touring paddleboards that offer the performance found in the 14' Sprint with an entry-level price. Furthermore, there are other great features that make this SUP even more worth considering. Some of our favorite features include the following:
Triple-layer Construction.
18 D-Rings + Action Mount.
Removable Bungee Cargo Areas + Grab Handles.
Five carry handles.
Raised kick pad.
Thermosealed Croco-Diamond Deck Pad.
Fins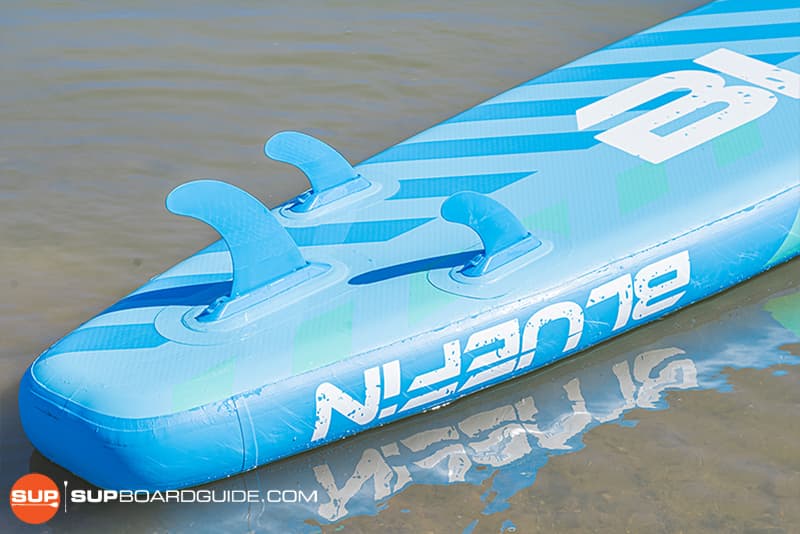 The 14' Sprint features a snap-lock tri-fin setup, consisting of a 8.5'' center fin and 2.5'' side fins. These fins are built tough, and while not quite as sturdy as the 14' Sprint itself they'll be fine if you do occasionally run aground, drop them, or hit something as you paddle in the water. The snap-lock fins are among the easiest fins to install, as all you have to do is lift the fin box lever, insert the fin, and press down on the lever to secure the fins in their fin boxes. If your levers aren't pushing down fully, make sure you have pushed your fins in far enough. There are extra fin box levers in case you accidentally snap or break your levers off, but as long as you avoid taking the center fin into shallow water you won't have to worry about replacing these parts.
Traction Pad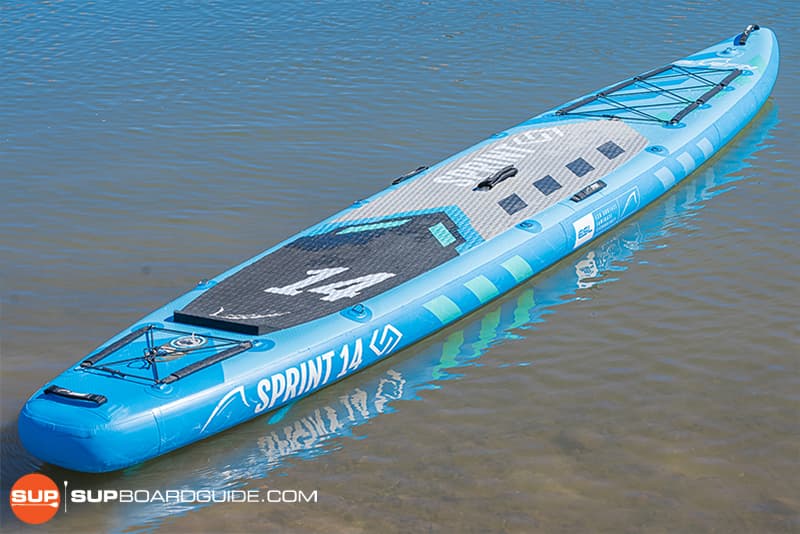 Bluefin consistently includes some of the best deck pads on their SUPs, and the 14' Sprint is no exception. The deck pad is long enough to comfortably support up to two adult paddlers, stretching from the tail cargo area to the nose cargo area. Built out of EVA foam, the same base material for many popular yoga pads, the traction pad is designed to not only handle the water well, but durian and dry quickly when wet. The crocodile skin texture, combined with the diamond grooved pattern, offer great traction support that makes it even easier for paddlers to stand on the 14' Sprint. Paddlers want a solid traction pad for the best SUP experience, especially for multi-day adventures, and is another reason why we love the 14' Sprint!
Handles
There are five handles in total on the 14' Sprint, with one on the nose, three in the center, and one on the tail. All five handles are built with neoprene covers, making them easy and comfy to hold even with soaking wet or freezing cold hands. With the five handle configuration, it also makes this paddleboard easier to hold overall, whether it be by a single paddler or paddlers going out in tandem. Some paddlers who are looking to lay down or practice yoga on the 14' Sprint might be mildly annoyed by the extra handles, but we personally like having the carrying options, especially given the heavy weight of the touring board.
D-Rings/Bungees/Cargo Areas
With 18 D-rings, you have plenty of options for attaching all sorts of gear all around the 14' Sprint without clogging up the area near your feet. If you end up using the free waterproof phone case that Bluefin has included, it's very easy to snap it onto one of these D-rings, as is attaching the included SUP leash. If you have an electronic device, like a GoPro camera, bluetooth speaker, or something similar, you can make use of the action mount on the nose to lock it in place. If you have gear, you have plenty of options for attaching it on the 14' Sprint.
There are also two removable bungee cargo areas, great for fitting small to medium sized coolers, lunch boxes, seats, and similar containers. While you can remove the bungee cords to clear up more deck space, we typically keep them on as they're great for securing your paddle when you want to take a swim. Further, these bungee cords have grab handles along the side, giving passengers sitting down on the SUP a place to hold onto when the water starts getting more choppy. These two bungee cord cargo areas are also quite large, ensuring that you won't have any difficulty fitting your cargo beneath the cords.
Accessories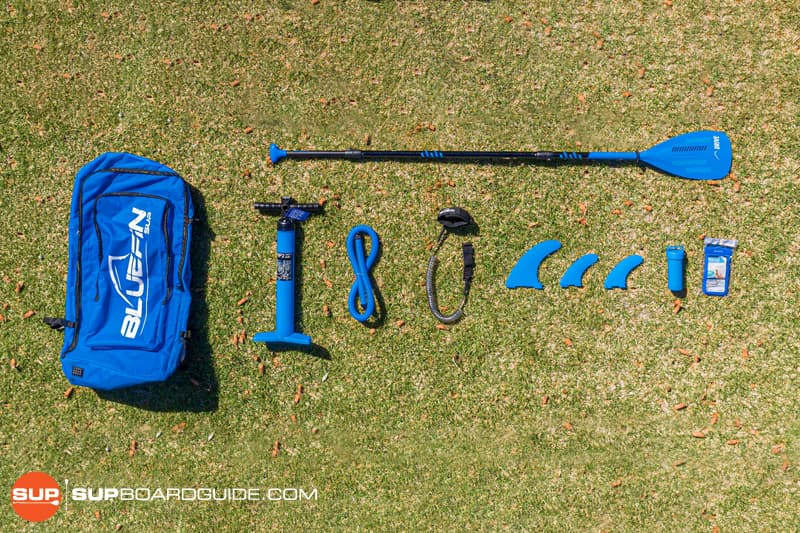 Paddle
Bluefin has opted to include an adjustable three-piece aluminum paddle with their 14' Sprint SUP kit. This is a solid starter paddle, though it is a bit on the heavier side when it comes to paddles overall, especially paddles for touring board kits. The aluminum paddle does help keep the cost of the 14' Sprint kit down though, and beginners and new, learning paddlers will find it a useful learning tool as they work on their form. However, once you've found your love for paddling or want to get more involved, we would highly recommend upgrading to one of the fiberglass or carbon fiber paddles offered by Bluefin.
With the standard paddle, it is easy to break apart in order to store or assemble, with sliding parts that will fit most adult paddler heights. All Bluefin paddlers come prebuilt with the ability to convert into a kayak paddle with a second blade, another reason why you may want to consider buying a second paddle from Bluefin. As for the paddle blade, it's stiff enough that it provides a powerful push when used in the water, while flexible enough it won't shatter when dropped on the ground. This paddle does float in the water when dropped, but grab it quickly as it has the tendency to float away from the SUP quickly!
Pump
The other accessory we have mixed feelings on is the included single-chamber pump. The single-chamber pump can inflate the 14' Sprint in 15 minutes or less, and is easy to use with the instructions printed on the chamber detailing how to operate the two action modes. The single-chamber pump is light and easy to store, and also keeps the price of the kit down. However, the tradeoff is that you aren't getting the speed and efficiency that comes with using the dual-chamber pump included in other Bluefin paddleboard kits.
If you are thinking about upgrading though, we would suggest considering the Bluefin SUP electric pump. With the electric pump, you can inflate the paddleboard even quicker than the single-chamber pump, and without having to put in any effort to inflate the SUP yourself. The electric pump will also deflate the paddleboard once you're ready to pack it up, besides being easier to store in your paddleboard kit bag. Electric pumps are our favorite SUP accessory upgrade recommendation for all paddleboards, so be sure to consider adding one to your kit if you're looking to improve your paddleboarding experience!
Backpack
Even on their mid-level paddleboards, Bluefin makes fantastic backpacks for holding their gear. The first thing you'll notice is that the Bluefin bag is large, making it easy to pack your SUP in without having to struggle like with a tent bag. The straps are fully adjustable though, and with a padded backside it's very comfortable wearing the Bluefin bag, though you can also hold it with one of the two carry handles as well. Tightening straps and pouches rest on the side of the backpack, which are great for holding water bottles, your paddle, or your pump when you want to carry your gear without repacking your whole backpack. The thick backpack is built to protect your gear against the sun, rain, wind, and sand alike, and is a great short and long distance travel option for those traveling with the Bluefin 14' Sprint!
Leash
Bluefin has made sure to include a coiled leash with their paddleboard, which you can slide over your ankle or calf while attaching to one of the 14' Sprint's many D-rings. Leashes are a very important safety tool, as they will keep your paddleboard close when you fall into the water, with the coiled nature protecting you against whiplash. While the leash is very helpful for keeping your SUP close, it will not help you float any better. Stay safe by wearing a leash, but also make sure to head out with a PFD as well!
Repair Kit
A minor repair kit, there are a couple of tools inside which will allow you to triage small tears and injuries that happen on your paddleboard. If you have a hole or puncture that isn't on the seams, you can apply one of the adhesive patches to seal it up. As for the wrench, it is built specifically to help you tighten and reinstall the Halkey-Roberts inflation valve if it ever comes loose or falls out.
If you have any other structural paddleboard damage or are suffering major performance loss, be sure to contact Bluefin SUP for help. More information about Bluefin SUP warranty coverage is provided below.
Company Review – Bluefin
The family owned and operated Bluefin SUP was founded in West Yorkshire, and continues to operate there today. William Vaughan and his partner Charlotte were longtime water enthusiasts who loved exploring the Southern Uplands off the coast of Scotland, which prompted them to found Bluefin Kayaks in order to create their ideal water equipment. As the years passed, Bluefin Kayaks morphed into Bluefin SUP, with the goal of producing durable, high-quality, and feature heavy paddleboards designed for every type of paddler. In 2023, Bluefin SUP has ten unique paddleboard models available for purchase, with SUPs perfect for families, touring enthusiasts, yogis, beginner and experienced paddlers alike!
Bluefin offers some of the most comprehensive SUP warranty coverage in the entire industry.
The 2023 Bluefin Sprint 10'8'' is protected by a 5-year warranty that covers all damage outside of normal wear and tear that comes with using the 14' Sprint. Currently, Bluefin offers free shipping to the US and many parts of Europe, with paid shipping options for many other countries throughout the world. Bluefin has been a fantastic SUP company to get to know, thanks not only to their great products but awesome staff as well. We are very excited to see what other new boards and upgrades that Bluefin has made for 2023!
Conclusion/Bottom line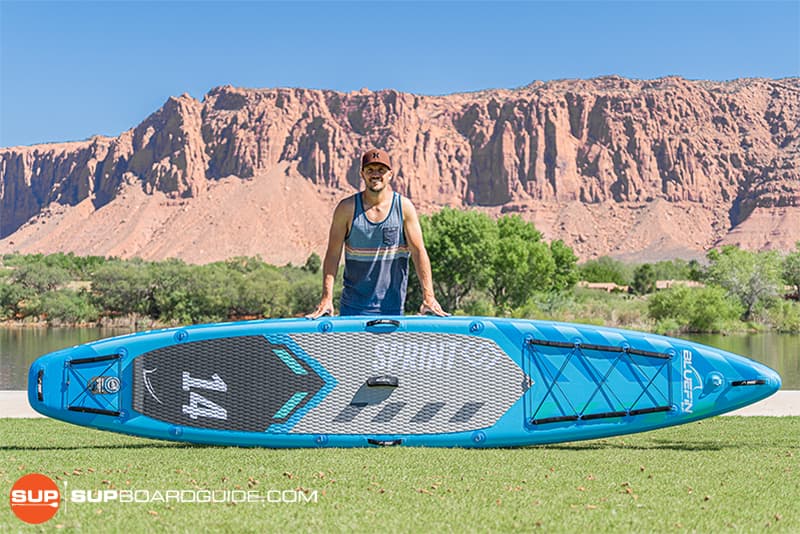 The 14' Sprint is a beginner friendly touring board that is one of the best options to consider for those who want a touring experience on a budget. The 425 lbs recommended weight capacity is more than enough to support most adults, with enough stability to support kids, a pet, or a tandem paddler with ease. The maneuverability is better than expected for a long touring board, with the raised heel pad helping finding your footing to perform step-back turns when needed. The true shining highlight of the 14' Sprint is its fantastic glide, tracking, and speed, allowing more advanced paddlers to cross large swathes of water without having to even switch sides on their paddlestroke. The paddleboard is a bit on the heavy side, but it is better able to tackle choppy waters for it, besides offering great durability. The deck pad is fantastic, and the other accessories like the paddle, pump, and snap-lock fins are good enough for a more entry-level touring board. With a great entry level price, the Bluefin 14' Sprint is an easy recommendation for those who are looking for a great touring/racing SUP without having to spend too much.
We hope that you've enjoyed our 2023 Bluefin 14' Sprint inflatable SUP review! If you would like to learn more about the 14' Sprint, or have a question about Bluefin as a whole, be sure to leave us a comment below or send us an email with your thoughts! We update our reviews with user feedback and practice, so you can visit us again in the future for our up to date thoughts. You'll also want to keep an eye out on our SUPBoardGuide.com Youtube Channel for our video review of the Bluefin 14' Sprint, and video reviews of other new and popular paddleboards that will be posted in the near future.
Thank you for visiting our review! Remember to stay safe, put on plenty of sunscreen, and have fun SUPing!
The following two tabs change content below.
SupBoardGuide
Heyo! At SupBoardGuide.com we are a team who love the water, the outdoors, and are more than grateful that our full-time job allows us to review stand up paddle boards. We paddle year round (it helps that we are just about 2 hours outside of Las Vegas), and we bring in a wide range of paddlers with the goal of providing our readers with the best, most in-depth, and accurate stand up paddle board reviews.
Latest posts by SupBoardGuide (see all)