Sea Gods ASR Inflatable Paddleboard
Pros
Well constructed = ultra-rigid and high weight support
Lightweight 17lbs = most kids would be able to carry the ASR on their own
Beautiful artwork by Olivie De Liberto
Inclusive kit with all the SUP necessities
Front cargo area will allow your junior paddler to carry some of their own gear or snacks
Cons
We'd like to see Sea Gods swap out the fixed gummy fins for a 2+1 set-up with a longer center fin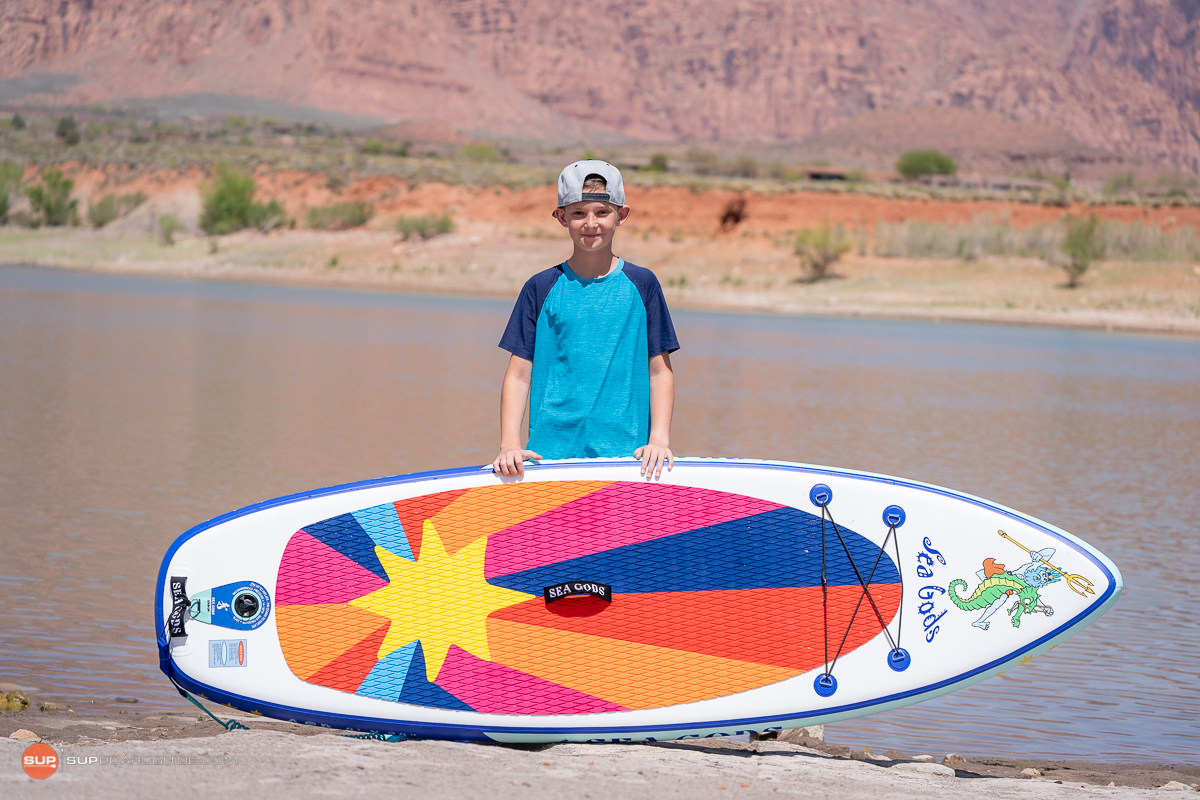 When early kids SUPs first started hitting the scene, they were often made of soft foam that would either start to break down after a few uses or would have too much flex for your junior paddler to get a fun time on the water.
When Sea Gods came out with the ASR kids iSUP, we were stoked to give it go and put it to the test for this review. We've come to know and love the light, rigid, quality construction that Sea Gods provides, and had high expectations that the ASR would put those early foam models to shame.
We were happily proven correct, as the Sea Gods ASR floored us with its weight support, stiffness, and build, while still being a suitable size for smaller junior paddlers that are less than 5' tall and under 120lbs. With just a few minor improvements to the fins, the ASR could easily outshine the pack and help your kiddo transition from riding on your board to paddling on their own.
We think the Sea Gods ASR would be great for junior paddlers who:
Are between 5 and 9 years old or under 5' and 120lbs (kids above this range would likely prefer a 9' SUP)
Need a rigid SUP that can support enough weight to give them a little bit of leeway as they grow
Want a SUP that is built to last long enough to be passed down to younger siblings/other kids
Need a SUP that can handle small chop or waves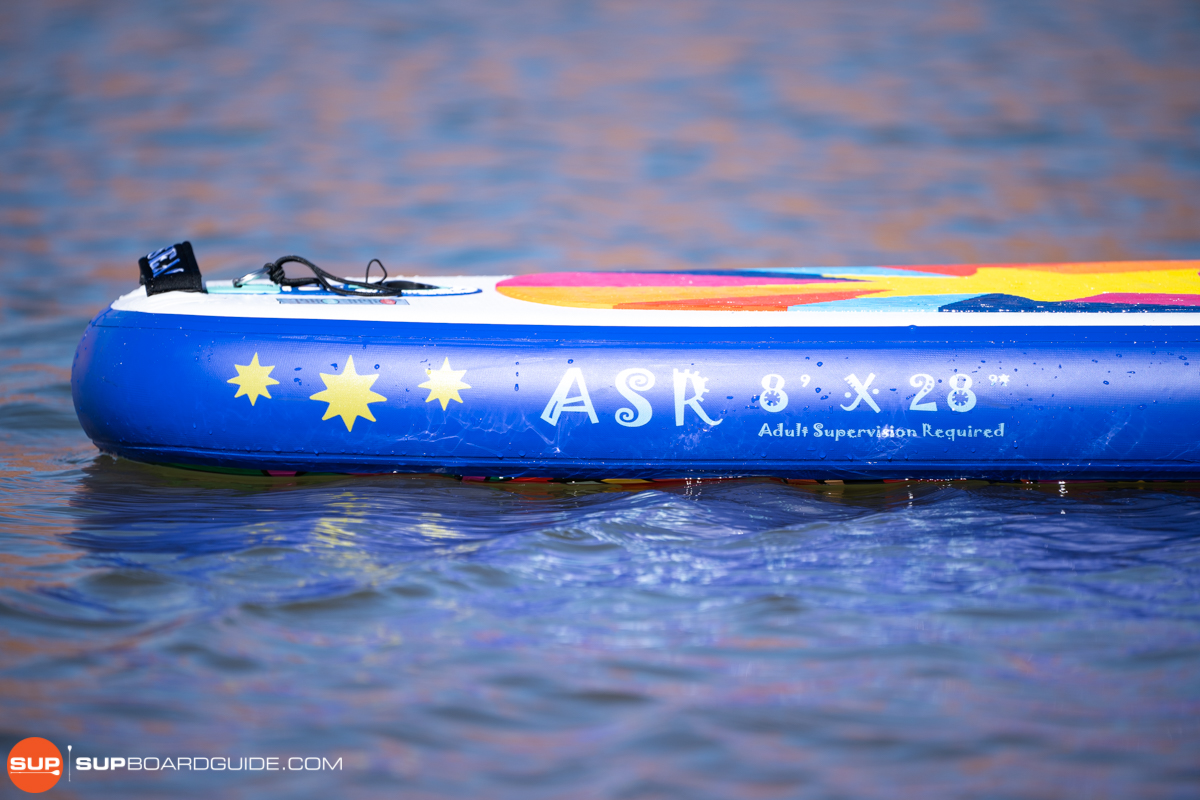 Sea Gods ASR: Spec Sheet
Main Category: Kids SUP
Board Dimensions: 8' x 28" x 4.5"
Listed Board Weight: 17lbs
Listed Max Capacity: 120 lbs
Recommended PSI: 14-18 PSI; 20 PSI max
Fins: tri-fin (thruster) gummy fins
Paddle: 3-piece aluminum
Materials: Ultra-light Fusion w/ woven-linear drop Stitch
Price Range: mid-high
Warranty: Lifetime
Performance Review of the Sea Gods Stand Up Paddle Board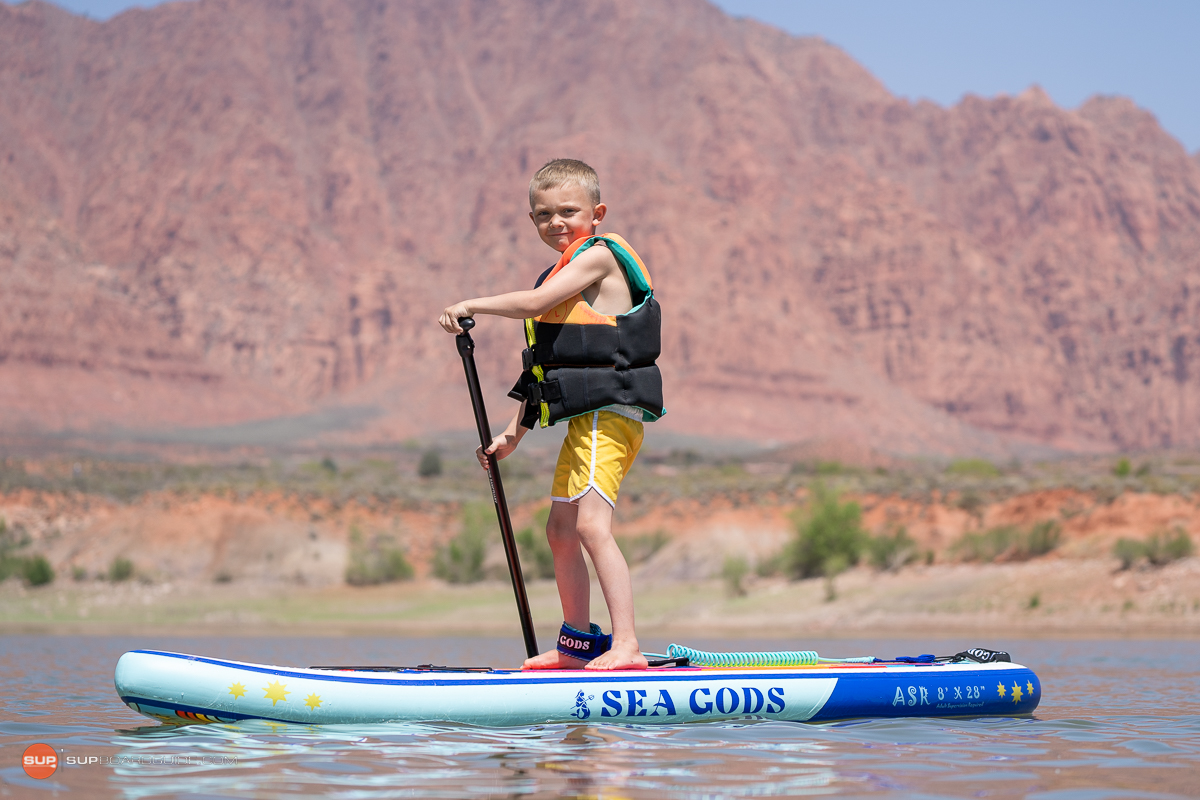 Overall Score: 8.7
Stability: 8.9/10
Tracking: 7.0/10
Maneuverability: 9.2/10
Construction Quality: 9.5/10
Features/Accessories: 9.2/10
Stability Rating: 8.9/10
Listed weight capacity: 120 lbs
Tested weight capacity: 180 lbs
The 8' x 28" ASR will provide more than enough stability for kids within its size range. One of our junior paddler at 5'6" was just a little too tall for the ASR to feel comfortable for her, but it had no issue supporting her weight (110lbs). Our smaller paddlers, however, fit the ASR's size range much better, and therefore felt more stable. Because of this, we'd estimate that the ASR will be most stable for children under 5' tall and 120 lbs.
We really want to emphasize that the ASR, though not very stable above its ideal size range, has a crazy amount of weight support. Its rigid construction allowed it to support me at 140 lbs, as well as Justin at 180-ish lbs. This is well above expectations for a kids SUP and should give you a bit of leeway as your kiddo grows, though again, once they get above 5' tall, they will likely need a 9' board.
As a final note, we do think the ASR's stability might be improved with a removable 2+1 fin set up. The current fixed thruster fins just don't feel long enough to grip much water, and contribute to a 'squirrely' feeling as you paddle, even for our junior paddler below its weight capacity.
Speed Test:
To be honest, we haven't fully been able to test the speed on the ASR quite yet. The water is still pretty cold here and we're not willing to risk our junior paddler falling in while performing a sprint test, so we will update as the water temp warms up.
That being said, we also don't think speed is a top priority on a kids board. What matters more is how enjoyable the overall experience is for your kiddo. Of course speed ties into that, but it's more dependent on stability, tracking, construction, and whether or not the board is sized correctly for them to paddle comfortably.
From our testing so far, the ASR will not have your child ripping through the water, but its construction and size will make smaller junior paddlers feel well-supported and comfortable on their feet. The experience on the ASR could likely be improved with the added stability and tracking that would come with a full sized 2+1 removable fin set-up, which would also contribute to better speed capabilities in general.
Tracking: 7.0/10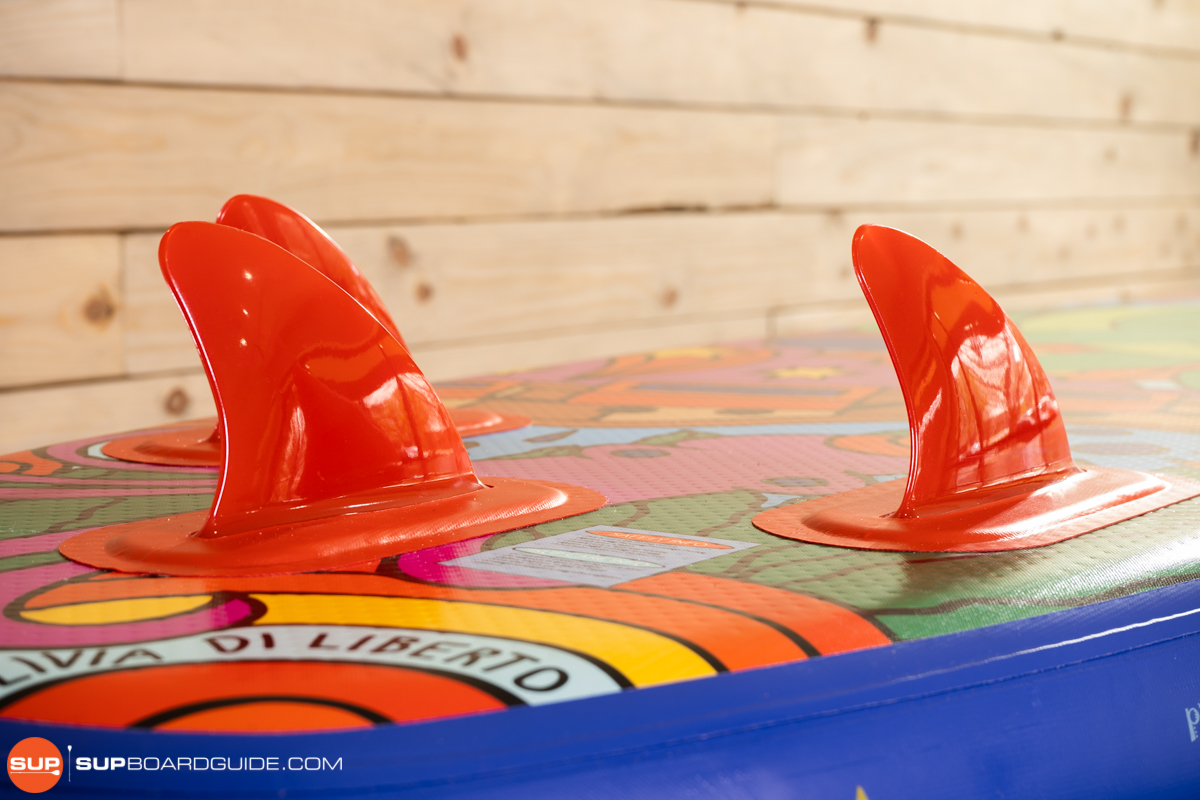 While we're impressed with the ASR's weight support, construction, design, and kit, its tracking capabilities are the one area where we're a bit disappointed.
Our junior paddler, as well as Justin and I, just could not seem to keep the ASR moving in a straight line. Each time we paddled on either side it would drastically change the direction of the board, and we were switching sides after every stroke. Of course, if you're only putzing around on a lake and not paddling out very far, this wouldn't really matter too much, but it will make your paddler's experience less enjoyable if you were taking your child on a longer cruise.
Luckily, this should be a quick fix with the next version of the ASR, as we think the tracking could be significantly improved with a full sized 2+1 removable fin set up, or even a set-up with 2 fixed fins and one removable center fin. In our experience, the current fixed gummy fin thruster set-up just does not cover enough water-to-board surface area to hold the ASR's path steady in the water.
Maneuverability: 9.2/10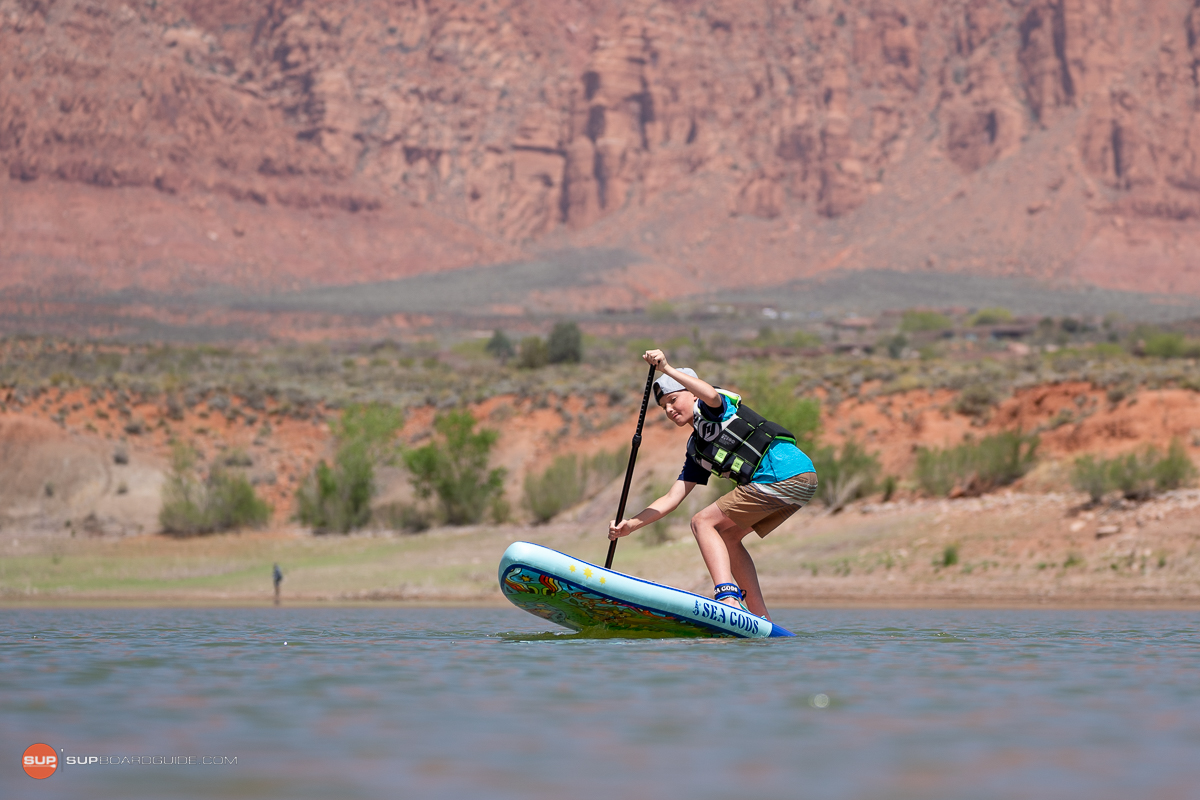 The one trade off that often does come with less-than-ideal tracking is above average maneuverability. The Sea Gods ASR is no exception to that rule.
Because the ASR is a light 17lbs and does not have large fins, it turns extremely easily, both with a forward sweeping paddle stroke and a more traditional backstroke. Step-back turns are fairly challenging on the ASR, but given how easily this SUP changes direction, it's not something that is entirely necessary. We also recognize that junior paddlers, especially within the age range for the ASR, are not often performing step-back turns in the first place.
Construction Quality: 9.5/10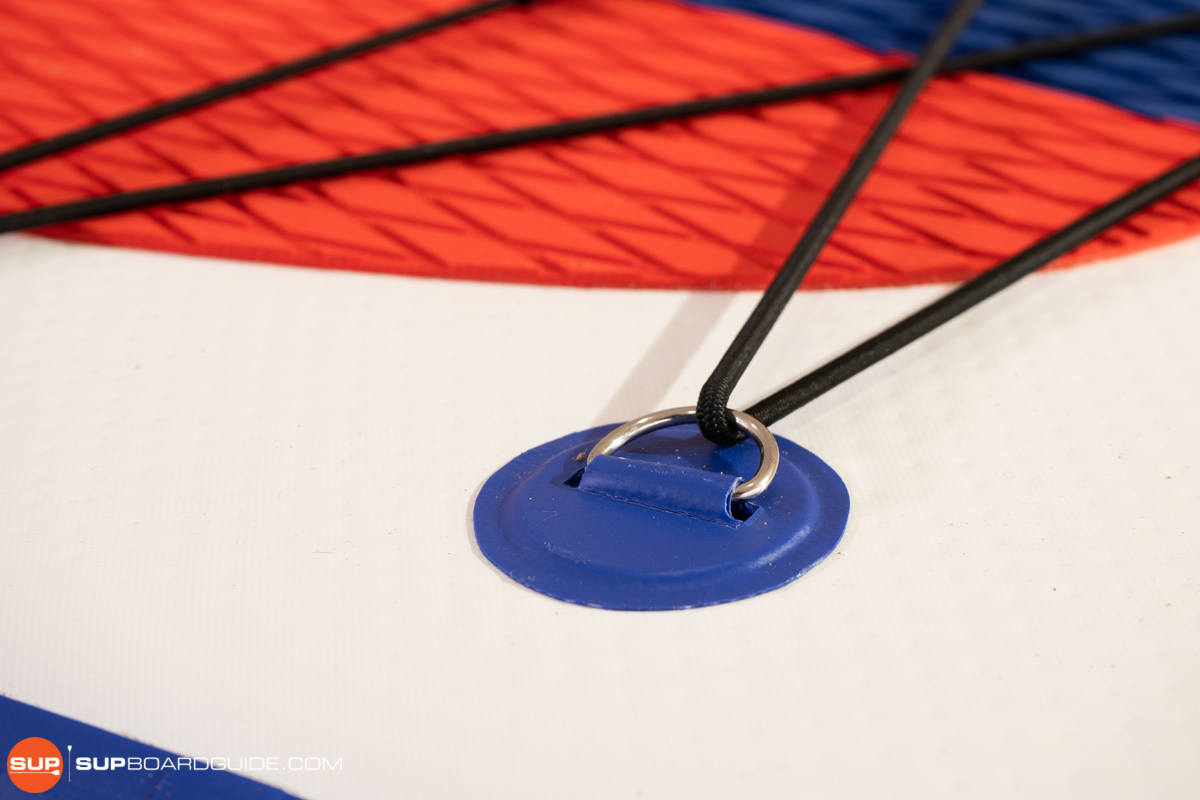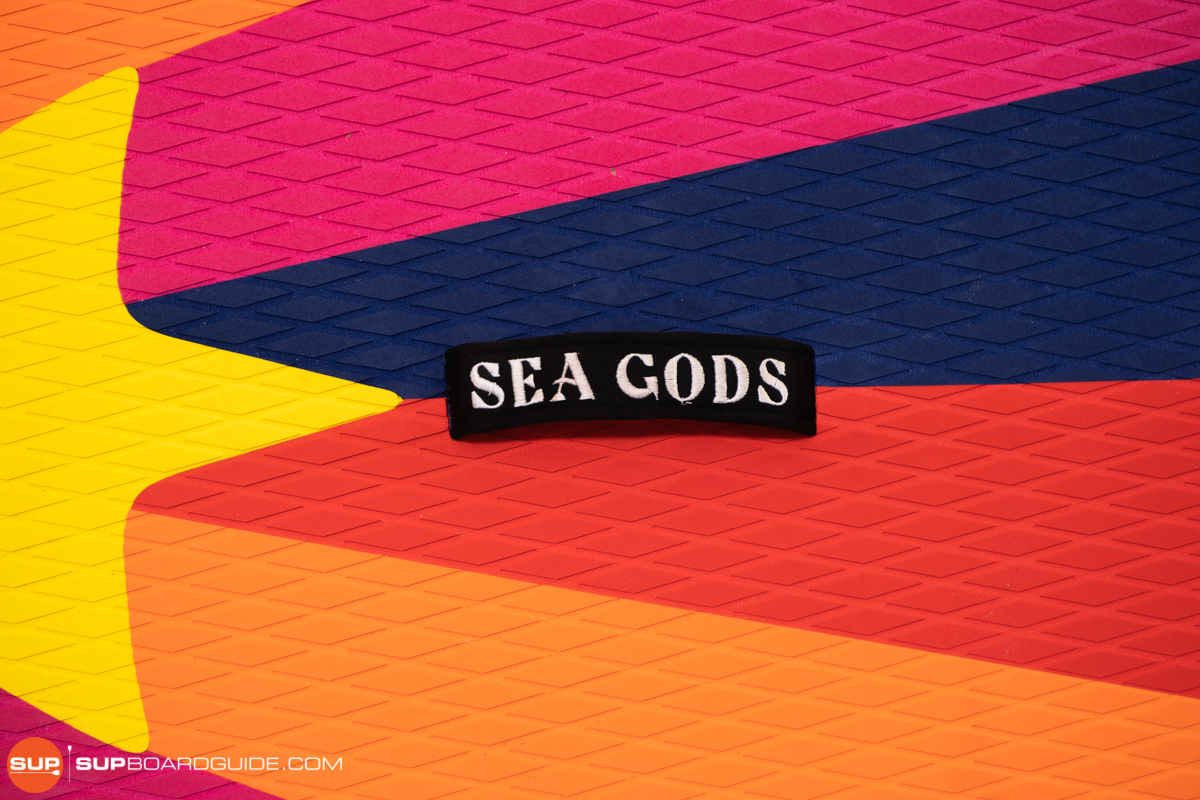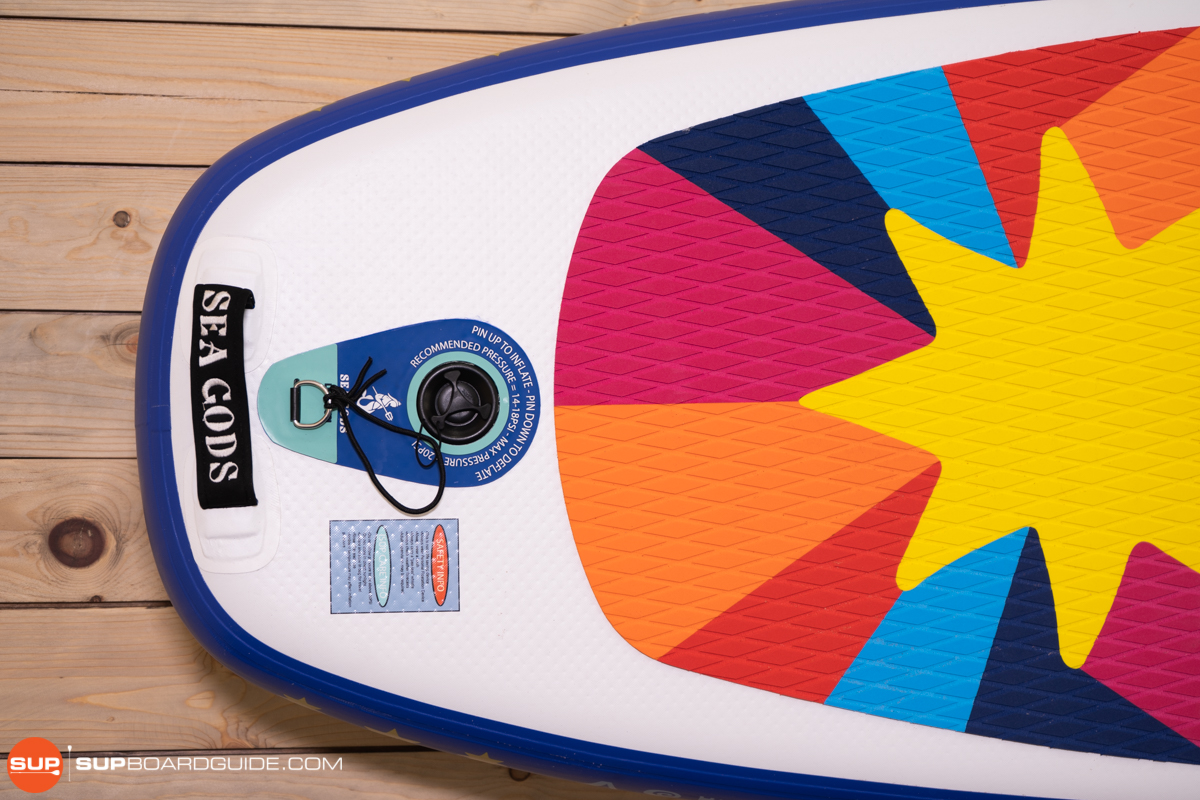 Construction quality is the area where we were the most impressed with the ASR. This SUP's construction is on par with Sea Gods adult paddleboard line, and makes the ASR a clear stand-out among the ever-growing sea of poorly constructed, short-term 'toy' SUPs for kids.
Sea Gods constructed the ASR with a woven fabric core that maintains its shape with a linear drop stitch. The PVC layers are then fused to the woven fabric via heat, a process referred to as 'fusion', which eliminates the need for heavy adhesives. The ASR's rails are then applied, molded with heat for an air and water tight seal, and reinforced with seam tape for an added level of durability.
The result of this process is the ultra-rigid, nearly unsinkable (that term doesn't still carry bad luck, right?), lightweight ASR. By implementing the same quality construction on their kids SUP as the rest of their adult line, Sea Gods is also able to back the ASR with their lifetime warranty, the longest in the industry.
Board Stiffness: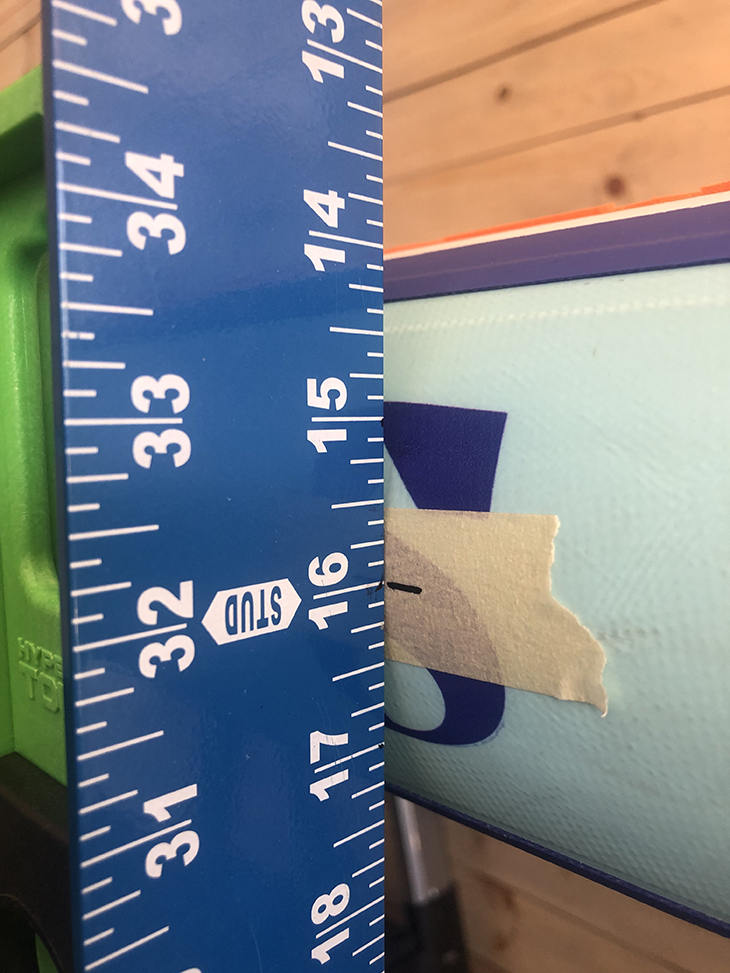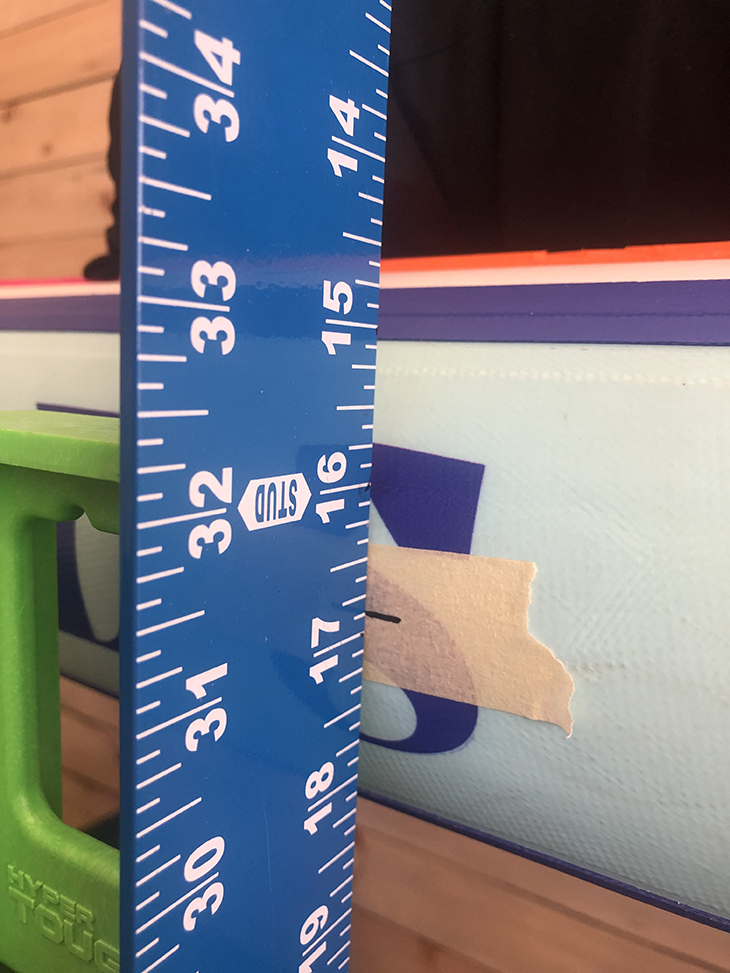 Stiffness Test: 0.9375" Bend
Our bend test for kid SUPs differs slightly from the bend test we perform on adult SUPs. Each kid SUP is placed on two sawhorses that are 5' apart. We then load the SUP with 150lbs at its midpoint (as usual) and measure how much it bends under the weight. We recognize that this is not replicative of how the board would bend in the water, nor will a child using a kids board be in the 150lb range. The main point of this test is to compare SUP construction and processes and develop an understanding of how build quality affects overall performance.
The ASR's performance in the bend test is expectedly impressive and is on par with the rest of Sea God's line. Because the ASR is constructed to a higher level of quality, it is able to support more weight (it held Justin, a grown man at 6'0 and 180lbs) and has the potential for better performance in the water to give your junior paddler a great experience.
Features/Accessory Review: 9.2/10
Given the fact that it's a kids' SUP, we did not expect the ASR to be covered in features and add-ons. For the most part, junior paddlers are not using action mounts, kayak seats, or hauling tons of gear, so it makes sense that Sea Gods chose to keep the ASR clean and uncluttered.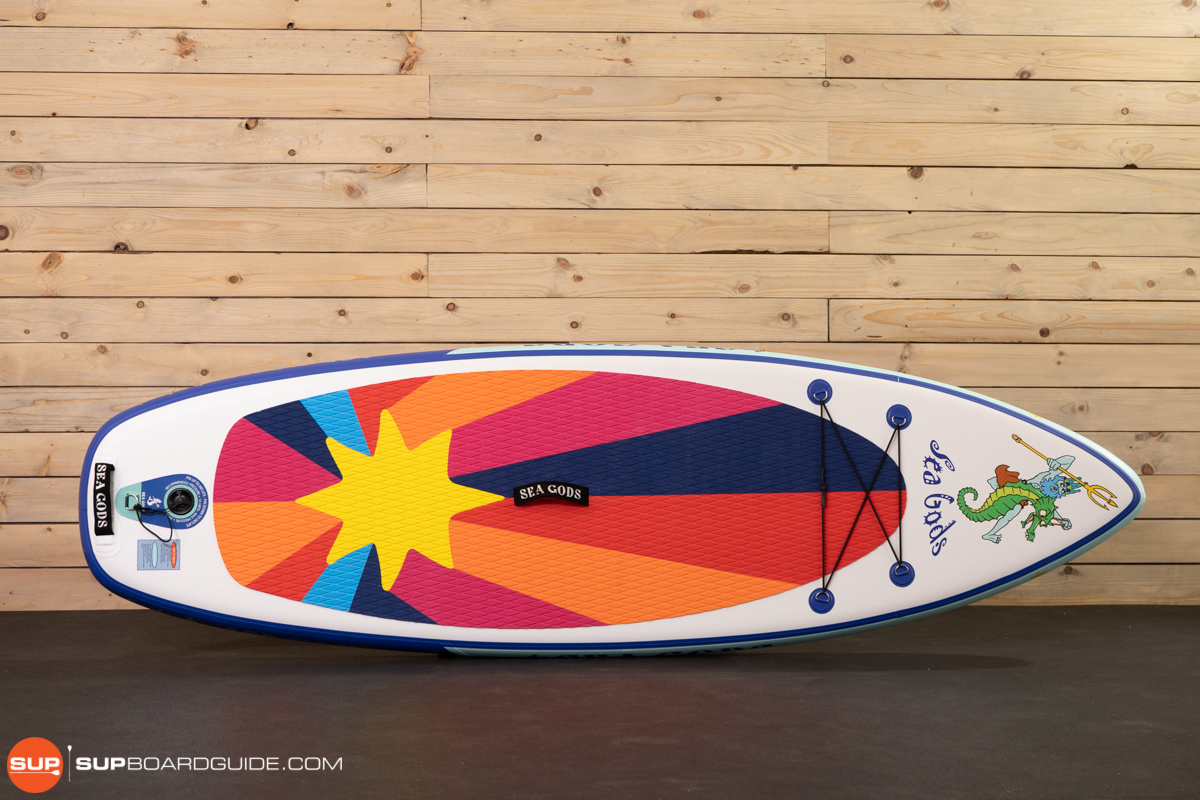 Sea Gods still chose to incorporate a small, 4-point cargo area at the nose of the ASR that is well sized for your junior paddlers' shoes or an extra drybag of clothes or snacks. There is also a center and rear carry handle to make for easy launches into the water.
One suggestion that we do have for Sea Gods here is to incorporate a carry handle on the nose of the ASR as well. This will make it easier to help your kiddo land back on shore, or give you a spot to hook your board to theirs to tow them if they get tired.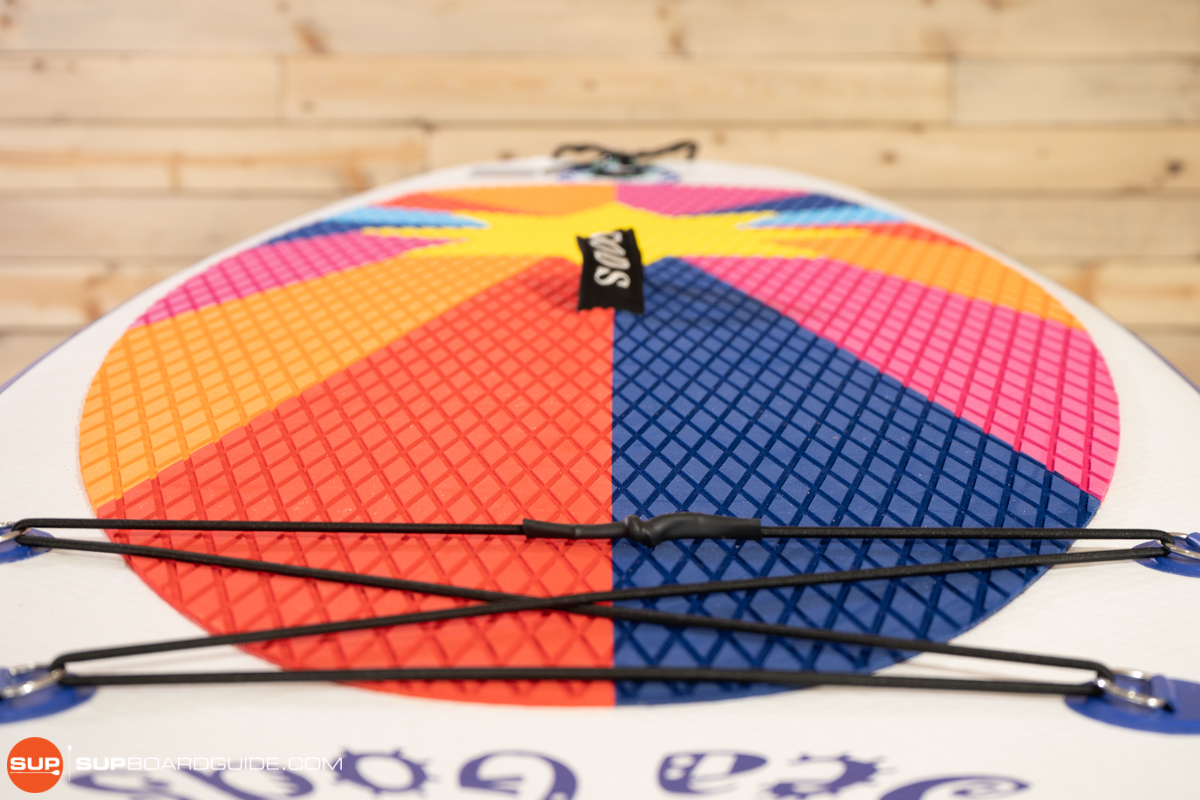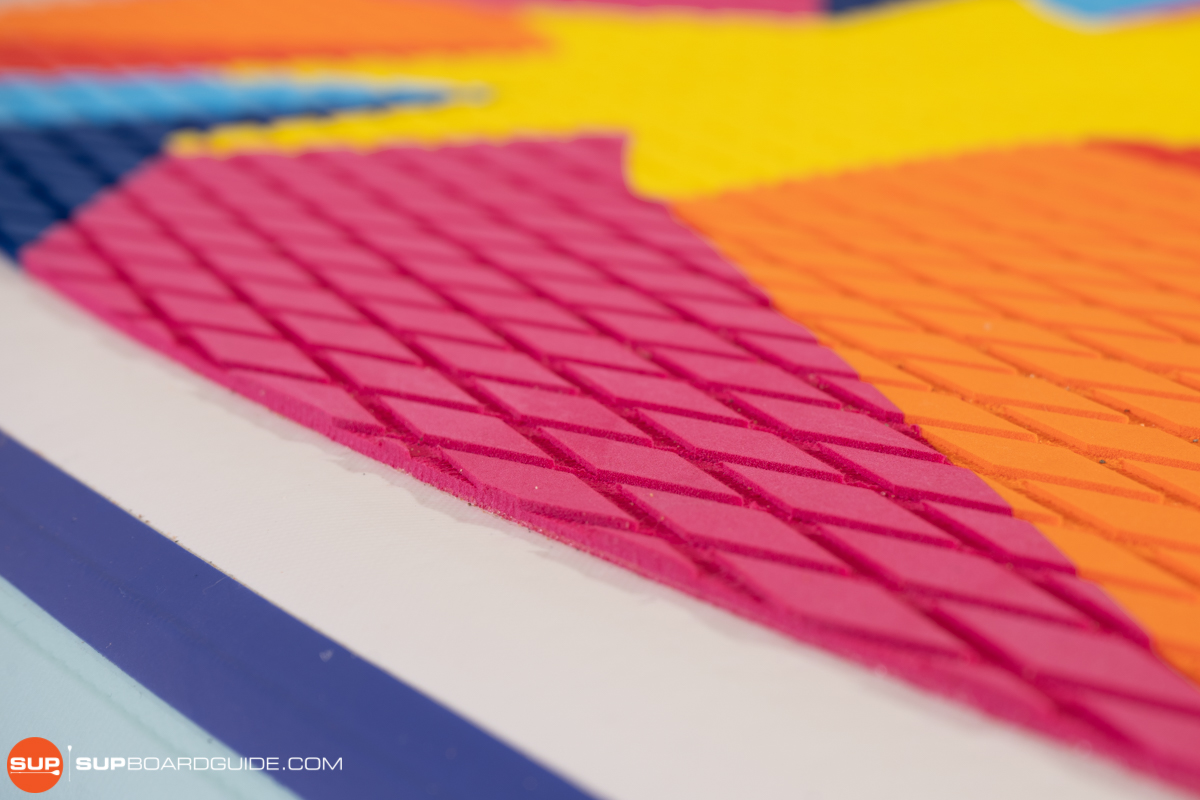 We really liked that Sea Gods went with a diamond grooved EVA deck pad on the ASR. It's one of the features that reaffirms the ASR's quality, and it will help your junior paddler feel more comfortable when they do eventually transition to larger adult boards.
Included Accessories: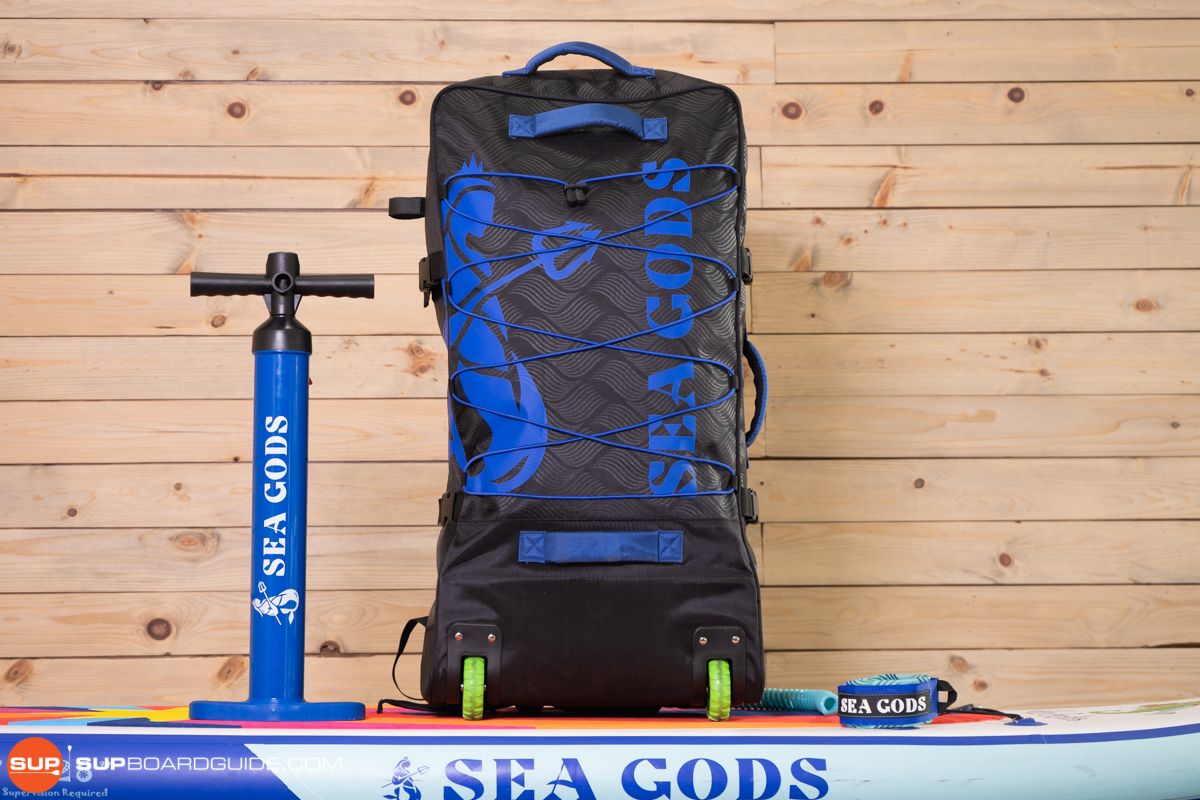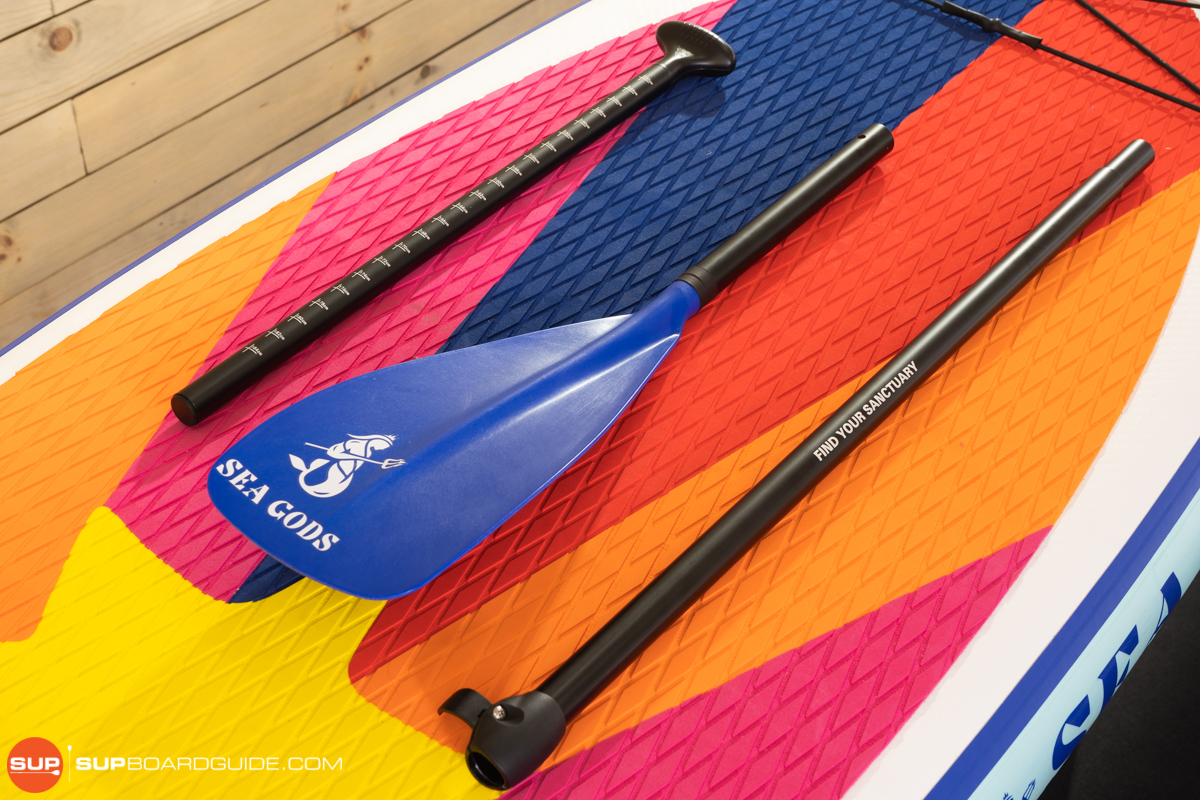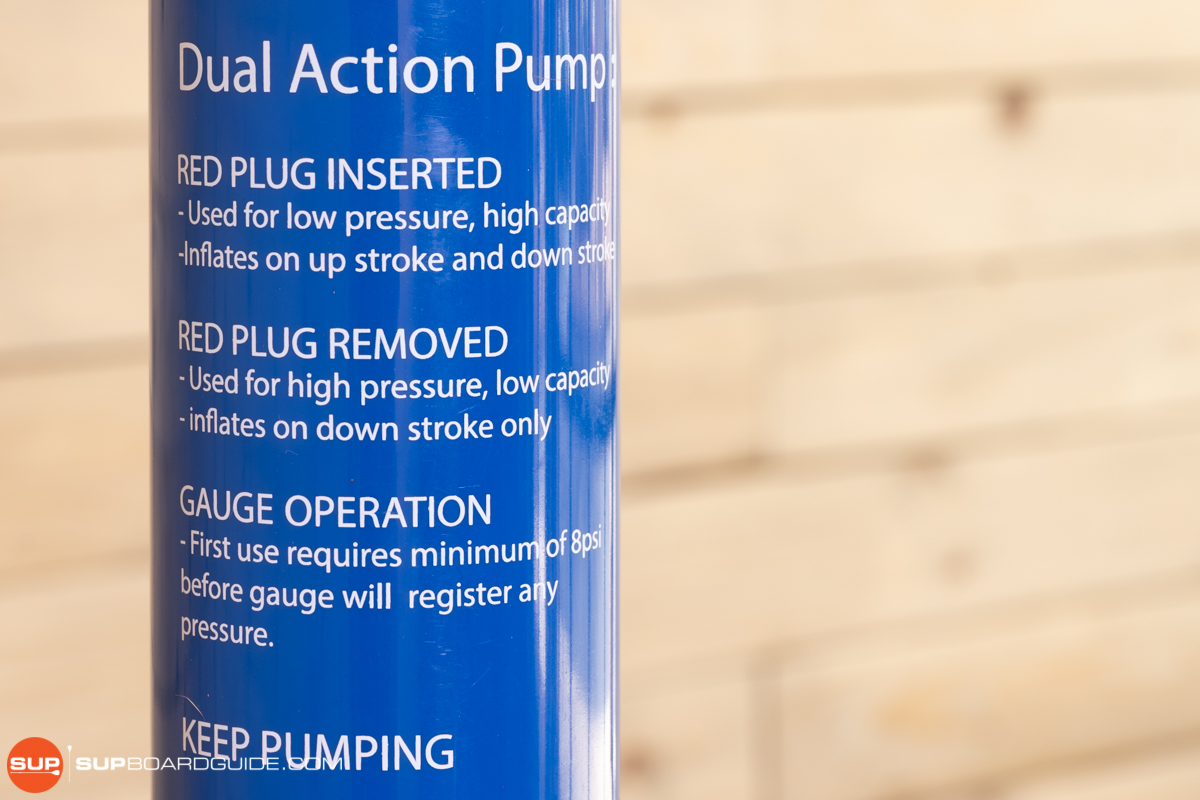 As far as included accessories go, the ASR comes with virtually the same high quality kit as the adult boards; the only exceptions are the fins and the paddle.
3-piece aluminum paddle
Sea Gods coiled leash
Single chamber pump
Wheeled SUP Backpack
Overall, we think this is a great kids SUP kit. The wheeled backpack is large enough to easily fit the board and accessories, but also small enough that most junior paddlers will still be able to carry it on their back or wheel it around. We also liked that Sea Gods included a full swivel 8' coiled leash with the ASR, as it will allow the paddler to move around the board and remain safely attached. Lastly, the aluminum paddle is smaller and easier to handle for most kids and is height adjustable to stick with your paddler as they grow.
Our only qualm with the ASR's kit is that the board has fixed, gummy fins, instead of a set of removable fins. We've found fixed gummy fins to really interfere with the SUP's tracking (as we discussed above) and would hinder your junior paddler if they really wanted to work on form or stroke. We'd be ecstatic if Sea Gods switched to removable fins on the ASR in the future.
Summary Review of Sea Gods ASR Kids iSUP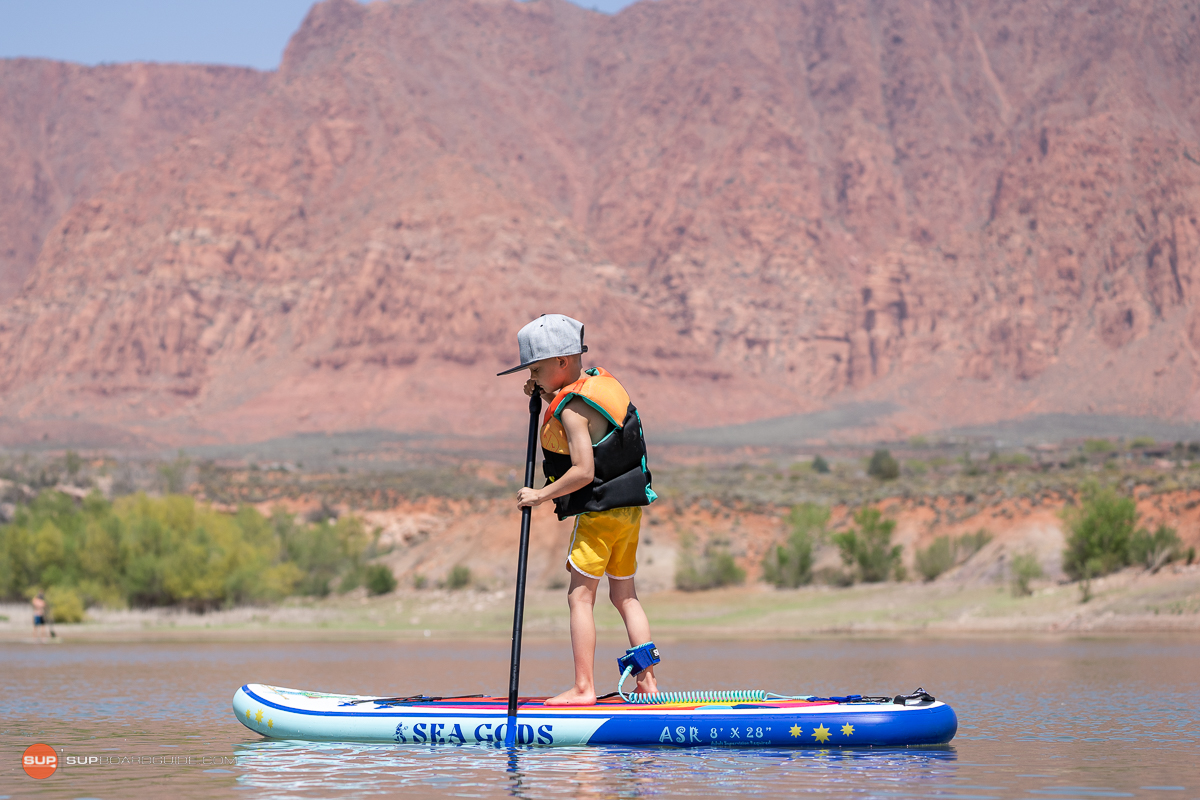 To sum it all up, the ASR has tons of potential to be one of the best smaller kids SUPs on the market. It's extremely well constructed, super rigid, has tons of weight support, and comes with a fantastic kit. Once Sea Gods swaps out the gummy fins, this kids SUP will be tough to beat.
Once again, we'd recommend this SUP for kids between the ages of 5 and 9 or kids who are under 5' tall and less than 120 lbs. In the future we'd love to see Sea Gods come out with a 9' youth/teen SUP to accommodate junior paddlers above that range.
We hope you've enjoyed reading through our review of Sea Gods ASR Kids iSUP! Please reach out or leave a comment if you have any questions or think there's anything we missed about this SUP.
Stay safe and happy paddling!
The following two tabs change content below.
SupBoardGuide
Heyo! At SupBoardGuide.com we are a team who love the water, the outdoors, and are more than grateful that our full-time job allows us to review stand up paddle boards. We paddle year round (it helps that we are just about 2 hours outside of Las Vegas), and we bring in a wide range of paddlers with the goal of providing our readers with the best, most in-depth, and accurate stand up paddle board reviews.
Latest posts by SupBoardGuide (see all)